From Calgary and Canmore to Banff to Lake Louise, find out the best restaurants, bars and hotels to visit in Alberta, Canada.
So you're planning a trip to Alberta in Canada in the winter? With some of the most stunning snowy scenery on the planet, and plenty of activities to keep you busy (from ice climbing to snow tubing) there's no doubt you'll spend a lot of time outside.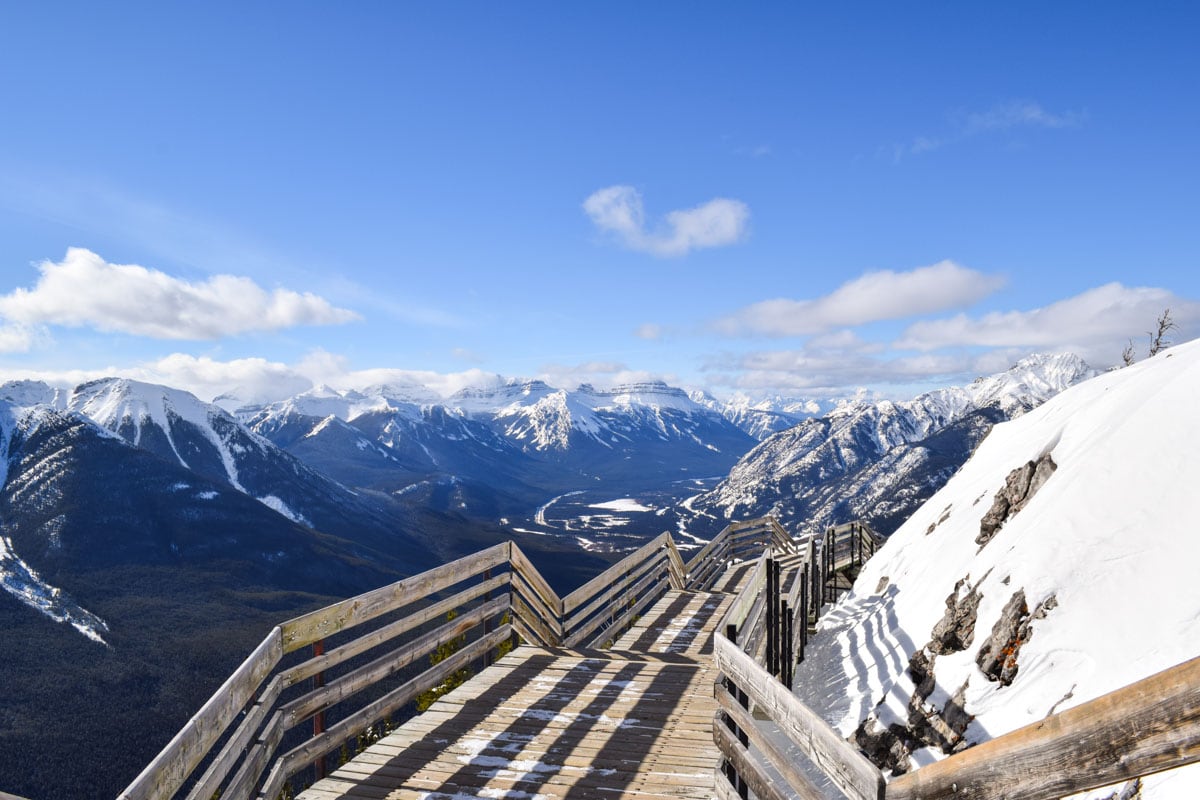 We looked forward to cosy dinners in cute mountain lodges, thawing by a toasty log fire. We spent a week in the region, driving from Calgary to Canmore, then on to Banff and Lake Louise, with a little trip up the Icefields Parkway.
During that time we enjoyed a few different types of accommodation, from modern town hotels to secret mountain lodges. We also sampled some of the very best cuisine in the region.
It's time to reveal a few of my highlights, and believe me – some of these places are so cosy, you won't want to leave! 
---
Calgary Hotels And Restaurants
For A Chic And Cosy City Break, Stay At Kensington Riverside Inn, Calgary
The Kensington Riverside Inn is a smart boutique hotel in a great location just north of Downtown Calgary. It's not far from the big city skyscrapers, in fact you can see them from the window, but it's in a calmer location near the Bow River. It's the city's first Relais & Chateaux hotel – the hotel association which only recommends the best accommodation around the world.
I loved our suite, which had a chic aesthetic with brown and gold décor. My favourite feature was the gas fire in the corner. Our room also had a balcony, which although it was covered in snow during our trip, no doubt would be a lovely place to relax once the seasons warm up!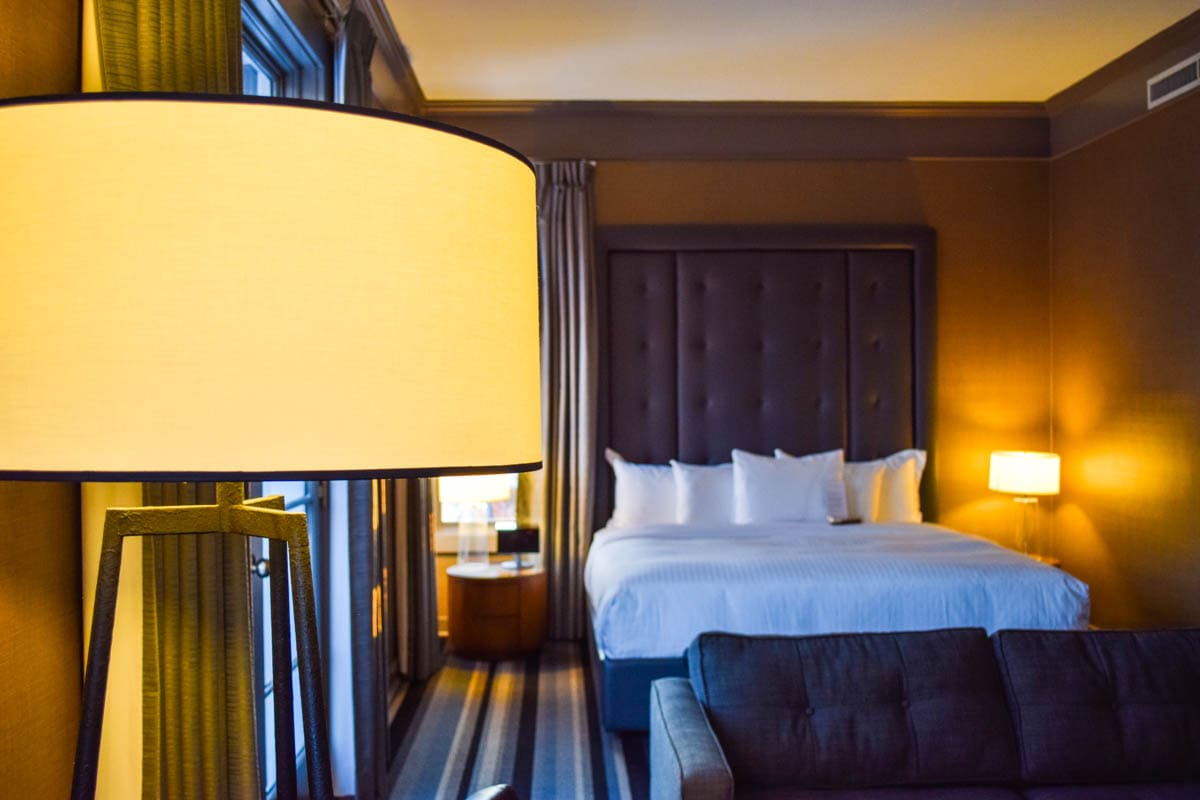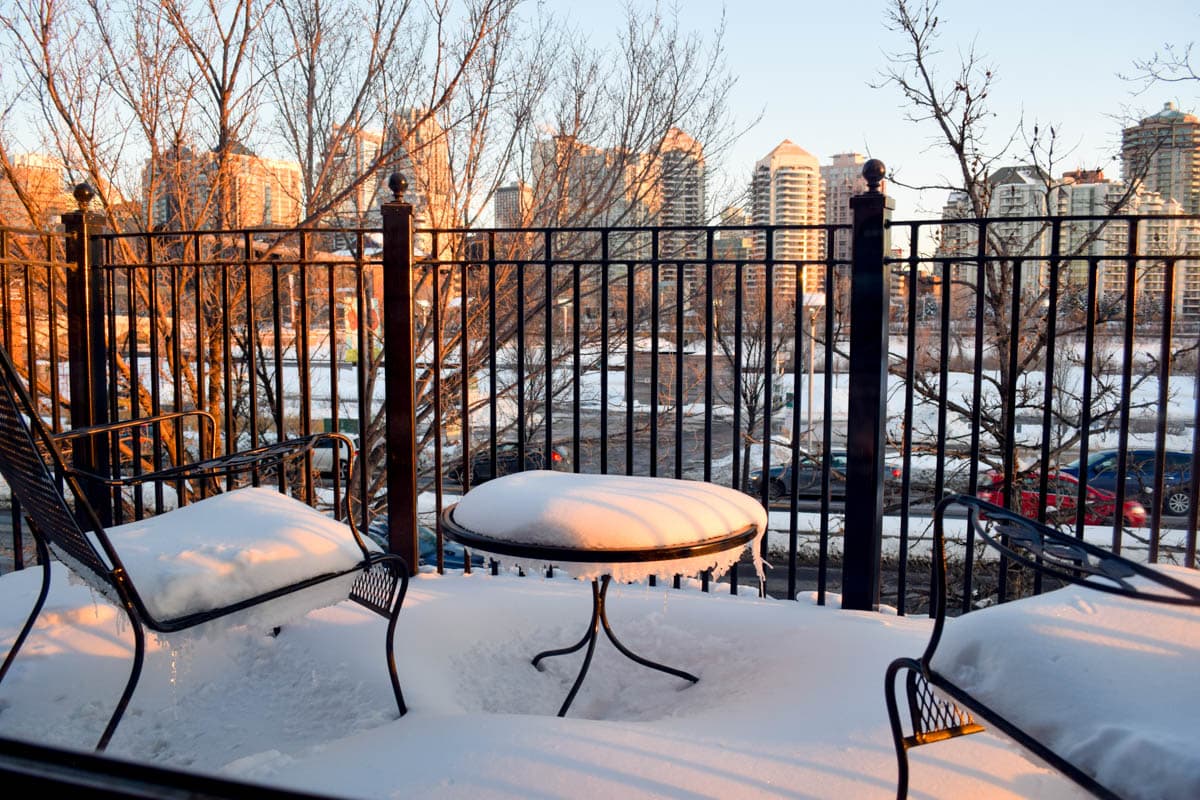 Breakfast was served in the restaurant downstairs, and there was also a bar and underground parking. An added bonus was the hotel's proximity to a street filled with bars, restaurants and cafes! Not far to walk to a good hearty meal and a warming glass of wine when the temperatures were icy.
There are plenty of things to do in Calgary but I'd say visiting this Texas BBQ joint should be high on your list! It's a carnivore's paradise, and a great place for a hearty meal in Calgary. From tasty brisket and pulled pork to sticky ribs, Hayden Block's menu is packed full of flavour.
I loved the variety of sides, which include deep fried pickles, hush puppies, macaroni cheese and corn on the cob wrapped in bacon. My top pick was the 'hot mess' – a sweet potato slathered in all sorts of delights!
To wash it all down, they have a varied list of whiskey cocktails (the smokey theme continues!) plus daily drinks deals to entice you even more.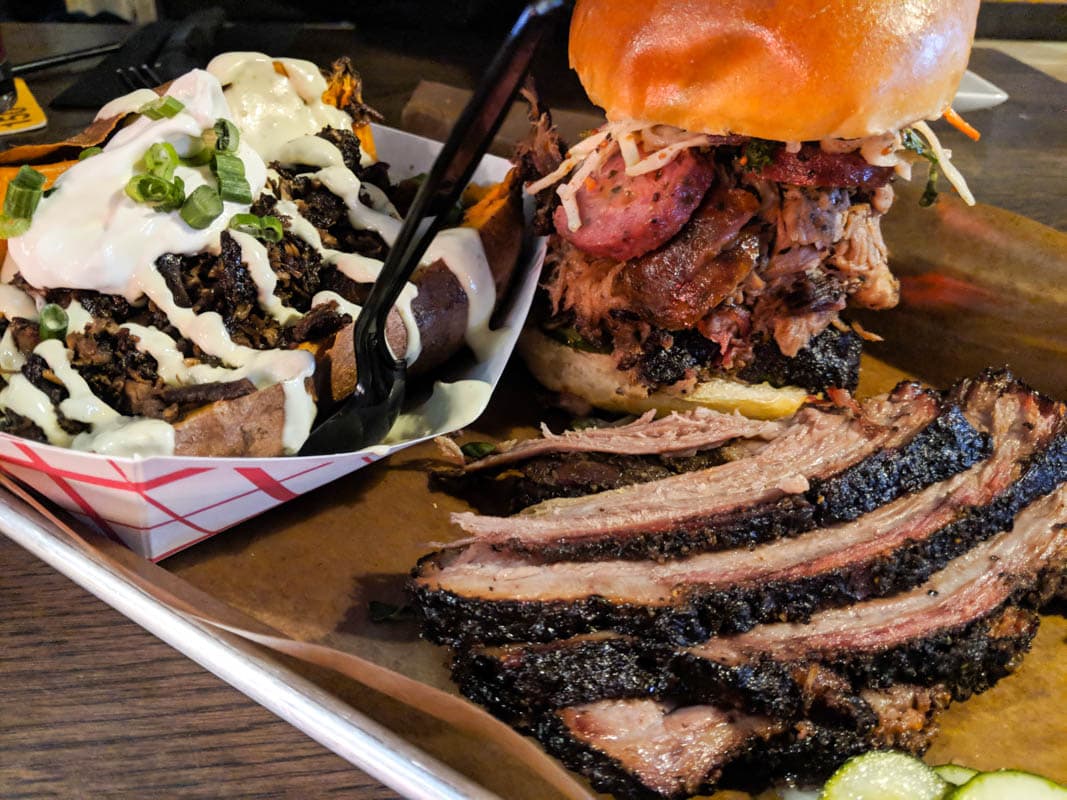 Dinner at Hayden Block Smoke And Whiskey, Calgary
---
Kananaskis Hotels And Restaurants
For A Secret Mountain Getaway, Eat And Stay At Mount Engadine Lodge, Kananaskis
We were lucky enough to stay at a few of Alberta's characterful lodges during our trip, and we loved them! They're full of charm and often in the most picturesque of settings. Mount Engadine Lodge is almost an hour's drive from the nearest big town (Canmore) so consider this a place to escape from the world.
We stayed in the main lodge, but Mount Engadine Lodge has some great options if you're planning on going glamping in Alberta, including glamping tents and a cute yurt at the end of a trail which sleeps four people. There are so many types of unique accommodation in Alberta. The views in winter are breath-taking – looking out onto a snow-covered valley with the Rockies just beyond.
There are plenty of ways to explore the untouched wilderness, whether that's cross-country skiing, or using Mount Engadine Lodge's snowshoes or fat bikes. Once you return, there's a sauna downstairs to warm up!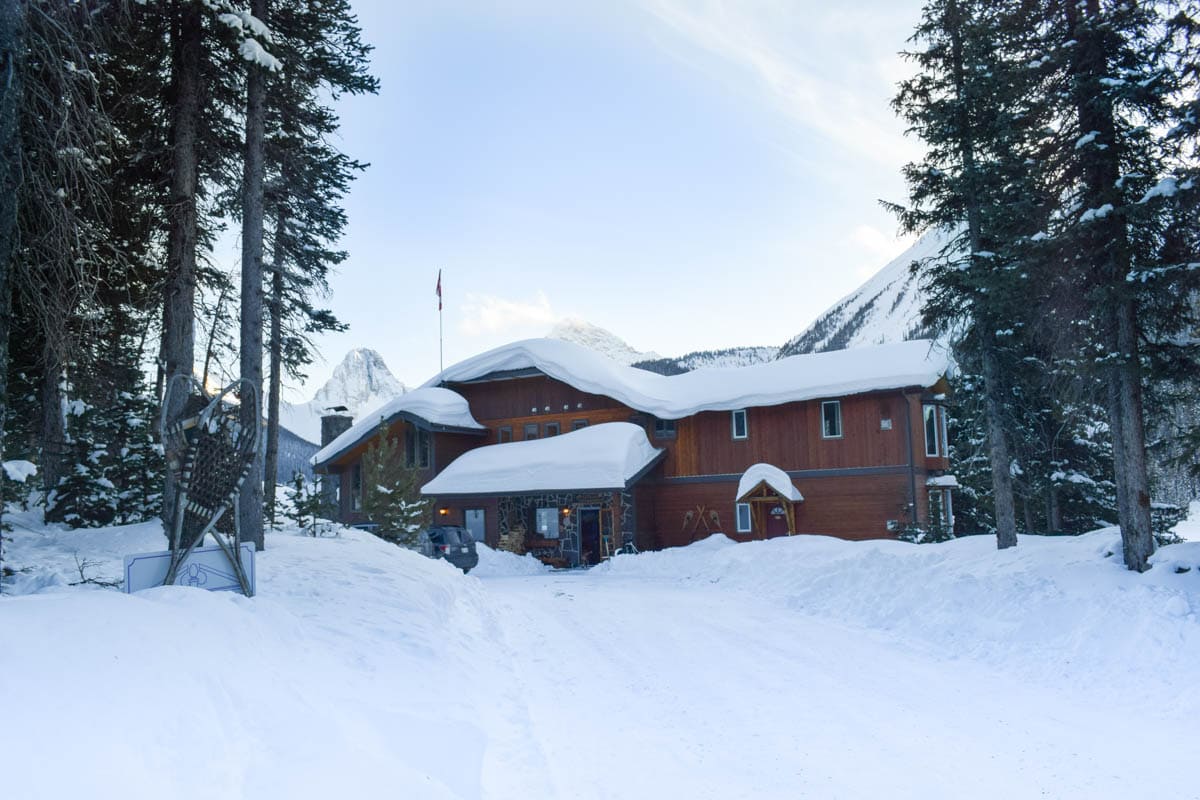 I loved Mount Engadine's approach to food, with its all-inclusive, family-style set up. Breakfast is included, and they also make you a packed lunch for your adventures outside. In the evening, everyone staying at the lodge dines around one large table, enjoying a feast of fresh ingredients and sharing stories from their day.
On our first evening we enjoyed perfectly cooked scallops with a flavoursome pea puree and heritage carrots, followed by tender beef short rib with roasted root vegetables. We also loved their afternoon charcuterie boards, and noticed that even if you weren't staying there, you could stop by on your hike and enjoy a platter by the fireplace.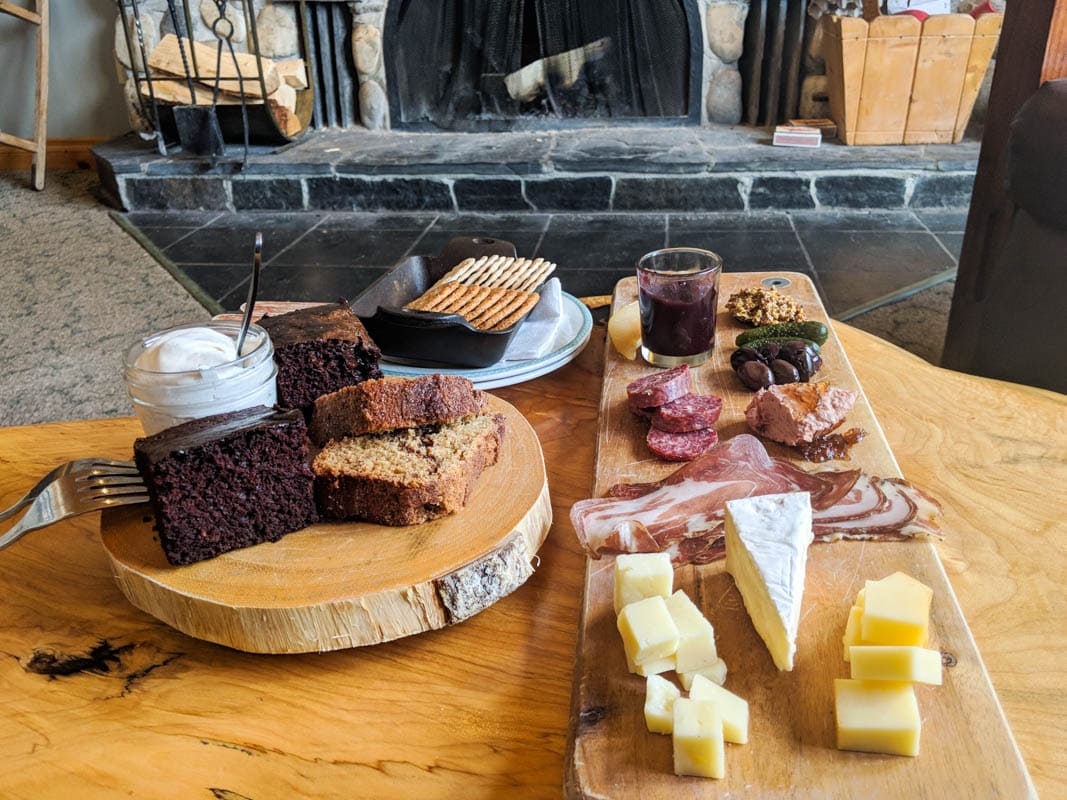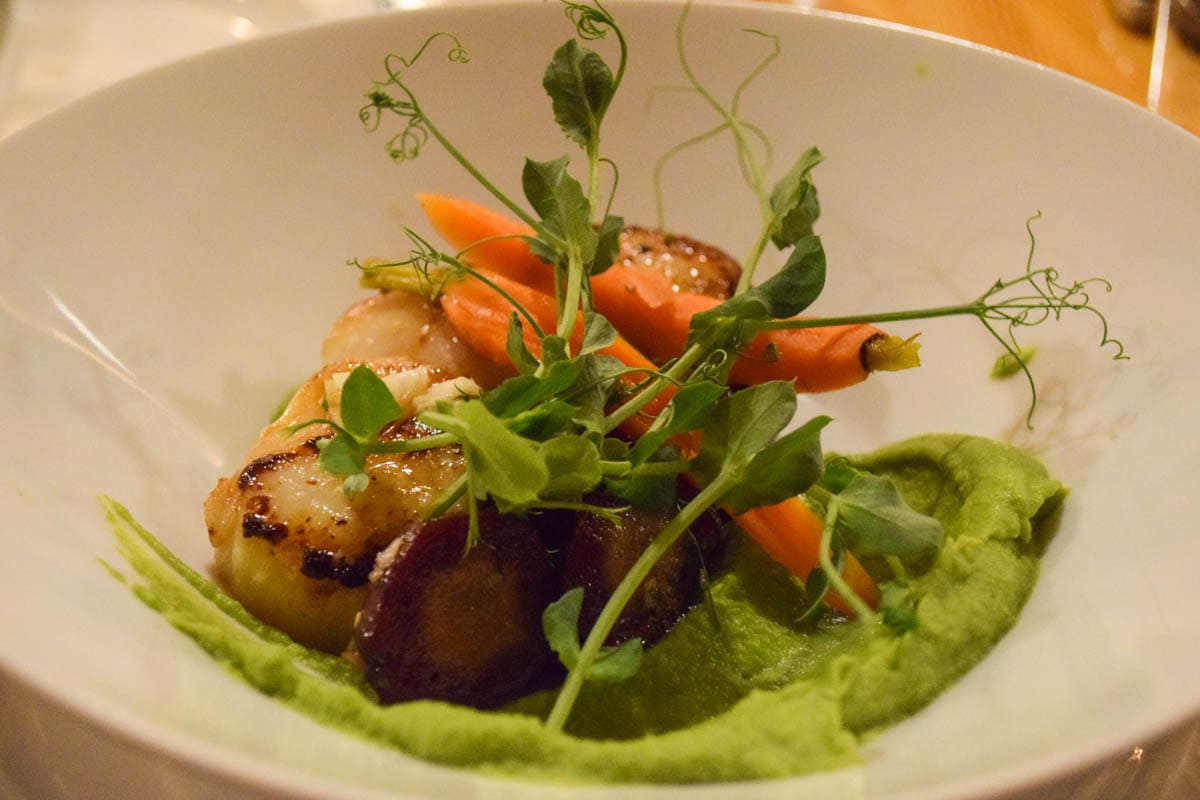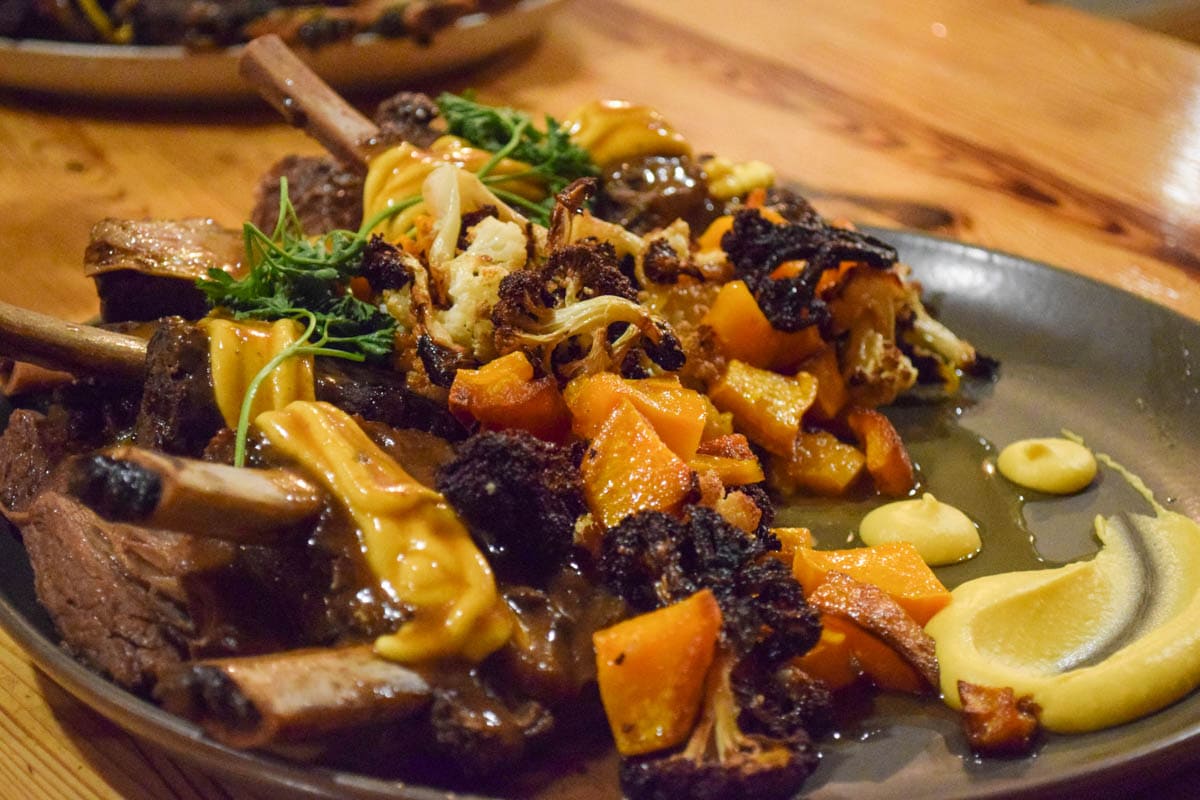 ---
Banff Hotels And Restaurants
For A Modern Experience In The Heart Of The Action, Stay At Moose Hotel And Suites, Banff
This Banff hotel experience was the perfect contrast to our stay at Mount Engadine Lodge. It's a large modern hotel built in a courtyard formation, with all standard mod-cons, gas fires in rooms and a restaurant and bar downstairs.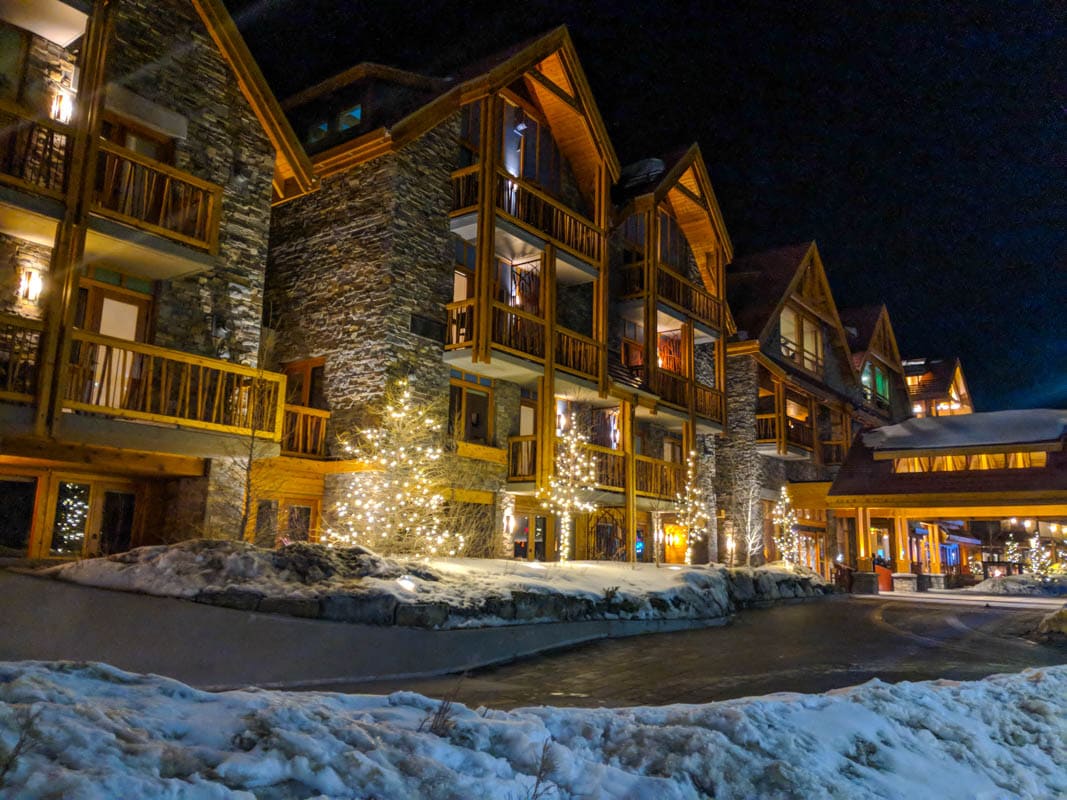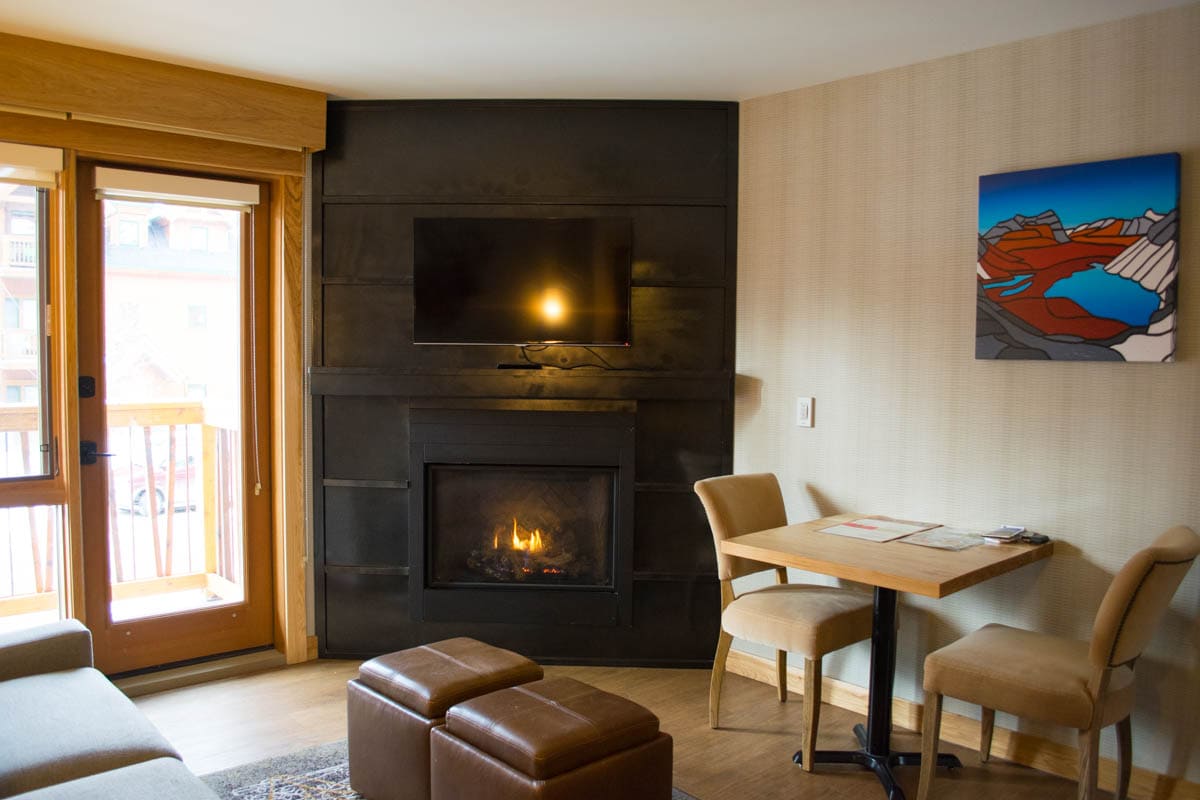 Along with being just moments from Banff's cafes, shops, bars and restaurants, a big selling point is the rooftop where you'll find a swimming pool, sauna and two hot pools. It's a great place to warm up and unwind after a day exploring. The views are lovely too, with mountains all around. There's also a large (free) underground car park and an Italian restaurant.
For Smart Cocktails on A Budget In The Heart Of Banff, Head To Saltlik
Saltlik is a top steak restaurant in Banff. We ended up passing by one evening after dinner, and decided to pop in for a cocktail at the bar. The semi-circular bar was busy with people enjoying espresso martinis and whiskeys. We sampled their take on a gin Caesar and a zingy whiskey sour – both expertly mixed, and a bargain at under £10 for two fab cocktails!
Read More: Banff, Canada – Top Things To Do For Non-Skiers
For Quirky Cocktails In The Heart If Banff, Head To The Block Kitchen And Bar
How many places do you know that serve a coffee and artichoke negroni or a lavender mule? While The Block will make all the classics, there's an exciting menu of unique concoctions too!
For Spirits Distilled In The Rockies, Head To Park Restaurant And Bar In Banff
Right on Banff Avenue is this stylish shop, restaurant, bar and distillery. The water they use in their spirits comes from Rocky Mountain glaciers, so definitely give it a try. You can tour the distillery, or just take a seat at the bar and try some of their award winning creations including glacier rye, alpine dry gin, espresso vodka and chilli vodka. Don't worry, if you don't like your spirits straight, they have a menu of cocktails too.
The views from the Banff Gondola are some of the best I saw on my entire trip. While we didn't have time to squeeze it in, I'd loved to have dined at Sky Bistro Restaurant, which is located in the building at the top of Sulphur Mountain. It serves a gourmet Canadian menu including Alberta beef and bison, arctic char, scallops and duck poutine.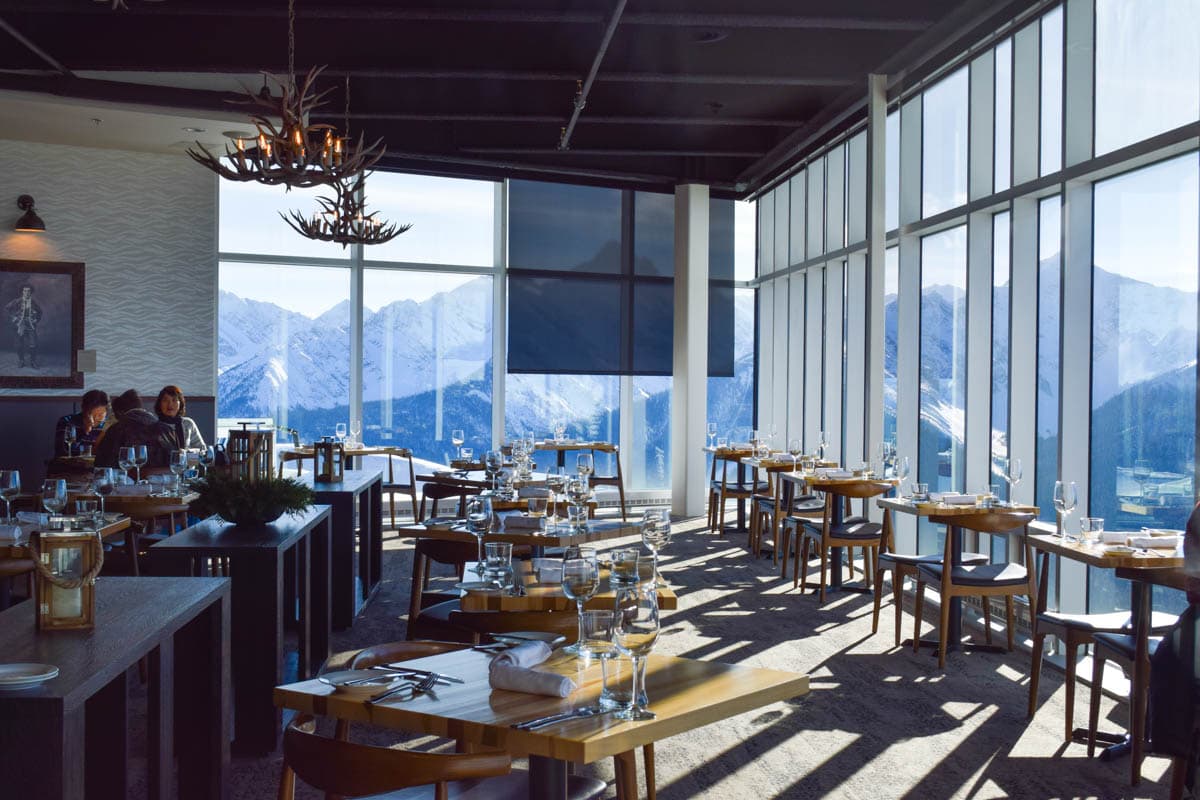 If you're on a budget or just fancy a coffee and a light bite, there's the Northern Lights Café, which also has mesmerising views of the snowy scenery. When we popped in, I spotted people sitting with their laptops and thought that must be one of the best 'office' views on the planet!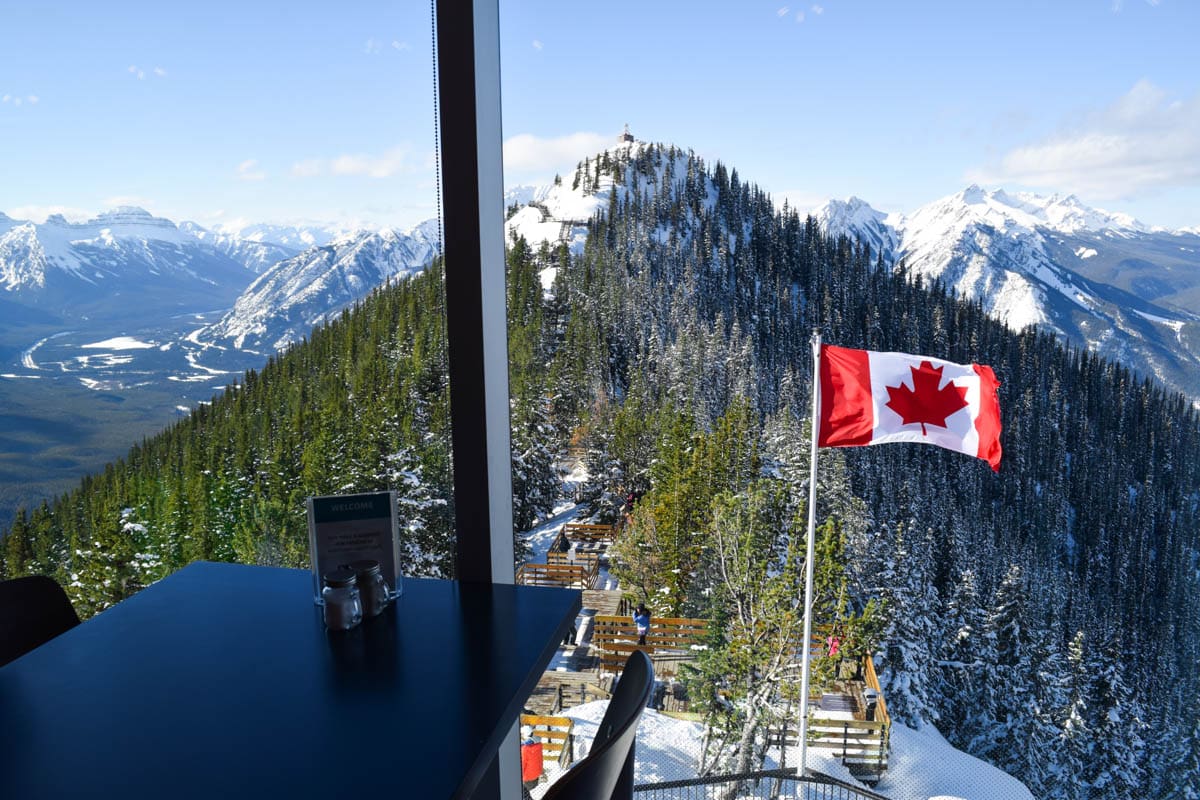 ---
Mount Norquay Restaurants
For Some Serious Carbs Right On The Slopes, Head To Mount Norquay Ski Resort
After an adrenaline-fuelled morning snow tubing, we headed indoors for some carbs and treats! The burgers were huge and flavoursome. I went for the chicken burger with avocado and fries which was delicious, and although big, I couldn't stop myself from finishing the whole thing!
We also shared a speciality of battered prawns and brussels sprouts with pickled red onion and a tangy ketchup. All in all, it was just what we needed after burning so many calories in the cold.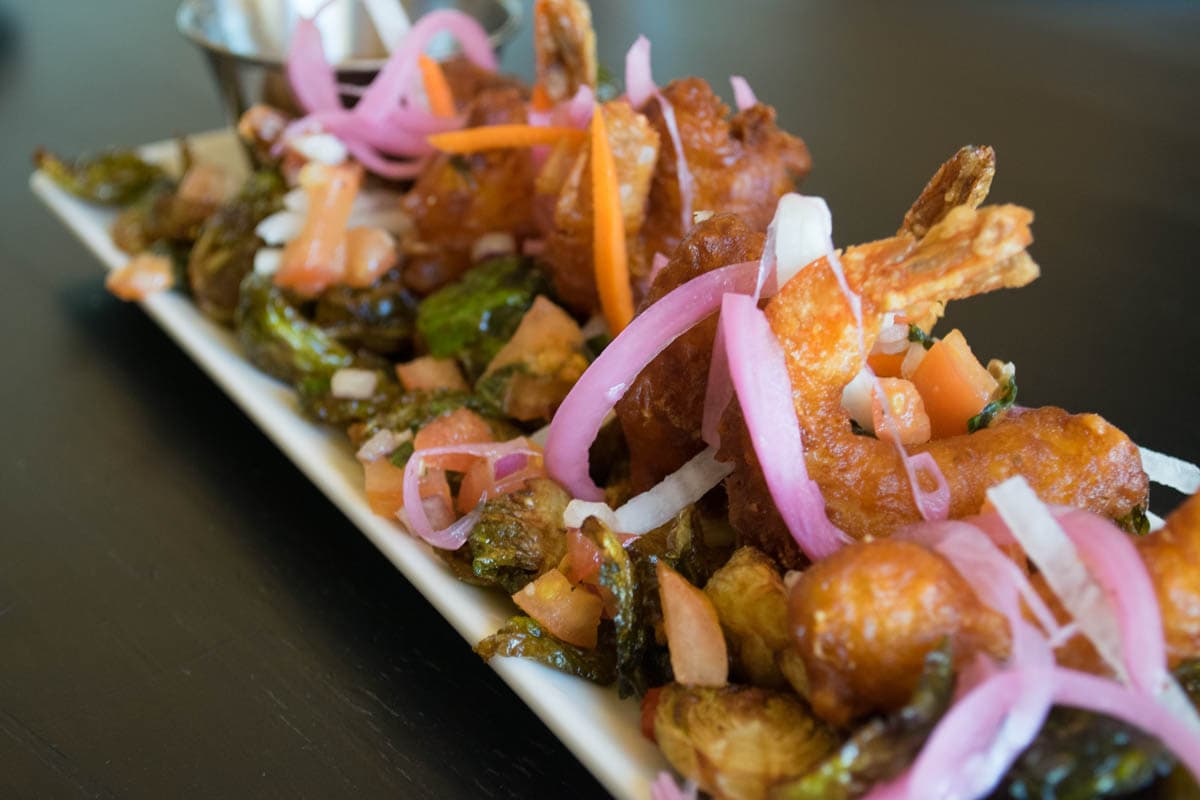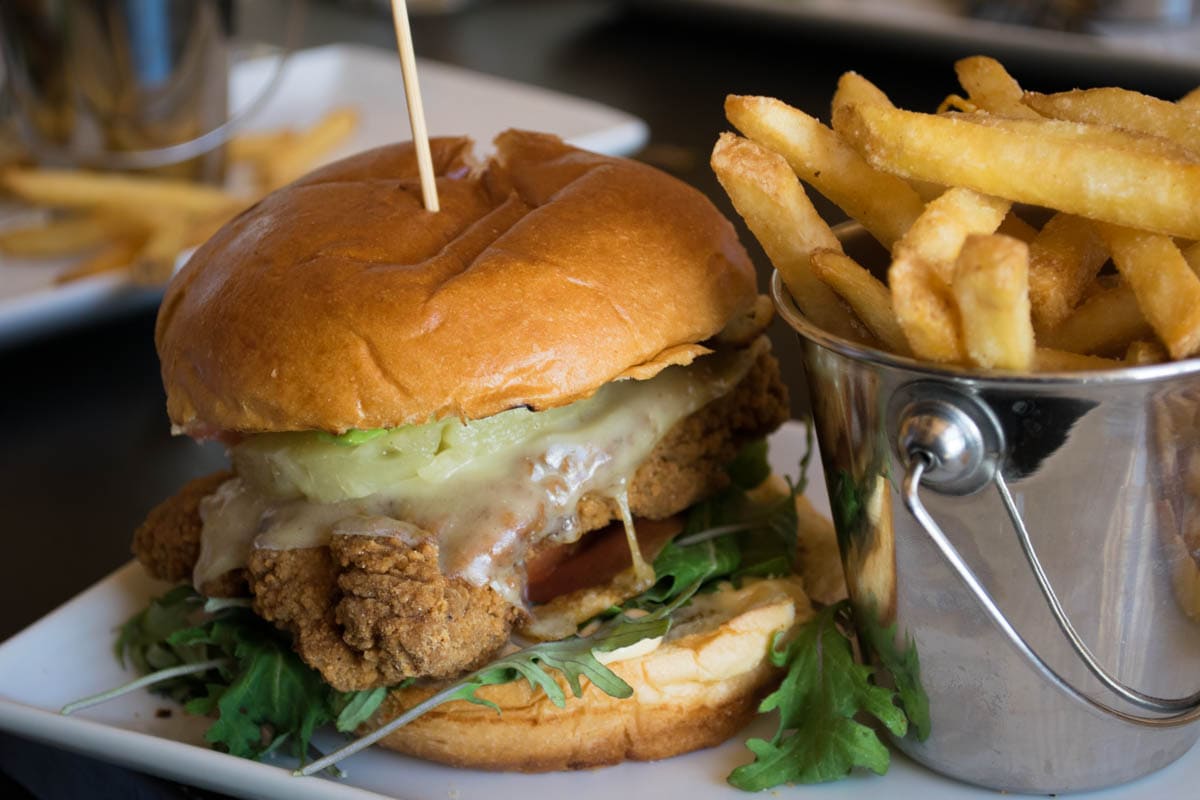 ---
Lake Louise Hotels And Restaurants
For Sushi Right On The Slopes, Head To Kuma Yama At Lake Louise Ski Resort
If you fancy a healthy alternative between ski sessions, Kuma Yama serves up excellent sushi and ramen with views of the slopes. We enjoyed a selection of sushi, and my favourites were the LSB which contained lobster salad, seared alberta beef and beef au jus, and the Dragon which contained shrimp tempura topped with avocado and unagi.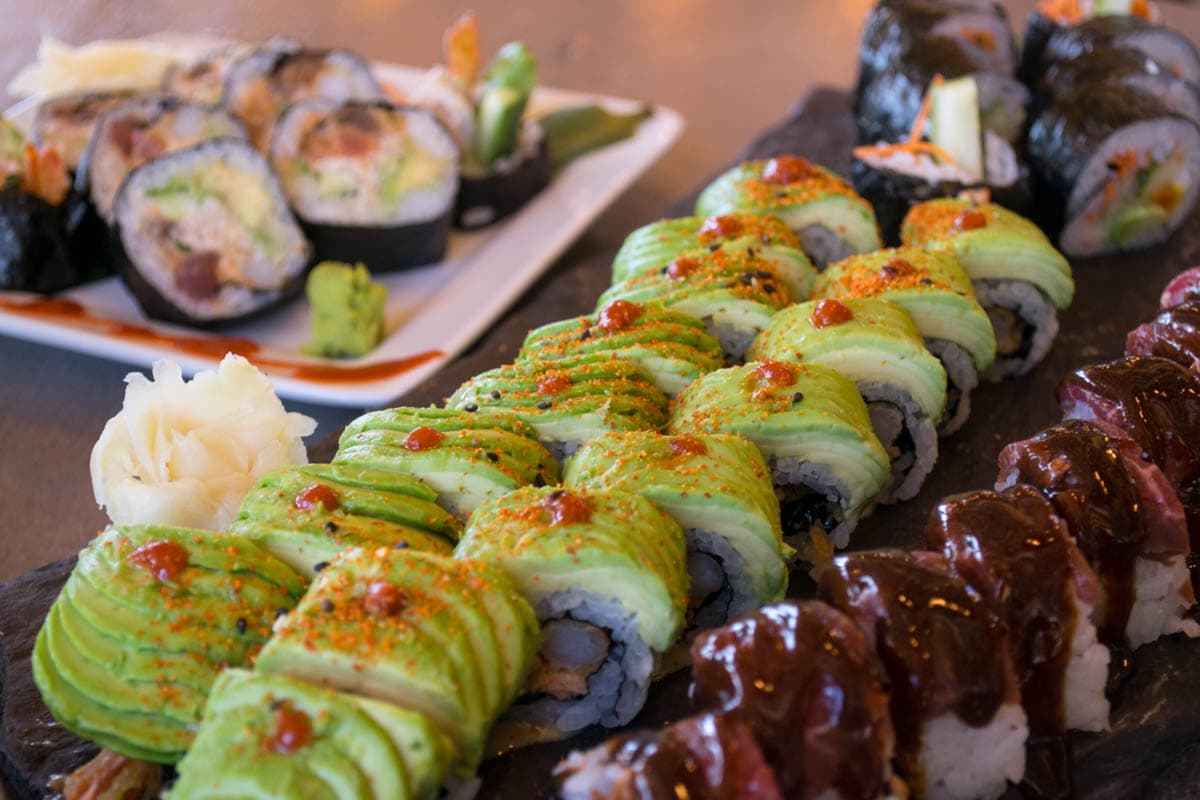 For A Gourmet Dinner With The Best Wine List In The Region, Head To Deer Lodge, Lake Louise
Moments from the famous Fairmont Chateau Lake Louise is Deer Lodge. While the former has a fab reputation, it's still a chain and we wanted to experience more of the 'real' Alberta. Many of Alberta's lodges have excellent reviews, plus they're steeped in history.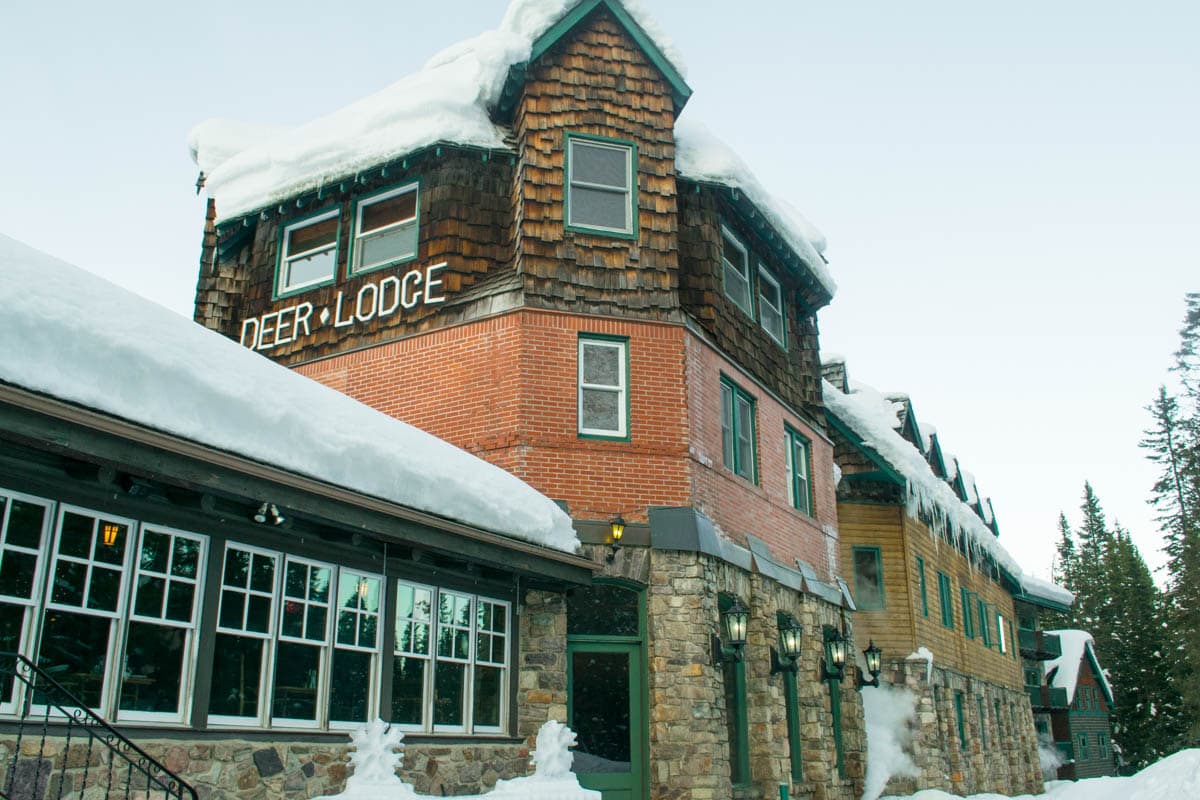 Deer Lodge's restaurant serves up gourmet dishes, using regional produce. We enjoyed a starter of seared tuna, followed by elk steaks and top Alberta beef sirloin, all while gazing out at the snowy landscapes. One of my favourite touches was the detailed wine list, featuring plenty of Canadian wines.
Some of the descriptions were less about flavour and more about feelings… e.g. Perfectly delightful pears dance and swirl around your head… this is wonderfully pleasant! You could tell wine director Brad had sampled everything in the collection and really enjoyed putting the menu together.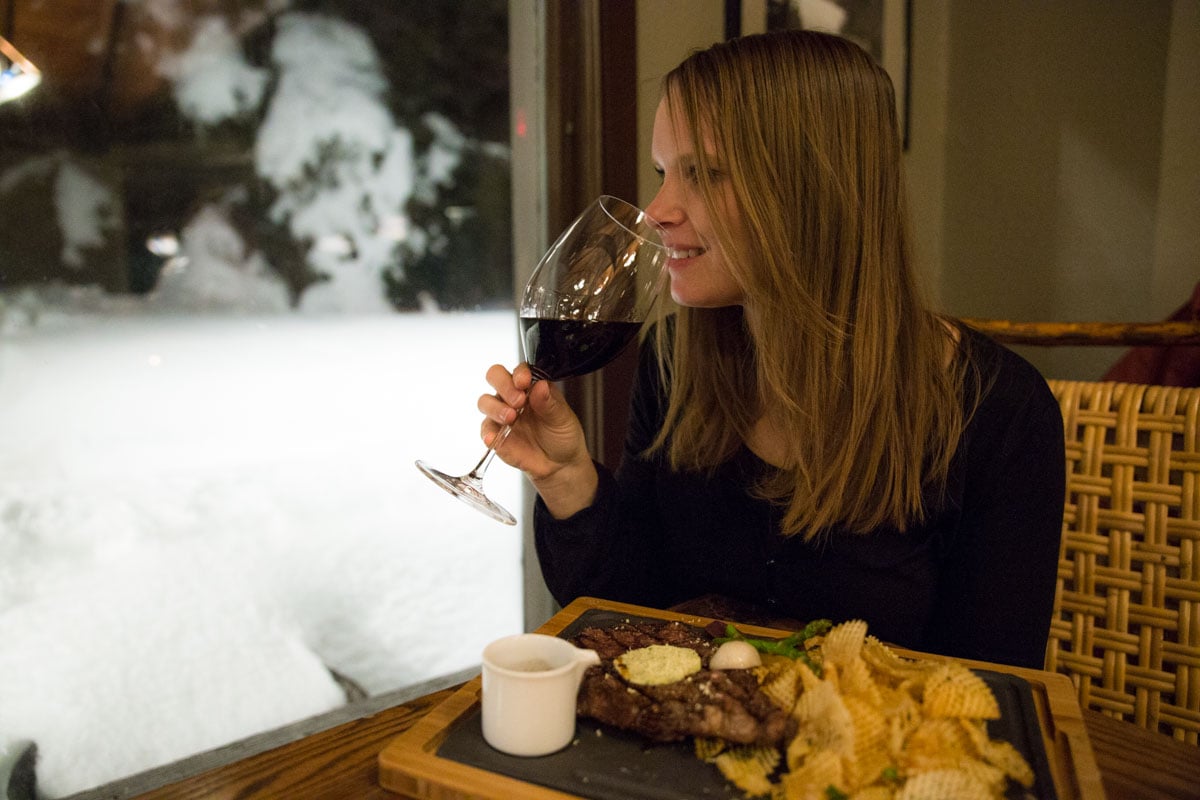 For The Cosiest Stay In Alberta And Gourmet Canadian Cuisine, Stay At Storm Mountain Lodge
This was where we finished our winter trip around the Canadian Rockies, and it was a super special place to end one of my most memorable adventures yet. While the lodge is just off a highway, it feels wonderfully remote once you reach the log cabins, which themselves back onto a forest.
The log cabins were absolutely adorable, covered in a thick blanket of snow! They feel traditional, and even come with a proper log fire. One of the most magical moments of the trip? Falling asleep to the crackling sounds and orange glow of the fire, with snow and temperatures of -20 outside.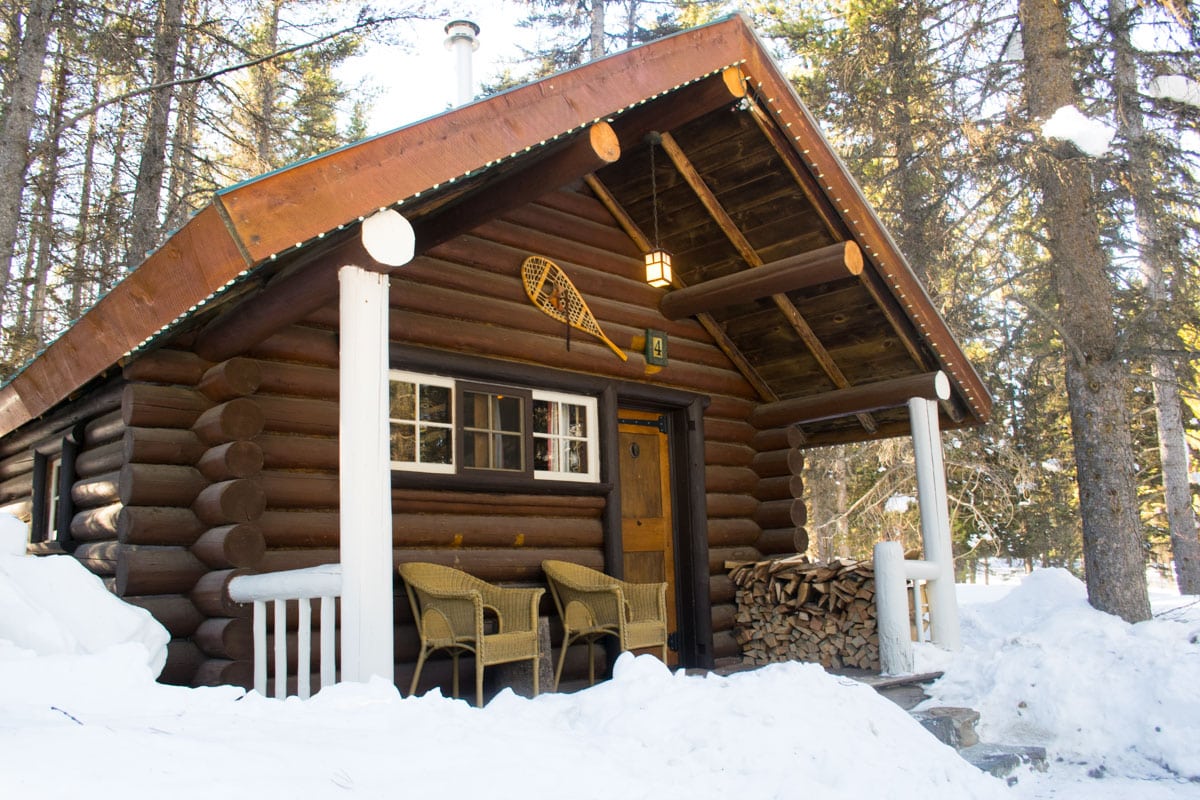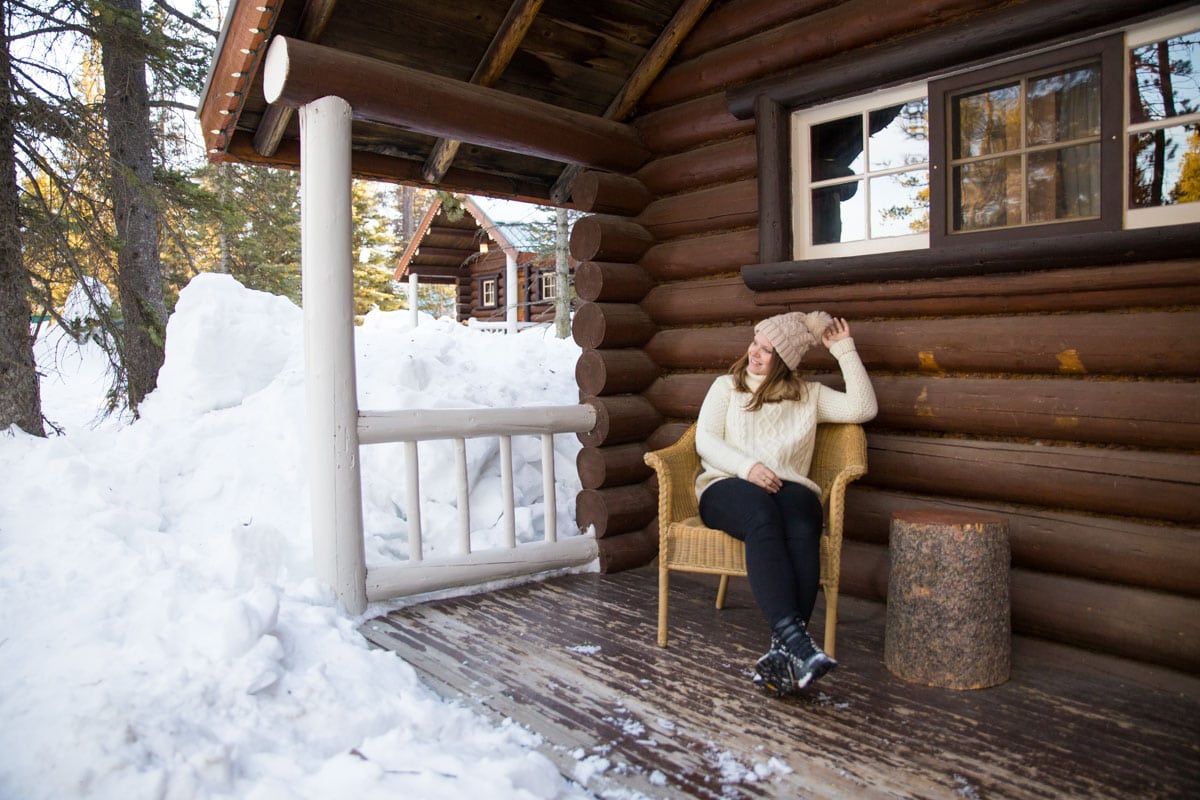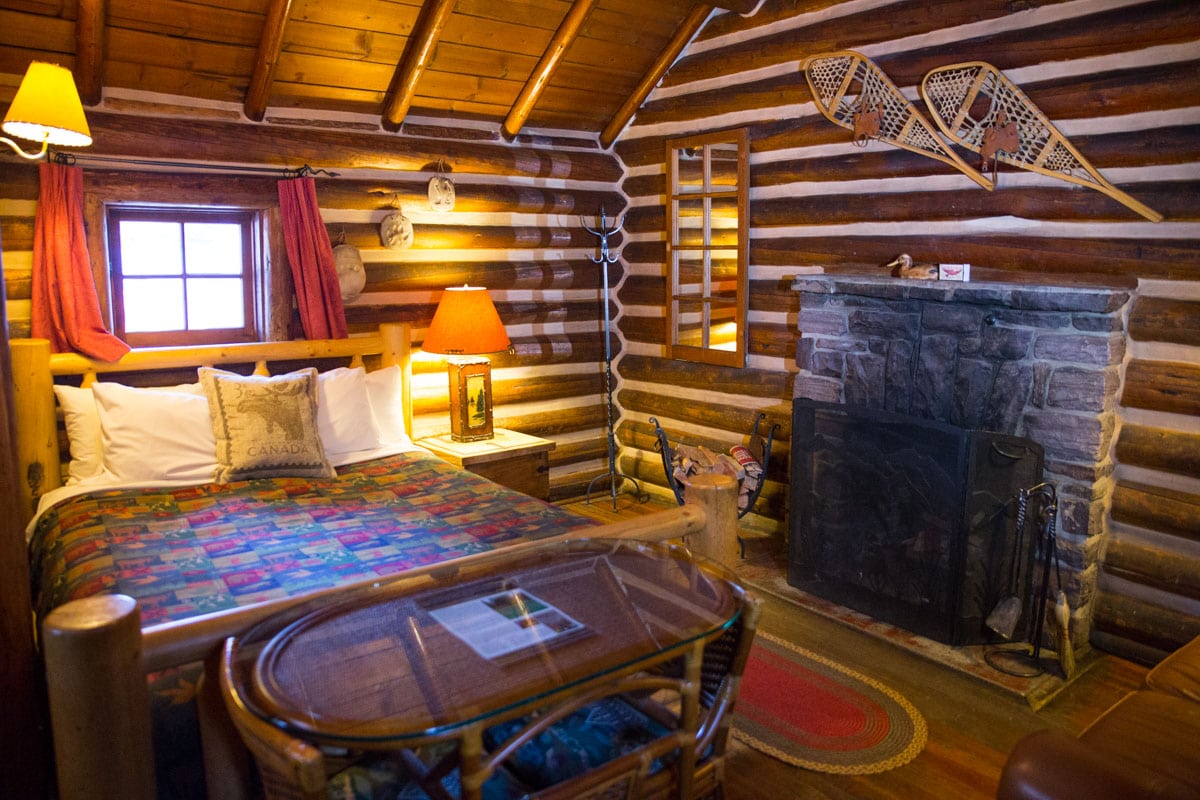 While it's hard to choose, I think the dinner we had at Storm Mountain Lodge was our favourite meal too. It has an exceptional foodie reputation, and the small restaurant was completely full. Be sure to book in advance, as this isn't the kind of place you can rock up and ask for a table.
We began our evening in the bar area and enjoyed cocktails and an enormous charcuterie platter with local game pate, elk, spicy salami and plenty more! Then for mains we moved to the restaurant area and tucked into arctic char with a flavoursome risotto and swiss chard.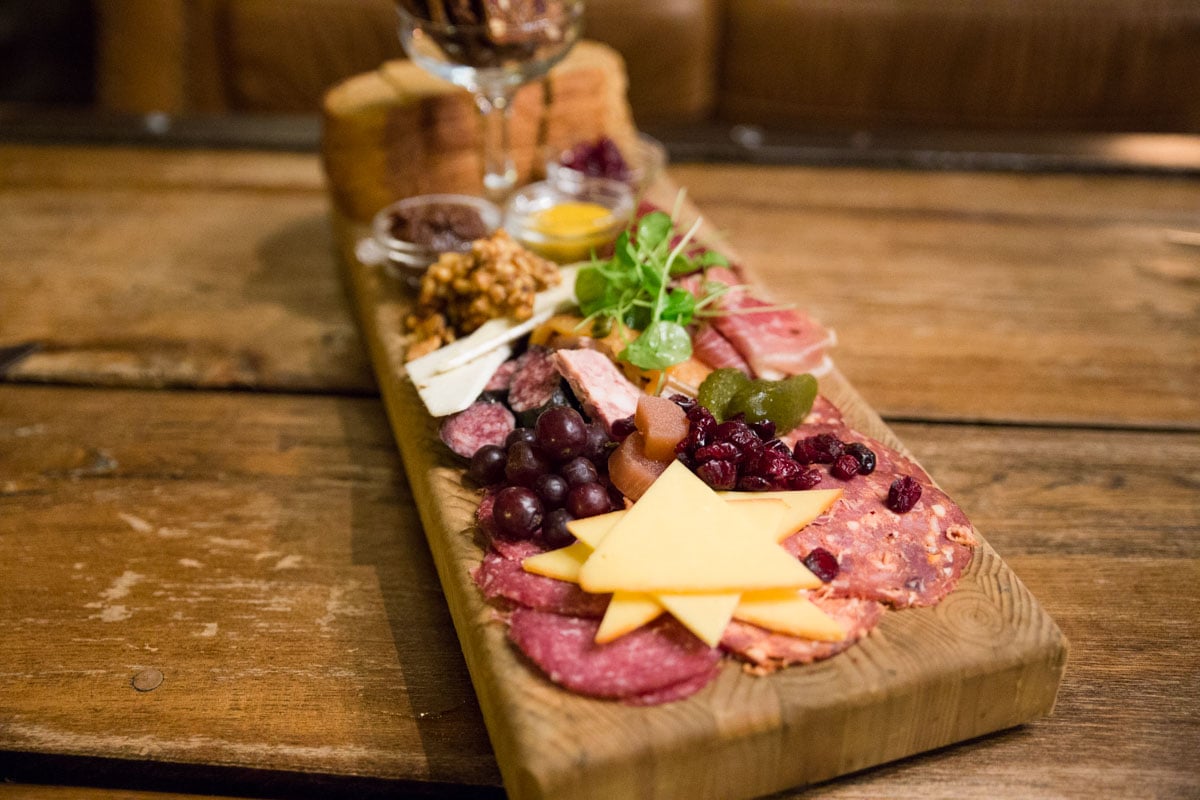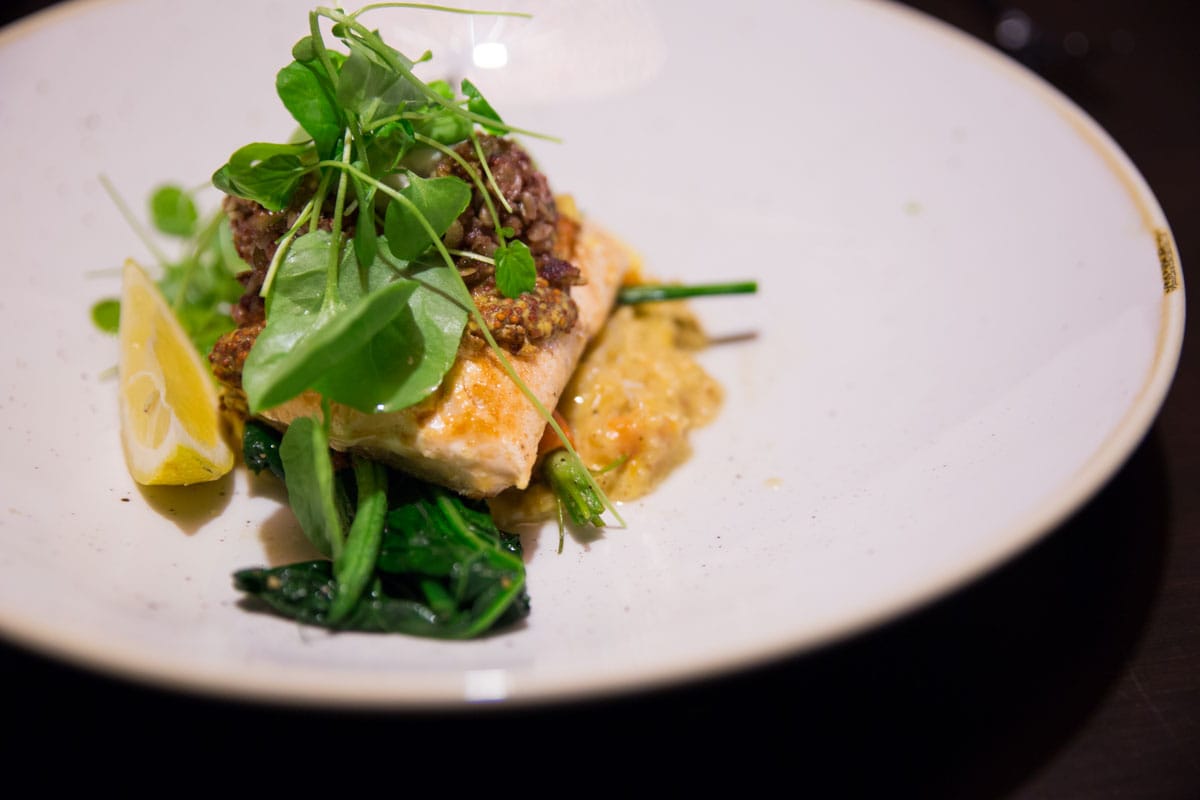 Want to find out the top things to do in the region? Read The Top Things To Do For Non-Skiers In Banff, Canada.
Continuing your travels in Alberta, Canada? Check out my Edmonton Travel Guide and my Top Restaurants In Edmonton, Canada!
This content was produced in collaboration with Travel Alberta and Destination Canada who organised this incredible trip to explore the region in winter. If you're looking for inspiration for your trip to Alberta in Canada, check their sites for lots of amazing advice. As always opinions are my own!
Enjoyed this post? Why not pin it…