From colourful fishing villages on the rugged coasts of Normandy and Brittany, to the glamorous resorts, glittering seas and spectacular beaches of the Mediterranean, these are the best beach towns in France.
Covering more than 3,500 kilometres, the coast of France is packed with beautiful villages where you can live your French seaside dreams.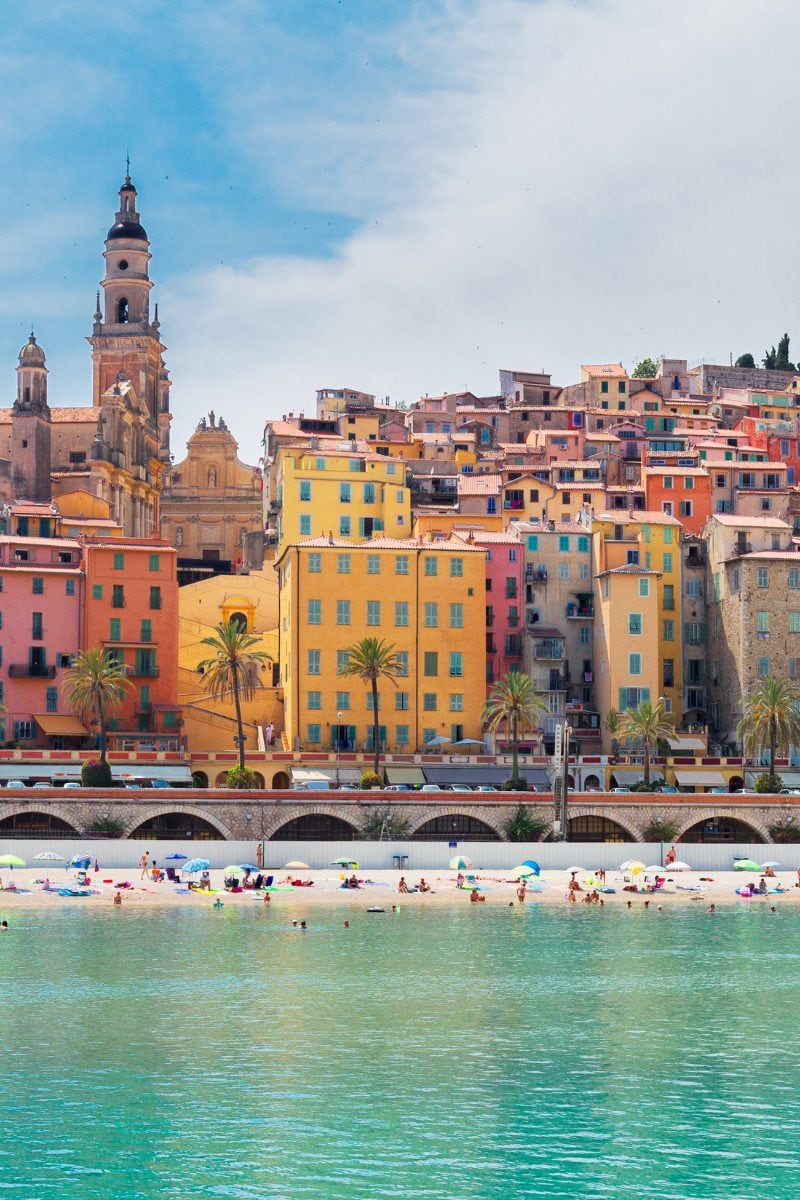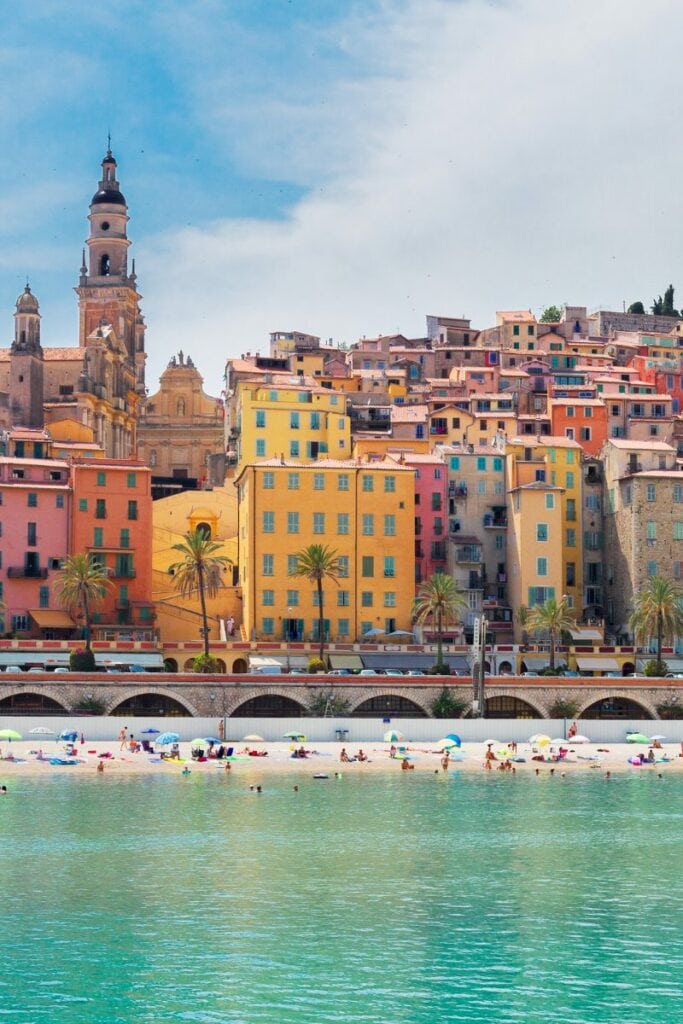 With historic D-Day landing grounds, superb markets, (and who doesn't love French food?!) trendy resorts and colourful harbours, French beach towns offer something for everyone.
So, whether you're planning a classic bucket and spade beach break on the Mediterranean coast you fancy a historic weekend in the north, these are the best beach towns in France. Allons-y!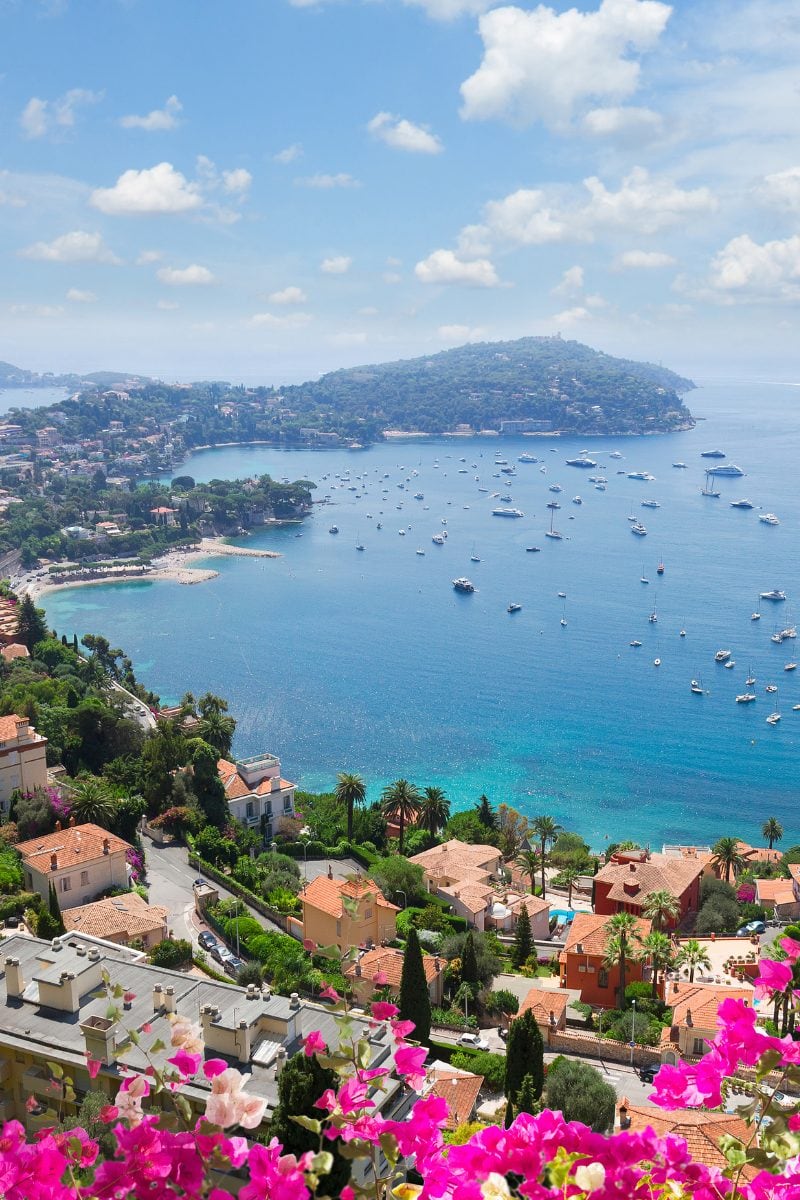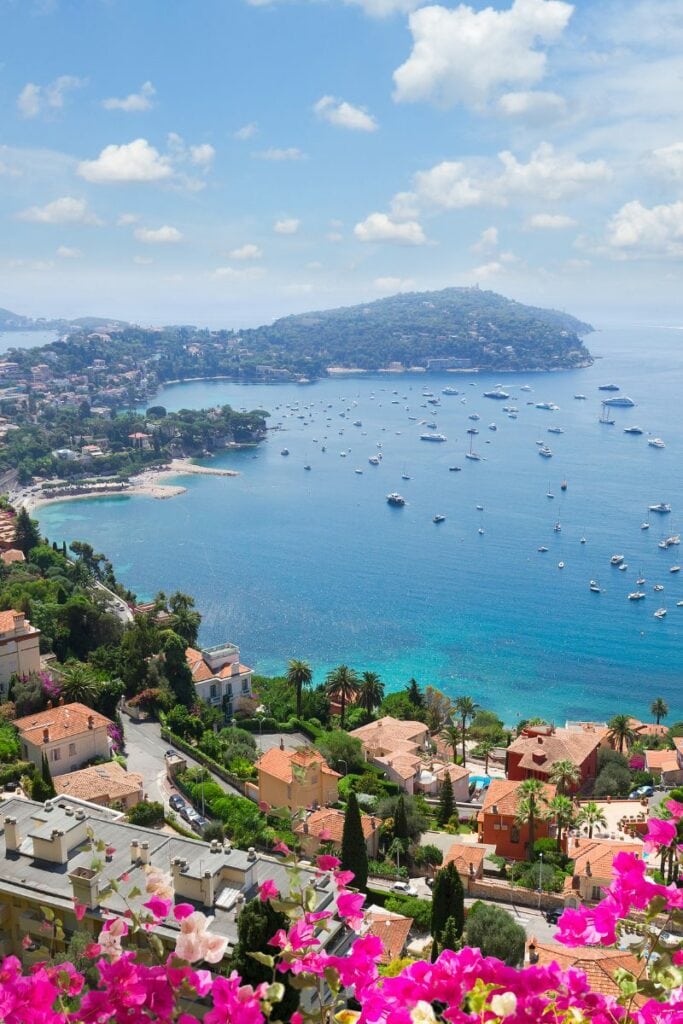 ---
16 Best Beach Towns in France
Trouville-sur-Mer
If you fancy walking an endless stretch of wild coastline, backed by wildlife-filled dunes, then Trouville-sur-Mer is the spot for you! This lovely, uncrowded seaside town in northern France has a seafront boardwalk dating from the 9th century (yep, people loved a seaside stroll even then!)! There's also a vibrant fish market and all sorts of glamorous belle époque buildings to gaze at.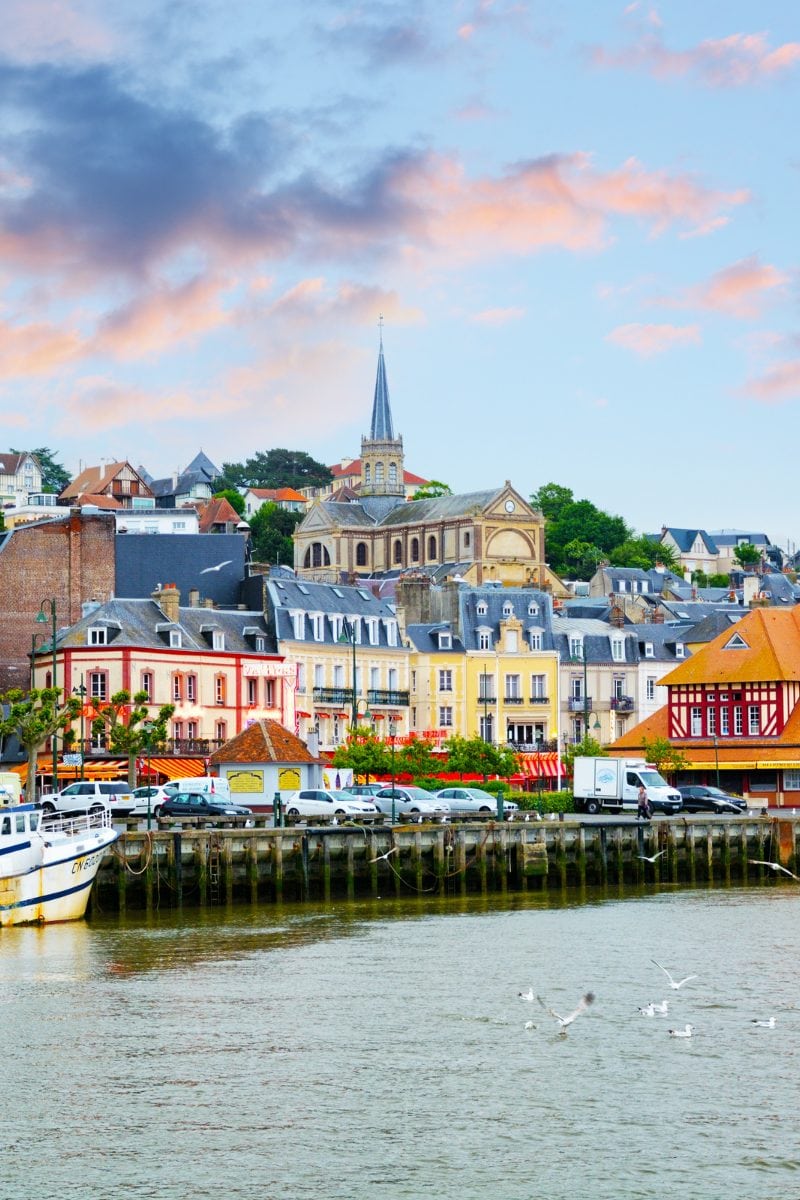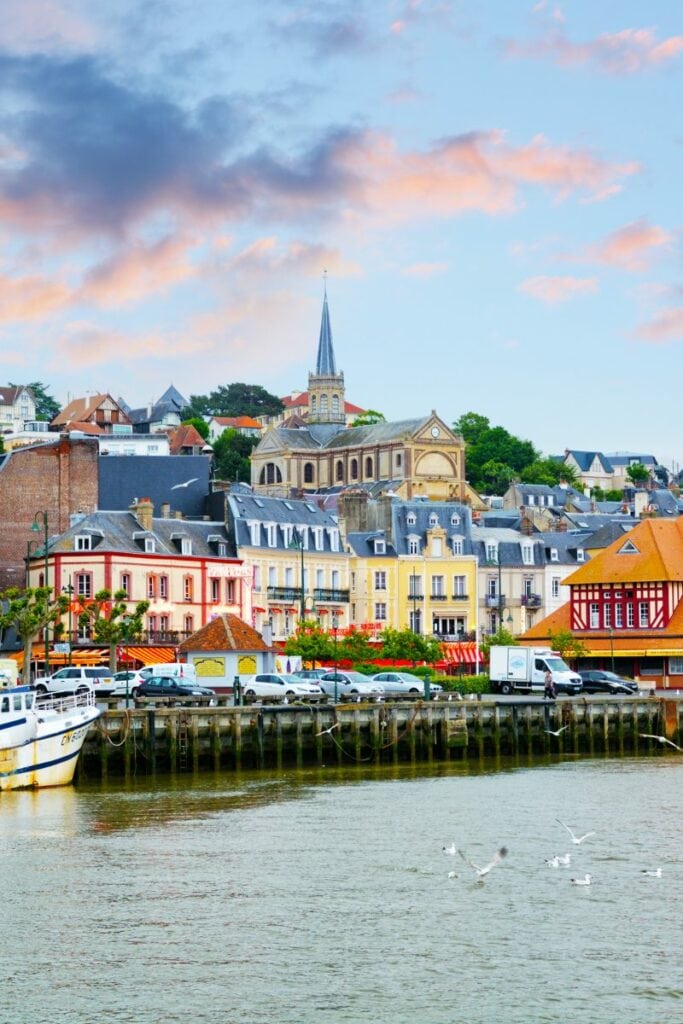 Beyond the boardwalk, the dunes stretch into the distance and you can walk for hours along the coast. Back in town, the lanes and alleys leading uphill from the harbour are crammed with cute restaurants and cafes, perfect for a quick snack, a long lunch or a languid evening meal.
Honfleur
This vibrant town on the Normandy coast just oozes authentic French charm. The stone-clad harbour is a wonderful place to stroll and you can watch the activity on the water over the rim of your coffee cup or a wine glass at a local cafe.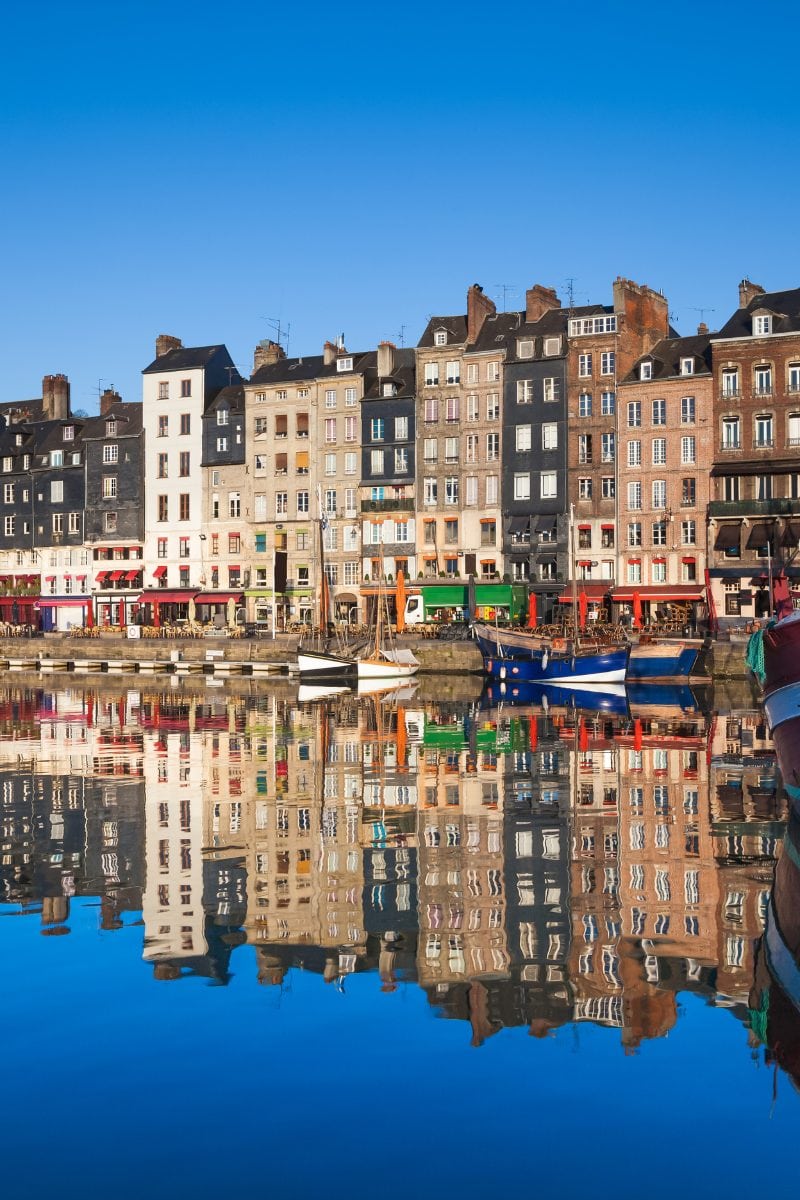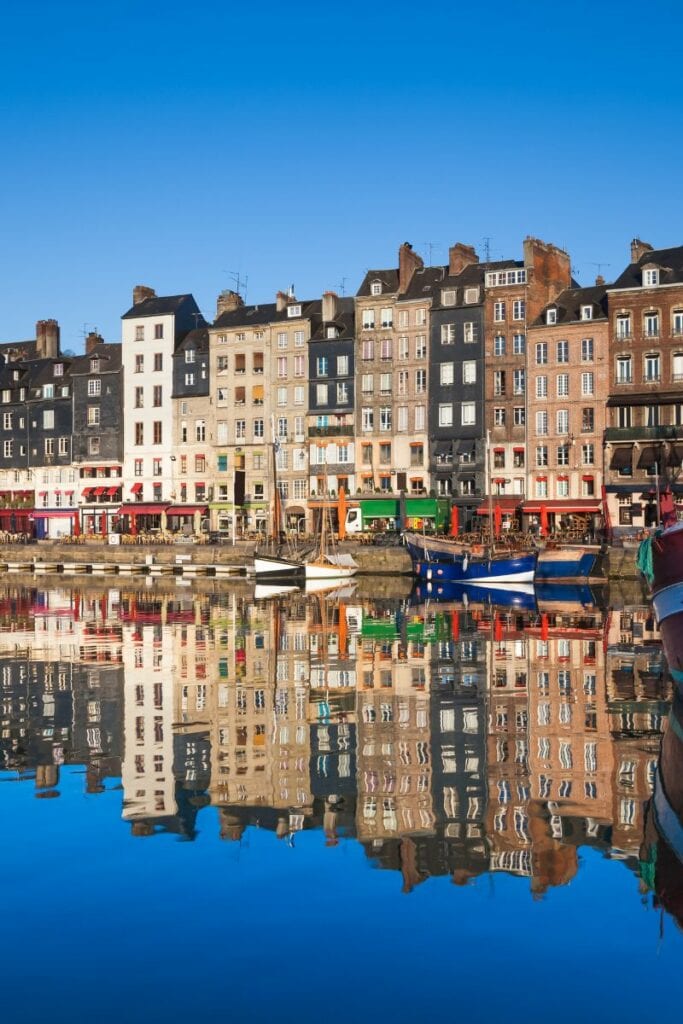 In the back alleys behind the waterfront you'll find quaint shops, restaurants (don't miss the Normandy beef rib at Le Fleuron) and half-timbered houses teeming with colourful flowers.
Menton
Right on the border with Italy, Menton feels world's away from Nice and Cannes along the French Riviera. It has its own micro-climate, is famous for its lemons… plus there's a benefit to being so close to Italy – you can hop across the border for some fresh Italian produce!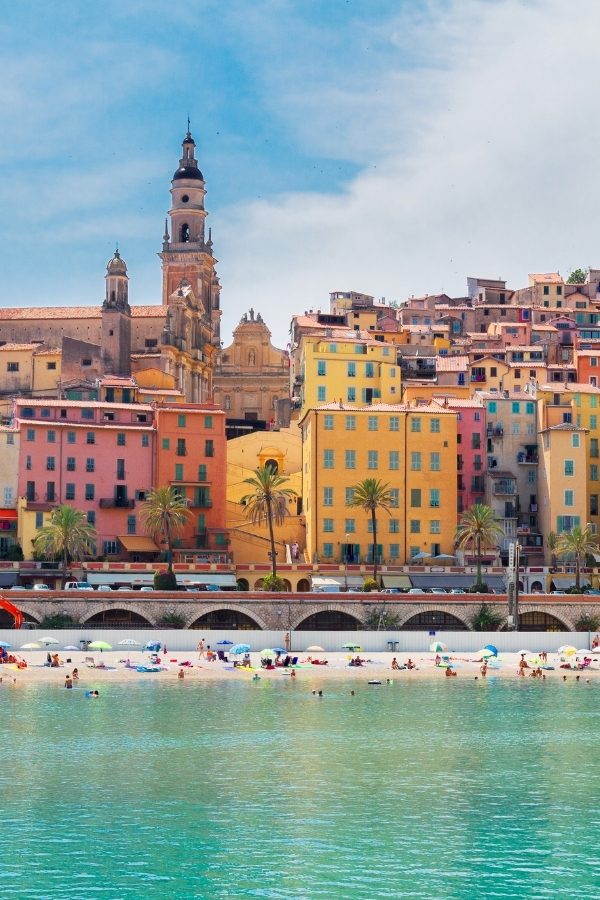 If you're looking to make your holiday extra special, Menton is home to Mirazur – one of the best restaurants in the world.
Saint-Malo
If you've ever imagined visiting a perfect French seaside town, Saint-Malo might just be that place. Surrounded on three sides by the ocean, this ancient Breton town (the Romans founded it in 100 BC) has spires, narrow cobbled streets and coastal charm.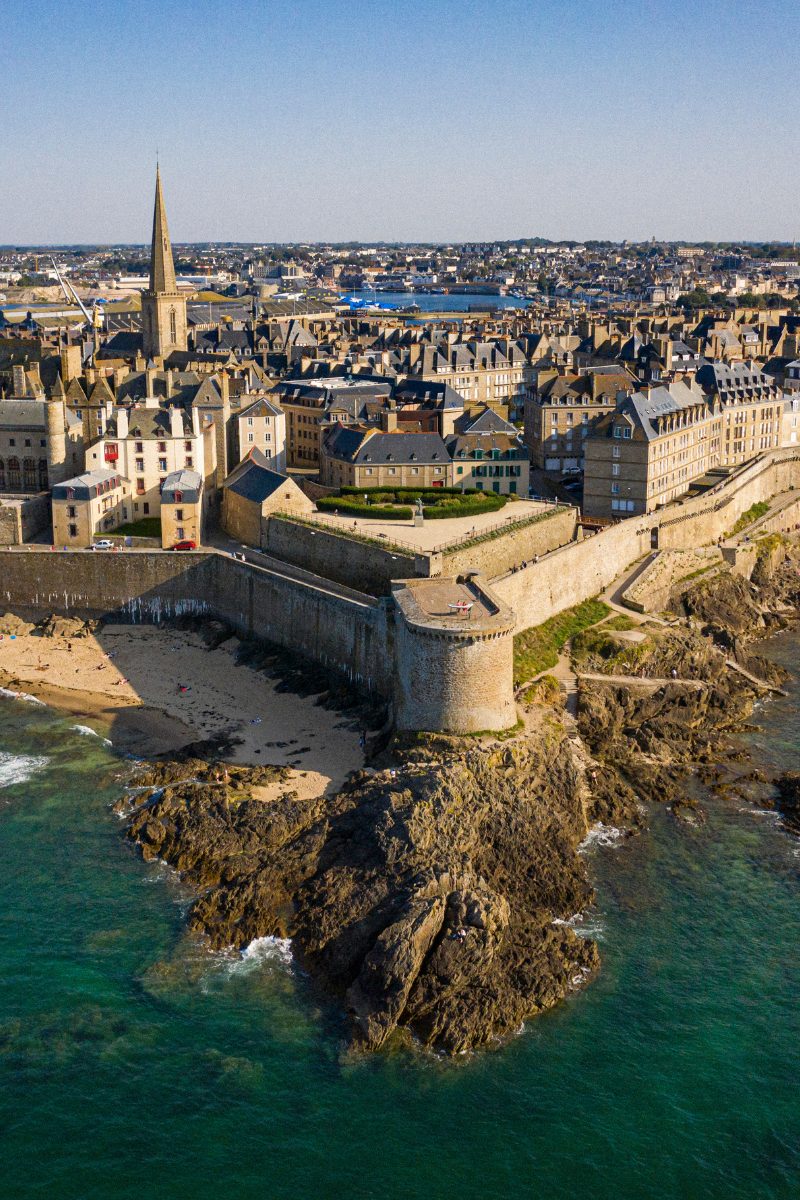 Saint-Malo is famous for its creperies, so just pick a place at random and feast on these light flatbreads stuffed with all kinds of Breton delicacies. Afterwards, stroll along the narrow sandy beach surrounding the town and watch the wild Atlantic breakers roll in. Perfect!
Plus, if you take a Normandy tour with GetYourGuide, you'll visit Saint-Malo as well as several other towns mentioned in this post.
Étretat
With its massive chalk cliffs forming a mirror image of the White Cliffs of Dover on the opposite side of the English Channel, Étretat is a perfect combination of wildness and French je ne sais quoi. There are some spectacular (if somewhat hair-raising) walks along the clifftops such as the Falaise d'Étretat, with its views of the needle-like spire known as the Aiguille.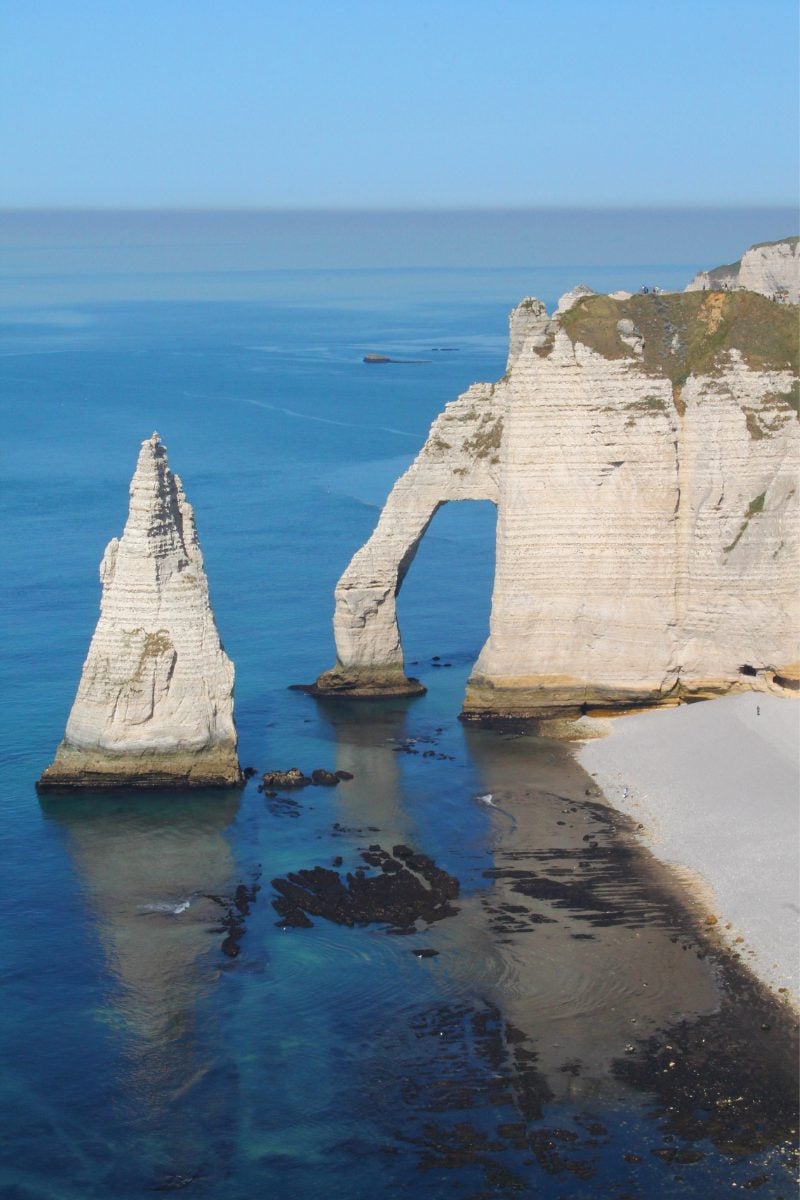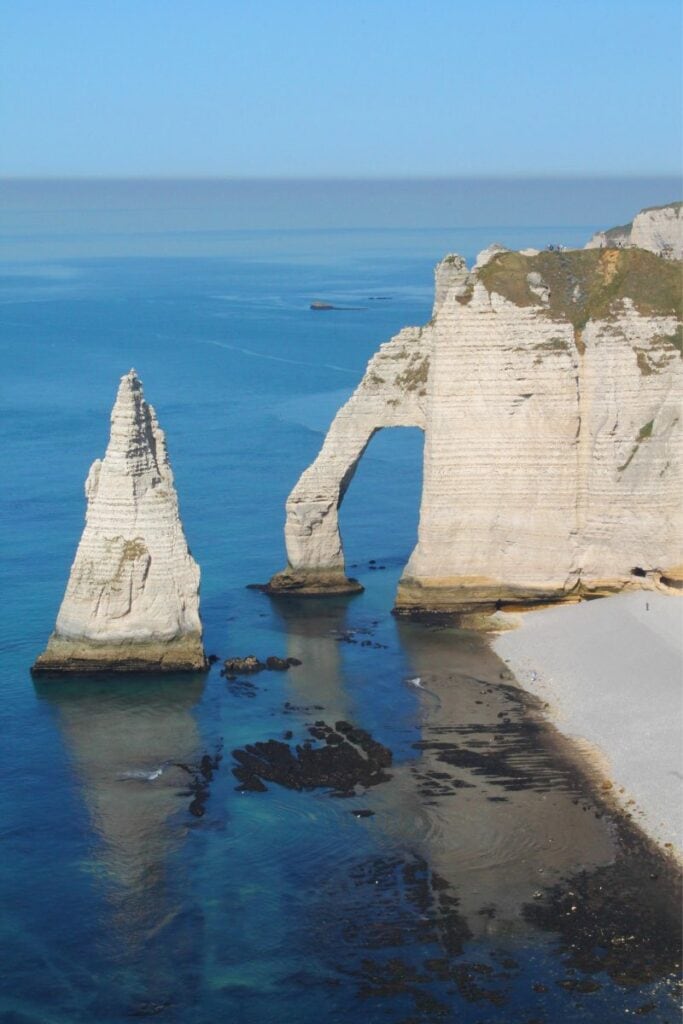 The Jardins d'Etretat are a slightly bizarre but lovely place to wander. Stone sculptures of faces and heads protrude from sculptured ivy shrubbery on a hillside overlooking the town. And if, after all that walking, you're in need of a refreshing beverage and a snack, there are stacks of cute bistros and cafes in the narrow streets leading down to the Plage d'Etretat.
Barfleur
Of all the coastal towns in France, Barfleur is a firm favourite. With its granite houses and long maritime history, Barfleur regularly makes it onto lists of the most beautiful villages in France. And it's easy to see why! You'll love wandering the cobbled streets of the harbour or strolling out on the coast of the wild Contenin Peninsula, which juts right out into the English Channel.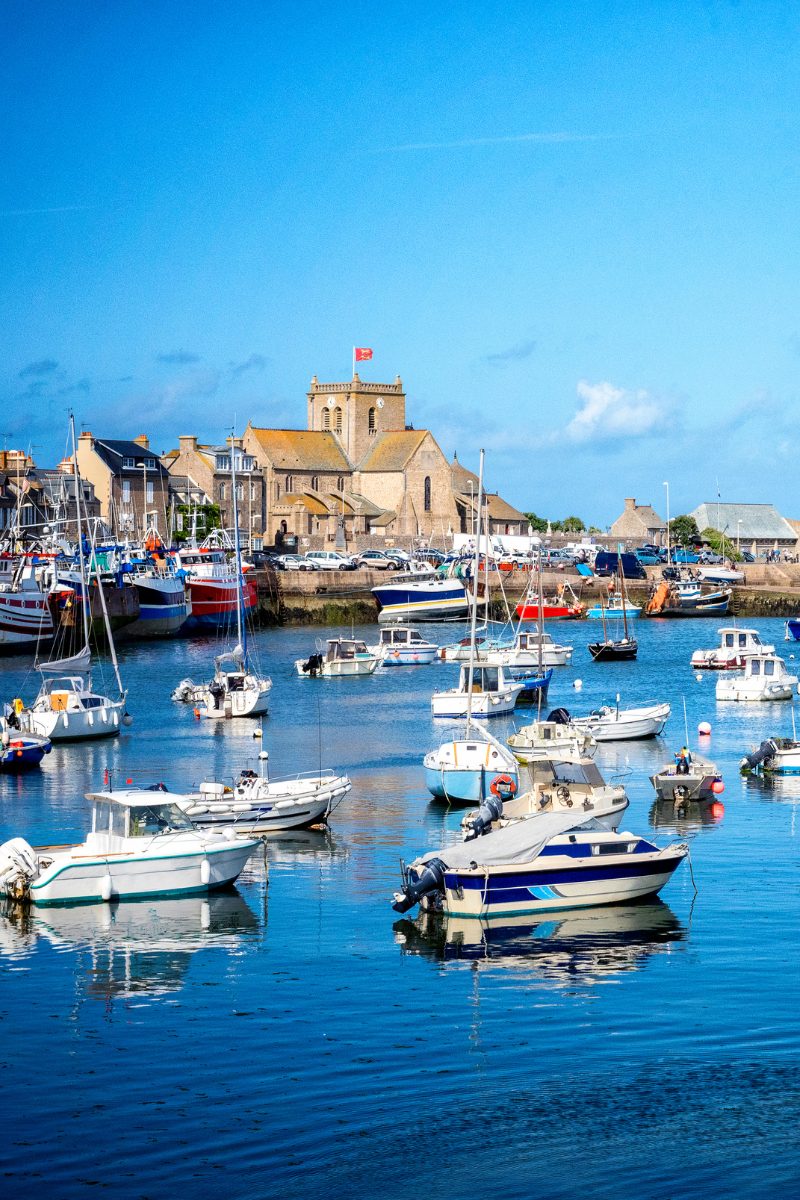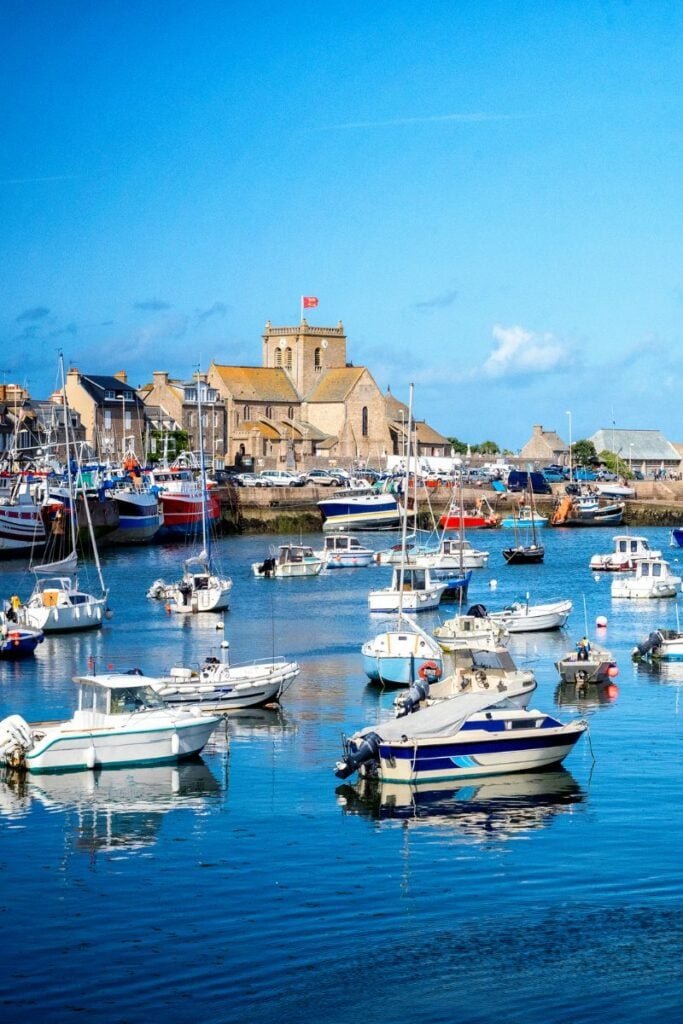 But it's a local delicacy that makes a trip to this French beach town extra appealing! It's famed for its wild mussels. Known as moules de Barfleur, the mussels are harvested in the waters just offshore and delivered fresh to the town's cafes and restaurants. Pick a place at random down on the waterfront and tuck in!
Cancale
If the mussels of Barfleur aren't quite your thing, perhaps the oysters of the Emerald Coast will be. The pretty port of Cancale, on the edge of Mont Saint-Michel Bay, is lined with jetties where the oyster boats come in.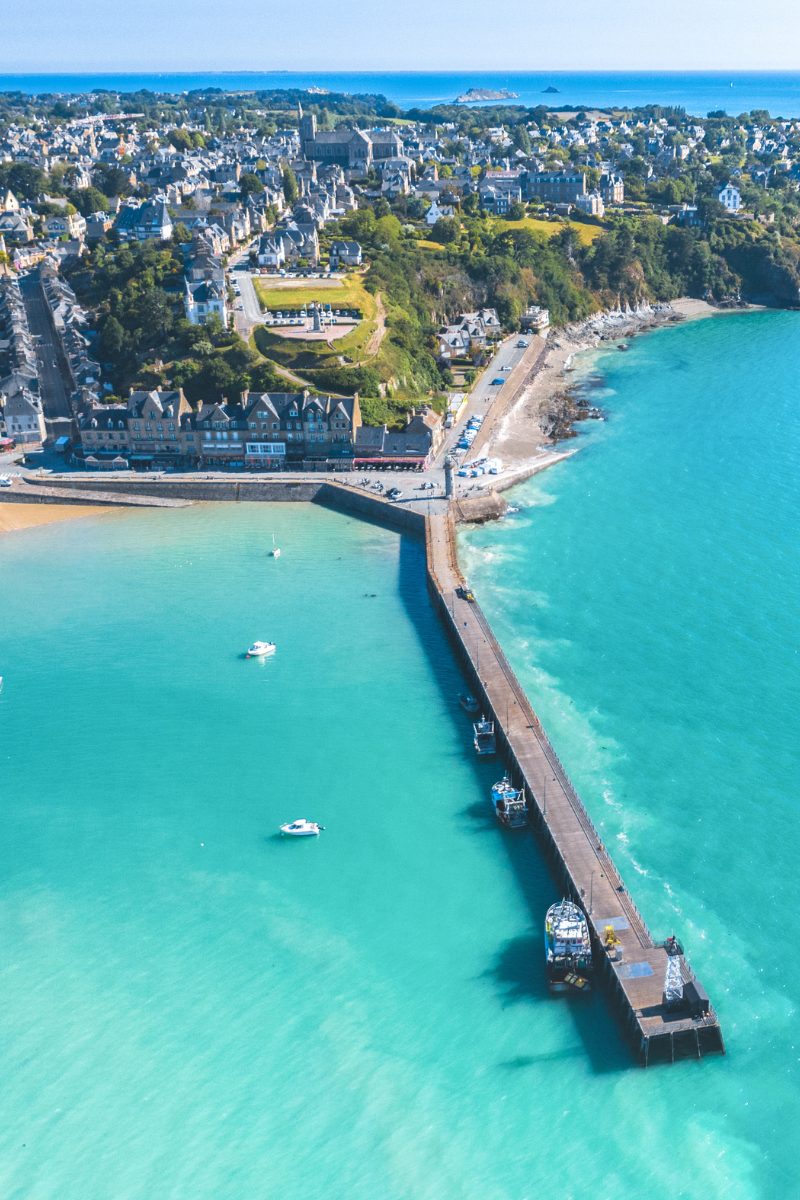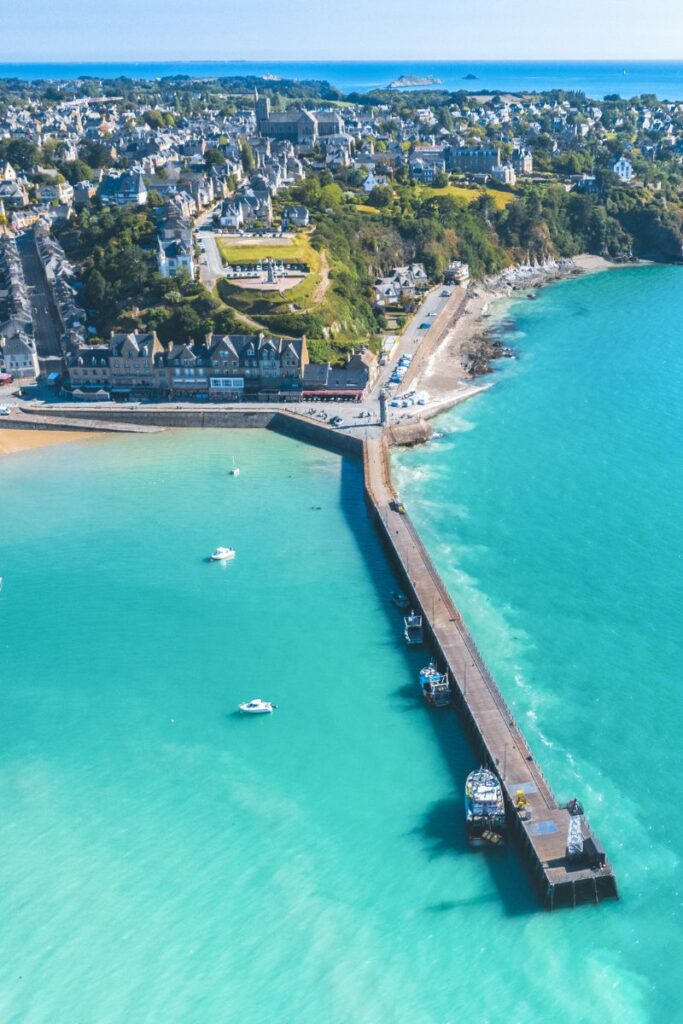 You can sit down on the slipway and share a plate of fresh oysters or settle in at one of the many cheerful local eateries to enjoy the fruits de Mer. One even has a boat's hull as its bar! Cancale has a kind of wild, edge-of-the-world feel, especially if you walk out of town along the seven-kilometre Pointe du Grounin. This route is beautiful, leading to hidden coves and secret moorings. It's the ideal way to work up an appetite for more local seafood and, perhaps, a glass or two of vino as an accompaniment!
Saint-Jean-de-Luz
The cuisine and culture of the Basque Country (just across the nearby France/Spain border) come together perfectly in this small town at the mouth of the Nivelle River. Saint-Jean-de-Luz has a long and fascinating history, being the place where the French king Louis XIV married the Spanish princess Maria Theresa.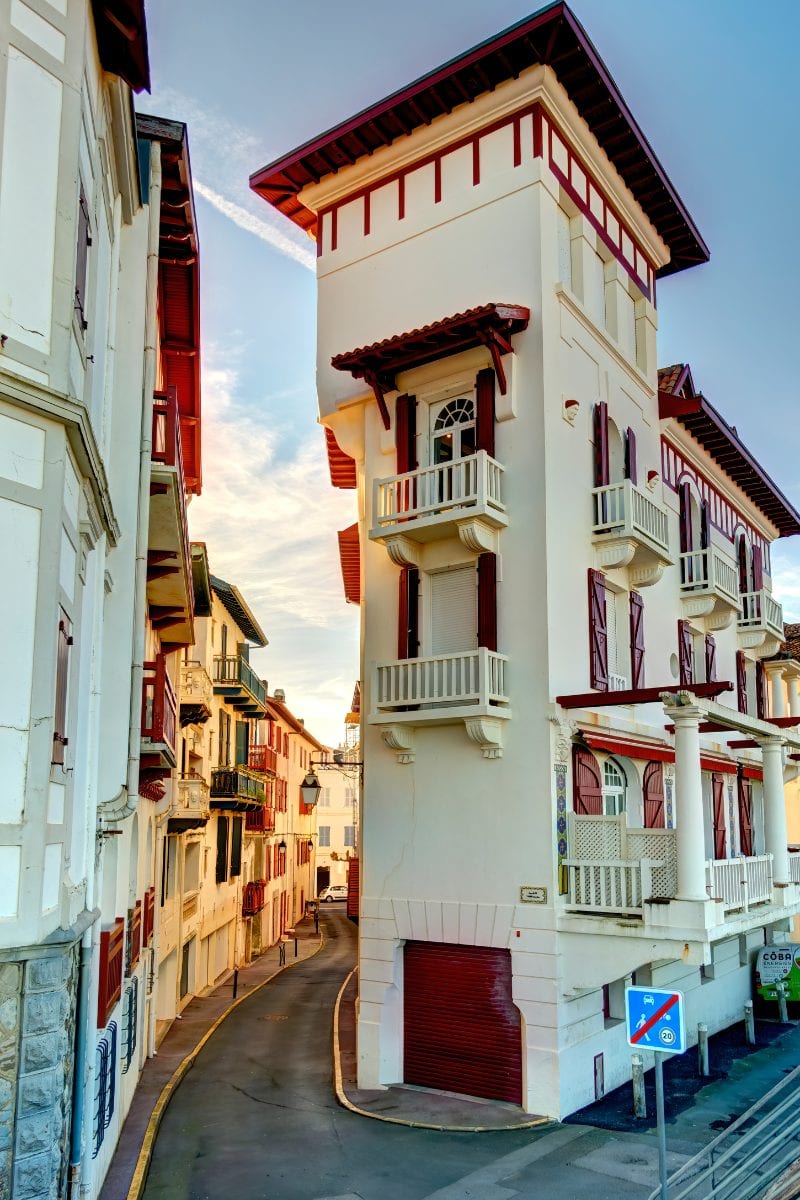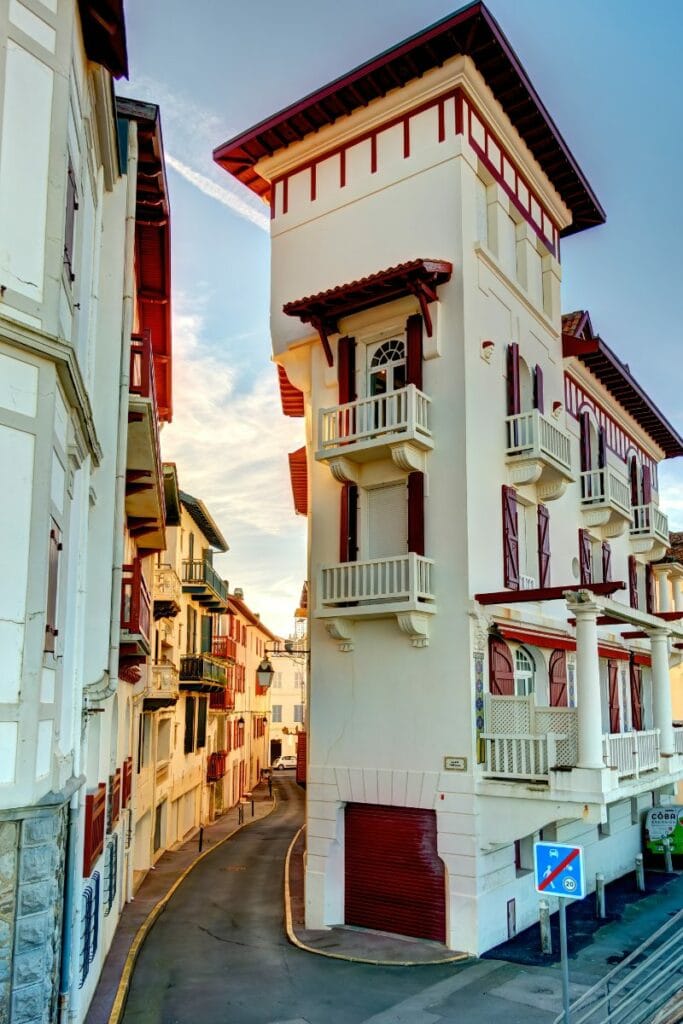 You can visit the cathedral where the wedding took place. You'll also see the main door that the king had bricked up afterwards, so no other couple could walk in his footsteps. Royal weddings aside, Saint-Jean-de-Luz has some beautiful beaches, very clean seawater and rows of shops in the attractive pedestrianised main street. It's an all-round lovely place to visit!
Ault
This sleepy little French beach town is a bit of a hidden gem. Located on the Atlantic coast, most tourists arriving in France at the nearby Calais ferry terminal head straight for Amiens or Rouen without even knowing that Ault is there. But I can tell you it's a great place to visit. Being free from the tourist crowds, Ault is a place where you can slow down and slot into the typically relaxed French lifestyle.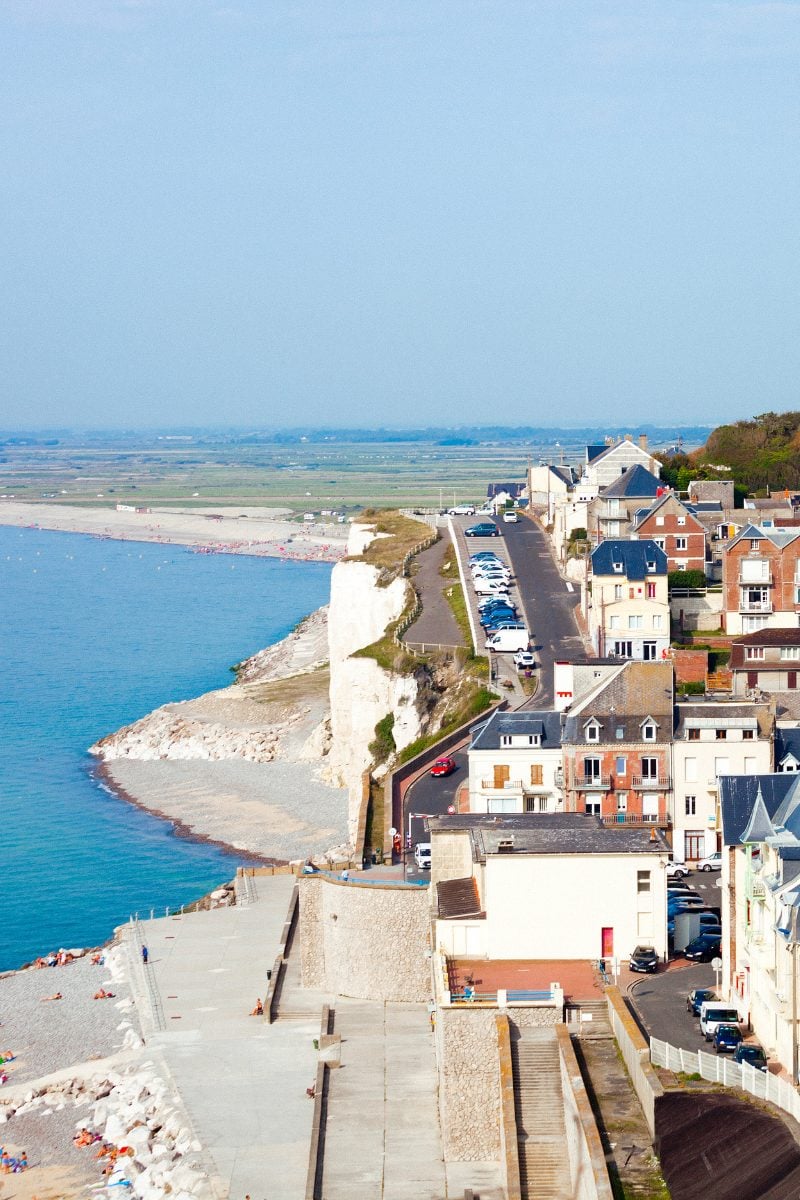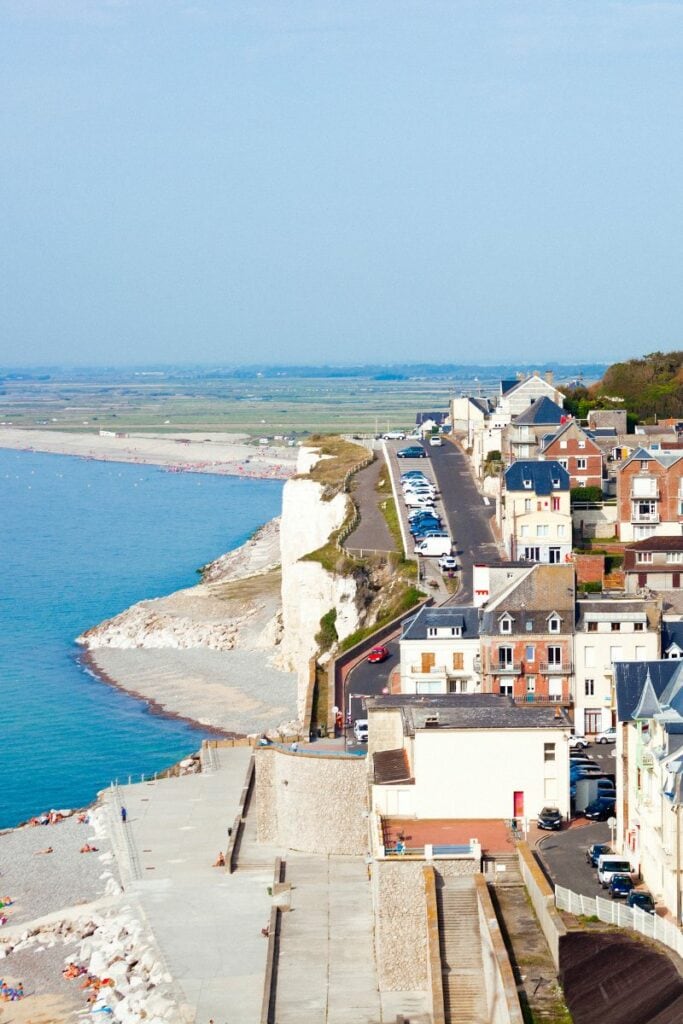 The village sits atop some spectacular cliffs of white chalk (similar to those at Étretat) and the local restaurants cater for the locals, not visiting tourists. Grab an upstairs window seat at l'Horizon and run your eyes over the menu, which features delicacies such as fish sauerkraut, smoked coalfish and Somme Bay chowder. Ahhhh…. Vive la Mer!
Biarritz
If you've ever dreamed of catching a wave, this pretty town on the southernmost tip of France's Atlantic coast is the place to go. This is one of Europe's premier surf spots and even if you don't fancy spending some time in the "The Green Room" (surfer speak for being inside a wave!) you can certainly soak up the surfer vibe here. If you're feeling adventurous, you could even dive off the rock at Le Petit Plage.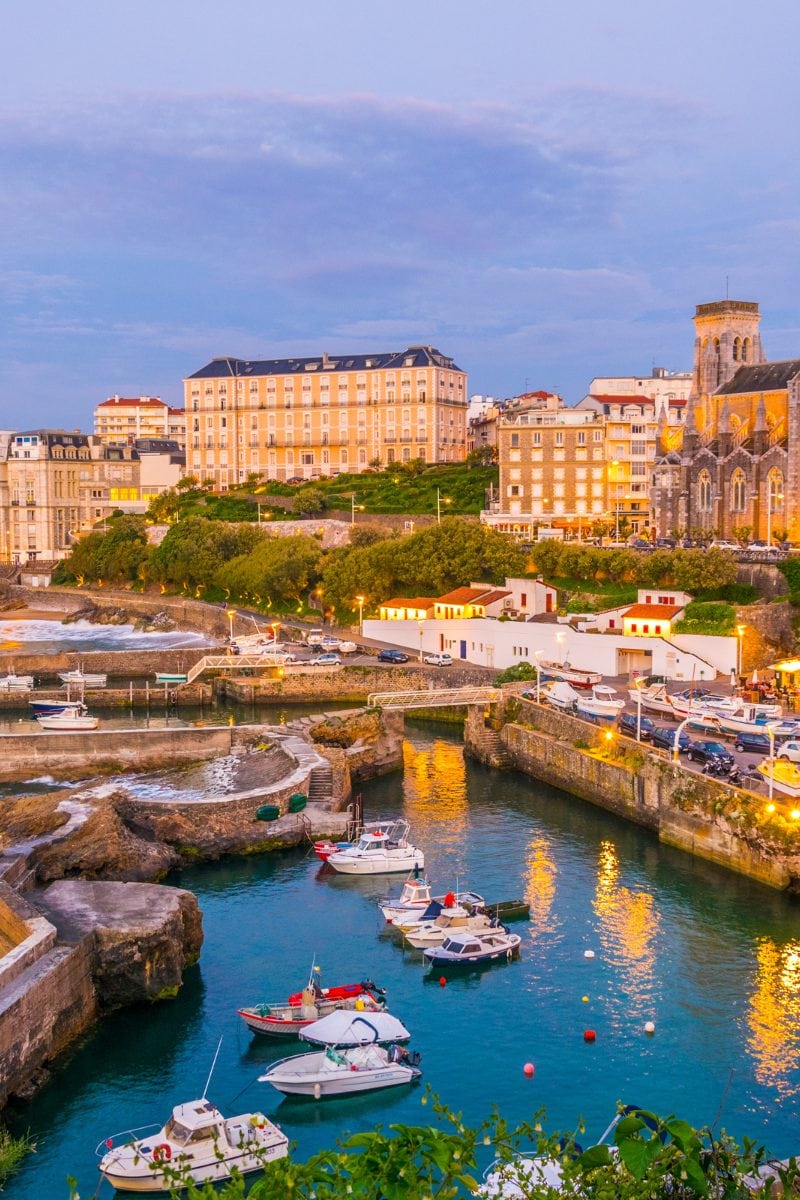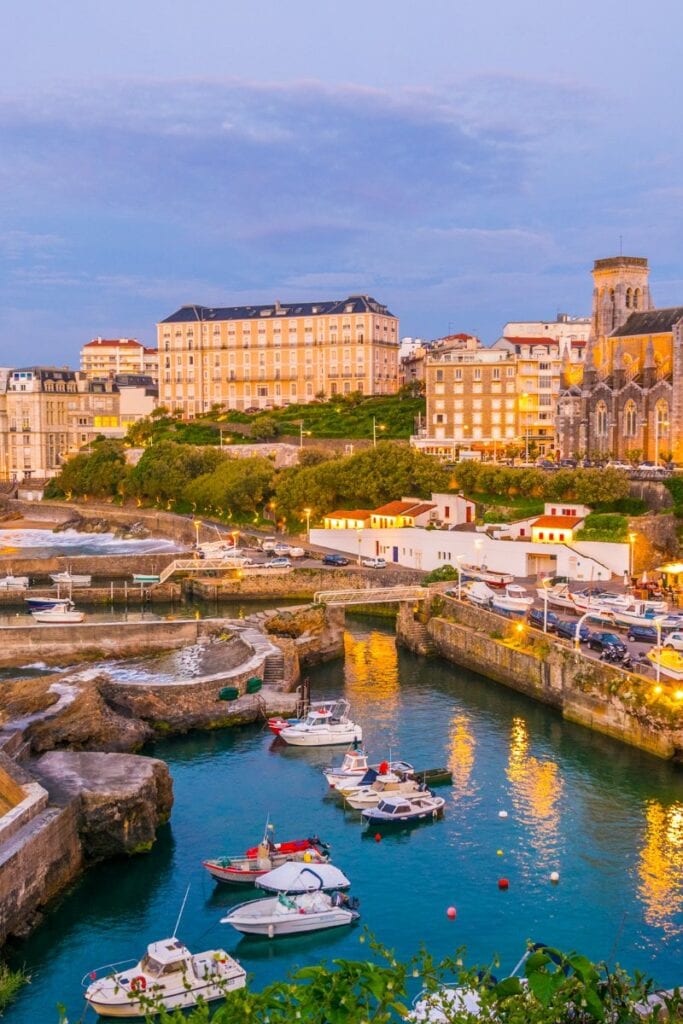 Biarritz's popularity as a tourist destination began during the 19th century when Napolean III began holidaying there. You'll find plenty of fabulous boutique hotels along the promenade of La Grande Plage that retain the grand atmosphere of those days. Cute restaurants abound along the seafront, where the flavours of both France and Spain merge to form a unique (not to mention delicious) blend.
I can highly recommend having a meal at Casa Juan Pedro, right by the water, then a wander through the tunnel at the far end of the Boulevard du Prince de Galles for a drink (or two) at the Eden Rock Café.
Villefranche-sur-Mer
Ok, let's head over to the Mediterranean coast where you'll find some of the most famous tourist hotspots on the French coast. Located close to Nice, Villefranche-sur-Mer is a great place to use as a base for exploring the nearby Cap Ferrat, one of the world's most expensive residential locations.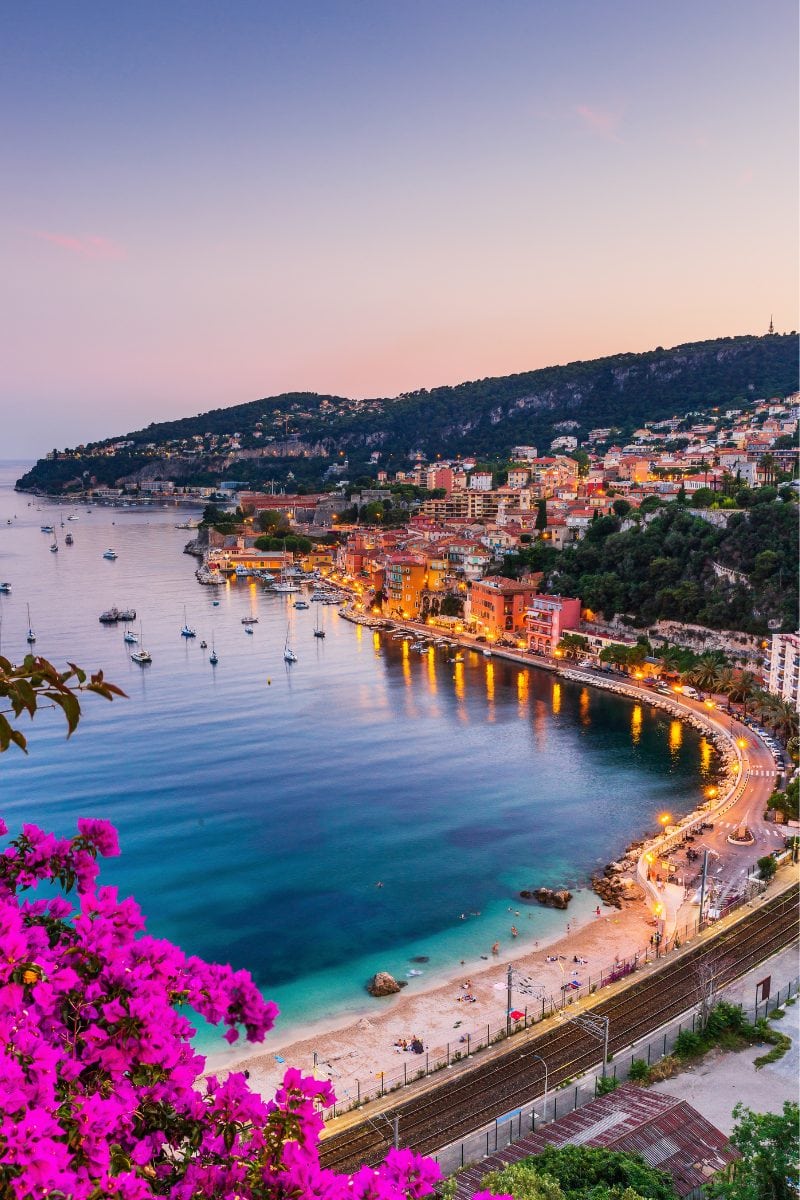 Villefranche-sur-Mer is definitely a millionaire's playground. But among the colourful apartments and posh houses, you'll find lots of pretty shops, cafés and eateries. Many are tucked away in the steep alleys and passageways which lead down to the waterfront. The 16th-century citadel up in the Old Town tells the story of the area's strategic importance. From there you have an amazing view of the bay, with its moored yachts, bobbing fishing boats and golden beach.
Cassis
Located on the Côte d'Azur (now THAT is a beautiful name for a coastline!) not far from Marseille, Cassis is said by some to be the best coastal town in France. With its backdrop of dry, limestone hills and the shining sea lapping at rugged cliffs — known locally as calanques — Cassis seems a world away from the glitzy hubbub of French Riviera towns such as St Tropez and Cannes.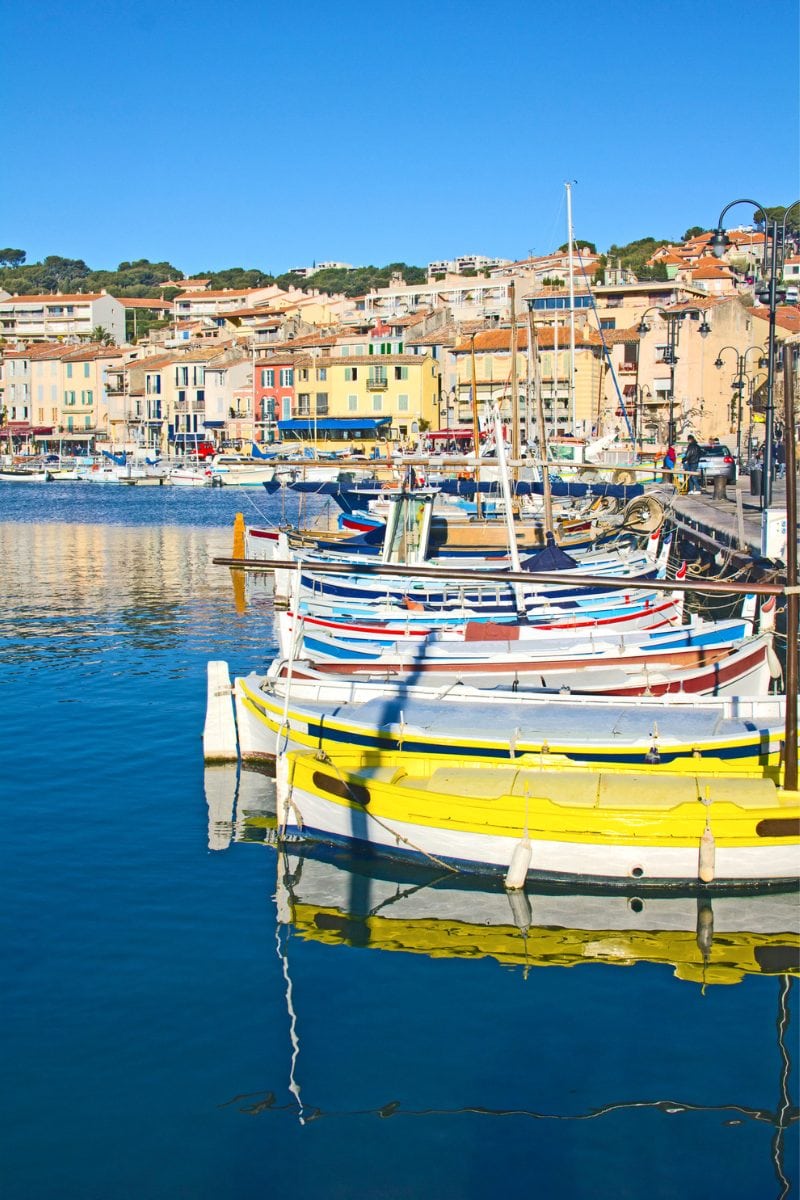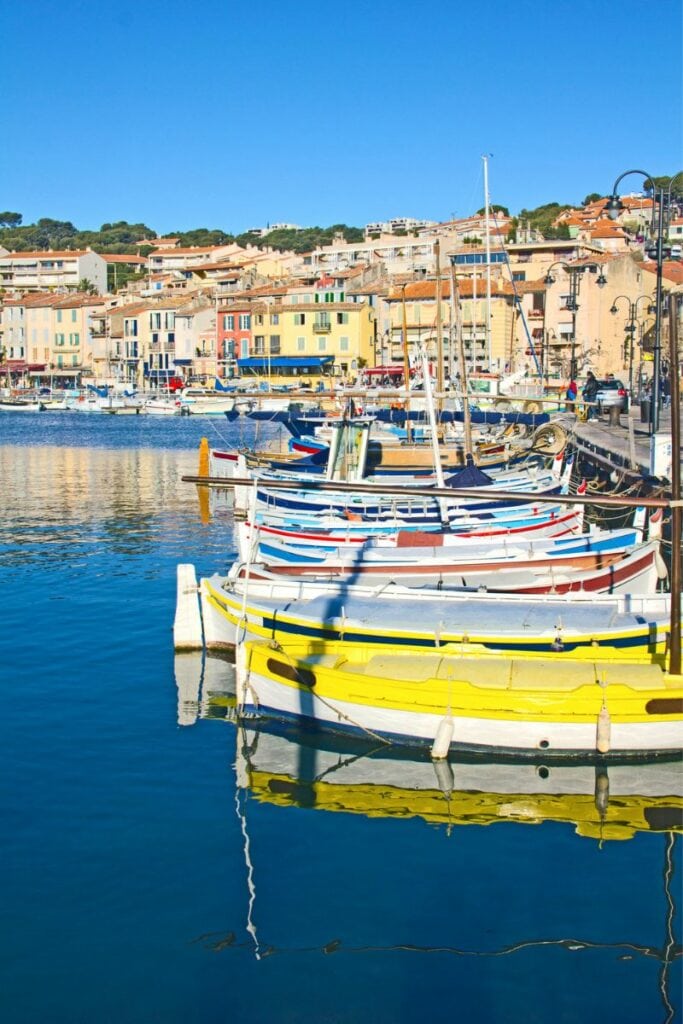 Watched over by a centuries-old Château, the harbour at Cassis has rows of lovely pastel-coloured buildings. It's somewhere you'll be spoiled for choice by the number of restaurants and cafés. And, of course, you have to sample the famous local white wine: Cassis!
Martigues
I love this little ramshackle fishing village, which is located on the edge of an estuarine lake called Etang de Berre. A series of canals flow down through Martigues and the fleet of colourful local fishing boats, with their big lateen sails, tie up right outside the houses lining the waterfront.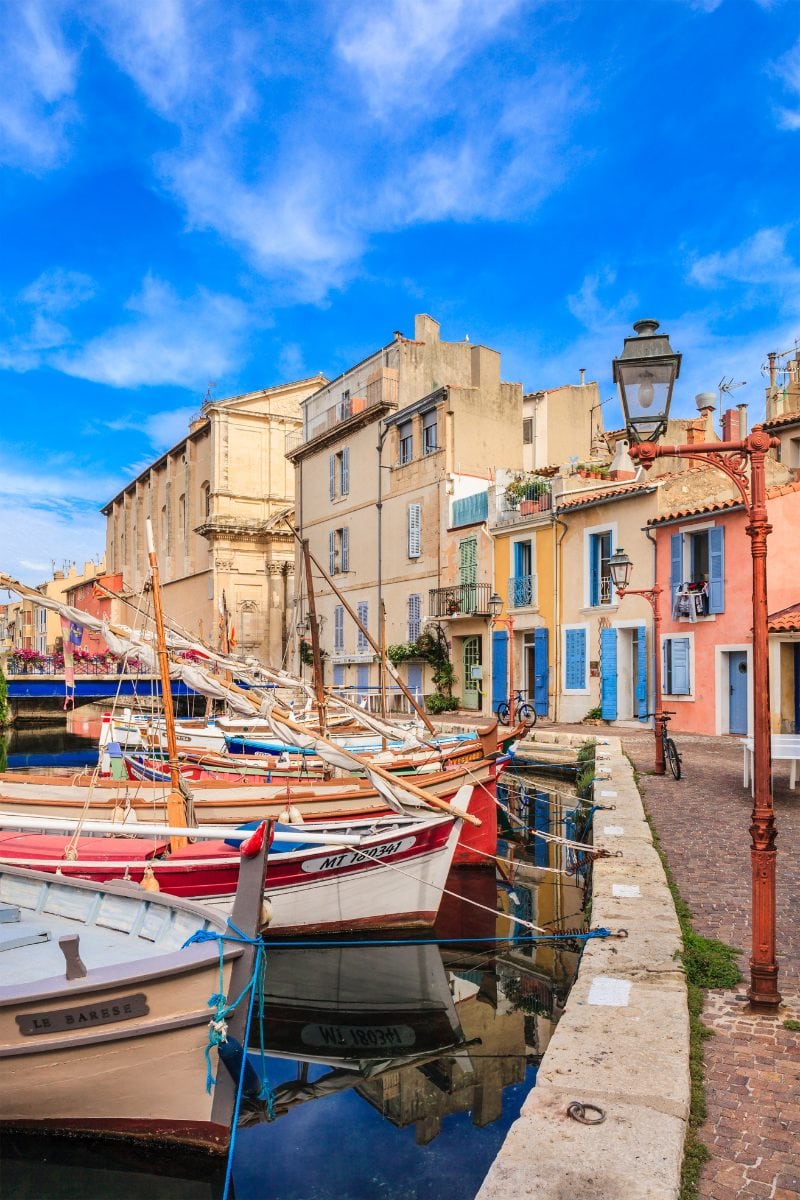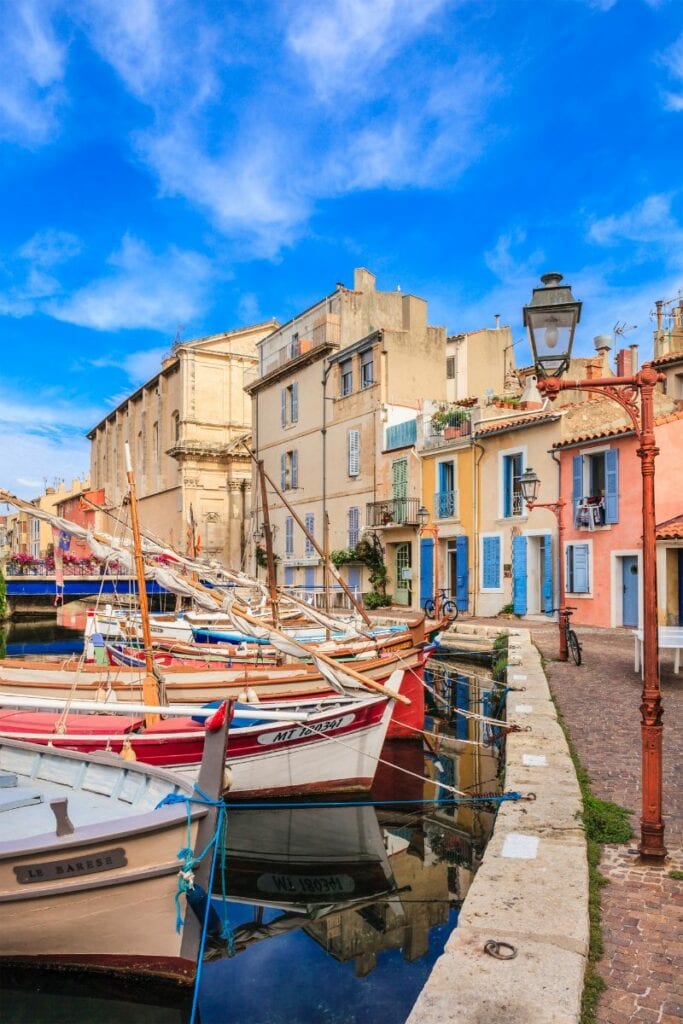 Gardens of brightly-coloured wildflowers frame views of the canals and blue-shuttered houses. There's also a labyrinth of back streets and alleyways. You'll find charming little restaurants at every turn, where the smell of food is so entrancing that you'll be tempted to stop for a snack at all hours of the day!
Nice
As the old song by The Stranglers goes, it's "so nice in Nice." And I have to agree! This is one of my favourite places to visit in France in summer and even though it's officially a city, Nice still has the relaxed and laid-back feel of a beach town.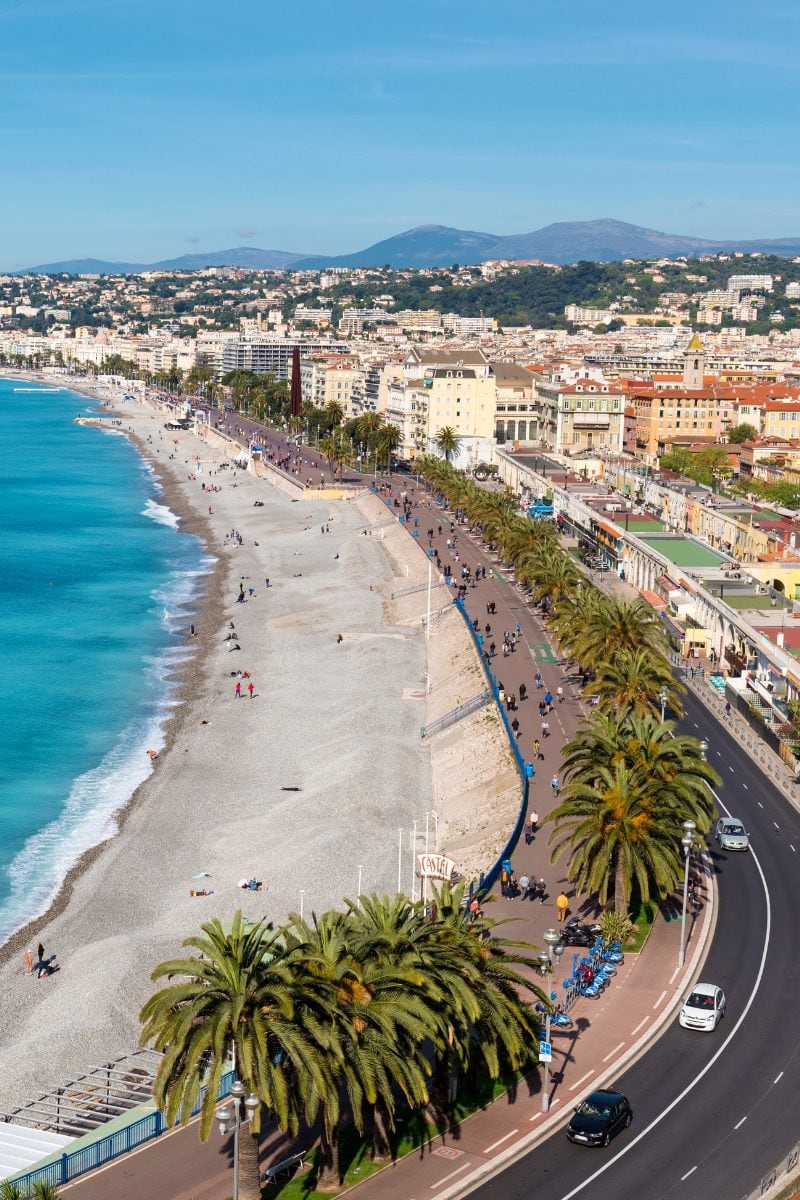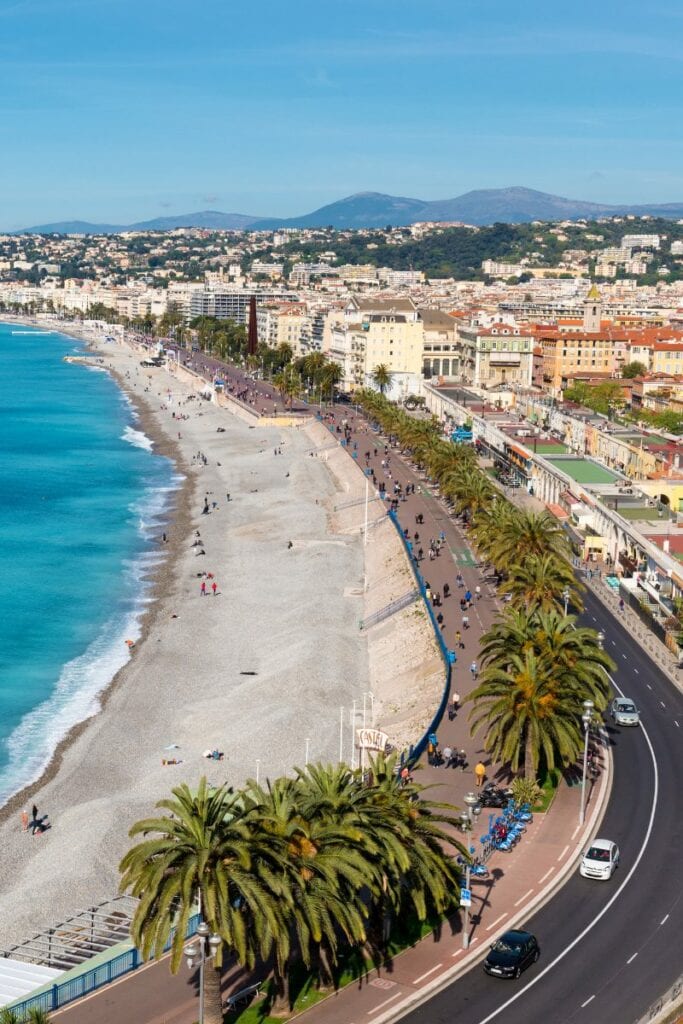 The beauty of Nice is in its 19th-century mansions lined up along the Promenade des Anglais. As you stroll along the azure Mediterranean, you'll find a selection of cafés, restaurants, shady palm trees and pergolas. Take a walking tour up through the Old Town where glaciers (ice cream shops), crêperies and restaurants stand beneath tall, ochre-painted Italianate apartments. Like the band says: it's nice in Nice!
Pigna
Located on the French island of Corsica, Pigna is a jewel that you won't find on many travel itineraries. This small car-free town began life as an outpost of the Roman Catholic Church, and takes its name from a suburb of Rome. Its cobbled streets step down through the orange-tiled buildings where sausages, olives, anchovies and cheese are sold from tiny shops.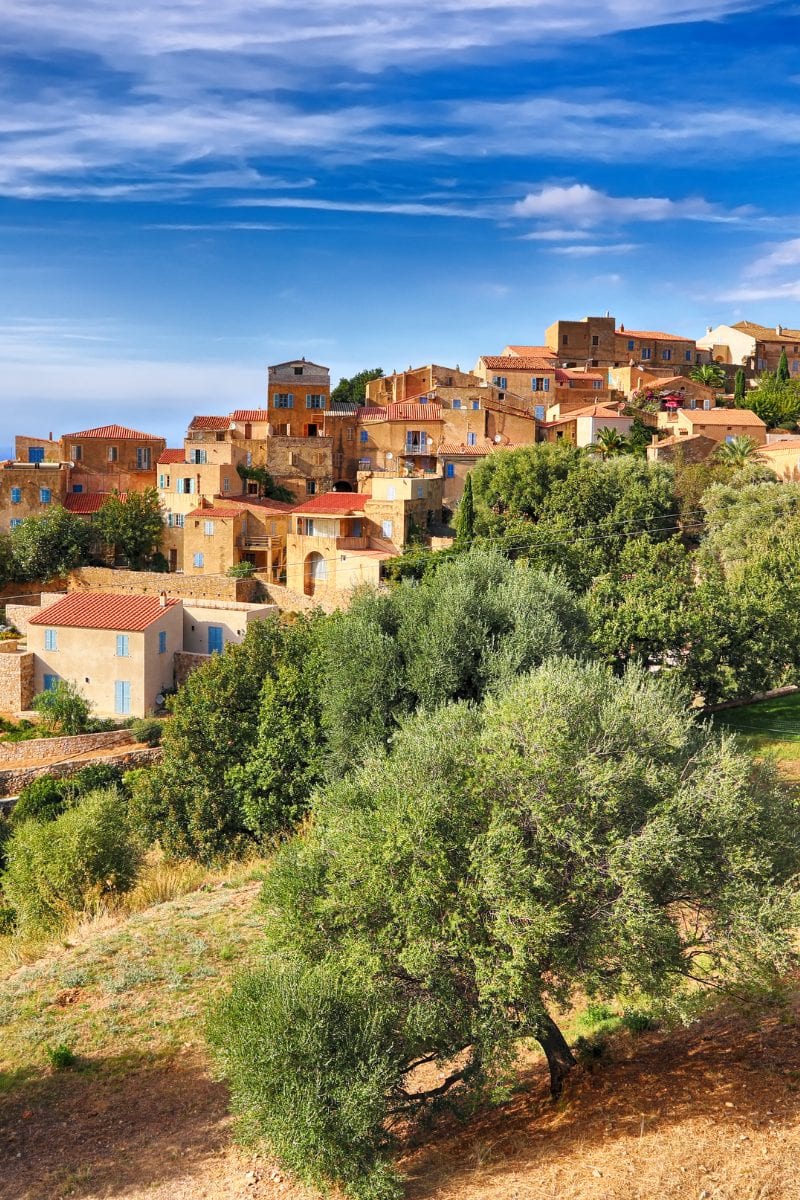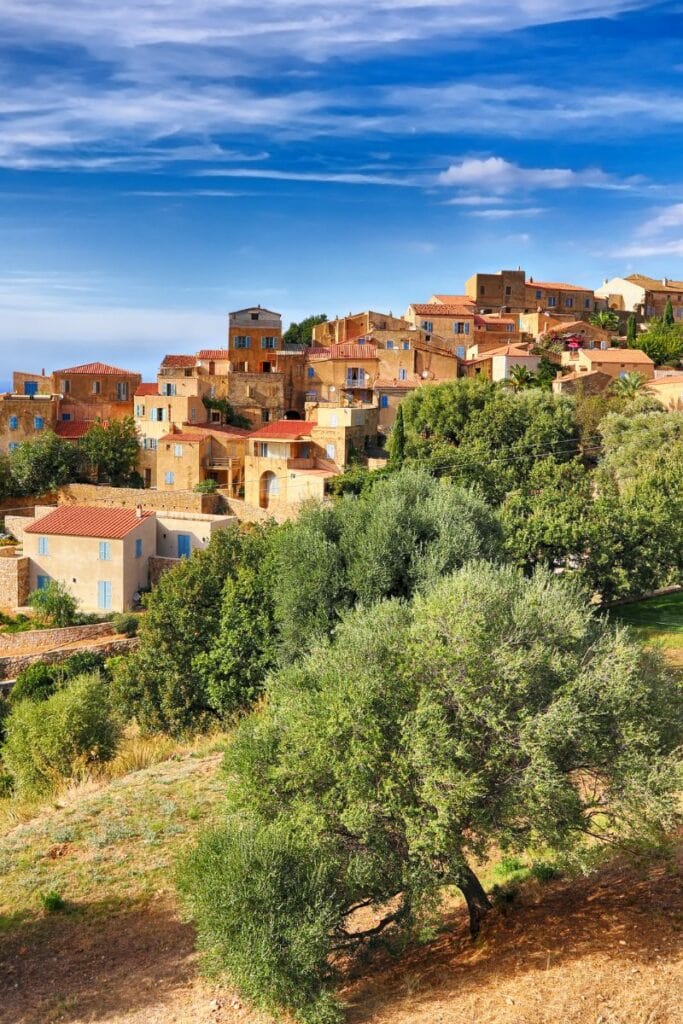 It's located in the hills a short drive from the coast, but Corsica also has several small beach towns where you can step back in time and soak up the hubbub of daily life. Plus, don't forget the island's most famous citizen, Napoleon Bonaparte, was born on Corsica, so history lovers will enjoy visiting too.
Le Port de la Cotinèire
Located on the island of Saint Pierre d'Oleron, just off the mainland from Rochefort on the Atlantic coast, the fishing port of La Cotinére is a lively and colourful place. Early risers can wander around the fish market (known as La Victorine) which kicks off at 4 am every day except Sunday. La Cotinèire market right on the seafront is another great place to explore. The local fishwives are always happy to chat and share their local recipes.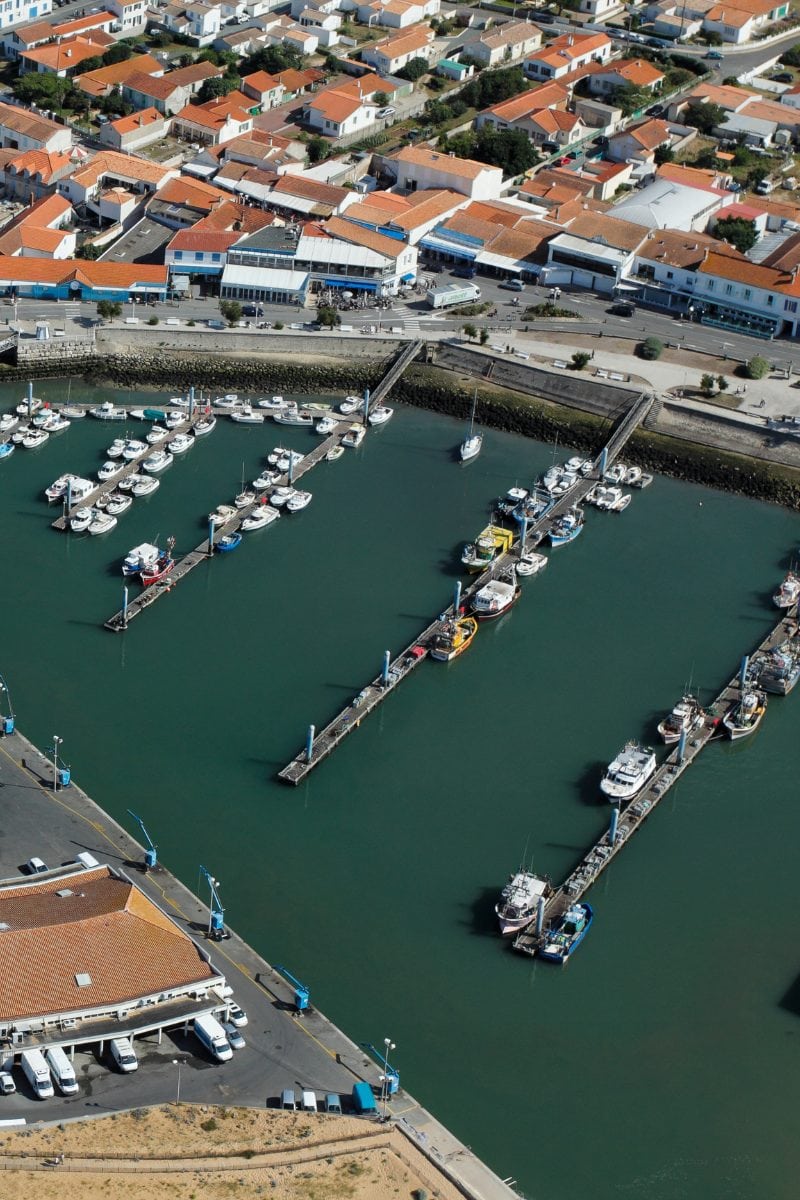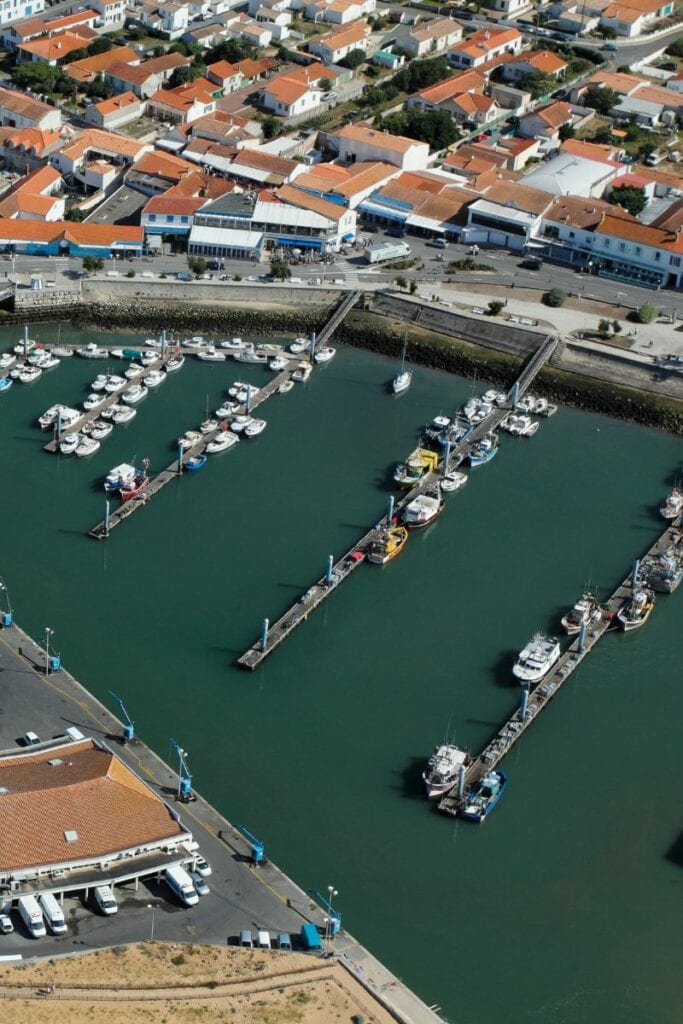 There are plenty of cafes set amongst the shops along the waterfront, making this a great place to settle down for a spot of people-watching: one of my favourite things to do when I travel!
---
With sandy beaches, historic landing grounds, colourful streets, authentic locals and superb food, coastal towns in France have an atmosphere all of their own. Whether you are looking for a glamorous beachside holiday or a wild coastline to wander along, these French beach towns will provide you with exactly what you're looking for!
If you're looking for more travel inspiration for a trip to France, take a look at these travel guides next.