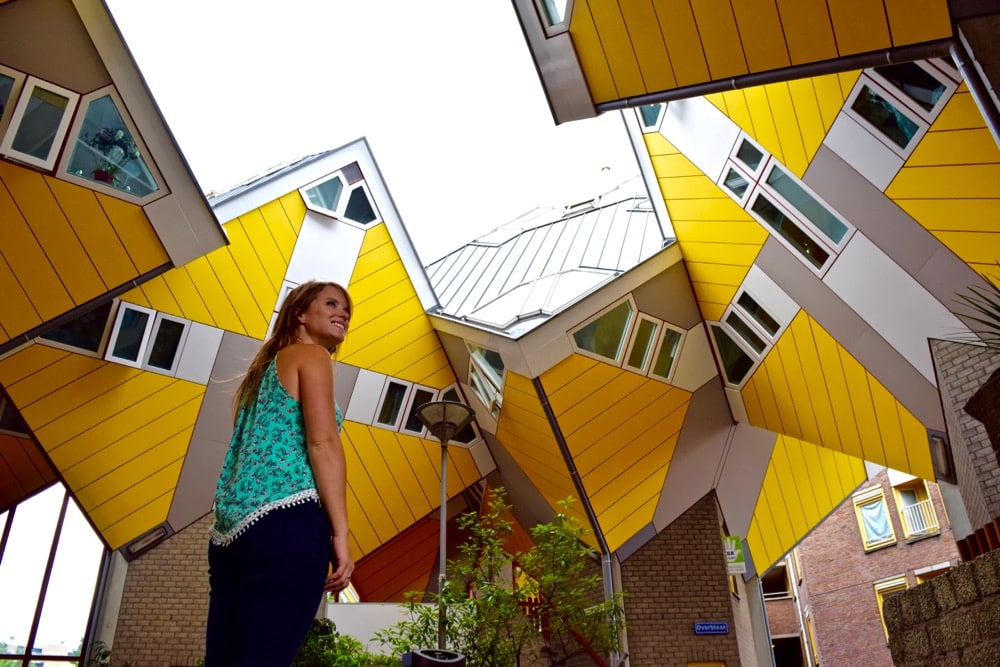 Cool street art, nightlife, a buzzing foodie scene and futuristic architecture – it's time to visit Rotterdam in the Netherlands!
Check out the video of my trip to Rotterdam and then scroll down to read more.
Other than the song by the Beautiful South, I didn't know a lot about Rotterdam. I've visited Amsterdam countless times and loved it! It's fair to say Rotterdam is Amsterdam's lesser-visited, modern little sister. As the majority of the city was bombed during the war, it's become a playground for forward-thinking architects. Along with the uber-cool architecture, there are plenty of fashionable restaurants, a great nightlife scene, top summer festivals and a little something I'd describe as community spirit! The best time to visit? I'd say the Summer. But don't  just take my word for it, take a look at a few of my top pics from my recent travels.
1. The city's skyline is one of the most unusual I've seen in a while. Best place to check it out? From the tallest building – the Euromast, and be sure to visit in the evening as the lights start to illuminate the city. 
2. One of my favourite spots in the city is Markthal. It's not just the city's top food market, it's also another architectural masterpiece!
3. The crazy ceiling of the Markthal was designed by artist Arno Coenen and features giant fruit and vegetables.