With its fascinating history, incredible biodiversity and explosive origins, these fun facts about Central Park will definitely surprise you!
A verdant oasis in one of the busiest cities in the world, Central Park is one of New York's most popular tourist destinations. Whenever I've spent time in the city it's been one of my favourite places to visit, although it's very easy to get lost in!
Despite its popularity, I bet you don't know that much about this famous corner of the Big Apple! Coming up is a huge list of fun and interesting Central Park facts, some of which may surprise you.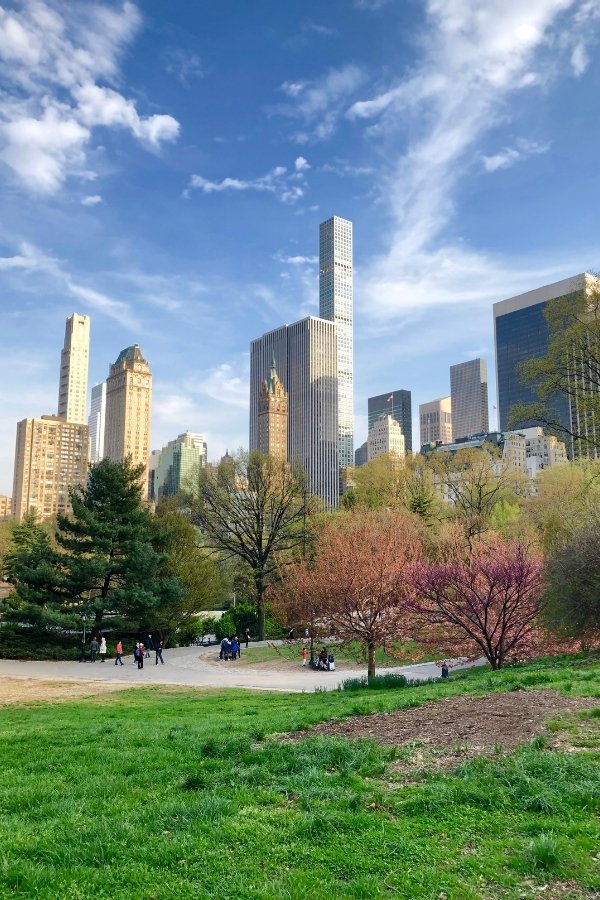 Central Park is a vast green space littered with formal gardens, lush woodland, rocky outcrops and cool lakes. It's the perfect place to visit for a little respite from the hustle and bustle of New York City, and a tranquil garden for the millions of New Yorkers that call the city home. Designed in the 19th century as a space for all the city's inhabitants to share, regardless of race, religion or social background, this beautiful park is the beating heart of the city and a must visit for any trip to New York.
Ready to find out more? These weird and wonderful facts about Central Park are a great way to whet your appetite for your next trip to NYC!
---
19 Fun and Interesting Facts About Central Park
Central Park is bigger than some countries
The first thing you'll notice about Central Park is that it is simply enormous. The plot covers 843 acres. It's two and a half miles long and half a mile wide, nestled in the heart of Manhattan next to the trendy Upper West Side. It's even bigger than the tiny European country of Monaco, which only covers 500 acres!
It's not the biggest park in New York City
Despite its vast size, Central Park is actually not the largest park in New York City! This is one of the most commonly misunderstood Central Park facts, as most people tend to assume that it's the largest green space in the city. However, Van Cortlandt Park in the Bronx tips the balance, clocking in at 1,146 acres, and the Staten Island Green Belt, a network of connected parks and walking trails, covers a whopping 2,800 acres. I told you some of these facts about Central Park would amaze you!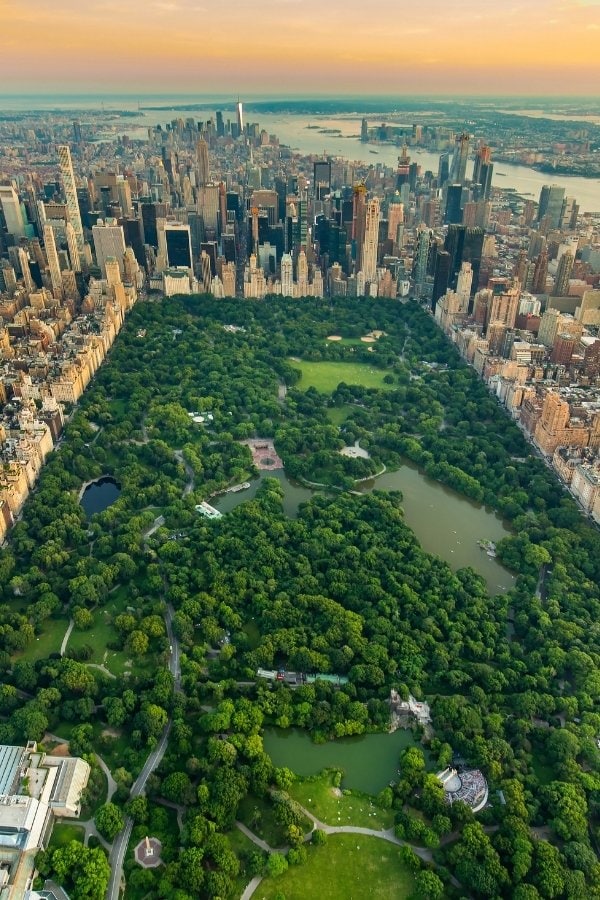 Central Park is the most visited urban park in the United States
An estimated 42 million visitors make their way to the park every year, making it one of the most-visited tourist attractions in the world.
Only 14% are first-time visitors
Of these 42 million people, only about 14% are first-time visitors. In fact, around 70% of Central Park's visitors are local New Yorkers, who come to the park on a regular basis to escape the clamour of the big city. It's a lovely place for walking, running or relaxing in.
Central Park is the oldest public park in the United States
Planning for the park was approved in 1853, making Central Park the first major landscaped urban park in the United States. It was modelled on designs of cities like Paris and London, which had plenty of green spaces where wealthy residents could take a walk and show off to their neighbours.  
If you're planning a trip to New York don't miss these awesome Central Park tours.
The park's designers were selected as part of a competition
Central Park's unique and innovative design was created by Frederick Law Olmsted and Calvert Vaux, who won the right to design the park in a public competition. They envisaged a rolling green landscape filled with tranquil lakes and formal gardens. Not everything in the original design made it into the final product, but the core ideas set down in the winning Greensward Plan contained the seeds for what would eventually become New York's oldest and best-loved park.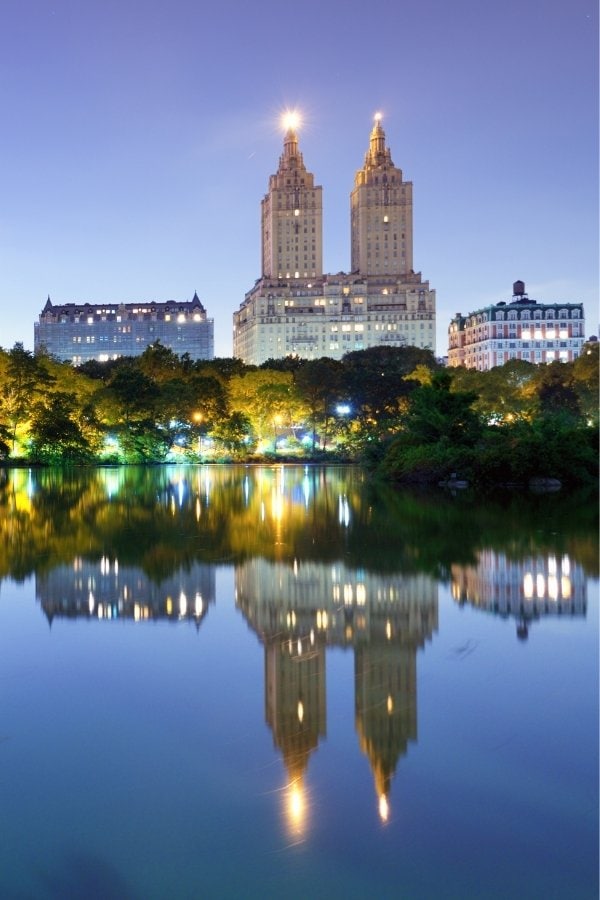 All of Central Park's natural features are artificial
One of the most interesting facts about Central Park is that although it might look natural, almost all of its rolling slopes and valleys had to be created from scratch. Central Park is an entirely landscaped space, meaning that all of the hills, woodlands, lakes and other natural features are entirely man made.
It took a lot of gunpowder to landscape the park
Central Park was built on an area with large protruding amounts of bedrock, which gave the park's early designers plenty of trouble when they began to landscape the area. Almost half a million cubic yards of rock had to be blown up, dug out and removed. Fun fact – this epic task required more gunpowder than was used in the Battle of Gettysburg!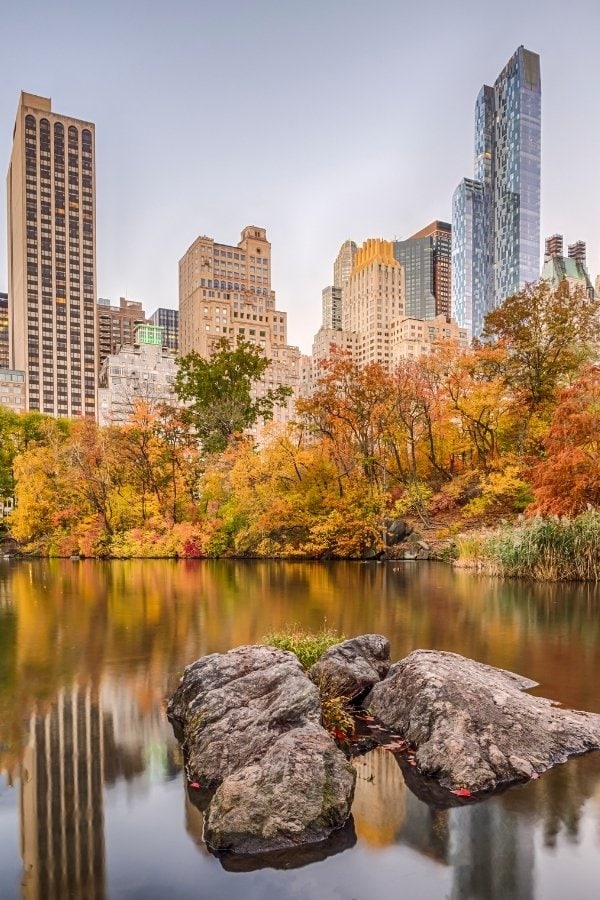 Several rare species have been discovered in Central Park
One of the weirdest facts about Central Park is that it is an unusually important haven for insects. The park makes a wonderful habitat for small-scale wildlife, and many rare and unusual species have been discovered inside it. In 2002, a new species of centipede was discovered in a pile of decomposing leaves, and in 2017, a brand new type of fly was identified on duck droppings!
It contains a Victorian Gothic Castle
Central Park is filled with unusual monuments, but Belvedere Castle is perhaps the most famous. Built from Manhattan schist, with its distinctive grey colour, the castle sits on top of Vista Rock, the second highest natural point in Central Park. In 1919 it was converted into a weather station, but today it's mainly used as a beautiful lookout point, with stellar views over the rest of the park.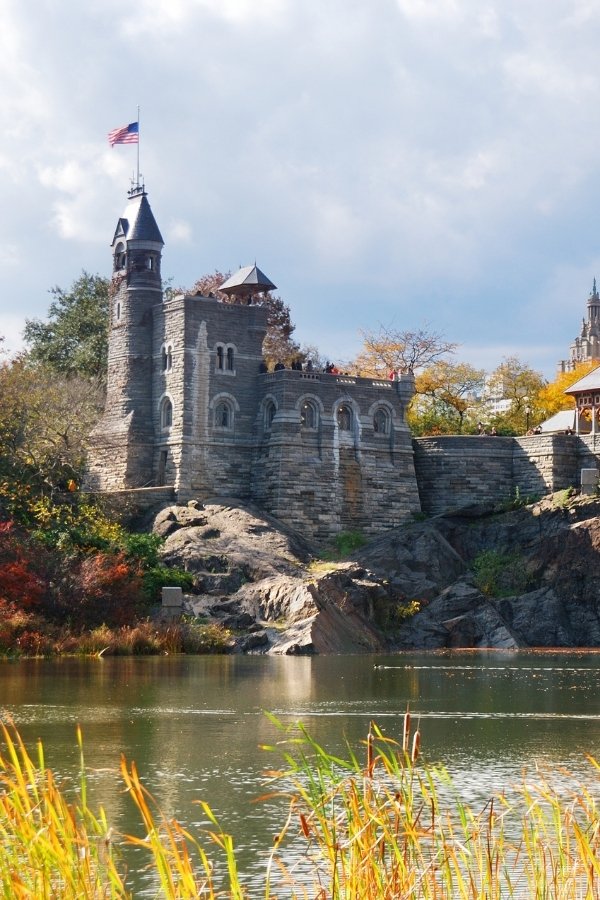 The largest lake in the park contains one billion gallons of water
The largest lake in Central Park is the Jacqueline Kennedy Onassis Reservoir, which covers a huge area of over 100 acres, and contains a whopping one billion gallons of water.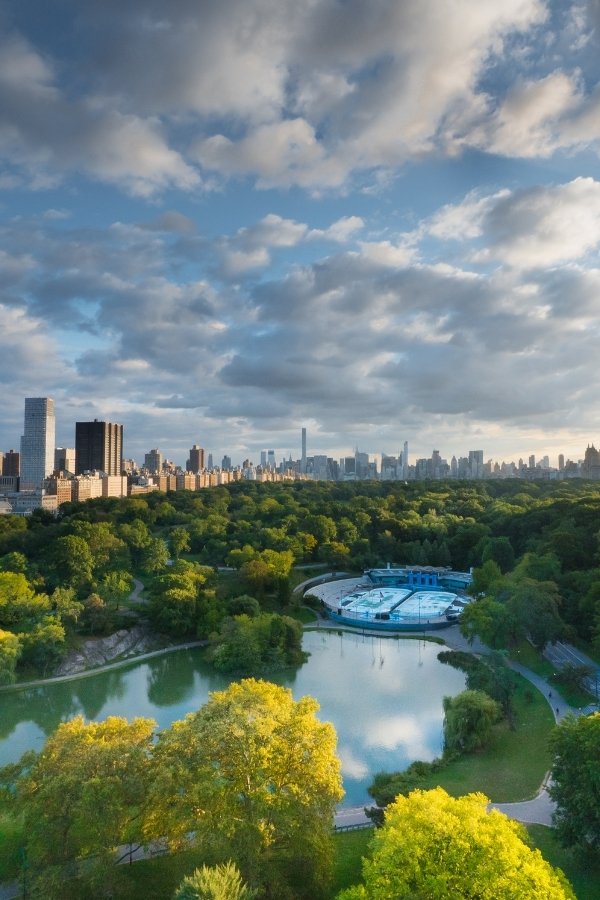 There are almost no straight lines in the whole park
One of the most interesting facts about Central Park is that everything in it is a little bit curvy. Olmsted and Vaux's vision for the park was one of flowing natural lines, and so they purposely landscaped it without any straight paths. The only intentionally straight feature of the park is the Mall, stretching for a quarter of a mile from 66th to 72nd Streets. The Mall itself is a popular attraction, especially in autumn, when its beautiful American Elm trees put on a vibrant display of colour.
It is one of the most popular filming locations in the world
Central Park is an iconic part of New York, so it's no wonder that it's been used as a filming location on countless movies throughout the 20th and 21st centuries. Sharp-eyed movie fans will have noticed it in classics like When Harry Met Sally, Enchanted, Elf, Home Alone 2, I Am Legend and The Avengers. It's not uncommon to spot a film crew in one corner of the park when you visit.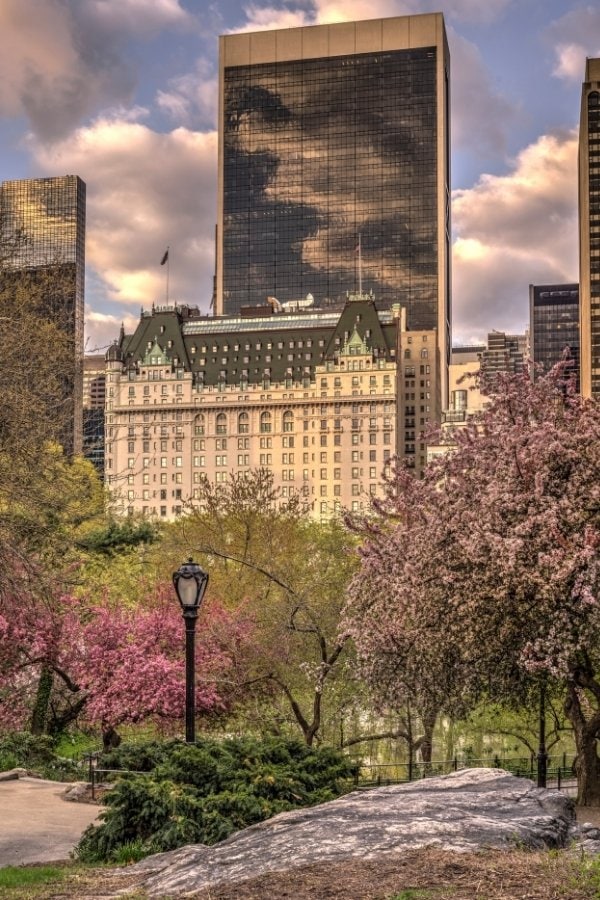 The Central Park Zoo is one of the park's most popular attractions
Central Park is a wonderful place for animal lovers, and its small Central Park Zoo is an important place for conservation of rare and unusual species. You can see all sorts of creatures here, from polar bears and tamarin monkeys, to red pandas and snow leopards.
You can dedicate your own bench in the park (if you've got the cash!)
There are over 10,000 benches across Central Park, where weary visitors can take a seat and watch the world go by. In 1986, the Central Park Conservancy set up the Adopt a Bench scheme, meaning that anyone can endow a bench in memory of a loved one, or as an unusual birthday or anniversary gift. Donors can write and design the plaque themselves, although you'll need to have a bit of cash to shell out – bench adoptions start at $10,000 each!
Central Park contains 58 miles of pedestrian paths
The apparently endless paths that snake and twist their way through the beautiful parkland add up to over 58 miles of trails, meaning it's possible to run two marathons back-to-back without leaving the park's territory!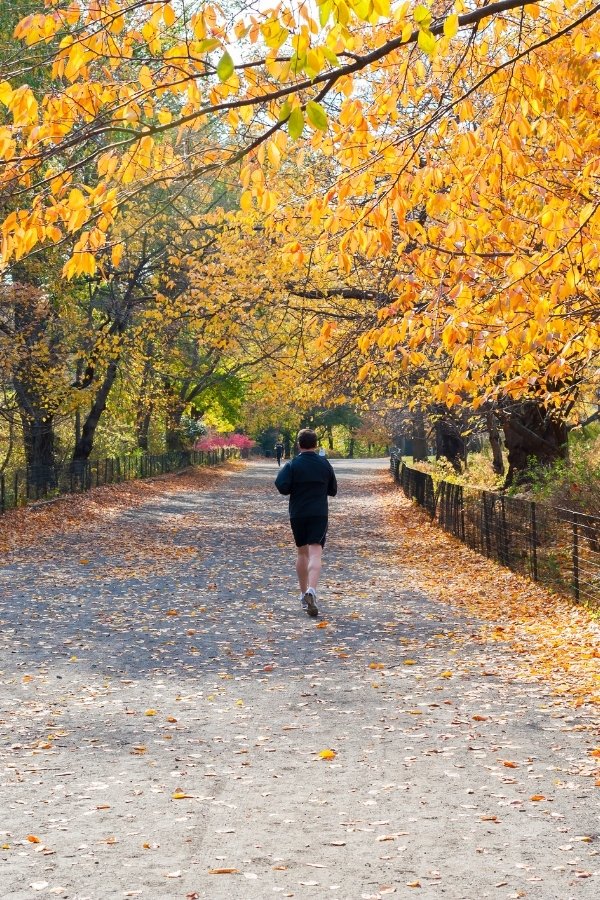 Central Park was once a small village
Before the decision was taken to build this lavish park in the centre of New York, the site was known as Seneca Village. The settlement had been founded in 1825 by free African Americans and by the mid-19th century it was also home to a sizeable population of Irish, Italian and German families. The residents were deemed to be 'squatters' and the village was destroyed in 1855 to make way for the park.
It was once filled with livestock
One of the most popular areas for sunbathing and picnics in the park is the famous Sheep Meadow, a large grassy expanse that's perfect for relaxing on sunny days. However, this lovely pastoral meadow once did actually have sheep grazing on it, as part of an effort to keep the grass neatly manicured. Who needs a lawnmower when you have a herd of sheep?!
The Alice in Wonderland Statue was designed to be climbed on
One of the most famous and best-loved monuments in Central Park is a bronze statue of Alice in Wonderland, surrounded by her friends including the White Rabbit, the Dormouse and the Cheshire Cat. This piece of urban art was actually designed to be climbed on, as it was thought that this would bring children closer to their literary heroes. Over the years, hundreds of thousands of small hands and feet have polished the surface of the statue smooth.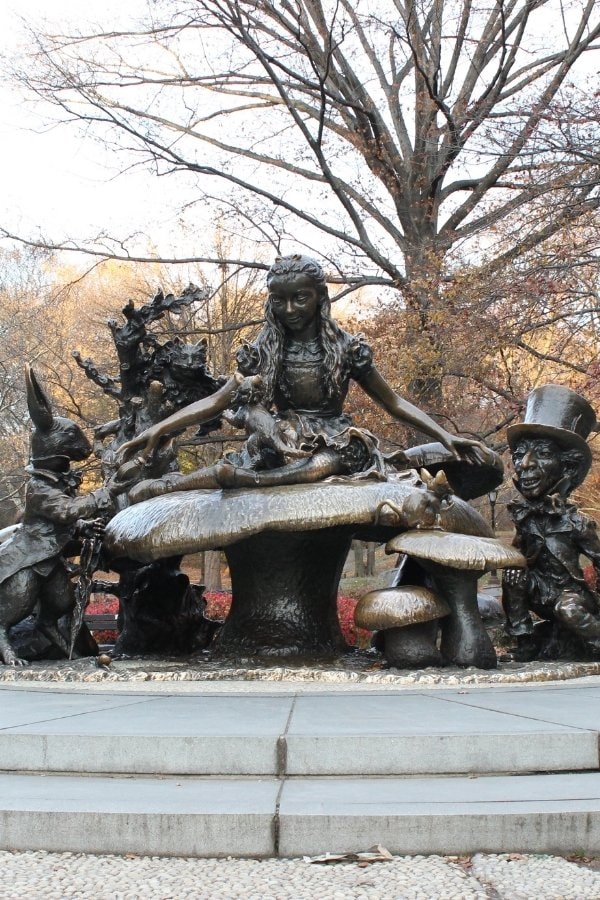 ---
I hope this list of fun and interesting facts about Central Park has inspired you to dream of your next stateside adventure! Central Park is one of my favourite places in New York to watch the world go by – be sure to pay it a visit next time you're in the city!
If you're planning a trip to New York don't miss these awesome Central Park tours.
If you're looking for more fun posts about the city, don't miss my guides to the best desserts in New York and the most fun and unique restaurants in New York.
Enjoyed this post? Pin it for later…