Modern British fine dining, with an almighty twist – Hawkyns Restaurant in Amersham is a wonderful addition to the town's thriving culinary scene.
Located inside charming 16th Century Hotel The Crown Inn, Hawkyns is Amersham's newest fine-dining restaurant. While the dining area works the space's original beams and cosy fireplaces beautifully, that's where the ancient feel ends.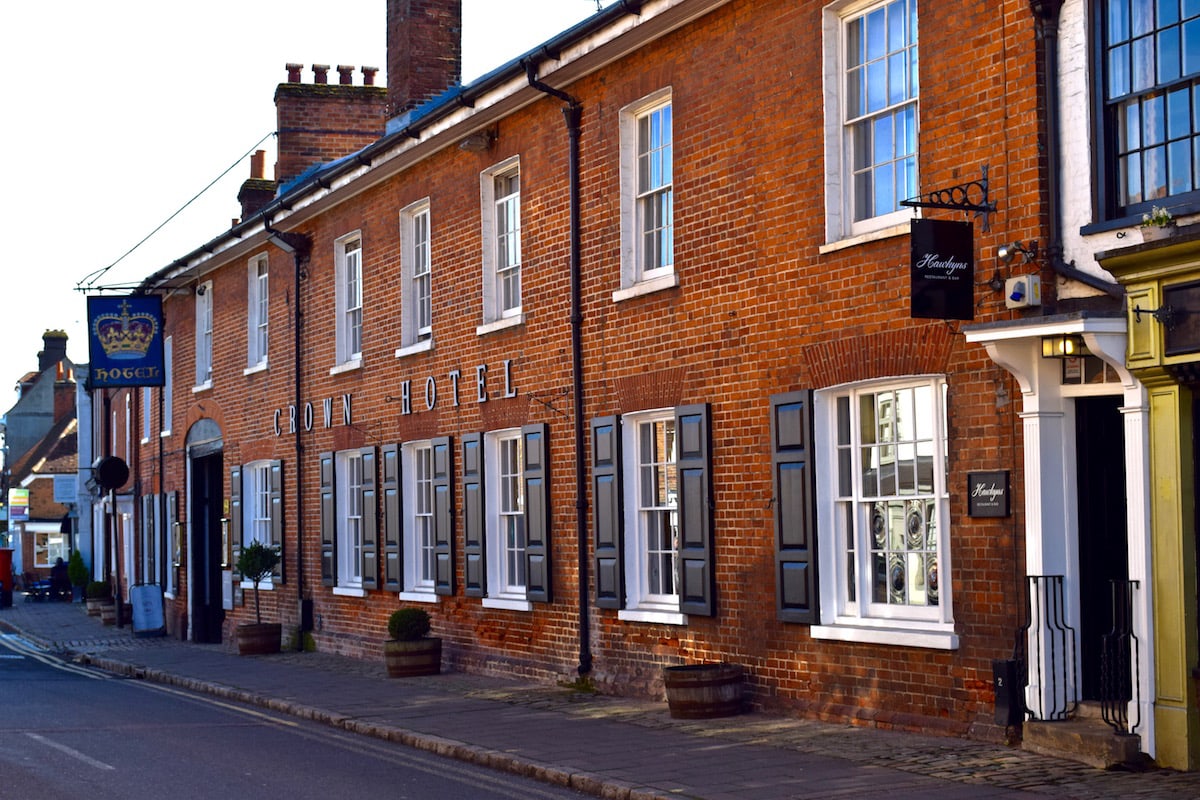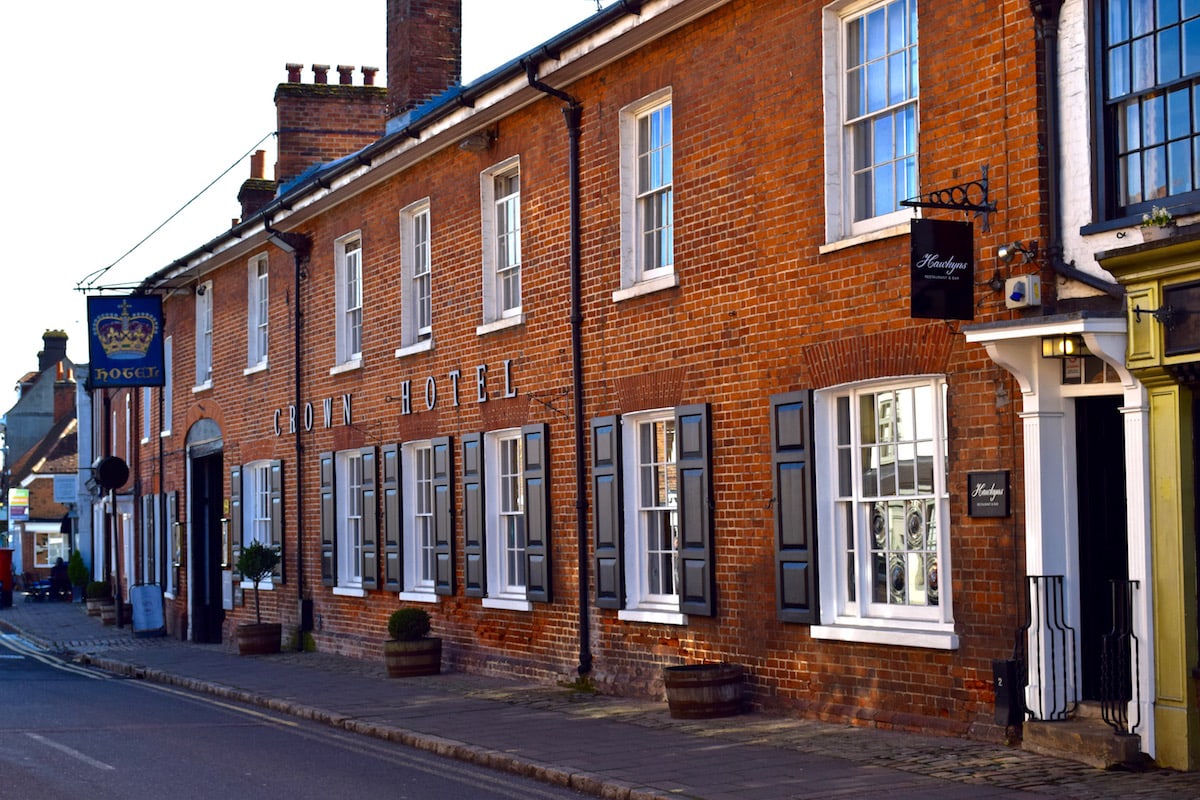 The rest of the décor is modern and sophisticated with a slight Scandi vibe: wooden chairs (mismatched white and neutral at each table) square tables, tweed cushions, oval shaped water glasses and standing lamps with textured textile shades. The only pop of colour came from the bright orange Le Creuset salt and pepper mills on each table – twice Michelin-starred chef Atul Kochhar's signature colour.
READ MORE: Amersham, Buckinghamshire – The Perfect 24-Hour Break From London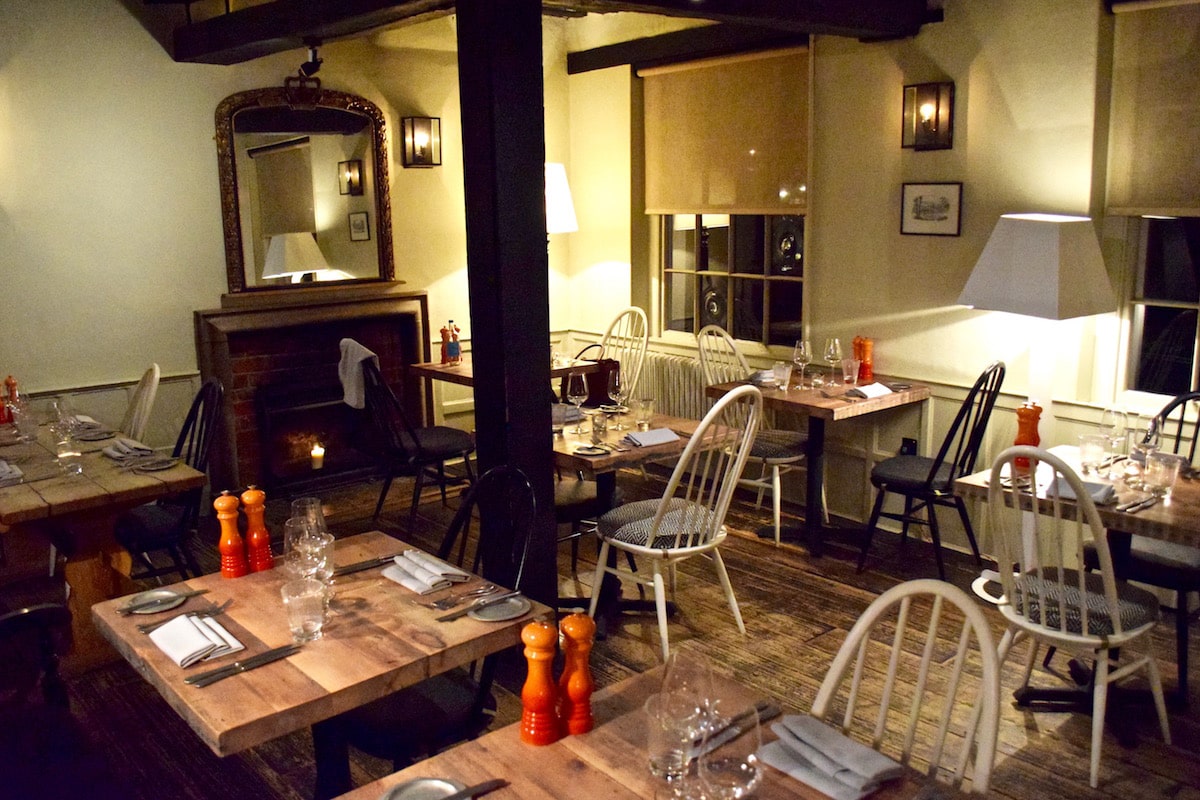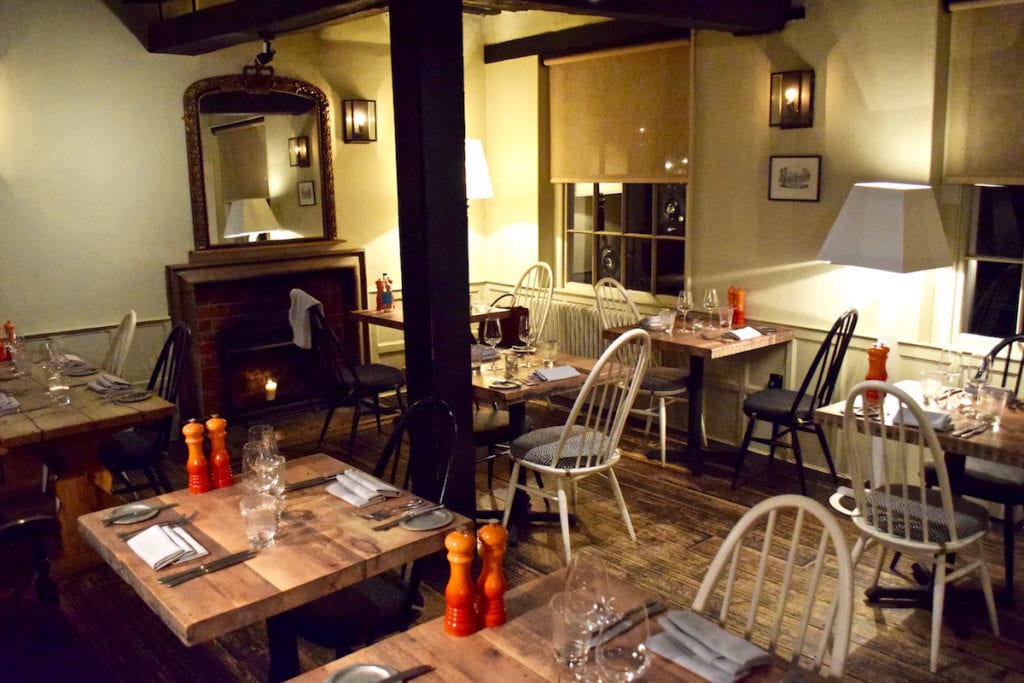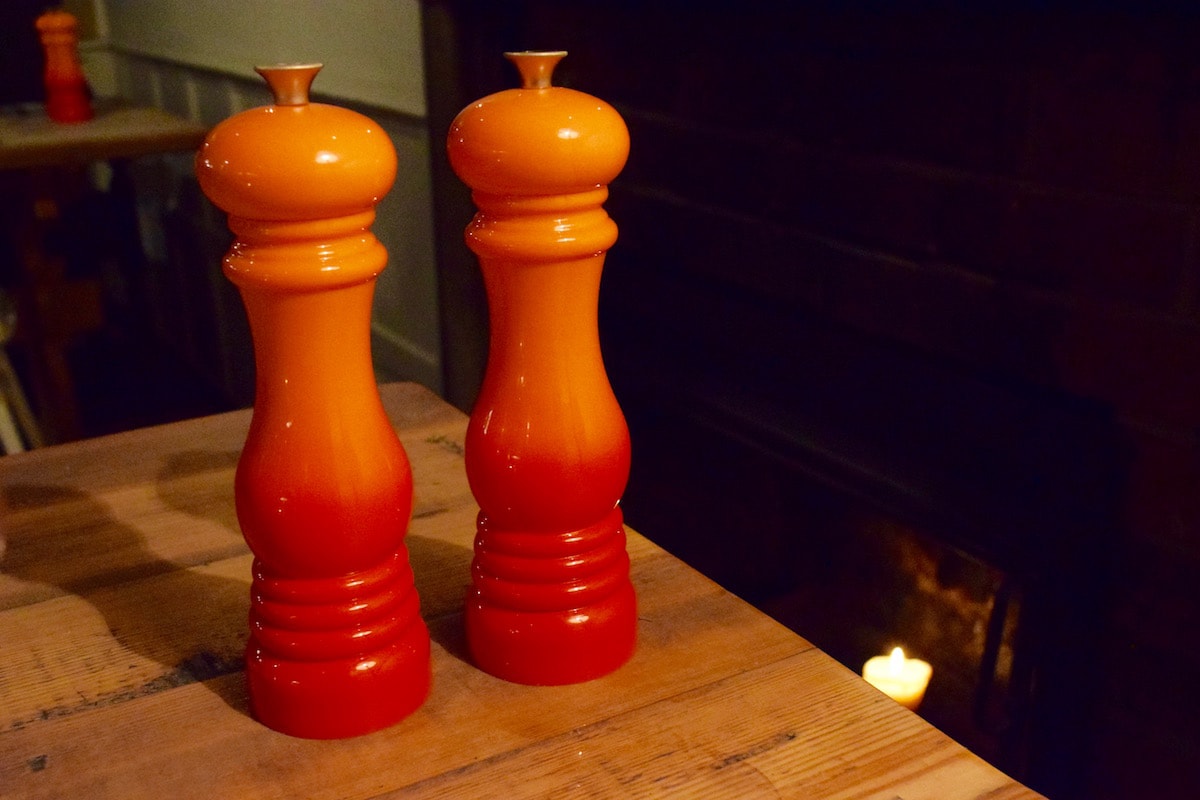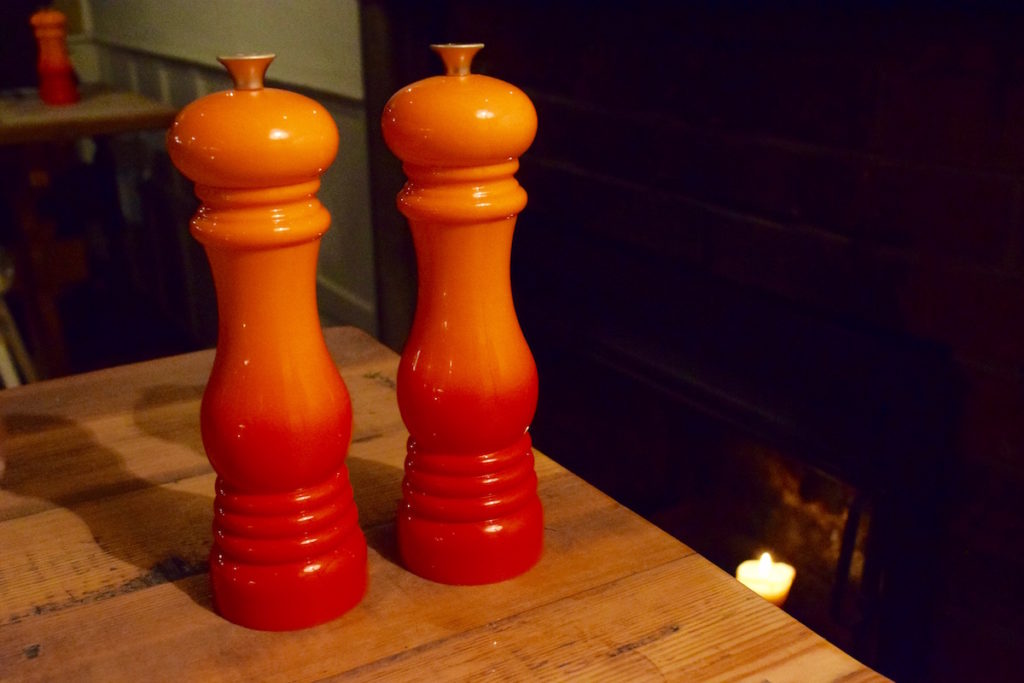 While Kochhar set up the restaurant, he hired head chef Ross Bott to work his magic in the kitchen. He takes classic British ideas and flavours and adds an almighty twist. Fish and chips is elevated to its highest form, and the flavours and textures he achieves aren't what you'd find in a standard British restaurant or pub.
I visited for the full works, an eight-course tasting menu with wine pairings, which gave a great overview of what Hawkyns is all about.
Kicking off with a glass of champagne we waited excitedly, wondering what culinary creations would be presented first.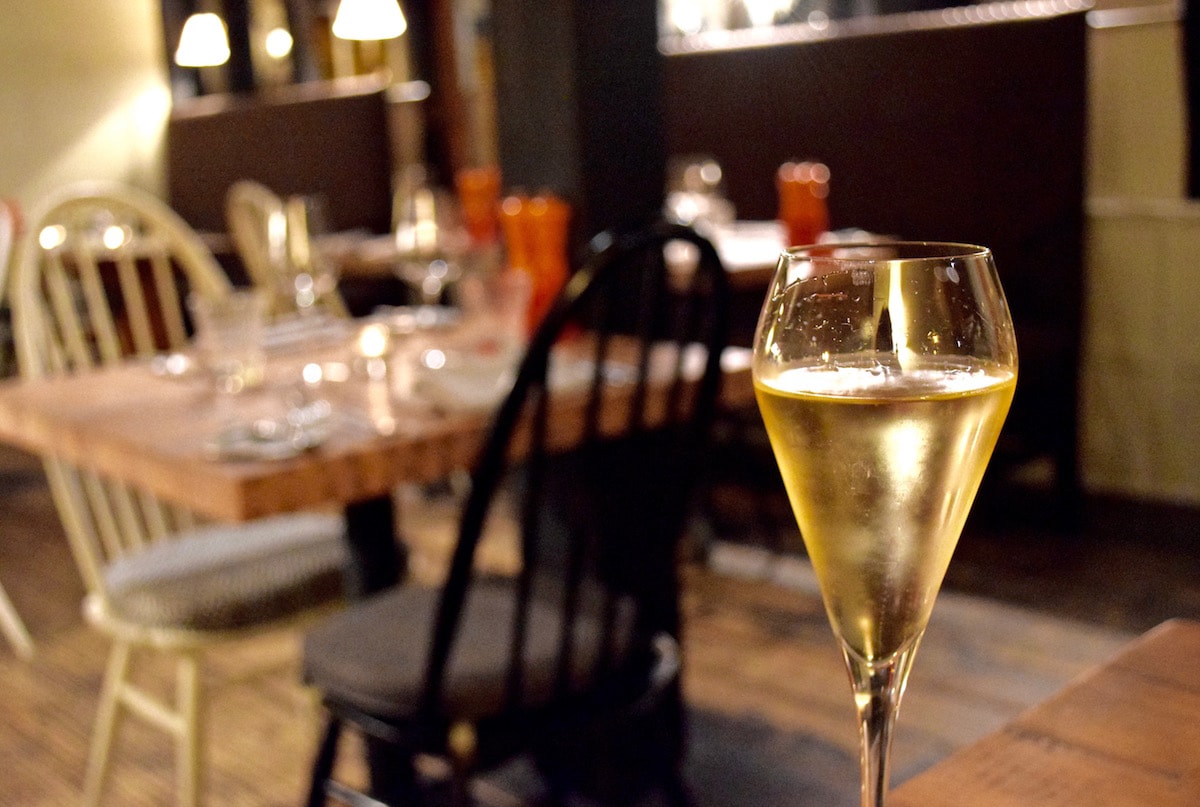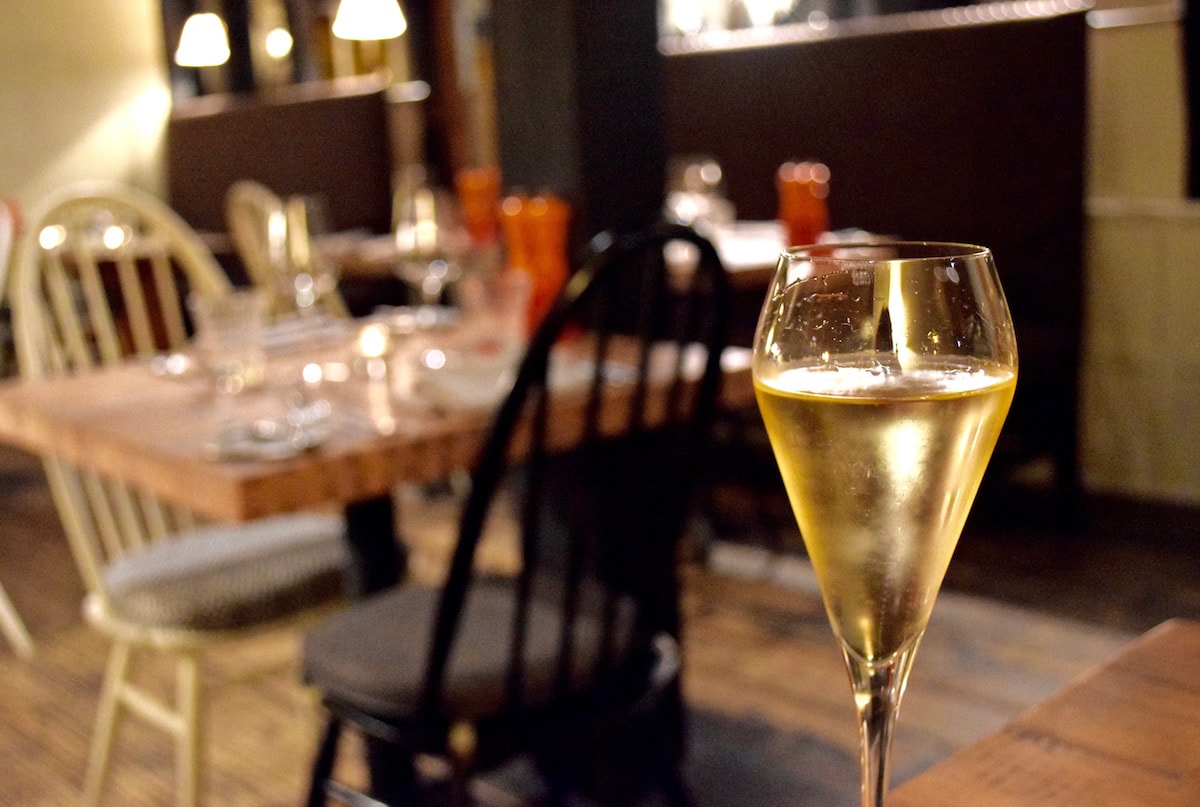 The first course was a chicken terrine served with bread sauce, pickled shallot, leek ash and purple crisp. Wow what beautiful presentation, set off even more by the grey textured plates! Flavour wise it was like an intense kick of roast dinner followed by a zing from the pickled shallots. The softness of the terrine with the crunchy crisp and the chewy shallot worked so well – and it was at this point we realised textures were something this restaurant takes very seriously. The dry Chablis selected to accompany the dish enhanced the flavours further.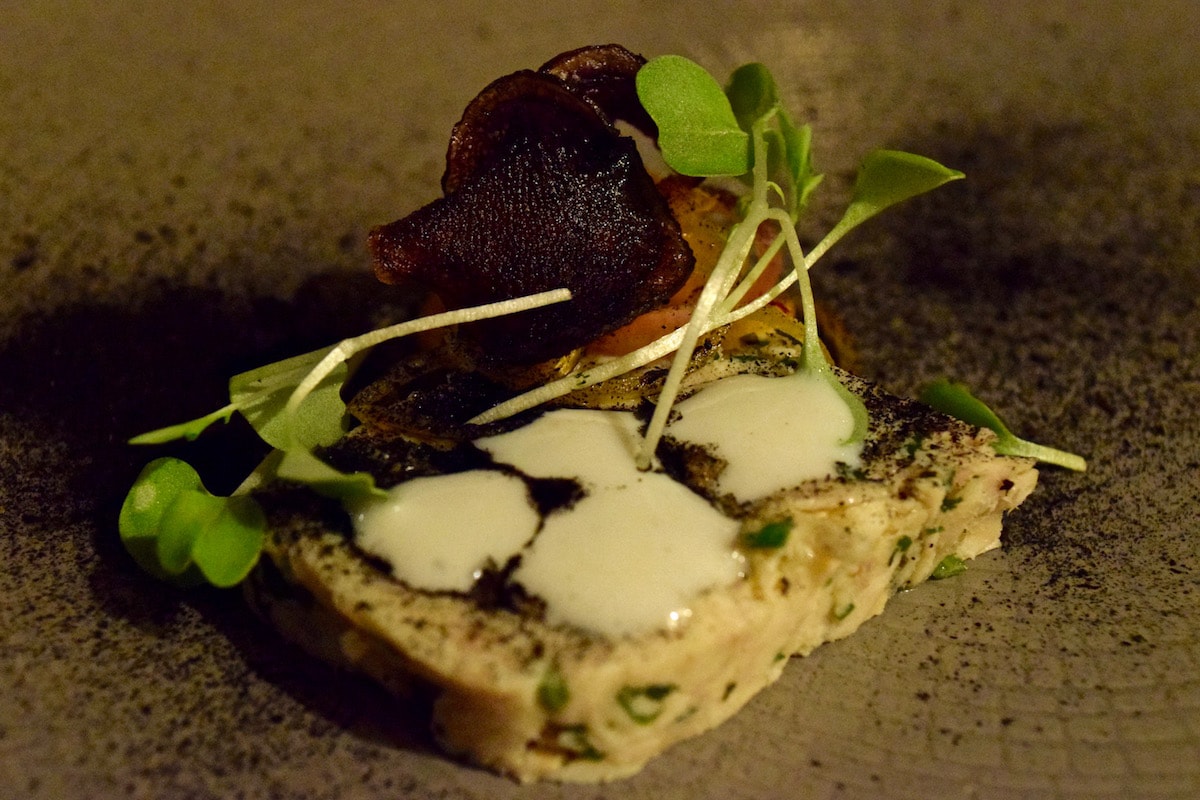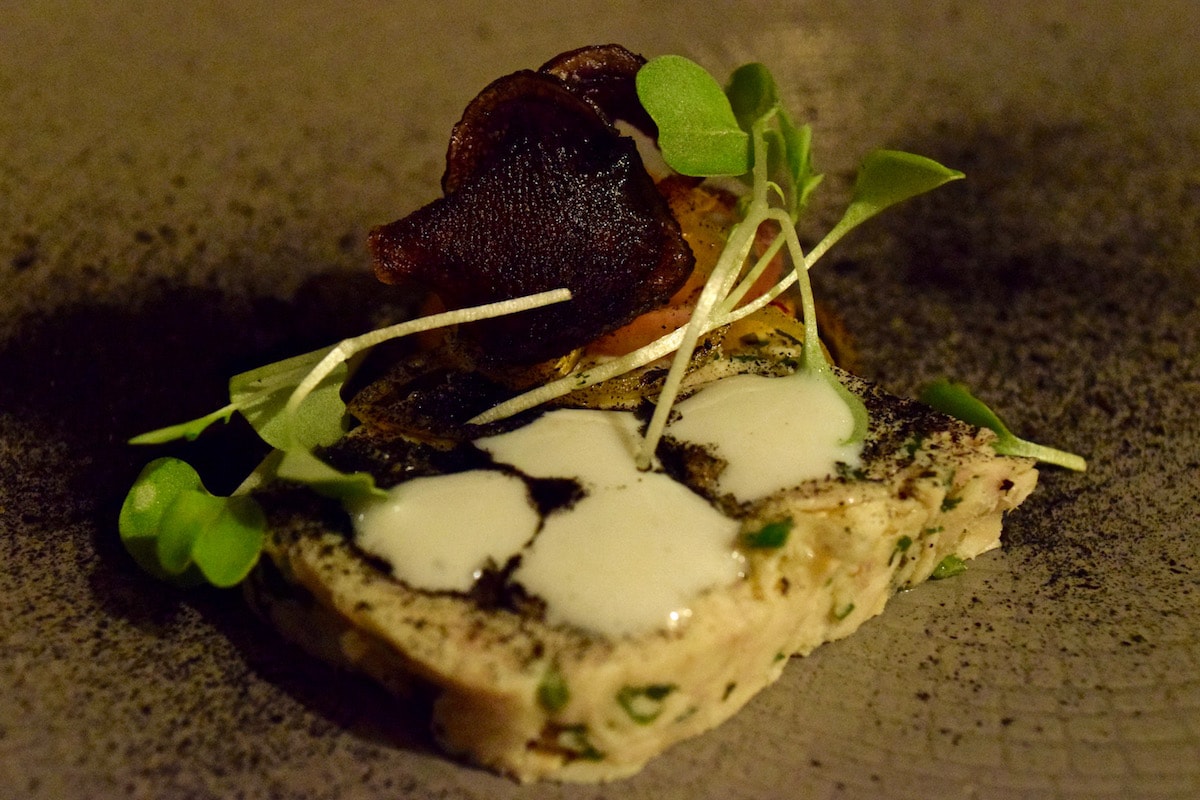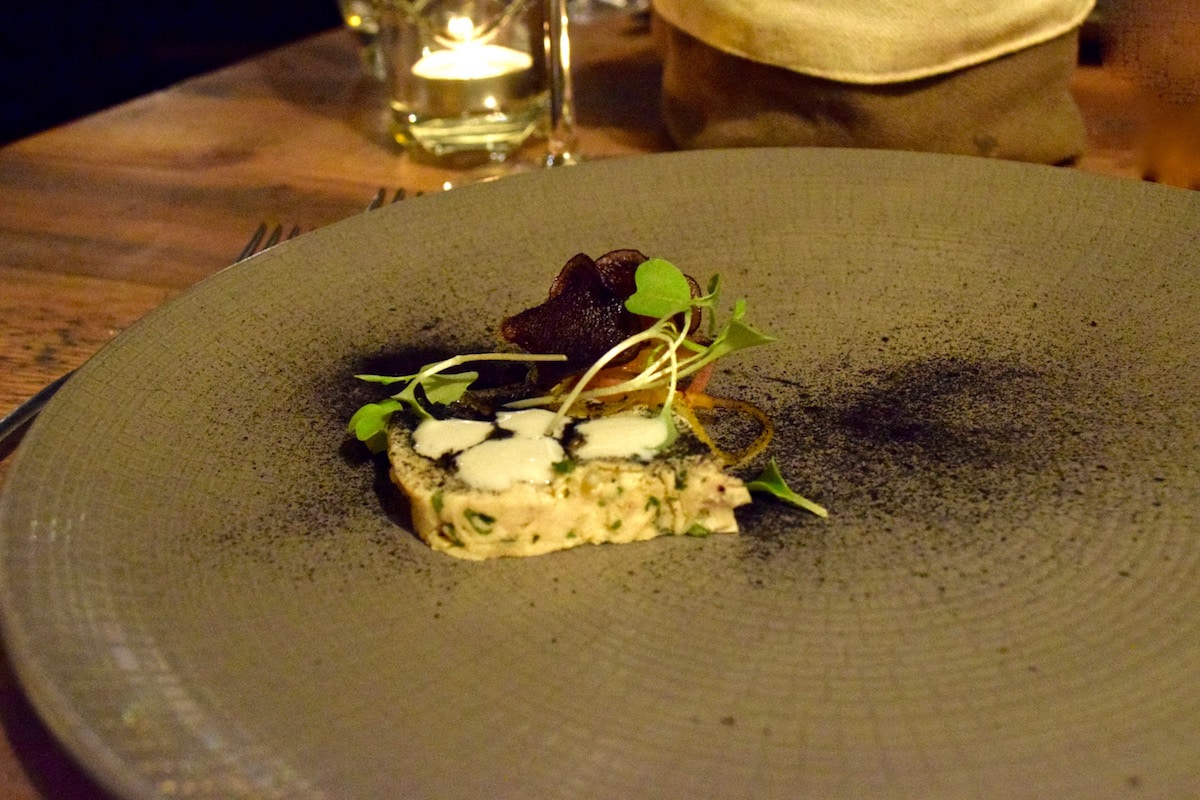 Arriving next, a dish that I won't forget in a hurry! Scallop with carrot, coriander and vanilla purée with candied carrot, scallop crisps and plankton powder. What a huge amount of work had gone into this Instagram-worthy plate of food. The scent that hit me first was the plankton – it smelled just like the sea! The scallops were cooked to perfection, and the dish balanced well with the rich scallop, sweet heritage carrot puree and chewiness of the candied carrot. I'd never tried scallop crisps before (made using a dehydration technique) and adored the extra dimension they added to the dish. There was also touch of unexpected spice from the occasional cumin seed. I could see this was shaping up to be an incredible meal.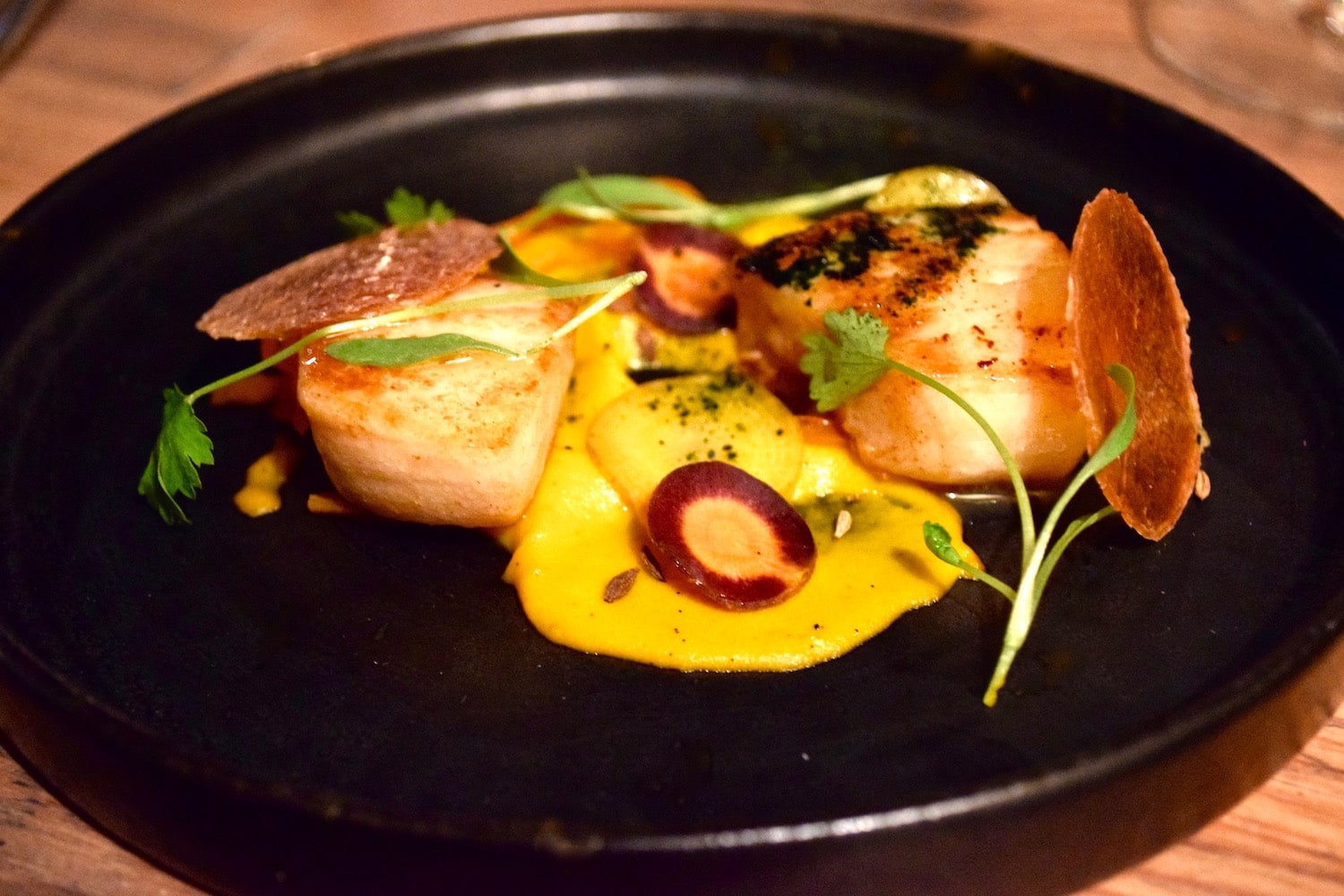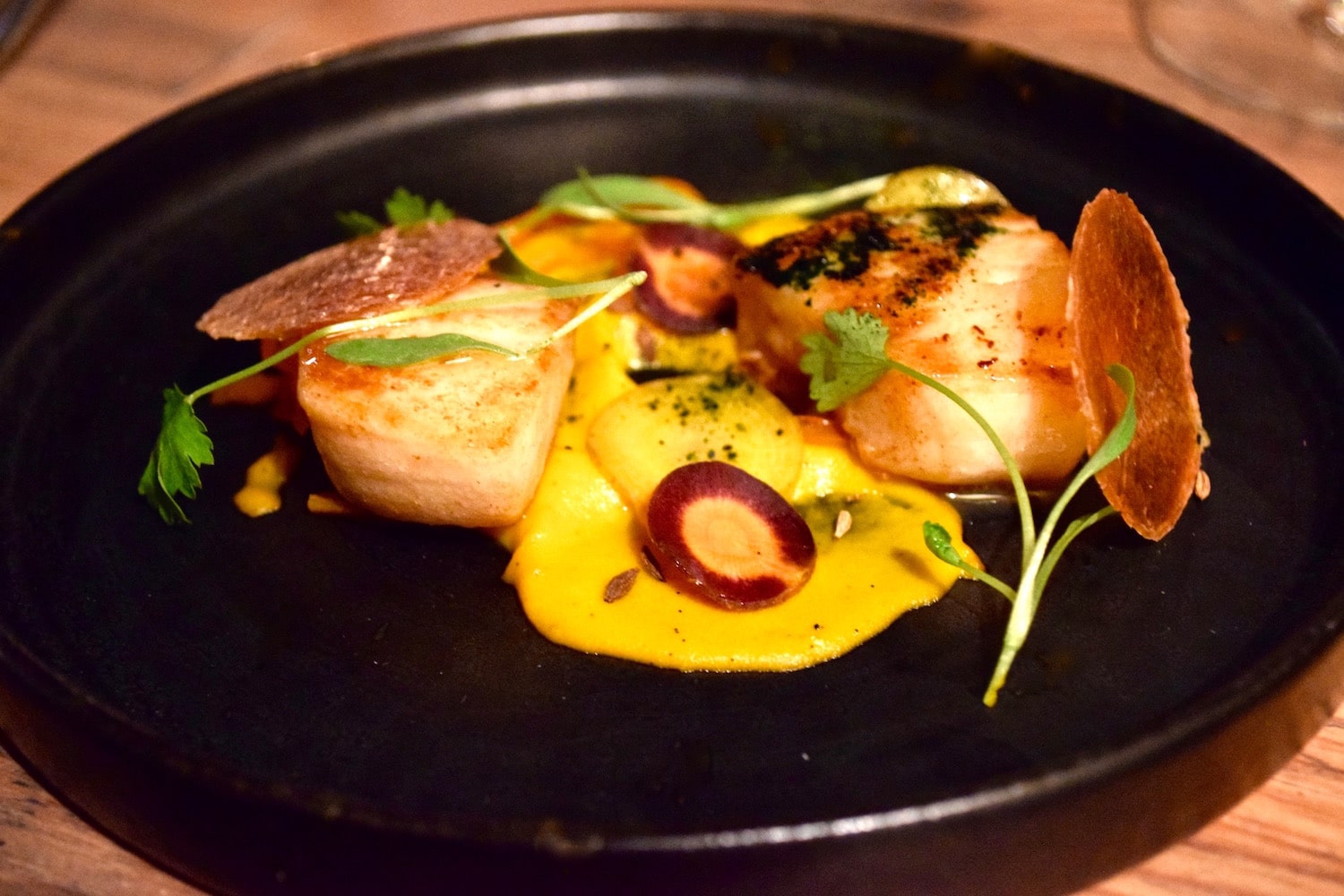 A playful take on a caeser salad arrived next, featuring tender lamb loin, a wild garlic pesto, compressed iceberg lettuce, anchovies, bacon scraps and hay mayonnaise. While overall the dish was a little on the salty side (not just the bacon/anchovy combo, but also the pesto) I could see what the chef was trying to achieve, and the lamb and smoked hay mayo were totally moreish. Give me a bowl of that next time! Accompanying the dish was a glass of Saint Gervais, which managed to be both heavy and light at once.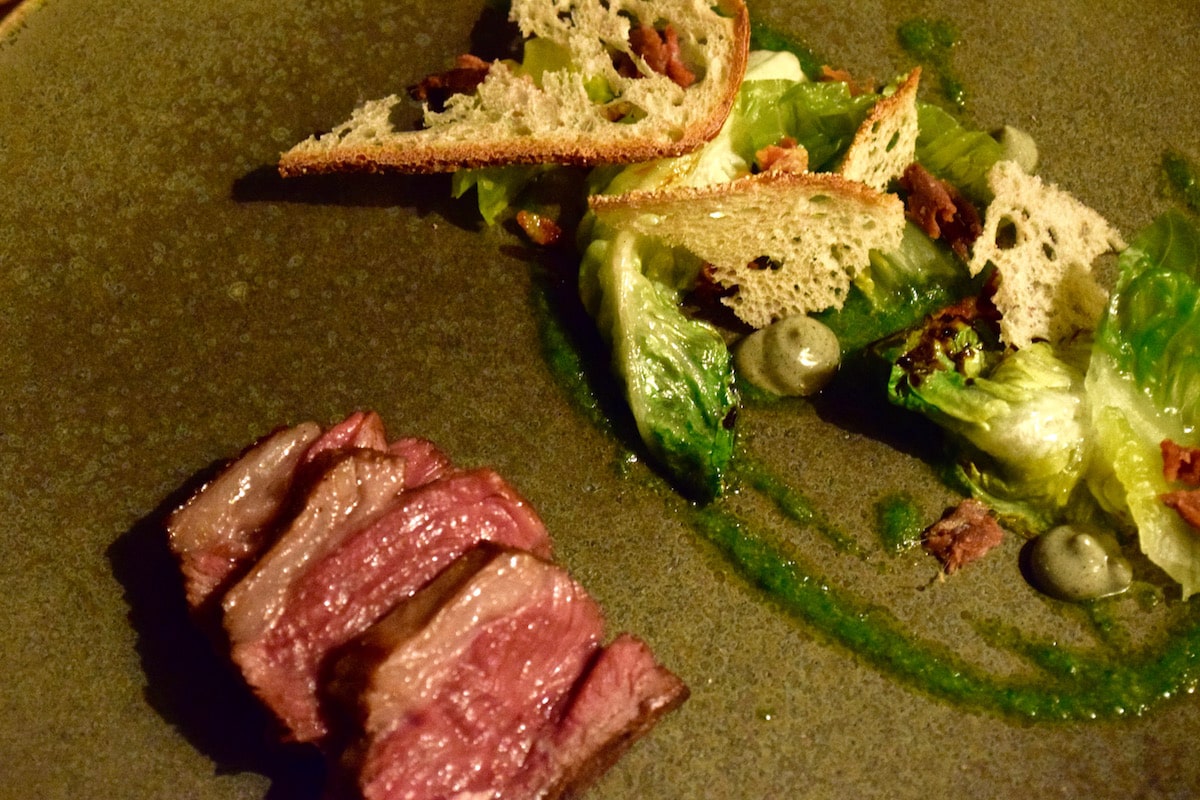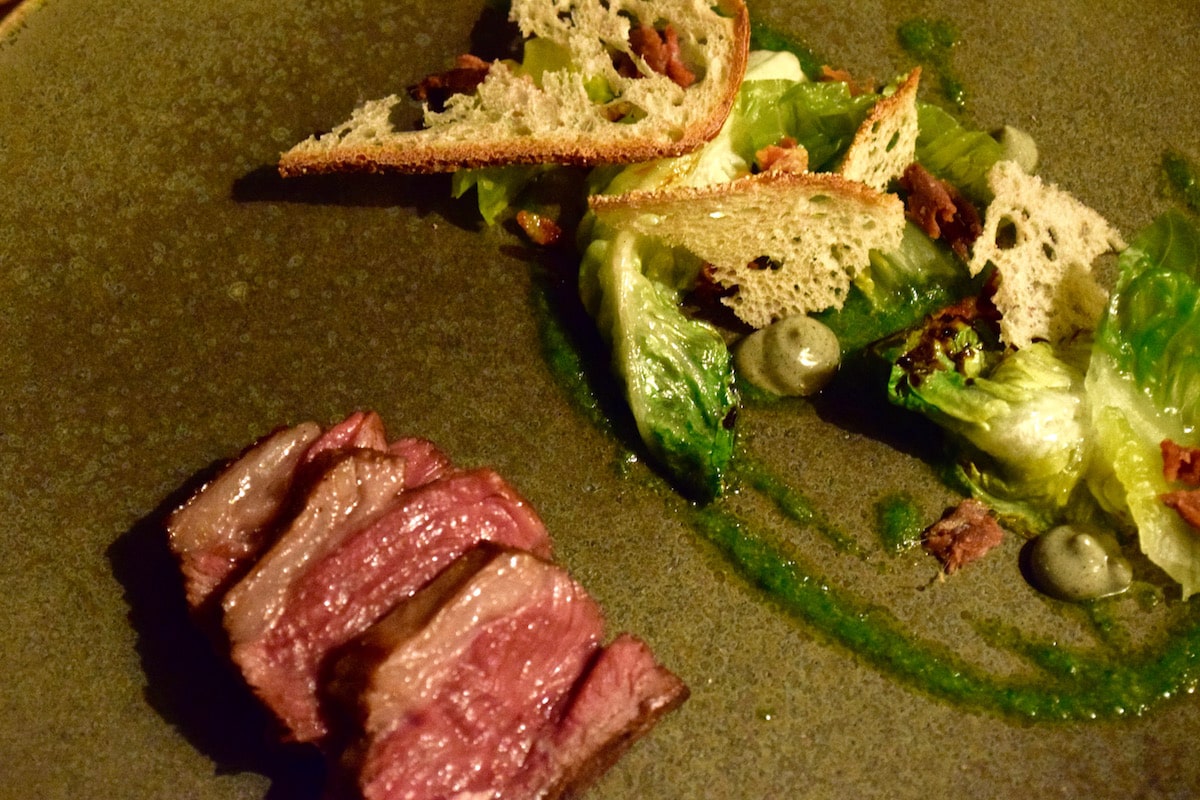 Chef Ross Bott's signature dish arrived next – a creative take on traditional fish and chips. The two small cylinders of salted cod came with crispy triple cooked chips, a sweet split pea puree, a beurre blanc, pickly capers and batter scraps coated in a sharp vinegar puree. This was a perfect example of what Hawkyns is trying to achieve: Gastropub items elevated to new heights. Oh… and look, another clean plate!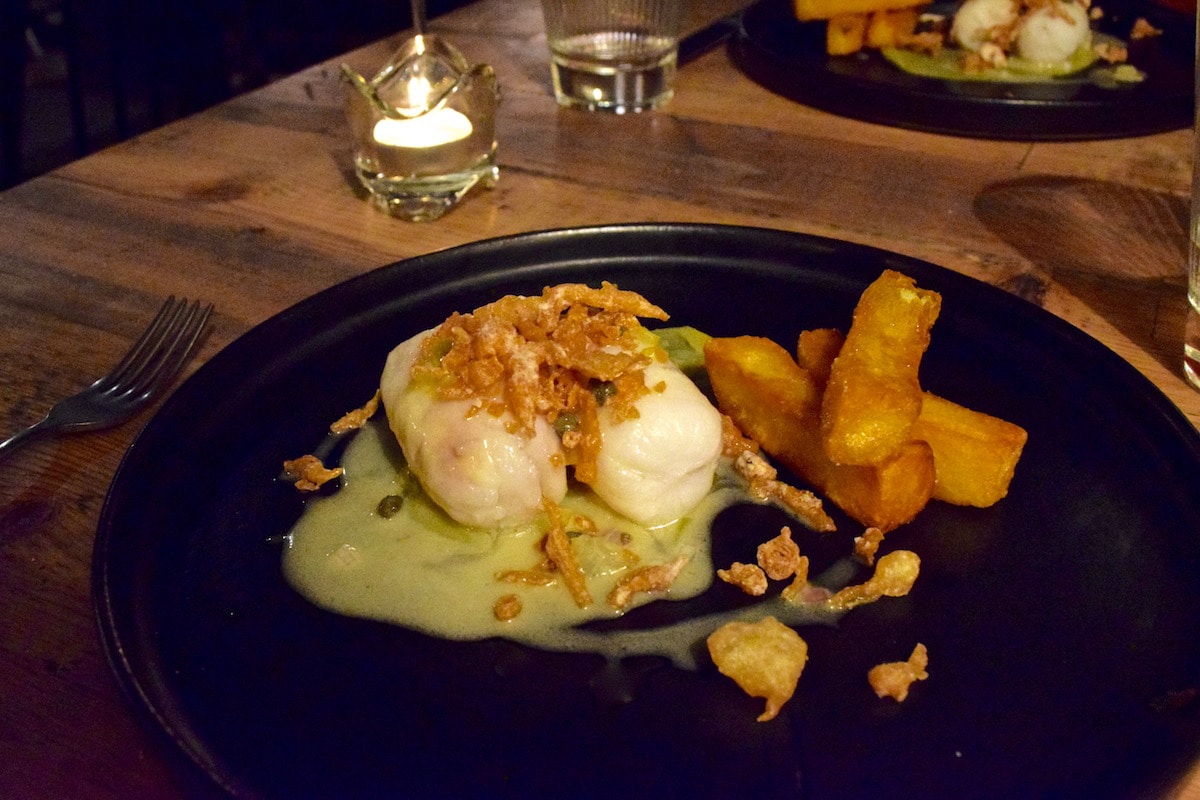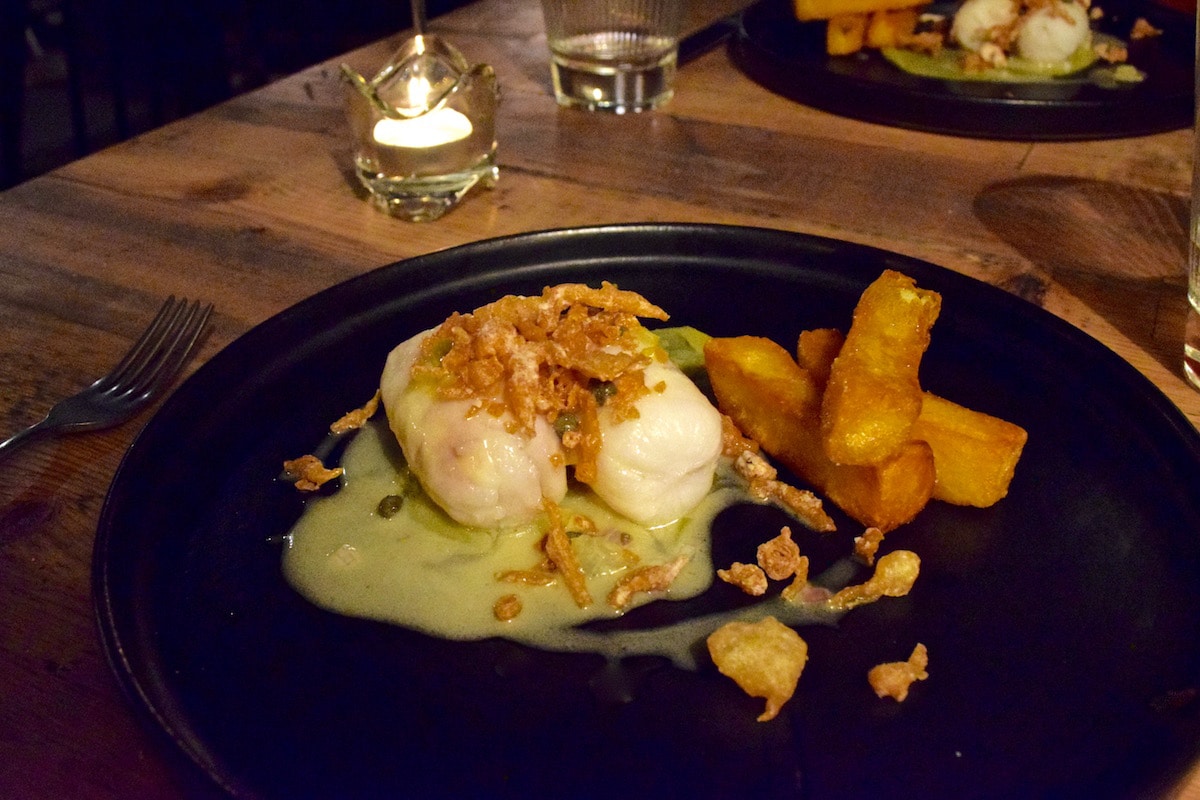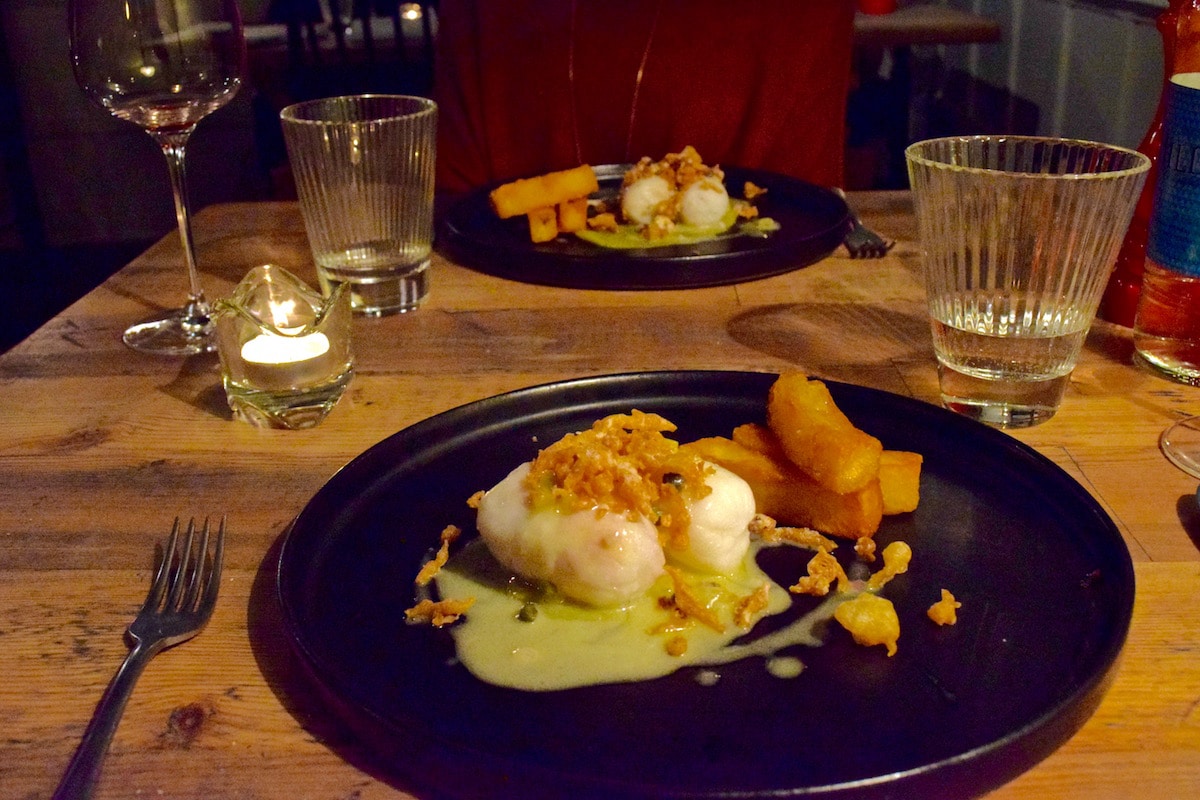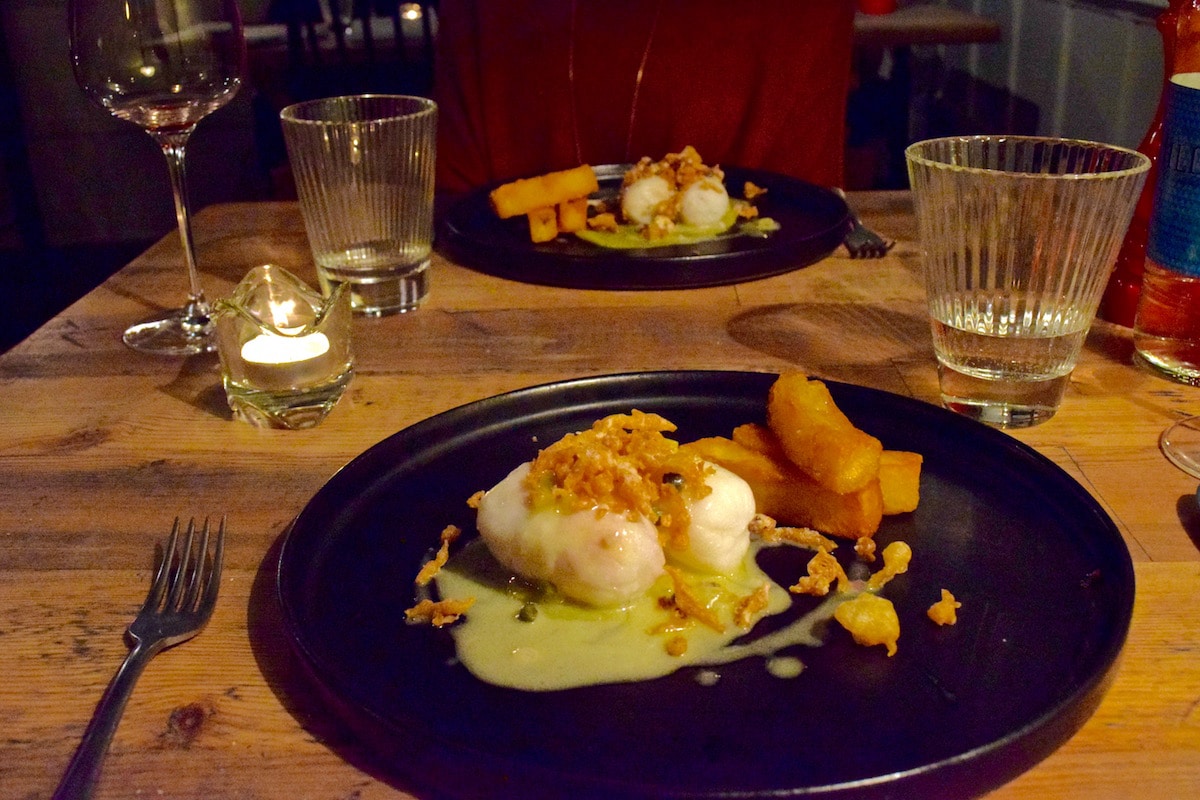 Next up was a playful take on a cheese course. BBQ'ed figs that were smoky yet sweet, served with a strong goats cheese mousse, oat crumb and tiny cubes of quince jelly. Not being a huge fan of slabs of cheese and crackers, I really enjoyed this modern interpretation of a cheese course! Winning textures again with the crunch of the oats complementing the smooth goats cheese. The red from Australia's Barossa Valley was earthy and rich – one of my favourite selections of the evening.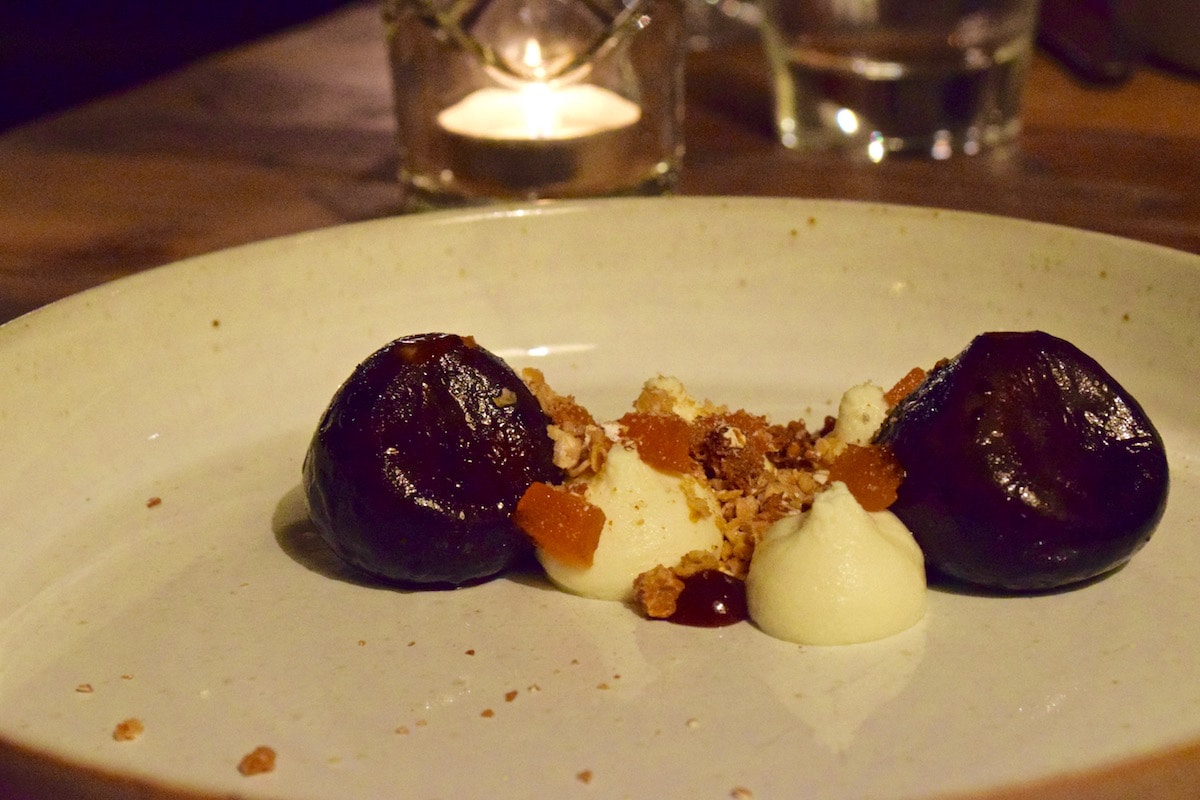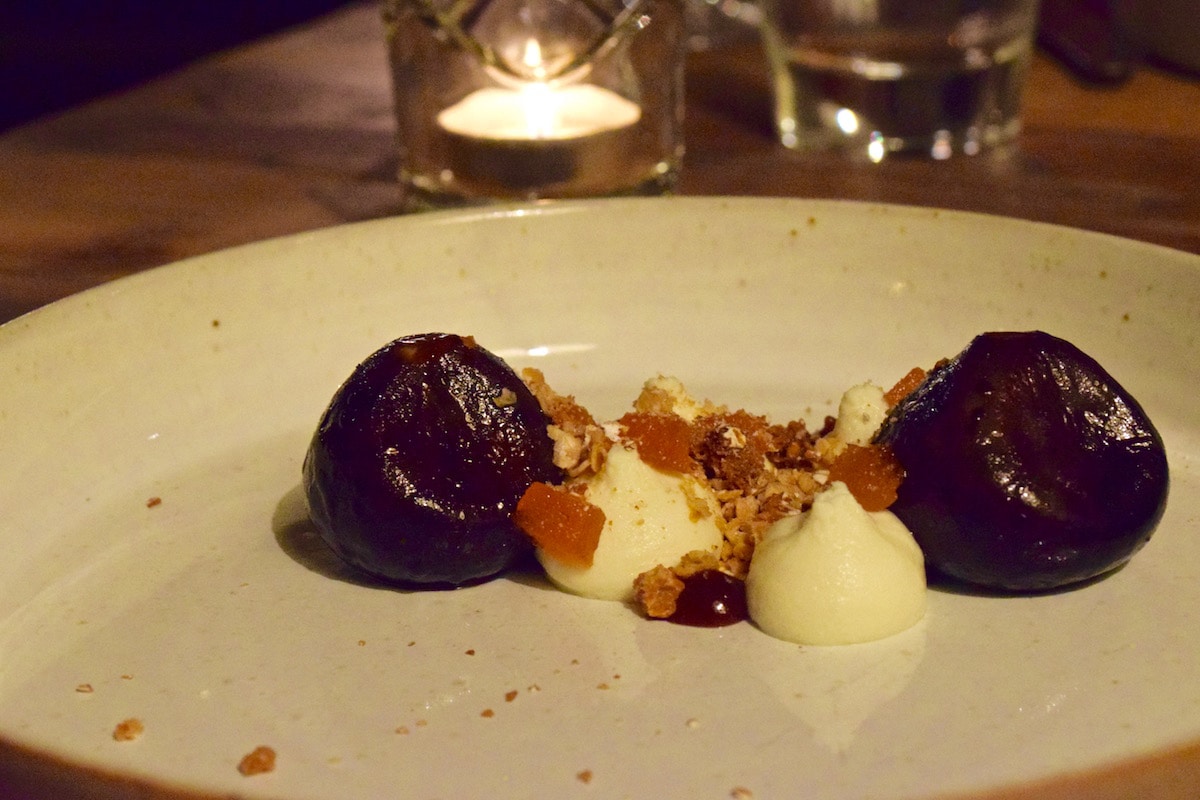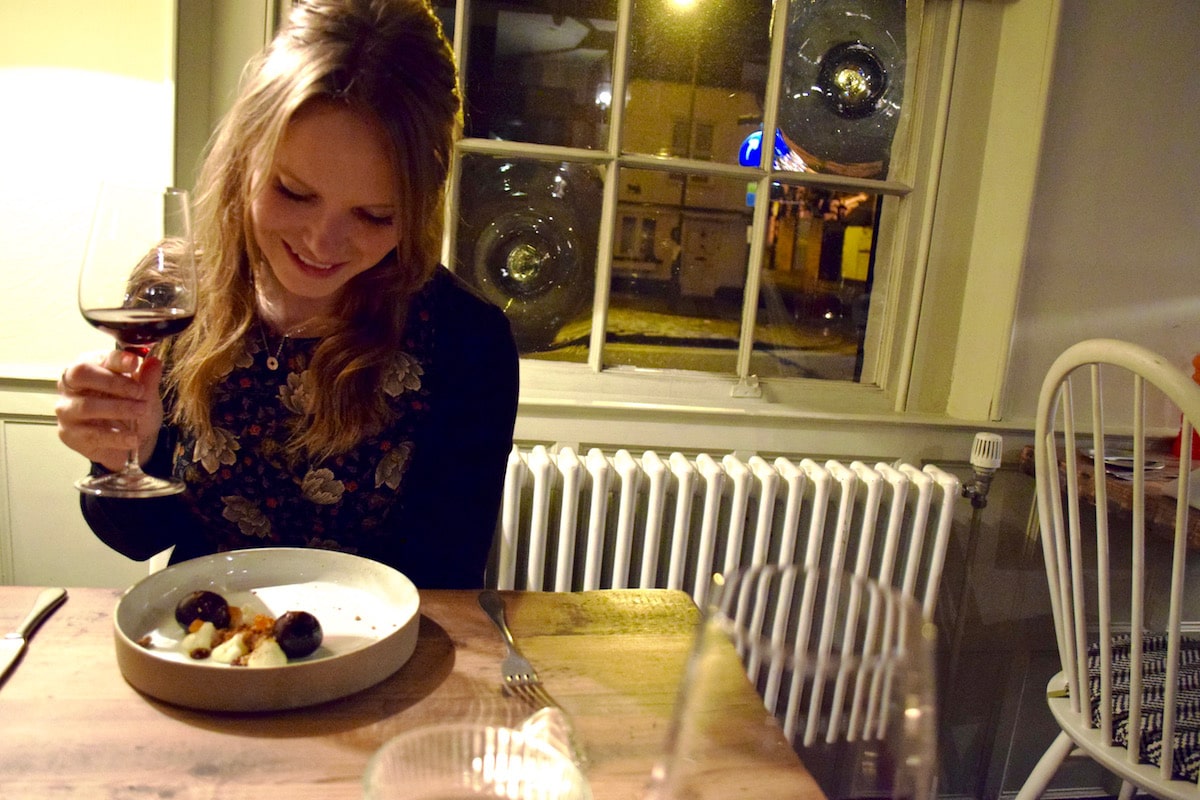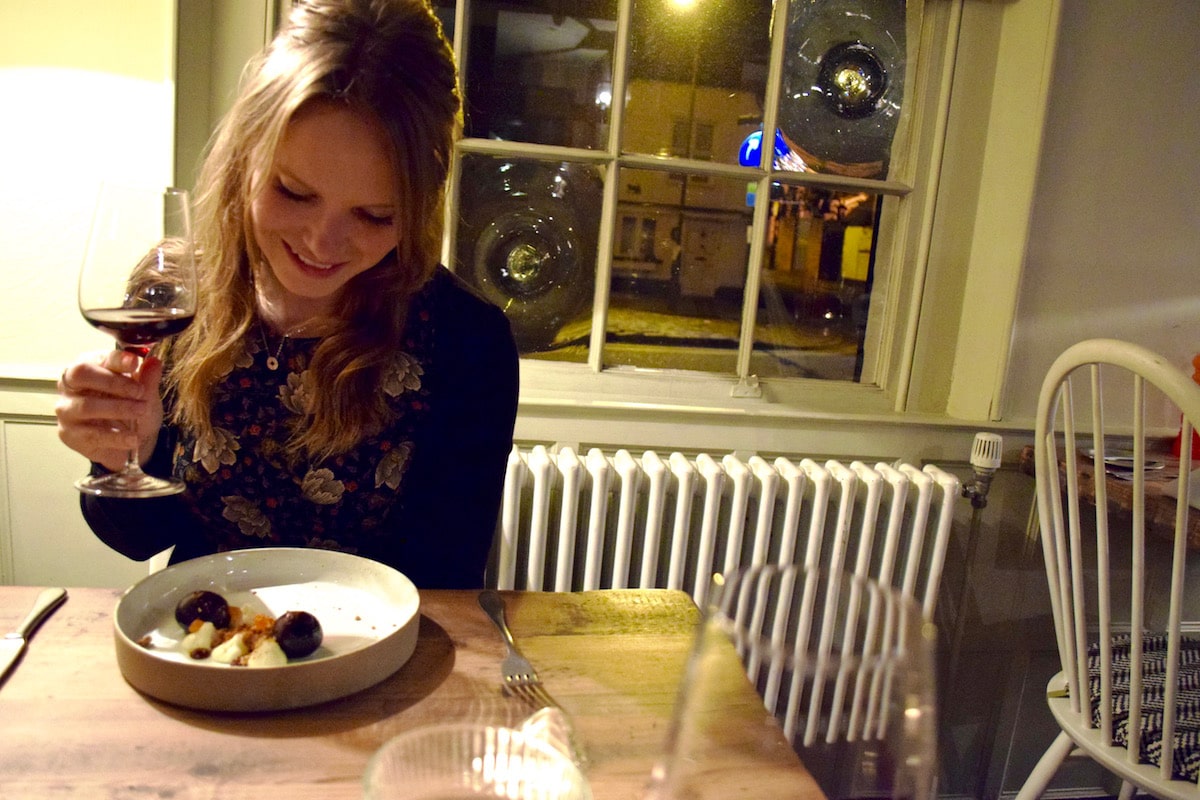 And so it was on to the sweet section of the meal. Up first a pot of whipped yoghurt espuma served with a big dose of perfumed olive oil and frozen blackberry. While it looked rich and creamy, it was actually very tart and light, cleansing our palletes for the next sweet treat.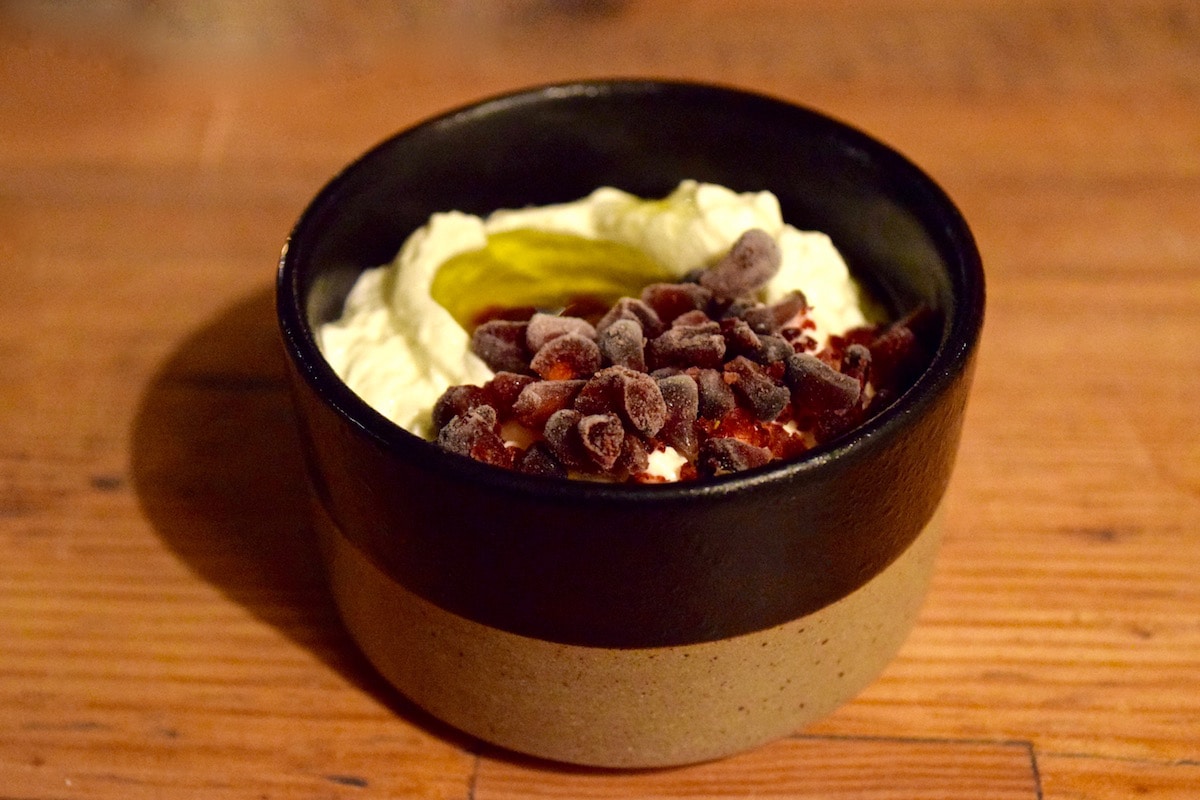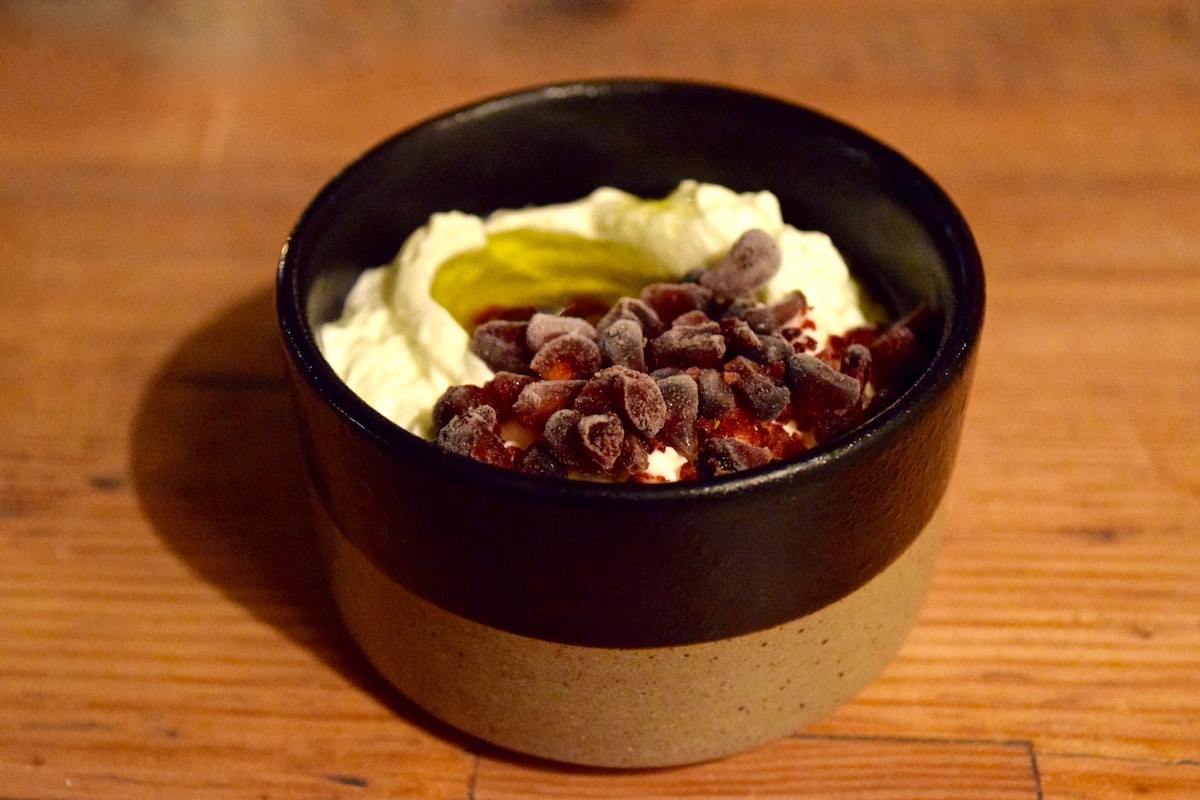 We tucked into two different desserts. The first was a warm almond cake dipped in coffee, served with chocolate sauce and white chocolate snow. What struck me first was the combination of hot and cold, with the snow melting on my tongue. Then the textures – crunchy, chewy, cakey and fluffy! It was quite a sensation.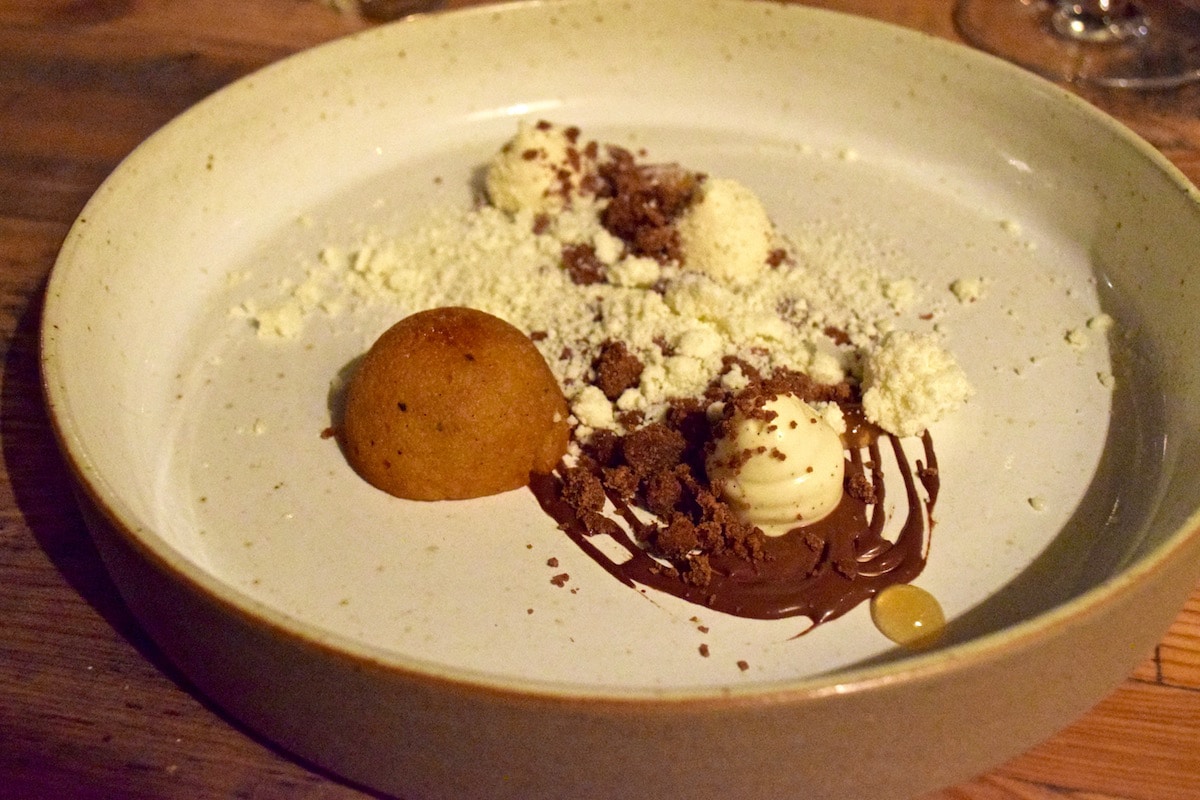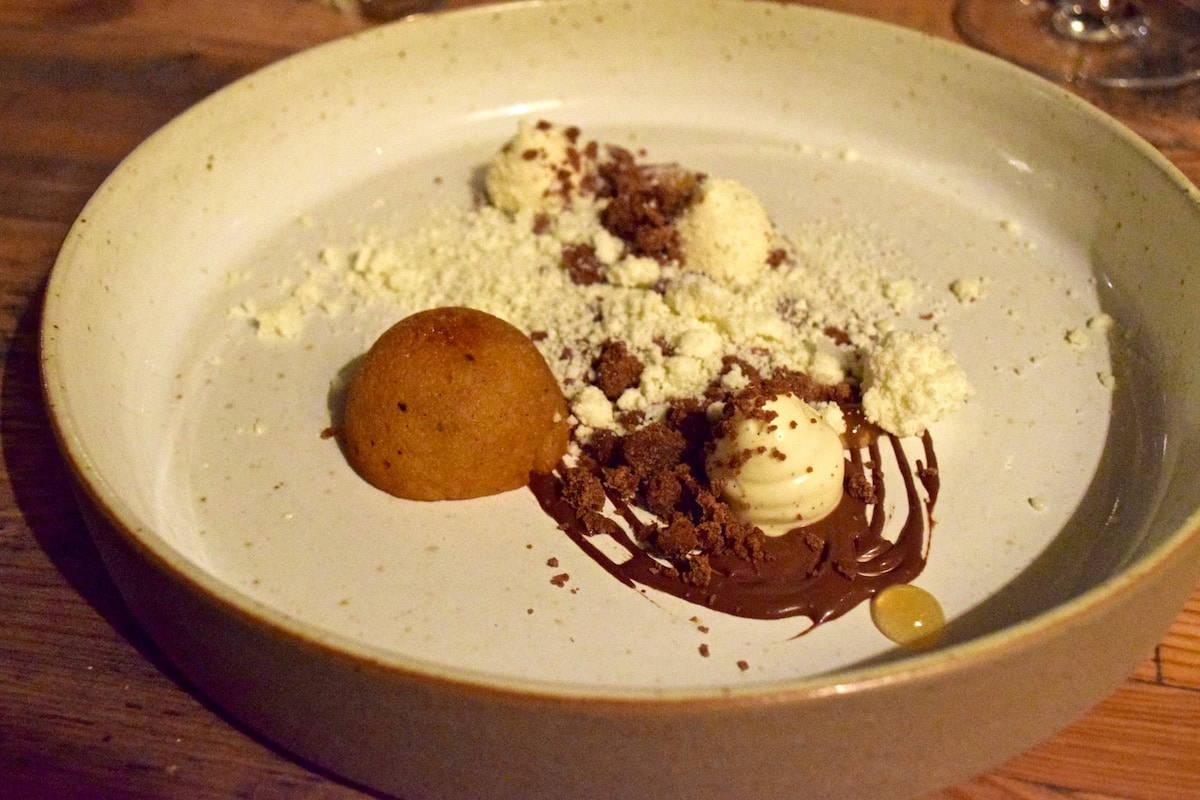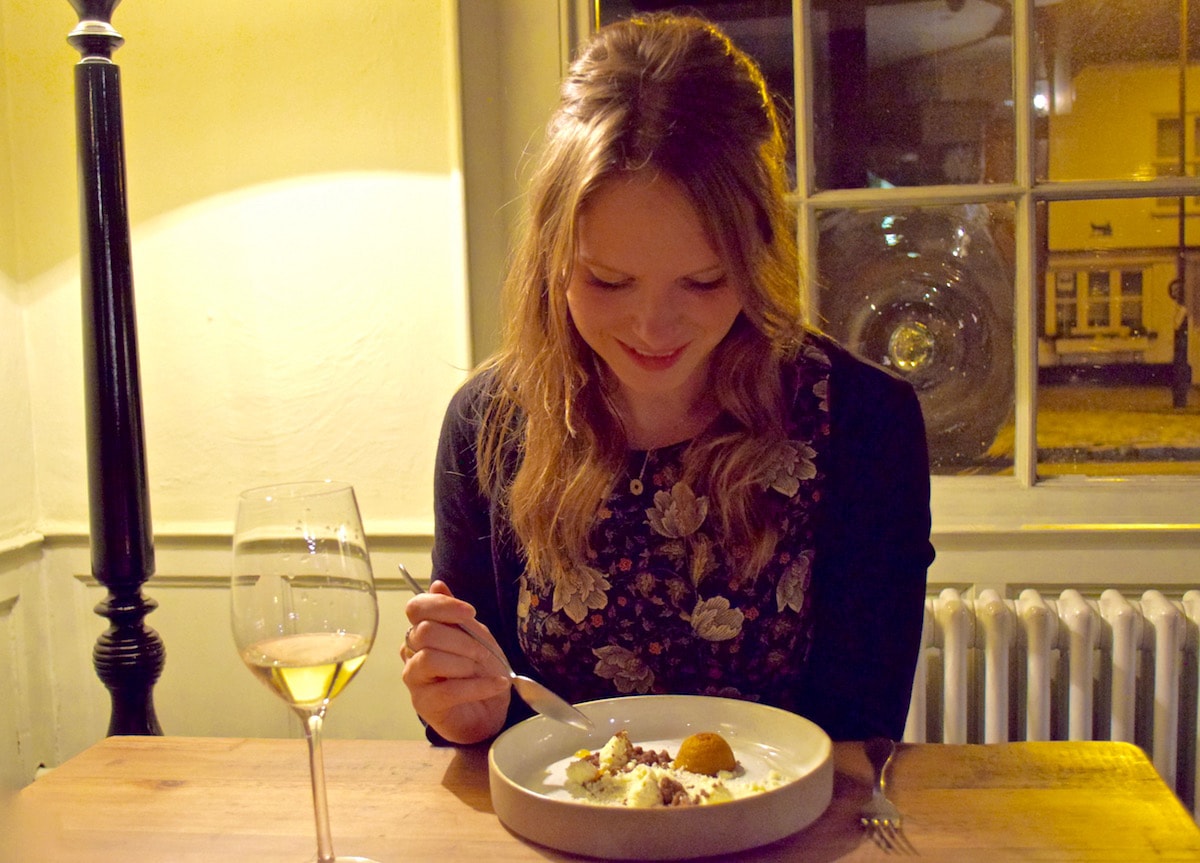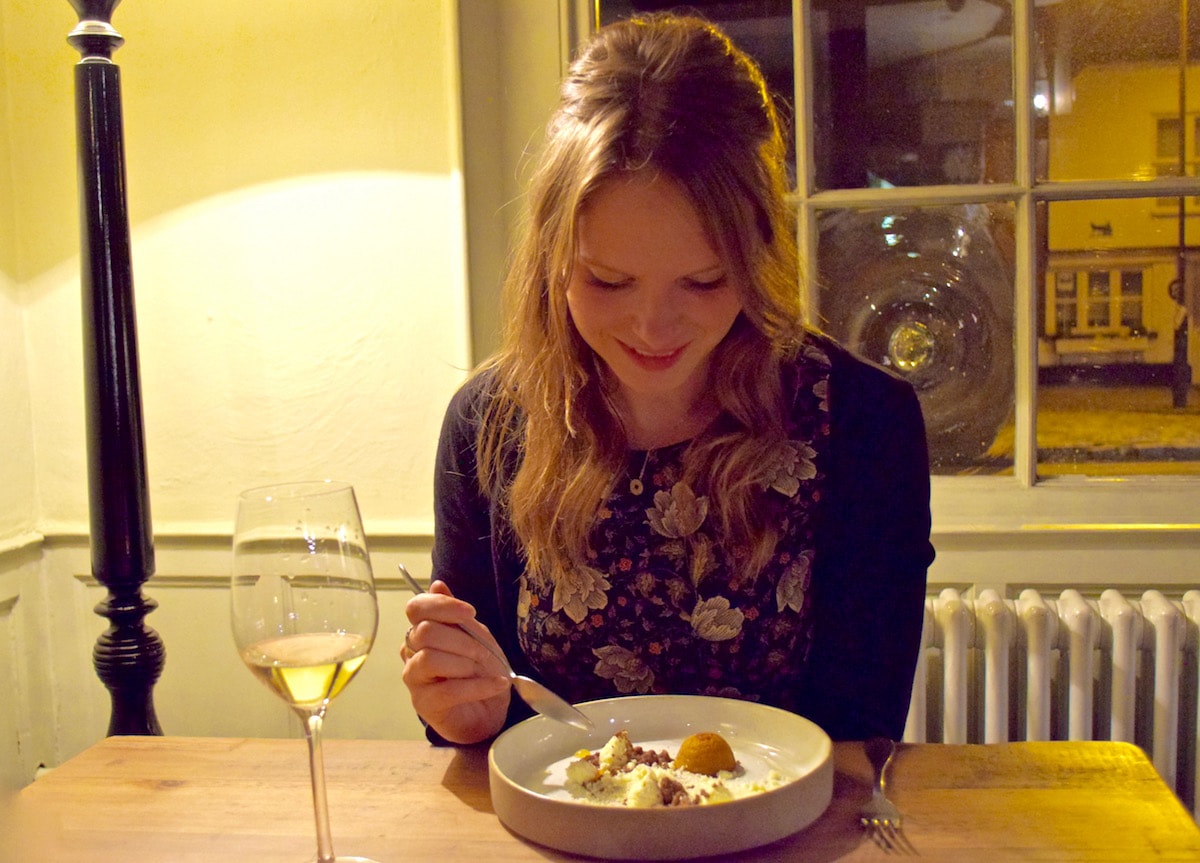 The final dessert was a blood orange dessert, with a parfait (which, if I had to pick a flaw, was lacking a bit of punch) plus a tangy yoghurt sorbet, intense blood orange segments and burnt Italian meringue. The combinations of flavours and textures again were excellent, particularly when washed down with a sweet, honey muscat.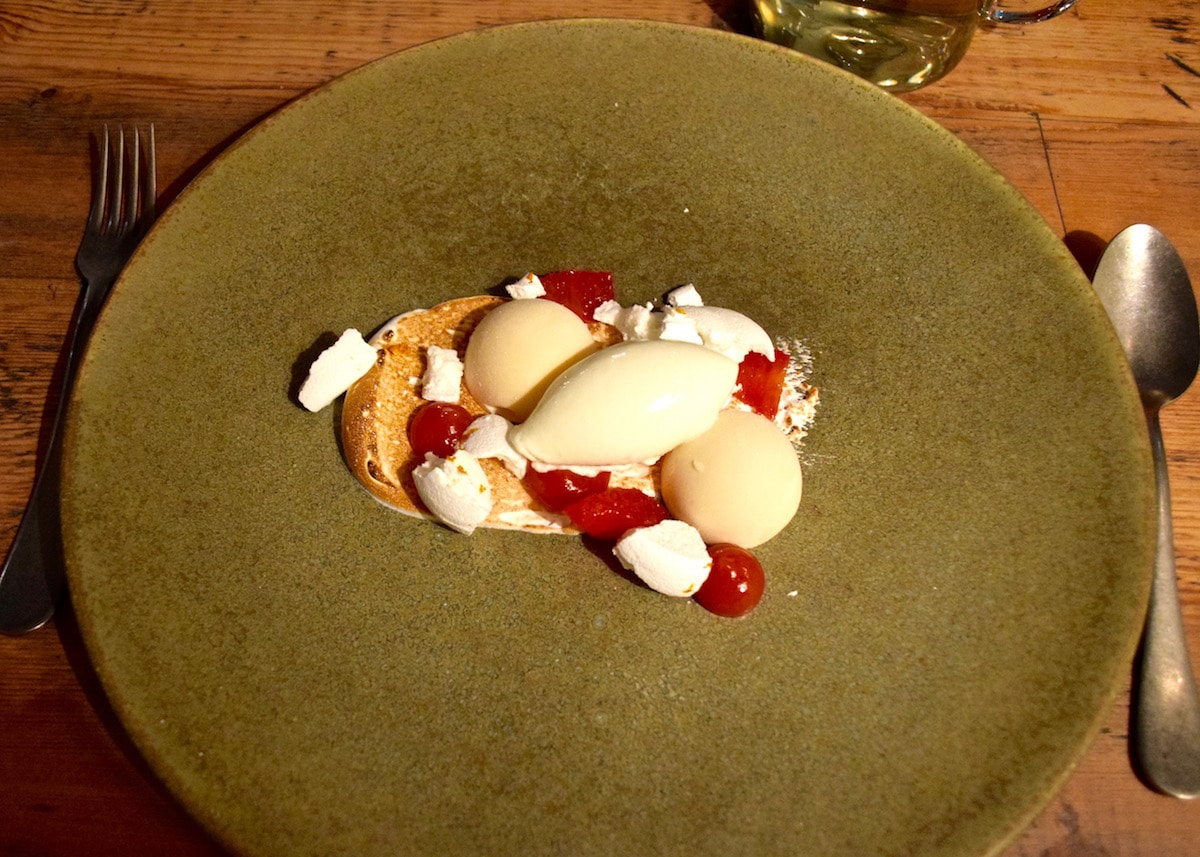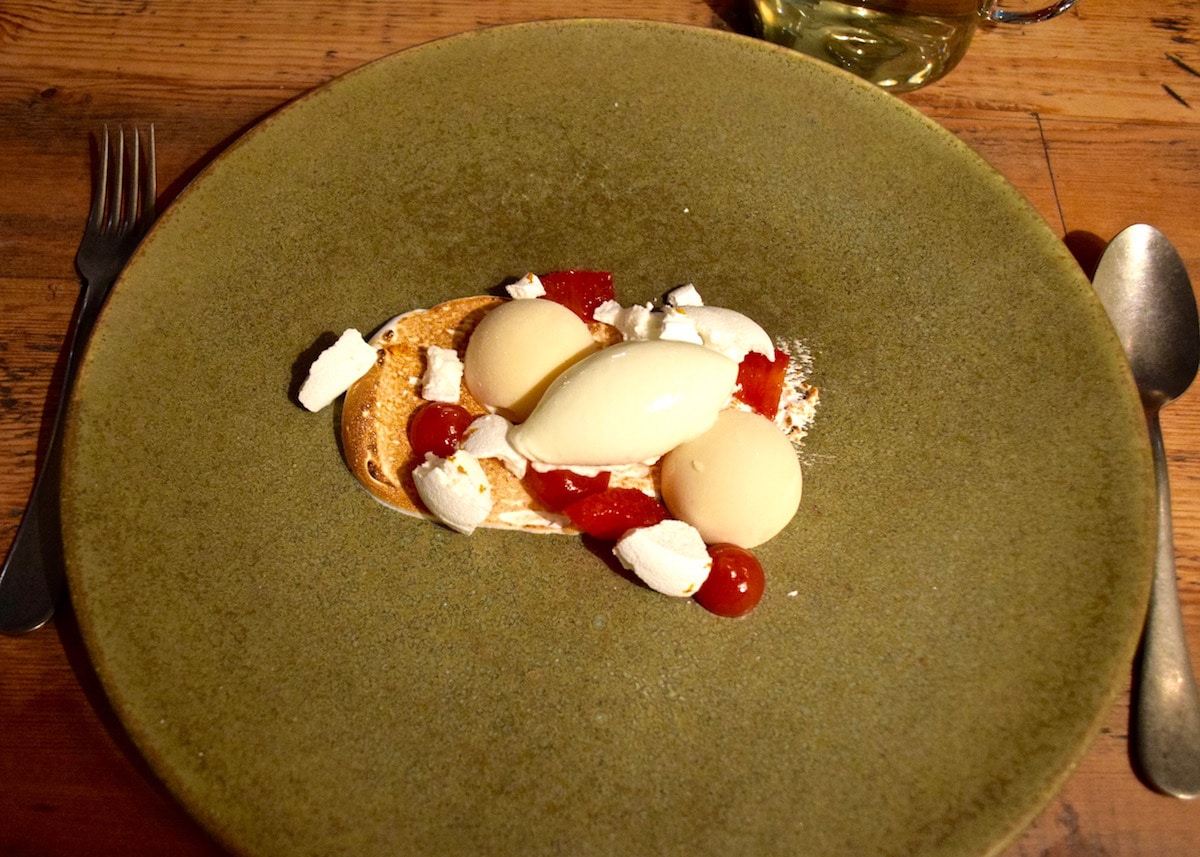 Each dish was so thoughtfully prepared, elevating classic British dishes with a playful touch. For me, the stand-out dishes were the scallops and the fish and chips.
Price wise you could enjoy a set menu for £26 (2 courses) or £32 (3 courses), and the most reasonable wine was £19.50 a bottle. It adds up once you go a la carte or order the tasting menu (£65 per head), but for most that would just be for a special occasion.
Service was attentive and professional, with a young team who enjoyed sharing their knowledge of the food and cooking techniques.
I thoroughly enjoyed my visit to Hawkyns and ate some truly spectacular food. While many might see their position across the street from The Artichoke as a fierce rivalry, I hope that having them both there will put Amersham on the map as a true culinary destination.
Thanks to Hawkyns Restaurant for inviting me to review. As always, opinions are my own.
Enjoyed this post? Pin it…