What's that? You've got four days in England and want to visit some beautiful, historic English cities? Well, I've got the perfect itinerary for you, through Durham, Lincoln and York… and it's packed full of English treasures!
I've just got back from an incredible four days exploring some of the most historic English cities. I'm not talking about a few hundred years of history here… these cities have buildings dating back over 1,000 years. They've got archways from the 3rd century, walls built by the Romans and castles dating back to the last millennium.
Thankfully, it's not a dry sort of history. It's the type of history you can venture inside, climb all over and really take in the intricate details of. Even if you're not a huge history geek before this trip, you'll leave with stories that fascinate you, and no doubt, want to discover more.
I set off on a self-guided England Originals tour. There are five tours in total, each with different themes. There's the Thinkers and Writers tour, which takes you to Oxford, Worcester and Stratford Upon Avon. Then there's the Western Wonders tour, which takes you from Truro to Bath and Salisbury.
I picked the Treasure Trove tour, which has an itinerary designed to show off some of the most historic English cities, and plenty of treasures too! I'd start off my journey by catching the train from London King's Cross to Durham, before venturing to York and then Lincoln. Three historic cities in three days – all cathedral cities, and all of them new to me too! This looked set to be a real bucket list trip.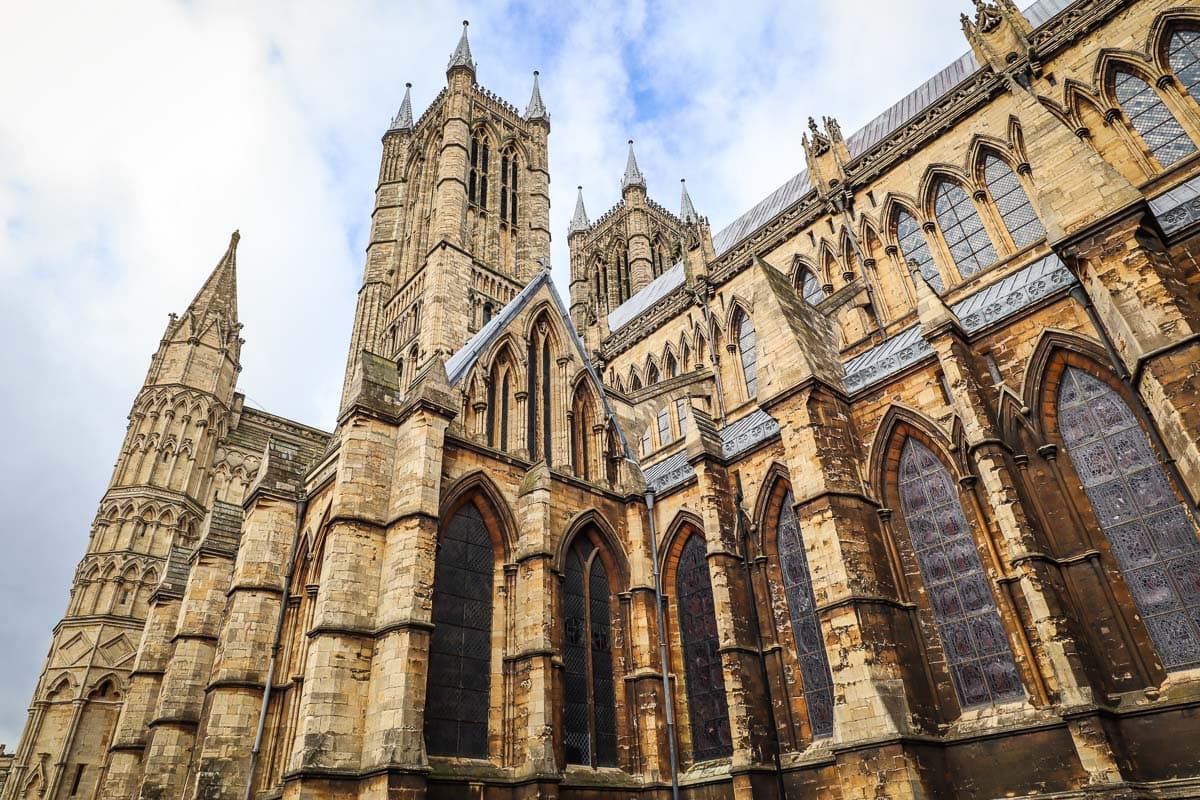 Using the interactive England Originals App, I'd guide myself around the cities, taking in the sights, sampling the local cuisine and staying in some charming hotels along the way. So, it's time for an unforgettable four days in England!
---
LONDON KING'S CROSS STATION
My adventure around historic England kicked off at King's Cross Station in London. While travelling in rush hour is an adventure in itself sometimes, this Monday morning involved a little magical pitstop… yup, I couldn't miss a quick snap at Platform 9 ¾. However, my train wasn't bound for Hogwarts, I was heading to Durham.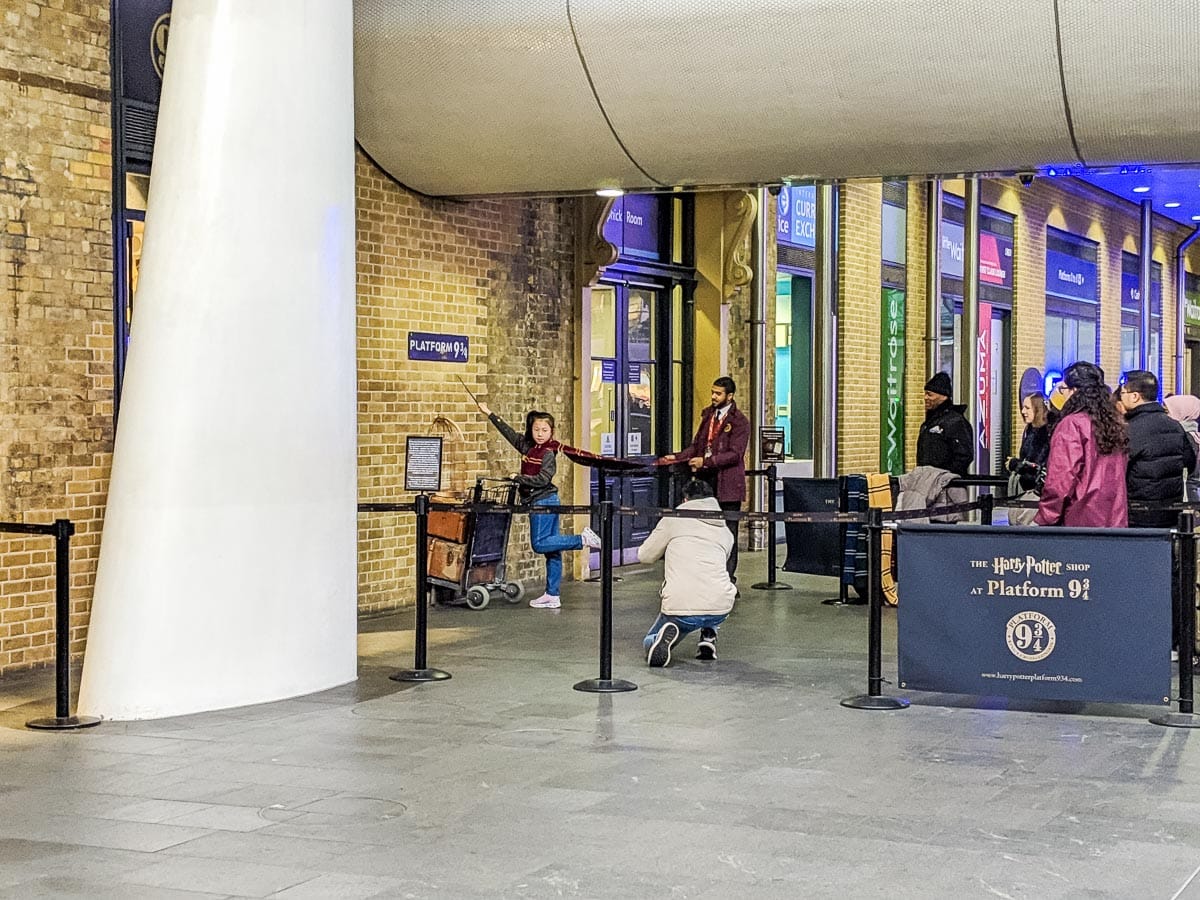 ---
DURHAM
Train Journey - London King's Cross to Durham: 2 hours 49 minutes
Why visit Durham?
Visit Durham for its compact city centre complete with cobbled streets, stunning river views and historic cathedral. Oh and to discover an ancient castle which is still inhabited to this day! It's easily one of the most historic English cities.
Top Things To Do In Durham
Visit Durham Cathedral
Durham Cathedral is over 1,000 years old, and along with Durham Castle became a UNESCO World Heritage Site in 1986 (one of the first in the world along with the Taj Mahal and the Palace of Versailles!) It's an incredible medieval building, and the best way to understand its details and history is to head off on a guided tour. My guide Lillian lived and breathed the cathedral's history, and gave a great overview of the building.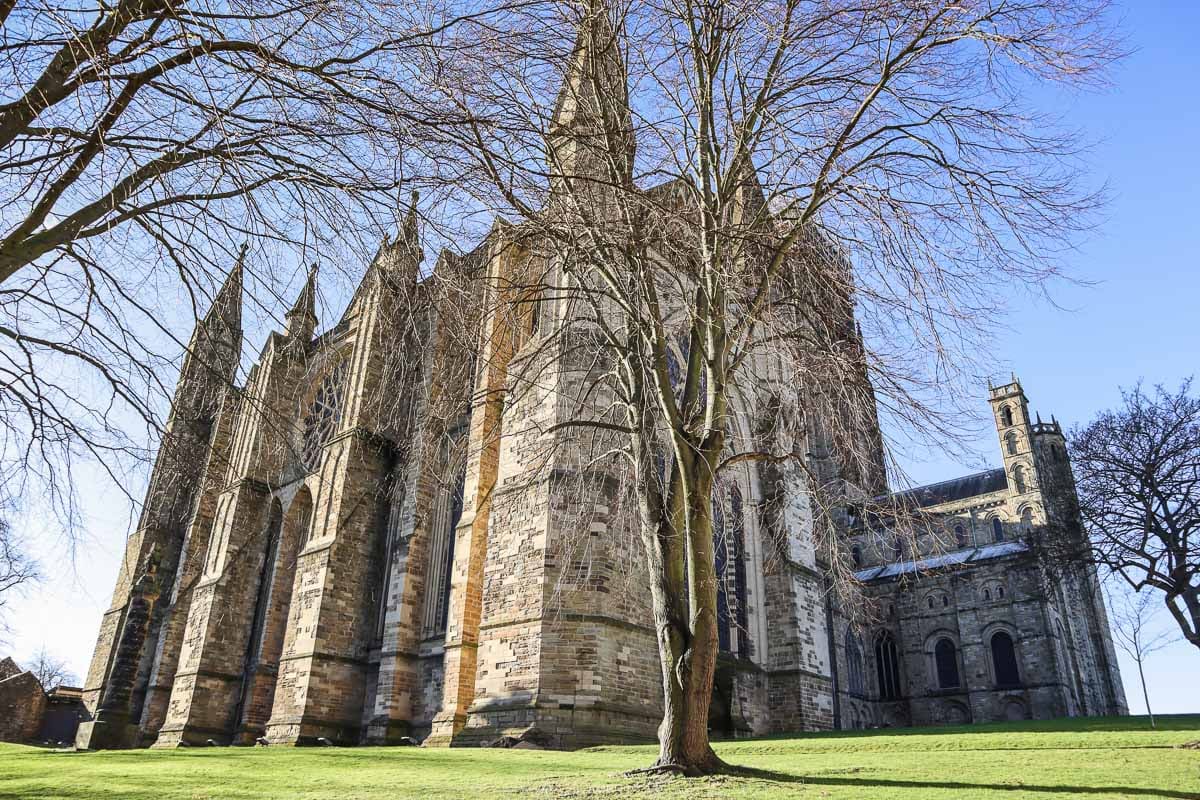 Along with the Cathedral Cloister (which many will recognise from the Harry Potter films), don't miss The Undercroft. It's where you'll find the cathedral's restaurant set in a magnificent Medieval chamber of impressive stone archways.
TOP TIP: Launch the England Originals App at Durham Cathedral and you can access a portal, which uses augmented reality to show you some parts of the building you wouldn't be able to access otherwise.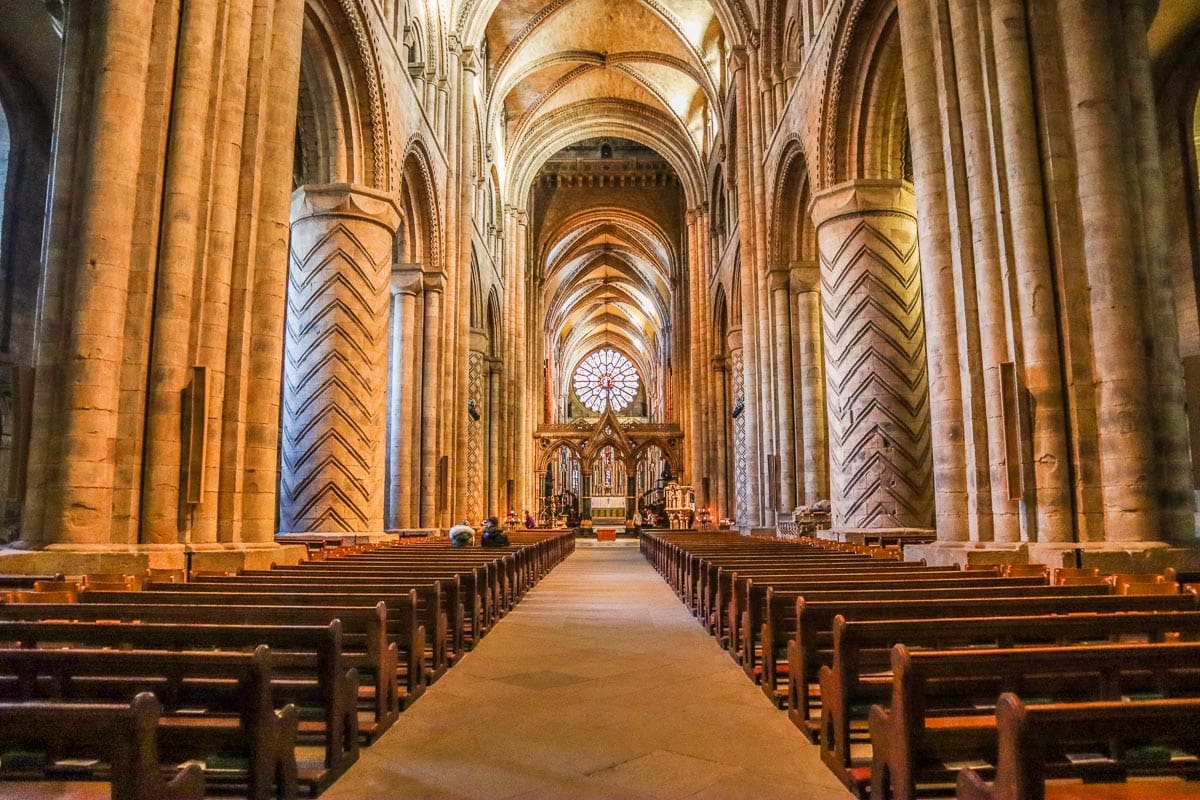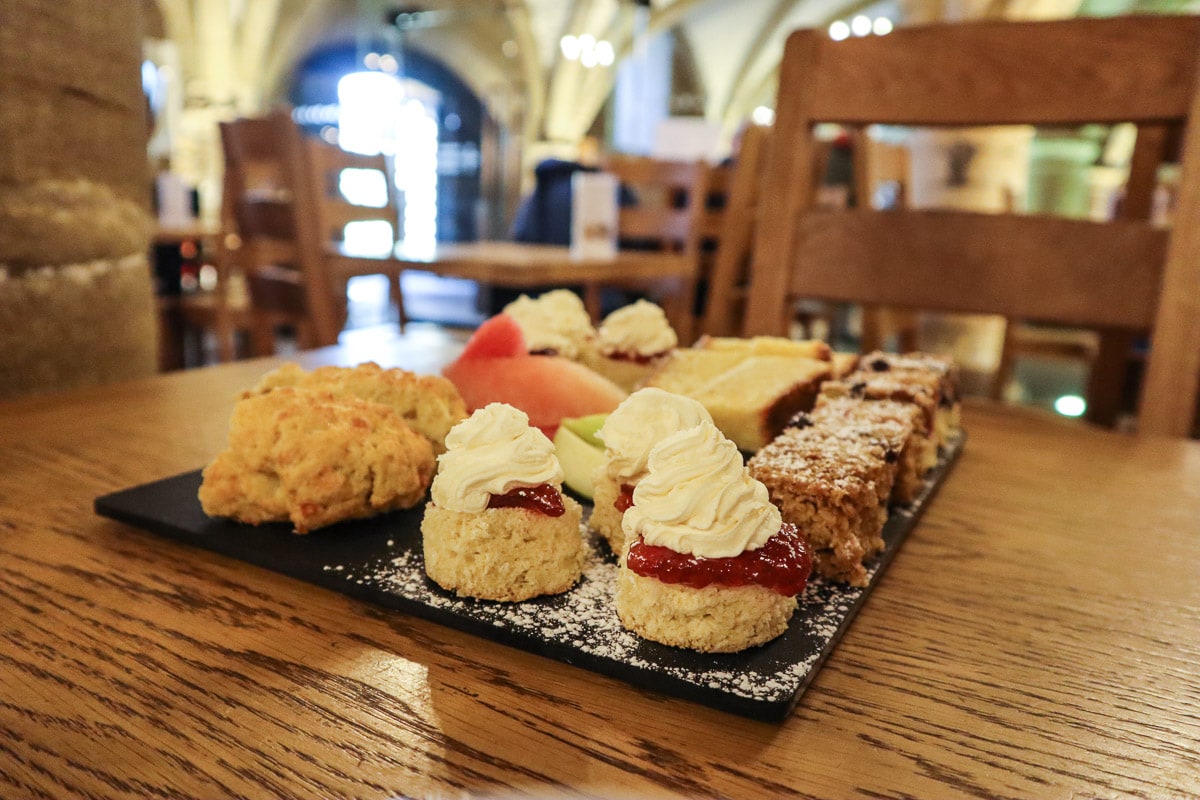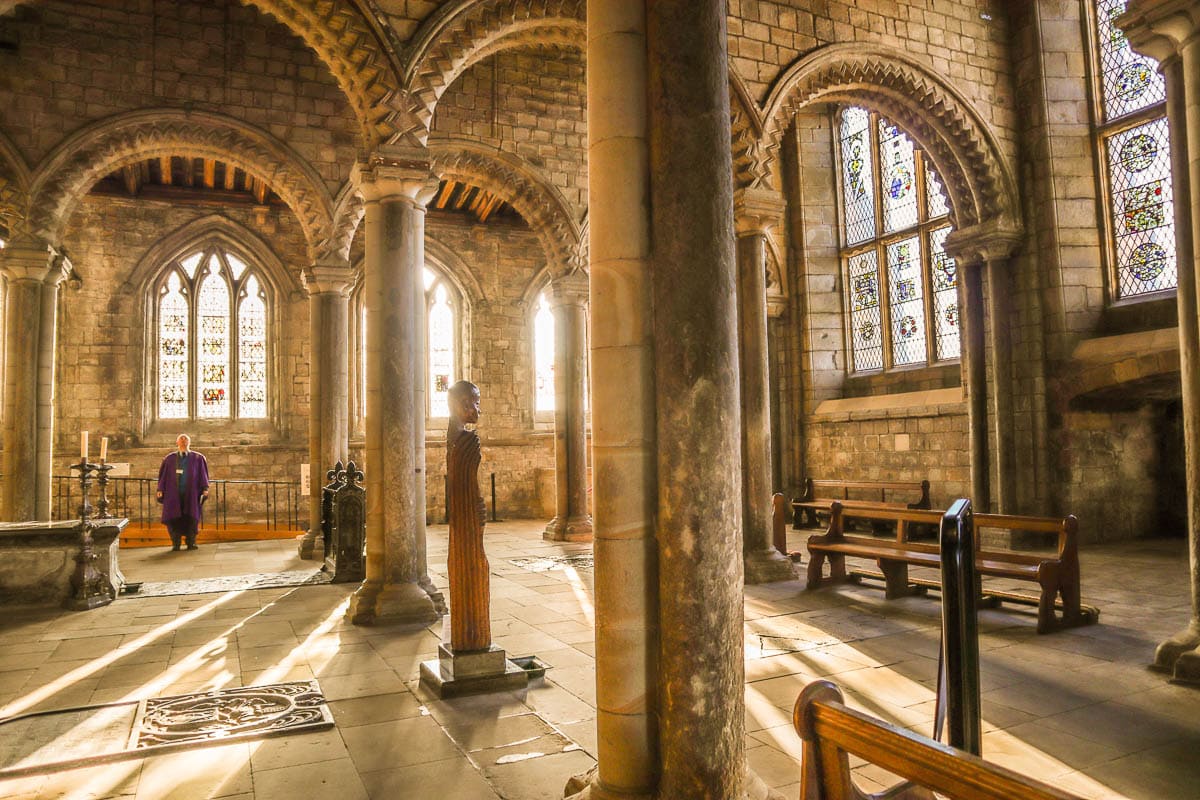 Take A Tour Of Durham Castle
Built in 1076 by William the conqueror, Durham Castle is the oldest surviving building in Durham. It's a treasure trove of Norman chapels, 11th century carvings and ghost stories!
One of the things I found most fascinating is that it's still inhabited and in use today. Around 100 students from Durham University College live within the castle walls, enjoying their meals in the Great Hall. To visit the castle, you'll need to book onto a tour. Probably for the best, as you wouldn't want to encounter the Grey Lady on the floating staircase when you're on your own!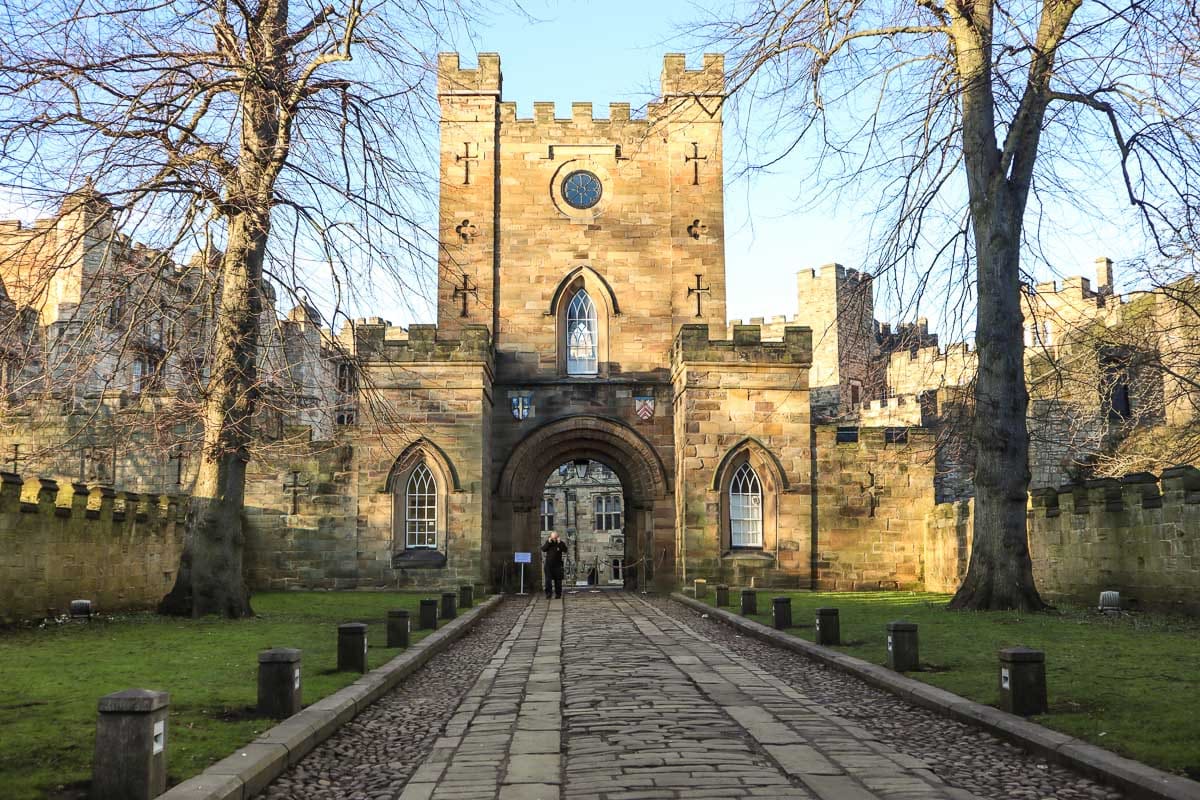 Walk Along The River
One of the best things to do in Durham is enjoy a long walk along the river. The views are stunning, with impressive bridges, a great view of the castle and cathedral perched up on the hill, and university rowers going back and forth. Visit just before sunset for some amazing views of the buildings illuminated by the last golden rays of sunshine.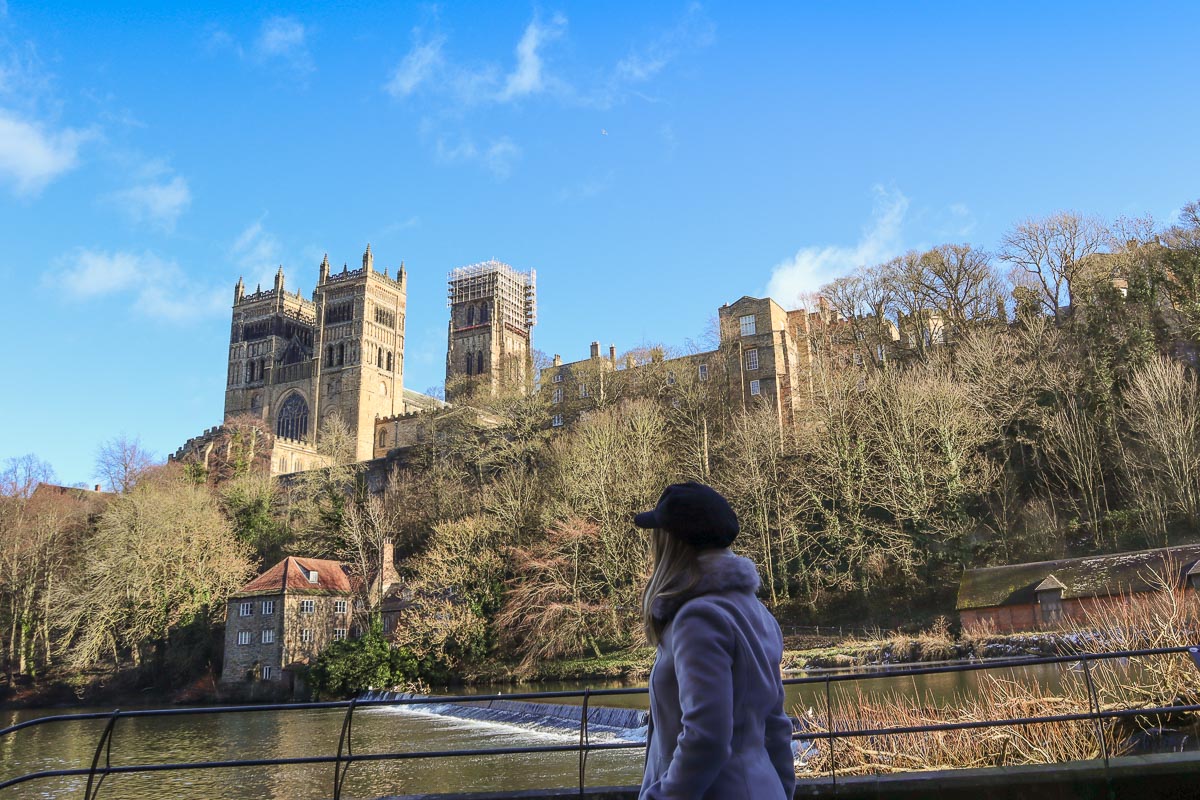 Eat In A 13th Century Cellar
It was difficult to find somewhere in Durham that wasn't steeped in history. The Cellar Door restaurant is set in a 13th Century cellar, and as you head down the stairs, you'll feel like you're entering somewhere very special! The restaurant's menu is on the gourmet side, and I'd say it's the perfect spot in the city for a special occasion or a romantic dinner.
Discover Durham's Creative Side At Fowler's Yard
One of the locals tipped me off about this hidden gem in Durham. It's basically a street with several creative businesses, including illustration, bespoke jewellery making, photography and more. With a fair few chain stops on the high street, it's nice to find an area flying the flag for independent businesses.
Stop For A Cuppa On The Historic Streets
After wandering the cobbles, you'll be ready for a rest! I'd recommend heading to Flat White or Cafedral for a nice cuppa. Both are independent, highly regarded and serve great coffee!
Continue your history fix with a relaxing stay at this quirky Grade II Georgian town house. When I say quirky, I really mean it! Each room is themed… I was in the rouge room (you couldn't get much redder!) but there's also a nautical room and a train-themed room! Service was very friendly, and they serve a great northern breakfast in the restaurant too. Check availability and latest prices.
---
YORK
Train Journey – Durham to York: 45 minutes
Why visit York?
Visit York to uncover the city's past as a Viking city, walk its 13th century city walls and indulge in some delicious sweet treats. Oh and don't forget to take a wander down a real life Diagon Alley.
Top Things To Do In York
It's pretty incredible to imagine York, or Jorvik, as a bustling Viking city around 1,000 years ago! In fact, by 1066 over 15,000 people lived in Jorvik making it England's 2nd city. Visiting this museum is one of the best things to do in York.
It sits on some of the ruins, features ancient objects excavated from the site, and gives you a feel for what life would have been like back then. There's a unique ride, which brings the old city to life, with animatronics, sounds and even smells!
Visit York Minster (And Climb The Tower)
The icon of the city, you can't visit York and not venture inside York Minster. Beautiful outside, the cathedral is even more breath-taking on the inside. Constructed between 1230 and 1472, it's an incredible example of gothic architecture.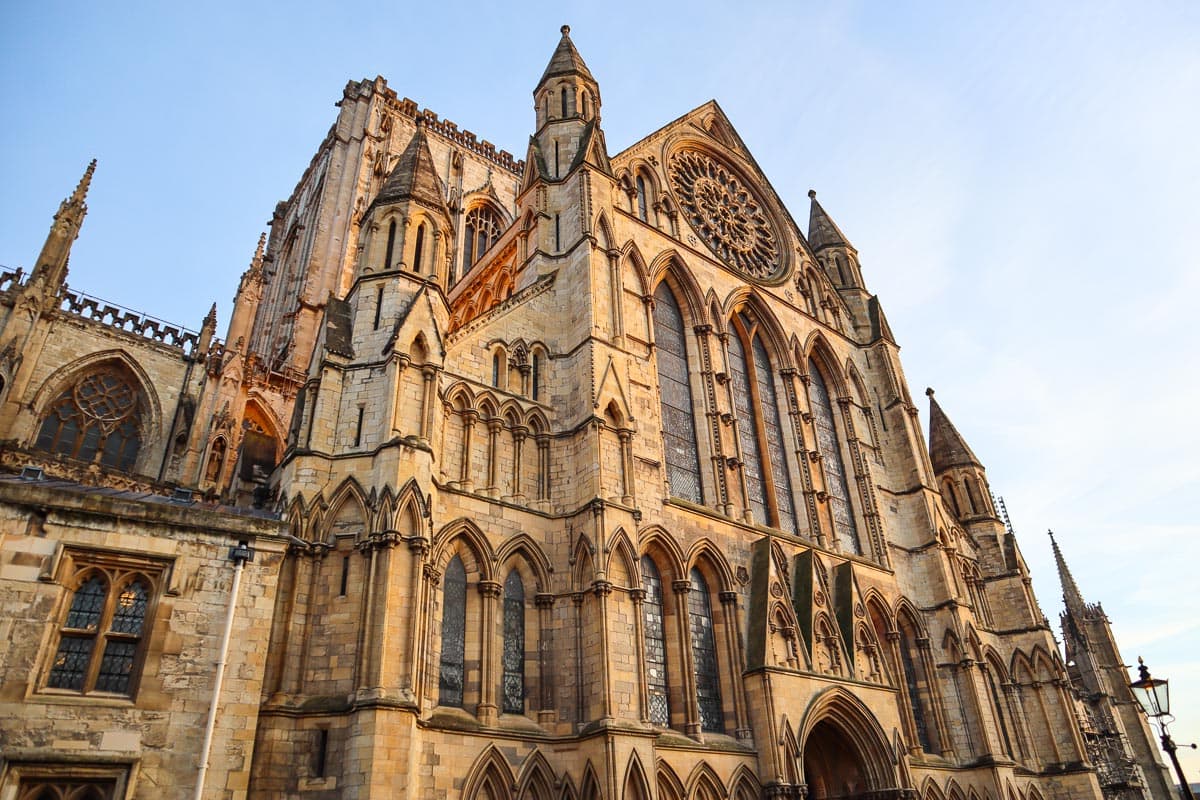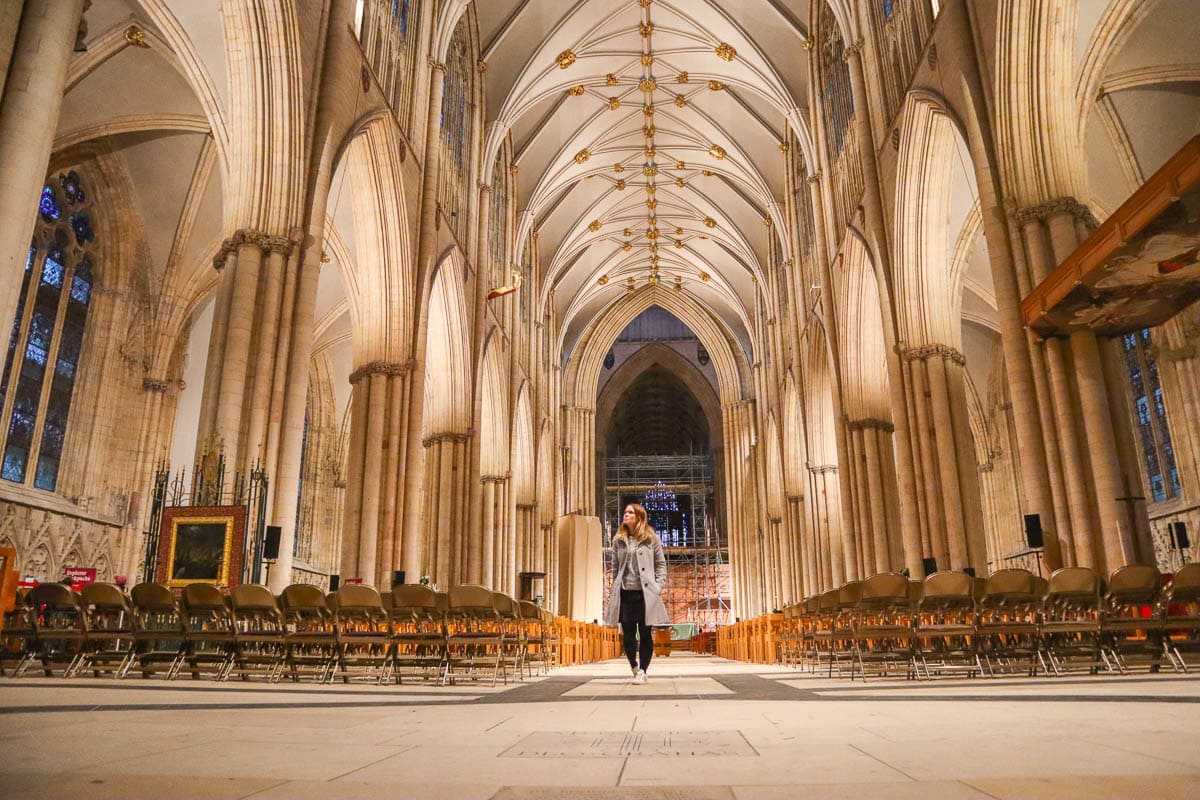 Once inside you can buy a ticket to climb the tower, which I'd definitely recommend. It offers 360 degree views of York, and is a great place to snap some photos of the city.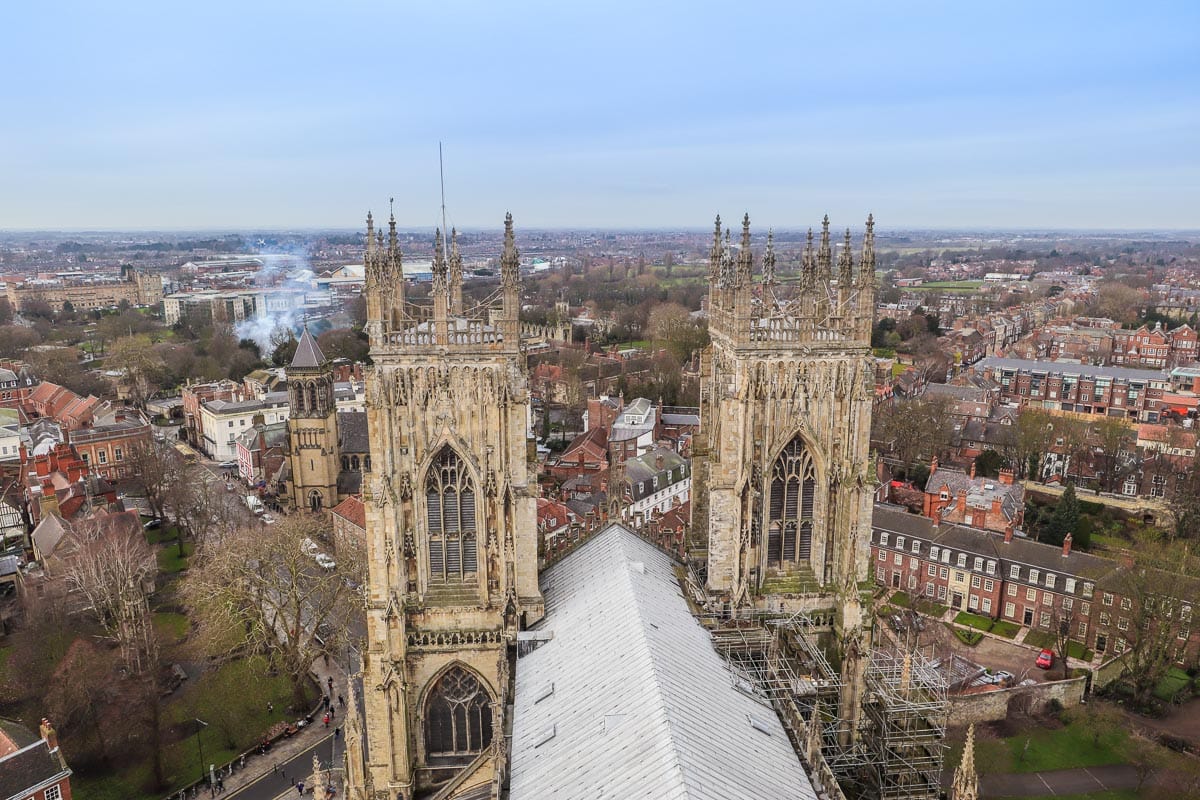 Climb Clifford's Tower
I visited Clifford's Tower twice during my time in York. The first time was at sunrise to take some pictures; the second was to climb it. The tower is almost all that remains of York Castle, which was built by William the Conqueror. From the top, there are some lovely views of the city, including over to York Minster… so even if you've climbed the cathedral tower, you'll enjoy a totally different view from here.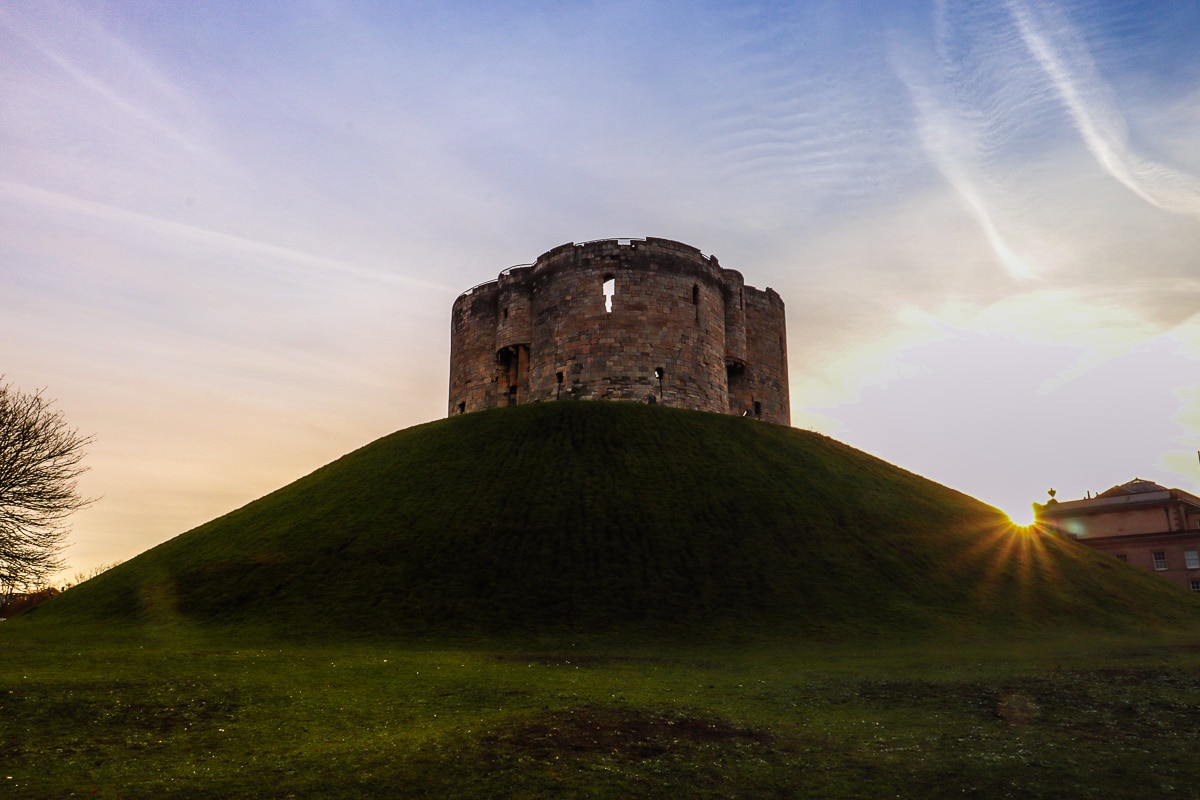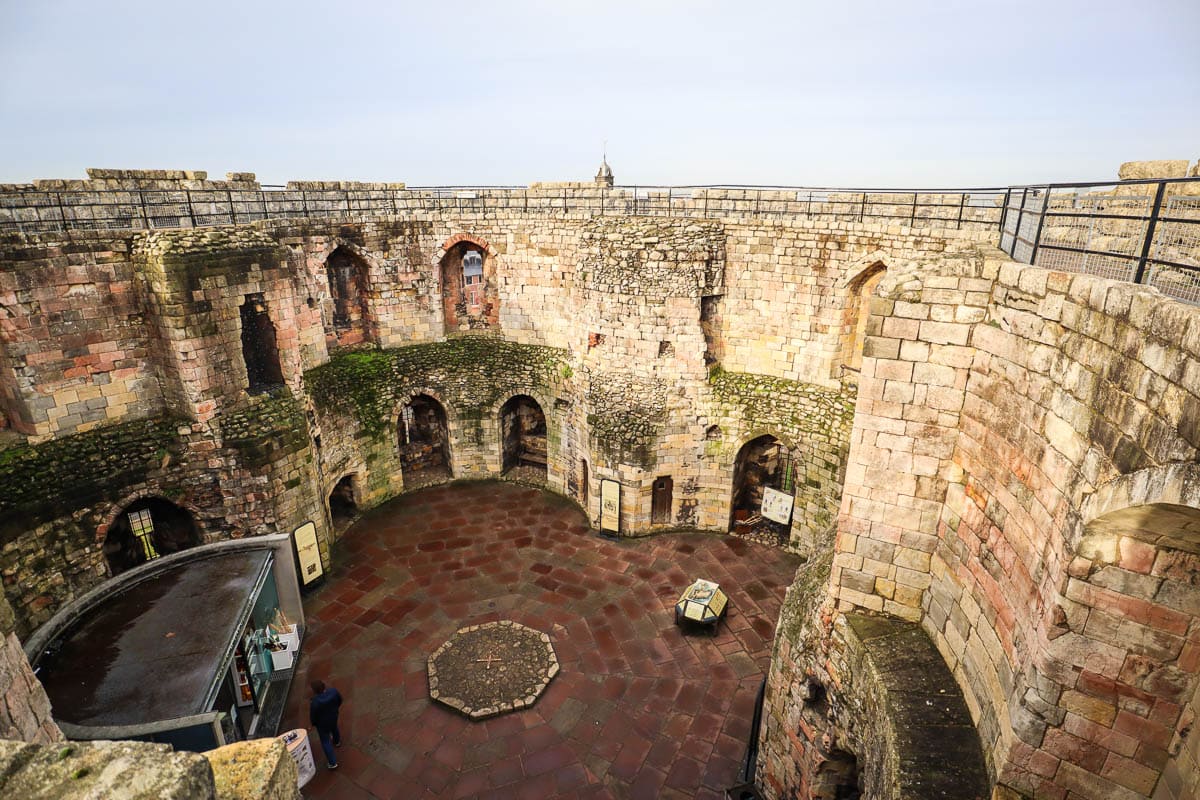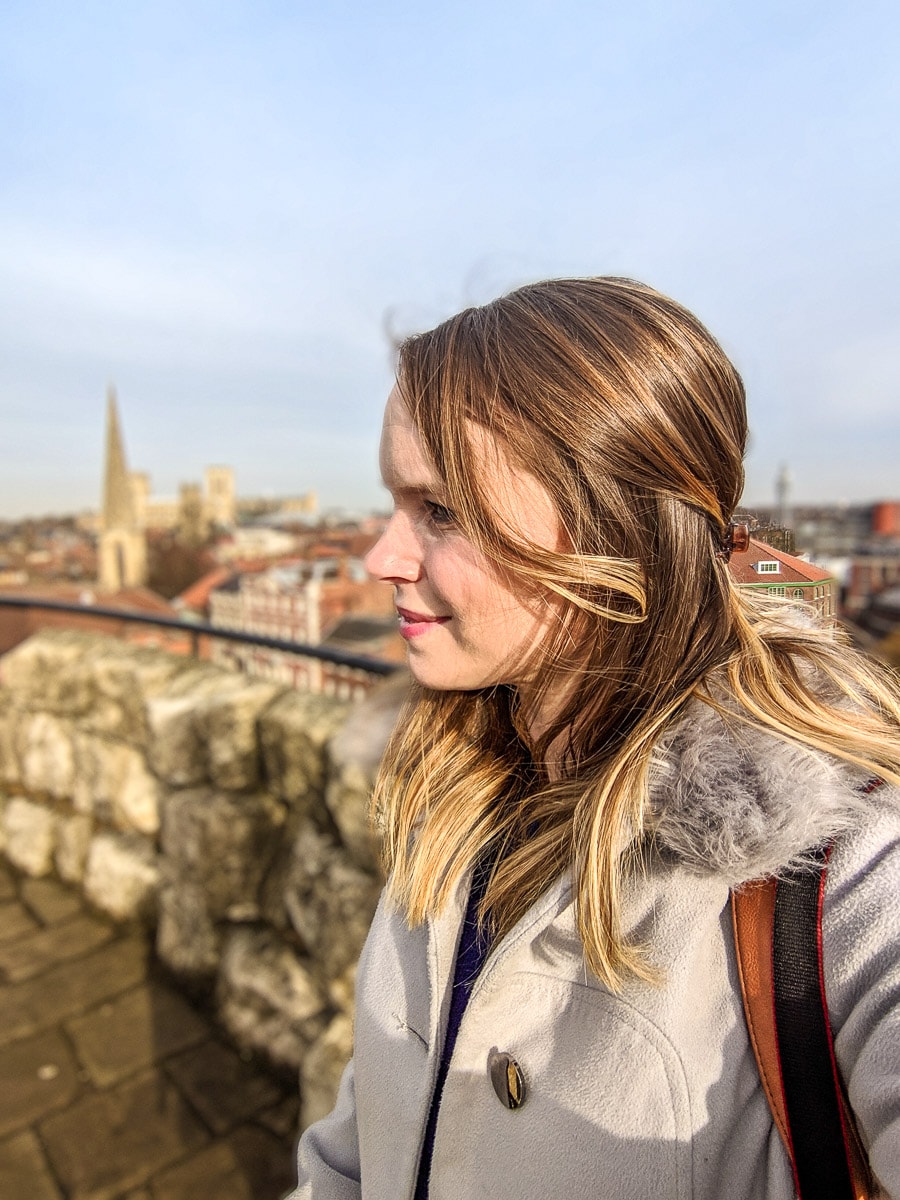 TOP TIP: Launch the England Originals App outside Clifford's Tower and you'll be able to dive into a special portal to see the views, without climbing up all of those steps!
Have A Meal At Bettys (And Try A Fat Rascal)
Oh what a reputation Bettys has! It's THE place in York for afternoon tea or a sweet treat. I learned more about the history of the tearoom when I visited, discovering it was set up by a Swiss baker 100 years ago. For that reason, there are plenty of Swiss dishes on the menu too.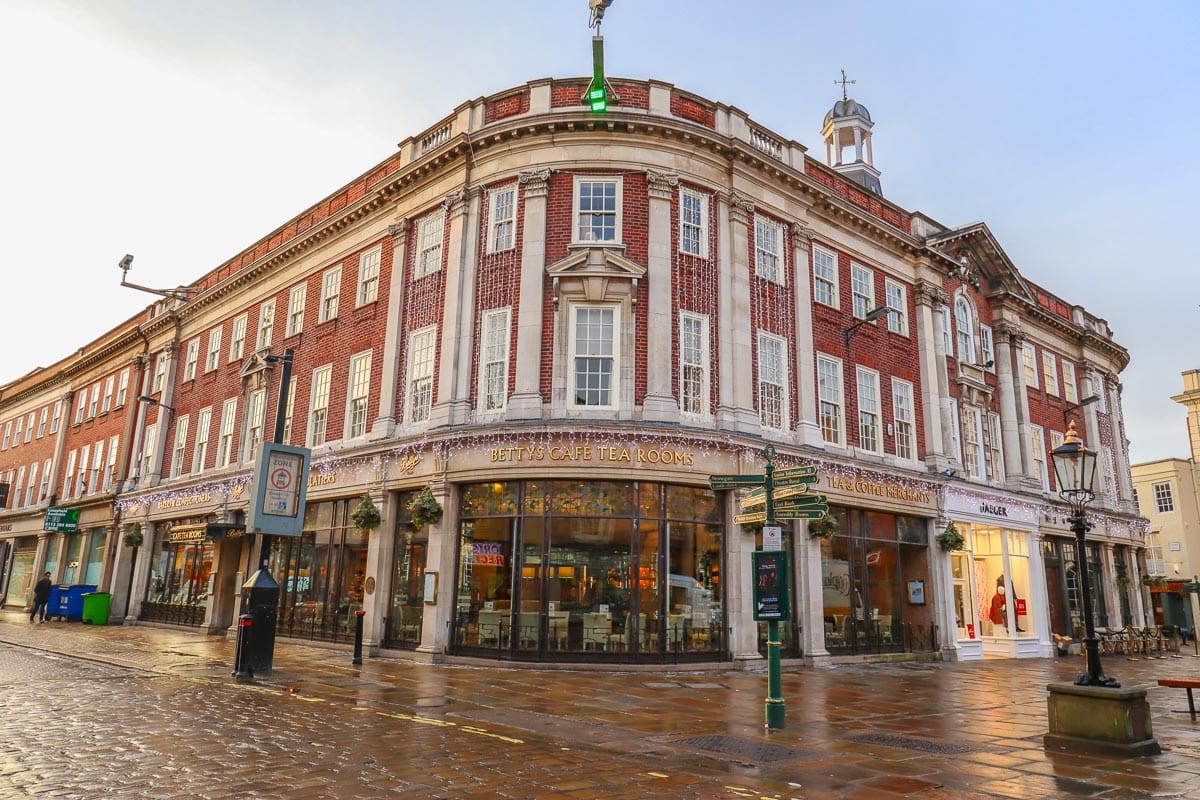 I went for the fish gratin, which was absolutely delicious. I also picked up a Fat Rascal to take home – Yorkshire's famous scone that comes decorated with eyes made from glacé cherries and a mouth made from almonds! I may have only been spending four days in England, but at this rate I'd be finishing my trip four stone heavier!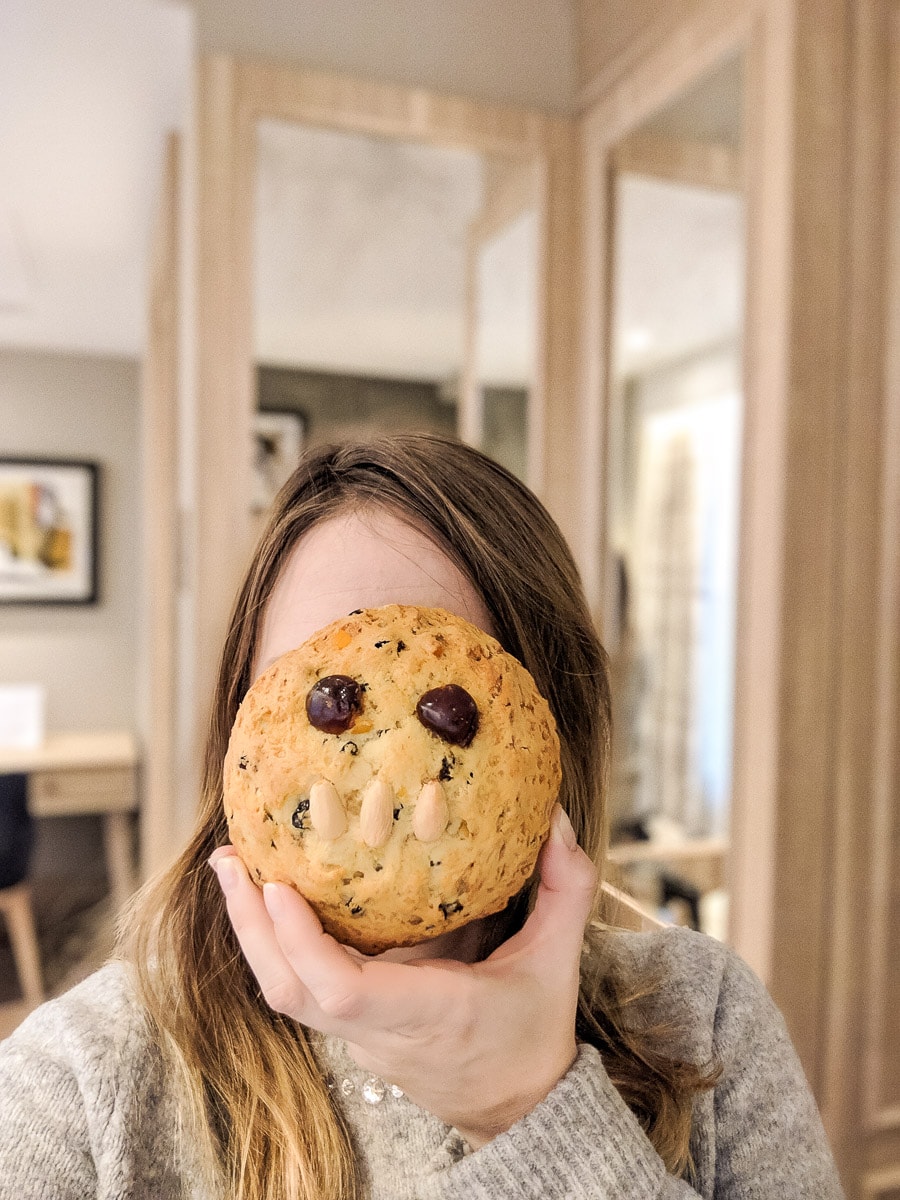 Walk York City Walls
You can't get closer to history than by walking on it! York's City Walls are the longest medieval town walls in England (3.4km). While the original city walls were built around 71 AD, the majority of what you se today date back to the 12th – 14th Century. Not only is it a lovely experience to get right up close to York's history, it offers a great tour of the city, showing you plenty of the key sights along the way!
Explore The Shambles
The Shambles is one of those quintessential old English streets you see on postcards of England. With wonderfully wonky buildings dating back to the 14th Century, and a mix of tourist shops and cute stores, it's a lovely place to have a wander. There's Shambles Market close by, where you'll find a mix of market traders and some great street food too.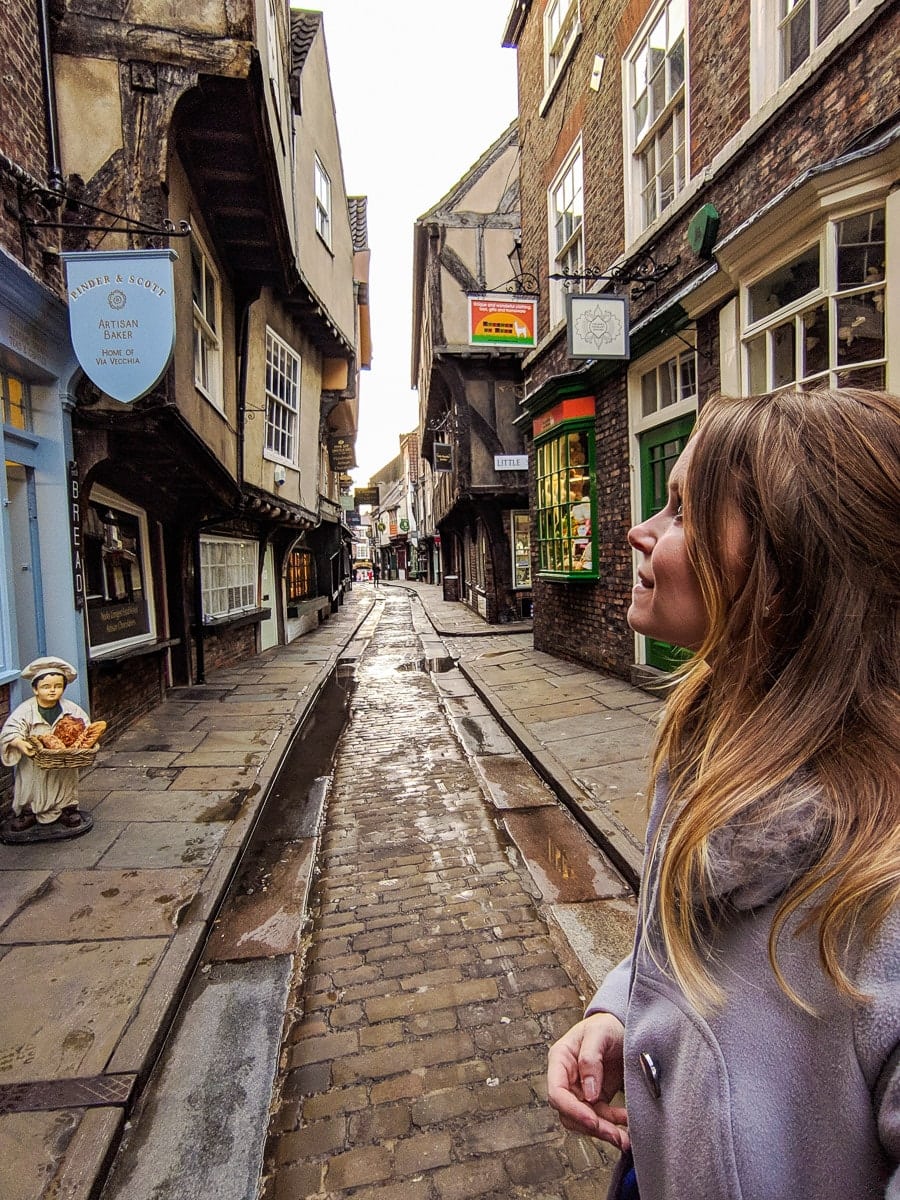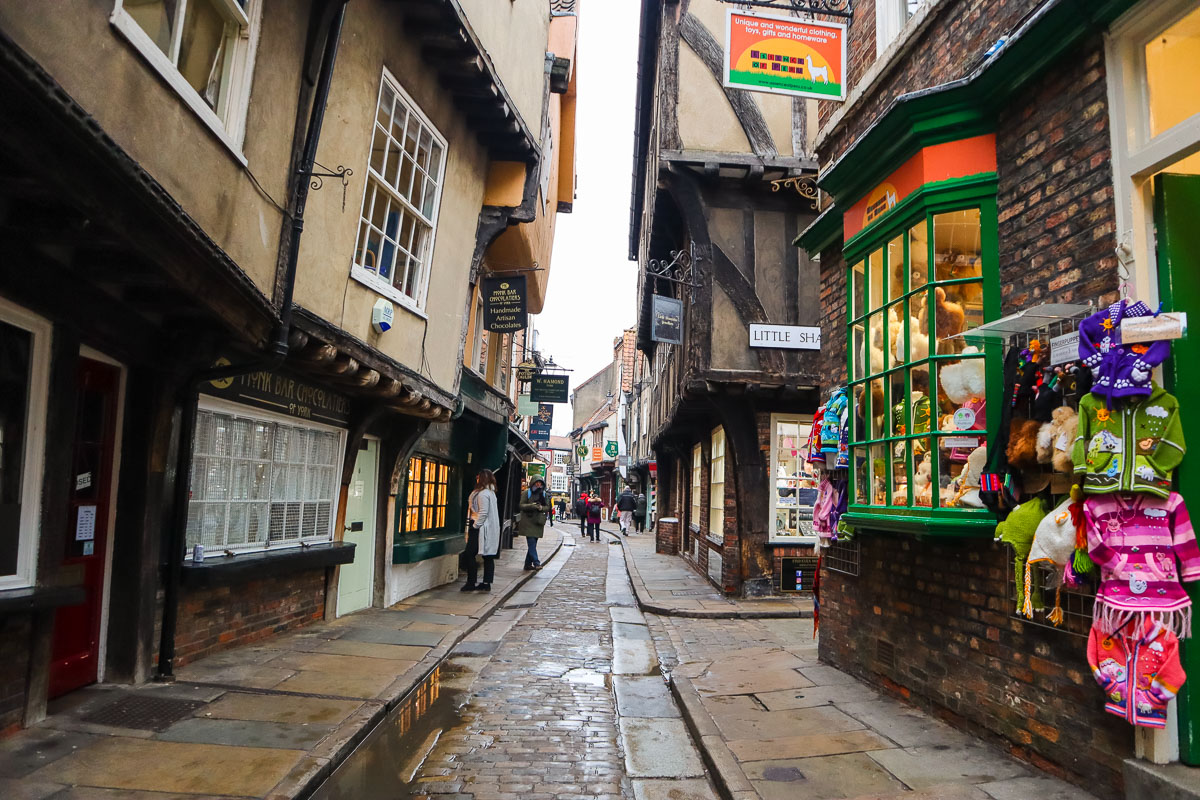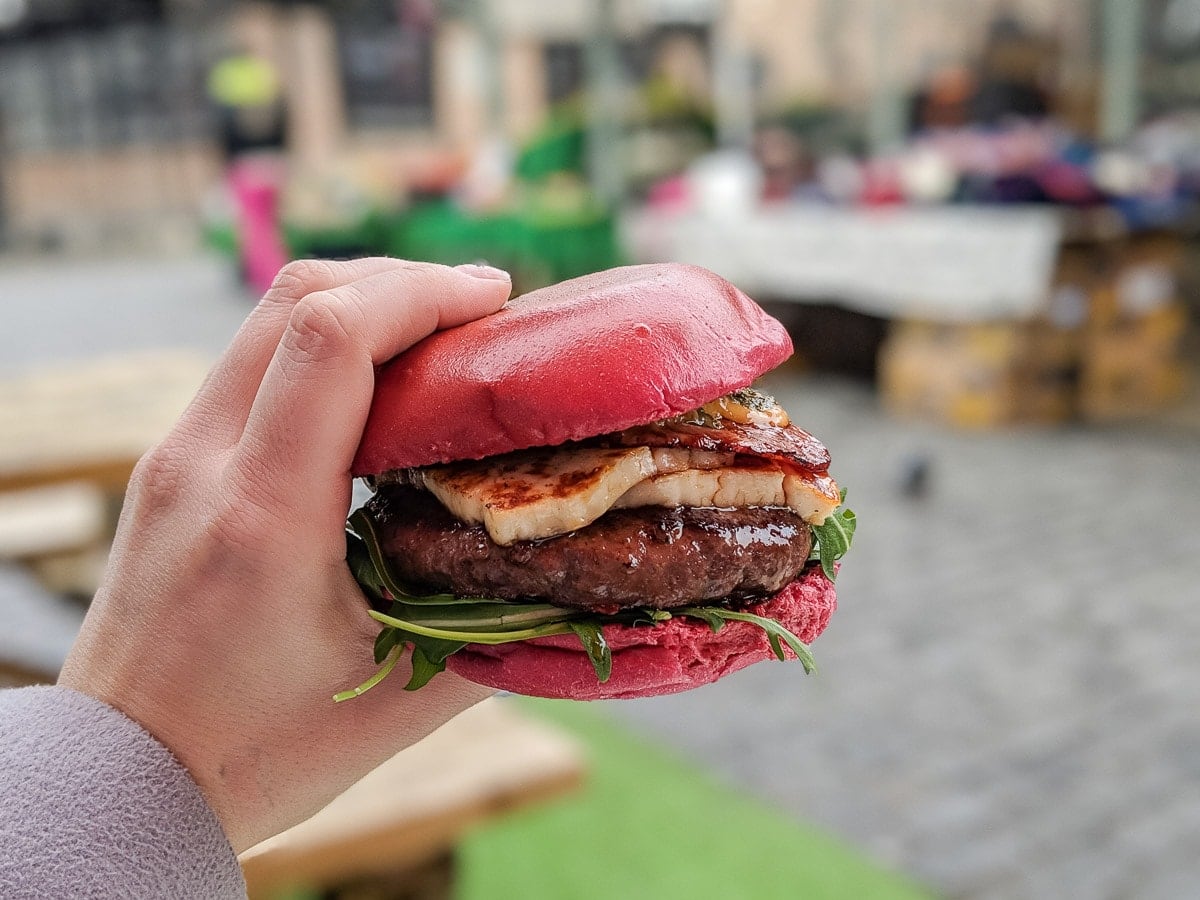 Stop For A Coffee In York
If you fancy a coffee and a cake in York, then there are SOOO many places to choose from! I was only there a few days, but from my trip I'd recommend Brew and Brownie or Mannion & Co – both excellent, with lovely atmospheres and great coffee and cakes.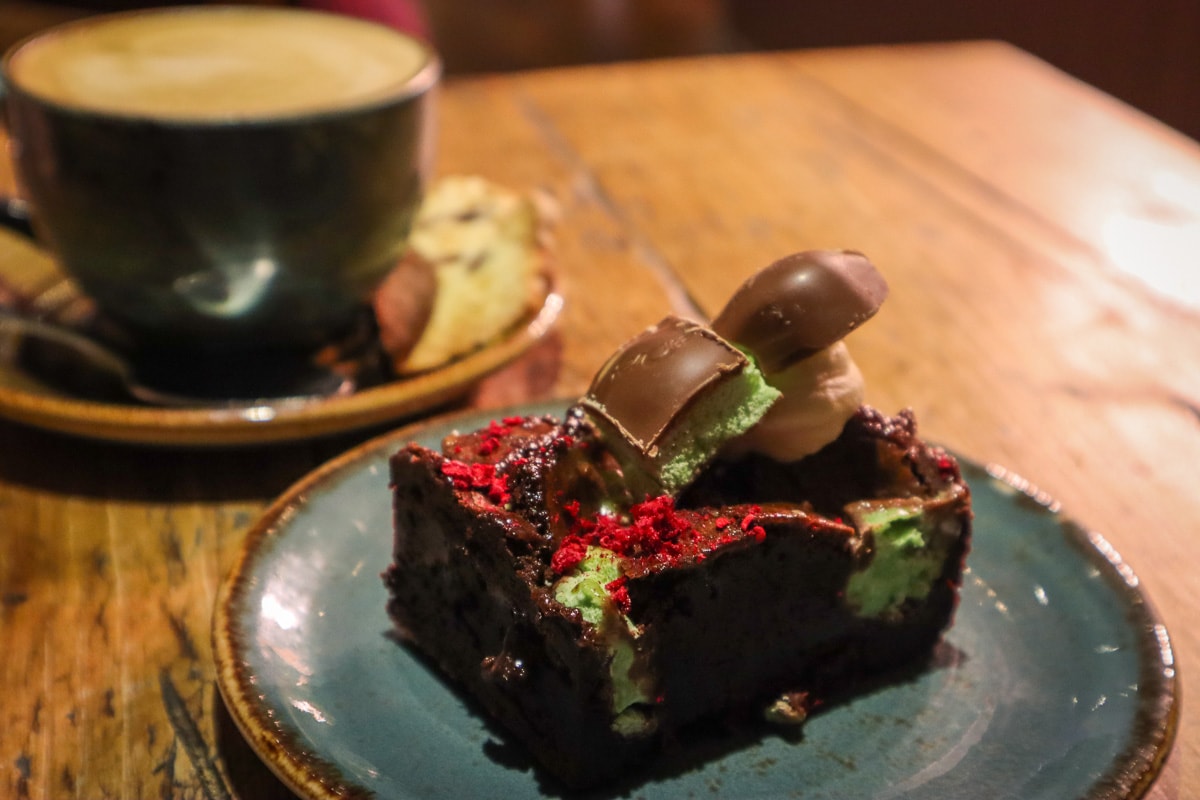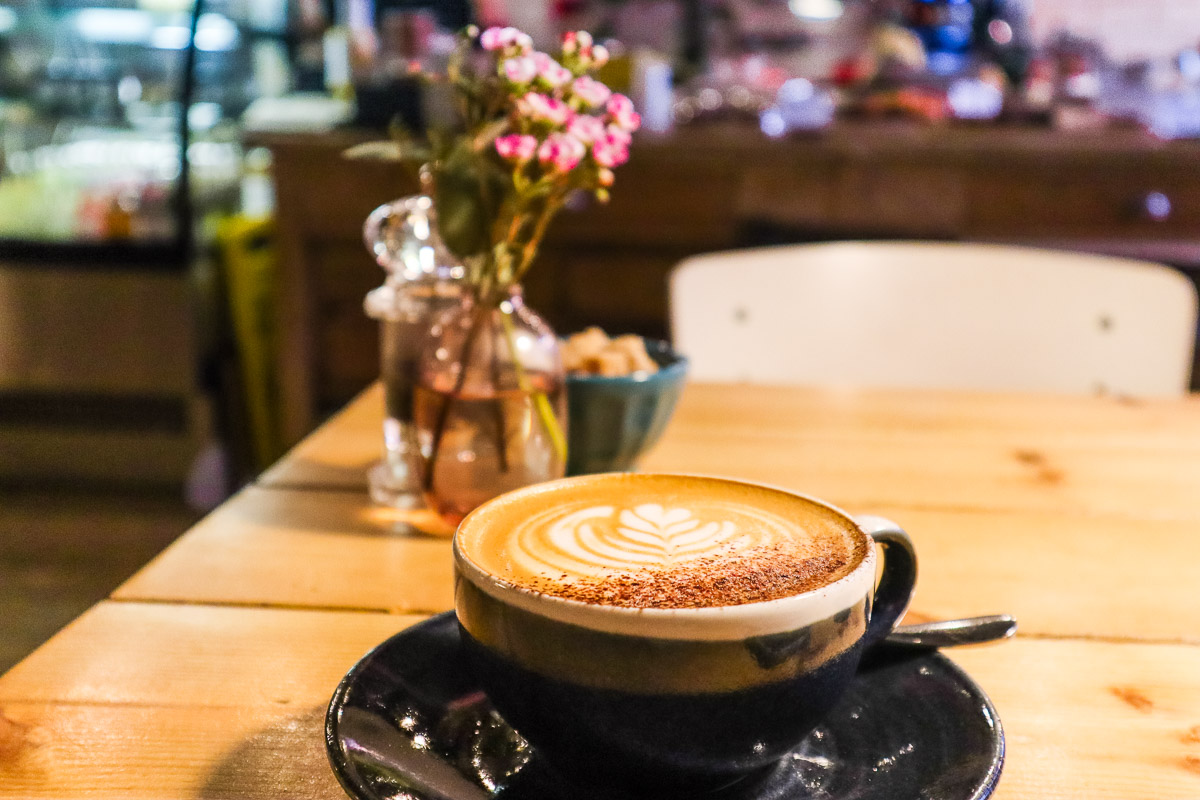 One of York's biggest and best attractions, the National Railway Museum is packed full of fascinating locomotives, from the oldest steam trains and royal carriages, to Eurostar and Japan's Shinkansen. It's a really interesting museum, and you don't need to be a train spotter to enjoy it! There's lots for kids too, with demonstrations, a miniature railway you can hop on, and trains you can board and have a nosy inside.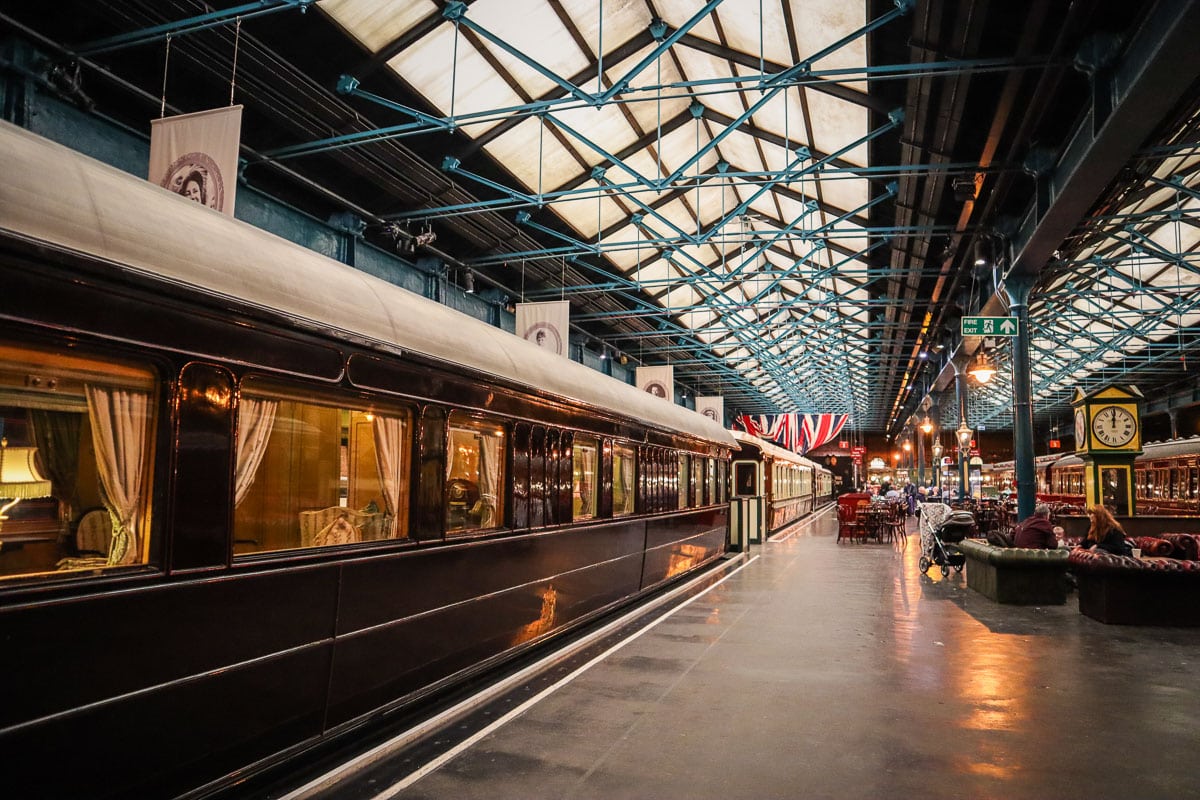 There's plenty of great accommodation in York. Yorkshire's only 5-star hotel, The Grand is smart, sophisticated and oozes history, being built in 1906 as the HQ for the North Eastern Railway Company. There's top restaurant Hudsons, a lovely bar area and a top-rated spa in the basement. It's also moments from York Station, making it super convenient for a trip like this! Check availability and latest prices.
---
LINCOLN
Train Journey – York to Lincoln: 1 hour 42 minutes
Why Visit Lincoln?
Visit Lincoln to explore the spectacular gothic cathedral, test your strength on one of the steepest (and prettiest) hills in the country, and spook yourself silly in a Victorian prison. Oh and be sure to grab some goodies to take home including Lincolnshire sausages, Lincolnshire poacher (cheese) and some homemade fudge.
Top Things To Do In Lincoln
Visit Lincoln Castle And Explore Lincoln's Victorian Prison
Time for one of the most famous treasures on this Treasure Trove Tour… the Magna Carta! Created over 800 years ago, this document changed the course of history, and altered the way we look at liberty and freedom. Elements of the US constitution were based on it too, and at Lincoln Castle, you can enter a vault and see it for yourself.
For me, the highlight of Lincoln Castle was visiting the Victorian Prison. Packed full of interesting stories, the exhibition is presented in an engaging way, with chances to get to know the former inmates, and even dress up as them!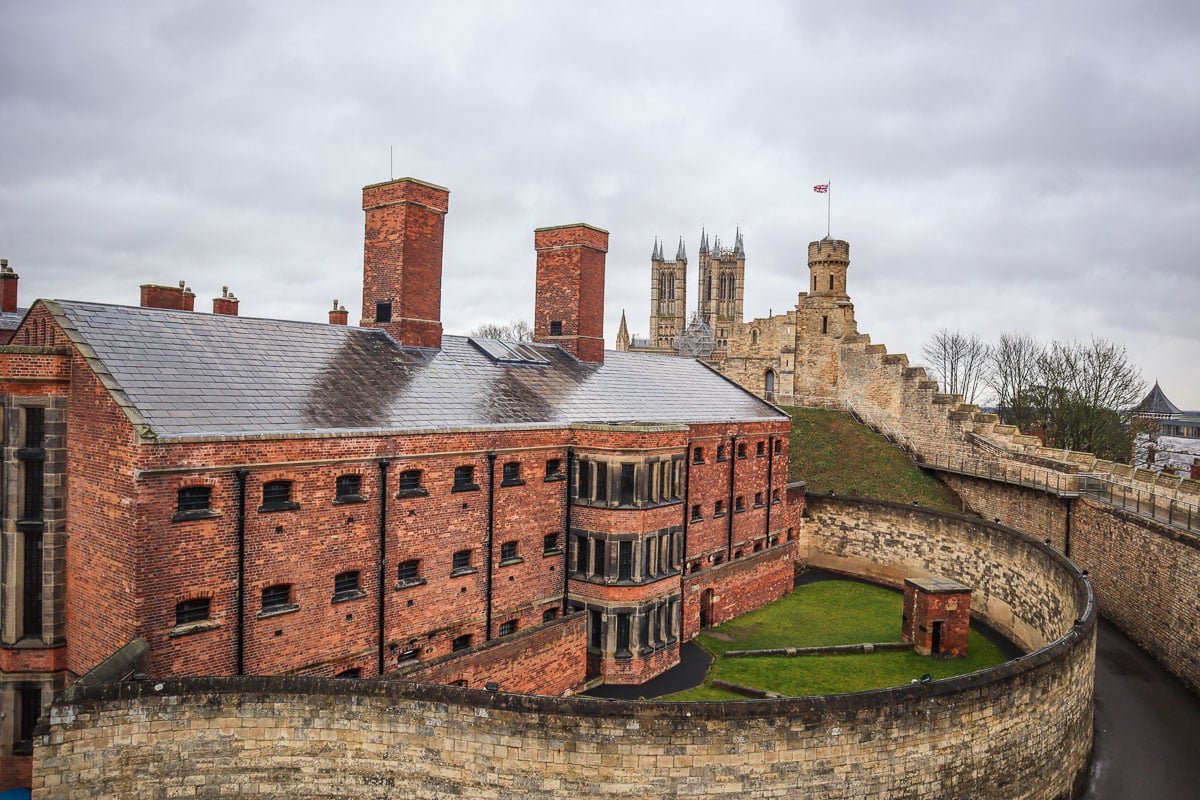 While it was pretty blustery on my visit, I'd also recommend walking the medieval castle walls. From there you get some great views across to Lincoln Cathedral, which brings me on nicely to…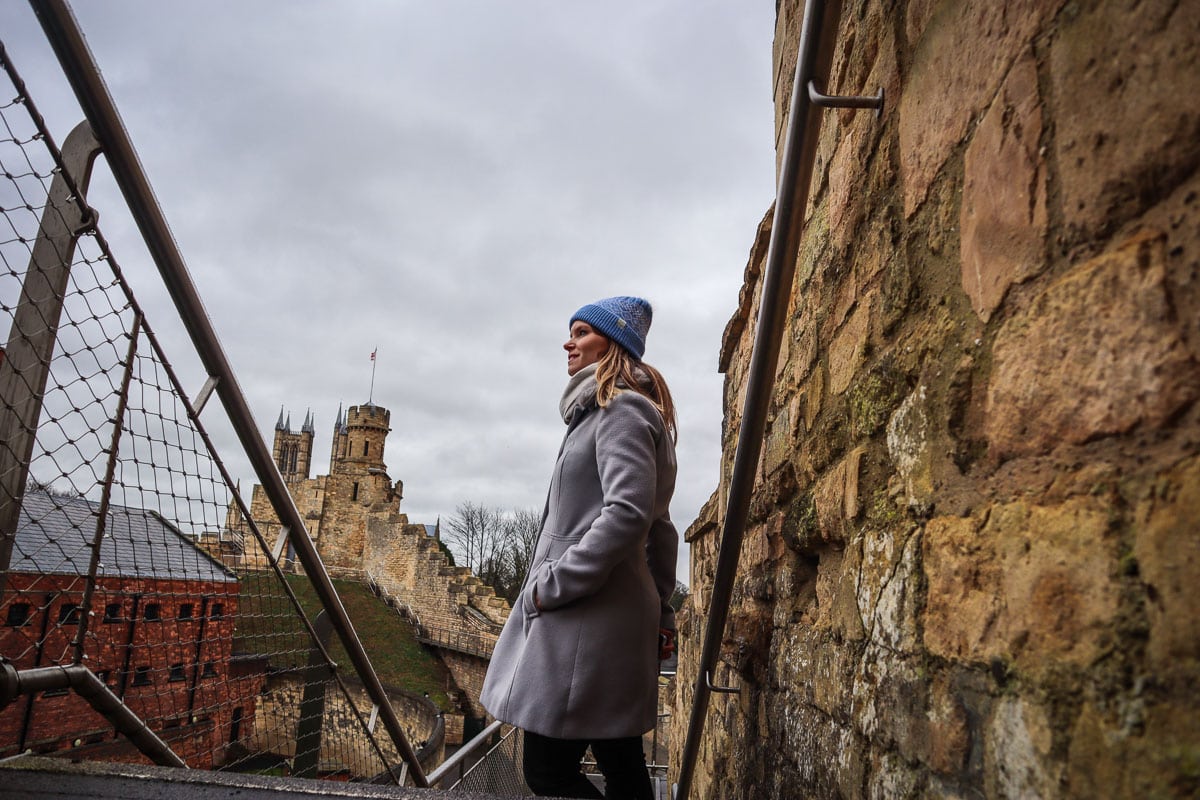 Take In The Beauty Of Lincoln Cathedral, And Spot The Famous Imp
Despite a history peppered with problems, including fires, an earthquake, a great storm and various architectural issues, Lincoln Cathedral is one of the most stunning buildings I saw on my trip.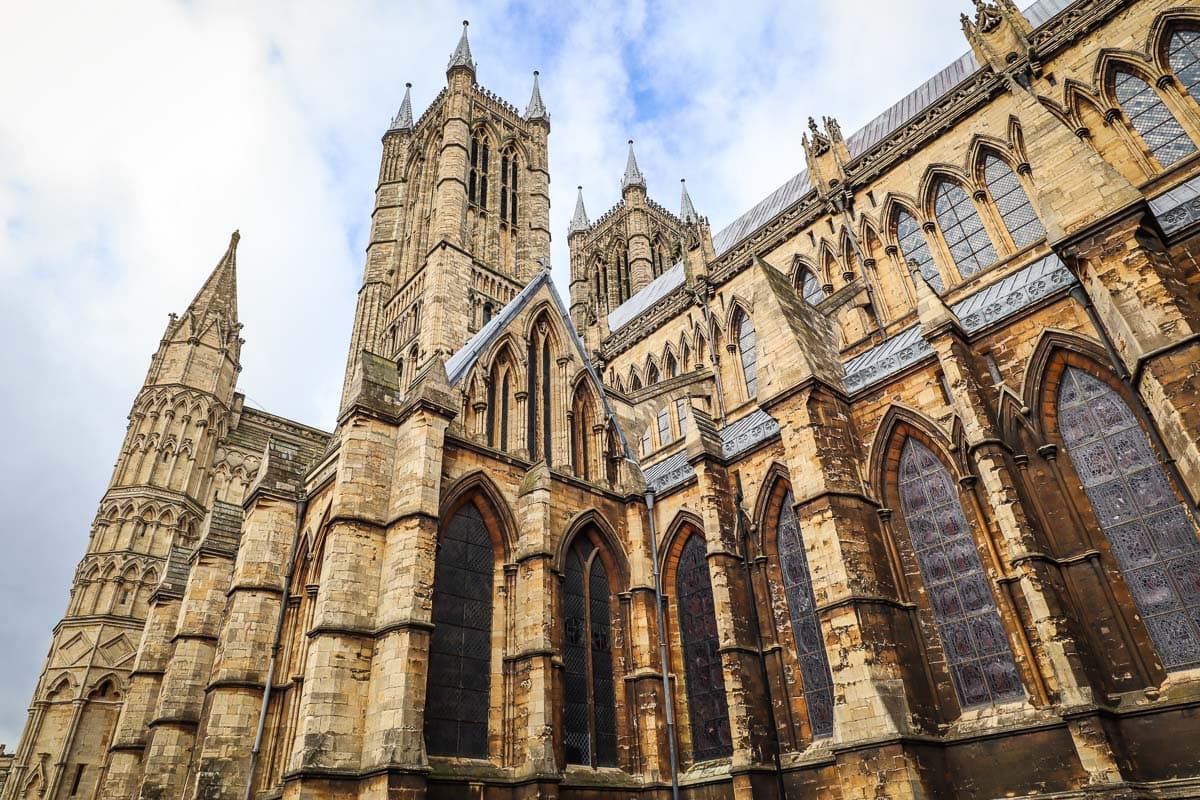 Consecrated in 1092, it was the tallest building in the world for 238 years, partly from the enormous spire on top, which later blew down and wasn't replaced.
You can take a tour of the cathedral, where you'll hear lots of stories about its construction and reconstruction. Plus, no doubt you'll hear the story of the Lincoln Imp – a character who was turned to stone and remains on one of the columns. See If you can spot him!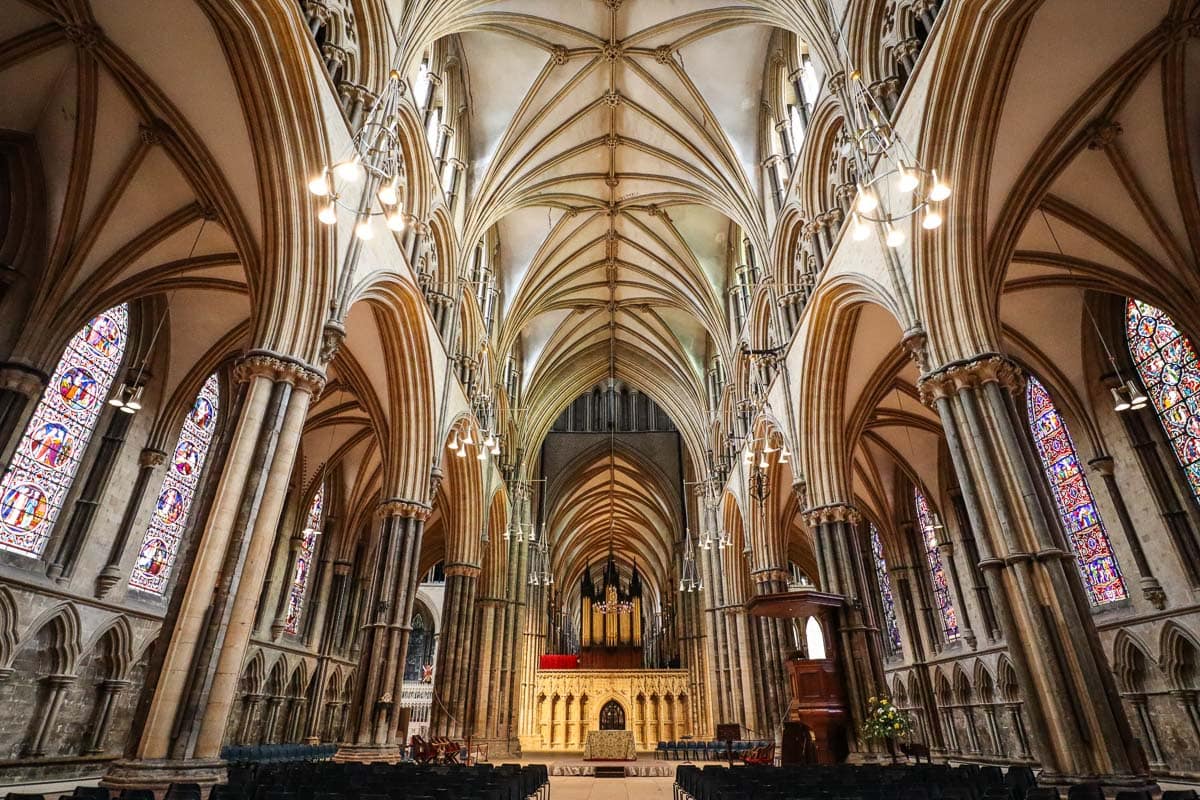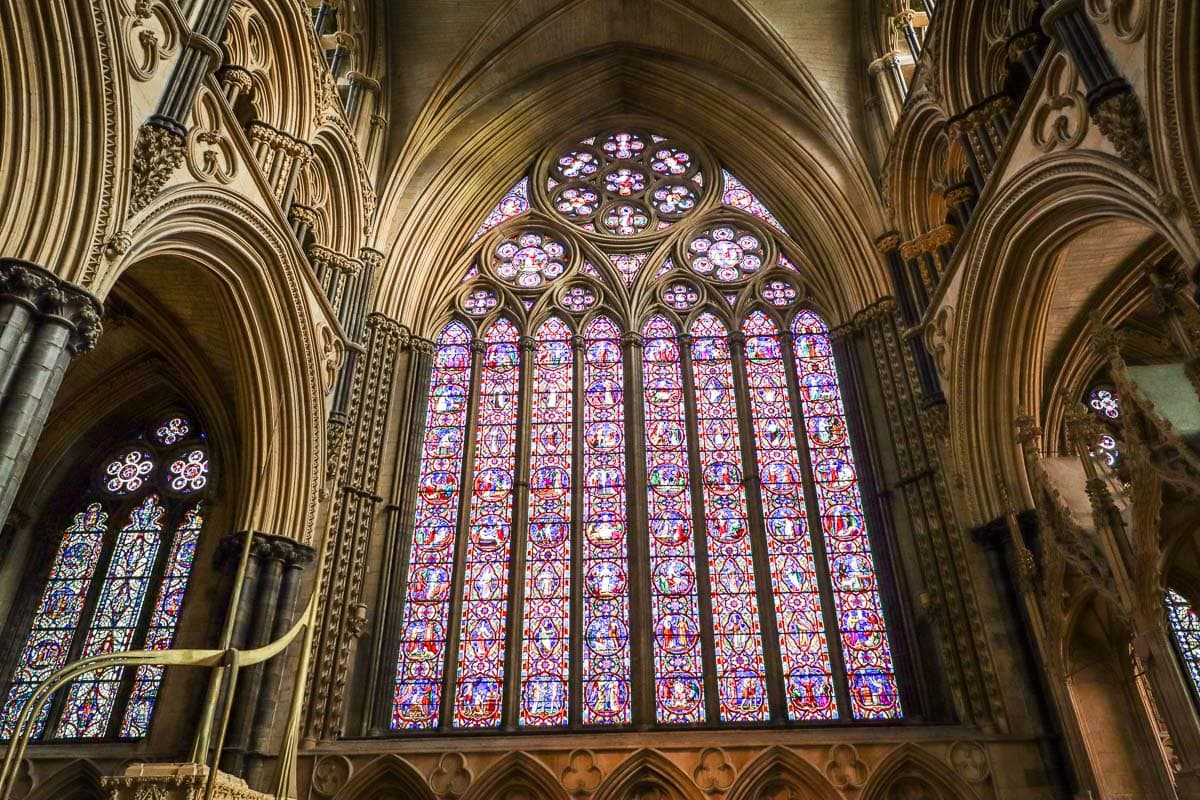 Get Lost In The Old World Charms of Steep Hill And The Bailgate
Moments from the cathedral are Steep Hill and The Bailgate – streets that are a real treasure trove of quintessential English shops. Wander the cobbles and you'll find old-fashioned butchers, gift shops, fudge stores and tearooms. It felt like I'd turned back the clock, and was worlds away from the bright lights of Lincoln's commercial city centre, which lies at the bottom of the hill.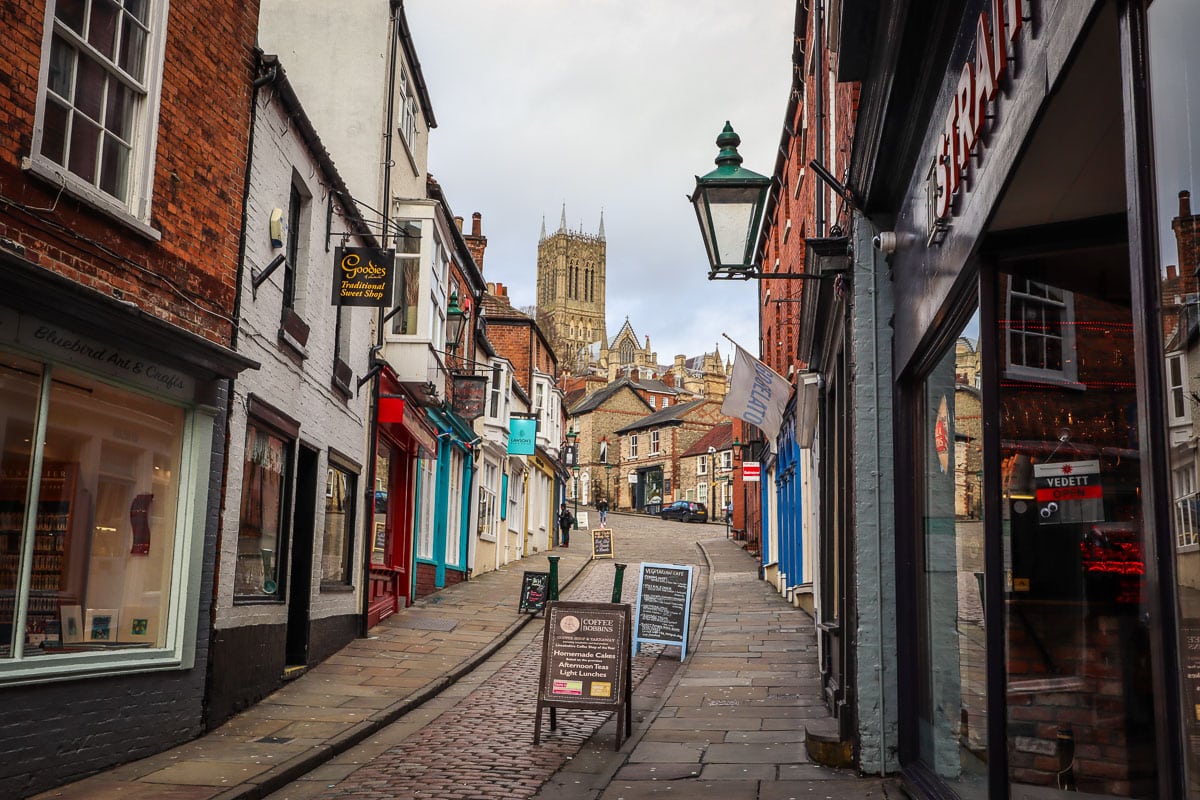 Have Dinner In An Igloo
If you're visiting Lincoln before April, head to Lincoln Tap House and spend the evening in their bubble tent! I had dinner in it, and it was certainly a memorable experience. With incredible views of Lincoln Cathedral, a tasty and creative menu plus a range of drinks, it's a lovely spot for an evening out.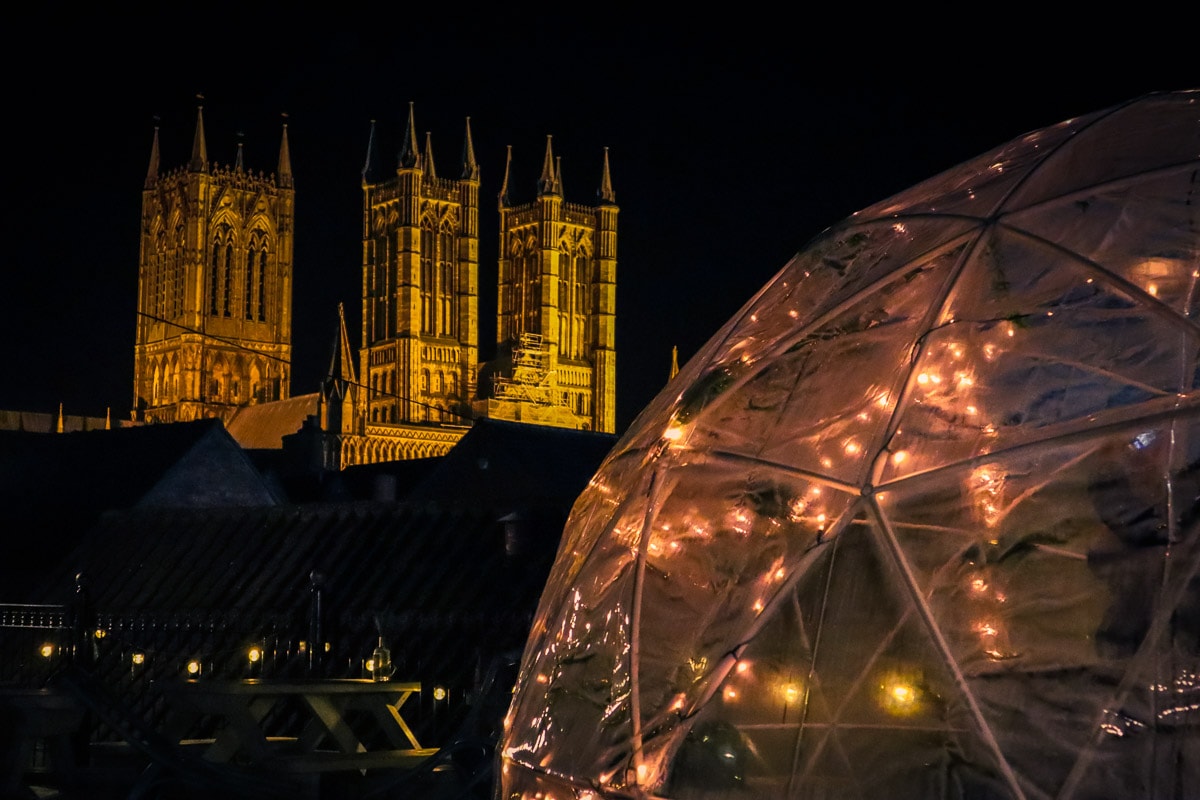 Learn About Lincoln's Coffee Industry
Stokes Coffee is synonymous with Lincoln, with the family business being set up in 1902. There are three cafes in the city today, plus at The Lawn (where I went for lunch one day) you can see their roastery in action.
Shop For Cheese At The Cheese Society
It's funny how when I ask you guys for tips for my travels, the first thing you recommend is FOOD! You know me too well! The Cheese Society was mentioned by a few of you on Instagram Stories before my trip, and it didn't disappoint. This local cheese shop and restaurant has a counter packed full of tasty cheeses (both local and from further afield). Plus, they serve up a menu of hot dishes too, including mac & cheese, cheese soufflé and a Lincolnshire rarebit.
Enjoy A Cuppa In An Ancient Cellar
I walked past Lincoln's Bookstop Café several times and thought it looked so cosy and inviting. As soon as the cold got to me, I headed straight there for a coffee. Dating back almost 1,000 years, it's a peaceful lair, with bookshelves heaving with books for when you fancy a little break.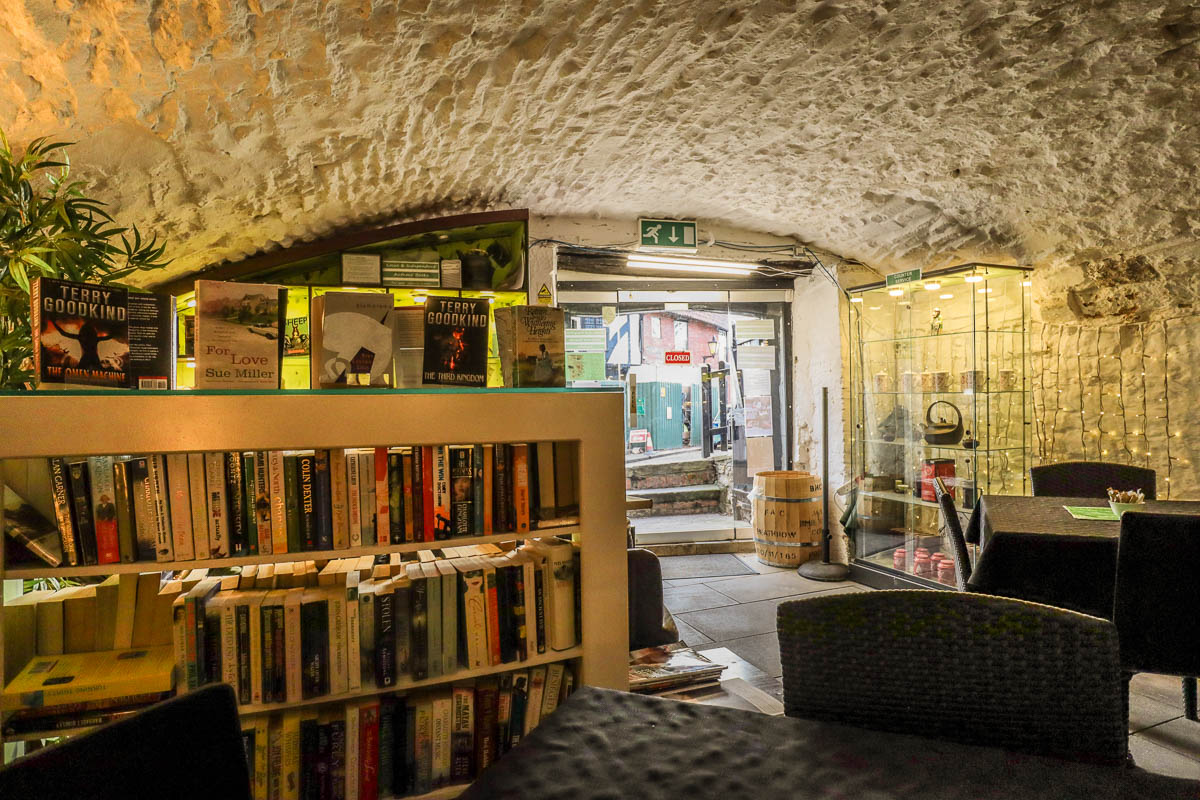 Venture To Lincoln's New City
Whoa, Lincoln has two cities? Well kind of! At the top of the hill, around the Cathedral you'll be immersed in one of the most historic English cities. But venture down to the bottom of the hill and you'll find several vibrant streets, packed with high street chains, and the River Witham running through the middle.
It's not all modern though, don't miss The Glory Hole – the name given to the area under 12th Century High Bridge, which has a stunning Tudor timbered building over it (incidentally now a Stokes Coffee Shop).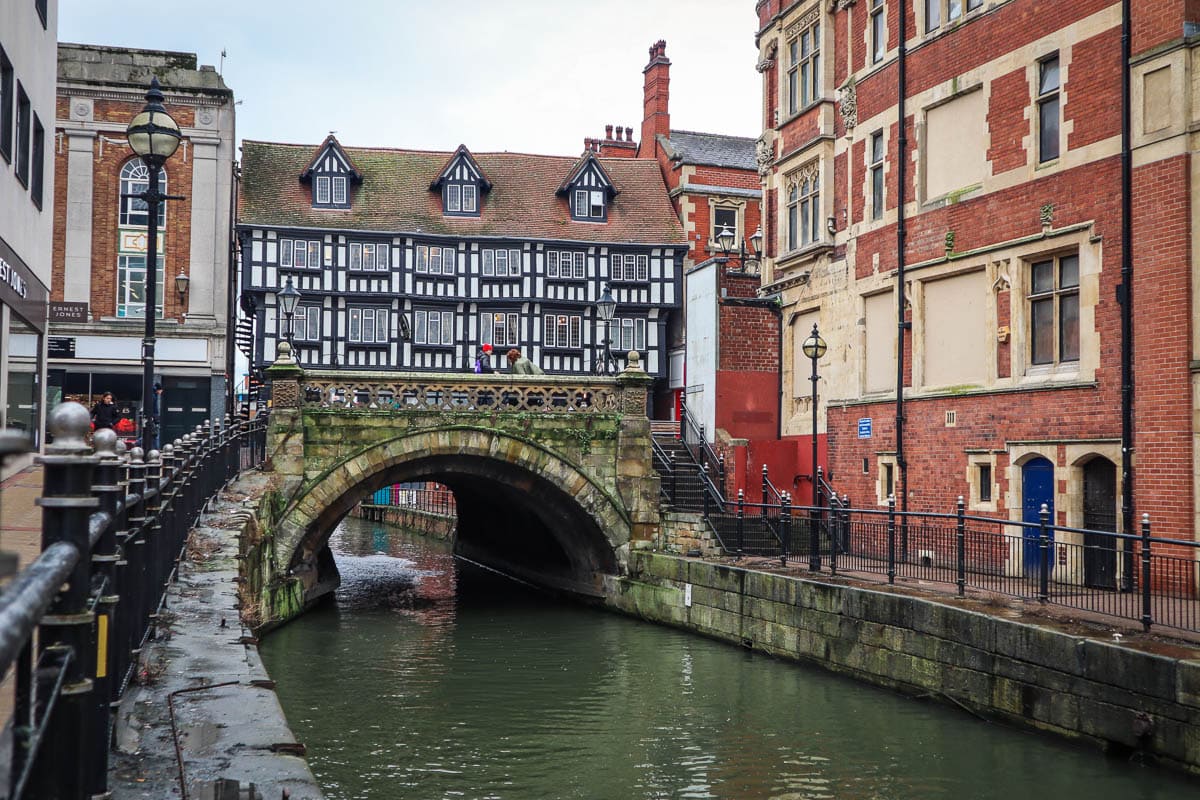 Perfectly located for exploring the old city, this hotel overlooks Lincoln Cathedral, and is moments from the charming shops and restaurants of The Bailgate and Steep Hill. Check availability and latest prices.
USEFUL INFORMATION FOR PLANNING YOUR TRIP
If you're looking to spend four days in England, and want to follow in my footsteps, take a look at the England Originals website, which is full of useful information. You can also check out their other self-guided tours of historic English cities.
If you're travelling from abroad, I'd recommend you purchase an England BritPass which allows you to travel on trains around the country.
Just before your trip, I'd recommend downloading the England Originals App too. Once you're in the destinations, you can use it as your personal tour guide, plus you can launch the portals to see some secret spots using augmented reality technology! You can download it here: App Store | Google play.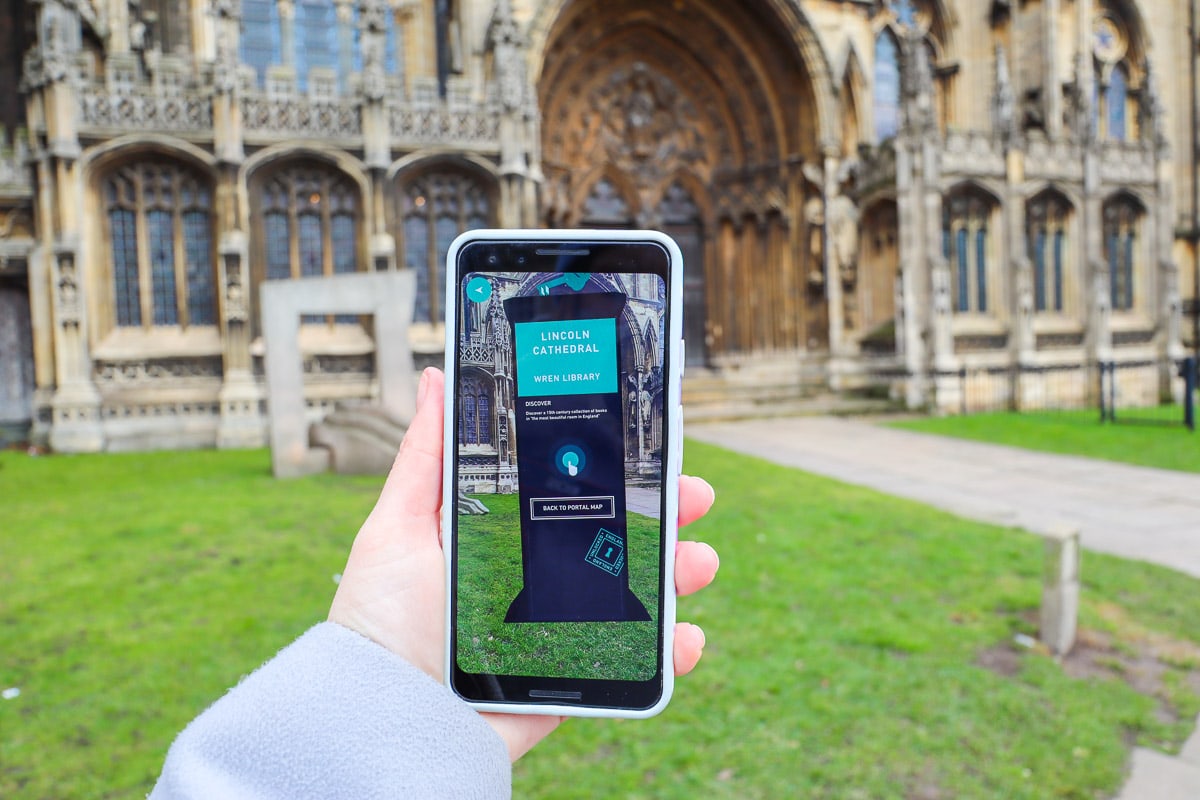 ---
When Is The Best Time To Visit England?
England is a country obsessed with weather. Don't know what to say? Comment on the weather! We talk about it a lot, but contrary to what you may have heard, we don't have awful weather in England. It's just a little unpredictable and varies from region to region.
You can expect average lows of around 5 °C in London in January / February, and highs around 25°C in July / August.
If you're wondering when is the best time to visit England, I'd suggest planning a trip in May or June. The weather tends to be warm and sunny, rain is at a minimum and it's out of peak season, so you shouldn't be battling any big crowds either. The longest day is around 20th June every year, so it's a time you can enjoy maximum daylight hours exploring!
I've never been a fan of November in England – it gets pretty bleak! It's the wettest month of the year, and while December can be pretty cold, there's a Christmas magic around the country which always puts a smile on my face!
---
Big thanks to England Originals for sponsoring my trip and organising my Treasure Trove Tour, showing me so many historic English cathedral cities in just four days.
It was such a pleasure to explore parts of the country I'd never visited before. As always all thoughts and opinions are my own.
Looking for other great places to visit in the United Kingdom? Check out my latest United Kingdom travel guides.
Enjoyed this post? Pin it for later…