Because singing your heart out while covered in glitter and tipsy on bottomless cocktails is ALWAYS a good idea!
It's pretty rare that my school friends and I ALL get together in one place these days. With my constant jet setting, one of my friends living up north, and busy lives, we've got used to our annual Christmas shindig and catching up individually throughout the year.
Now that one of our awesome foursome is engaged, things have stepped up a gear! There's been tonnes of planning for the big day next March, an invitation to be a bridesmaid (YAY!!), chat about dresses, table decorations and, of course, deep discussions on how incorporate our fave tipple RUM into the big day. Our WhatsApp group has been revived… and Pinterest ain't got nothing on us!
So this weekend we were reunited in London for a day of girly catch-ups, with a dash of wedding. And wow did we find the ultimate girly venue!
Bottomless brunch was the plan, with the slightly tricky requirement that we wanted cocktails, rather than the standard bloody mary/prosecco combo. Lucky Voice ticked that box!
For just £35 per person, Lucky Voice's Karaoke Bottomless Brunch includes two hours of unlimited cocktails (Aperol Spritz, Sex On The Beach, Elderflower Gin Fizz), bagels (ham and cheese, smoked salmon, bacon), glitter art, a DJ and one hour of private karaoke. It sounded like the best girly get-together in the world, or at least one of the best brunch experiences in a long time.
Lucky Voice is wonderfully cheesy. There are novelty glittery hats strewn on the bar, colourful wigs on the chairs, inflatable microphones, guitars and saxophones ready to be played with, and everything plays out under the watchful glare of a gigantic inflatable duck.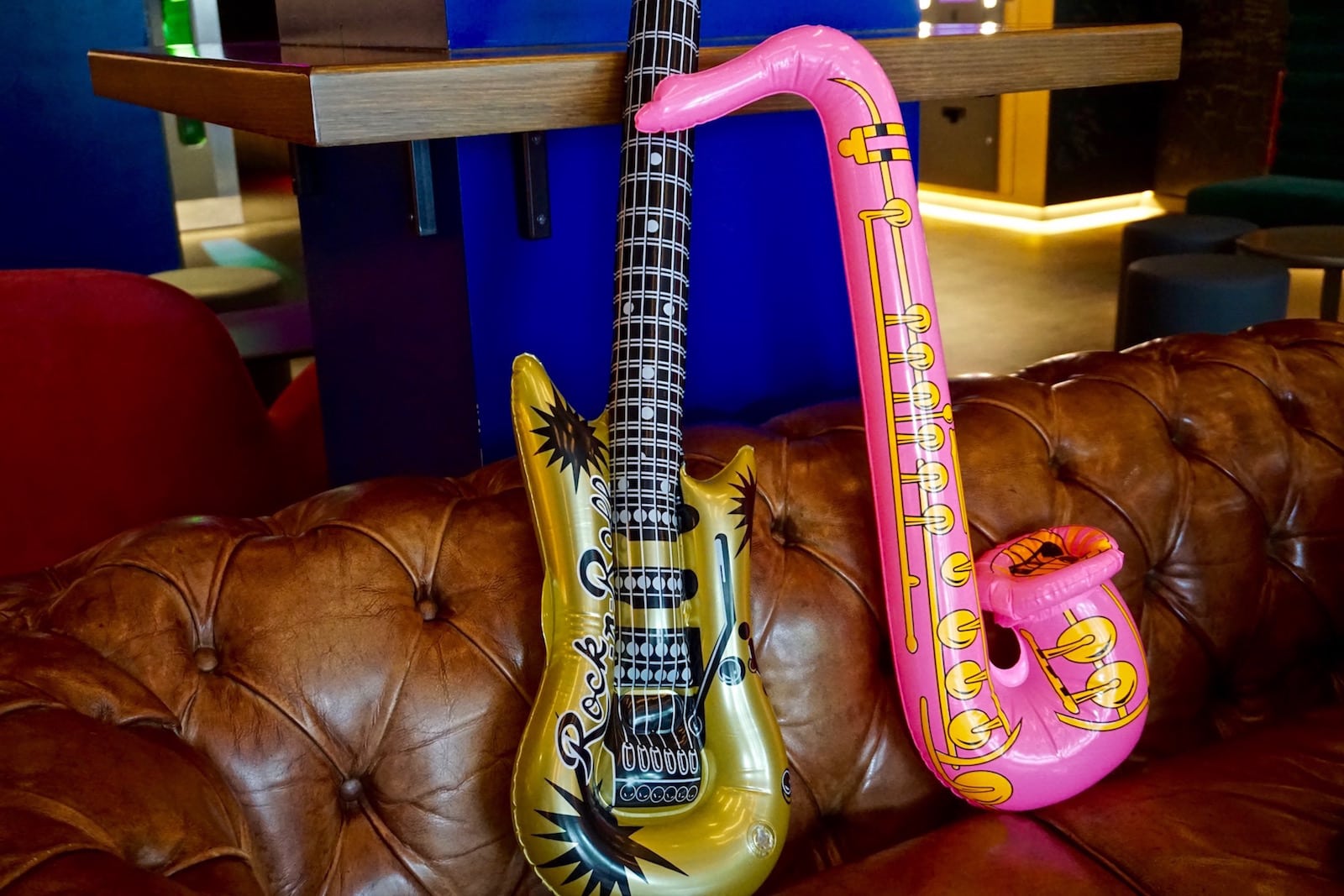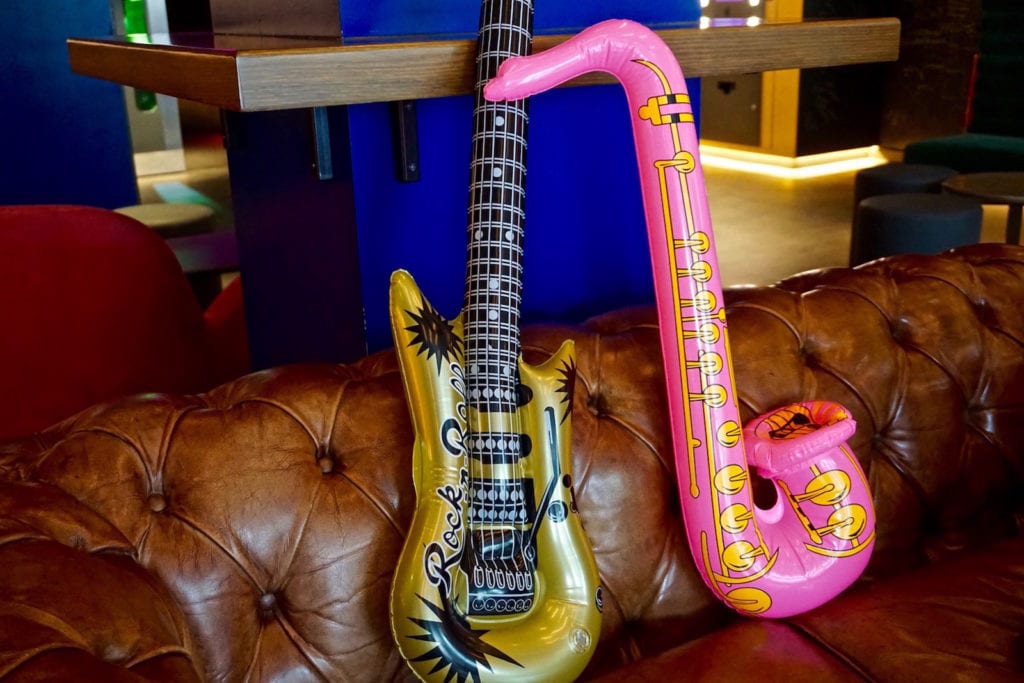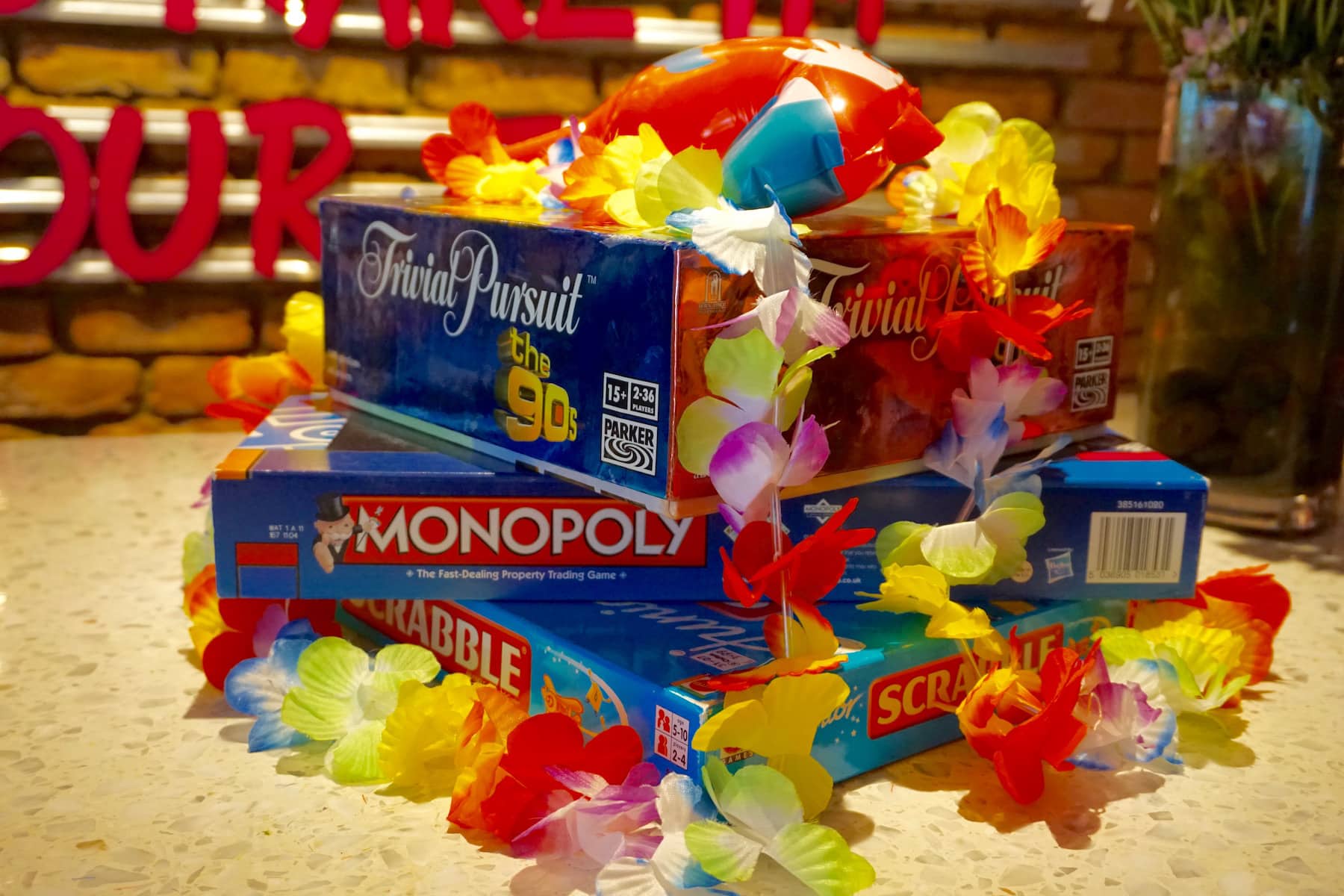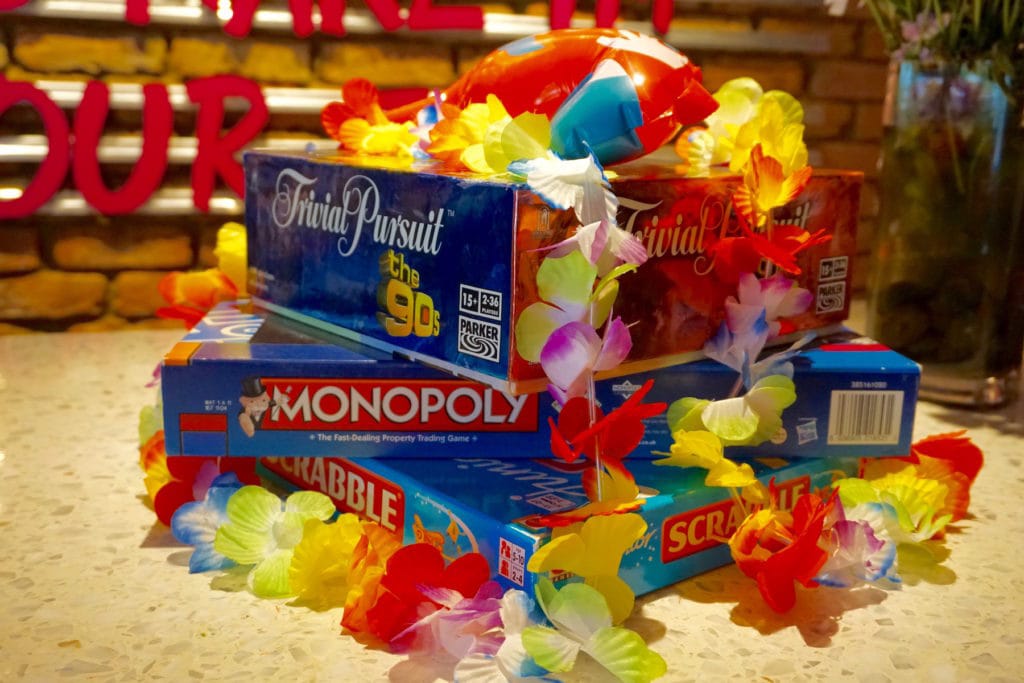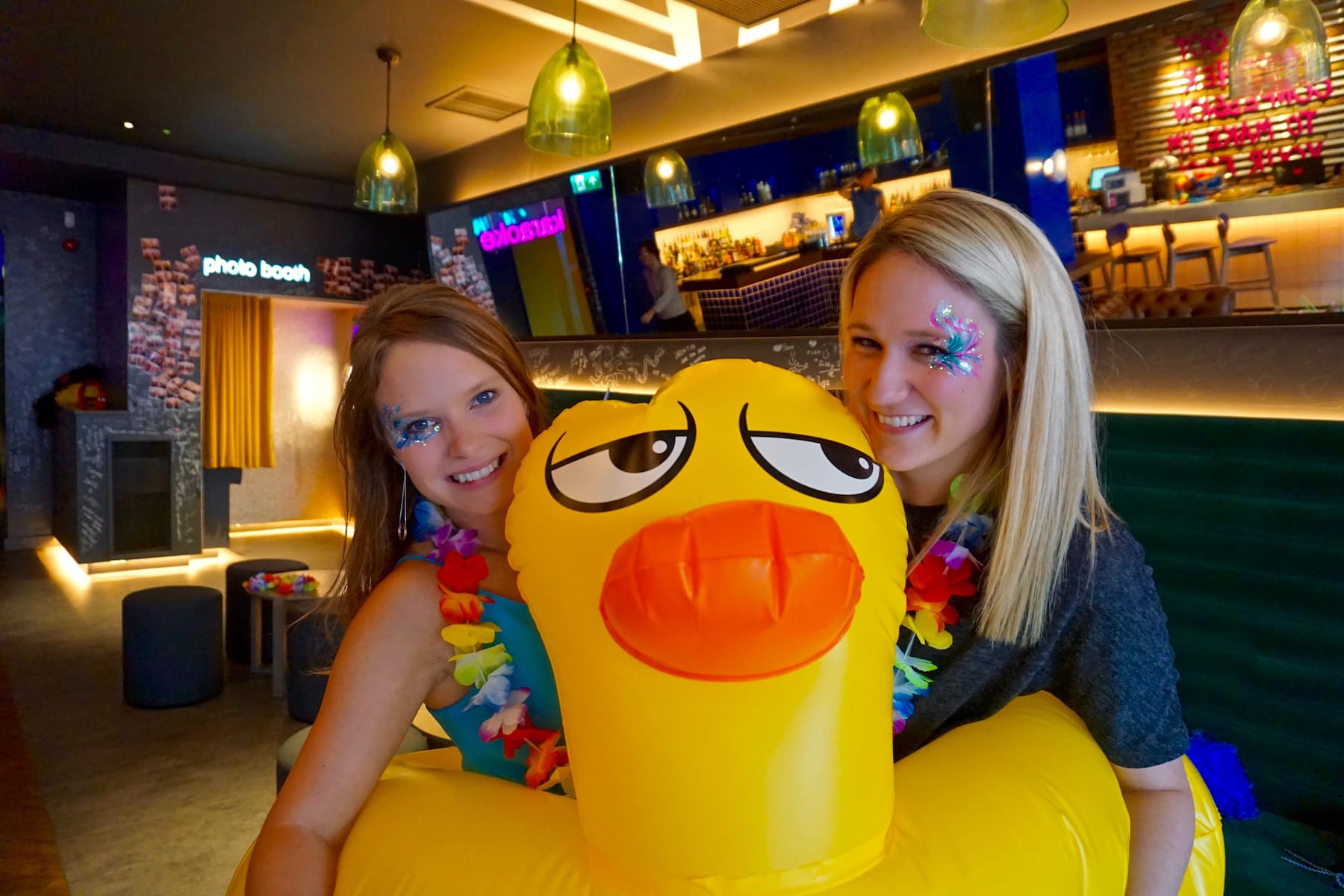 On arrival, a host who truly lived up to the expression 'hostess with the mostess' adorned us with Hawaiian garlands, showed us to our area and kicked off the party. The first carafes of cocktail disappeared in an instant. Then, for a truly nostalgic experience, a fishbowl arrived, complete with extra-long straws!
We all giggled, suddenly transported back to our post A-Level girly holiday to Malia in Crete; a place where we sizzled by the pool during the day, and drank fishbowls full of sugary cocktails every evening. We loved it at the time, and with the four of us reunited for the afternoon, it felt like a rather fitting drink. The Elderflower Gin Fizz was our favourite – not too sickly, tangy from the lime, with a boozy kick.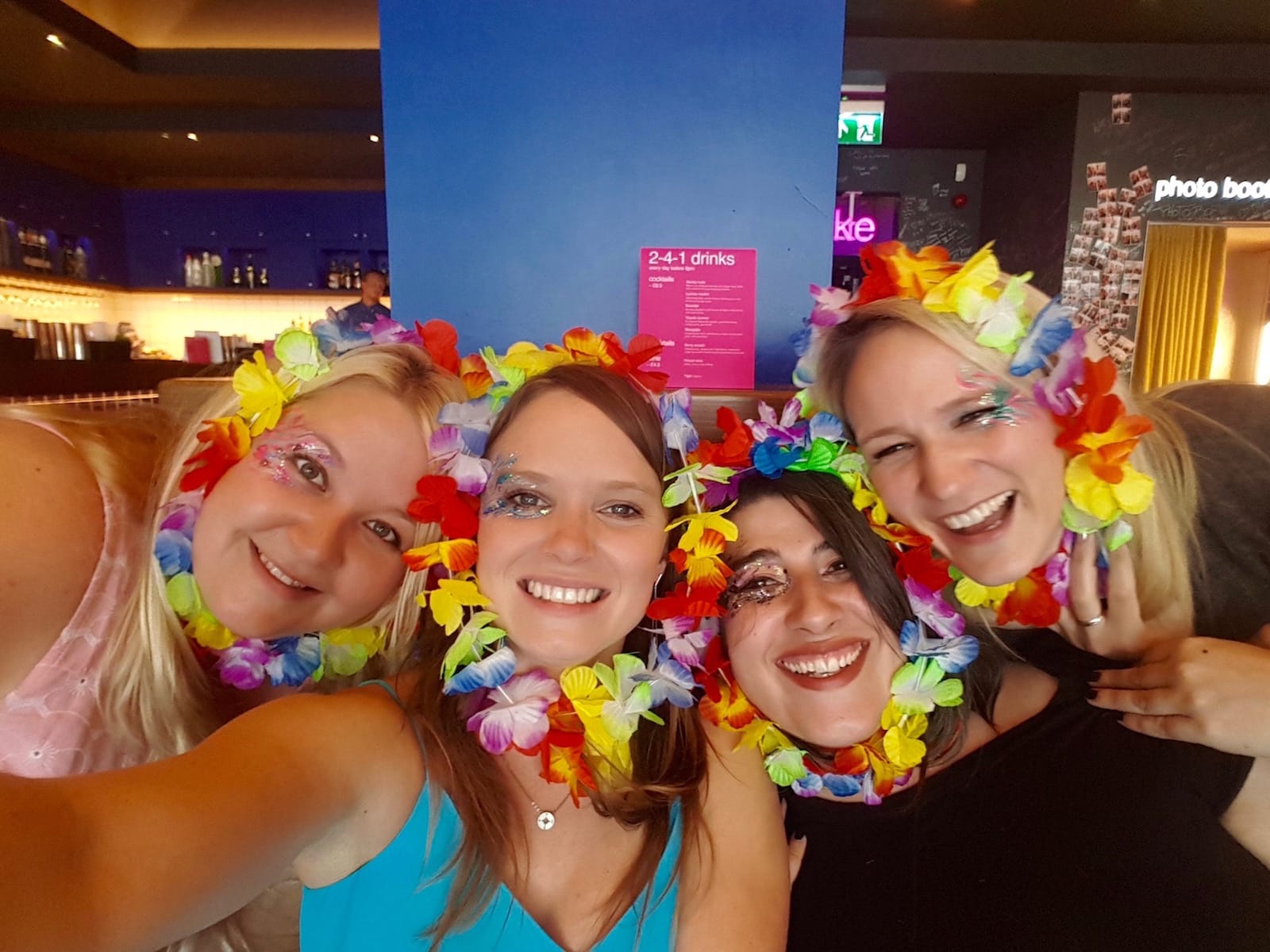 Over the course of the next two hours we drank, we ate, we got glittered, and we played games.
Shortly after arriving we were decorated with a selection of shimmery, glittery paints, gems and sparkly sequins. The glitter artist was excellent, and all glammed up, we felt ready to sing our hearts out.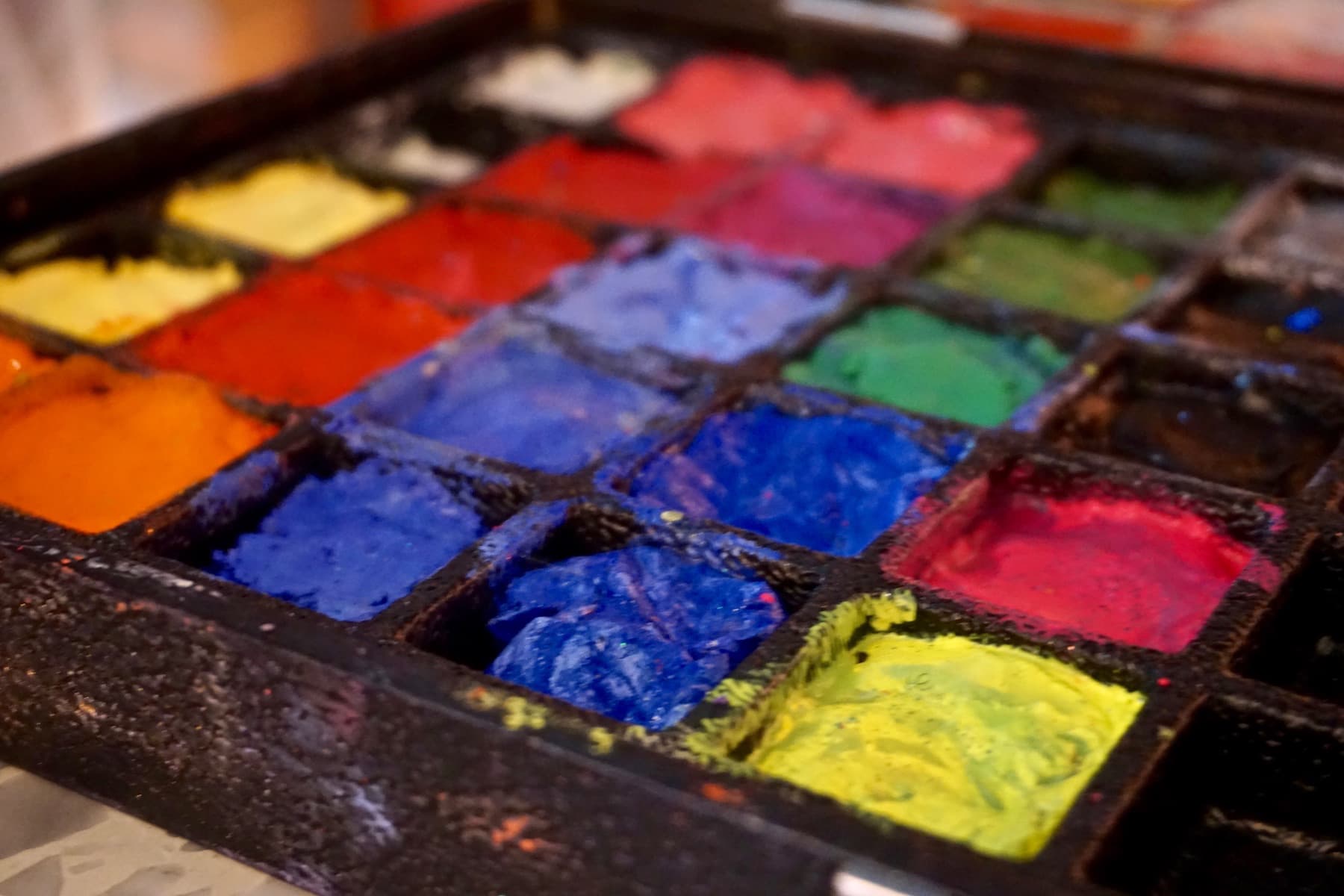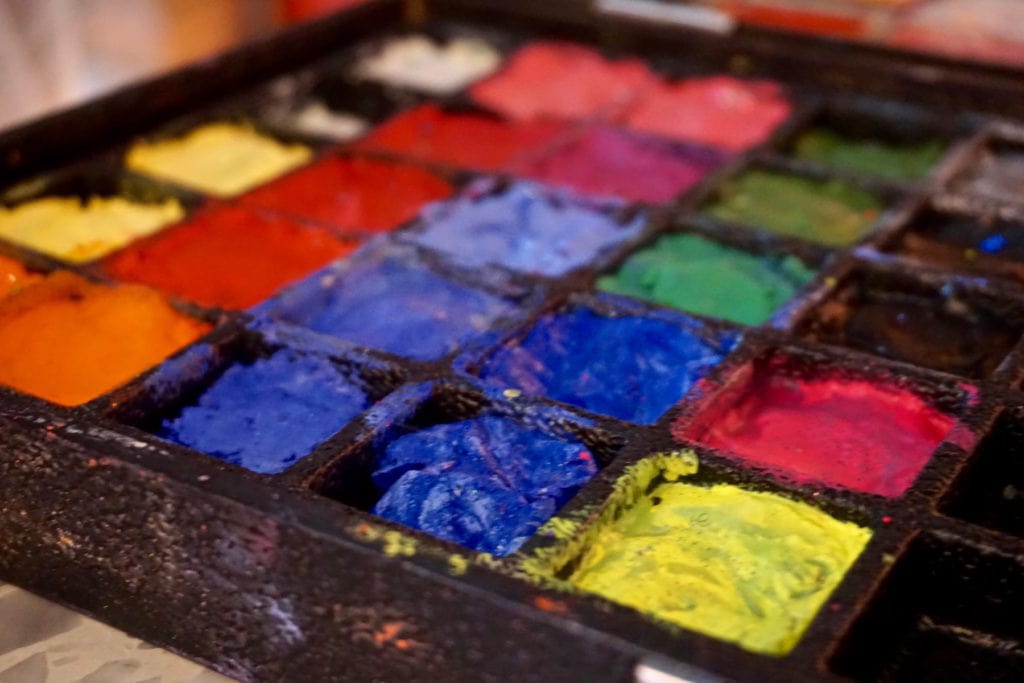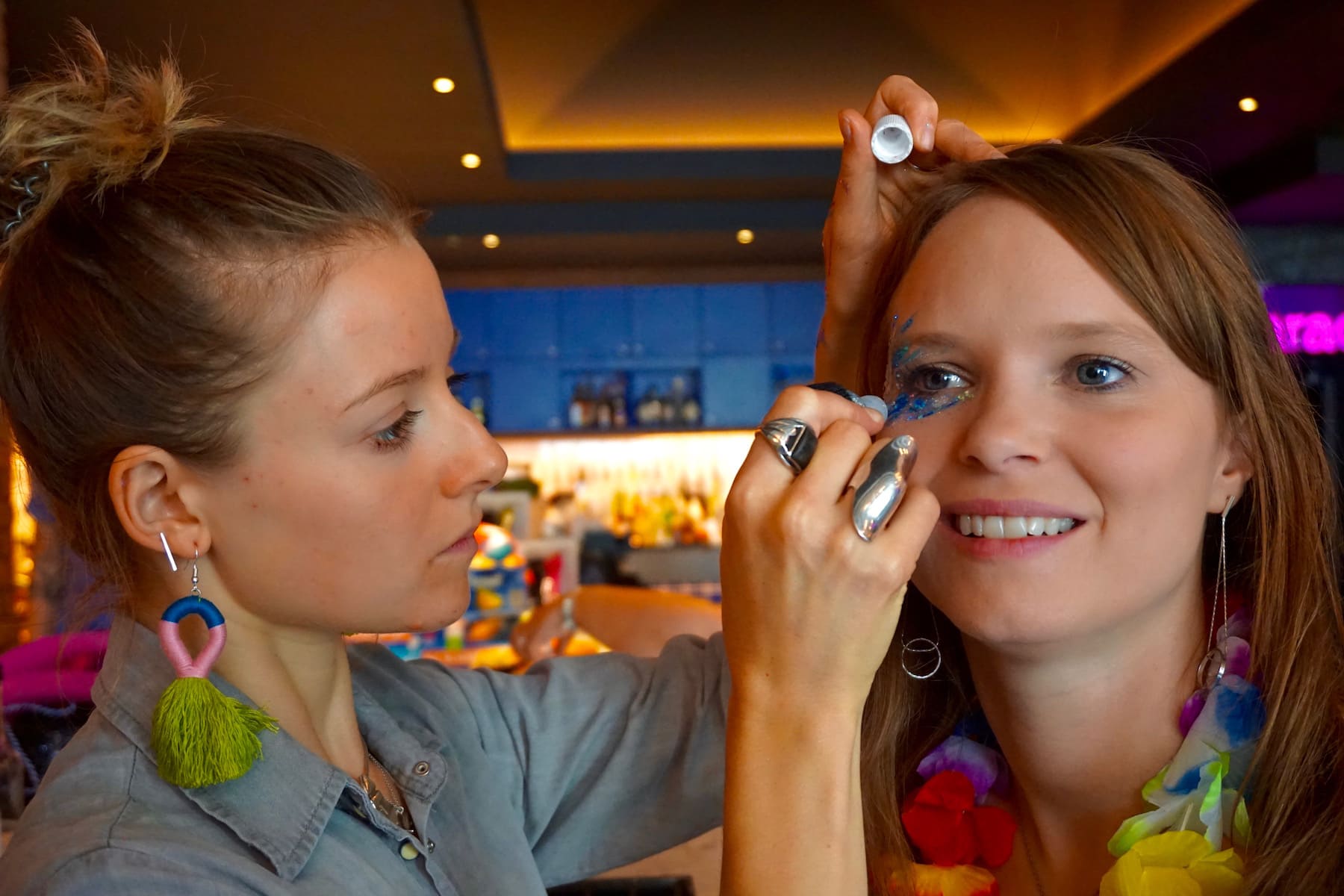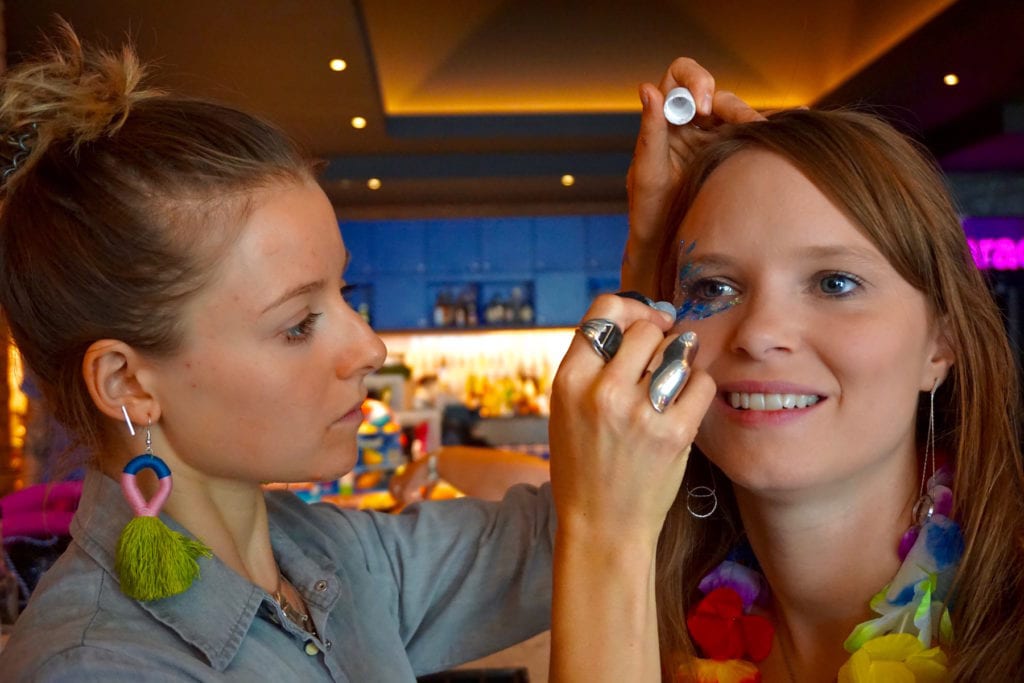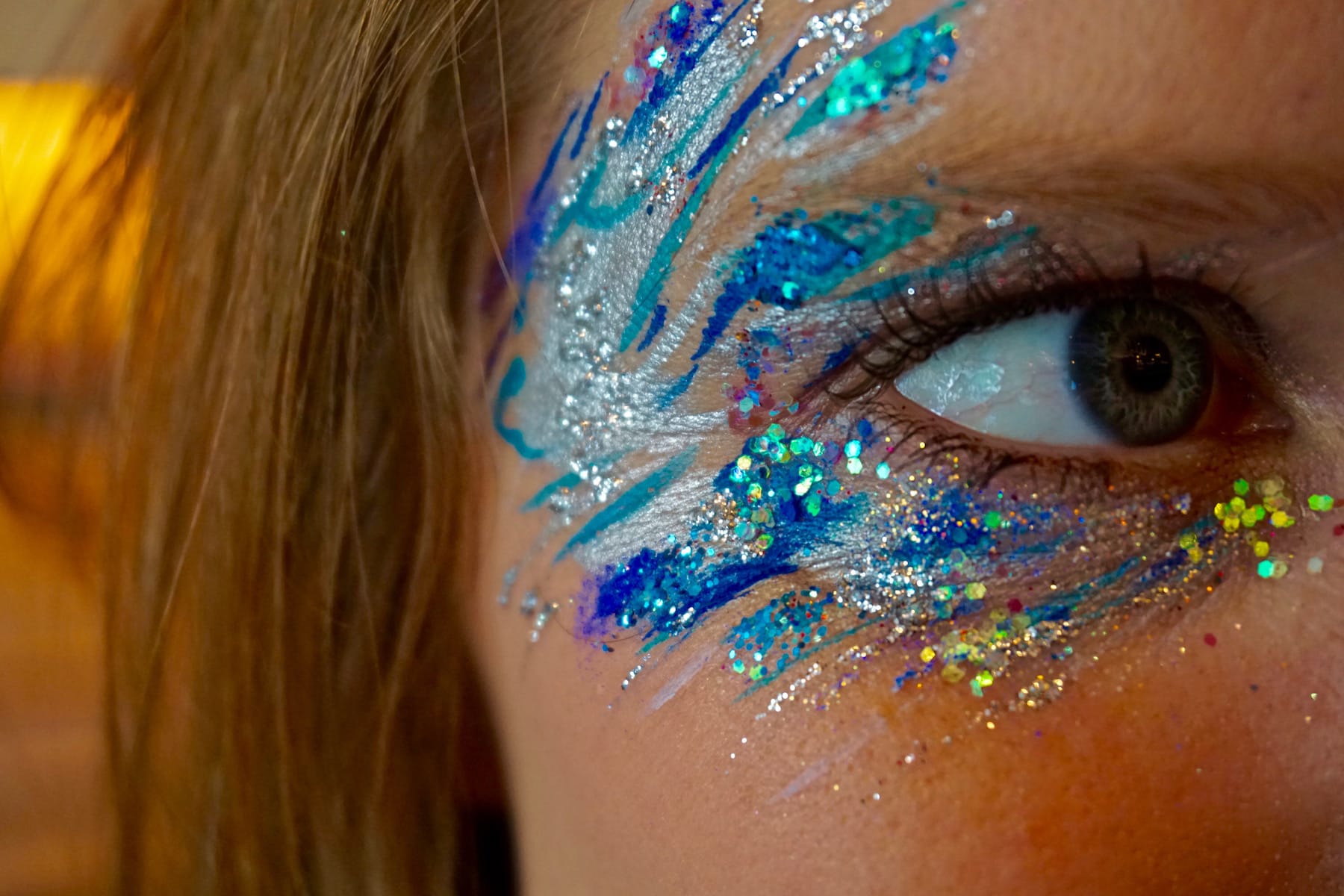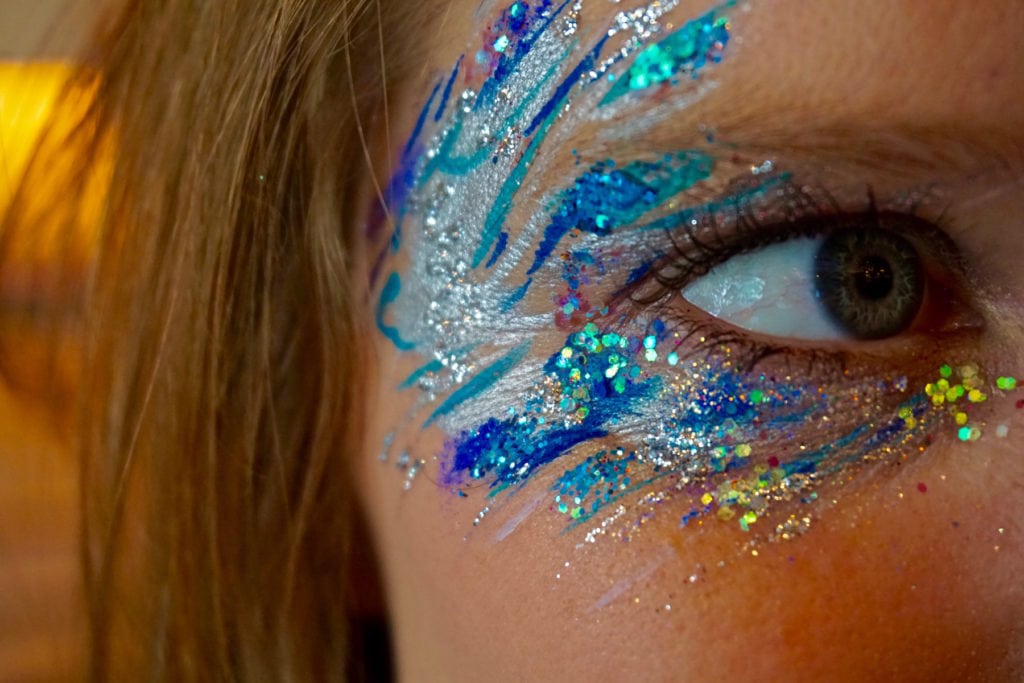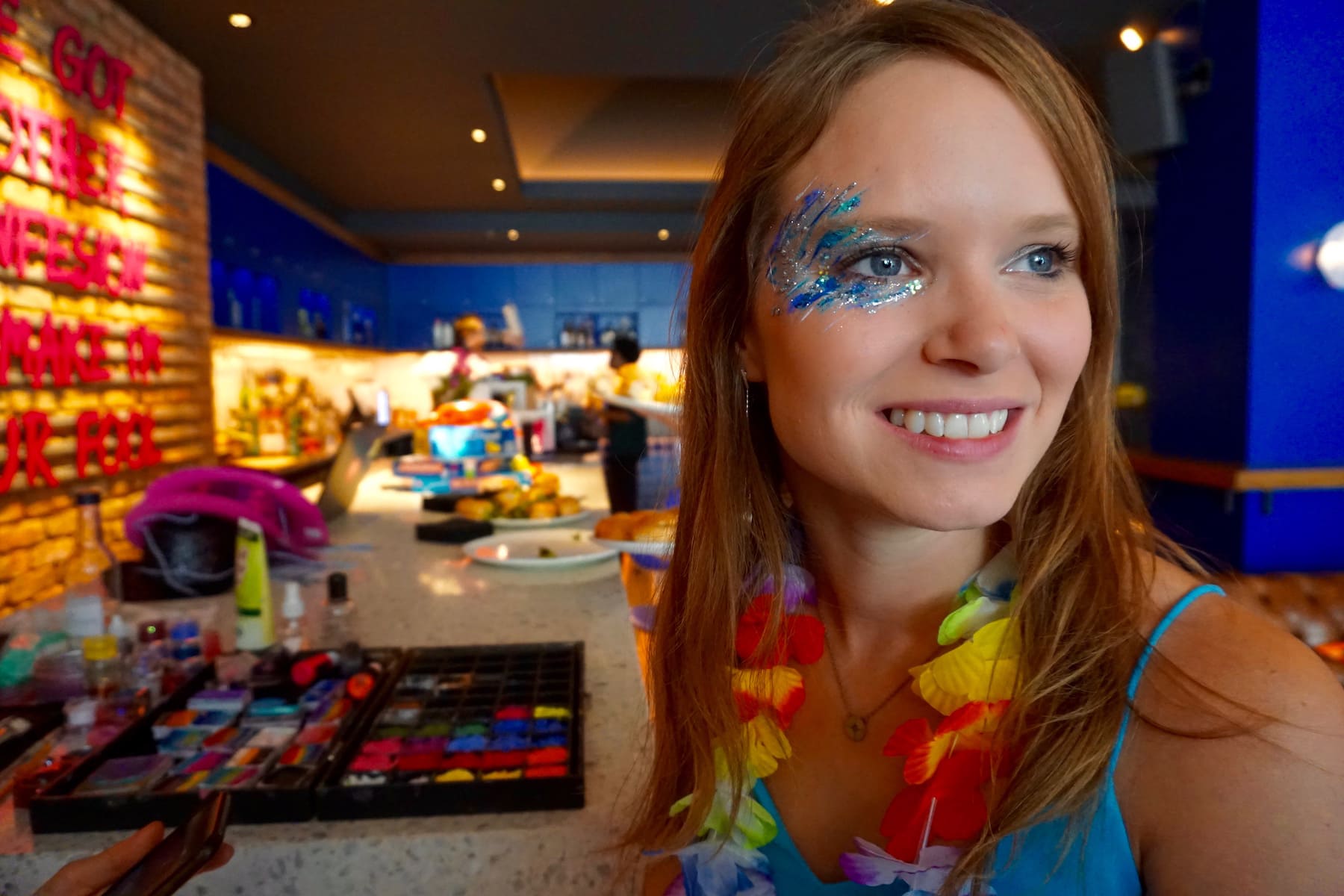 Our hostess, (herself adorned with a gorgeous glittery doodle) ran a quiz between our different teams, hosted a hula hooping competition and a limbo contest. She was enthusiastic, sassy and added to the fun of the afternoon. Prizes for winning? A lurid green Midori and apple shot. After a few drinks, inhibitions went out the window.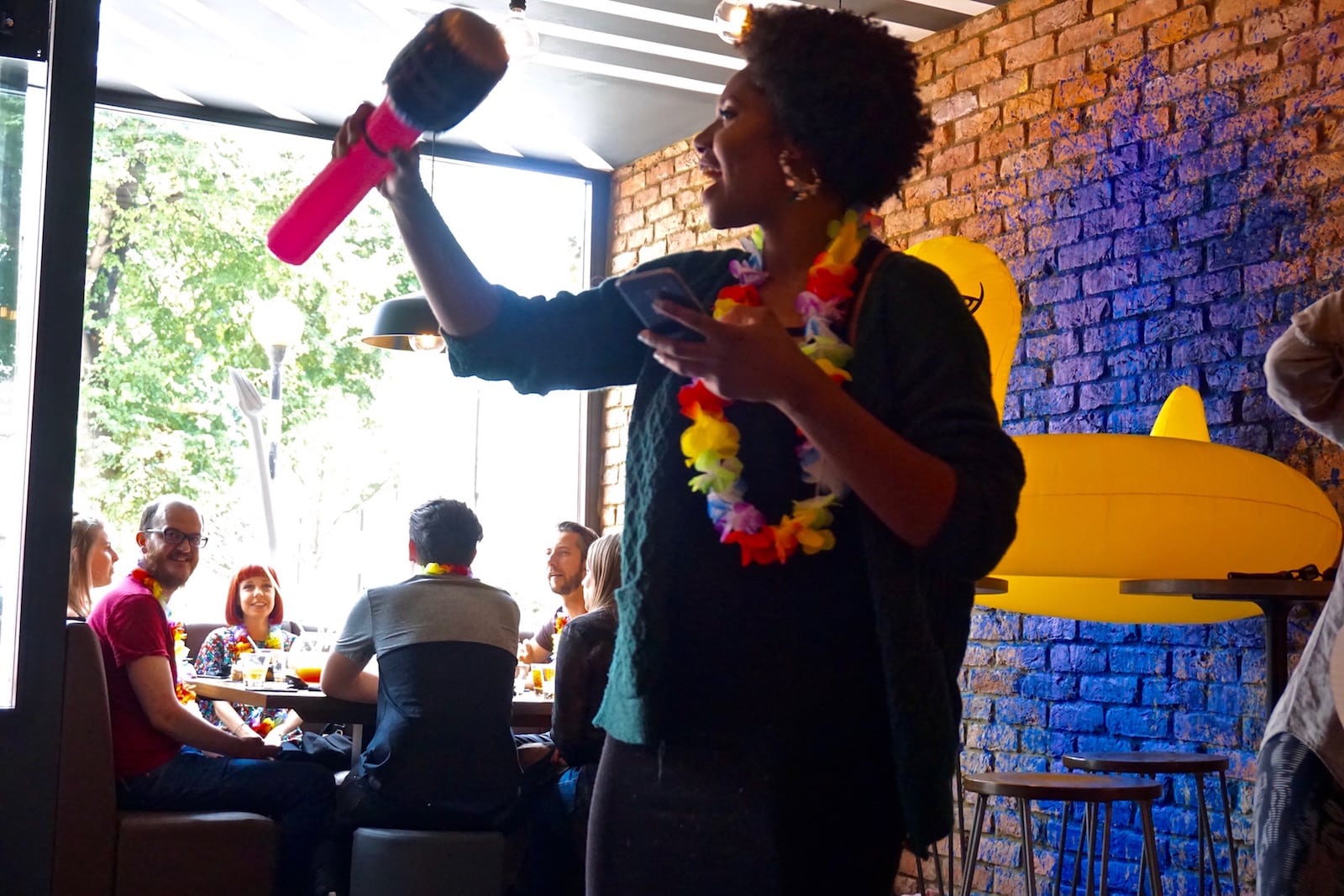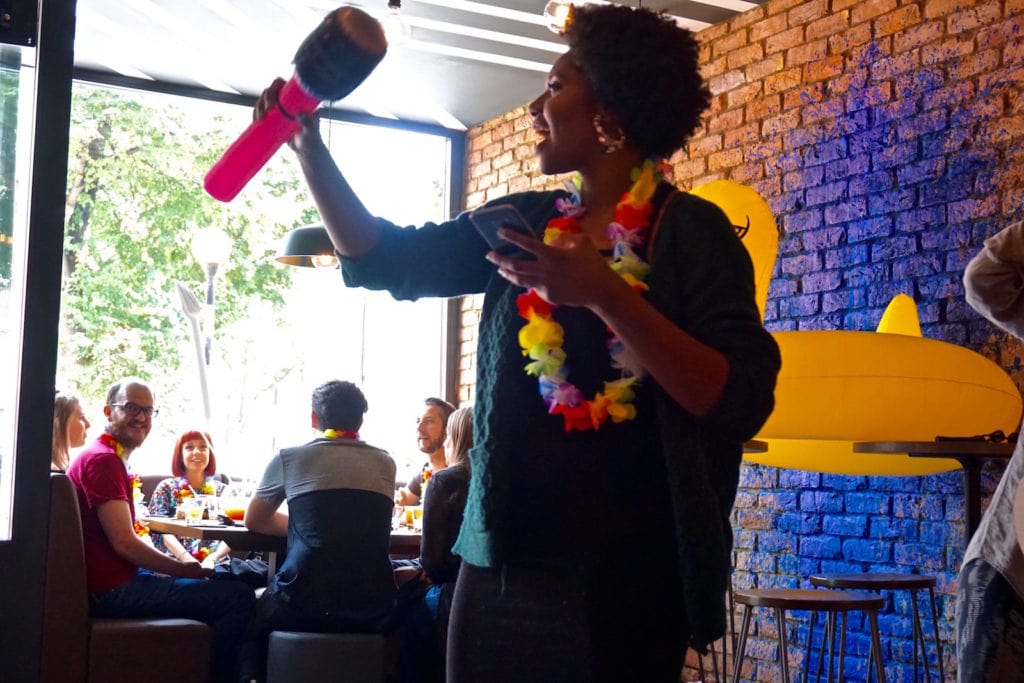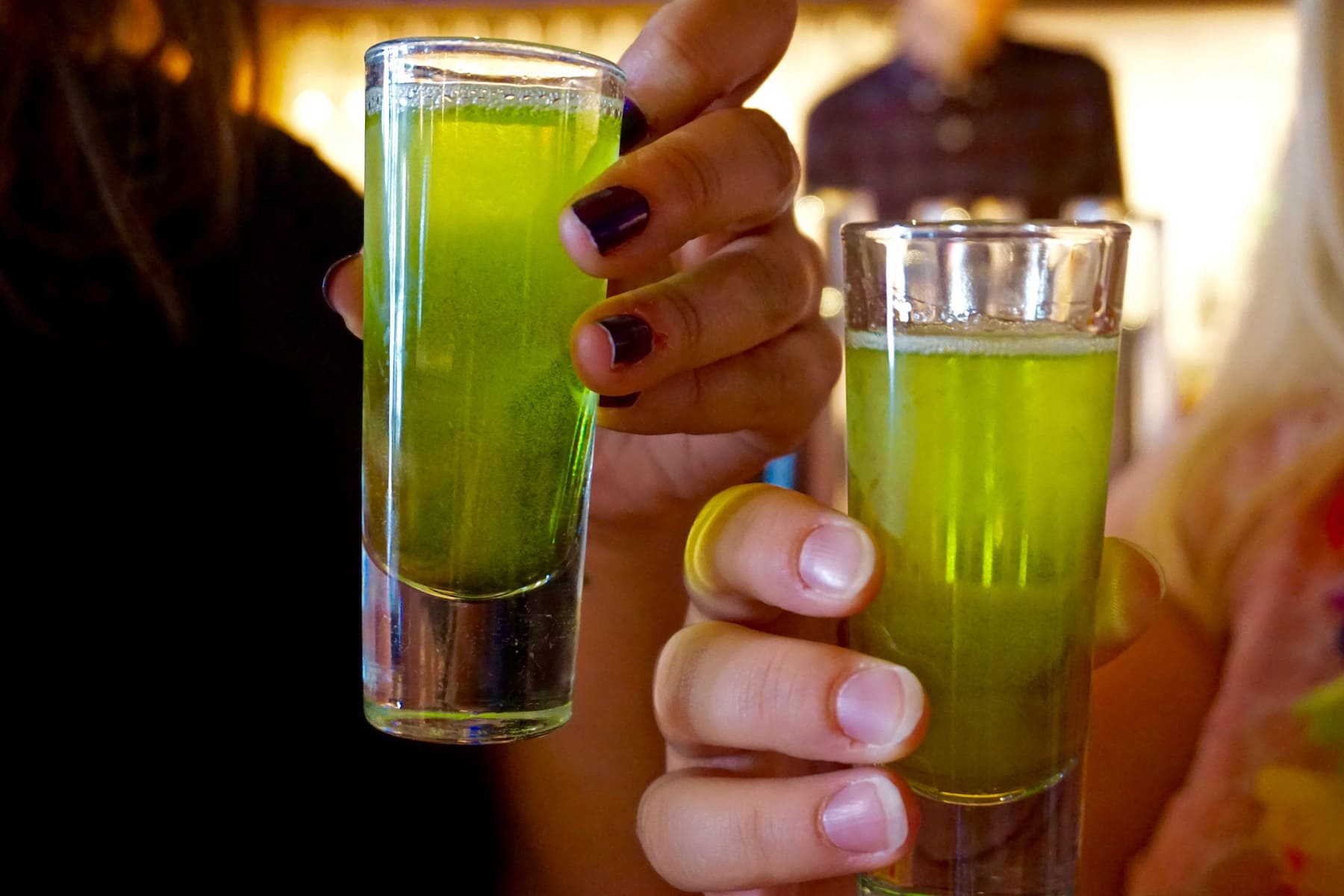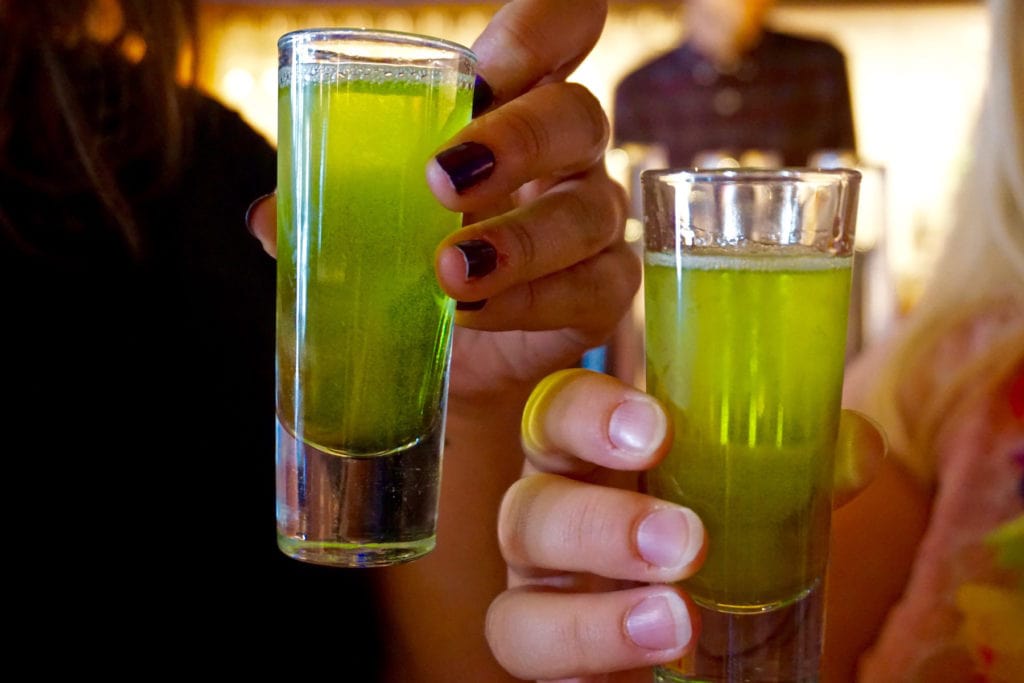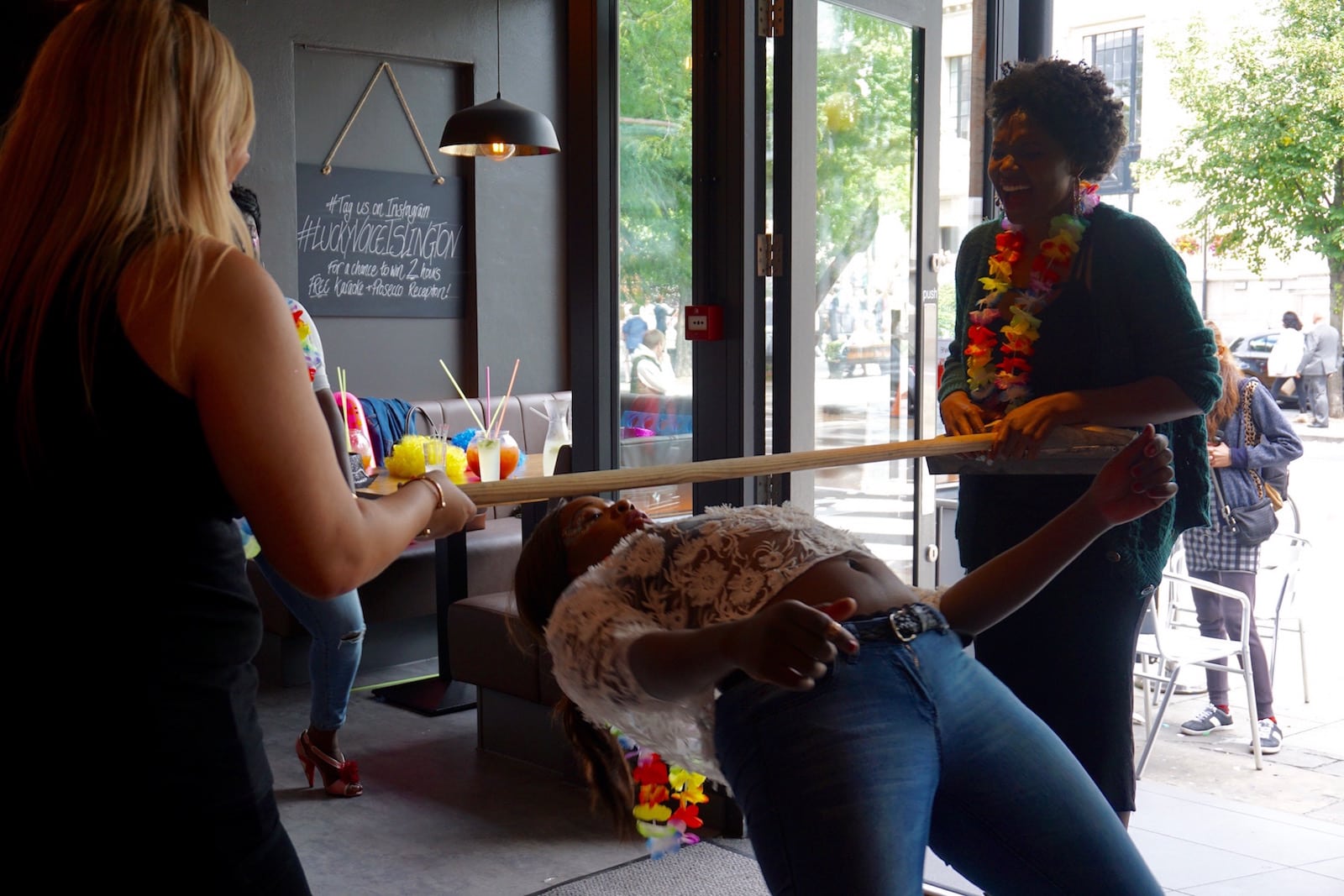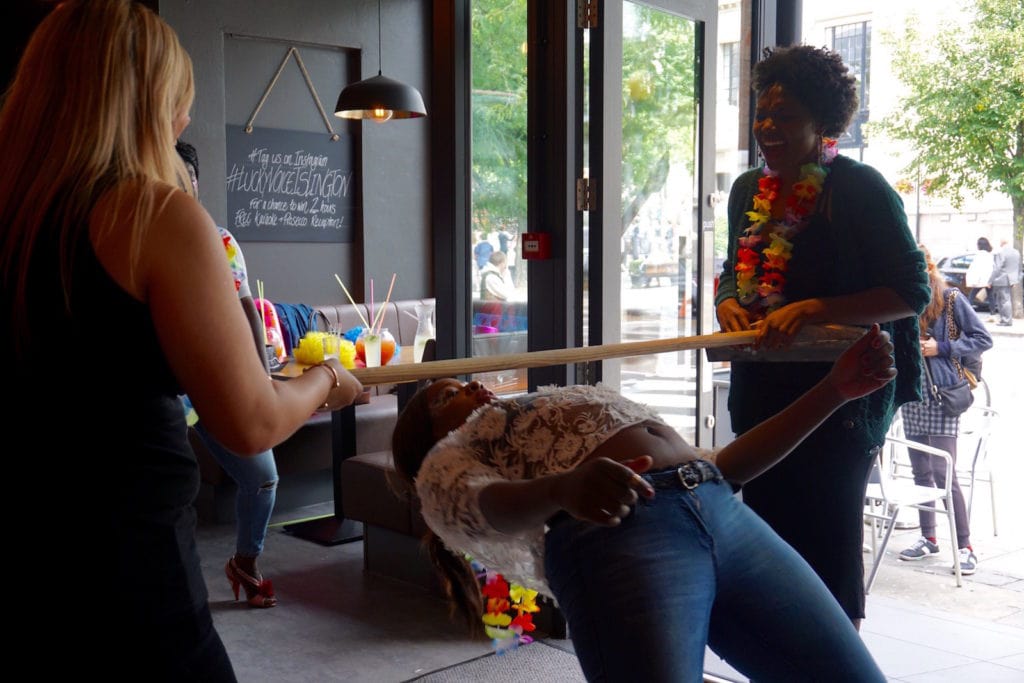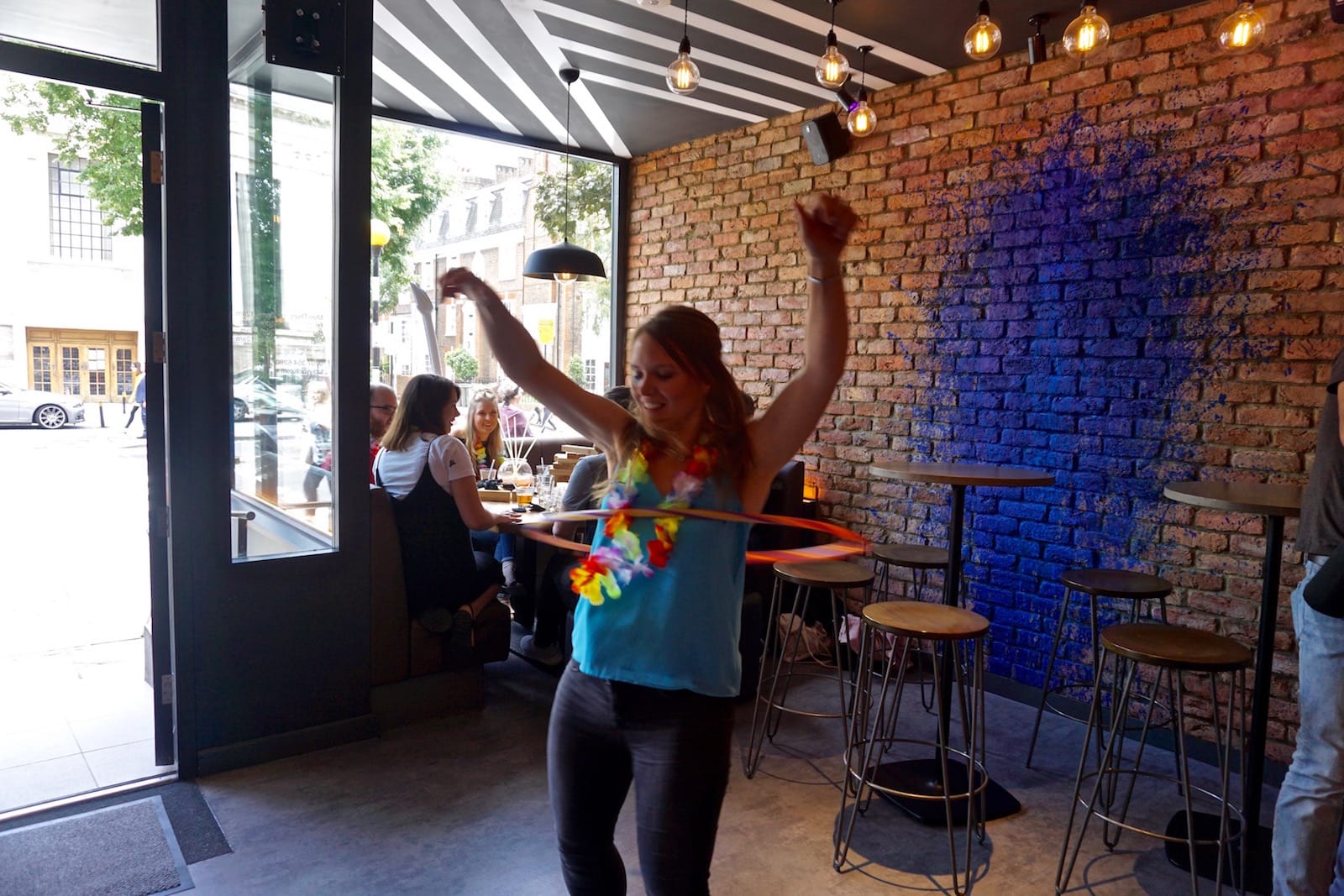 The food element of this bottomless brunch was never a huge draw. We were excited about glitter, cocktails and karaoke, but bagels didn't come into the equation. They did the job of soaking up some of the booze, but were not gourmet. In fact they weren't even toasted. It didn't bother us as we'd already made plans for a late lunch. Plus, the manager mentioned that they were considering other food options for future weeks.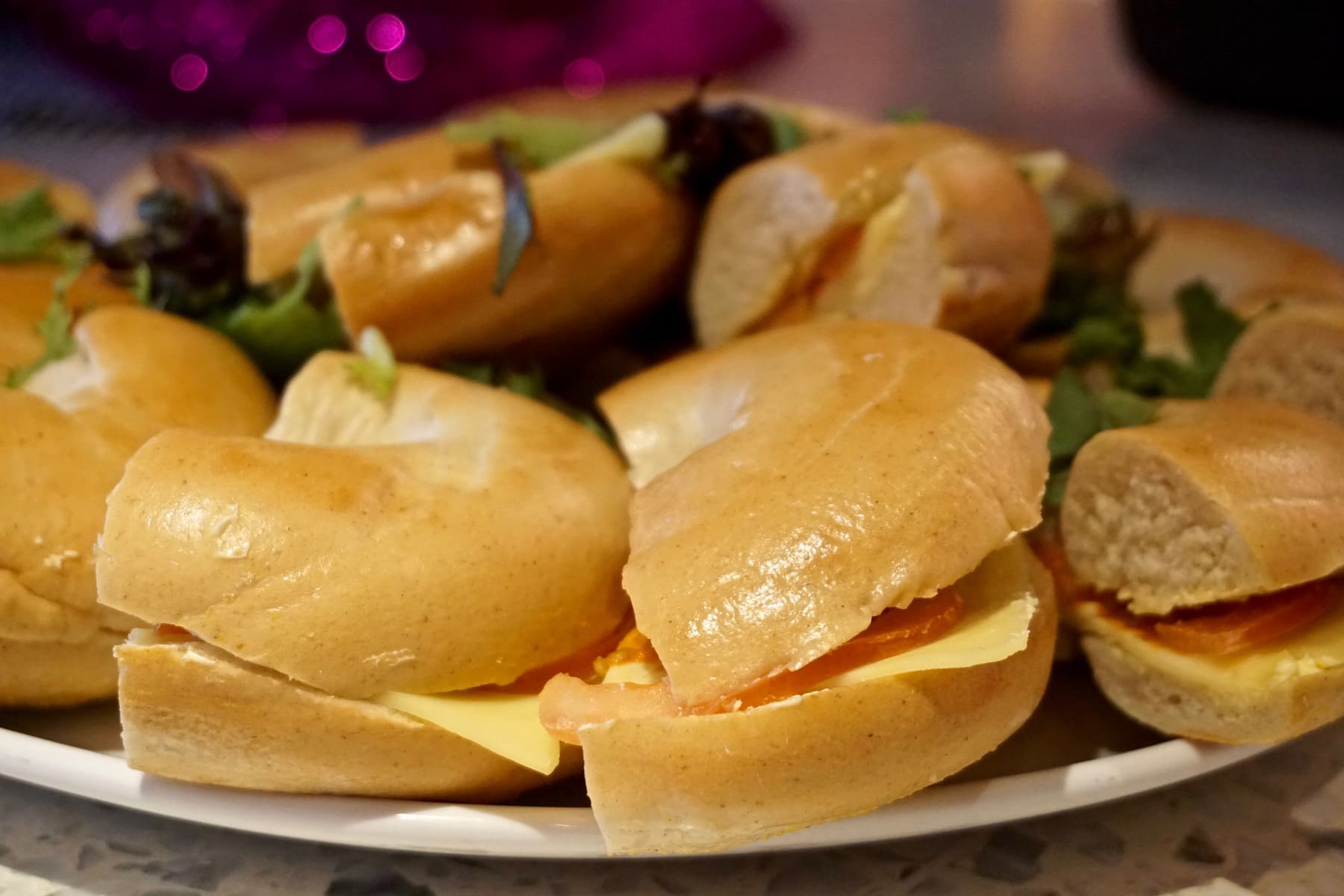 After two solid hours of fun and games, cocktails, glitter and even a brief stint in the photo booth, we headed to our private karaoke room for our hour in the limelight. We blasted out school favourites of Blink 182's All The Small Things and Spice Girls' Wannabe, belted out Disney's Let It Go and rocked to classics like Livin' On A Prayer. Hey, we even did Girl's Just Wanna Have Fun! One of the funniest was our attempt at the tricky Spanish lingo in Despacito. By verse two, we gave up. Adios Enrique, Craig David, you're up!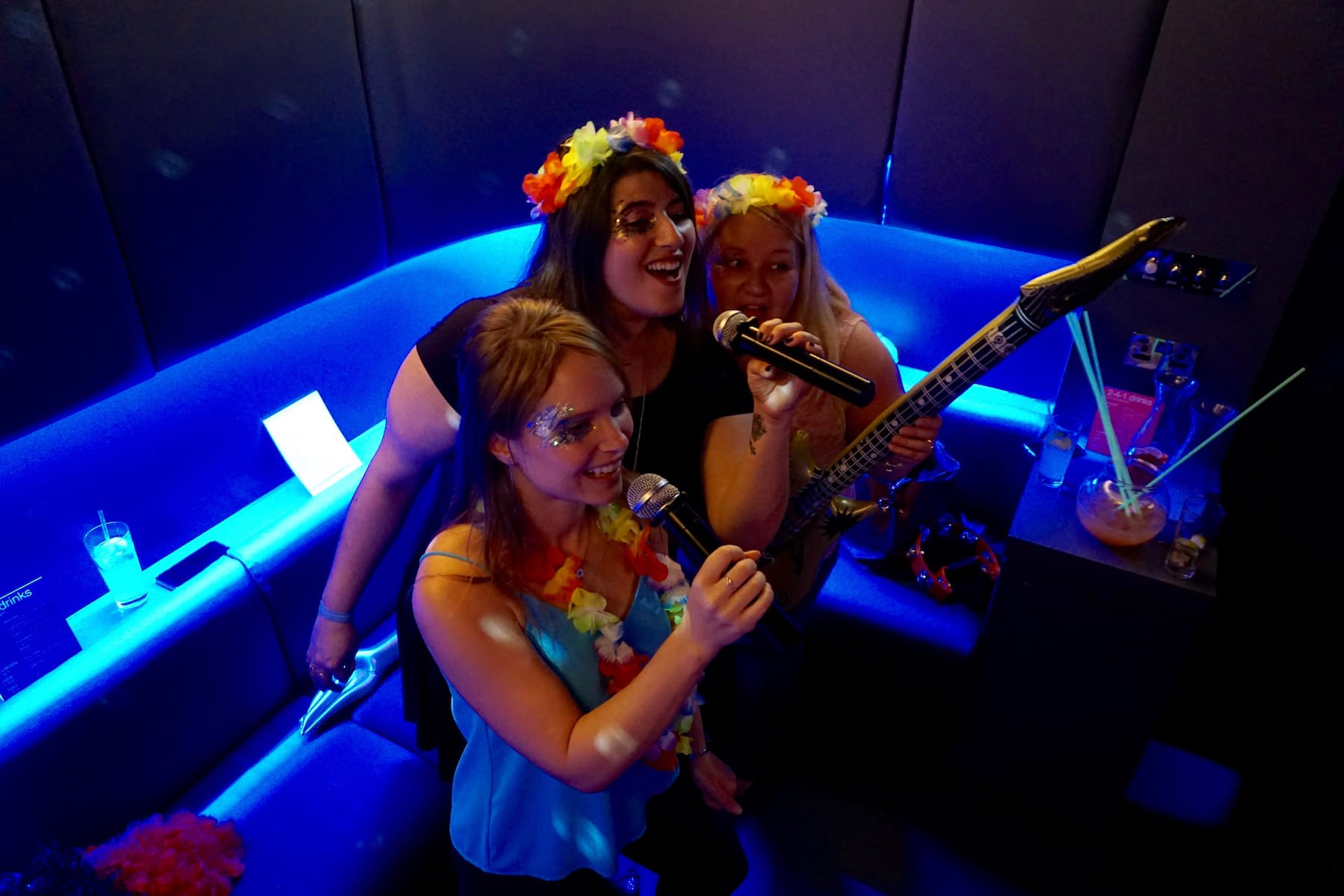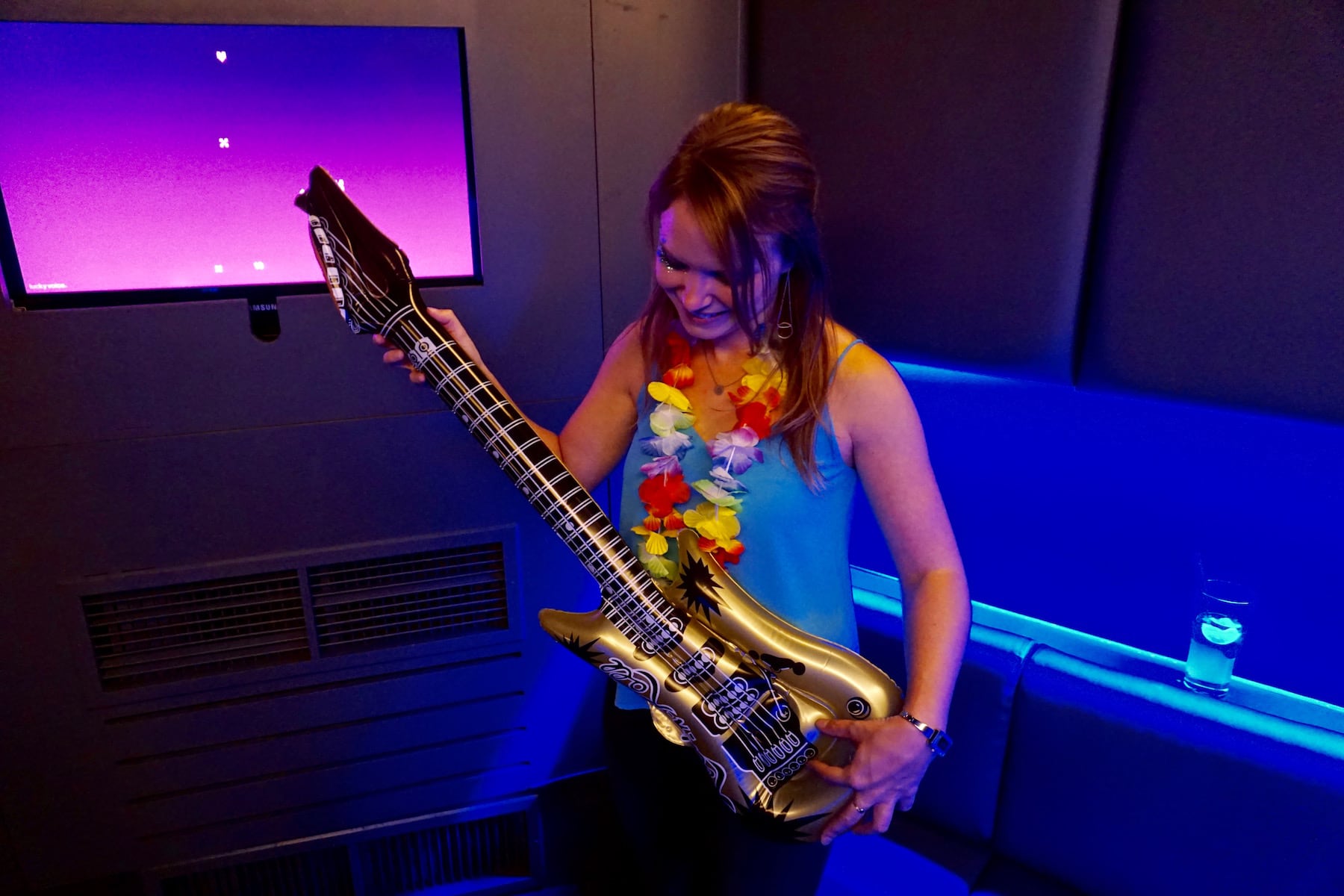 We sang, we danced, we made embarrassing videos, and prayed that the CCTV footage was disposed of as soon as we left! It was hilarious, not particularly tuneful, but certainly memorable.
So would I recommend Lucky Voice's Karaoke Bottomless Brunch? Yes! An hour's karaoke doesn't come cheap, and when you throw in unlimited cocktails, glitter and a fun environment, it seems like great value. You could take or leave the bagels, but when you stagger out into the daylight of Islington High Street at 3pm, you're not far from a bunch of great restaurants to continue the party!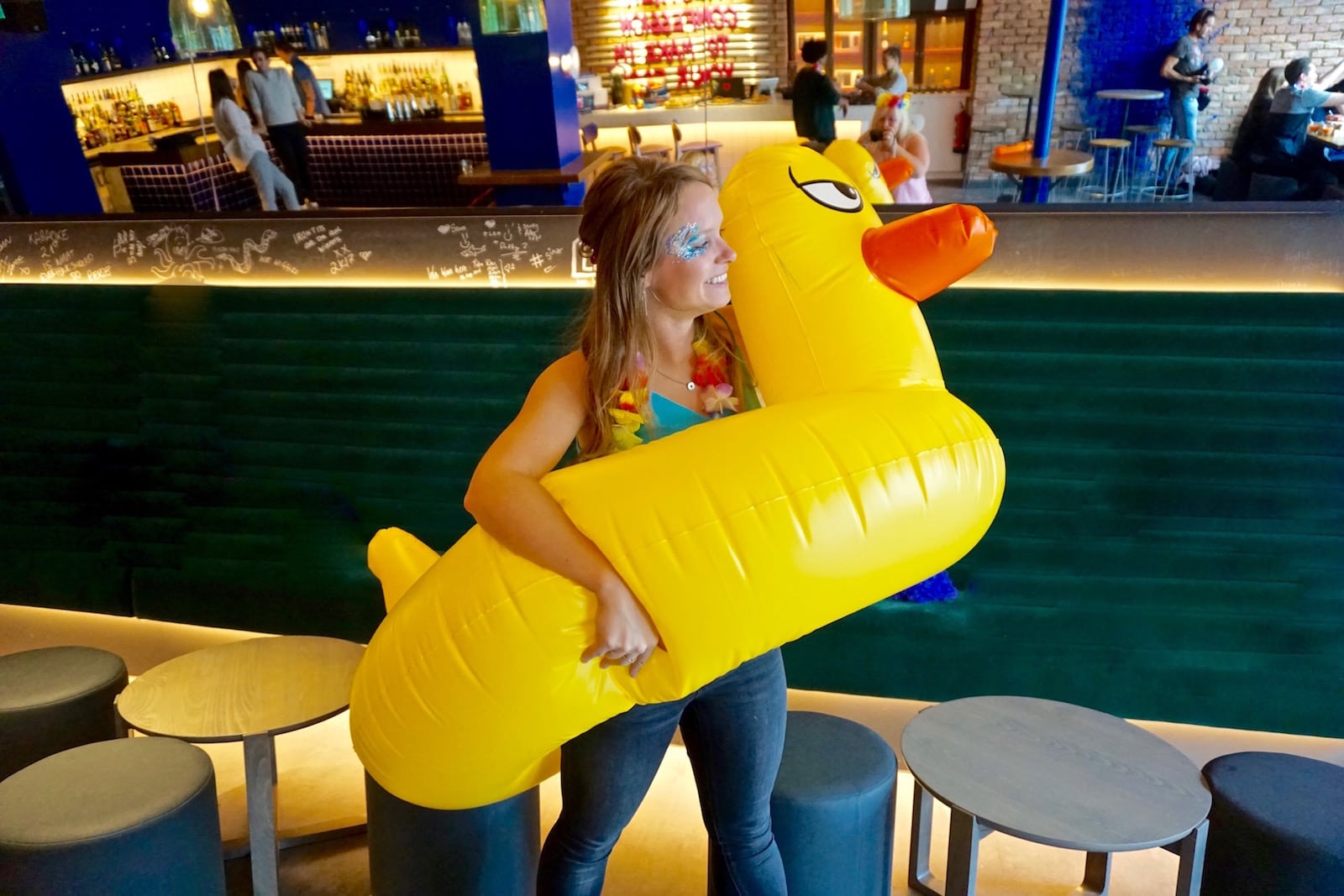 Key Details

Karaoke Bottomless Brunch At Lucky Voice is available every Saturday from 12-3pm at Lucky Voice Islington until 25th
Cost: £35 for 2 hours of unlimited cocktails, bagels, glitter art, DJ and 1 hour of private karaoke.
Find out more, including how to book, by clicking here.
Do you have a favourite bottomless brunch in London? Would you like to try this one?
Enjoyed this post? Pin it for later…