This food tour of Barcelona promises the best tapas, Catalan cuisine and a trip to a very special market.
The history and culture of a place is best told through its cuisine.
Food is at the heart of every community and is heavily influenced by surroundings and situations. So, when I was invited to take a food tour of a Barcelona neighbourhood that I didn't know… I couldn't resist!
Devour Barcelona Food Tours, the sister company to the already successful Madrid Food Tour was set up in September. It took the organisers months to research the Gràcia area and find the best eateries to showcase what the neighbourhood is all about.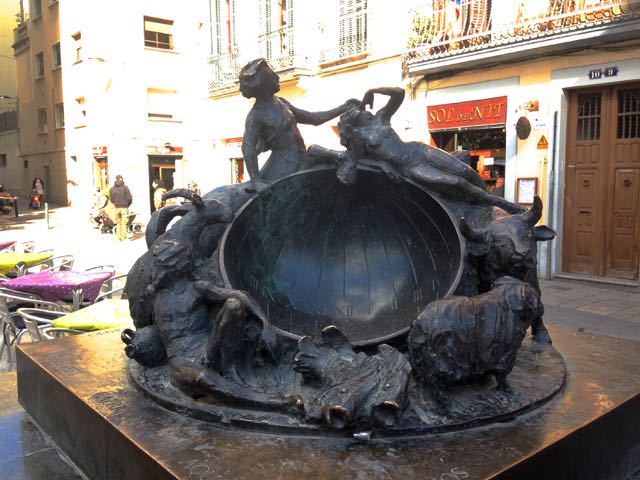 I met tour guide Renee on Passeig de Gràcia on a cold but sunny February morning. She was a young American girl with a huge passion for history, architecture, Catalan culture, and most of all –food! Over the next four hours she guided me through the streets to a variety of cafes and restaurants. Along the way I enjoyed 12 food tastings, and learned about everything from iive oil production, to Catalan architecture, to why the locals drink vermouth and more! But one of my favourite things about the day: being introduced to the local characters at the centre of the community.
Gràcia wasn't always a part of Barcelona – it started as a small village on the outskirts of the city, famous for its convent. In 1897, during a time of expansion, it was swallowed up by Barcelona… however, to this day, it has retained its village feel.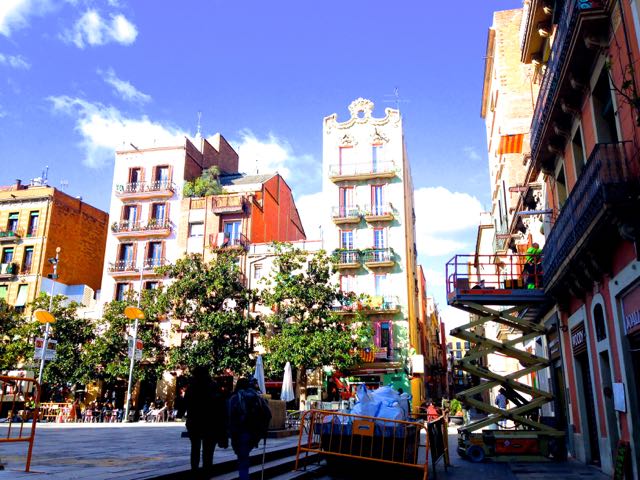 Stop one was the Baluard Bakery within Hotel Praktik. On offer, an almond croissant. Interestingly, I learned that freshly baked bread is rare in Barcelona. Many stores buy it in and warm it up to give the impression they've been hard at work since the early hours. Baluard is one of the few fully functioning bakeries, and the person behind this buzzing place, Anna Bellsolà, – the fourth generation in a family of bakers. "No two loaves are the same" is their motto… and it was encouraging to see the lengthy queue leading out of the door. It seemed to be the place the locals go to on a Saturday morning to pick up breakfast and loaves for lunch. The croissants were warm, flaky and deliciously almondy.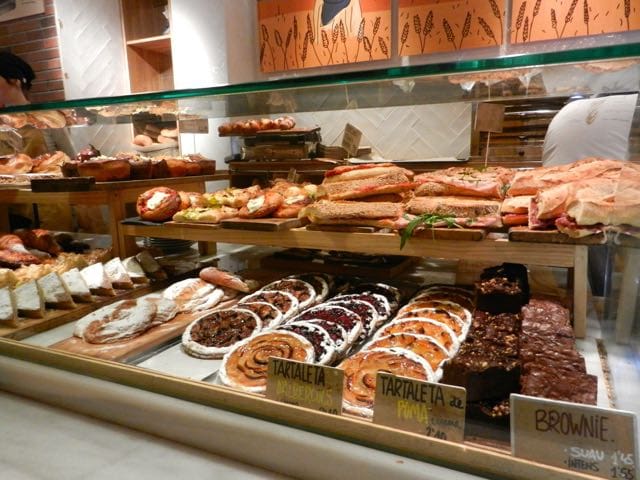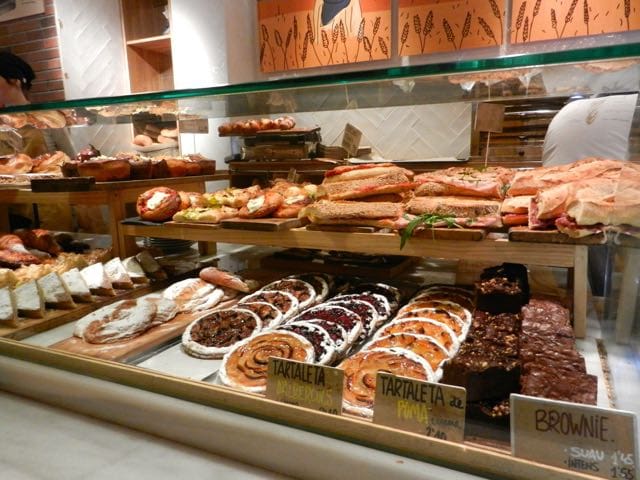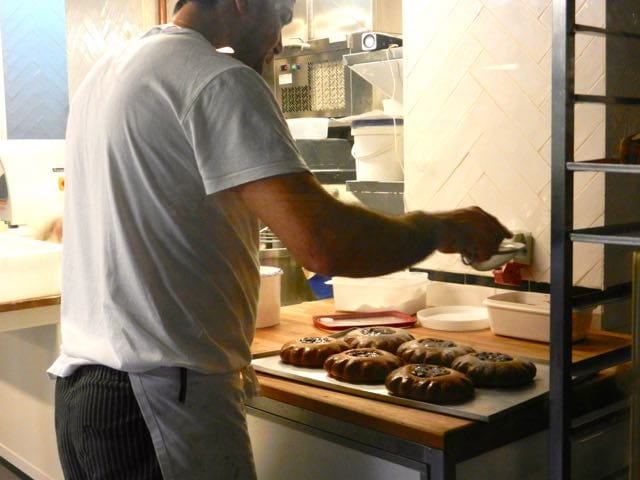 By wandering the streets on foot, there was plenty to observe and discuss. It was fascinating to hear that while 35% of the population within central Barcelona are Catalan, in Gràcia, that jumps to 65%. These are people with strong beliefs and a sense of belonging – and they show it by hanging Catalan flags from their balconies. The red and yellow flags were everywhere!
Next stop: the hub of activity on a Saturday morning – the market! At Mercat de l'Abaceria Central we sampled olives at Glòria and then visited La Trobada del Gourmet for a selection of Spanish and Catalan cheeses.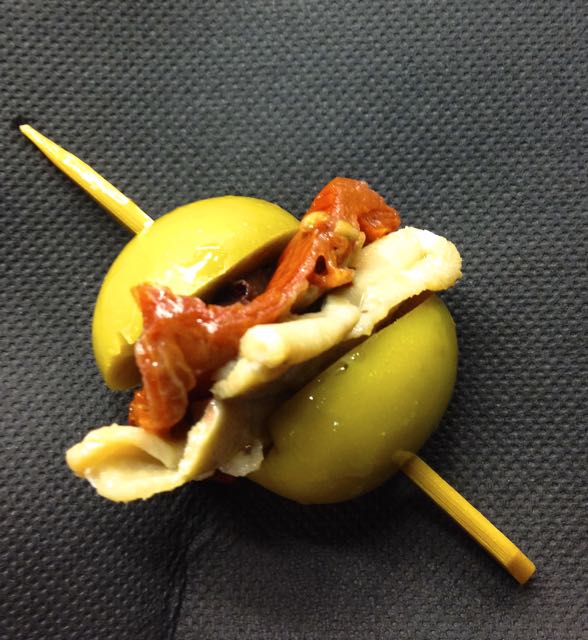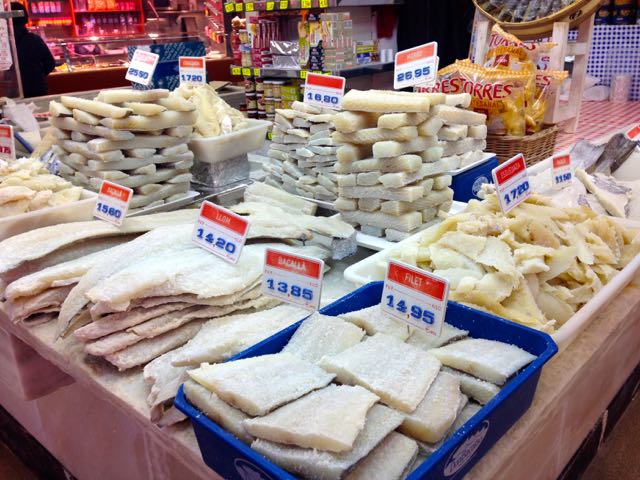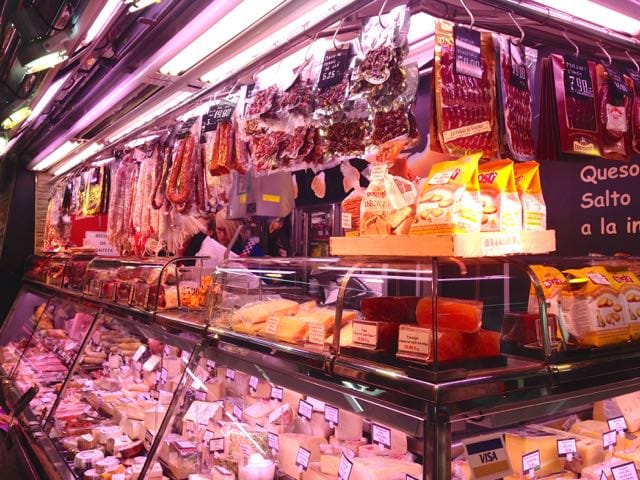 Glòria is a family business. The son renamed it from his father's name, to his mother in law's as he said – she did all the work! In all honesty, I'm not a lover of olives… so the skewer with giant juicy olives and salt cod wasn't appealing. However, I tried it… and others in the group really loved it. I can at least say it looked very attractive (if you like olives!)
I loved Urgelia, a type of cows milk cheese which I sampled with membrillo – a special quince-like jelly. Also delicious was the manchego named as the best cheese in the world two years running!
Having time to explore the area on foot meant I didn't get too full! I loved our stop at Café Pages… another family business. It was beautifully decorated with black and white floor tiles, antique mirrors and a long attractive bar area.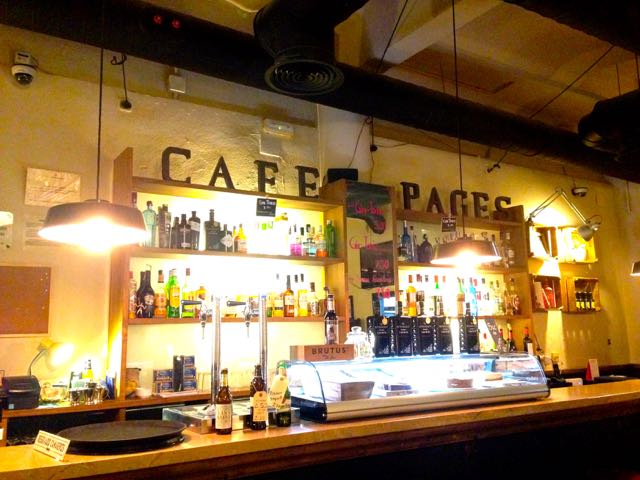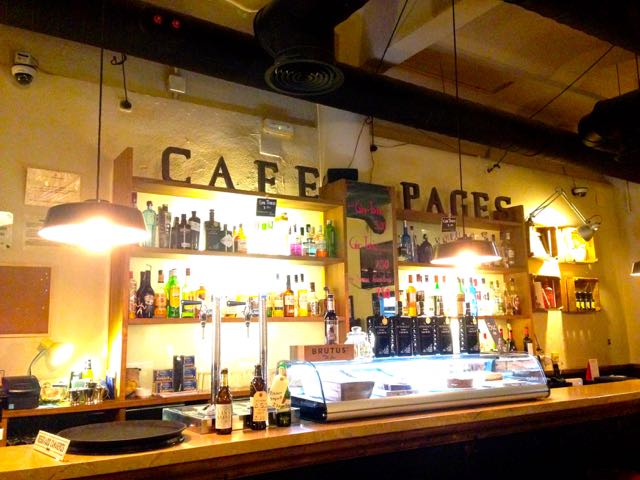 Here I got to sample a grilled botifarra (catalan sausage) sandwich with green peppers, which was complemented by a deliciously refreshing glass of cava. Botifarra is one of the most important ingredients in Catalan cuisine, and I have to say after trying it, I would happily have that as a staple of my diet – perfect in a fry up for breakfast, a hot dog at lunch and a bangers and mash dinner!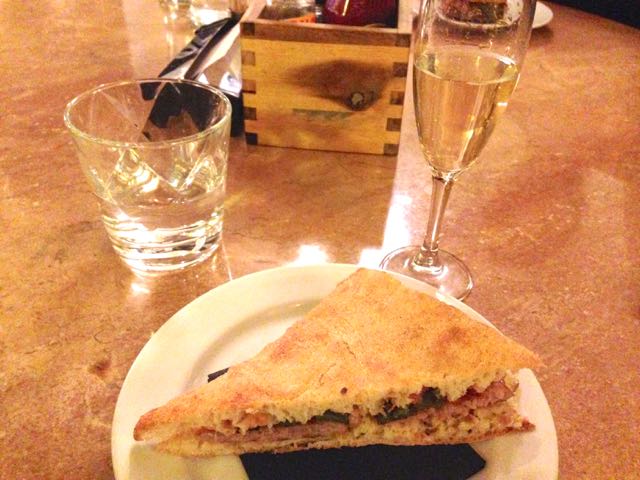 With the bubbles of the cava kicking in, we were on our way again. Next stop? Specialist olive oil store Oli Sal for a tasting of extra virgin olive oils.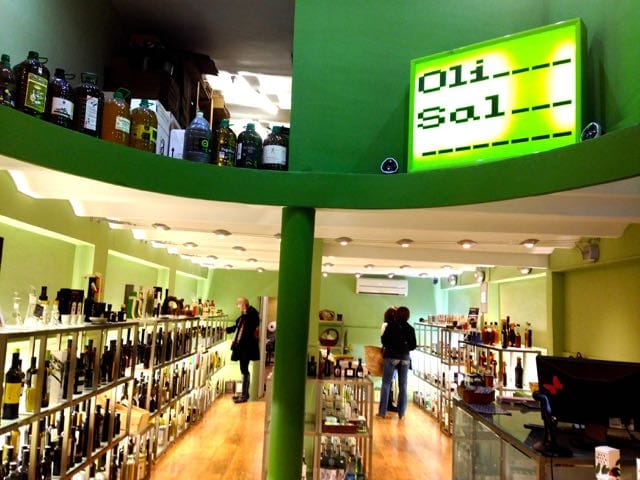 Rather naïve to how it was produced I enjoyed Renee's description of the process and the discovery that Spain produces 45% of the world's olive oil.The oils sampled were made from different varieties of olives – empeltre, arbequina and picual – very different in flavour. One very drinkable, one so powerful it made me cough.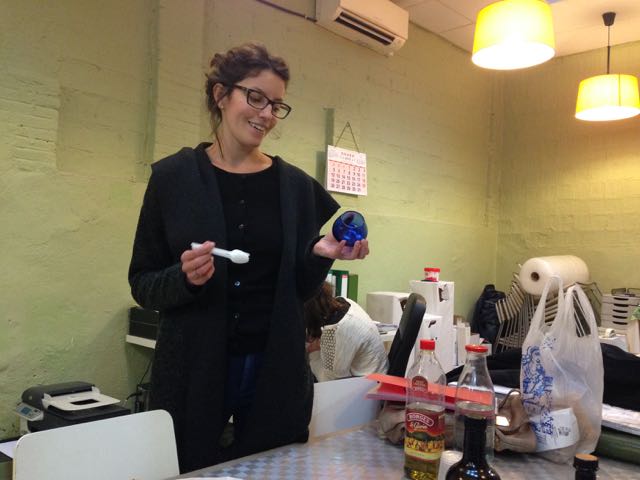 L'Anxoveta was one of my favourite stops, partly for the food, partly for the owner! Carlos is a former engineer, who went into the restaurant business after losing his job. His speciality – the 'bomba' potato and ground beef croquette, served with spicy tomato 'brava' sauce. Crispy, tasty and served with a sumptuous sauce, making it the perfect mouthful.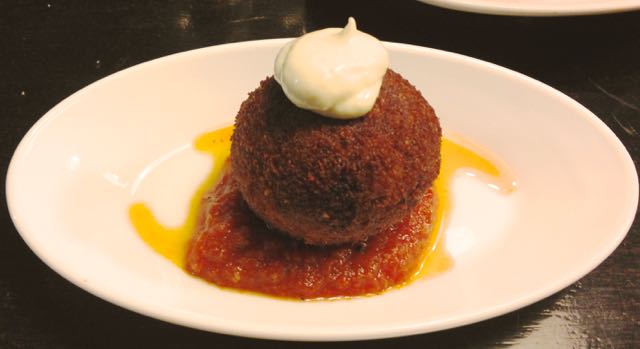 As I attempted some Spanglish with Carlos, he showed me how to make the region's famous tomato bread. Take a slice of bread, rub with a garlic glove and juicy tomato, sprinkle with olive oil, salt and pepper, and eat. Simple, more-ish with well-balanced flavours. I couldn't wait to make it at home!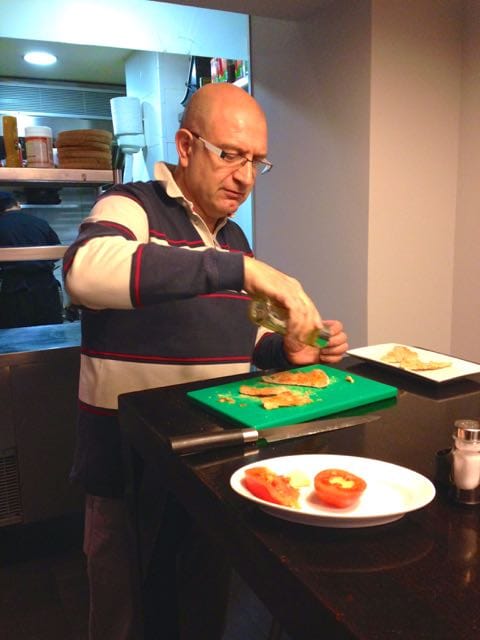 There may not be many parks in Gràcia, but instead it is full of beautiful squares marking the centre of each small community. I loved Plaça del Sol for its relaxed café vibe, and Plaça de la Vila de Gràcia for its beautiful tower.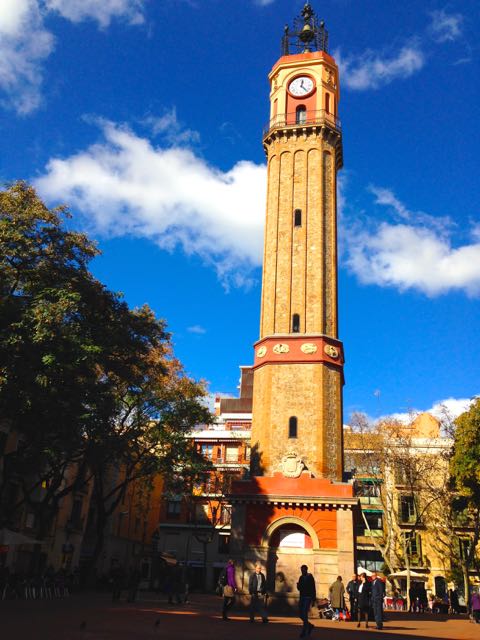 We wandered to a Syrian bakery to meet Mustafa, whose team at Pastisseria Principe produce over 2000 pastries a day (many for local restaurants). Next it was time to visit Bodega C'al Pep for a vermouth tasting. Wow – that is a powerful drink! Slightly medicinal, but not unpleasant. It was great to have a reason to venture into what I would describe as 'an old man bar'! From outside, it's not a place I would suggest going in… but inside it was like stepping back in time. It was full of locals spending the afternoon sipping vermouth, watching sports on TV and chatting to each other. This tradition (perhaps minus the TV!) goes back years and years (as in the black and white photograph below)… and looks like it will continue for a while longer yet!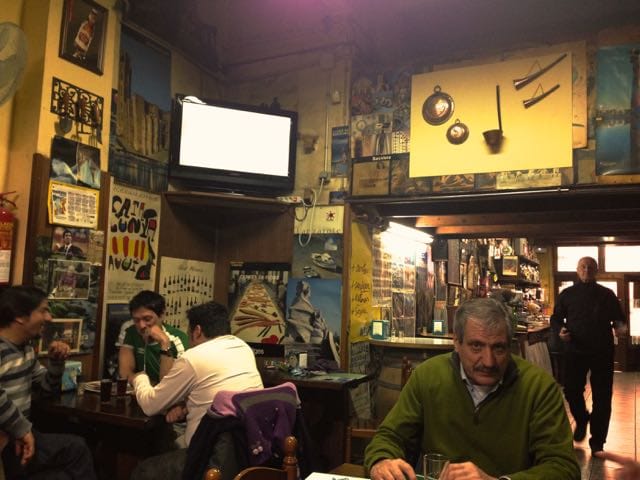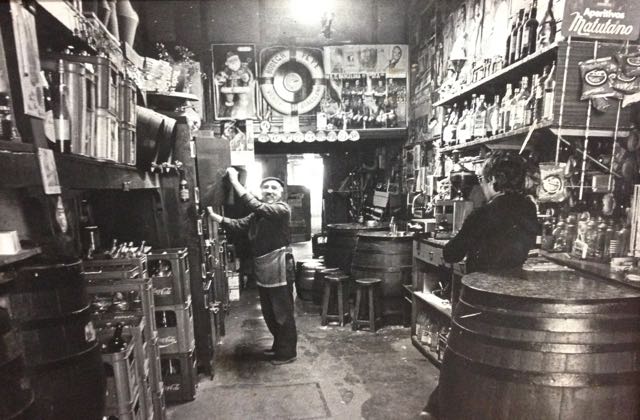 Two more stops to go… and I was feeling nicely full! At La Botigueta del Bon Menjar I tasted a delicious meatball dish, served in a rich pea and bean sauce. Alongside it, another delicious mouthful – escalivada with romesco sauce (grilled vegetables with a nutty, red pepper sauce). This tiny café was run by Jose, and used to be a cooked bean store. These used to be very popular stores as the process of preparing the staple of the Catalan diet was seen as too lengthy for people to do at home. Gradually, owners like Jose have adapted their stores to sell delicious home-cooked foods, which just need reheating before serving – like a local ready meal business!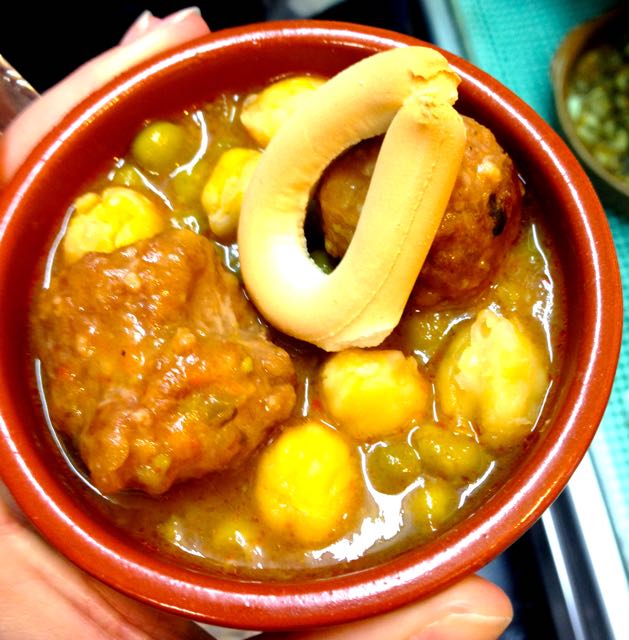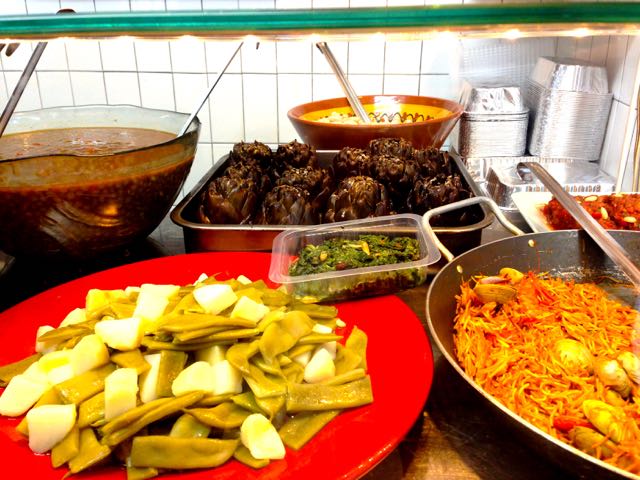 Final stop? Still with me? At Pastisseria Ideal I got to sample the oldest custard dessert in Europe – the cremat! Yet another family-run business with almost 100 years of history. The windows were beautifully inviting – full of macaroons, meringues and chocolates! It was a lovely place to reflect on a memorable morning.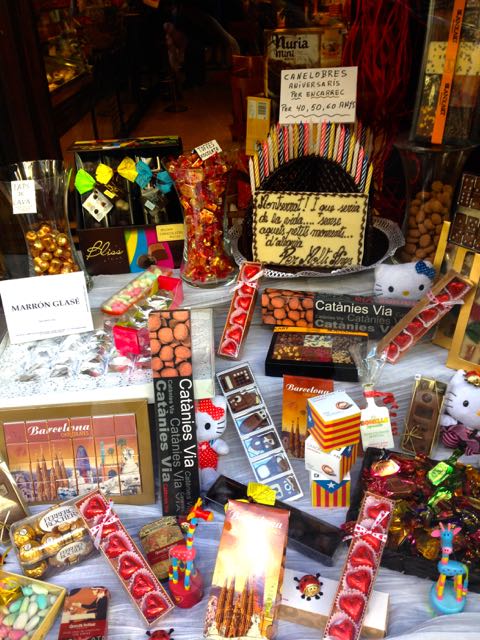 This tour was a wonderful way to really get under the skin of a whole neighbourhood I might not have otherwise ventured into. It taught me about the food, the history, and most-importantly the people who created the charm and have kept it going all these years. I learned some valuable lessons in not being fooled by appearances! Some of the places we visited didn't look particularly inviting from the outside, but once you stepped in the service was warm and friendly, and the food was delicious! You could smell tradition in the air. So go for it, go off the beaten track, and learn what makes a city tick through its food.
For more information on Devour Barcelona Food Tours click here.
Enjoyed this post? Pin it…