With its menu of Italian small plates, excellent flavour combinations and candle-lit, relaxed ambience, Polpo is one of my favourite options for a casual dinner in London.
I'll admit I've been to Polpo a few times before. The Soho restaurant is in my top five when it comes to tasty food that won't break the bank.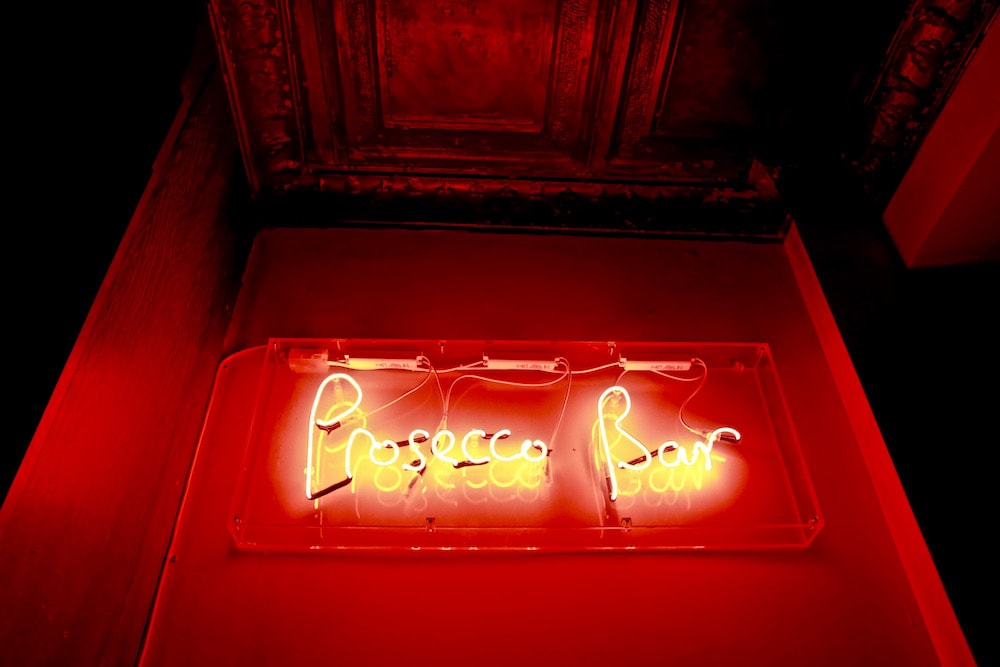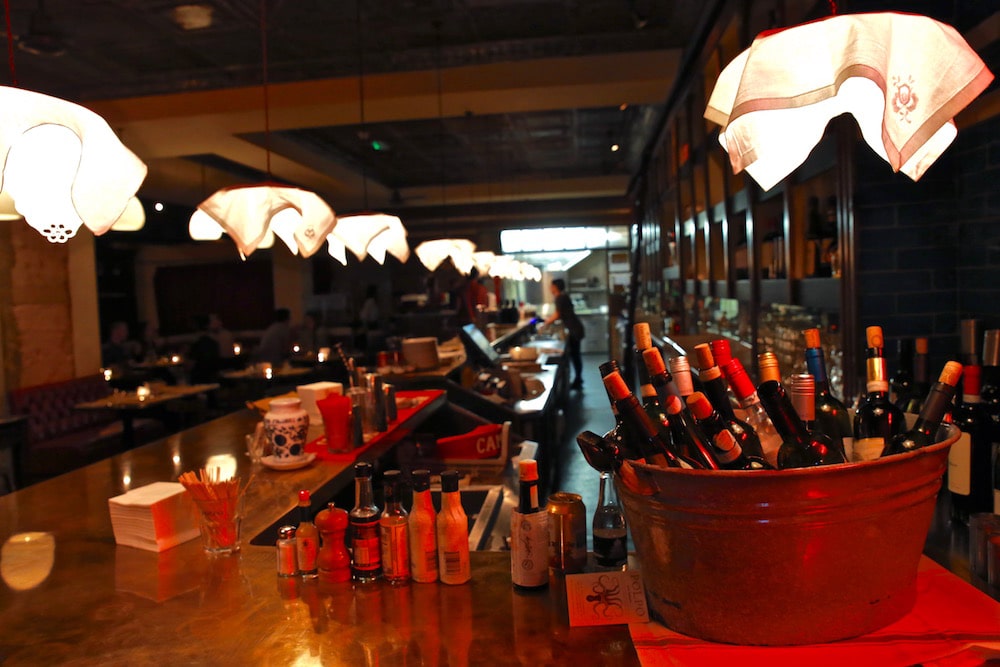 With several branches in London plus another in Brighton, something is clearly working. Polpo's creator Russell Norman's formula is all about stripped-down interiors, flickering candles, exposed brickwork, and weathered furnishings. It's not stiff or polished, quite the opposite in fact, and that's what makes the experience so comfortable.
I've always liked the romantically congested feel of the Soho and Covent Garden restaurants. At 6.30pm on a weeknight it was around half full, and what was interesting was the diversity of people that chose to dine there. Couples on dates, a group of gay guys, parents with two kids in their early twenties, a Spanish couple who gabbled away next to us, and several groups of girls catching up after work. Talk about a mix!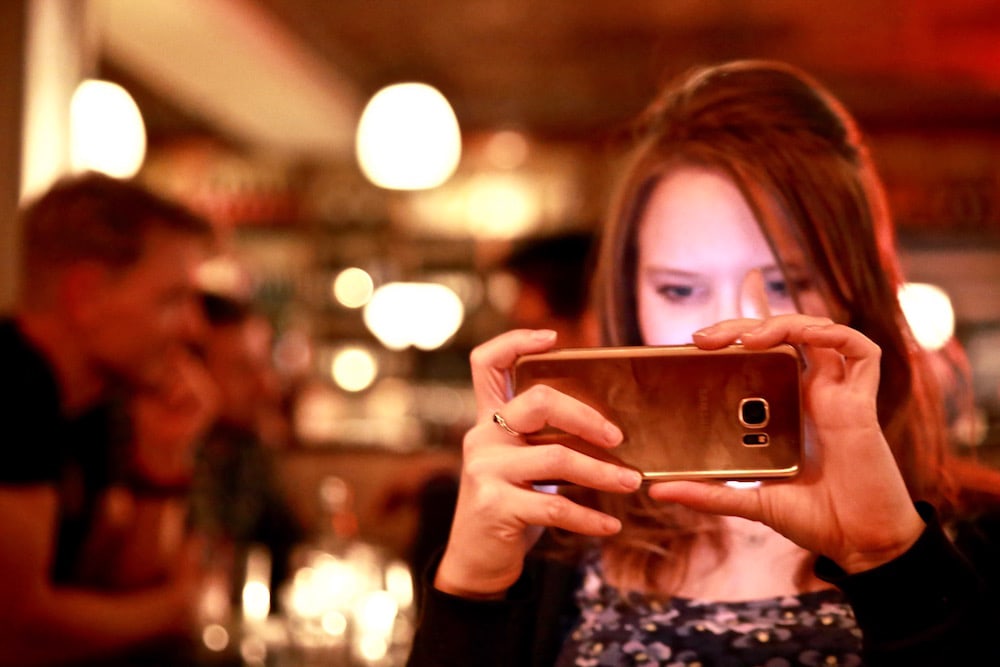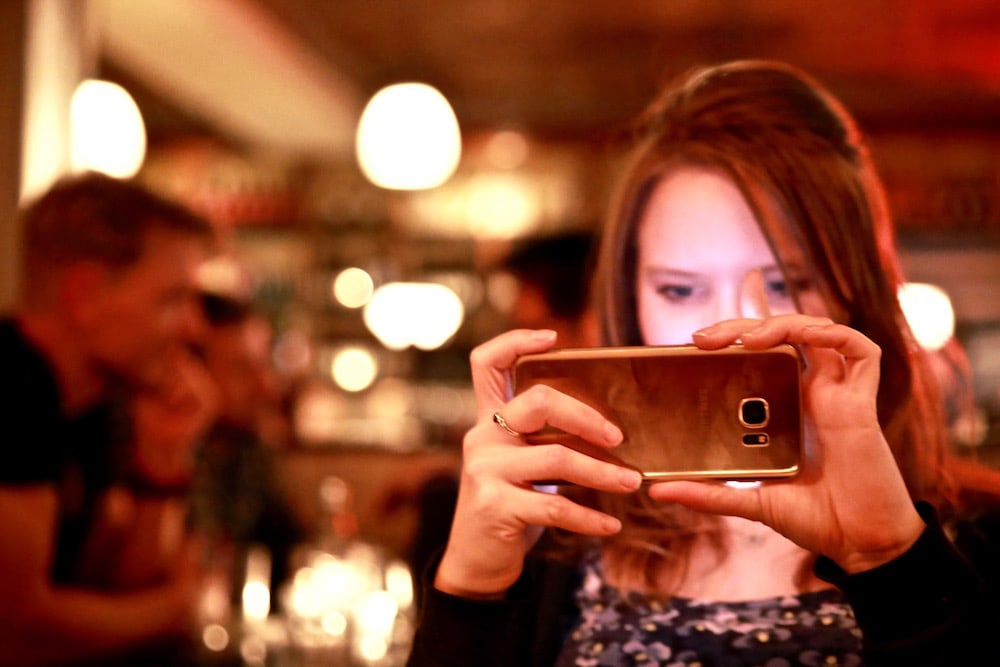 Polpo's menu of Venetian tapas or "cicheti" (snacks) is large, with a focus on quality ingredients and classic Italian flavour combinations. There are meatballs, pasta, pizzas, salads and a wonderful list of small plates featuring everything from prawns and sea bream, to roast pork loin and steak. Hungry, we opted for a bit of everything, and while we waited for the first dishes to arrive, enjoyed a couple of cocktails.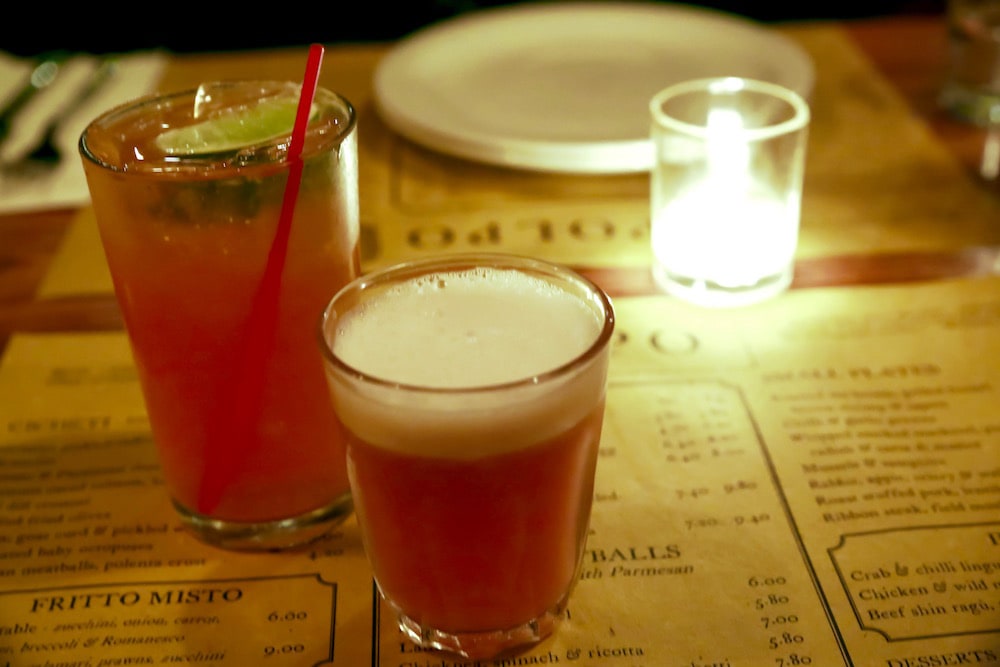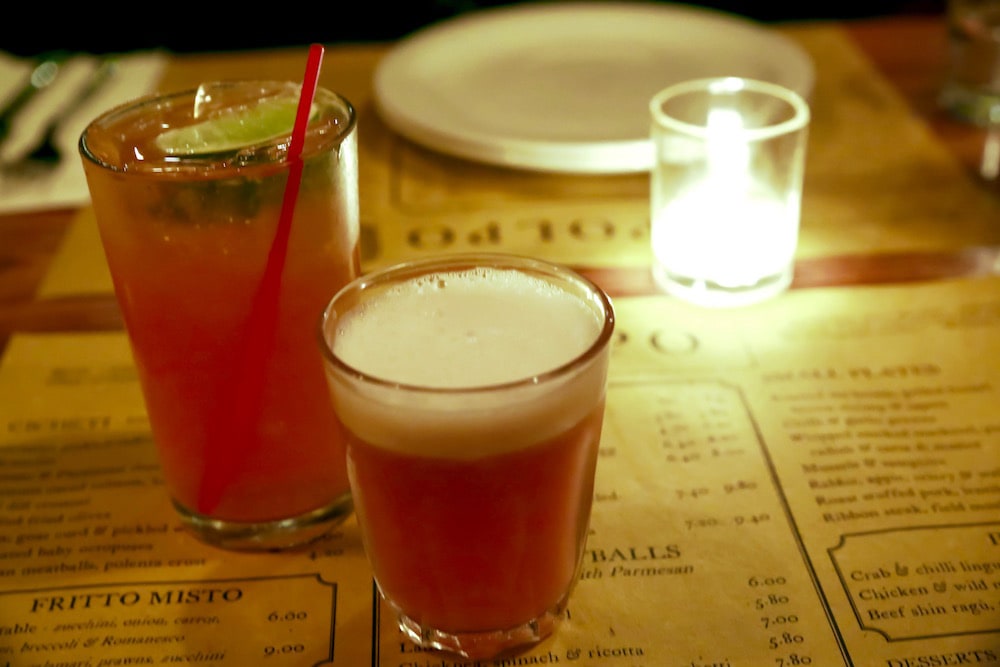 Prices are reasonable, with arancini starting at £2.50 and crab and chilli linguine topping the price list at £12. First up, we enjoyed a small dish of marinated baby octopuses, which were surprisingly flavourful. I'd expected a strong pickle taste but there was more to it than that. Fennel seeds packed a strong aniseed flavour and the marinated red peppers and strands of fennel really added to it. What a great start to the meal.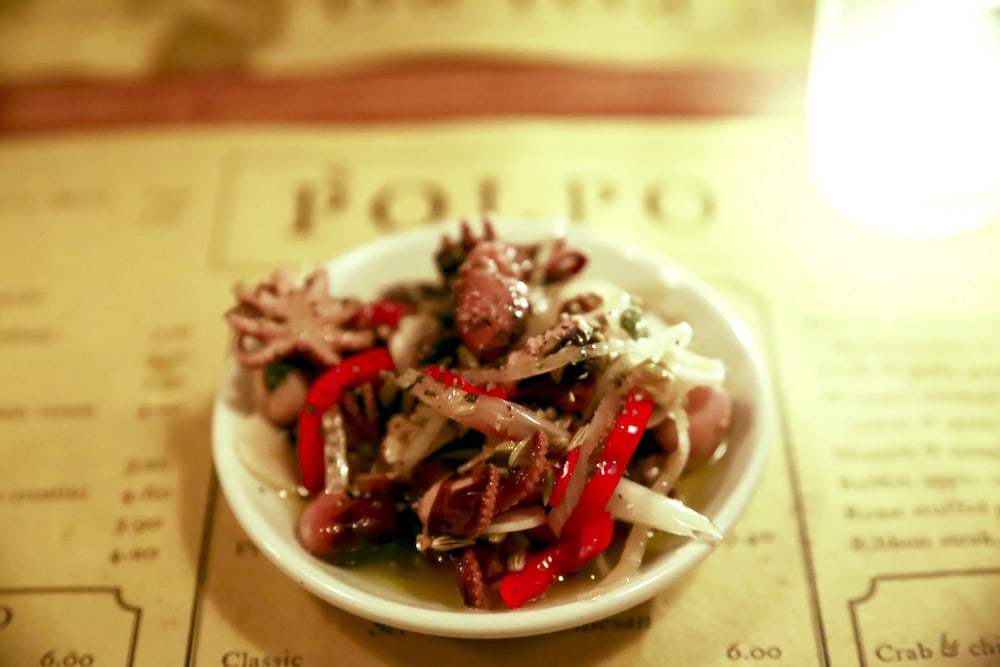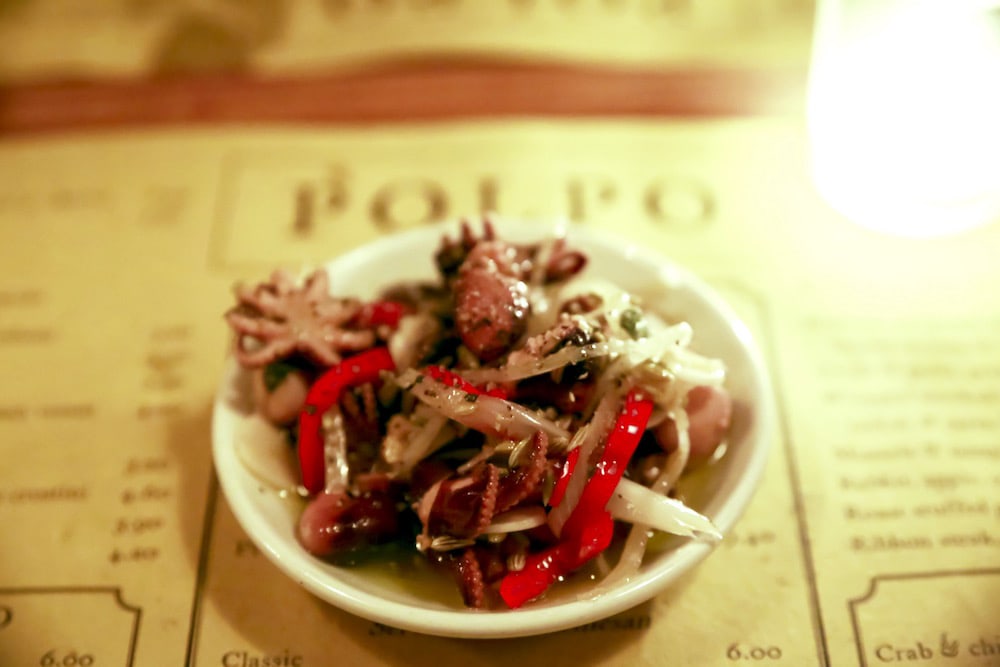 From here on dishes arrived in quick succession. The lamb and mint meatballs were super-meaty with a dense texture, and while the mint was barely there, perhaps it was just that the tangy tomato sauce overpowered it.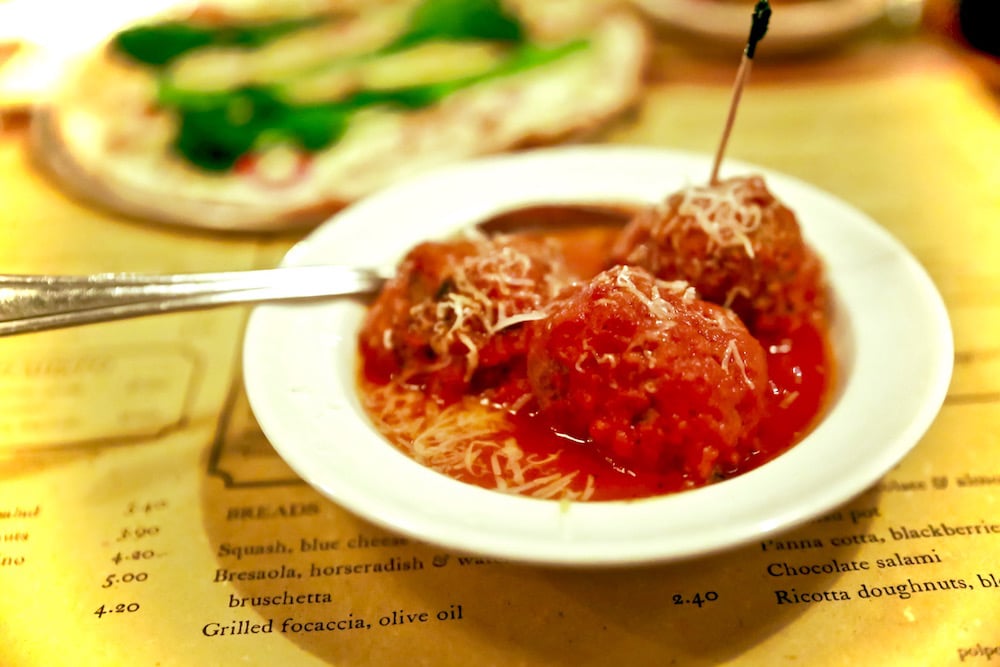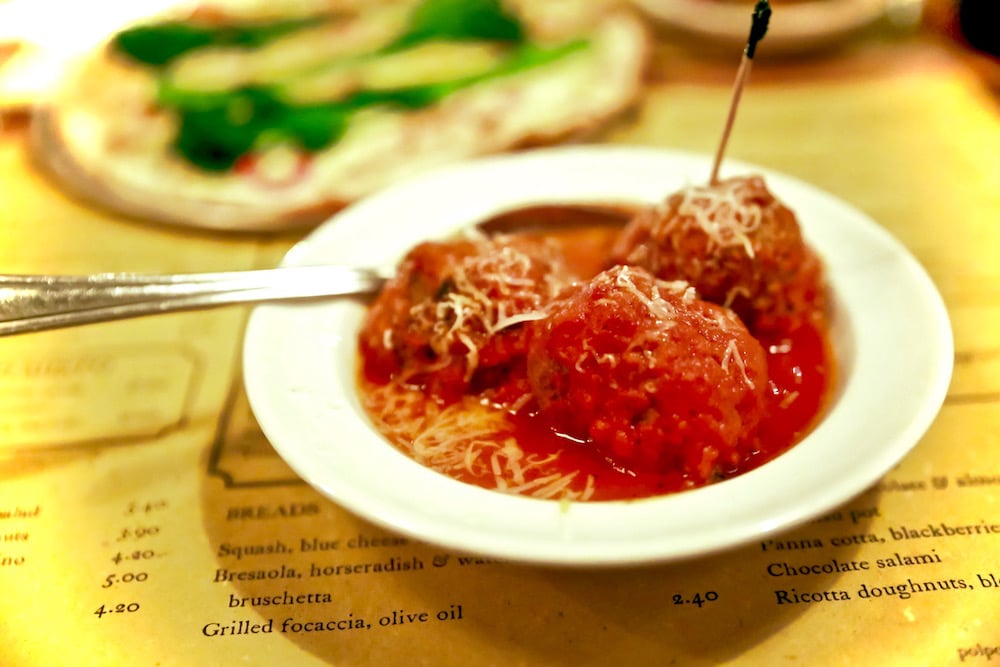 The tenderstem broccoli and chilli pizza was really fresh, with just-cooked iron rich broccoli and spicy red chilli dotted on top. There was no tomato sauce, but part of the beauty of Polpo is mixing dishes together, and we enjoyed dunking the base in the meatball sauce!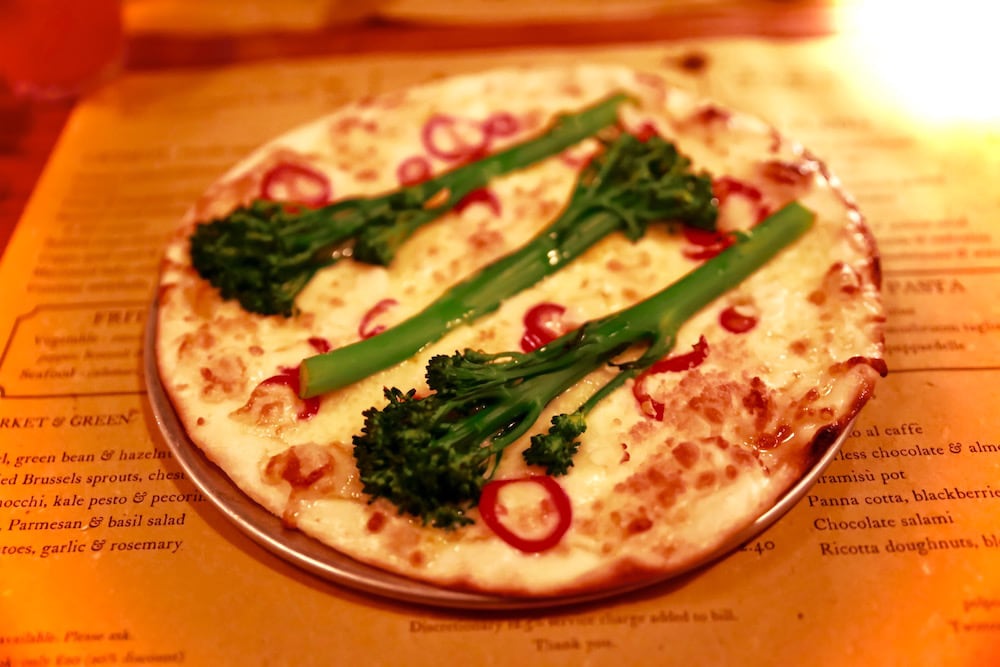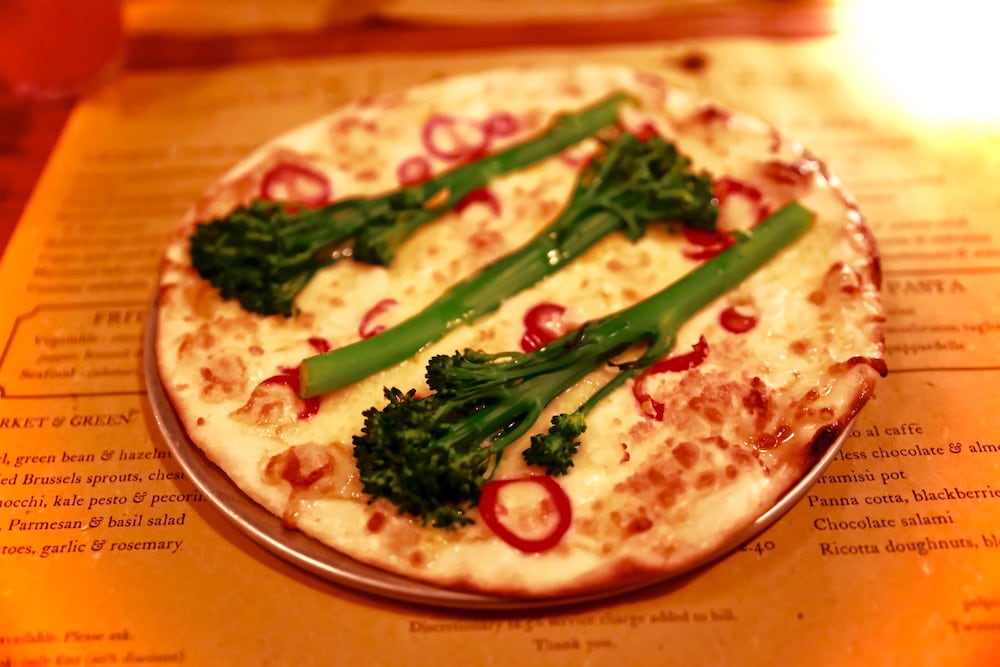 I'd had the zucchini, parmesan and basil salad before, and knew it would complement our menu well. The raw courgette and greenness of the salad really soaked up the oils and flavours from the other dishes.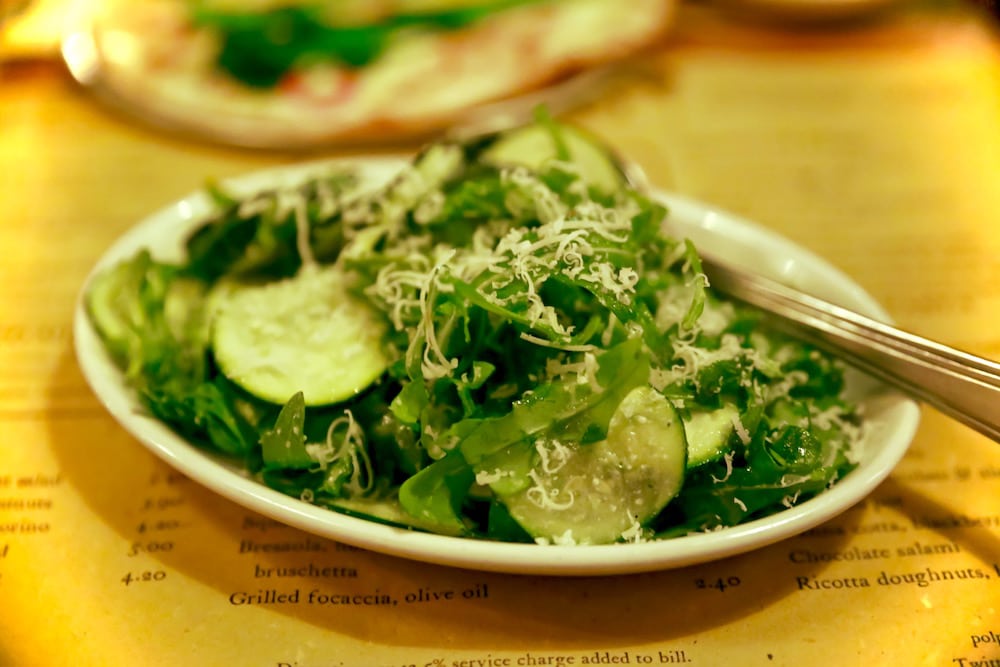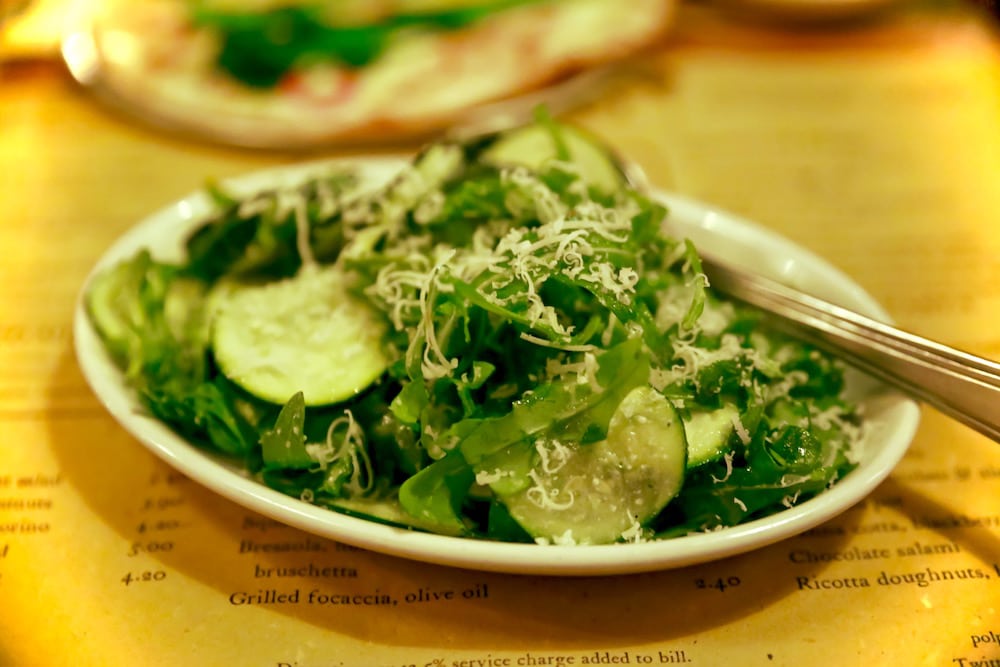 The roasted sea bream with grilled fennel, brown shrimp and capers was one of our favourites. The white fish was cooked to perfection and bathed in an acidic lemon-based sauce with the pickled flavour of the capers cutting through the buttery fennel. The brown shrimp added a kick of seaside flavour. It really was wonderful, and we polished off every last drop of the sauce!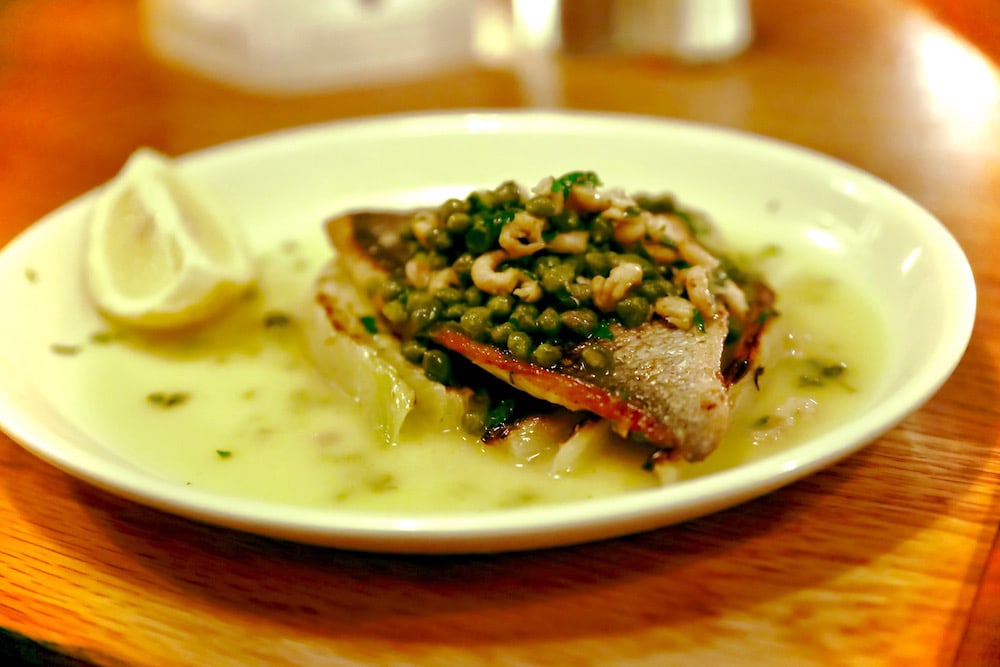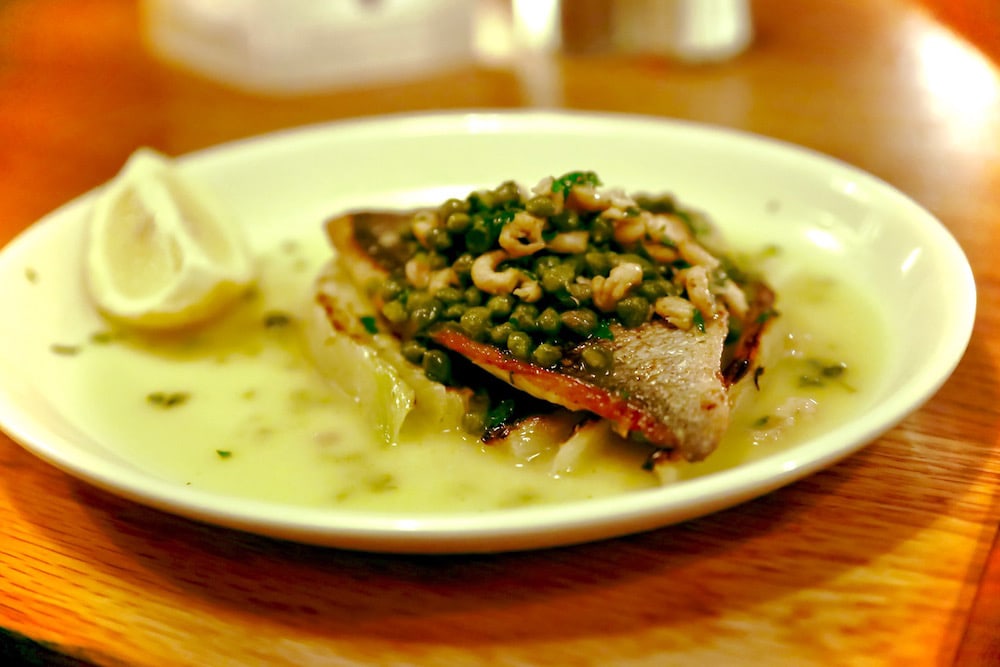 The generous portion of chilli and garlic prawns arrived last, served on a large bed of rocket. As I peeled them, salty, garlicky and spicy aromas filled the air. They were so moreish, if only I had more space!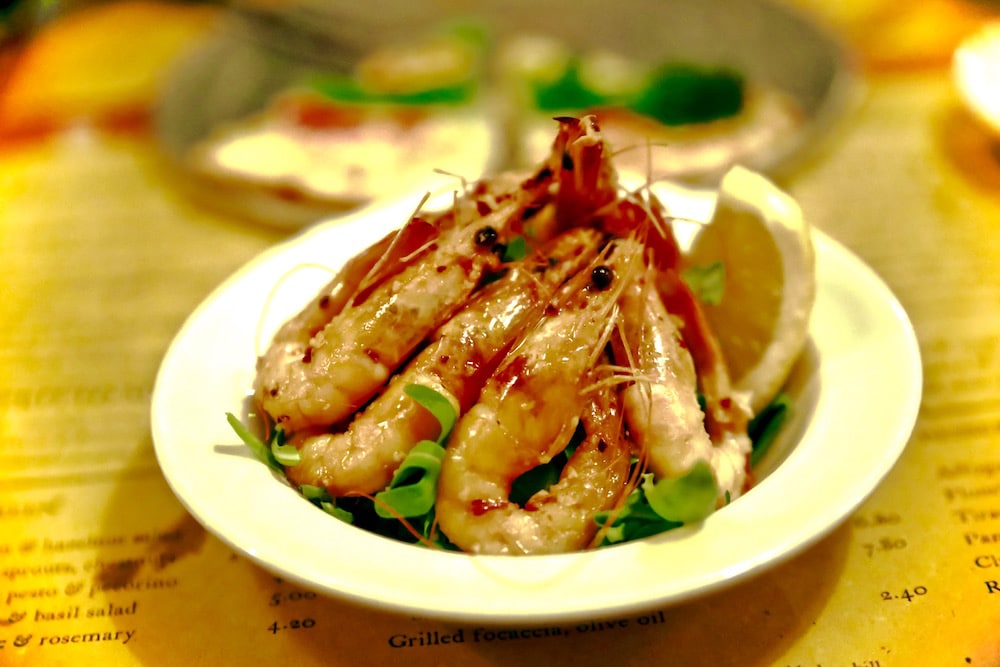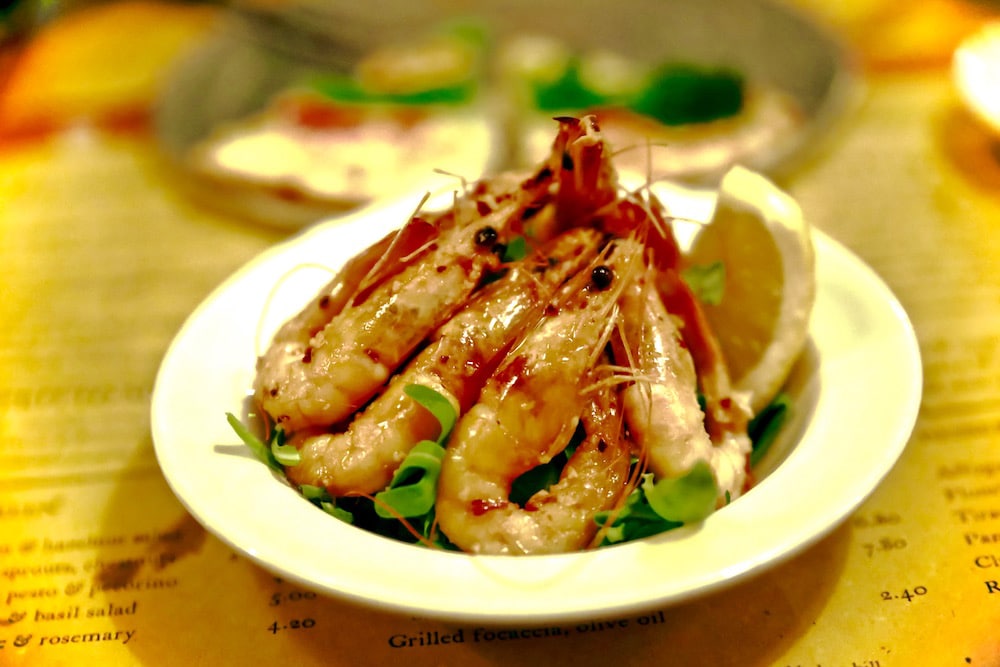 To accompany our meal we enjoyed a bottle of house red – Polpo Rosso Corvina 15 (only £19) which was branded with Polpo's famous octopus logo. The Venetian wine was easy to drink and worked well with the variety of flavours on our plates.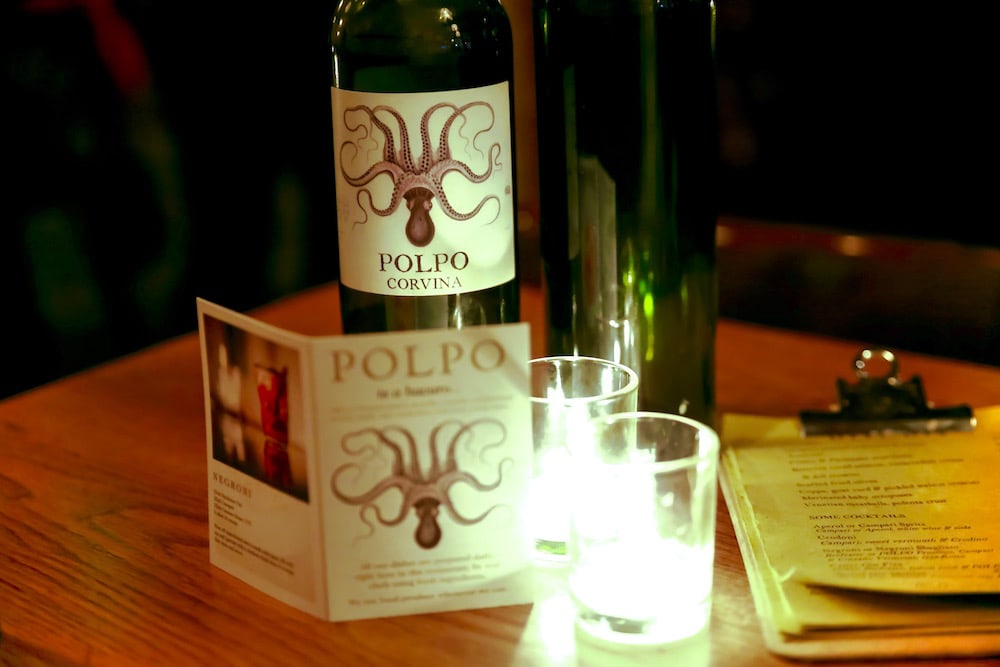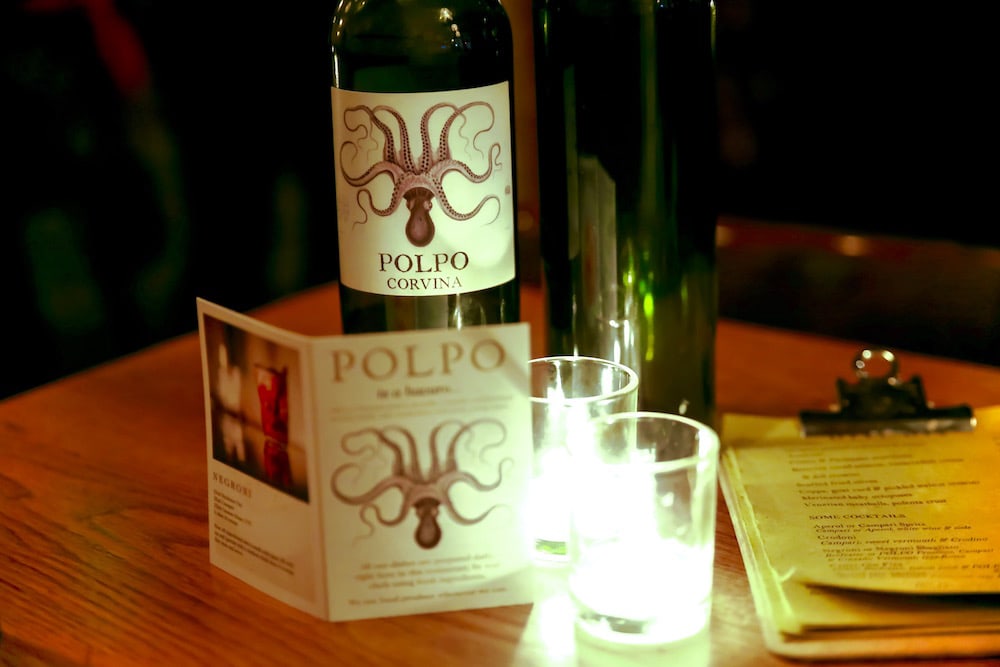 I really enjoyed the characterful waiting staff. From a number of different countries, they were friendly and helpful throughout our visit.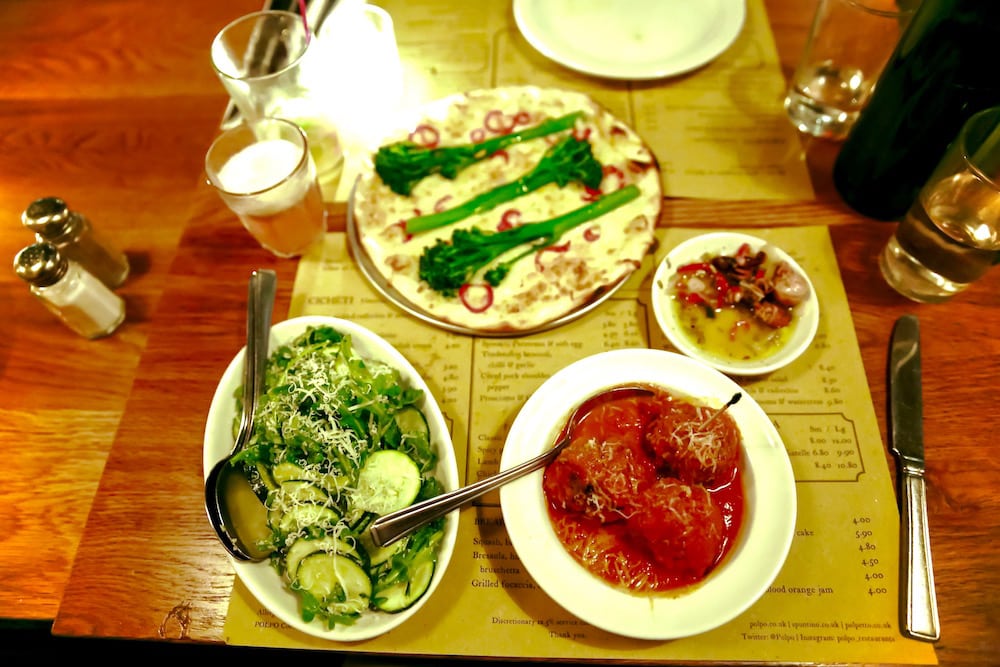 For dessert we shared a panna cotta with blackberries and ricotta doughnuts with blood orange jam. Served in a short glass, the panna cotta was deliciously creamy, topped with a layer of sweet blackberries. Meanwhile, the blood orange jam that accompanied the small sugar-dusted doughnuts was absolutely divine. It was sweet, spicy and tangy all at once – it reminded me of Christmas!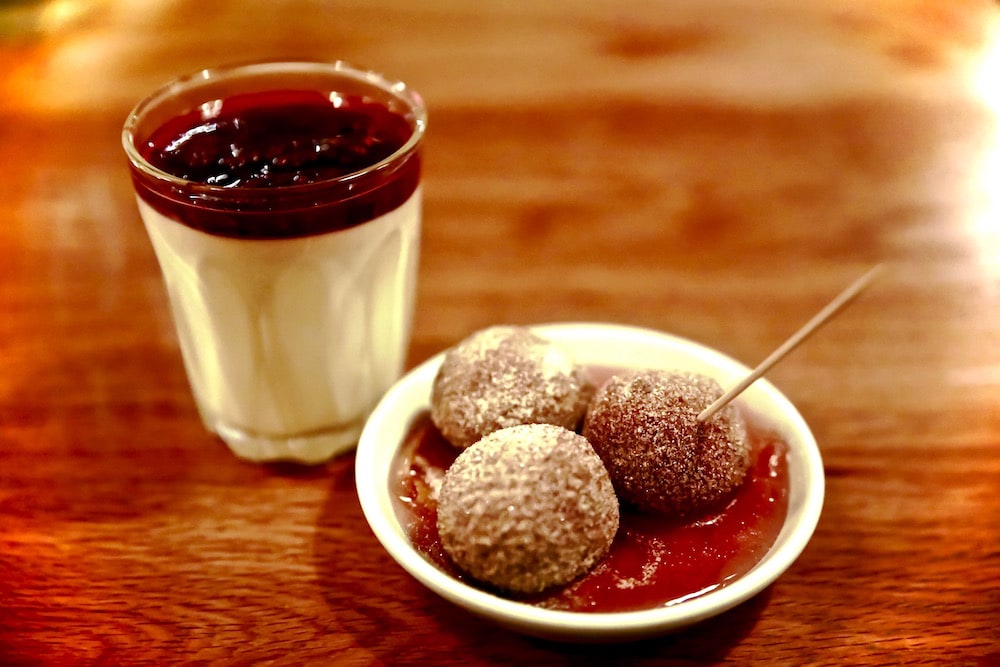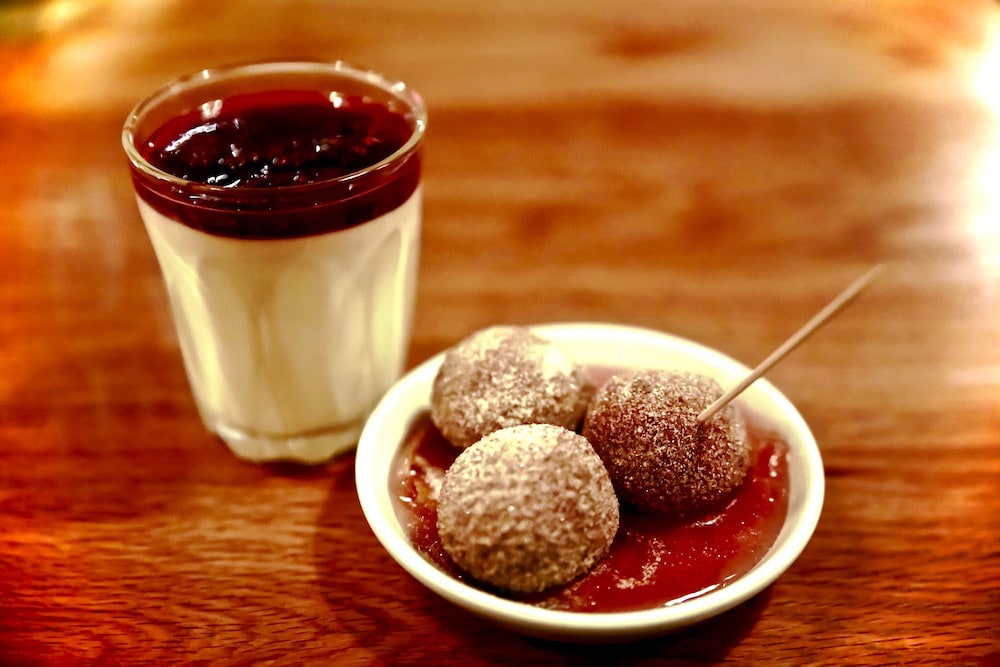 I've always gone down the sharing route at Polpo, as there's something so enjoyable about the medley of flavours and textures. However, the couple next to me ordered large dishes of pasta and that was it. It's a restaurant that works whether you're starving or just fancy a light bite… and perhaps that's part of its success? That, and the lovely atmosphere, relaxed décor and top quality of food. Not a bad combination really is it?!
I was invited to review Polpo London. As always opinions are my own.
Enjoyed this post? Pin it…