The best events, food, music and festive cheer in London in December 2016.
London's ice rinks have reappeared, the lights are on, shoppers are maniacally doing Santa's work for him and everyone's knocking back mulled wine like it's water. It might feel like all eyes are on the 25th now, but in the run up, there are still plenty of things to do in London this December.
Go Ice Skating
From the historic settings of the Tower of London, Hampton Court and the Natural History Museum to the magical illuminated rink at Canary Wharf, there are plenty of opportunities to get your skates on this month. For a really glam experience head to Somerset House and enjoy a Fortnum and Mason's afternoon tea after skating on the rink in the courtyard.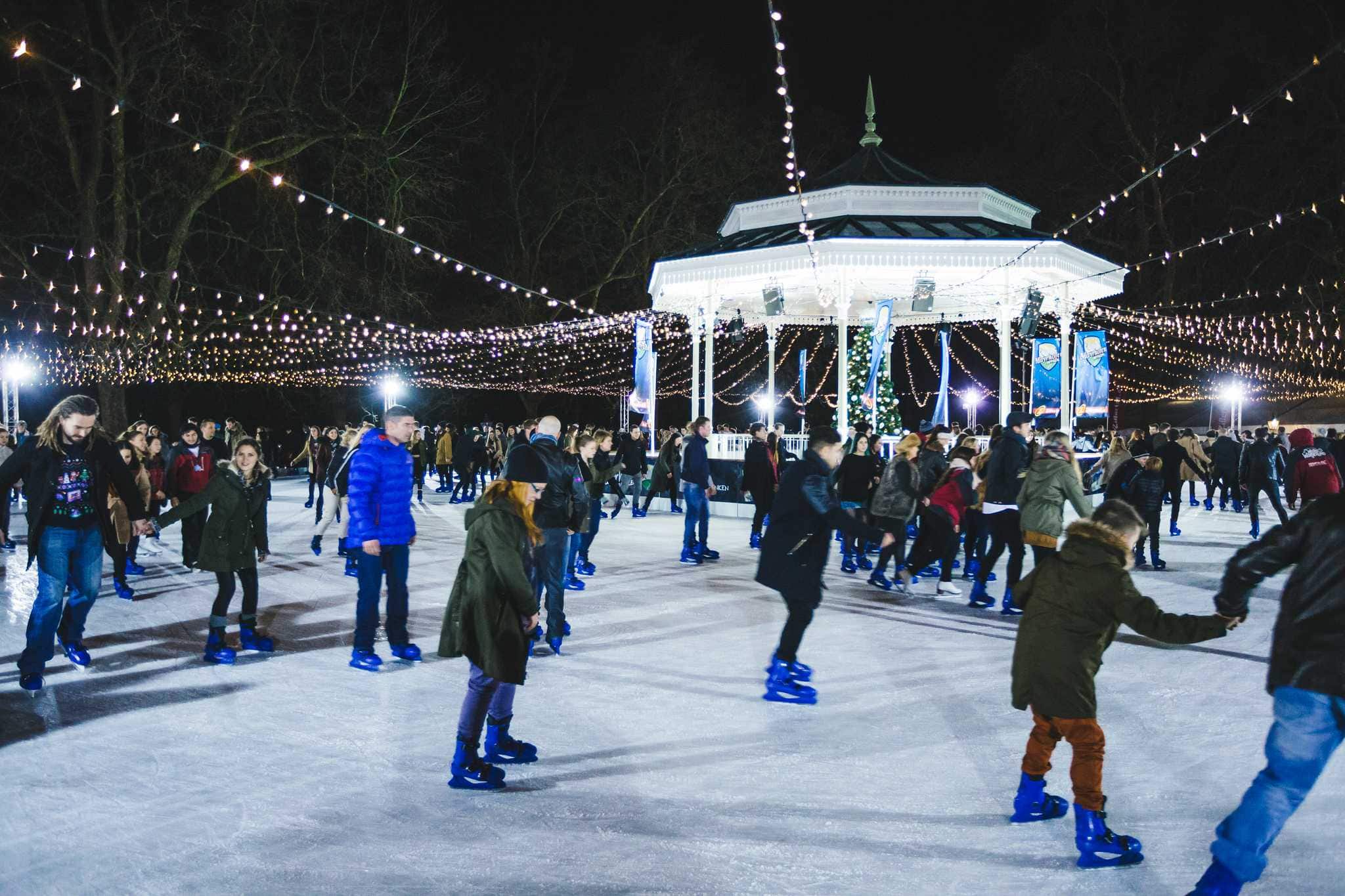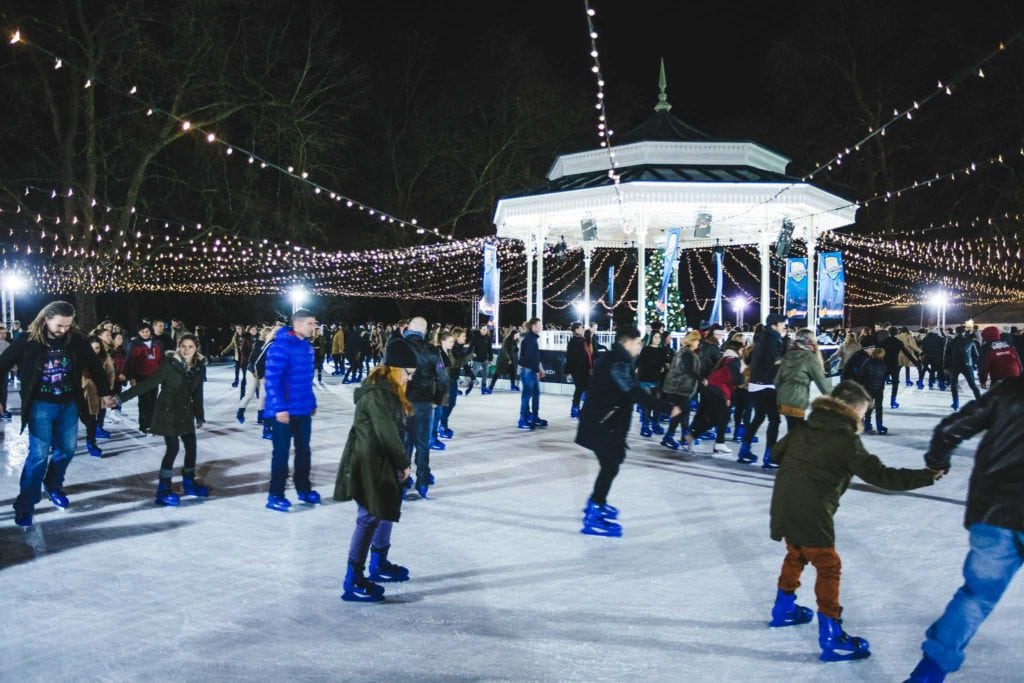 There's plenty of festive fun happening at the Southbank Centre this December including Christmas concerts, bobble hat workshops, mind-blowing circus show Bianco, Christmas markets and plenty more. Providing a little bit of warmth is the Scandi-style Rekorderlig Cider Lodge, which will be serving warm Swedish cider!
When: Check the website for info on Christmas events
Where: Southbank Centre, London
If you haven't checked out the Skip Garden in King's Cross yet, then this is the perfect opportunity! In this sustainable urban garden the produce is grown in skips and then used to create delicious dishes. At the Fire Feast there will be tasty dishes, mulled wine and spiced winter cocktails, all served around open fires.
When: 9th December
Where: King's Cross Skip Garden, near Granary Square
What could make you feel more festive than Miss Kylie Minogue belting out some festive favourites. She'll be donning her best sequins and entertaining crowds at the Royal Albert Hall a few weeks before the big day. Expect Australian sunshine and plenty of fake snow!
When: 9th – 10th Dec
Where: Royal Albert Hall
'Tis the season to eat ALL of the food! This winter, the Real Food Market will be offering festive gifts and goodies just outside King's Cross St Pancras. Seasonal treats on offer include cheese, Christmas puddings, cured meats and festive hampers.
When: 14th – 23rd December
Where: Kings Cross Square
Check Out London's Best Christmas Lights
Is it just me, or does London feel more illuminated than ever this year? I absolutely love the angels flying over Regent Street. Along with those, there are some lovely stars over Oxford Street, baubles in Covent Garden and Carnaby Street's got in the mood for LOVE with some quirky lit up signs!
The Making of Harry Potter, Warner Bros. Studio Tour London just got a whole heap more magical! With sparkling Christmas trees and a dusting of snow over the castle, there will also be chances to enjoy a festive feast in the Great Hall. After a few Butterbeers, who knows what'll happen?
When: Check the website for info on Christmas events
Where: Warner Bros. Studio Tour London – The Making of Harry Potter, near Watford
Winter Wonderland
I don't know if it's the same for you, but I can't make it through the Christmas season without a trip to Winter Wonderland. It's tradition! Whether it's an afternoon session with my nieces and nephews enjoying the rides and games, or a grown-up evening of mulled wine and live music, there's plenty to keep everyone entertained!
When: 18th November – 2nd January
Where: Hyde Park (nearest tube Hyde Park Corner)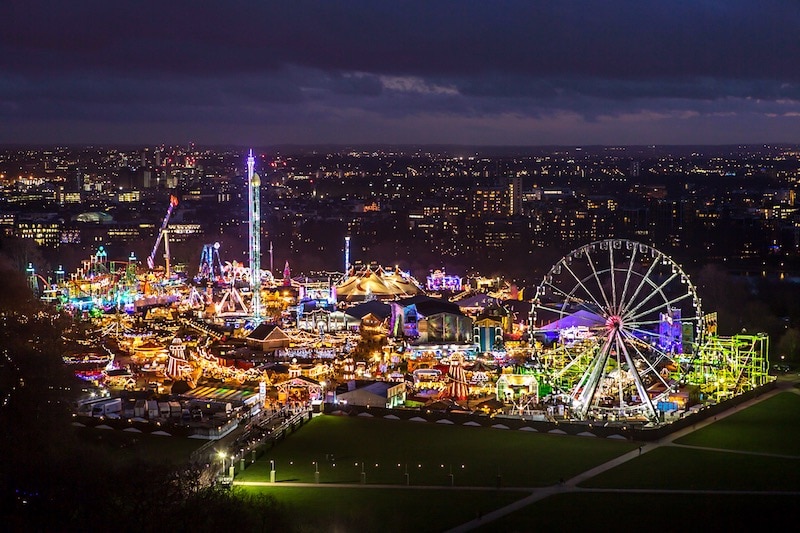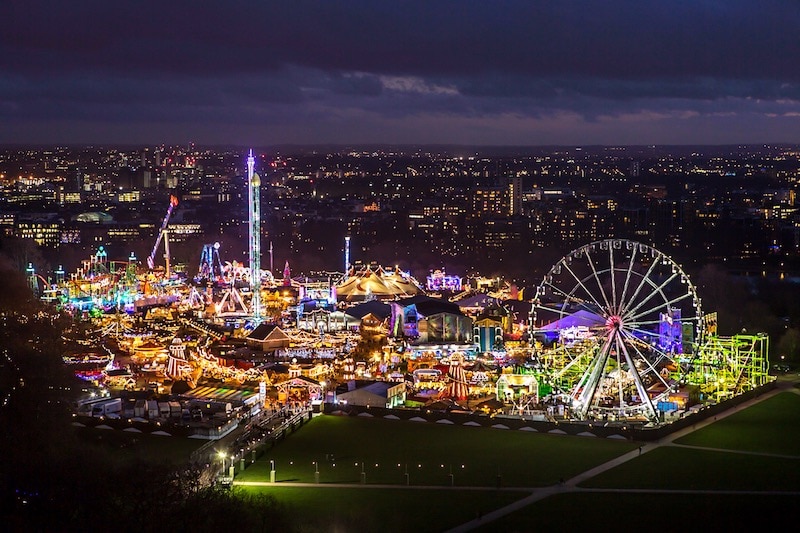 Have you heard about the amazing light installations at Kew Gardens? Well now the same team is back in action with a special exhibition of light installations and lanterns to transform the gardens at Dulwich Picturehouse into a Christmassy illuminated garden!
When: 6th – 18th December
Where: Dulwich Picture Gallery, Dulwich Village

The Peter Pan Cup in Hyde Park

The bravest souls in London will be spending Christmas morning diving into the icy waters of The Serpentine. The 100 yard race has been happening since 1864 but it's name came from Peter Pan author J.M. Barrie who donated the first Peter Pan Cup.
When: 25th December
Where: Serpentine, Hyde Park
For more great things to do in London this month, check out visitlondon.com and keep an eye on my Twitter and Instagram to see how many I tick off this month!
Enjoyed this post? Why not pin it…