Whether you're visiting for a holiday, or London is your home, get planning your month with my top 10 things to do in London in June 2016.
Summer is just around the corner, and I couldn't be happier!
May was a top month in the capital, with the opening of the London Wonderground, the floral scents of Chelsea Flower Show and tonnes of top music acts from around the globe. But now it's time to get ready for another busy month in the city… 
One of the capital's most popular food festivals is back, with over 30 food stalls representing some of the top restaurants in the city. Launched by foodie powerhouses Thomasina Miers from Wahaca, and Laura Harper-Hinton from Caravan, restaurants taking part this year include Tom's Kitchen, Ottolenghi, The Ledbury, Granger & Co, Polpo and The River Café. It's not just about food… head down for the afternoon to enjoy live music, wine tastings, talks and more.

When: Saturday 11th June, from 12pm – 6pm. Find out more here.
Where: ARK Franklin Primary, NW6. £8 entry.
2. Sunset Safari at London Zoo
As the sun goes down, London Zoo comes to life with live music, food stalls, comedy and plenty more… all with the backdrop of some of the city's wildest residents. The zoo will be decorated with fairy lights and animal lanterns, and dressing up is positively encouraged!

When: There are 8 events across June and July. Find out more here.
Where: London Zoo
3. Top Music Festivals In June
After a few festivals in May, this month things really start to ramp up in the capital!
Head to Hampton Court Palace Festival to catch live acts in a spectacular setting, including Tom Jones, Art Garfunkel, Anastacia, Van Morrison and Jools Holland.
On 11th June, top DJs will be heading to Brockwell Park for Found Festival. One of my favourite daytime party experiences, it's somewhere it's totally acceptable to dance from 11 in the morning until late.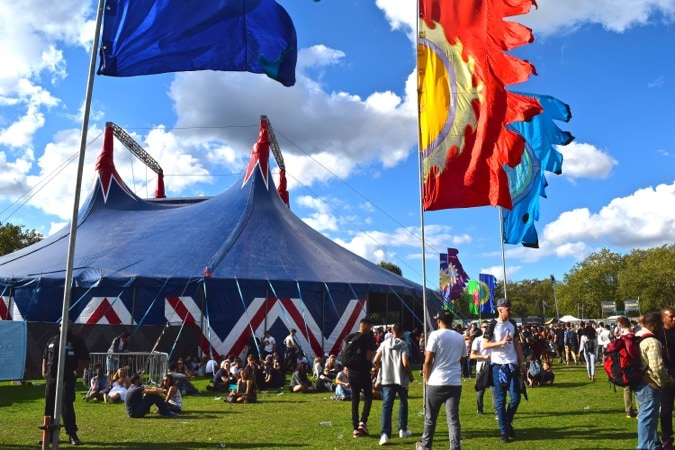 The same weekend, Field Day heads back to Victoria Park for another year of alternative music. Headliners this year include PJ Harvey and James Blake.
Then, the last weekend of June (24th – 26th), disco king Nile Rodgers brings Fold Festival to Fulham Palace. Top acts performing across the weekend include Chic (obviously) along with Beck, Alison Moyet, Labrinth and John Newman.
When: Various locations
Where: Various dates
4. Take A Dip At Kings Cross
As the weather starts to hear up, grab a towel and head to the UK's first ever man-made fresh water public bathing pond. King's Cross Pond is more than just a swimming pool, it's also considered an art installation. It's a beautiful spot when the sun is out, and surprisingly private considering its Central London location.

When: Open everyday. £5 per person.
Where: King's Cross. Find out more here.
5. Wimbledon
At the end of June, the eyes (and hopes) of the country will be on Andy Murray as he attempts to make it to the finals of Wimbledon. I've joined the crowds of early morning queuers a few times now, and absolutely loved the experience! Not only was it a great way to see some of the top tennis players in the world, it was an even sweeter experience with a pint of Pimms and some strawberries and cream! Well, you can't get more English than that…
When: From Monday 27 June 2016 to Sunday 10 July 2016
Where: The All England Lawn Tennis Club, Wimbledon
6. Pride in London 2016

Until I wrote this blog, I didn't realise London Pride runs for over two weeks. There are tonnes of events, performances, film screenings and special nights at bars and clubs throughout the month of June. The big celebration however, is the annual Pride in London Parade, which heads right through the centre of the city (from Baker Street to Whitehall). Around 15,000 people are expected to attend and watch hundreds of dancers, singers and entertainers.
When: The Parade takes place on Saturday 25th June, but there are plenty of events throughout June. Find out more here.
Where: Across London
7. Opening of The Switch House at the Tate Modern
This month, my favourite gallery in London gets a whole lot bigger! Ten storeys high, the Tate Modern's extension (known as The Switch House) features a viewing level on the top floor, along with a restaurant and plenty of new gallery spaces. Alongside iconic works by Picasso and Rothko, plenty of new acquisitions will be shown for the first time, including an installation of human hair and car bumpers by Sheela Gowda, and a room full of giant burlap sacks by Magdalena Abakanowicz!

When: Friday 17th June
Where: Tate Modern, Bankside
It's not everyday you see hundreds of cyclists in the buff on London's roads… but I'll never forget the time I ended up walking through the middle of it! While full nudity is optional, many enjoy having a pitstop at one of the body painting stations along the route.

When: Saturday 11th June, from 2pm
Where: The main event starts at Hyde Park, but there are several other stat points across the capital. Find out more here.    
9. Open Garden Squares Weekend  
London is packed with secret gardens, and once a year, over 200 of them fling open their gates and allow us to have a nose around. This year, it's not just about traditional gardens, there are also allotments, roof terraces as well as quirky activities and tours. The highlight for me is taking place at MaRoCoCo Gardens at Rococo Chocolates in Knightsbridg,  where staff will be running chocolate demonstrations across the weekend!
When: Saturday 18th – Sunday 19th June
Where: Across London. Tickets £12. Find out more here.    
10. West End Live
Jazz hands at the ready! Some of the top talent from the West End will be taking over Trafalgar Square for a weekend of show tunes, dancing and more. Even better – it's free!
Oh what a day with @JerseyBoysUK at #WestEndLIVE pic.twitter.com/dkfldta8aS

— West End LIVE (@WestEndLIVE) 21 June 2015
When: Saturday 18th – Sunday 19th June
Where: Trafalgar Square
For more great things to do in London, check out visitlondon.com and keep an eye on my Twitter and Instagram to see how many I tick off this month!
Enjoy this post? Why not pin it…