Beautiful landscapes, delicious food and romantic resorts. Say hello to the best hotels in St Kitts
While there are plenty of options to suit the biggest of bank accounts, St Kitts can also fit the budget-conscious of you out there.
One of the best things – even if you can't afford to stay at one of the top hotels, you can always visit one of the restaurants as a treat! A girl's got to eat, right?
Get a flavour of St Kitts in my video and scroll down to find out some of the top hotels in St Kitts.
Ok, I'm starting with the most expensive… just because I couldn't keep it to myself any longer. The magical Belle Mont Farm is located in Kittitian Hill – a 400 acre estate of organic tropical farmland which is home to hotels, villas and one of the world's top edible golf courses. Yes, you can eat as you swing.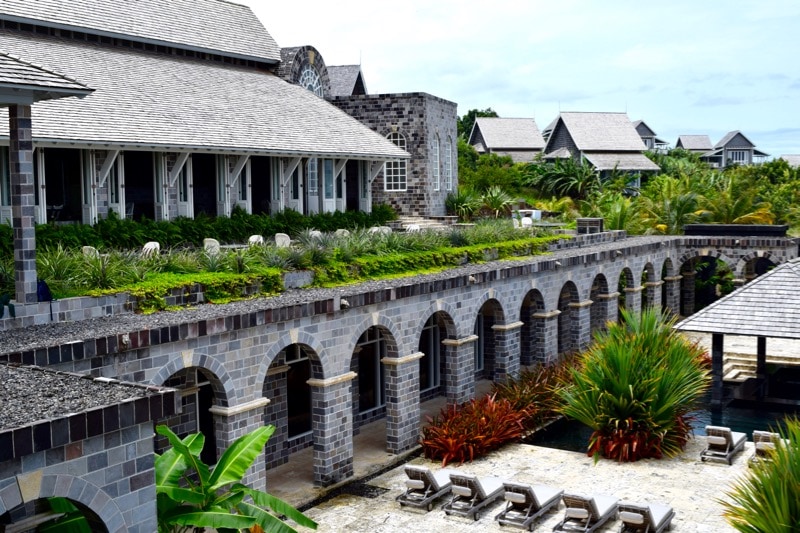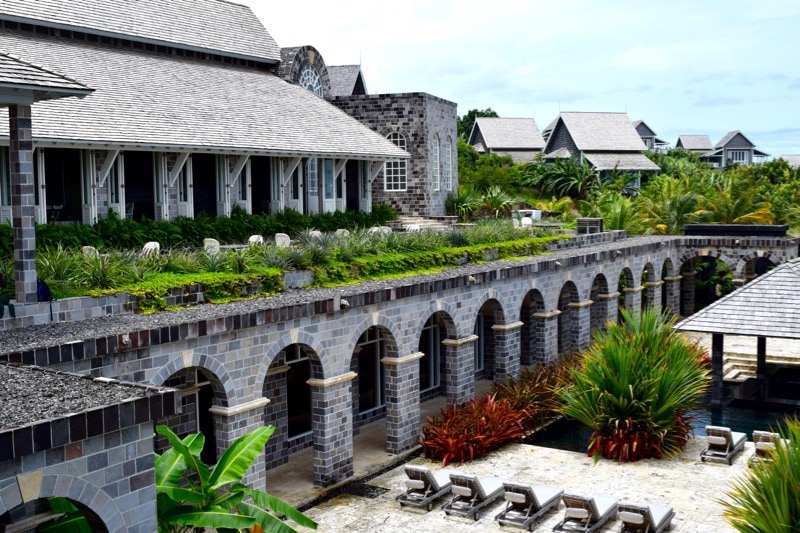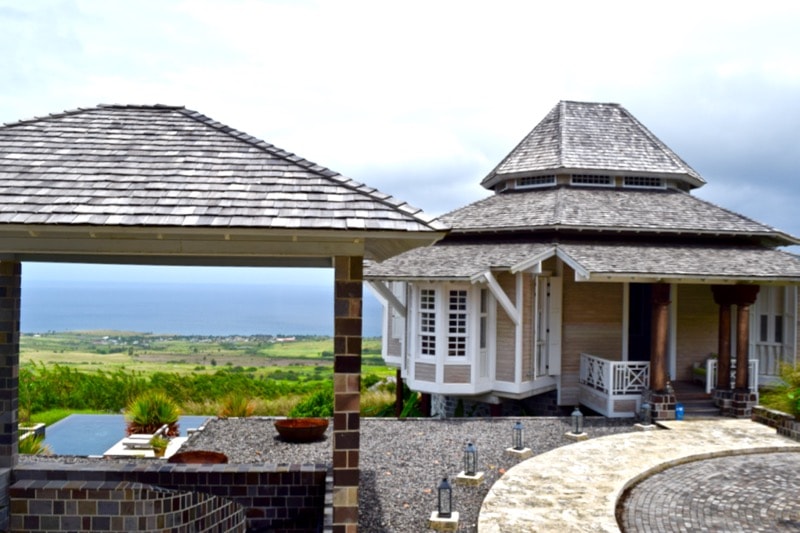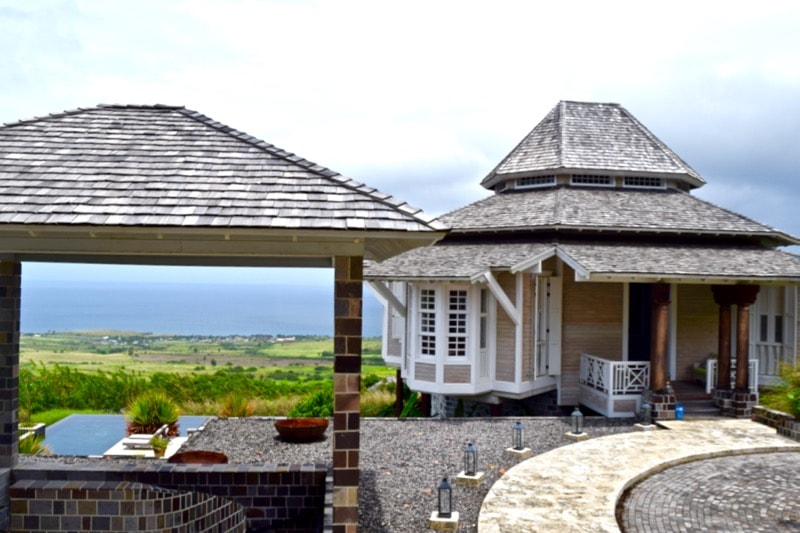 Belle Mont Farm is the ultra luxurious option on the island. To reach the beautiful grey stone Great House you are chauffeur driven by golf buggy through the rainforest, and up to the highest point. Located there are several beautiful buildings including an old chimney which houses the bar, a huge restaurant with terrace, and several cascading swimming pools. On one side, the towering peak of Mount Liamuiga, and on the other panoramic views of the island right down to the water and neighbouring islands. (Apologies for the rather grey pics – sadly the sun didn't come out until later on that day!)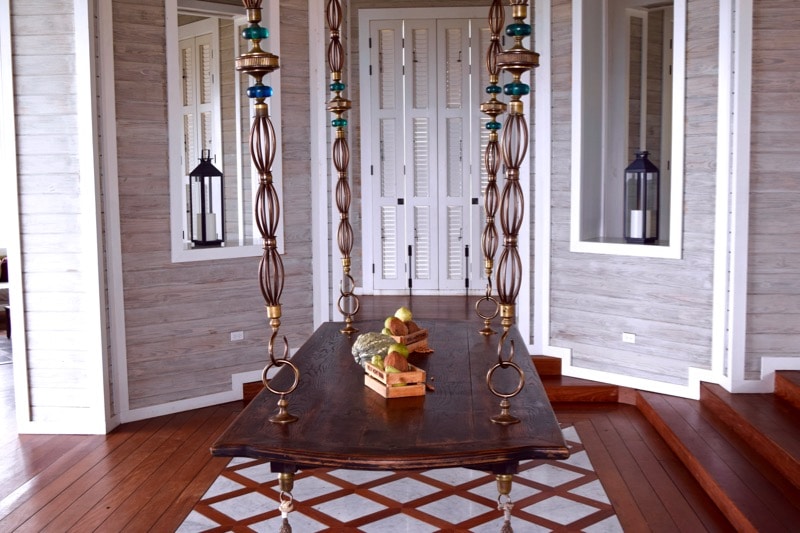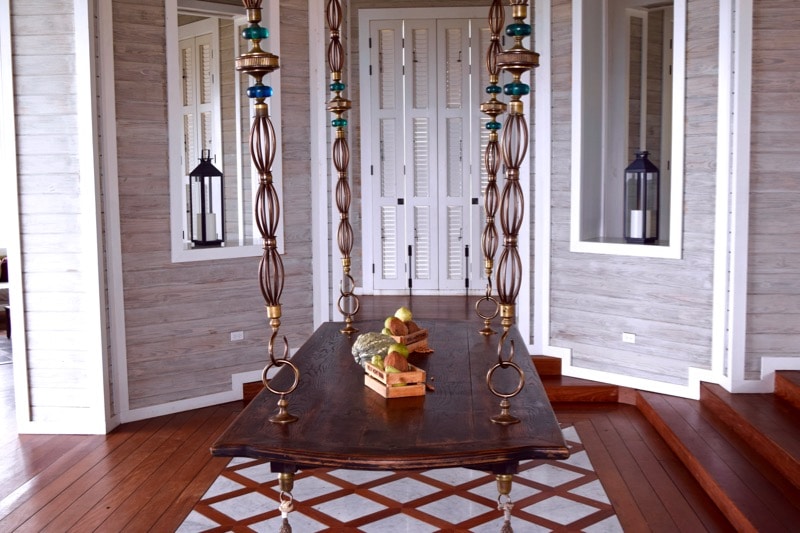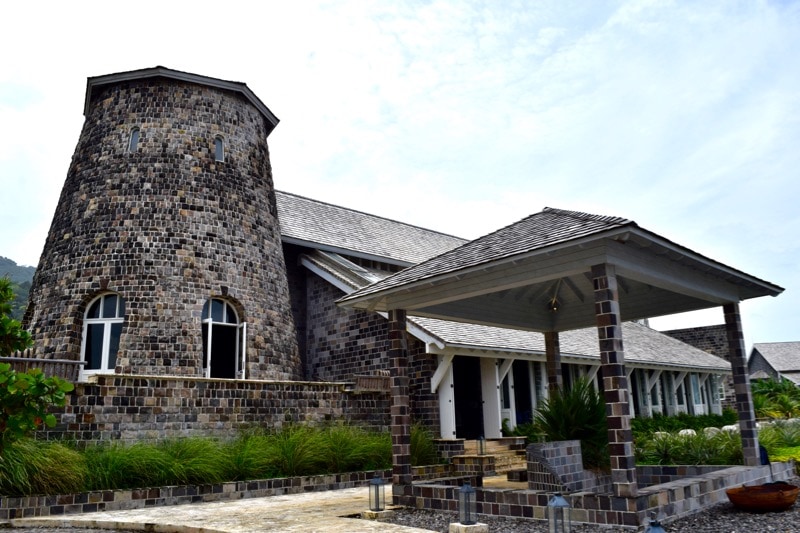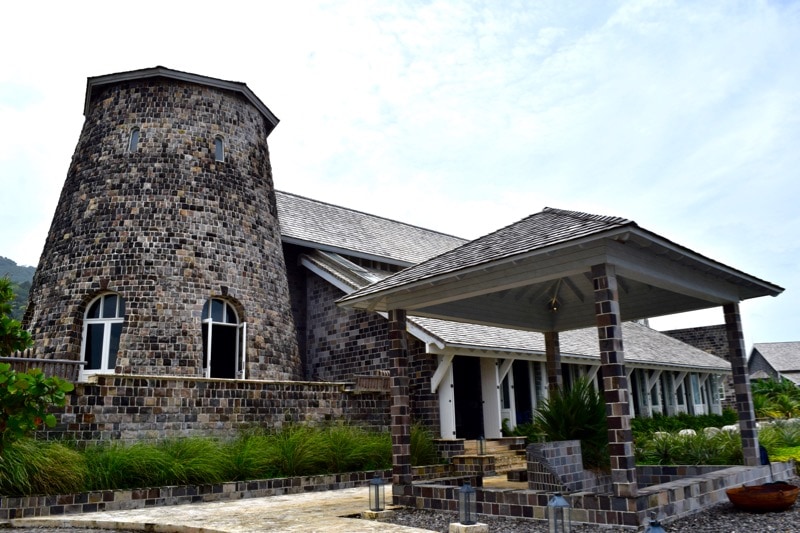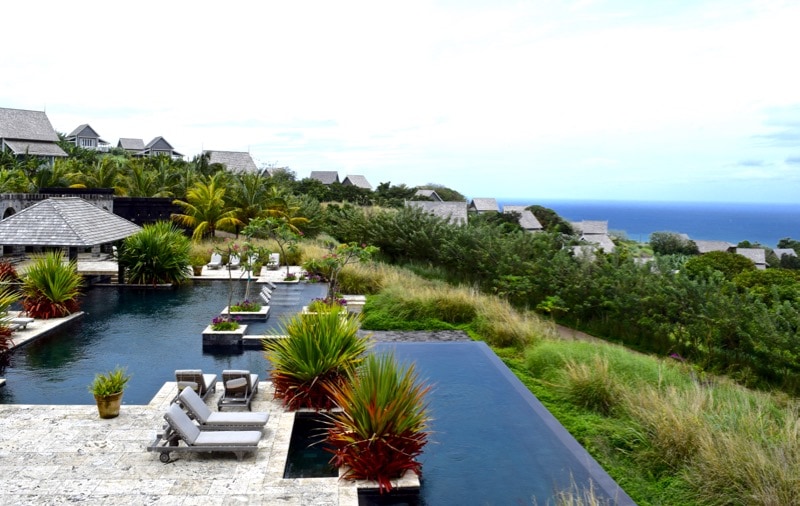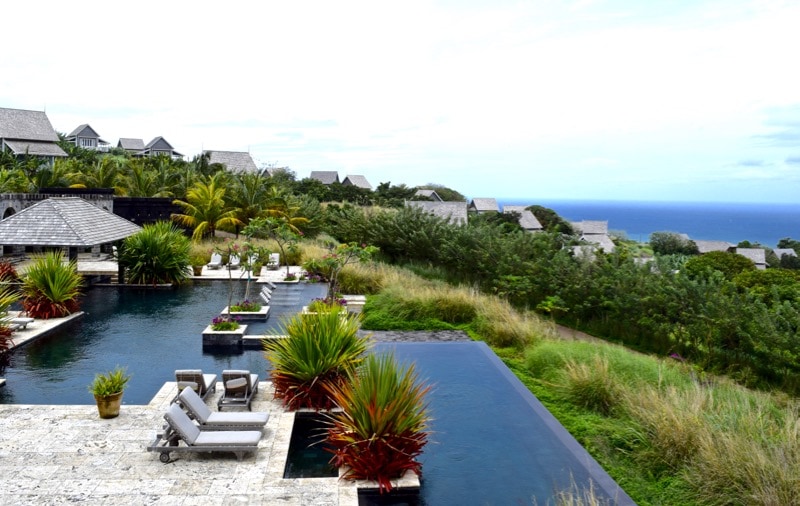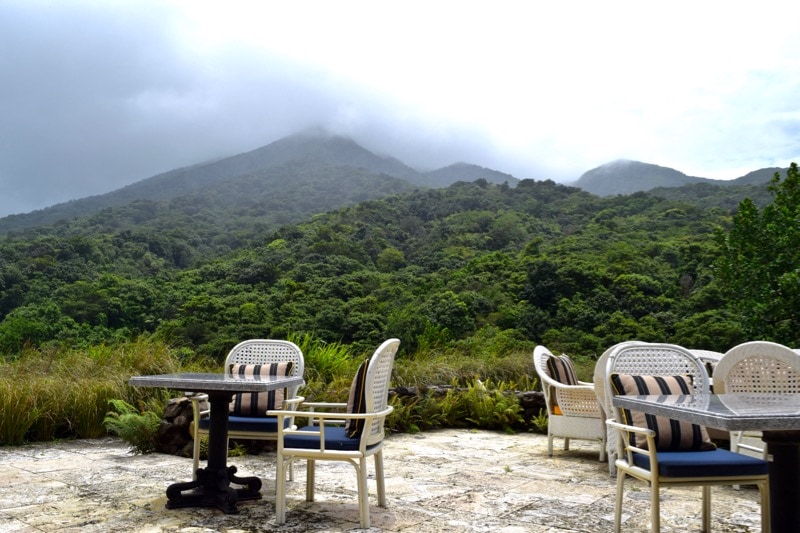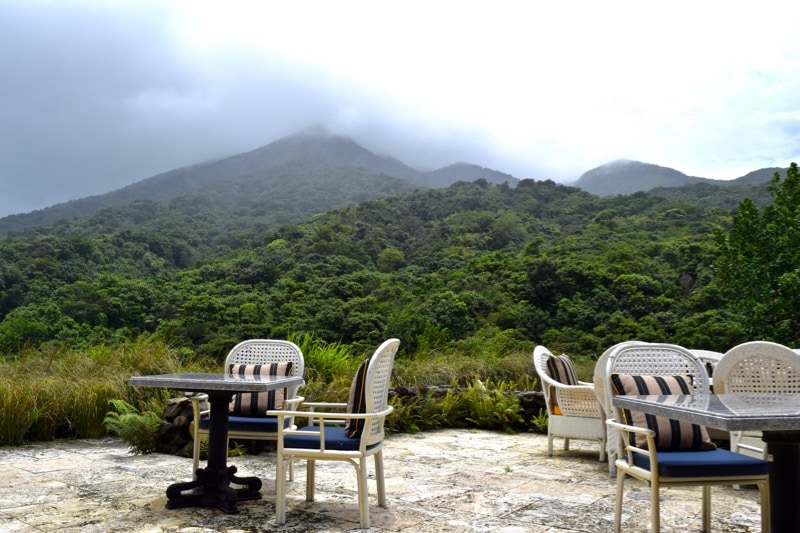 I loved the mix of old and new in the décor, with vintage record players in the restaurant area and the latest mod-cons in every room. As I wandered the grounds I saw lush gardens, tropical palms and even pineapples growing.
Below The Great House were several luxurious villas, many with their own private infinity pools. With a top spa, gym, tennis courts and great restaurant on site, you'll never want to leave.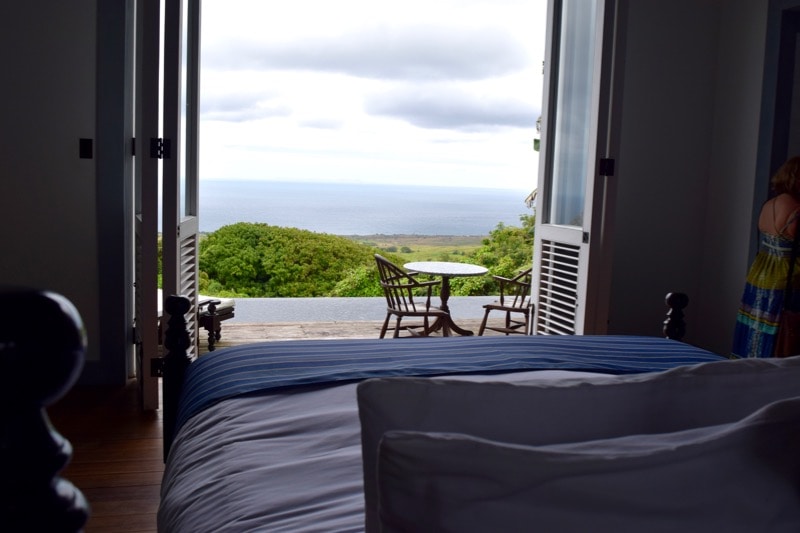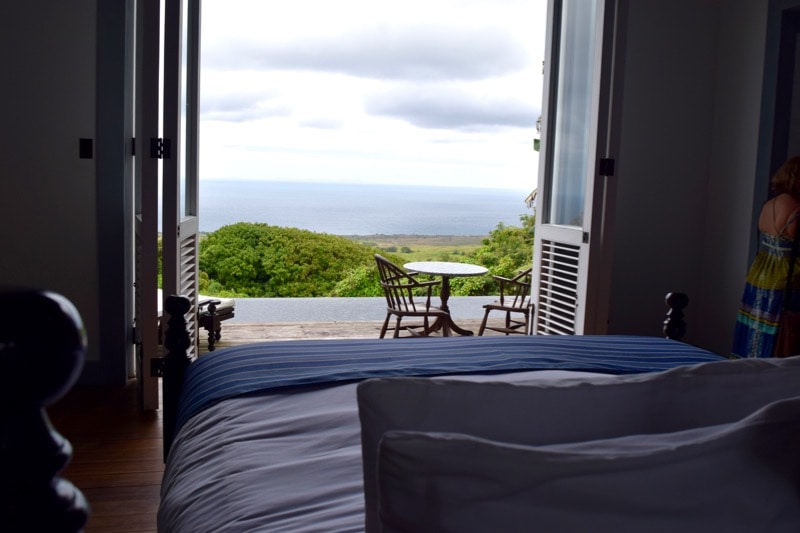 King Guesthouses from $450 or 4 bed villas from $3000 a night (prices vary by season). Find out more here.
When you think of the Caribbean, you think of beaches, right? Well Timothy Beach Resort sits right on the edge of one of the island's sandy beaches, right next to The Strip – the bars that come to life as the sun sets.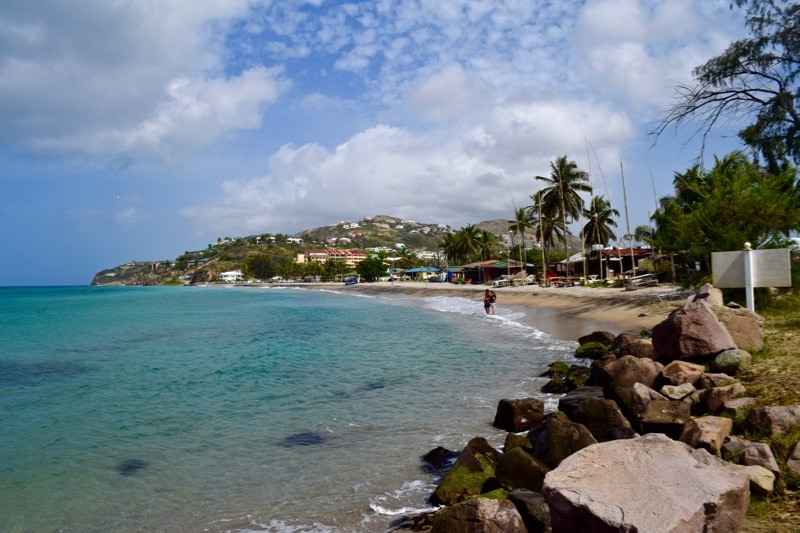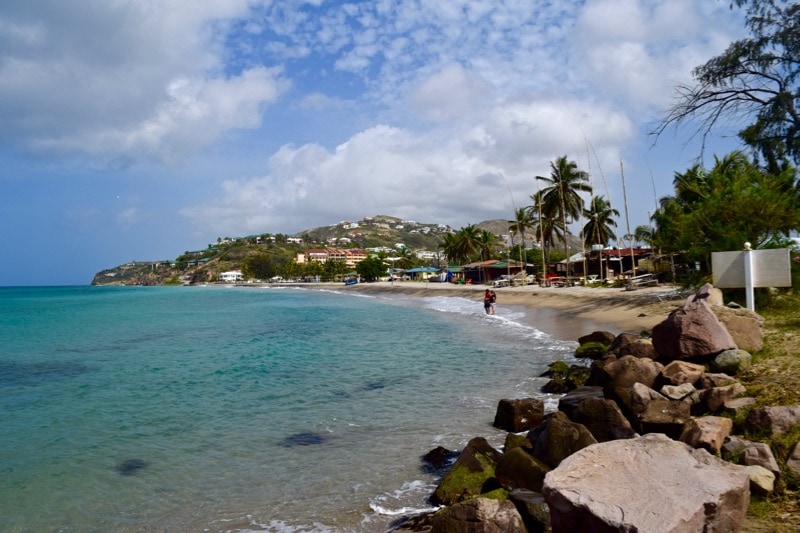 This resort is a wonderful option for those on a budget, but don't assume that means it's a low-quality hotel. With a full kitchen, lounge and balcony looking out towards the sea, and an enormous bed, I found my room in this hotel really comfortable.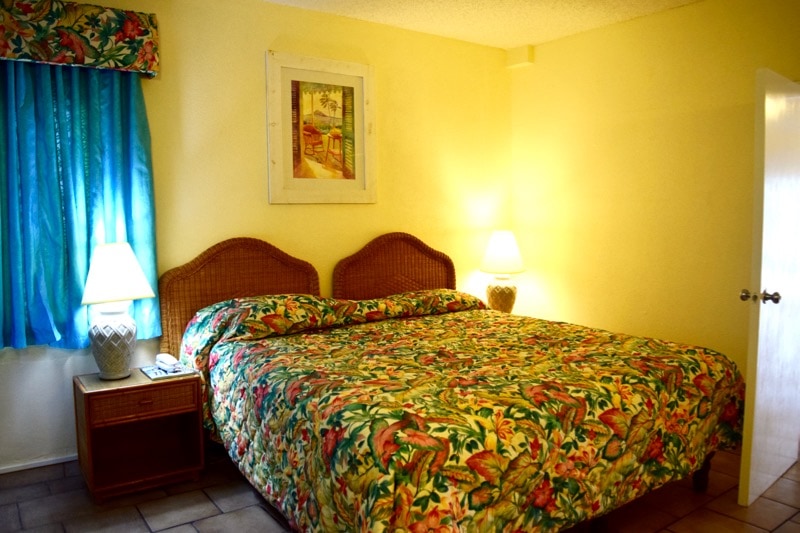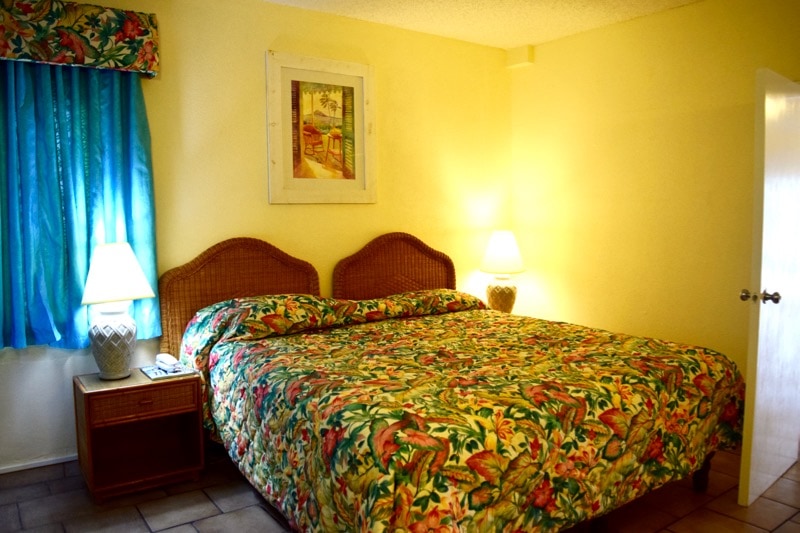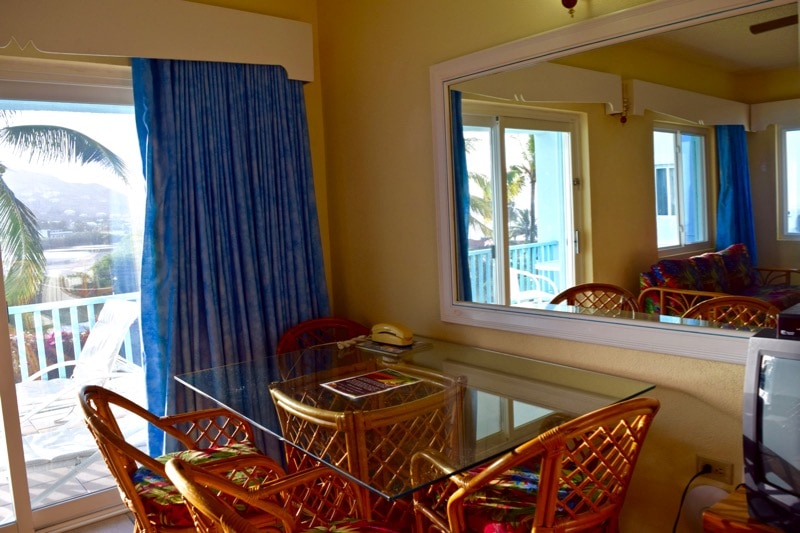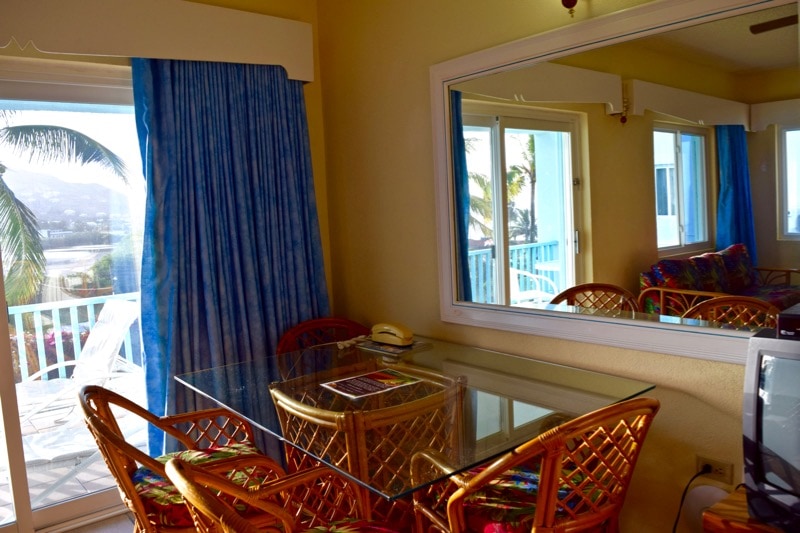 There's a large swimming pool moments from the ocean, along with a beach bar which features live music on Sundays and a restaurant that focuses on the flavours of the West Indies.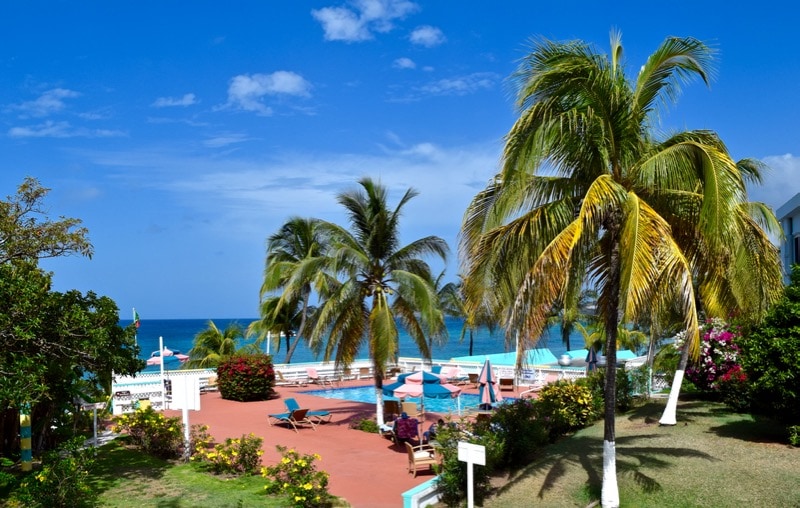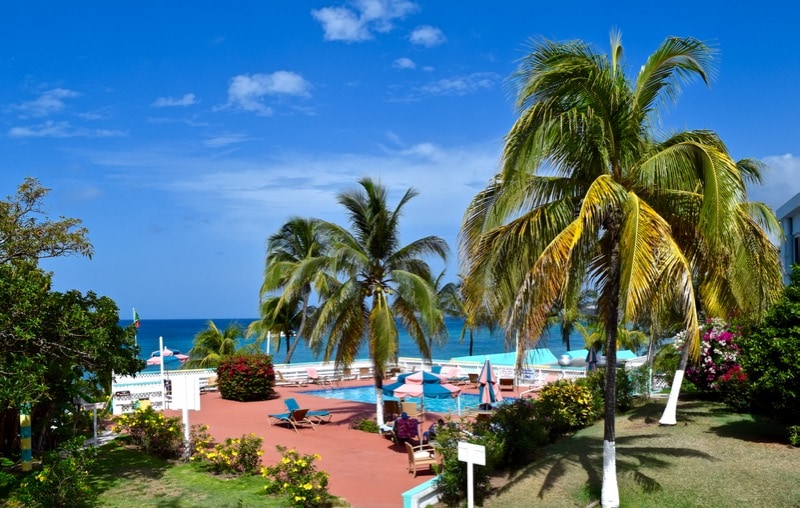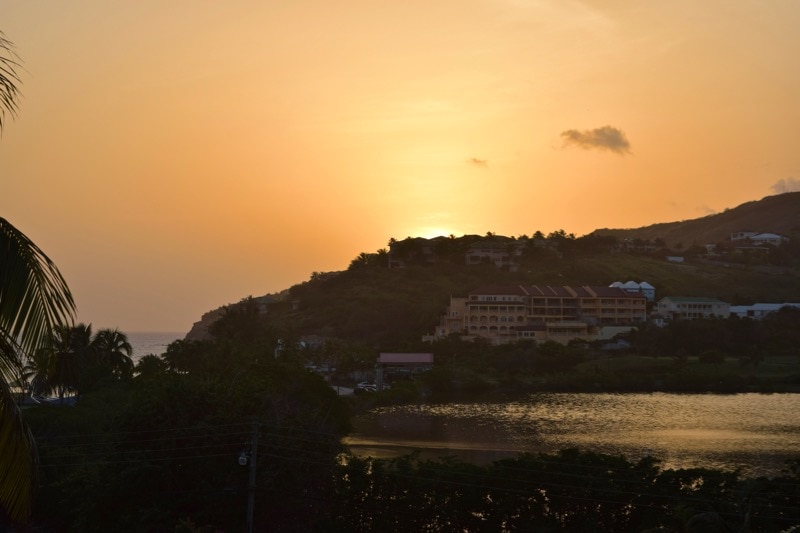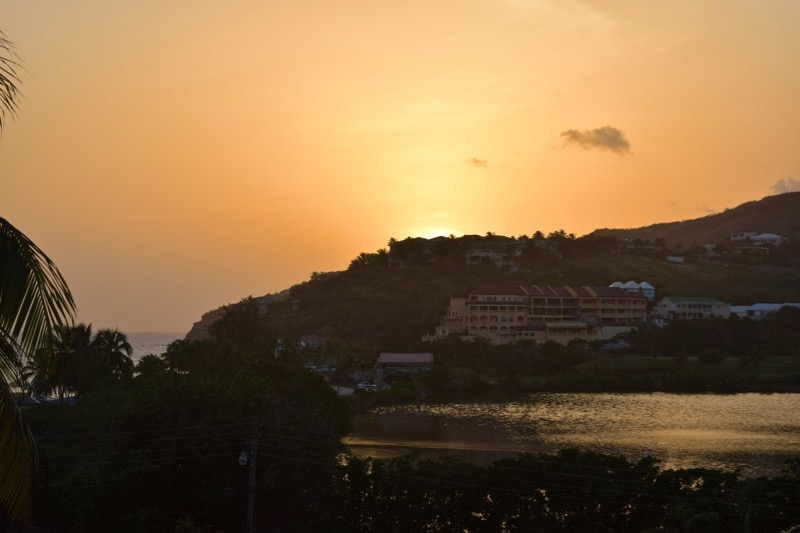 Another of my favourite things about this resort was the wildlife. From cockerels clucking, to tropical birds, mongoose and of course monkeys – it felt worlds away from home. There's so much to get out and see on the island, and this hotel makes the perfect base.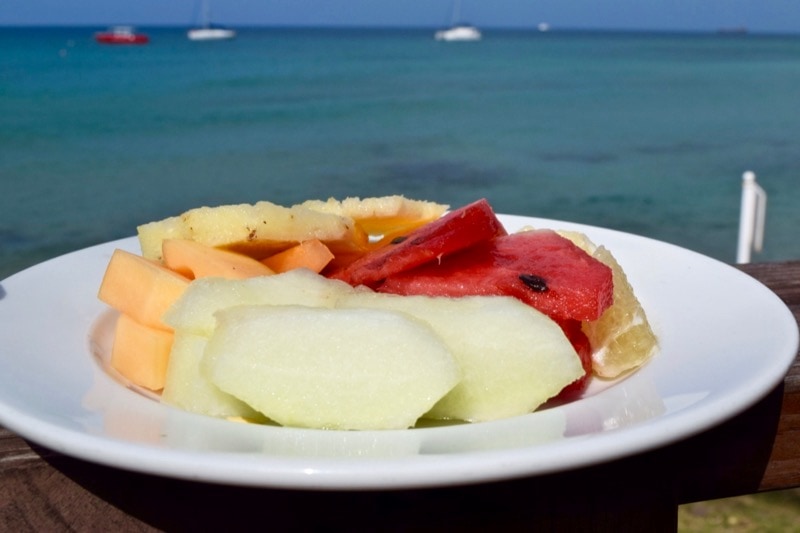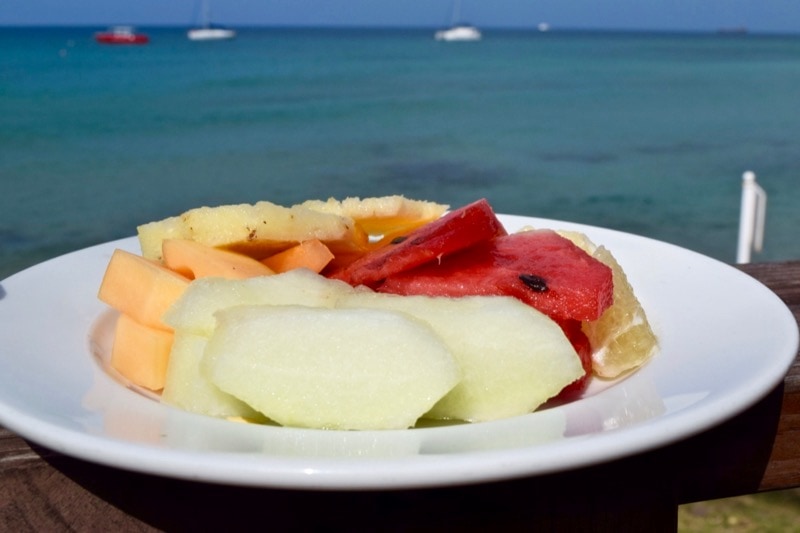 Mountain view rooms start from $130 per night (prices vary by season). Find out more here.
A former sugar plantation, Ottley's Plantation Inn is packed with history, and is the perfect place to stay if you're looking for a private, luxurious retreat, with great food and panoramic views.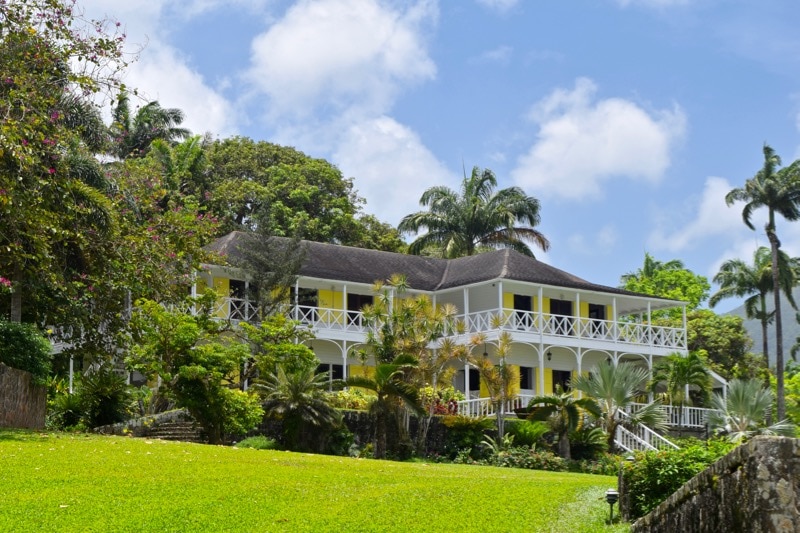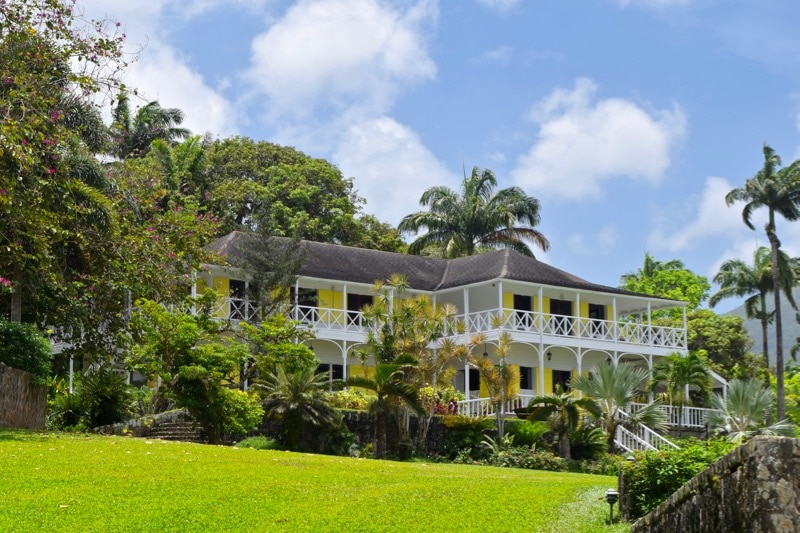 The 35-acre estate is perched on a hillside and features beautiful gardens, a swimming pool, restaurant, spa and its very own patch of rainforest. Kitted out in an English colonial style, bedrooms and suites are split between The Great House and several cute stone cottages. Some even have their own plunge pools and Jacuzzis!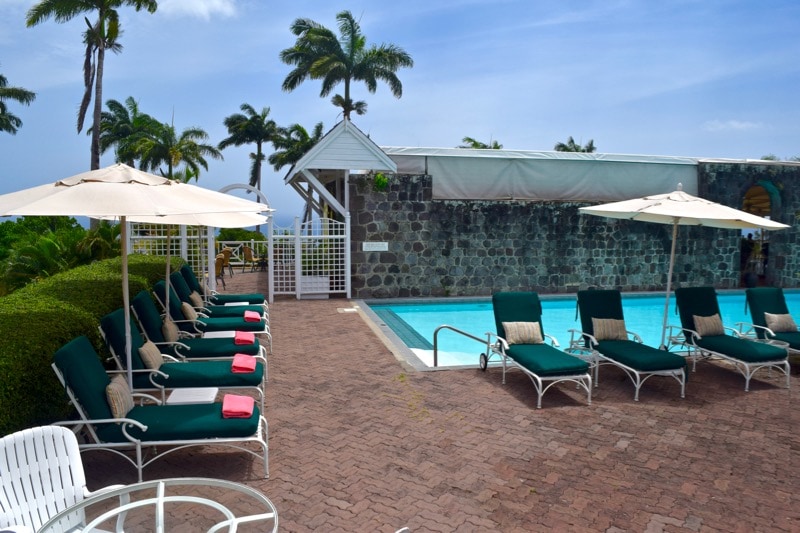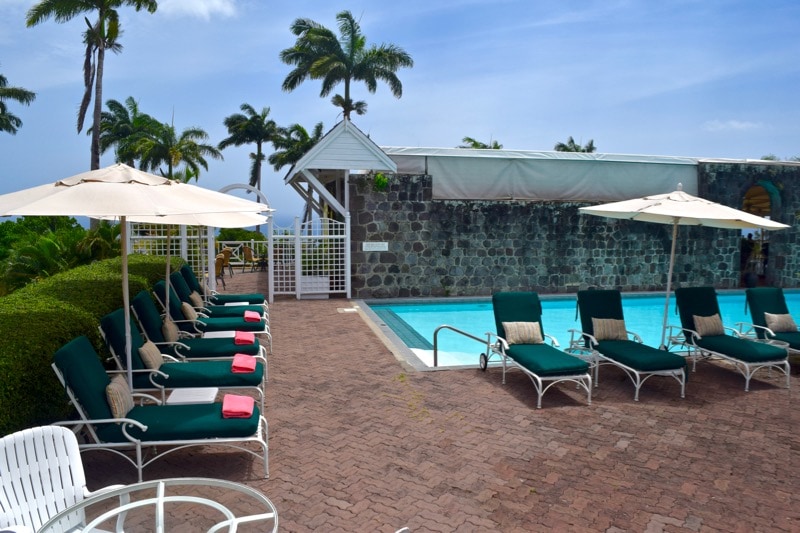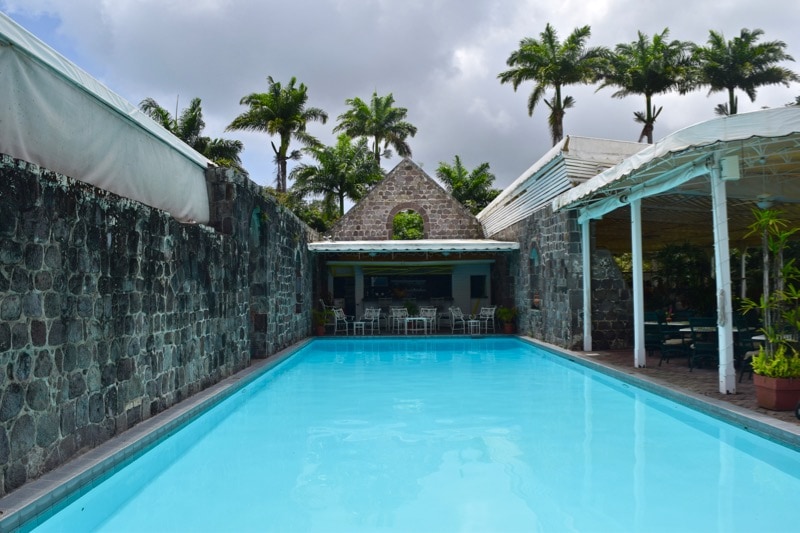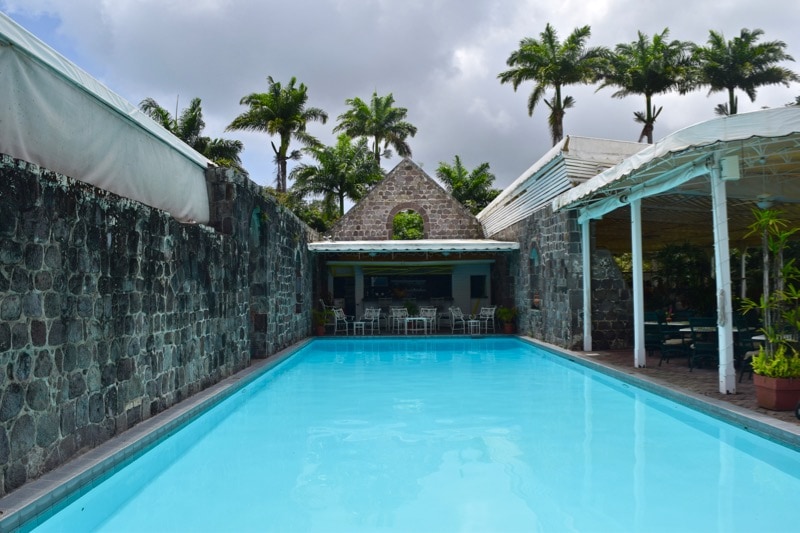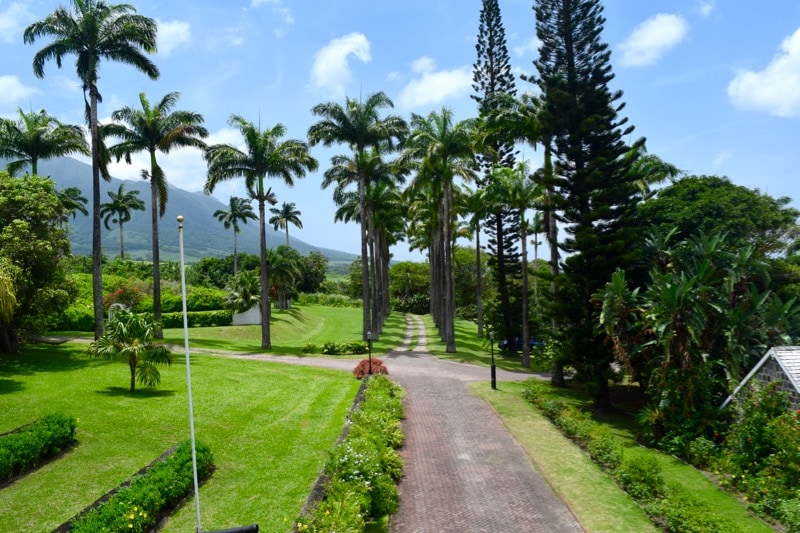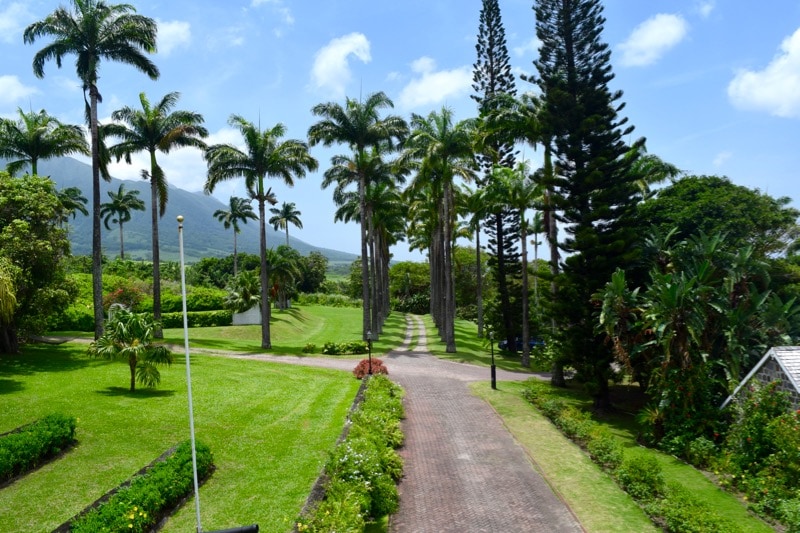 Meals are served at The Royal Palm Restaurant where we enjoyed one of the best brunches I've eaten in a long time. It's a lovely spot, with the pool on one side and The Great House on the other.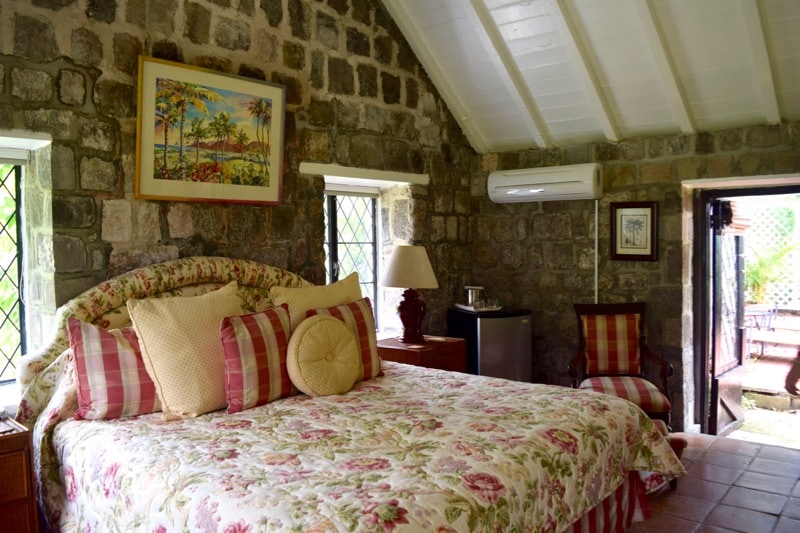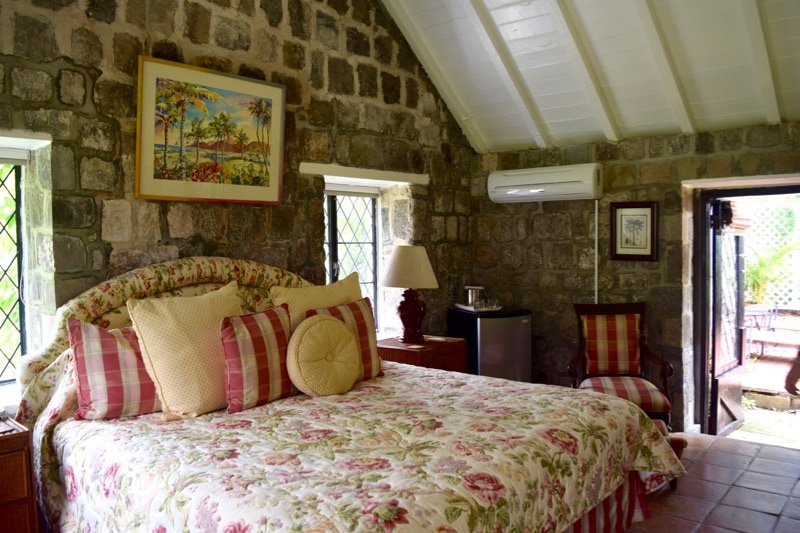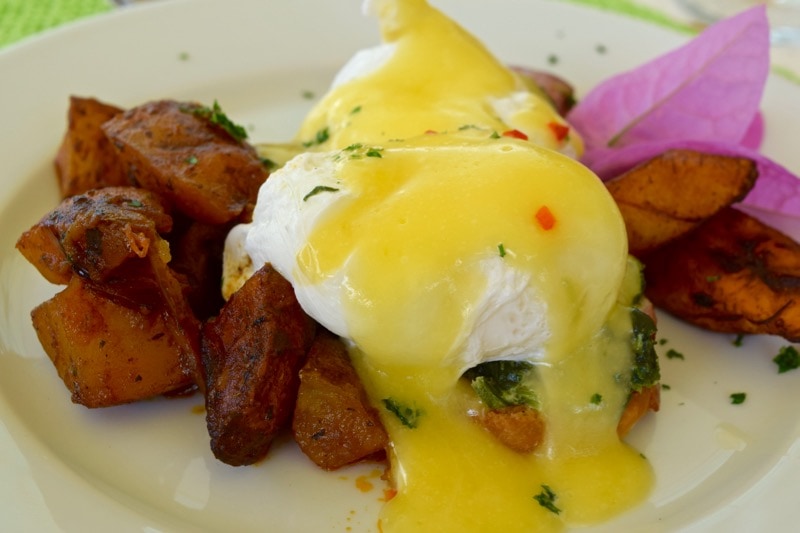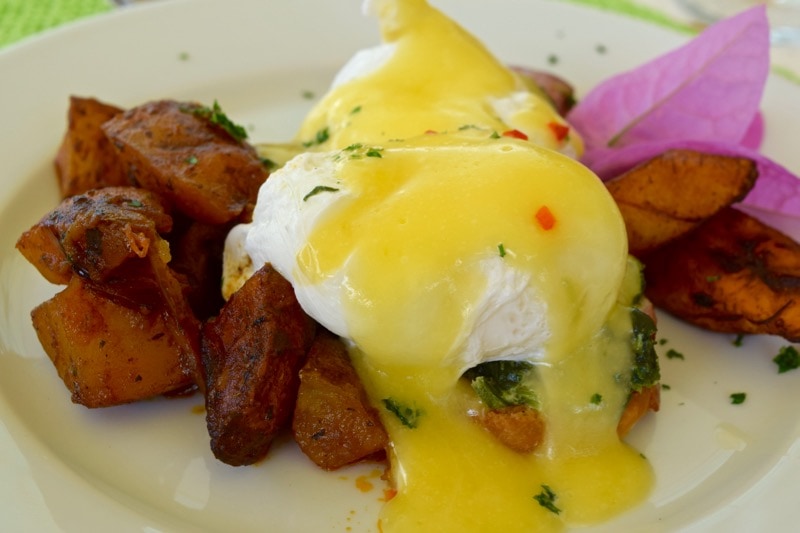 Standard double rooms start from $235 per night (prices vary by season). Find out more here.
Overlooking the bay of Basseterre – St Kitts's capital, Ocean Terrace Inn is a modern, 4 star hotel with great service and wonderful views. Oh and their rum punch was one of the best I tasted all week!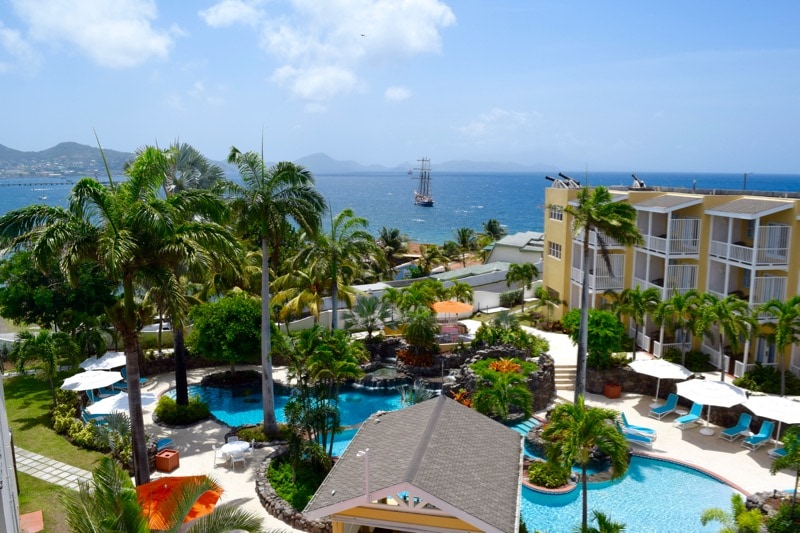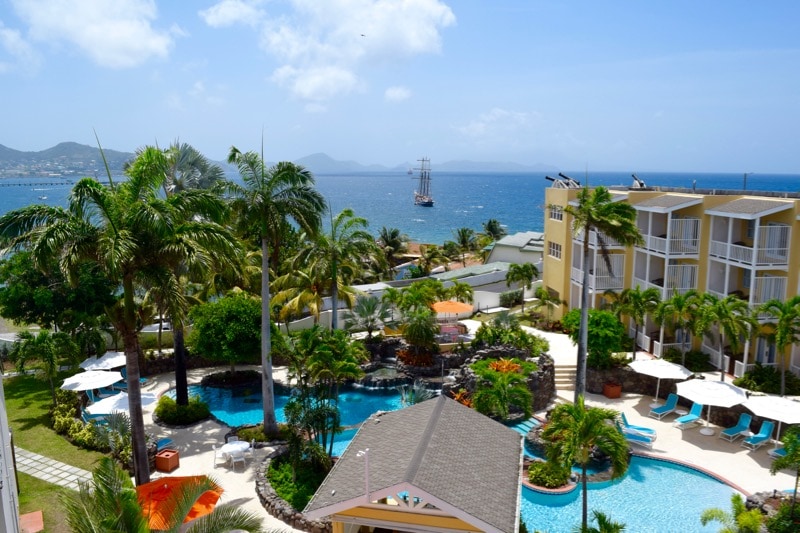 With tropical flowers, yellow buildings, and once the sun came out – bright blue skies and turquoise waters, this was a colourful place to spend the week. Rooms were spacious – mine had two double beds, a bath, shower and a balcony looking out over the lagoon style pool.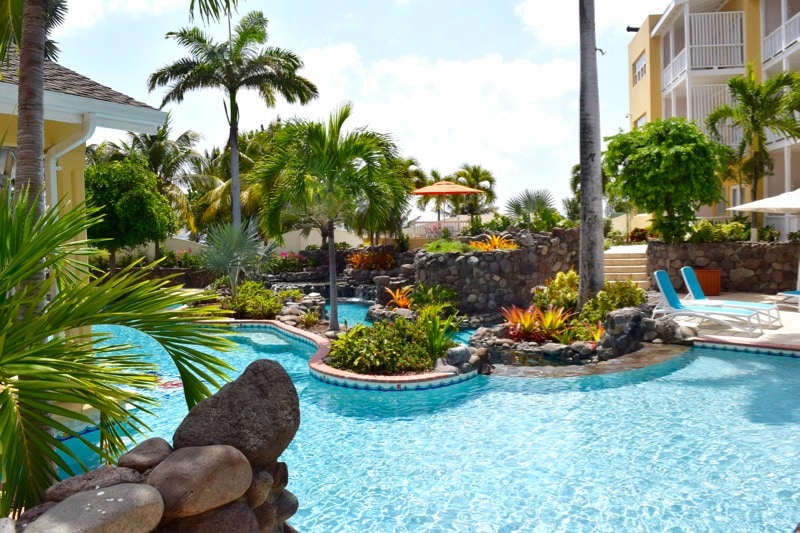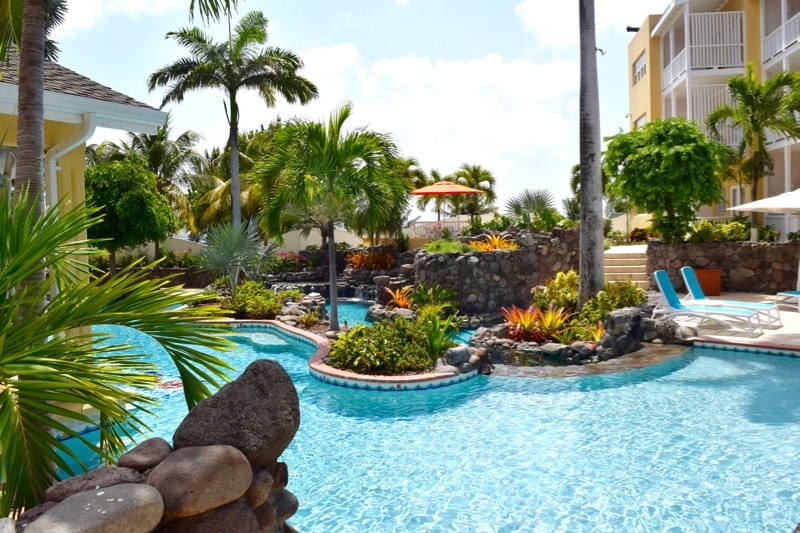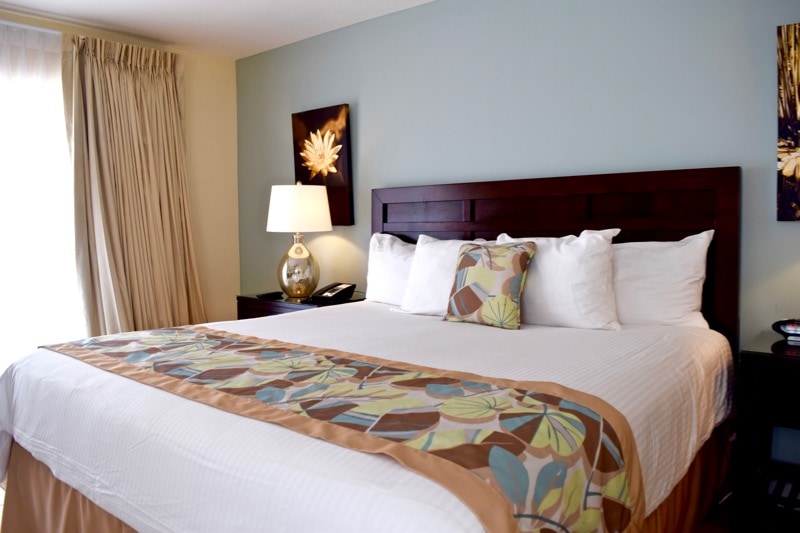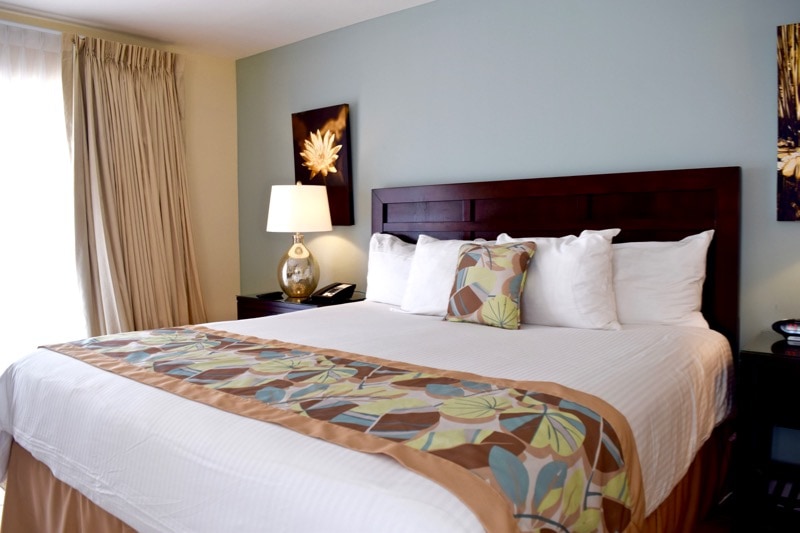 The Verandah Restaurant served great breakfasts, along with traditional West Indian fare. The highlight was a buffet where I sampled everything from 'goat water' to roast pork and jerk chicken. Also, just below the hotel sits Fisherman's Wharf – a seafood restaurant right on the water.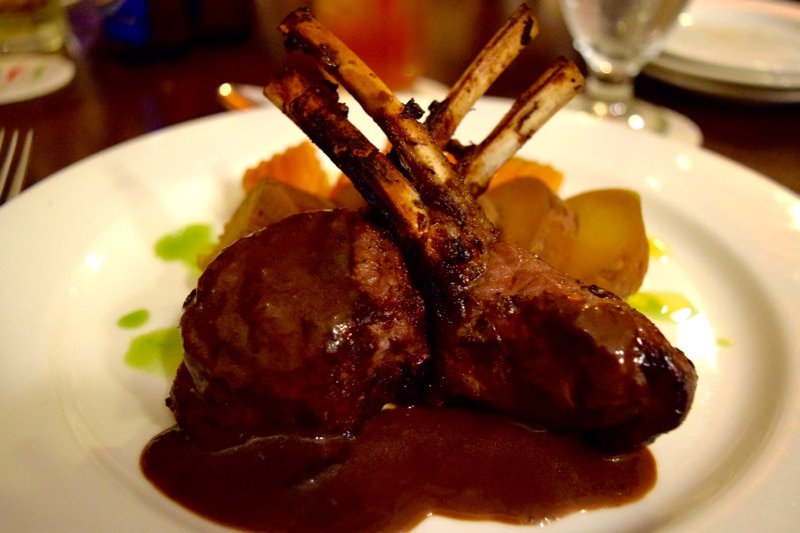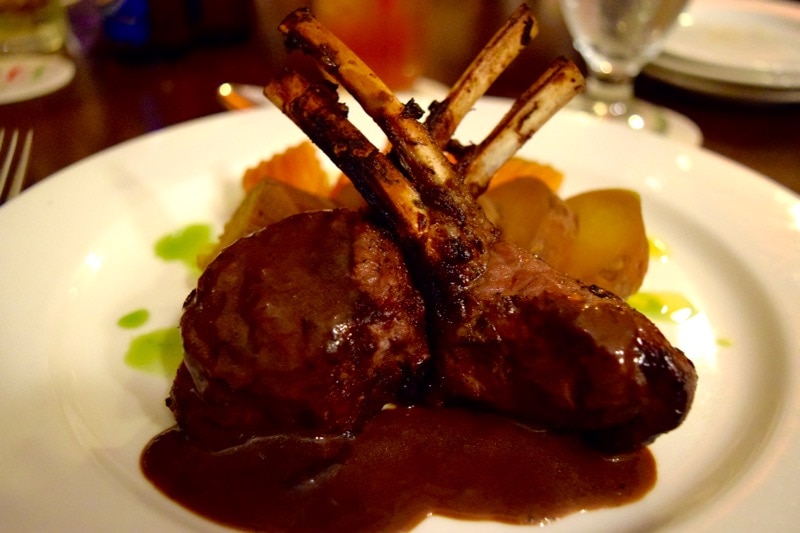 Standard terrace garden room from $229 (prices vary by season). Find out more here.
Located in Frigate Bay, St. Kitts Marriott Resort is one of the most popular places to stay on the island. Not only is it a familiar hotel brand, it delivers great service and delivers a stay perfect for those looking for a relaxing week right on the beach.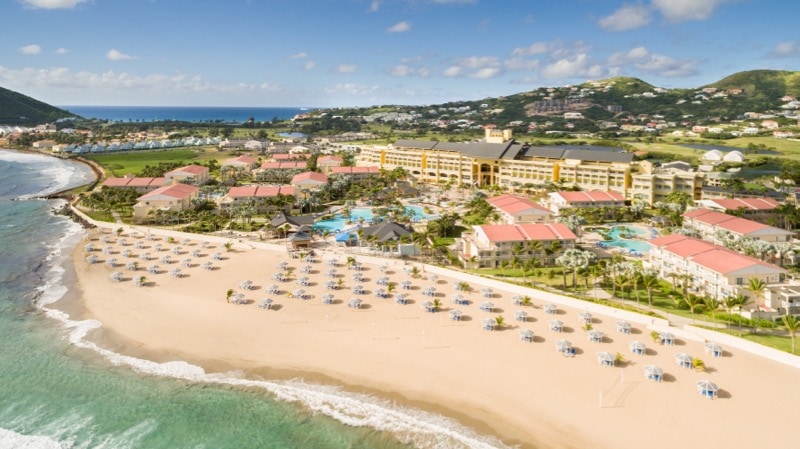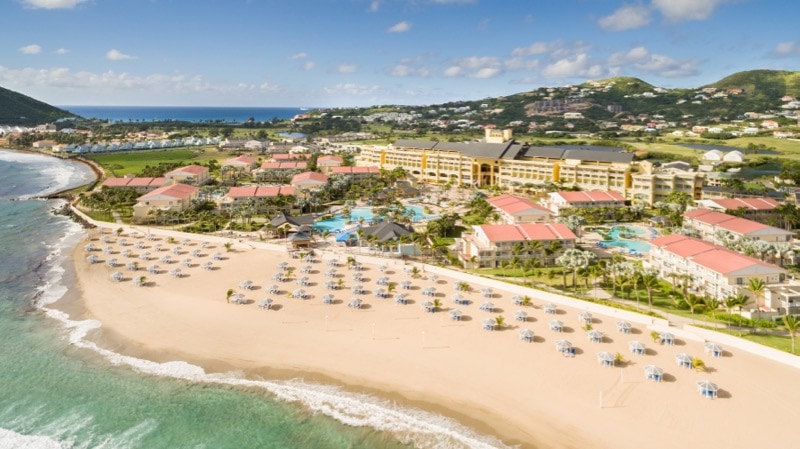 The first thing that struck me was how enormous it was. It's home to 8 restaurants, several bars, numerous pools and a long sandy stretch of beach onto the Atlantic. Entertainment-wise there's a spa, golf course and casino.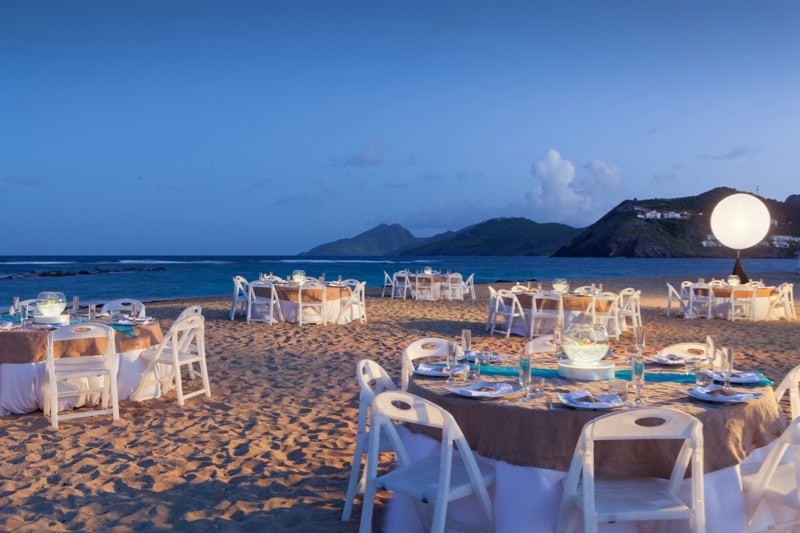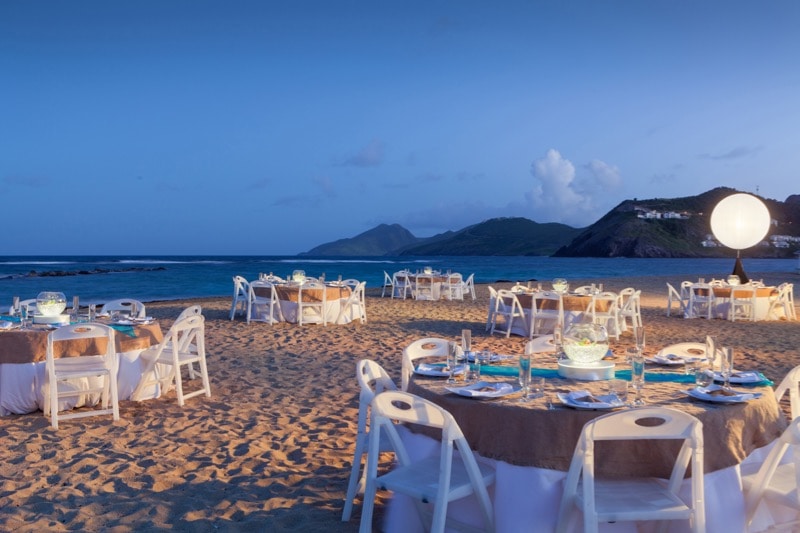 Rooms are simple and luxurious, with a colourful Caribbean flavour!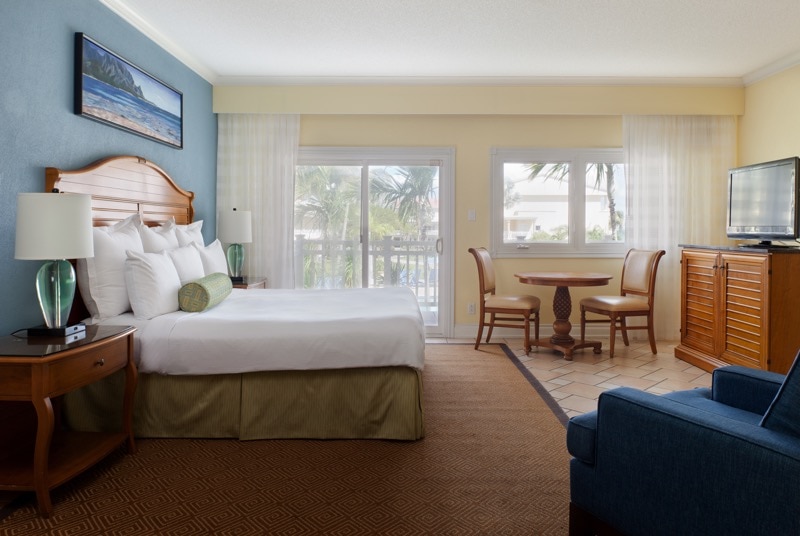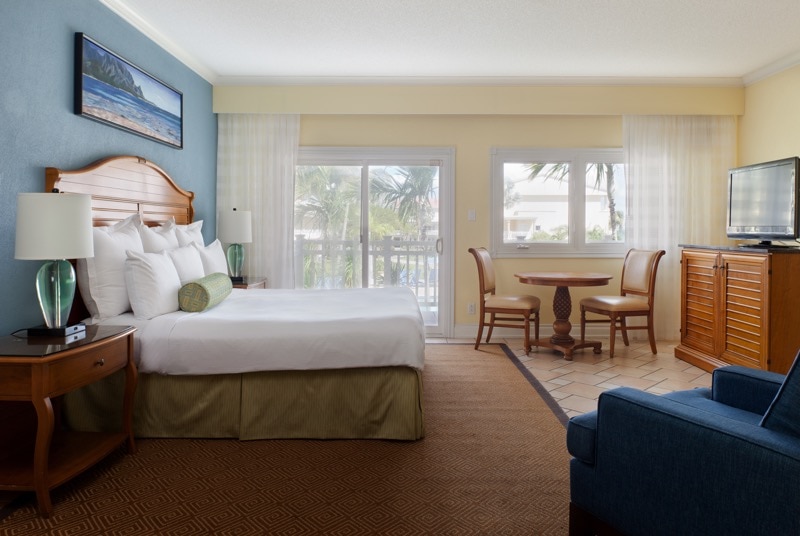 One evening I ate at Blu Seafood Restaurant right down by the beach, where the speciality was lobster. It was a delicious meal and I was particularly impressed by the wine list.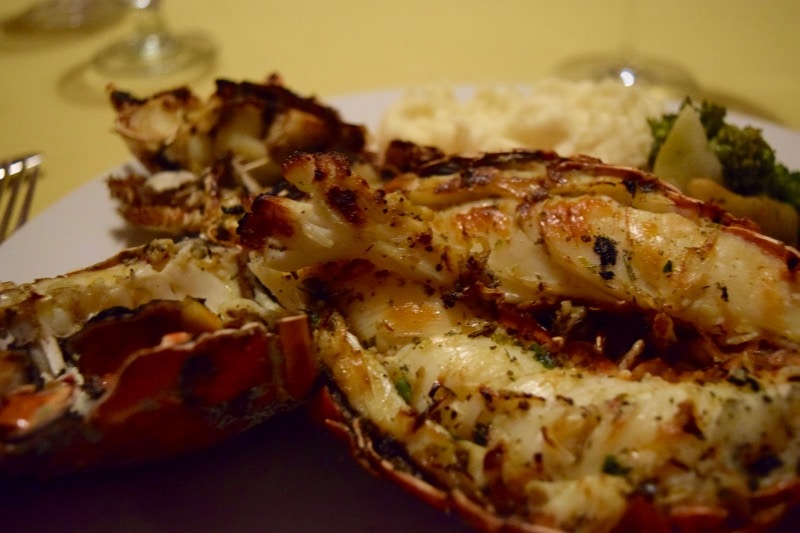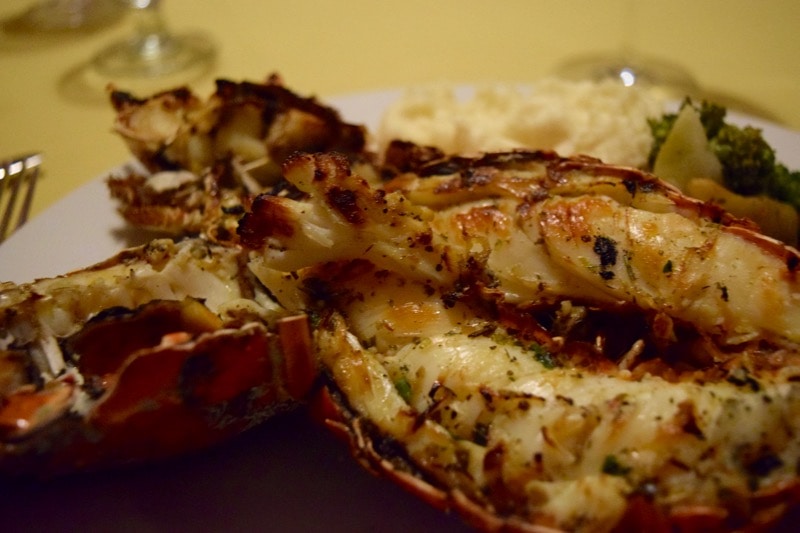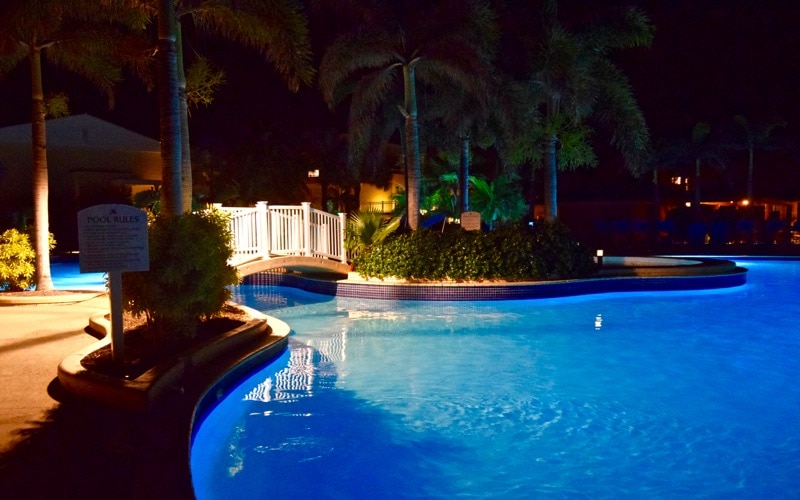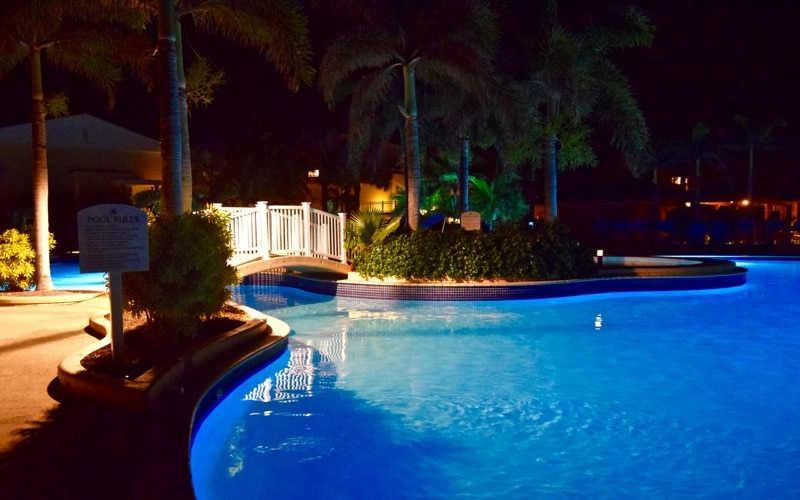 Double rooms start from $199 per night (prices vary by season). Find out more here.
Self-Catering Accommodation in St Kitts
As mentioned, the rooms at Timothy Beach Resort have full kitchens, making them great if you prefer to prepare your own meals, and keep costs down.
From a quick scout around, I've found plenty more great options on Airbnb. The cheapest was an ocean view room in Basseterre for £34 a night, while the most expensive was an 8 person villa in the luxurious Christophe Harbour development at £1495 a night. If you're looking for an Airbnb discount, you can get up to £20 off your next booking using my code here.
Interested in visiting St Kitts? Check out all my posts about the island:
A Brief Intro To St Kitts, Caribbean
St Kitts: Top Reasons To Visit
Top Restaurants To Visit In St Kitts
Top 5 Things To Do In St Kitts For Cruise Ship Passengers
Video: Adventures In St Kitts
I'm an Official Ambassador for St Kitts. Thanks to St Kitts Tourism Authority for organising the trip and British Airways for taking care of the flights. As always, opinions are my own!
Enjoyed this post? Why not pin it?