Museums, quirky hotels and plenty of fun activities… it's time for the ultimate weekend in Amsterdam.
I really love Amsterdam. It's one of the shortest flights you can take from London, yet you really feel like you've landed somewhere different. For me, it's a city that oozes fun. It's a wonderland of treasure-packed museums, Golden Age canals, Dutch brick buildings and narrow lanes. I'm sure once you've visited you'll feel like ONE weekend in Amsterdam is simply not enough, but hey, it's a good start!
To truly make the most of your 48 hours in Amsterdam, consider ordering an I Amsterdam City Card. It'll give you free or discounted entry to tonnes of museums and attractions in the city.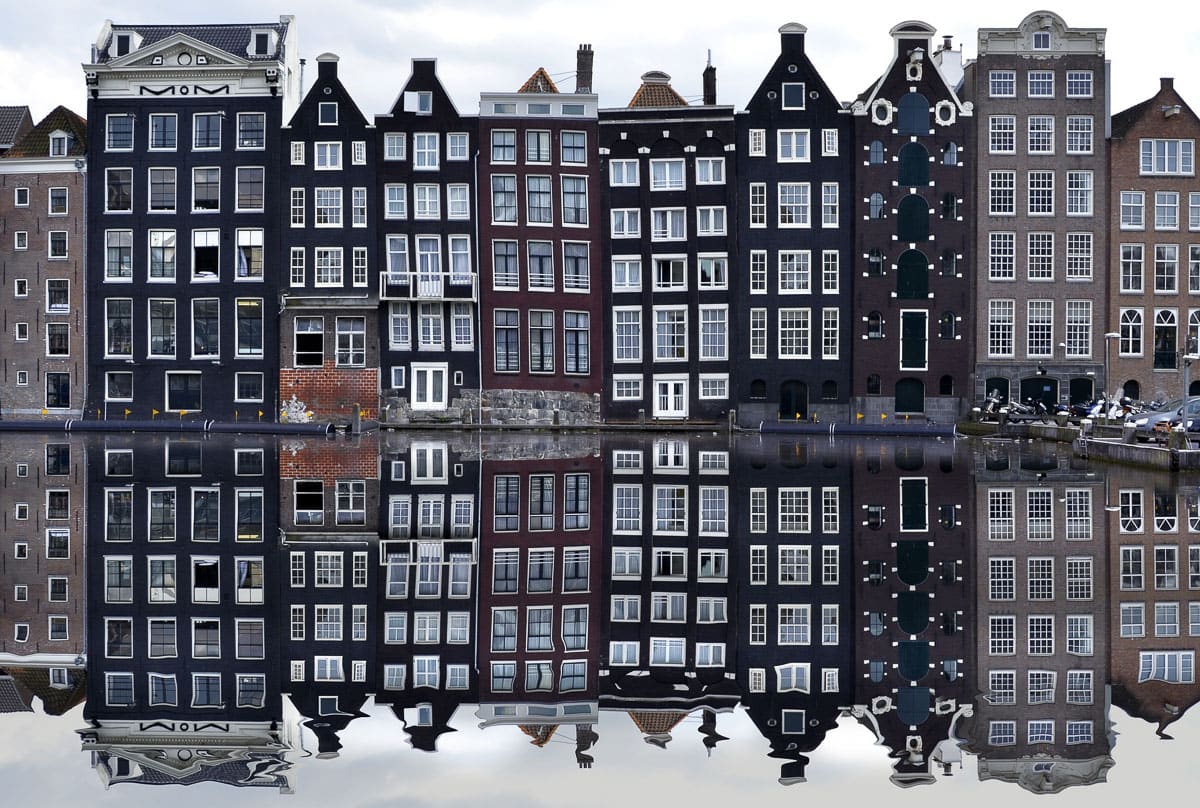 48 hours in Amsterdam will have you sipping on espresso at a café by the Singel canal, partying until the sun comes up, enjoying a dose of culture at one of the city's top museums, and getting lost in the endless boutiques of De Piip.
One thing I should mention… there's a lovely mix of vibes in Amsterdam. Old and new, villagey areas and busy commercial districts – it's somewhere where you really CAN have the best of both worlds. Hang out by the quiet canals, or hop on a bike and zoom around the city taking in the architecture, views and all that makes the city special. No doubt you'll soak up plenty of Amsterdam's buzz along the way.
Whether you're into history, culture, architecture, or want to party until dawn, this weekend guide to Amsterdam is the perfect place to kick off your trip planning.
The Ultimate Weekend Guide To Amsterdam
Hop on a bike around Jordaan
Sooooo, forget walking. In Amsterdam, bikes always come first! 58% of locals cycle daily, so hop on a bike and explore the city on two wheels. Jordaan is one of Amsterdam's most central neighbourhoods, and one of the prettiest too. A cycle around there is what weekends in Amsterdam were made for!
With maze-like streets, quaint art galleries, and flower-lined canals, it's a great area to explore. There's also plenty to see and do in the area… from museums and markets, to quirky cafes.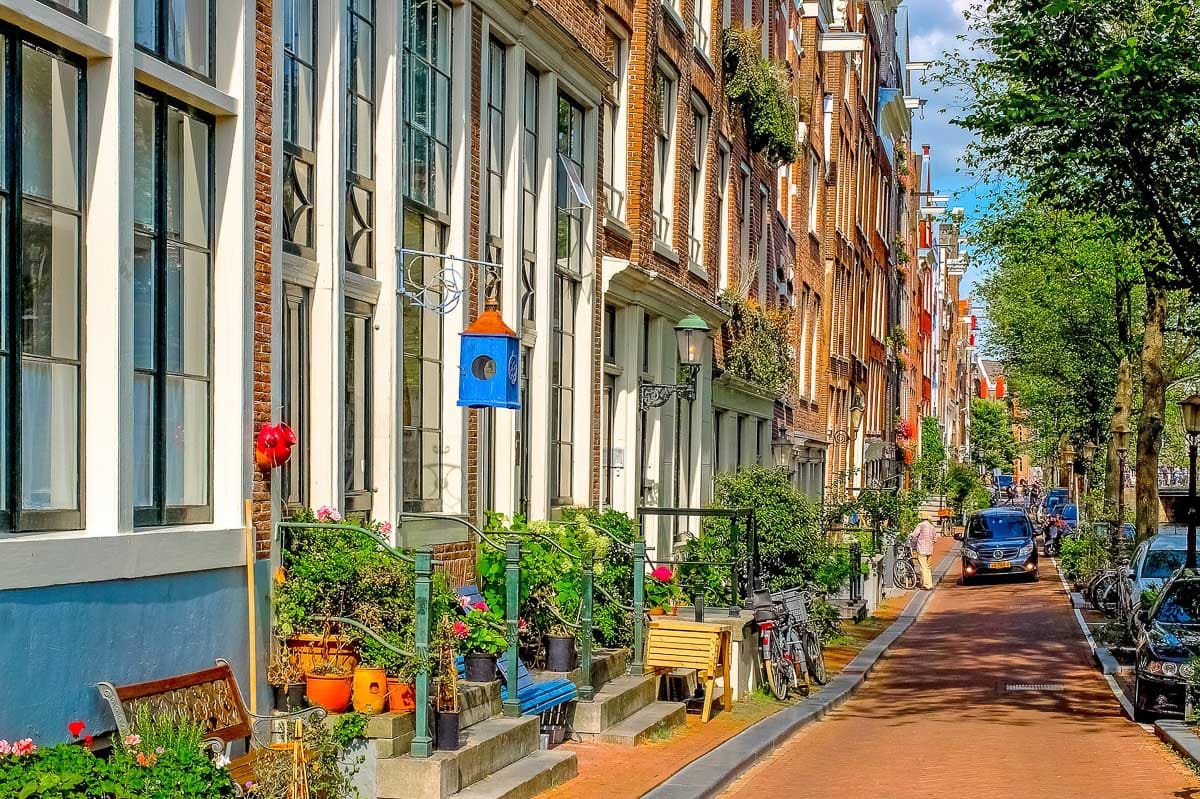 Wander around De 9 Straatjes
If you're looking for an intro to local culture, head to De 9 Straatjes (The Nine Streets.). It's basically an assortment of picturesque streets, dotted with cute stores. It's a lovely area to walk around, and you'll find dozens of townhouses-come-fashion-boutiques, cafes, specialist stores, plus vintage and antique shops. You could pick up some lovely Amsterdam souvenirs to take home too!
Relax at Amsterdam's favourite escape
One of the most popular parks in the entire country, Vondelpark remains a local and tourist favourite. Around 10 million people visit each year, so a little trip should definitely be on your list of things to do on your weekend in Amsterdam. Whether you want to relax on the grass after a long day, chill by the pond, cycle around it or catch one of the open-air concerts or festivals, it's a lovely contrast to the busier areas of the city.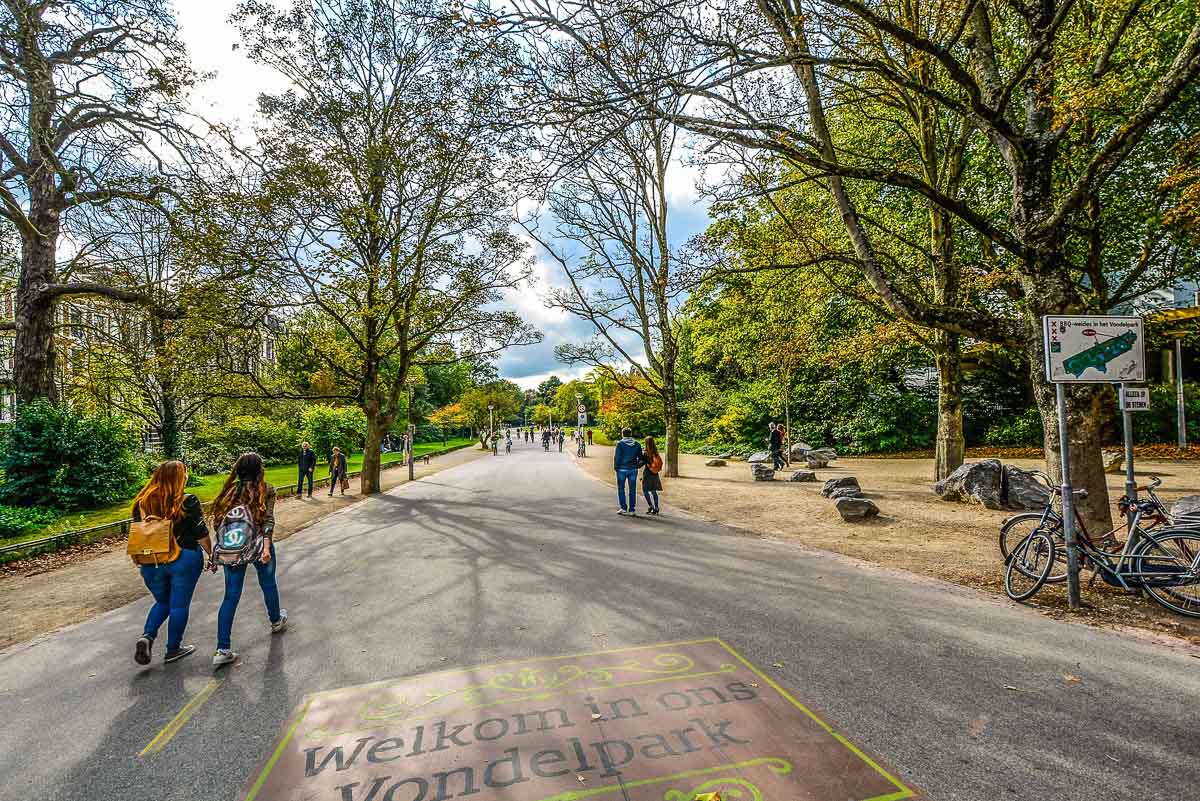 Spend a few hours in Museumplein
Grab some food, put on your comfiest shoes and brace yourself for an exciting journey through art, culture, and history. The Museumplein district allows you to jump right into Dutch history, culture and more by visiting some of Europe's top museums.
From the artwork of top Flemish masters to ensemble portraits to Van Gogh masterpieces – you'll find it all here. If you only have 48 hours in Amsterdam, then perhaps choose one museum rather than trying to cram all of them in to a short time.
Rijksmuseum – This is definitely a crowd favourite. Visited by over 2.2 million people each year, the museum is a treasure trove of Dutch arts and history. The star of the show is Rembrandt's Night Watch. Hate queueing? Book special 'skip the line' tickets here.
Stedelijk Museum – If you'd rather get a good old dose of contemporary art and design, then this is the museum for you. It's home to both temporary and permanent exhibitions, so check out the latest listings for what will be on during your visit.
Van Gogh Museum – This museum gives you the chance to step into Van Gogh's world. Along with the world's largest collection of works by Vincent van Gogh, you can also see some of the artist's personal belongings and letters. It can get busy, especially at weekends, so consider booking in advance.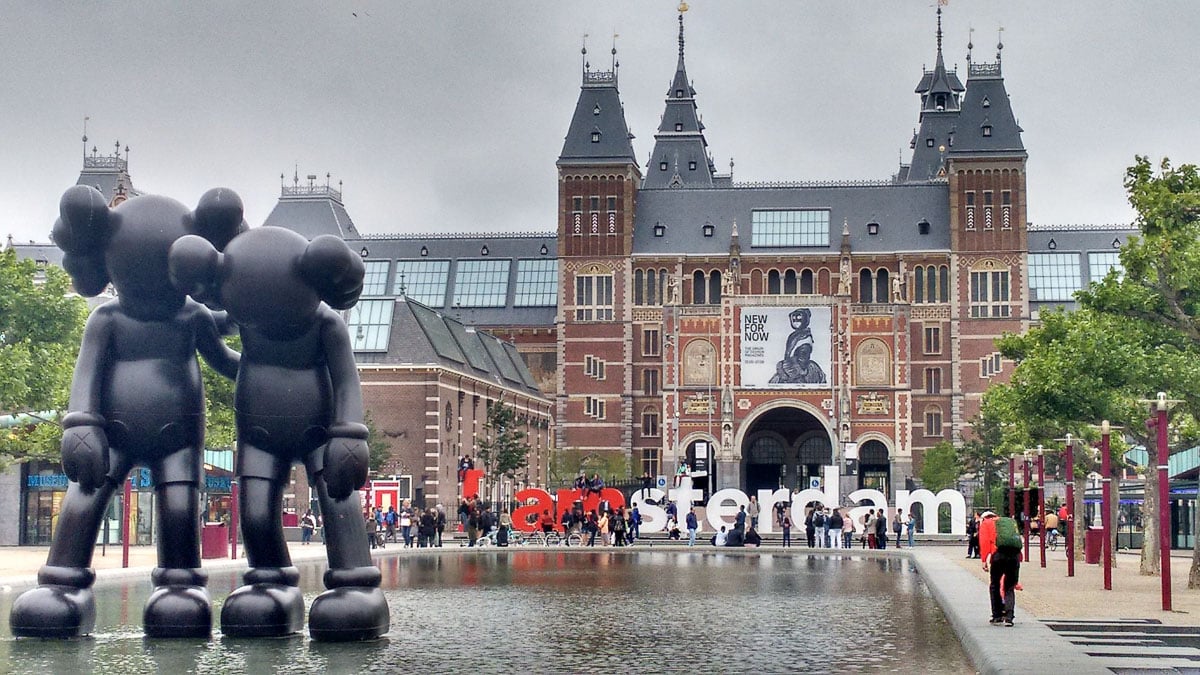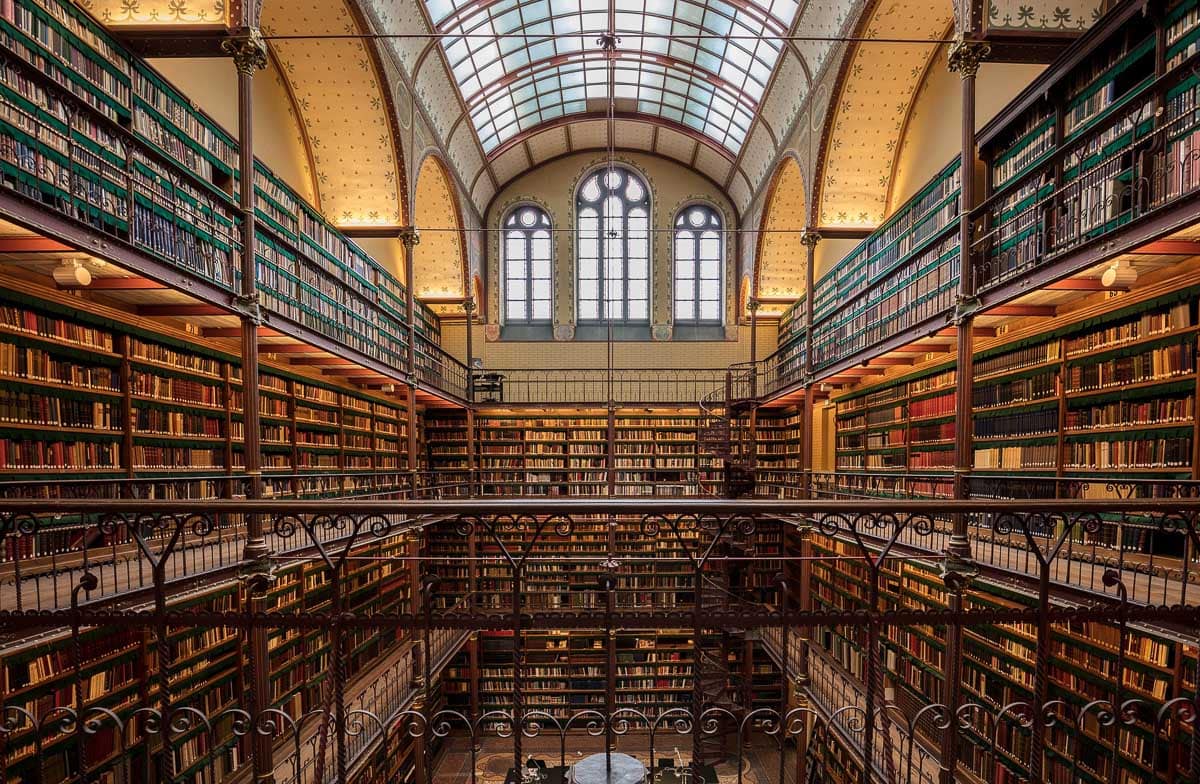 No doubt when you think of visiting Amsterdam, you think of canals, so it'd be a shame not to hop on a canal cruise and explore the city from the water. It's one of the best things to do in Amsterdam.
I'd recommend taking this trip at the start of your city break as you'll get a great overview of Amsterdam's history and top attractions, and the general layout of the city, before you decide what to do with the rest of your time. Check latest prices here.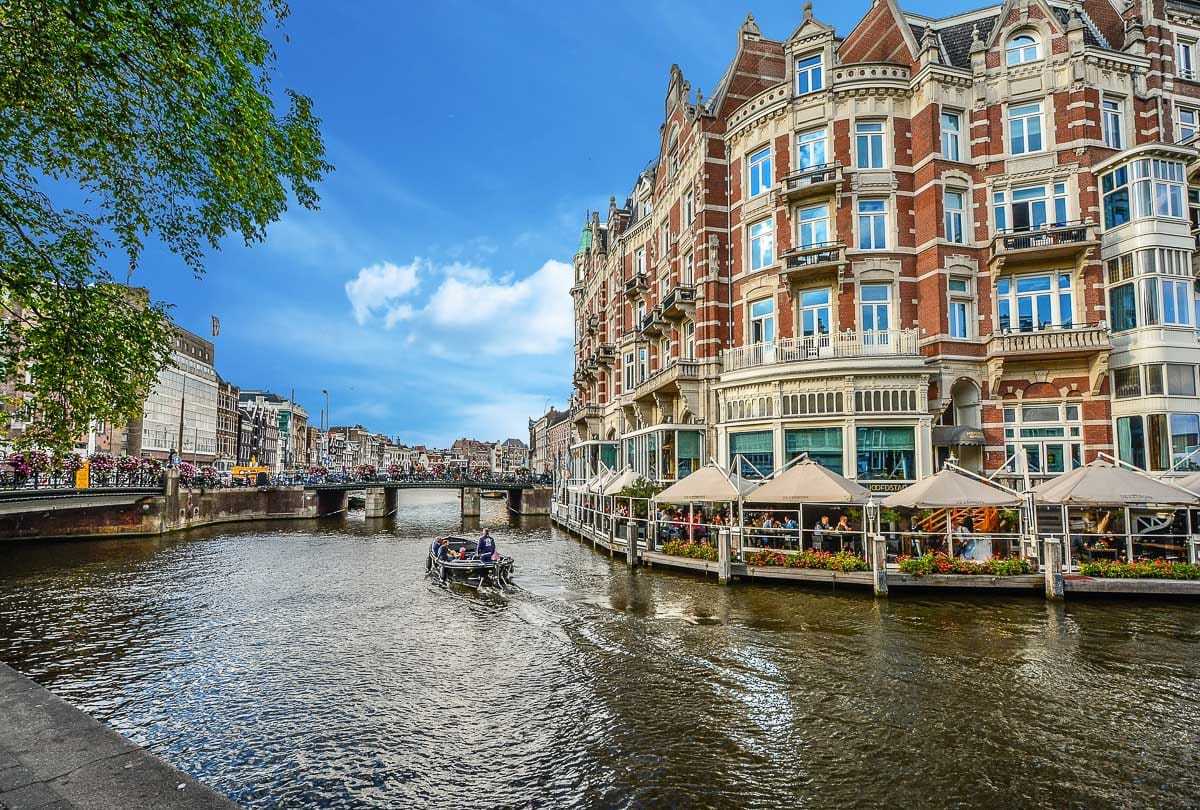 Check out cool street art at Spuistraat
It turns out Amsterdam is one colourful city! While some of the architecture is vibrant (and the colourful tulips will brighten up anyone's day!) there's something else adding to the fun of the city. Head to Spuistraat and you'll find buildings covered in colourful murals by some of the world's most famous street artists.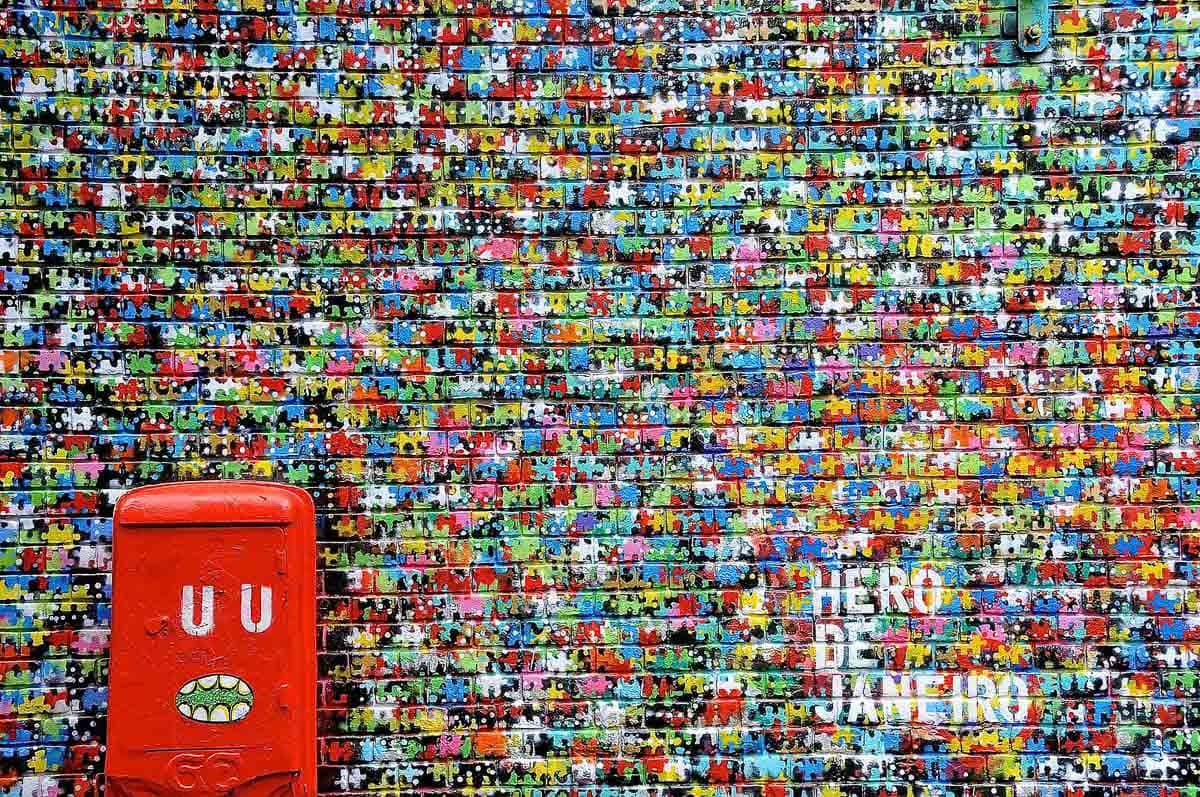 Explore the Red Light District
Despite its seedy reputation, you can't spend the weekend in Amsterdam and not visit the Red Light District. In fact, if you had more than 48 hours in Amsterdam, I'd recommend spending an entire day exploring the area!
There's plenty more to it than weed, sex workers, and tourists – the neighbourhood is, in fact, one of the oldest in Amsterdam. A warren of alleyways ending in medieval churches, neon-lit canals gliding between raucous bars, and surprising museums. You'll be amazed at what you stumble across!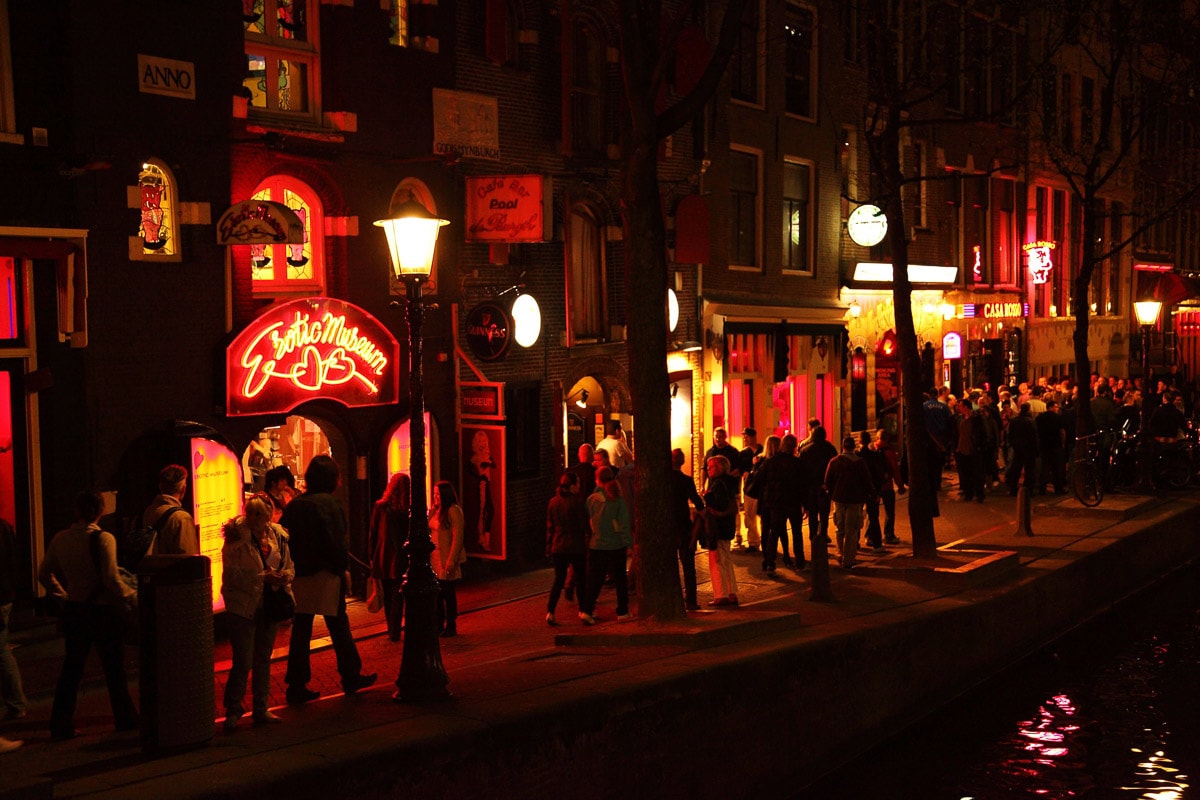 Have a deeply moving experience at the Anne Frank House
Another must-visit for a weekend in Amsterdam, the Anne Frank House is home to a museum experience retelling her incredible story. It's a harrowing journey, but an important one, as you learn all about her life, and see where she hid when the Nazis swept through Europe.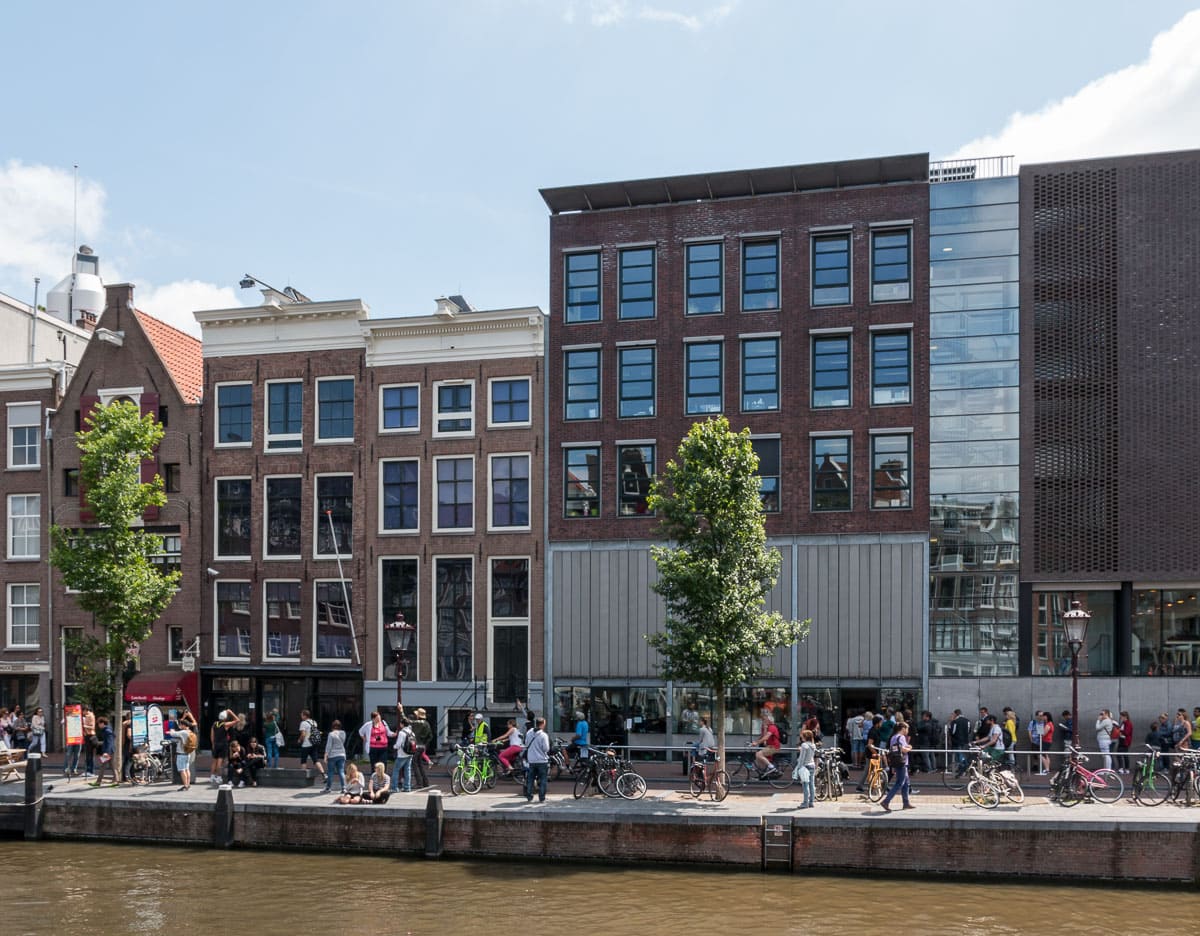 Fly through the air on Europe's highest swing
Adrenaline junkies – rejoice! If you want to see Amsterdam from a whole new perspective, then you're going to absolutely LOVE A'DAM LOOKOUT. As you take your seat on the highest swing in Europe, you'll be amazed by 360 degree views of the city. I reckon this is the perfect start, or end, to your weekend in Amsterdam! You'll need to buy a ticket for the lookout, then once you're up there the swing is a little bit extra!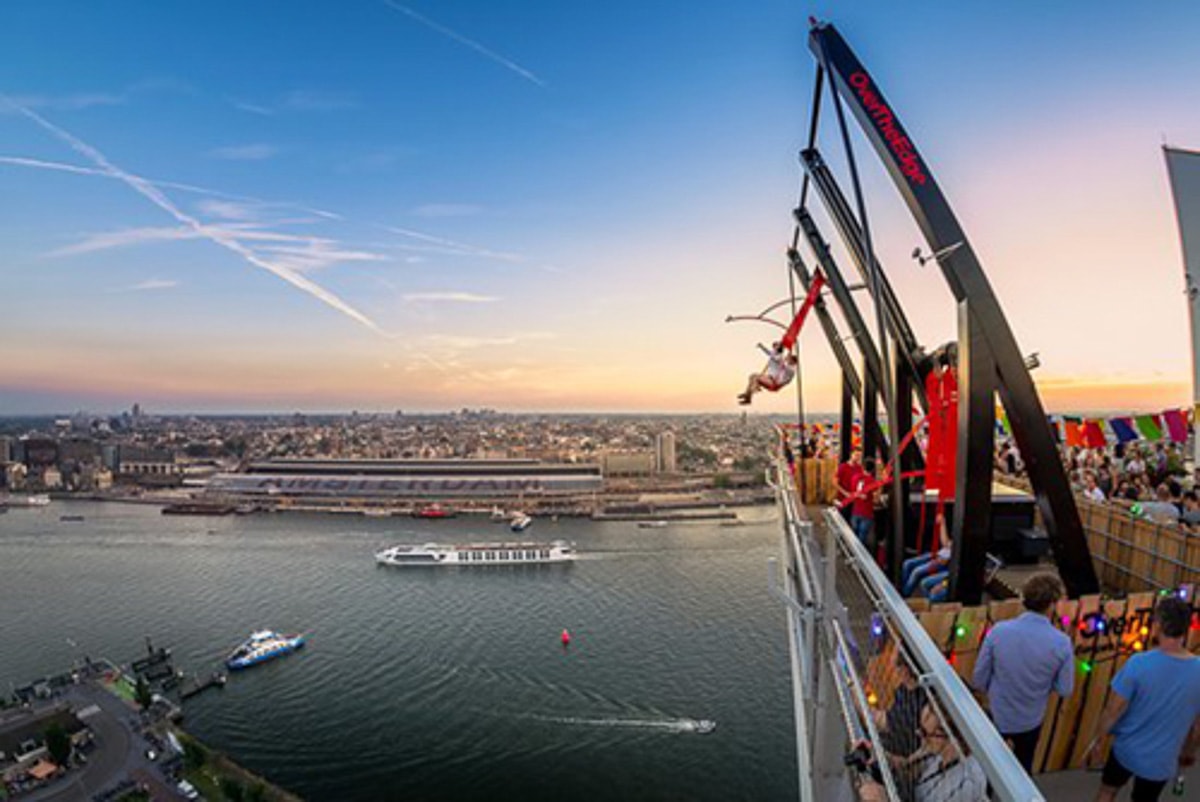 Visit the home of Heineken
The Heineken Brewery is a mecca for beer lovers! Where else do you get to learn about the history and heritage of one of the most well-known beer brands in the world? Not to mention trying multiple samples? Definitely book in advance as it can get busy.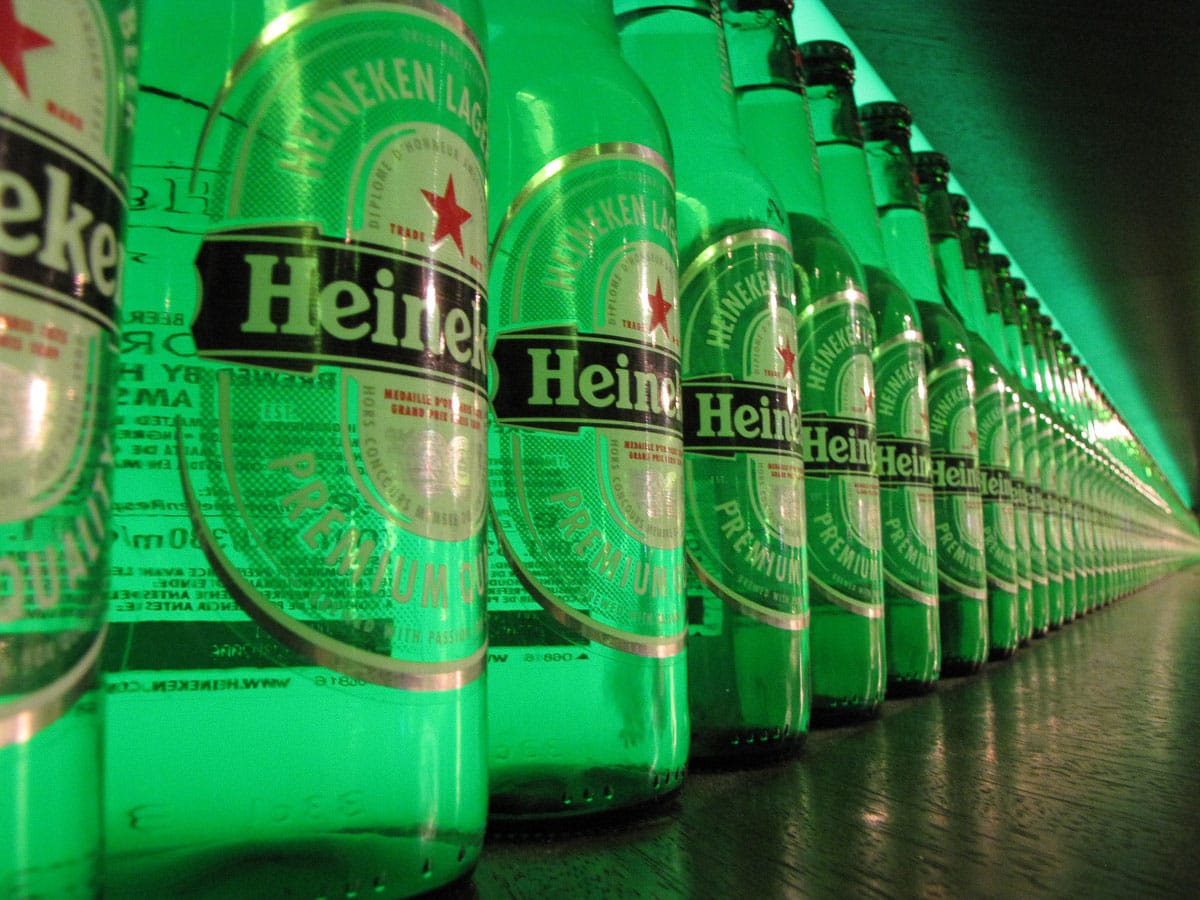 Looking for the perfect place to chill out in Amsterdam? I've found the perfect spot! Enjoy a freshly made cocktail in -10 degrees, snap some pics sitting on giant ice blocks, and marvel at the impressive ice sculptures – no doubt you'll enjoy your visit to one of Amsterdam's most unique bars! Check latest prices here.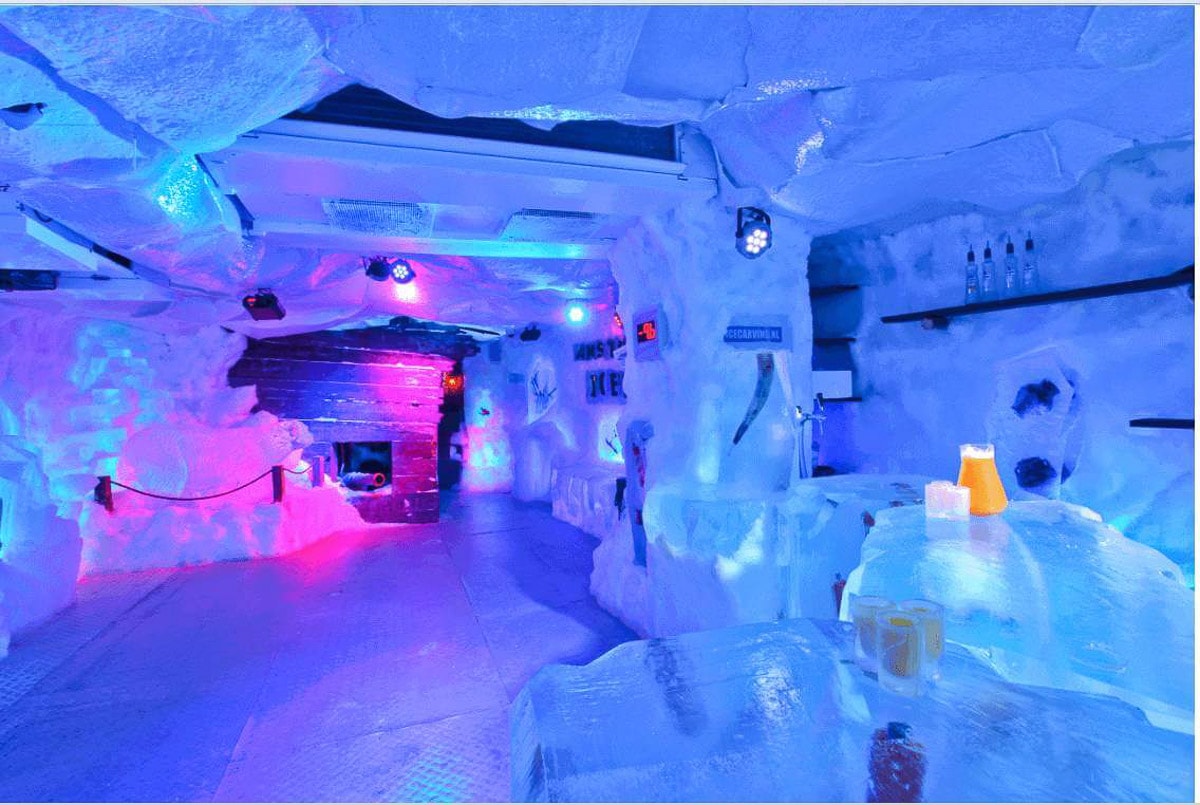 Eat at one of Amsterdam's coolest restaurants
One of the highlights of your weekend in Amsterdam will be… EATING! Yep, this is a city that boasts hundreds of amazing, unique and stylish restaurants. Here are a few I'd recommend paying a visit to…
De Culinaire Werkplaats Restaurant – Ever been to a restaurant where you pay what you want? This unique Amsterdam restaurant has monthly menus that are inspired by art and abstract concepts… e.g. dishes inspired by light or architecture. While sometimes its a set menu, there are times when you choose what to pay for your meal.
The Avocado Show – Avocado isn't just a breakfast food at this trendy Amsterdam restaurant. All the dishes celebrate the humble avocado, and alongside classic dishes with eggs, you'll also find beautifully presented poke bowls, pancake stacks and even an avocado cheesecake!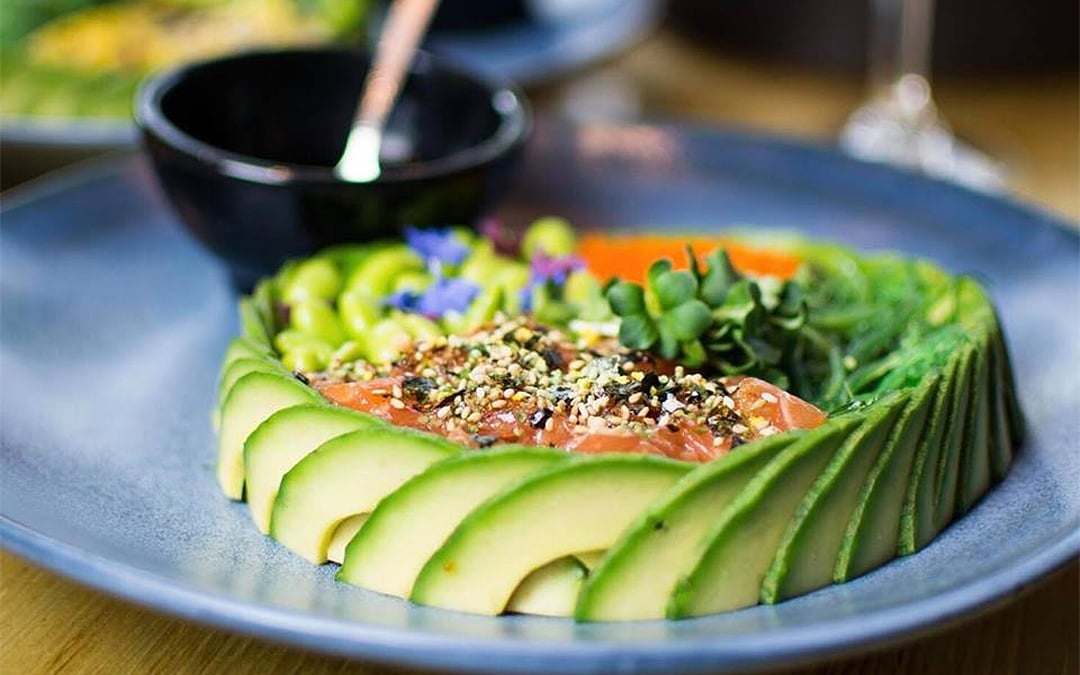 Mama Kelly Restaurant – The cutest, most Instagrammable restaurant in Amsterdam, you'll definitely want to snap some pics when you dine at Mama Kelly! There's more to this spot than the adorable pink and gold decor, the food is pretty good too! Expect smoothie bowls, salads and oysters at lunch, and signature chicken and lobster dishes at dinner.
Stay at one of Amsterdam's quirkiest hotels
It's like someone asked the designer to run wild with his imagination when it came to designing this hotel! From the minute you enter, to the minute you get into your room, you will be met with surreal, dream-like designs, architecture and furniture. Expect an Alice in The Wonderland garden, tulip-shaped chairs, all types of abstract architecture and plenty more. The rooms are as quirky as you would expect too… expect a giant fish turning into a spoon, walk-in closets, and wordy wallpapers.
Check the latest prices and availability here.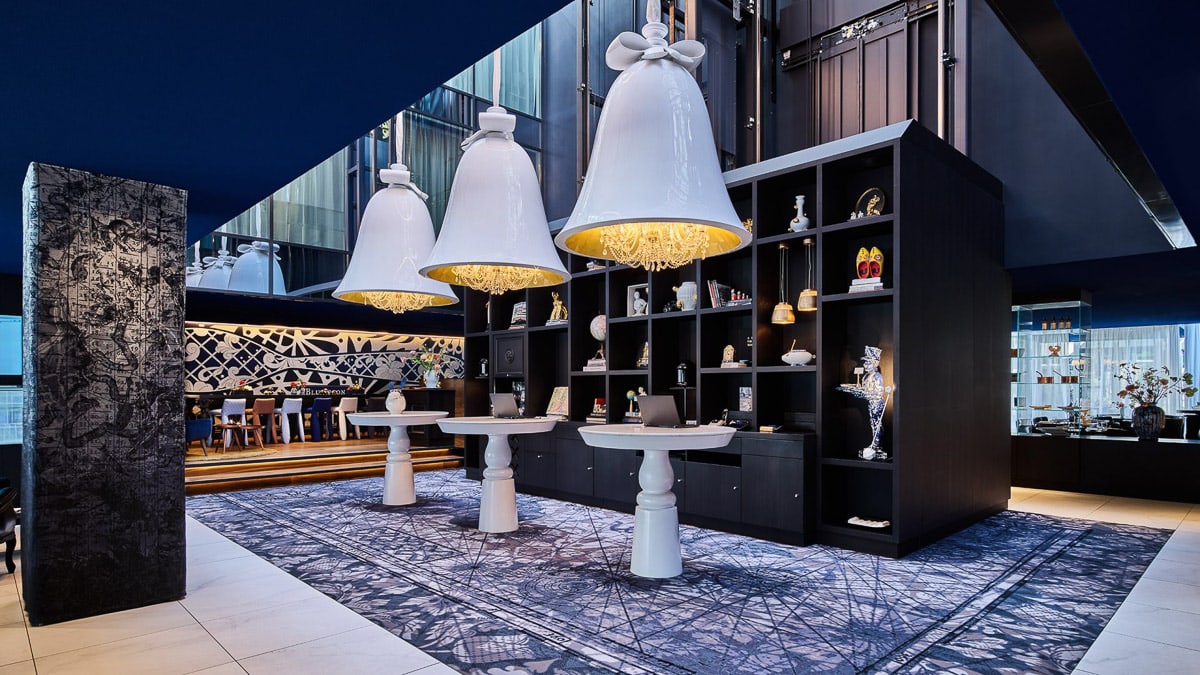 The blue and grey colour scheme of the Kimpton De Witt hotel gives an overall soothing feel to the whole place. Add to this plenty of local artwork, lush plants, spacious rooms, and intricate attention to detail and you've got yourself the perfect place to stay for your weekend away in Amsterdam.
Check the latest prices and availability here.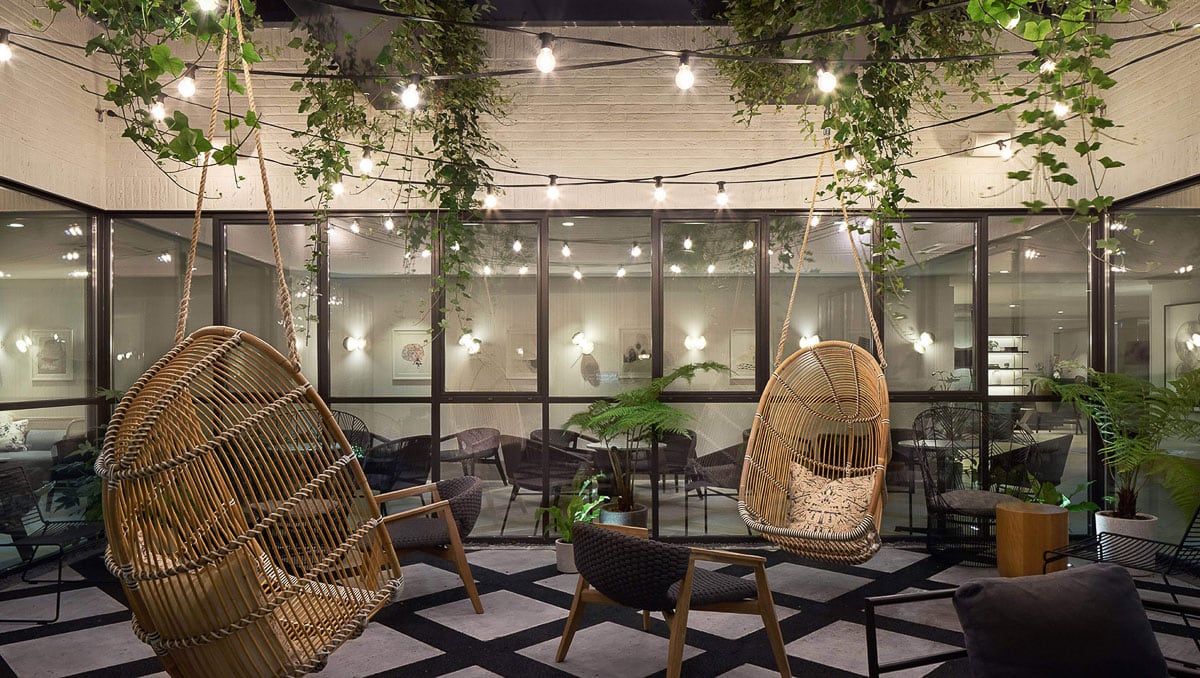 One of the quirkiest hotels in Europe, this Amsterdam hotel is the embodiment of weird and wonderful design. It's set in a former market, but the rooms each have their own personality, theme and art installations. Spend your night inside a Dutch tram carriage, a crow's nest or even a gingerbread house! You'll even get to look for secret bars… which might lead you to a Kevin-Bacon-dedicated-bar! I told you it was weird (in a good way!!)
Check the latest prices and availability here.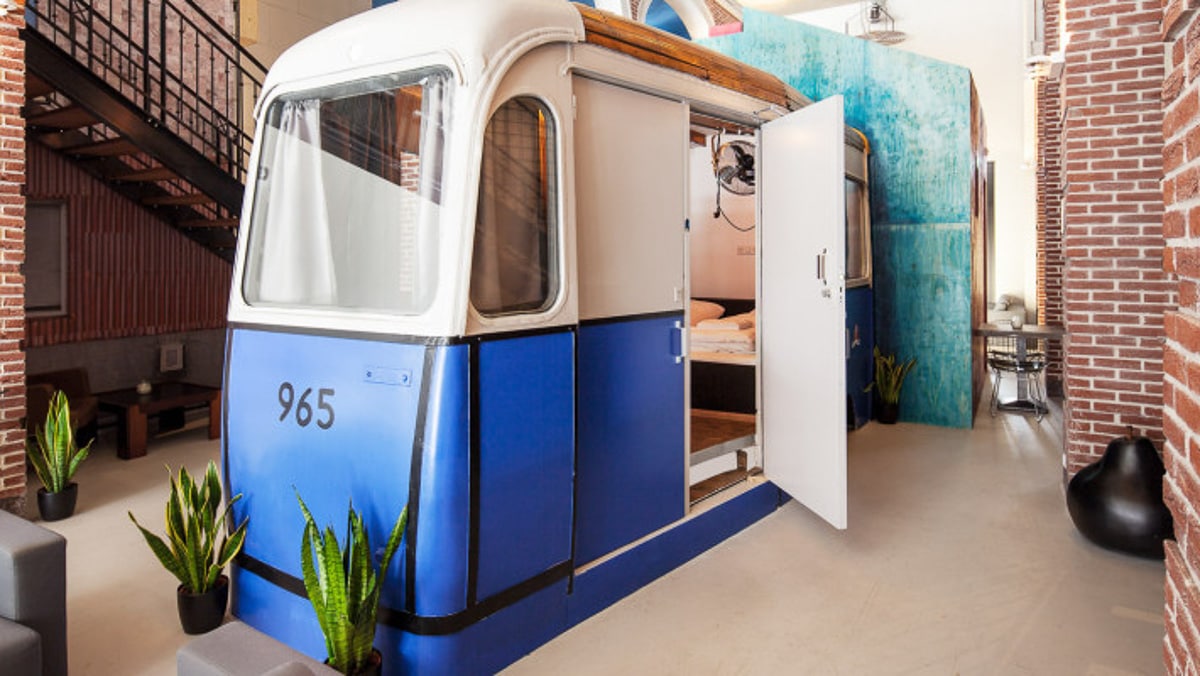 So, someone apparently looked at a crane once and decided they wanted to build an entire hotel on top of it. So, yes. This hotel is situated on top of a harbour crane and boasts extremely luxurious suites – some with Jacuzzis overlooking the entire city! Pretty cool if you're looking for a unique hotel in Amsterdam.
Check the latest prices and availability here.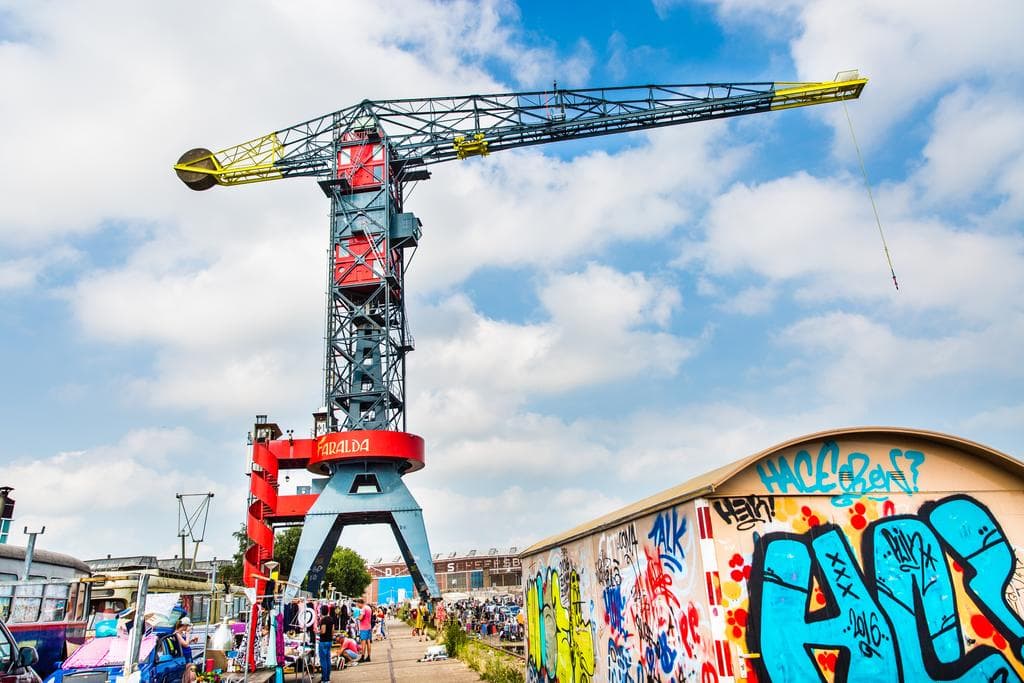 I hope this Amsterdam travel blog helps you plan an amazing few days in the city! If you're wondering what to budget for your trip find out about the price of travel to Amsterdam. Have a great trip!
Continuing your travels in the Netherlands? I'd recommend a visit to The Hague. Find out all about my time there in my Travel Guide To The Hague.
Enjoyed this post? Pin it for later…