Time to share where to eat the best ramen in London. From Tonkotsu and Ippudo to Bone Daddies and Kanada-Ya, where will you go for your bowl of noodle soup?
Who doesn't love ramen? When it comes to ramen joints, it seems Londoners just can't get enough of them. Once a dish you'd only spot on a Wagamama menu, the humble Japanese noodle soup is really making a name for itself in the capital. It's cool to slurp… in fact, it's something we want to do regularly, and in public! And it's something we're happy to wait for. Yes you'll find with all of the options below, you're likely to pay your dues in queues.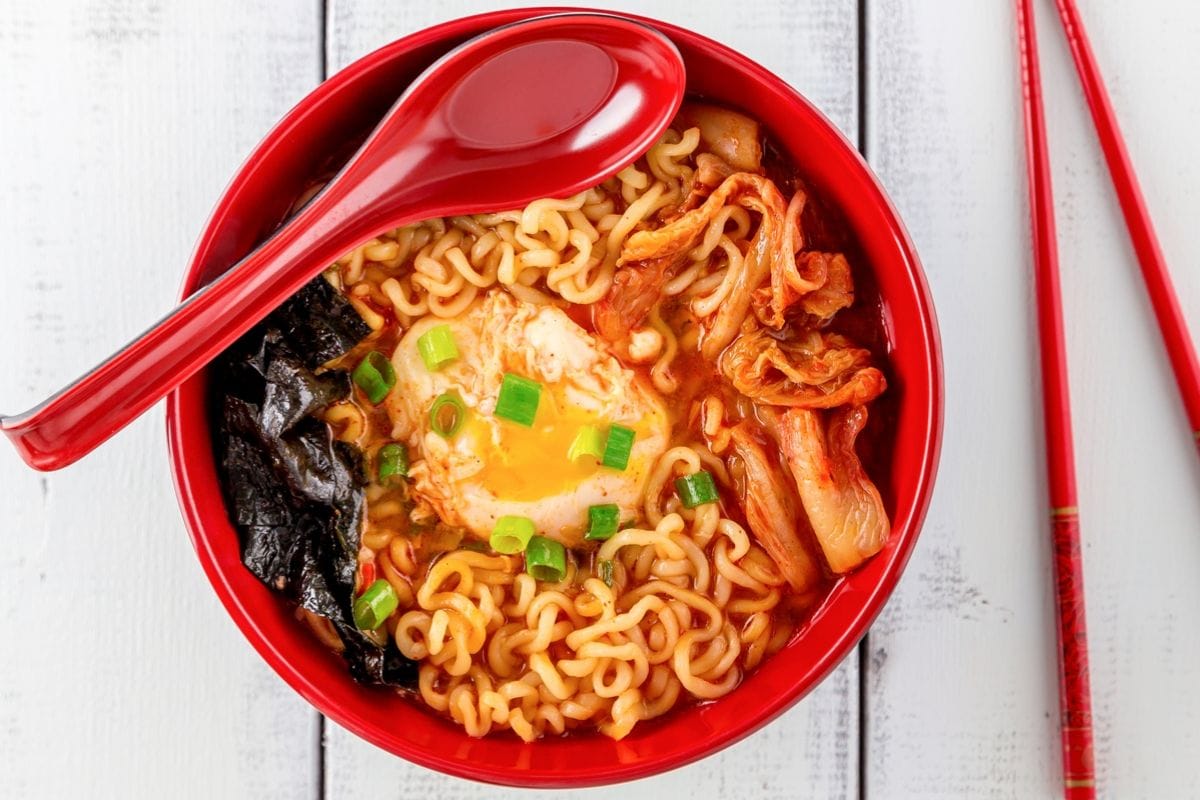 However, not all bowls of ramen were created equal. I learned this while I was in Japan. There are several different styles and varieties produced in Japan, often using recipes that have been passed down over the years. A small handful have made their way to London, with tasty bases include miso, soy and pork or chicken bone broth.
From salty, brown broths to creamy-ones, which restaurants strike the perfect balance of flavoursome soup base to soft, silky noodles? Which have special ingredients that make them extra memorable? What is the secret that sets one ramen join apart from another? Who is top of the broths? And do you need to break the bank to get the best flavour? Let's check out a few contenders for the best ramen in London.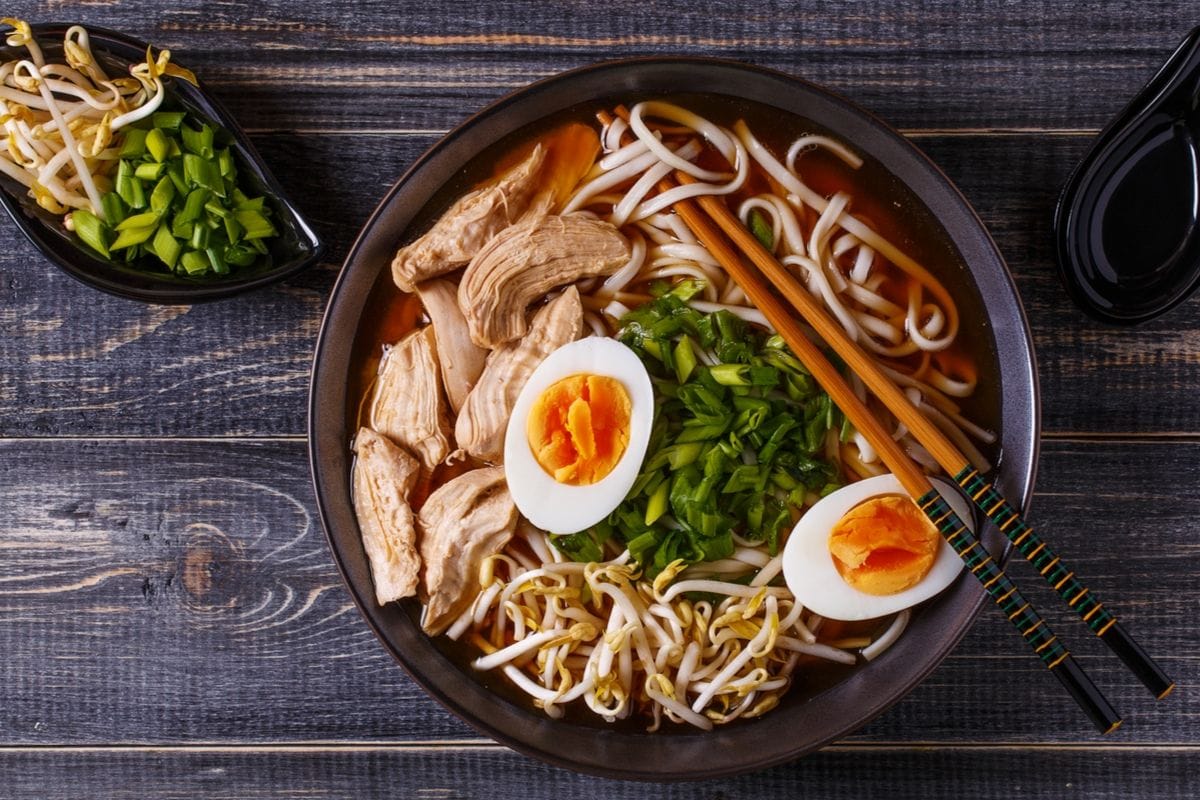 One of my favourites. The broth is SO delicious. Meaty, salty and flavoursome. There's another secret to Tonkotsu's winning formula – the noodles. The founder was once told 'if you don't make your own noodles, you're just a soup shop'. He then started the mission to import a noodle machine from Japan, research flour types and finally started making his own noodles. The good news? There are new branches opening up all the time. Right now there are 6 including in Soho, Hackney and even a ramen bar in Selfridges Food Hall!
Order: Tonkotsu Ramen
Ramen price: From £9
I first visited Bone Daddies a few years ago with a friend. After waiting for around 20 minutes we were seated on high stools, started sipping on strong cocktails and decided what to order. Choosing between steaming bowls of chicken bone or pork bone broth proved tricky and so we went for one of each – mine topped with a salmon fillet and his topped with chashu pork. They were both delicious and one thing I really felt was that Bone Daddies isn't just about the food. There's also the music. It's no ordinary Japanese noodle bar – this one comes with a soundtrack of old school rock! Oh… and the aprons! Bone Daddies have plastic aprons ready to wear so you don't slurp on your best outfit. The broth is pretty rich here, and while I wouldn't say this is London's most authentic ramen joint, it makes for a fun dinner.
Order: Spicy Miso Ramen with padron peppers
Ramen price: From £10
Shoryu Ramen specialises in Hakata tonkotsu ramen from the southern island of Kyushu, Japan. It has its own style – with a thick, rich, white pork soup and thin, straight ramen noodles. It's a creamy broth compared to the two mentioned above, but still rich in flavour. By the number of Japanese people eating here, perhaps it's providing a more authentic flavour? Who knows! And with new branches popping up across London all the time, they must be doing something right!
Order: Piri Piri Ramen with jalapeños and top secret spicy gochujang sauce
Ramen Price: From £9
Kanada-Ya has a reputation for being one of London's most authentic ramen bars – so it's hardly surprising there's been a queue of around 15-20 people every single time I've been past! They simmer their pork bones for 18 hours to create a smooth, rich and very tasty tonkotsu style broth. While you may wait a while (there are only about 30 seats inside) your ramen will be delivered to the table within 5 minutes of being seated. And yes – it's worth the wait. They offer toppings including meats and eggs, but for full-on indulgence, go for the porcini truffle ramen.
Order: Truffle Ramen
Ramen price: From £10.50
At #PantonSt we think there's no such thing as over indulgence – hence our #TruffleRamen dine like an Emperor! pic.twitter.com/2ESP8BO4Bj

— Kanada-Ya (@KanadaYa_LDN) September 4, 2016
With branches in Marylebone, Bloomsbury and Highgate, this is one of the more upmarket ramen offerings on this list. It's a Japanese restaurant group, offering excellent sushi, tasty bento box meals and great set lunches. The ramen is excellent too, and while I love sushi, I find their ramen hard to resist! I like that you can choose whether to have flour or rice noodles in your broth too.
Order: Tonkotsu Ramen
Ramen price: From £11.50
View this post on Instagram
With that hectic, bustling vibe you get at ramen bars in Japan, and huge bowls of tasty ramen, Monohon is one of my favourite places for ramen in East London. I love that the restaurant's founder lived in Osaka for a while, and after getting tired of the rat race, decided to take a punt and set up a ramen shop. He travelled the length of Japan trying different varieties, studying in a ramen school (never knew those existed either!) and came back to London and perfected his recipe.
Order: Mentaiko Cream Ramen (Pork bone soup with sea-salt seasoning 'tare' and spicy marinated cod roe topping)
Ramen price: From £10
View this post on Instagram
The only global contender on my list, Ippudo is already going strong in New York, Hong Kong, Singapore, Sydney and across Japan. In London since 2014, it's another restaurant where the queue outside tells the tale! It's dark and mysterious like a Japanese nightclub. Also hailing from Hakata, expect creamy tonkotsu broths packed full of flavour with springy al-dente noodles. Don't miss the delicious cocktails, and if you fancy something other than ramen, this is the best option with the menu including katsu, sushi and steamed buns.
Order: Karaka Men (original tonkotsu broth topped with spicy miso paste)
Ramen price: From £10
Taro's empire is growing, with three branches in London: Balham, Brewer Street and Kennington. It was launched by Mr Taro, who arrived in London in the late 70s from Kumamoto (southern Japan). He opened the first brand in 1999, back when ramen joints were hard to come by! The broths here are soy or miso-based, and I'd recommend trying the seafood or spicy ramens if you're visiting.
Order: Seafood ramen
Ramen price: From £8.90
View this post on Instagram
A chilled out option, Sasuke is a minimalist spot for a quick bowl of ramen. Without the lengthy queues of the other restaurants, their ramen still packs a punch. Founded by Tokyo-born Toru Sasaki, he brought all the skills he learned cooking at his parents' soba restaurant from the age of 10! It's fair to say, Sasuke is less of a 'dinner spot', but you're guaranteed a delicious fill. A nice touch – they bring a surabachi with your meal (a Japanese pestle and mortar) so you can grind up a few sesame seeds to top your ramen!
Order: Spicy Fire Ramen (you can choose how fiery you want it on a scale of 1 – 3)
Ramen price: From £8.90
First Tsuke men. Then Spicy Miso Ramen. So full and so happy! Best ramen shop in London for me! @ramen_sasuke pic.twitter.com/UPYBmSVfO1

— akihiro in London (@Aki_RisingSun) March 23, 2016
Where's your top ramen joint in London? What did you order? Let me know!
Enjoyed this post? Why not PIN it?