The best restaurants on the Isle of Wight include fine-dining, fresh seafood, farm to table cooking and good old fish and chips.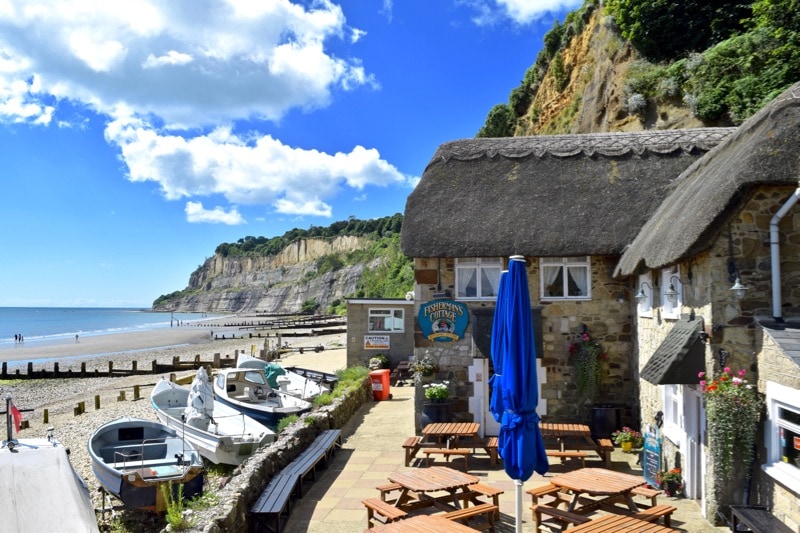 I mentioned the island's buzzing food scene in my Isle of Wight blog after my trip with Visit England. It was something that really surprised me! After speaking to locals I heard how the scene has really developed in recent years, and along with plenty of characterful chippies and pubs nestled in the seaside towns, there are now several restaurants delivering well-presented dishes using locally sourced ingredients.
During my 3-day trip to the Isle of Wight I took a whistle-stop tour of some of the top dining options on the island, so you can head straight for what you fancy!
---
Best Restaurants On The Isle Of Wight
Located right on the water in Bembridge Harbour, The Best Dressed Crab is the place to go for the freshest seafood and shellfish on the island. So fresh we saw fishermen bring their catches in as we sat on the terrace! Lobsters and crabs were delivered directly to the restaurant and seafood shop next door, ready to feed hungry diners and locals!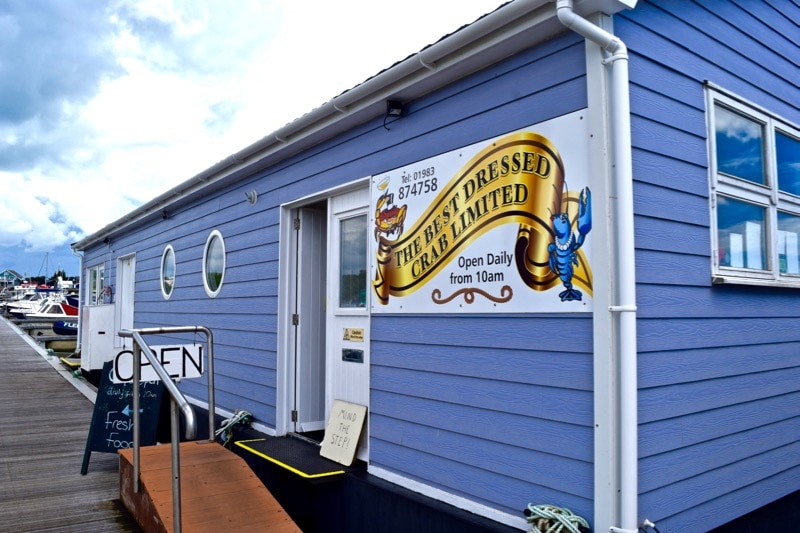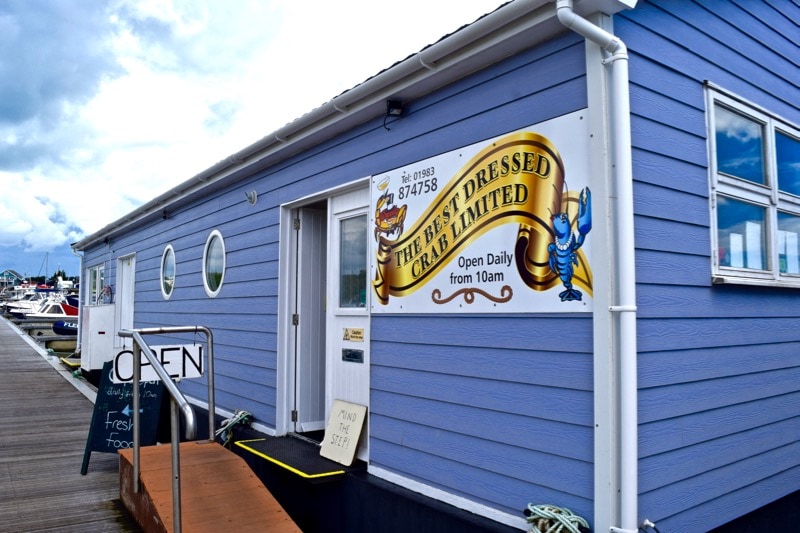 The restaurant had a lovely relaxed feel, yet presentation standards were extremely high. We shared a mixed seafood platter between two and were momentarily overwhelmed at its size, before diving straight in and pretty much demolishing it!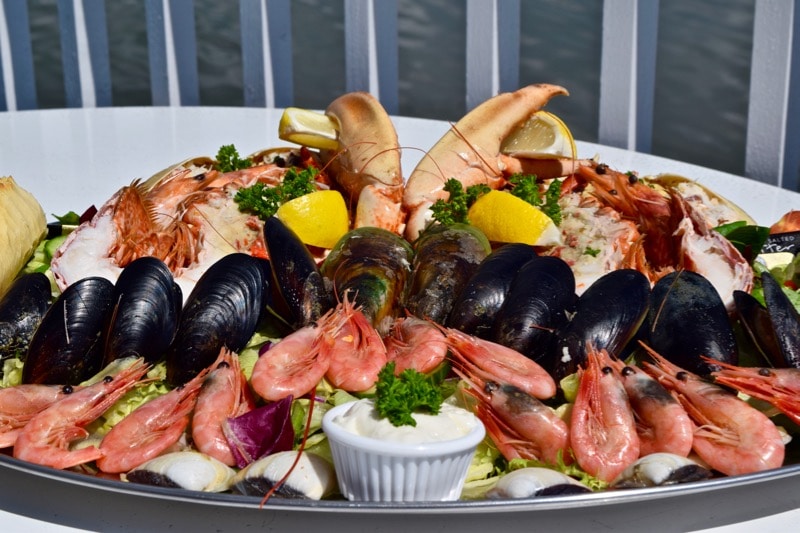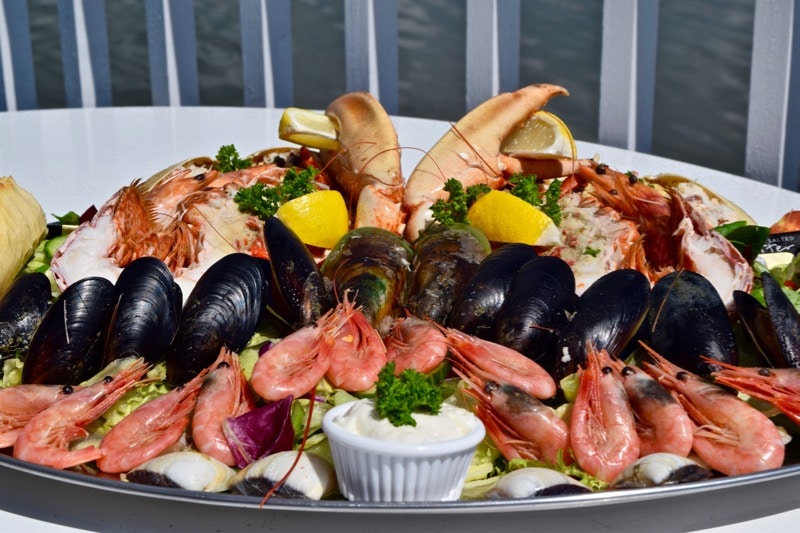 The lobster was beautifully cooked and not too chewy, while the king and baby prawns were tasty, particularly when dunked in the house aioli.
Funnily enough, of all the seafood out there, crab isn't top of my list, but my partner happily devoured mine and his… and as dressed crab goes, he thought it was delicious!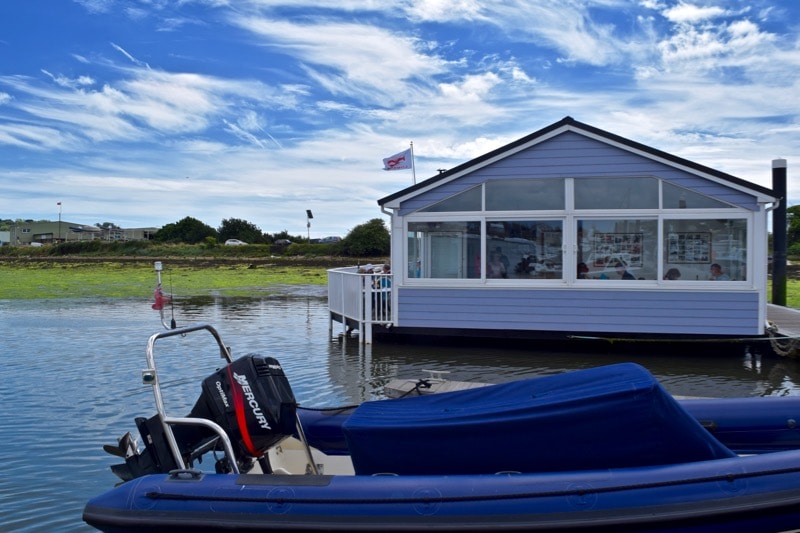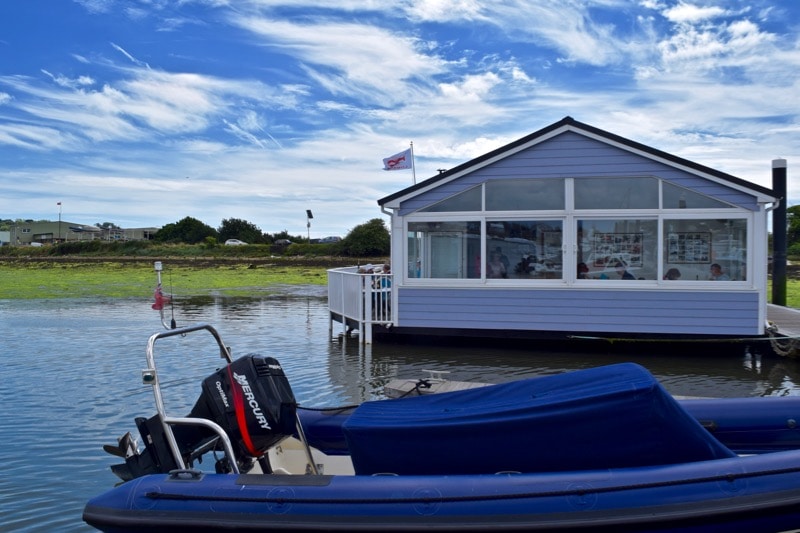 In the quaint town of Bembridge is The Shed – a cosy restaurant offering international cuisine in tapas form, perfect for people (like me) who love to share! When we arrived just after 7pm, the restaurant was completely full. What a mix of people – a few young couples (us included), one big family celebration, a table of students and a few others. This was a place that appealed to the masses.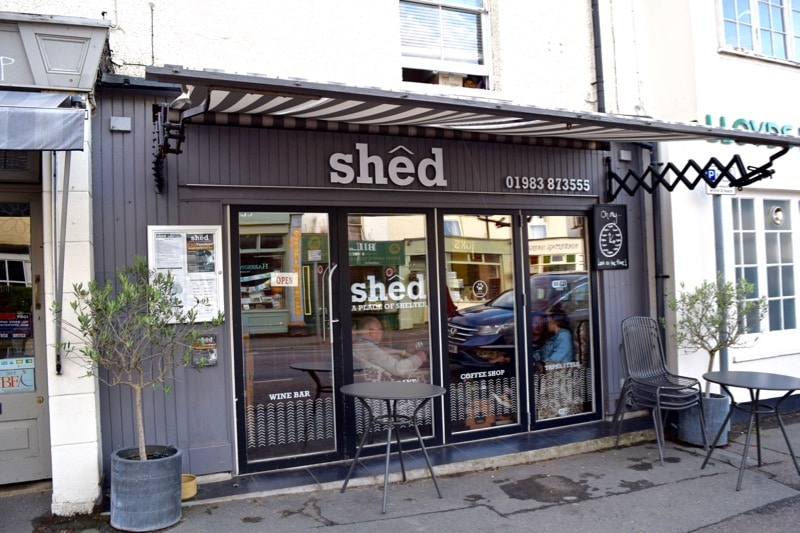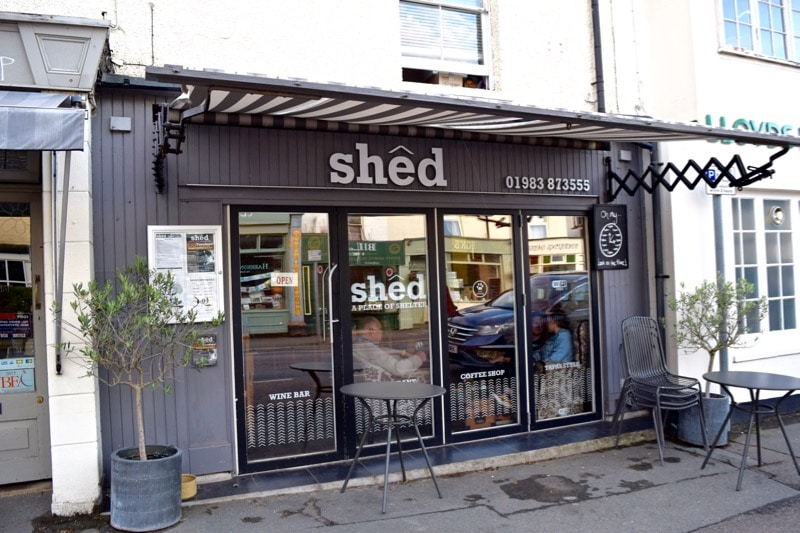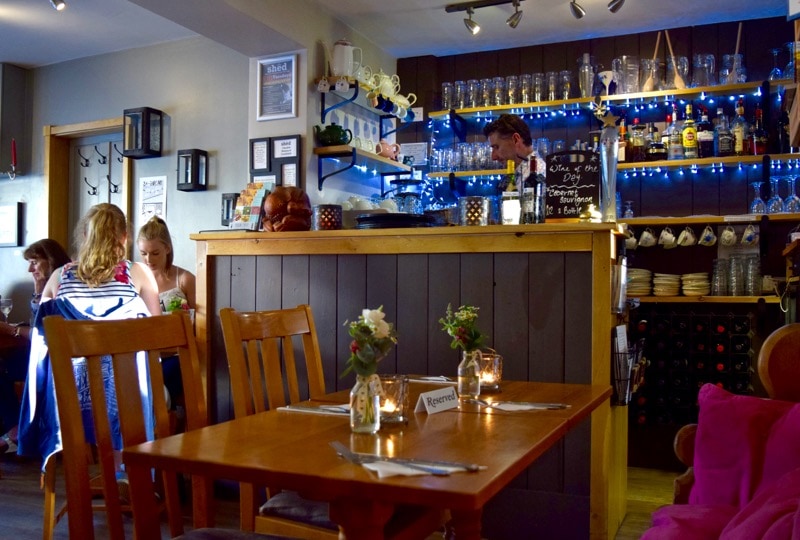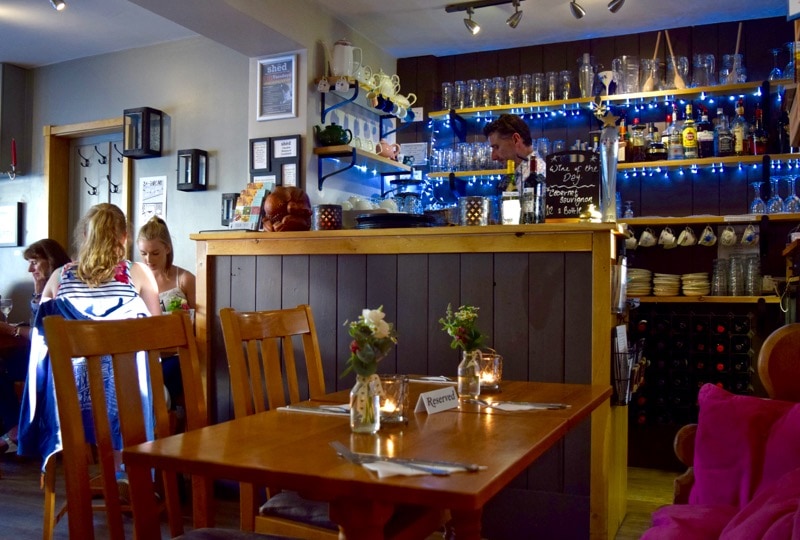 When I met manager Toby, I could see why. He was so welcoming as he told us about the restaurant concept and how the menu expanded to incorporate influences from all over the world! "I suggest a country and our amazing chef Michael researches the cuisine, and comes up with something special," he said. Sure enough, they'd taken influences from Morocco Ethiopia, Malaysia and more!
The Shed offers an extensive menu of reasonably priced tapas (between £4 and £7), which we decided to dive into! The caramelised red onion and chorizo spring rolls were crisp and flavoursome, while the sea salt and cracked black pepper calamari were fried in a lovely light batter. The patatas bravas were delightfully crispy with a fiery tomato sauce. Our favourites were the Thai chicken risotto balls with their delicate balance of Asian spice and coconut, served with a lime vinaigrette. We also loved the lamb bonbons, which came highly recommended – and totally lived up to the staff's enthusiasm!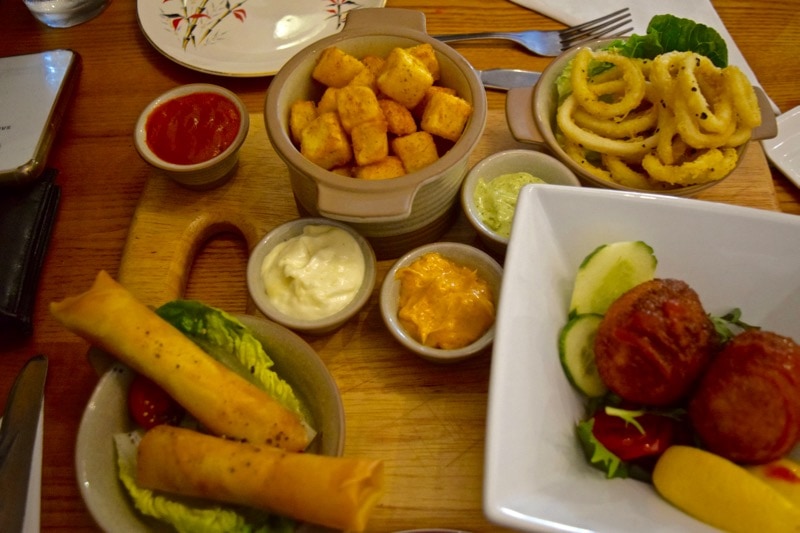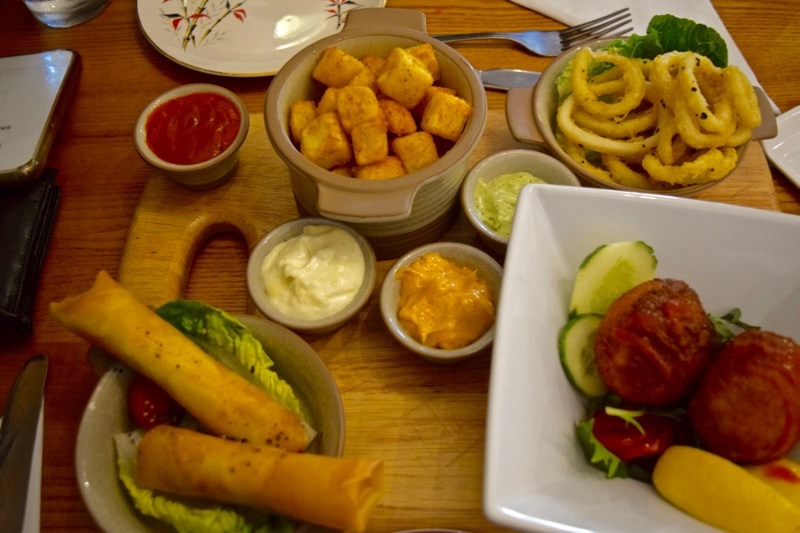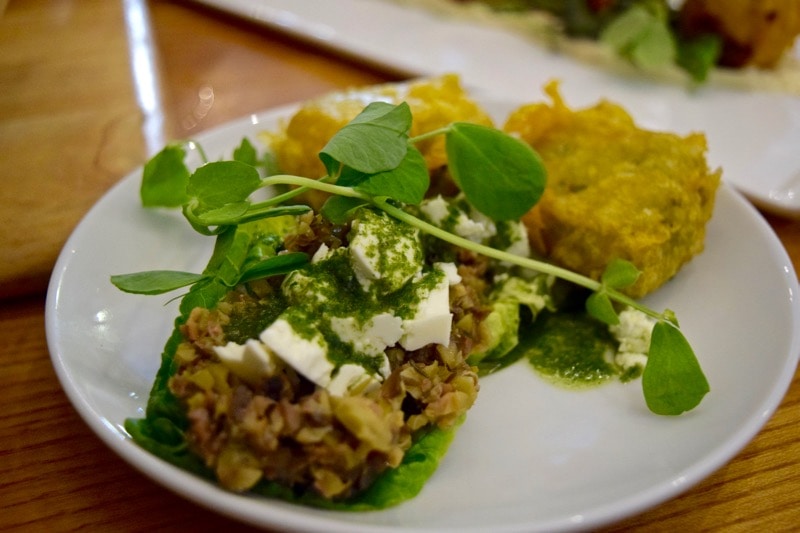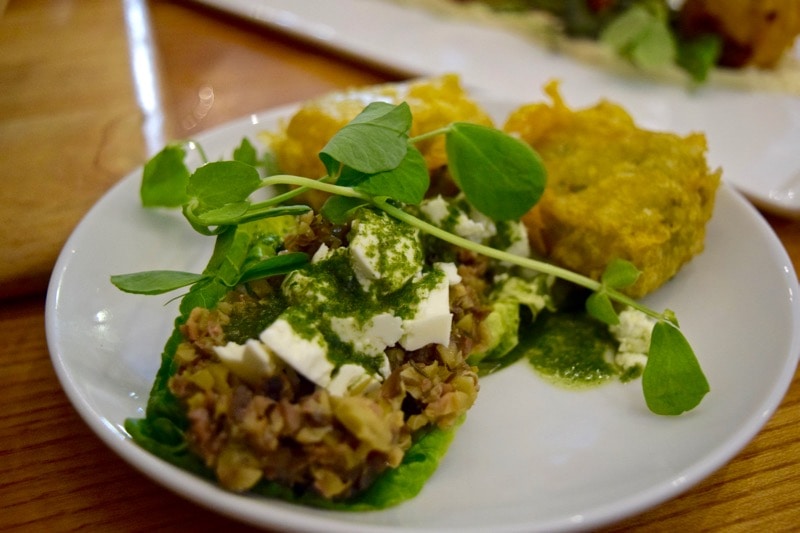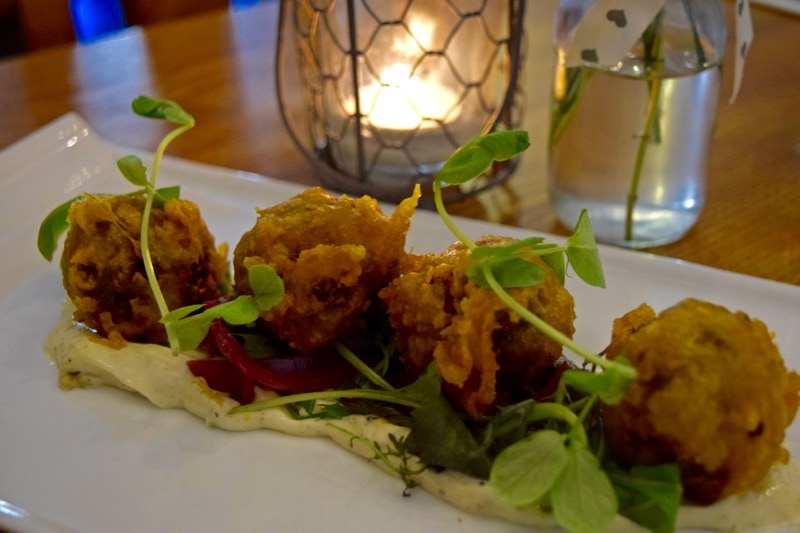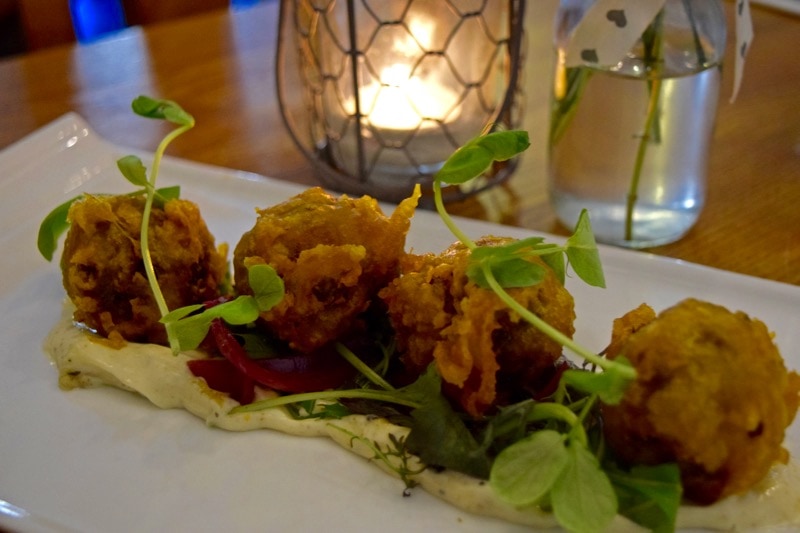 I must also add that the wine was very reasonable. They even offered a "wine of the day" for just £12 a bottle. Bargain!
After visiting the ladies, which was filled with photos of sheds from around the world (oh how I love a novelty) we left The Shed with barrels of praise for the restaurant, the staff and a lovely creative menu.
The Seaview Hotel popped up during my pre-trip research, with several websites claiming it was home to the island's best restaurant. Head Chef Bruce Theobald received a Bib Gourmand – an award celebrating gourmet food delivered at very reasonable prices. As you might predict by the fact it's a stone's throw from the beach, the menu focuses on fish, with the fillet of stonebass with ratatouille and the pan fried sea trout with warm salad Niçoise both catching my eye!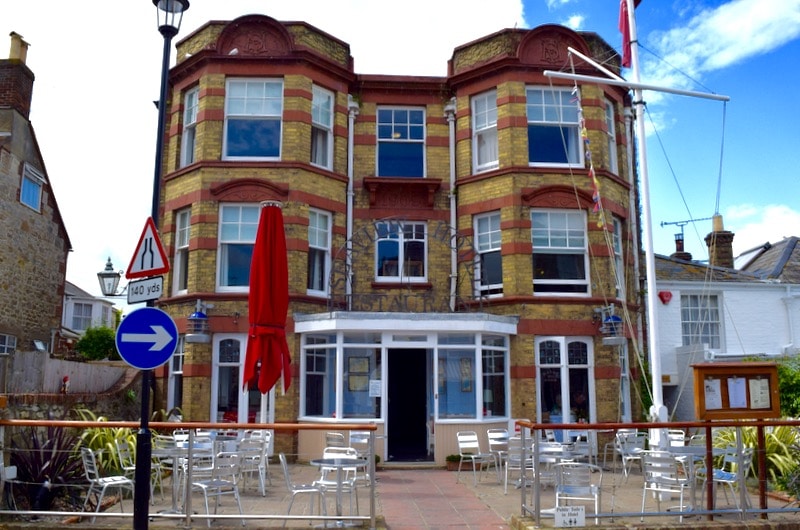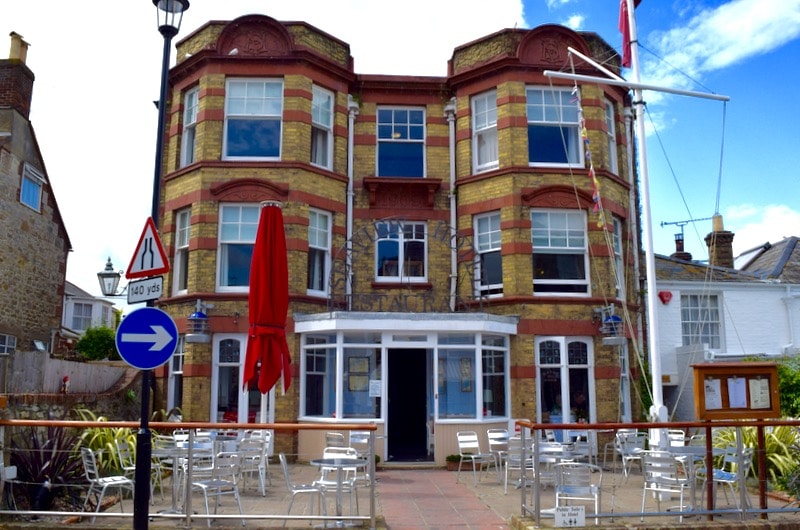 The hotel is also home to a lovely old bar area and lounge, serving traditional pub grub. Bangers and mash, scampi and chips and more! With so much on offer, we opted to try a starter from the gourmet menu, followed by fish and chips! Oh come on, you just have to do it when you're by the seaside!
The courgette flower stuffed with ricotta was beautifully presented; I couldn't stop taking photos of it! It came with fried gnocchi and a tasty vinaigrette. The flowers were a very pretty, summery touch!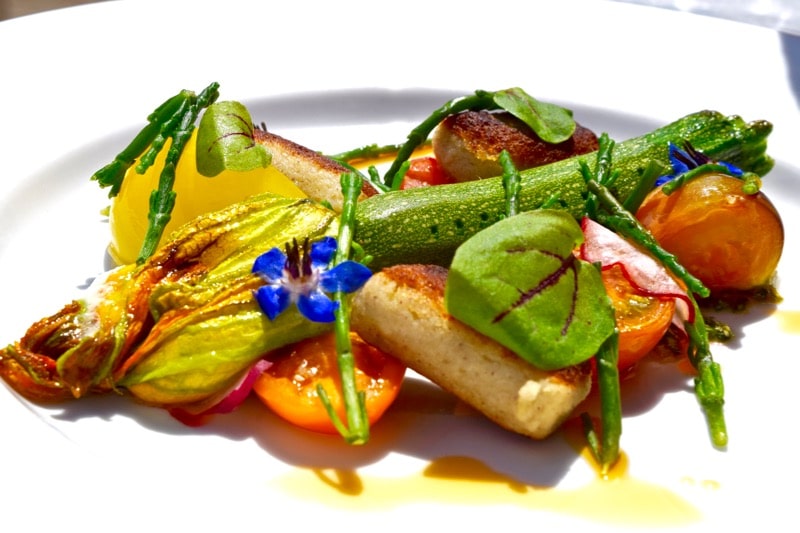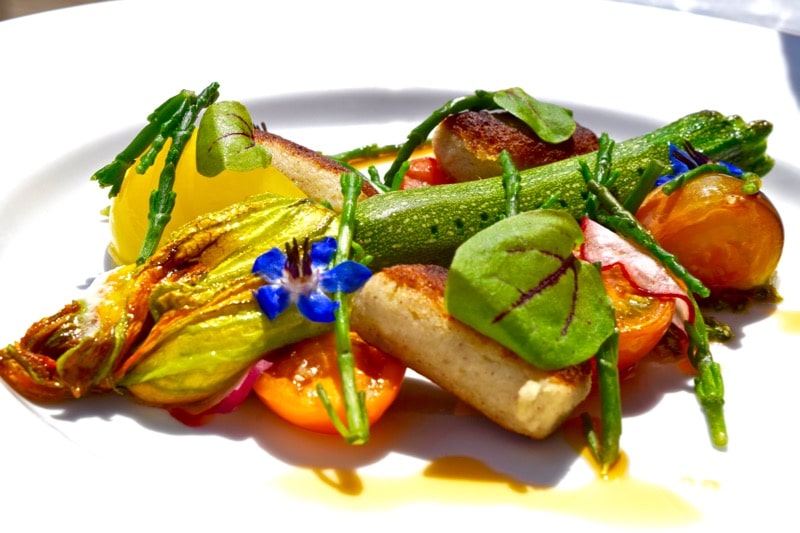 Then a whopper of a fish served with moreish fat chips and peas. This dish may not have been from the gourmet menu, but the cooking was still spot on!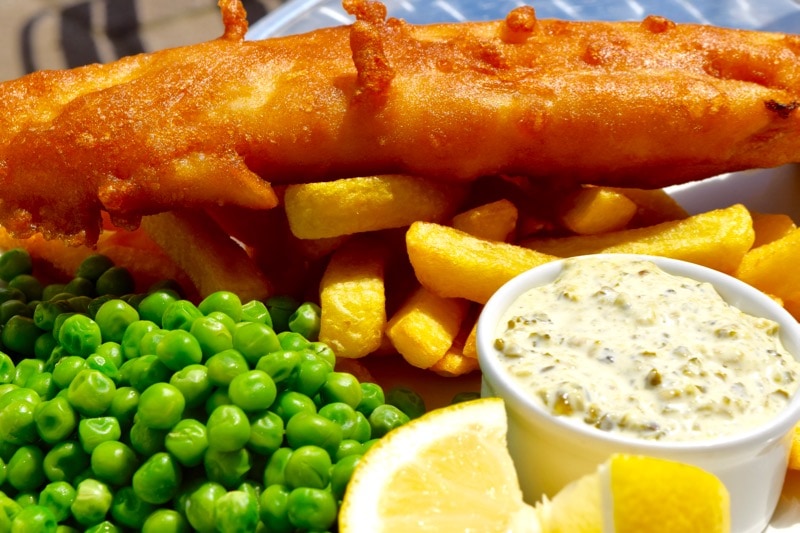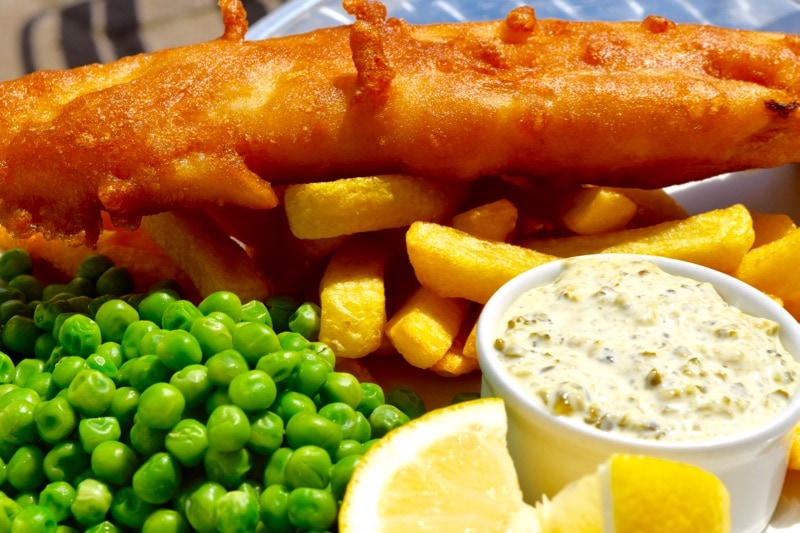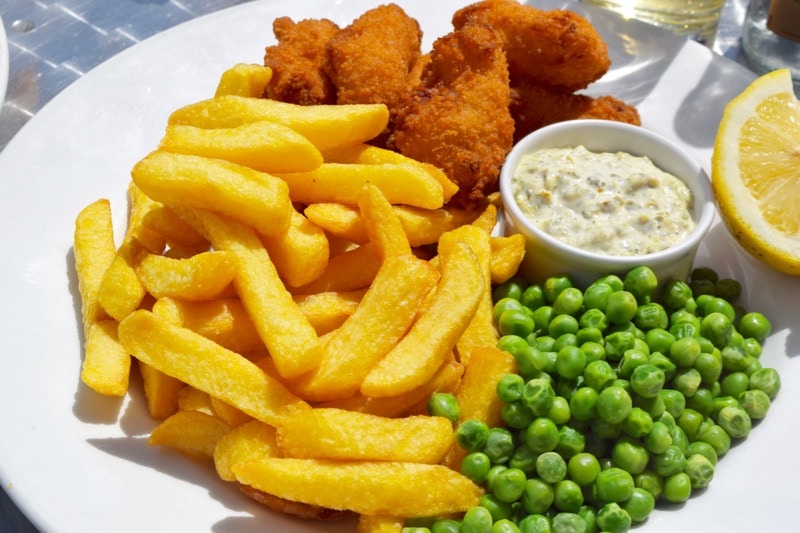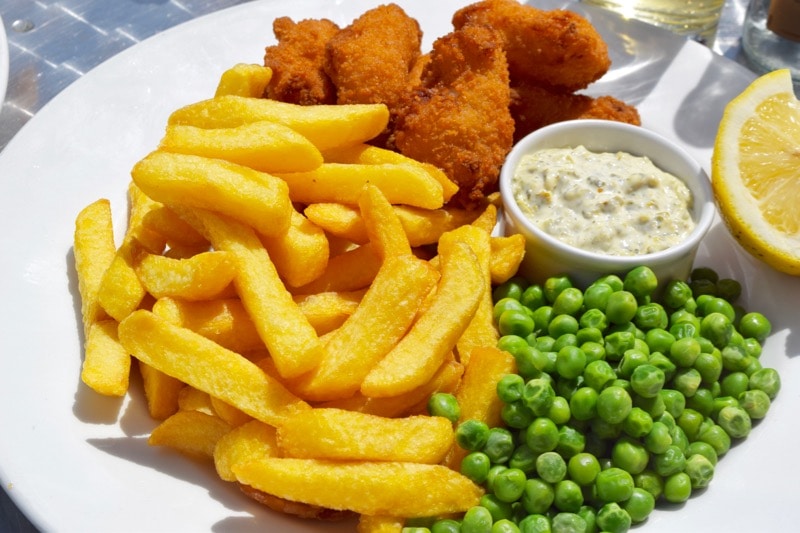 For a special occasion, I'd definitely choose to dine at the gourmet restaurant. Presentation was elegant and sophisticated, and when it's just £28 for three courses, there's no reason not to.
It's hard to beat the amazing view over Appley Beach in Ryde from Three Buoys, especially as the sun starts to set. The family-run restaurant (named Three Buoys as the couple have 3 boys!) has a well-designed menu featuring plenty of fresh seafood and a great selection of cocktails. It's a buzzy place, with a gorgeous terrace overlooking the beach.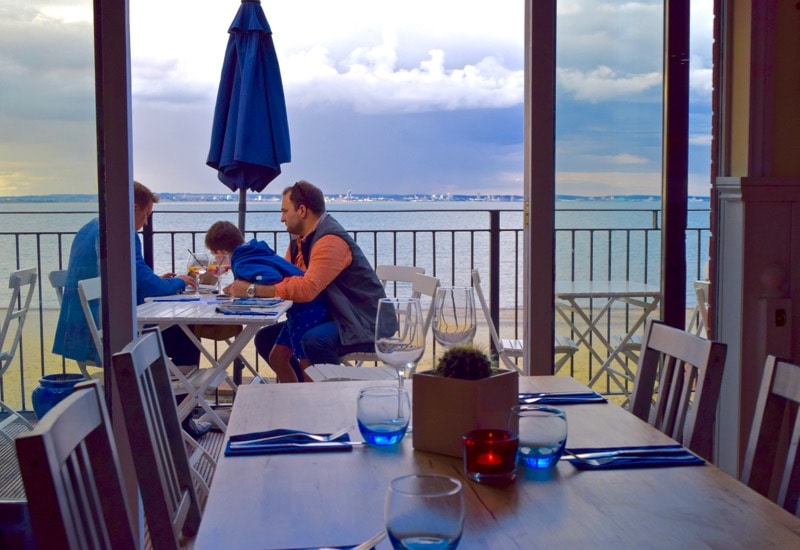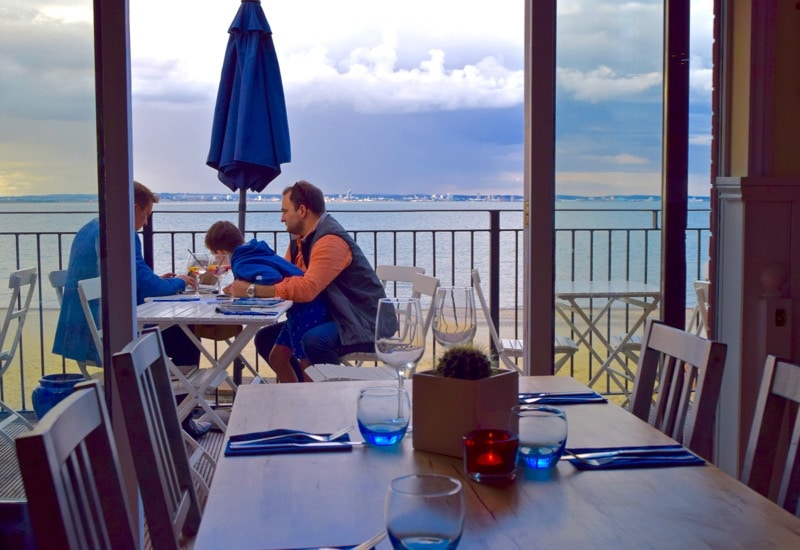 I was excited to see an extensive cocktail menu, and went straight for the passion fruit caipirinha! But would it live up to the delicious fruity, tangy drinks I'd enjoyed in Brazil a few years ago? Thankfully – the team were are cocktail pros and every drink was made with top ingredients and a shaker full of know how!
To start, my partner and I chose to share the seared scallops with cauliflower puree and chorizo, along with the grilled courgette and artichoke with harissa yoghurt. Both were beautifully presented, and the chorizo, cauliflower and scallop combo worked a treat. With great cocktails, a stunning setting and a winning first course, it seemed like a great start to the night!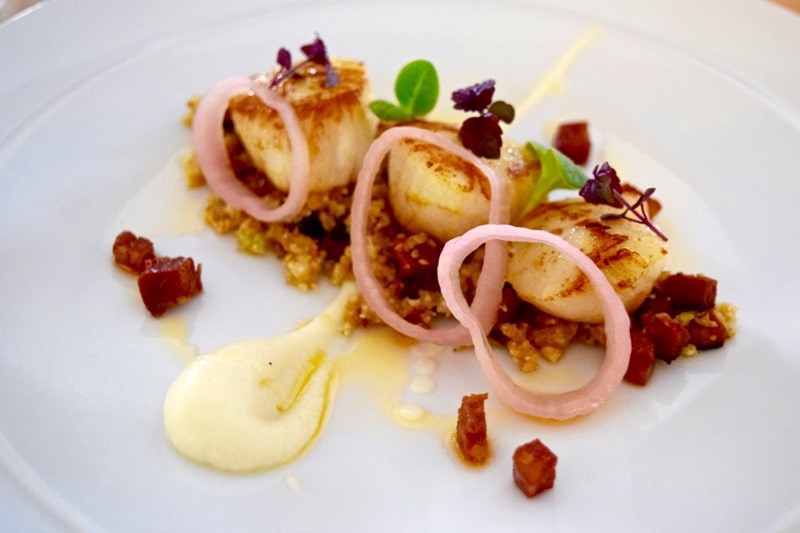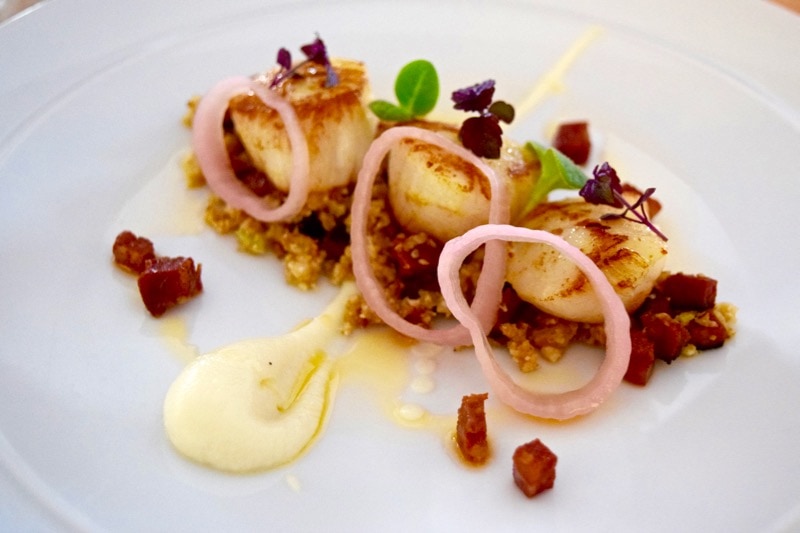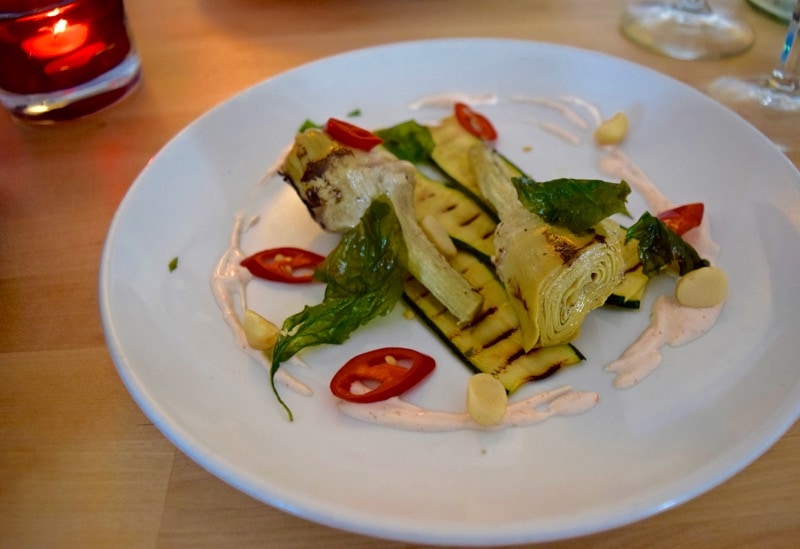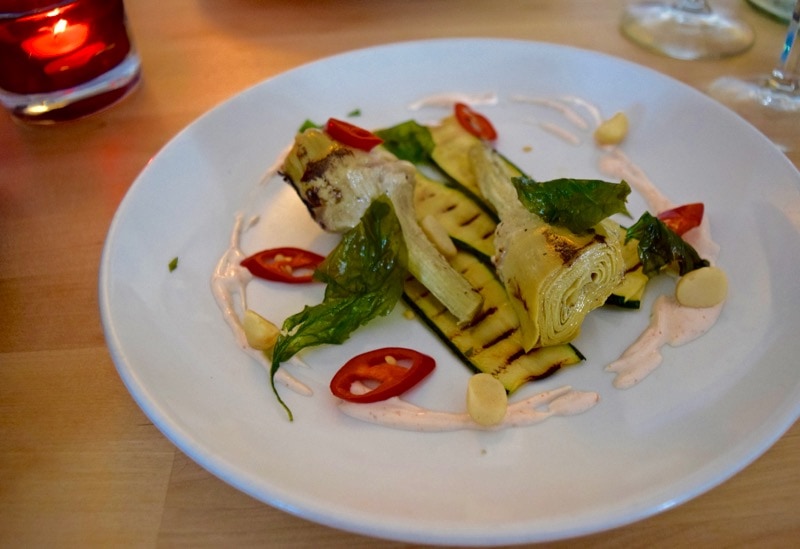 We struggled to choose our main courses as there were so many tasty sounding specials on offer. After a long period of deliberation I went for the sea bass with sweet potato, orange and Isle of Wight Heritage tomatoes, while my partner took on the challenge of a whole plaice in lemon butter. Again – top marks for presentation for my neat, brightly-coloured dish. The warm tomatoes were packed full of tangy flavour, while the sea bass flaked away perfectly.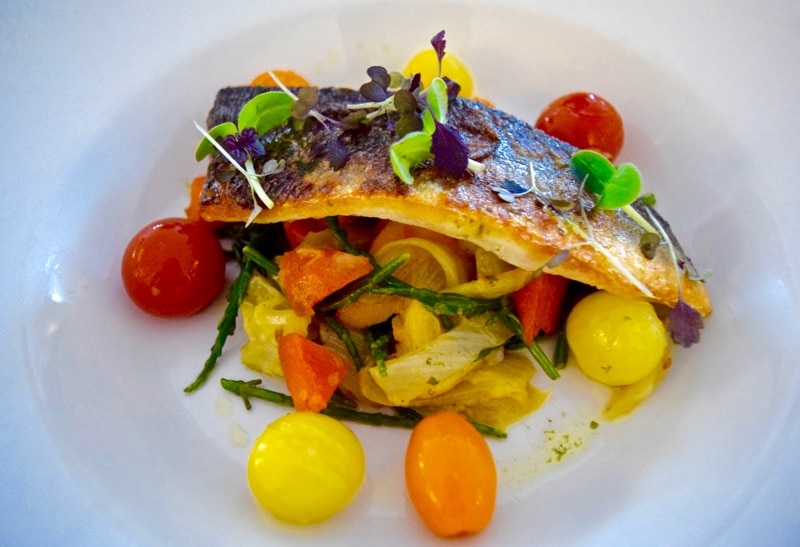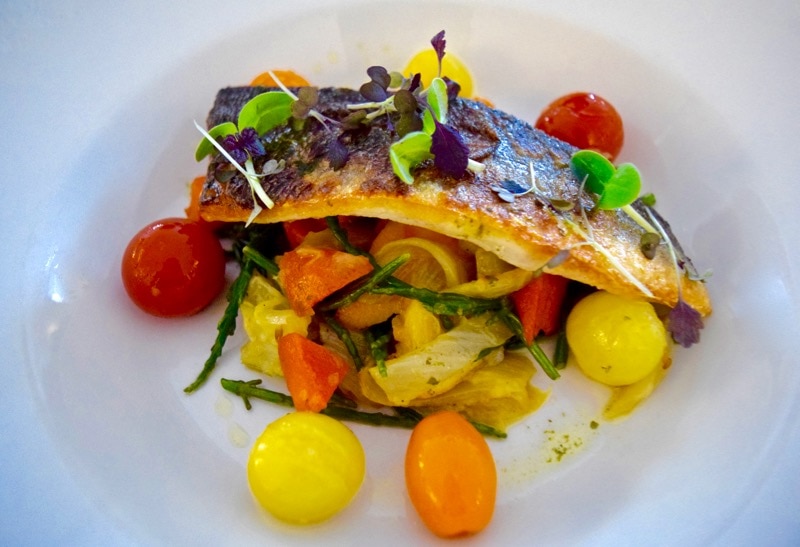 After a few scoops of ice cream and sorbet (and a rich, cocnutty pina colada pie for my partner) we left Three Buoys very satisfied.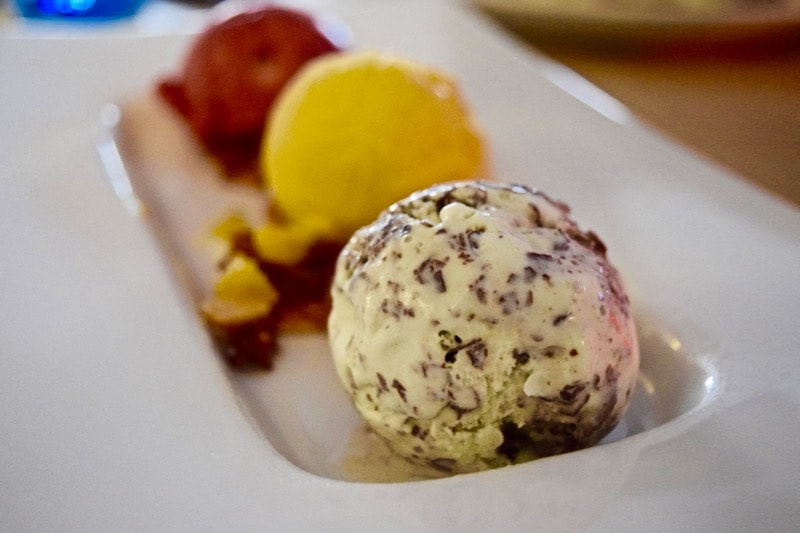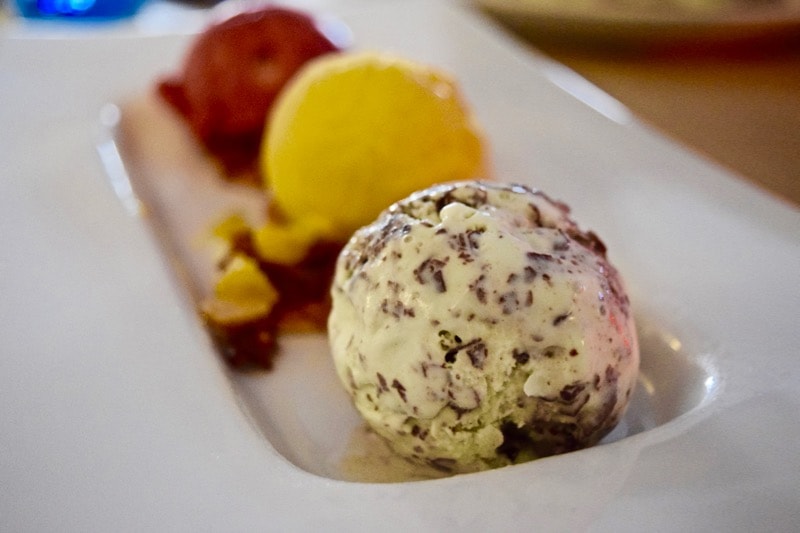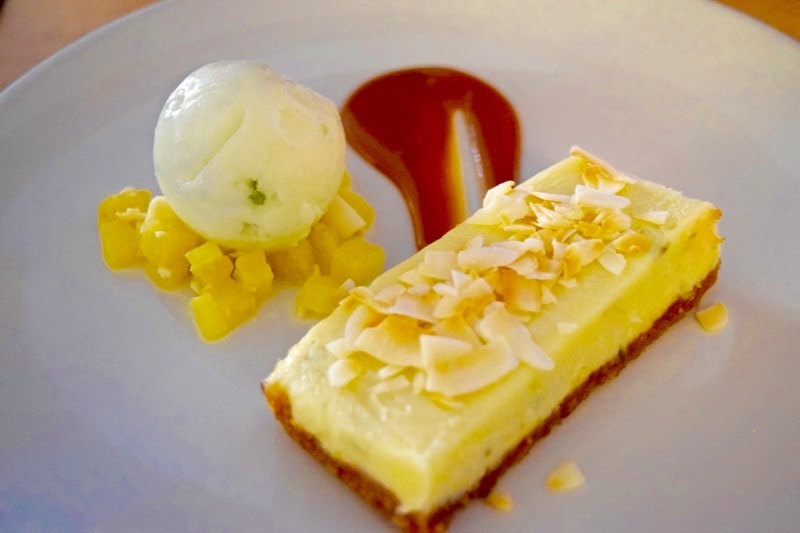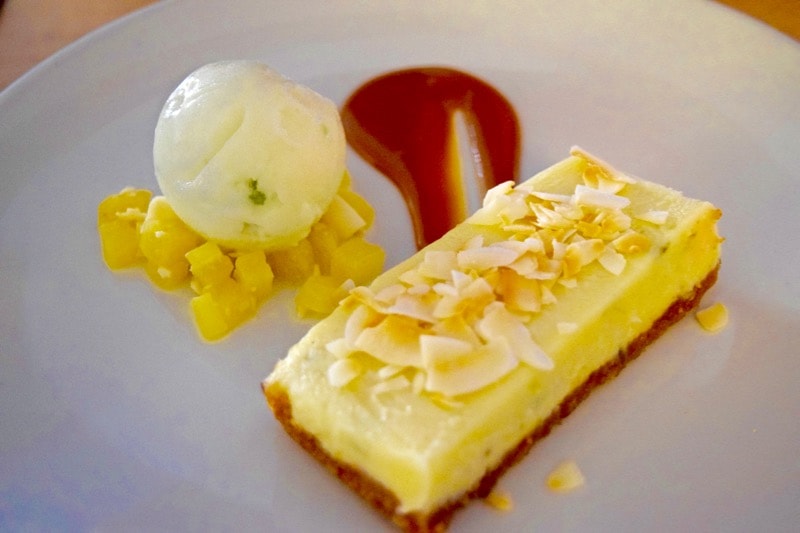 It was evident Three Buoys was somewhere locals enjoyed returning to time and time again, and as with The Shed, it's hard to beat the charm of a family-run restaurant.
I could smell The Garlic Farm in Newchurch from the end of the road! It really was that pungent… and wow I couldn't wait to get in! It turns out it's also an absolutely stunning spot to spend a sunny afternoon. After learning all about garlic and checking out the beautiful gardens filled with plants and wild flowers, we took our seats on the restaurant's terrace.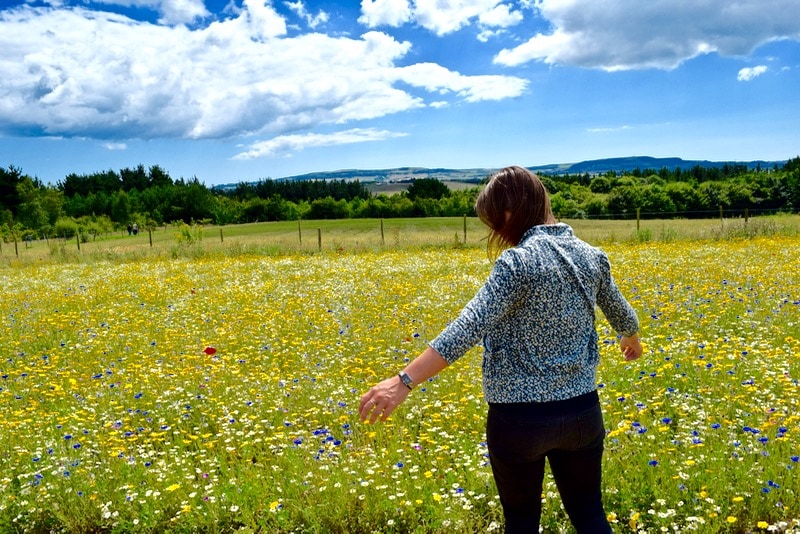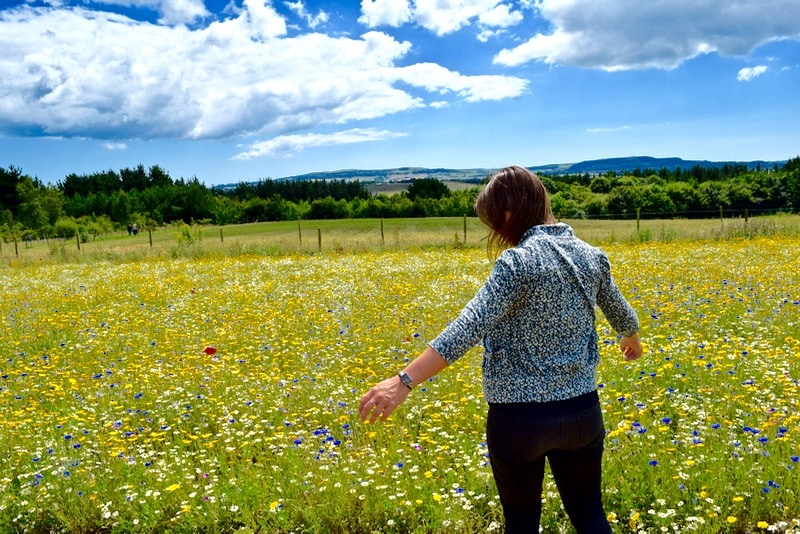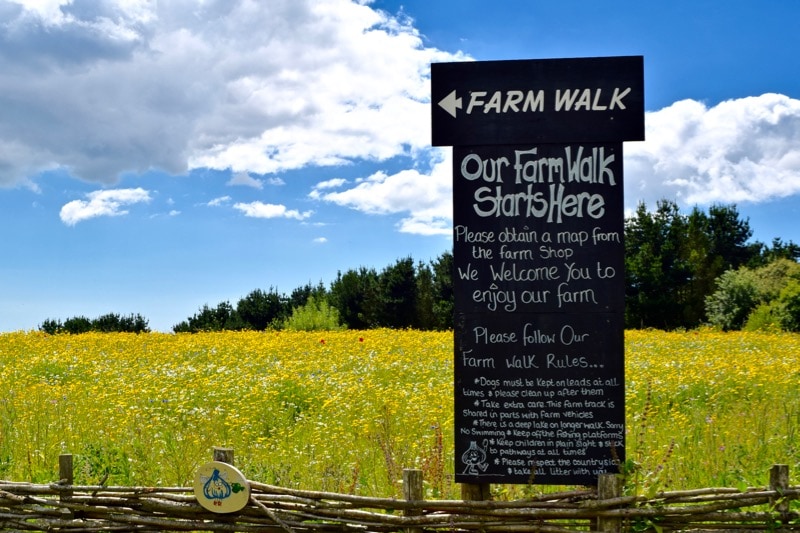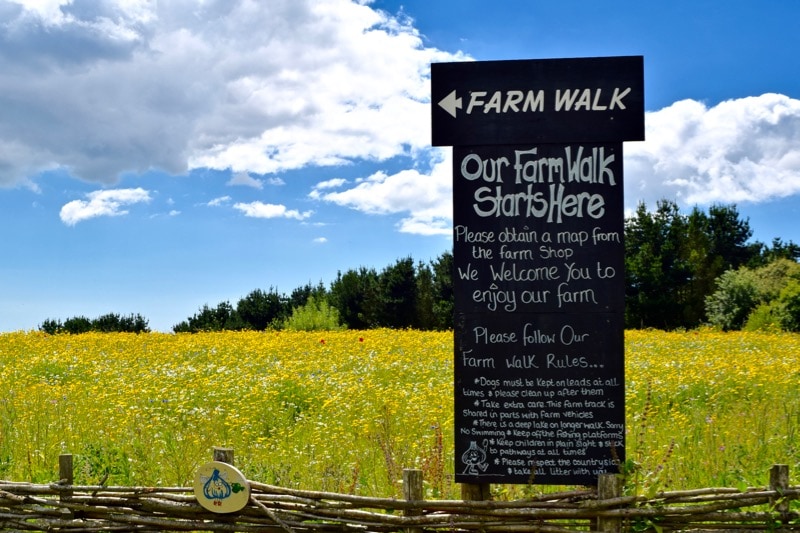 There was a full menu of garlic-themed delights (from soup to burgers), but we went for the mezze platter as it offered a chance to try plenty of garlicky specialities at once!
Along with some luxuriously buttery mushrooms we also enjoyed a few types of garlic bread. They were covered in a tasty herb butter, which popped with intense garlic flavour. For extra indulgence, we loved spreading the contents of the whole roasted garlic on top! Mints anyone?!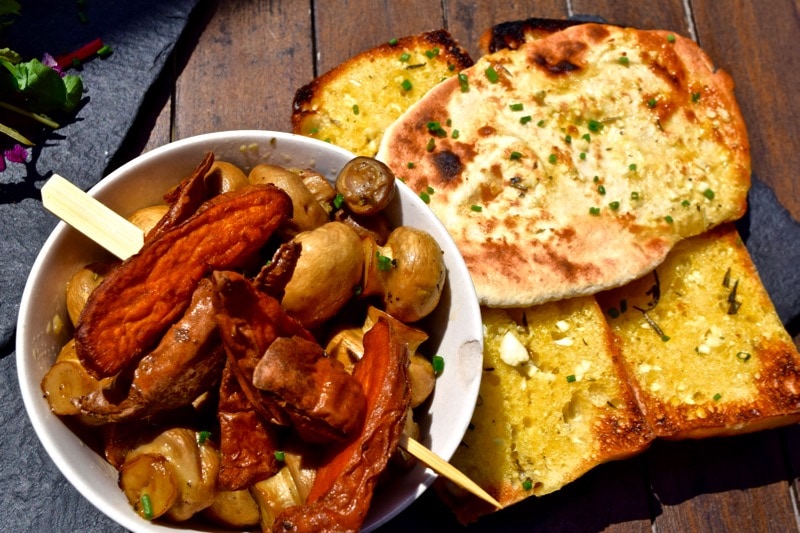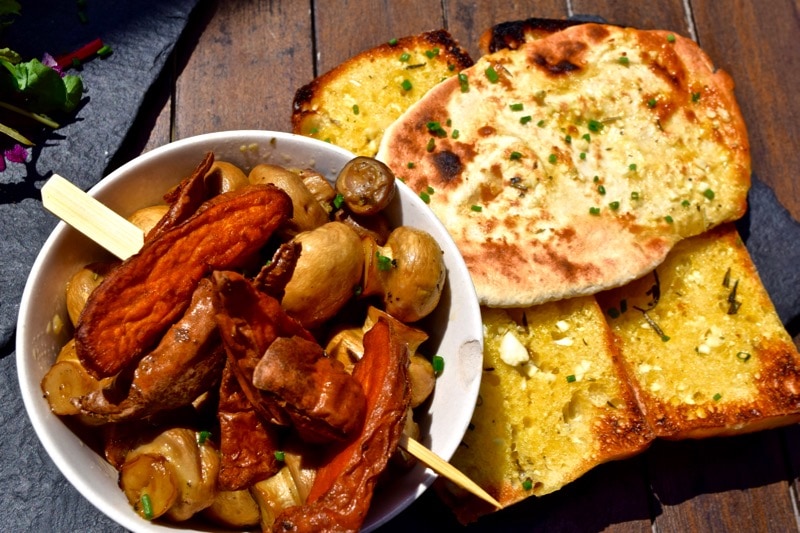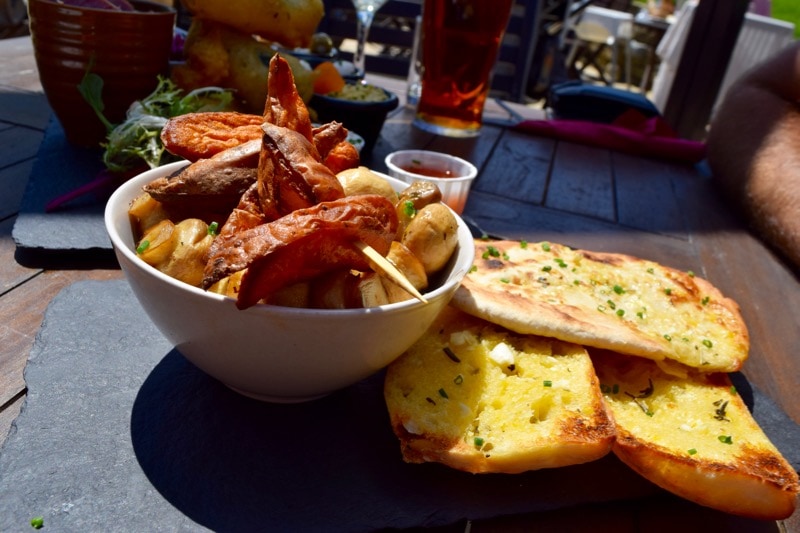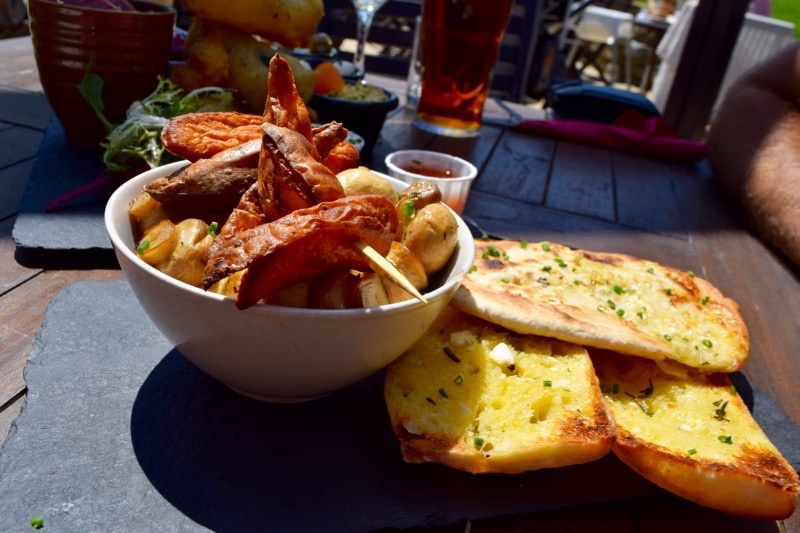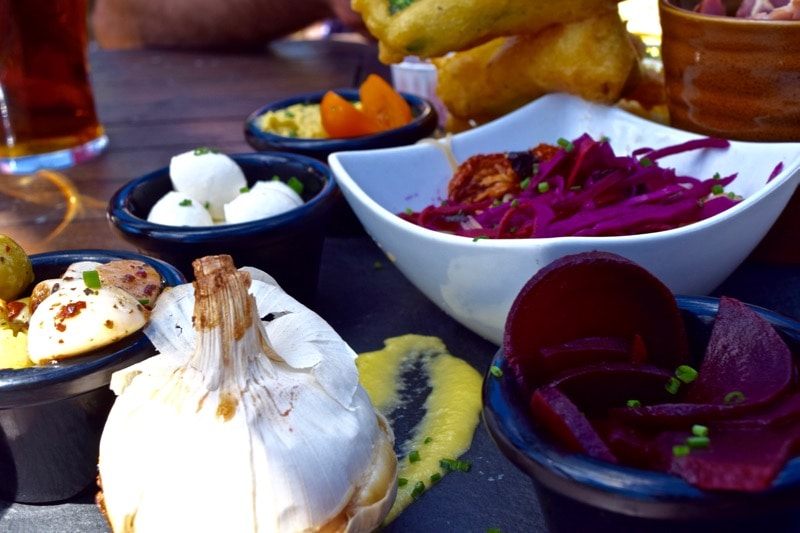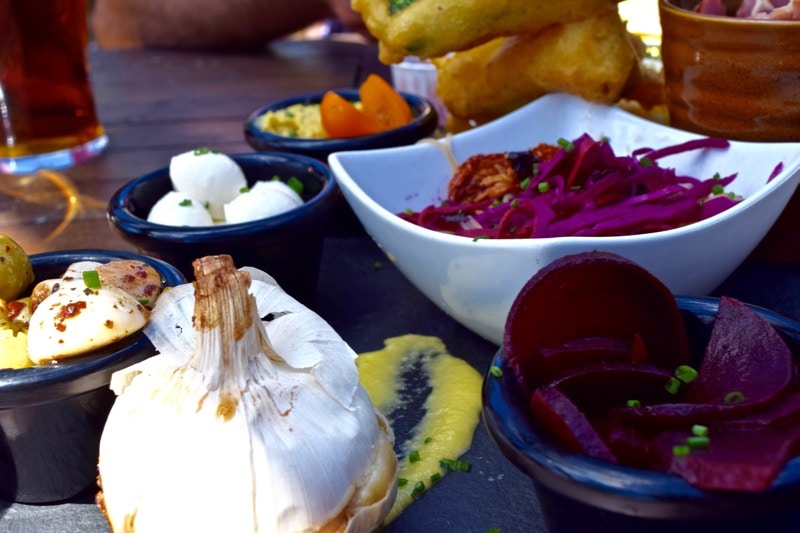 We also tucked into tempura-battered vegetables, hams, pickles, olives, mozzarella and a delicious curried daal dip. It was a tasty platter, and the terrace overlooking the gardens was the perfect pitstop after a busy morning exploring the island.
Oh and for the adventurous out there, you can even try a garlic beer. My partner had one and it seemed to go down pretty easily!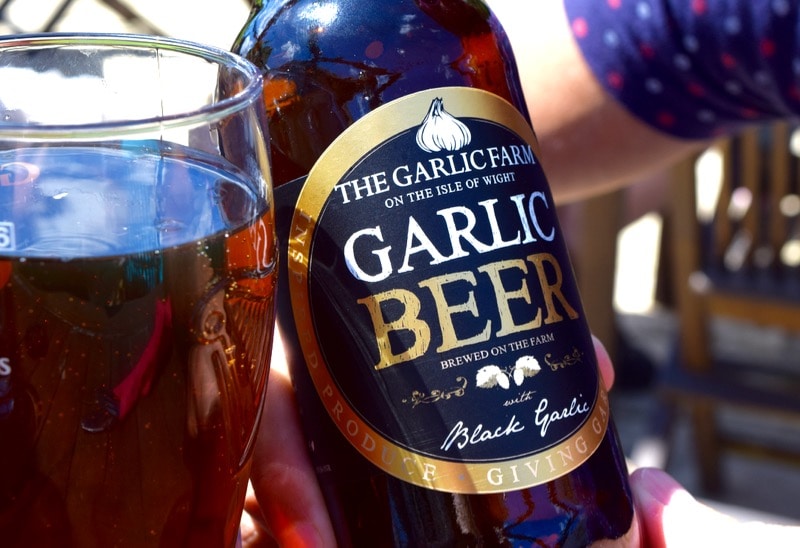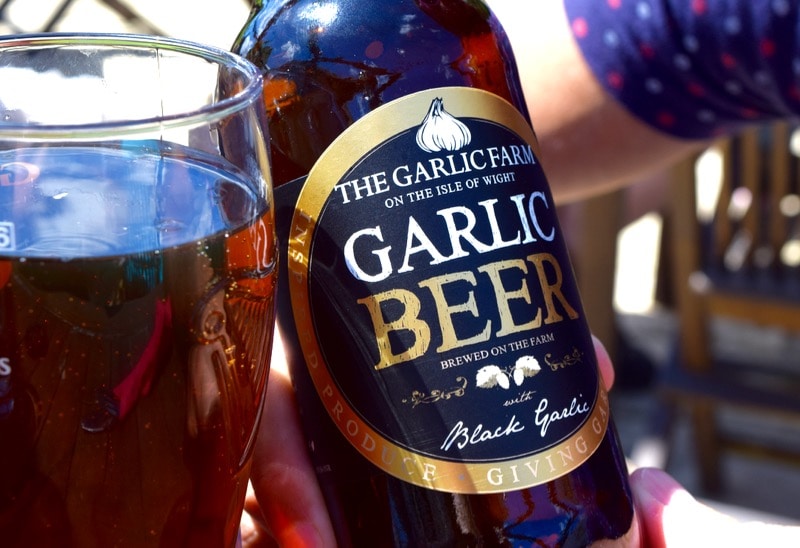 I really enjoyed my visit to The Garlic Farm, and we couldn't help but buy a few garlicky souvenirs before departing for the mainland.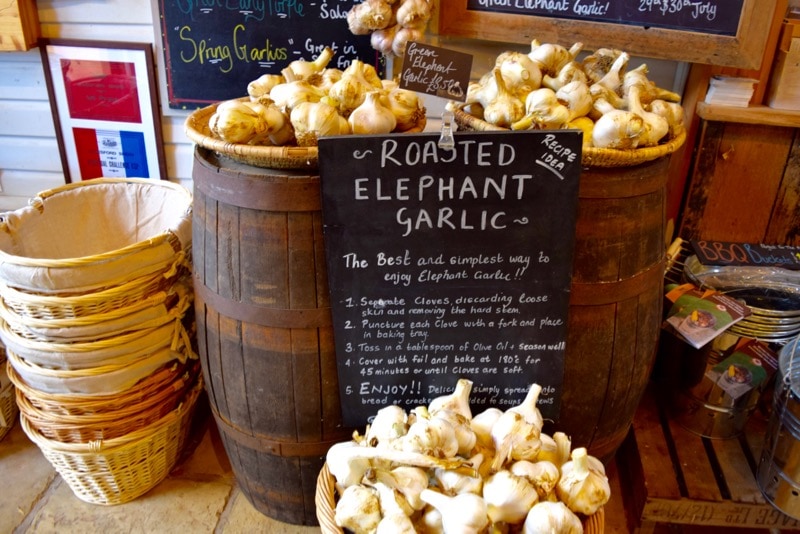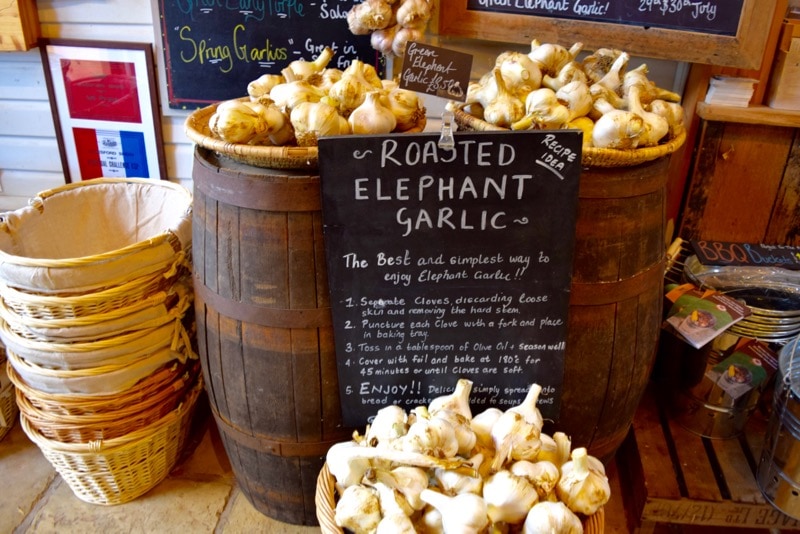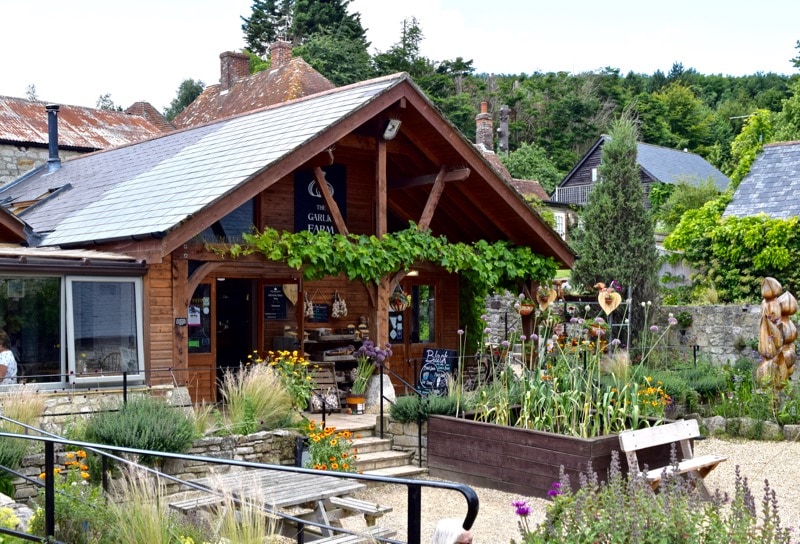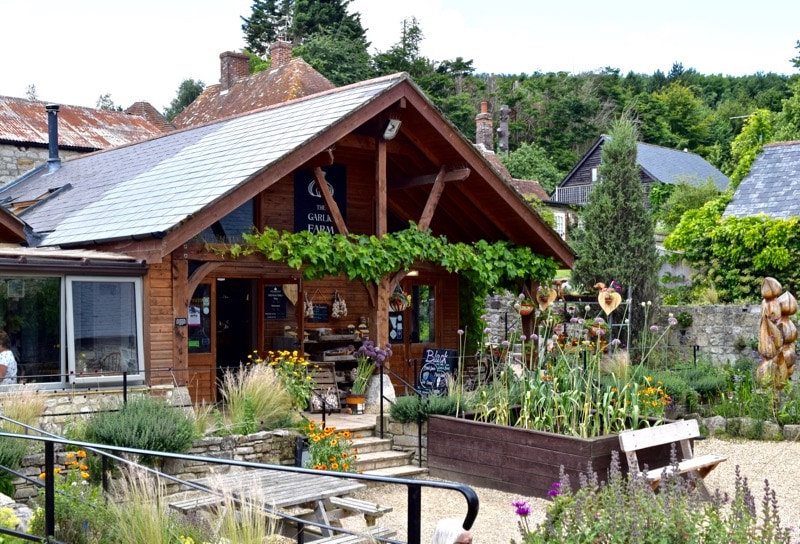 ---
When Is The Best Time To Visit The Isle Of Wight?
England is a country obsessed with weather. Don't know what to say? Comment on the weather! We talk about it a lot, but contrary to what you may have heard, we don't have awful weather in England. It's just a little unpredictable and varies from region to region.
You can expect average lows of around 5 °C on the island in January / February, and highs around 22°C in July / August.
If you're wondering when is the best time to visit the Isle of Wight, I'd suggest planning a trip in May or June. The weather tends to be warm and sunny, rain is at a minimum and it's out of peak season, so you shouldn't be battling any big crowds either. The longest day is around 20th June every year, so it's a time you can enjoy maximum daylight hours exploring!
I've never been a fan of November in England. It's the wettest month of the year, and while December can be pretty cold, there's a Christmas magic around the country which always puts a smile on my face!
---
Thanks to Visit England and Visit Isle of Wight for inviting me to explore the island as part of the #OMGB campaign! Check out more amazing unique experiences across the country here.
Enjoyed this post about the one of the best restaurants on the Isle of Wight? Why not pin it for later…