Time for a curry cooking class with a professional chef at a top cooking school in the heart of London. Plus, if you fancy a trip yourself, scroll down for a cheeky discount code!
I absolutely adore the flavours of Indian food. The spices, the aromas, the powerful blend of ingredients and of course the heat! Since travelling, my chilli tolerance has grown a lot it. From fiery chillies in Mexico, to Caribbean hot sauce and the delicious spices in Indonesia, I've worked my way through some punchy, flavoursome cuisines. One of my favourite meals always has been (and probably always will be) curry! Whether it's a trip to my fave curry house or mum's homemade concoctions, it's one of those meals I always look forward to.
When it comes to cooking curry, I've gone through phases. I own a lot of spices, including a special Indian spice set. Yet, without a permanent home these days, it's gone into storage. More often, I use a couple of spices and then add a shop-bought paste, but I'm totally aware that is pretty generic and a bit of a cop out! I also discovered that my partner cooks a mean curry, and so we decided that I'm the ramen queen and he's the curry king!
So when we had the opportunity to visit a cooking school in Central London for a two-hour curry cooking class with a professional chef, we jumped at the chance. We hoped to learn some new techniques and hopefully add some new dishes to our repertoire.
L'atelier Des Chefs is a top cookery school with two branches – one in London's Oxford Circus and the other in St Paul's. They offer classes from 30 minutes to 4 hours, and last year taught over 30,000 people how to cook. They cover everything from knife skills and bread making to sushi and macaroons.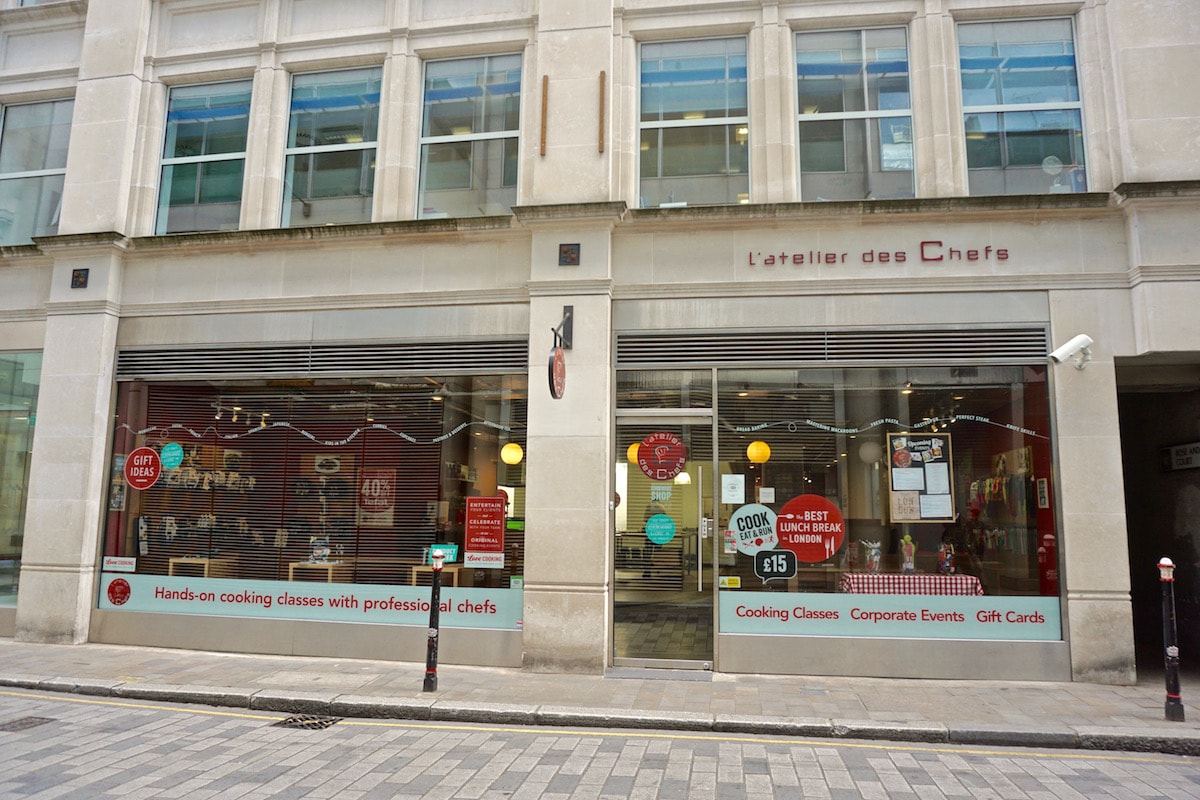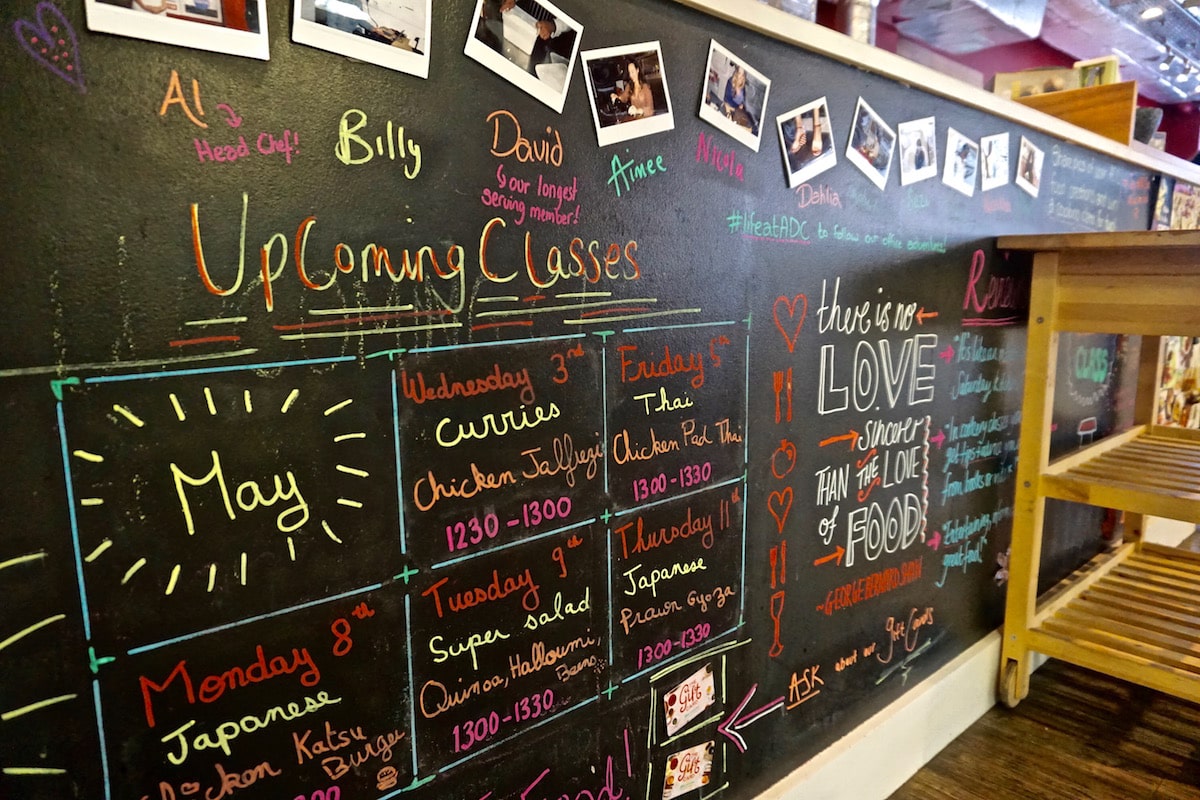 In our two-hour class we would learn how to make:
Indian Chickpea Dosa with Spiced Prawns Coriander and Lime
Beetroot achar
Jeera Rice (cumin rice)
Chicken Madras
Naan bread
Once finished, it would be a lovely balanced meal, with two flavoursome curries, rice, the achar (a spiced, pickled salad), and the naan bread to soak up the sauce.
Over two hours we'd learn plenty of handy tips, cook the meal, and eat it too! I couldn't wait to get started. Aprons on, hands washed, here's what happened.
After a brief introduction by head chef Al about what we'd be making, it was straight into the prep. There were 4 of us cooking in total, so rather than each making our own portions, we worked together. Al taught us how the pro chefs dice onions so quickly, and achieve such regular sized chunks. I also learned a great technique to remove the skin from ginger… USING A SPOON! It was these little tips that I knew I'd take home and put into practice.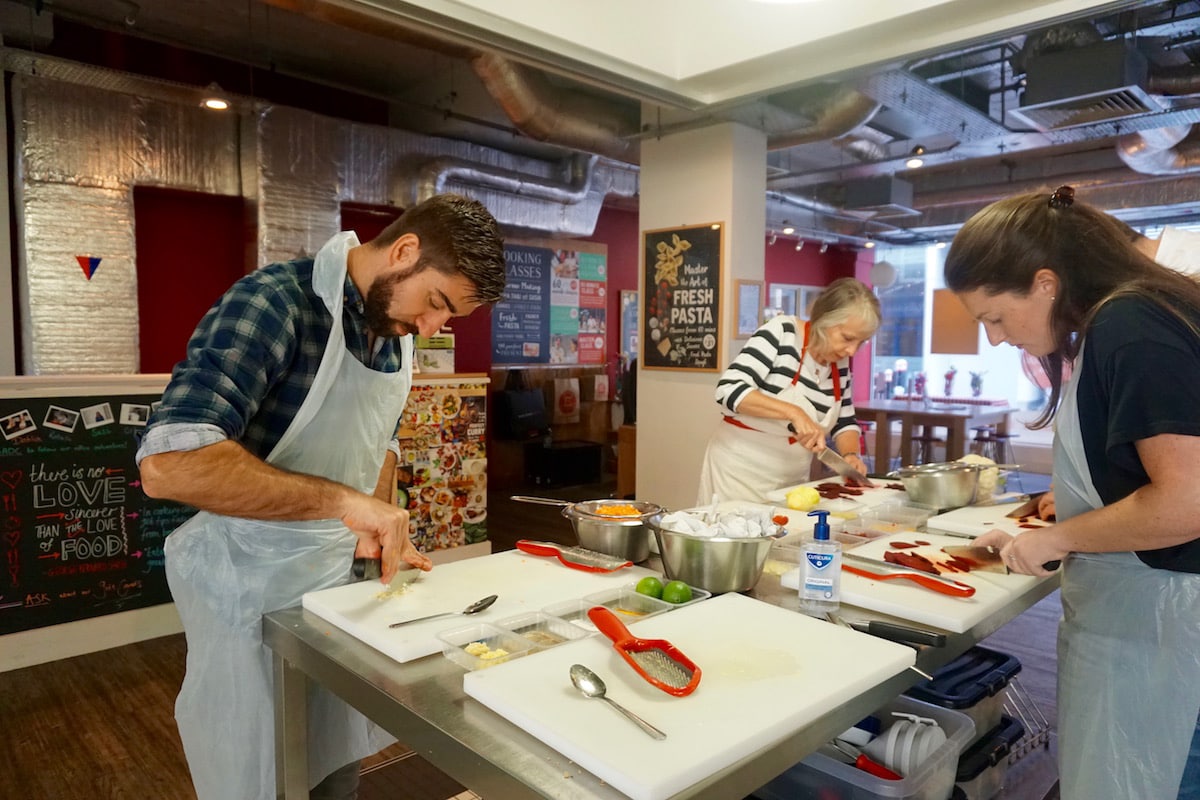 The two curries and the jeera rice all started with the same base of fried onions. It was interesting to hear chef Al's ideas on which oils worked well, and after his advice I'd be keen to try coconut oil as the base for my next curry. We left the onions to simmer for a while until they were soft – something which I'm usually too hungry and impatient to do!
The bonus of learning in a class like this is that everything is measured out in advance, saving lots of time and allowing you to concentrate on cooking techniques rather than being distracted by weights and measures.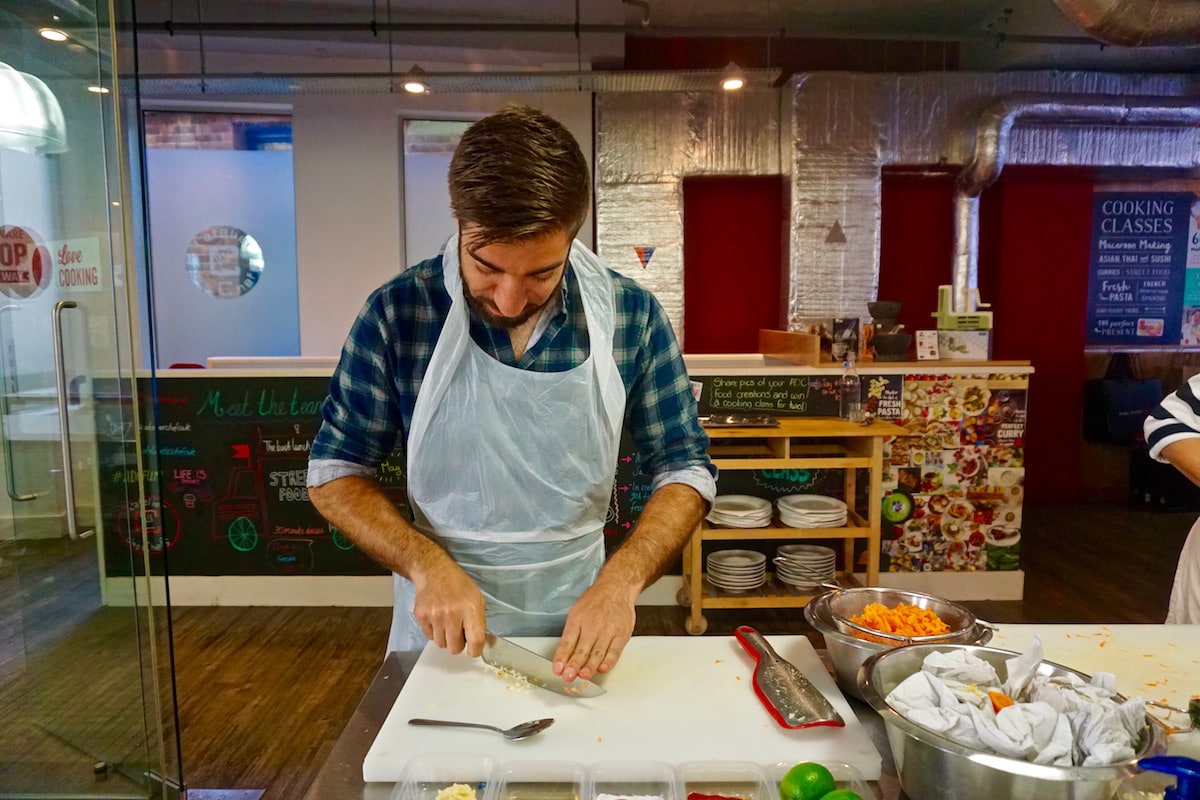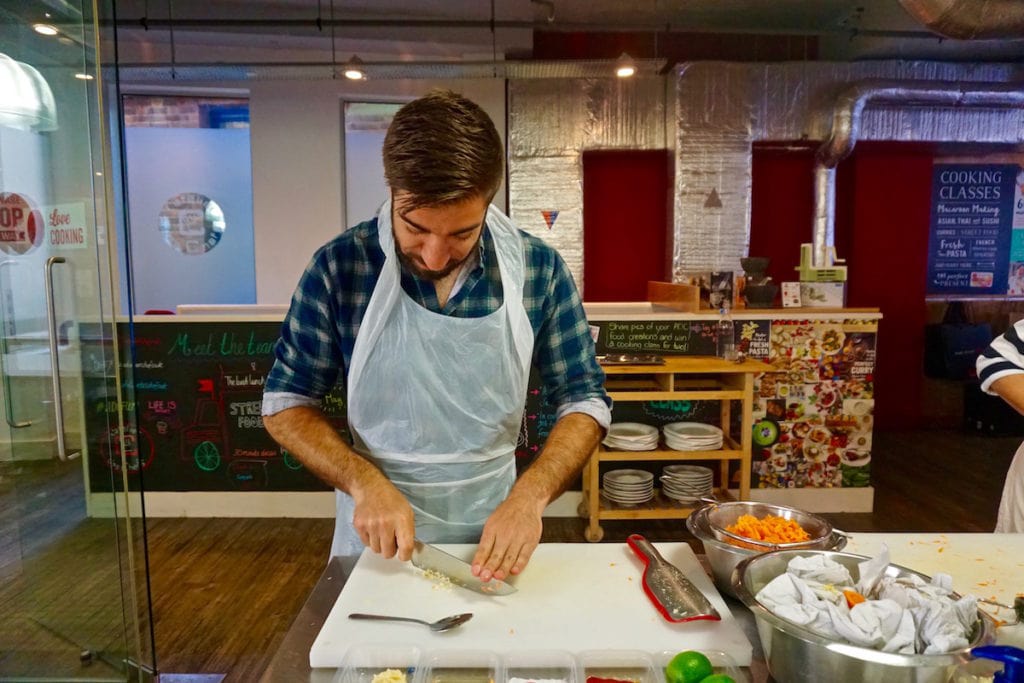 We grated the carrot, sliced the beetroot and picked the cauliflower into tiny florets for the achar. Then it was time to toast the spices and crush them, before adding to the vegetables with a good amount of lemon and lime.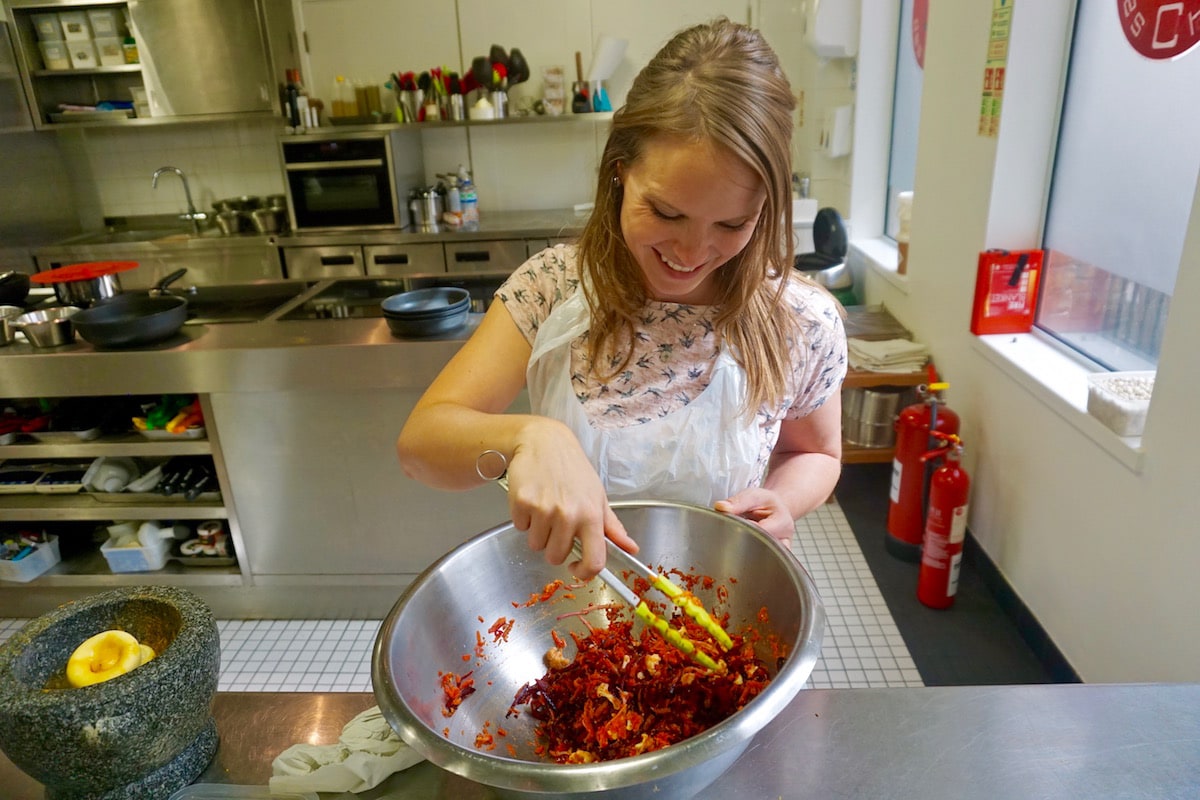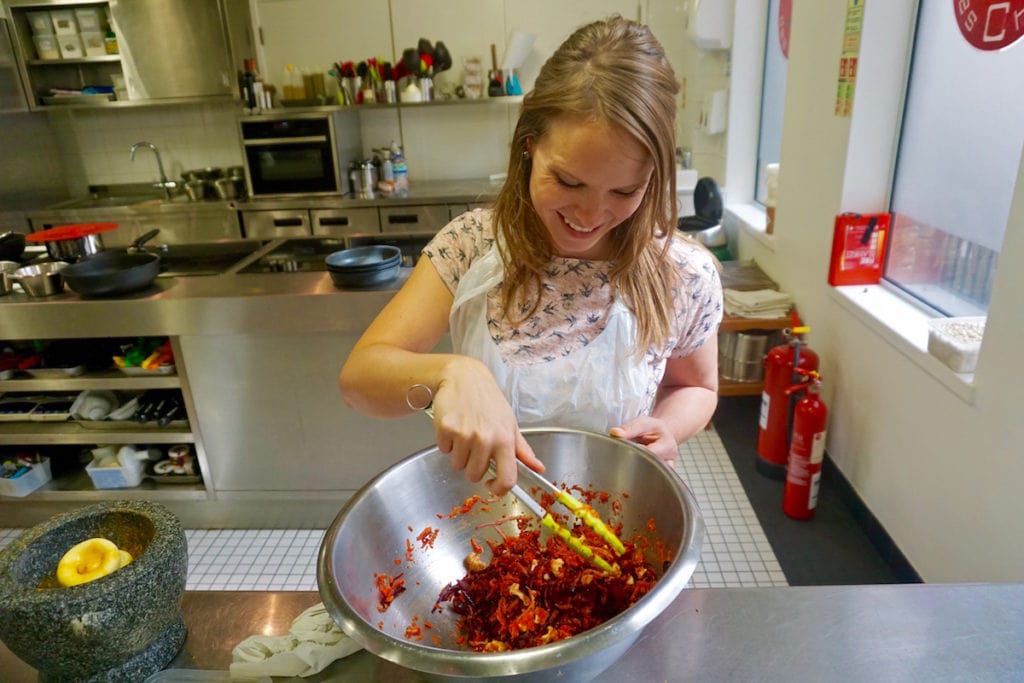 One of our team took charge of whisking up the dosa mix, while we worked on the naan bread using an electronic blender. We each fried our own dosas in a similar way to how we'd fry a pancake, while the naans went in the oven to puff up a bit.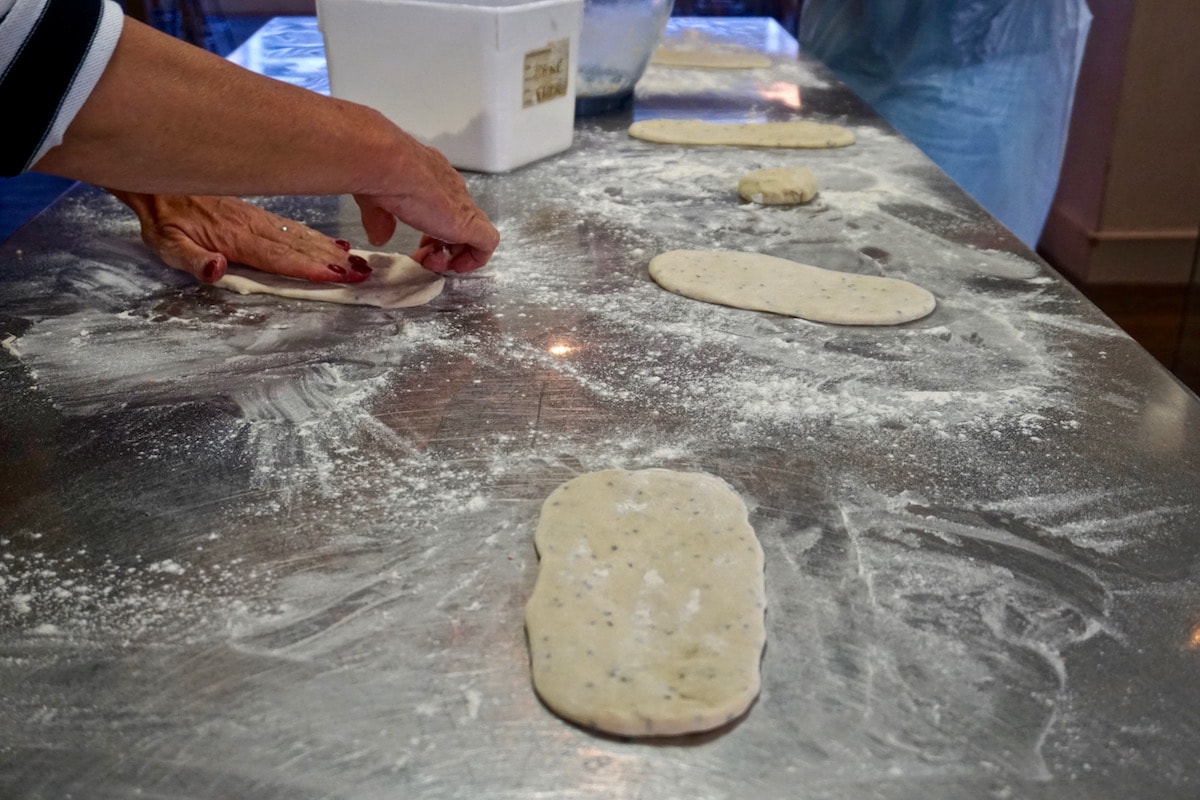 Chef Al suggested it was best to cook the prawns separately to the sauce so that they could brown on each side.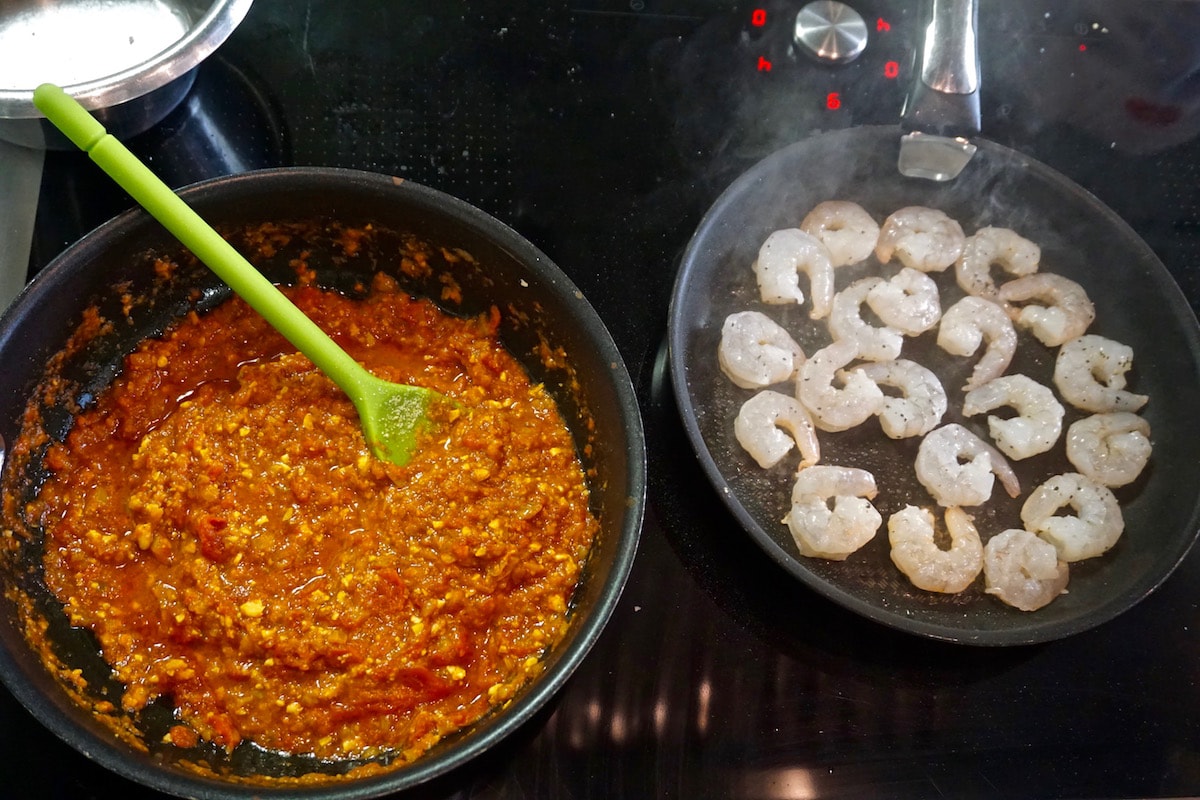 Meanwhile, the chicken took a while to cook, and required plenty of spices including cumin, turmeric, garam masala and cardamom. After adding chopped tomatoes and chicken stock, we left it to simmer until it was finished.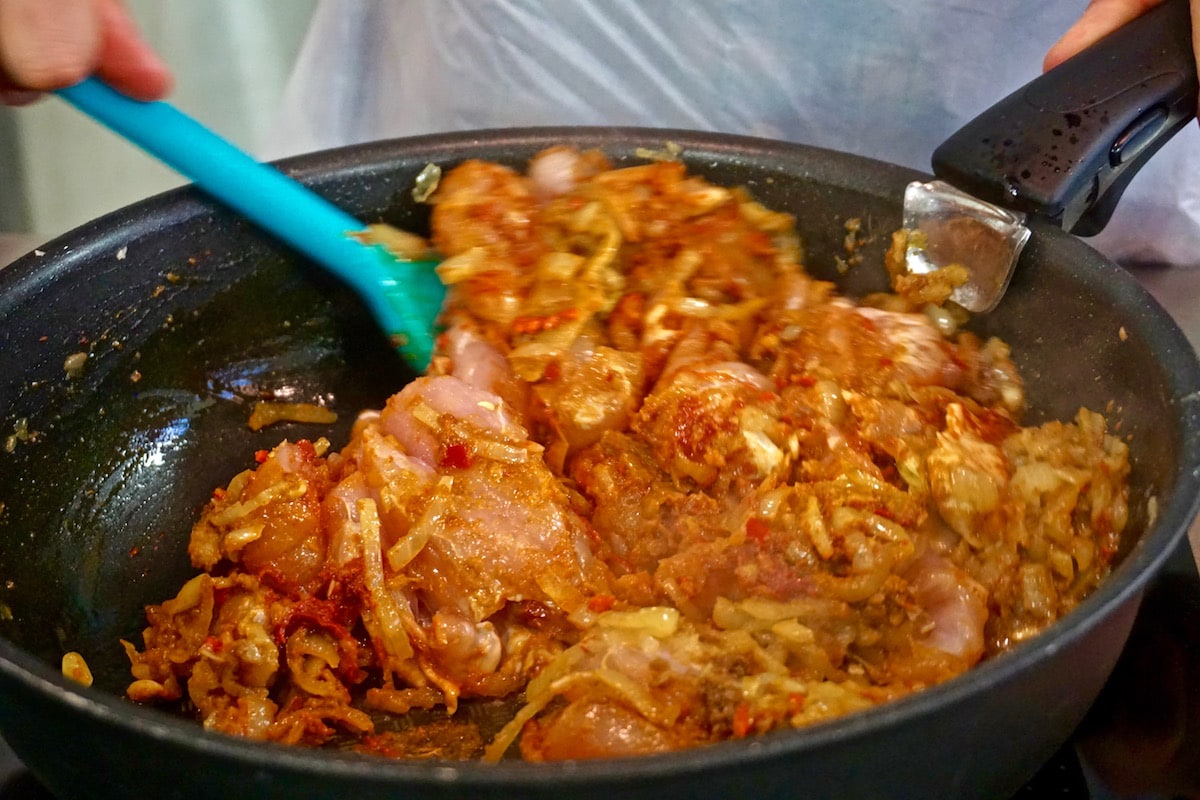 We were given silver trays with different compartments to plate our meal up which reminded me of a thali. Then, time for the tasting!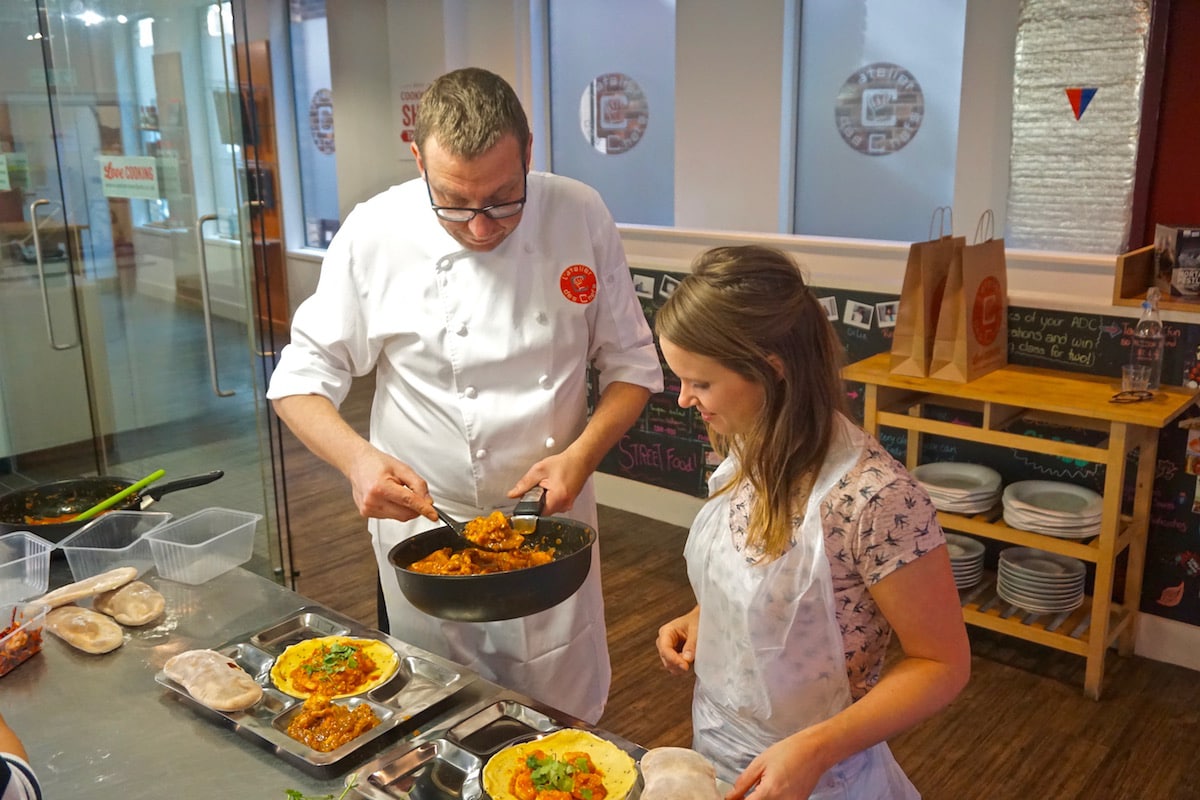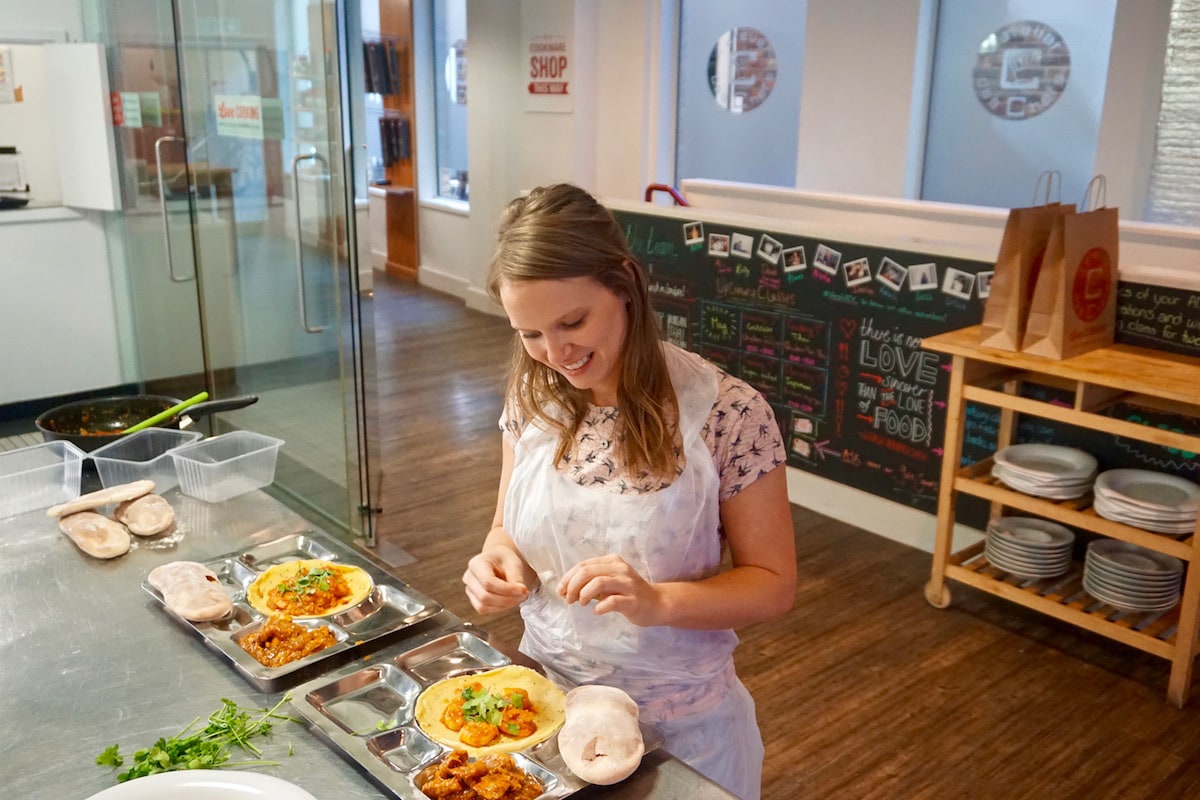 The madras had a depth of flavour I don't usually achieve – no doubt from using several individual spices and allowing to cook for a long period of time. The rice was so fluffy, which the chef explained was in part due to washing it first.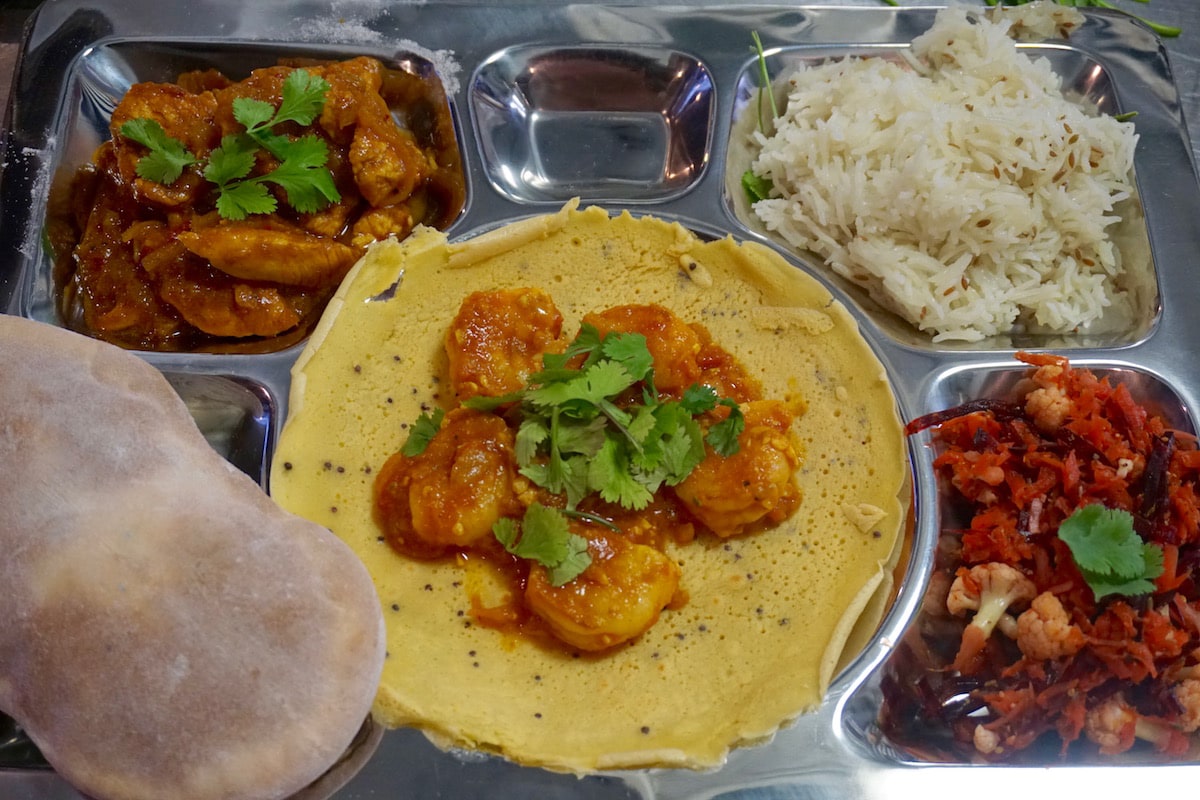 While I wasn't a huge fan of the dosa, I really loved the prawn curry, which had plenty of lime and coriander running through it. Also, after unsuccessfully making naan bread in the past, I really liked our creations. It wasn't possible to make authentic ones without a tandoor, but these were a tasty alternative. All in all, I was impressed with the meal we created and left full, with a few goodies for lunch the next day!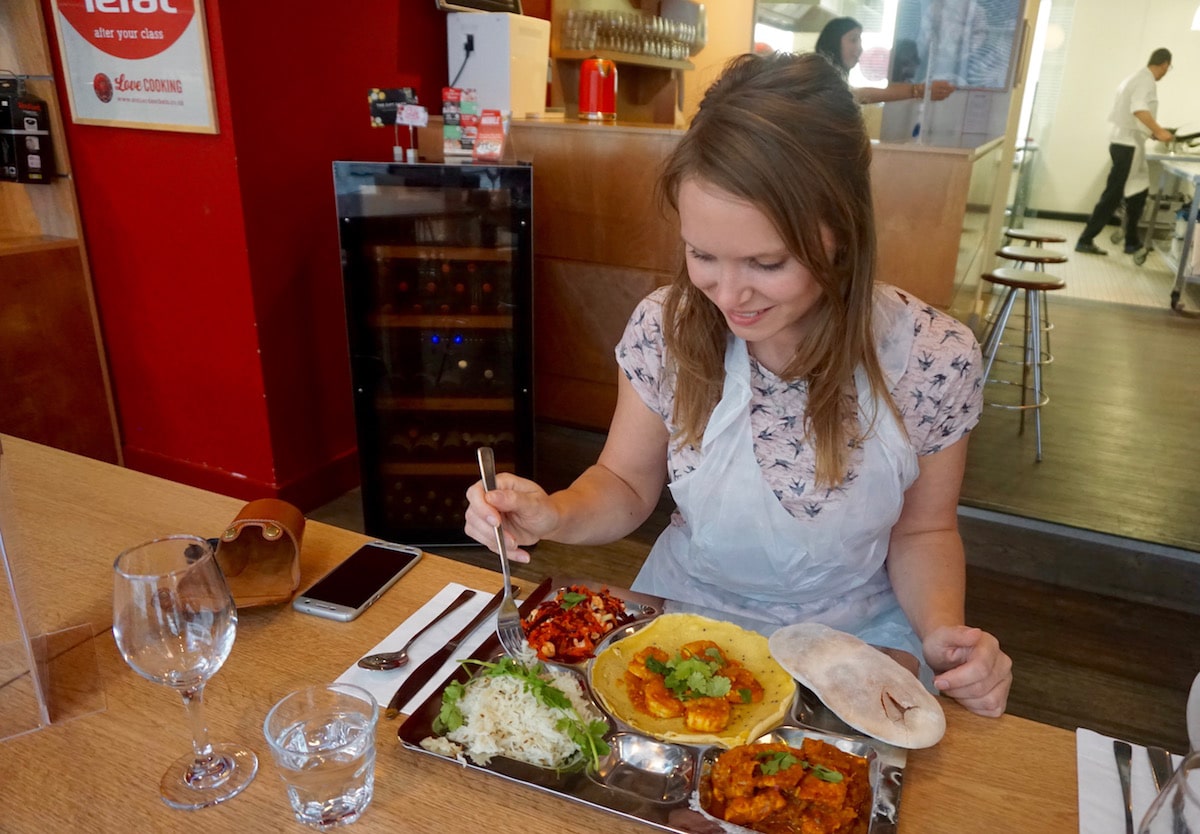 If you fancy learning some new cookery skills, check out all the classes on offer at L'atelier Des Chefs.
The curry cooking class I took costs £78 per person. If you're keen to follow in my footsteps with a curry cooking class, book here and add in the promo code CURRY10 to receive 10% off!*
*CURRY10 promo code gives you 10% off the price of 60min, 90min, 2hr and 2.5hr classes and expires November 30th 2017. Please note this offer doesn't apply to 30min, 2.5hr, 3hr and 4hr classes or Private Events. Additionally this offer is not valid on classes that are already discounted or used in conjunction with other offers/vouchers.
Thanks to L'atelier Des Chefs for inviting me to join their curry cooking class. As always opinions are my own.
Enjoyed this post? Pin it for later…