Searching for the best cafes to work from in London? No doubt you'll need Wi-Fi, power, good coffee and a relaxed but focused atmosphere. So which places would I recommend?
Hurrah for being self-employed! More and more people in London are swapping conventional offices for a digital one. From freelance writers, bloggers and video producers to website whizzes, online marketers and sales gurus, there's a whole new type of productivity that comes from not being chained to a desk staring into space. The same space you stared into yesterday, and the day before that.
I'm not that keen on working from home. I definitely tap, tap, tap faster at my keyboard when there's a bit of a buzz in the room. I love that you no longer have to be member of an expensive club in order to have a space to work from in London. Your £3 coffee will buy you the workspace you need for a few hours. So WHERE are the best cafes to work from in London?
My favourite spot for a blog day in Central London. The Seven Dials branch is always heaving and the coffee is top notch. The drinks are also beautifully presented – served on a special wooden board with a bottle of water. There are plug sockets by almost every table and a long desk along the wall where you can plug in with no distractions. It's a place where it feels like everyone is working hard but without the stress. They also have meeting rooms available if you're looking for something more private.
Address: 7 Upper St Martins Lane, London WC2H 9DL.
Great coffee and the best digital nomad workspace I've found in Central London. Productive afternoon @timberyarduk! pic.twitter.com/7LGrw7EQK9

— Chloe Gunning (@WanderlustChloe) 21 March 2016
One of my favourite cafes to work from in the Shepherd's Bush area, this independent coffee shop serves strong coffee and offers a relaxed environment for some laptop time. It's got a split-level design, smart fireplace and fun prints on the walls. There's a big communal table which is popular with freelancers who pitch up for a few hours. Plus, they have a range of tasty treats including delicious brunch options and some seriously appetising Portuguese nata tarts!
Address: 75 Goldhawk Rd, Hammersmith, London W12 8EH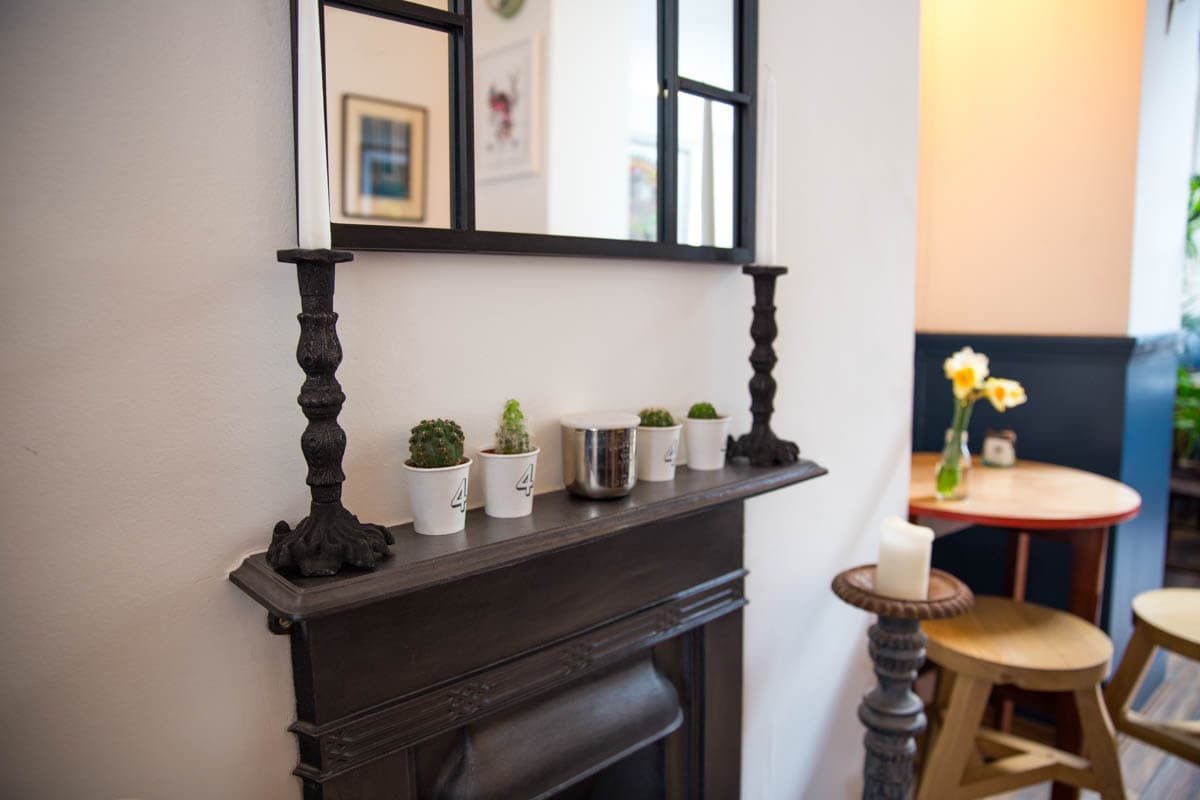 Attracting workers form across North London, this cool Camden café has a great atmosphere and some of the best coffee in the capital. Leyas is deceptive. From outside you'll only see a small shop front with a few seats but head downstairs and there's a huge workspace including one long table, perfect for digital nomads. If you get hungry, the food at Leyas is delicious… in particular the brunch options.
Address: Leyas, 20 Camden High St, London. NW1
An ALMOST @symmetry_fast @leyascoffee in Camden! The best smashed avocado and poached eggs! #lovecamden #foodporn pic.twitter.com/9OeBR24Twl

— Chloe Gunning (@WanderlustChloe) October 20, 2015
Tucked away behind Oxford Street, Daisy Green is a super cute Aussie café serving delicious food and great coffee. Another deceptive space, Daisy Green has a large downstairs area filled with fun! From the ceiling with its hanging flowers to the street art in the indoor garden area, the pure novelty will keep you motivated as you work! For something special they offer an enormous bottomless brunch with tasty treats including shakshuka, fry ups, and incredible banana bread topped with fresh fruit.
Address: 20 Seymour Street, Marble Arch, London, W1H 7HX. Other branches in Little Venice, Broadgate Circus and Euston.
Absolutely loved checking out @DaisyGreenFood in London today for #bottomlessbrunch! Great food and SOOOOO cute!! ? pic.twitter.com/1xWiHQaBOp

— Chloe Gunning (@WanderlustChloe) August 29, 2016
Another antipodean-style café, this is a great spot if you're looking for good coffee and fast Wi-Fi in South London. The Tooting café serves tasty sandwiches and brunch options, but it's the relaxed vibe I really like. Last time I visited there were fresh flowers in jam jars on each table and one woman was tapping away on her laptop while her dog sat patiently at her feet.
Address: 141 Mitcham Road, Tooting, London, SW17 9PE.
Only opened towards the end of 2015, this upmarket cinema has a great café on the ground floor. Not only is the coffee good, they also serve lots of delicious food including freshly baked cakes, healthy salads and quiches. The stylish décor with its hand drawn mural, patterned flooring and accents of red, makes it a really enjoyable place to work from. N.B. pics below are from the members area but the cafe is gorgeous – take my word for it!
Address: Picturehouse Central, Piccadilly, London, W1D 7DH.
What a flipping awesome place @CentralPictureH is! That roof terrace and view! Wowweeee ?❤?? #London pic.twitter.com/cPTAG8wUbl

— Chloe Gunning (@WanderlustChloe) July 28, 2016
Located on Leather Lane in Farringdon, this is another cool work spot with a huge emphasis on quality coffee. A former ironmongers, the café is split into five distinct spaces, including plenty of areas to work, along with a private meeting room. I also love that they showcase work by different artists and photographers on the walls.
Address: 14-16 Leather Lane, EC1N 7SU. 7 branches across London including Carnaby Street, Spitalfields Market and Covent Garden.
The weekend is finally here and we're open here at #LeatherLane for you all day long. Come see us! #doodles #coffee pic.twitter.com/0TrpUi08ip

— Department of Coffee (@DeptOfCoffee) December 5, 2015
Another pick on Leather Lane, the coffee here is equally as good and while some might find the room a little vast and bare, you're pretty much guaranteed to get a seat. They take coffee very seriously here, and even offer latte art workshops!
Address: 23-25 Leather Lane, London, EC1N 7TE.
Google's very own offering, Campus London is tucked away in Shoreditch and open to entrepreneurs of any kind. To use the facilities, you'll need to apply for membership via the website here. Downstairs is a huge workspace with café area. It's got tonnes of plug sockets and fast Wi-Fi, but one of my favourite things is the sense of community. There are boards where you can ask for help on projects or offer your services, and they send regular emails about networking events and seminars.
Address: 4-5 Bonhill St, Shoreditch, EC2A 4BX.
I've grown up visiting the Southbank Centre for concerts with family, but never envisaged using it as a workspace. While they offer a very reasonably priced membership (£55 for a year) which gives you access to a special members area, they also have public areas scattered throughout the building where you can grab a table and plug in. When the sun is shining, there's no better place to work from than the top floor balcony, right overlooking the Thames. As office views go, it's pretty perfect right?
Address: Belvedere Road, London, SE1.
The view from @southbankcentre Members' Bar this afternoon. Best view in London. pic.twitter.com/BujHppUKMb

— Charlotte Domanski (@CHDomanski) December 13, 2014
Another local haunt for me, did you know there's an enormous top floor cafe in Westfield London, with a seriously amazing terrace? This is one of the best cafes to work from when it's sunny, as you can take a seat outside and feel the warm rays motivating you to work harder! The inside is lovely too – comfortable, light and spacious. I'd recommend arriving with your laptop fully charged as there only a few power sockets dotted around. Coffee is reasonable, and I've been numerous times and it's never busy. It fees like a lovely hidden gem in a busy part of West London!
Address: Ariel Way, White City, London W12 7GF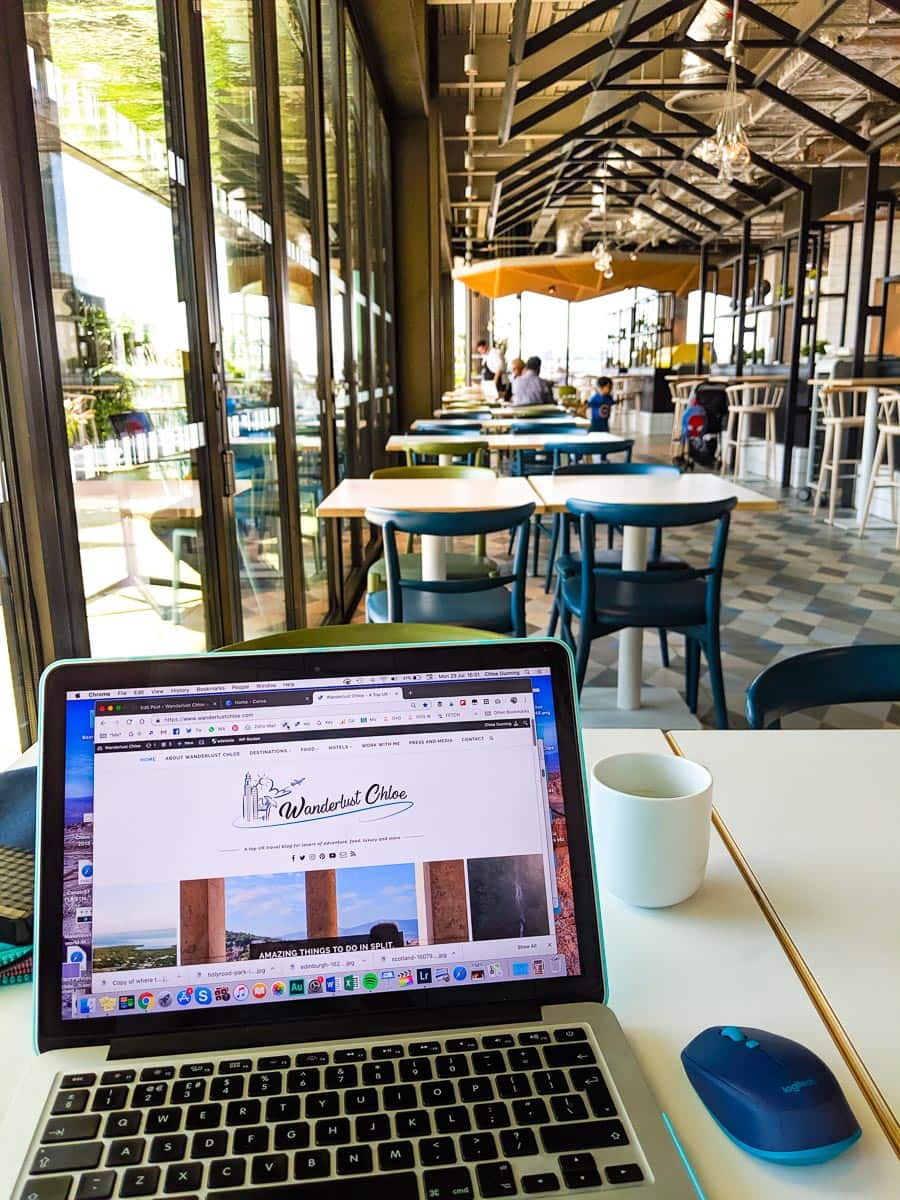 I hope you've found my guide to the best cafes to work from in London useful. Let me know if you have anywhere you'd recommend I try out…
Enjoyed this post? Why not pin it…