From incredible murals and unusual graffiti, to colourful hidden messages, it's time for a London street art tour. 
How many times have you walked down the same street in your hometown and been totally oblivious to your surroundings? For me, this is every day in London! Music in my ears and phone in my hand, I don't know how I've not had an accident…
After waking up in our street art themed room at the Andaz London Liverpool Street, it was time to soak up the hipster streets of Shoreditch. Recently the Andaz collaborated with SideStory – arguably one of the capital's coolest tour operators, to offer two very special experiences. After staying in one of the hotel's super-trendy street art rooms, guests can spend an afternoon enjoying a Shoreditch street art tour in the local neighbourhood. It's a great London experience and I couldn't wait to take part!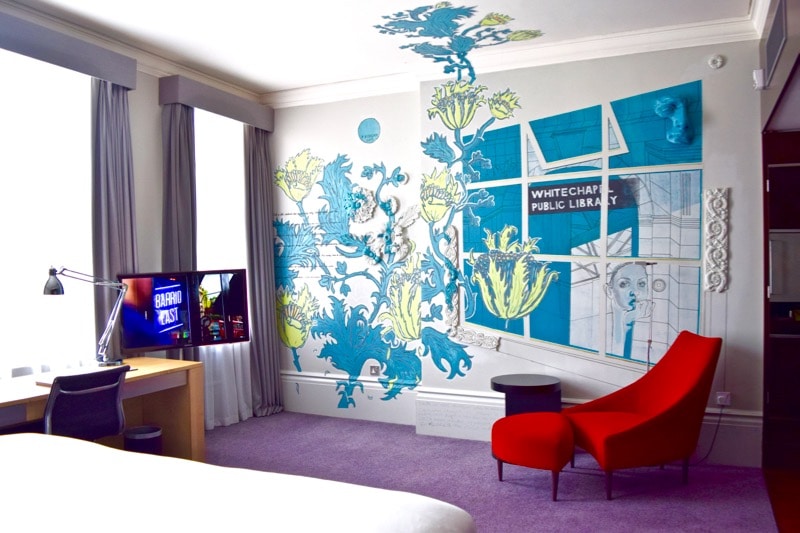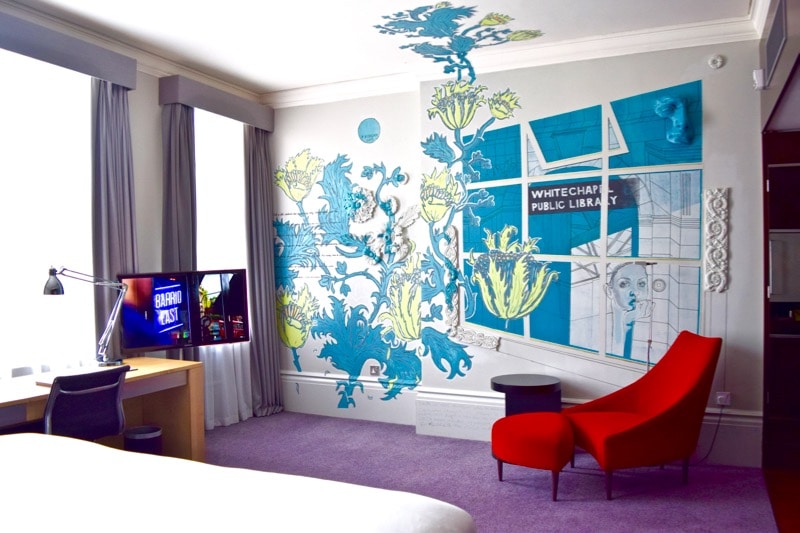 Just after lunch we met Karim from SideStory – a street artist himself, who would guide us through the world of murals, graffiti writing, street art and more. His Shoreditch street art tour was one with a difference, as he had a unique and intimate connection to the art on the walls. If you only have one day in London, an experience like this is a great option.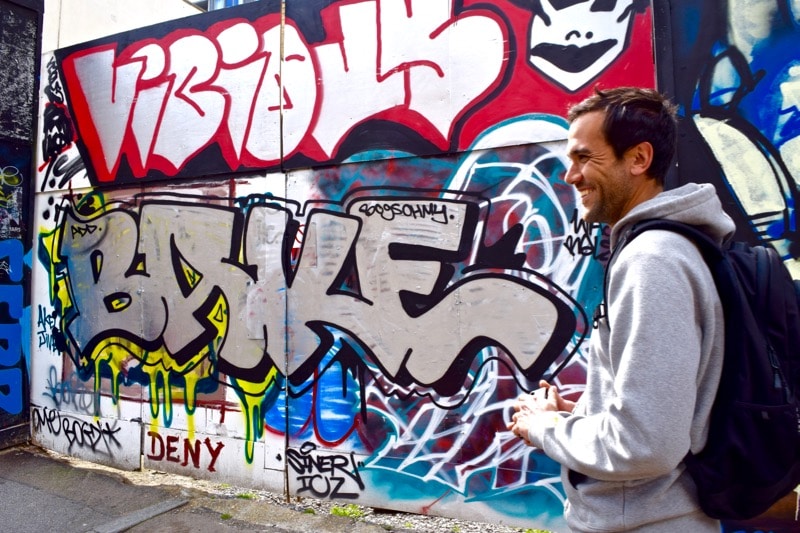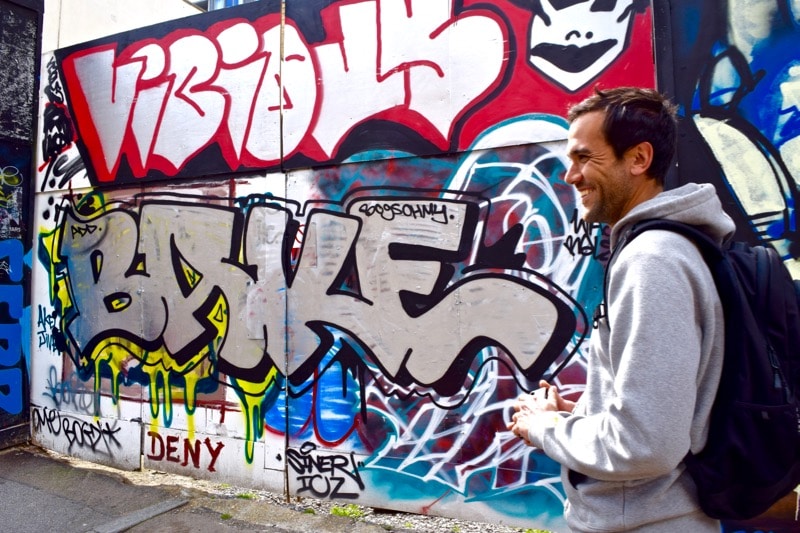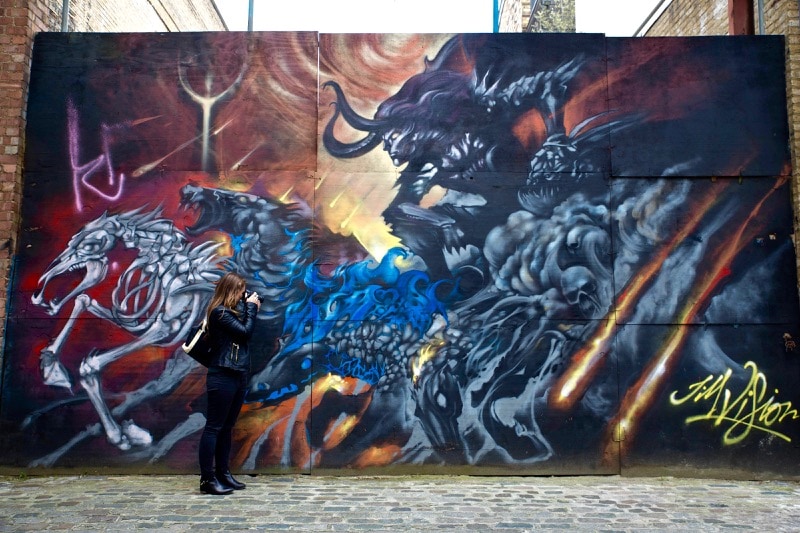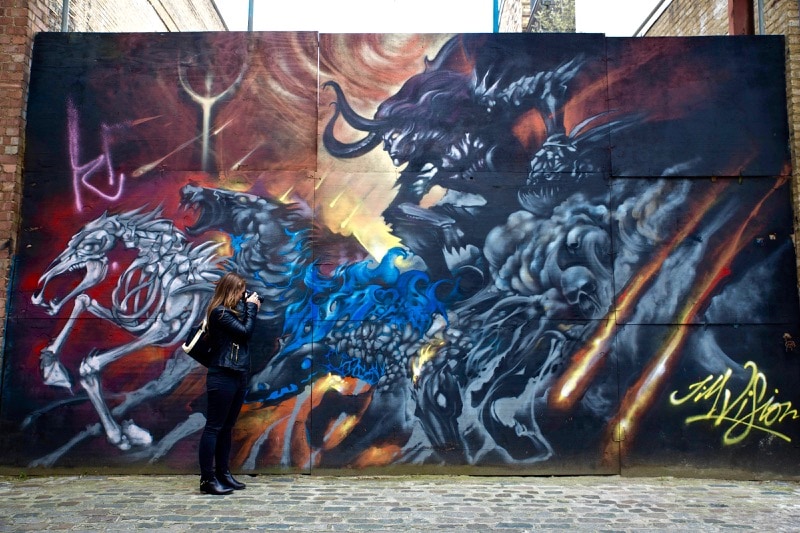 I've always appreciated art, but street art was a bit of an unknown entity. You don't learn about it at school and not many would be able to name stars in the scene. While travelling around Chile, I spent some time in Valparaiso – a port city covered in colourful graffiti. There it began as a form of political expression… but what about in London? Was it illegal? Who was doing it? How did they do it? What inspired them? And why was there so much in this one area? Questions, so many questions, all of which would be answered over the next three hours!
The first stop on our Shoreditch street art tour was a phone box by Liverpool Street station. I'd walked past it a million times, but never noticed it had a tag on it. Rather than painted on, it was done with acid, literally burning through the plastic. Karim explained that many start out experimenting with forms like this, but ultimately this fell into the category of vandalism. The acid couldn't be scrubbed off – that phone box was damaged for life. Were some artists ruining the scene for the rest?
As we wandered from the city's skyscrapers to Shoreditch's warehouses, we came across all sorts of art.
I was particularly fascinated by Ben Eine. By day – a top insurance broker, by night – a graffiti artist. Starting in the late 80s his illegal artworks started to cover the city. Known for his bold lettering, I particularly liked the bright yellow design covering half of a red brick building. Hard to piece together, the letters spelled "sell the wife, sell the kids, it's bonus time". A poignant message sitting right by London's financial hub.
While working in insurance, Eine's bosses spotted him on a documentary about the street art scene, and his future in insurance was on the line. The rest is history. He left the job, set up a screen-printing gallery with Banksy, David Cameron bought one of his pieces as a present for Obama… and where is it now? Oh, only hanging in The White House! If that doesn't show mainstream acceptance of this art form, I don't know what does!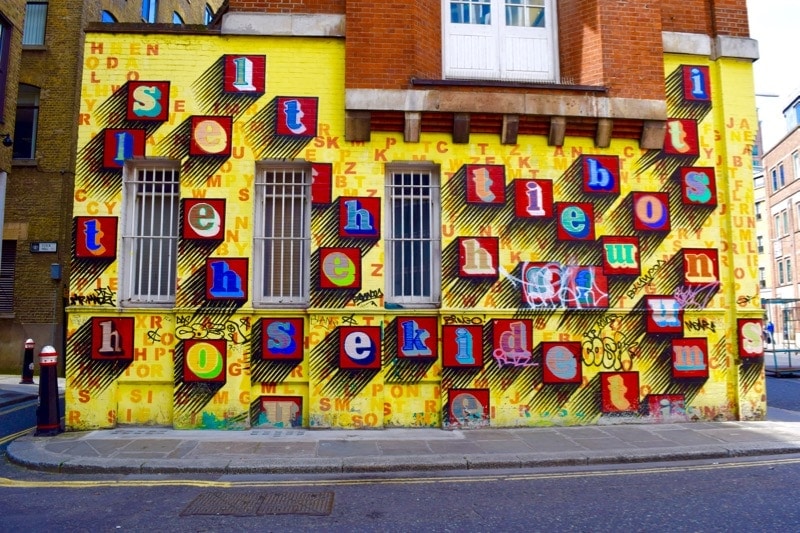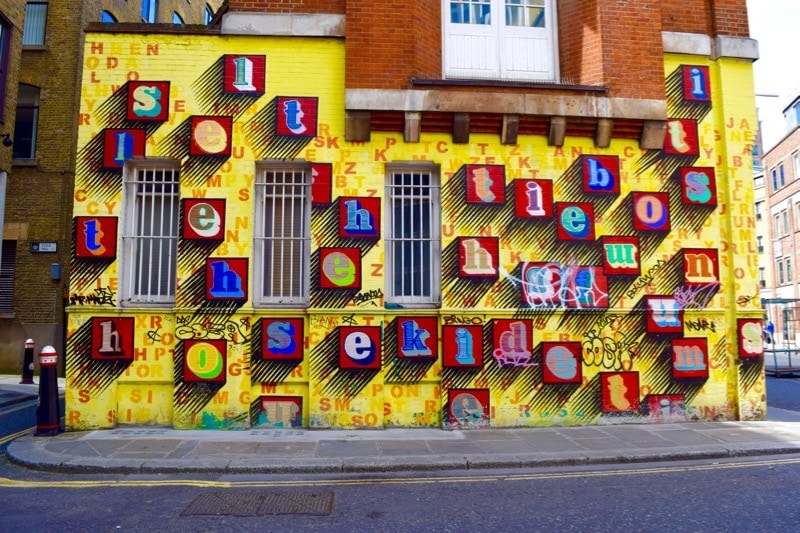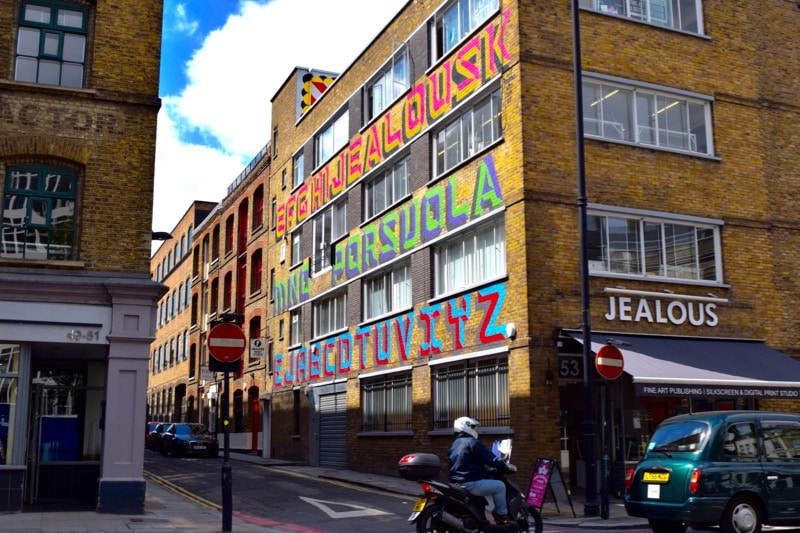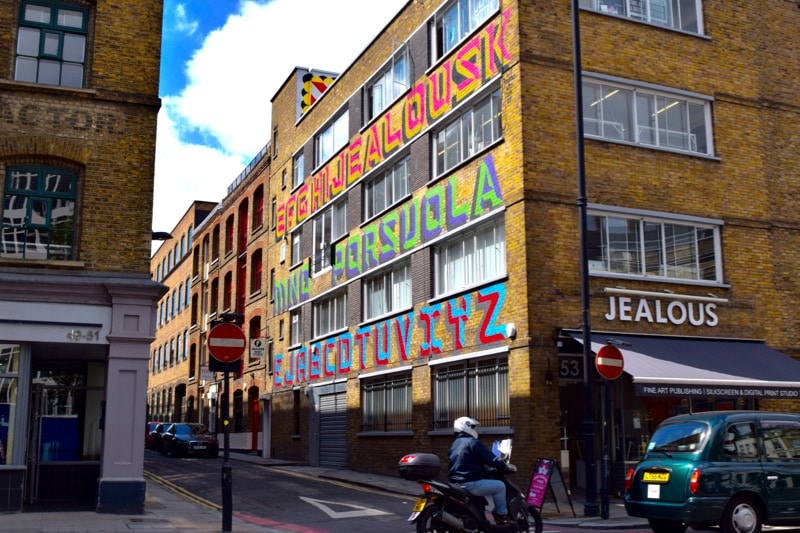 Banksy. The famously elusive figure that most have heard of. When he started out, the street art scene was viewed negatively. Graffiti was illegal and the majority of people considered it mindless vandalism. As Banksy gained recognition for his work, people became divided.
There were those who could appreciate it as a powerful form of expression, and those who considered it as a criminal activity. Our first Banksy on the tour was a faded black mark on a wall. Pretty unremarkable until Karim showed us a photo of a rat holding a sign saying "You Lie". While this Banksy was a mere faded splodge, it had never been painted over or destroyed – perhaps a sign of respect? Thankfully, we had the chance to see a larger, more impressive Banksy piece later on!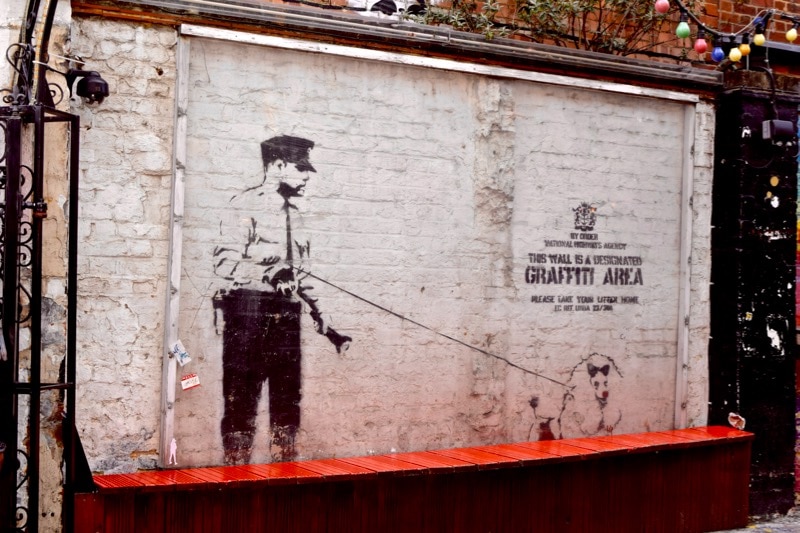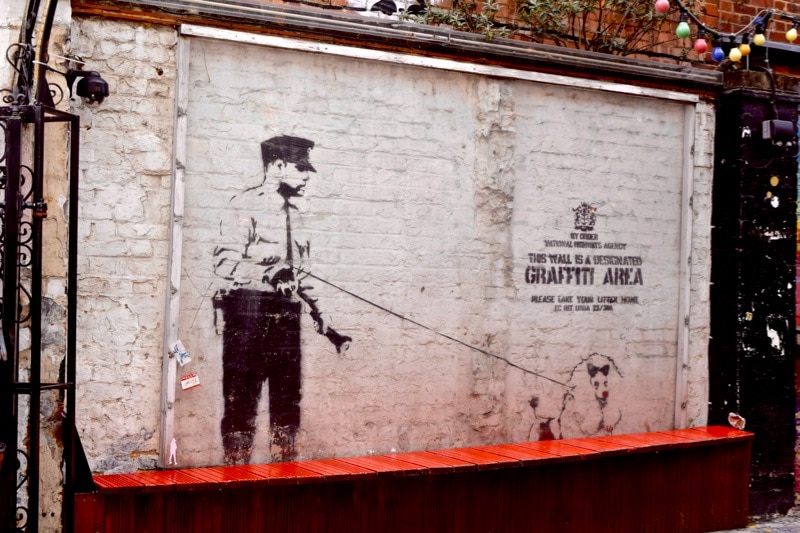 As we wandered down Commercial Street on our Shoreditch street art tour, it became tricky to tell the difference between genuine street art and advertising. To appeal to the Shoreditch crowd, walls were being painted in the same style, and even more surprising, big name brands were calling up the artists and commissioning them to do it. This really wasn't the underground art form it used to be. Needless to say, some stars of the scene had even started to be viewed as sell outs.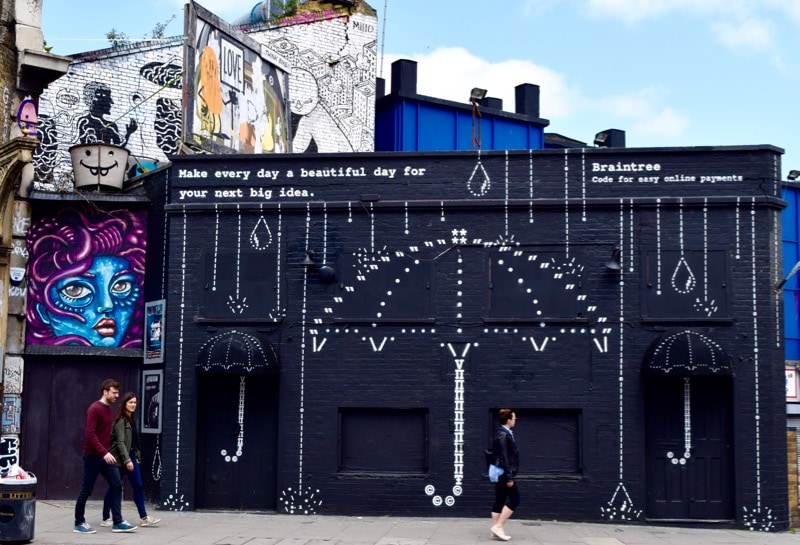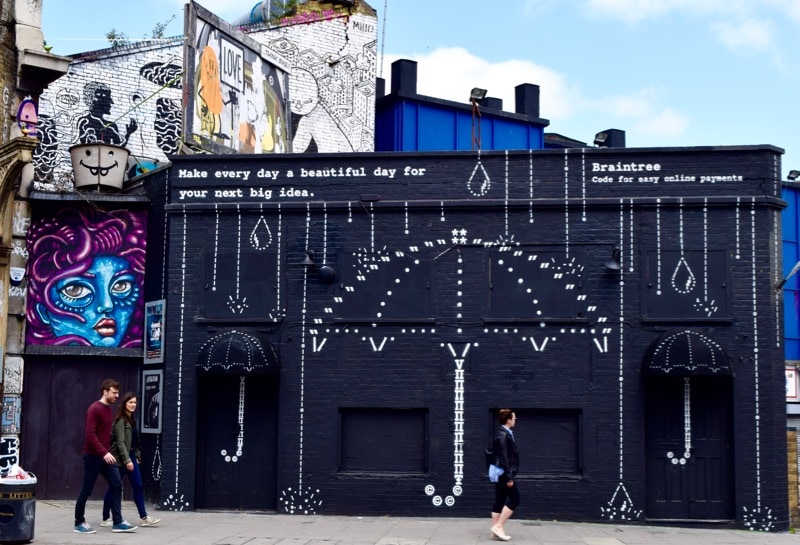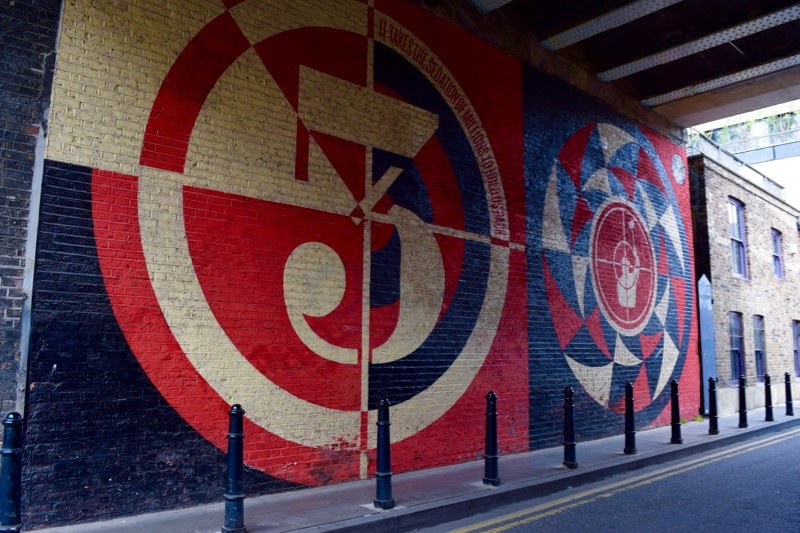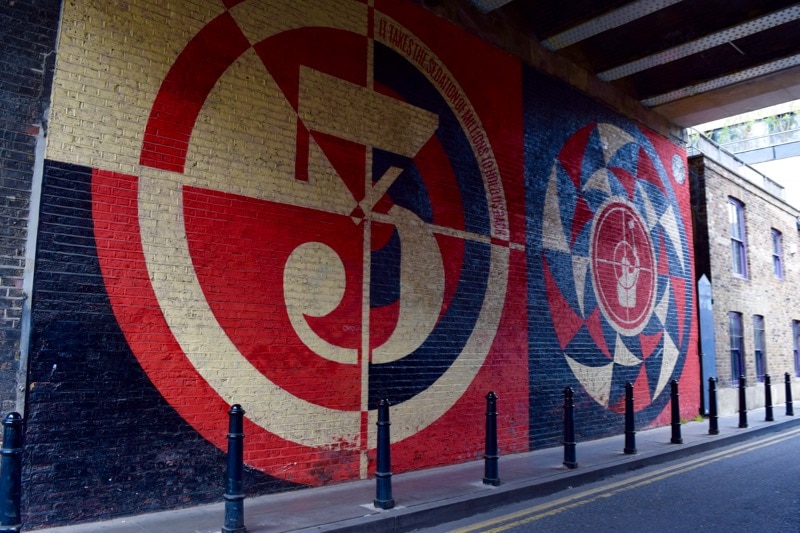 Karim explained "graffiti is an advert without a product" – true, but wasn't it intriguing when it was on a wall next to a piece of advertising. Was this life imitating art imitating life?
I was surprised to hear how international the street art was on our Shoreditch street art tour. From Chilean Otto Schades's dark take on ET, to Italian Hunto's cubism inspired piece, to one of French artist Invader's take on Space Invaders – these were big names in the genre, who travelled the world for their craft.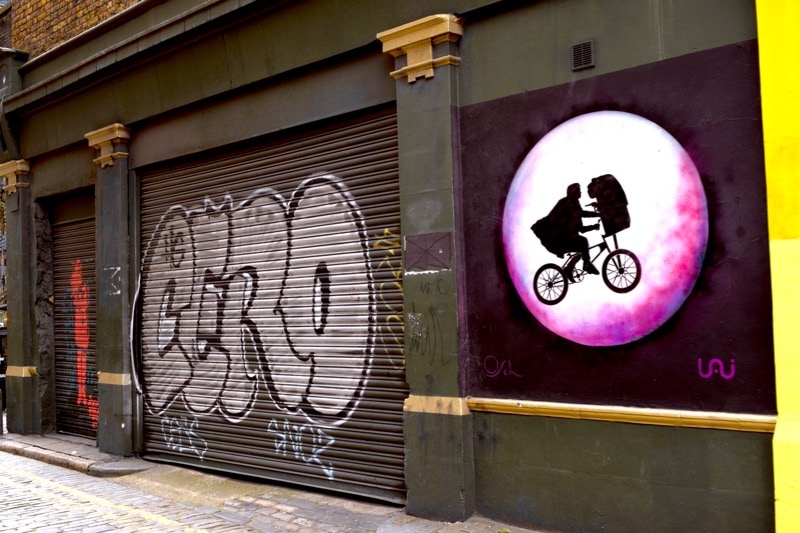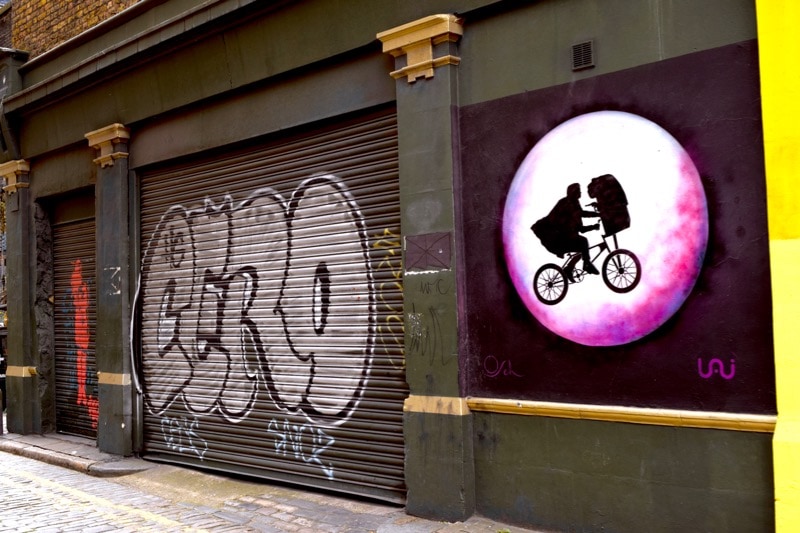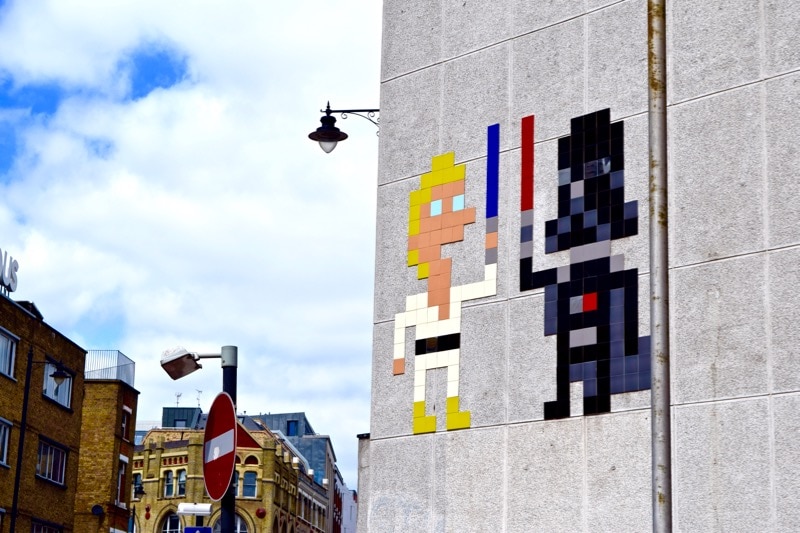 It was interesting to hear how some of the art came about. For example, The Horse and Groom pub commissioned Otto Schades to decorate its exterior, and Karim explained how the company Global Street Art approaches businesses to see if they'd like artists to add a splash of colour to their exteriors.
While most was done with spray paint or markers, there was an interesting piece by Benjamin Murphy using black tape on the window of Amnesty International's HQ. I hadn't seen anything like it before. Another highlight for me was yarn bombing – where thread is knitted into the street art. The creativity never ends!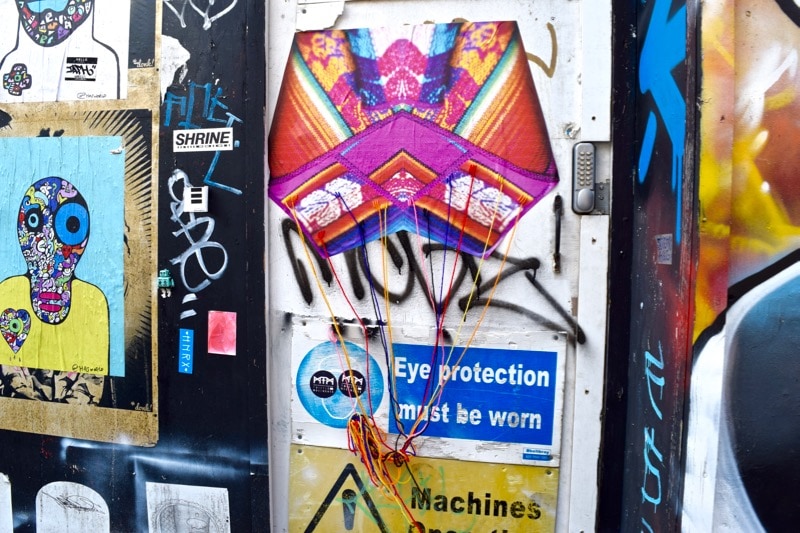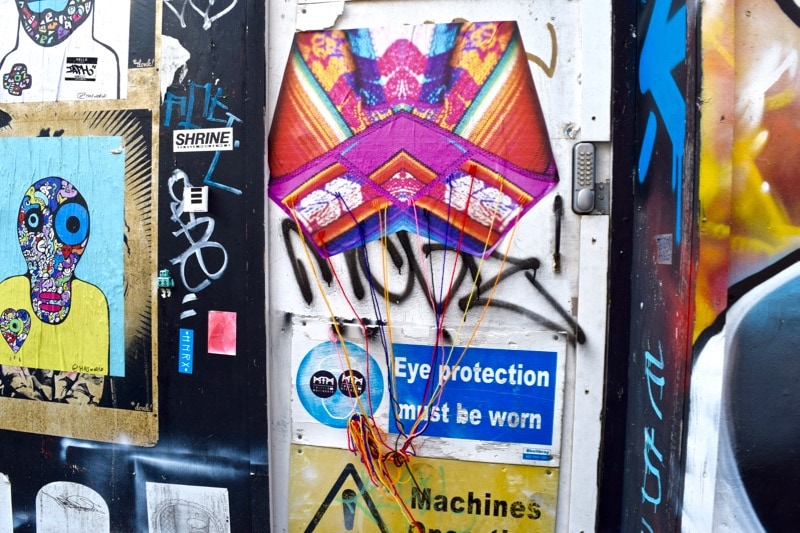 One of my favourite things about this London street art tour was that our guide Karim was active on the scene. He didn't just KNOW about the art, he was friends with the guys doing it. His pieces were on walls next to theirs. With the scene evolving every day, he seemed just as keen as us to snap photos of new pieces that had popped up.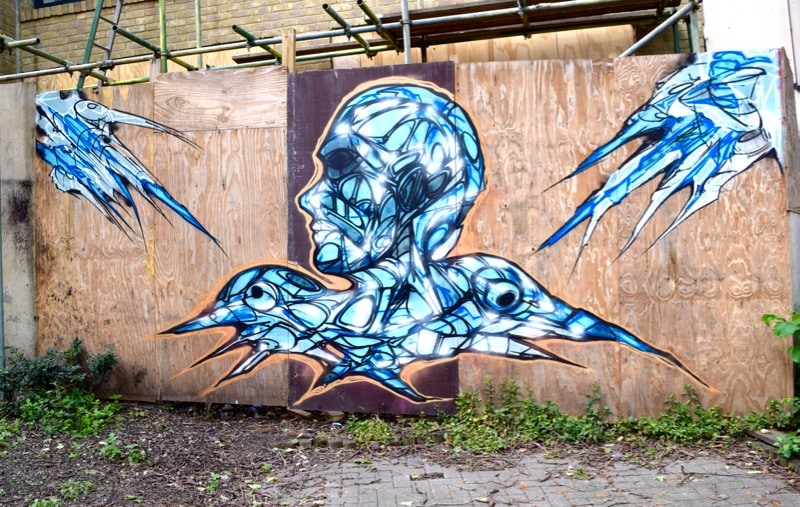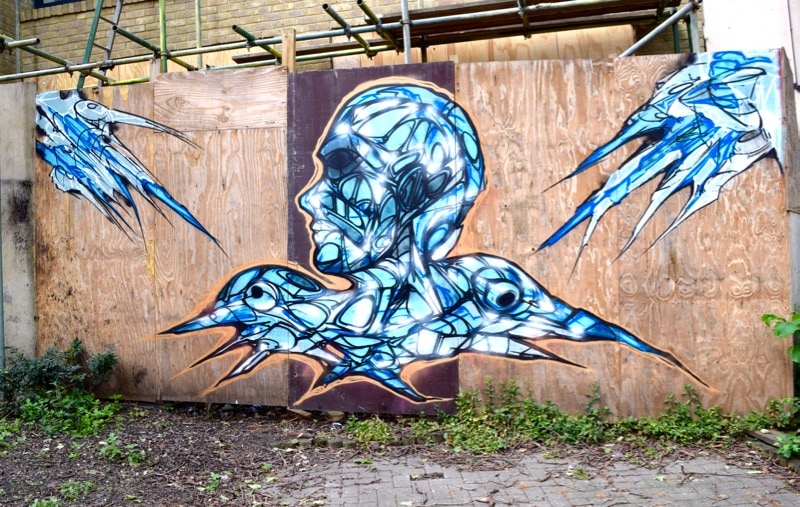 While I learned absolutely loads over the course of our London street art tour, the photos tell most of the story, so it's time to check out a few of my favourites…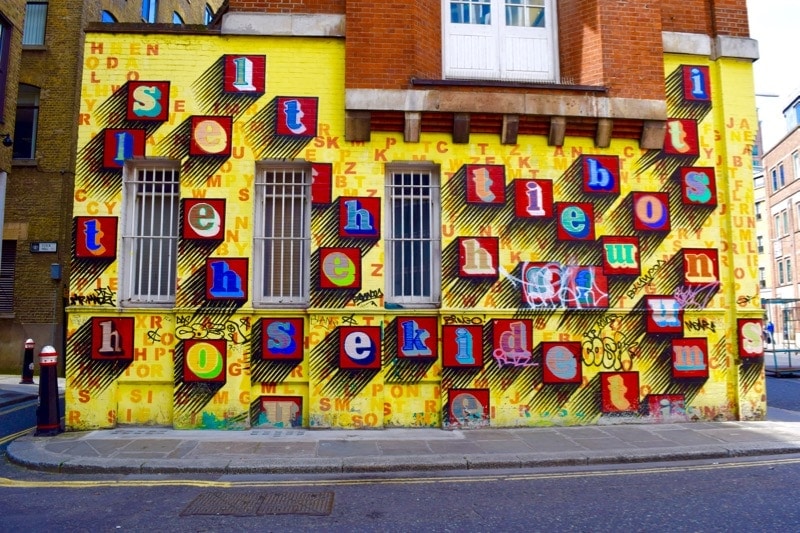 I hope you've enjoyed reading my review of this London street art tour. Any questions, let me know below!
I was invited to stay at the Andaz as part of my Shoreditch street art tour with SideStory. As always, opinions are my own.
Enjoyed this post? Why not pin it?