From horseback riding on the beaches of Cap Cana and dune buggy safaris, to vibrant nightlife and party boats, these are the best excursions in Punta Cana.
Punta Cana is a tropical paradise where the green of the rainforests meets the crystal-clear waters of the Caribbean. Located on the southern tip of the Dominican Republic (the second largest of the Caribbean islands after Cuba) Punta Cana is a place to relax and unwind.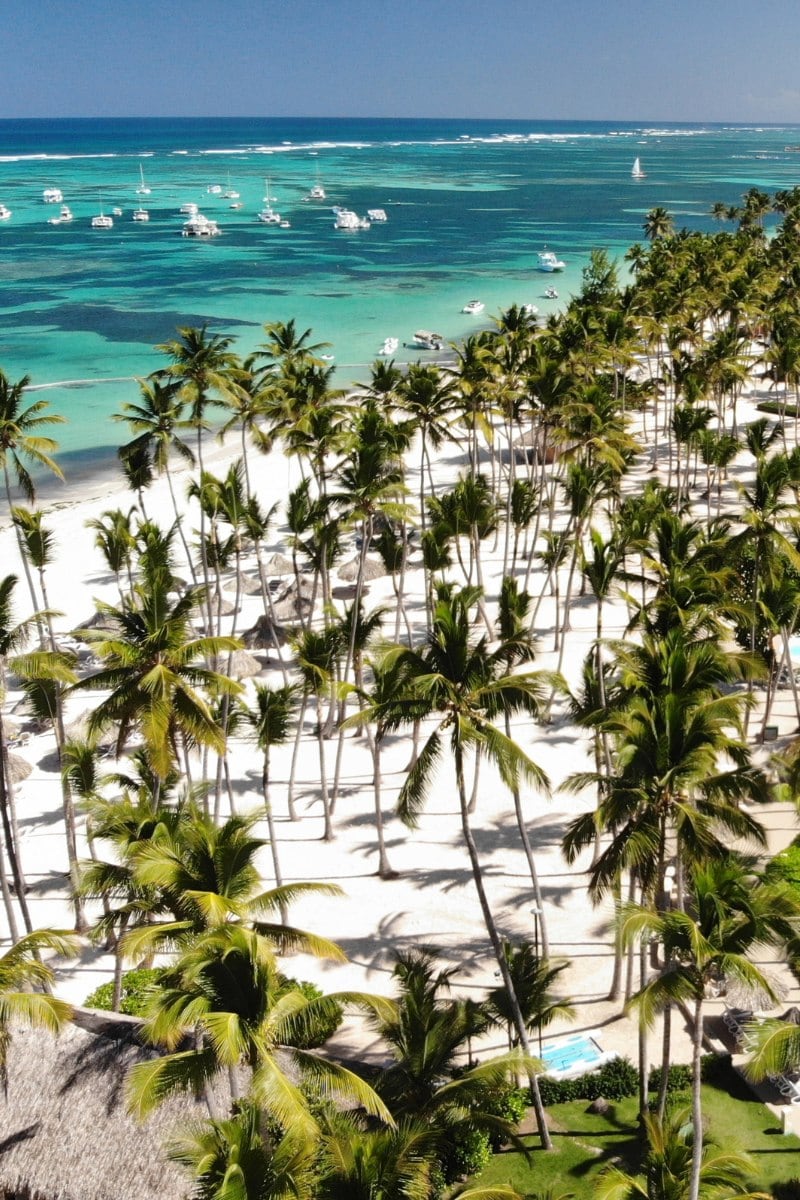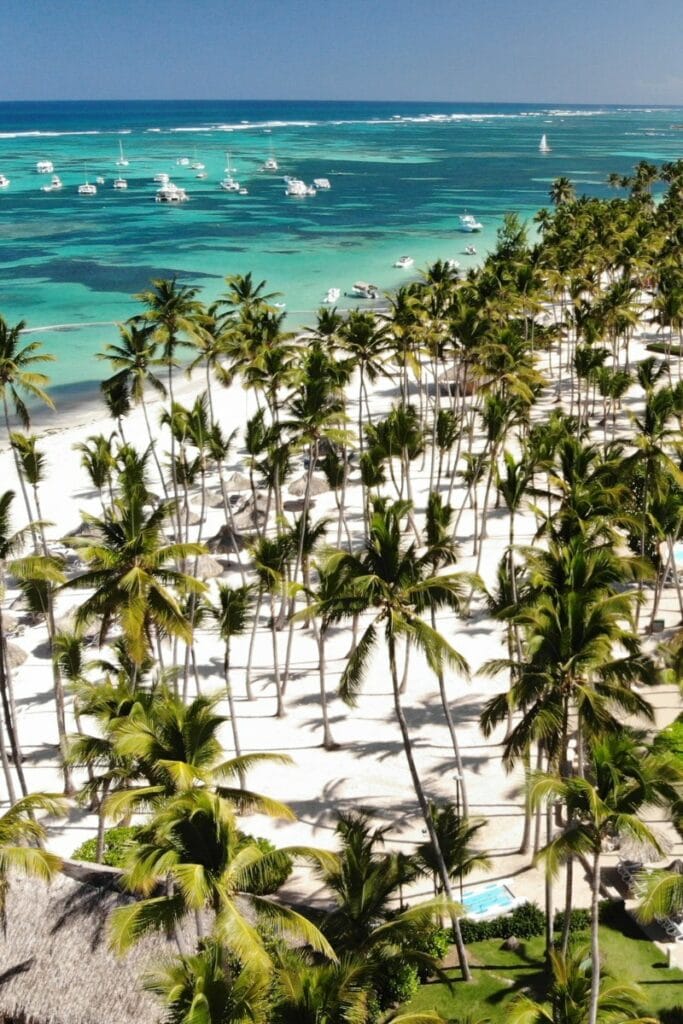 Some of the best things to do in Punta Cana involve nothing more than stretching out on the deck of a yacht, relaxing by the pool at one of the incredible hotels in Punta Cana, or sipping cool drinks as you watch the sunset. But you can also combine the relaxation and romance of a tropical island holiday with some exciting adventures and nightlife.
Did you know that the Dominican Republic was the first place in the Americas where Christopher Columbus landed? I guess you could say he was the first of many tourists who enjoyed this Caribbean paradise… and now it's your turn!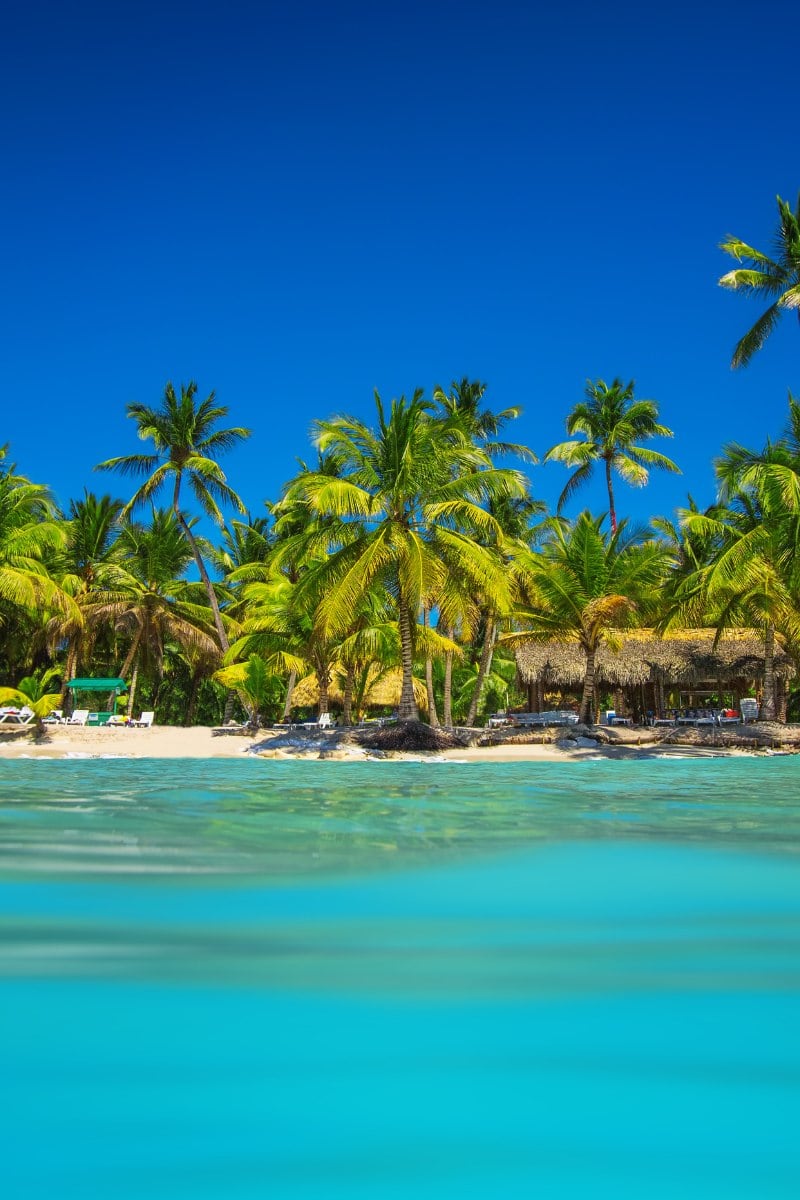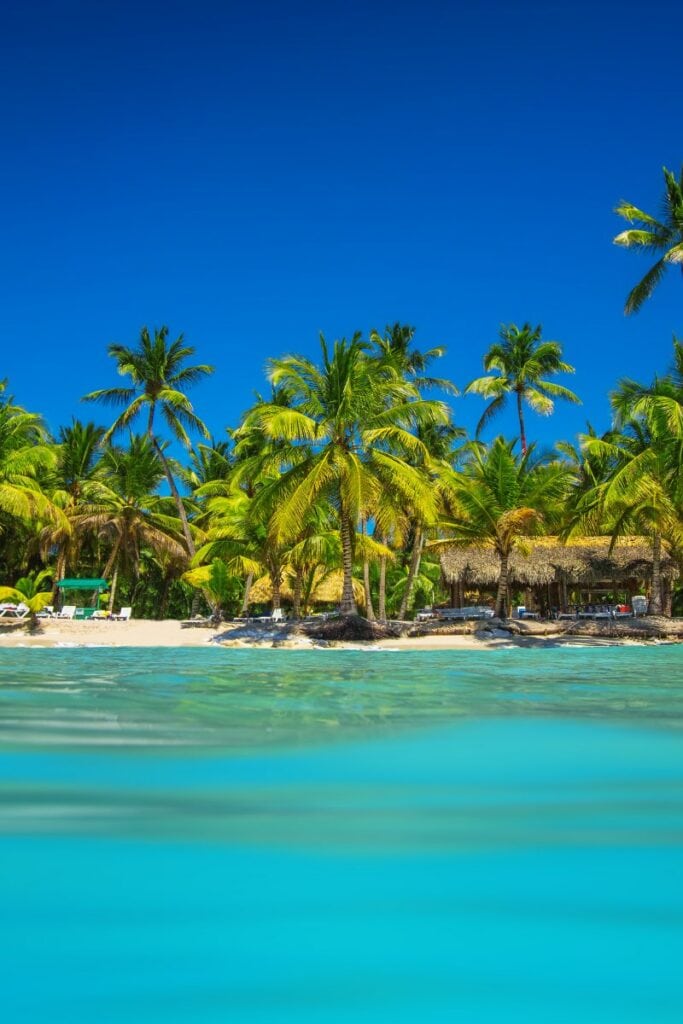 So, if your idea of a great holiday involves pristine beaches, tropical seas, exciting nightlife, snorkelling, and action-filled adventures, come with me as we check out the best excursions in Punta Cana.
If you're looking for other tips for your holiday, don't miss my Dominican Republic itinerary. It's packed full of fun ways to make the most of your trip!
---
Weather in Punta Cana
The Dominican Republic is an all-year-round destination and suits all kinds of travellers. There's plenty for families, couples on romantic getaways or singles looking for a good time. The weather is warm and humid all year, with temperatures ranging between 25℃-28℃.
However, it's worth noting there's a wet season which lasts from May to October. August is the wettest and hottest month of the year.
The dry season runs from November to April and even though January is considered to be the coldest and driest month, there's so little variation, I wouldn't let the so-called 'cold' deter you! Yep, it may be a chilly 25℃ degrees! Brr…!!
Punta Cana also enjoys an average of 9-10 hours of sunshine each day, so you'll have plenty of time to catch a few rays. Plus, the sea temperature is a balmy 26℃-29℃… how perfect is that?!
Ready to find out more? These are the best things to do in Punta Cana.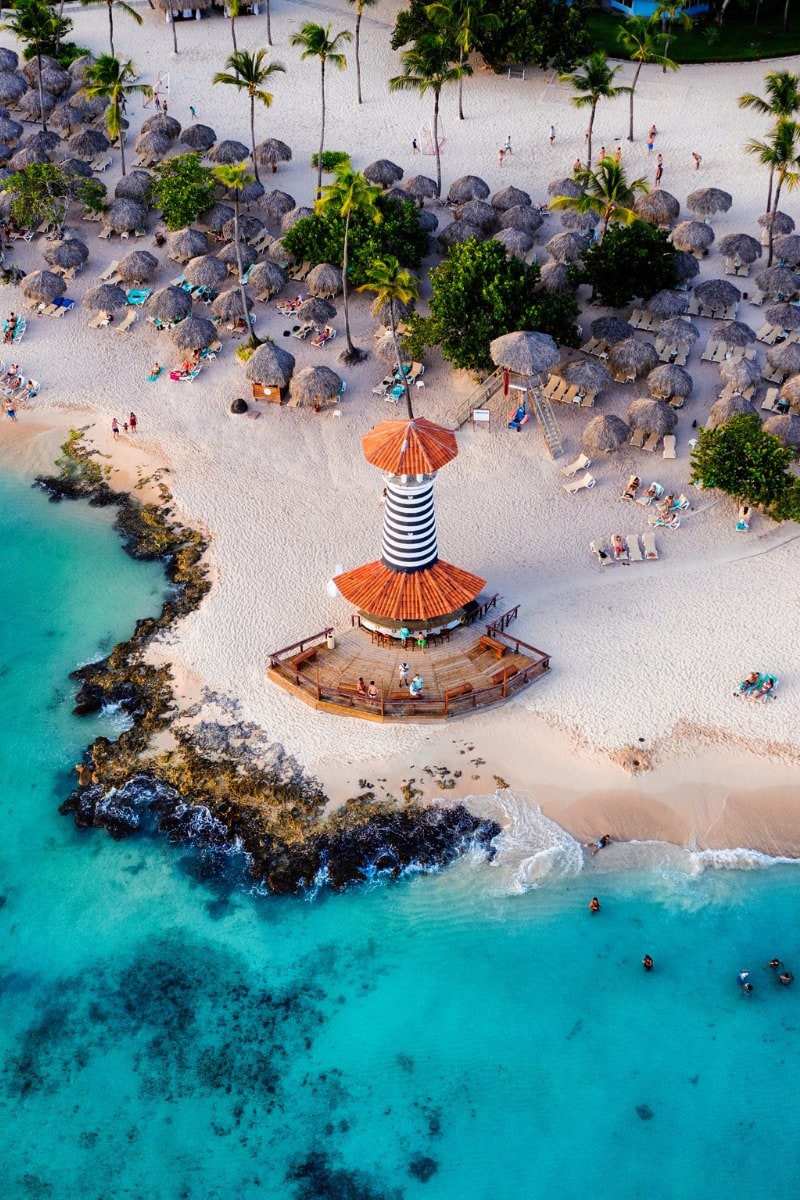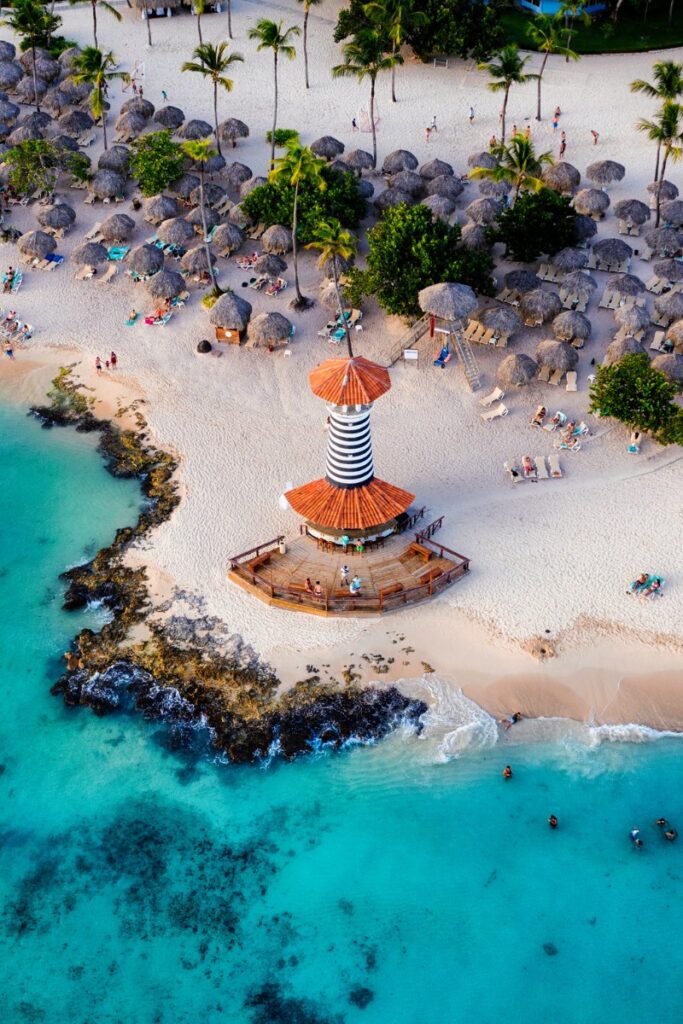 ---
The Best Excursions In Punta Cana, Dominican Republic
Isla Saona Excursion
Imagine taking a sailboat across crystal clear waters to a tropical island! It's like something plucked from a rom-com! This all-inclusive, full-day trip to Isla Saona will take you to this tropical paradise which is surrounded by turquoise waters and sandy beaches. You can enjoy a buffet lunch, sip drinks from the open bar, swim, snorkel or just walk hand in hand along the beach.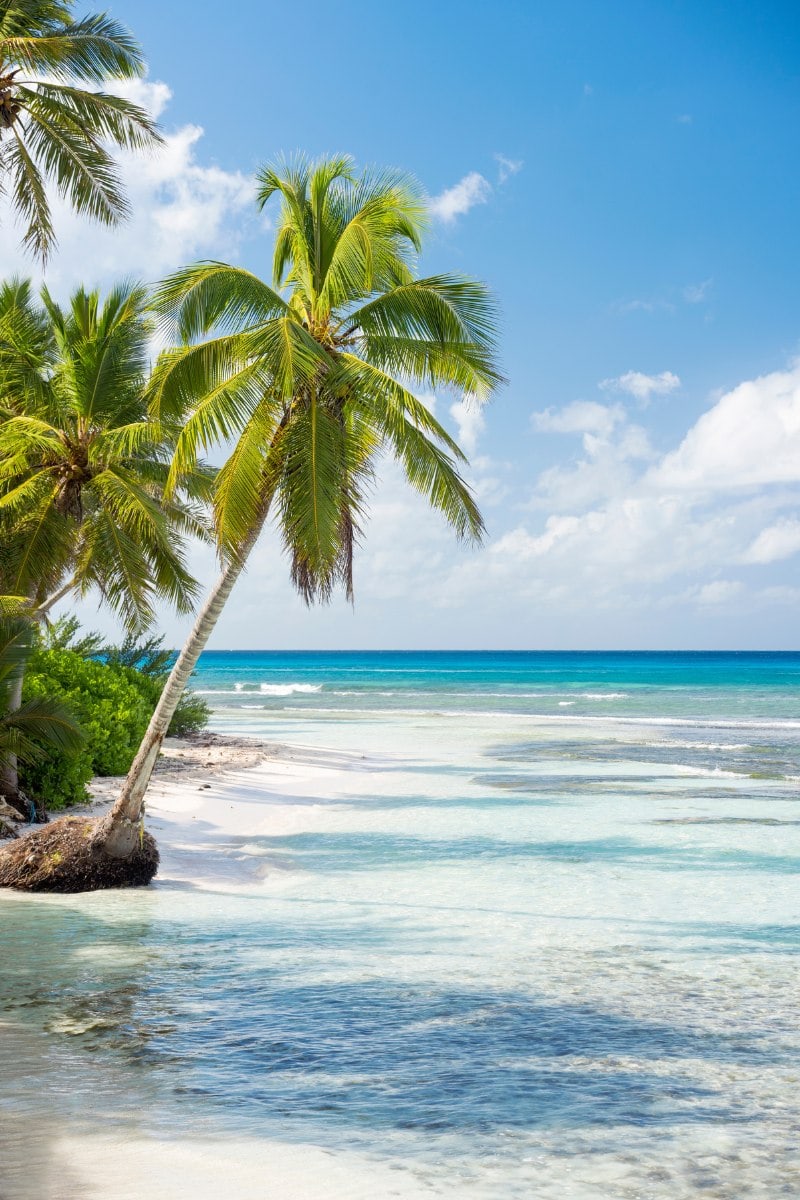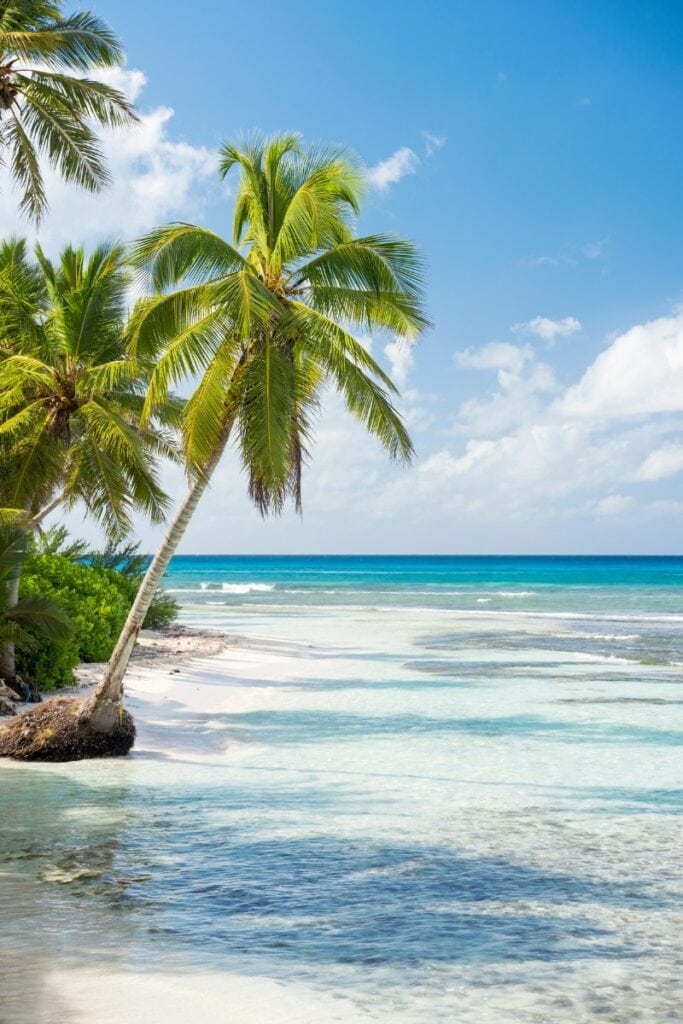 The island is part of the Cotubanamà National Park, a government-protected nature reserve crammed with wildlife and flora. Isla Saona has two permanent settlements, Mano Juan and Catuano, where you can sample the local cuisine and experience the laidback lifestyle of the islanders.
Los Haitises National Park
If you are looking for a Punta Cana excursion that will get you up close and personal with the wildlife and flora of the Dominican Republic then this tour to Los Haitises National Park and the island of Cayo Levantado is ideal.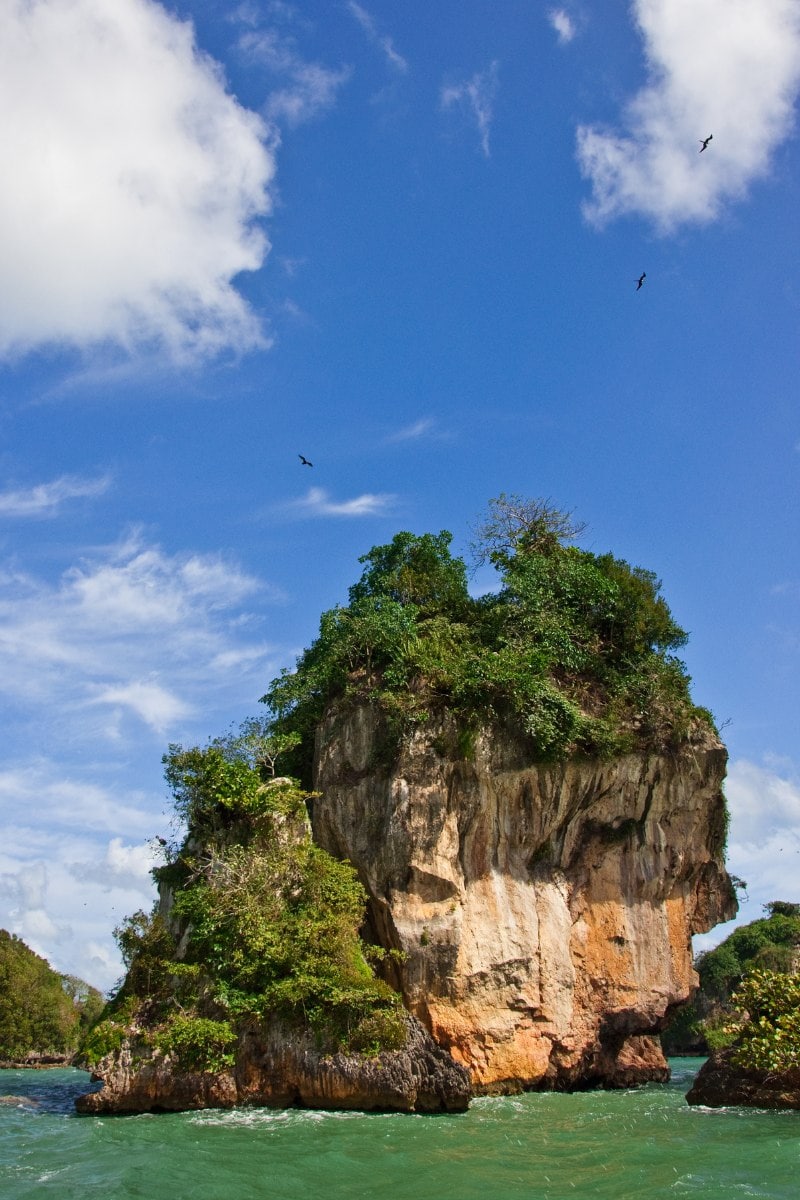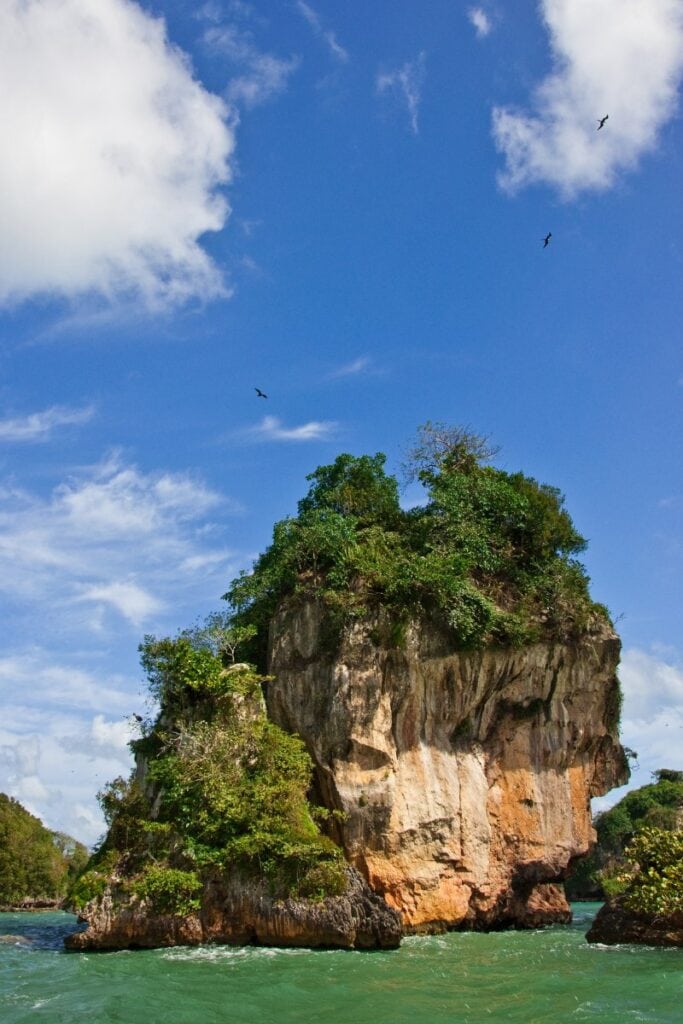 You'll travel on a catamaran (of course!) across the stunning waters of Samana Bay, then spend the day exploring the ancient caves. At lunchtime you can tuck into a feast of delicious Dominican dishes (La Bandera Dominicana "the Dominican flag" is my fave) then spend the afternoon relaxing on Cayo Levantado.
Oh… and by the way. Cayo Levantado is nicknamed "Bacardi Island" because a TV commercial for the famous rum was filmed here in the late 1970s. Now if that isn't a reason to go there I don't know what is!
Santo Domingo City Tour
A tour of Santo Domingo (one of the oldest cities in the Americas) will introduce you to the fascinating colonial history of the Dominican Republic. You'll join a small group of travellers and a friendly, knowledgeable local guide on this excursion.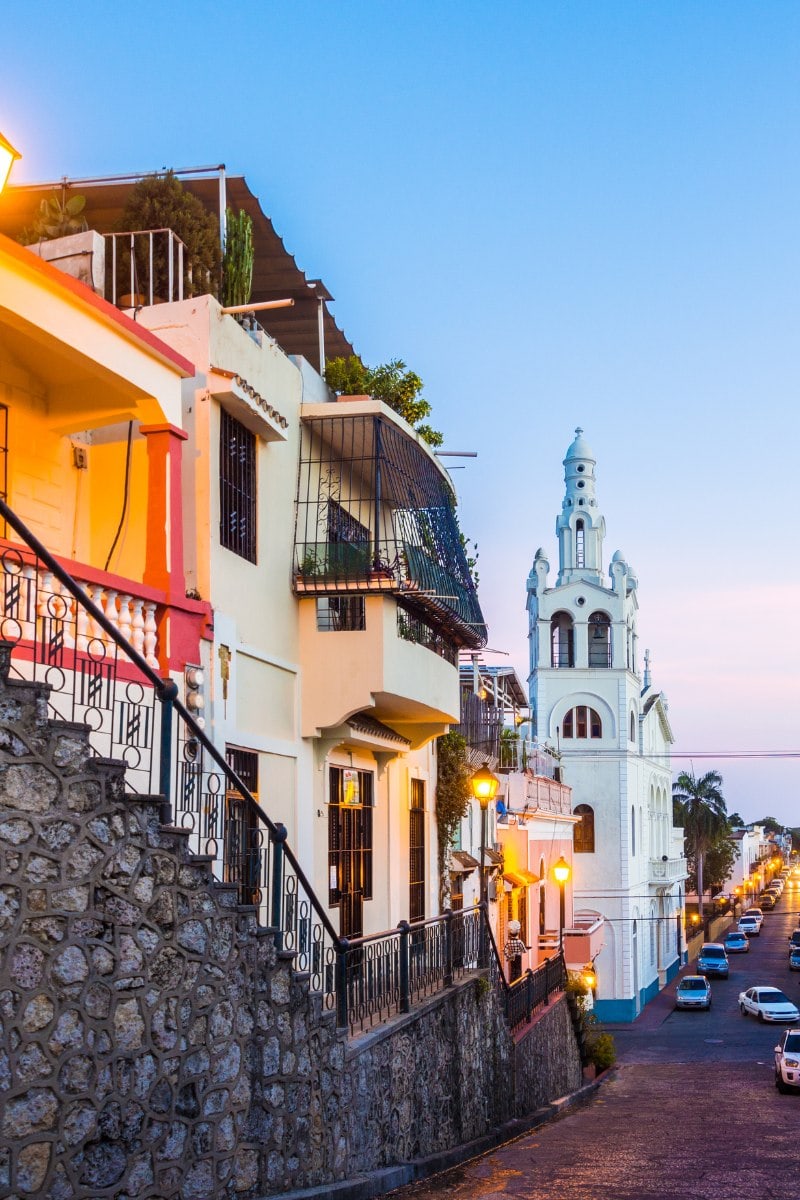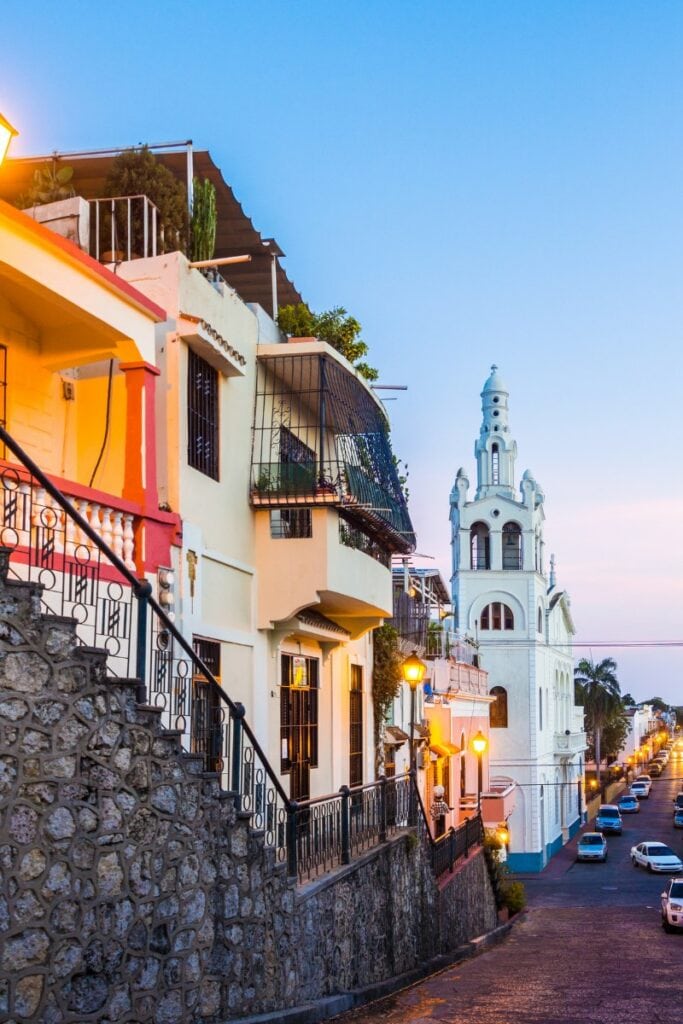 I love going on these small group tours because you really get a feel for the local culture and history. You often discover a few spots you can then return to later on your own too!
You'll get to see Columbus Lighthouse and some of the most important monuments in the city, including the Alcázar de Colón, the 1st Cathedral of America and the National Pantheon, where the heroes of the Republic are immortalised.
Cook up a Storm in Santo Domingo
If, like me, you love to cook, then this Punta Cana cooking experience is a must. You'll learn how to make a delicious dish of red snapper and coconut sauce called chillo al coco, which uses fresh local ingredients and traditional Taino cooking techniques.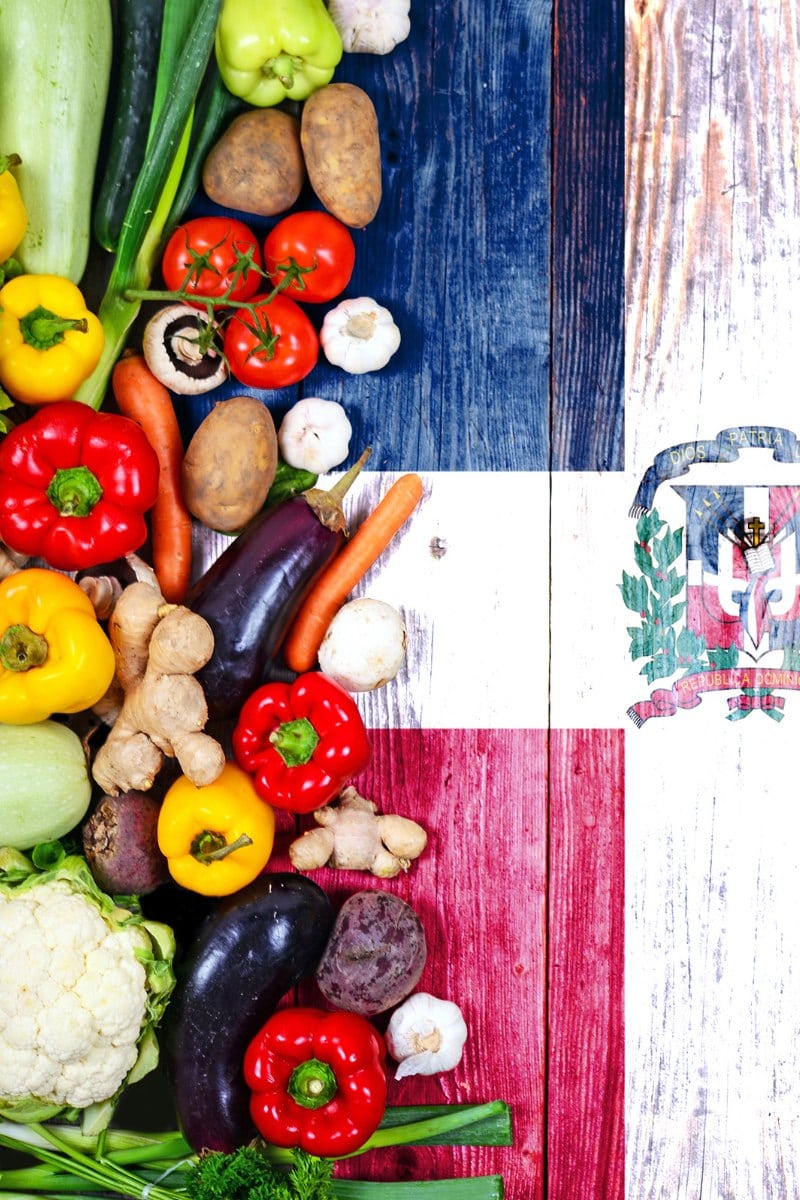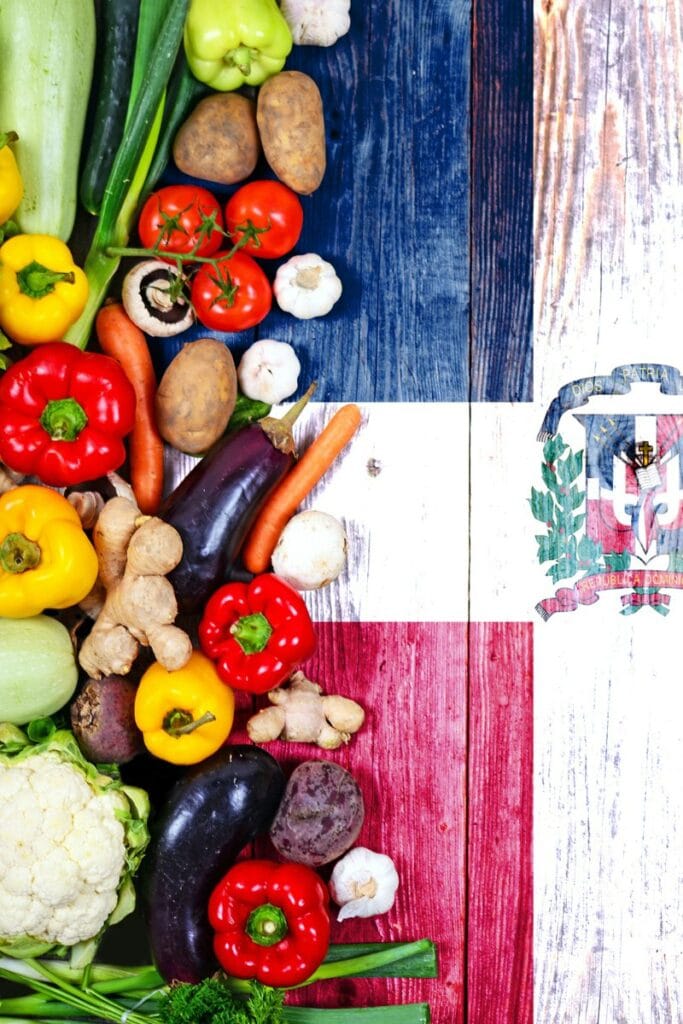 These cooking lessons are not only fun but also very educational. You'll get to experience the Dominican culture and cuisine first-hand as you prepare and enjoy your chillo al coco with a friendly and knowledgeable chef.
Dune Buggy Safari
Unleash your inner hooligan with a full-on dune buggy ride along muddy forest tracks, over sand dunes and along beautiful beaches. This Punta Cana excursion lets you drive a dune buggy through all of these scenic Dominican Republic landscapes. You'll visit a typical Dominican hacienda along the way, take a dip in a natural cenote (freshwater pool), and see some of the island's coffee and cocoa plantations.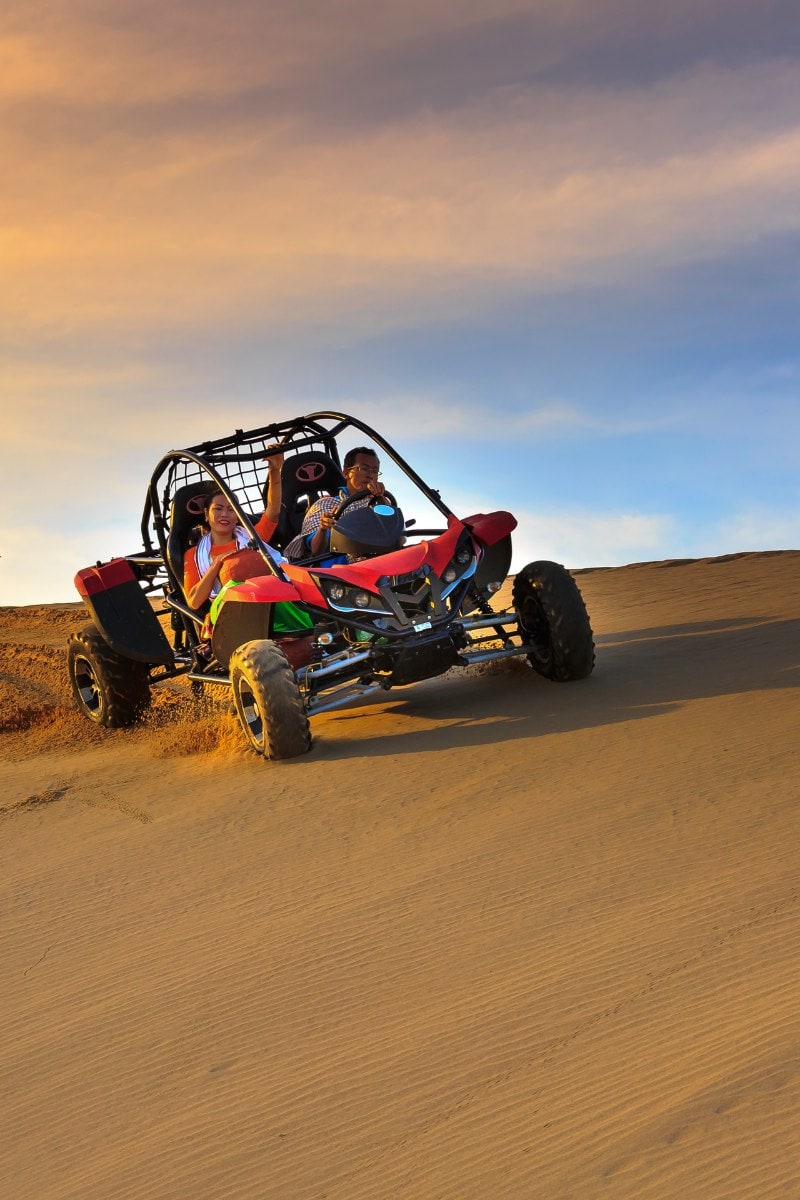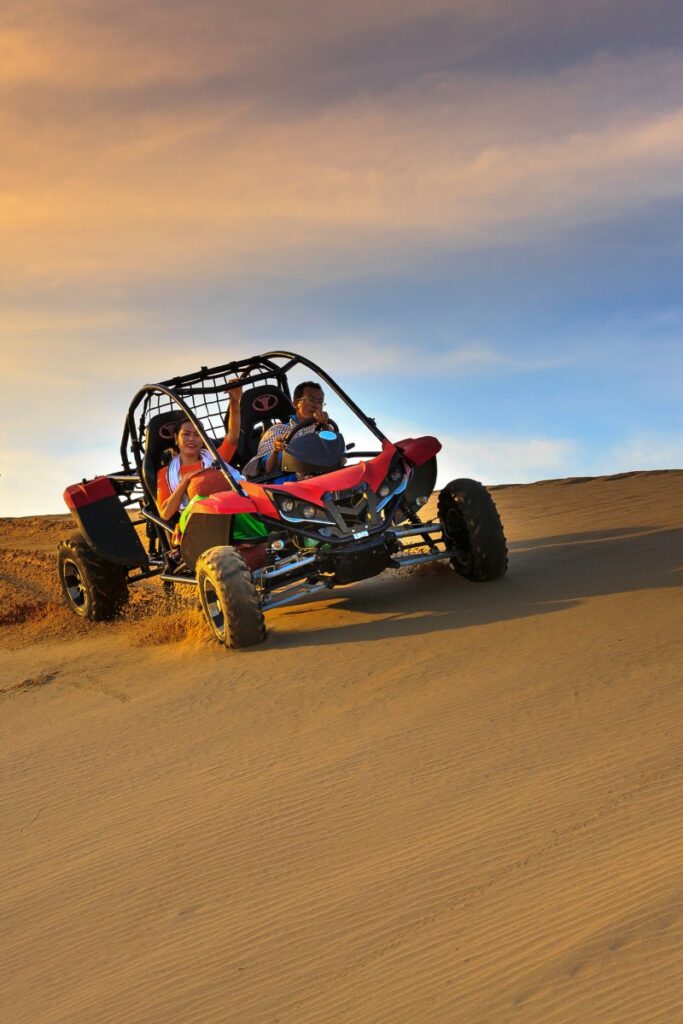 To recover from all of that exhilaration, you'll stop by Macau Beach for a dip – ideal for washing off all of that dust and dirt! At the end of your adventure, you'll be back at your hotel in time for drinks as the sun sets.
Bavaro Adventure Park
I love a good adventure and this is one of the best excursions in Punta Cana. So, if you and your travelling companions are ready for a full day of fun activities in Punta Cana then you should check out Bavaro Adventure Park. With an all-inclusive ticket you can go on every ride.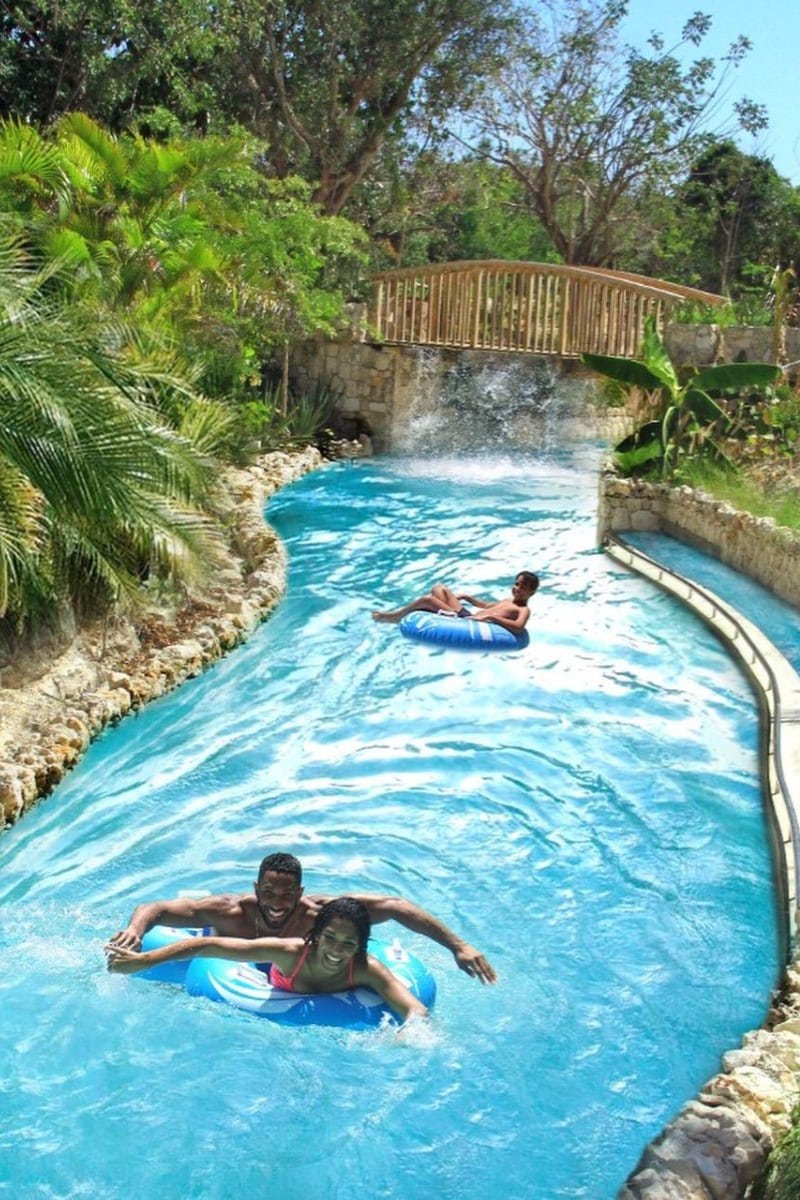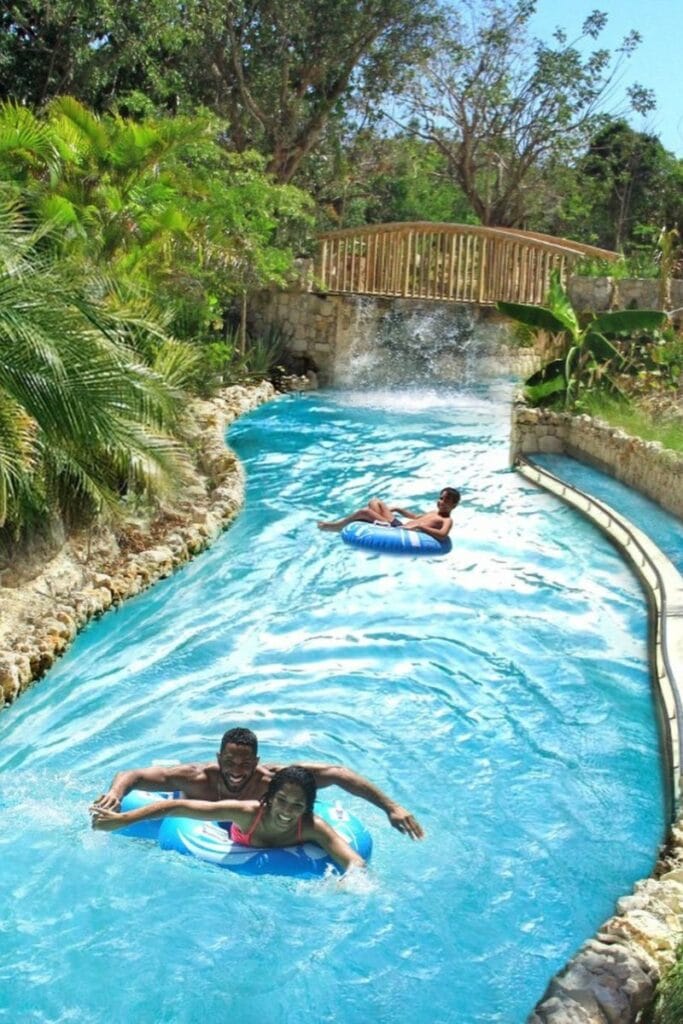 How do you fancy flying through the air on a zipline, then splashing into a pool?! You could take a horseback ride through a rainforest, relax in the clear waters of a cenote (a type of water-filled sinkhole). You'll also get to taste a delicious Dominican lunch and learn a bit about the local culture and history. This is definitely one of the best Punta Cana excursions for adventure seekers!
Coco Bongo Nightclub
Ready for one of the craziest nights of your life? If you want to go wild and let your hair down, I'd recommend booking tickets to Coco Bongo! I've been to their club in Mexico twice, and had so much fun each time!
It's more than a nightclub. It's like a huge party, with live music, dancers, special effects, confetti, lights, and a pumping energy. There are amazing tributes to Madonna, Michael Jackson, Beyoncé, and a whole host of other stars.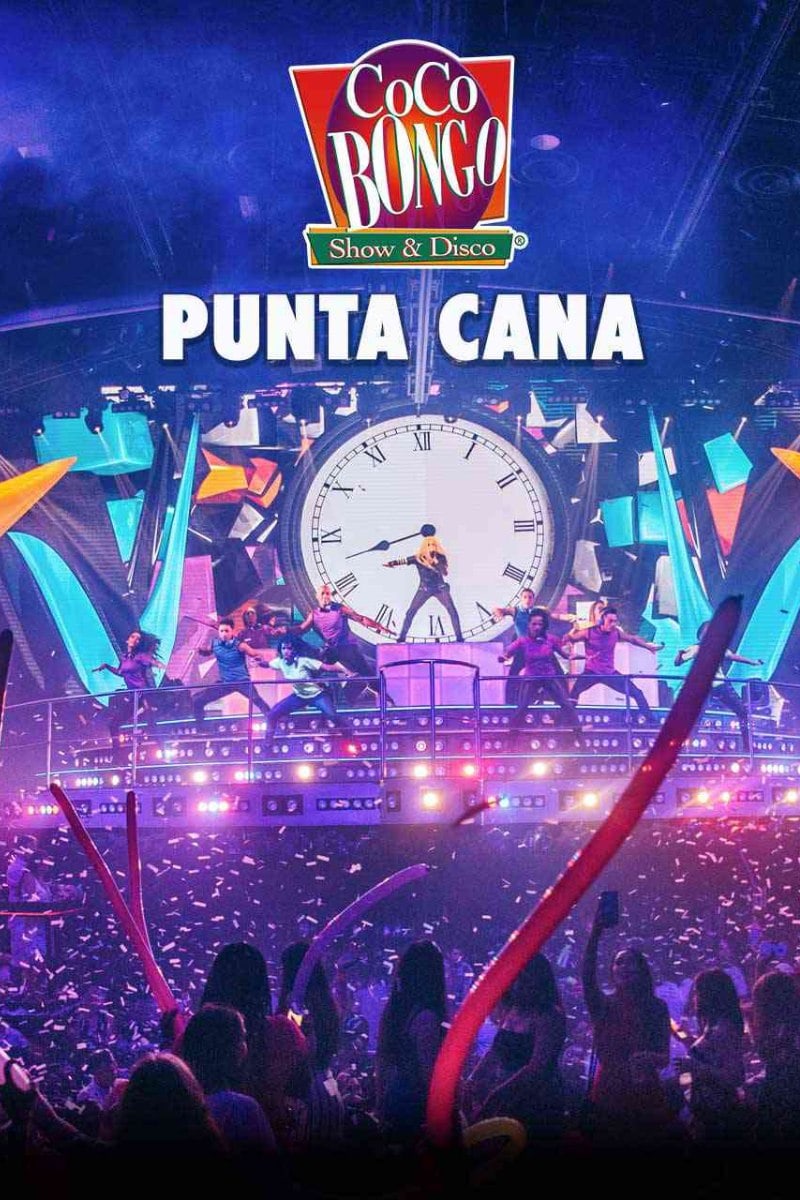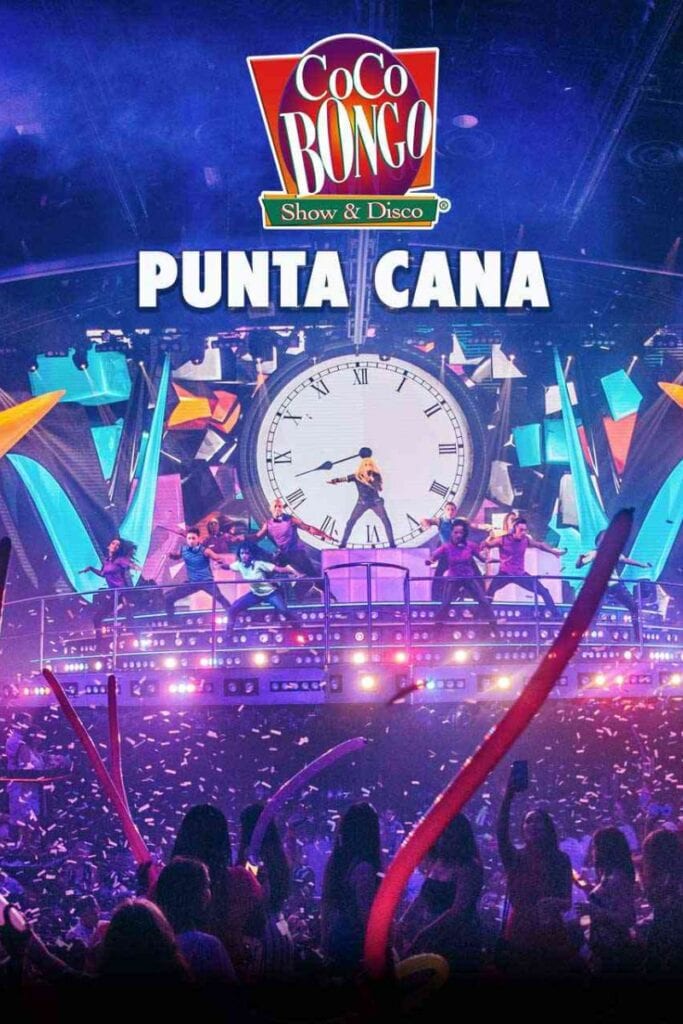 So, put on your glad rags a spend an unforgettable night at Coco Bongo in Punta Cana. You'll definitely earn a nice relaxing day by the pool the next day!
Hacienda Tuko Adventure Park
If you're looking for an adventure-packed day out in Punta Cana then I recommend you check out this amazing excursion. You'll get to jump on a dune buggy, go horse-riding and zoom along on a few zip-lines. When you visit Hacienda Tuco Adventure Park you'll also be treated to stunning views of the Dominican countryside while you experience the adrenaline rush of flying, driving, and riding!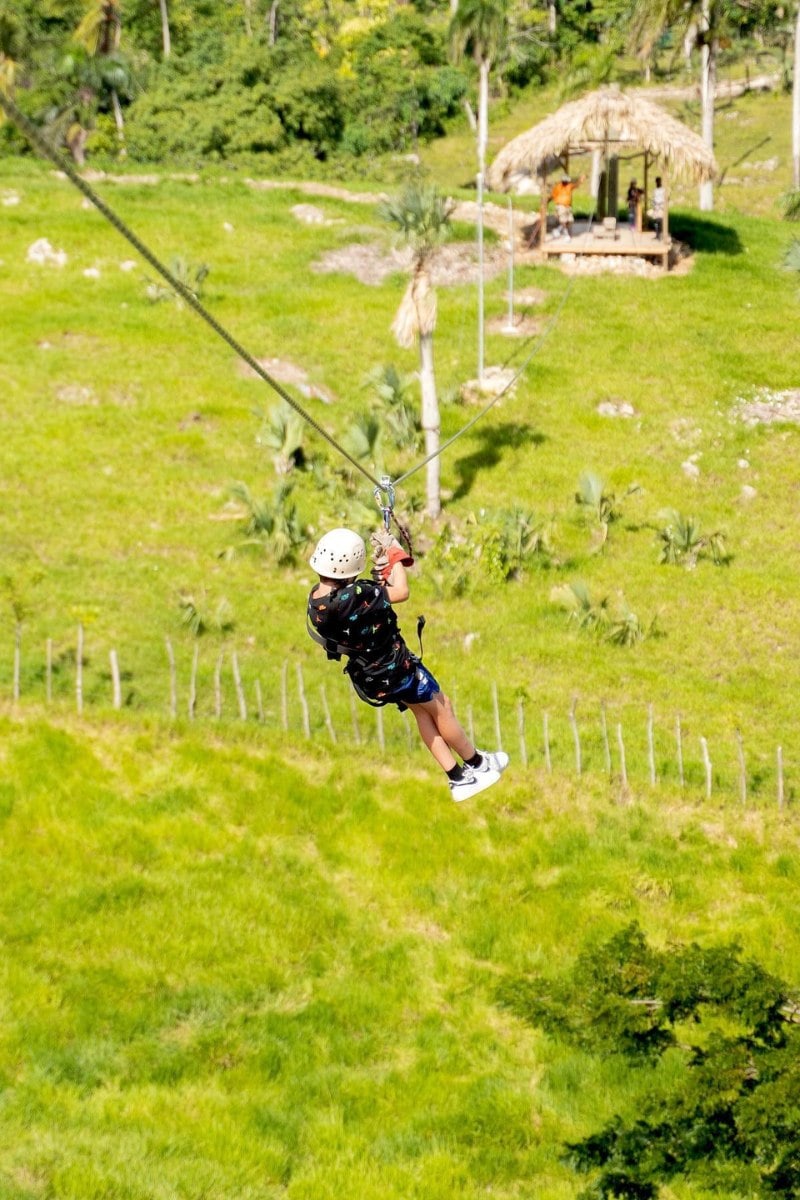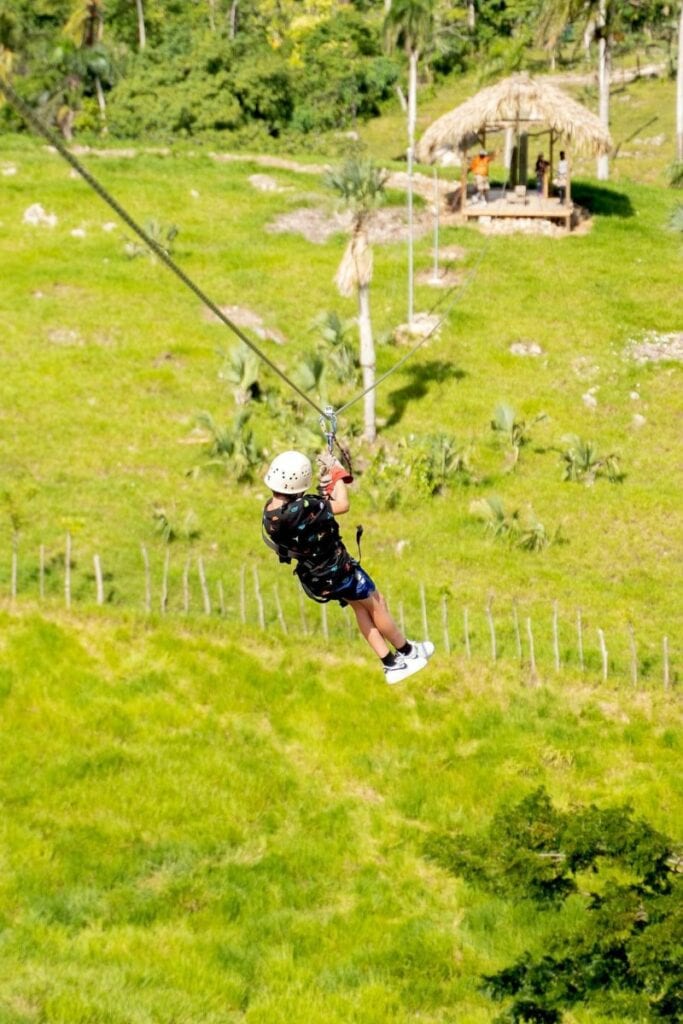 But that's not all… you'll also get to taste some delicious Dominican cuisine for lunch and learn a bit about the history and culture of this fascinating Caribbean Island. This particular excursion is perfect for families, but it's also great entertainment for couples and solo travellers who want to have fun and explore the Punta Cana area in a different way.
Go Horse Riding In The Dominican Republic
There's something truly wonderful about plodding along on the back of a horse, especially with scenery as beautiful as this!
If you are a competent rider, the tour guides will take you for a gallop along the beach before the horses enjoy the waves. After a snack and a bit of a rest in the shade, during which time you can groom your horse and get to know them, you'll mount up again and ride back through the forest to the ranch stables.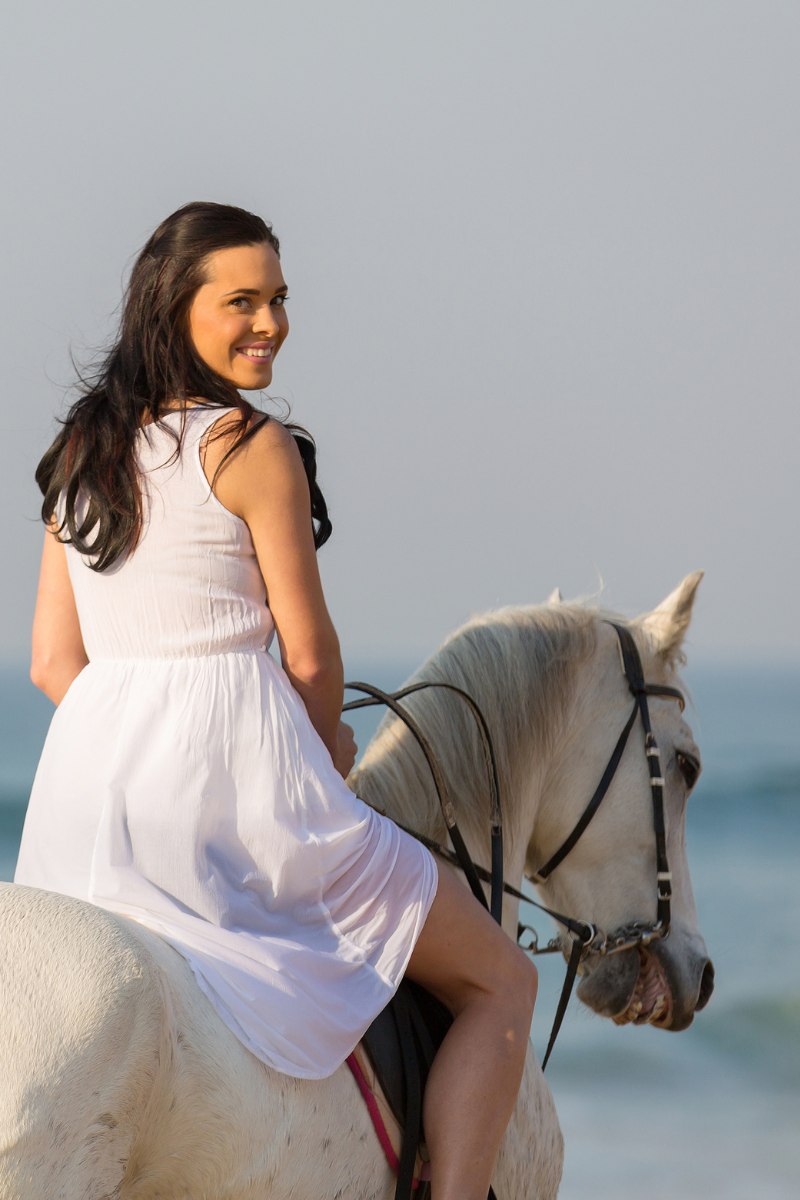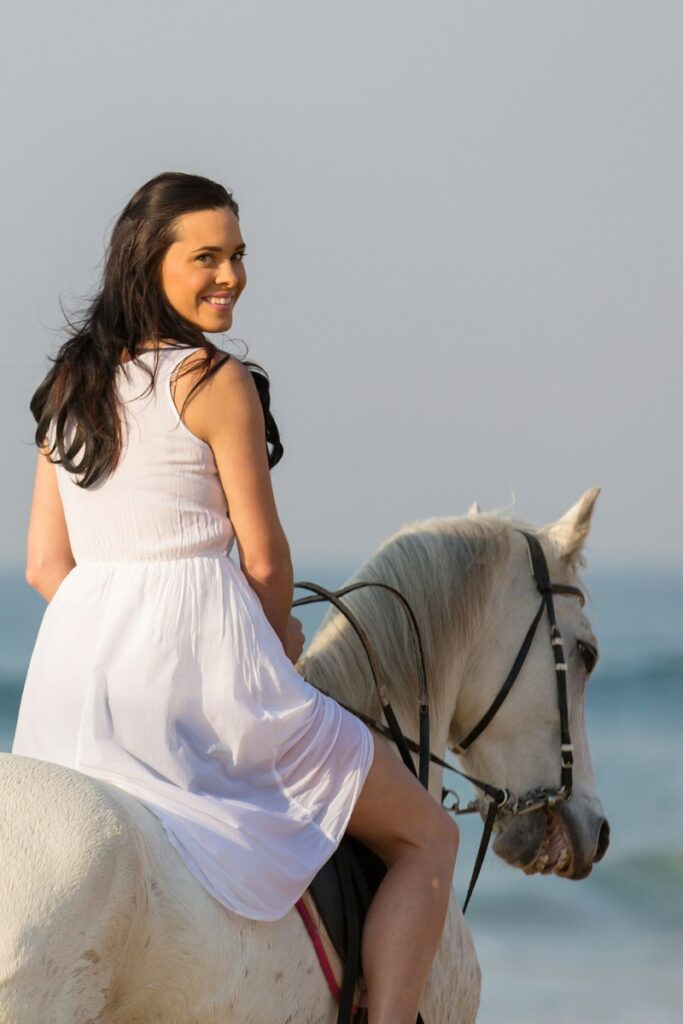 Go Whale Watching in the Dominican Republic
For nature lovers like me, whale watching is one of the top things to do in Punta Cana. After being picked up from your hotel, you'll head up to Miches, a small Barvarian-style town on the northeast coast of the Dominican Republic. Along the way, you'll enjoy scenic views of the mountains and countryside and even stop at a local bakery for a coffee and a delicious pastry.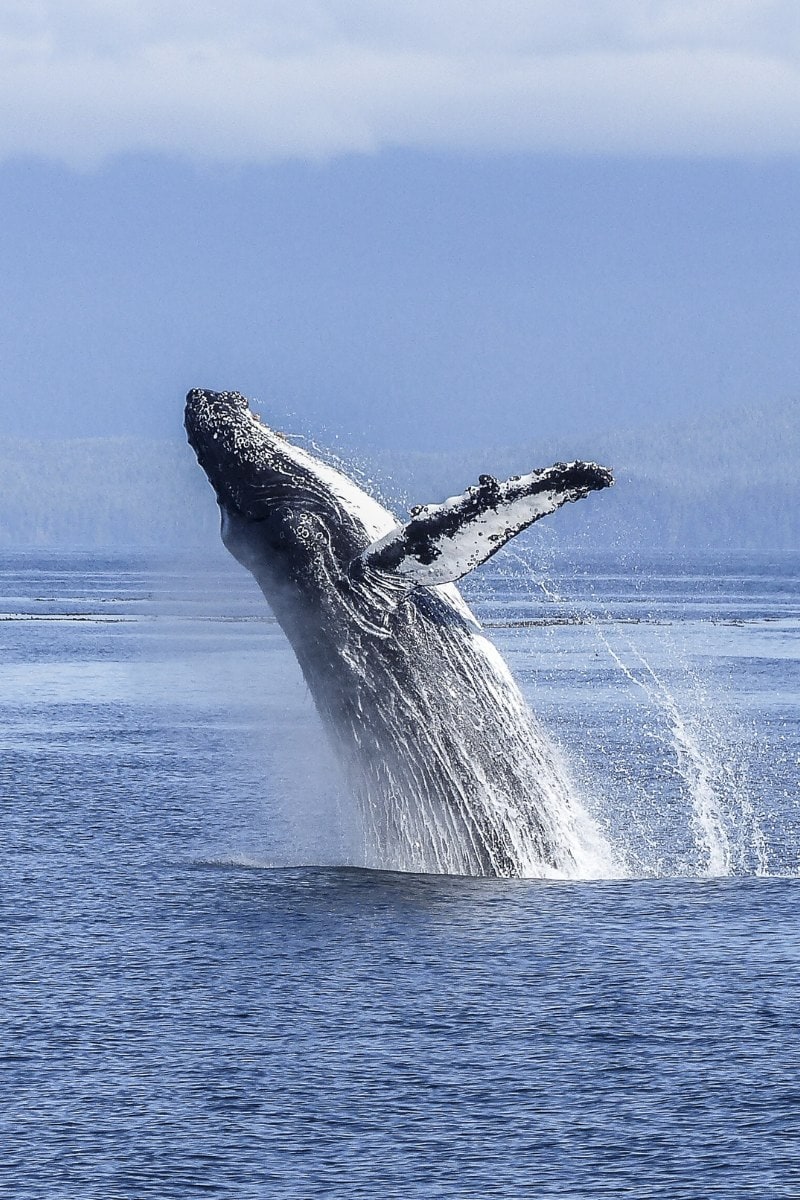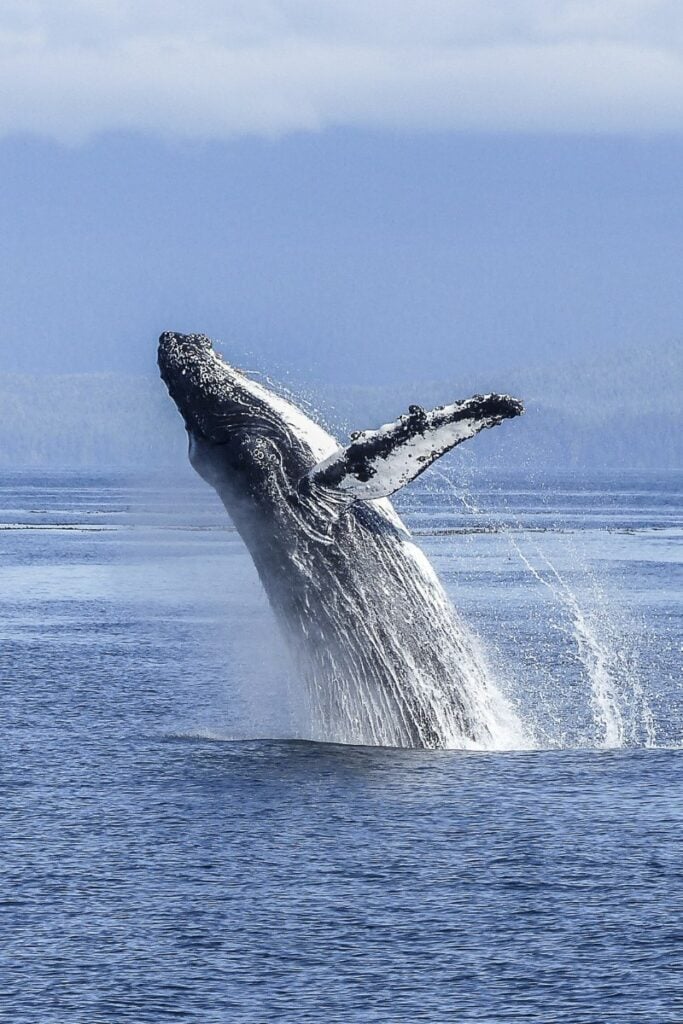 When you arrive at the coast you'll hop on a boat that'll take you out to a whale sanctuary on Samana Bay – one of the best places in the world to see humpback whales. You'll see these majestic creatures in their natural habitat jumping, splashing and even singing. You'll also learn about their biology, social behaviour, and how conservation efforts are being used to protect them.
Bayahibe Monkey Safari
Lovers of animals and nature will really enjoy this half-day safari to a private squirrel monkey sanctuary at Bayahibe. The tour starts with a visit to a traditional Dominican house where you will get an insight into the organic, self-sustaining agricultural practices used by many farmers in the Republic.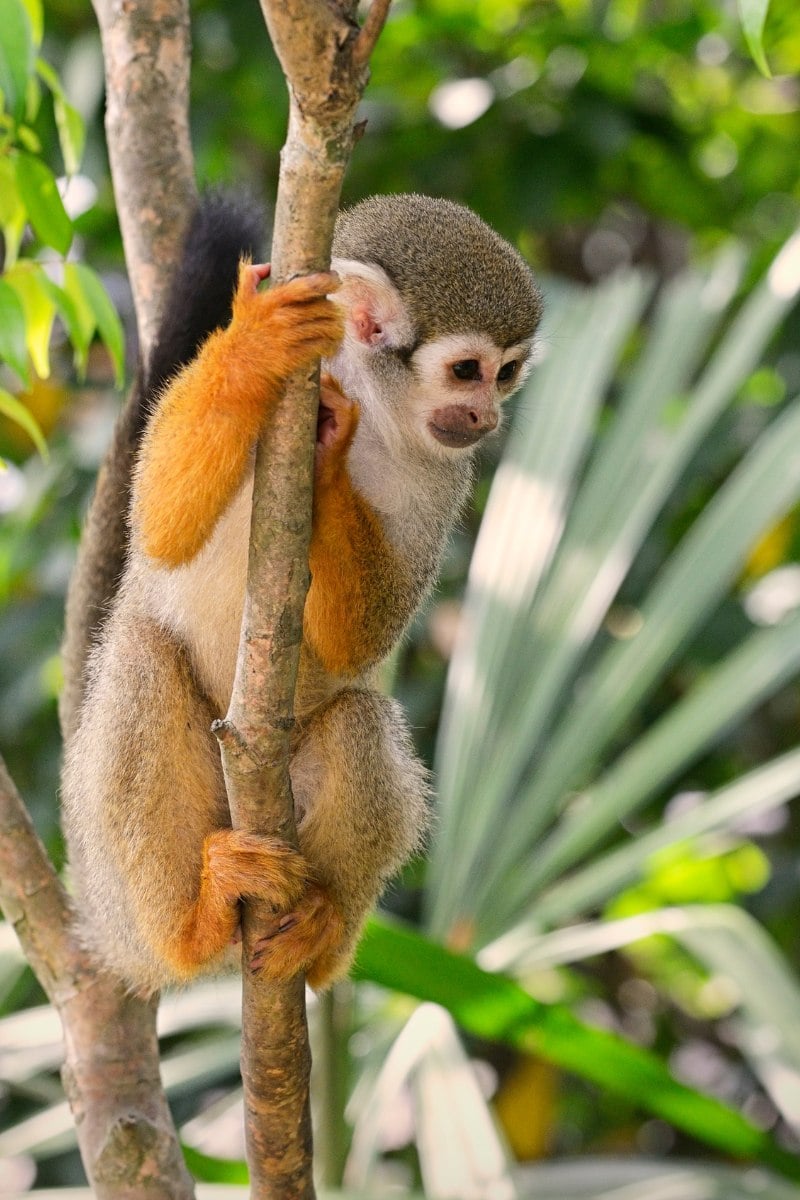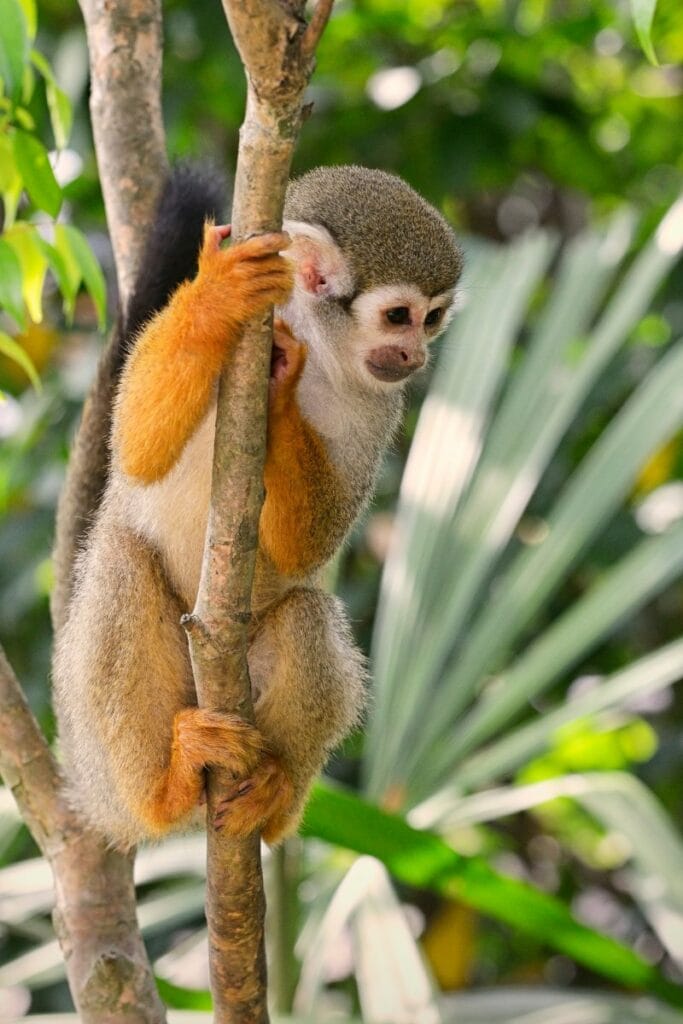 You'll then walk through a delightful botanical garden created by a Canadian couple who worked with monkeys at Toronto Zoo for 12 years. The lush habitat is populated with squirrel monkeys who are completely accustomed to human interaction. They'll sit on your shoulder, pose for photos and no doubt fiddle with any shiny bits and pieces you might have on you!
Learn to Surf on Macao Beach
Now this Punta Cana excursion is a great one for the surf lovers out there! If you've always wanted to learn how to shred, or want to up your surf game, book a one-on-one surf lesson on Macau Beach. This is one of the best surf spots in the DR. Your instructor will teach you the ABCs of surfing, plus you'll learn how to read the swells and pick your timing!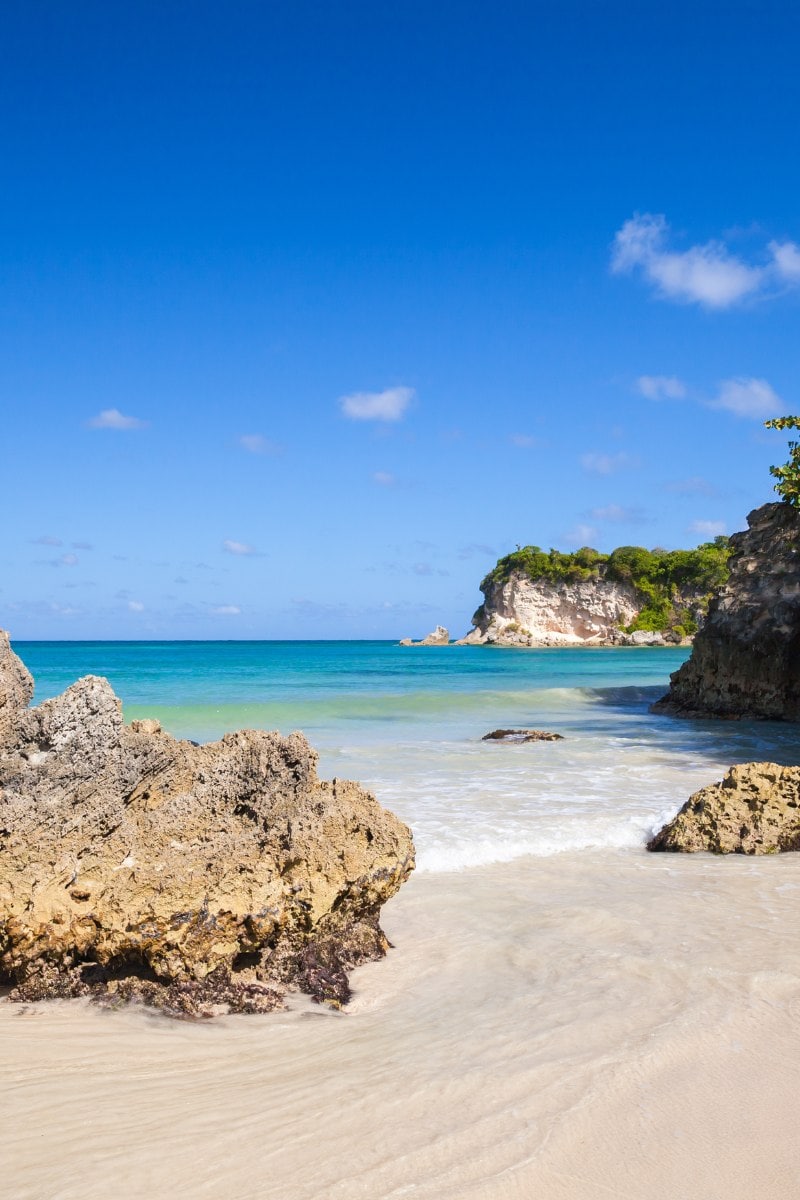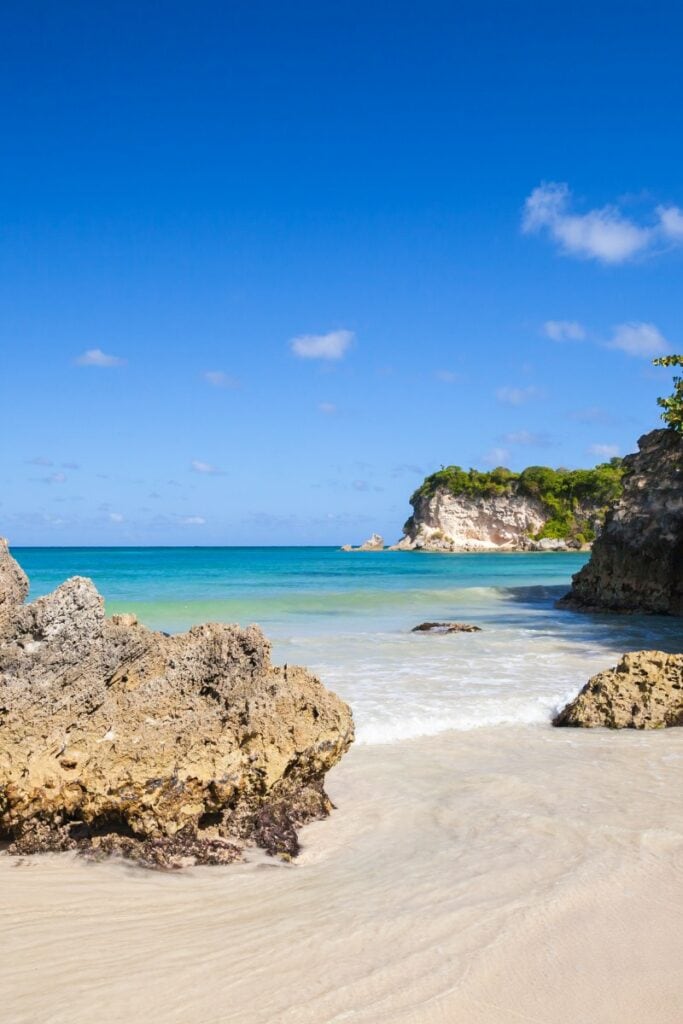 These lessons are perfect for surfers of all levels. Plus, while you're having fun on the froth you can check out that awesome scenery of Macau Beach, with its white sands, palm trees and crystal clear water.
Hoyo Azul Cenote
A cenote is a type of sinkhole that is open to the sky and filled with crystal-clear water that is perfect for swimming. On this excursion, you float on inner tubes through lush jungle where waterfalls cascade from the cenote walls and spooky side caverns invite exploration.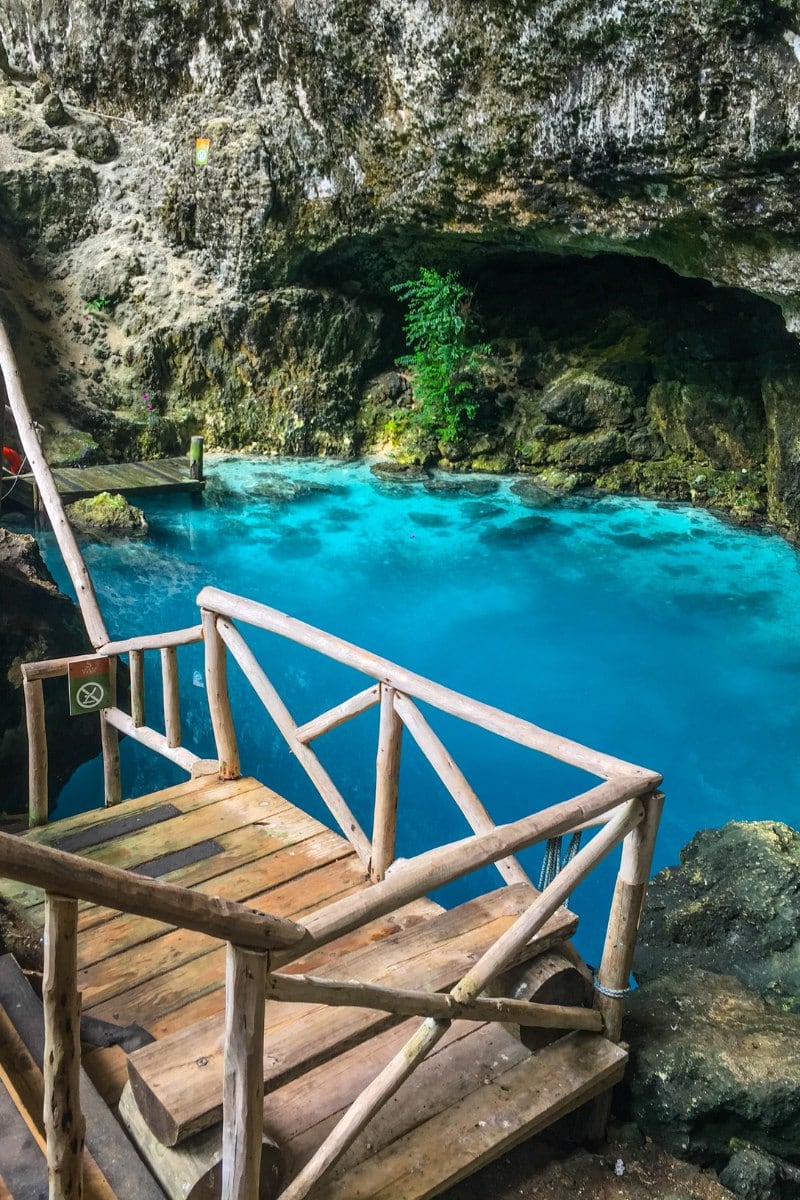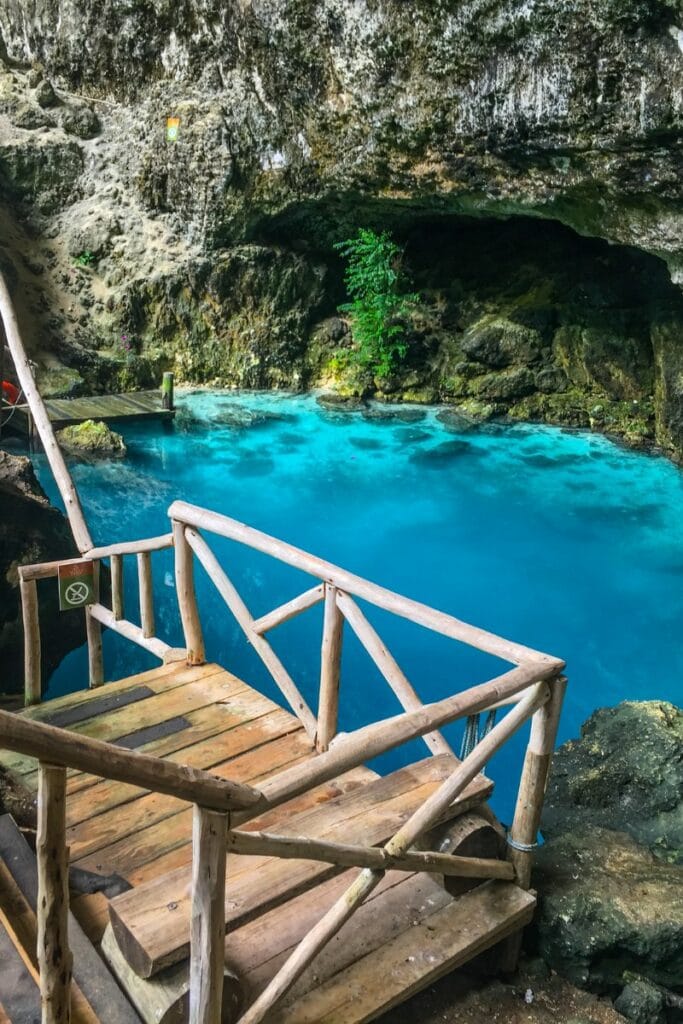 This is a great experience for couples and families. If your kids are feeling brave, they can zipline and swing from jungle rope swings to launch themselves into the water. It's great fun!
Hike and Kayak in the Mangroves
I love mangrove forests. They are so mysterious and quiet, and yet so full of life. On this trip you'll hike and kayak deep in Los Haitises National Park. You'll learn about the many medicinal plants found in the mangrove swamps, then enjoy lunch with local families who use the mangrove forests for gathering food and traditional remedies.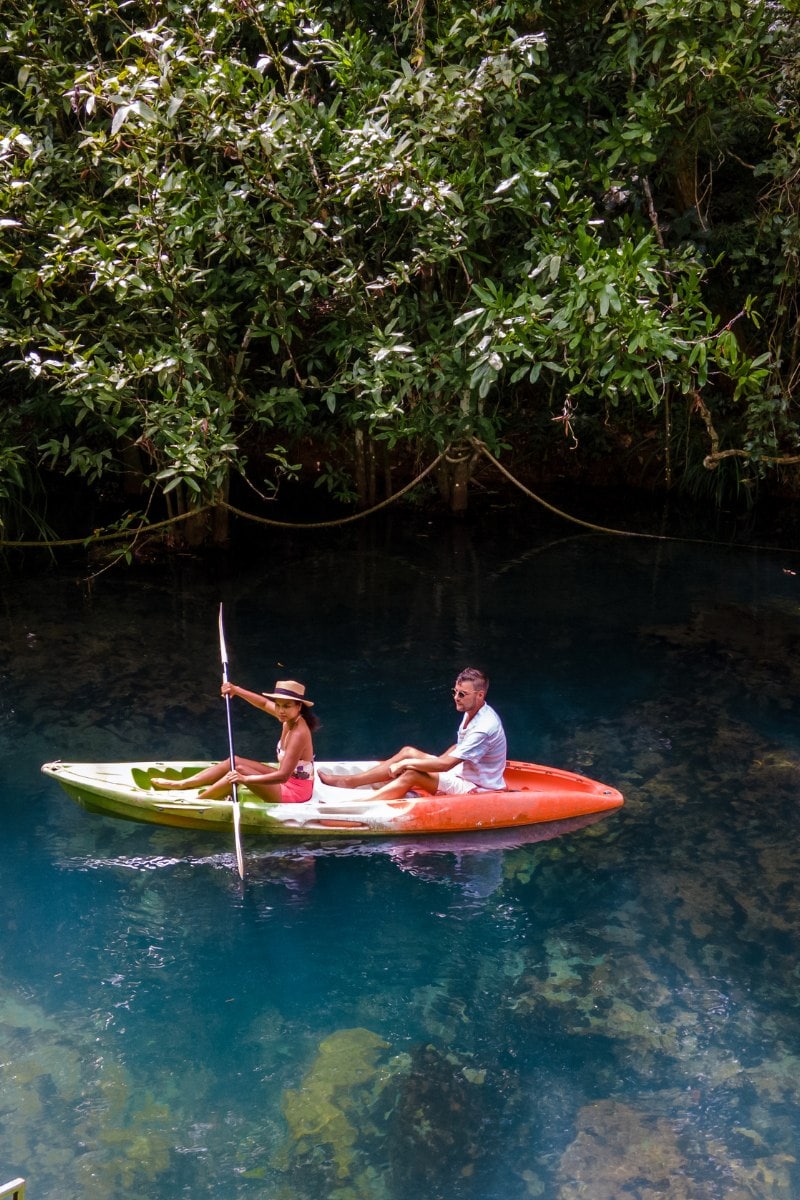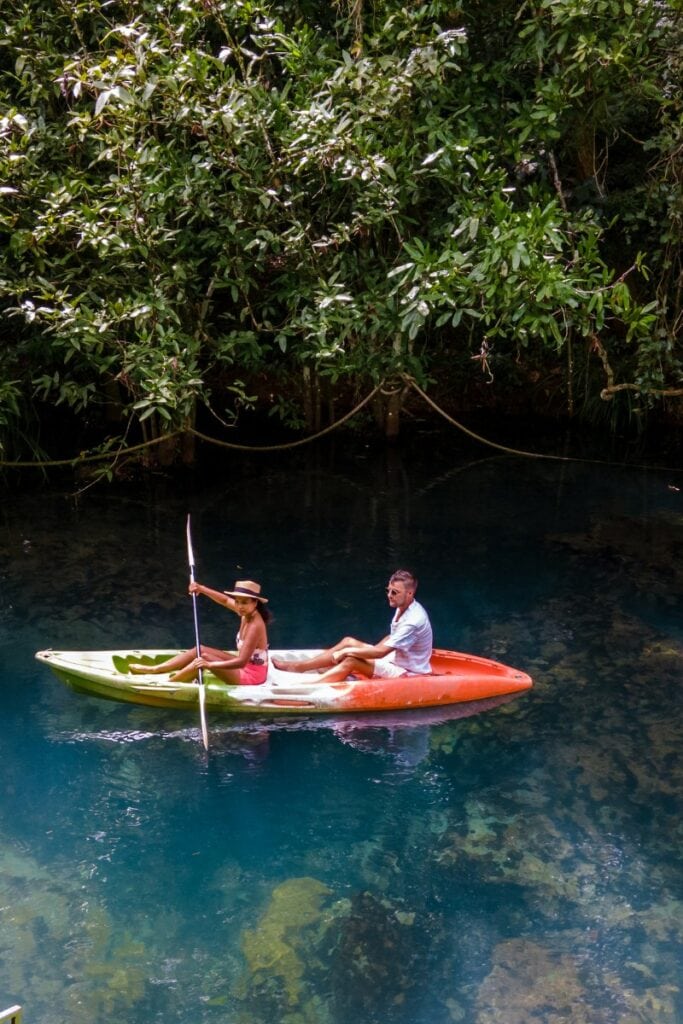 Once in your kayaks, you'll paddle even deeper into the mangroves, spotting wildlife and birds along the way. Eventually, you'll emerge in the open waters of San Lorenzo Bay where you can observe the mangrove forest from outside.
Snorkel around Catalina Island
There are so many great Punta Cana tours and excursions to choose from, but this one is ideal for water babies! The underwater ecosystems around Catalina Island are some of the richest, most colourful and accessible in the world. From the deck of the gleaming white (and aptly named) catamaran " Paradise" you'll slip into an underwater world of incredible colours.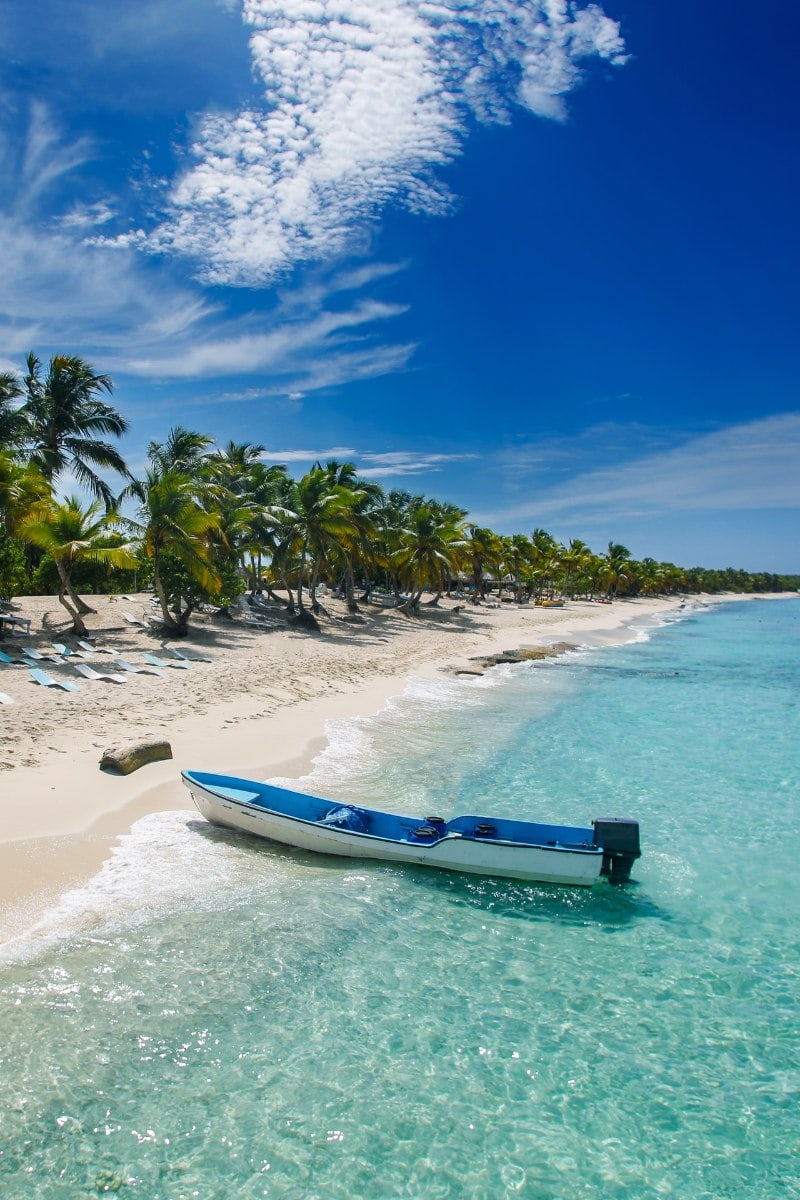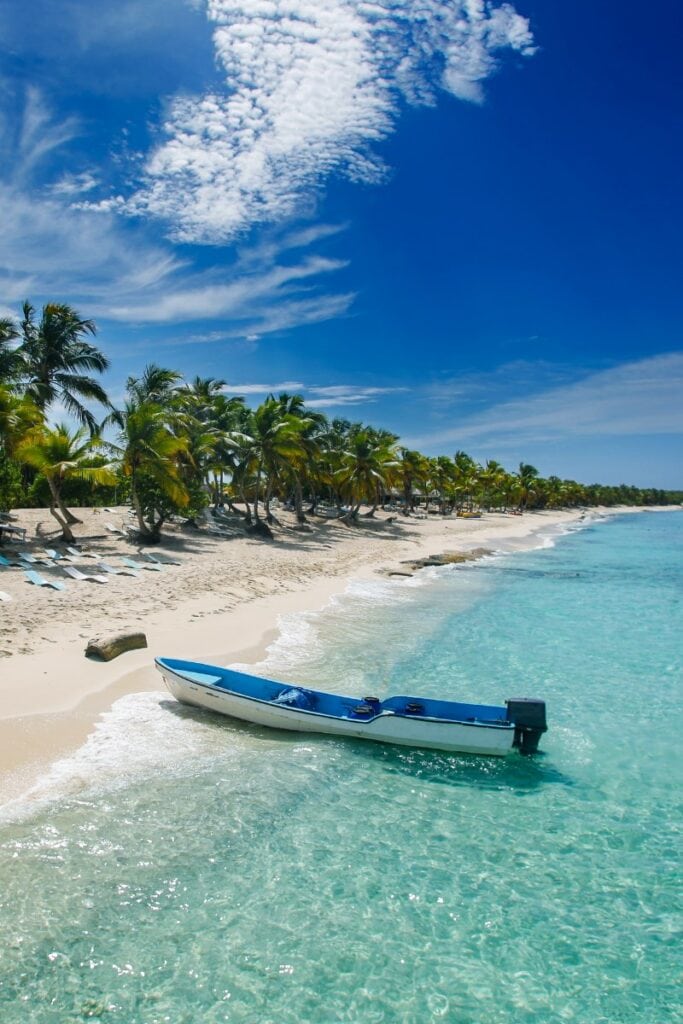 The turquoise waters of The Wall offer superb visibility and even if you are a beginner you'll soon get the knack of relaxed breathing, as you hang motionless above this spectacular view.
And as if that wasn't enough to take in, while you are snorkelling, an acclaimed local chef will be preparing an epic lunch of barbecued pork, salads and local delicacies. In the afternoon you can return to the water or just stroll along the beach to the bar… the choice is yours.
---
So which of these Punta Cana excursions takes your fancy? Whatever you pick, I can assure you that you'll have an absolute blast! From those thrilling zip-line zooms to serene moments on the beaches of Cap Cana, this is a beautiful place to visit in the Dominican Republic. It's a place where relaxation meets adventure, where blue meets green… and no doubt, once you've visited, you'll want to go back again and again!
If you're looking for other tips for your holiday, don't miss my Dominican Republic itinerary. It's packed full of fun ways to make the most of your trip!