Find out what it's like to stay at the luxurious Burley Manor in the New Forest.
I've pledged to see more of the UK this year, and I'm so happy to report that I've just found one of the prettiest places yet!
Yes I may have nipped to the Alps for a quick play on the ski slopes, and caught some winter sunshine in Marrakech… but I've also been won over by London's brightest festival – Lumiere London, and swapped big city life for an English country manor in the New Forest. Just a quiet January then…
The New Forest – despite being just an hour and a half from London, I'd never been until now. From my first visit, I'd describe it as a magical land of stunning countryside, shady forests, misty scrubland and quaint villages. A place where ponies roam free. If there was somewhere in the UK I felt I might spot a unicorn, this would be it!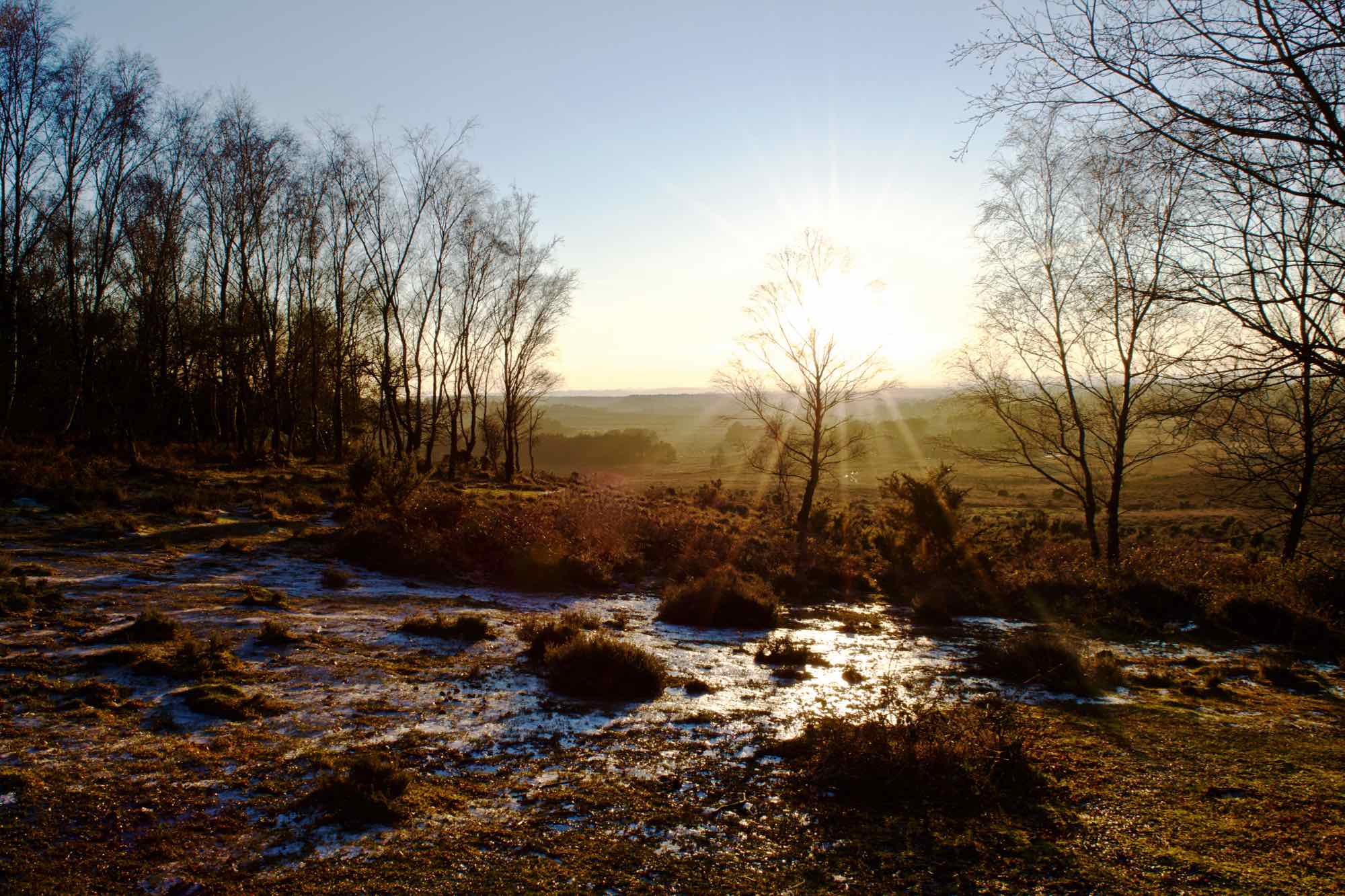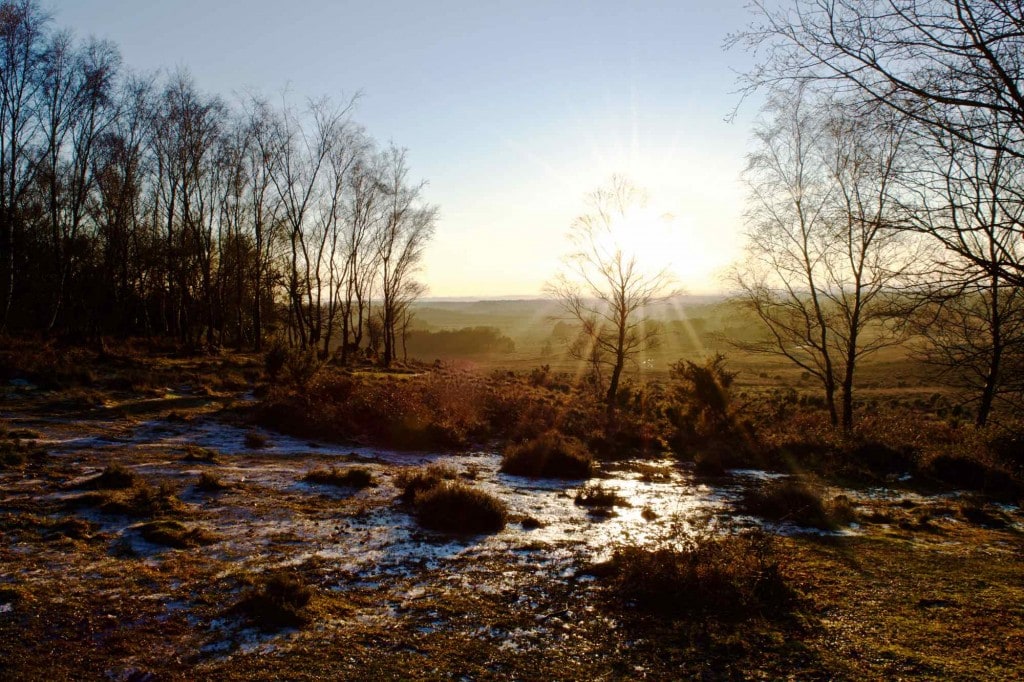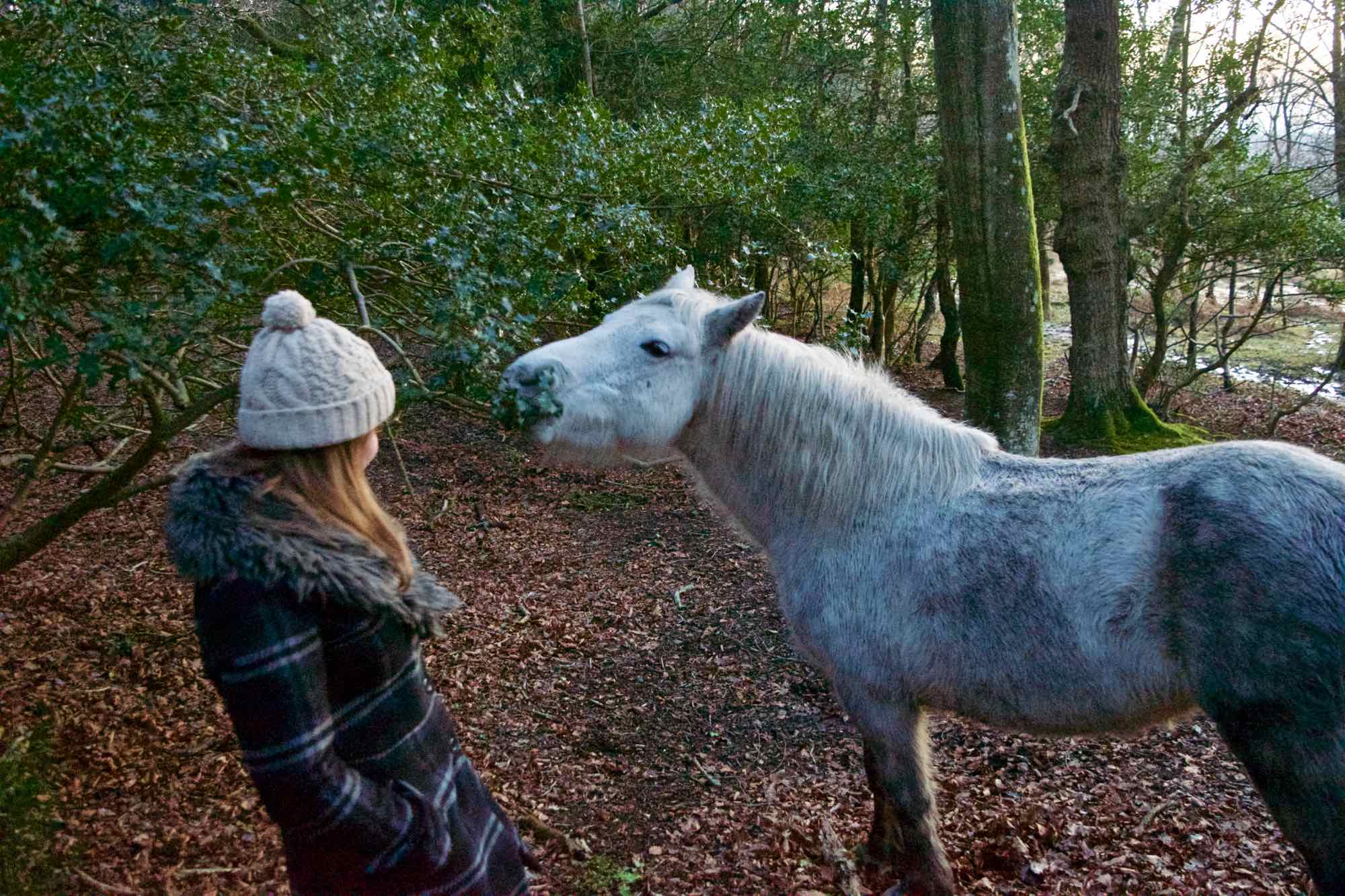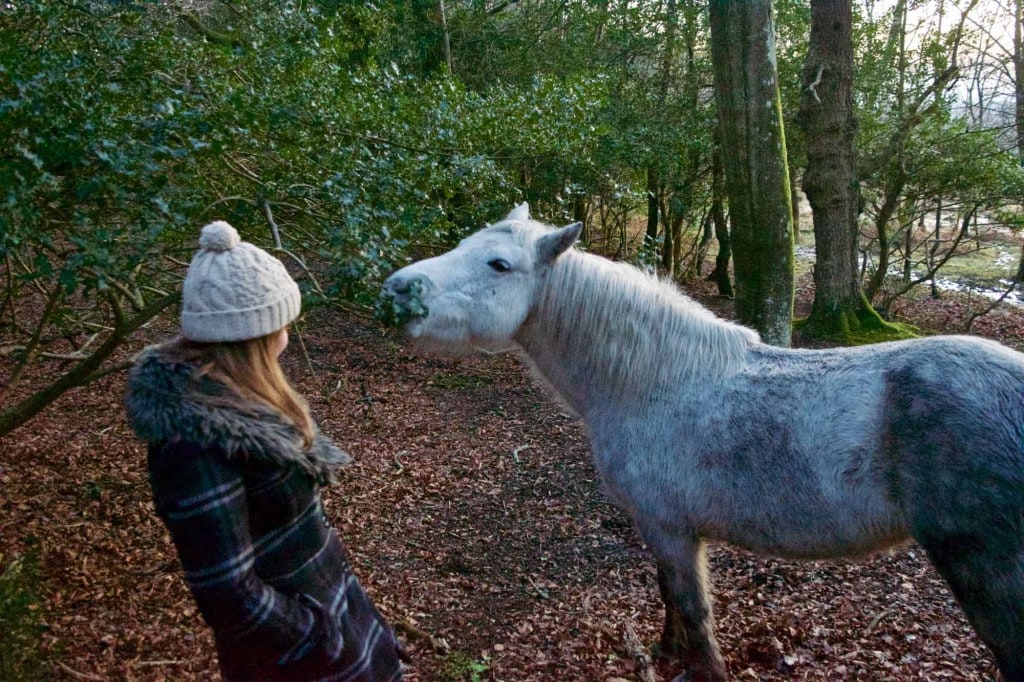 From Waterloo, we reached Brockenhurst, a small town with a few pubs, an old-fashioned high street (think butchers, bakers, haberdashers and tea rooms) and then took a taxi to the village of Burley. Passing through barren heathland we spotted our first wild ponies grazing at the side of the road without a care in the world. It turns out mid-January was a particularly beautiful time to visit. With England suffering a cold snap, small ponds and lakes had frozen, crystallised leaves lay on the ground, while bright sunshine and blue sky completed the view.
Walking up the drive to Burley Manor was quite a moment. The impressive grade II listed building dates back to 1852 and looks out over gorgeous countryside, with a red deer sanctuary just in front of it. The interior décor is a marriage between old and new – bold, patterned fabrics and original fireplaces. It really works.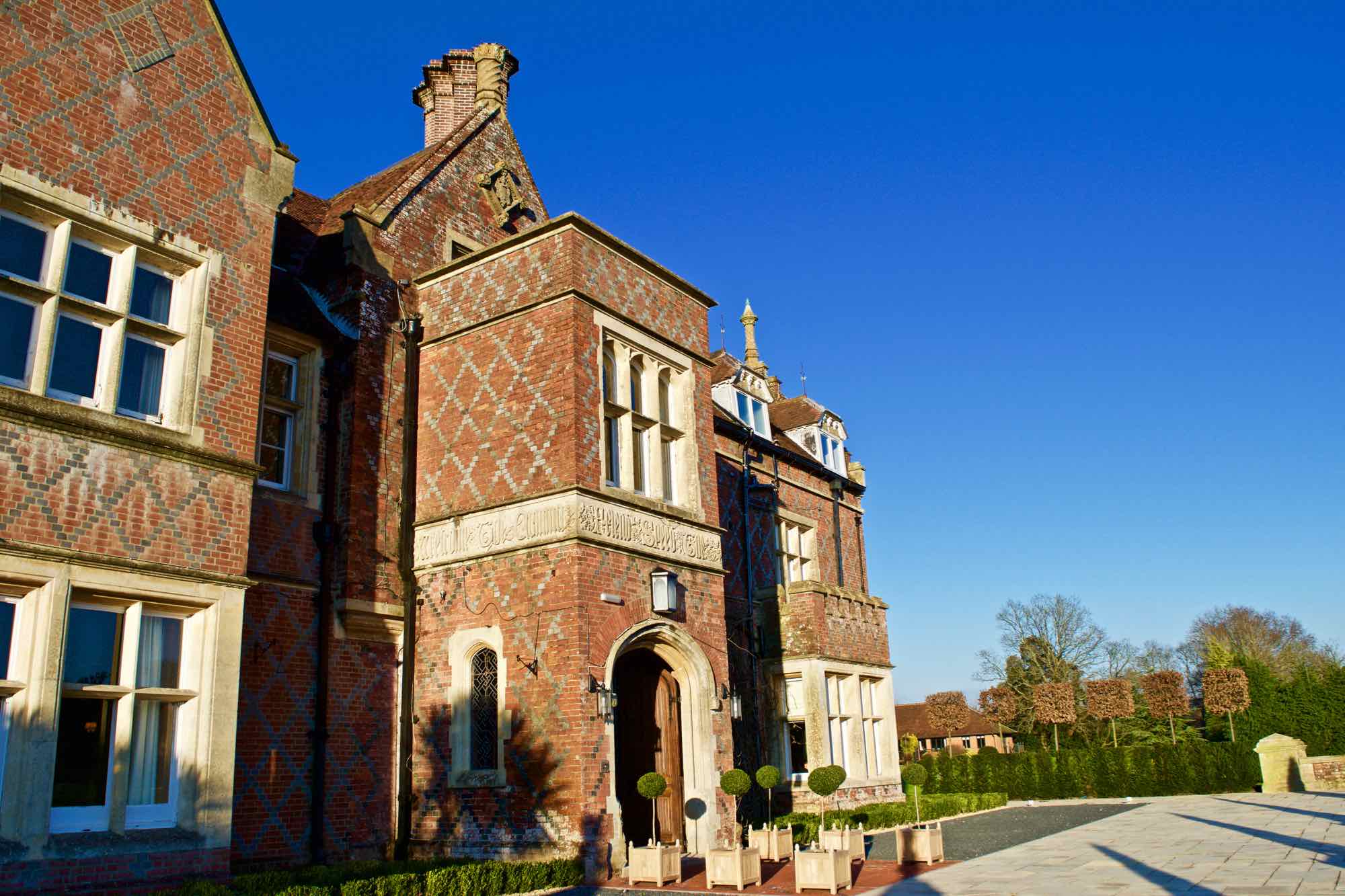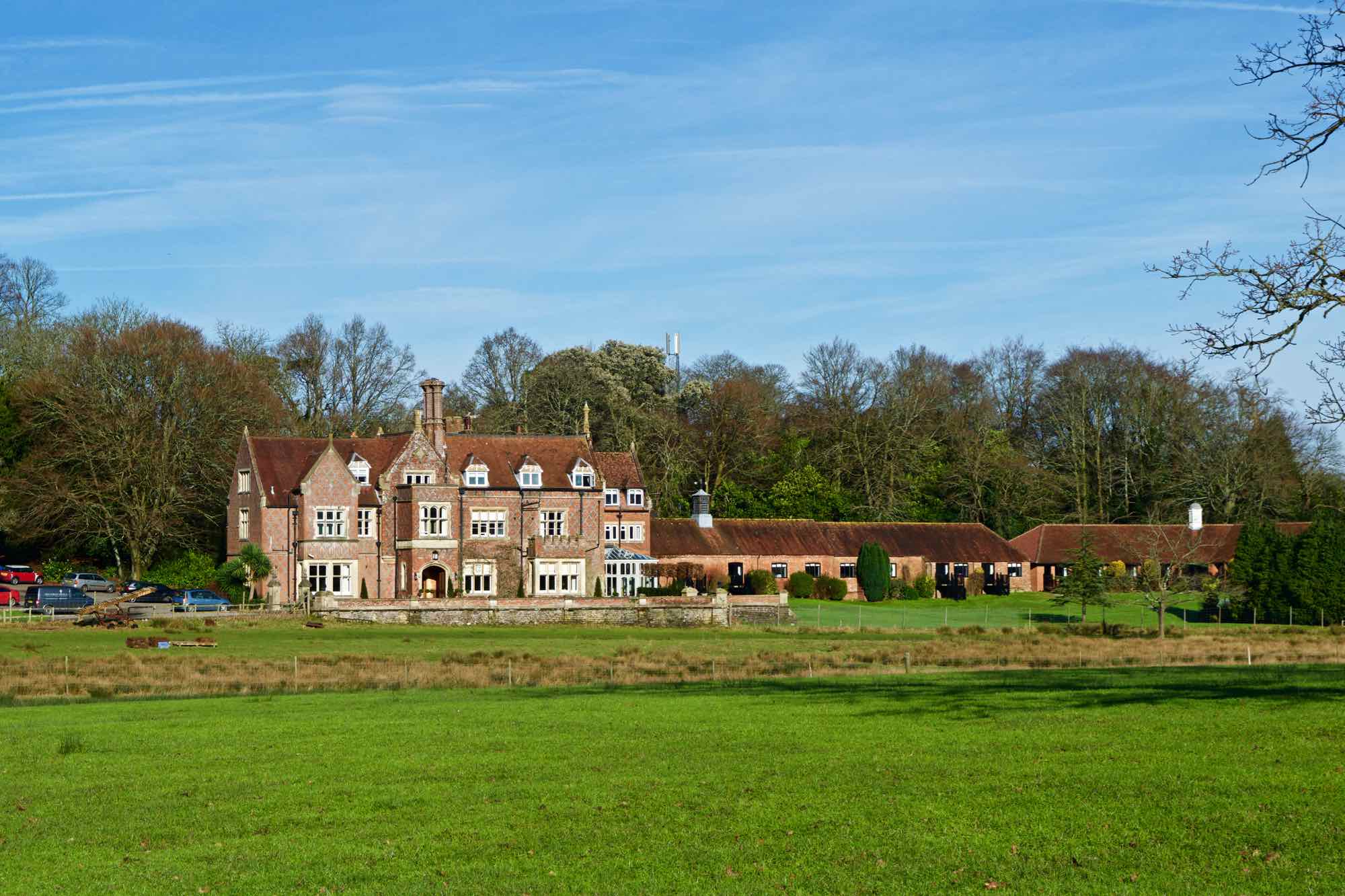 After a brief look around, I checked into room 42 at the far end of the long building extending from the manor. What a great room! More of a grand suite, it looked back towards the impressive manor, but still felt intimate. I loved the bold fabric headboard in pink and cream, mixed with the rich purple armchairs and grey sofa. Several antiques sat in key areas of the room – an old style radio and telephone by the bed, a large leather trunk at the end of the bed, and a bookshelf with a stack of classic novels. This was history with a fresh twist. The bathroom was equally luxurious with vintage tiles and a selection of luxurious Temple Spa products (which smelled divine!)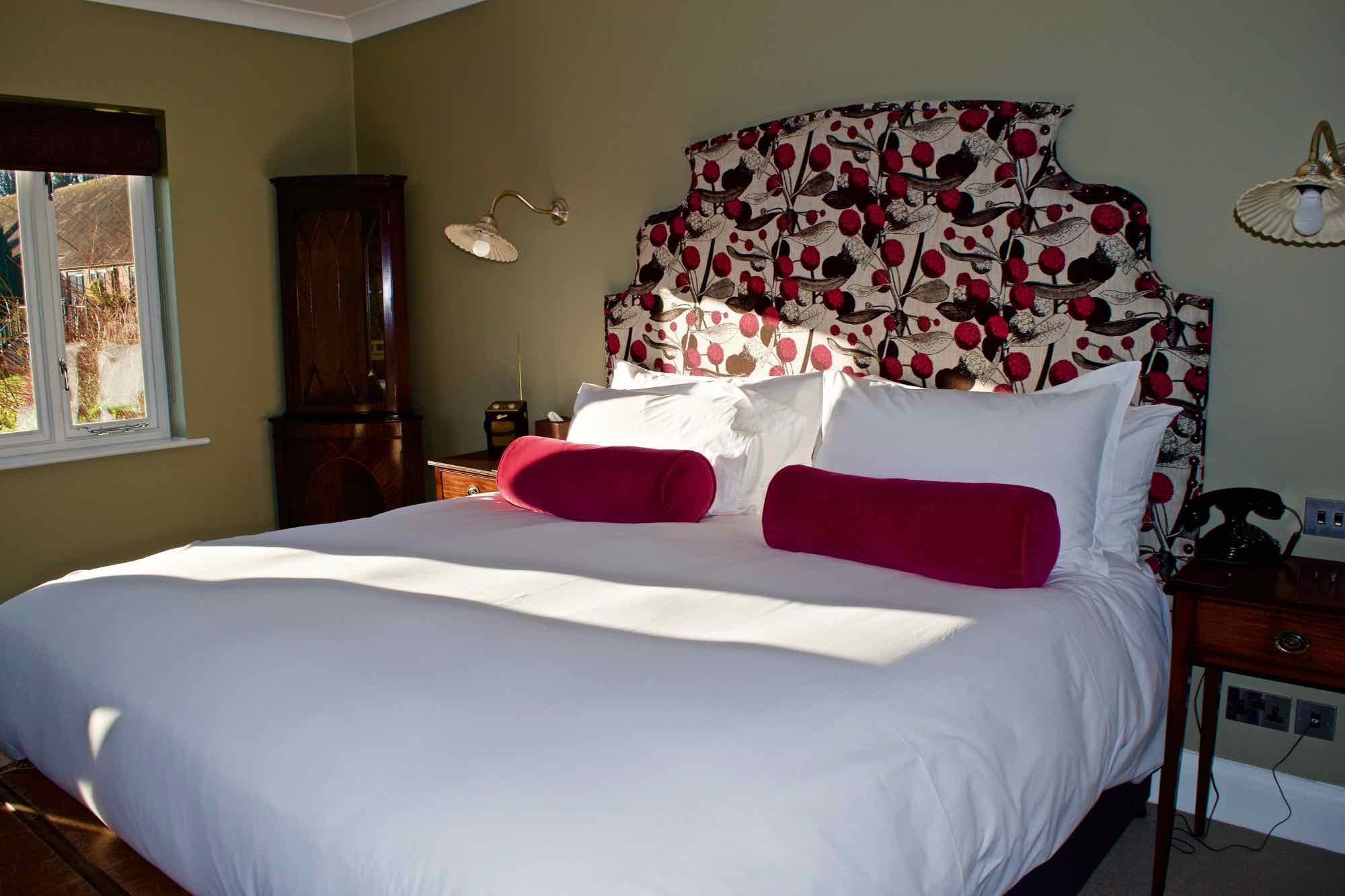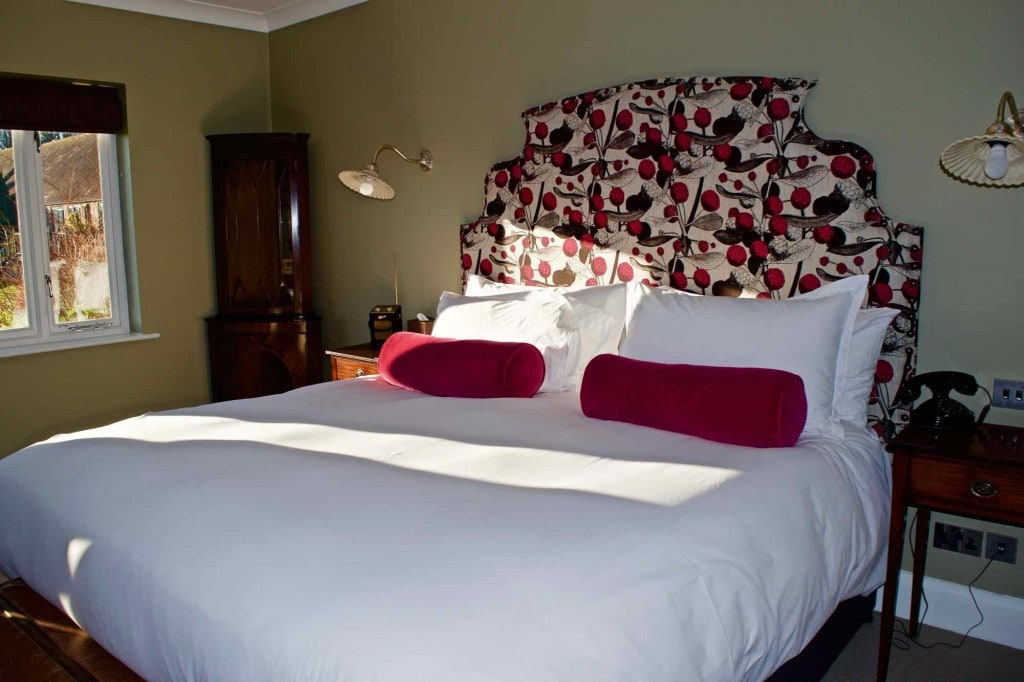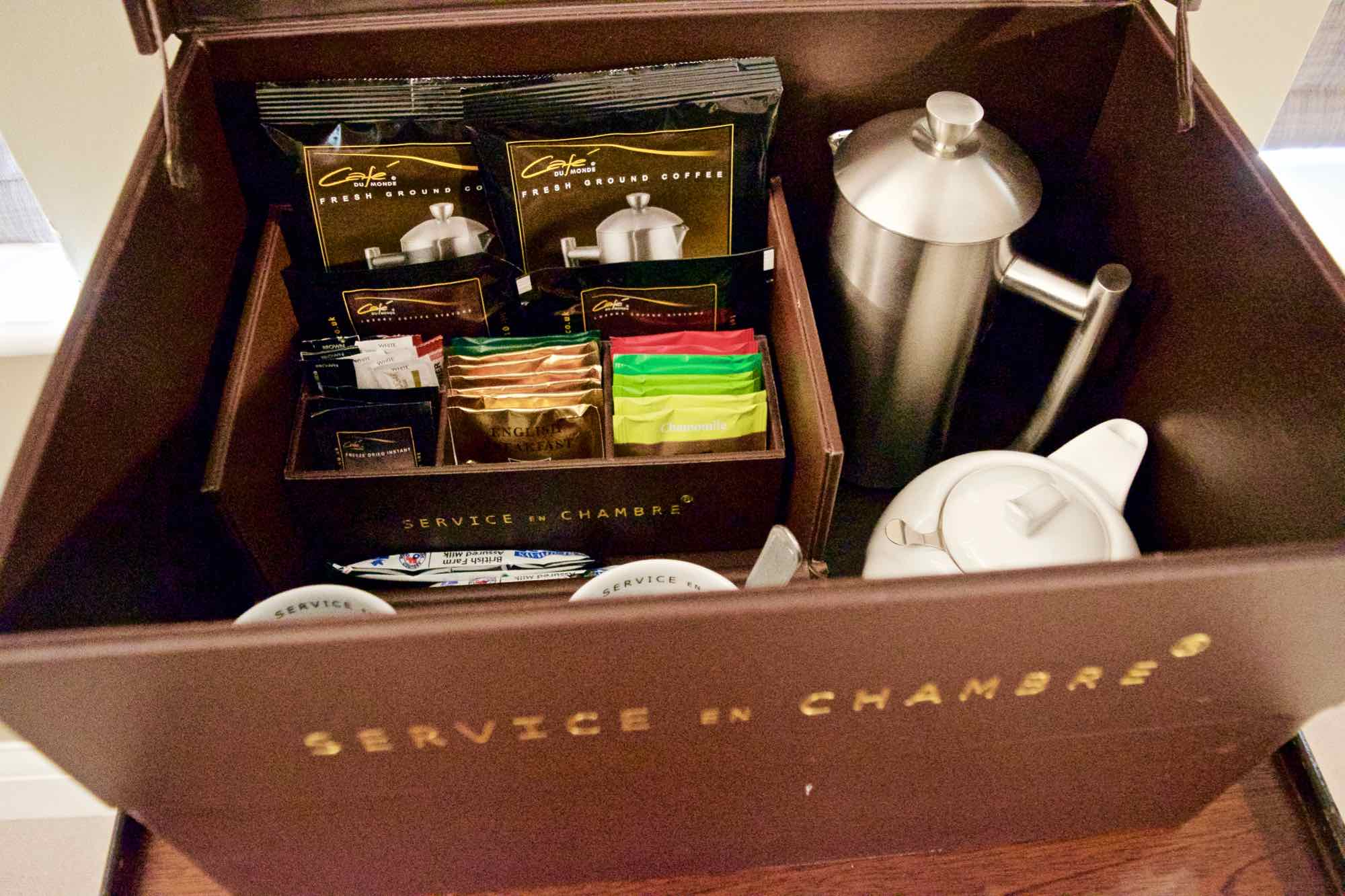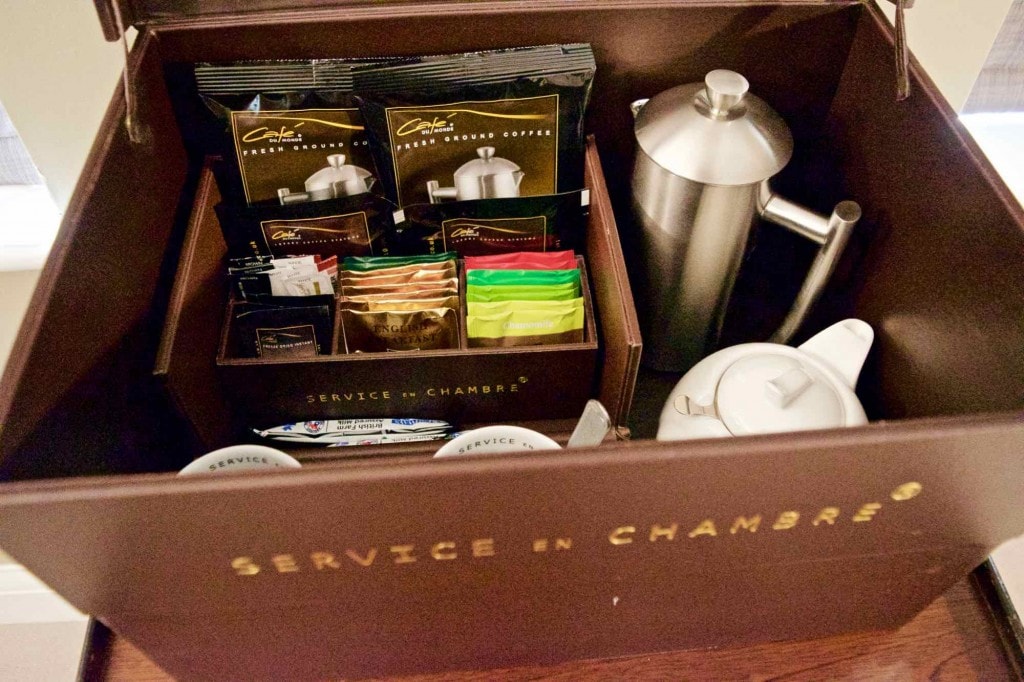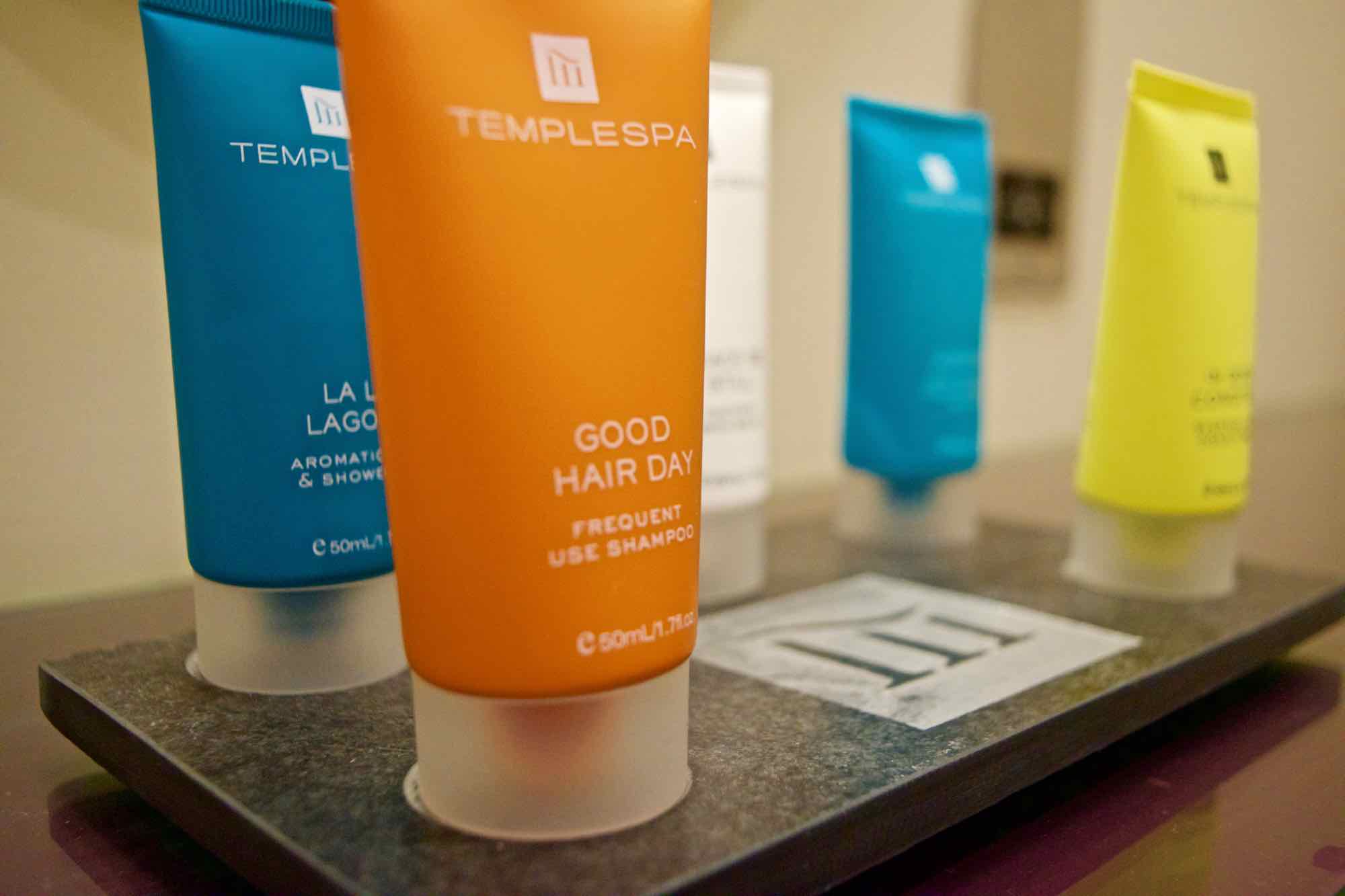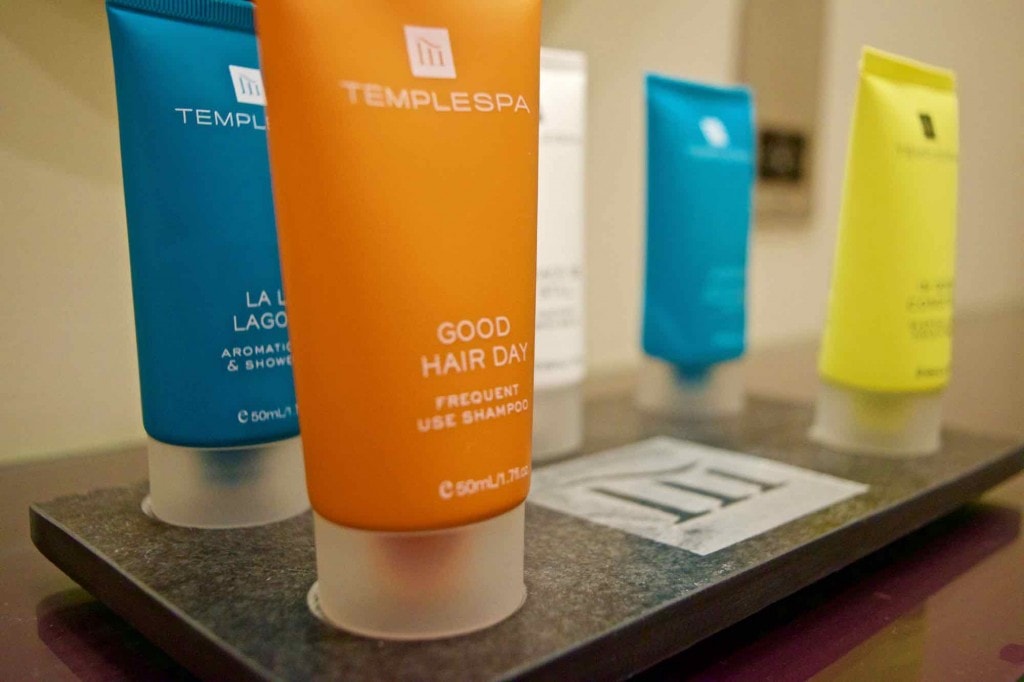 The hotel describes itself as a 'Restaurant with Rooms'… and sure enough the heart of Burley Manor is in the kitchen. Led by head chef Matt, the menu features quality local produce cooked in a Mediterranean style. There's a real pride and dedication to 'local', with several farmers supplying the restaurant. Veg comes from Brockenhurst greengrocer 'Village Veg', 'Cobley Wood' provides some of the rare breed birds, and master butcher 'T Bartlett & Sons' supplies the meat. It was great to hear plans are underway to develop herb and vegetable gardens on site, and keep bees.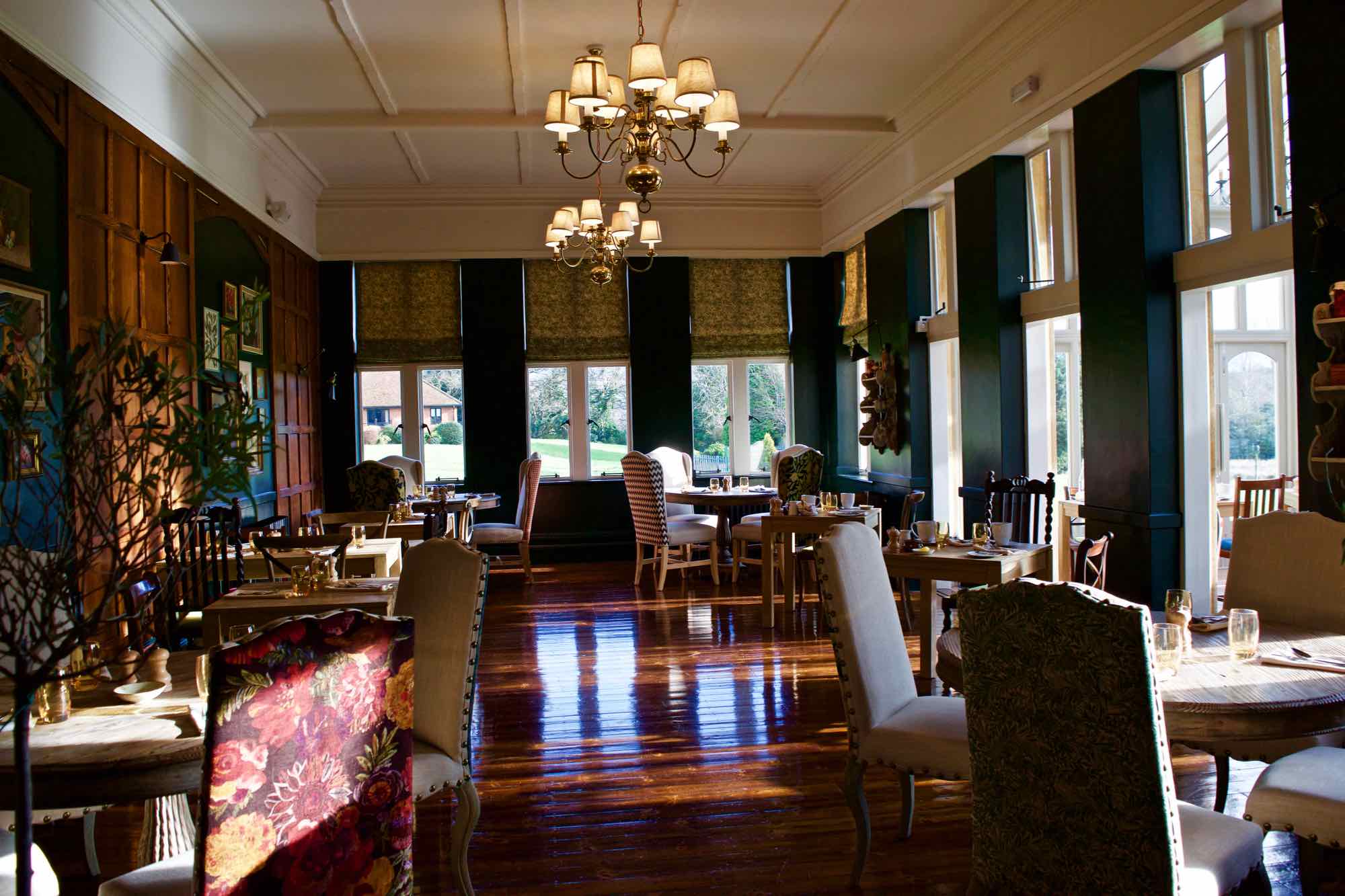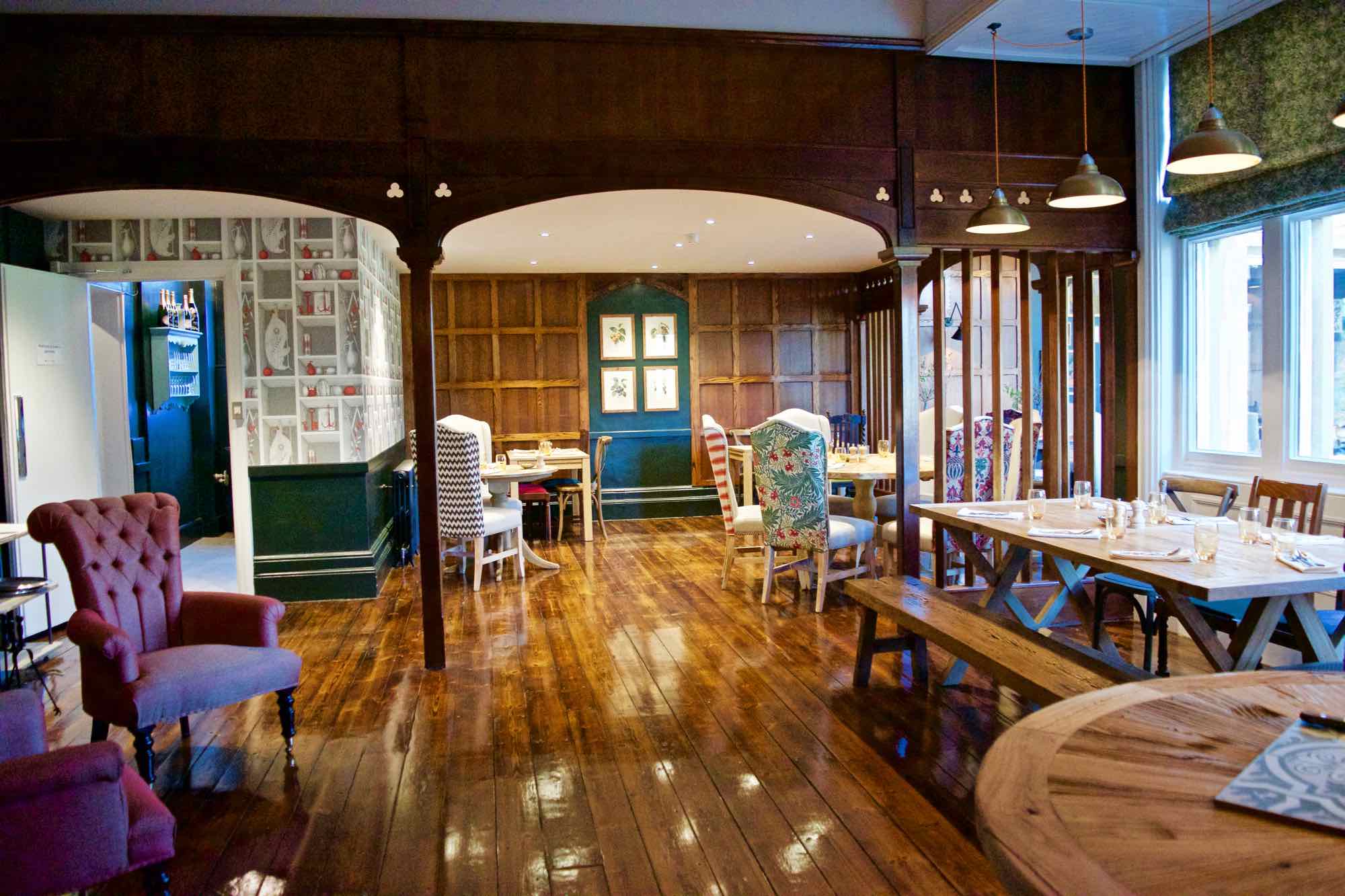 The menu features tapas (croquetas, flatbreads, olives), as well as standard starters, mains and a great selection of dishes to share. After devouring homemade bread and a selection of olive oils infused with chilli, rosemary and garlic, and lemon, our starters arrived.
I enjoyed the Spanish classic tiger prawns al pil pil, which had a big dose of spice. My partner ordered the pan-fried squid with rocket and chilli, again packed with flavour. They were appealingly presented on bright orange ceramics.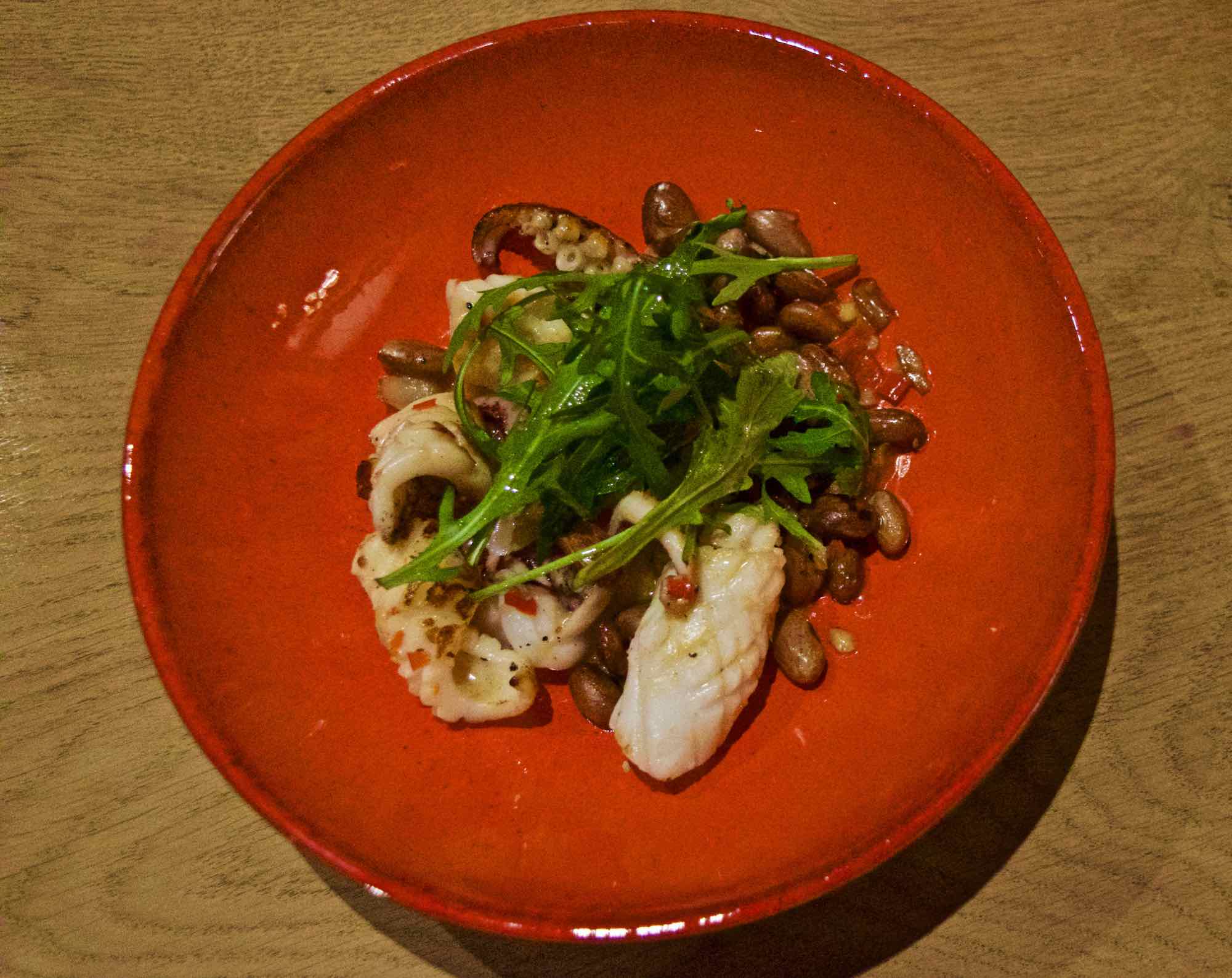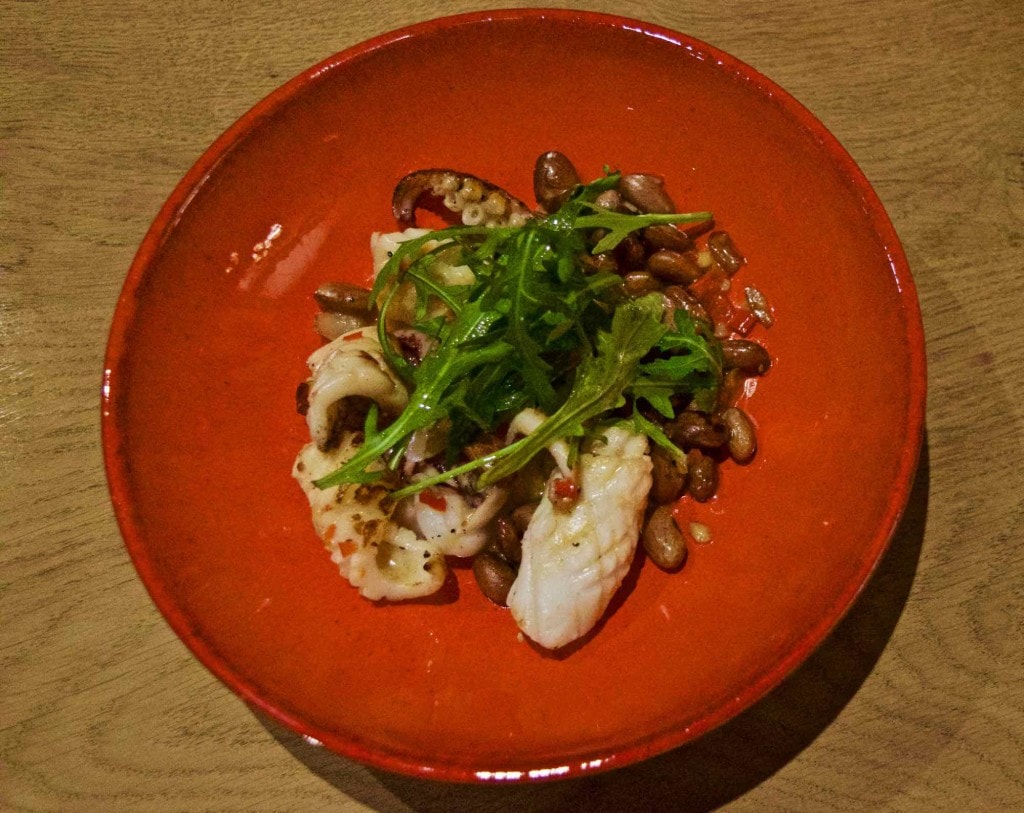 Opting for a lighter menu, I ordered the lemon sole, which was served with root vegetables and beetroot. The fish was rich, flaky and delicate – perfectly cooked. The root vegetables felt like a bit of an anomaly on the plate, but the fish paired well with the side dish of courgette,chilli and garlic. We also loved the sweet potato with nutmeg and raisins. It tasted like Christmas!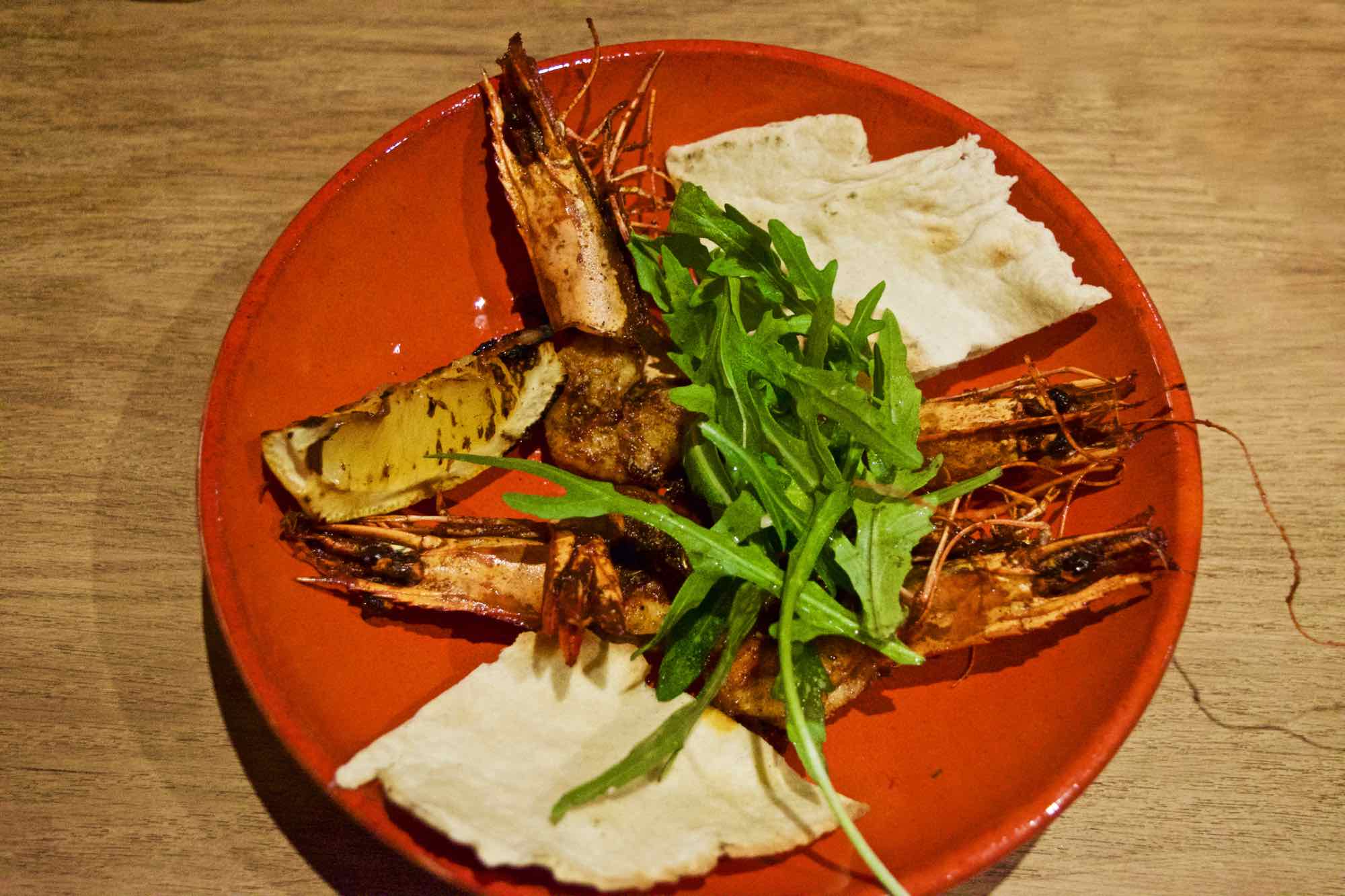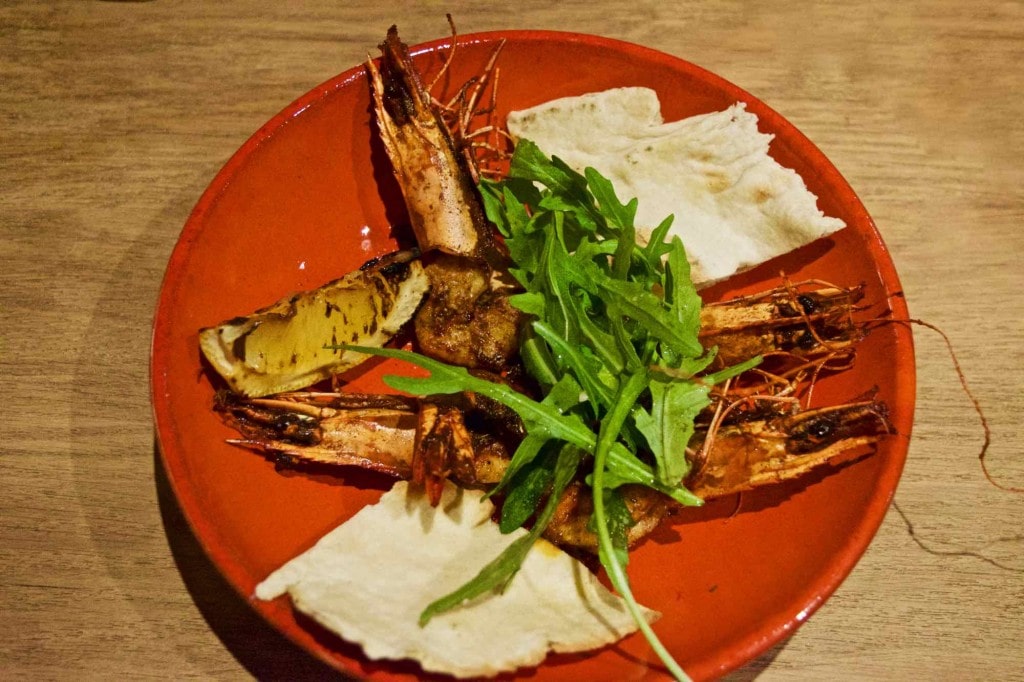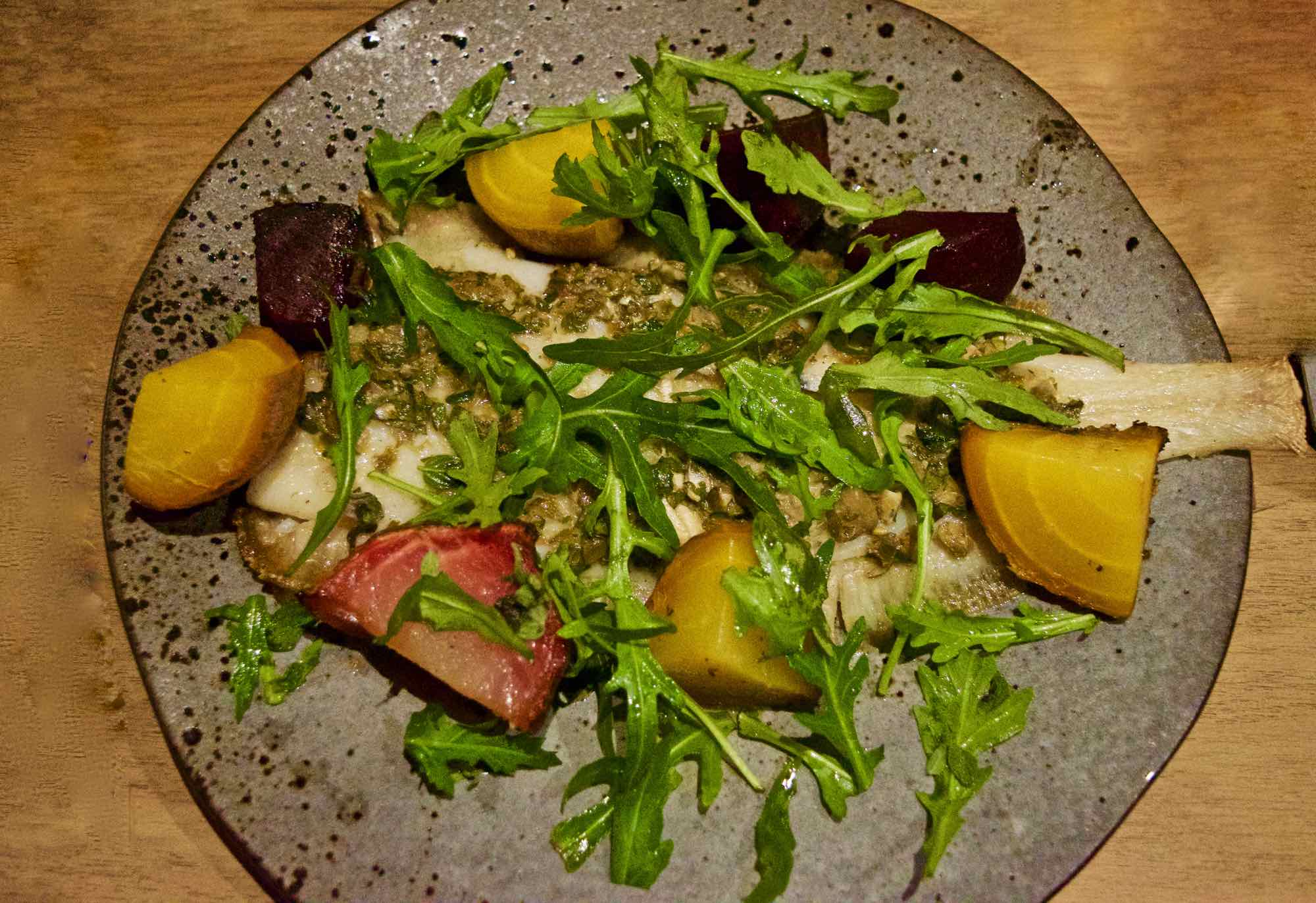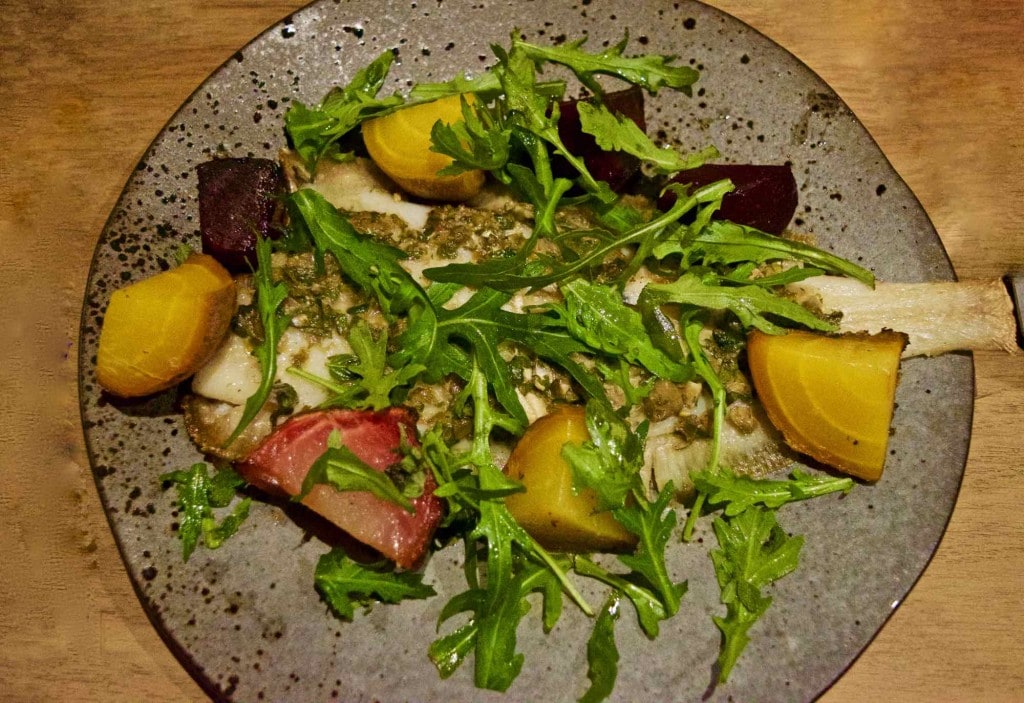 After a long afternoon walk, my partner was keen to enjoy a heavier meal and ordered the Provencal beef daube with sage dumplings. What a flavour! The slow cooked beef shin just fell apart, and the tomato-based sauce was packed with rosemary and bacon lardons. It was topped with iron-rich kale adding to the intensity of the dish. It was great cooking and perfect on a day when temperatures had barely risen above freezing.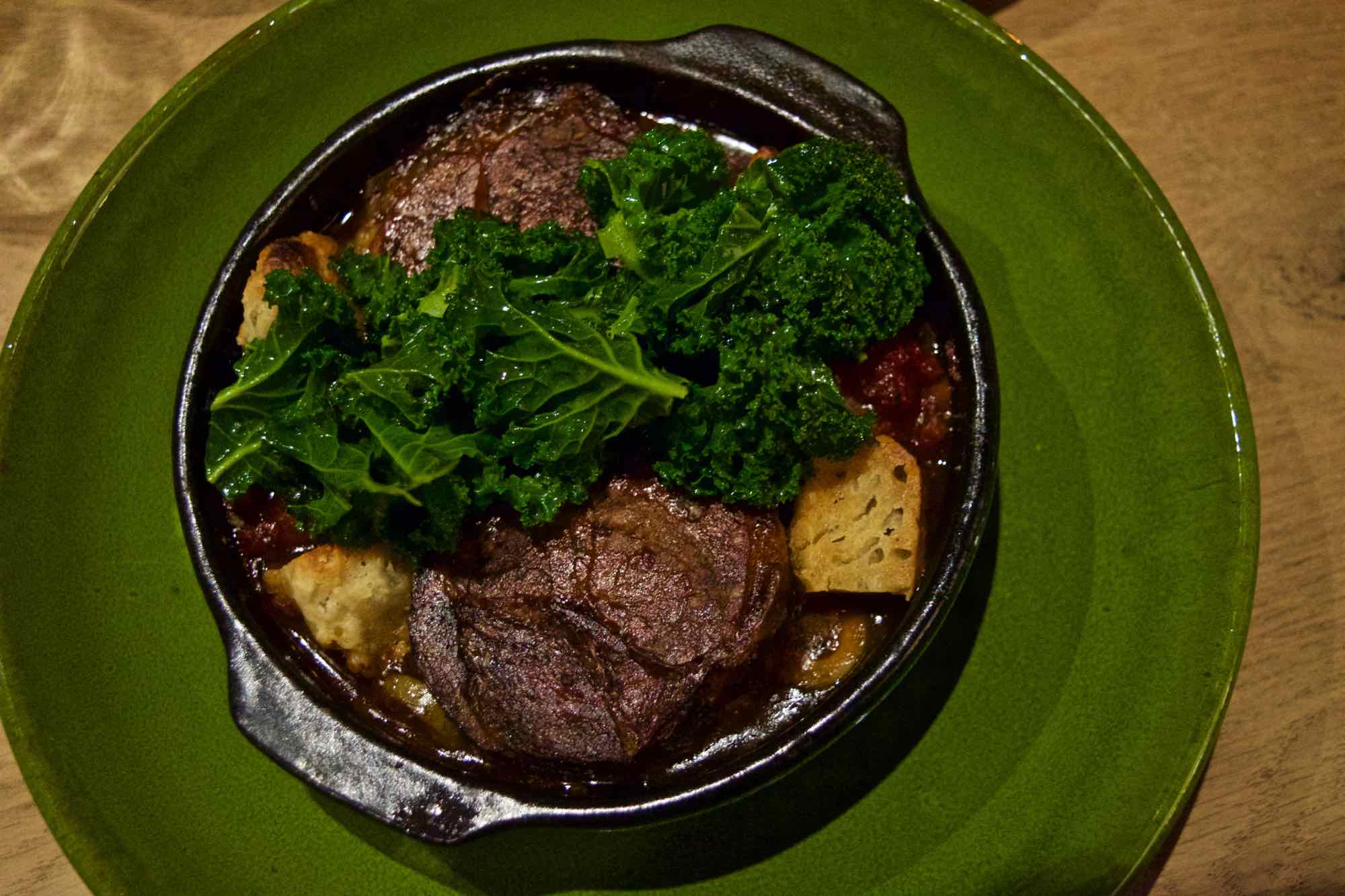 With such an emphasis on its food, Burley Manor has realised the importance of wine, and their dedicated sommelier Carlos (from Portugal) was a fountain of knowledge. With the option to order a third of a bottle in a carafe (great idea), it was possible to change wines with every course (as we did!). Not only did he advise us on what would complement our food, he took into account our personal preferences. While Malbec is my red wine of choice, hearing they had run out came as a blessing in disguise – it was the perfect opportunity to leave my comfort zone and try something new! The Australian cabernet sauvignon was a highlight, along with the Chilean white, which paired well with our seafood starters.
After dinner, it was lovely to spend time by the fire in the lounge area, finishing off a glass of sweet sauterne. The ambience was relaxed, and it was the perfect spot to get cosy on a chilly night.
Breakfast was served in the conservatory room overlooking the grounds. Bright blue sky and streaming sunshine made this a lovely place to start the day. The menu features popular brunch items from fruit and yoghurt, to eggs benedict, and the house special – the 'Burley Breakfast'. My partner dived into that and devoured the tasty plate of pork loin, sausage, Portobello mushroom and poached eggs. I went for the mushrooms on sourdough with oregano and a poached egg. Both dishes disappeared quickly (!) and a special mention should go to the homemade bread! It was absolutely delicious.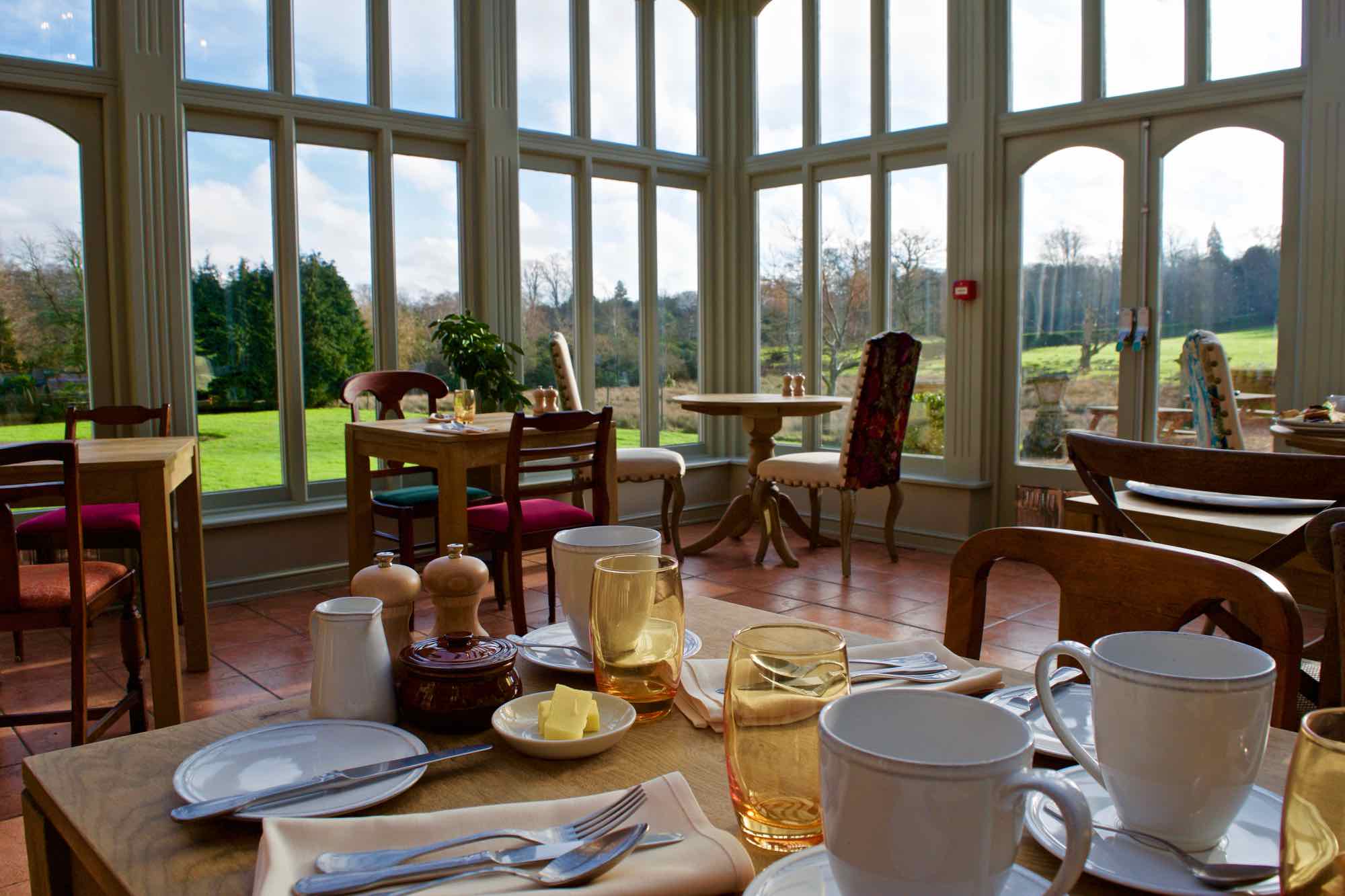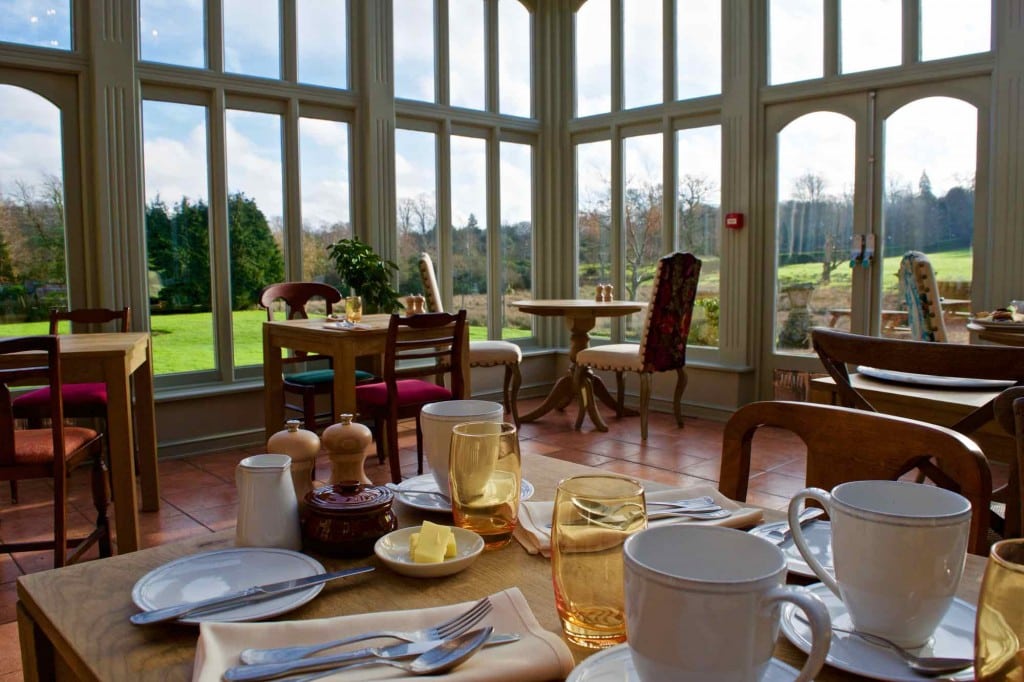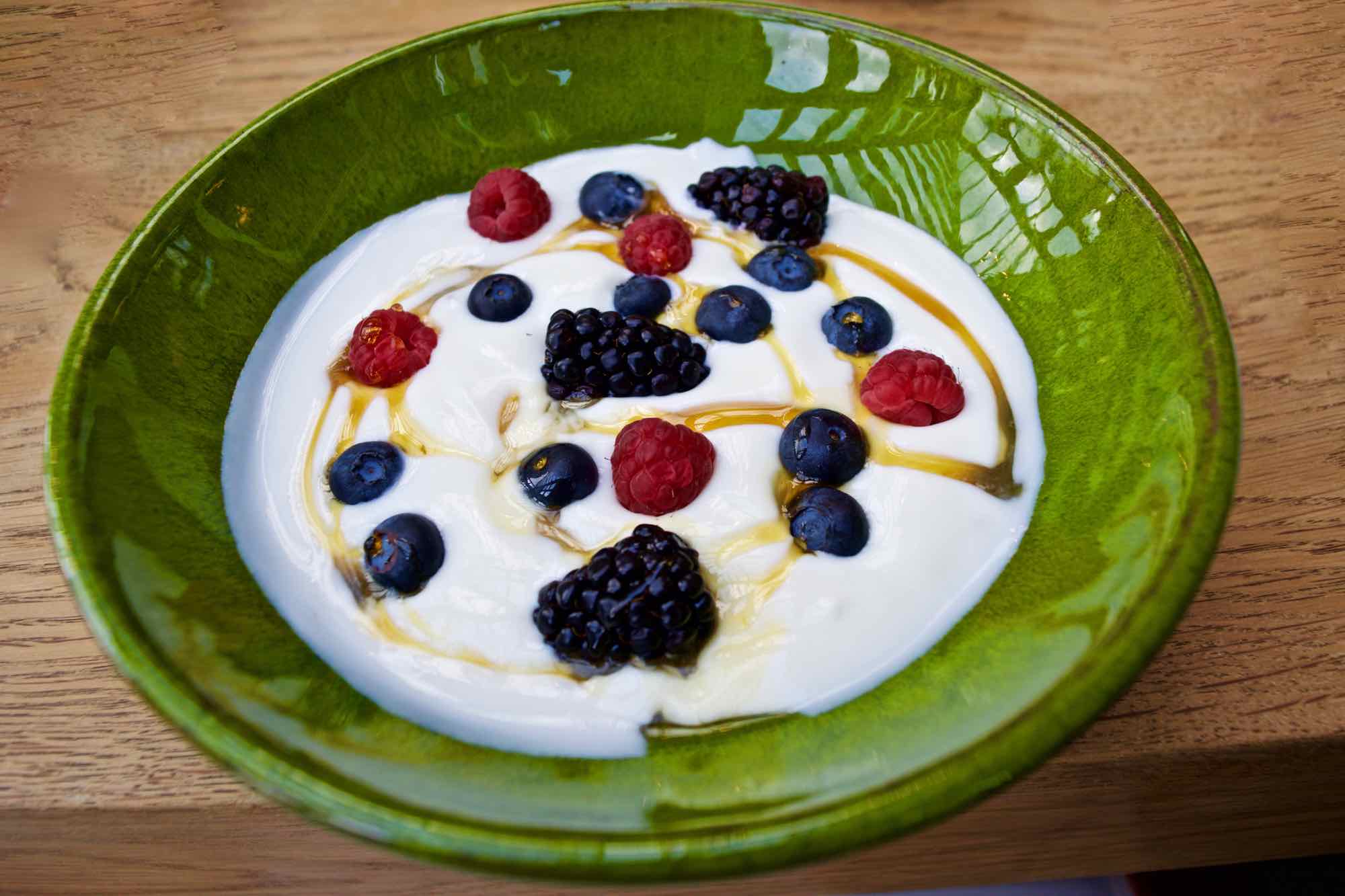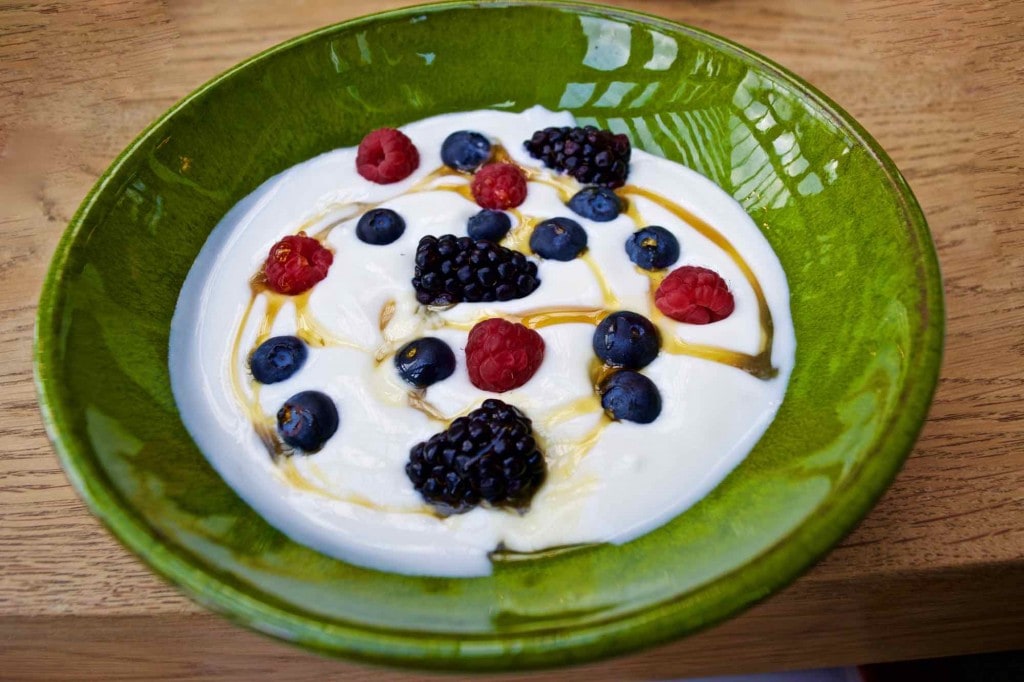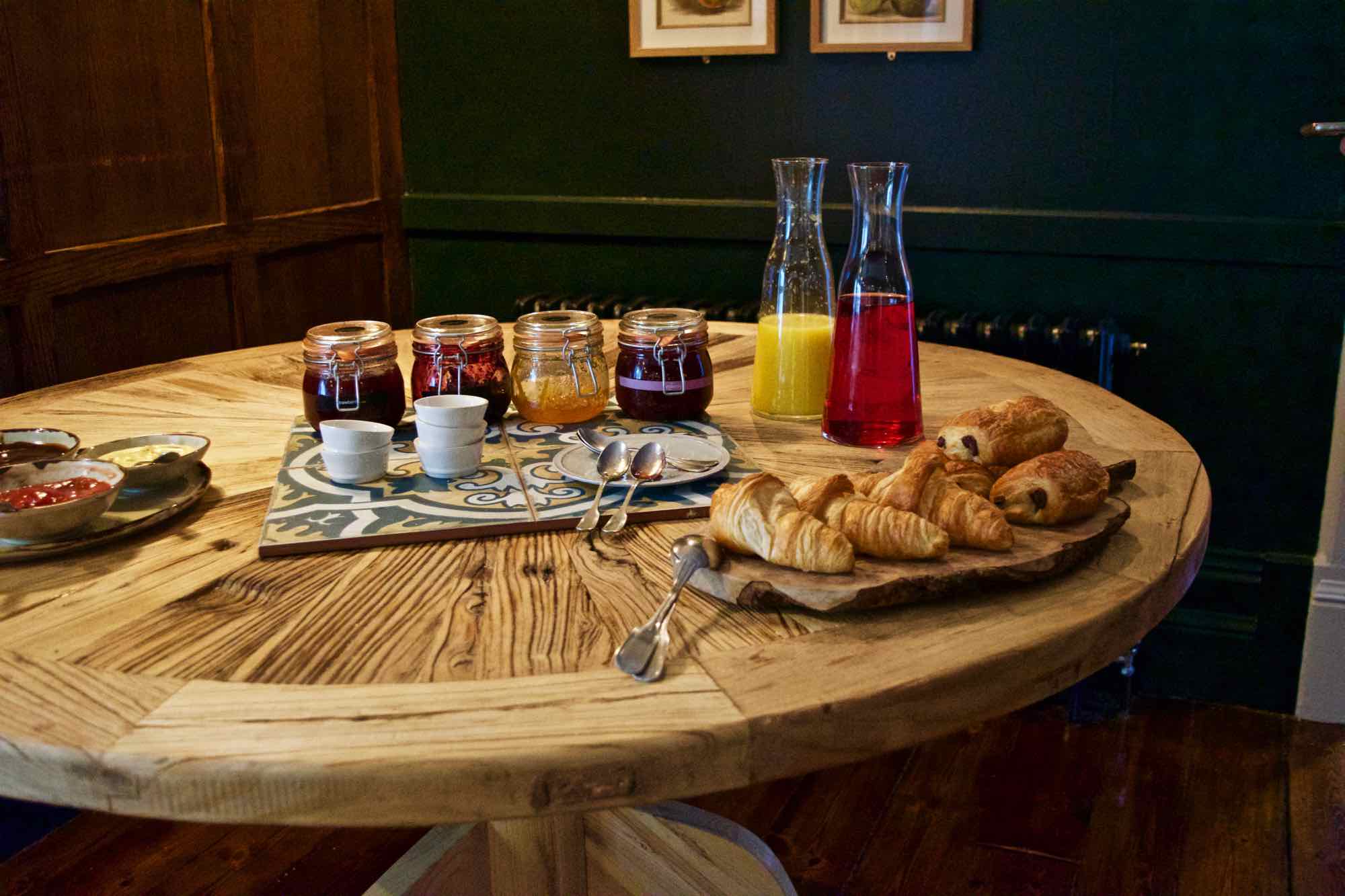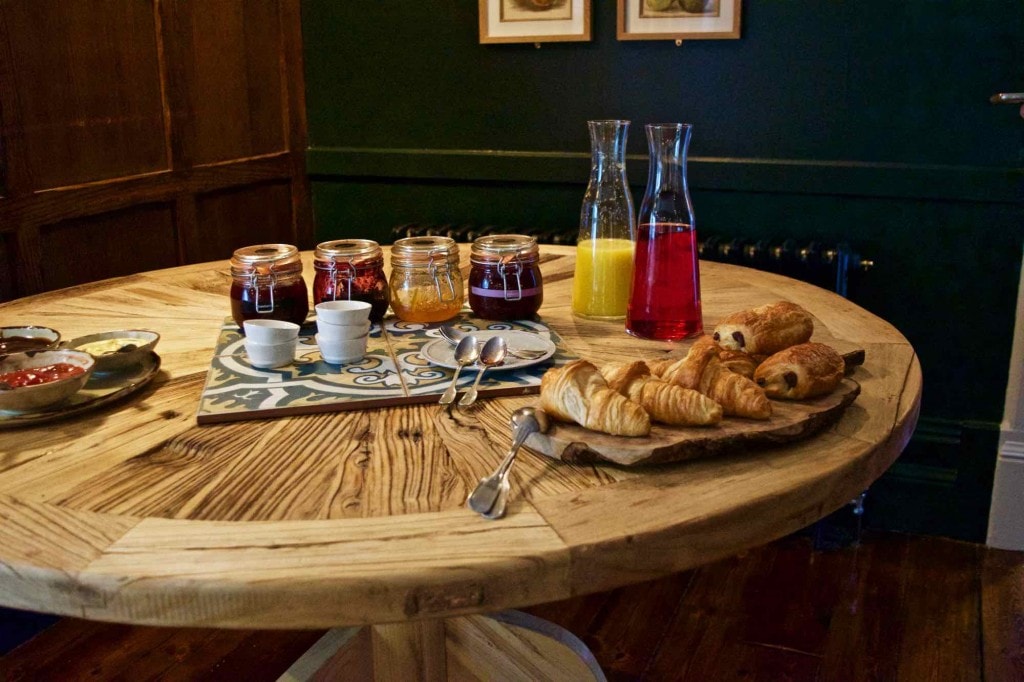 Burley Manor is a great escape from London. I thoroughly enjoyed exploring the countryside during the day, and lazing in the charming hotel areas in the evening. The food was excellent, and even if you're not staying, it's well worth a visit for a special meal.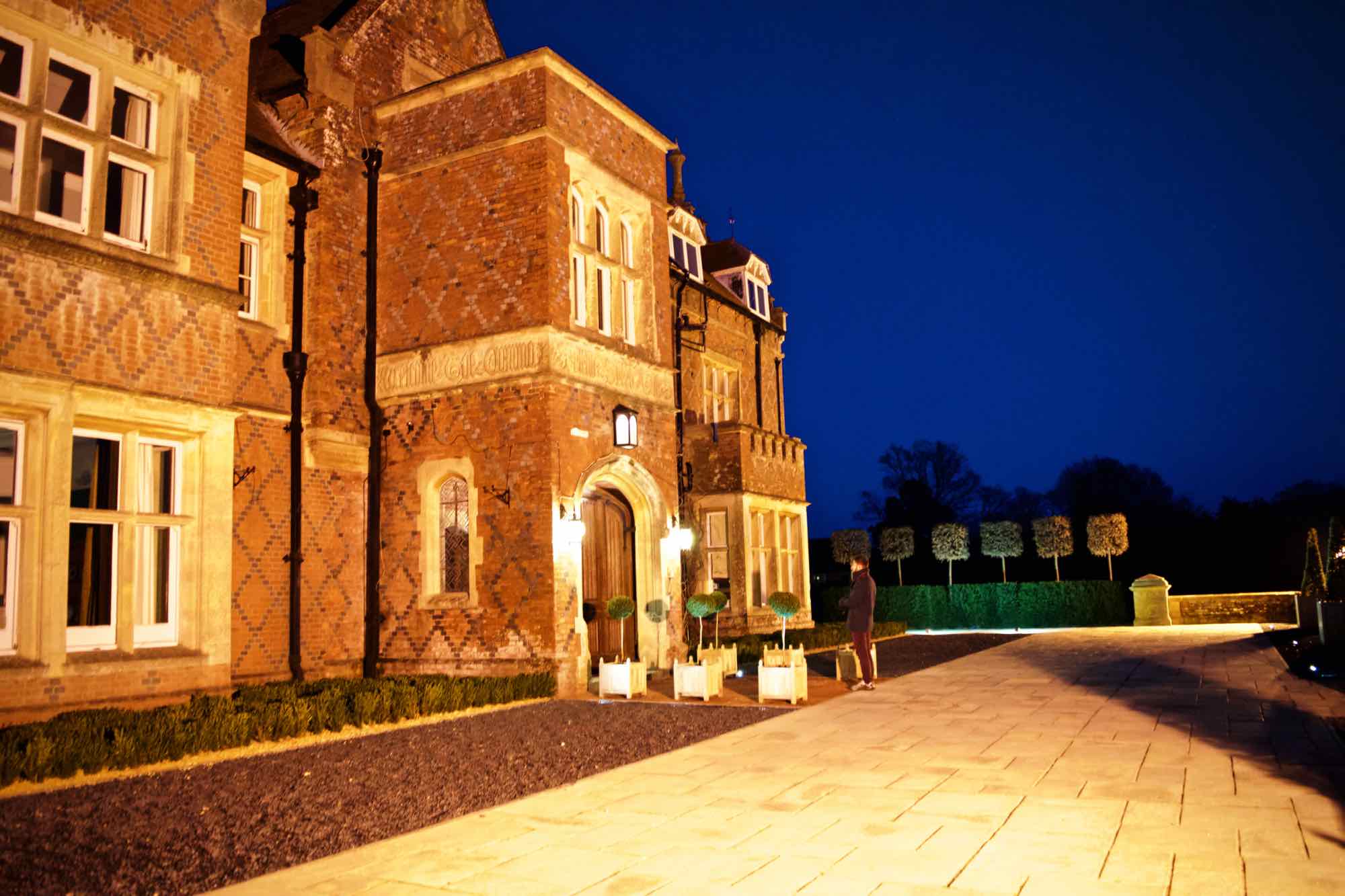 Prices for B&B at Burley Manor start at £119.
Find out more here and check out what's happening in The New Forest here.