From the beautiful views from London's Sky Garden to the delicious food at the restaurant, time to review Darwin Brasserie.
*Please note I visited the Sky Garden several years ago, and the menu I sampled is no longer available. Check the Sky Garden website for all up to date menus and to book a table.*
The lift ascends, floor 1, 2, 3, 4… right up to 35. The doors open, and in front of me lies London, basking in glorious sunshine.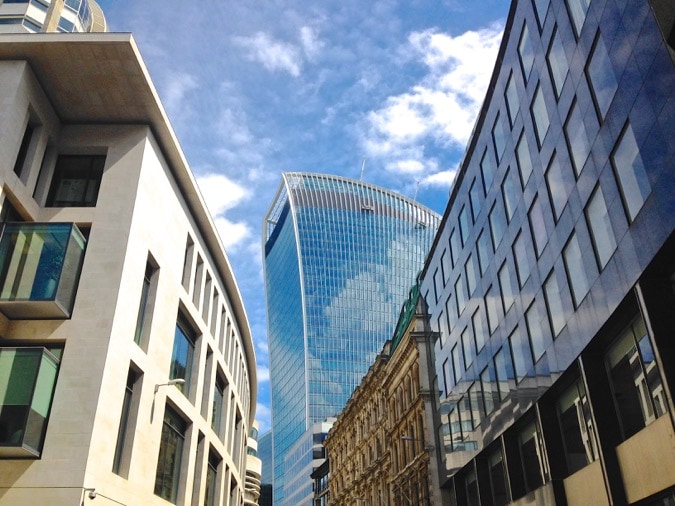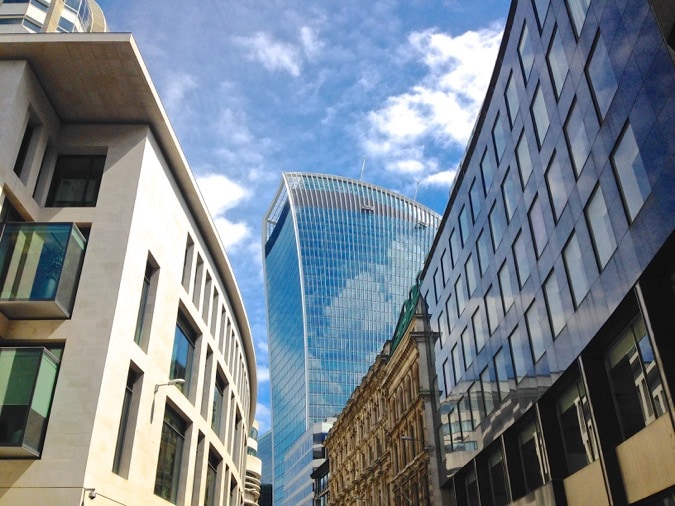 There's a real buzz around the Sky Garden. From the terrace there are amazing views of London, plus there are three drinking and dining options, along with what has been described as London's highest garden. Not to mention, it's located at the top of the iconic Walkie Talkie building – yes, the building that famously melted cars and fried eggs!

How To Get To The Sky Garden, London
The Sky Garden is located close to Monument, Tower Hill and Bank tube stations. Once inside, I went through several airport-style security checks. Unlike other London skyscrapers, the lift here isn't made of glass, so vertigo sufferers need not worry. It does however rocket you up to the top very quickly, so be prepared for a few airplane ear-popping moments. And the airport comparisons didn't end there… emerging on the 35th floor, the large glass conservatory-come-hangar resembled Heathrow Terminal 5.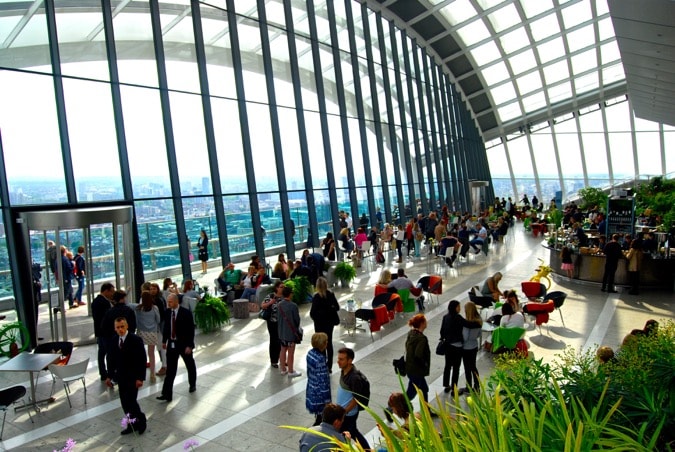 Darwin Brasserie Review
On floor 36 is Darwin Brasserie – a stylish Sky Garden restaurant, offering classic European dishes, and a very classy brunch. For £38 you can enjoy unlimited offerings from the buffet of savoury and sweet items, unlimited milkshakes and bloody marys, and one hot main course. The menu has everything you would expect to find at brunch, and more.
The selection of savoury starters included: smoked salmon with capers, potato salad with chorizo, asparagus with goats cheese, peas and broad beans, salami with cornichons, olives, prawn cocktail, hams, cheeses and a selection of breads.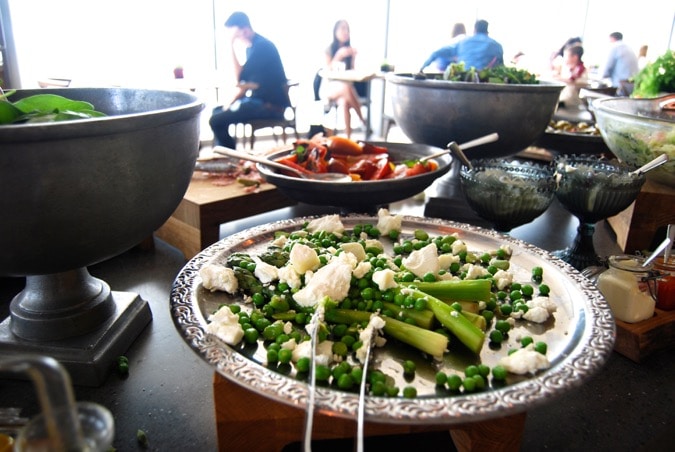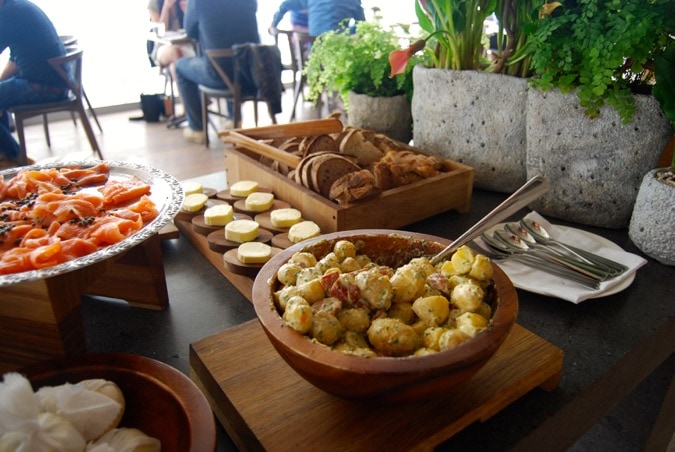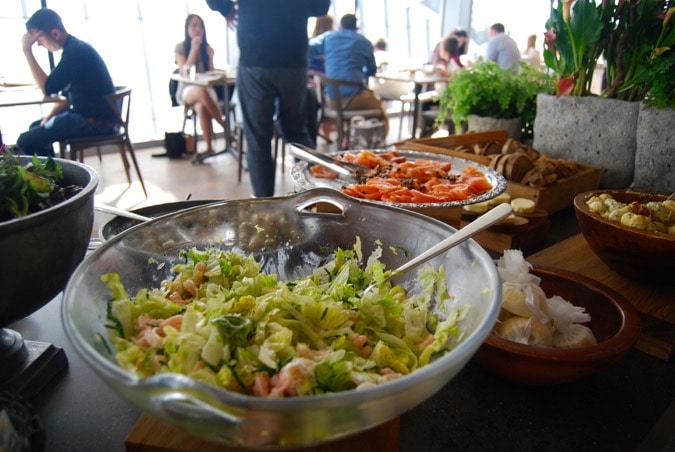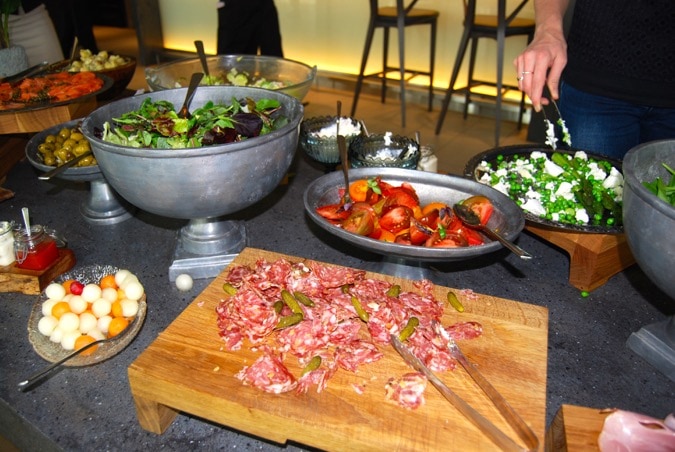 I filled up a plate, and enjoyed a mixed berry smoothie from the bottomless milkshake bar. My plate of food was light, delicious, and full of quality ingredients. The view to my side made the experience all the more special.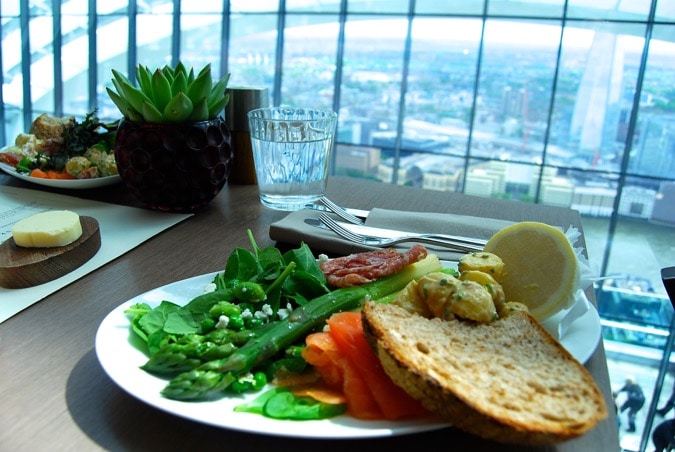 If you're partial to a bloody mary (unfortunately I'm not) you'd be in heaven! With unlimited refills of four different varieties of the drink (including virgin and Chinese chilli), you might leave feeling a little light-headed, and no… the vertigo won't be to blame!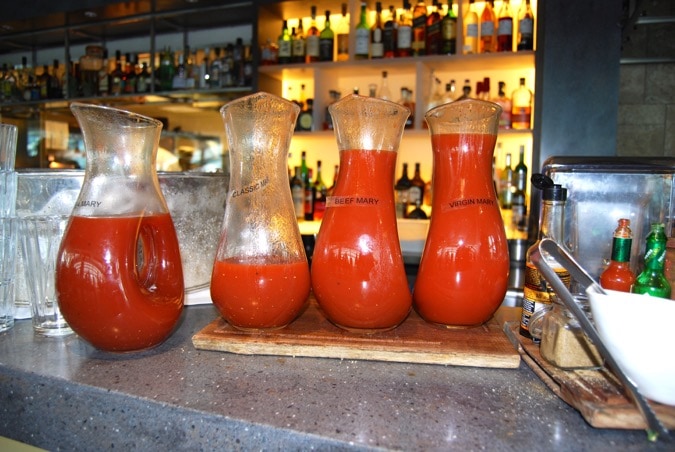 Main courses varied from standard brunch items such as pancakes, eggs benedict and omelettes, to more substantial offerings including roast rib of beef, honey roast gammon and lemon sole.
Fancying something traditional, I ordered the roast lamb. Not only was the meat full of flavour, it came with a delicious mint infused gravy. The portion was generous, with all the usual trimmings – perfectly crisp roast potatoes, carrots, green beans and a giant Yorkshire pudding.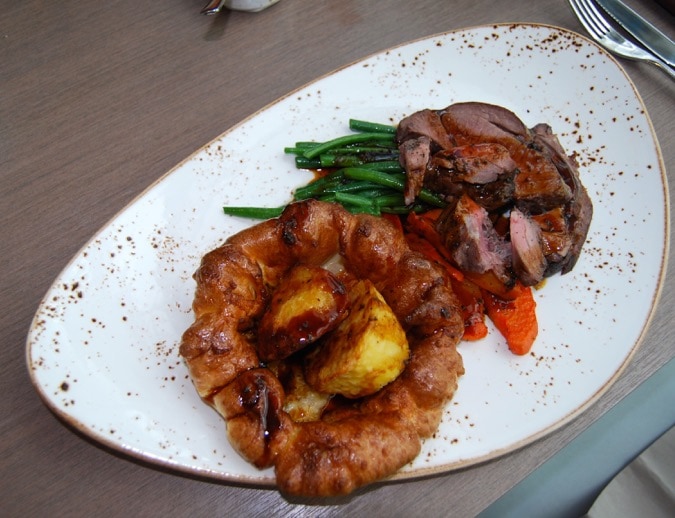 Feeling rather full, it was back to the buffet for dessert. I marvelled at martini glasses filled with Eton mess, an incredible display of custard-filled doughnuts, mini cheesecakes, tiny pots of creme brûlée, and slices of chocolate, walnut and caramel tart. I wished I had left a little more space…! Still, a piece of chocolate tart and a cheesecake were sufficient to ensure I would weigh down the lift on the way back to the ground floor.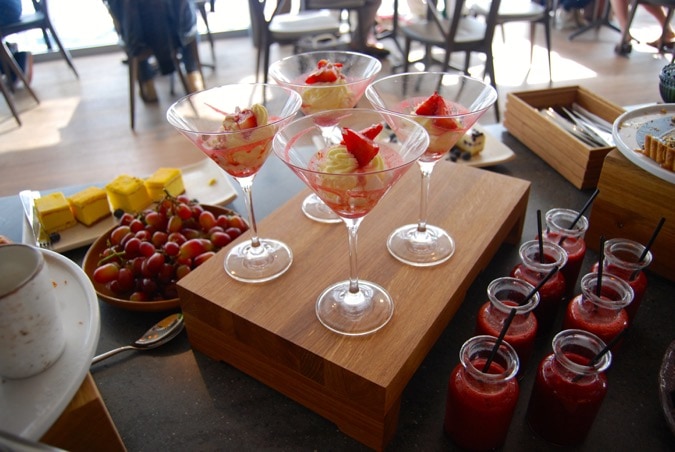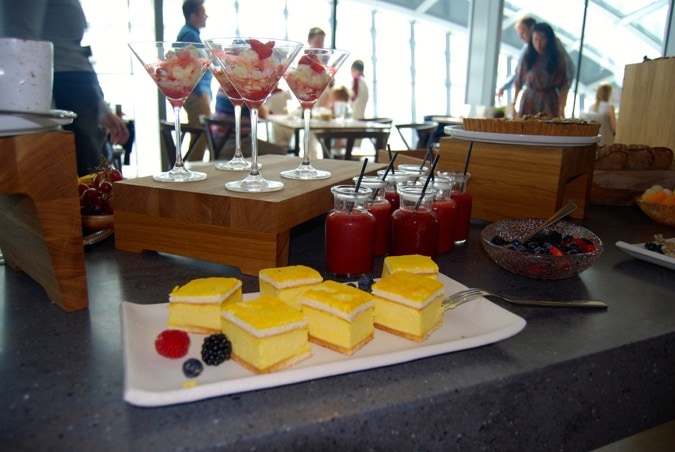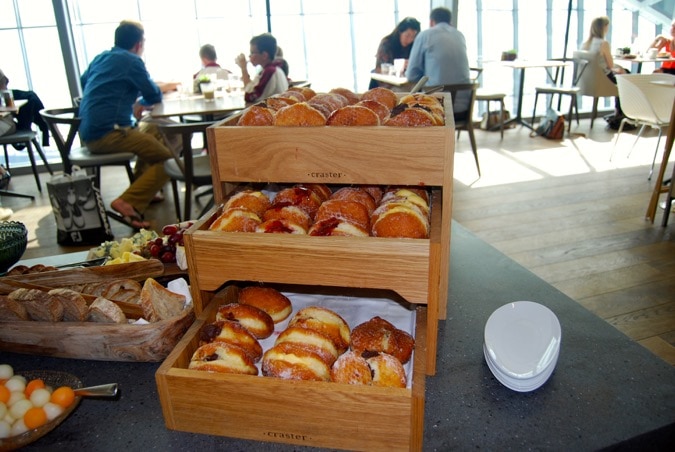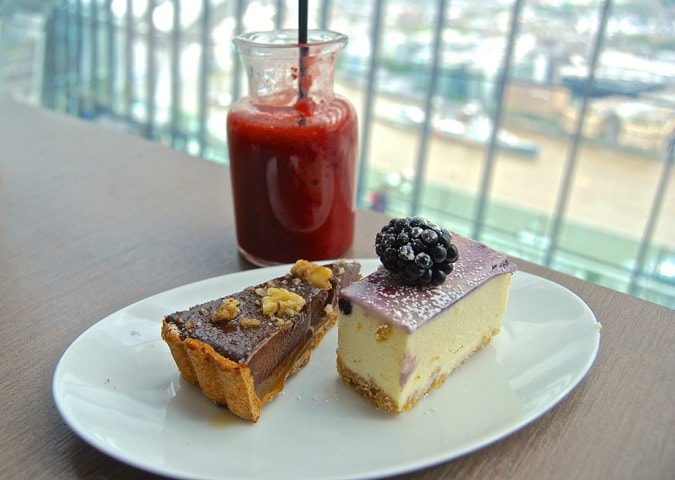 Inside The Sky Garden, London
After the meal, I had a wander around the 'gardens'. While I couldn't compare it to the gorgeous greenhouses at Kew, there was a tropical greenhouse smell and feel that was very pleasant. It was refreshing to nip outside to the open terrace for a few photos of Tower Bridge, The Shard, the River Thames, London Eye and more, all basking in the glorious sunshine.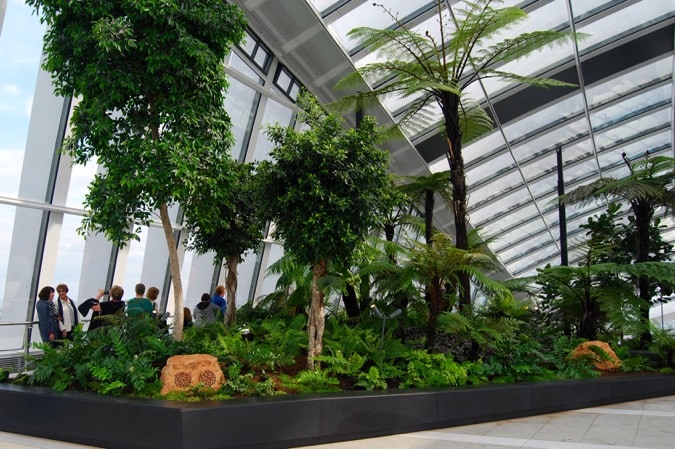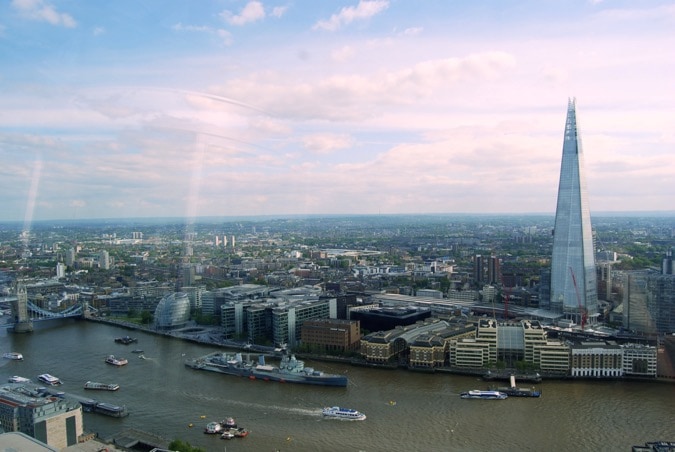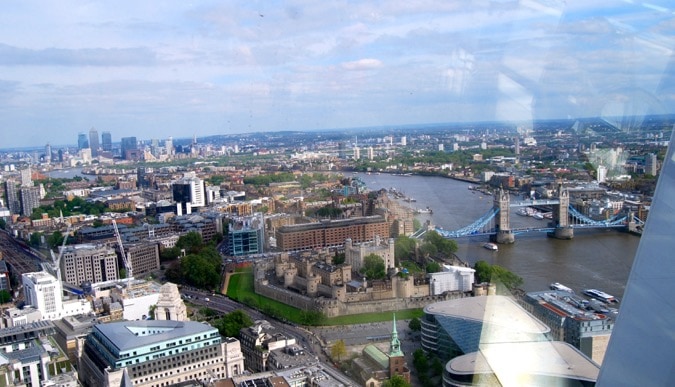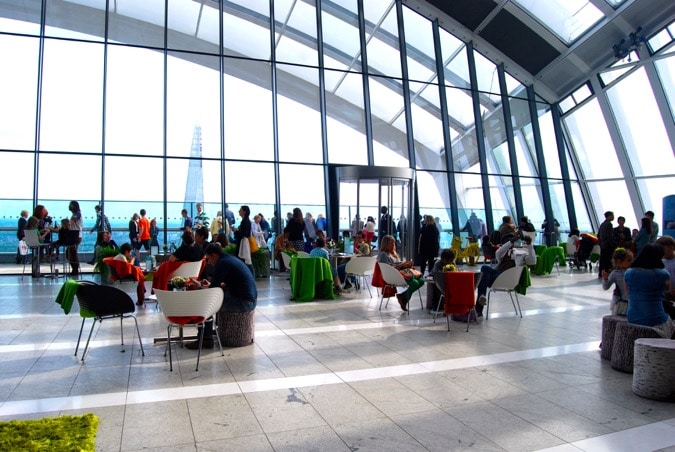 Before visiting, I had wondered whether Darwin would be an overhyped, expensive tourist trap. While you may think £38 per person is a little on the steep side for a regular brunch, the view, quantity of food and bottomless bloody marys make it really good value. Besides… sitting 36 floors up, in a Walkie Talkie, make Darwin anything but a regular brunch spot.
Sky Garden operates a strict booking policy. Check the website for more information.