Time for dinner at Flat Three Restaurant in Holland Park.
With a Scandi-Japanese-Korean fusion menu, an open kitchen, and a love of foraging, Flat Three is one of London's intriguing hidden gems.
As I ventured through an understated doorway on Holland Park Avenue, and downstairs to the restaurant, I wasn't sure what to expect. The room I entered was a sophisticated basement – simple décor, elegant table settings and glassware all working with the original structure of the room. Within the archways were intimate alcoves, perfect for seating small groups. I took my place, and prepared for the main entertainment.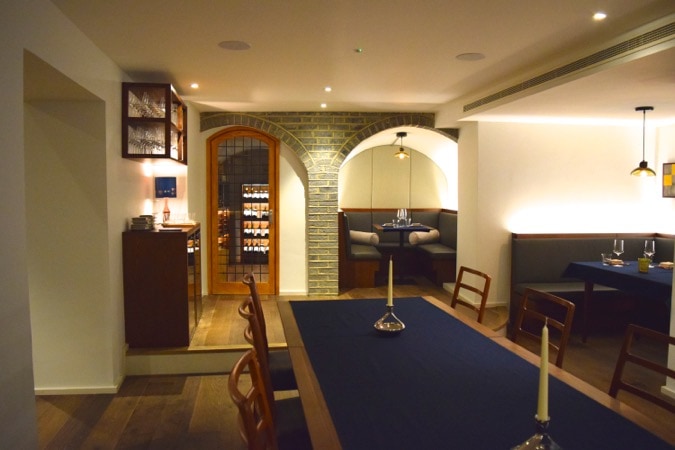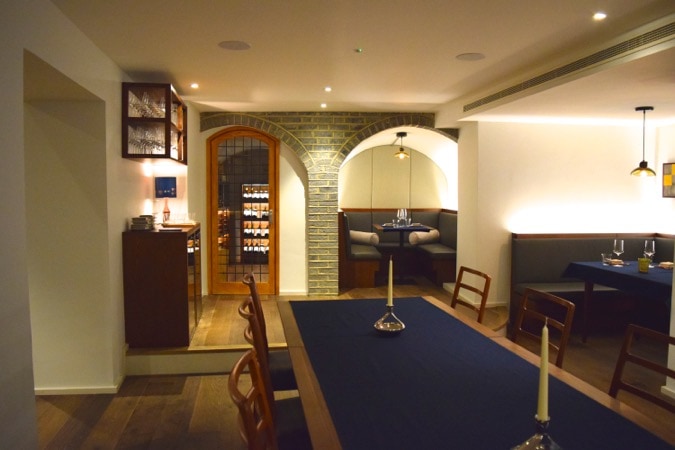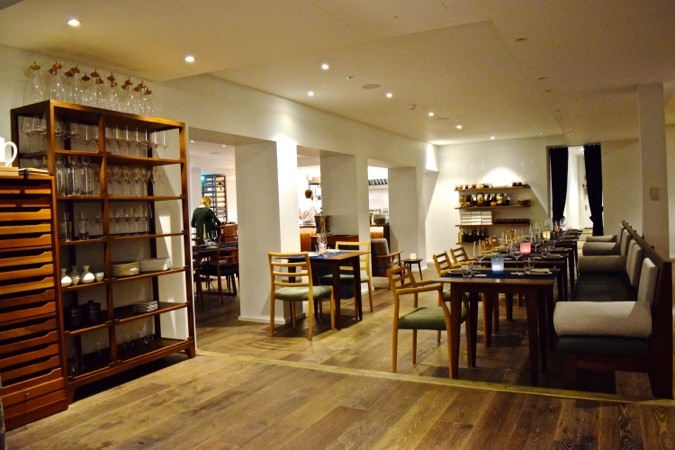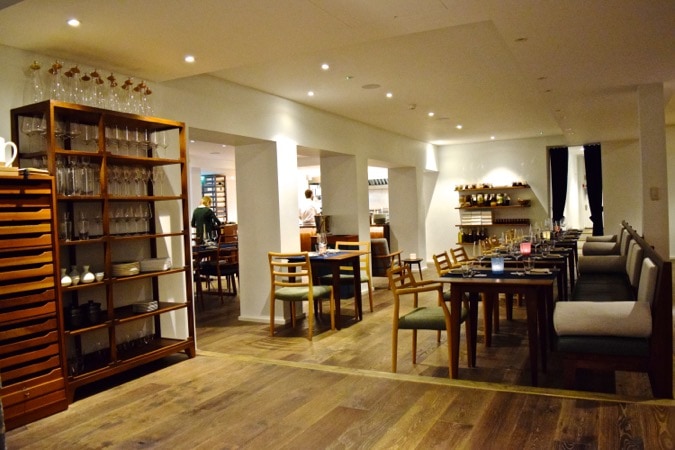 What followed was a sequence of 5 courses – the three-course lunch menu with a few unexpected additions!
Flat Three began in owner Juliana Kim Moustakas's flat where she hosted supper parties with the help of expert chef Pavel Kanja. They expanded to this 40-cover restaurant earlier this year, much to the delight of Holland Park's affluent residents.
A flurry of white square dishes arrived at the table containing shiitake mushroom dumplings, stone bass tartare and puffed brown rice crackers. The dumplings were delicate, packed with mushroom flavour and served with a zingy ponzu sauce. The stone bass tartare reminded me of some of the tastiest ceviches I had sampled in Central America last year – sweet and tangy with a kick of herbs.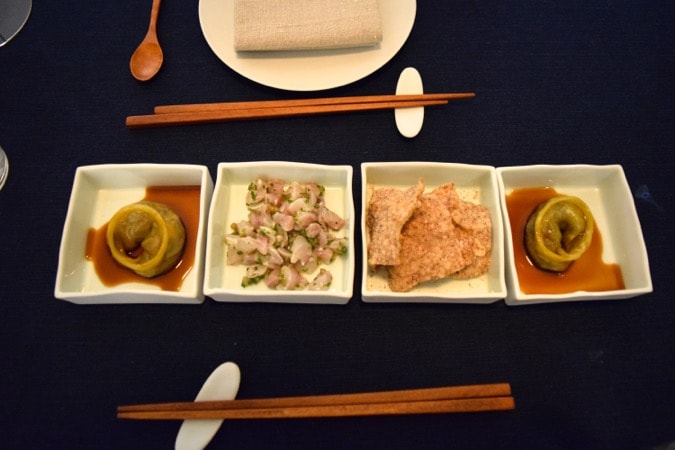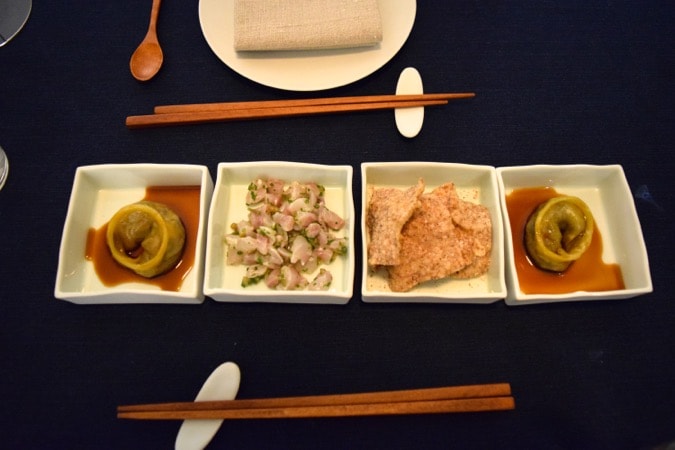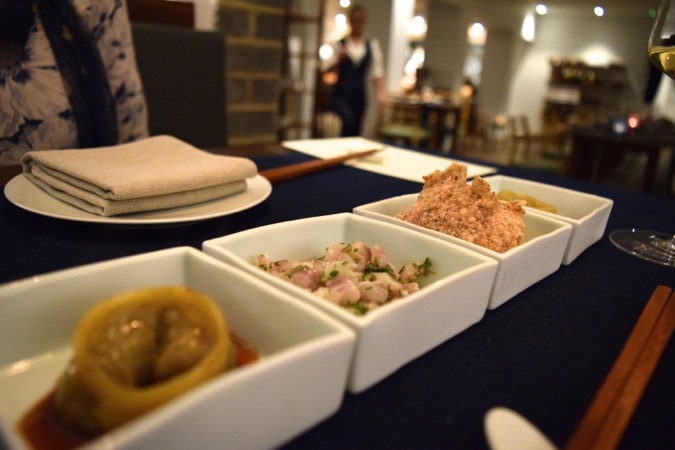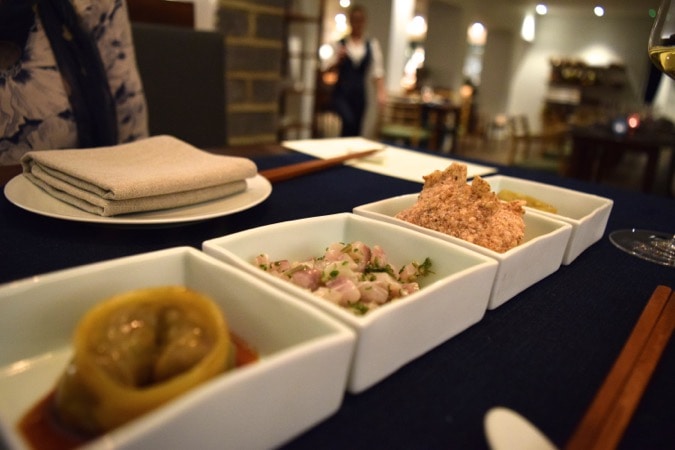 My starter of umi masu (sea trout) sashimi was served with bokbunja (Korean fruit wine) smoked lardo and Douglas Fir ponzu. With relatively little knowledge of Japanese or Korean… I wasn't entirely sure what I had ordered. The generous portion of sea trout sashimi had an intense smokey flavour from the lardo and was a deliciously light starter. Meanwhile, I tasted my companion's single scallop, which was seared and served with an anchovy veloute and pineapple weed. The seared scallop was perfectly cooked and complemented by subtley flavoured anchovy hollandaise, the tiny pineapple weed seed-heads – a new ingredient to me – cutting through the flavours with an interesting bitter kick.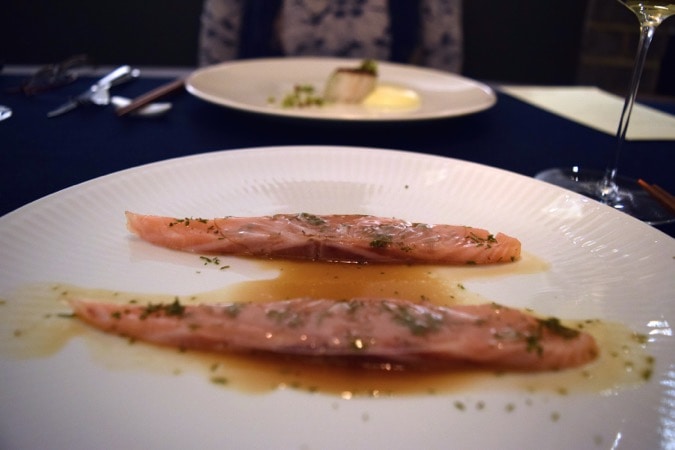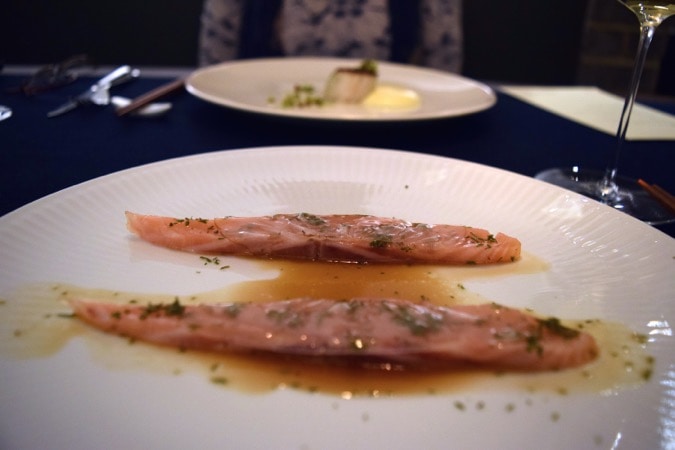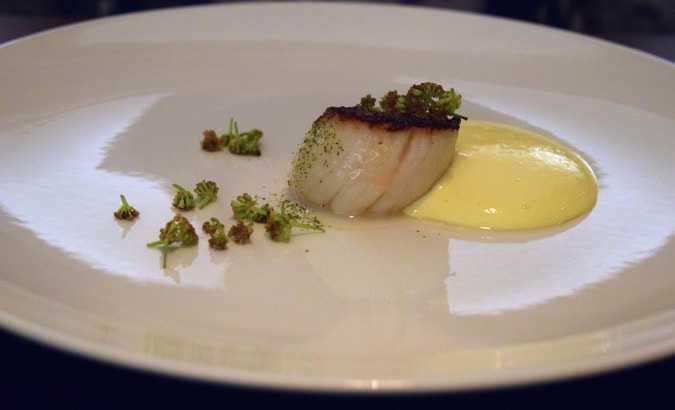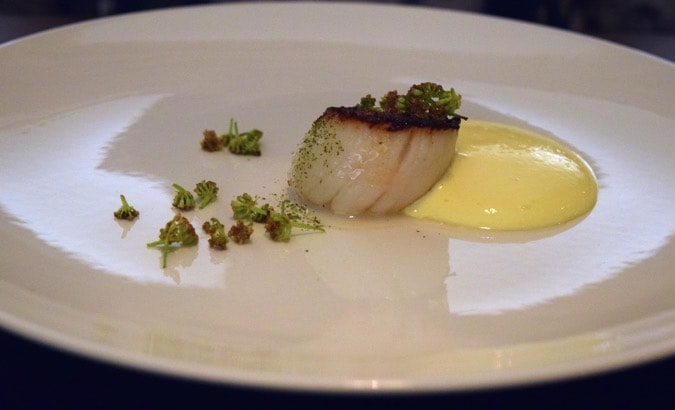 Next, a bowl of ingredients, decorated with flowers, waiting to be mixed. The piles of venison tartar, whipped butter milk, elderberry kimchee and caramelised cheese were intriguing, but would they work together? I couldn't resist trying each element individually before mixing with chopsticks. Each ingredient brought something to the party – mellow, iron-rich venison, gentle butter milk, pungent crumbled cheese and sour berries that burst in the mouth. It wasn't like anything I've eaten before, and while I appreciate the skill and science behind the dish, it wasn't to my taste, though my companion loved it.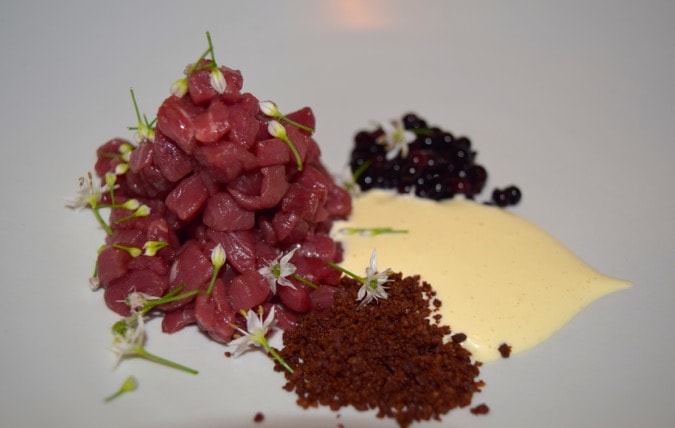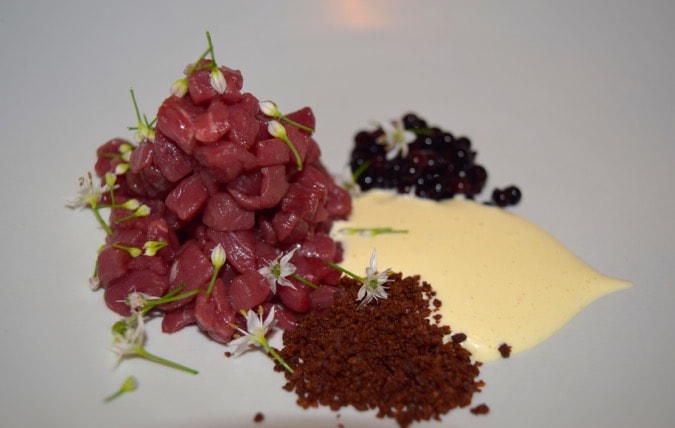 The elderberries, I was informed, were foraged in Hackney that morning – along with other ingredients on the menu. Flat Three focuses on local, fine seasonal ingredients where possible – resulting in a constantly evolving daily menu. The manager told me about suppliers in Kent who grow rare Japanese vegetables, and the head chef who spends hours experimenting with techniques and brave flavour combinations. Staff forage on Sundays and Mondays when the restaurant is closed.
Service was polished and all staff had a wealth of knowledge of the unusual ingredients and the cooking techniques.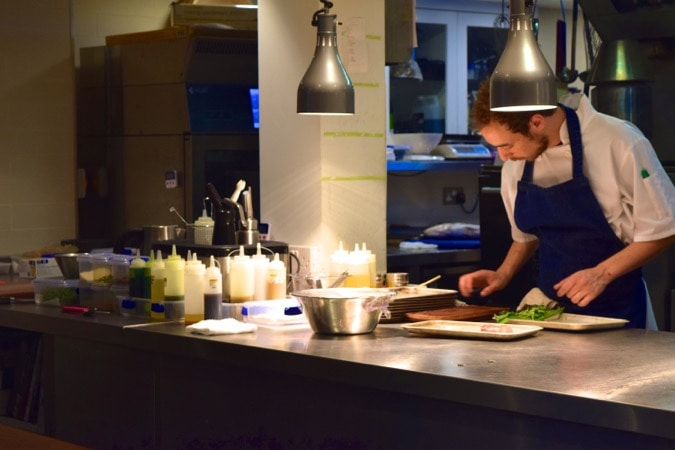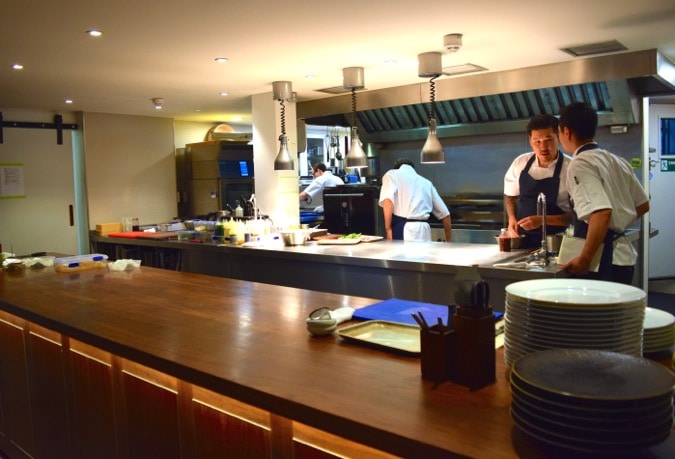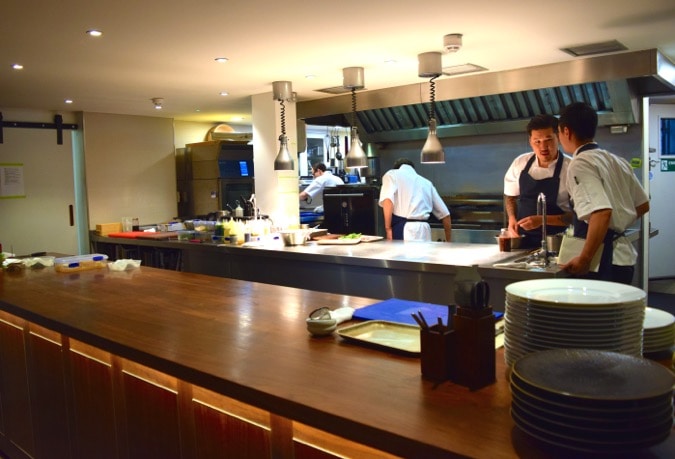 A perfectly-pink sirloin steak arrived next… (there were no chips to accompany it!) – instead a wild mizuna salad and a chunk of honey comb. I was recommended to slather the honey on top of the steak… something I did briefly, but found a little overpowering for my palette. However, with a small amount of honey, a sprig of mizuna and the delicious steak – the combination was an unexpected winner.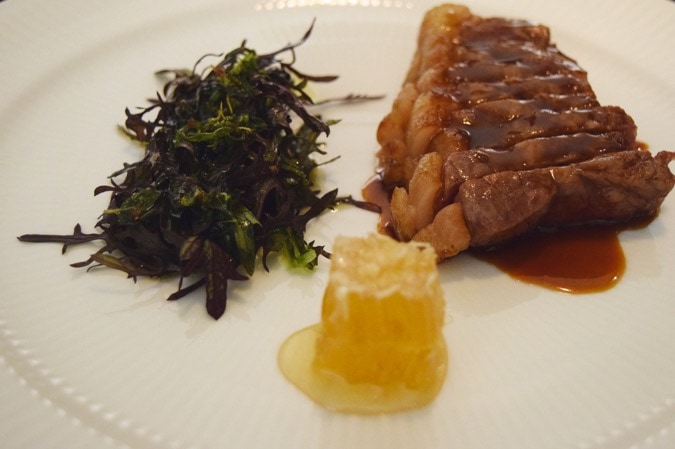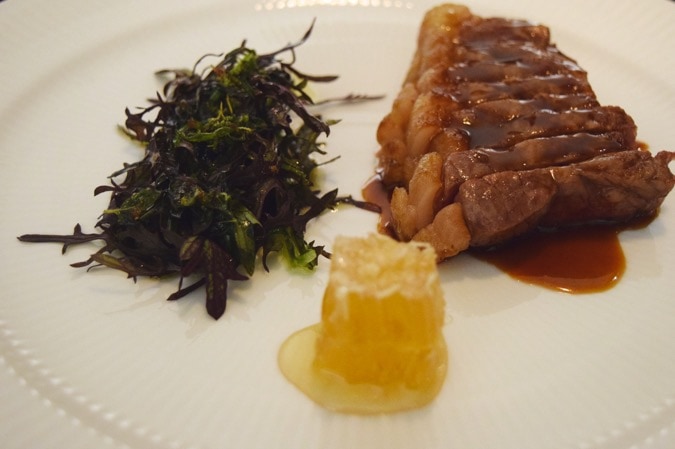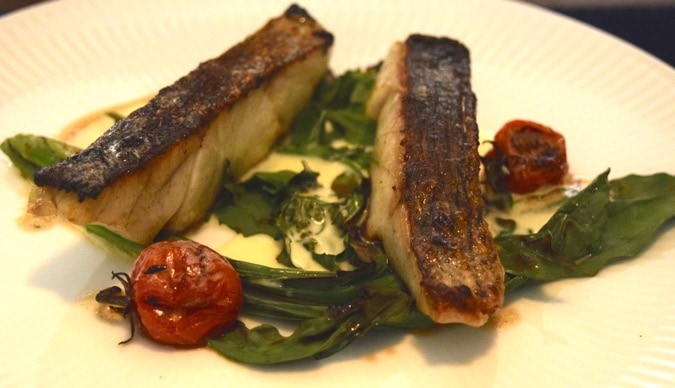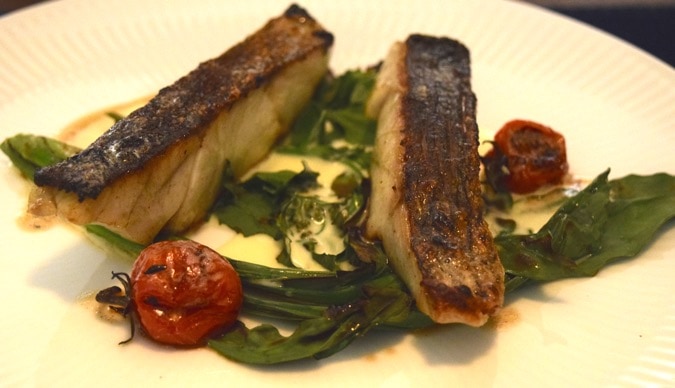 With space for pudding, I devoured a delicious Runeberg cake (traditional Finnish almond cake), served with sweet and sour wild damsons and fragrant geranium ice cream.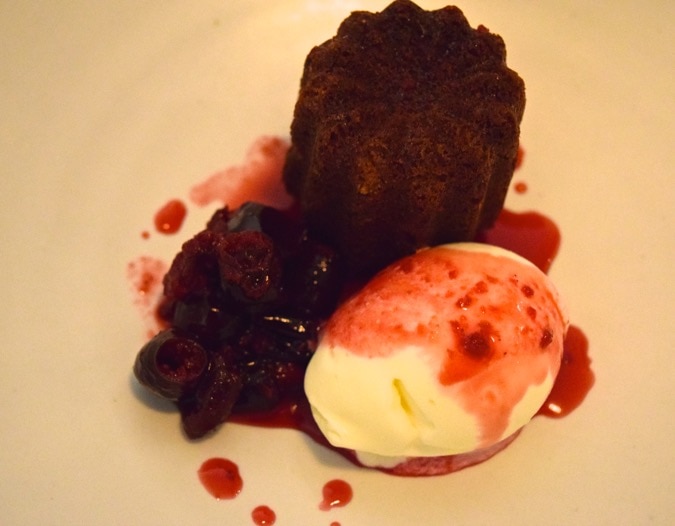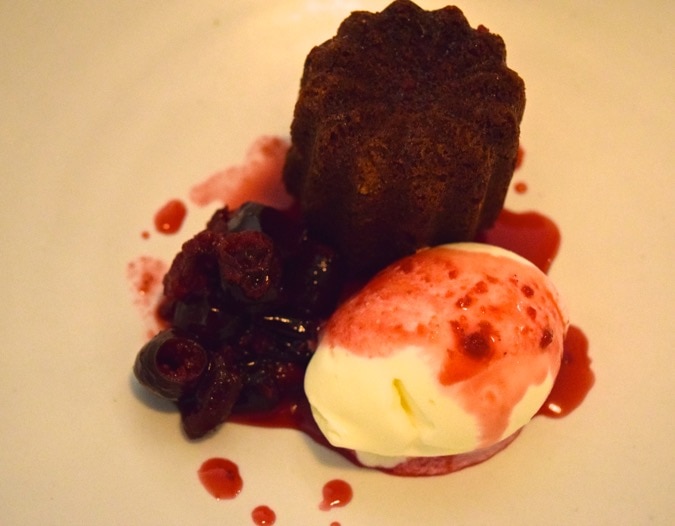 One of the most intriguing dishes was the sea buckthorn sorbet, which came with a dandelion coffee… or did it? The playful take on "coffee" was made from dandelion root and had a creamy flavour not dissimilar to crème caramel. The bright orange sea buckthorn berries were extremely sharp, as was the sorbet. The components married in a magical mix of sweet and sour.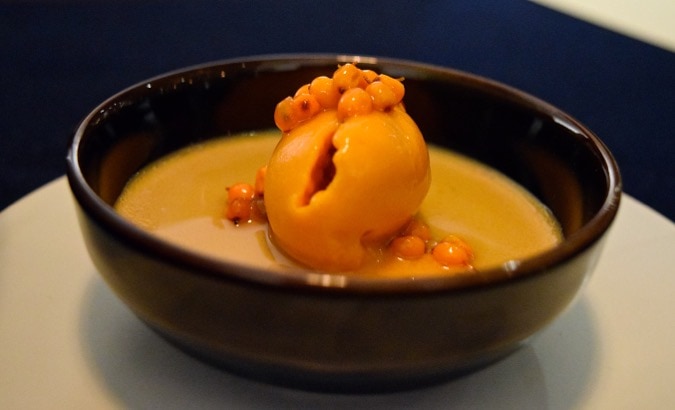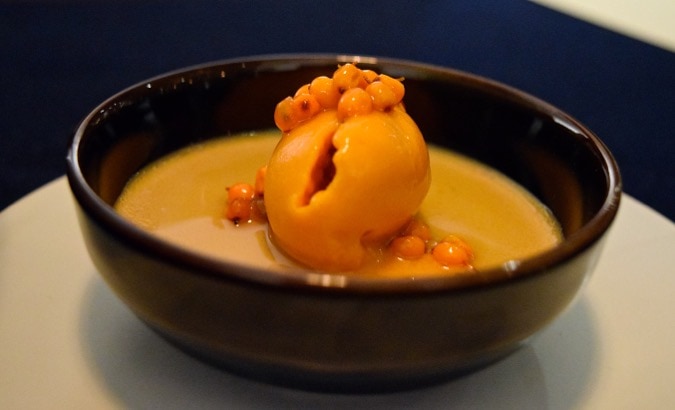 Flat Three's selling point is it's daring, complex, flavour combinations. While some dishes weren't to my palette, it was a great opportunity to try a lot of interesting ingredients in one meal. For me, the only thing truly lacking, was some carbohydrate. I wasn't expecting a plate of mashed potato, but I did start to feel hungry a few hours later.
After an espresso, it was time to leave with a new culinary vocabulary, a memory of intriguing tastes and intentions to start foraging.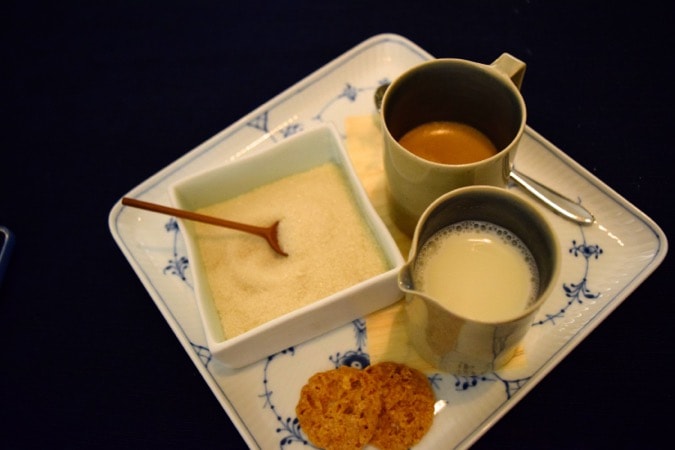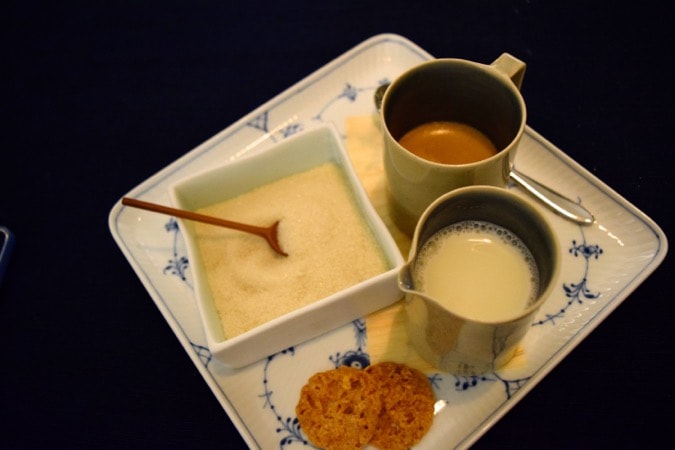 Set lunch menu from £33 pp. Find out more about Flat Three here.