"At what time would you like to visit our private sauna suite?"
When it comes to unique proposals at luxury hotels around the world, this is one of the best offers I've had. I checked into the very grand St Petersbourg Hotel in Tallinn (part of the Schlössle Hotel Group) after a whistle-stop tour of The Baltics and Scandinavia. Tallinn marked the end of my trip, and by this point I was exhausted and in need of good dose of relaxation and comfort.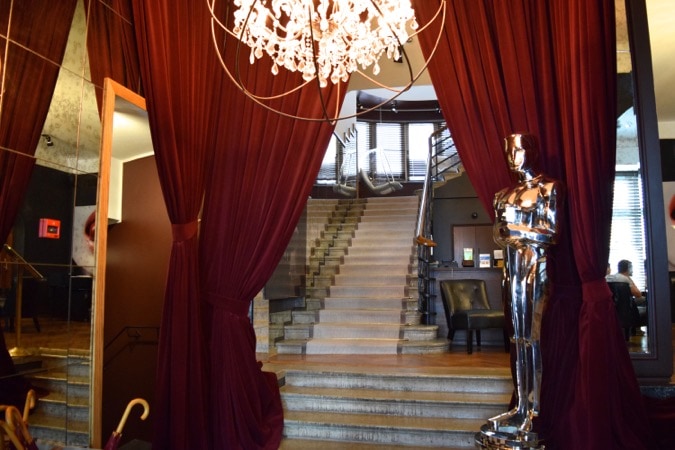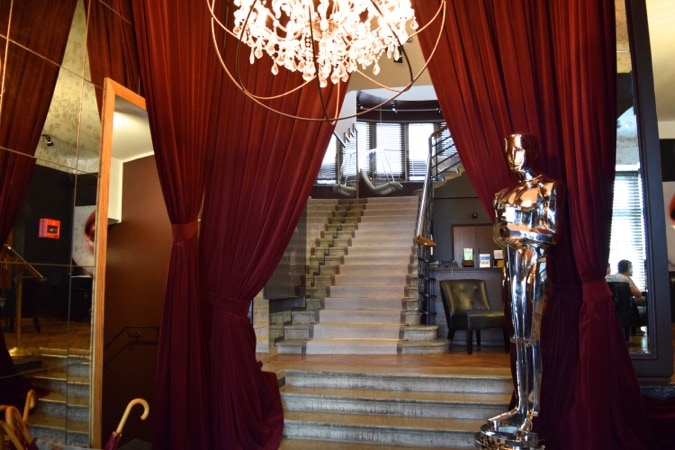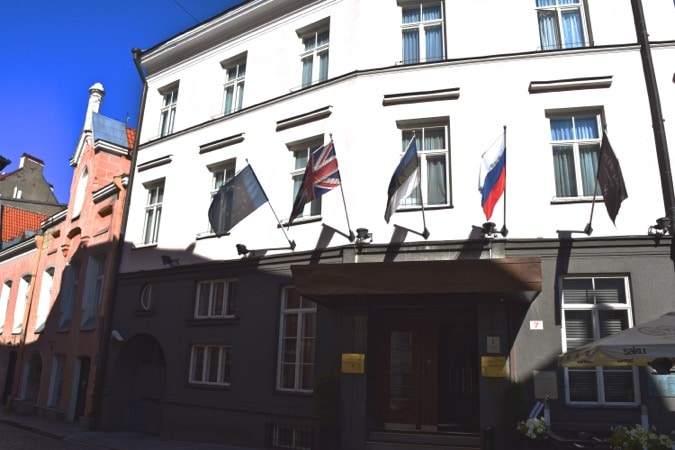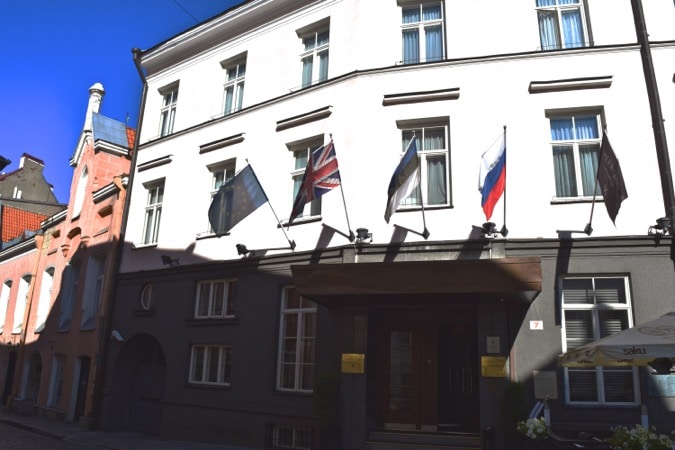 It was the history of the hotel that first caught my attention. Opened in 1850, it is the oldest continuously functioning hotel in Tallinn, and one of the oldest in the whole of Estonia. After just a few hours in Tallinn, I was won over by the city's medieval charm. It was like a fairytale – full of secret passages, romantic views and castle-like spires. Hotel St. Petersbourg is conveniently located in the heart of all of this – 30 seconds from the central square and the 13th Century Town Hall. Close by are several top restaurants, bars and museums. Thankfully it wasn't bang in the heart of Tallinn's famous nightlife (stag dos and all…!) so there was no need to worry about noise.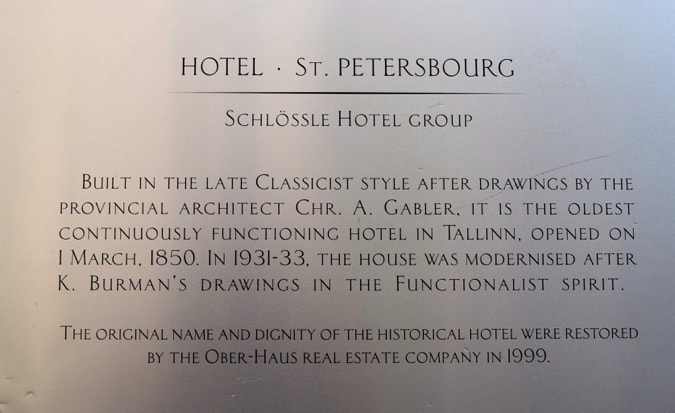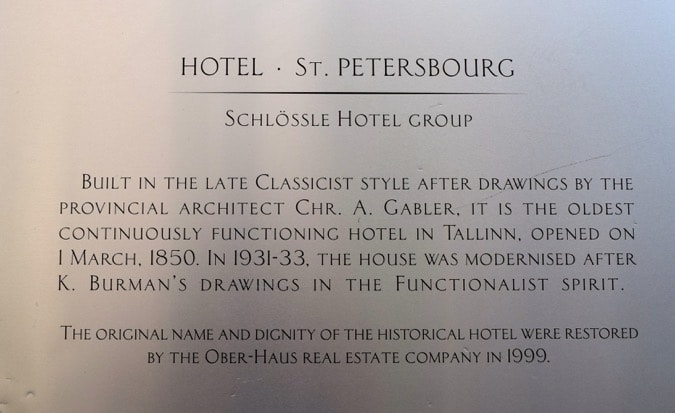 I stayed in a double room on the third floor. The colour scheme oozed luxury – with grey walls, a furry silver throw, maroon curtains and some quirky design features including a large monochrome photograph of a woman, and a cream armchair with funky pattern. I loved the parquet floor and antique mirror, and was pleased that while some of the décor was heavy, the room was flooded with Estonian sunshine!

While in Tallinn I learned that the nation is very forward thinking. Wifi is available pretty much everywhere and people vote and pay taxes online. Even Skype was invented by Estonians! So it was only fitting that rooms came complete with an iPad packed full of useful features and information. From ordering room service and taxis, to providing tips on the local area, to settling up your room bill… it was pre-programmed to make my stay stress free.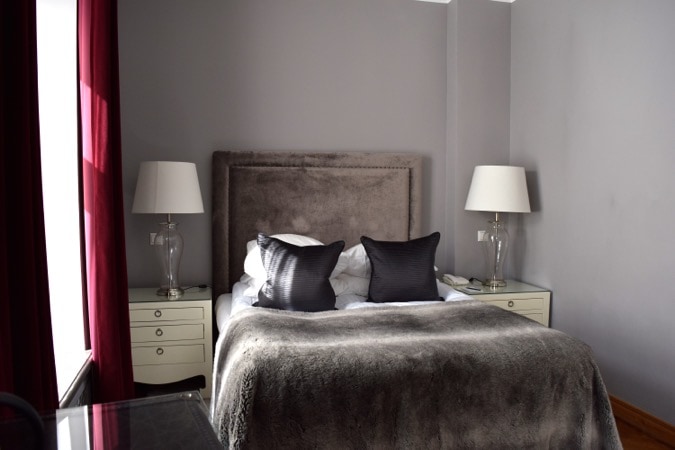 The bathroom was fitted with a powerful shower, and included a lovely selection of complimentary toiletries. I also loved the chess board-style floor tiles.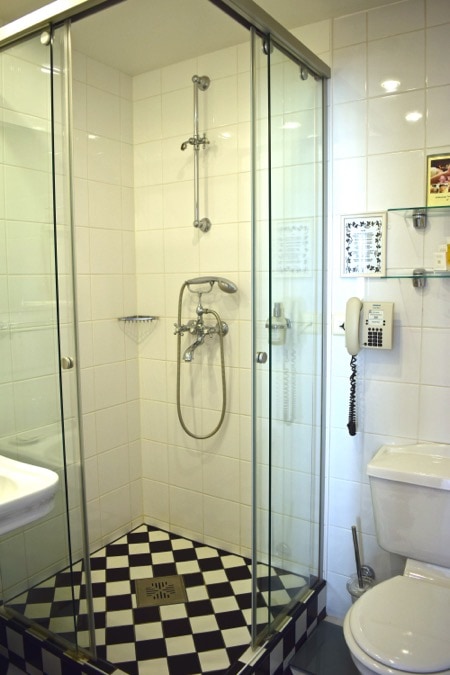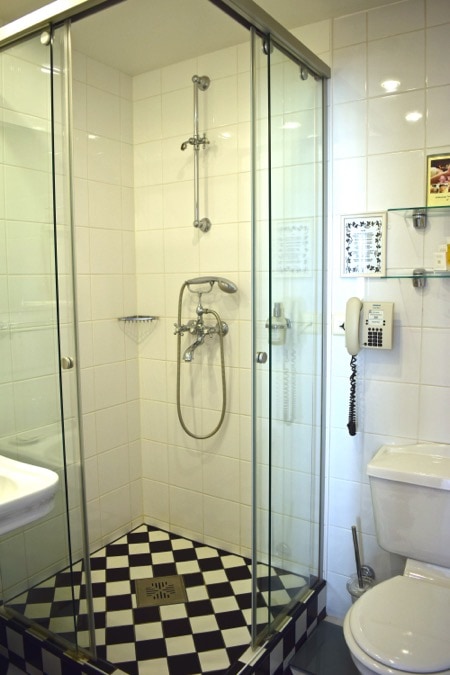 I was captivated by Estonia's love of design, so I was pleased to see Hotel St. Petersbourg had incorporated this love into the hotel's décor. I was particularly taken with the caged chandelier over the billiards table – a real mix of old world charm and modernity. Almost diving from the third floor was a large silver human figure – dramatic but alluring. Ultra-modern swinging chairs hung from the first staircase – I lost track of how many people I saw posing for photos in them!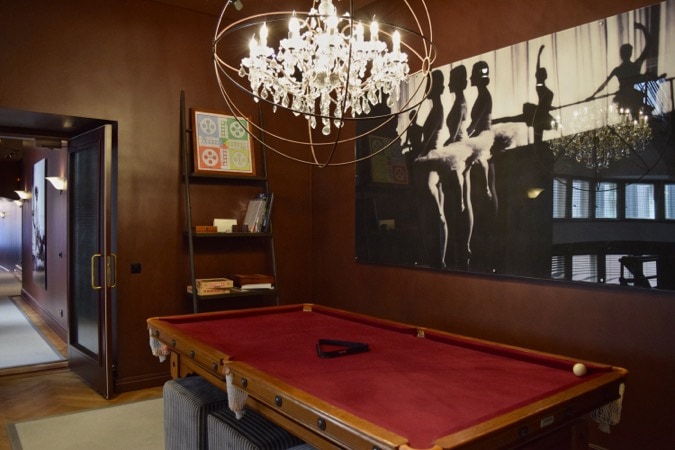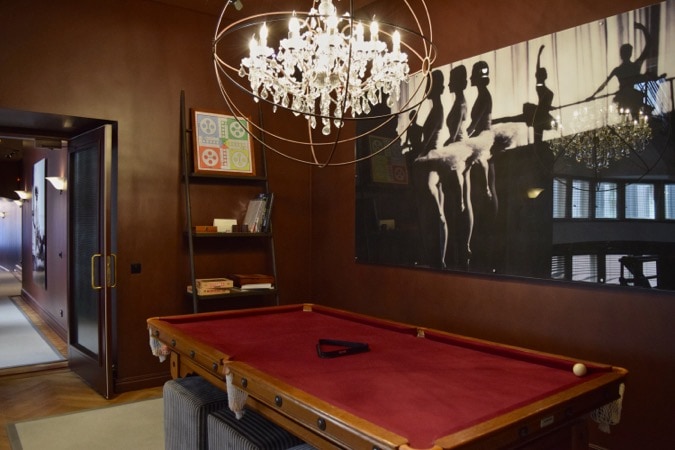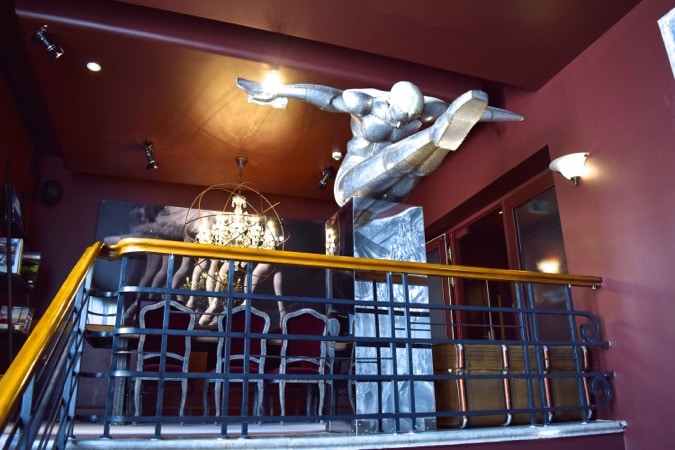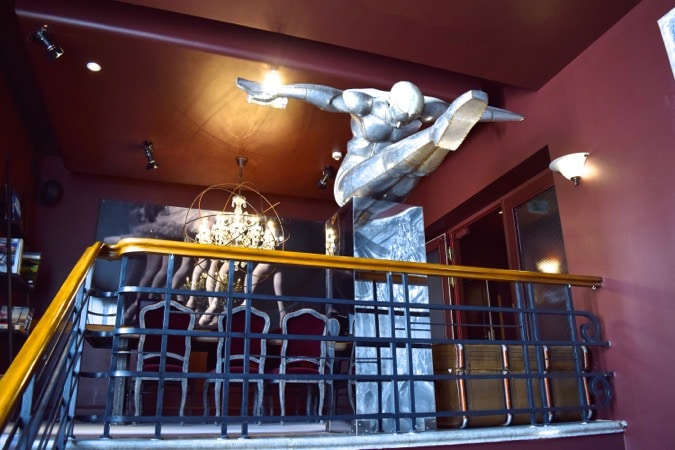 There were several open spaces including two landings – one with a computer/reading area and another with the old-fashioned billiards table. Books about Estonian culture sat next to those on modern architecture and classic board games including Scrabble and Monopoly.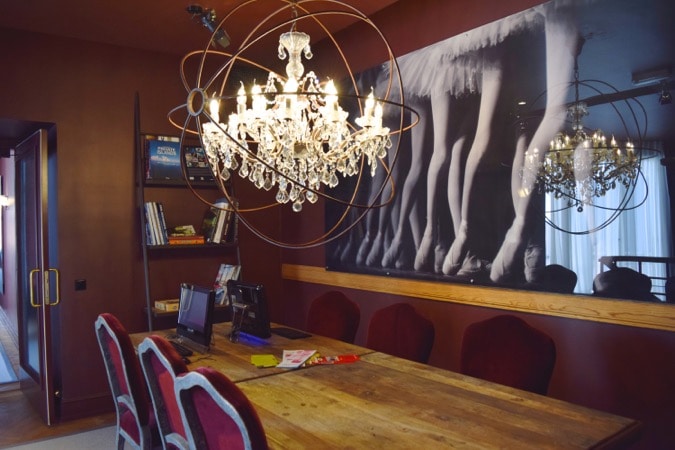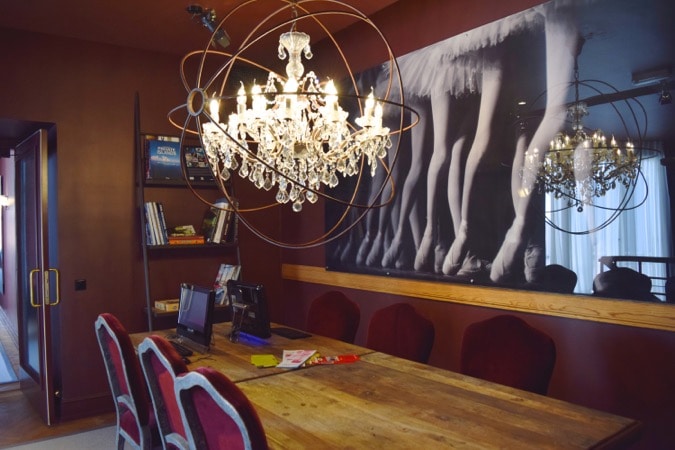 The hotel is home to a lounge bar and two restaurants (both with outside terraces). The bar was stunning – with a polished wooden-topped bar, low hanging red lamps and intimate tables. It was sophisticated and calm, away from the tourist hustle and bustle of the main square.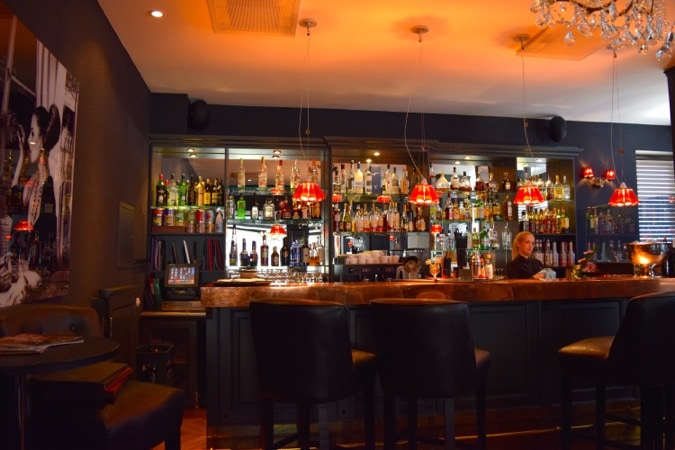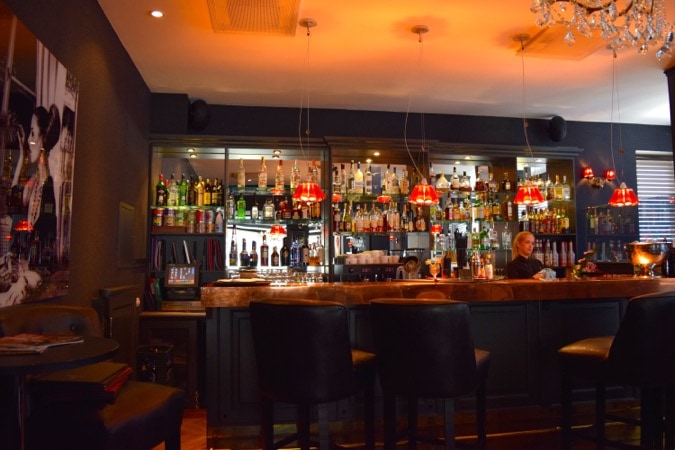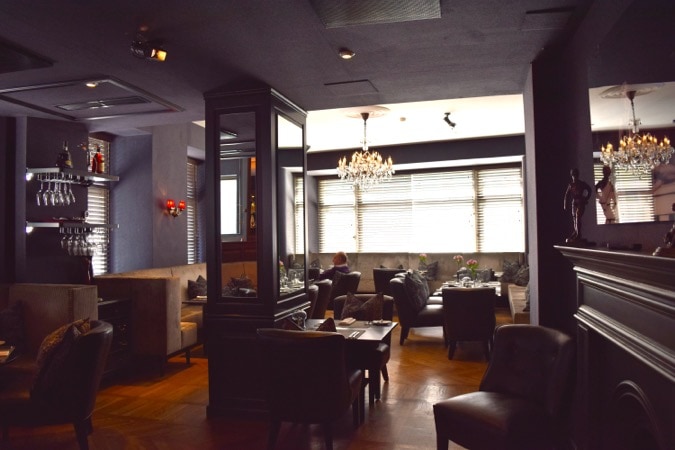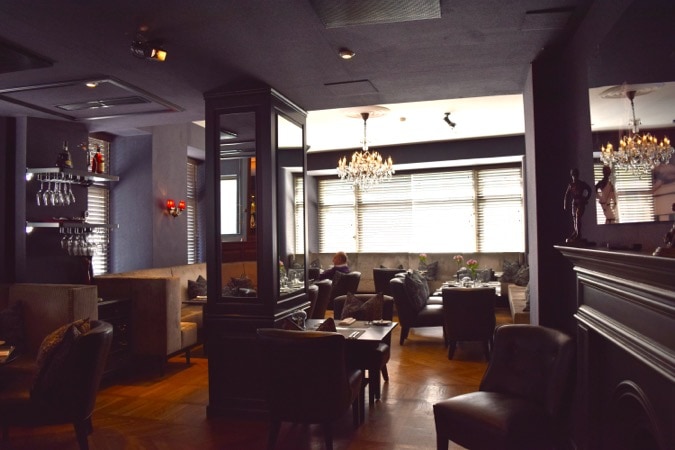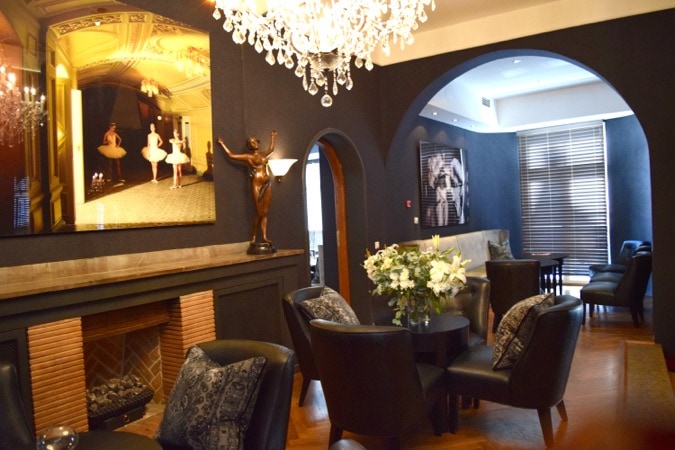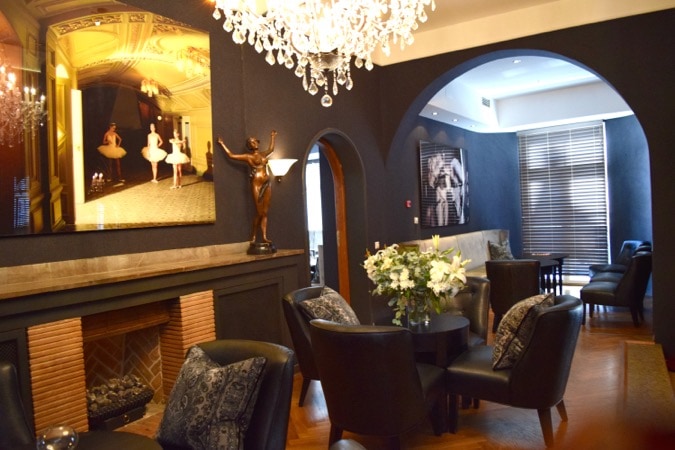 And the sauna? Well, I managed to squeeze in a twenty-minute visit before breakfast, and enjoyed my own private sauna suite experience. Rather than a communal sauna as you may find at several hotels across the Baltics and Scandinavia, this was a long room in the roof of the building – with old wooden beams, a TV area and a massage table (the hotel offers a standard menu of spa treatments). To one side was the sauna and bathroom area. It was easily large enough for a group, but I enjoyed the privacy of having it to myself!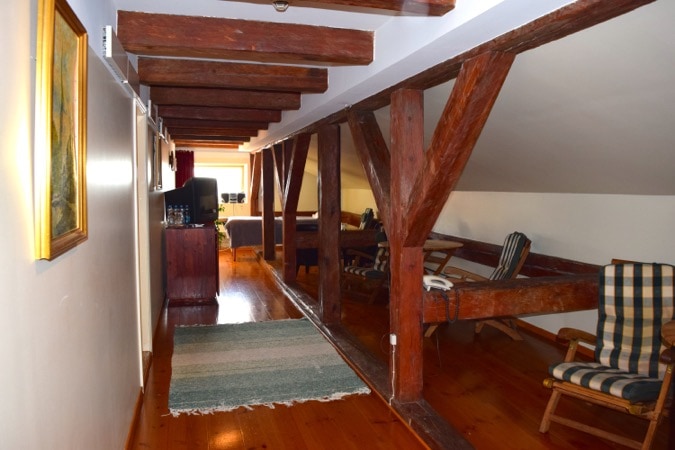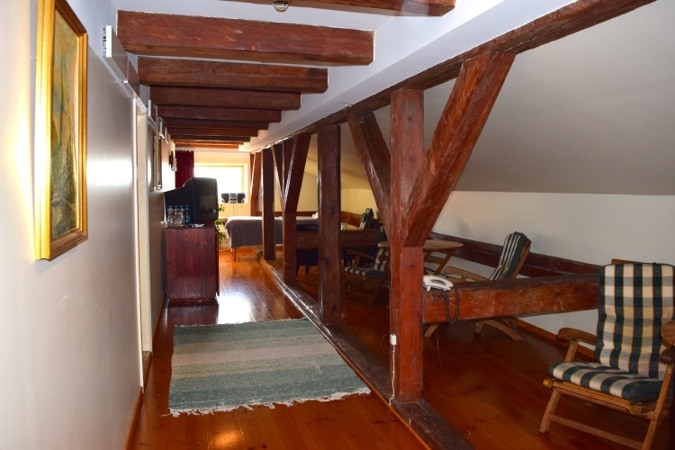 After working up a sweat, I visited Kuldse Notsu Kõrts (Golden Piglet Inn) for breakfast. As I wandered down to the basement I felt like I had returned to medieval times. Murals and old sayings covered the walls, and waitresses served tables wearing traditional dress. The cold buffet gave a flavour of Estonian cuisine with a large platter of salmon, herring, pickled fish and more. Pate sat alongside smoked cheese… and talking of cheese, there was a chance to sample a homemade cheese packed with cumin. There was also a selection of breads, pastries, yoghurts, fruit and juice along with several hot options (eggs, omelettes, porridge and pancakes).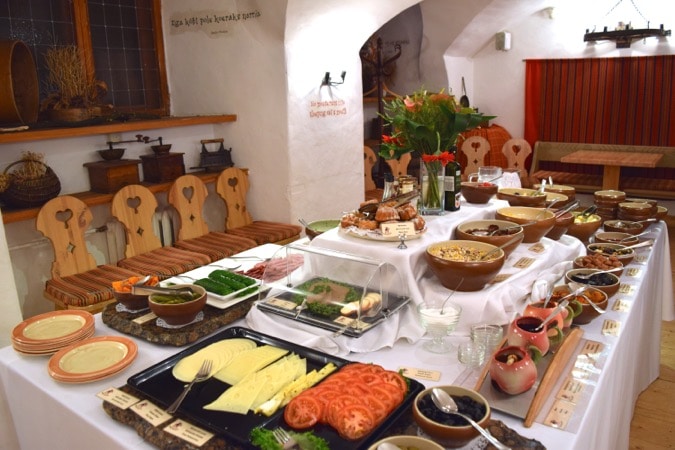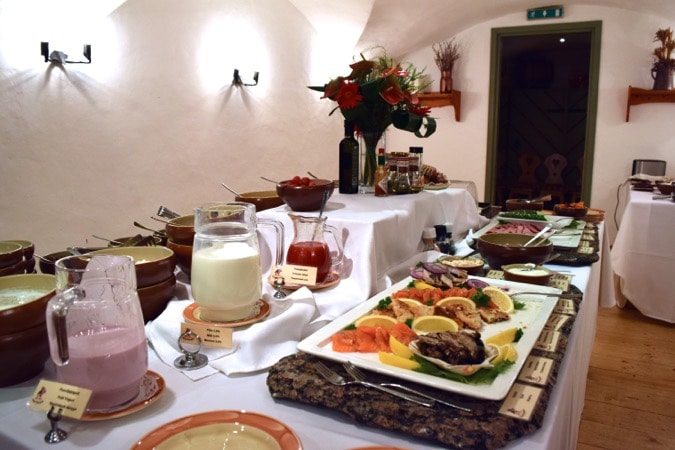 I ordered a ham, cheese and mushroom omelette, which was well-cooked, and had a delicious smoky flavour from the ham. Needless to say, I ate enough to see me through until late afternoon!
A final treat was hanging on my door in the morning. A condensed run down of the day's news in English. A lovely touch, and compact enough for my brain which felt like it was going to explode with the amount of information I'd been fed over the last week!
Tallinn is a charming city, and won my heart within hours of arriving. My stay at Hotel St. Petersbourg only amplified my love of it… and made me keen to return very soon.
Until next time Tallinn…
Rooms from £100 per night. Find out more here.
Thank you to Hotel St. Petersbourg for hosting me in Tallinn. As always, opinions are all my own.