From delicious burrata to tasty pizzas, Obica Restaurant is one of the best restaurants in St Paul's. Find out more in this detailed review.
Forget tapas bars. Forget sushi bars. Right now, it's all about the mozzarella bar. And I seem to have found a good one right in the heart of London.
Mini boccocini balls, smoked mozzarella, burrata, and an enormous braid of mozzarella arrived at the table. It was an overwhelming quantity of cheese… but I couldn't wait to dive in.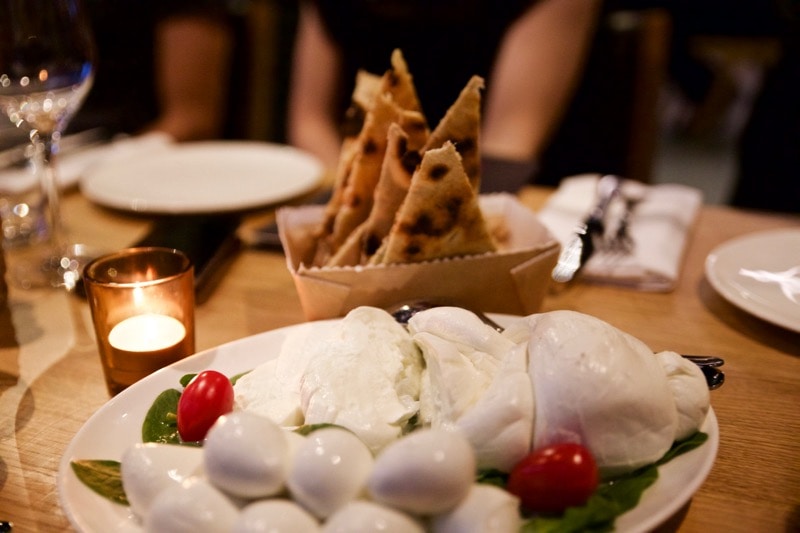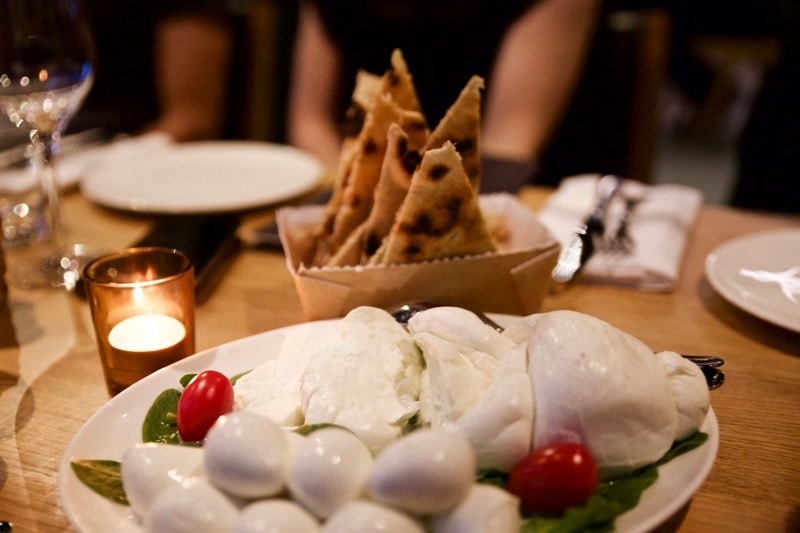 With 23 restaurants across the globe (from Japan to the USA), Obicà's cheesy empire is growing fast. Just a few weeks ago they opened their latest London restaurant, in the heart of the city by St Paul's.
It's a smart place – contemporary, elegant, but surprisingly – it's not expensive. It's a great place for a date, dinner with friends or a casual lunch.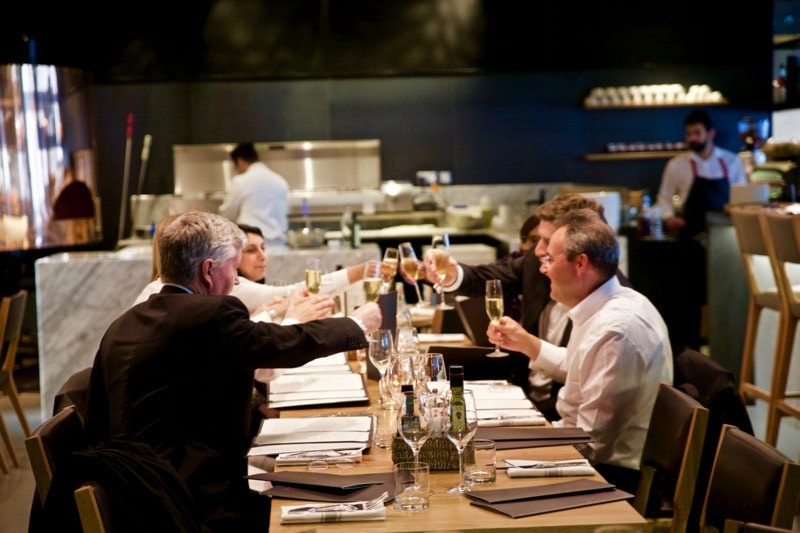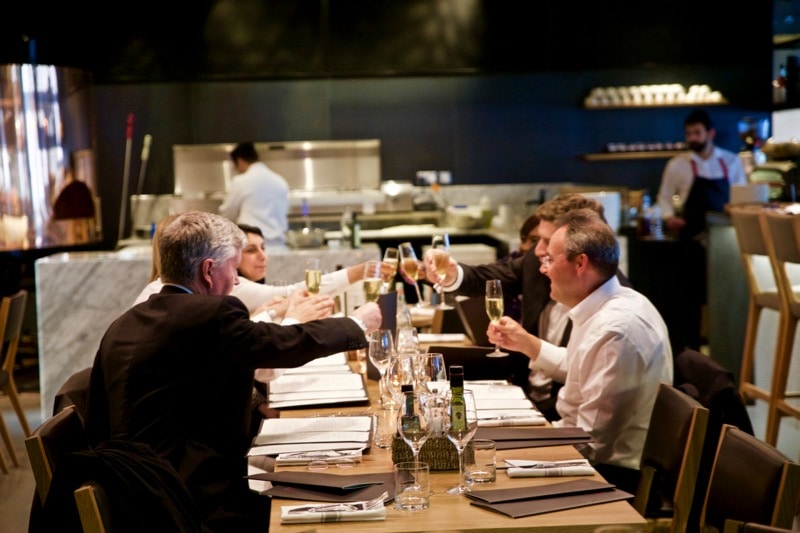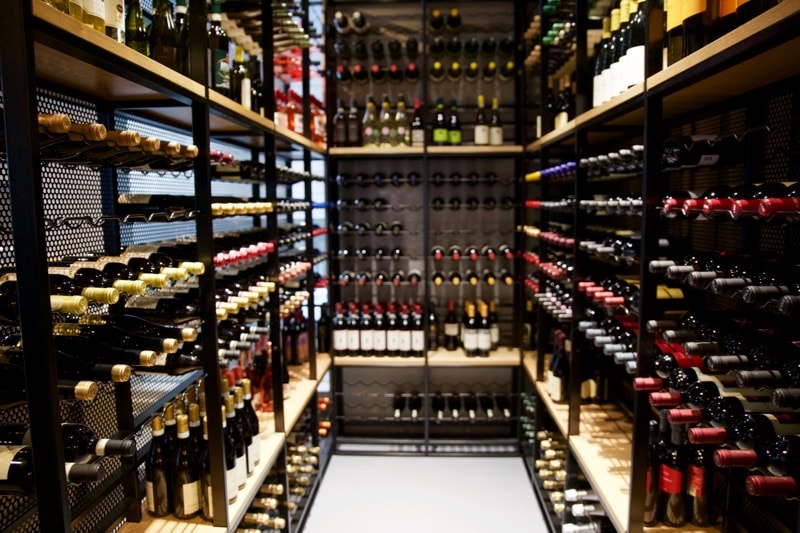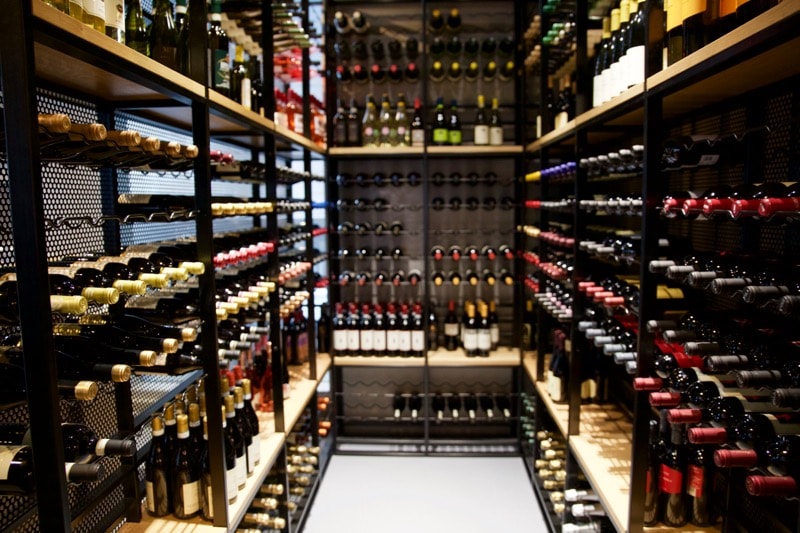 In Naples, where Obicà's concept originates, the name translates as 'here it is'. As founder Silvio Ursini explains, "it's how we describe something that's happening right before your eyes, like a freshly made Mozzarella, still dripping from its brine and ready to be eaten there and then."
I kicked off the evening with a Bosco – a summery fruity fizz of blackberry, strawberry and raspberry topped with prosecco. My partner enjoyed a Be Merry – a fun take on a bloody mary featuring interesting celery infused gin.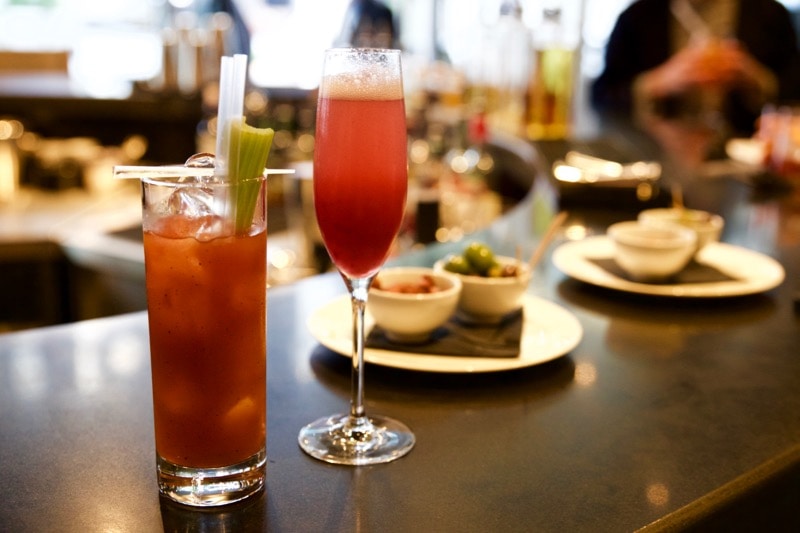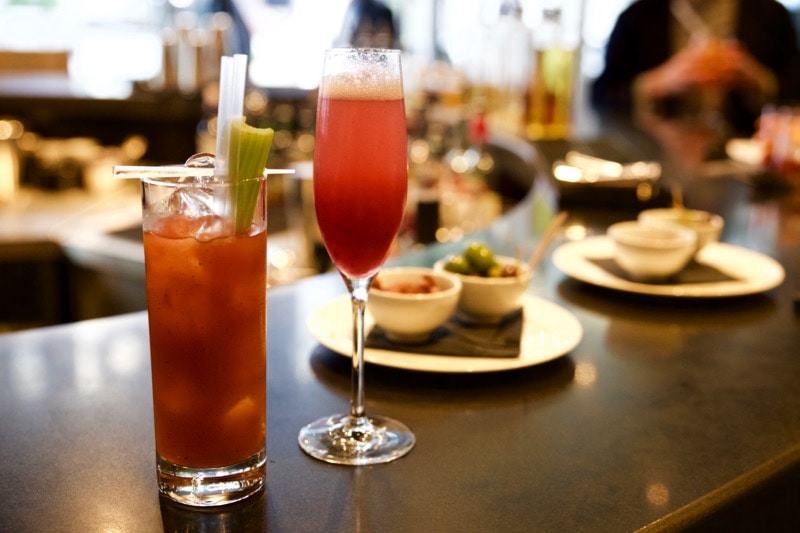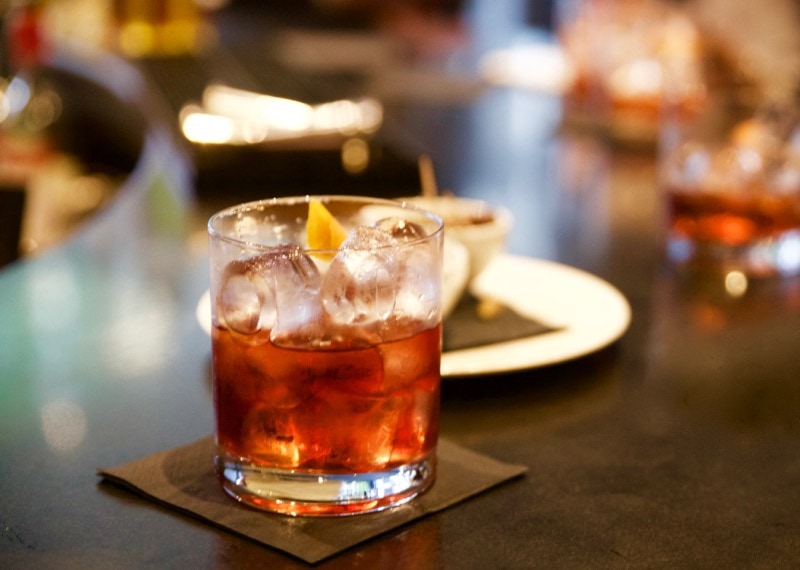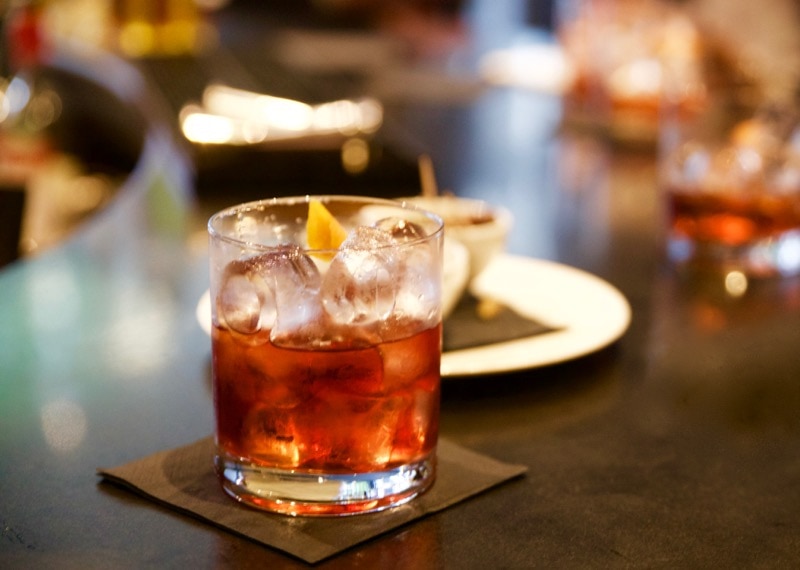 After taking a look at the pizza chefs in action (and attempting to load a pizza in myself!) we took our seats, and loosened our belts.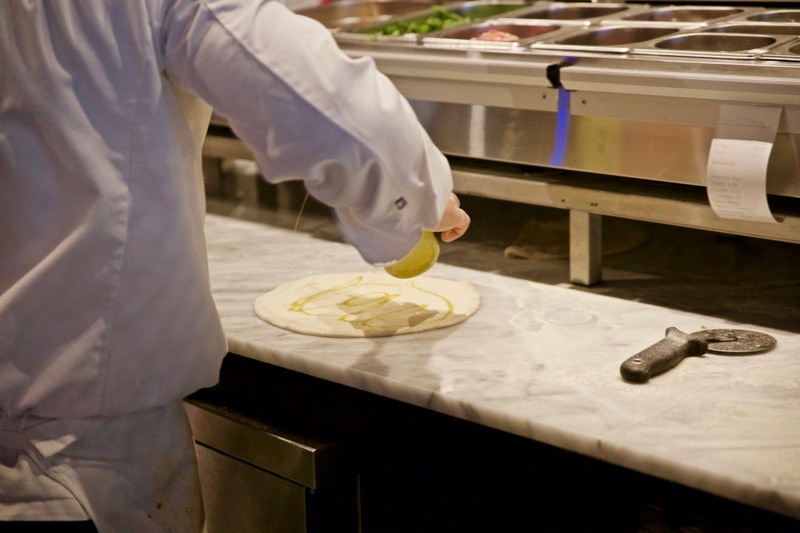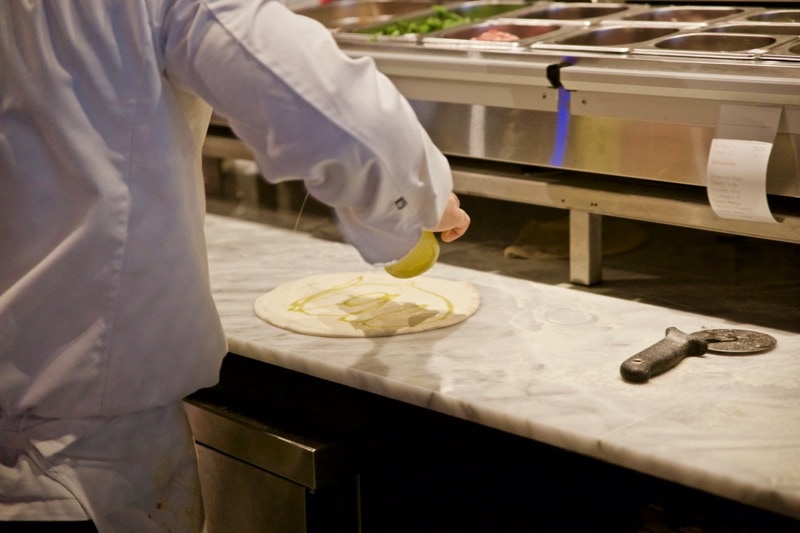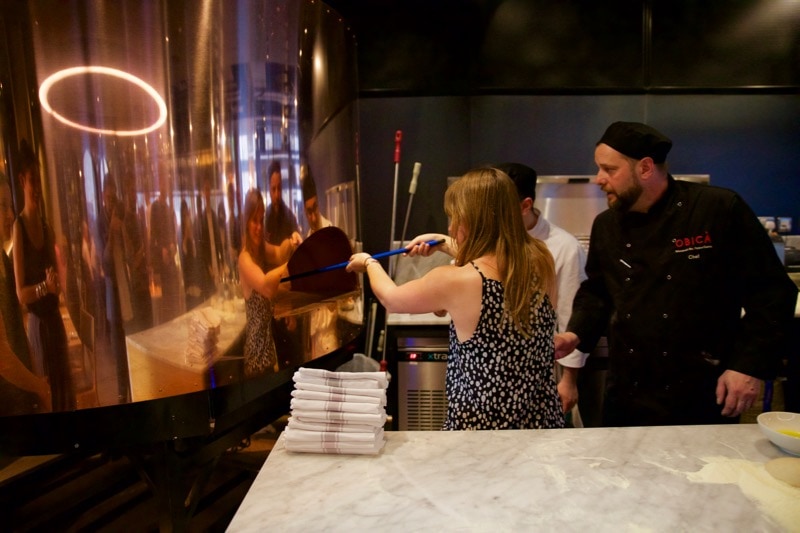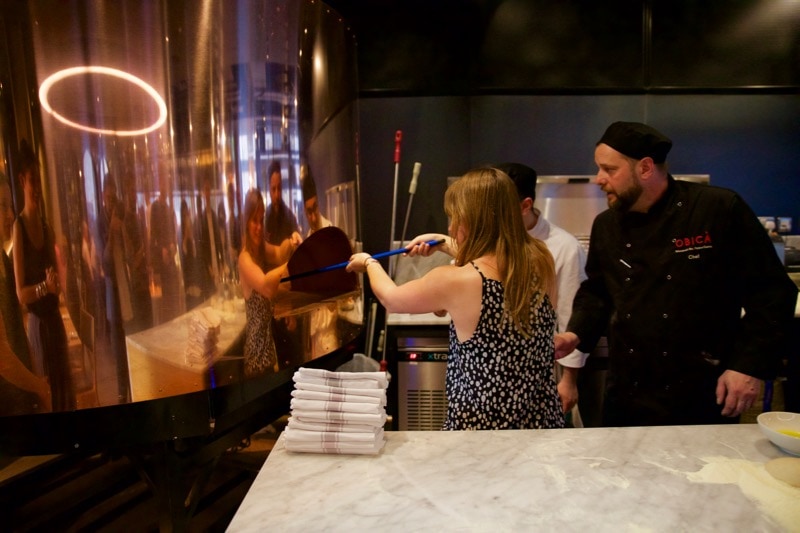 As the mozzarella arrived at the table, it's fair to say, all we could think about was tucking in. Usually with a bunch of food bloggers around a table, there's the obligatory ten minutes of photos, Snapchats, Instagrams and more. At Obicà, this lasted a mere 3 minutes before plates were being passed and "mmmmm" noises were sounding from every direction.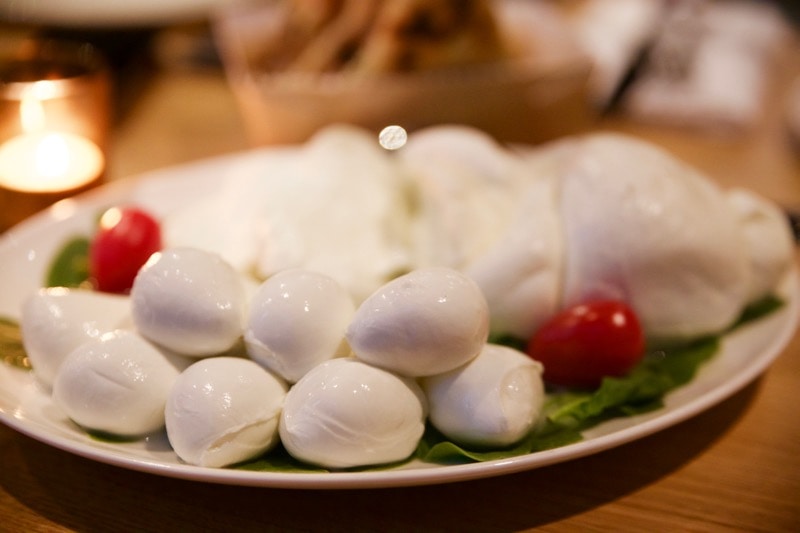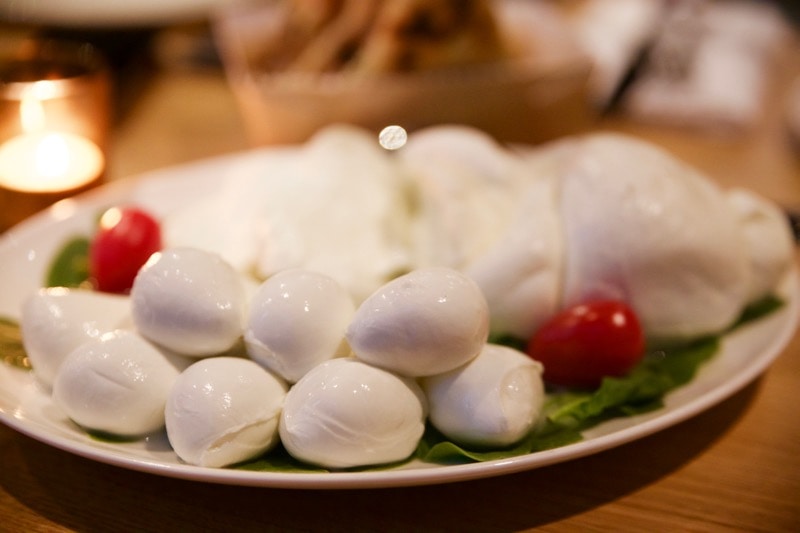 When it comes to this kind of cheese, it's all about freshness – something Obicà takes very seriously. Three times a week, the best Mozzarella di Bufala Campana DOP is flown all the way from Italy to London.
Each cheese varied greatly in flavour. The mozzarella that had been entwined into the braid had a lovely saltiness, while the Burrata al Tartufo was rich, soft, and gooey. I'd only tried smoked mozzarella once before, and this one (the Bufala Affumicata), was particularly strong. It was delicious in small doses, loaded onto a crisp piece of herbed flatbread – warm from the pizza oven. The cheese was complemented by appealing wooden boards laden with flavoursome Parma ham.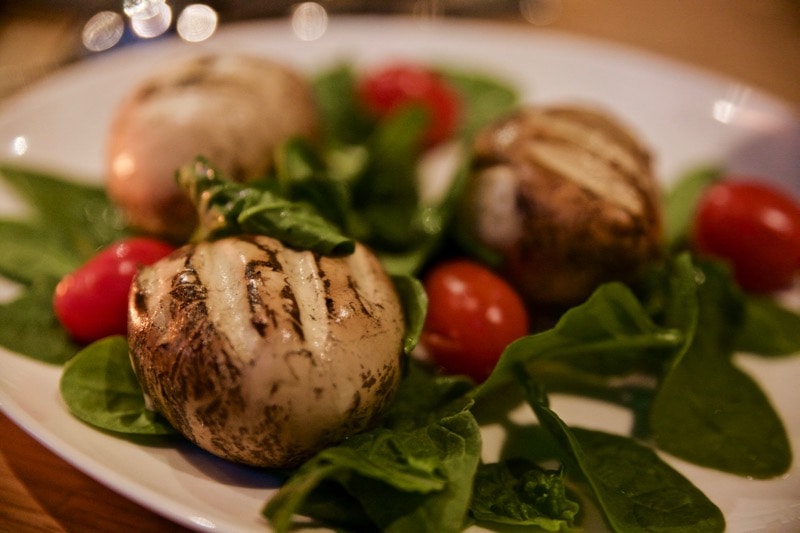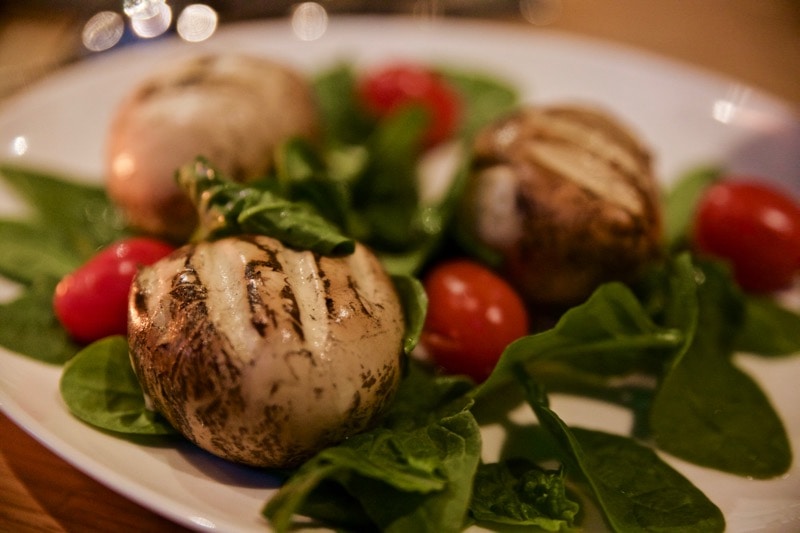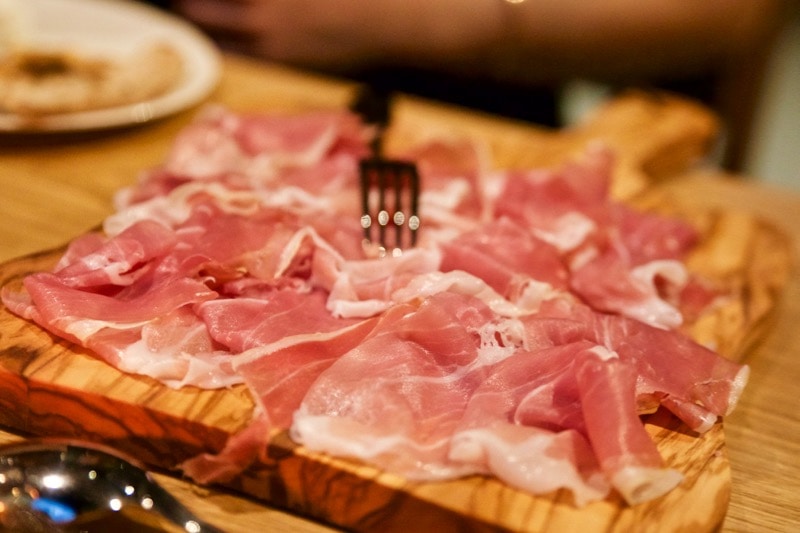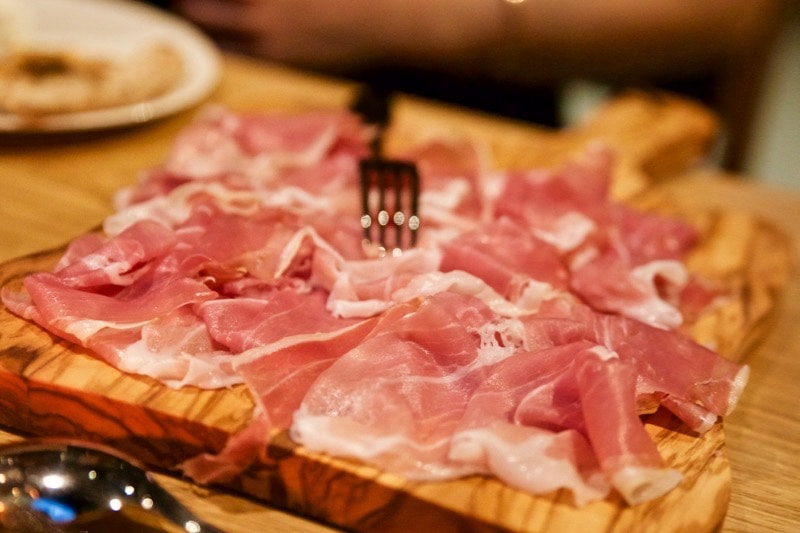 The Ricottina di Bufala (fresh ricotta) was light and creamy – for me it would have been the perfect ingredient for a cheesecake!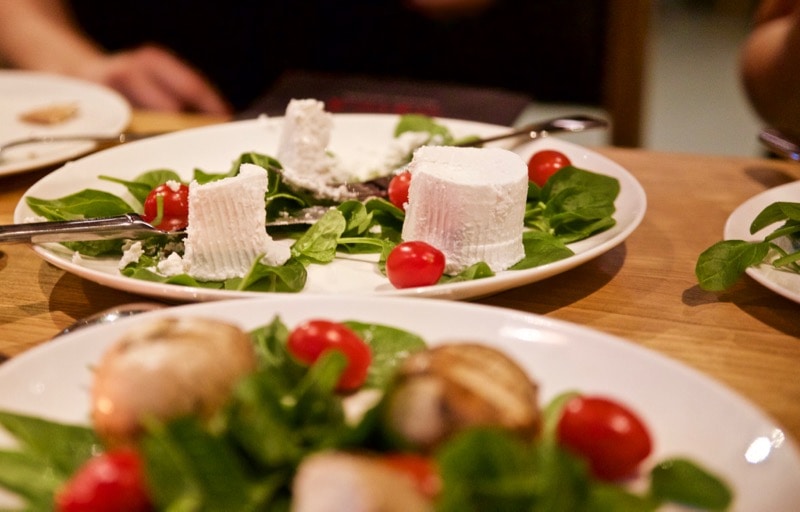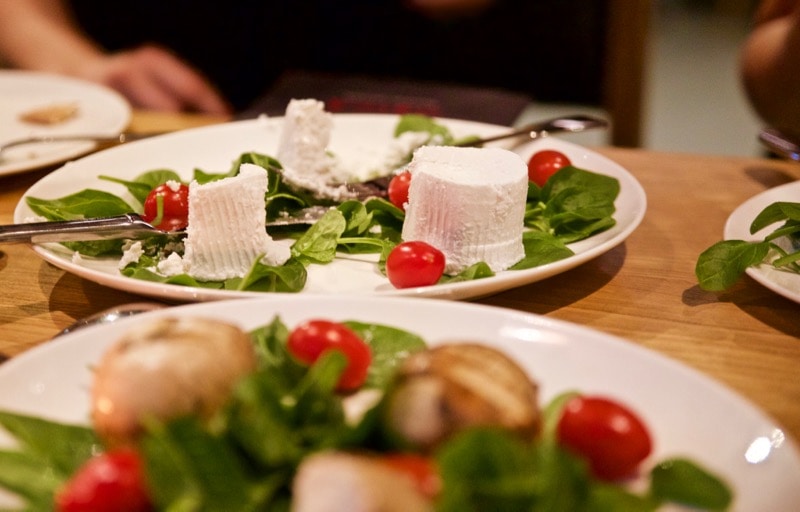 As we lulled into a cheese coma, a charming waiter popped up ready to take our order. I went for the salmon, feeling that I'd definitely had my fix of cheese for the night. Or had I?
It arrived with a beautifully crisp skin, seasoned with salt and black pepper, and served on a bed of tenderstem broccoli. The fish was soft and fell away in delicate flakes. I loved the addition of pomegranate – which added so much in the way of texture as well as cutting through the richness of the fish.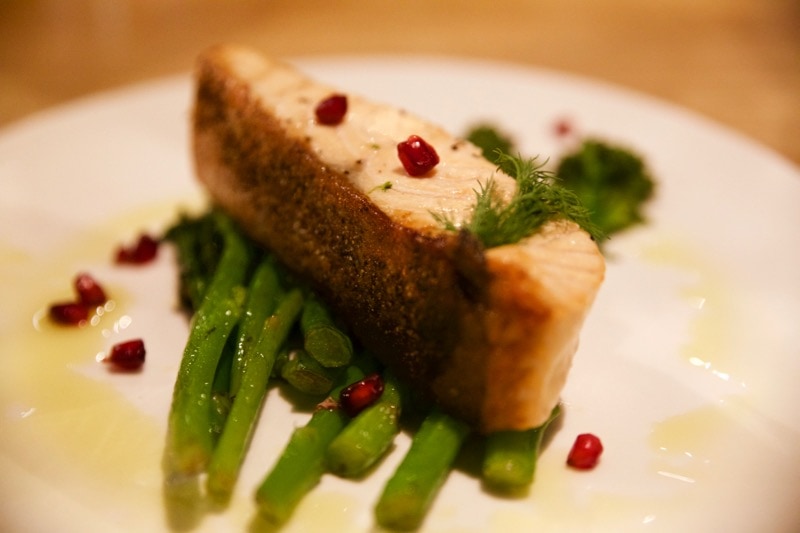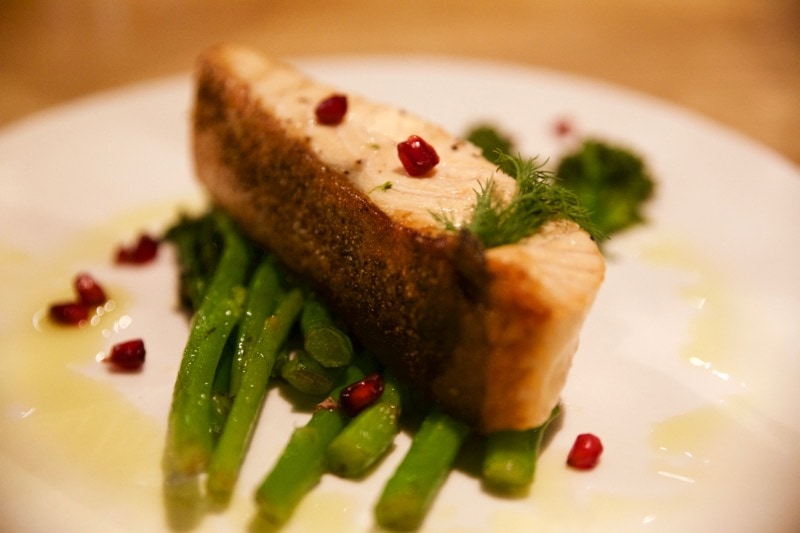 The ravioli came highly recommended and after tasting it, I could understand why. Filled with Ricotta di Bufala and black kale, it was served in a rich sage butter sauce and topped with shavings of Parmigiano Reggiano. It had an indulgent earthiness to it – certainly a resounding win around the table.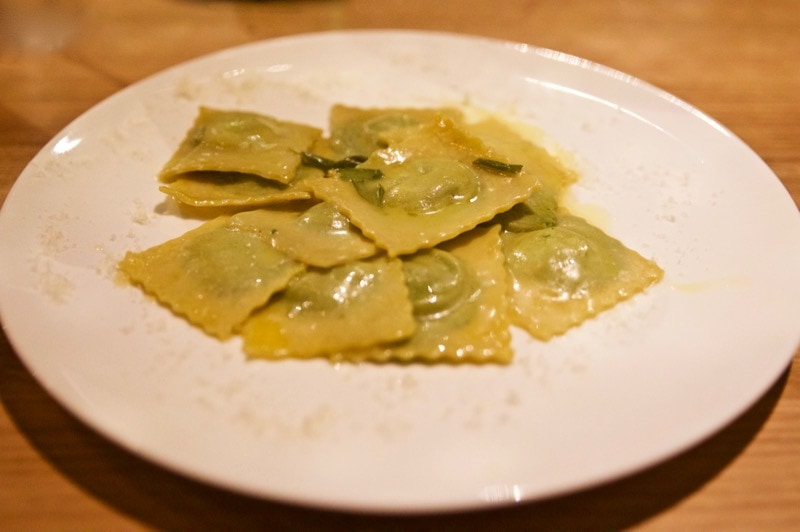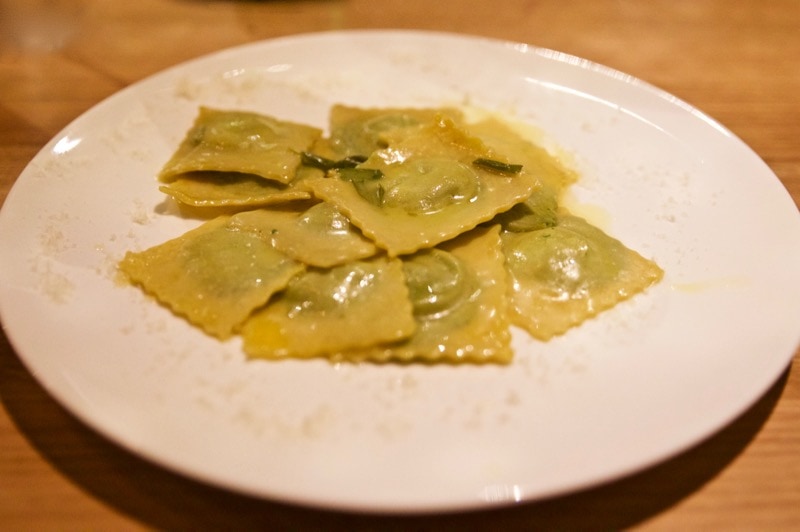 There was mention of dessert, and within a few minutes an inviting looking platter arrived with highlights from the menu. It was the perfect opportunity to sample a bit of everything. We devoured spoonfuls of tiramisu and panna cotta, along with slithers of chocolate and almond torte and a pear and ricotta cheesecake (I told you it would work well in there!) The highlight for me was the creamy panna cotta, which contained a dash of amaretto.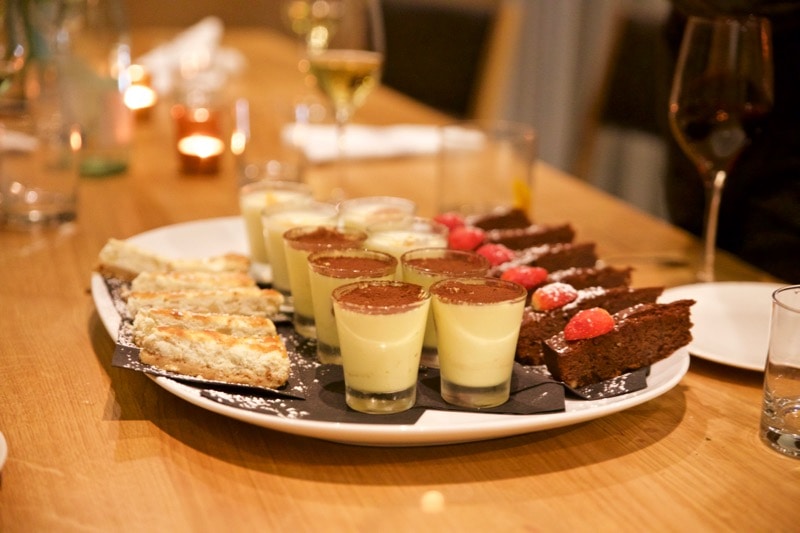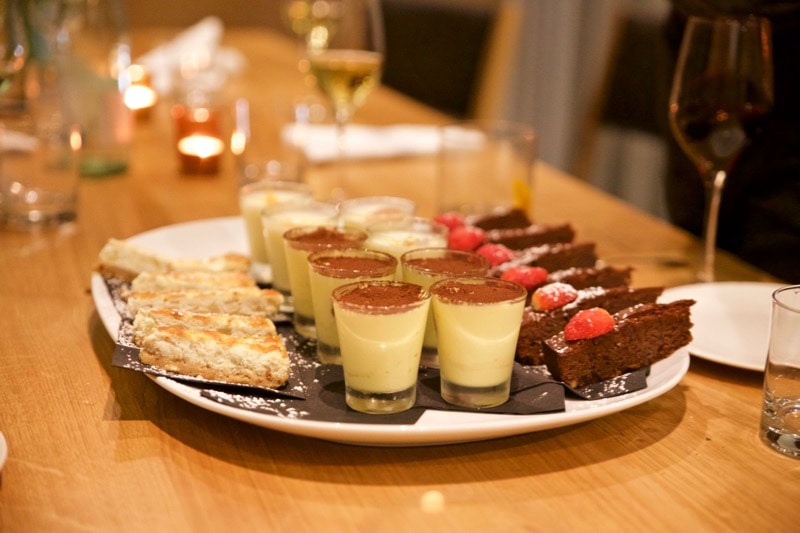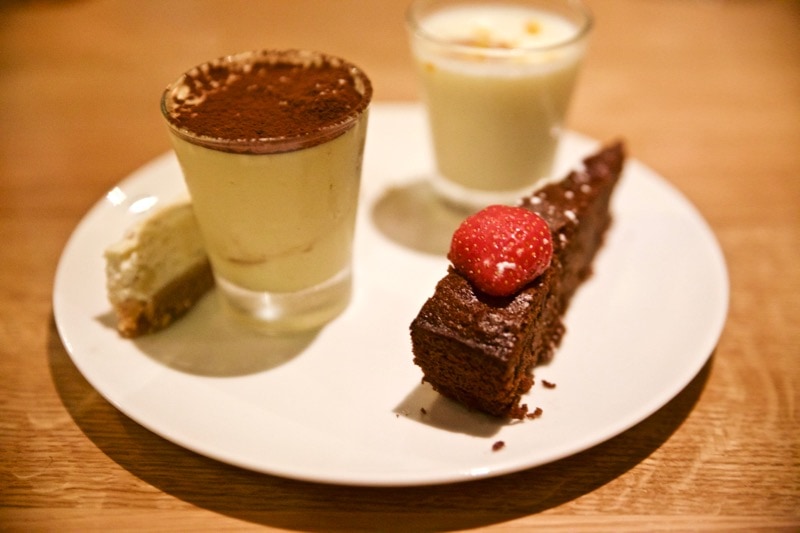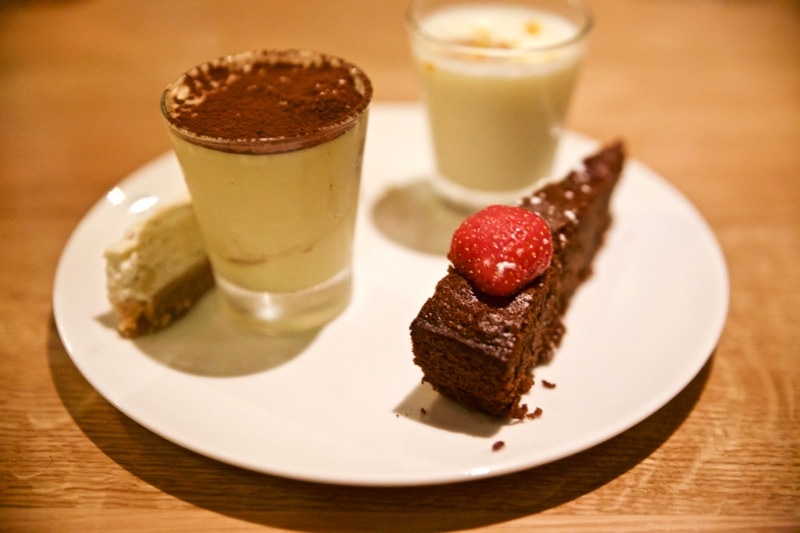 Obicà is a lovely spot for drinks (especially if you time your visit for Happy Hour), a light bite or a celebratory dinner. It's unpretentious, yet delivers high quality food at very reasonable prices. I rolled out of the restaurant full of cheese, and wondering what a cheese hangover would be like. Thankfully, I seem to have recovered just fine… in fact, I fancy some more mozzarella right now…
Dinner for 2 with drinks costs approx. £50.
Thanks to the team at Obicà for inviting me to sample their delicious Italian feast. Check out the food menu here and find out more about the restaurant here. Don't blame me if you have any weird cheese dreams after visiting!
Enjoyed this post? Why not pin it?