Planning a trip to Oh Lala Restaurant in Playa Del Carmen? Find out all about my experience in my review of a dinner there.
This fine dining restaurant is currently number 6 on Trip Advisor out of 1200+ restaurants in Playa Del Carmen, so just before I left the area, I just had to find out what all the hype was about.
Firstly, it's not the kind of restaurant you can just walk into. It's a small place with only 8 tables, so they operate a reservations only system. However, you don't need to book months in advance – I booked a table 48 hours in advance, albeit I had to go for the late sitting at 9.30pm.
Oh Lala Restaurant – The Decor
The restaurant decor is sleek and modern, but with some old touches – a vintage telephone sits on a side table, while the chairs and tables are a mix of glass, Perspex, and bright coloured fabrics. A canvas of Van Gogh's 'Starry Night' is displayed on one of the main walls, while a print of Klimt's 'The Kiss' adorns the wall in the toilet.
Oh Lala Restaurant – The Service
Service was exceptional. On arrival we were greeted by a friendly lady who recalled our email exchange and seated us straight away. A knowledgable waiter/chef appeared who discussed the menu in detail and highlighted the specials. He also helped us with the wine list. The menu is full of delicious ingredients – tuna steak, New Zealand lamb, steak, shrimps, scallops and lobster. I found it very hard to choose.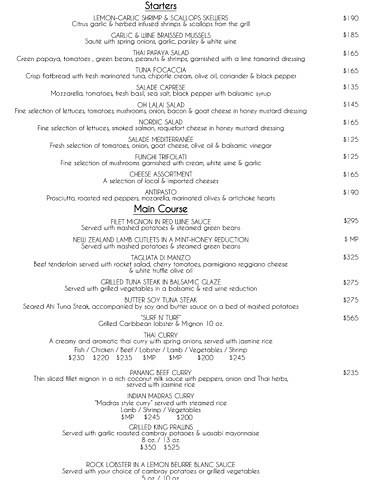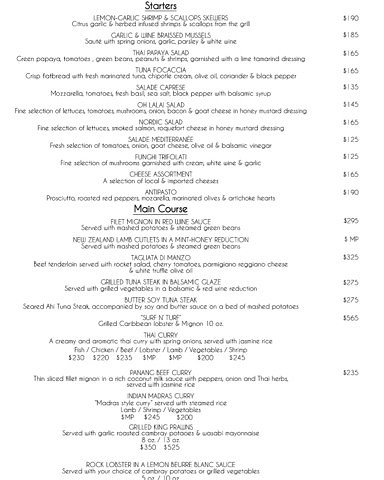 Dinner At Oh Lala Restaurant
We were brought a tasty crispy rosemary and garlic flatbread drizzled with olive oil and topped with soft goats cheese. Since living in Playa, I haven't seen goats cheese on a menu once, so this was an exciting moment in itself! We selected a bottle of Argentinian Malbec for just over $300 MXN and ordered the antipasto to start. Presentation was pure class. Delicious cherry tomatoes, prosciutto and mozzarella on a bed of lettuce, rocket and basil, accompanied by artichoke hearts and red peppers, with a balsamic glaze. It came with another delicious flatbread. While there wasn't much cooking on display, the ingredients were high quality and the combination of flavours worked perfectly together.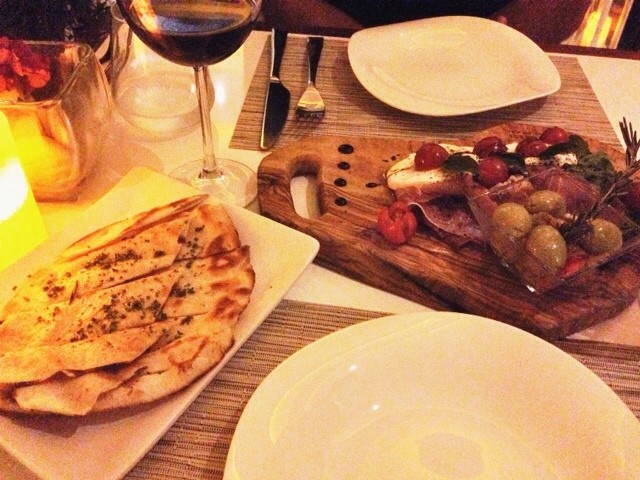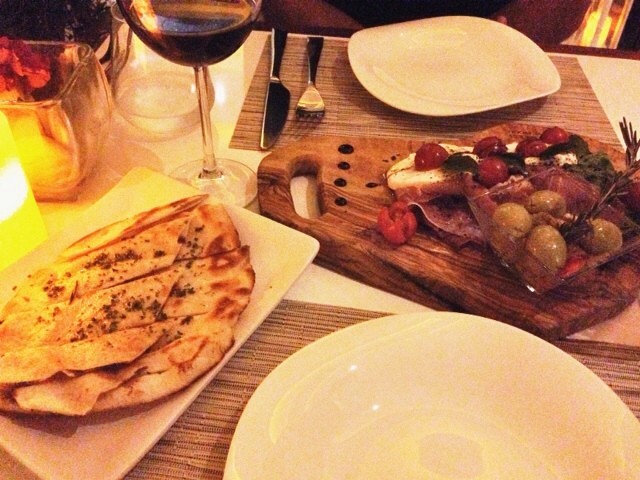 On the waiter's recommendation, I ordered the butter soy tuna steak which was served on a bed of creamy mashed potato and accompanied by a soy and butter sauce. It was to die for! Flavours were rich and buttery, with the Ahi tuna steak seared to perfection. The saltiness of the soy cut through the creamy mash which was light, fluffy and perfectly seasoned.
Unfortunately I was too full to manage dessert, but the chocolate cheesecake was very tempting! There is a really great vibe to this restaurant. The food and service are incredibly good, but it's not showy. The service is still personable rather than being stiff, and the ambience was relaxed, not pretentious. I'm just sad I didn't discover it earlier in my trip so I had the chance to return!
Find out more about Oh LaLa here.