Thinking of booking a table at the Barbican's Italian restaurant, Osteria London? Find out more about the food, menu, service and more in this detailed review.
With top restaurants Arbutus and Wild Honey already established, Osteria is an exciting addition by Anthony Demetre to the London food scene. Specialising in bold, ingredient-led Italian cooking, the menu features gourmet fish, meat, and pasta dishes… But before I could think about food, I was distracted by the cocktail menu!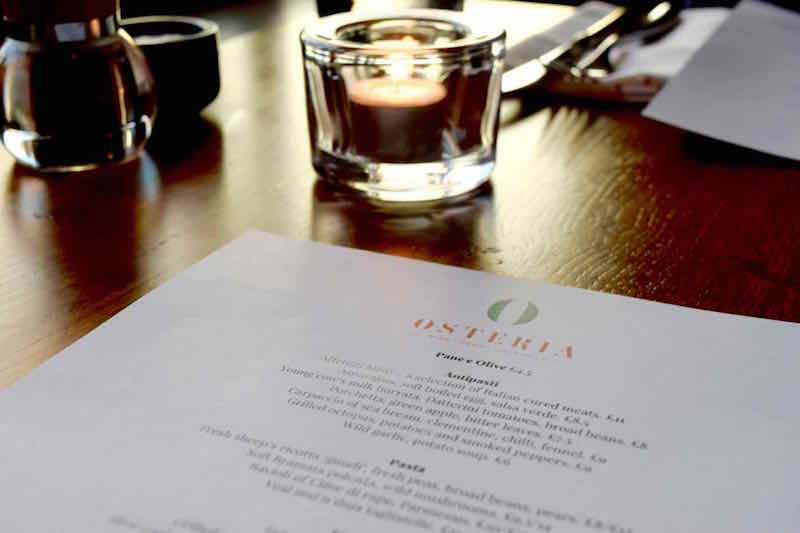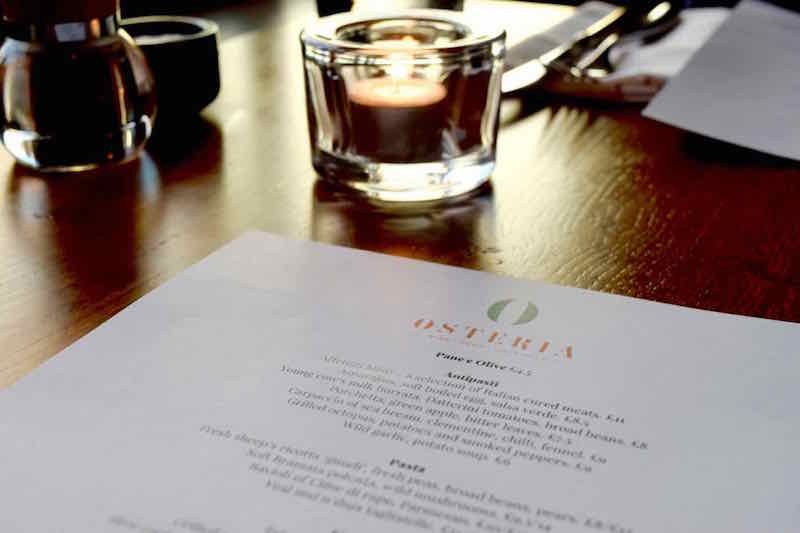 My sweet strawberry and prosecco cocktail (named La Dolce Vita) arrived just as the clouds outside started to turn a beautiful shade of peach. Osteria is in a lovely location overlooking medieval church St Giles' Cripplegate and the area of water outside the Barbican centre. Oh and from some angles you'll be able to spot a slither of St Paul's Cathedral.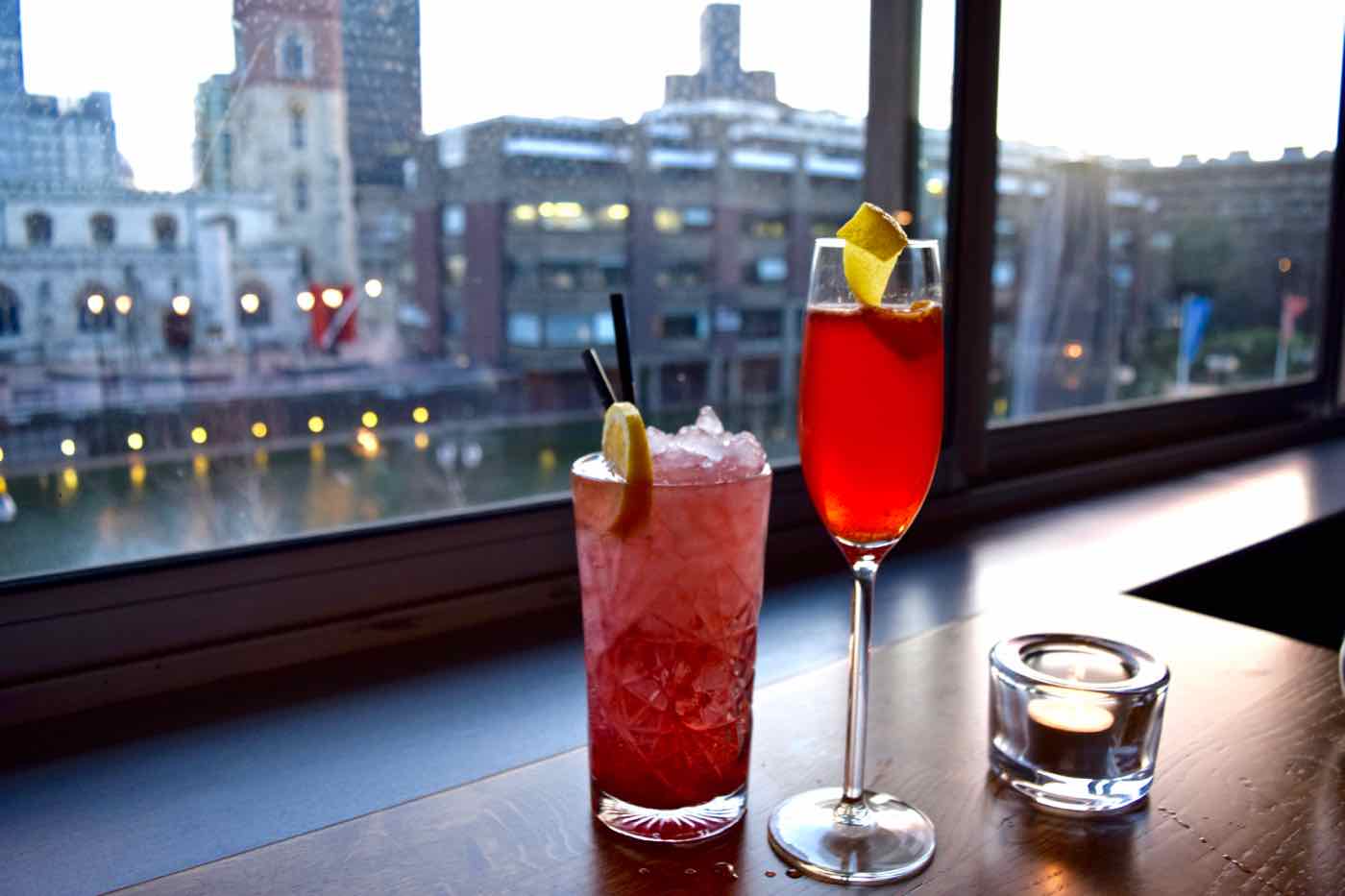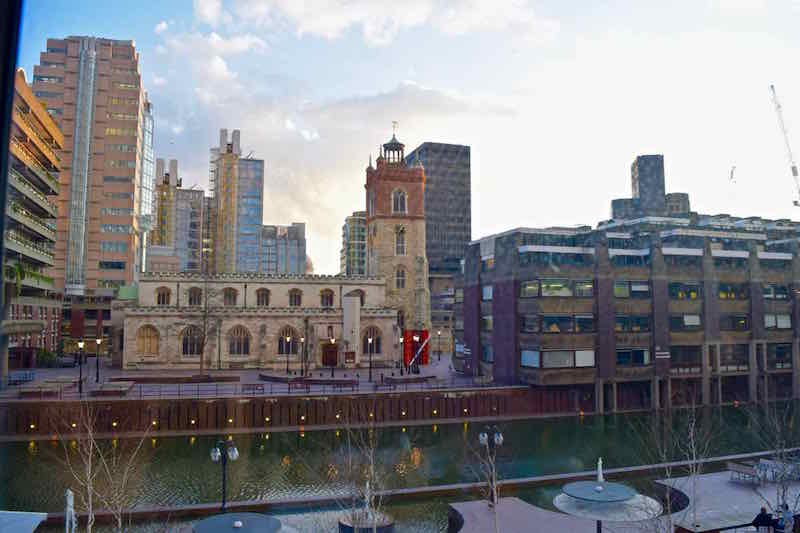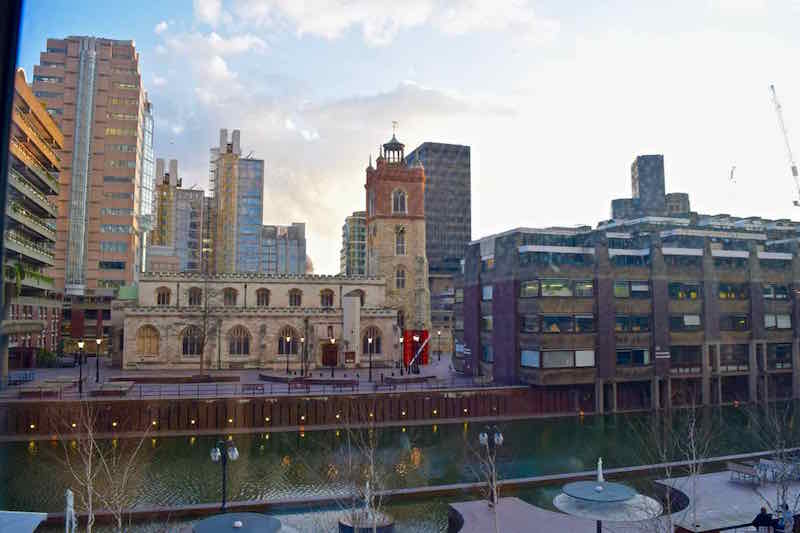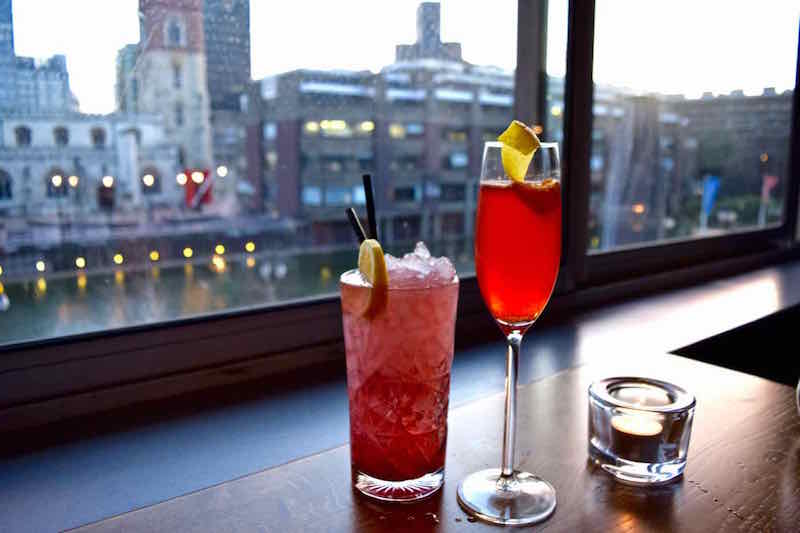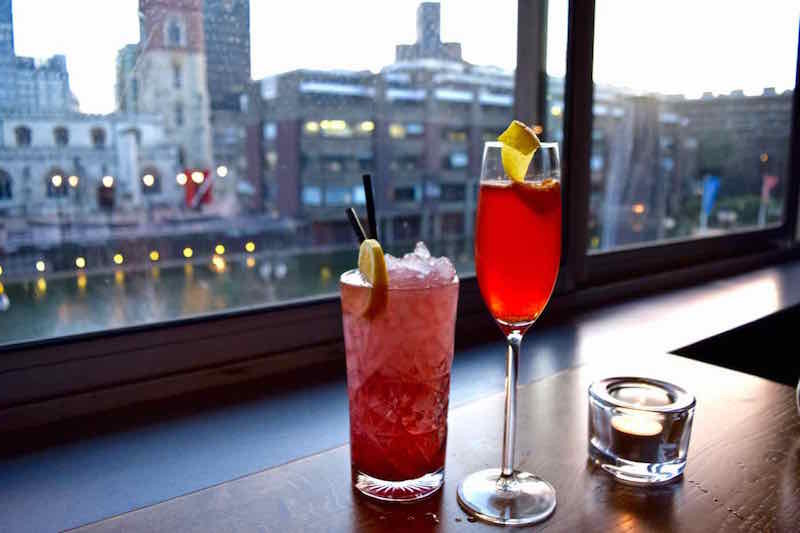 My guest's Lambeth Lemonade (a gin and raspberry cooler) was light yet sweet, and went down very easily.
With starters including fresh burrata cheese, asparagus and soft-boiled egg, grilled octopus, sea bream carpaccio and pastas available for starter or main, I took my decision making very seriously.
I selected the burrata, which was accompanied by datterini tomatoes and broad beans. I'd tried this variety of Sicilian tomato just a few days before, and was amazed by its ability to be delightfully sweet yet tangy. The cheese was soft and creamy, but the tomatoes and balsamic dressing cut through the richness.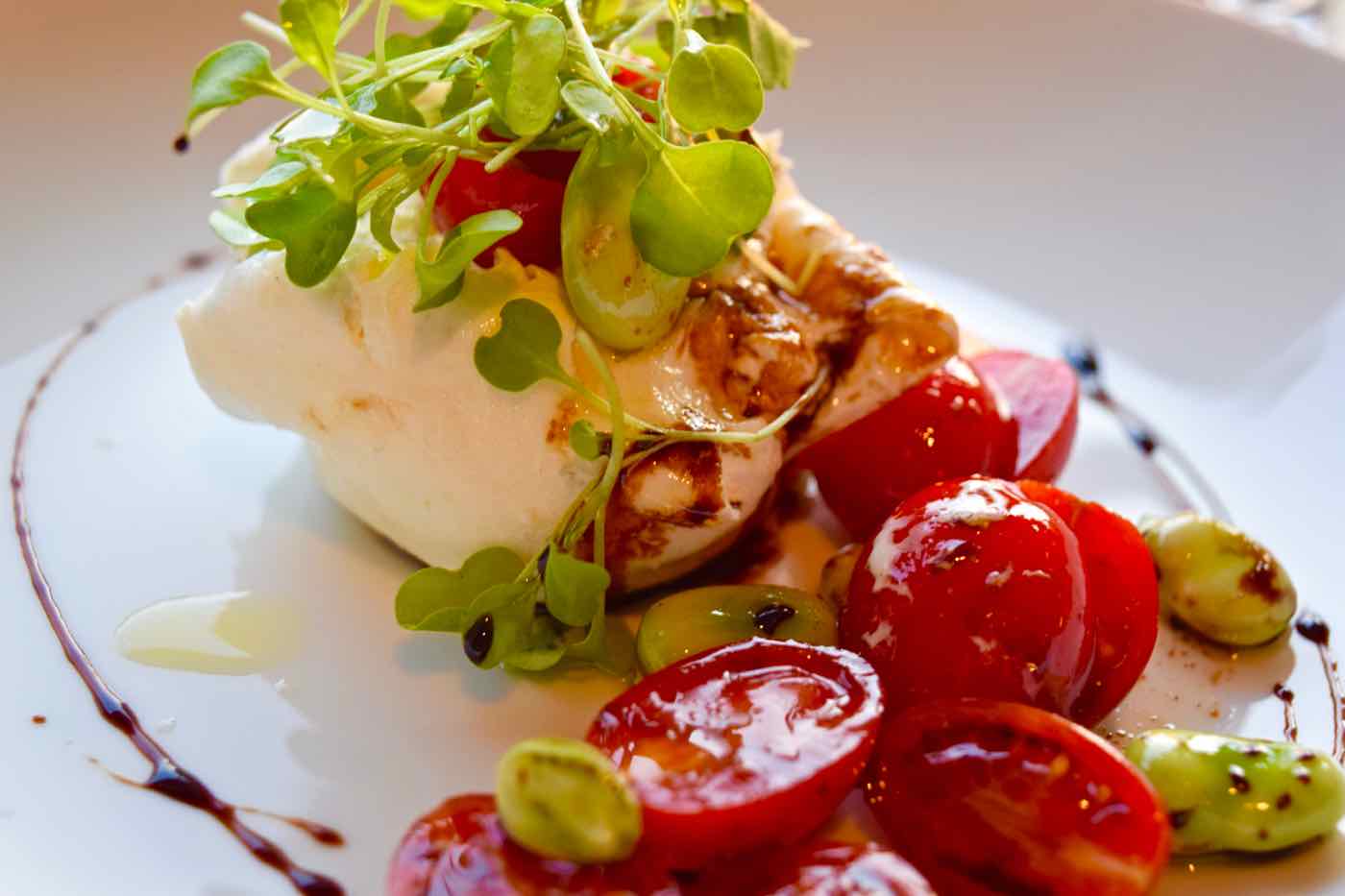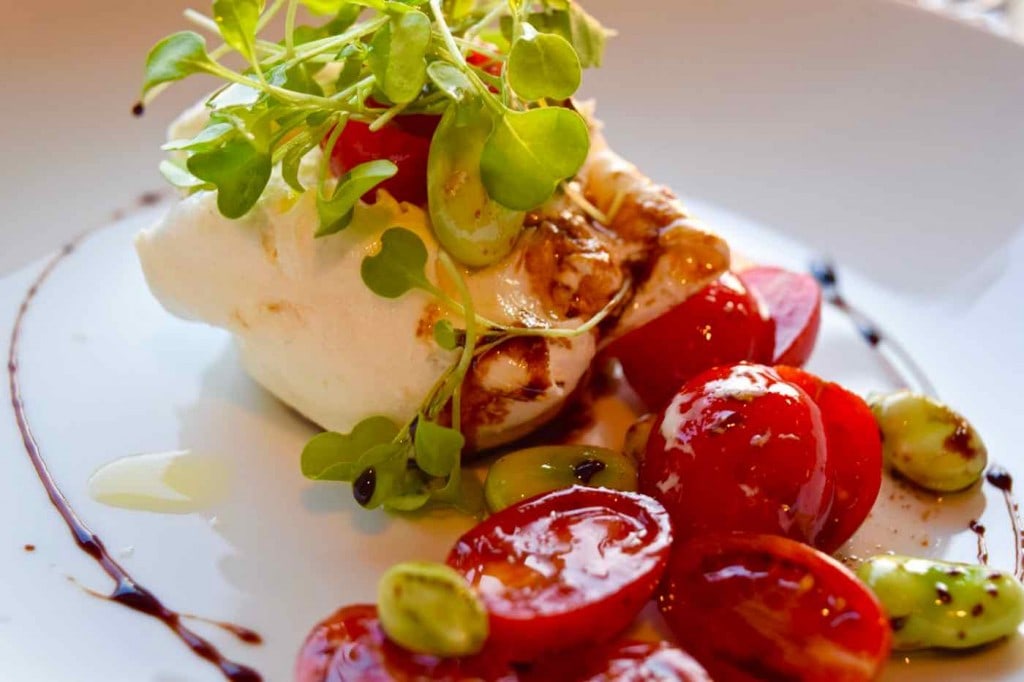 My guest ordered the restaurant's signature dish – grilled octopus. It was beautifully presented, smokey in flavour and came with smoked peppers, potatoes and capers. The octopus was firm, yet still tender – a feat not easy to achieve.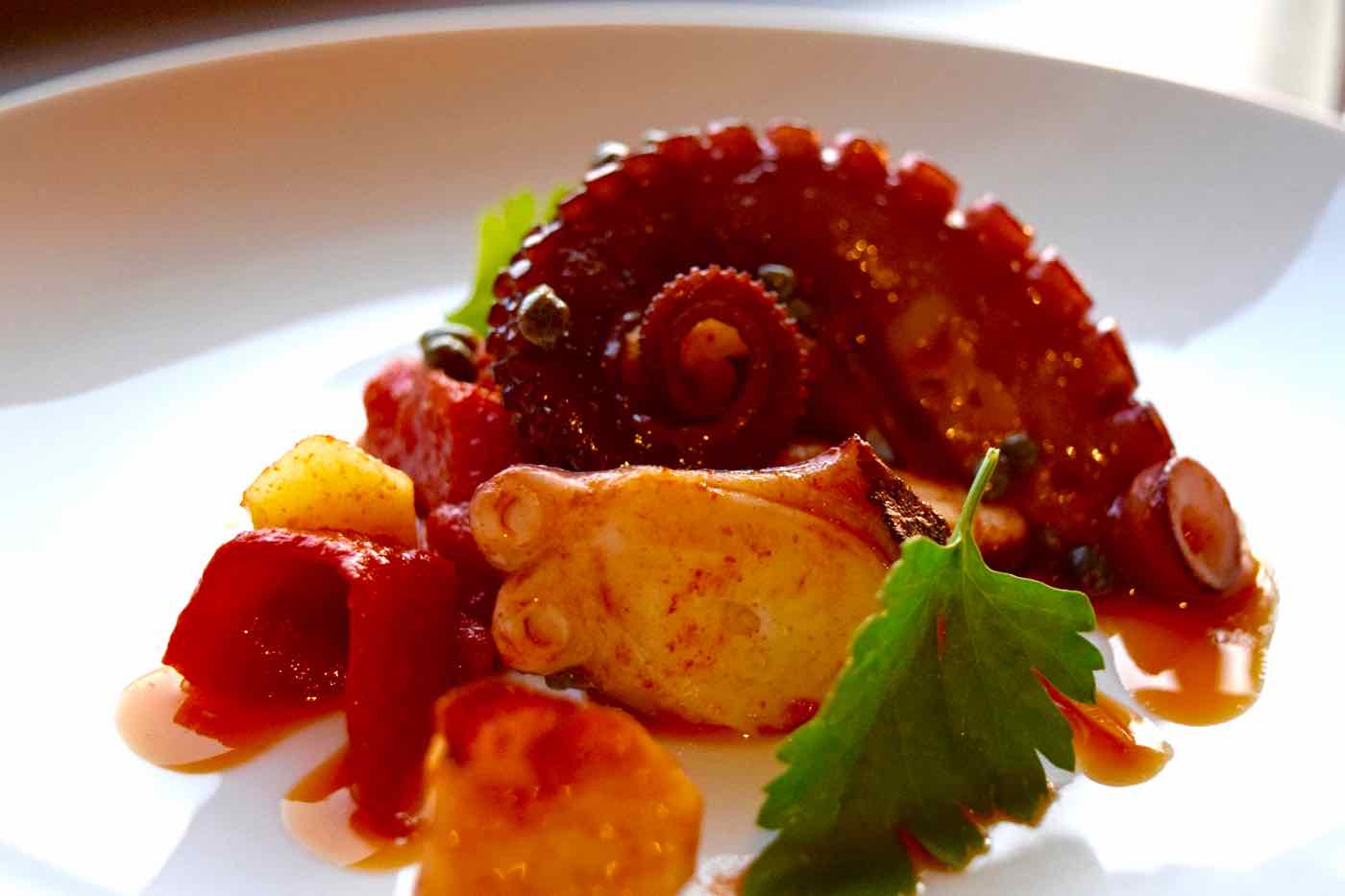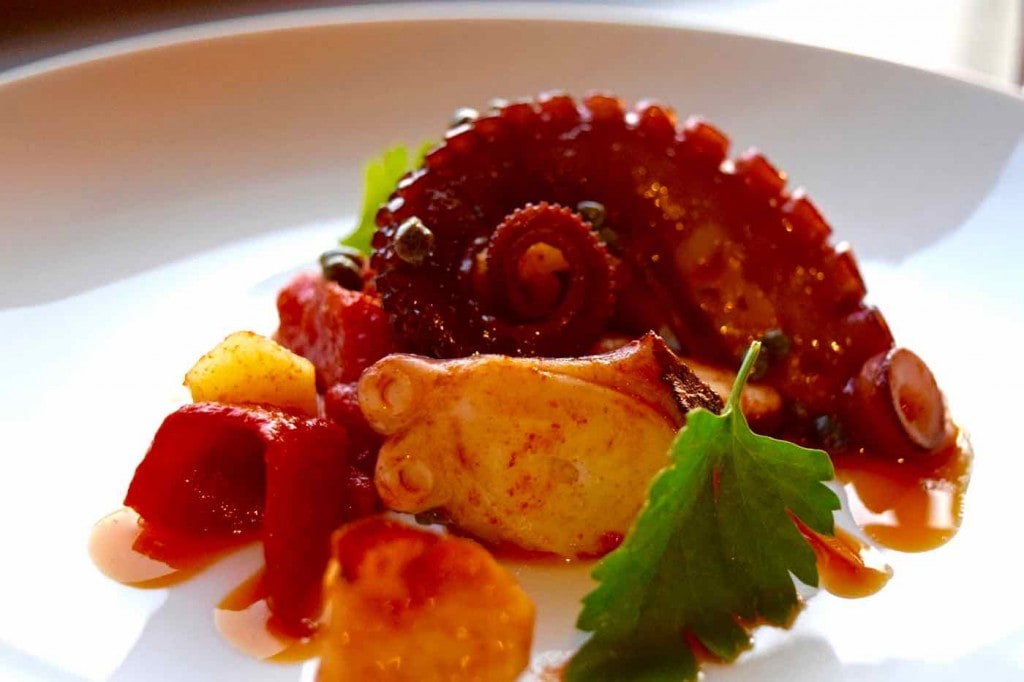 Carnivores dining at Osteria would love the pork T-bone, slow cooked beef in red wine and the saddle of rabbit. We, however, were in the mood for fish. I went for the wild sea bass, which was cooked, to perfection. Served with delicate, violet artichokes, deep-fried crunchy chickpeas and a garlic and anchovy sauce (also known as bagna cauda), it was a delicious plate of food!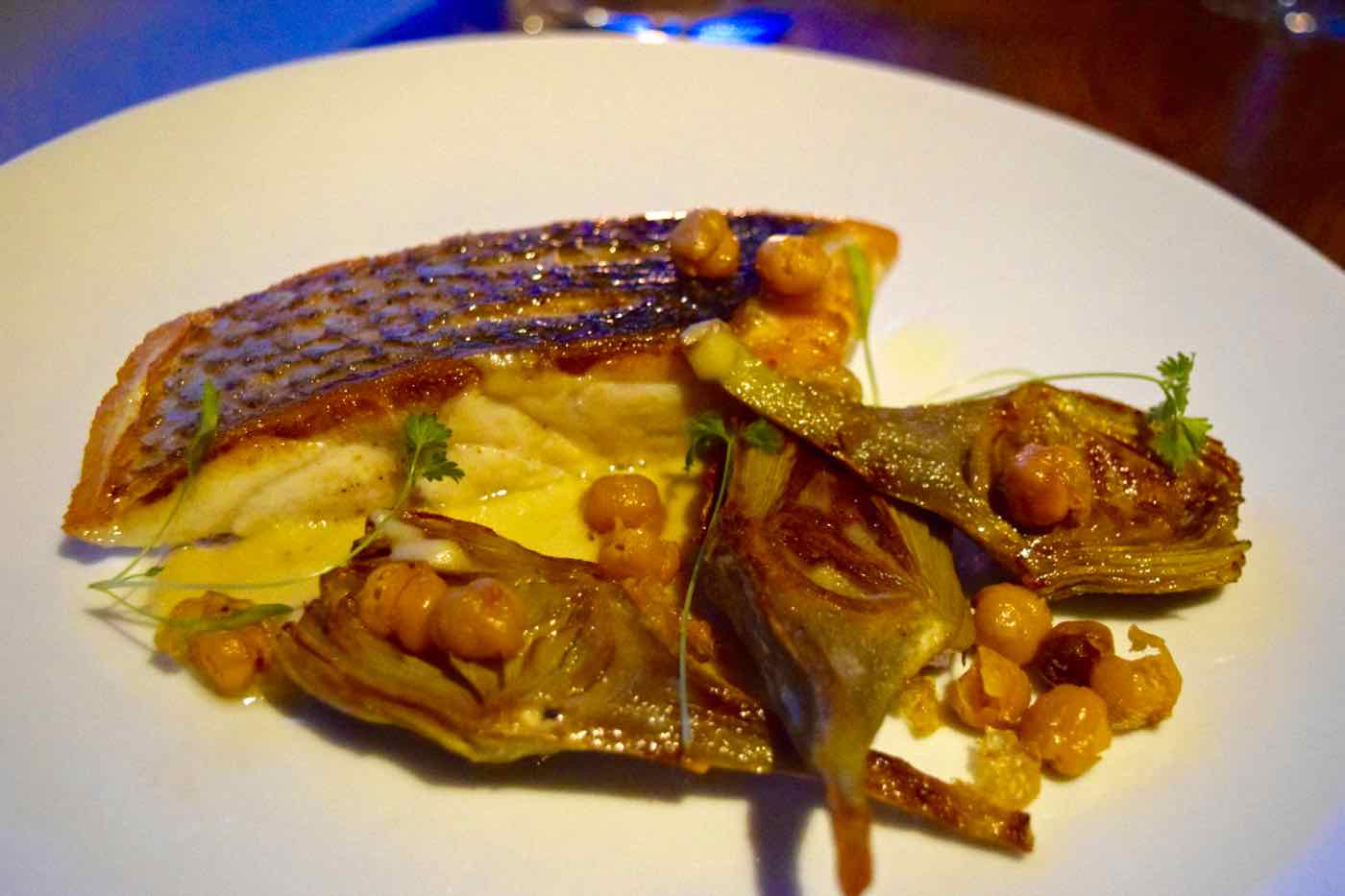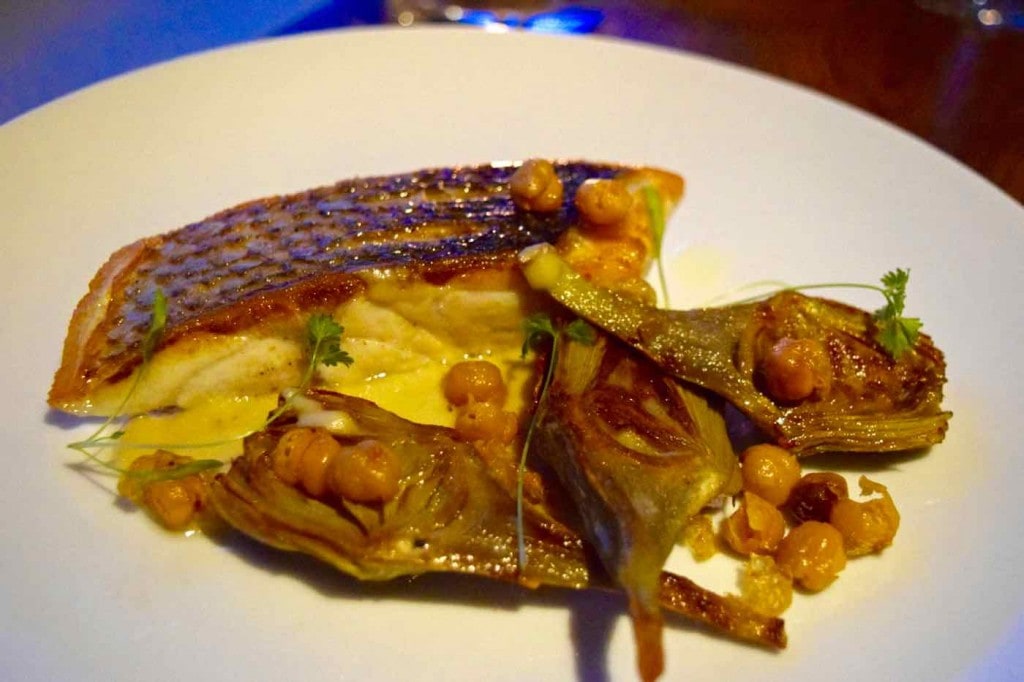 My guest enjoyed the roast cod with mussels, gnocchi and a tomato and citrus peel sauce. The fish was perfectly soft with large white flakes, while the mussels were small yet firm, packing an intense flavour. While not gnocchi fans, we were both converted after these lightly-fried herby nuggets of joy!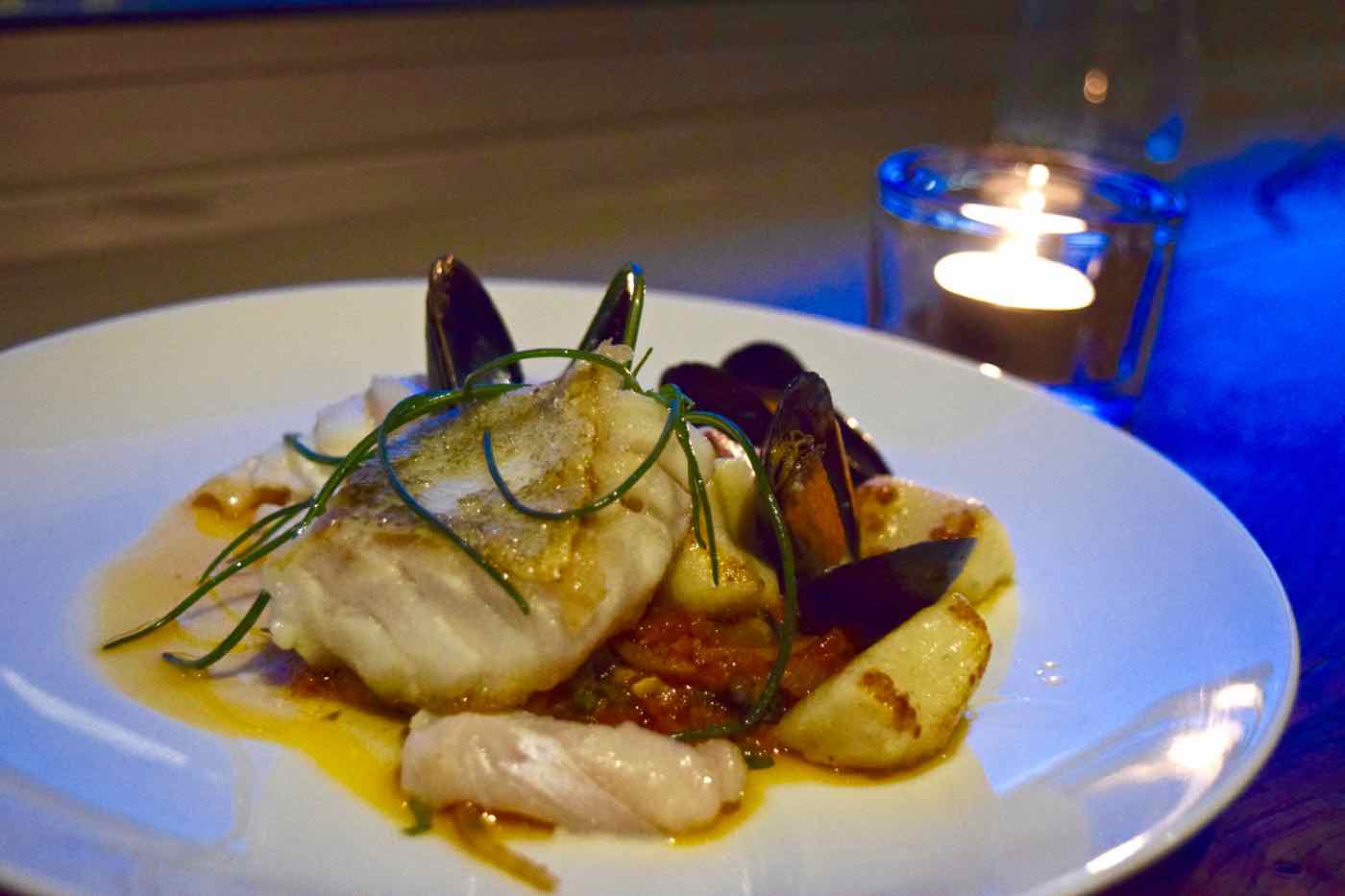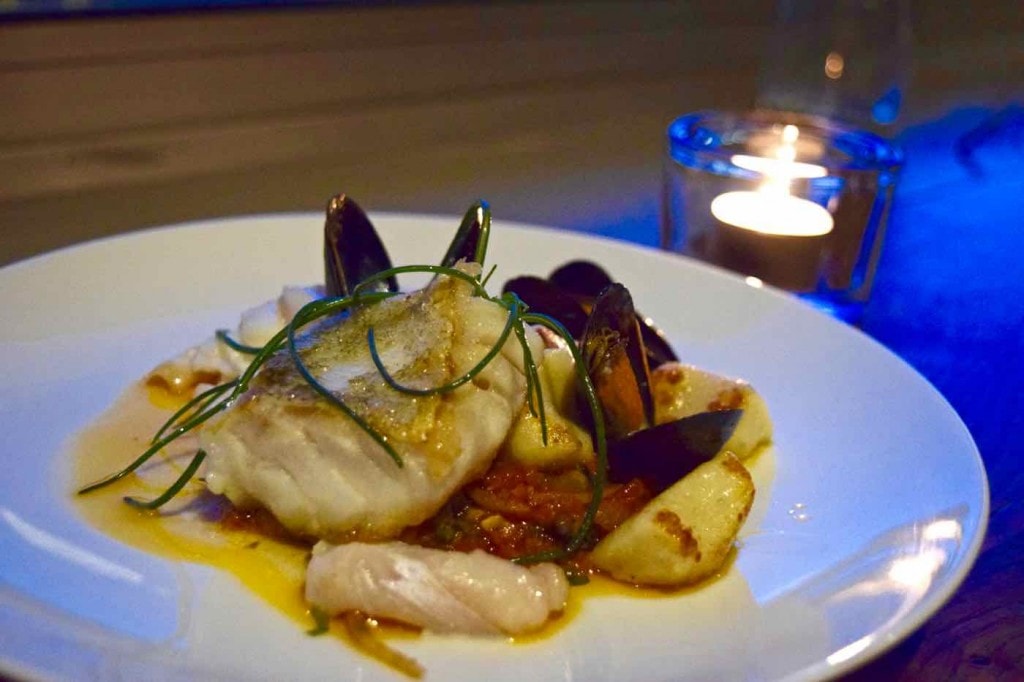 For me, I often feel as excited about receiving the side dishes as the main… and this was no exception. Generous portions of cavolo nero and tender stem broccoli arrived – iron rich, the greenest of greens, and smelling divine. The broccoli was firm but buttery and totally moreish, while the cavolo nero was soft, with little hits of fennel seed throughout – adding an element of surprise to some mouthfuls!
The wine list was lengthy, and offered plenty by the glass (more than the average restaurant). At our waitress's recommendation we tried a glass of red (Le Pincair Montepulciano) and white (Pecorino di Collio Pescaresi) with the red winning with its deep chocolatey flavour!
Service was warm but efficient, and Miharina (originally from Poland) was keen to recommend her favourite dishes and drinks, without ever feeling salesy. The restaurant was run in a slick manner, yet was informal enough to really relax and enjoy the experience.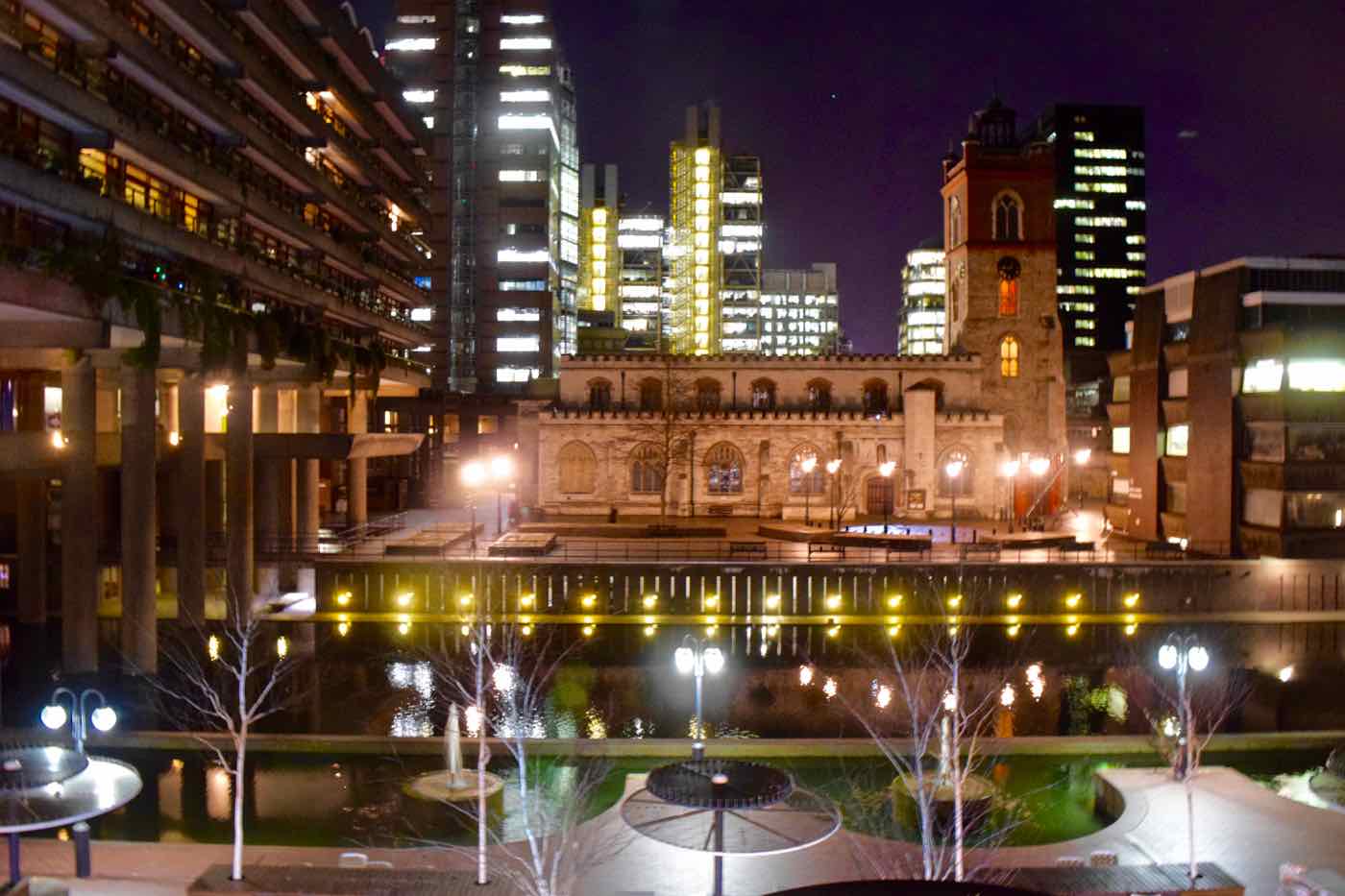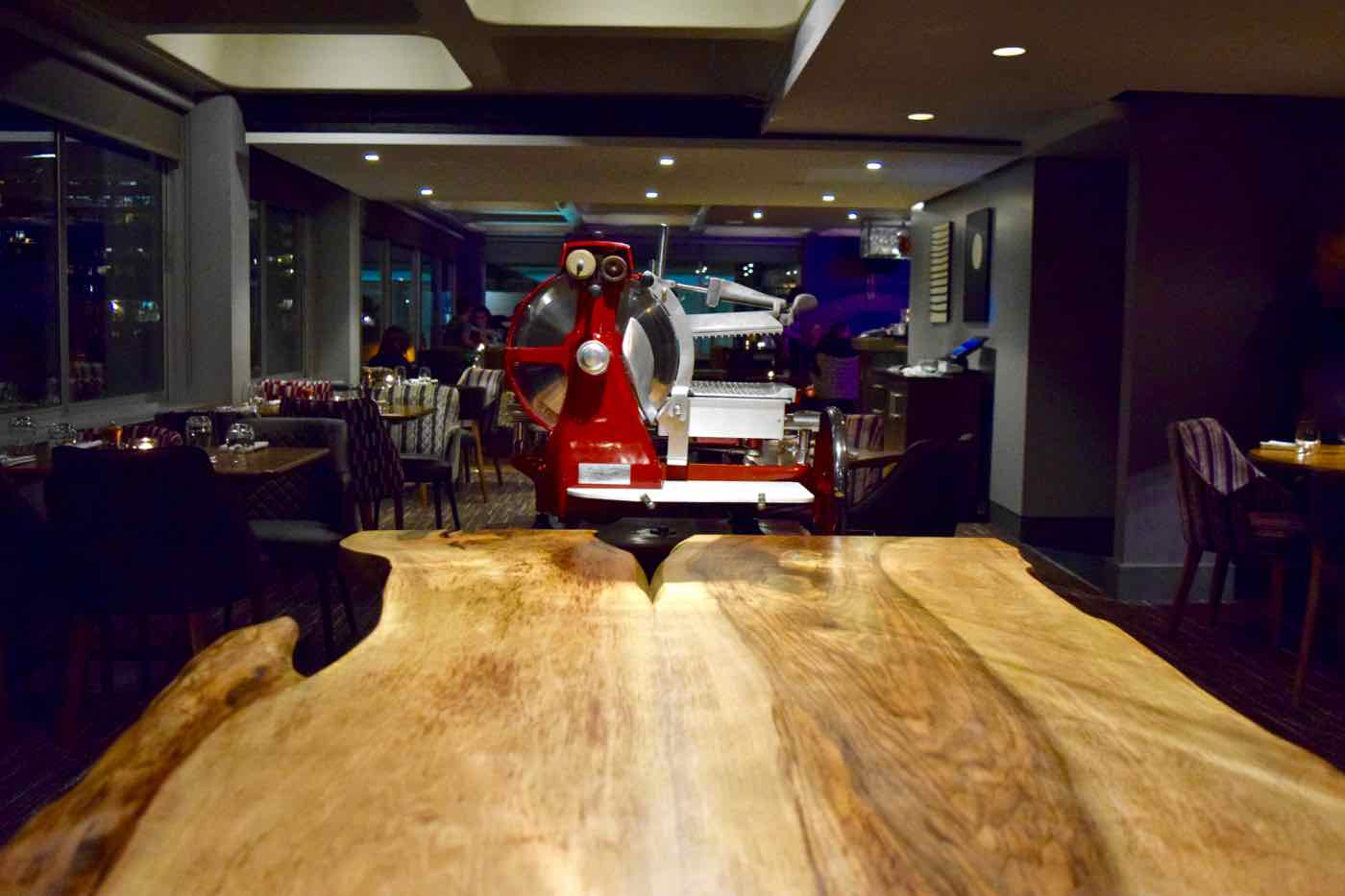 Saving a small space for dessert we ordered a panna cotta with champagne rhubarb and a portion of honey and olive oil gelato. Top marks for both flavours and textures. The panna cotta was creamy with flecks of vanilla, chunks of firm, sharp rhubarb and a scattering of crunchy cocoa nibs. The gelato was velvety, with a few intense hits of olive oil, and shards of salty-yet-sweet honeycomb. It may have glued my teeth together a few times, but it was worth it (just don't tell my dentist!)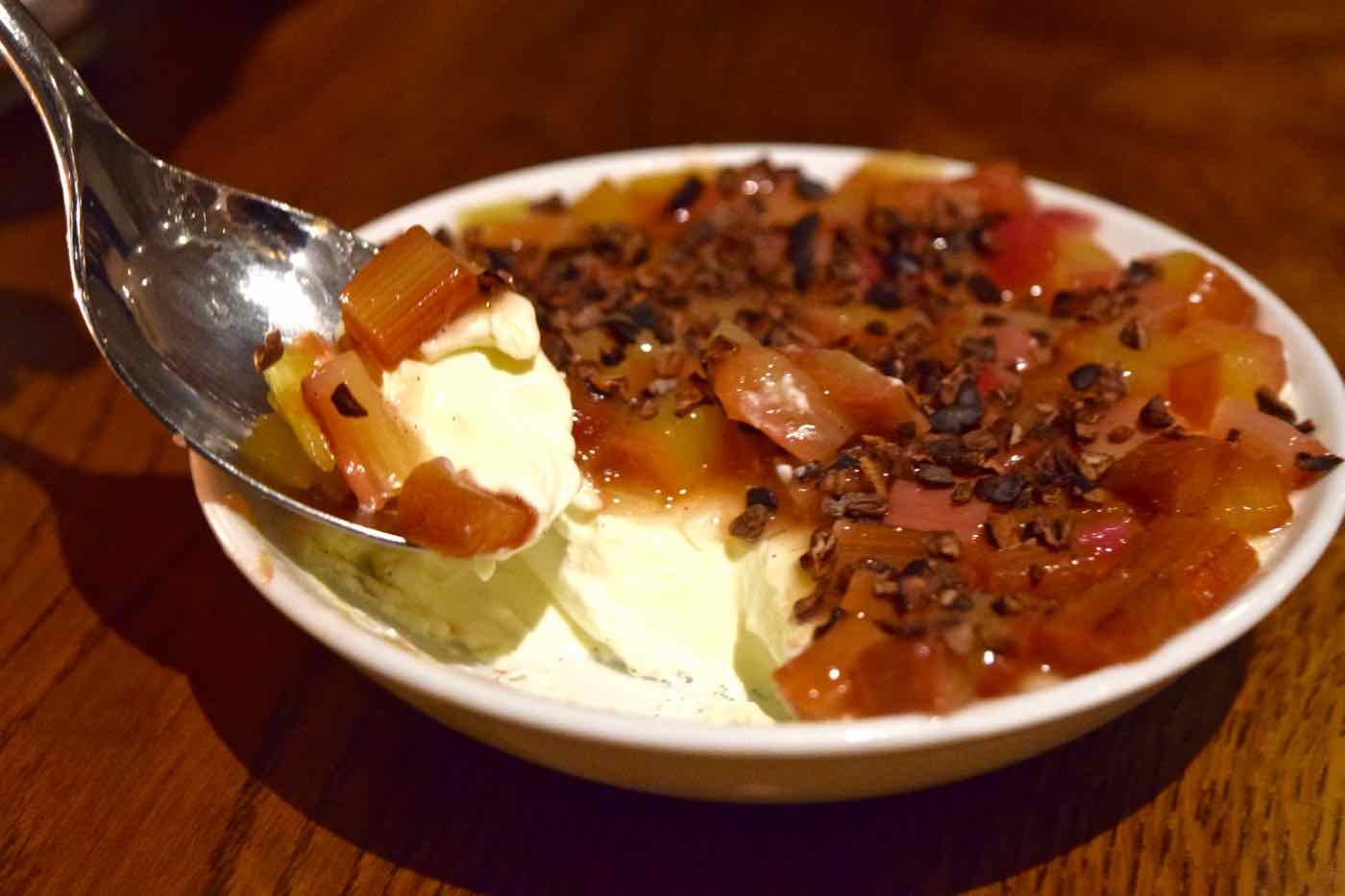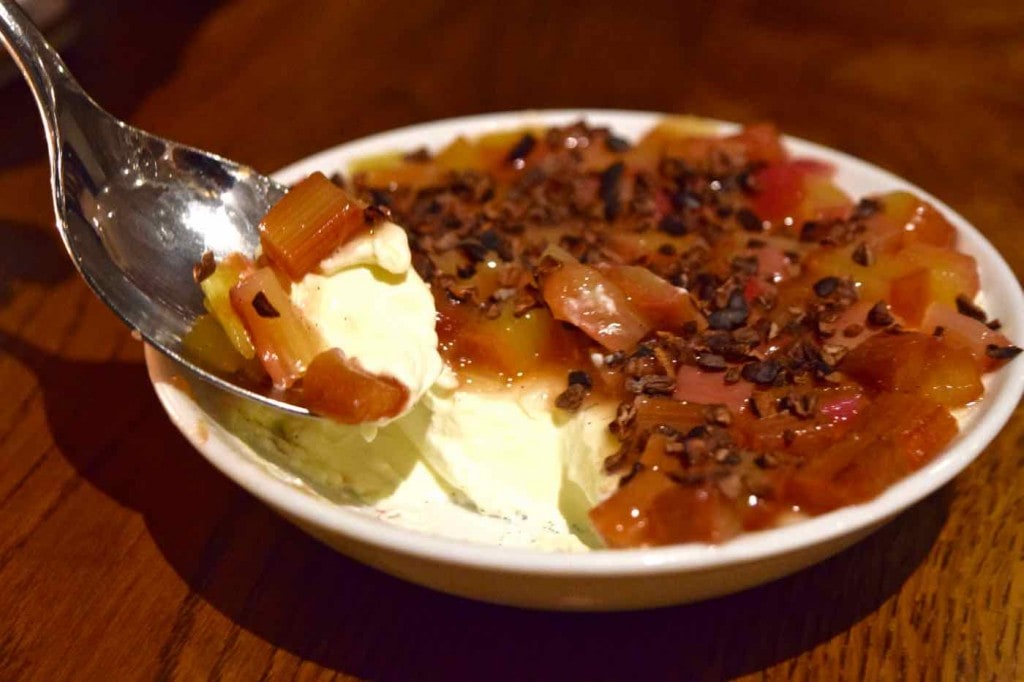 Along with high quality linen, expensive crockery, sophisticated cutlery and a romantic setting, there was a unit featuring wine, and a beautiful handmade wooden table – home to the cheese board and ham slicer for much of the evening. The bar area also had a great buzz to it, with plenty of people stopping by for a few cocktails throughout the evening. A neon sign saying "Amore Bibo" caught my eye, Latin for "I drink with Love".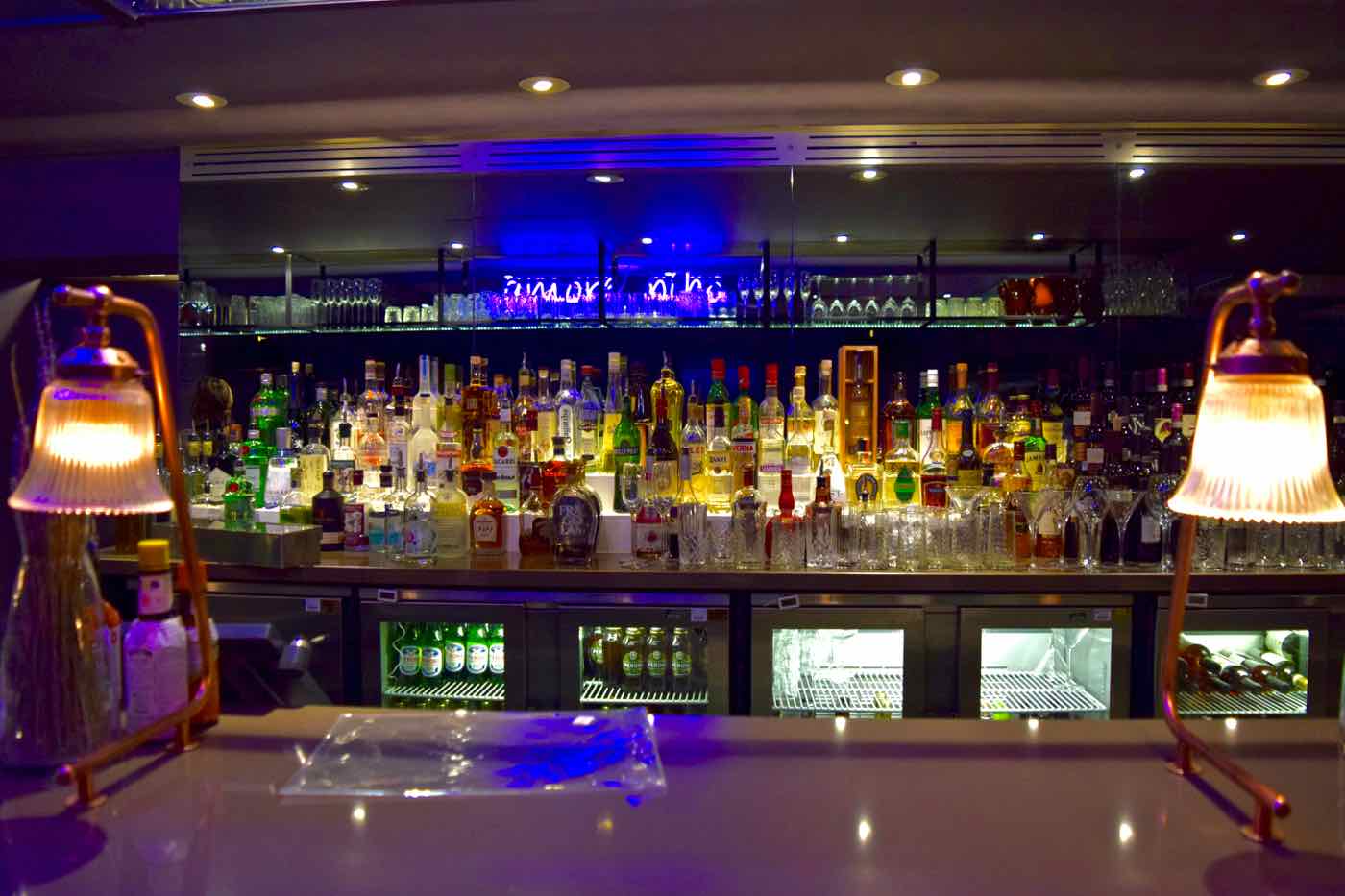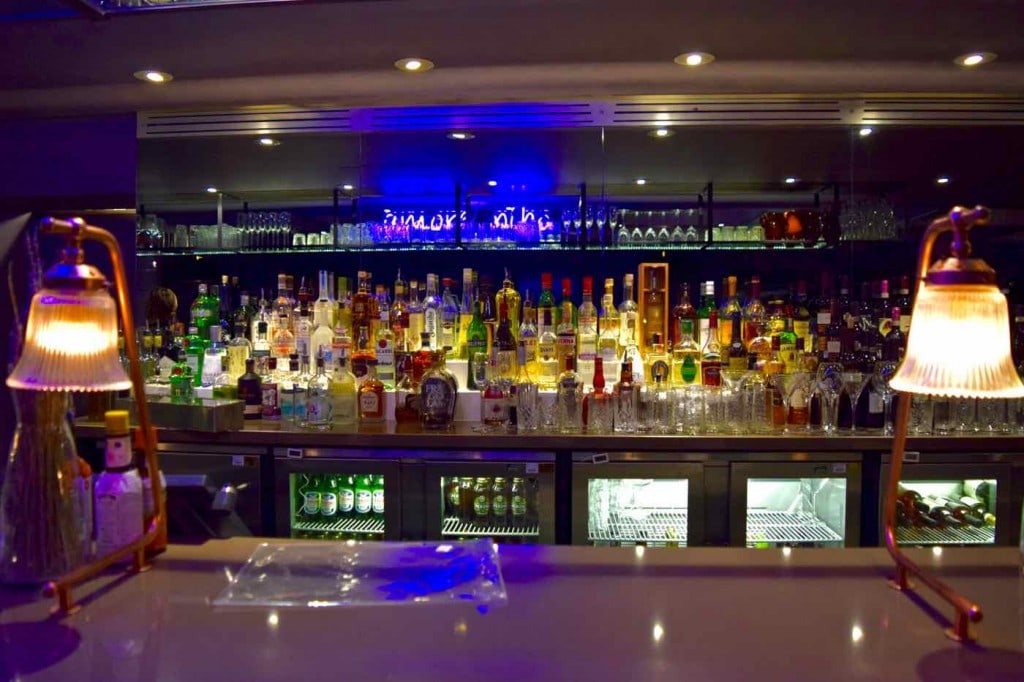 I've been to the Barbican for several concerts in my lifetime, and this restaurant is sure to benefit from the crowds attending the nightly events. However, it's a smart restaurant, with a delicious menu, beautiful view and cool cocktail bar – so why wait until you're going to a concert to visit?
Thanks to Osteria London for inviting me to sample their menu. Find out more about the restaurant here.
Dinner for 2 (3 courses, cocktails and wine) approx. £115.