Time to check out SuperStar BBQ in London!

Hi. My name's Chloe and I love BBQs.
I wouldn't say I'm an addict, but I have a strong appreciation. Argentine BBQs… Aussie BBQs… Brazillian BBQs… Mexican BBQs… even the great British BBQ (usually accompanied by rain and carcinogenic sausages)! They've all been delicious experiences. So, when I received an invite to check out Superstar BBQ – London's newest BBQ experience, I was there in a flash!
SuperStar BBQ is a Korean BBQ, and claims to provide a modern twist on Korean food. With very little knowledge of this particular cuisine, this was going to be a full learning experience.
Located in St Giles, just around the corner from Tottenham Court Road tube station, SuperStar BBQ London sits in good company alongside Brazilian BBQ restaurant Cabana, burger joint Byron and Japanese hotspot Ippudo. It's an area dominated by Google HQ's colourful building, and all the restaurants are super modern, predominantly glass, with quirky lighting, and dare I say it… a few tacky motifs!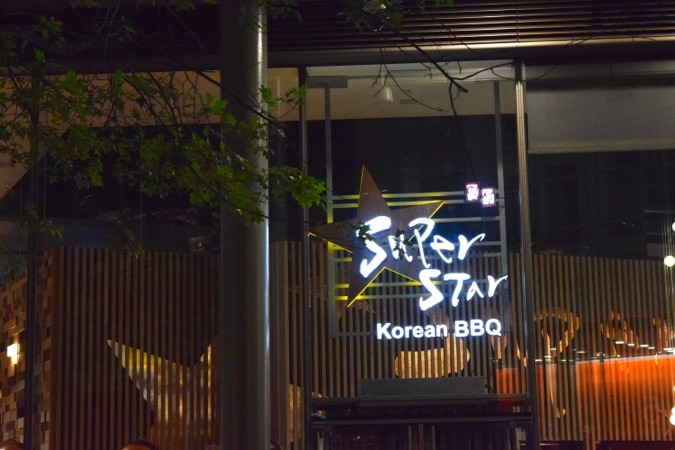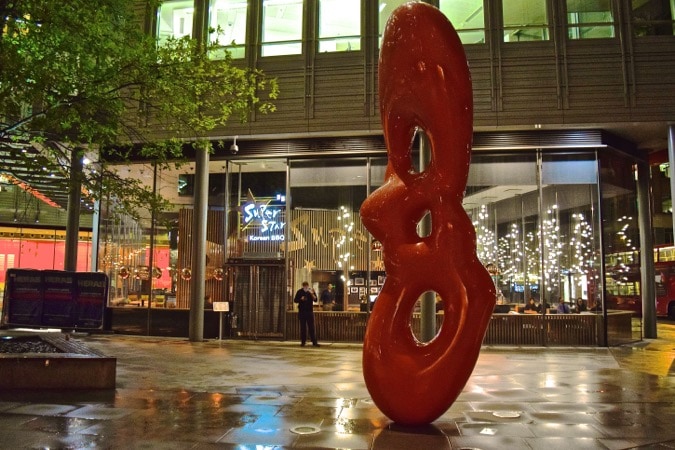 To keep things simple, and hopefully get a well-rounded appreciation of Korean cuisine, a friend and I ordered one of SuperStar BBQ's set menus. I couldn't wait to fire up our personal BBQ in the centre of our table.
We kicked off with some cocktails. I was mesmerised by the bartender shaking, shaking and shaking some more, and what we received was a sweet, frothy, cranberry and raspberry concoction. The sugar dusting around the top of the glasses was an appealing touch and the flavour was reminiscent of my favourite childhood sweets!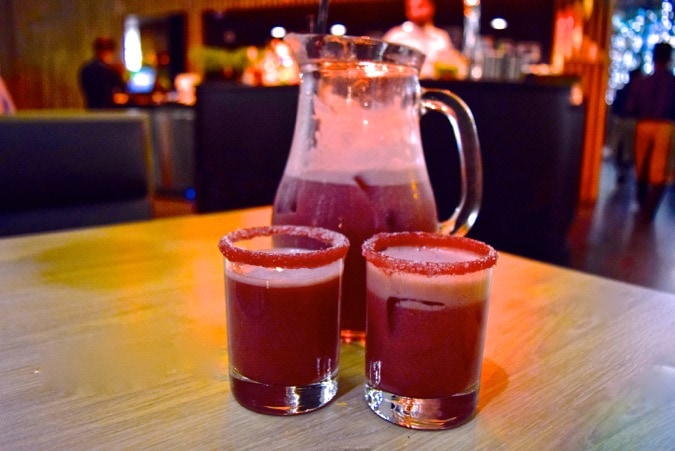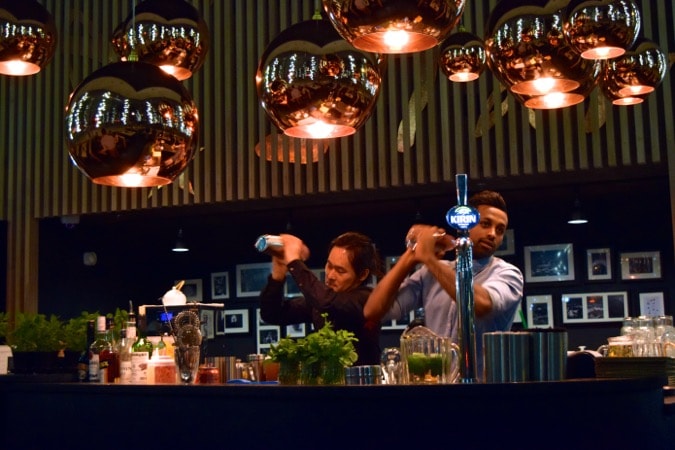 Over the next couple of hours several dishes arrived, kicking off with a flurry of small plates. I learned quickly that Korean's LOVE pickles. The first few plates of kimchi (traditional pickled Chinese cabbage with garlic & chilli), a crunchy beansprout salad and iron-rich spinach were all tasty, with a vinegar kick. They worked well alongside a small bucket of KFC (tongue in cheek name for Korean Fried Chicken)! The batter was light and the sweet chilli sauce was sticky and devilishly moreish.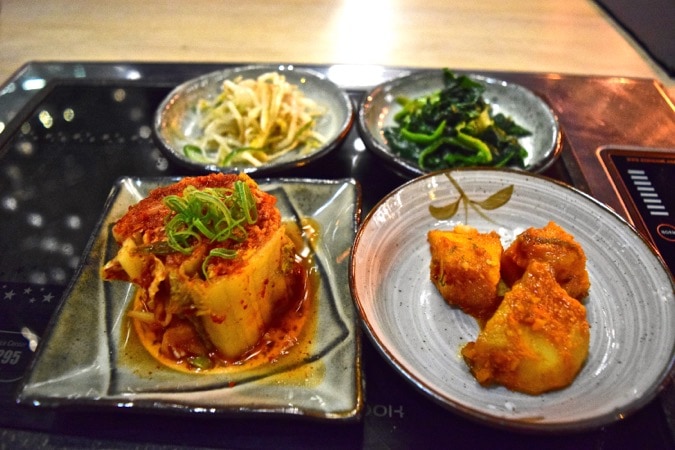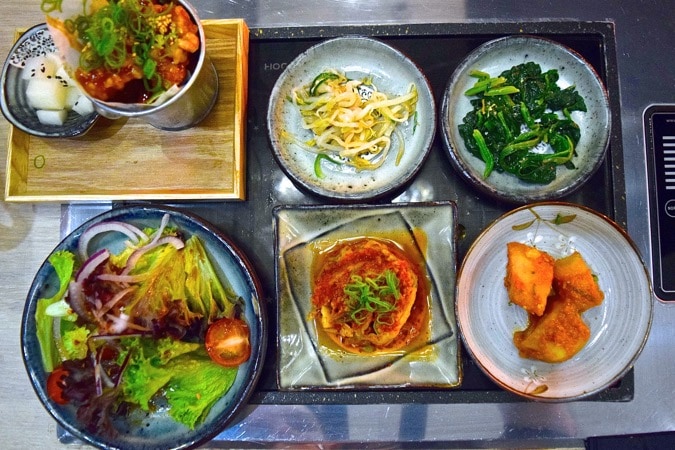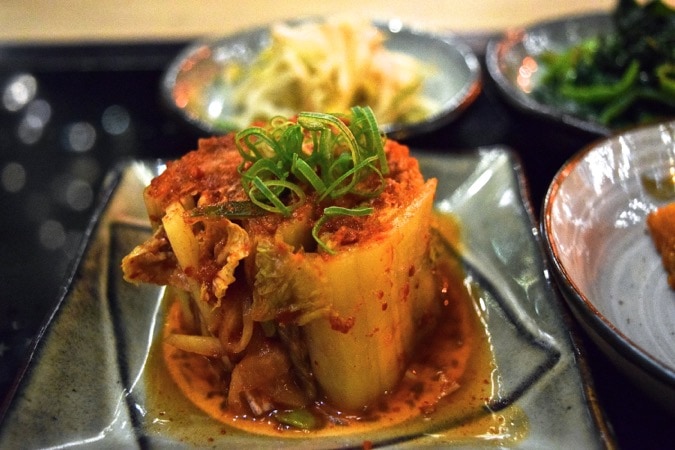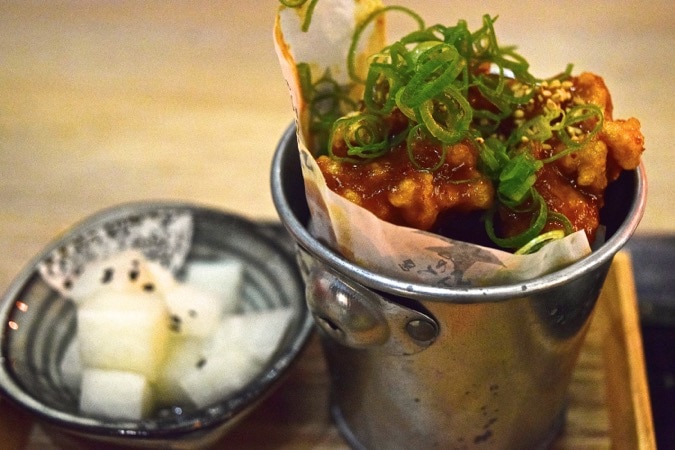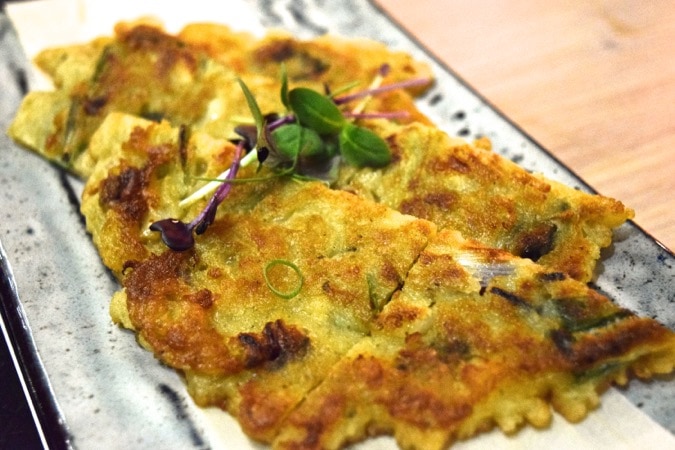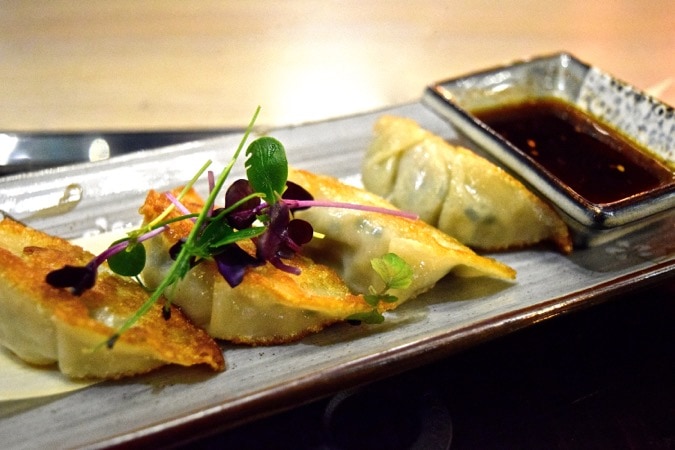 Also arriving, a subtle seafood pancake – somewhere across between an omelette and a crepe – packed with squid and spring onion. A little slice of that with a strong piece of pickled radish worked a treat. The pork and vegetable dumplings were lightly fried with a succulent filling.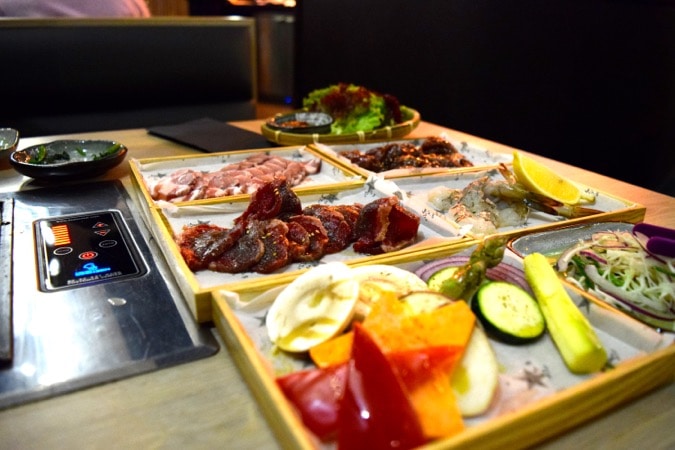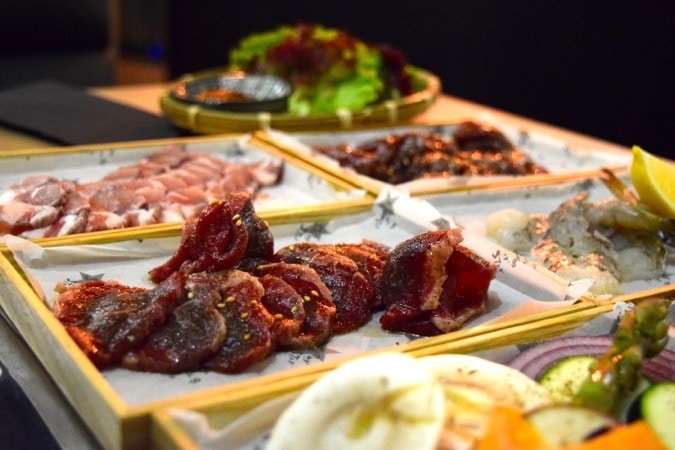 Then, the moment we'd been waiting for – time to fire up the BBQ. Small wooden cases arrived filled with uncooked prawns, marinated beef, pork belly and vegetables. I couldn't imagine what hoops they must have had to jump through when it came to health and safety! But… what fun…During a quick master class from our attentive, friendly waiter, we learned how to cook the meat and seafood, and the traditional way to eat it – wrapped up in a lettuce leaf with miso paste, a crunchy coconut-infused salad, and BBQ sauce.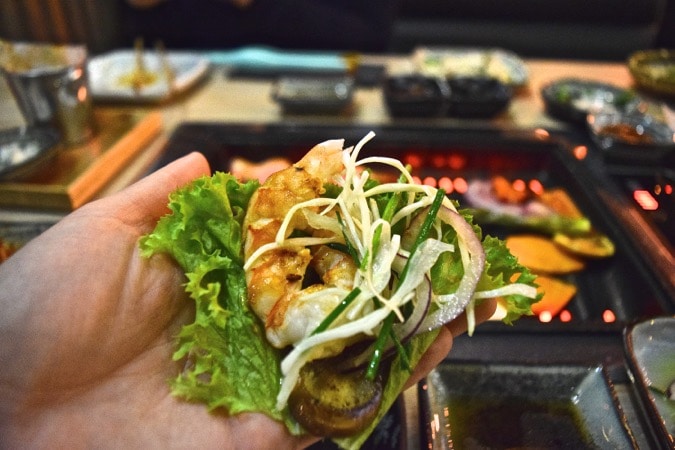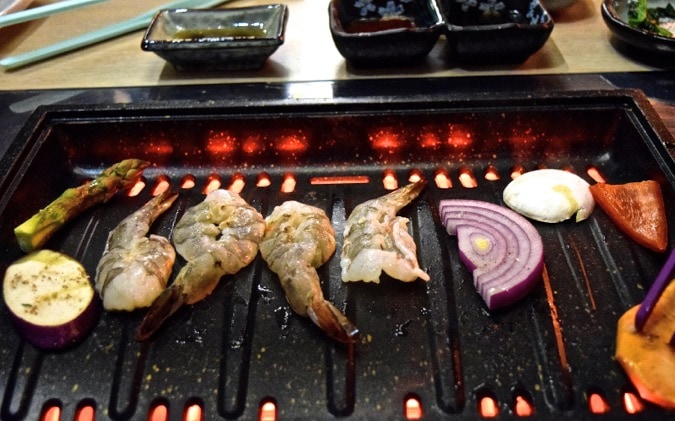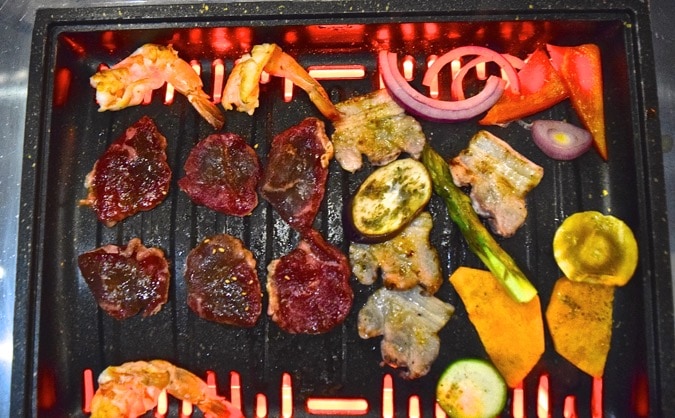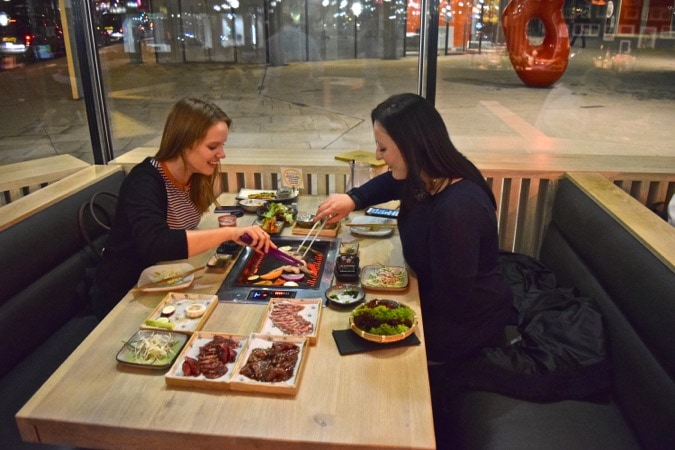 Then, it was then down to us and our cooking skills! We laughed, we panicked, we laughed some more. We asked for advice on whether the prawns were cooked. We virtually incinerated the pork belly. It was hilarious! I loved the teamwork involved and the sharable nature of the food. Large groups sat close by, armed with tongs, enjoying the experience and getting more and more animated as the process went on.Following a short breather, the next course arrived. Alongside miso soup was the bibimbap – a hot stone bowl of rice topped with assorted vegetables. What a pretty, inviting bowl of food – I loved the colours! With a big slathering of spicy sauce, I managed a few mouthfuls, but guess what? I was full…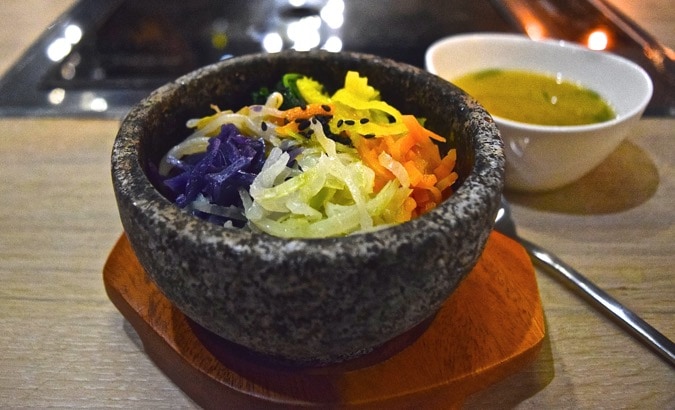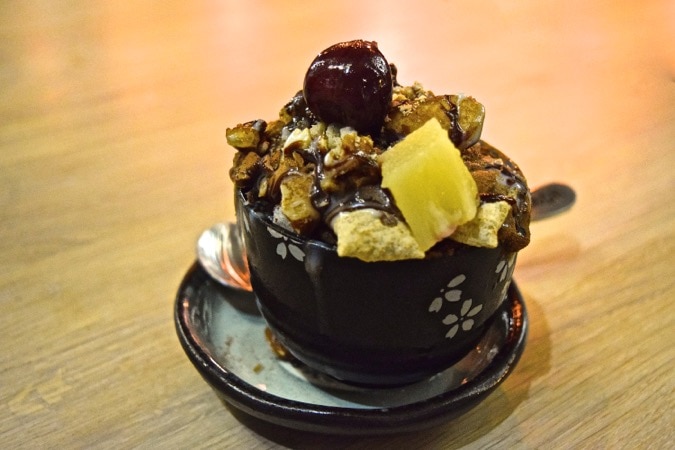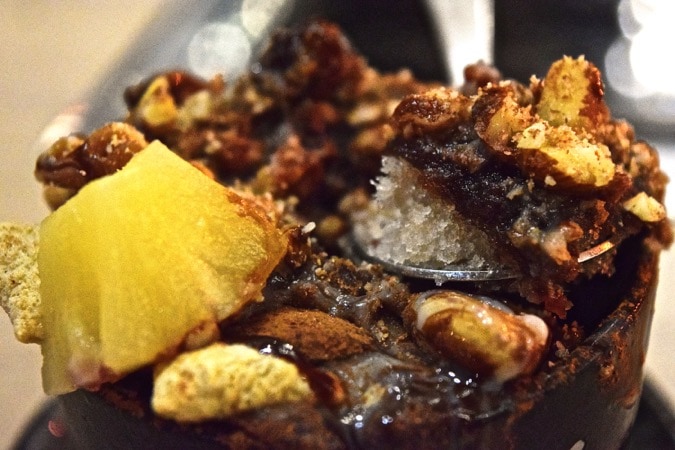 To complete the set menu, a dessert with the enticing name '"The Snowball" arrived. Anyone who knows me will know that I'm not a fan of nuts, but this was a unique dessert I just had to taste! Chocolate, cereal chunks and crunchy nuts topped a bizarre icy mix… which really did have the texture of snow! It was unlike any dessert I've tried before. If it weren't for the nuts (and the fact my stomach was groaning at the amount of food I'd eaten) I would have finished it.
While the food at SuperStar BBQ was by no means gourmet, it was a lot of fun, and for me, sometimes a fun experience beats a gourmet experience. It was certainly one of the most memorable meals I've had in months. Oh, and I can officially say… I STILL love BBQs.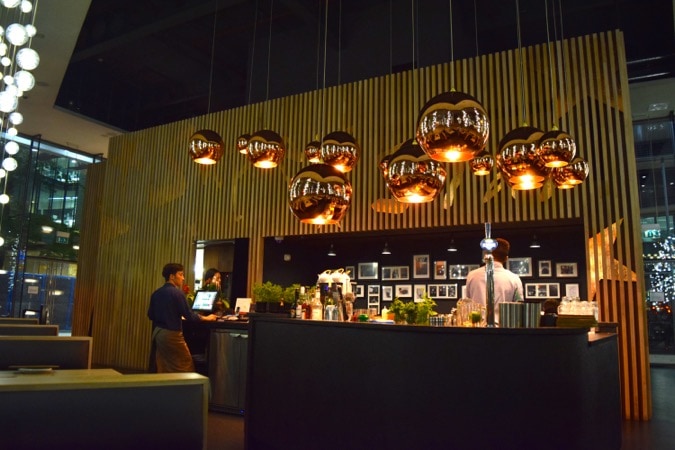 Dinner for two, with drinks, came to £85. Find out more about SuperStar BBQ here.
Thanks to SuperStar BBQ for inviting me to dinner. As always, opinions are my own!