A very special dinner at Vapor Restaurant in the Hotel Bellevue, Dubrovnik.
"And here's the elevator to the beach…"
Not something you hear every day… but then again, it's not often you spend your day exploring Dubrovnik's ancient city walls, and then pop for dinner at one of Croatia's most exclusive restaurants.
Vapor Restaurant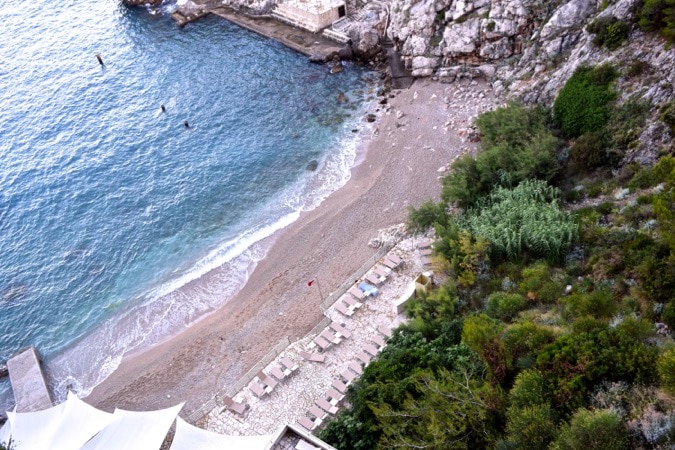 is a part of Hotel Bellevue, one of the Adriatic Luxury Hotels, and is located just 15 minutes walk from the famous old town. Head chef Saša Računica's spends his days reinventing traditional Croatian cuisine, adding exciting twists, and combining unexpected flavours.
Hotel Bellevue is a unique hotel, built right into the cliff edge. It was described as a small hotel, although with 91 rooms, it's not on the boutique level of many of the small hotels within the old town such as The Pucic Palace.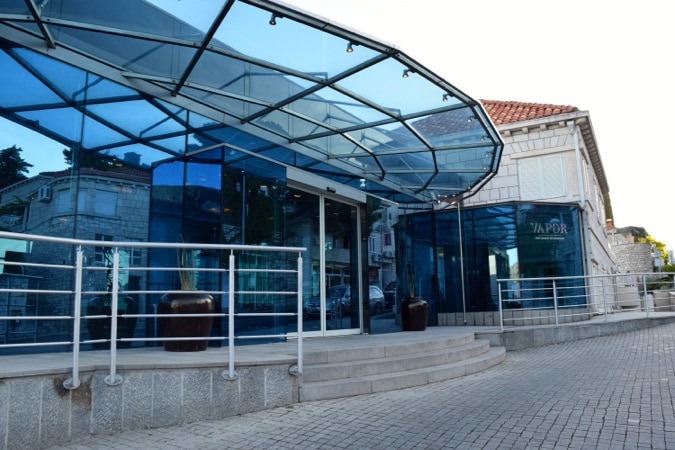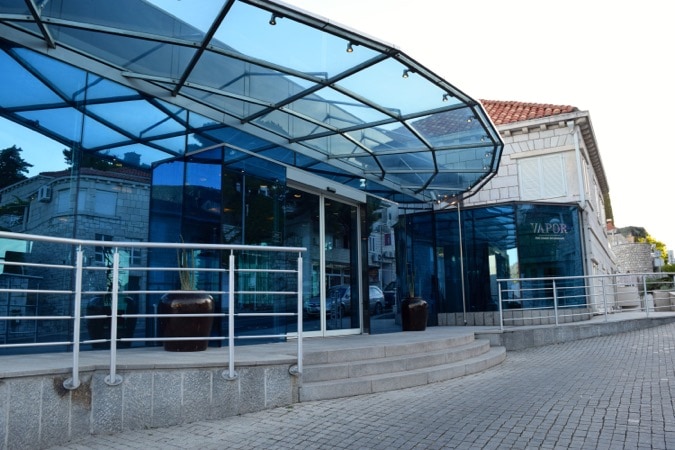 Before dinner I checked out both a deluxe and executive room. They did not disappoint – how could they when every room has THAT view? Yes…. The sea view, usually sought after when booking a room, but at this hotel, it comes as standard.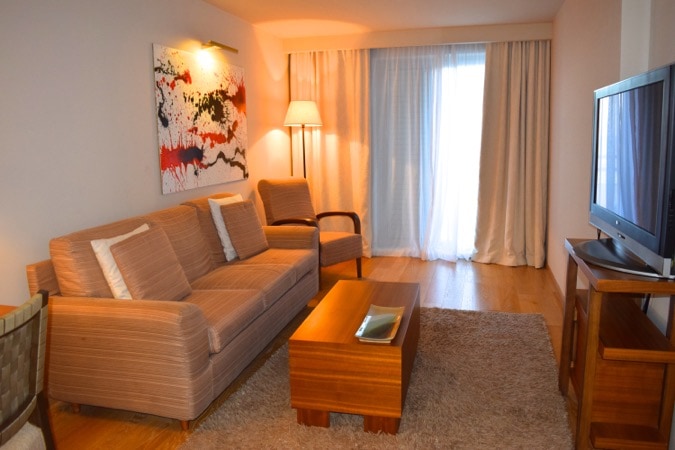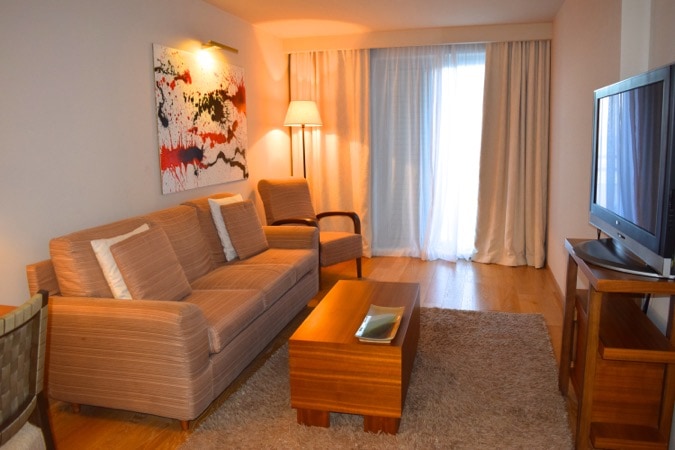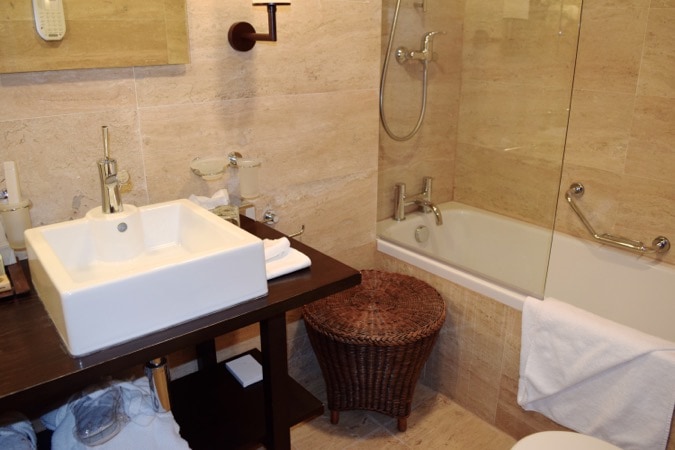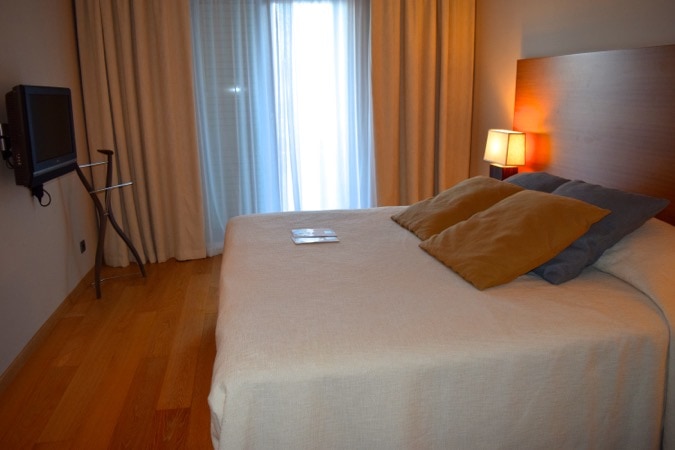 With a private sundeck above the beach, a spa with jacuzzi and indoor pool, and Vapor restaurant serving award winning food, it's fair to say this is one of Dubrovnik's top hotels.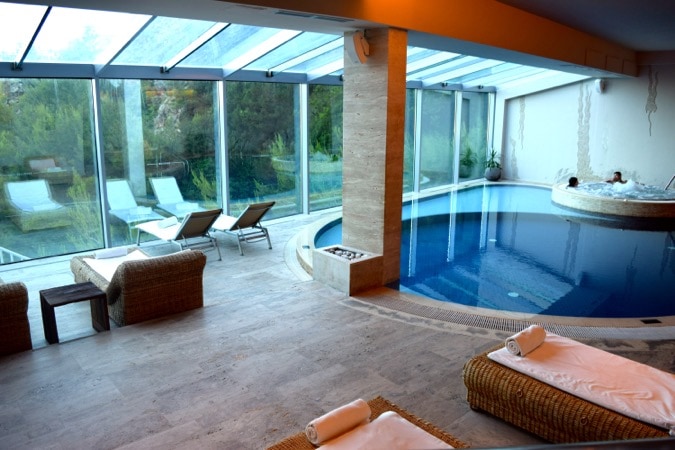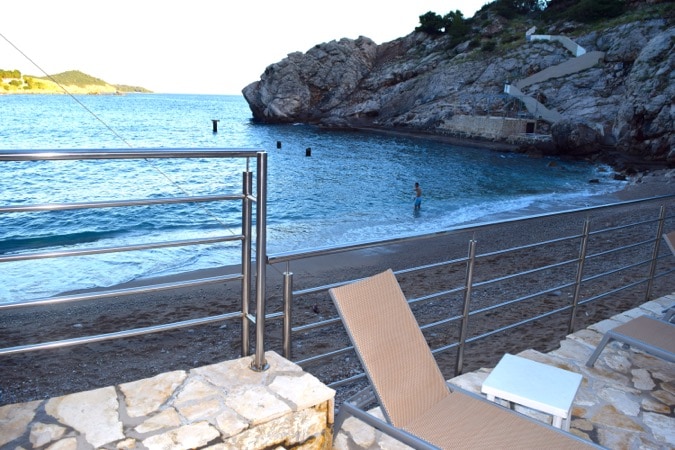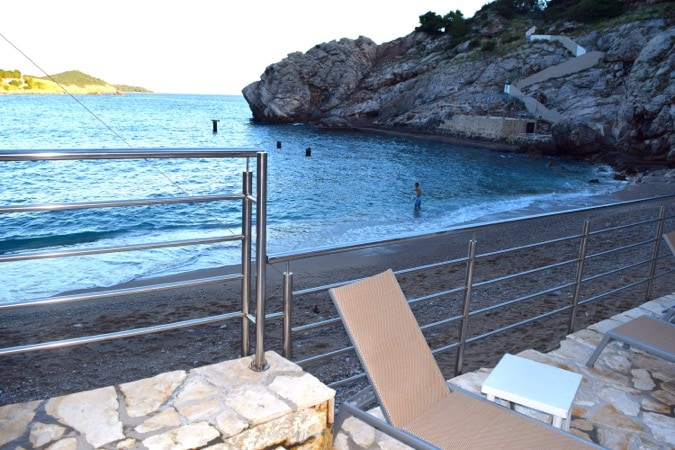 Maître'd Ivan greeted me and showed me to a table on Vapor Restaurant's terrace. Nearby in the bar area, a duo played relaxing songs on keyboard, saxophone and flute, with ambient noise from the waves below.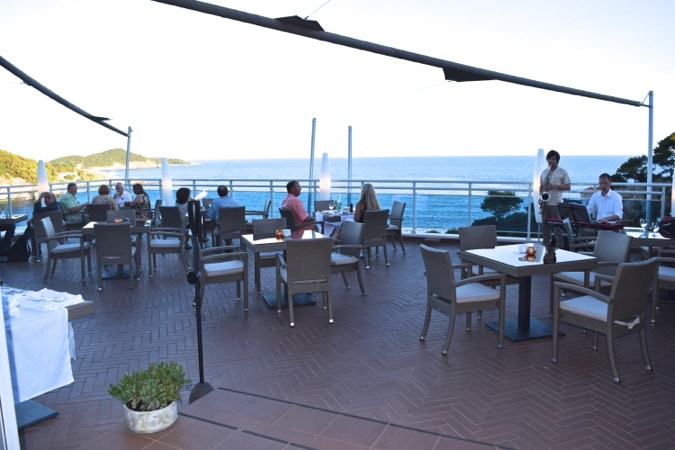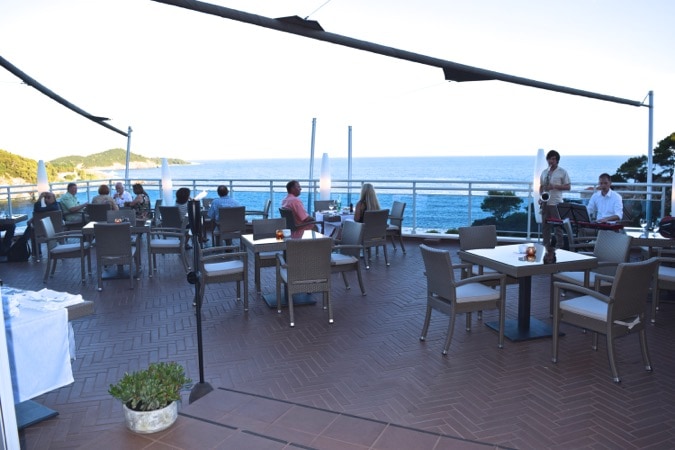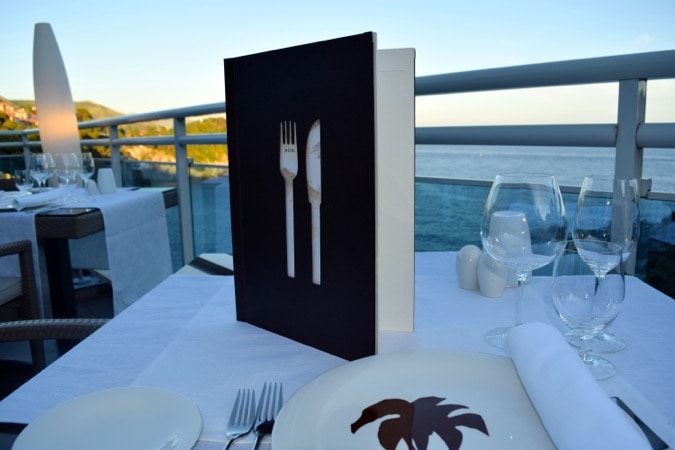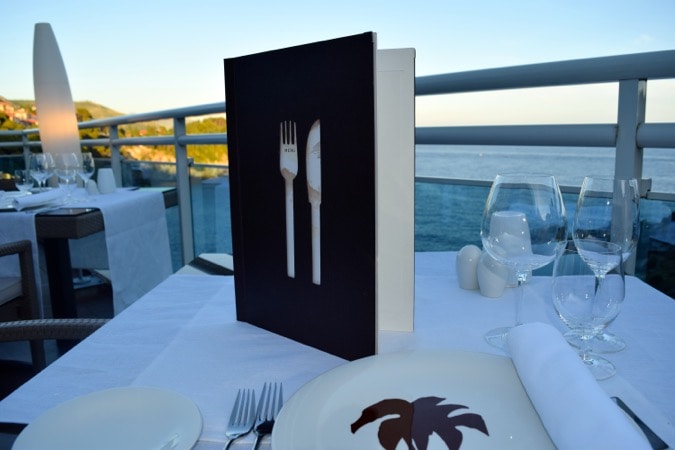 The menu was pure luxury – with plenty of truffle, fresh seafood and expensive cuts of meat. While trying to decide what to indulge in, I sipped on a delicious gin cocktail flavoured with lemon and basil. It was accompanied by an amuse bouche of poached salmon and a selection of freshly baked breads and locally produced olive oils. I struggled to concentrate on the menu, distracted by the sunset and colourful trails in the sky.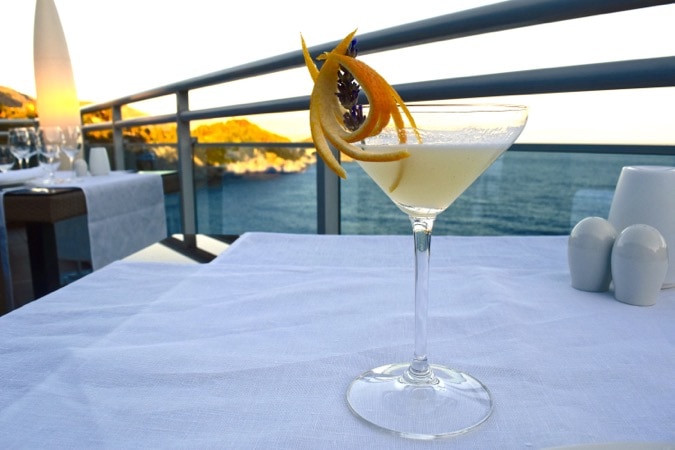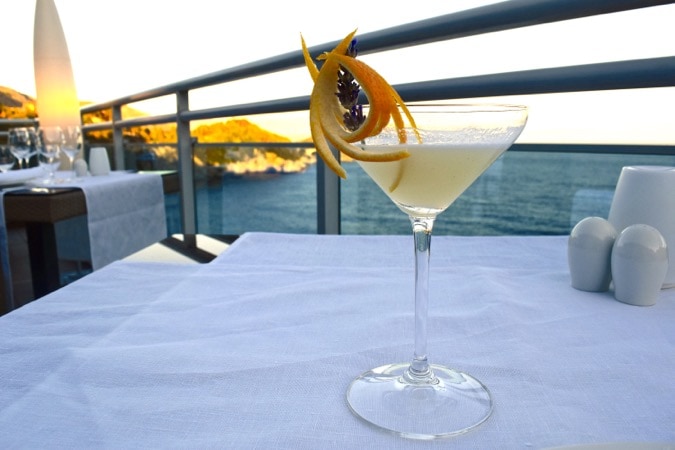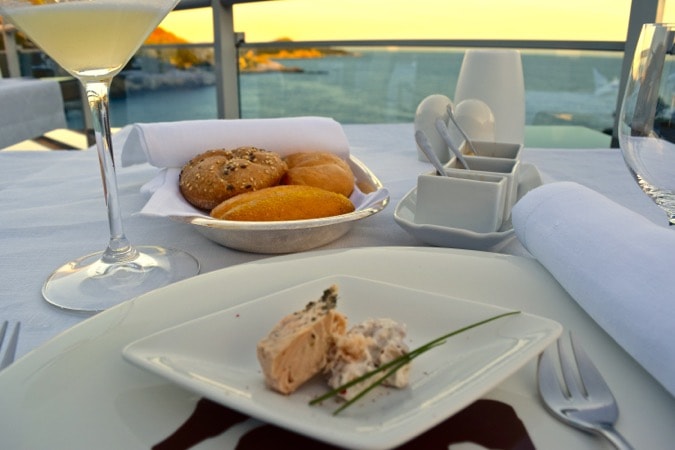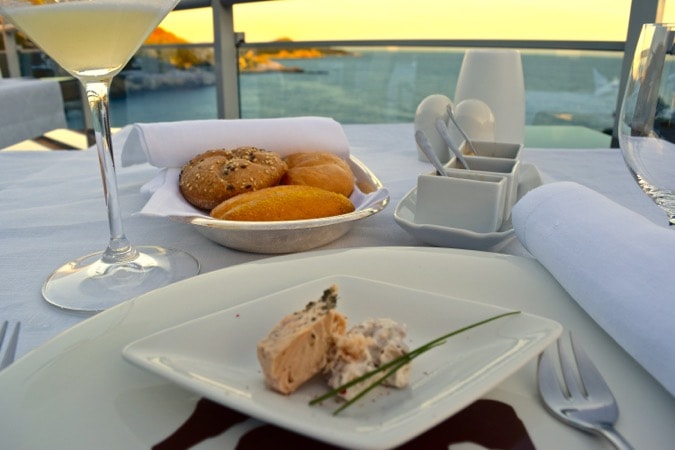 I ordered the asparagus soup to start, followed by the prawn salad with squid ink polenta, and then the beef Rossini. After hearing so much about Crotian wine (yet never seeing it on a menu in England) I was keen to see how it compared to the more commonly exported European wines from France, Spain and Italy.
The asparagus soup arrived – pastel green and beautifully garnished. It was rich and creamy, with a powerful punch of my favourite vegetable. The Pošip (local dry white wine) was light and refreshing, cutting through the richness of the soup perfectly.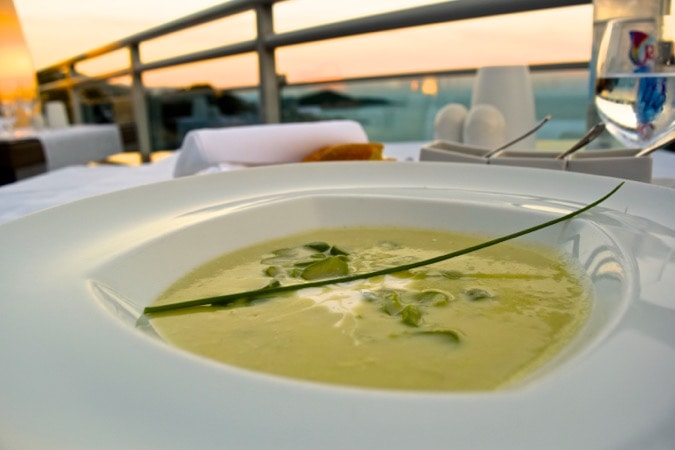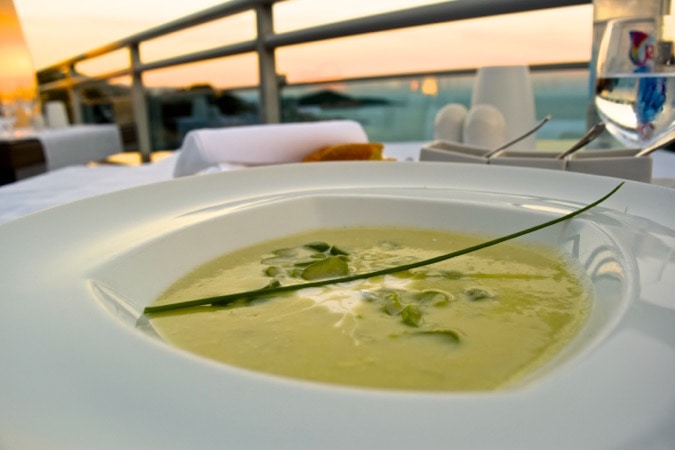 The grilled prawns were delicious, and came with tangy cherry tomatoes and a dense, black polenta. While I found the polenta a little on the heavy side, I enjoyed the intense kick of rosemary.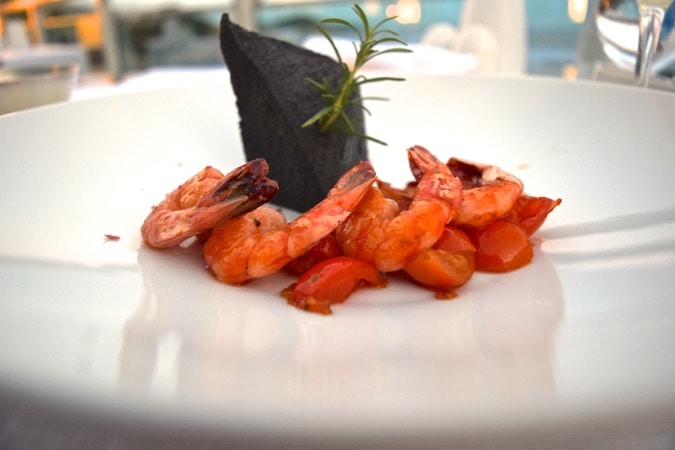 I chatted with Ivan, who was keen to tell me about the local delicacies, the hotel and of course, the wine. As I gazed out at the calm Adriatic sea, I said "I feel like I'm in a fairytale". "Like a middle aged princess" commented Ivan with a wry smile on his face. Middle aged I thought? Huh!
There was little time to hang on his words as out came one of the most luxurious dishes I've ever been presented with. The beef Rossini (cooked medium) was wrapped in crispy Dalmatian ham, with truffle shavings, buttery carrots, asparagus topped with Parmesan, potato dauphinoise and a delicious scent of rosemary and truffle. It was all absolutely heavenly, but unfortunately, it beat me! Dingač was the wine of choice – a red wine made locally, which would certainly stand up against Riojas and Malbecs.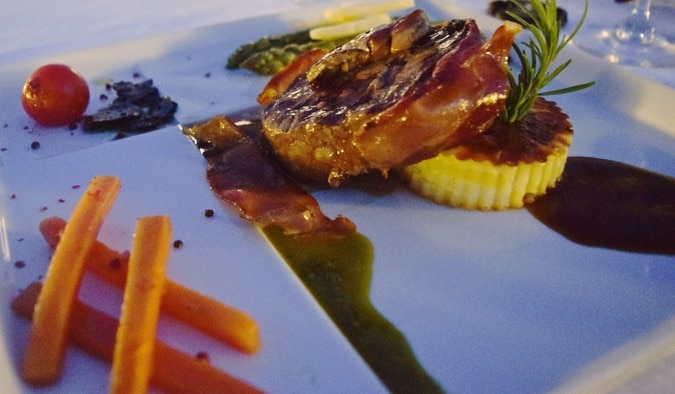 I enjoyed maître'd Ivan's recommendations – always basing his suggestions on personal taste and style, rather than price. The service was impeccable, but not stiff – there were friendly jokes, and while I sat alone, I didn't feel lonely.
As I started to think about rolling myself back to the old town for a well-earned rest, out came a warm chocolate soufflé, pistachio ice cream and a Hungarian dessert wine. Well, of course I can find a bit more room if there's a chocolate soufflé to sample! It oozed – a mix between death by chocolate and a liquid lava cake.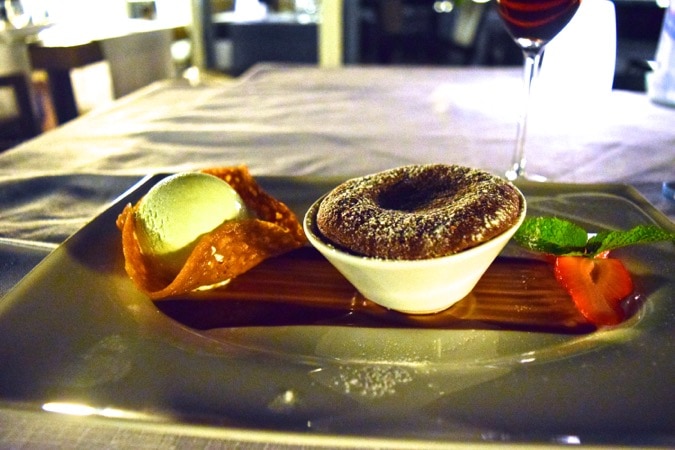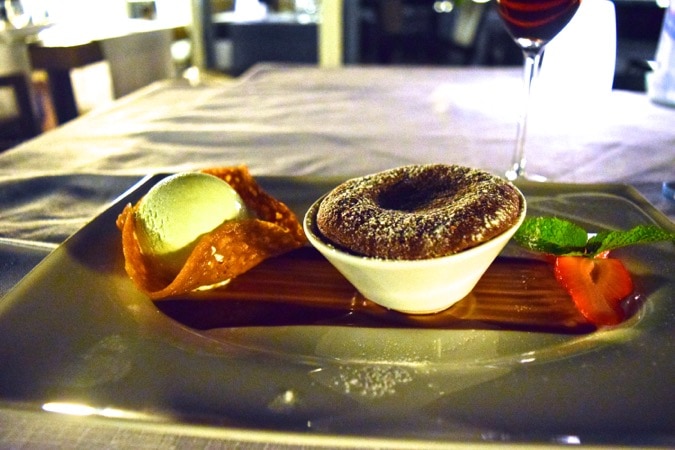 It was finally time for the middle-aged princess to leave her fairytale dinner, and return to her ancient castle… where hopefully Prince Charming would be waiting.
TIPS: If you visit Vapor Restaurant, book a table on the terrace so you can enjoy the sunset (which was between 7.45 – 8.30pm when I visited in June). Definitely sample some of the local wines, particularly the Dingač.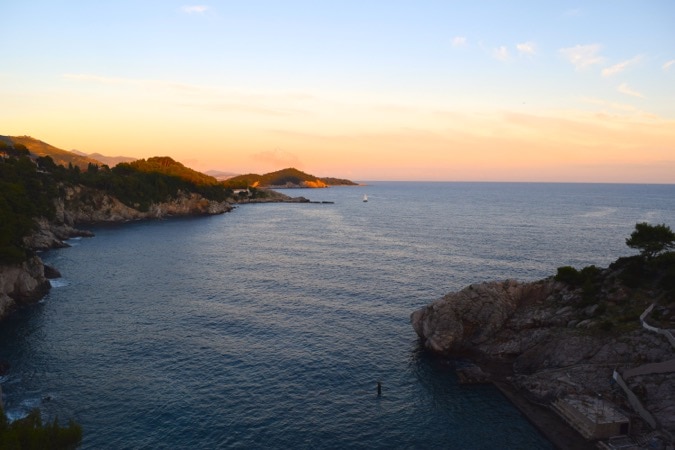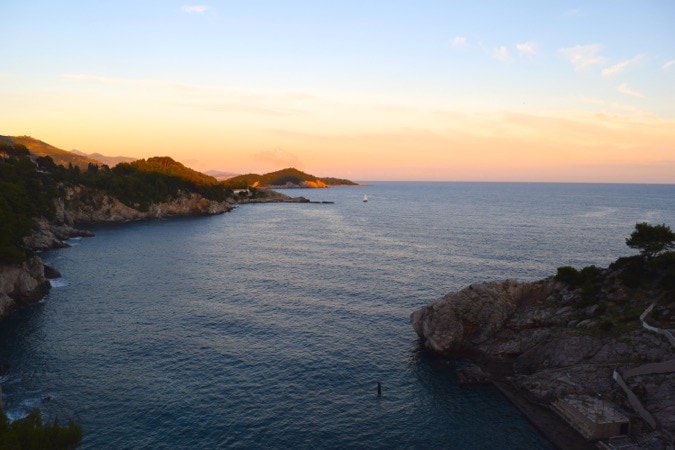 For more information on Hotel Bellevue and Vapor Restaurant, click here.