You know Seville is vibrant, historic, cultural and full of things to do… but what do you REALLY know about the Spanish city's food scene? Find out my top Seville food experiences, and how to rustle up some top Andalusían cuisine when you return home!
I've been to Seville once before. I loved getting lost in the city's skinny streets, was constantly in awe of its architecture and spent the evenings hopping from tapas bar to tapas bar, enjoying a small plate and a glass of wine at places across the city. I also remember some terrifying moments driving down the narrowest of streets, where it felt like the car was scraping the paint off the walls as we inched our way through.
So for my second trip I was excited to explore the city some more, and from trip one had leaned that a) we shouldn't bring a car and b) we should try out even more amazing Seville food spots!
I visited armed with one of Lonely Planet's beautiful foodie books From The Source: Spain and decided I wanted to try a few of their top picks, plus find a few of my own! As you'll see, I was a little inspired, and attempted to recreate my Sevillan experience on home turf too.
Announced as Lonely Planet's Best In Travel top city, come and explore the city with me in my latest video, then scroll down to find out more about the Seville food scene!
5 Top Seville Food Experiences You Can't Miss
First in my Seville food guide is this lovely food market. I visited Mercado Lonja Del Barranco on my first trip to Seville, stumbling across it after doing zero research. It was one of my favourite spots in the city. The modern décor, with high white tables, chequerboard tiled floor, modern sunburst style lights and some of the tastiest croquettes in the city. Needless to say, it was on my hit list for this trip!
There are over 20 stands selling everything from top Spanish cheese and finest Iberico ham to gelato and great wine too. We feasted on everything from mini pots of salmorejo (cold tomato soup) to octopus and a delicious cheese platter. It's somewhere you can eat as much or as little as you like, plus it's a great people watching spot too.
Address: Calle Arjona, s/n, 41001 Sevilla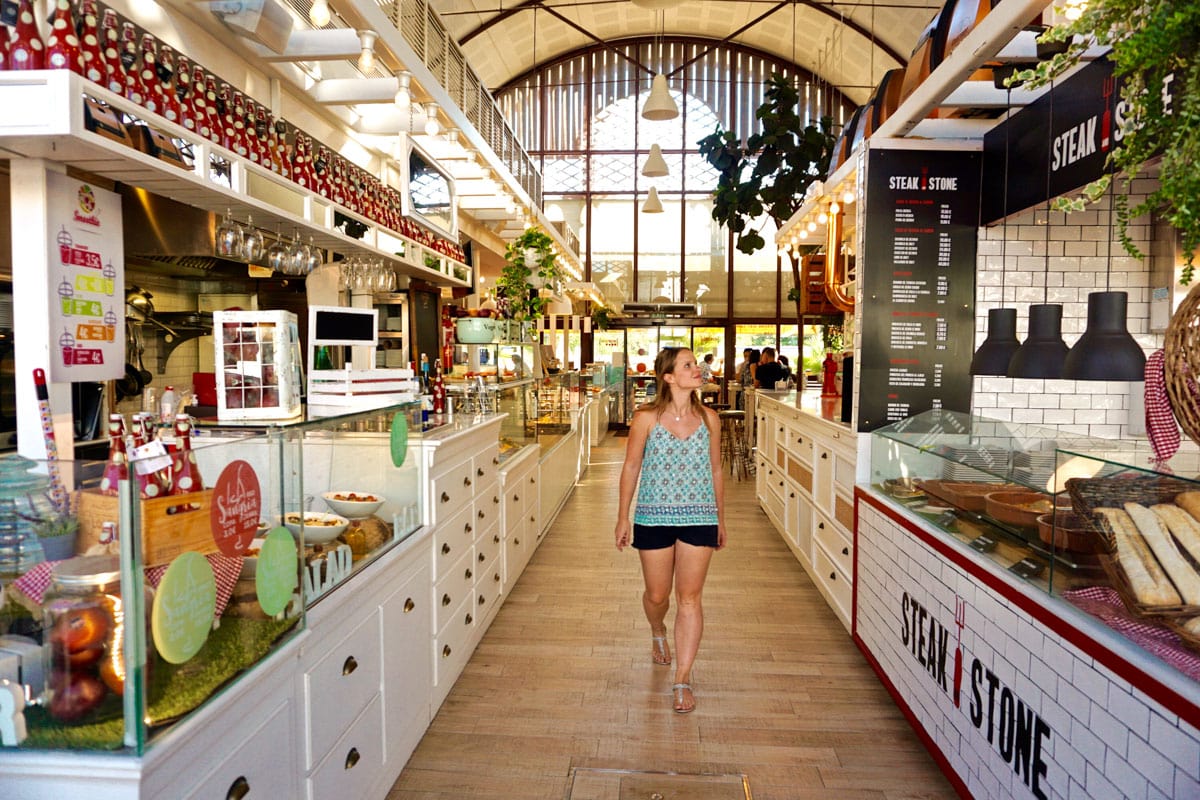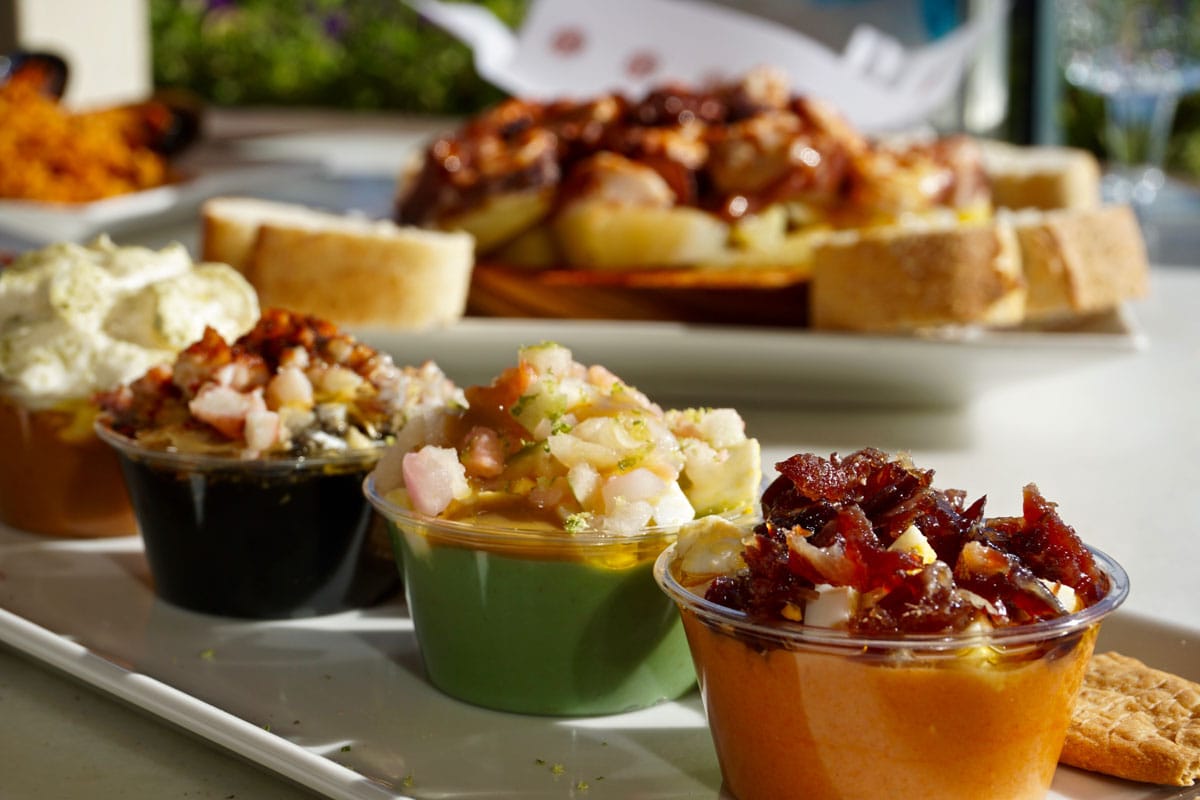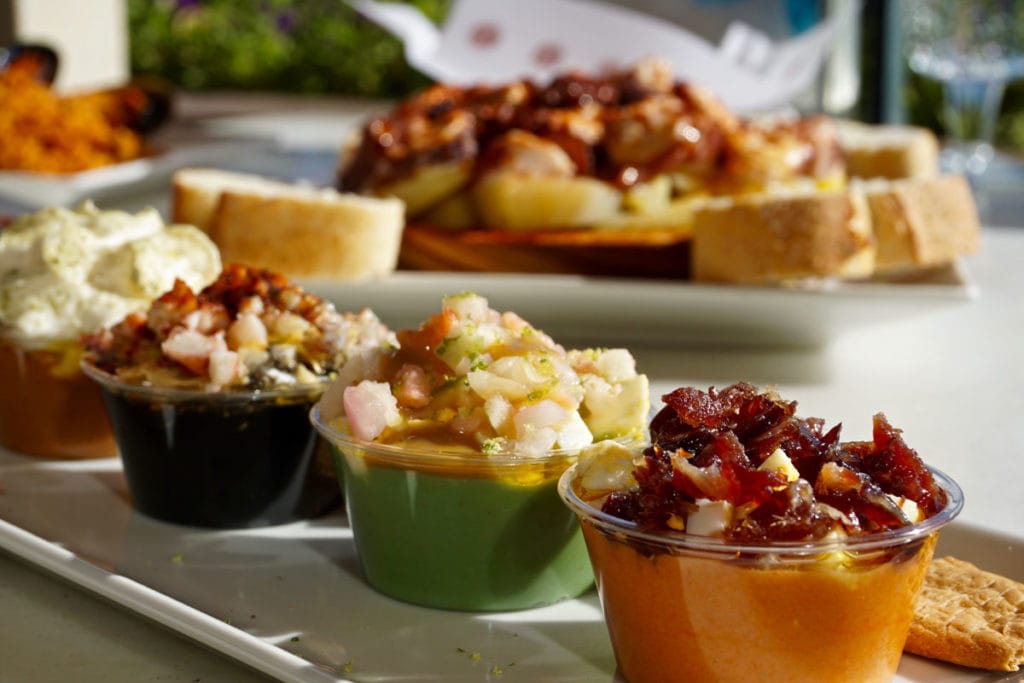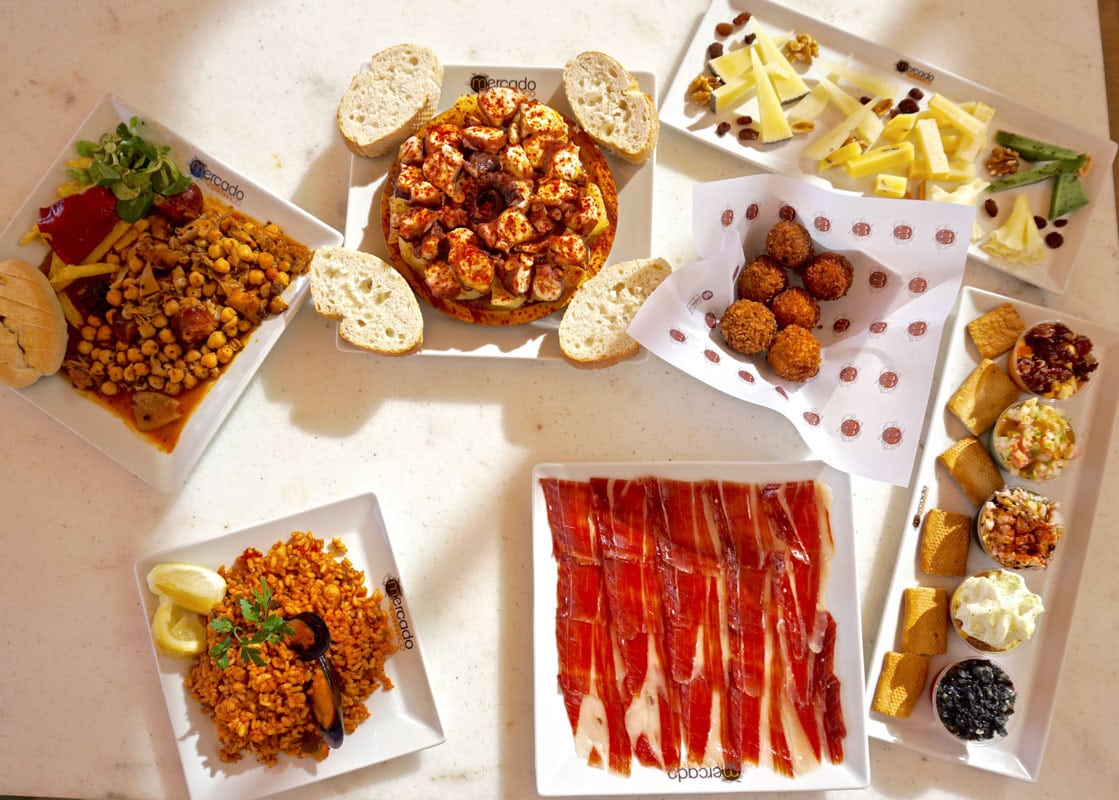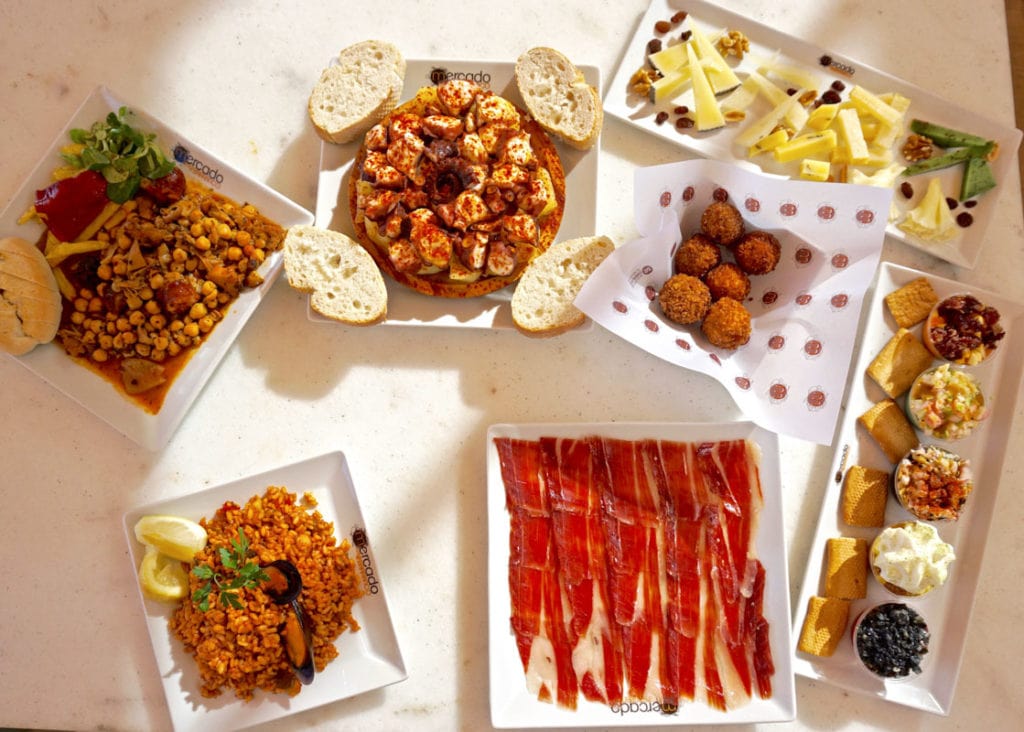 Casa Ricardo
This old-style tapas bar has a long bar, beautiful tiles, and walls covered in small, framed pictures. It's local, reasonable…oh and it doesn't have a menu. But don't let that put you off! Food is top quality and it's tucked down a side street away from the city's tourist traps.
Unsurprisingly, Casa Ricardo is run by a guy named Ricardo, who happens to be one of the warmest people I met on my trip. With my broken Spanish and his broken English we navigated our way through a kitchen demo of garbanzos con espinacas, also known as chickpeas and spinach! Ricardo's version was highlighted in Lonely Planet's From The Source: Spain, and I was excited to not only try the dish, but watch how it was made.
It was really flavoursome, and the blend of garlic, cumin and paprika gave the dish a curried flavour. I was so inspired watching Ricardo make it, that I couldn't wait to have a go myself…click here to see how I got on!
Address: Casa Ricardo, Calle Hernán Cortés, 2, 41002 Sevilla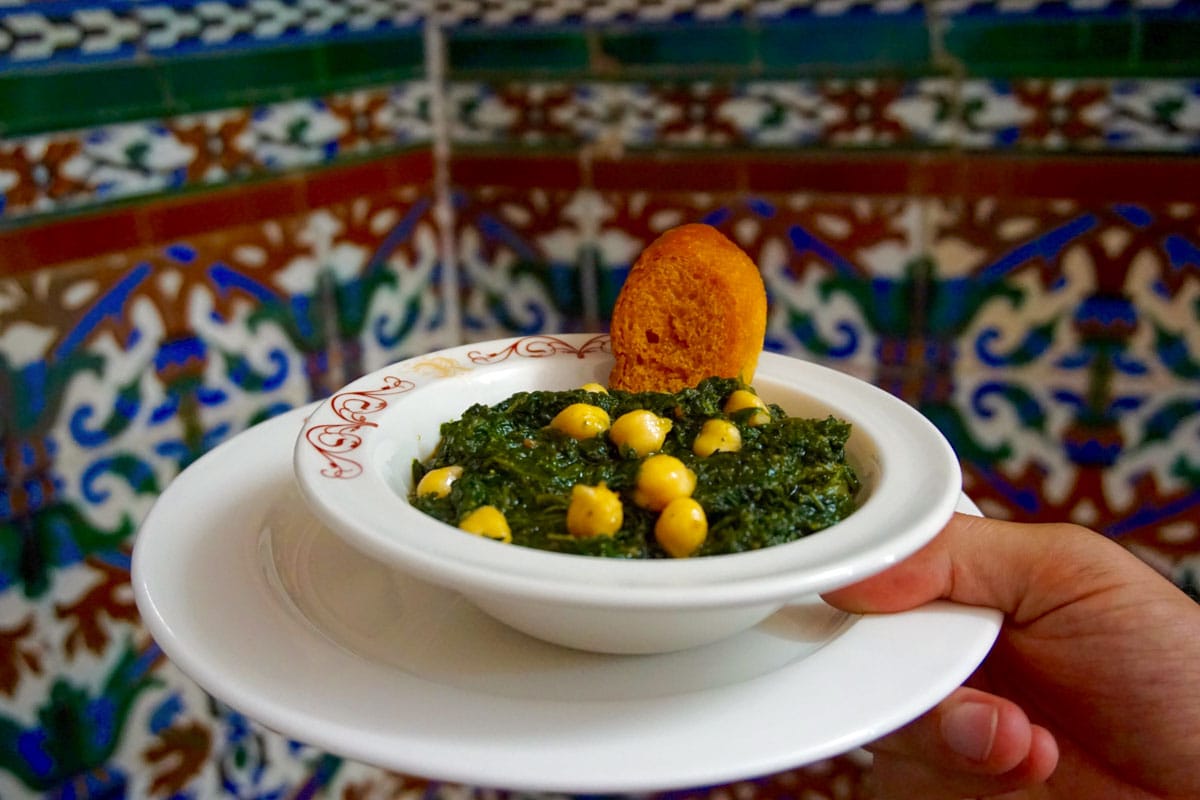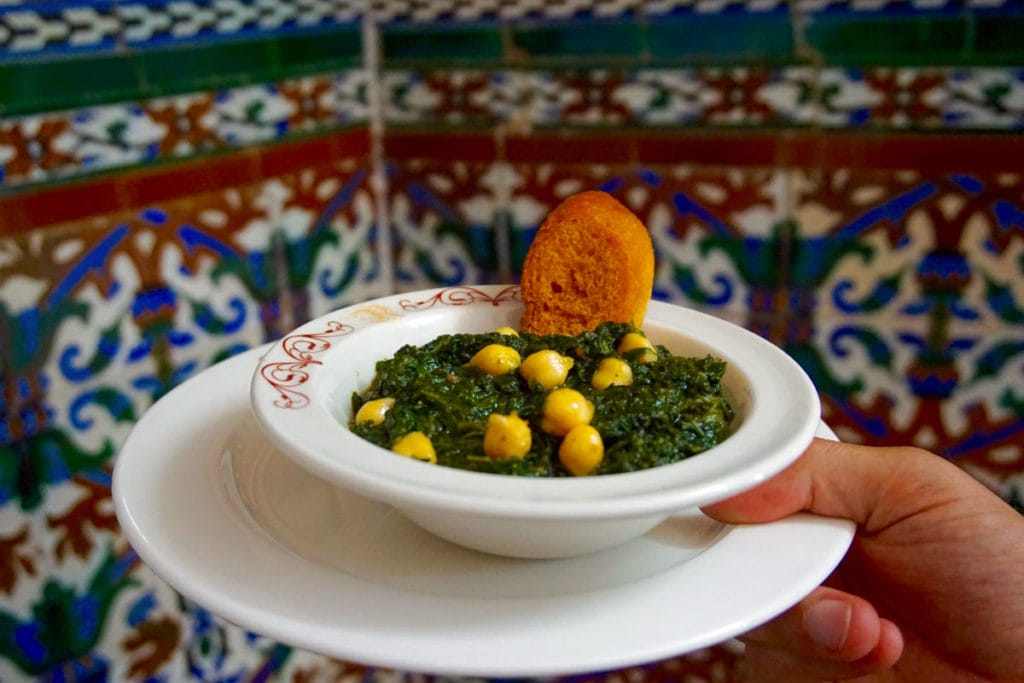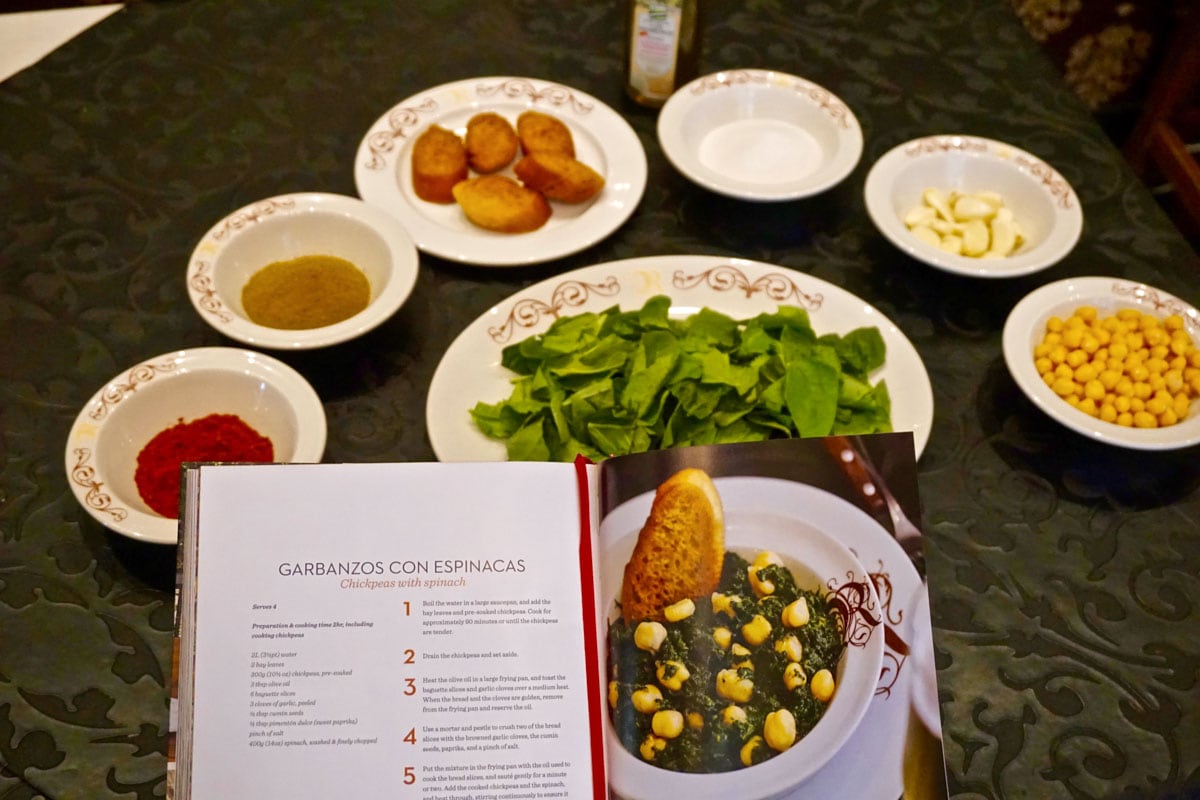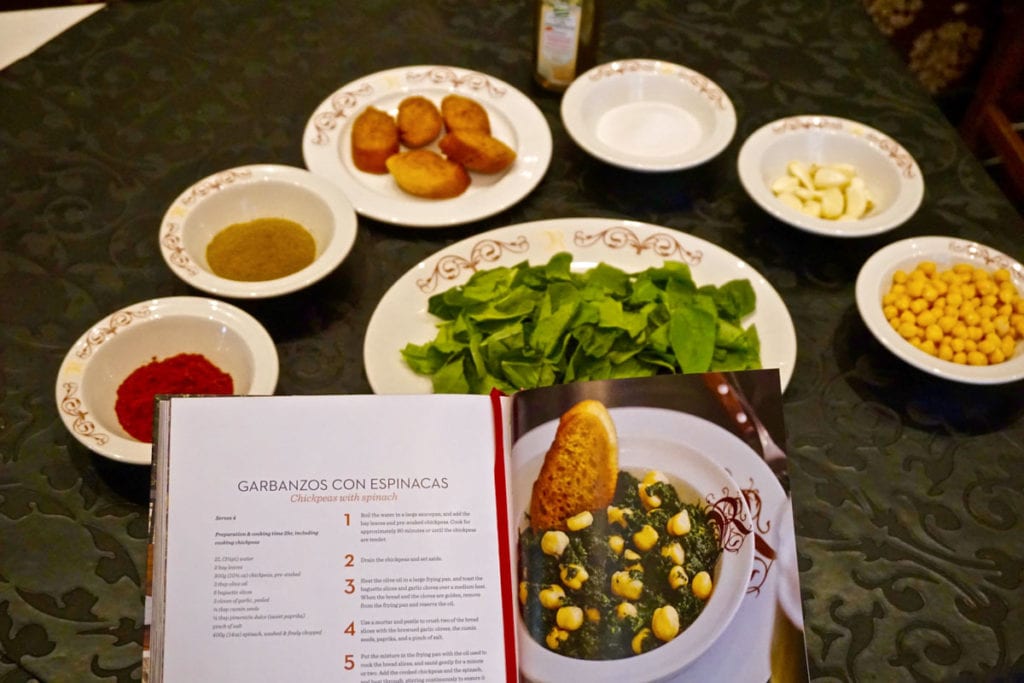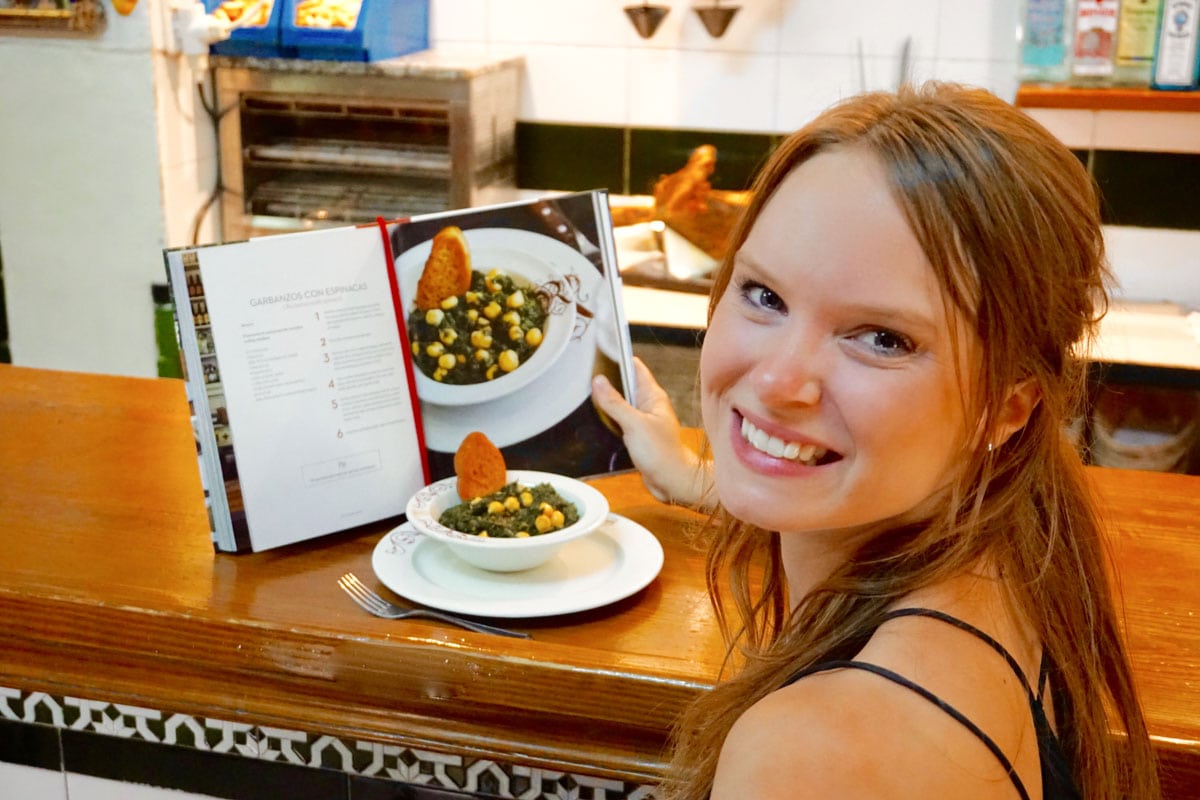 El Rinconcillo Bar
Seville's oldest bar is a must-visit. Oozing with character, I loved standing at the bar, watching horse and carriages pass the window as the barmen (smartly-dressed in black and white) gabbled in Spanish, scribbling each customer's bill in chalk on the bar. Founded in 1670, it really feels like you've turned the clock back as you enter.
Lonely Planet recommended the soldaditos de pavia (cod fritters) which were coated in a crisp, light batter, and a delicious accompaniment to a glass of wine!
Address: El Rinconcillo, Calle Gerona, 40, 41003 Sevilla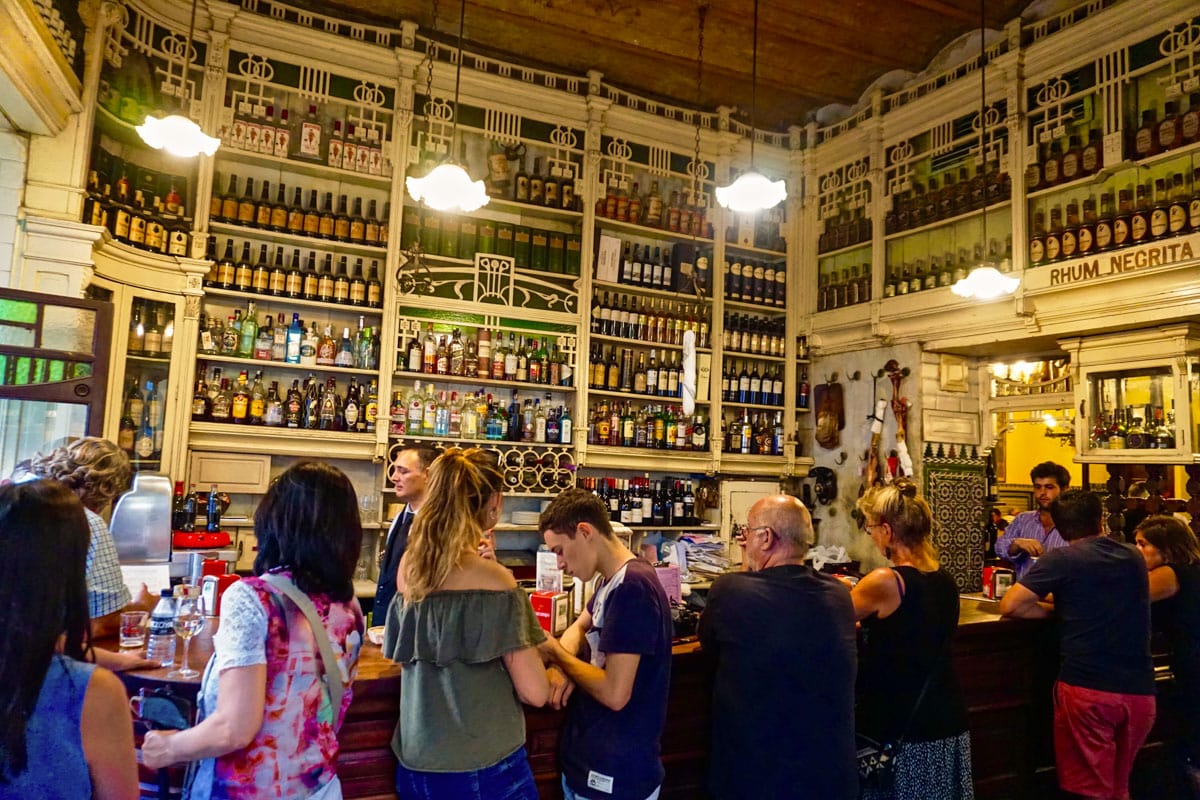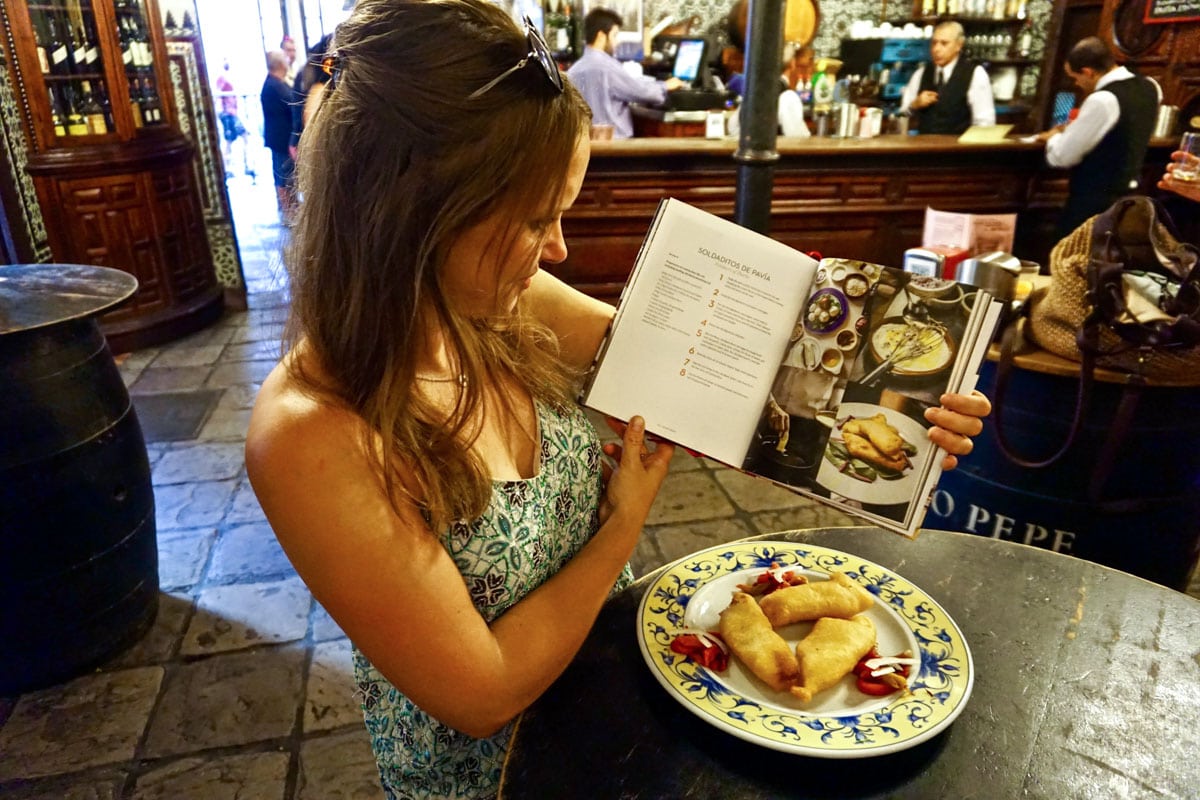 La Chala
While many of Seville's tapas bars and restaurants pride themselves on their history and charm, some adopt a playful approach to the cuisine. La Chala is kitsch and bright, and what you see in the décor is reflected in their food. The bright pink cured tuna was a novel idea, with an intense saltiness similar to a fine ham. Meanwhile the giant croquette was oozy and delicious and the stir-fried noodles were, well, not remotely a tapas dish, but after days of the Spanish cuisine (which rather lacks vegetable content!) it was a welcome surprise!
Address: La Chala, Plaza Puerta Real, 6, 41002 Sevilla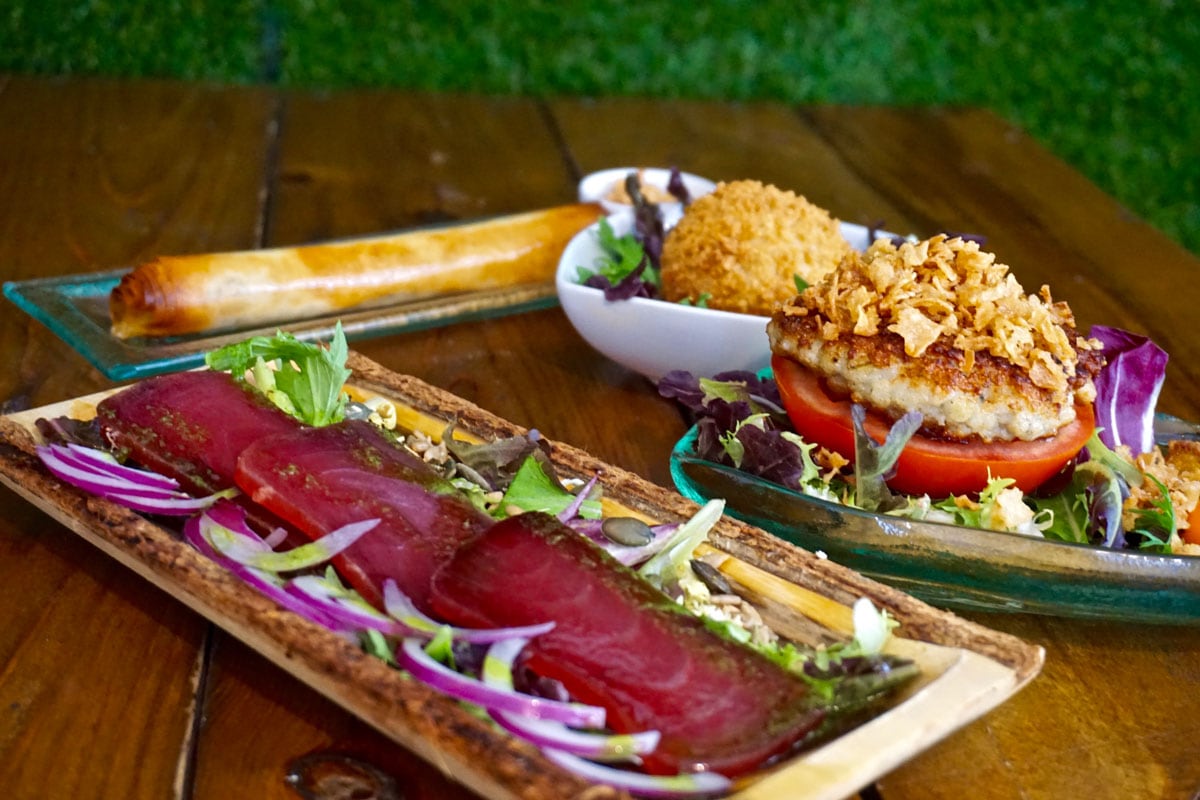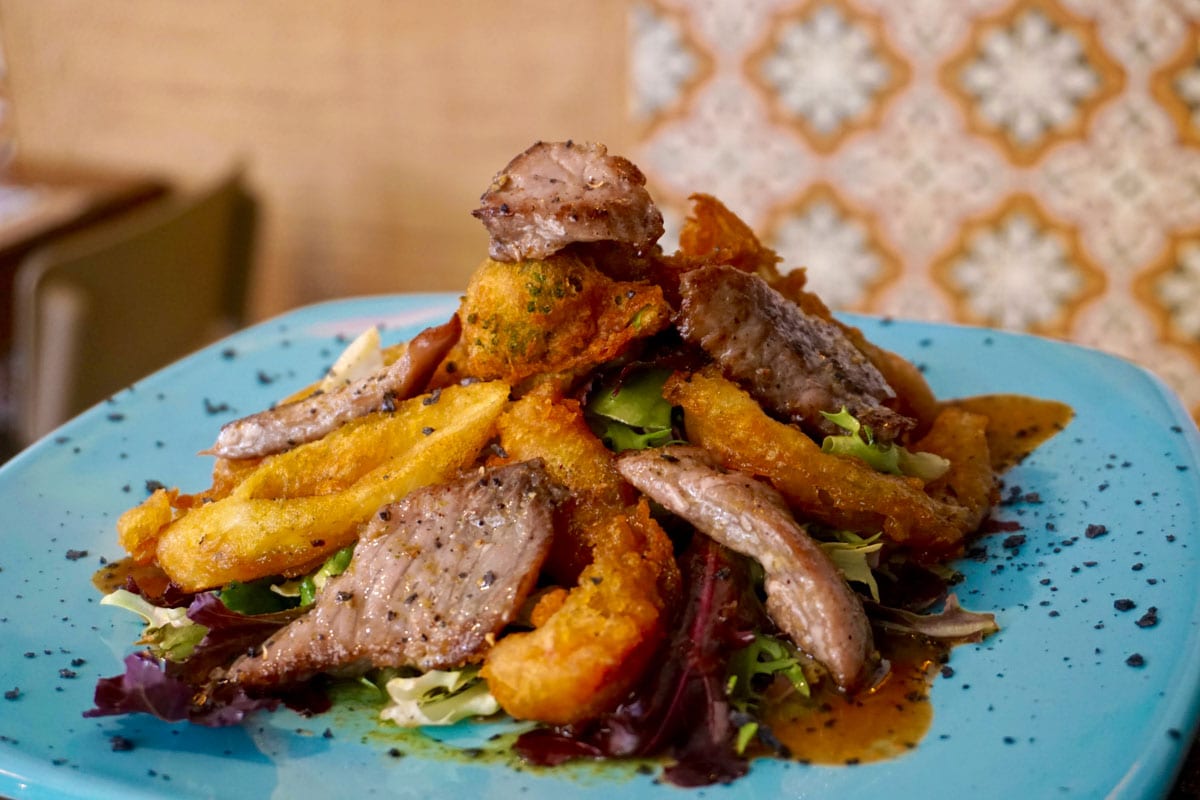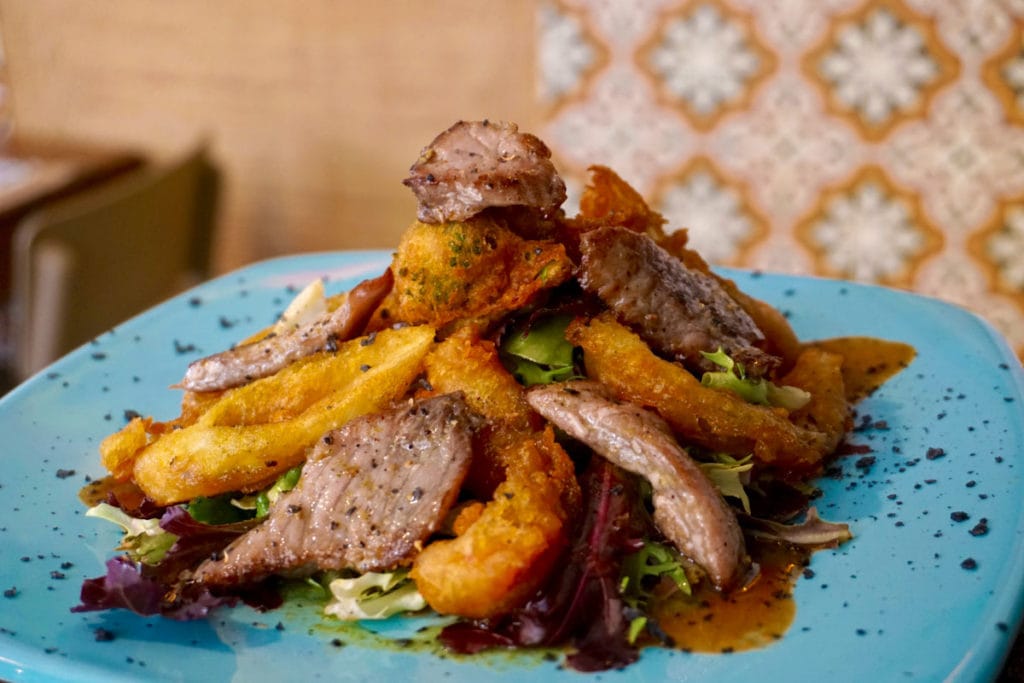 My favourite way to get to know a city is through its food, and often my top tip is to book onto a food tour. The guides show you exactly what the locals eat, and where. There's also a chance to learn all about the history behind the cuisine which in turn gives you a better understanding of the place as a whole.
The Devour Seville Food Tour was exactly that! With wonderful guide Sarah, we munched on slow cooked pork stew (pringá), Iberico ham in the market, montaditos (sandwiches), fried fish, ice cream and even little pastries baked by Sevillano nuns! Needless to say I wouldn't have known to visit half of these places, and snacking around the city was a really wonderful experience. This really is the best introduction you'll find to the Seville food scene.
Find out more about Devour Food Tours In Seville.
Also, take a look at MakeSpain for more great tours of Seville and beyond.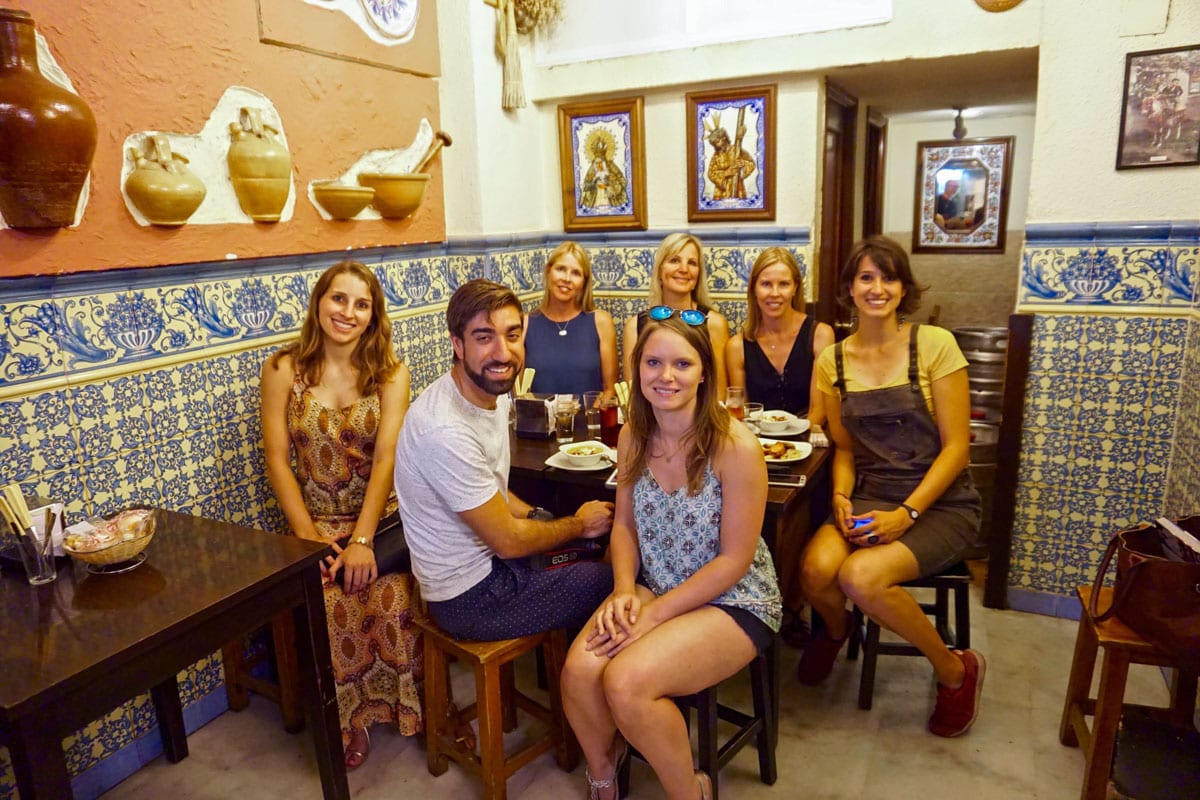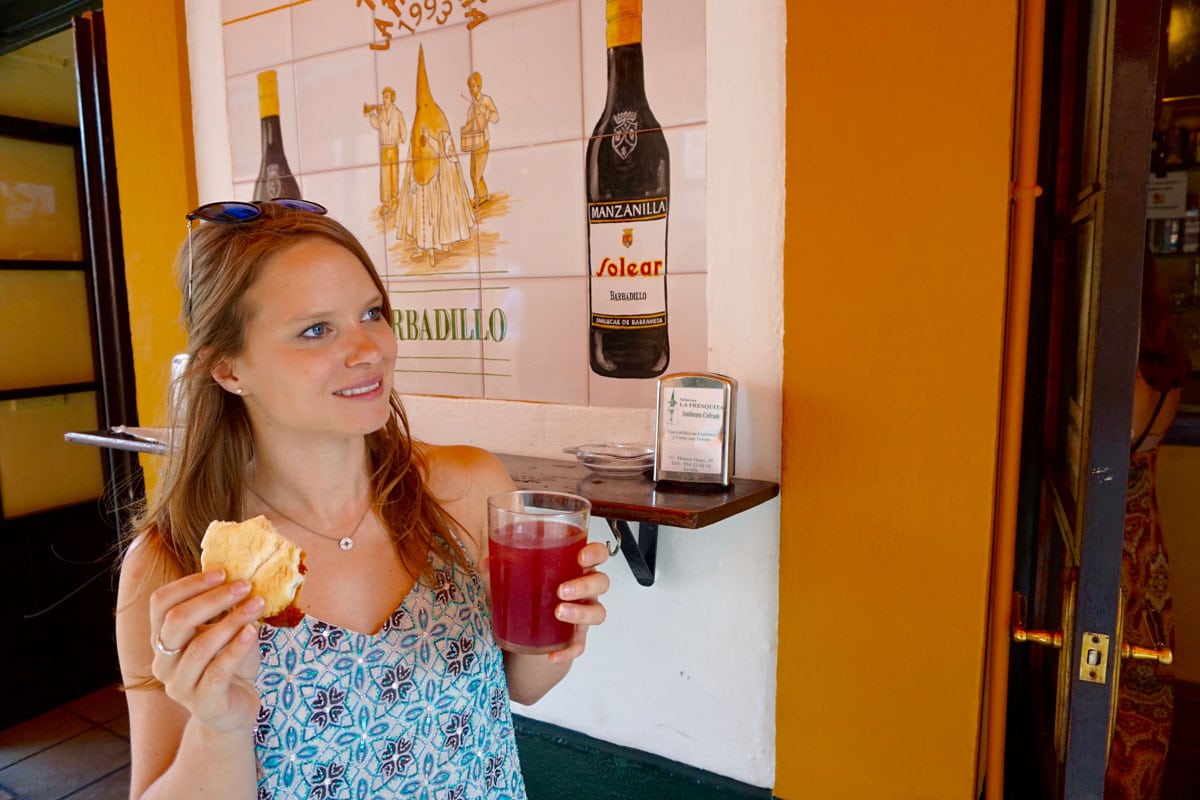 A Little Flavour Of Seville's Food Scene At Home
Inspired by the tasty chickpea and spinach dish I helped Ricardo create at Casa Ricardo, I decided it was time to have a go myself using the recipe in Lonely Planet's book Spain: From The Source. This recipe jumped out as not only was it delicious when I tried it, but it didn't require any specialist ingredients – they were all things easy to pick up in my local supermarket.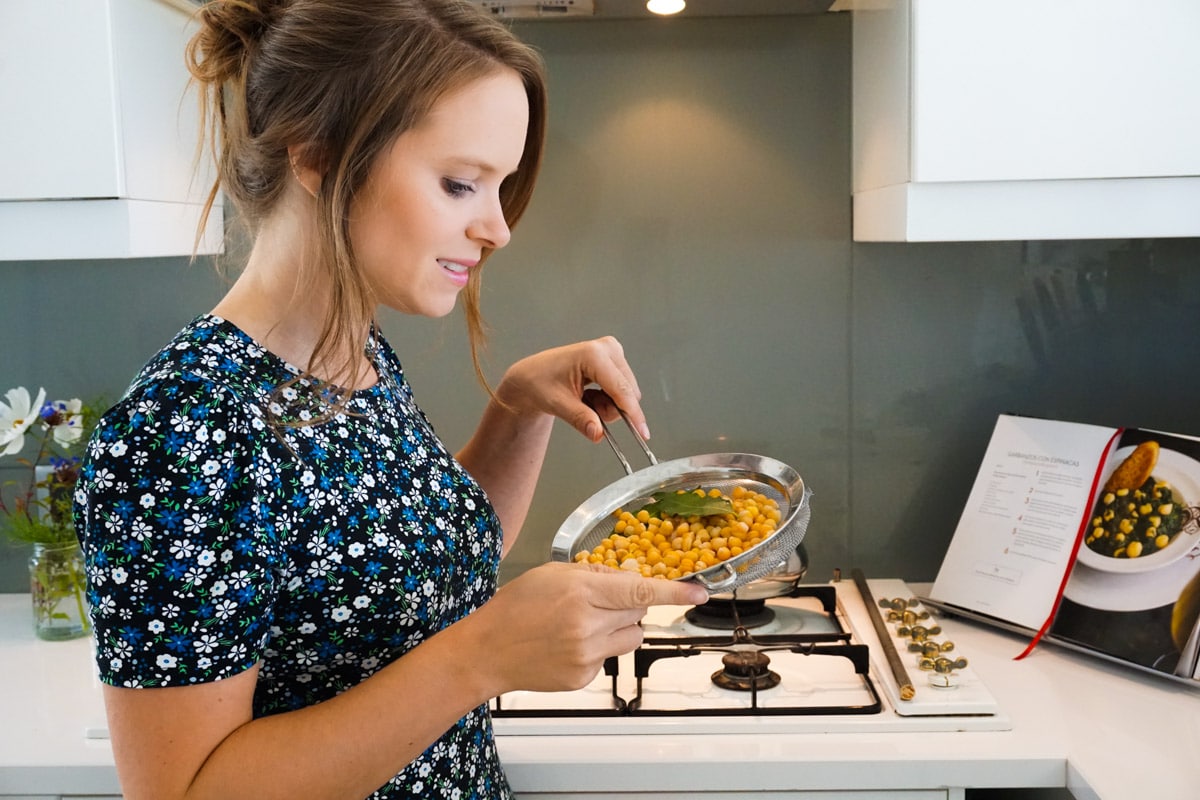 It wasn't long before the kitchen smelled of delicious garlic, cumin, paprika and olive oil. While it was hard to crisp up the croutons without burning them, I was pleased with the results!
The verdict? Delicious! The smoky, iron-rich dish took me straight back to my travels around Seville.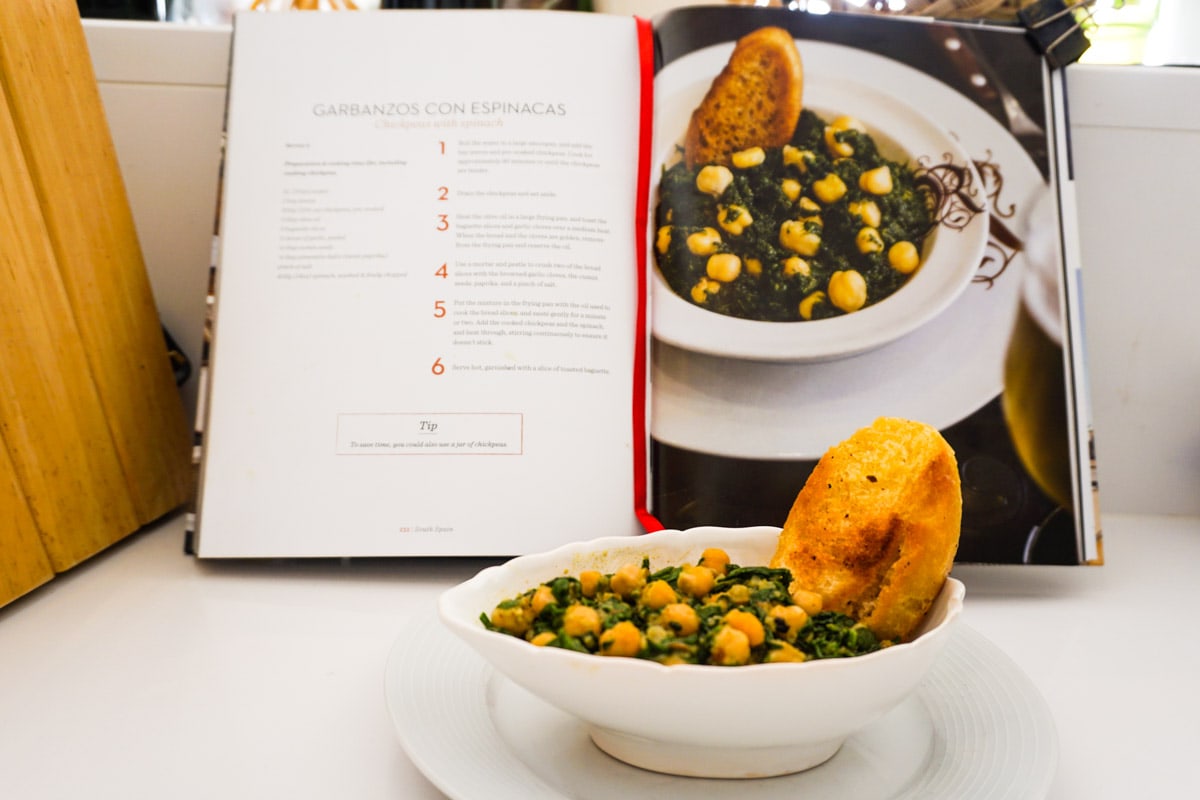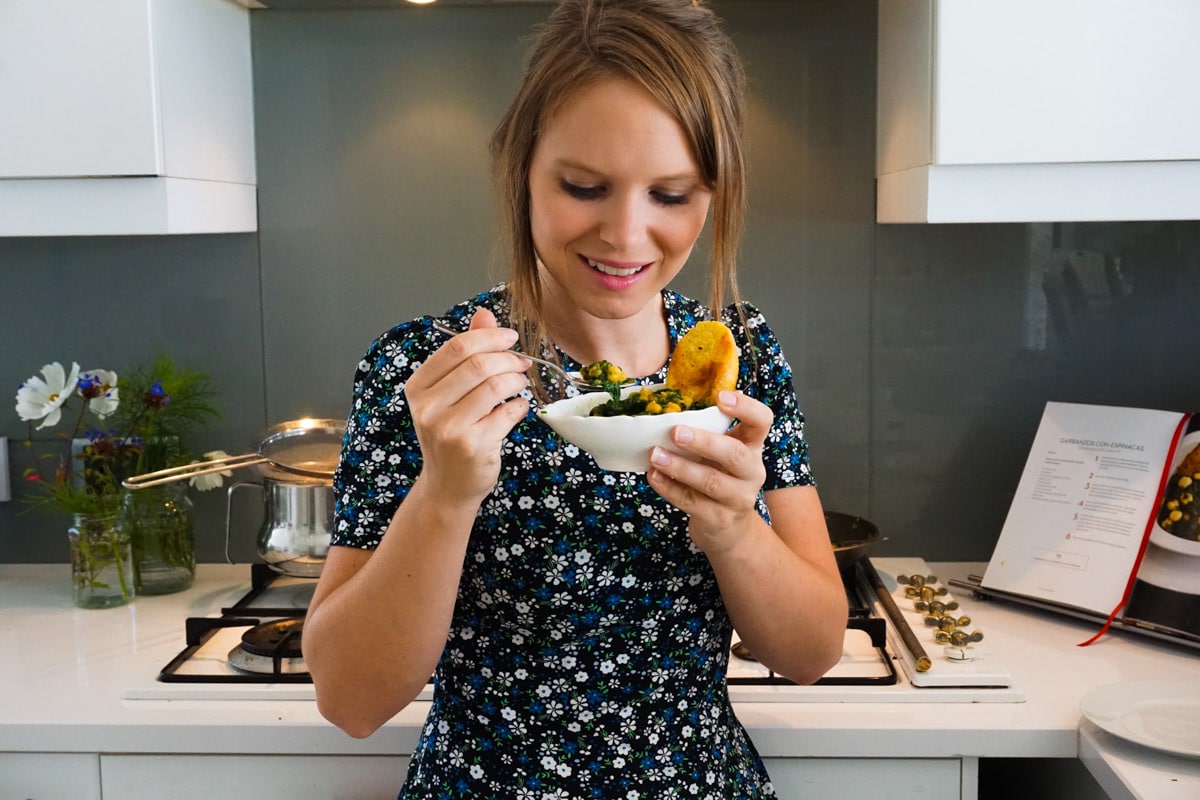 This content was produced in collaboration with Lonely Planet but as always, opinions are my own.
Would you like to visit Seville? Or have you been? Where were your top picks?
Enjoyed this post? Why not pin it for later…