Berlin is independent, gritty and has plenty of stories to tell. I headed off on a Withlocals street art tour of Berlin for a fascinating delve into Berlin's multi-layered history, learning about the city's creativity, secret food and drink spots and plenty more!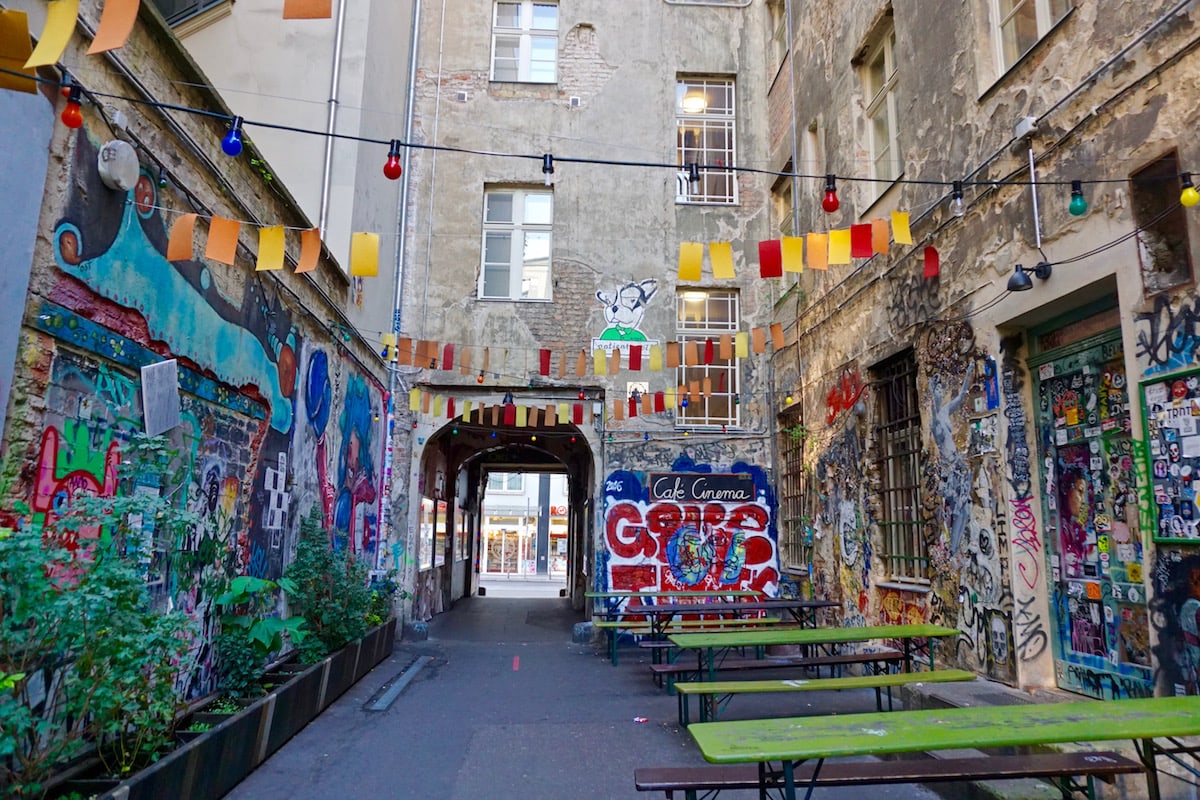 Let me start by saying, there aren't many tour guides out there like Betty. She has one of those exciting temperaments that draws you in and makes you want to know EVERYTHING. You want to ask her questions about her life, her passions, her Berlin. I hung on every word and in no time, I started to see the city through her eyes. That, for me, is the beauty of a Withlocals tour – you get someone who lives and breathes the place you're visiting.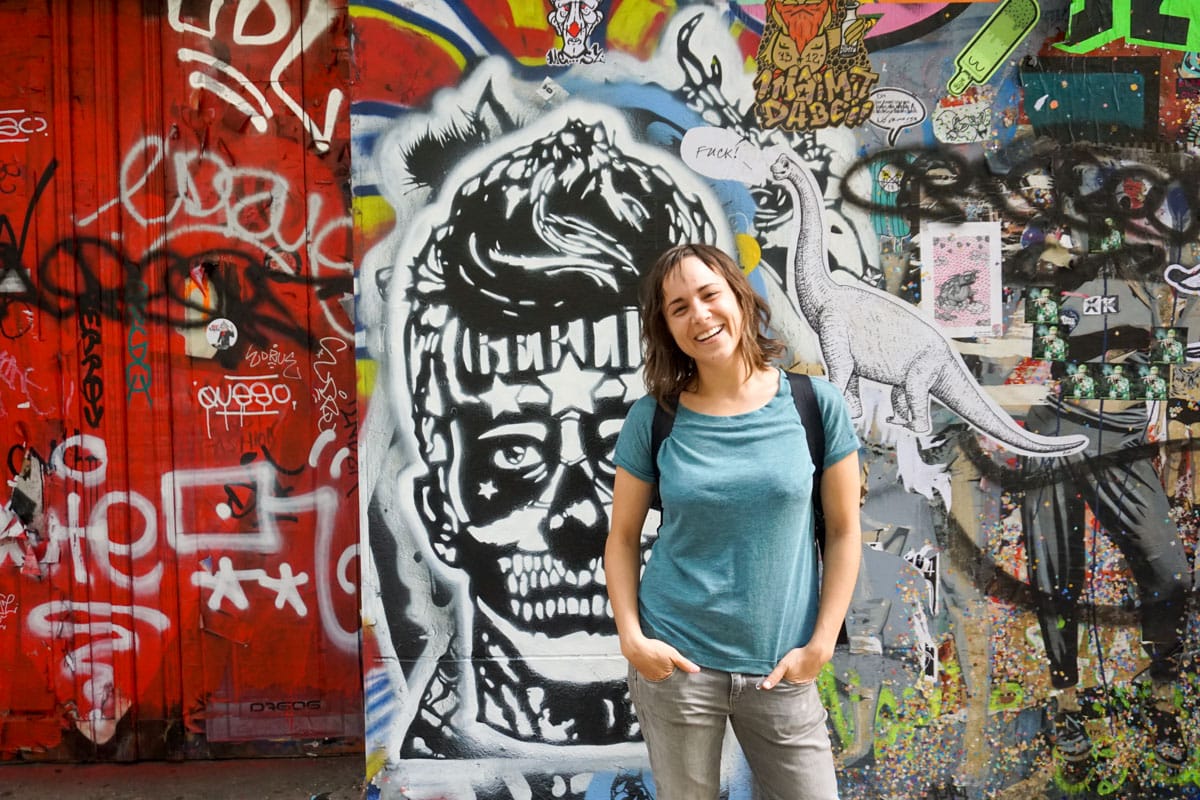 I booked the three-hour 'Urban Jungle' tour, which promised to show me the alternative side of Berlin. And believe me, there was a lot to see!
We kicked off the day in Hackesche Höfe in Mitte neighbourhood, with an opportunity to see the city's most beautiful art nouveau architecture. With several interlinking courtyards, it was once cramped accommodation for people from all walks of life. These days, it's super desirable, and while the upper floors offer accommodation, downstairs you'll find upmarket restaurants, independent boutiques and more.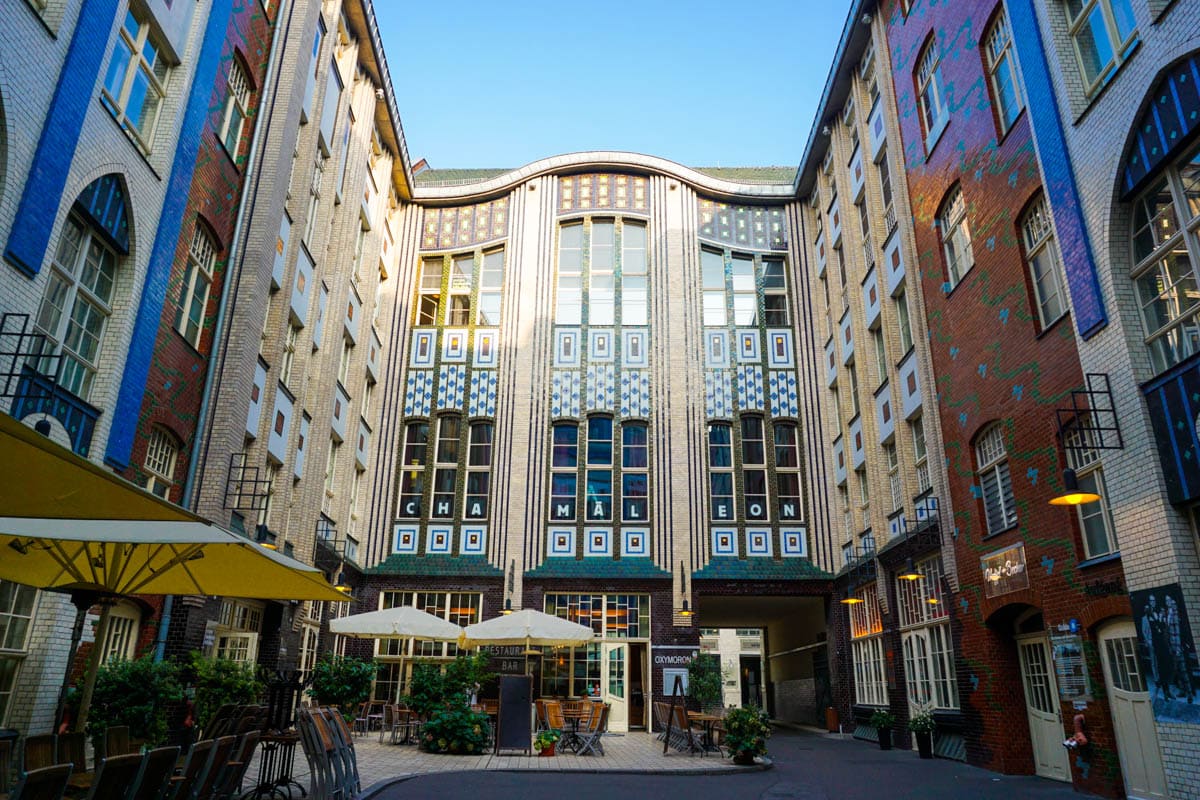 The most photographed spot is the Haus Schwarzenberg, an area filled with colourful street art and murals, with the artwork of Anne Frank by Jimmy C one of the most famous. I heard how Jimmy had studied aboriginal art and used some of the techniques in his street art. This one stands just in front of the Anne Frank museum, and no doubt draws crowds to see the artwork as much as to the museum.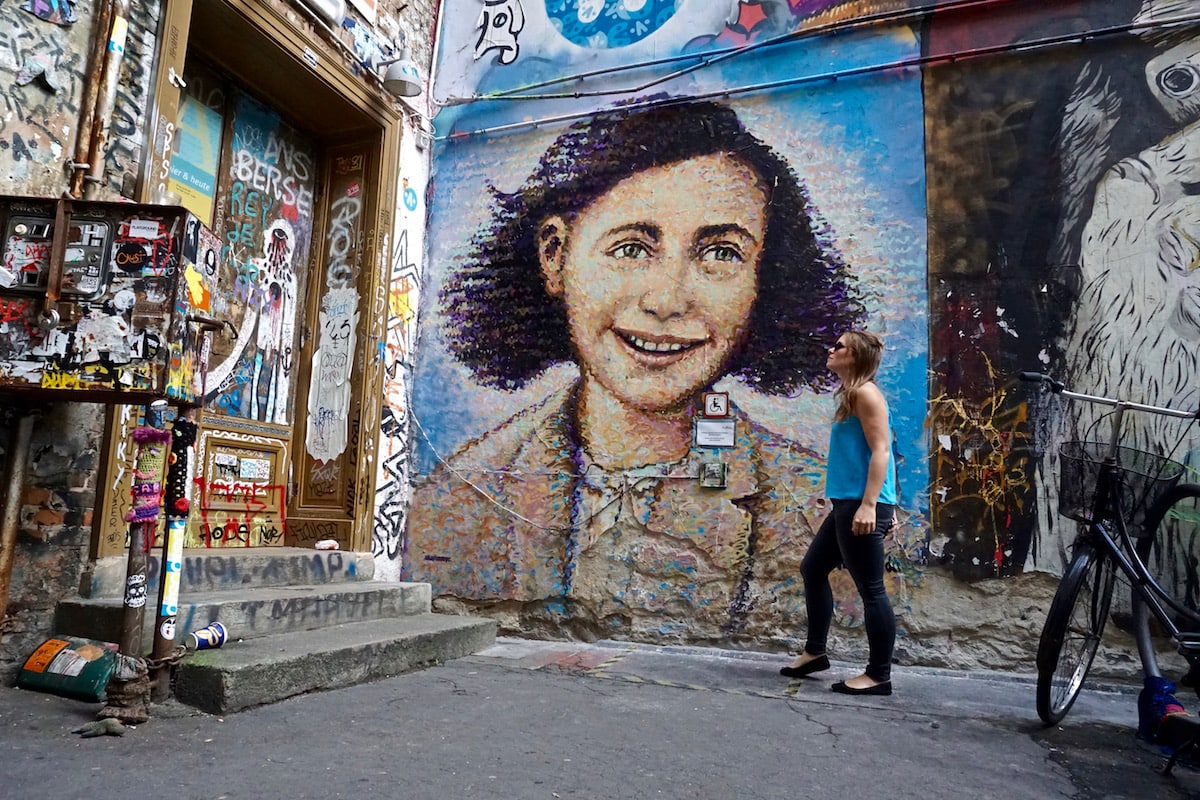 Betty was also excited to show me Little Lucy. Lucy is a character created by artist El Bocho, and Betty assured me I'd be spotting her all over the city. She was always with her cat, in rather unsavoury circumstances. Sure enough over the next few hours we'd spot Lucy using her cat as a swing, blitzing it in a blender and cooking it like a doner kebab.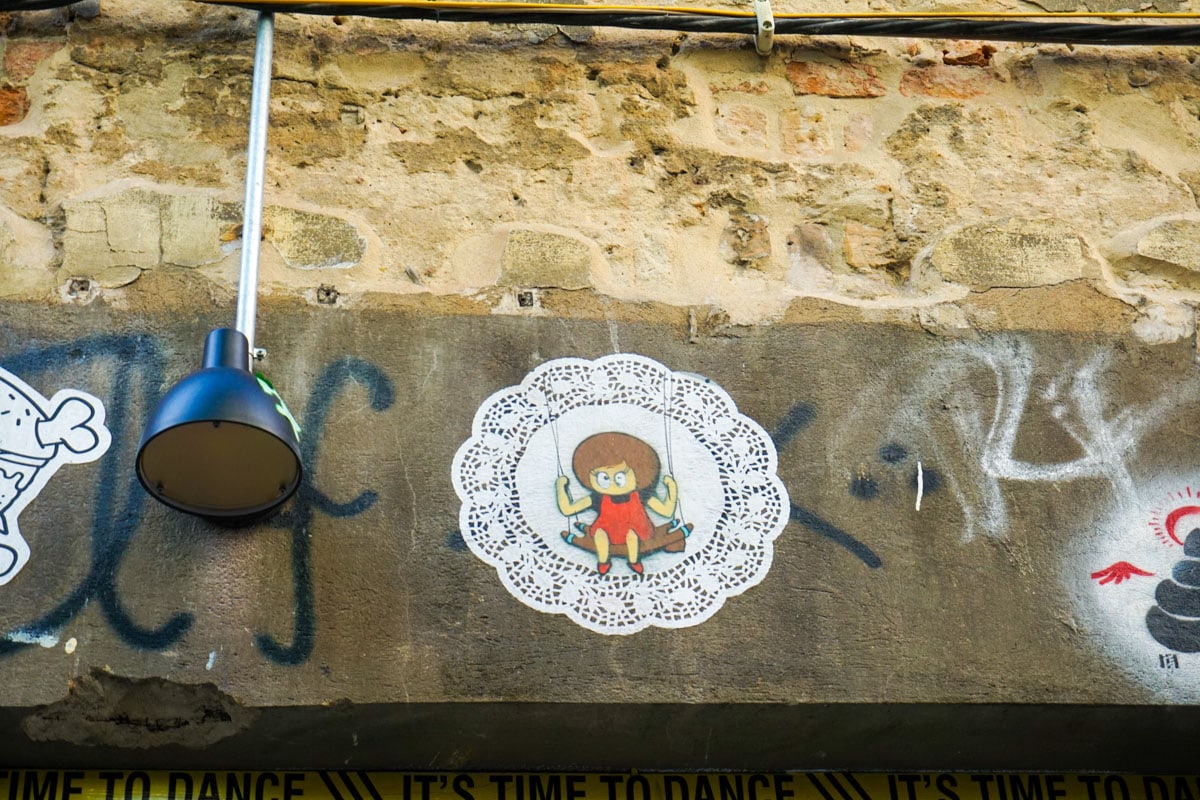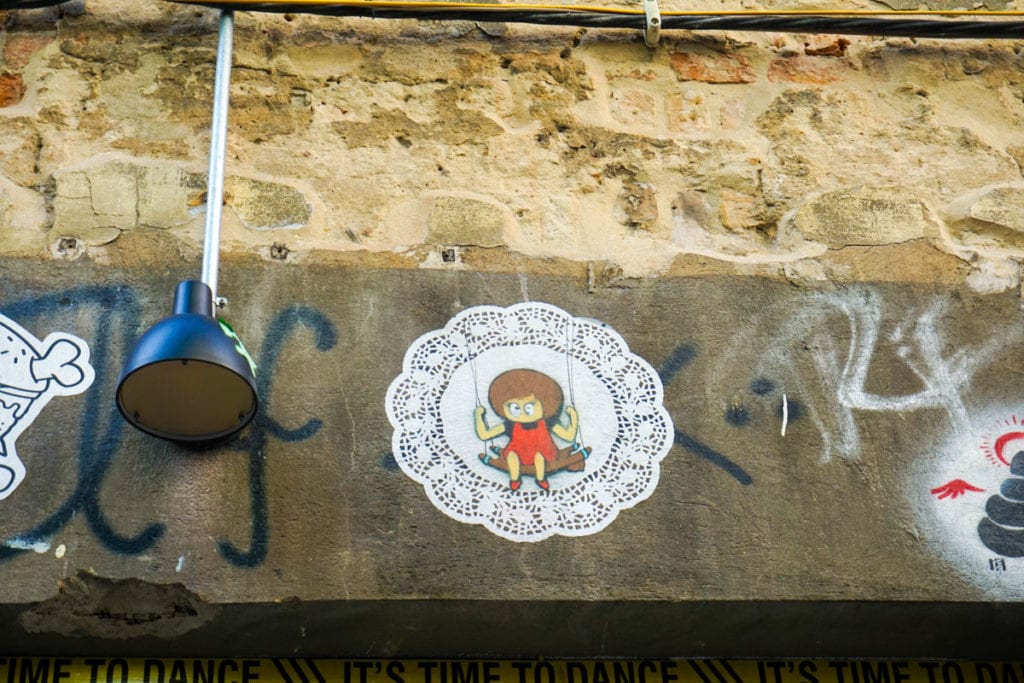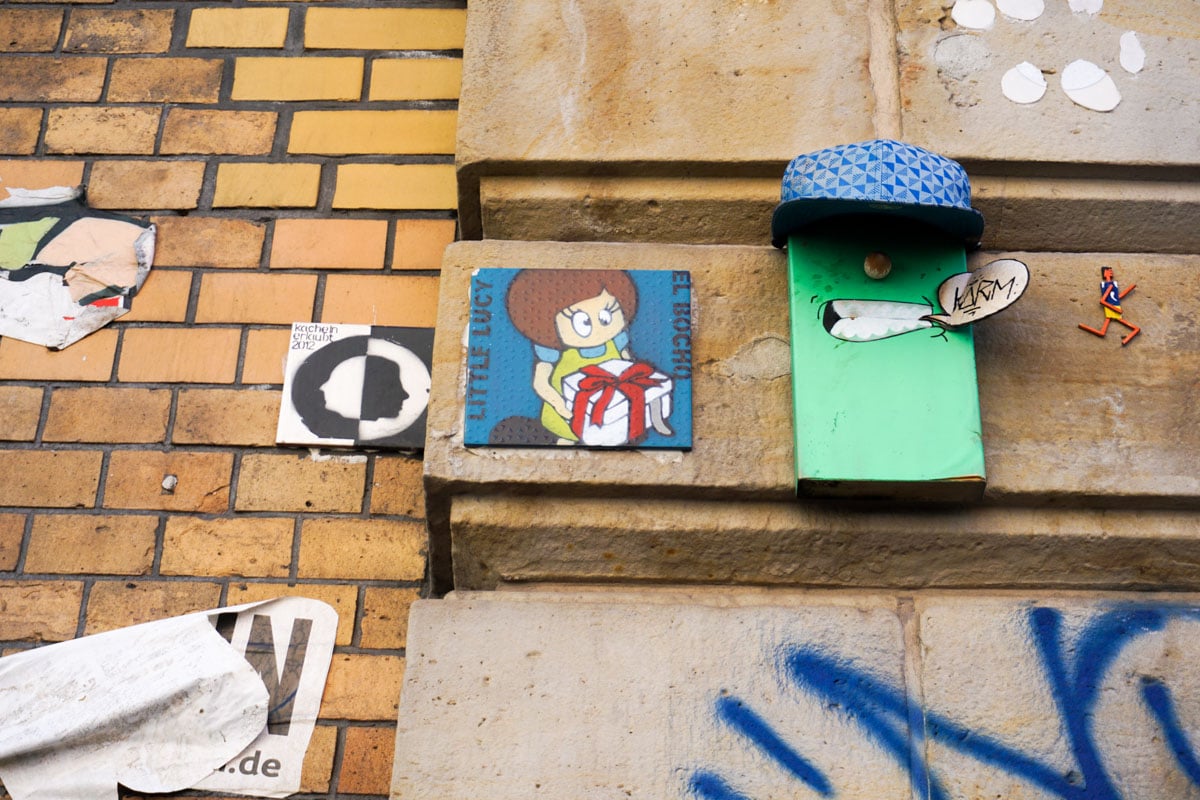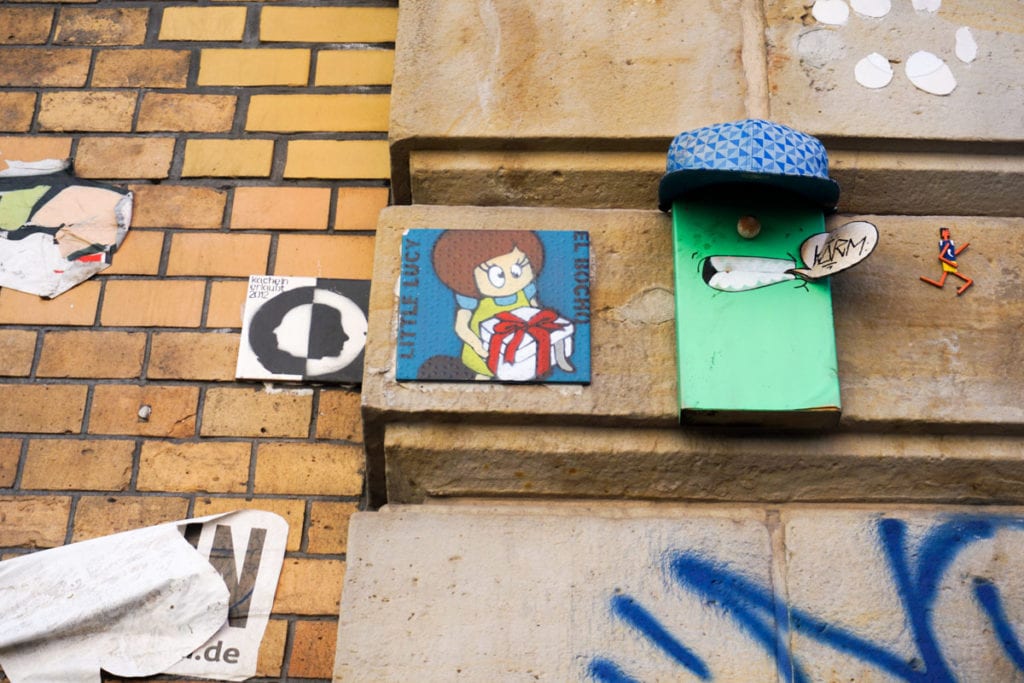 Betty pointed out another motif which would be recurring as we travelled around Berlin – 1Up. Consider them a graffiti crew, a big group all sharing the same image but in more interesting and adventurous ways. It's kind of like a game, and the people involved are like graffiti ninjas!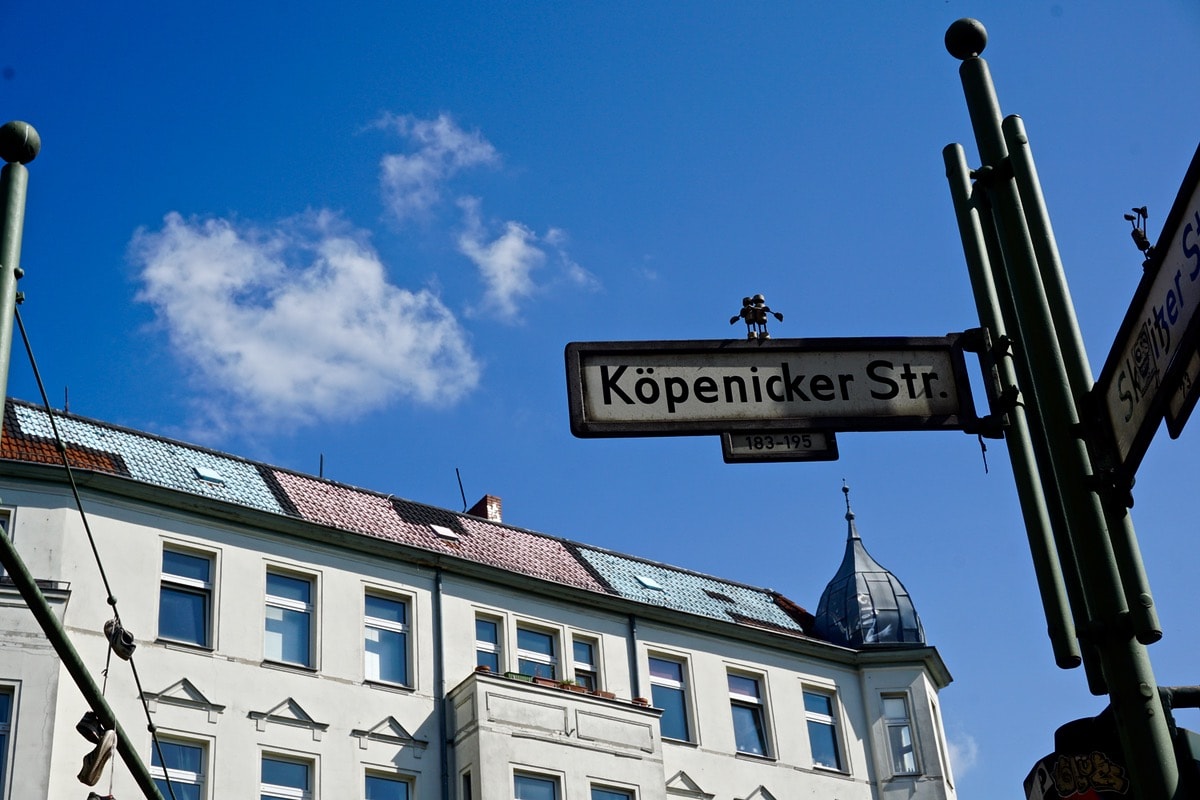 As we travelled from Mitte to Kreuzberg, Betty described Berlin as 'poor but sexy' and I knew what she meant. It was gritty, it had a dark history, but it was alluring in ways that shiny, polished cities aren't.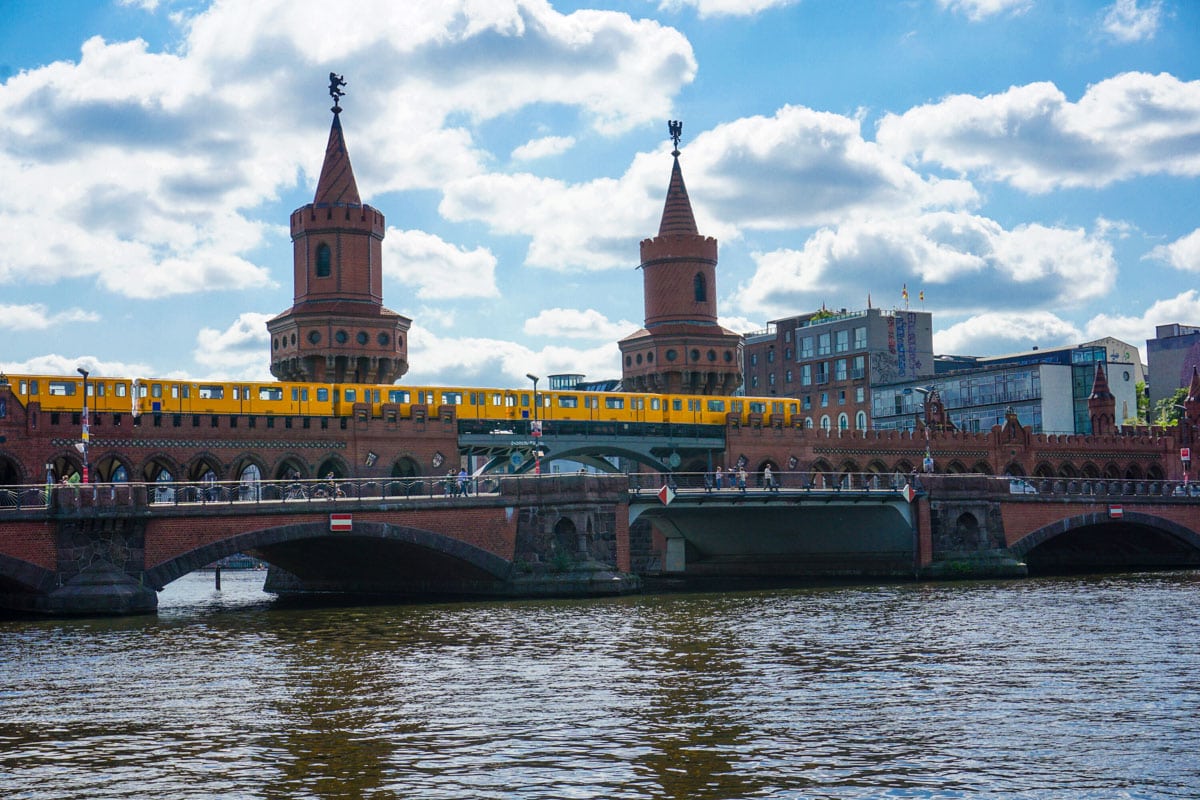 The great thing about travelling with a local who knew Berlin, was I could ask all the questions I'd been storing up over my previous few days of exploring. I wanted to know how much life cost in this city. Where she chose to hang out. How you meet people in a bustling city like this. I wanted to know the truth about notorious nightclub Berghain. And I wanted to know whether people really paid for public transport, when it didn't seem like inspectors ever checked!
Just in case you wondered – Berliners DO pay for public transport as the ramifications for being caught without paying just aren't worth it… It sounded like you'd lose the keys to the city!
As we wandered through the area I saw Victor Ash's famous design 'Astronaut Cosmonaut' – supposedly the biggest stencil artwork in the world. It's one of the symbols of the neighbourhood, watching over the people who live there.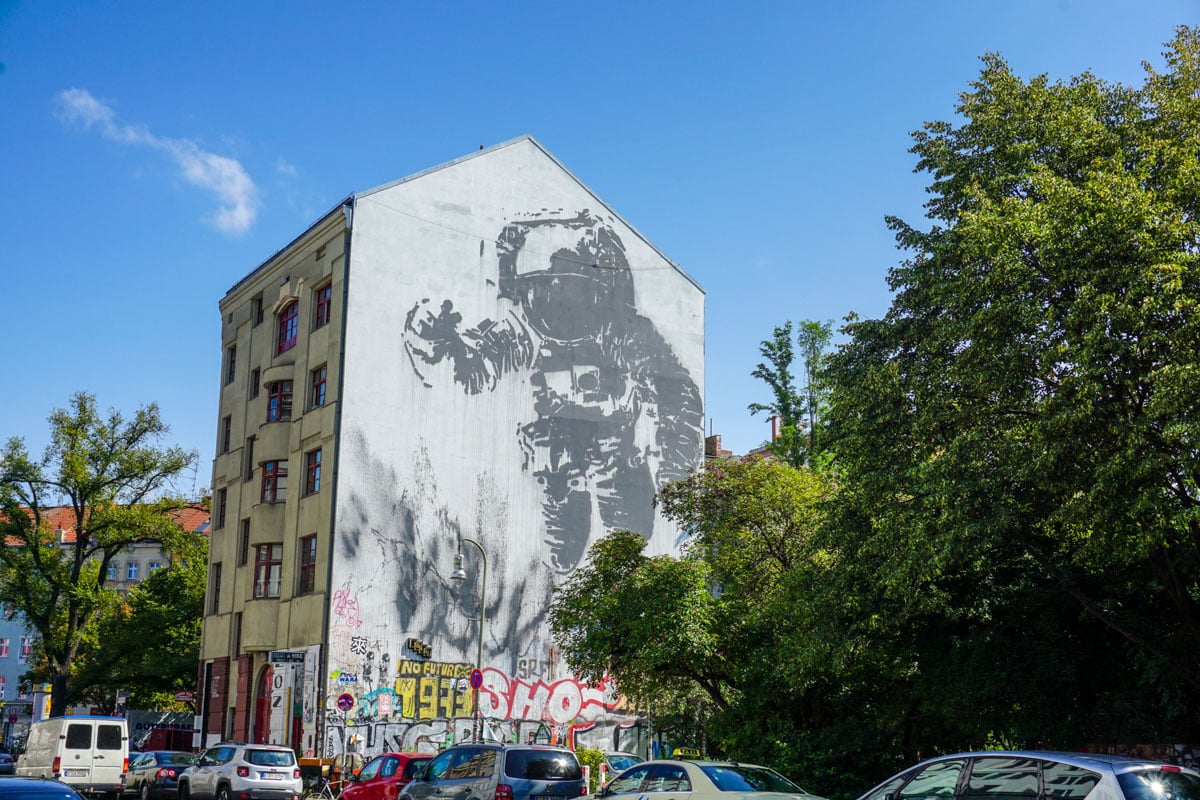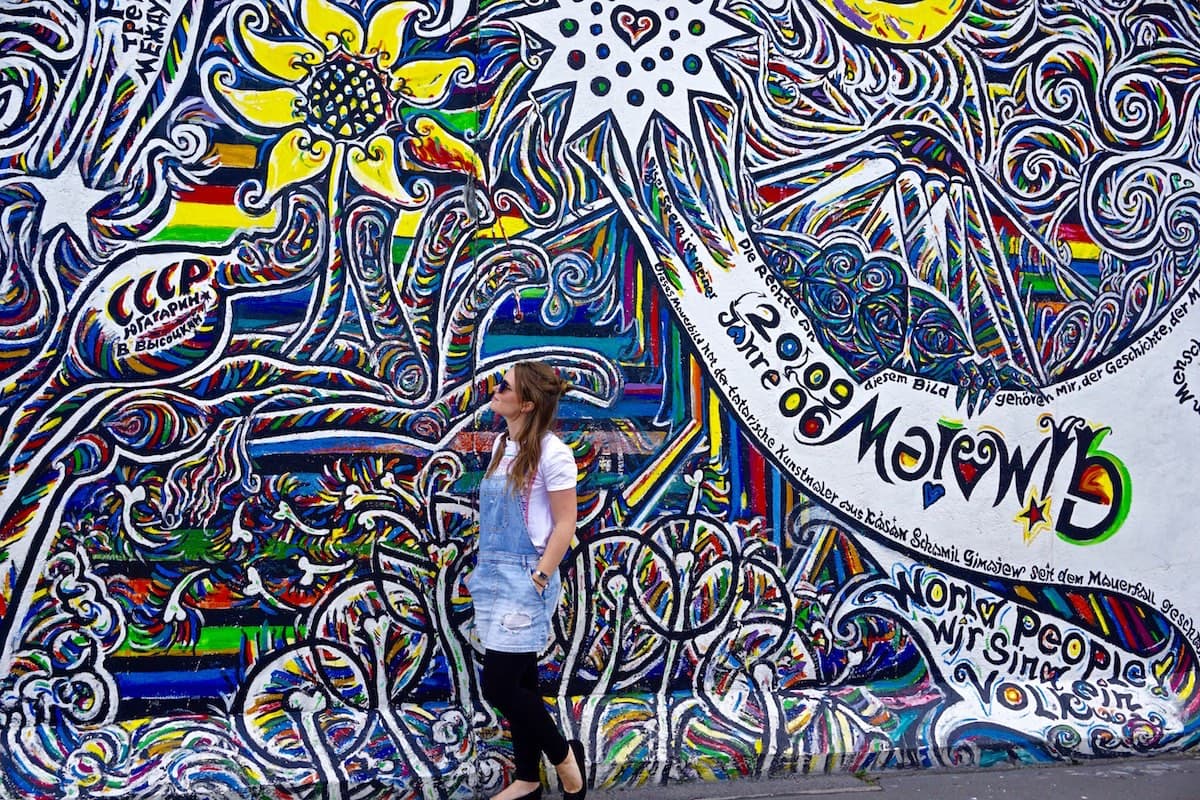 The dancing glitter people were some of my fave pieces I saw around Berlin. Again, several were hiding all over the city, but once you knew what you were looking for, you spotted them everywhere! The artworks by French street artist SOBR are based on real people dancing at raves, and are often accompanied by the slogan "It's time to dance." I guess they emphasise the feeling of freedom and liberation there is in the city since the Berlin Wall fell.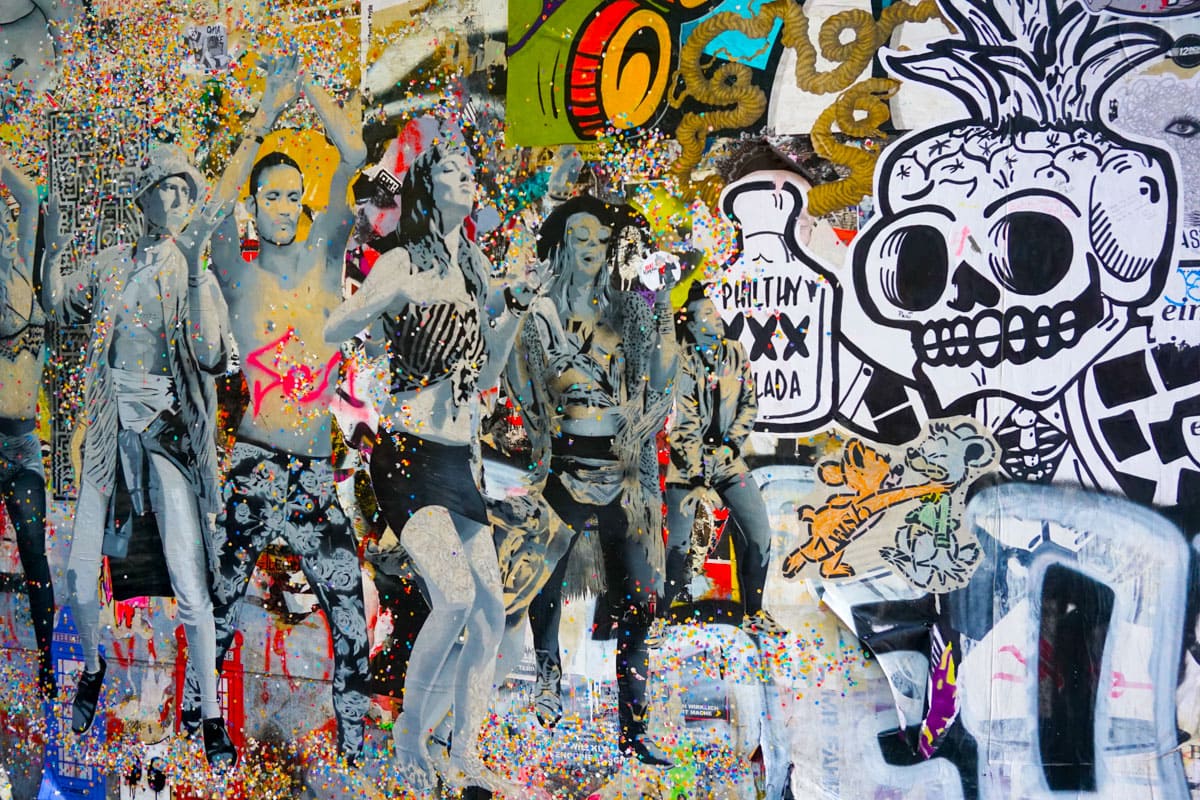 Another favourite moment was when Betty asked me to look for an artwork on a certain street corner. I looked up, around, on the floor and still couldn't see what she was referring to… until there, standing on a lamppost I clocked some tiny figurines. There are over 200 of these tiny cork yogis dotted around the city, but they're hard to spot unless you really pay attention! It was nice to appreciate both the big murals and the tiny details on this tour, and Betty really did make me look at each treet through more inquisitive eyes.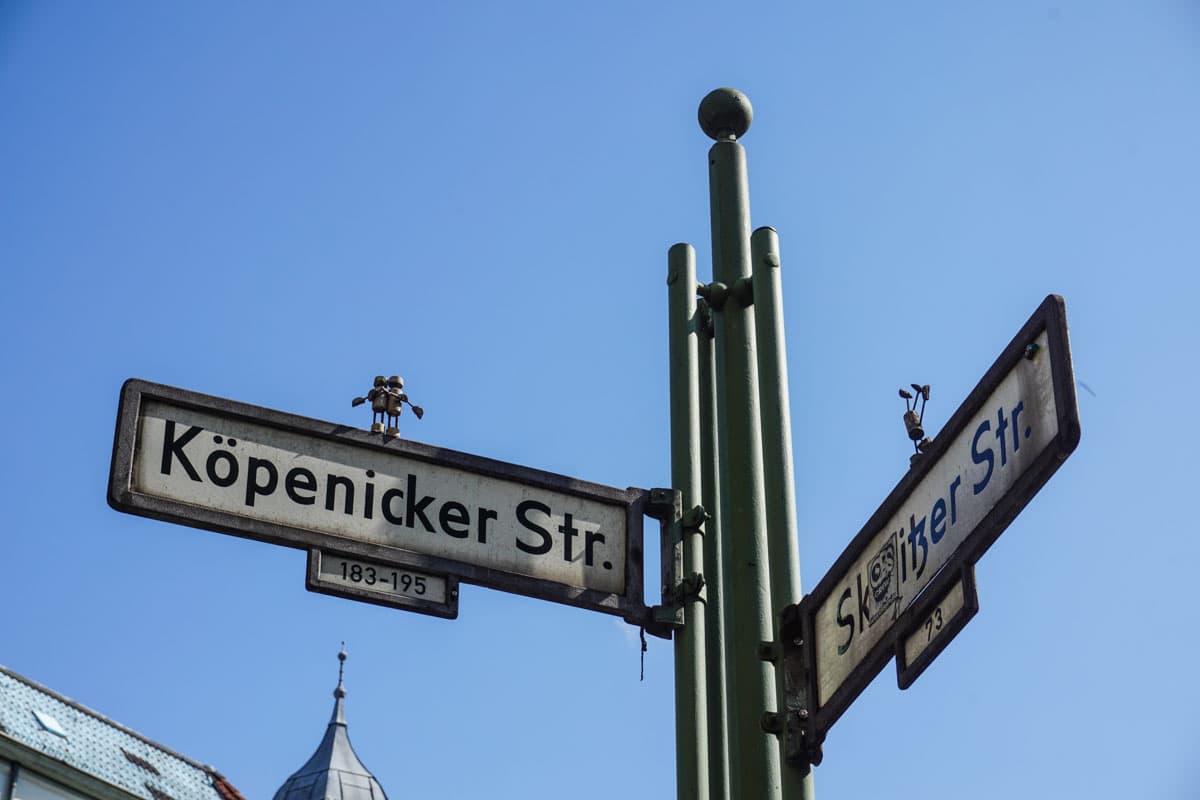 Towards the end of our tour we went to Urban Spree, a cool area with a quirky art gallery, food market, and plenty of outdoor space (covered in cool art). It felt creative, offbeat and while we were there in the daytime, I could imagine how buzzy it would be in the evenings. Betty also showed me the smallest discotheque in Berlin – hilariously it was the size of a phone box. You could request songs and head inside for a boogie!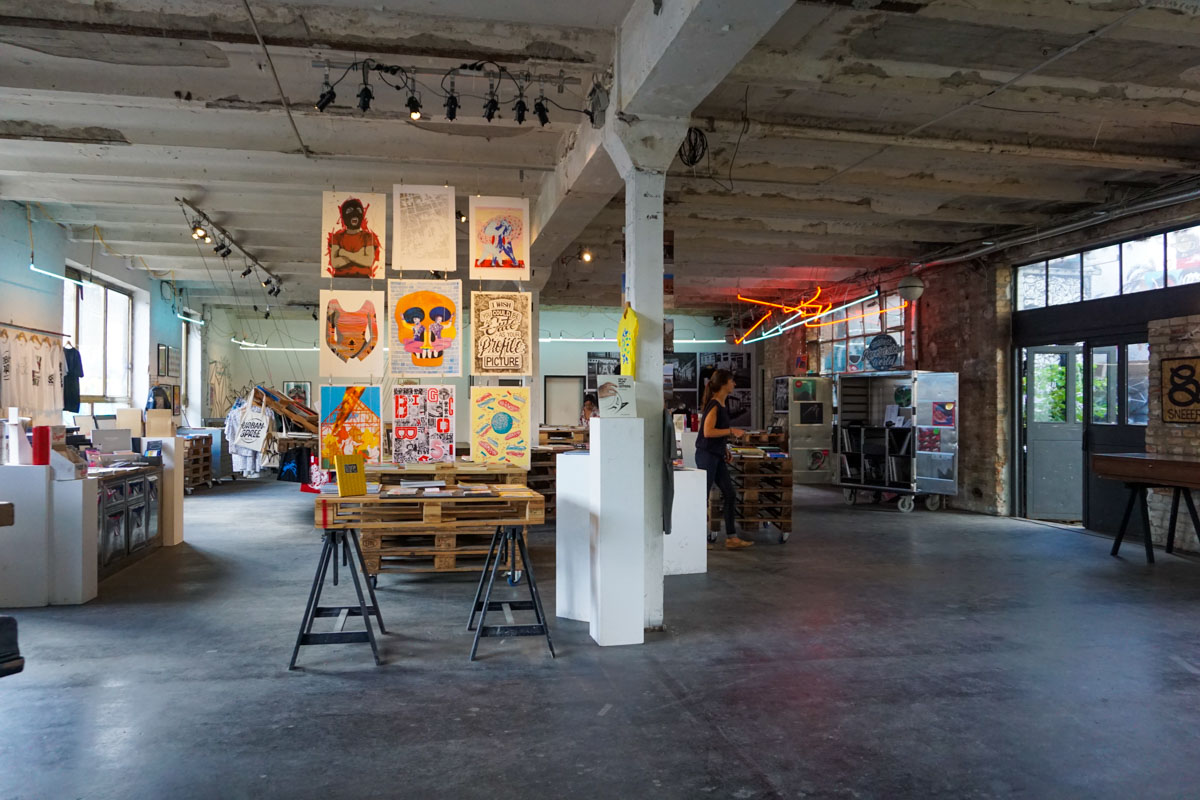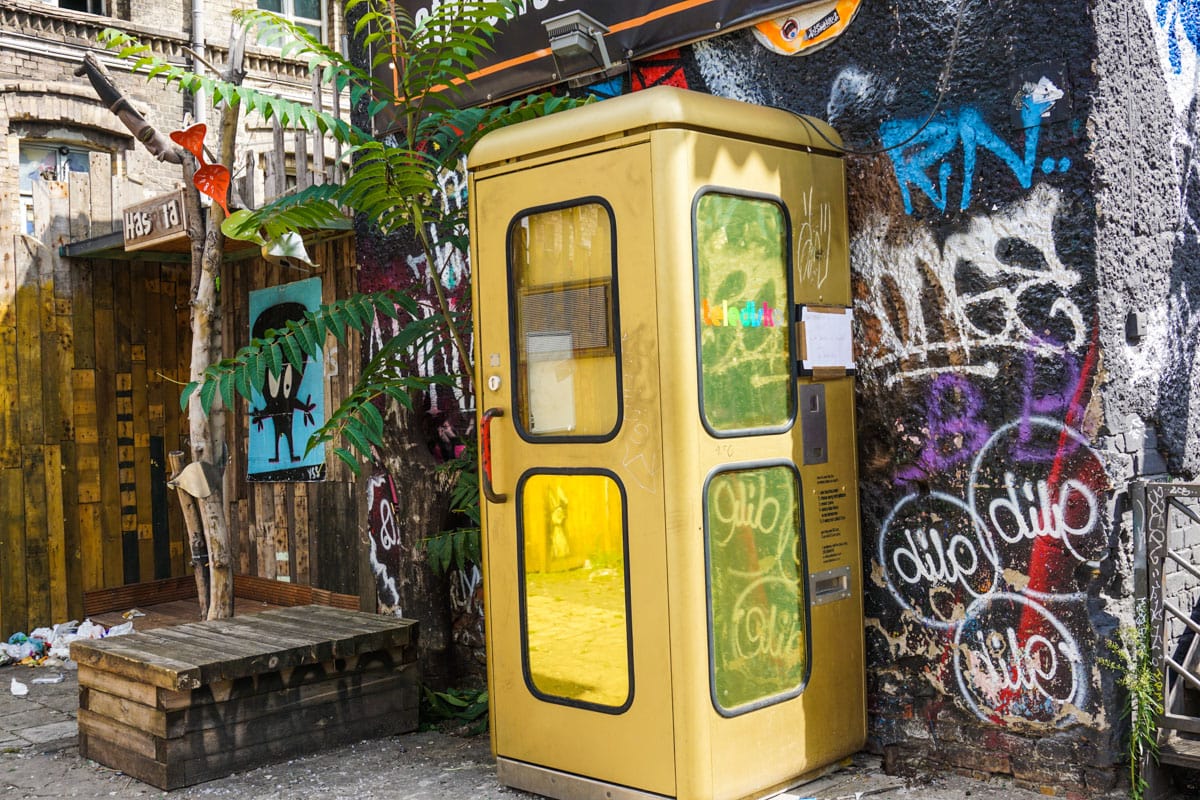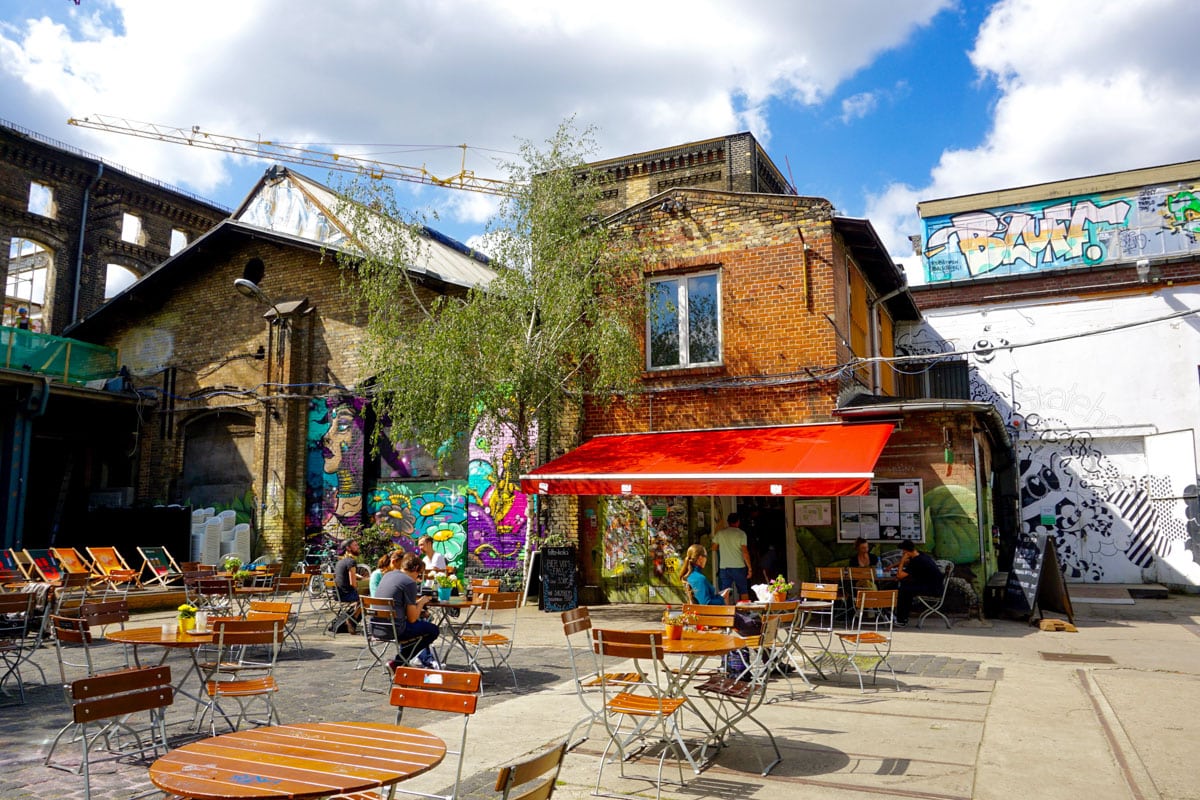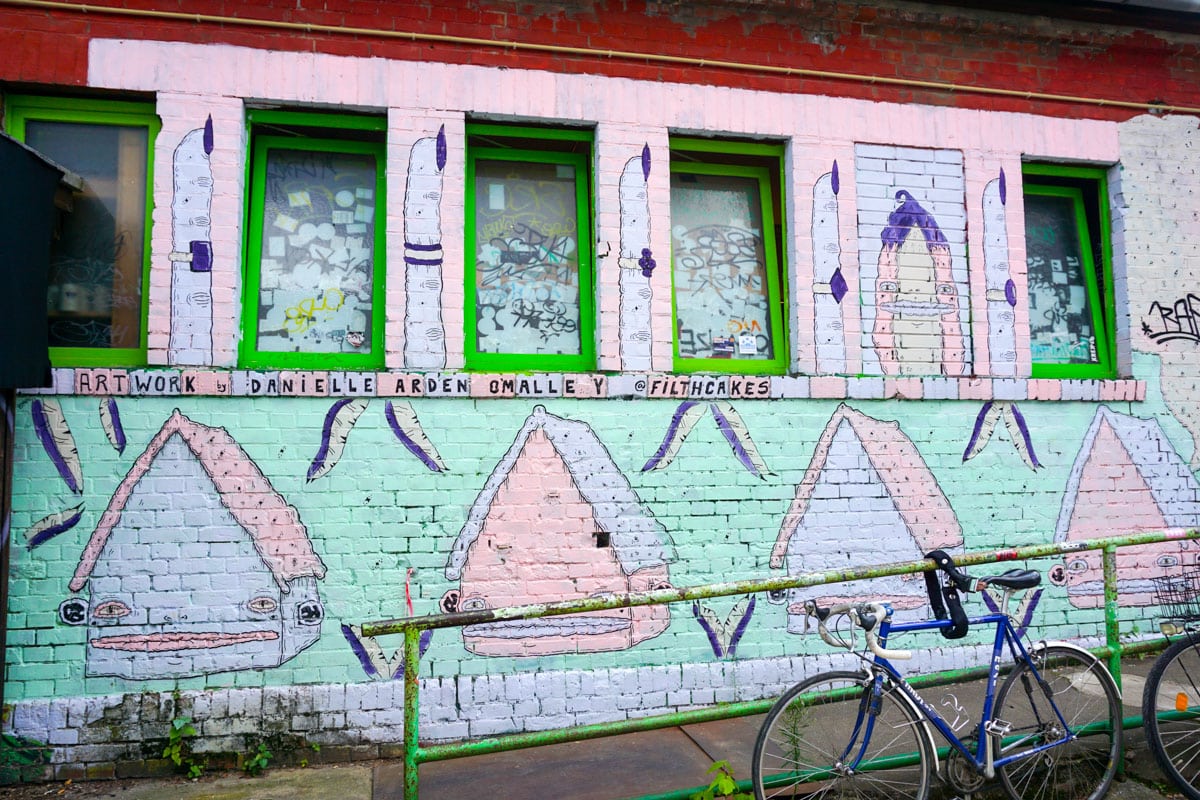 As we ended our tour Betty gave me a few more locals tips on where to go before I finished my Berlin trip, all while sipping on a Club Mate – a true Berlin drink which became popular during the internet boom as it kept people awake! Consider it a healthier version of Red Bull, oh how very Berlin!
I really enjoyed getting to know Berlin through the eyes of someone who was SO passionate about the city, and would definitely recommend this experience if you're visiting Berlin soon.
Enjoyed this post? Why not pin it for later?