London's latest immersive dining experience The Murder Express combines a delicious meal with a comedic murder mystery storyline… but is it any good?
Sometimes going out for dinner just isn't enough! You know, you want some entertainment to make your evening extra special. If you're a foodie like me, you've probably noticed London's immersive experiences are increasing by the week, with companies like Gingerline and Les Enfants Terribles leading the way with their innovative and creative 'shows'.
When I heard about newbie The Murder Express (created by Funicular), I just had to check it out. What is it? Well imagine a really fun murder mystery party, with character actors moving the storyline along, and a pretty exceptional three-course meal.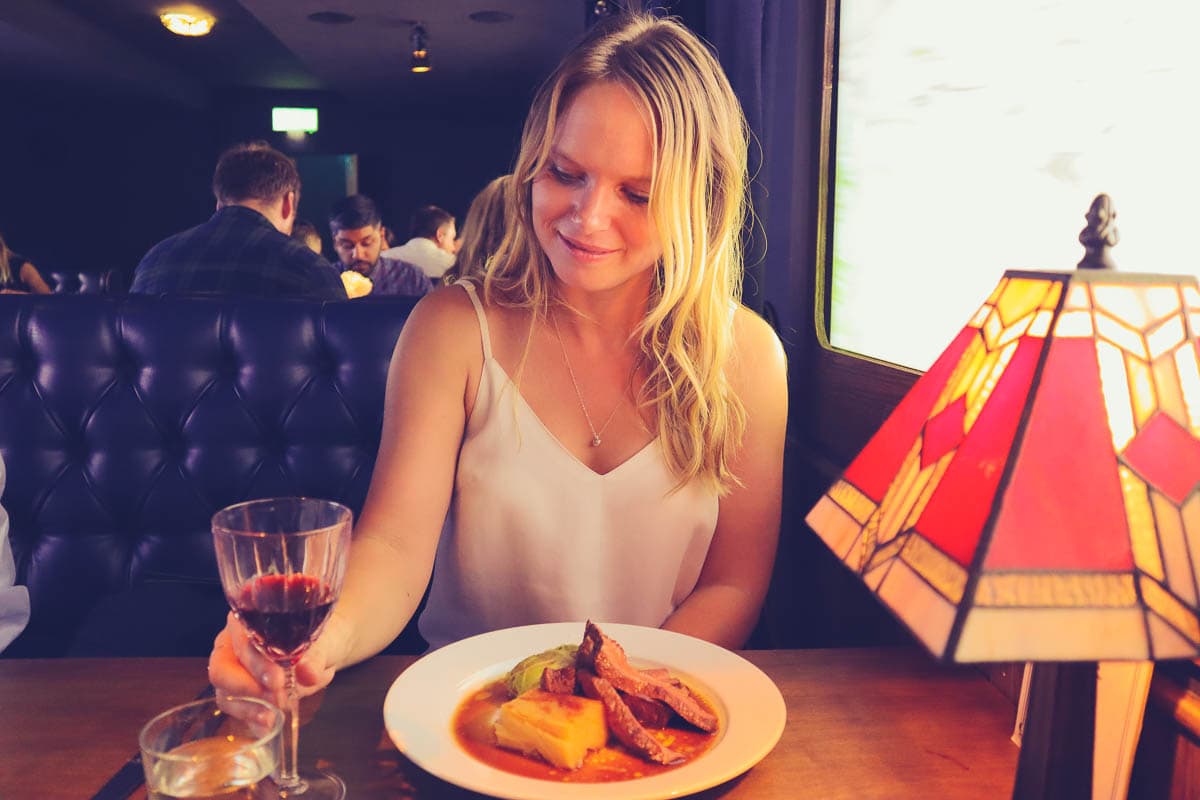 Often with experiences like this, you're paying more for the 'show' elements, and therefore the food is secondary. But this experience takes the food seriously too! Yep, the menu has been created by Billy and Jack – two top chefs who have teamed up since reaching the Masterchef final a couple of years ago.
Funnily enough, I was an avid fan of that season, in particular those two contestants, so this was a big selling point too.
As with all immersive theatre experiences, I think it's important not to give EVERYTHING away, otherwise what's the point in going and experiencing it for yourself?
But I thought it'd be fun to share a little flavour of the evening…
All Aboard The Murder Express
The Murder Express takes place at the fictional Pedley Street Station. As you wander along Pedley Street in Bethnal Green, with the railway line to your right, and lots of studios built under the arches, it feels like a real setting for a train station.
The retro vibes start outside, with the Pedley Street Station sign, ticket booths and a classic 'to the trains' sign. All in all it felt very realistic.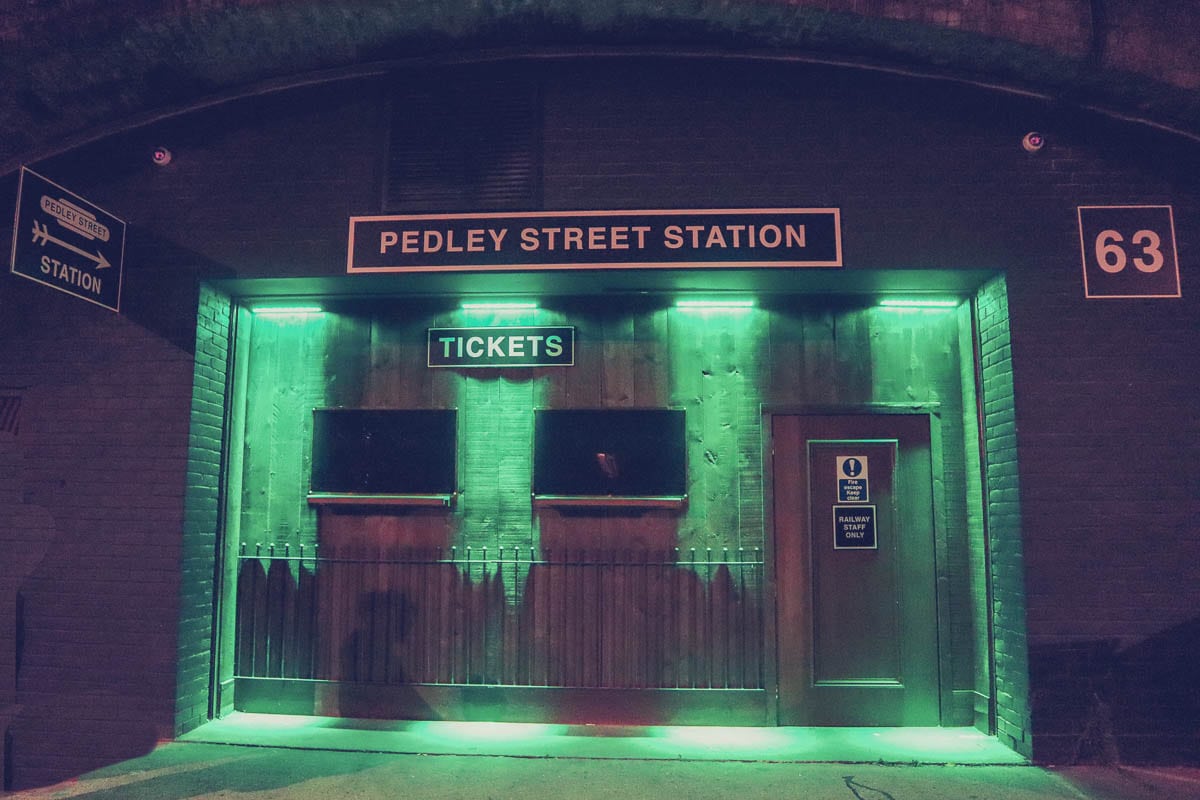 Once inside we checked in for our 'first class' train experience, and were issued a big train ticket with our table number on. We then headed through to the bar area and awaited further instructions.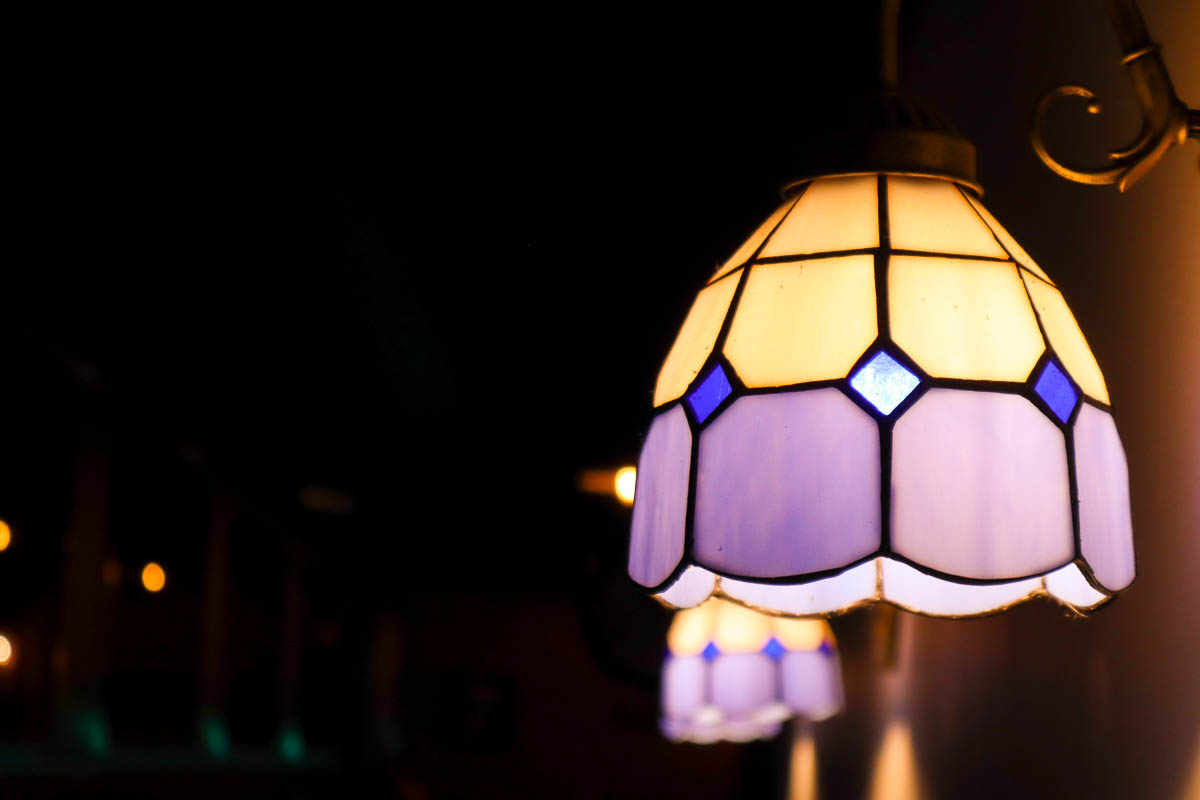 I couldn't believe it when we walked through and saw the shiny train carriage! As we waited we encountered our first character, Frank. With his cockney accent, he was something of a wheeler dealer, and I started to wonder what his role would be in the theatrics of the evening.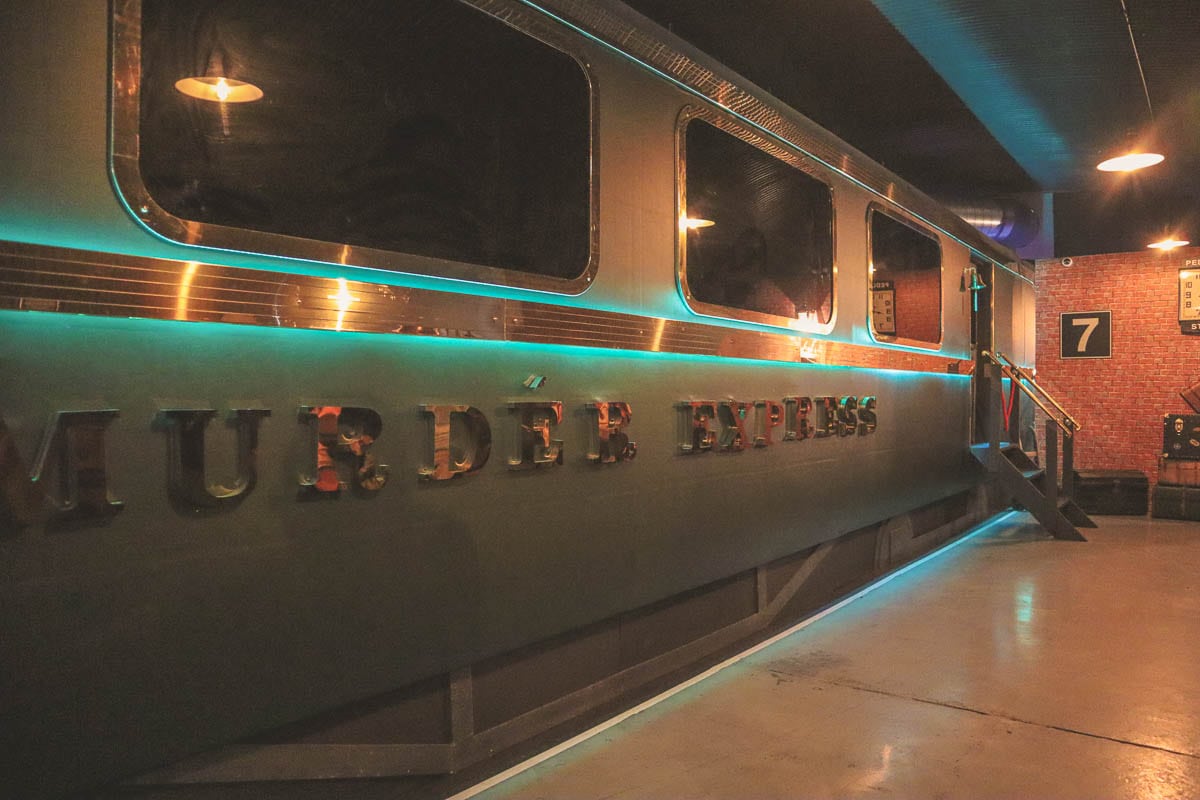 But first, a drink! Before boarding we were encouraged to order drinks from the 7 Sins Bar, which had a menu of tasty sounding cocktails, along with wine, beer and soft drinks. You could also pre-order rounds to be delivered once on board the Murder Express.
Along with the train carriage, there were stacks of vintage suitcases and old fashioned street lamps. I noticed lots of the evening's guests, I mean passengers, had glammed up for the occasion, and were enjoying snapping photos around the space.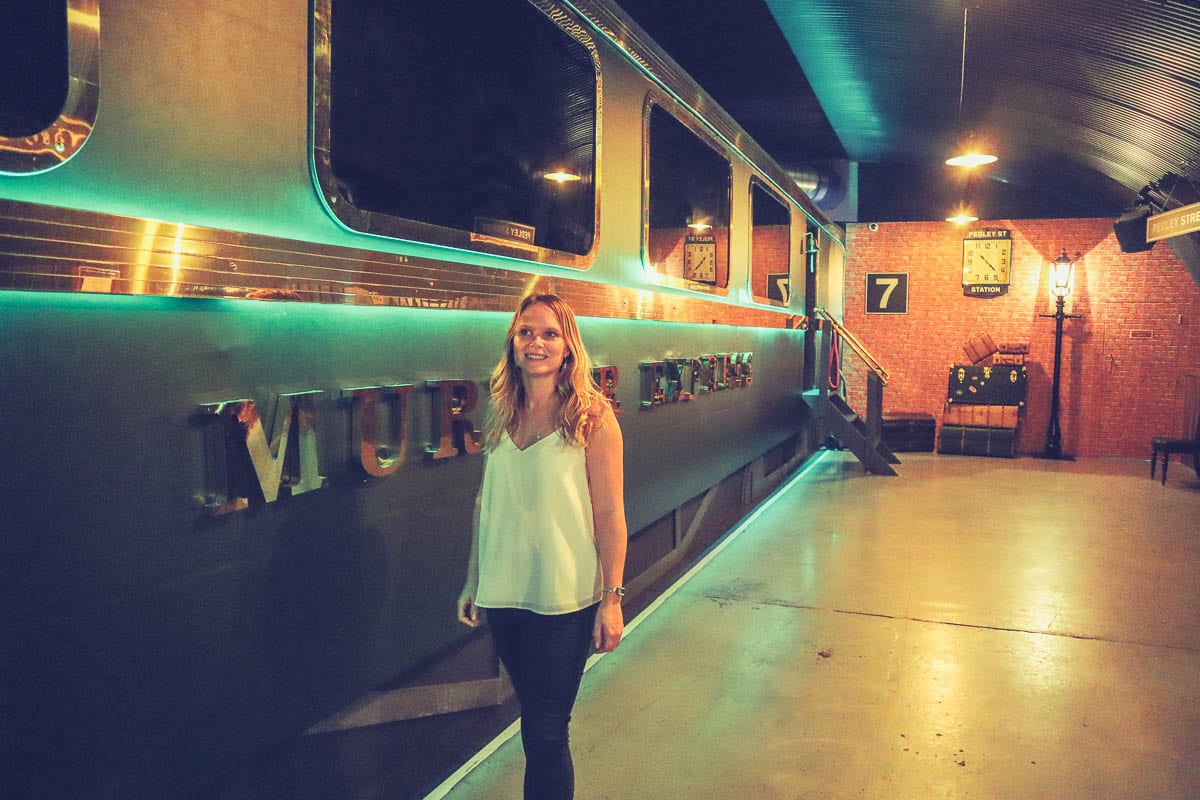 And then the door of shiny strain opened, and the sounds of a shrill whistle bounced around the arches. The stern female train conductor was ready for us, and we boarded our carriage for the next part of the evening's entertainment.
It really did look like a dining carriage from the 1920s. The attention to detail really was incredible, with vintage lamps, retro leather booths and huge screens instead of windows, where the 'scenery' outside started to whizz past (very clever and it actually felt like we were moving at times!)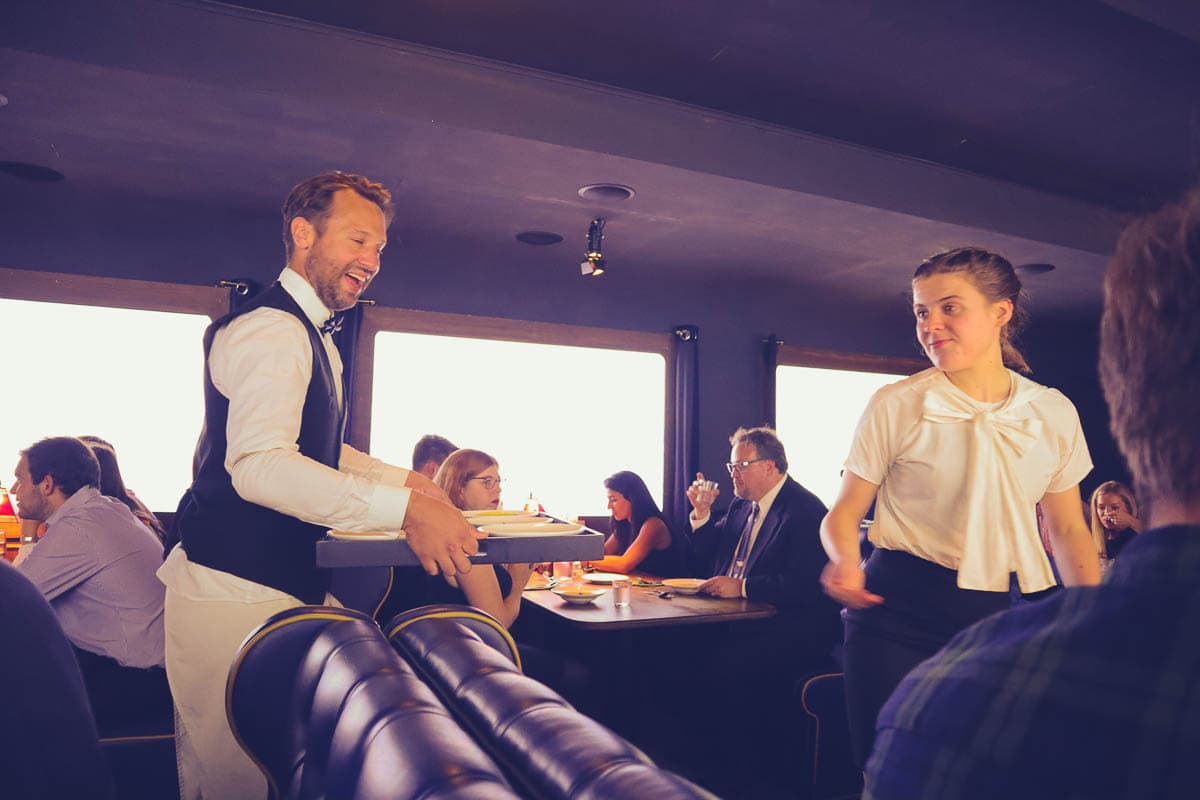 And now the story really began. We met the key characters and learned their backstories – from old hag Vera who spent the entire evening carrying her precious dog, to cowboy-esque Cliff and Tilley, a glamorous lady wearing a Gatsby style flapper outfit. There was also the slightly slapstick waiter who provided a lot of the evening's innuendos.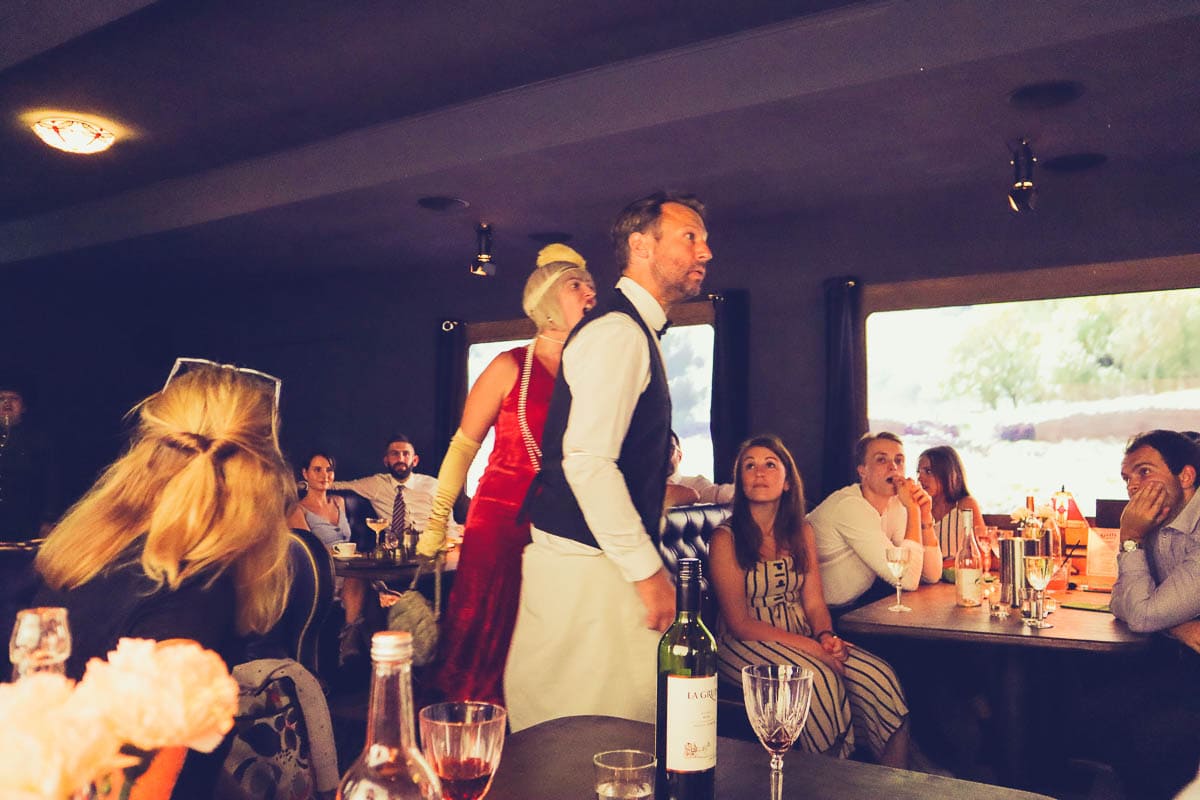 I can't tell you any more about the story, but believe me, there are some great twists! While there are moments of audience participation, I wouldn't say this experience is as 'immersive' as the experiences I've been to by Gingerline. Some of you may prefer that style, others of you may want to be more involved. I liked how the characters came to sit at the tables and have a chat throughout the night though.
The Murder Express: The Food
Billy and Jack did a great job at designing a three-course menu that was a) in keeping with the time period and b) possible to serve a large number of people all at once and c) delicious!
The starter was a tasty Mulligatawny soup, flavoursome with Indian spices and elegantly presented with chopped vegetables in the centre and topped with oils. This was accompanied by a slither of toast topped with cucumber, far less elegant but provided a good vessel for dunking!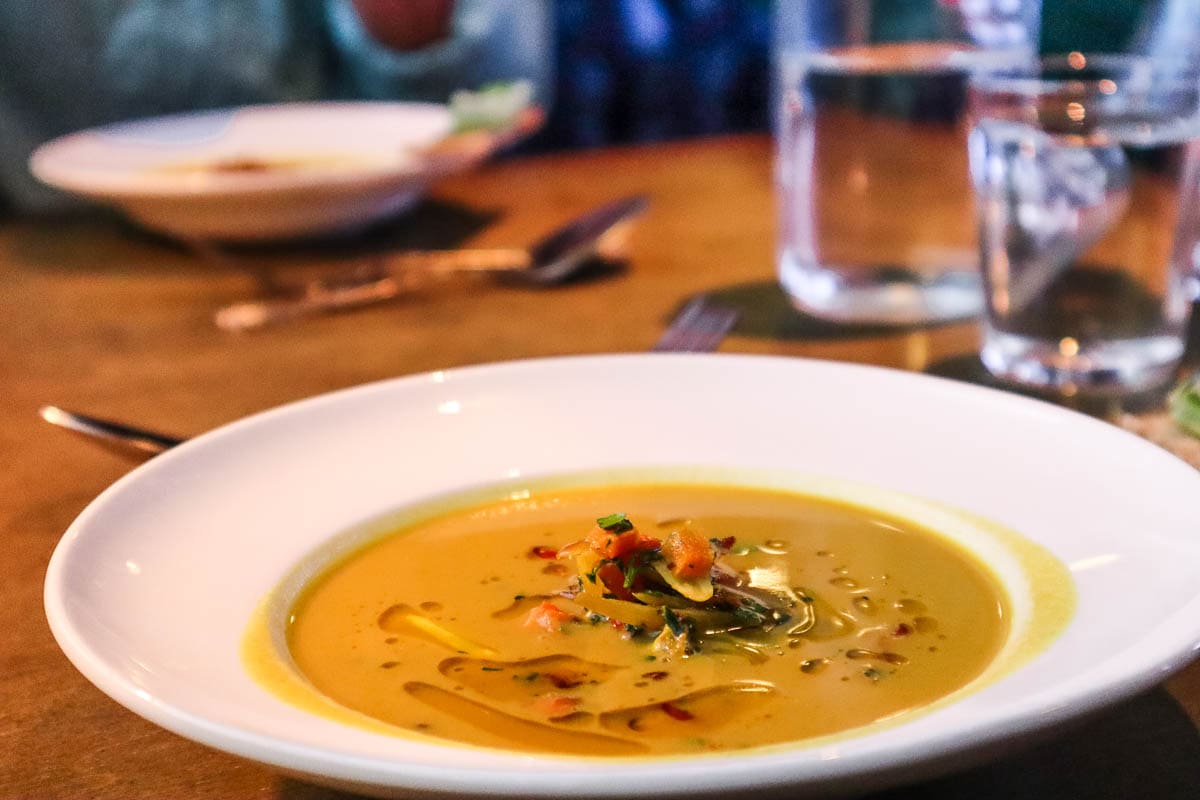 The highlight was the Butler's steak, which came with pancetta wrapped in savoy cabbage, and an indulgent stack of pressed potatoes.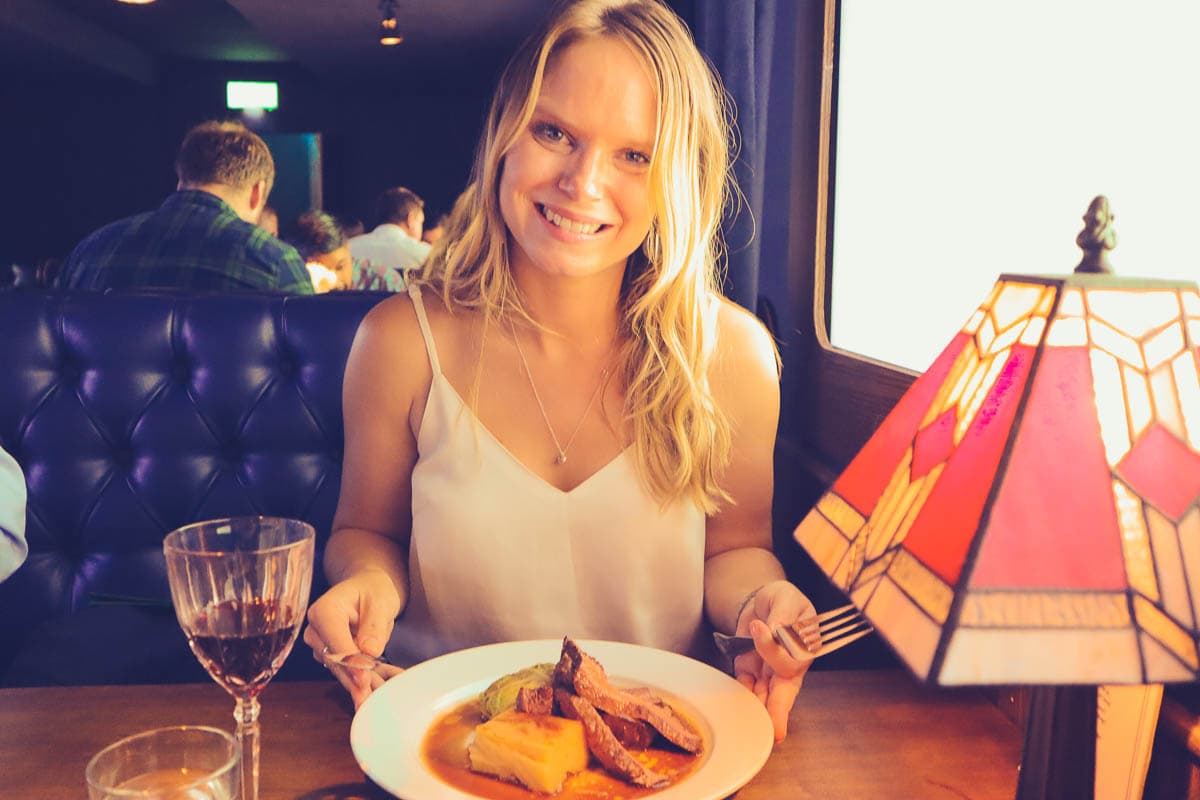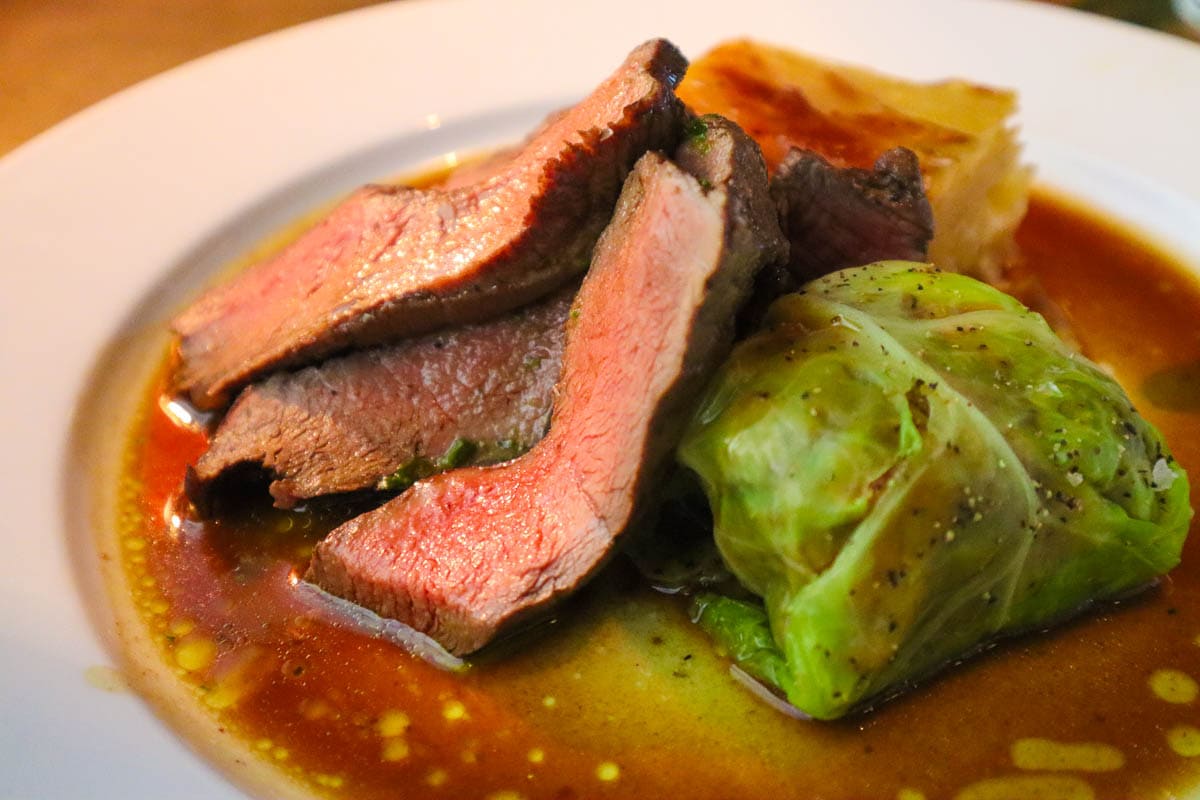 The finale was a cinnamon and apple tart with ice cream and a crunchy caramel shard.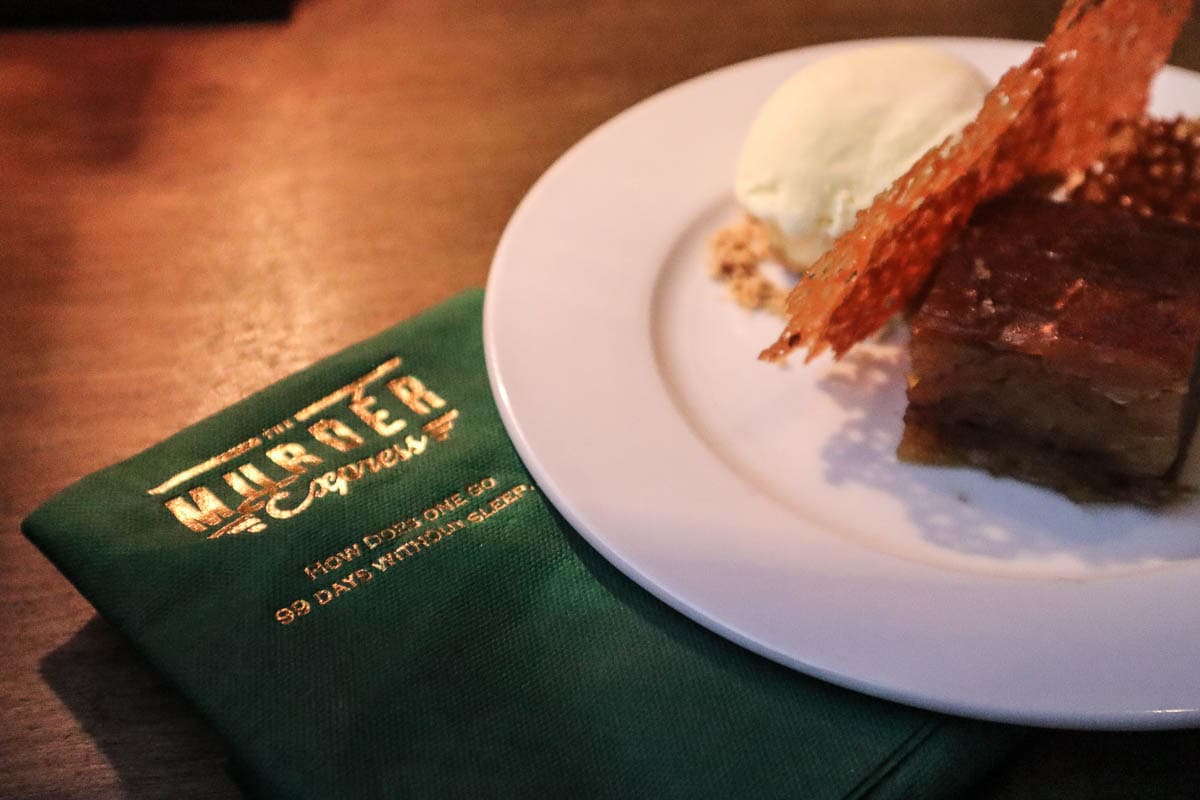 The courses were generous, beautifully presented and well seasoned. I couldn't finish my dessert, which is definitely an indication of the size.
As dessert was served, each table reviewed the evidence and decided 'whodunnit'. As for the result? My lips are sealed, but prepare for a few surprises!
Tickets for The Murder Express start at £53, which includes the immersive experience plus the three-course meal. You can buy drinks from the bar, with cocktails around £9 and a bottle of wine priced at a reasonable £22. The experience is running now until 22nd September. Find out more and book here.
I received a complimentary experience, but as always all opinions are my own.