From eye masks and phone chargers to miracle cream, here are the essentials I always pack in my hand luggage.
Hello from 37,000 feet. Clouds to the left, jokers to the right. No wait… spare seat to my right (yes, I've already celebrated that one!) and this is roughly where I'll be for the next 10 hours of my day. I'm heading over to Los Angeles, then on to Hawaii, and as with any trip, there was the usual packing spree last night.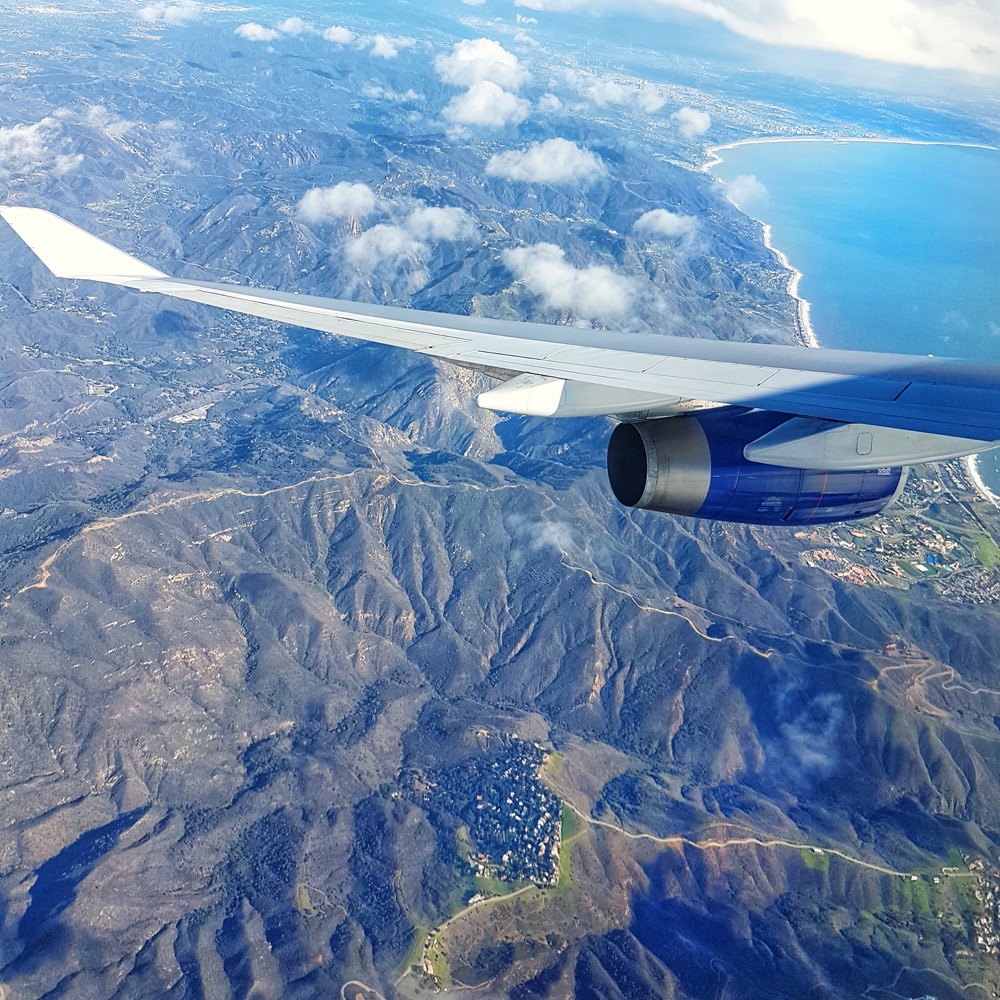 I like to think I'm a pretty seasoned traveller now, you would be too after taking 47 flights in a year! While what goes in my main luggage changes with the destination, my carry on bag is pretty consistent. So how do I deal with constantly packing bags for travel? What travel packing tips do I have that my journey easier, and how can I help you to travel light? Let's see…
HAND LUGGAGE PACKING LIST
Travel Packing Essentials: Comfortable Ear Plugs
I can't remember the last time I went on a trip and didn't pack ear plugs! I'm not guaranteed to need them on every flight or at every destination, but there have been a few times when I've been eternally grateful for them! I really rate these ones in particular, which have blocked out screaming twin boys, a guy who liked a good phlehmy snort, a constant toilet flush (learned the hard way not to sit near the toilet…) and a German stag do.
Travel Packing Essentials: Deluxe Eye Mask
Similarly, this is another essential for me. I've got a padded eye mask that I've had for over a year and it's so incredibly comfortable. Many have been scratchy or thin, so it's worth spending a bit to get a really cosy, comfortable eye mask. Not only are they great for flights when you want a bit of shut eye, they're also good on long bus journeys, and in lovely sunshiney destinations where you get blinded by sunlight streaming through the curtains at 6am.
Travel Packing Essentials: Comfortable Travel Pillow
Unlike my first two essentials, I only tend to pack a pillow if I'm travelling long haul. I was really grateful I took a neck pillow on my Indonesia trip and used it on boats, buses, planes and more! As it was so worn out I asked for a new one for Christmas and received a J Pillow, which won lots of travel innovation awards.
The extra section of cushion supports your neck and chin, making it even easier to get comfortable. They have a small loop to attach to your hand luggage. For comfort, I'd recommend a cushioned pillow rather than an inflatable or bean-filled alternative.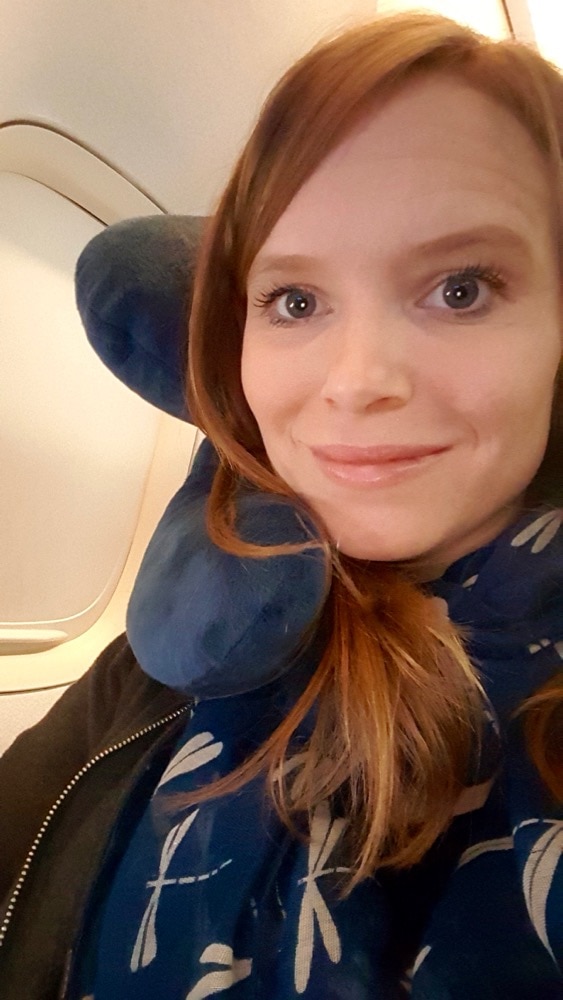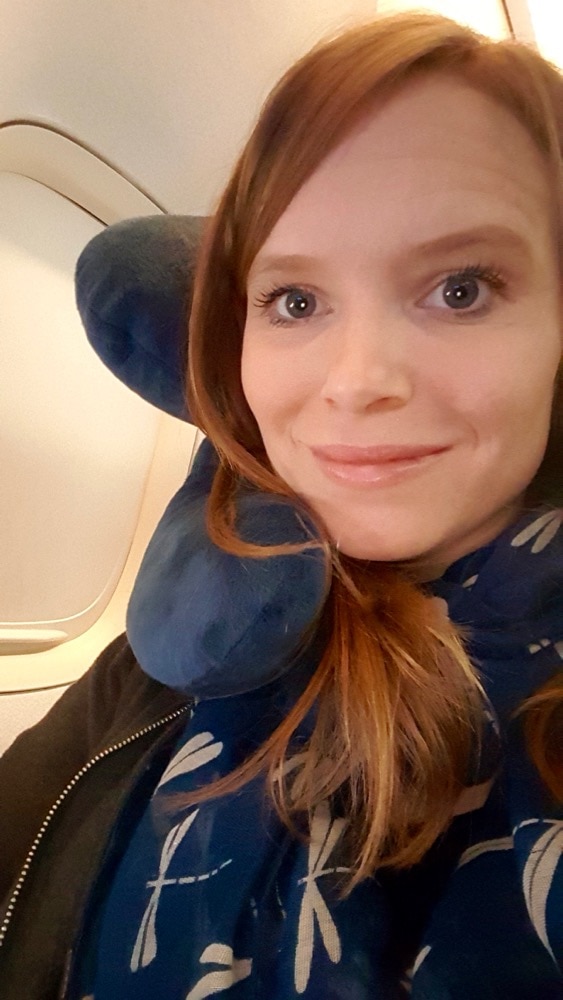 Travel Packing Essentials: Soundcore Space NC Wireless Noise Cancelling Headphones by Anker
I've just been given a pair of these bluetooth, noise cancelling headphones to try out, and so far I'm VERY impressed. I think they'll make a huge difference for flights, as the noise cancelling really does eliminate so much background noise, chatter, babies crying and transport hum! I think they'll be a total game changer for a frequent traveller like me.
Travel Packing Essentials: Laptop
My most productive time when it comes to writing blogs or editing videos is right now – yes on board a long-haul flight. Surely this blog is proof of that?! So for me, my Macbook is a total essential. It's been everywhere with me! I keep mine nice and safe in a hard shell plus a soft case too. Compared to PC laptops, Macs have great battery life. I've been tapping away for over 20 minutes and I'm still on 100% battery, in fact it says I have 8 hours 58 remaining – almost the entire duration of the flight to LA.
Travel Packing Essentials: Laptop Case
As mentioned above, I'm extra careful when it comes to protecting my laptop. One of my big flight fails was when I left my Macbook on the seat with the hard drive inside and rested the lid on top. I returned from the toilet to find the screen had a pressure fracture. A stressful week and £300 later of repairs later, I had learned my lesson! I love the look of this case with the map design, perfect for any travel lovers out there.
Travel Packing Essentials: Portable Charger
Many people use their phones for everything, from checking in, to listening to music, watching films, taking photos, calls, messaging, social media and more. Since switching from iPhone to Android I don't run out of battery as often, but I still always carry a portable charger. They're great for big days of sightseeing when you're using maps, googling attractions, and sending pics to friends back home to make them jealous! I've tried a few but I really like the Anker Powercore 13000 as it stores a lot of charge, has a fast charge capability and isn't too large.
Travel Packing Essentials: Water Bottle
You might not be allowed to take more than 100ml of liquids through, but you can take an empty water bottle! Many airports have water fountains in departures and these bottles by Bobble are great as they filter the water as you drink it.
Travel Packing Essentials: Camera
I take my Canon M50 everywhere with me! It's a great travel camera, and I love the flip screen – perfect for vlogs and selfies! It's really light and compact, so makes a great travel buddy.
Travel Packing Essentials: GoPro
I never pack any important gadgets in my main luggage for fear of them being lost or stolen. I love GoPros for capturing footage that would be tricky with my main camera or phone. They're amazing for snapping underwater shots!
Travel Packing Essentials: Currency
I have a large wallet I use at home with a million different loyalty cards, vouchers, small change, stamps and photos in. But when I travel I slim down to a small purse containing just a few bank cards, my ID, some local currency and a few business cards.
Travel Packing Essentials: Make Up
I've been on flights with people who cake make up on before, during and after a flight. I've never been one of those people, but I do always carry a few basics. In my clear plastic bag you'll usually find a lip balm (currently a pink, doll-sized pot of Vaseline that I bought in California last year!) some powder, concealer if my skin isn't behaving, a travel-sized perfume and lip gloss.
I also carry a small fold out hairbrush which has a mirror built in. I really like the sets by Benefit which have miniature versions of their most popular products – especially this Hoola one which gives you a sunkissed glow!
Travel Packing Essentials: Toothbrush and Toothpaste
Long haul only, but so essential for when you start to feel a bit disgusting. Some airlines include travel toothbrushes and toothpaste, but I tend to pack one incase! I usually keep some chewing gum on me too. It's worth packing a few carry on toiletries too – miniature perfumes, deodorants and face wipes can really help you freshen up.
Travel Packing Essentials: Multi-plug adapter
Worst case scenario, you're travelling long haul and your bag goes missing… you'll be glad you have some way of charging your phone, laptop and any other gadgets. This one looks good as it's compact and works for all regions in the world.
Travel Packing Essentials: Earphones
Most airlines give you complimentary earphones on long haul flights, and no doubt you've discovered the hard way, that they're absolutely rubbish! Whether I want to listen to music on my iPod or phone, or catch some of the inflight entertainment, I make sure I have my own. I prefer the earbud style as they're comfortable and tend to cancel out a lot of plane noise too.
Travel Packing Essentials: Kindle
I'm guilty of packing a book for nearly every flight over the past 12 months, but then not reading a single page. However, sometimes I get inspired and just fancy getting lost in a novel rather than getting engrossed in another film or trashy TV series. When it comes to big adventures, I'd recommend a Kindle. It doesn't take up as much space as books, and is great to read in different lights. I personally love the dark mode, ideal for when you're a bit sleepy on a plane!
Travel Packing Essentials: Aromatherapy Oil
Sometimes the air inside an aircraft is a mix of unpleasant smells and food. An oil like this one will not only refresh you, it'll also help you nod off.
Travel Packing Essentials: Elizabeth Arden Eight Hour Cream
AKA miracle cream. This stuff is incredible. My sisters always recommended it, and I noticed that they'd use the same tube for a few years, so while it's not super cheap, it lasts for a long time. Uses are diverse, from helping ease painful sunburn, treating spots, healing dry skin, chapped lips and more… it's the kind of cream you'll want by your side wherever you travel.
Travel Packing Essentials: Scarf
It may not be in my hand luggage, but it's still one of my flight essentials. I have a lovely navy blue scarf with dragonflies on that my sister gave me before I went to Central America a few years ago. It's big enough that it keeps me warm once it's wrapped around me, yet it's just a light cotton so could work as a sarong or a lighter scarf in warm destinations.
What are your flight essentials? Is there one item you won't take off without? Let me know in the comments below.
This post contains affiliate links.
Enjoyed this post? Why not pin it…