Wondering what to wear in Abu Dhabi? Whether you're heading to the city, the beach, the theme parks or the desert, this helpful guide will help you pack for your trip.
Some countries you just know what to wear. If I visit a big city like New York, I know I'll need a few pairs of jeans, some nice outfits for dinner and a few options of footwear. When I book a beach break, I reach straight for my bikinis, shorts and sandals.
But I remember when I visited the UAE, I spent a lot of time trying to figure out what I'd need! I'd been to Dubai before, but on my second trip I visited all seven of the United Arab Emirates, with a big chunk of my time spent in Abu Dhabi.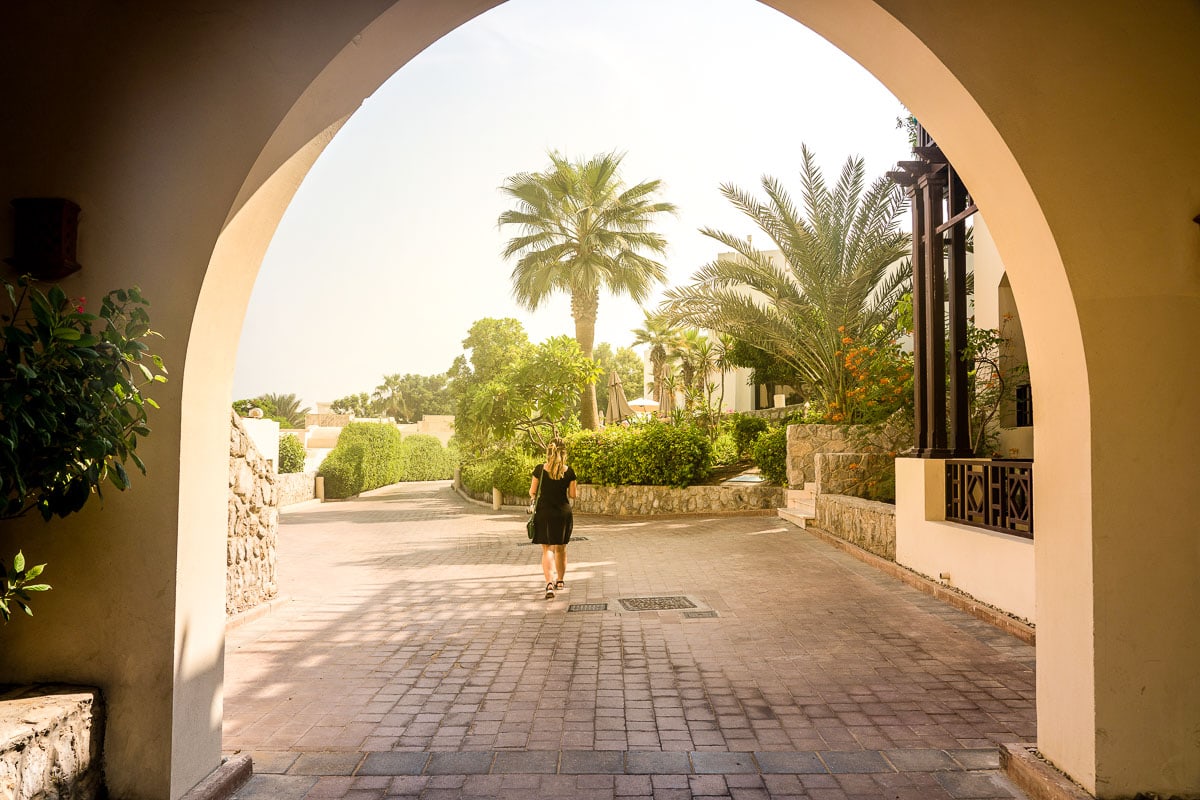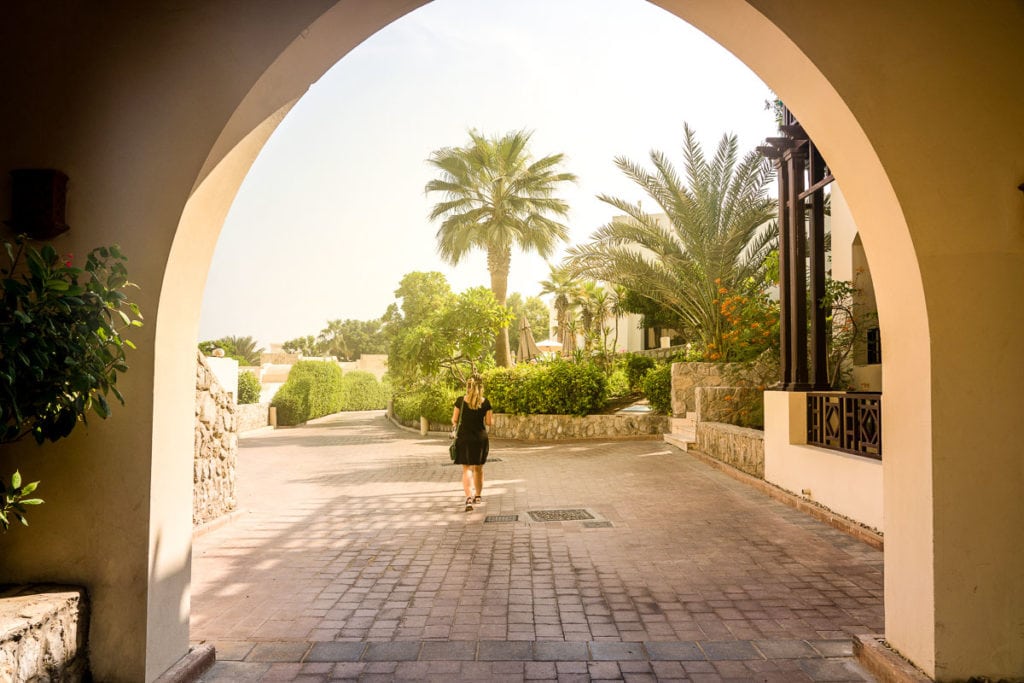 The UAE has a more formal and traditional approach than Western society. It's a Muslim country, and while the dress code isn't strict everywhere, it's important to be respectful of the culture.
When it comes to packing for Abu Dhabi, there are a few quite common questions. Things like…
Does Abu Dhabi have a dress code?
What do female tourists wear in Abu Dhabi?
What can I wear to the Mosque in Abu Dhabi.
Can you wear short dresses in Abu Dhabi?
How covered up should you be?
Is it ok to wear swimwear in Abu Dhabi?
Can you wear crop tops?
What about flip flops and sandals?
Are women expected to wear a hijab in Abu Dhabi?
Perhaps some of these are questions you've been asking too? Well, after travelling around the capital of the Emirates, I'm ready to share my tips on what to wear in Abu Dhabi. Before my trip I probably did exactly as you are now – Googled what I should pack! However, I didn't find much information that was up to date or covered the range of activities I planned to do.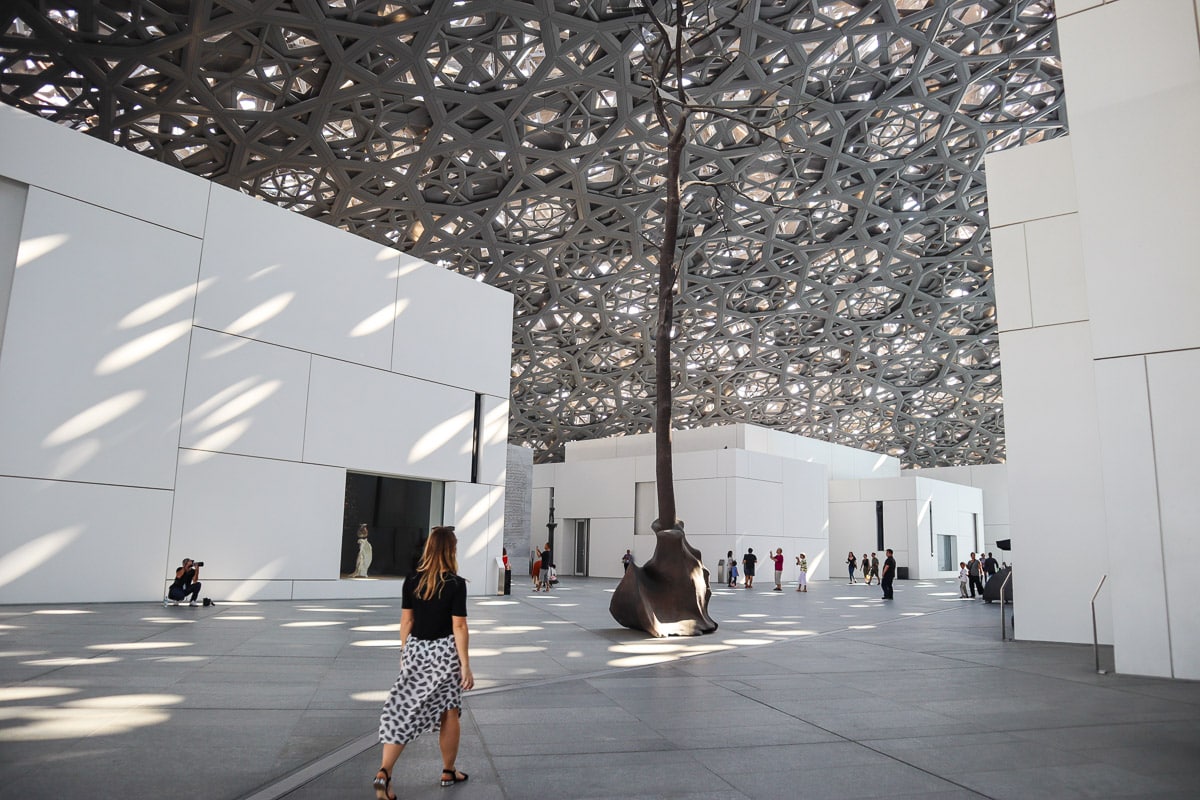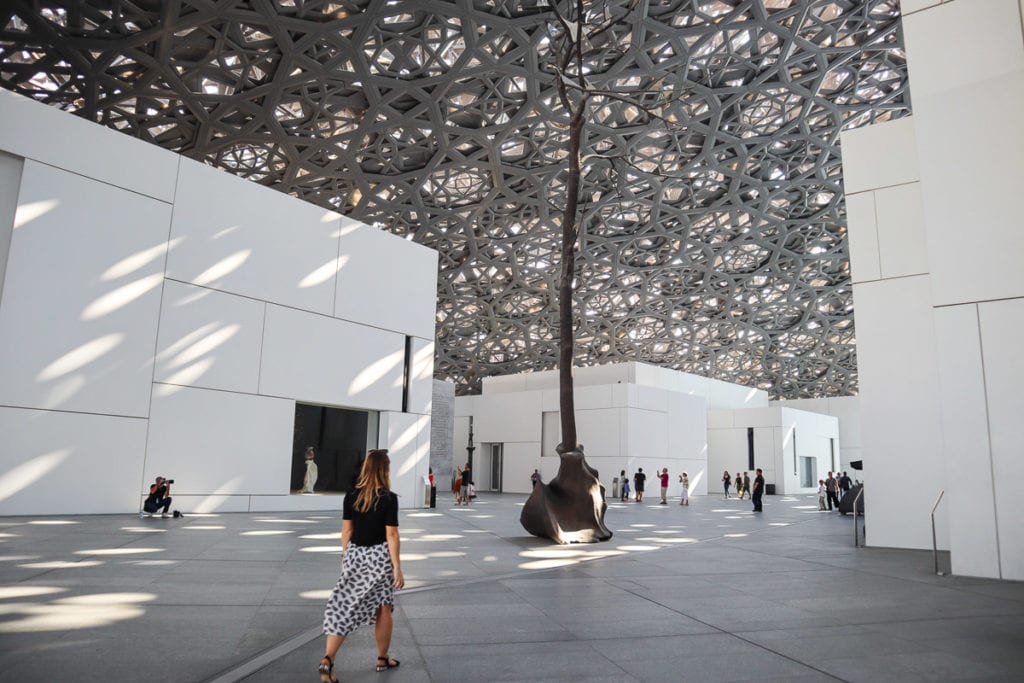 ---
Why should you think about how to dress in Abu Dhabi?
Abu Dhabi is located in The UAE in the Middle East. Guidance on how to dress varies a fair bit between countries in this part of the world. For example, I found Oman and Jordan to be quite relaxed, while I've heard Saudi Arabia is a lot stricter. Things also vary around the seven Emirates. For example, Dubai is very metropolitan and touristy, so you'll see a lot more Western dress. Meanwhile, the Emirati state Sharjah was a lot more conservative.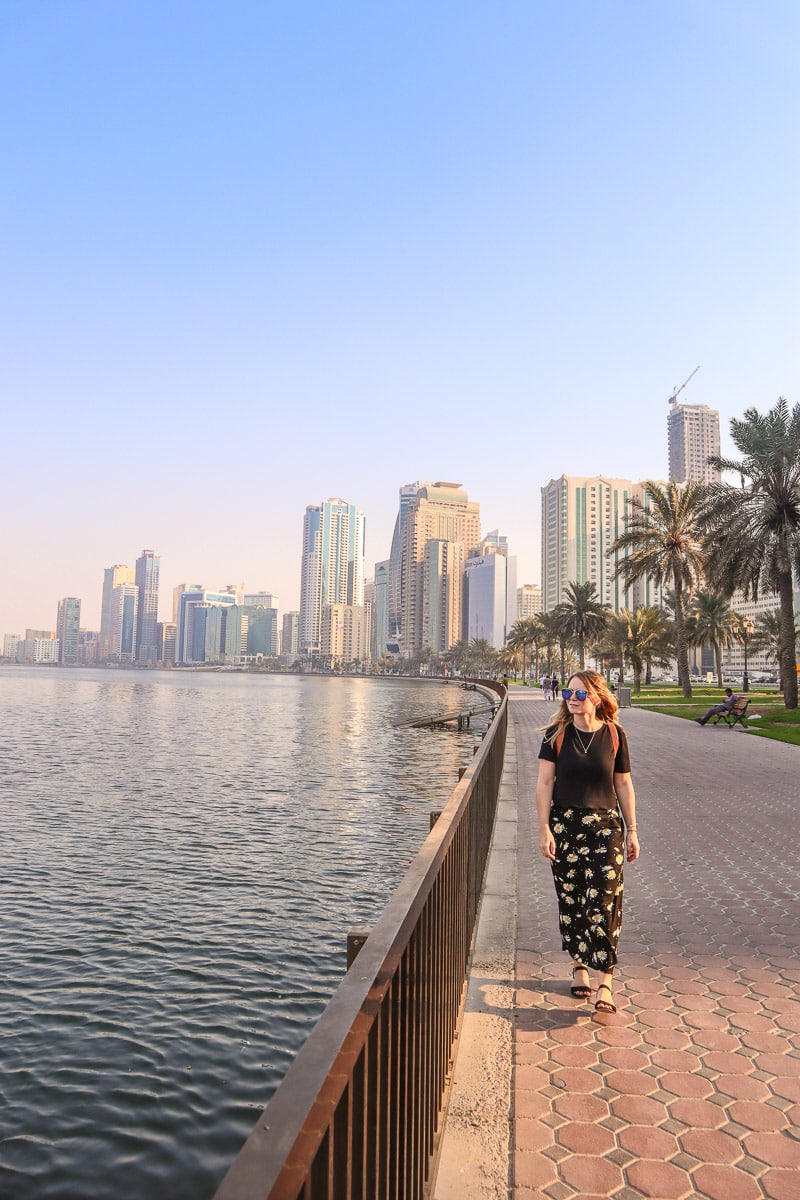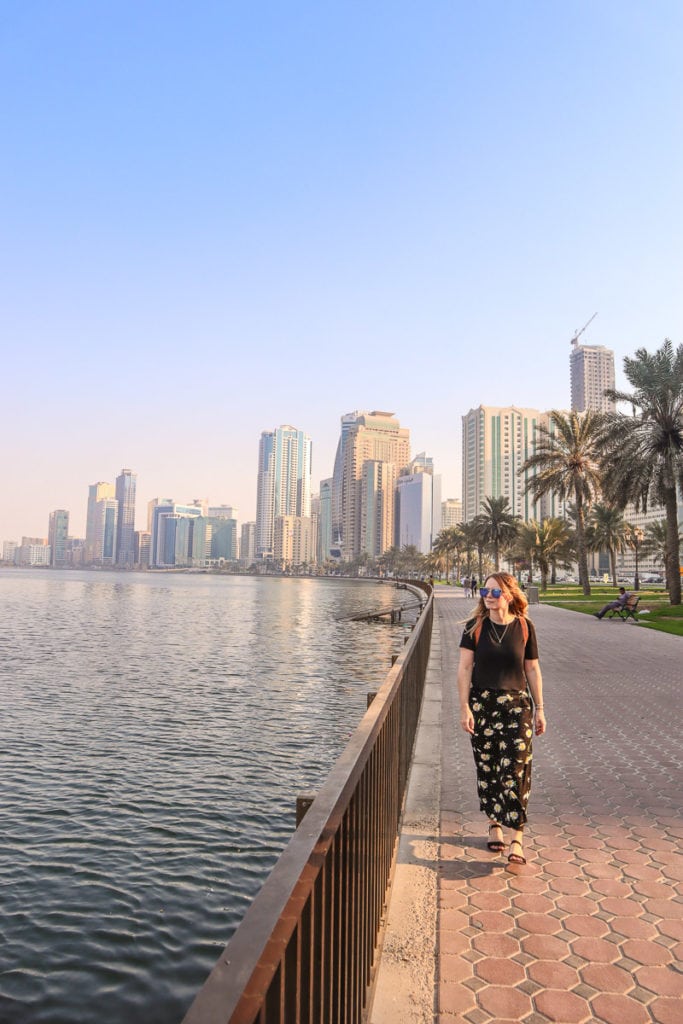 I believe it's somewhere you should respect the culture and dress appropriately. It's unlikely there would ever be consequences for dressing disrespectfully (so don't worry too much about buying a new wardrobe before your trip)… I just think it's important to adapt to the culture you're visiting. Most likely you'll get a few stares if you're dressed in something a little inappropriate, but no one will do anything.
What you wear in Abu Dhabi will depend a lot on what you're planning to do. If you're considering visiting any mosques on your trip (such as the Sheikh Zayed Grand Mosque) you'll need to cover up. Temperatures are warm in The UAE all year round, so when you're inside the comfort of a resort, it's fine to wear swimwear or reveal a little more skin.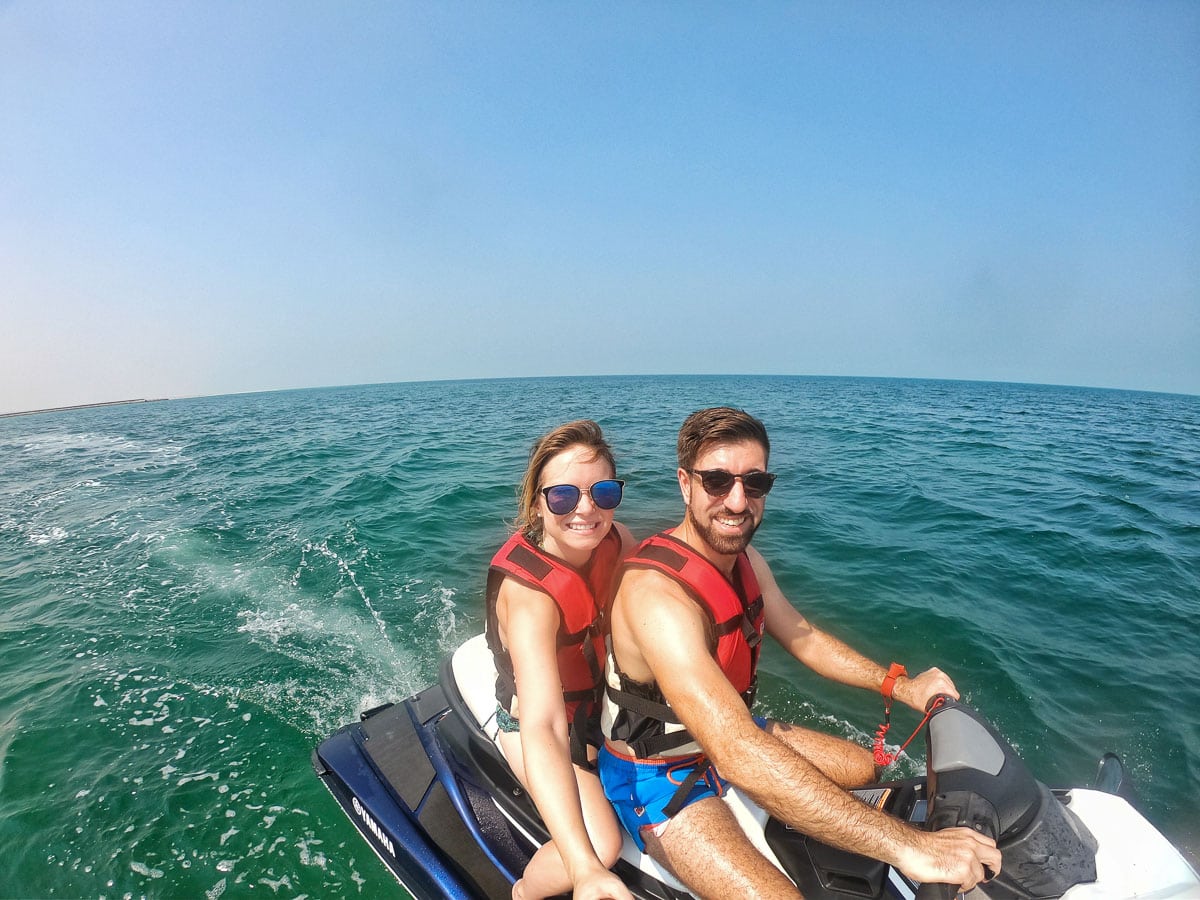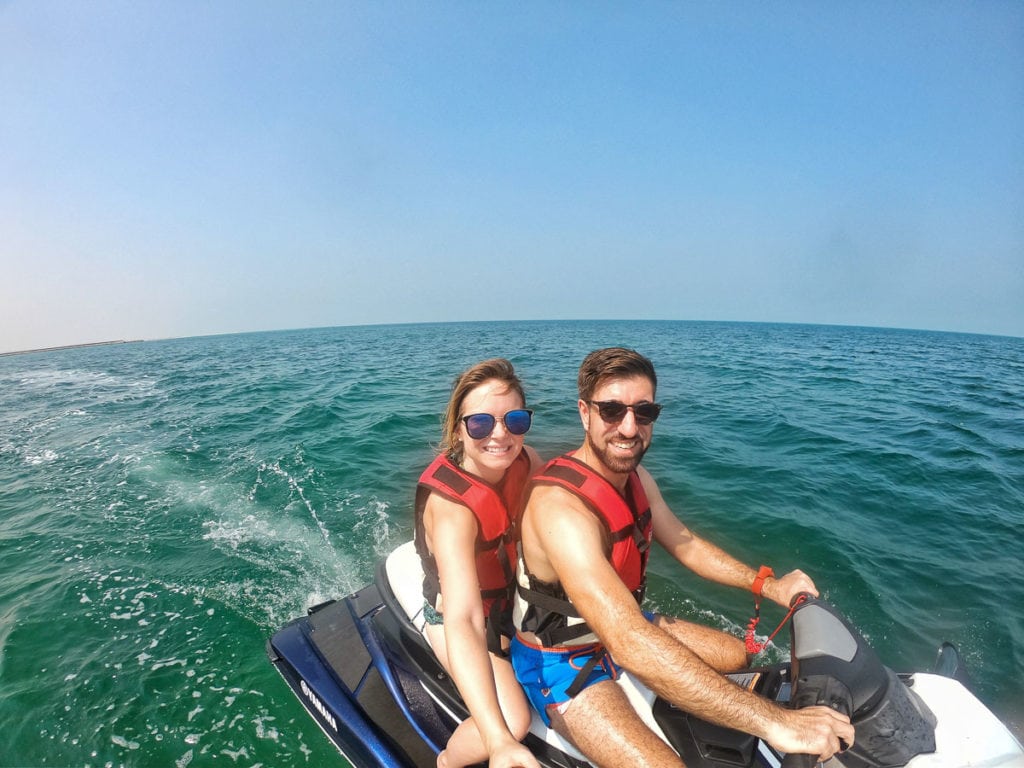 ---
What's the weather like in Abu Dhabi?
Abu Dhabi has a dry desert climate, which means that in August temperatures can reach 42 degrees, although the average sits at 35 degrees.
The coolest month in Abu Dhabi is January when temperatures average 18 degrees. While it's not a destination known for rain, the wettest month is February, which sees an average of 20mm of rain.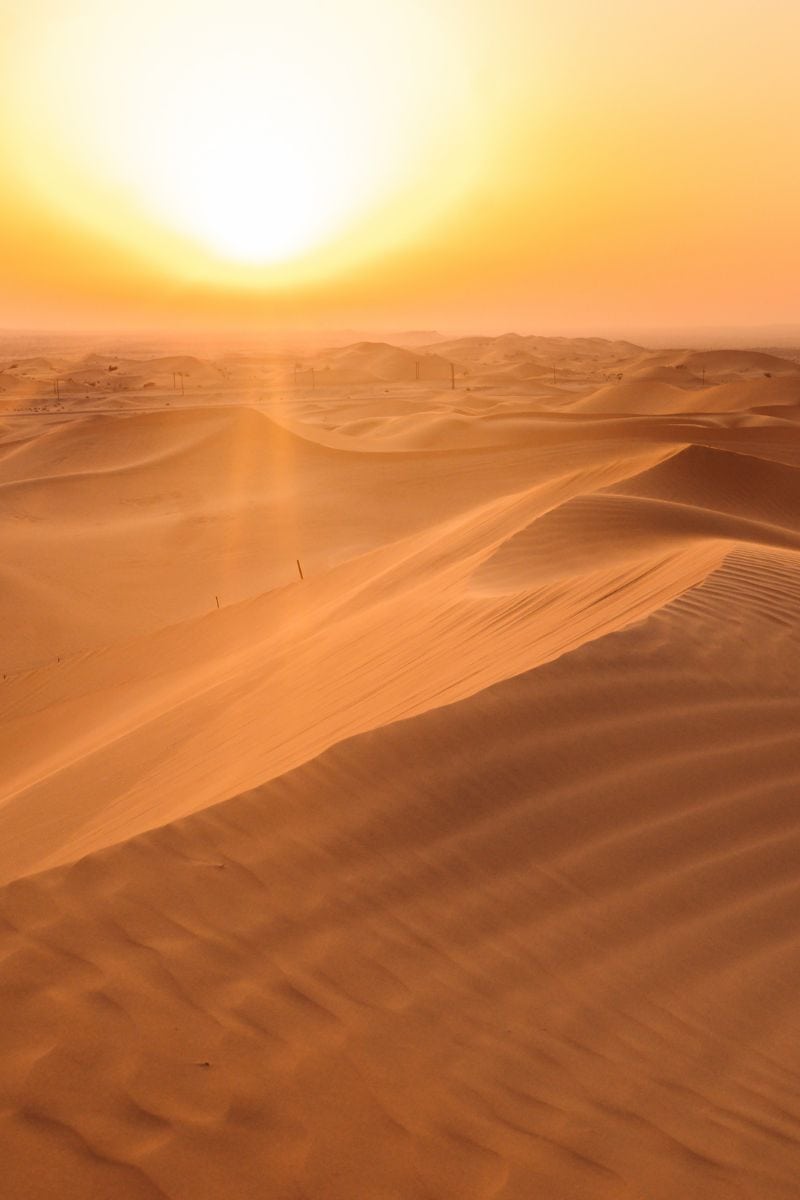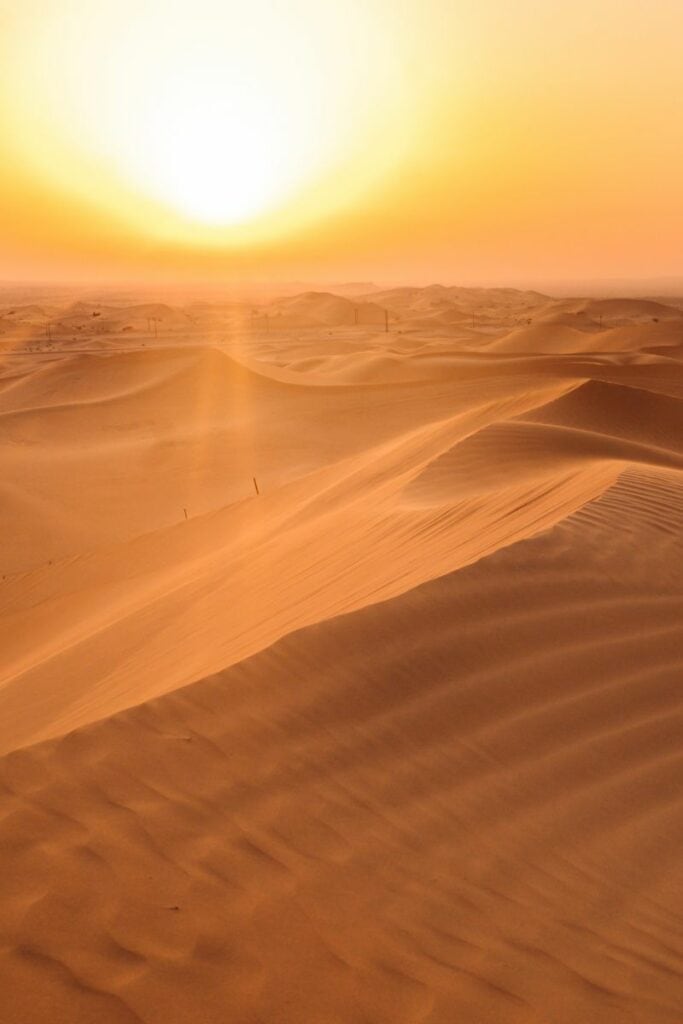 When is the best time to visit Abu Dhabi?
If you're wondering when is the best time to visit Abu Dhabi, I'd suggest visiting between November and March. It's a great winter sun destination if you're craving warm weather and sunshine.
I visited in November which was absolutely ideal! I left London where it was around 10 degrees and landed in Abu Dhabi just over 6 hours later to gorgeous blue skies and sunshine! My suitcase was stuffed full of outfit options as I had been so unsure of what I'd need. Thankfully, I've now done all of the research so you don't have to!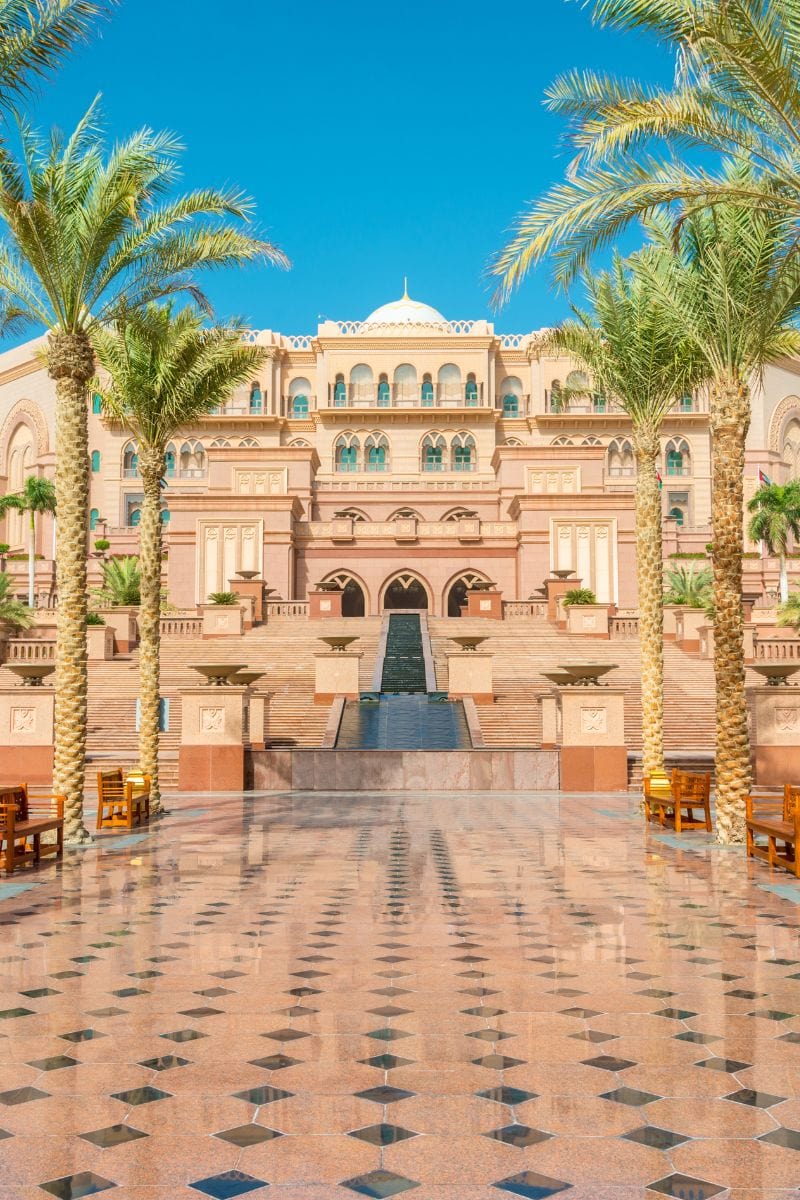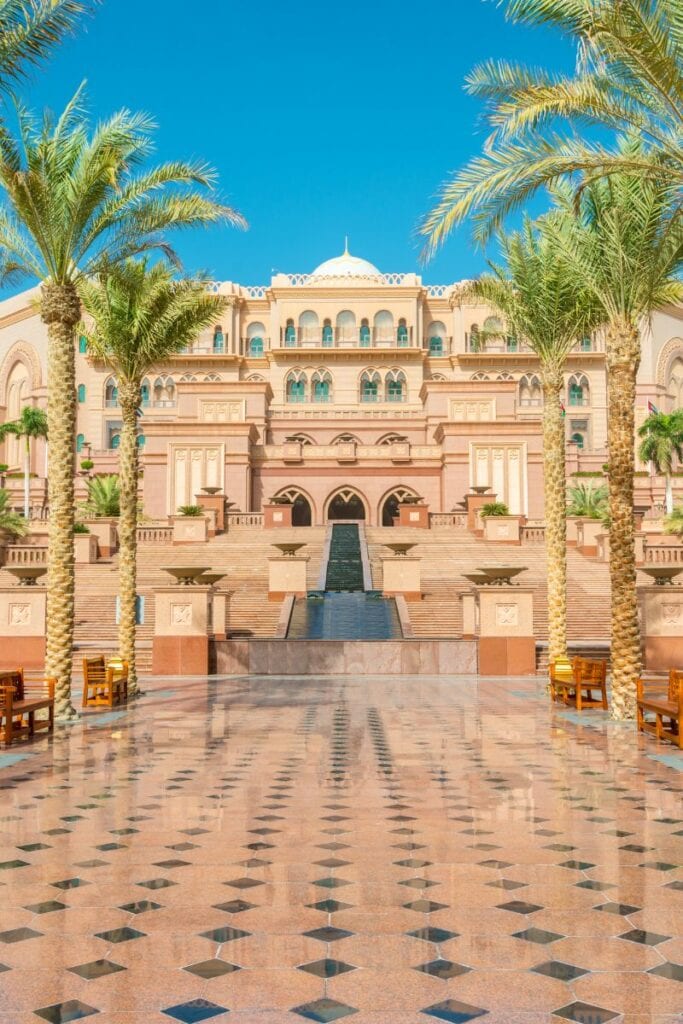 ---
From what footwear you'll need, to perfect outfits to enter the mosques and a few vital accessories (some of which I wished I'd packed!) here's my ultimate guide to what to wear in Abu Dhabi – basically your travel packing list! There's a whole section on what to wear in Abu Dhabi as a woman, plus a section for men, and some suggested footwear options too and other essentials too. Happy packing!
---
What To Wear In Abu Dhabi
What To Wear In Abu Dhabi As A Woman
When I was out in the city, I noticed that most women (both locals and tourists) covered their legs to below the knees, along with their shoulders and chest. I found Dubai to be a bit more relaxed as there are a lot more tourists there.
Some local women wore abayas (traditional ankle length robes) or niqabs (just showing their eyes), but plenty were in Western dress. Some locals covered their hair with headscarves, but you don't need to do this as a tourist unless you're entering a mosque.
In order to plan what to pack for a trip to Abu Dhabi, be sure to research exactly where you're going. Think about if you're just going to spend time in a luxury resort, or you're planning to venture out to the mosque, theme parks, shopping malls or galleries.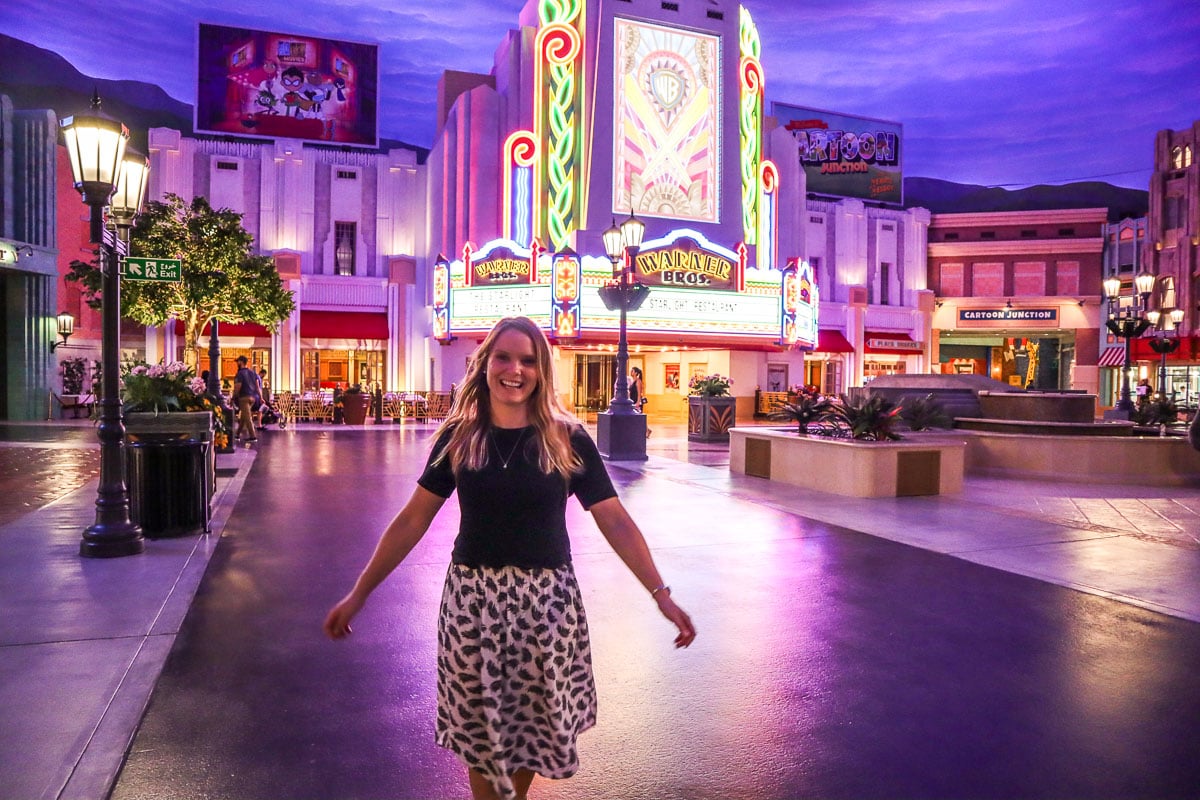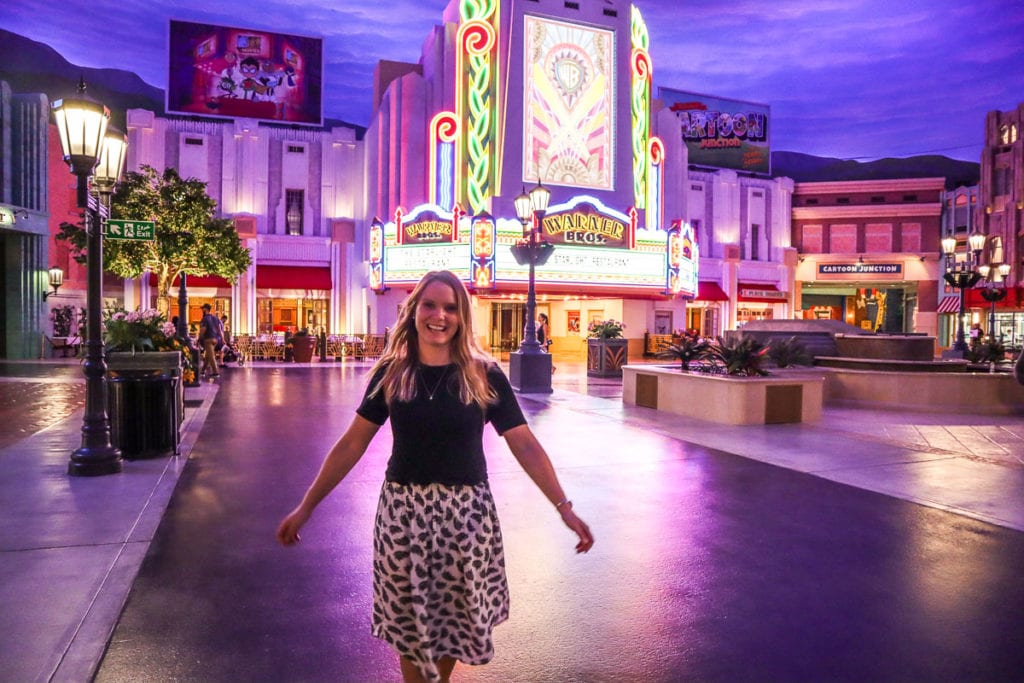 I packed several skirts below the knee and tops with sleeves. I also wore slightly skimpier items (strappy tops, shorts and bikinis) when we were in our resort. I always carried a scarf in my bag, just in case it felt appropriate to cover up. I also packed a pair of very lightweight loose-fit trousers, that were comfortable to wear in the hot weather.
We did a mix of activities in the Emirates, including a desert safari, kayaking tour through the mangroves, trips to galleries including the amazing Louvre in Abu Dhabi, trip to Yas Marina Circuit, time at the mosque, boat trip, resort time, restaurants etc.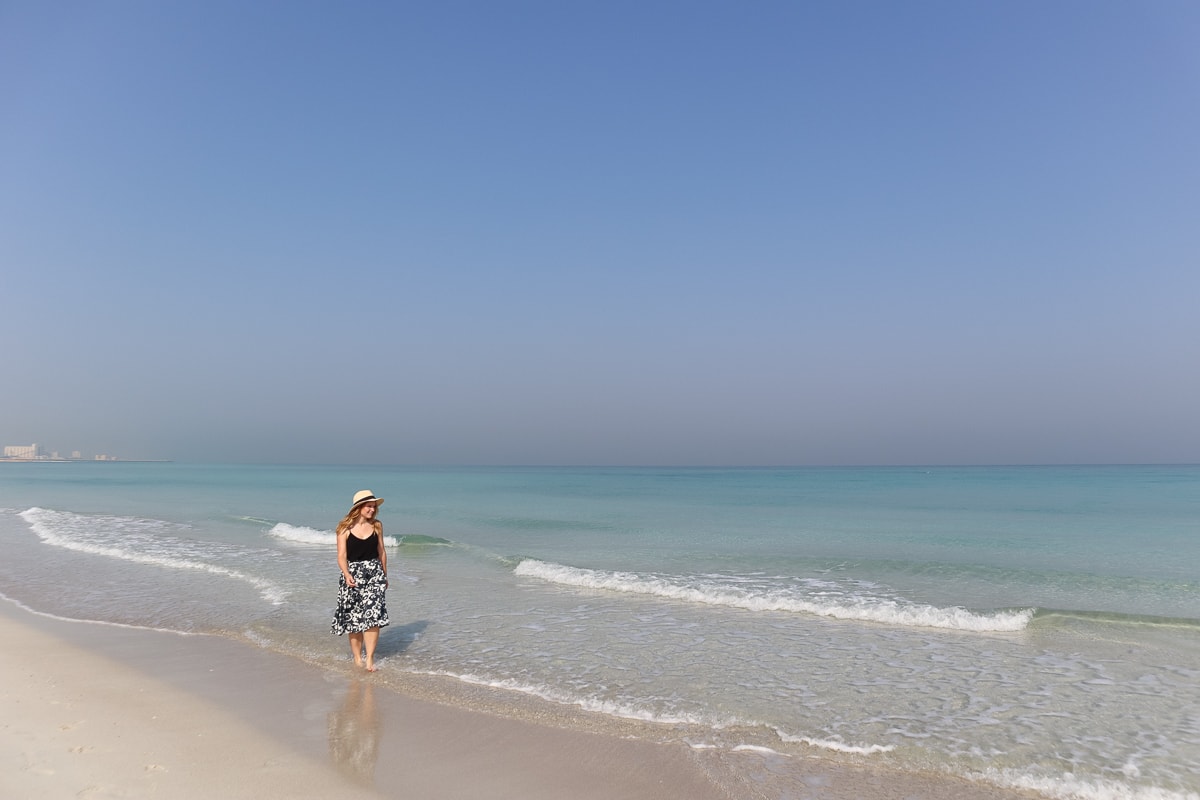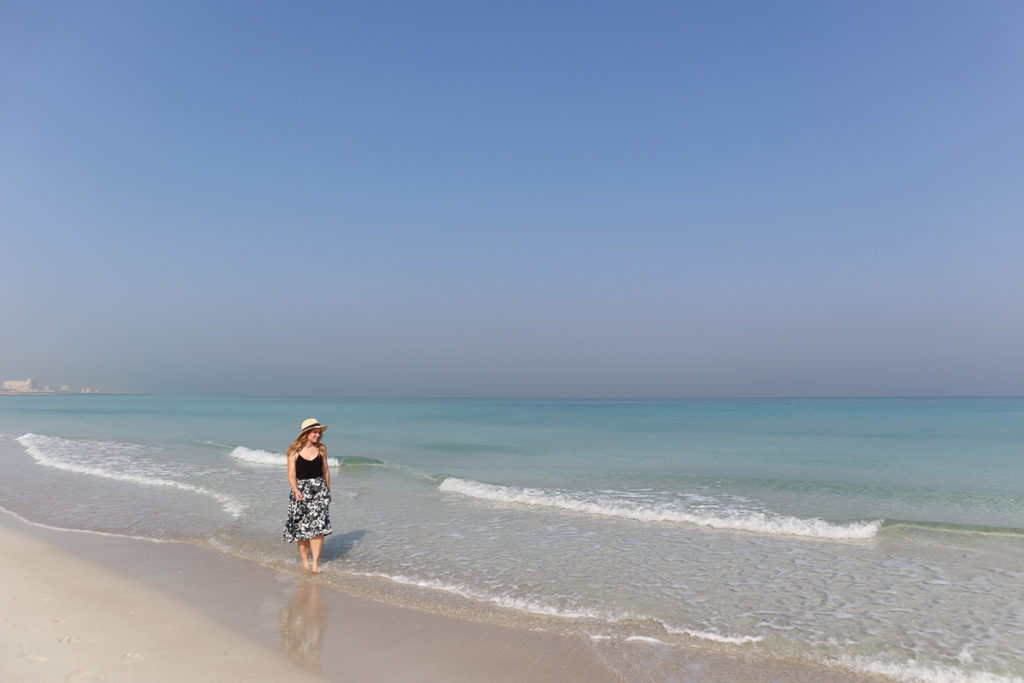 Here are a few specific items of women's clothing I'd recommend for Abu Dhabi:
Women's lightweight trousers – It's good to have some conservative items and not flash too much skin. These are practical, lightweight but a bit cute too!
Women's sundress – Something pretty and not too short for when it's appropriate.
Women's maxi dress – I quite liked having a longer item or two. If you pair it with a cardigan it's more conservative too.
Women's midi skirt – I live in items like this in warm countries and have them in multiple colours and patterns. They're comfortable and not revealing.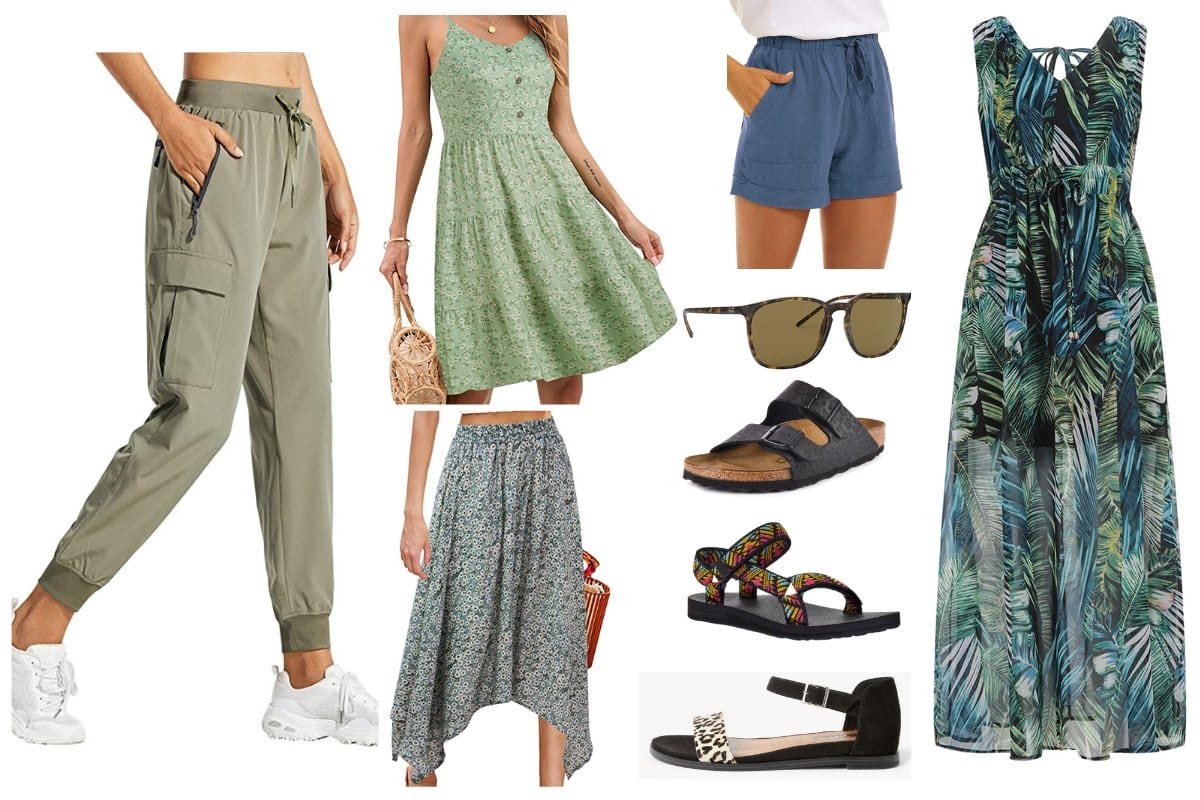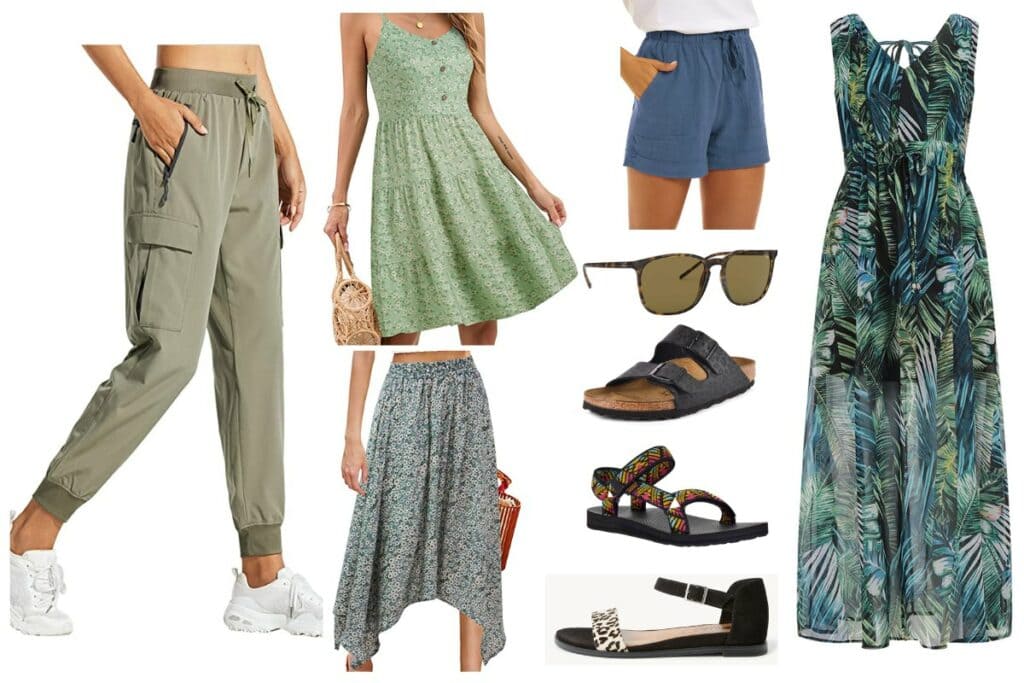 Women's shorts – I packed a few pairs. I'd recommend something loose and comfortable like these shorts, and then perhaps some classic denim shorts too.
Women's summer top – I wore a lot of things like this. Neutral colours work best as you can mix and match with shorts and skirts. Plus, you can dress them up or dress them down!
Women's zip up hooded jacket – A few places get chilly, so you'll want to be able to layer up occasionally. A zip up hoody like this will come in handy.
Women's bikini – You'll need to pack a couple of items of swimwear. There are so many cute bikinis out there to choose from!
Women's rash guard – Not essential, but if you burn easily (or plan to surf) I'd recommend one of these. This one is great as it has a built-in bra and comes with a pair of matching shorts.
Women's sports vest – I'd recommend one or two sweat-absorbing vests like this for adventurous activities.
Women's sports bra – Ideal for sporty or adventure activities. I prefer sports bras like this Under Armour one which has some built in padding for extra support.
Women's leggings – Leggings are great for active adventures. These Under Armour ones are great as they're very lightweight.
Sarong – A really useful item for any travels in warm countries! Use it as a towel, a cover up, to sit on, to lie on or for a cute addition to an outfit!
Sun hat – You'll definitely want a sun hat to protect yourself.
Sunglasses – I've owned a pair of these Ray Bans for a few years now and love them!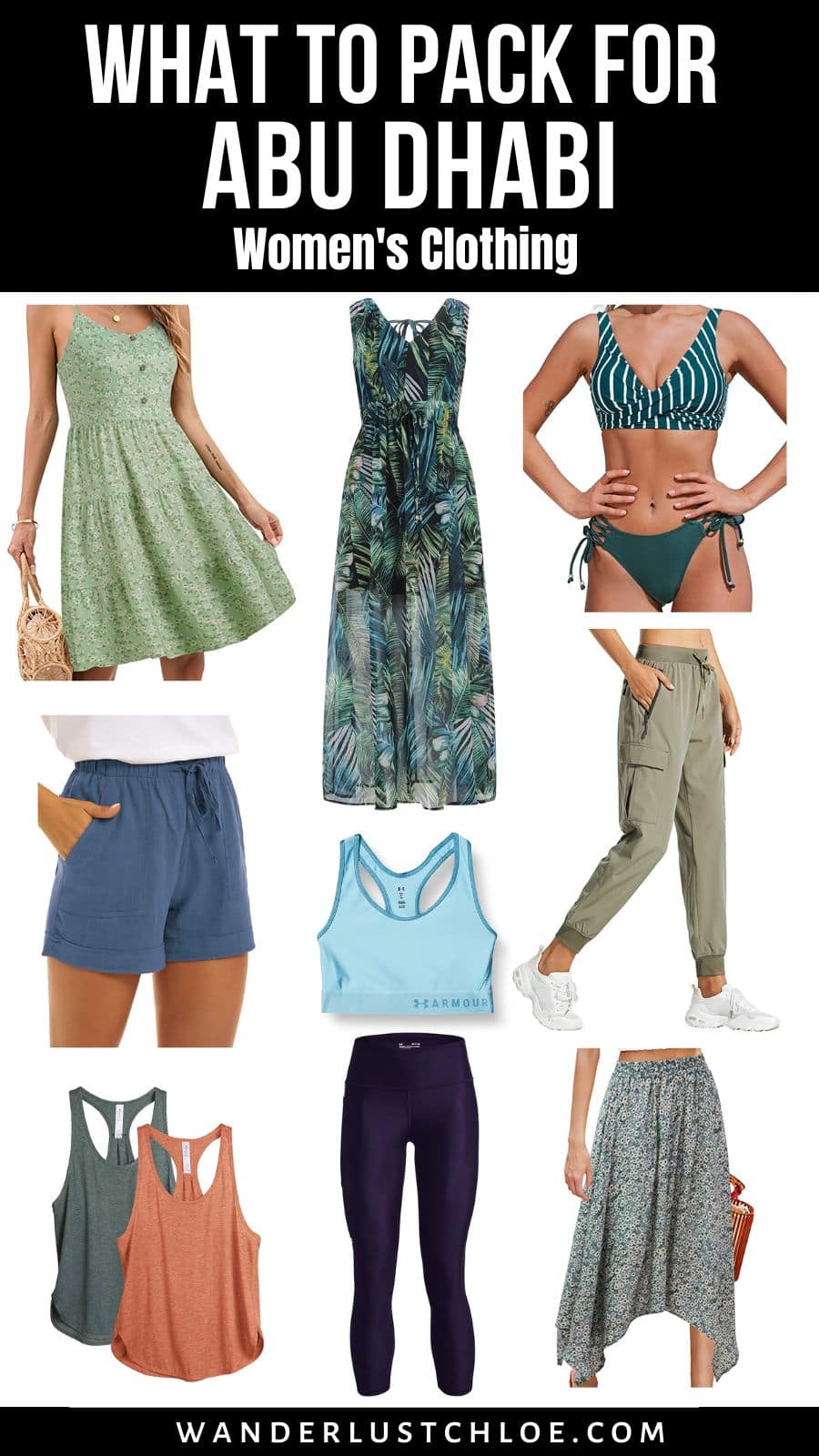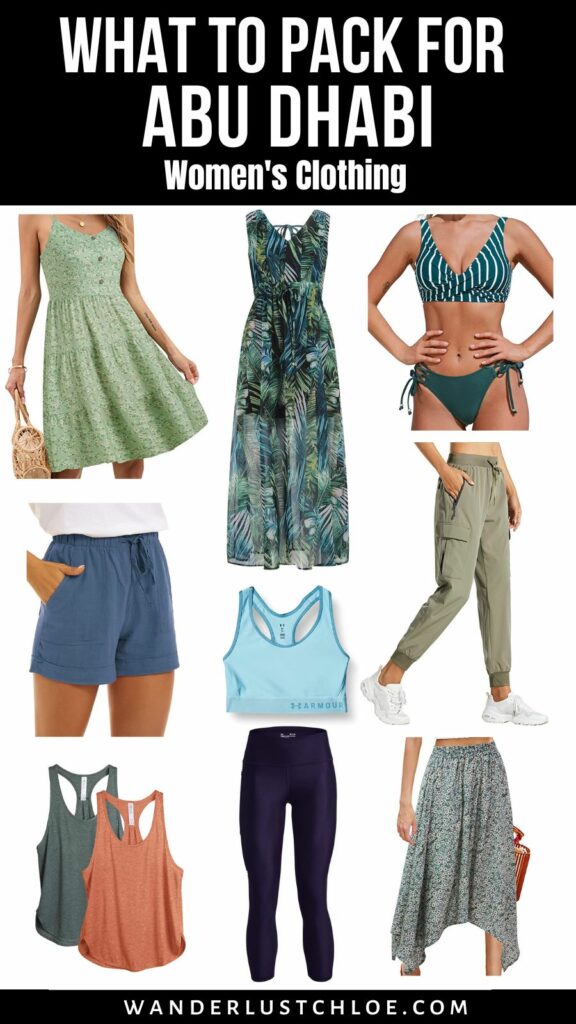 What To Wear As A Woman To Visit A Mosque In Abu Dhabi
You simply can't visit Abu Dhabi and not go to the Sheikh Zayed Grand Mosque. However, this is somewhere to really think about what to wear. I remember there were people at the entrance checking whether we had dressed respectfully.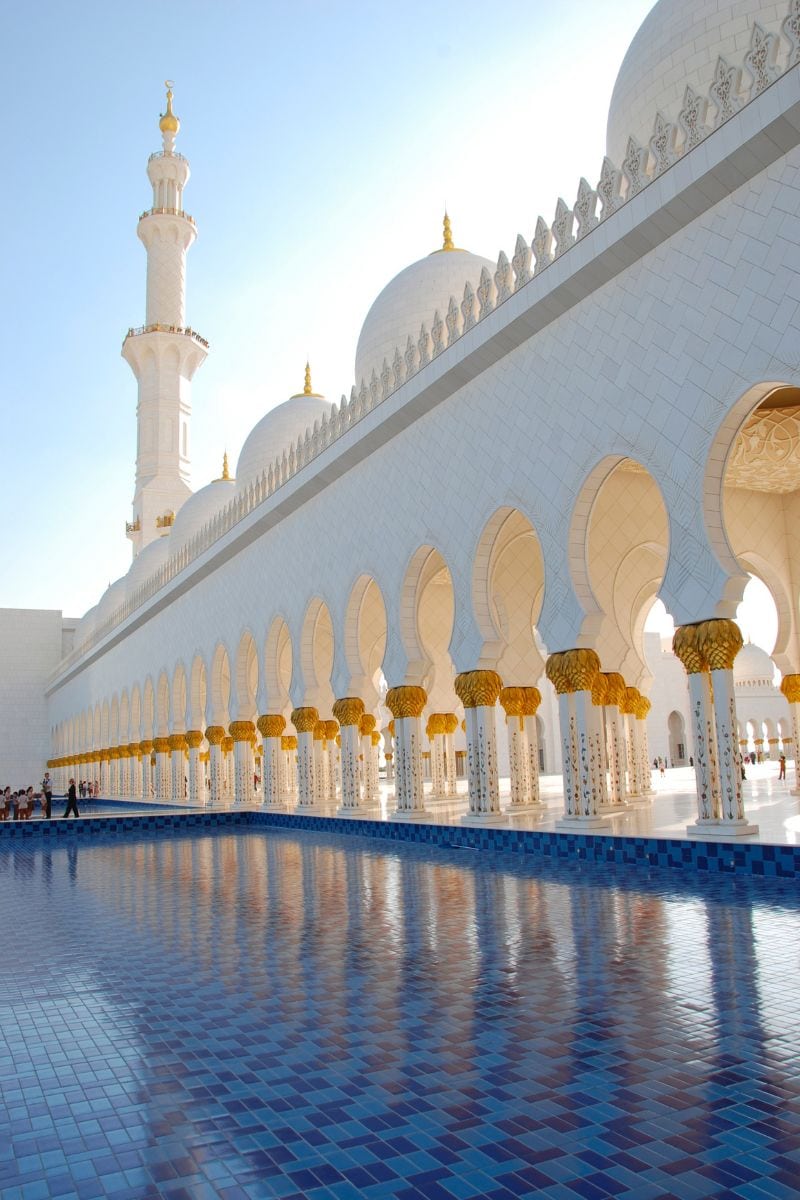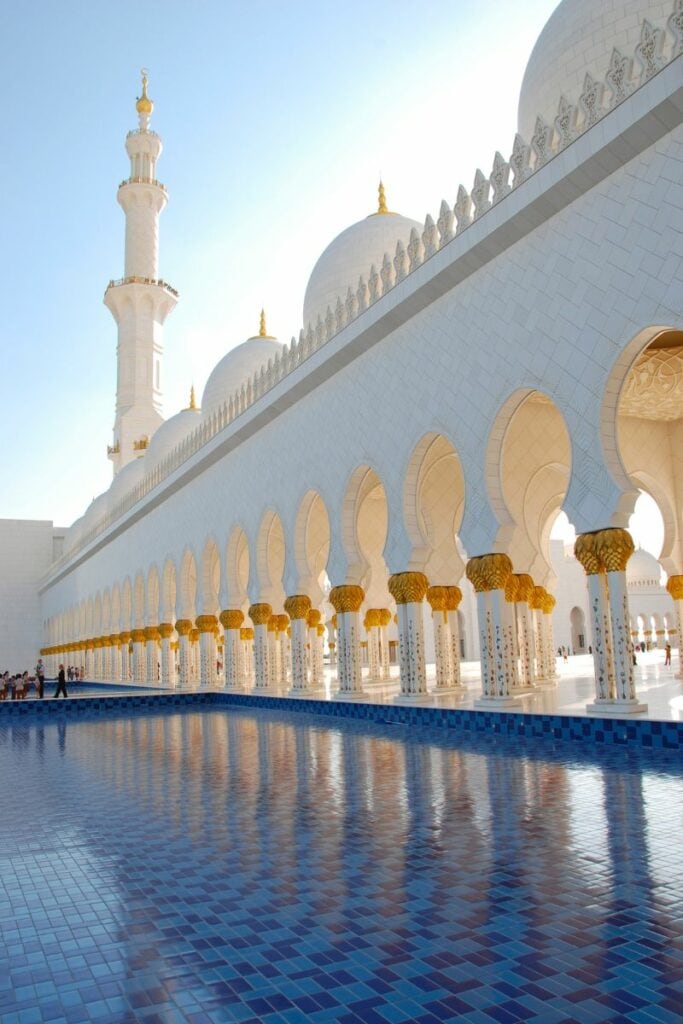 Women must cover their heads with a scarf, wear full-length trousers or a long skirt, and not show their arms. You will also need to remove your shoes before entering the mosque. If you're not dressed appropriately, you'll be given an abaya (traditional robe) and a shayla (for your head).
I wasn't wearing anything disrespectful, but I was still given an abaya (as most female tourists are!) To be honest, it was actually amazing to have the experience of wearing one for a few hours, so don't see this as a bad thing! It made for some beautiful photos too. It's such a stunning building, I loved seeing it up close.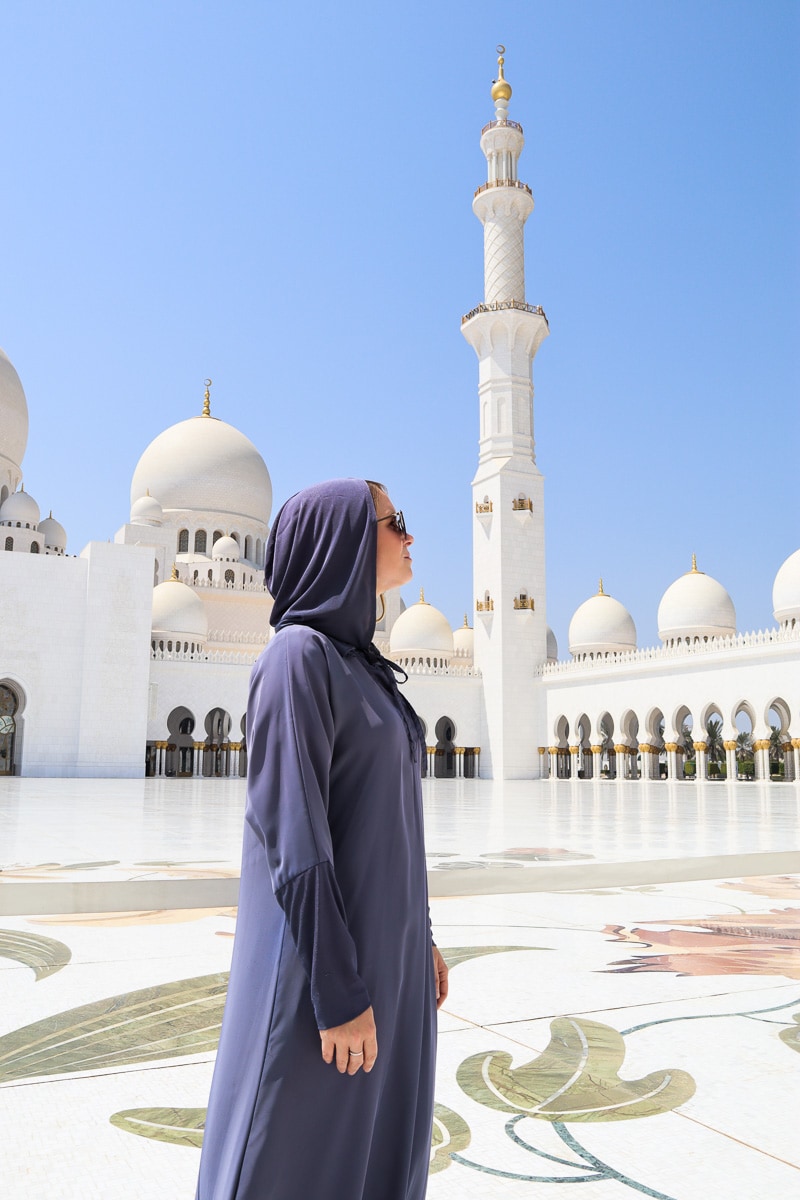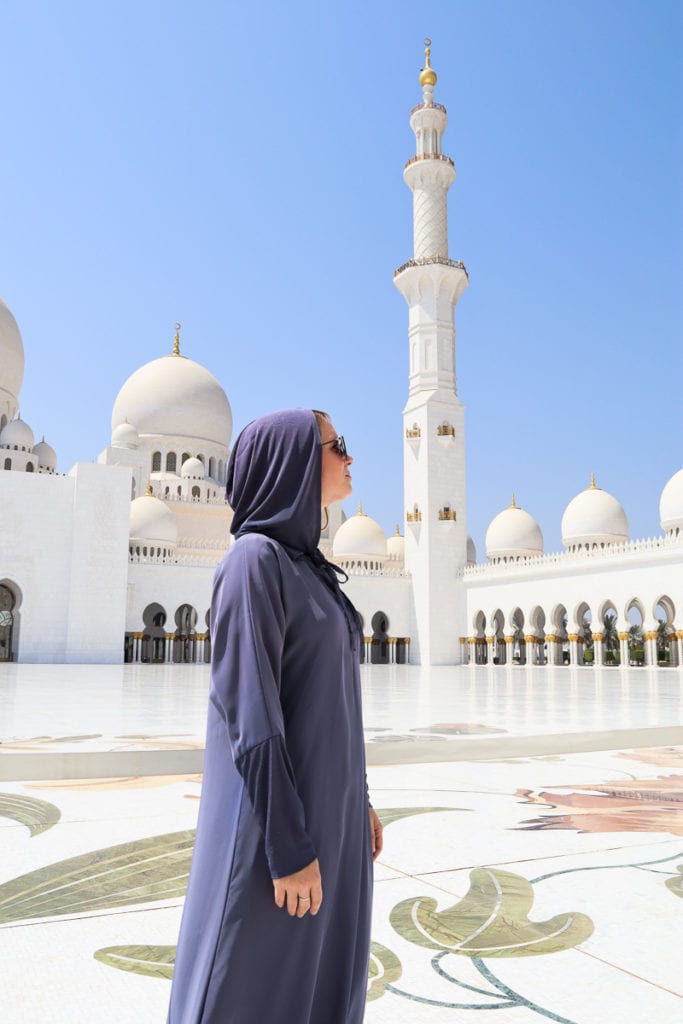 There's a full guide to what to wear to the Grand Mosque in Abu Dhabi available to view here. This also includes a guide for men.
---
What To Wear In Abu Dhabi As A Man
If you're a man trying to pack for a holiday in Abu Dhabi, it's a lot simpler! You can just pack as you would for a trip to Europe. Most men I saw were wearing shorts, jeans or chinos with T-shirts or shirts.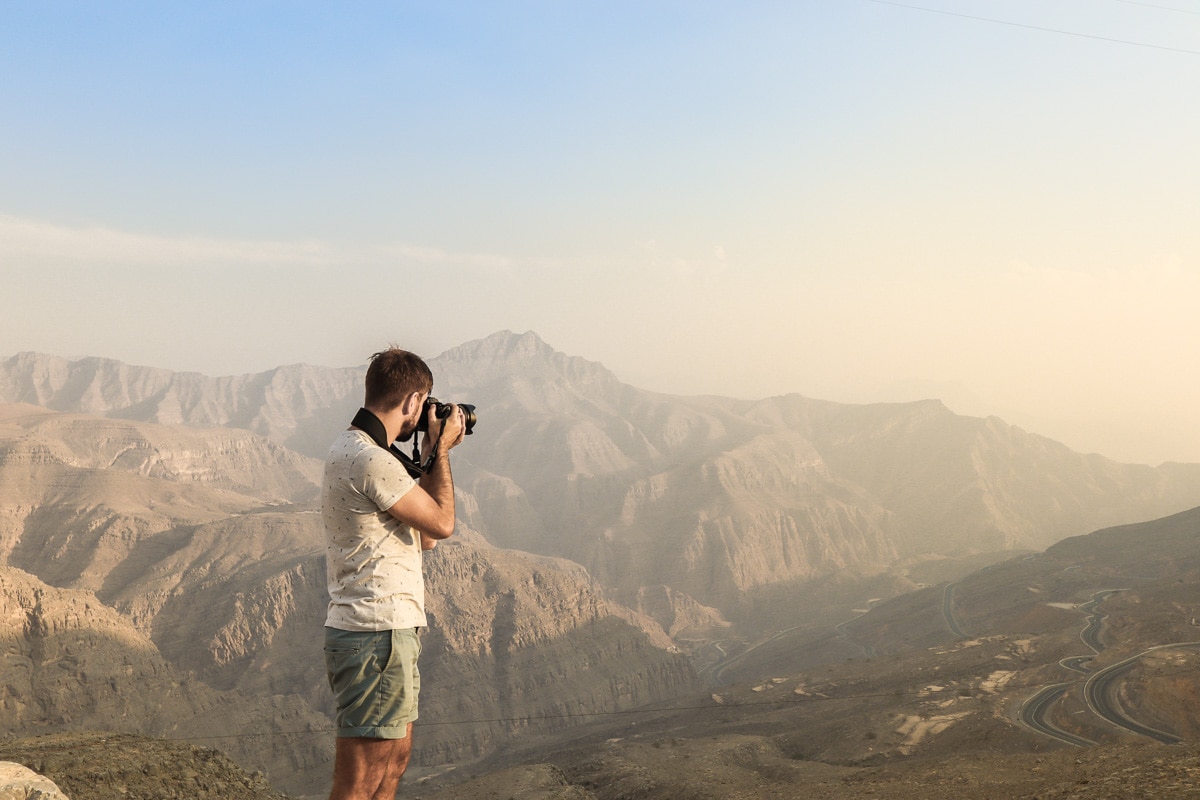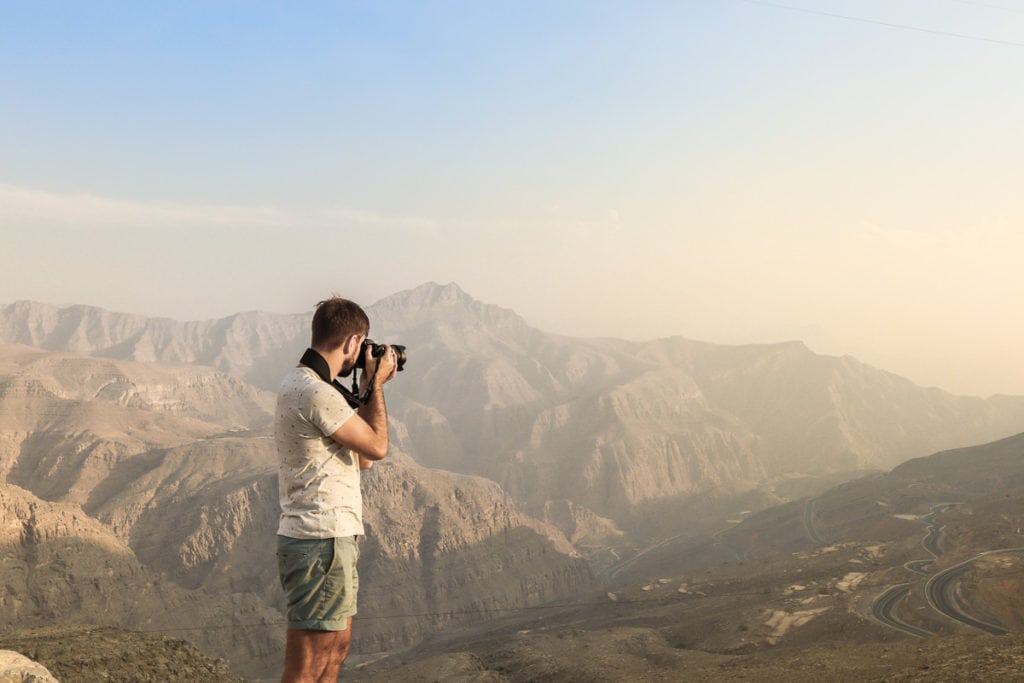 What To Wear As A Man To Visit A Mosque In Abu Dhabi
If you're planning to visit the Grand Mosque, you'll need to follow the dress code of long trousers and sleeves below the elbow. You can't wear shorts.
If you're not dressed appropriately, you'll be asked to wear a kandura (a traditional long white robe). Again, don't take this personally – they can be pretty specific when you get to the entrance but it's important to follow the cultural etiquette!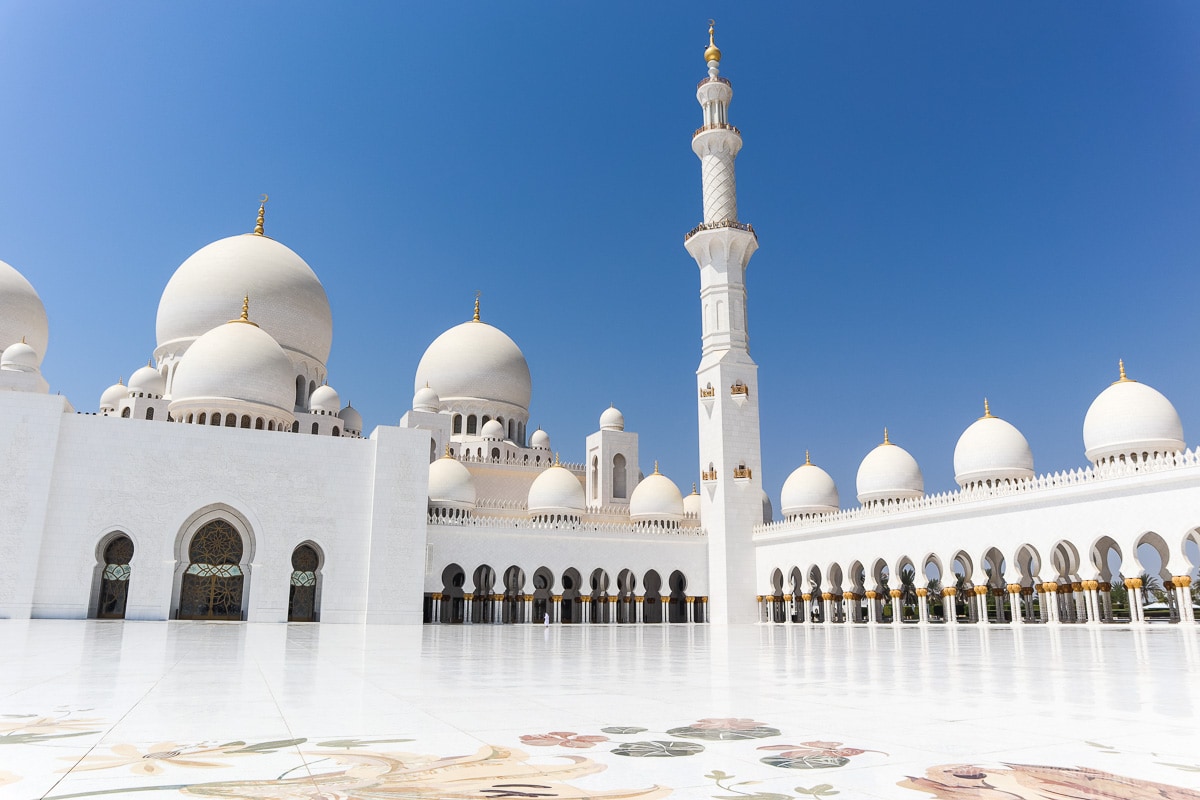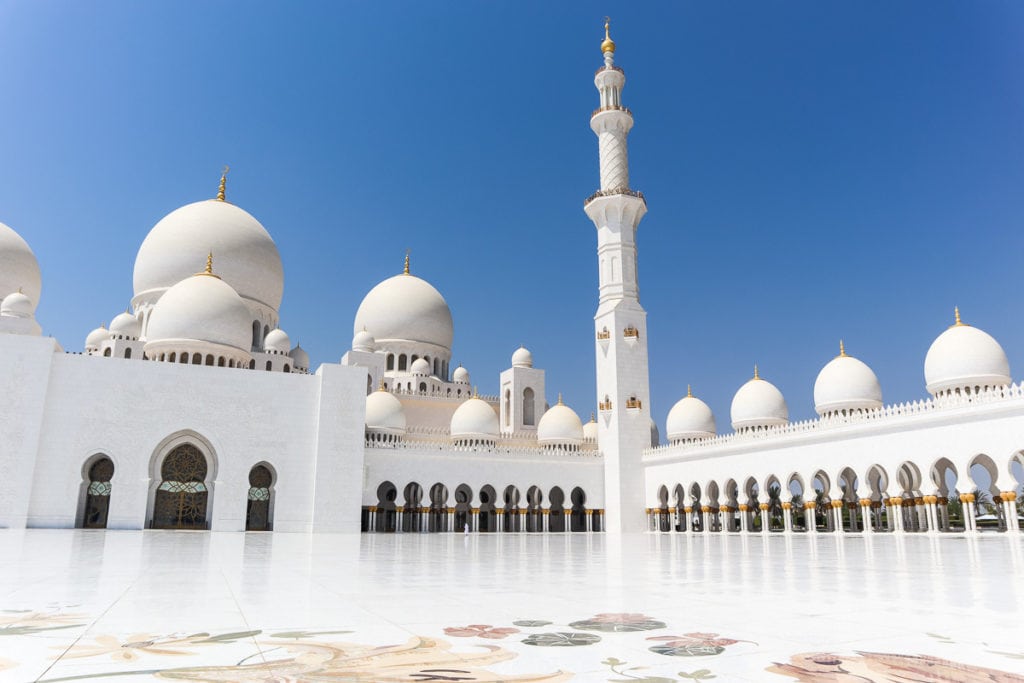 Here are a few specific items of men's clothing I'd recommend for Abu Dhabi:
Men's casual shorts – I'd recommend several pairs of comfortable shorts for everyday use.
Men's chinos or jeans – I'd recommend a few pairs of chinos, jeans or cargo pants.
Men's T-shirts – Pack a few options of t-shirts too.
Men's shirts – A few shirts (long or short sleeved) are a good idea. I personally love these linen shirts. They look very cool!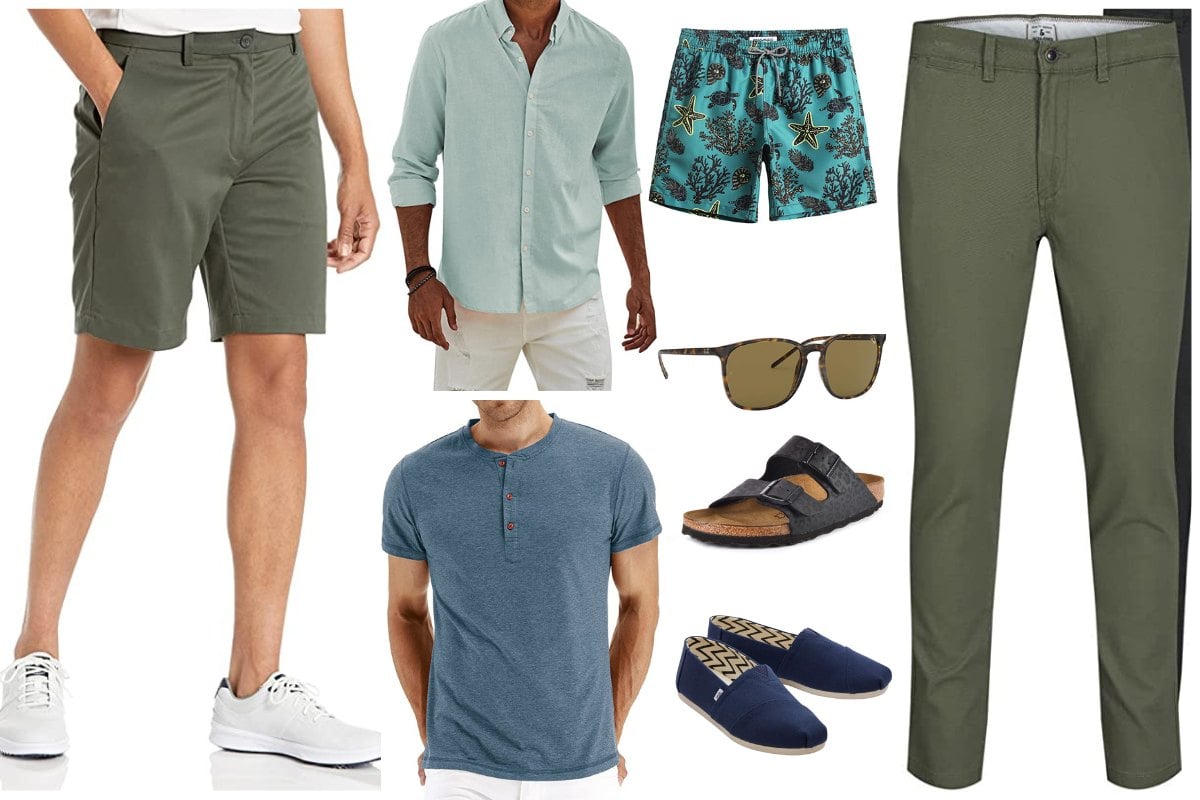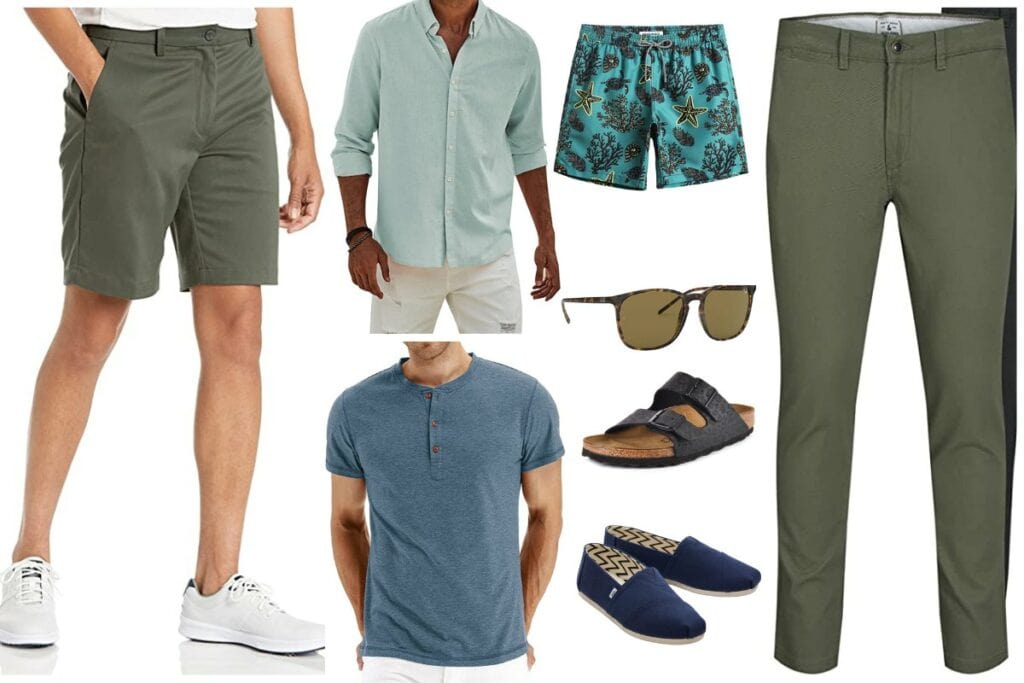 Men's vests – If you sweat a lot, you might find vest tops more comfortable in the heat.
Men's zip up hooded jacket – You might want to layer up if it gets chilly in the evenings.
Men's jumper – A smarter option for keeping warm.  
Men's sports tops – For active days, something like this is really useful as it's super-absorbent.
Men's sports shorts – If you're doing some adventurous hikes or activities, you'll want shorts you can move freely in.
Swimming trunks – The more fun the pattern, the better! These ones have pockets and are quick dry too.
Baseball cap – Look for one with a mesh back like this one, so it's more breathable.
Sunglasses – You can't beat a classic pair of these Ray Bans!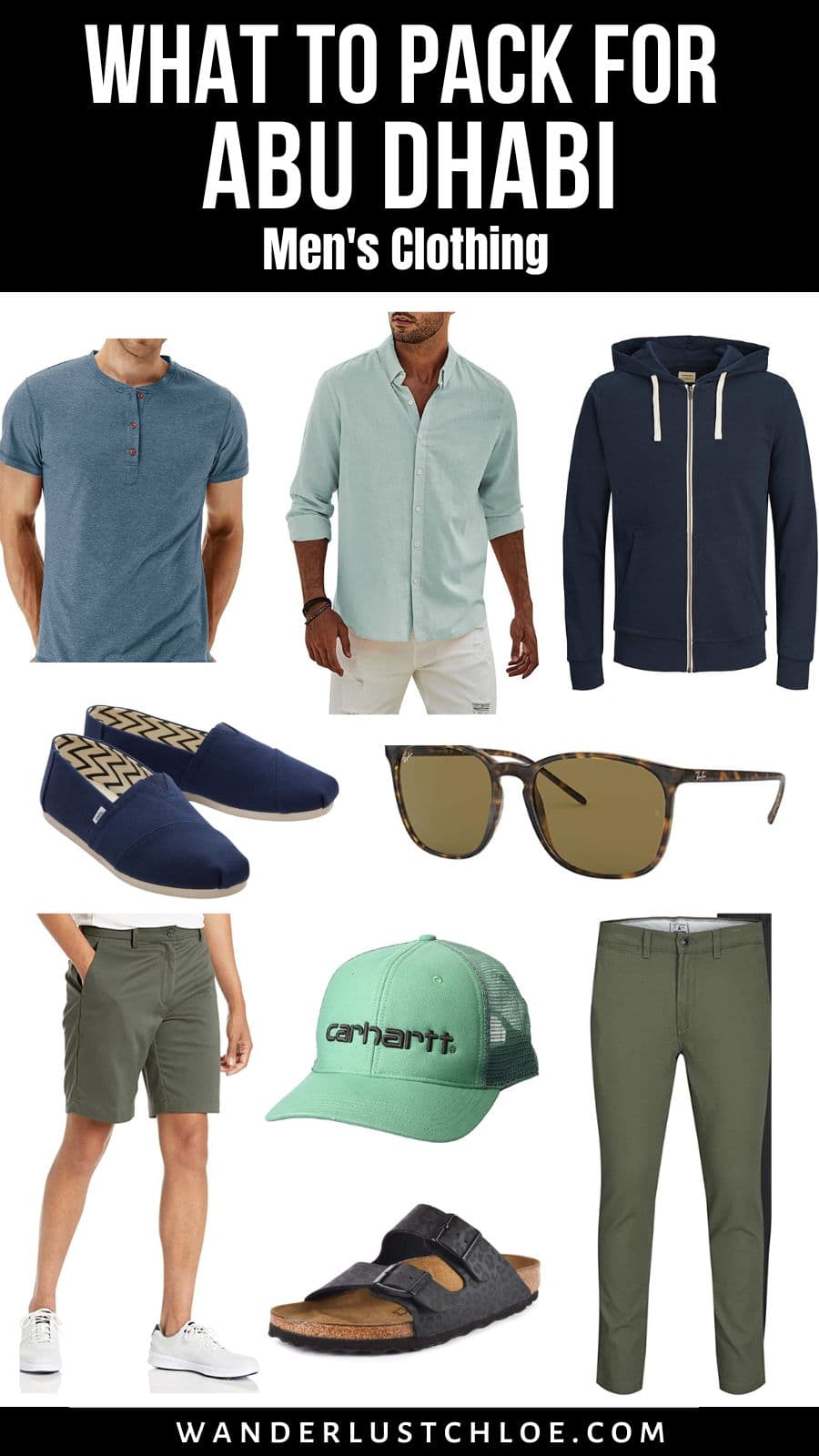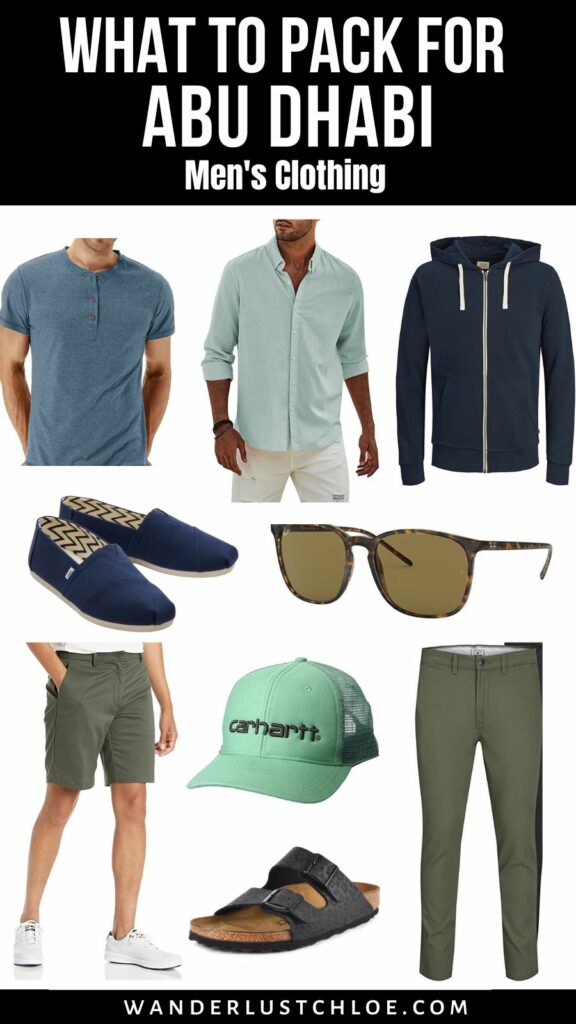 ---
What Footwear To Wear In Abu Dhabi
Footwear is quite simple for Abu Dhabi. You're likely to spend your time between resorts and attractions, so I'd recommend packing a few pairs of sandals and some comfortable trainers if you're on your feet exploring all day.
If you're planning to go on a desert safari or ATM tour, you'll need to wear closed shoes for extra protection. Inside resorts or at water parks, sandals or flip-flops are absolutely fine. However, remember if you're going on theme park rides, you might want to make sure your sandals stay on your feet properly with a strap. You don't want a stray flip flop hitting someone as you hurtle along a track!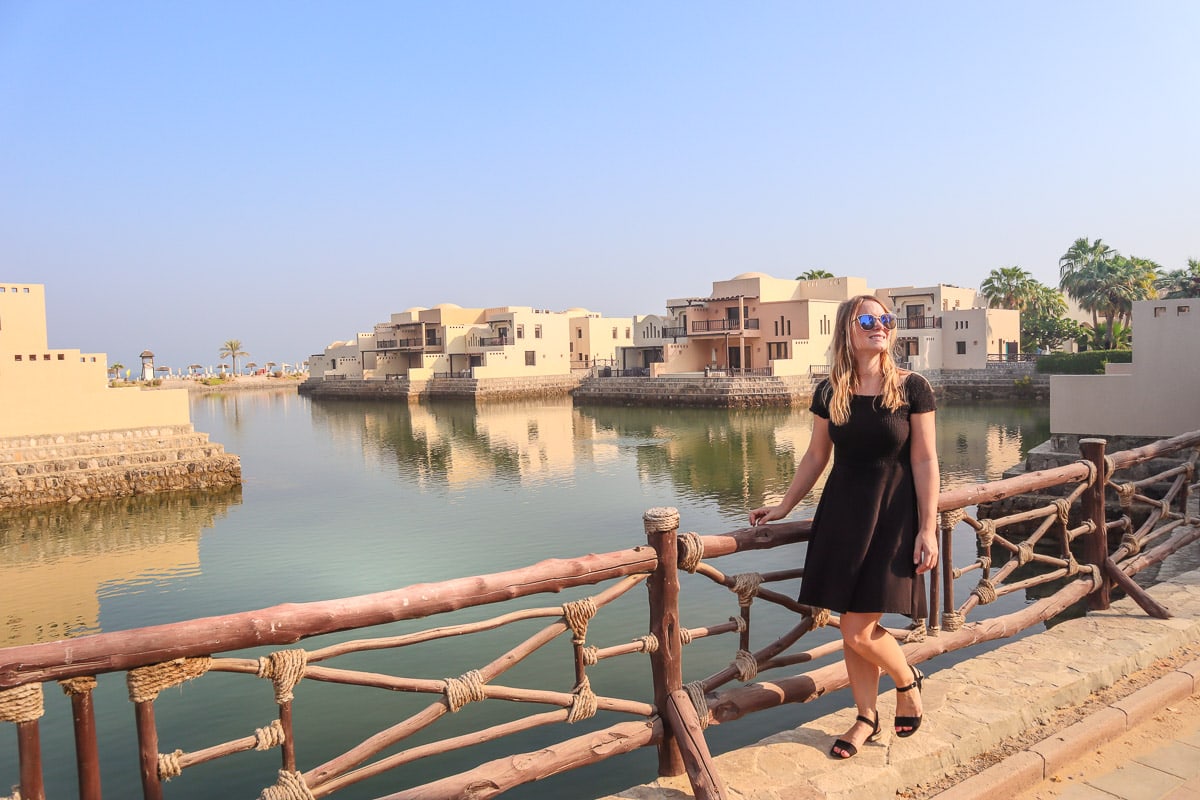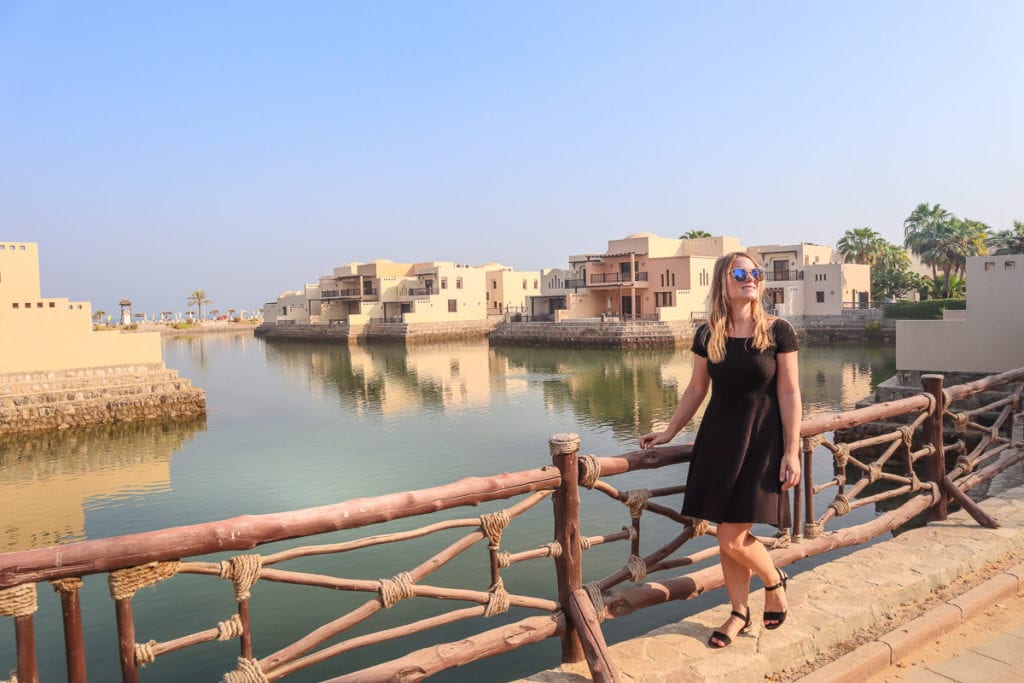 Many of Abu Dhabi's hotels and restaurants are five-star, so I'd recommend some smarter sandals for women and a smart pair of shoes for men. I never wore high heels in Abu Dhabi and really wouldn't say they're necessary, but if you're someone who naturally likes a heel, they wouldn't look out of place in the high-end restaurants.
If you're planning to do some water activities, you might want to buy a pair of water shoes, but these aren't strictly necessary.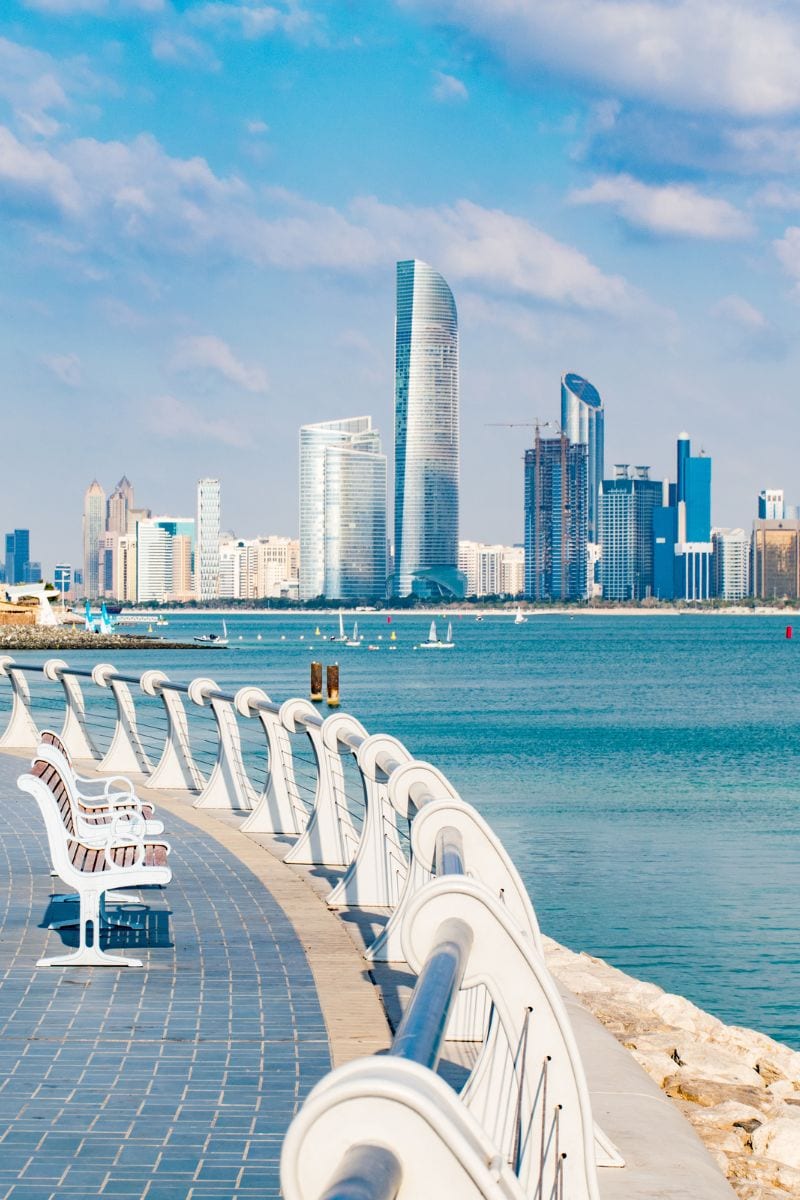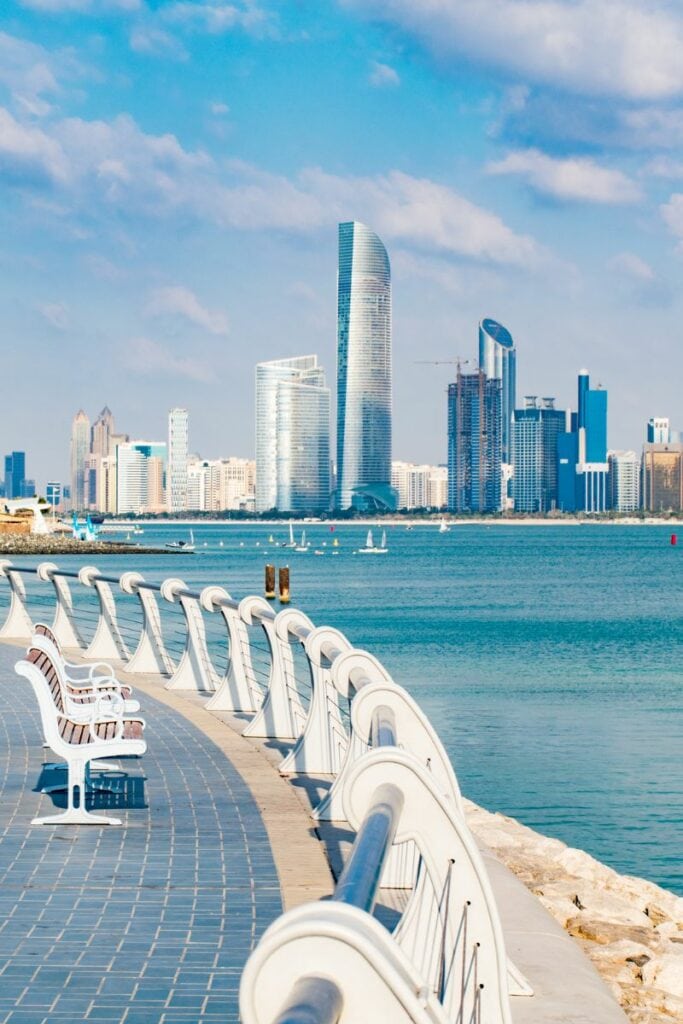 Here are a few specific items of footwear I'd recommend for Abu Dhabi:
Birkenstock sandals – Really durable, ideal for men or women and come in multiple colours. There are a few different styles to choose from too.
Teva trekking sandals – Really durable, great for travel, easy to take on and off and they come in lots of colours and patterns.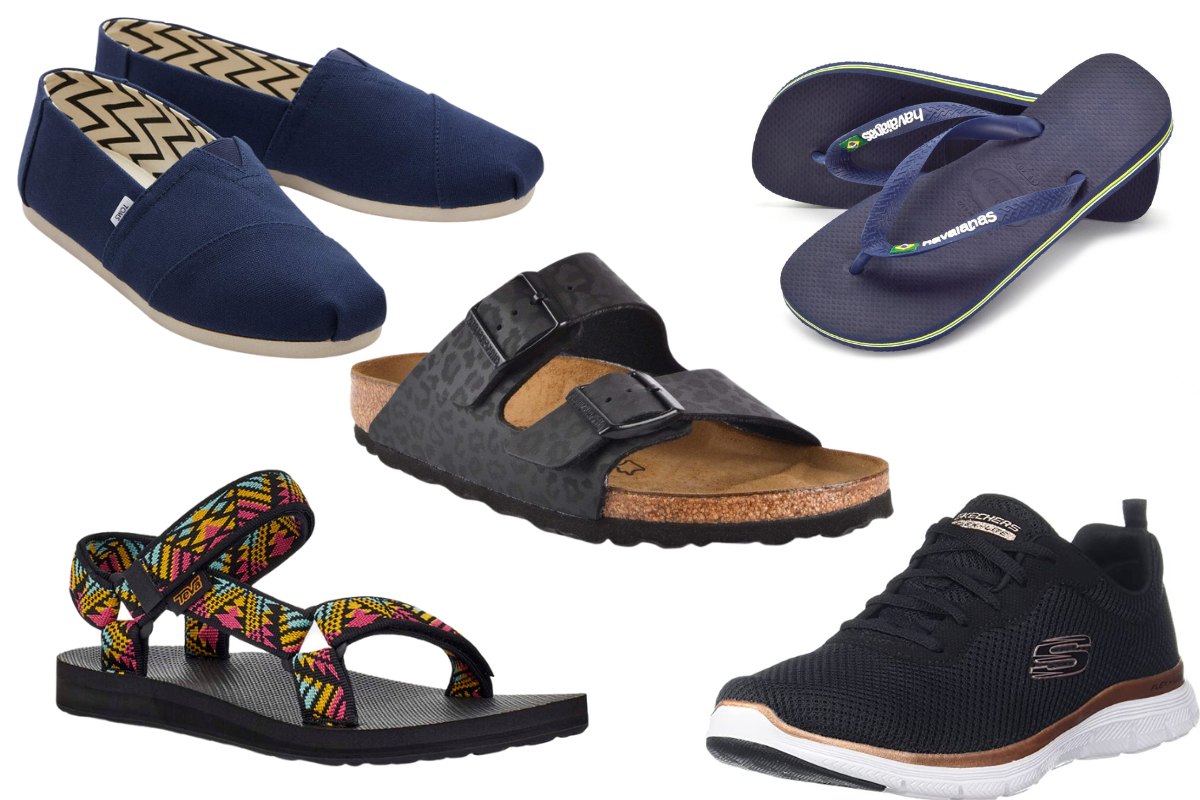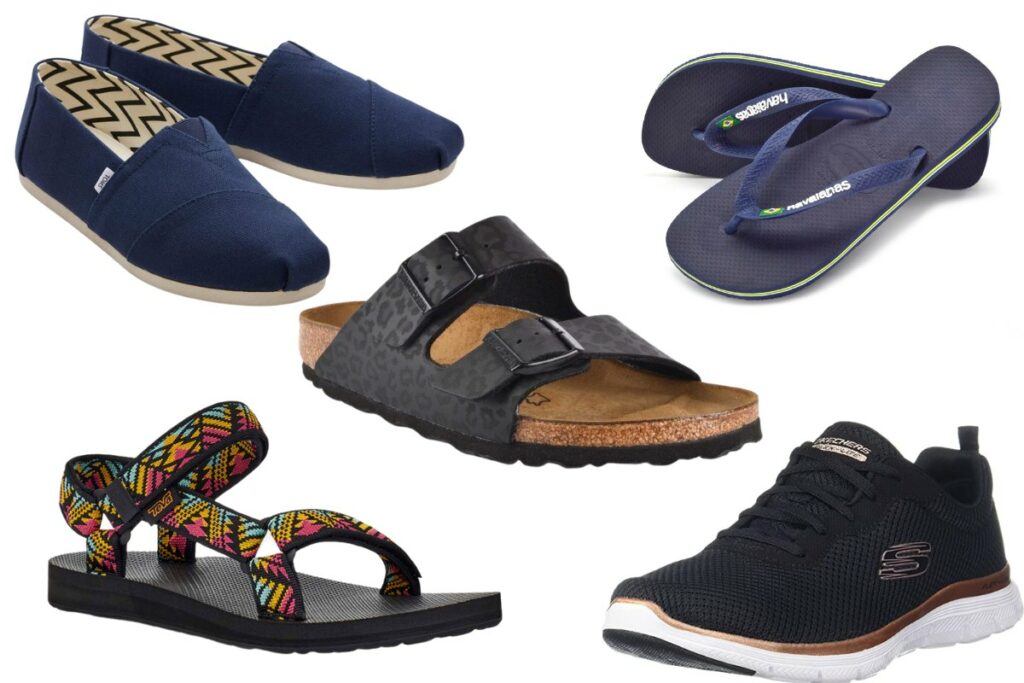 Skechers lightweight trainers – Really comfortable and they dry quickly too, so are useful for all sorts of travel.
Havianas flip flops – Male or female, everyone should own a pair! These ones for men are fun too.
Cute women's sandals – Something like this is great for beach clubs, hotels and restaurants.
Tom's flat loafers – A nice casual shoe for men, easy to slip on and great for exploring or going to restaurants.
Hiking shoes – Only necessary if you're planning some big adventures. These ones are great as they're lightweight and breathable.
Water shoes – Again, not essential, but can be useful for rocky areas or hiking around waterfalls.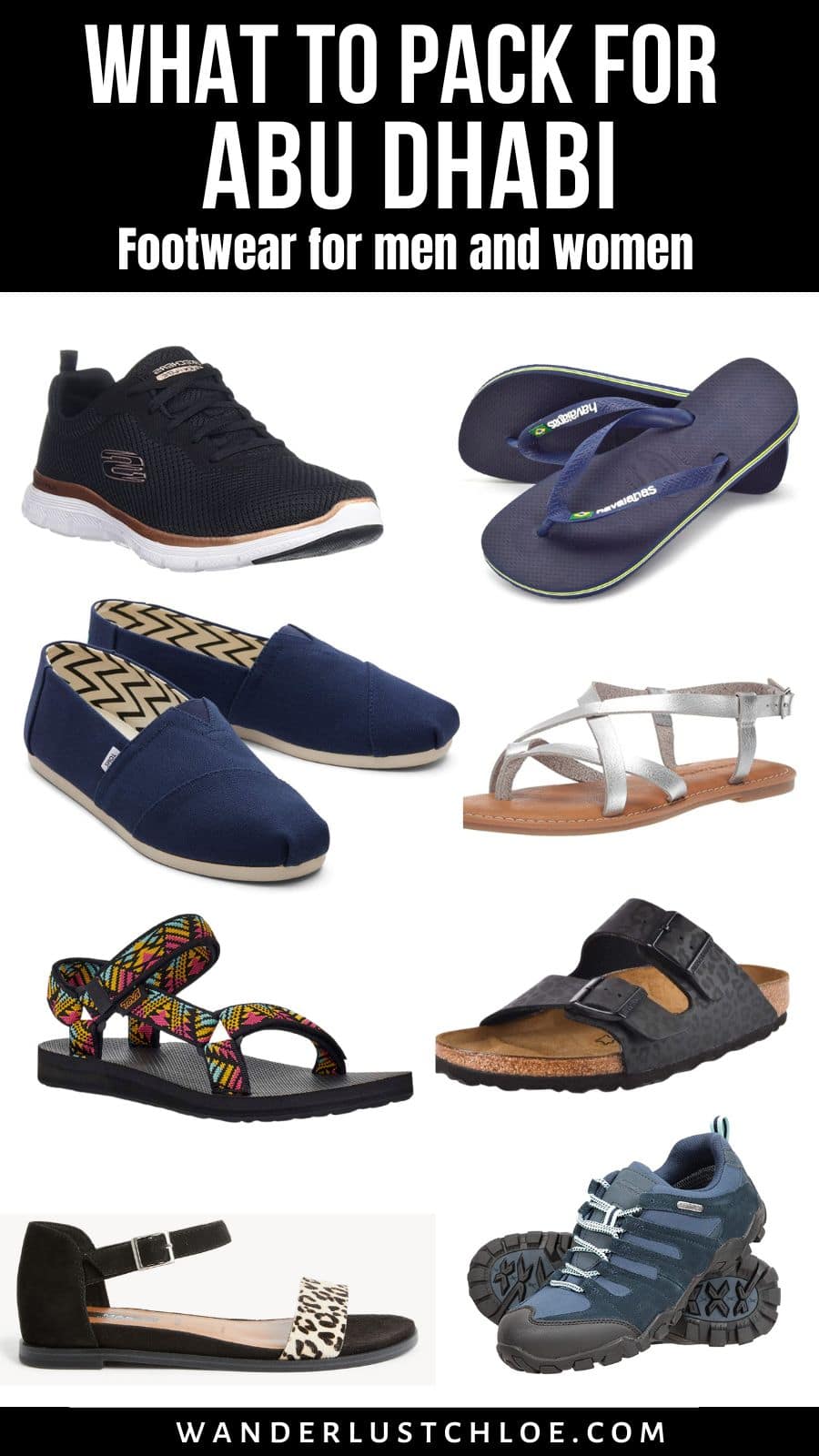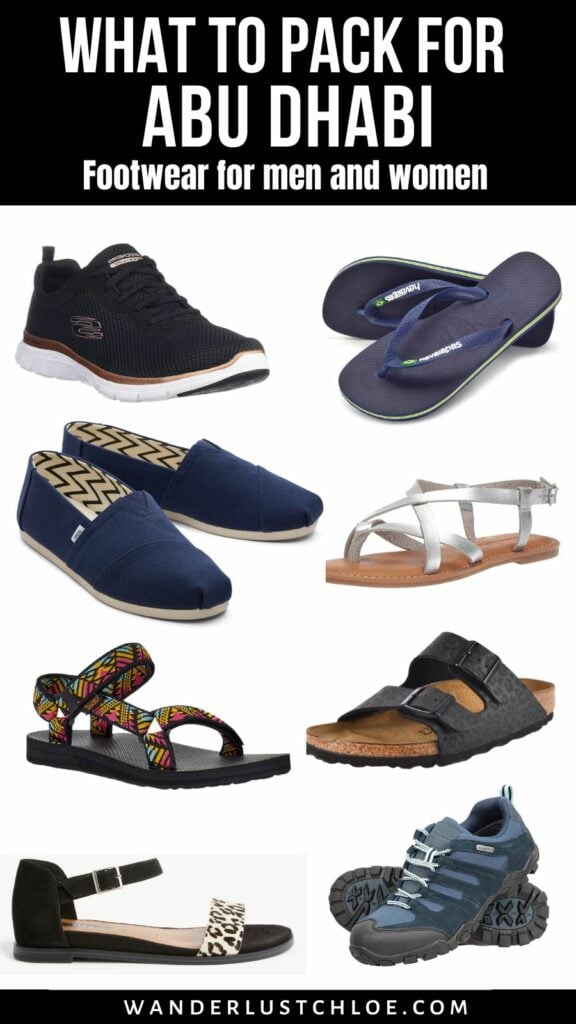 ---
What To Pack For Abu Dhabi: Other Useful Items
If you're planning a trip to Abu Dhabi, you should think about more than just clothing when you start packing. Here are a few items I'd recommend adding to your suitcase…
If you're planning your trip, you should think about more than just clothing when you start packing. Here are a few items I'd recommend adding to your suitcase…
Insect repellent – There are plenty of really good insect repellents like this one. If you're travelling with kids you might want to buy a specific children's insect repellent too.
Bite relief – I usually take an after bite / anti-itch cream like this, that helps to soothe any bites. I also swear by this amazing Bite Away Pen, which sends a small electric shock to the itchy part of the bite. It takes a bit of getting used to at first (and sometimes hurts a tiny bit), but it does work. I've done a full review of the item (as it goes everywhere with me!!) so feel free to read more here.
Travel towel – A fast-drying microfibre towel like this one will come in handy on your trip. These are great not only for when you fancy a swim, but also when you want to sit down on the ground or to wipe your sweaty face on a humid day!
Sun cream – It's important to apply suncream throughout the day. I'd recommend finding a brand which isn't too heavy on chemicals, or is almost totally natural, like this one made by Sun Bum.
Sunglasses – It's important to protect your eyes when you visit a holiday destination like this one. I'd recommend investing in some high-quality UV protected sunglasses. I've owned a pair of these Ray Bans for a few years now and love them!
Sun hat – You'll definitely want a sun hat to protect yourself on all of those sunny days!
After sun or aloe vera – Don't forget some soothing cream incase you do burn. I really like this one made by Ultrasun. It's lightweight and feels lovely on your skin.
Rain jacket – Be prepared for those sporadic rain showers. As you won't need it for warmth, I'd recommend a lightweight waterproof jacket that packs down small. Something like this would be perfect.
Umbrella – I'd also recommend an umbrella for rainy season. I'd been looking for a super compact option for ages, and finally found this one which fits in my smallest handbag and is nice and sturdy.
Daypack backpack – I used a small backpack for day-to-day adventures, which could fit a water bottle, camera, sun cream and bug spray. I also took a small shoulder bag to use for going for dinner in the evenings. If you're looking for something nice and small, lightweight, water-resistant and that will fit all your essentials, I'd recommend this daypack. It's got some very handy zip-up pockets too!
Reusable water bottle – I always recommend packing a reusable water bottle for travel. Even if you can't drink the tap water, it means you can top up from giant bottles or water coolers rather than buying lots of plastic bottles. Personally I'd recommend the Chilly's water bottles. I've got a few in different sizes and they are excellent quality!
GoPro – This is an adventure-filled country. The best way to capture it is on a GoPro. They're great for photos and videos, hard wearing, shockproof and waterproof. Whether you're snorkelling, hiking, white water rafting, wildlife-spotting or zip lining, it's the perfect accessory. Don't forget to take out travel insurance that covers your gadgets too.
Power bank – It depends how much you use your phone on holiday, but I used mine a lot during my trip, snapping photos and videos along the way. A portable battery pack is a great idea so you don't have to worry about running out of charge at an important moment.
I have a few made by Anker and they're great quality and have lasted for a long time. This is the one I'm using at the moment, which is really small (similar size to my phone) but stores lots of charge and has a fast charging capability.
Plug adapter – I pack this universal travel adapter for all of my travels. It charges multiple items at once, using plugs or USB and can be used anywhere in the world. It's one of my fave travel gadgets!
Dry bag – I'm really happy I invested in a dry bag like this. It's made from a thick plastic and is totally waterproof. These dry bags are perfect for adventures on the water, visiting waterfalls, or if you think it's going to rain heavily. I'd recommend a small one for your phone and camera gear, or a larger one if you want to use it as your main bag for an activity.
Waterproof phone case – Similarly, if you want to take your phone out and about in the water, I'd recommend getting a waterproof phone case. There are quite a few to choose from, but I'd recommend reading the reviews! You need this to protect your phone and be 100% watertight after all! I bought these Moko cases myself and my partner and they've been great. We've used them on several trips snorkelling and to waterfalls now, and no leaks!
---
Hopefully this post has helped you figure out what to pack for your trip to Abu Dhabi. If you have any questions, let me know in the comments below!
Don't forget to read my guide to visiting The UAE which includes lots of my top travel tips for Abu Dhabi.