Time for a very special dinner at one of London's most spectacular 5-star hotels. Prepare to be dazzled by the stunning Winter Garden Restaurant at The Landmark.
There aren't many restaurants in Central London like The Landmark's Winter Garden. With giant palm trees and a feeling of the outdoors, you'll feel like you've been transported to a beautiful hacienda somewhere a lot warmer than London in December!
The occasion? A special one! Our three-year anniversary. I knew this would be a beautifully romantic spot, perfect for a celebration like this!
Walking into the 5-Star Landmark Hotel is something magical in itself. As I walked through the double doors on Marylebone Road and up a smart staircase, I was greeted by THAT view. The palm trees, the glittery lights, the floors and floors above, topped with a glass atrium way up in the sky.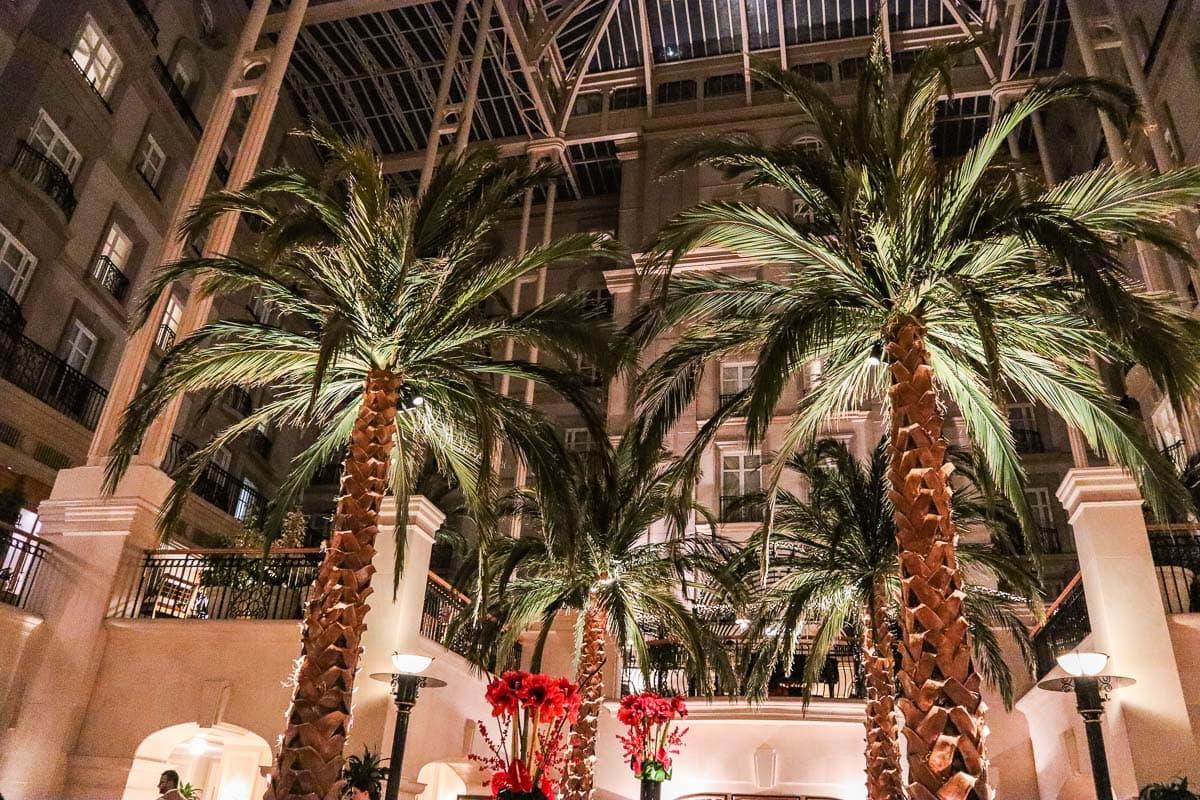 The unique restaurant is smart and sophisticated, especially with the sounds of a live pianist from the terrace area above. We settled at our table at the edge of the restaurant, facing the beautiful view, and started to peruse the menu
My visit to the Winter Garden Restaurant was part of a special seasonal deal offered by Bookatable. Over the course of the evening we'd be selecting dishes from the Winter Garden set menu which included starters, mains and desserts, plus a bellini.
All of that for £38, which considering some of the main courses on the a la carte menu are around £40, seems like amazing value! Previously I'd been to Michelin-starred Petrus for another special meal, and was very impressed by the value.
In general I'd say the menu is modern European, although there were a few twists along the way. To start, we both chose the seared mackerel, which came with compressed apple, picked apple, a kohlrabi coleslaw and broccoli veloute, poured at the table.
The mackerel was perfectly cooked, with a charred skin and soft flesh, flaking away perfectly. It had its usual intense smokey flavour. The veloute was subtle, but added a vibrant dash of colour to the dish. I loved the pickled elements – they really helped with the balance, as did the refreshing coleslaw underneath the mackerel.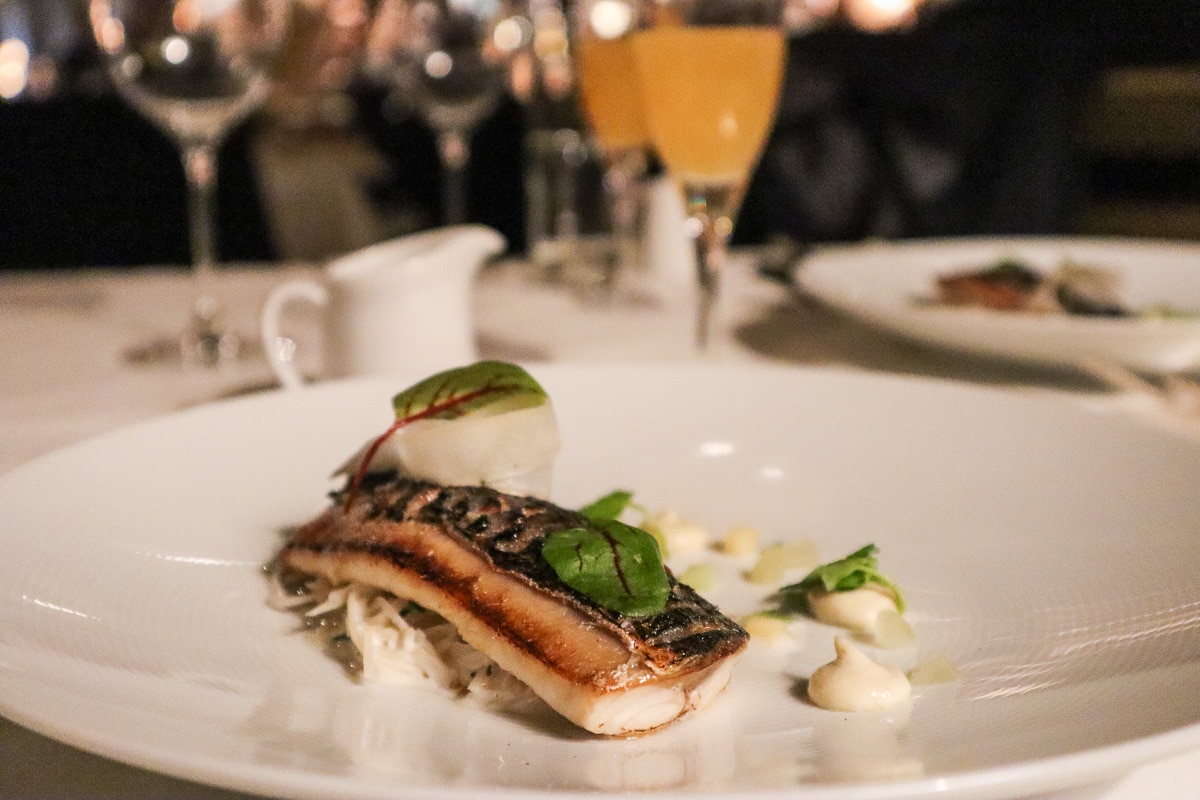 We sipped on our sweet celebratory bellinis and enjoyed the music. Staff were attentive and friendly throughout the evening.
For our main courses, we chose different dishes. With my usual 'eyes bigger than my stomach' approach, I went for the BBQ short rib of beef. The meaty dish was topped with a sticky BBQ sauce that had a sweet and sour flavour.
Served alongside it was a smooth buttery mash, green beans and crispy sweet onions. It was a heavy and rich, but very tasty.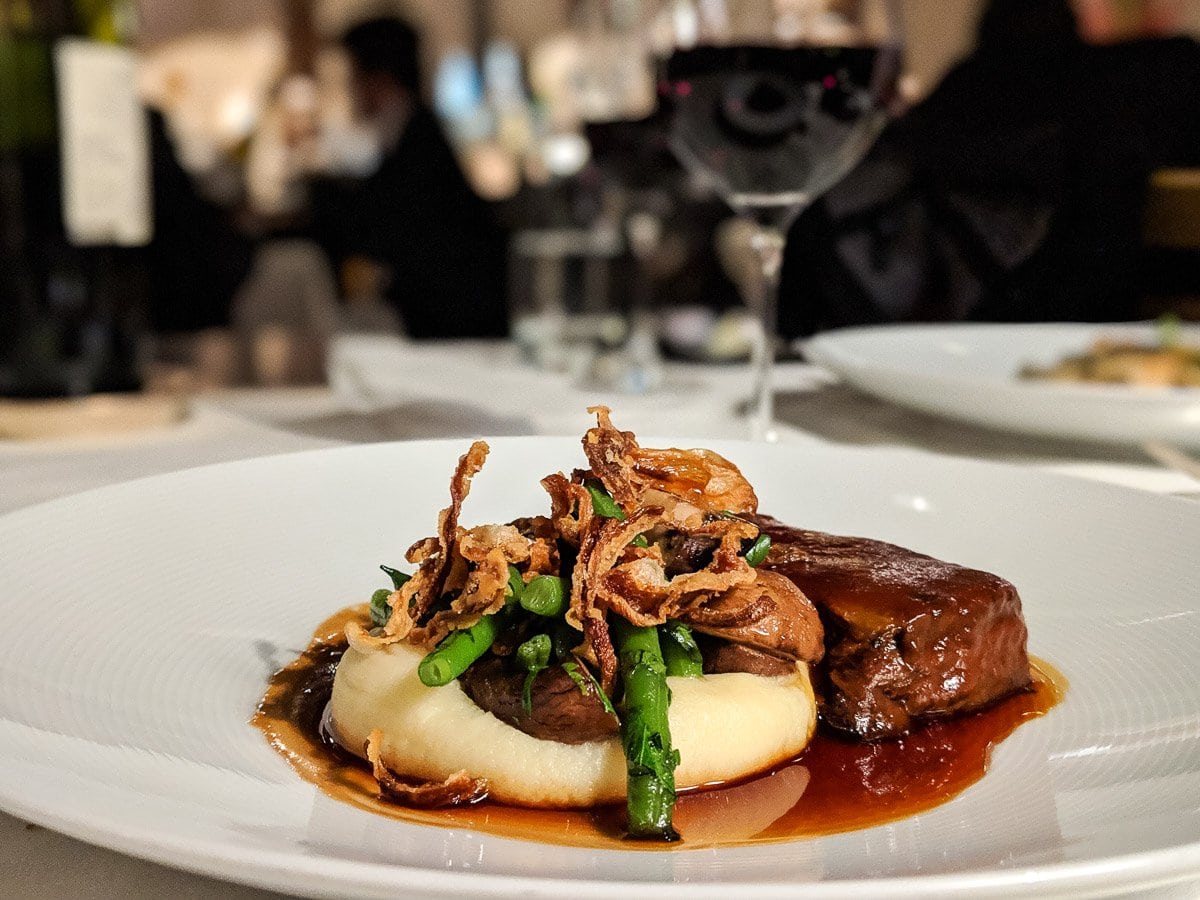 My partner opted for the Pollock, which was served with sautéed cauliflower (surprisingly delicious – we'll be trying that at home!) plus a cauliflower puree, caramelised and curried raisins, capers and a brown butter sauce. While the fish lacked seasoning, the cauliflower was delicious, and a real revelation!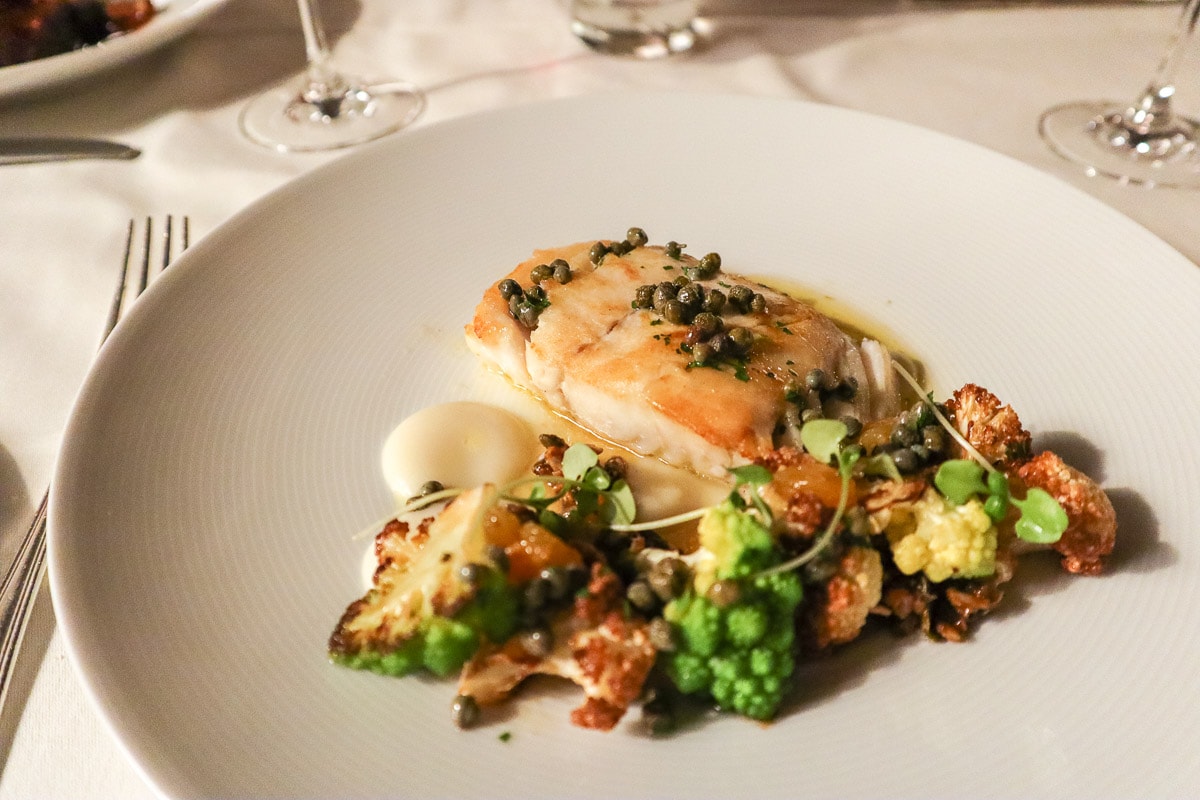 We were struggling to choose our desserts, and in the end decided to share one baked alaska and one cheese platter. We'd been watching them make baked alaskas on Masterchef recently, and fancied seeing reminding ourselves what they were like.
This one was served with a super tangy mango and passion fruit coulis, a tart exotic fruits ice cream, topped with the delicious brulee of baked meringue. There were a few tiny leaves that tasted of lemongrass, perhaps lemon balm? They added a zingy surprising flavour every now and then!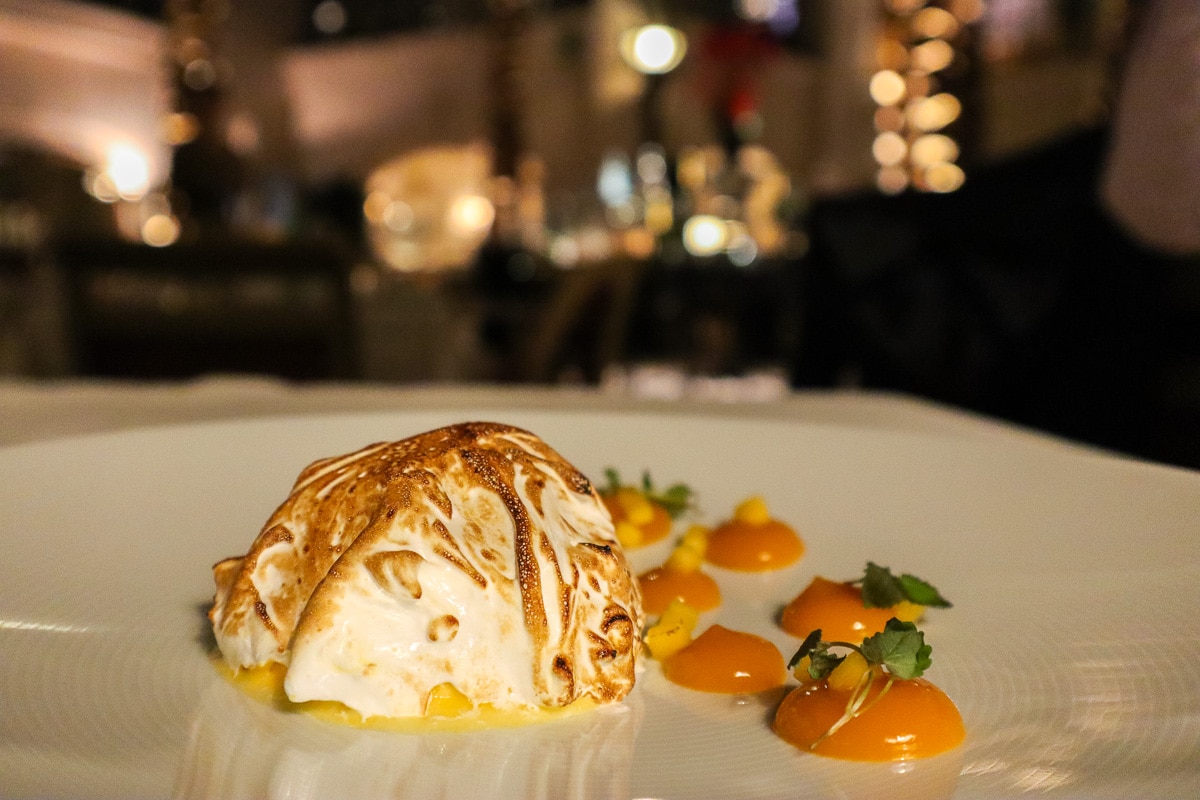 The restaurant knew we were celebrating our anniversary, and shortly after dessert had been cleared, a surprise plate arrived! 'Happy Anniversary' it said in chocolate, with a cupcake on the side. So sweet, and definitely part of the 5 Star treatment.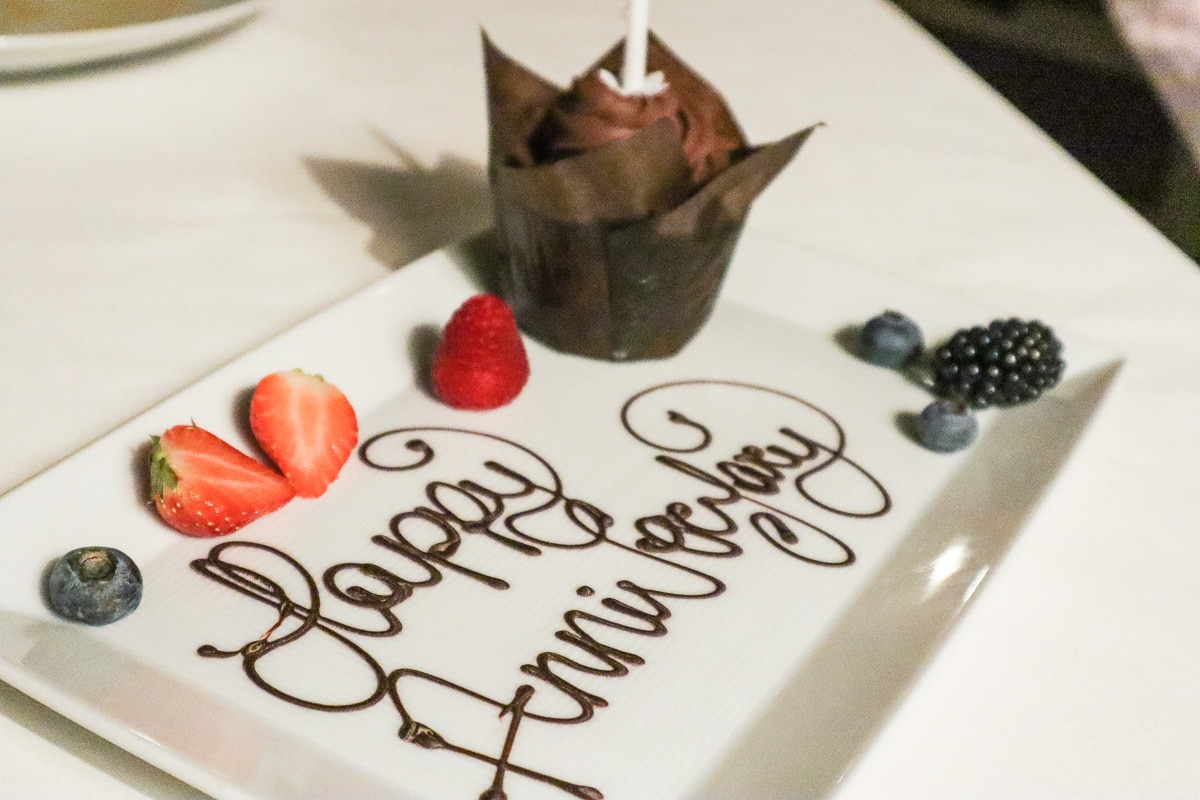 The cheese course was very generous, and served with delicious puff pastry shards topped with salt and sesame seeds. There was also a chutney that tasted just like Christmas – filled with orange and spices. It wasn't long before I declared 'I'm full' and we paid up and prepared to leave.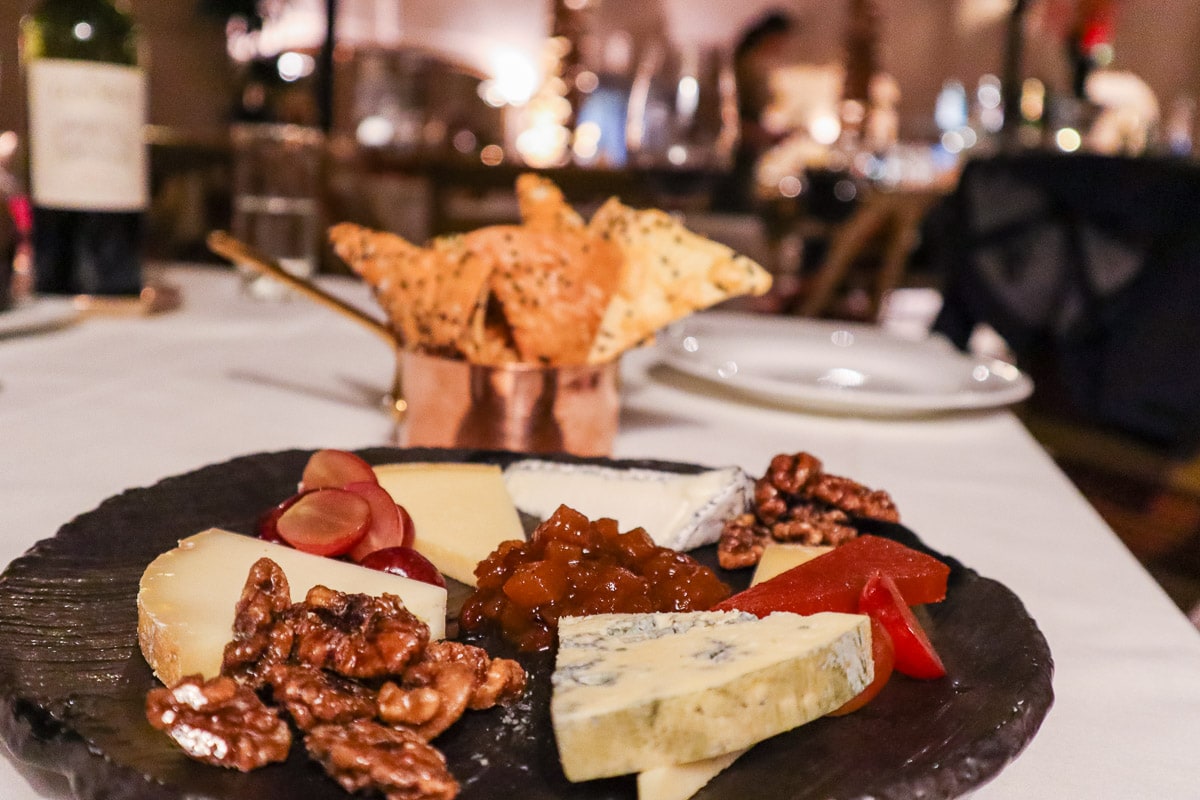 We decided to spent ten minutes having a wander, looking at the hotel's interior's from every angle. We even had a glimpse of this year's enormous Christmas tree arriving.
The Winter Garden Restaurant was the perfect location for a romantic, celebratory dinner. We left arm in arm, feeling as happy as ever!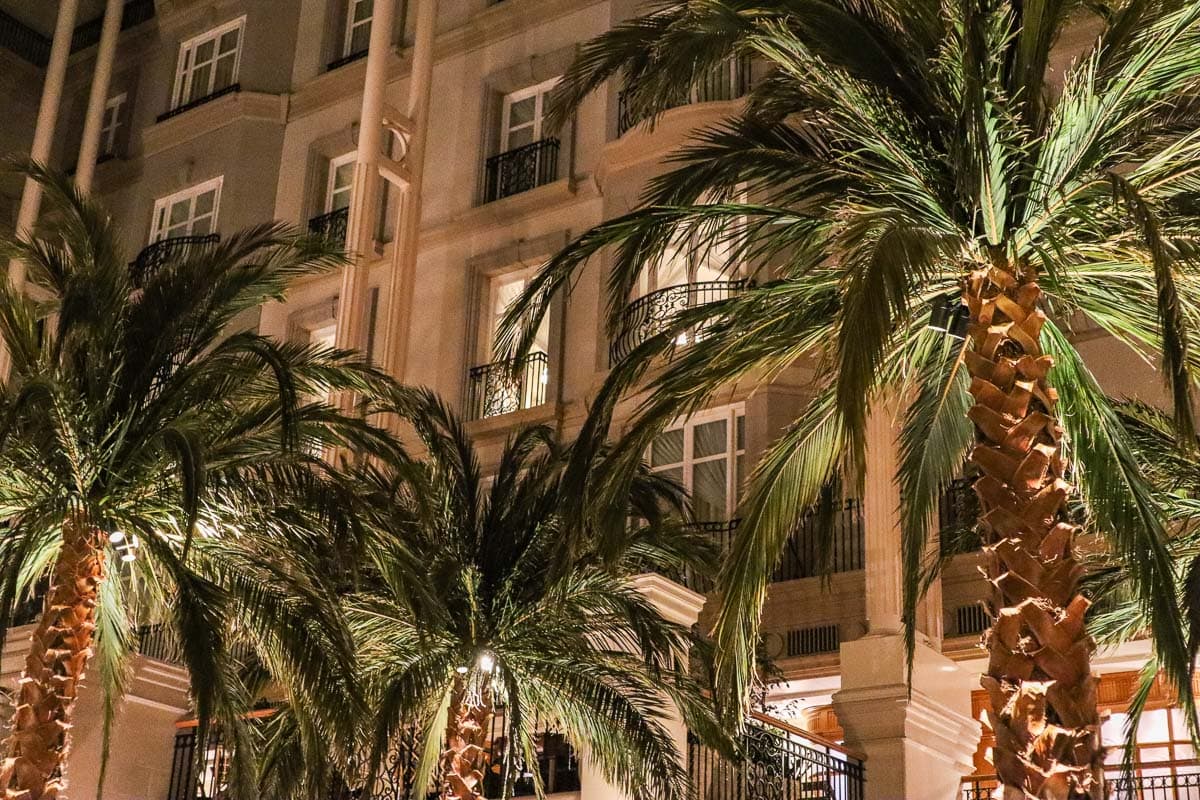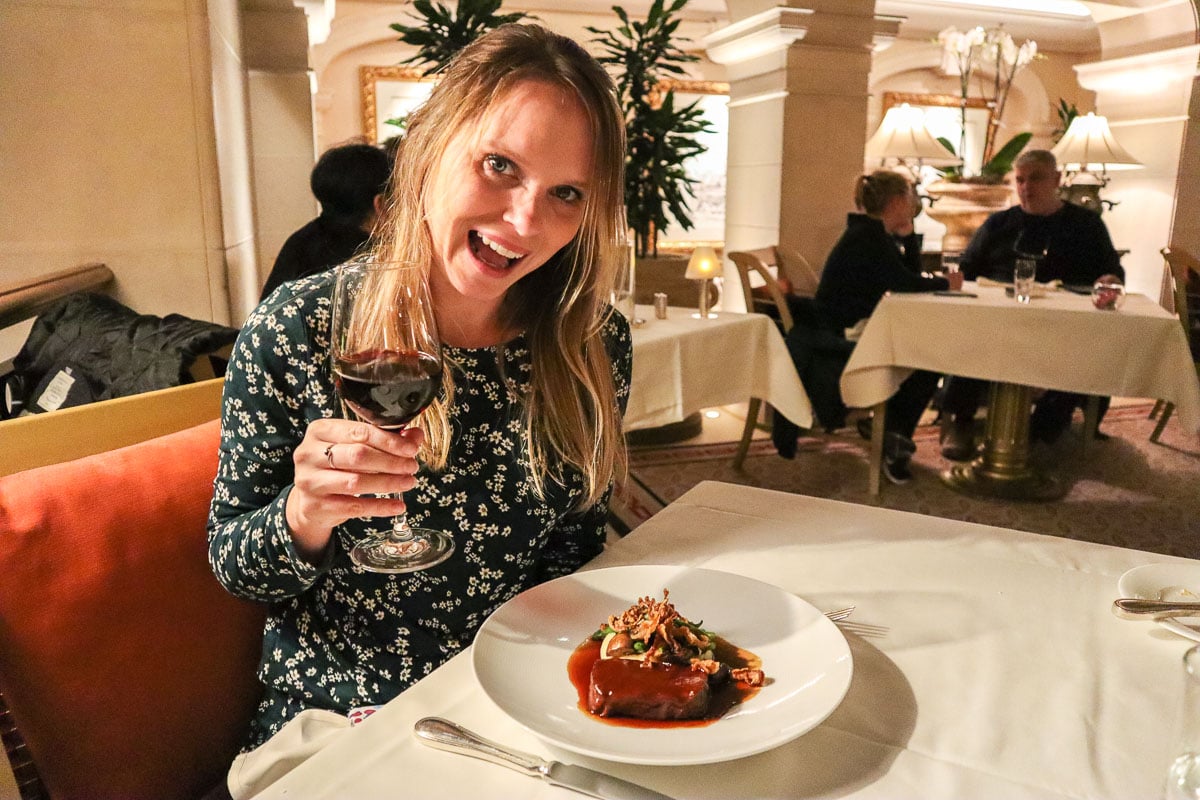 Find out more about the offer I booked at the Winter Garden at The Landmark Hotel via Bookatable.
If you can't find time to visit this month, there are often great deals on top London restaurants on Bookatable, so keep an eye out!
Big thanks to Bookatable for inviting me to visit the Winter Garden Restaurant. As always, all opinions are my own.