Rio Dulce in Guatemala is a stunning place to relax. Find out where to stay and what there is to do there.
From Flores in northern Guatemala we drove south east to the town of Rio Dulce (meaning sweet river) and caught a water taxi to the Tortugal Hotel. As the sun glinted off the water, it felt like we had arrived in paradise! Large boats were moored alongside floating platforms perfect for sunbathing on or diving into the water from.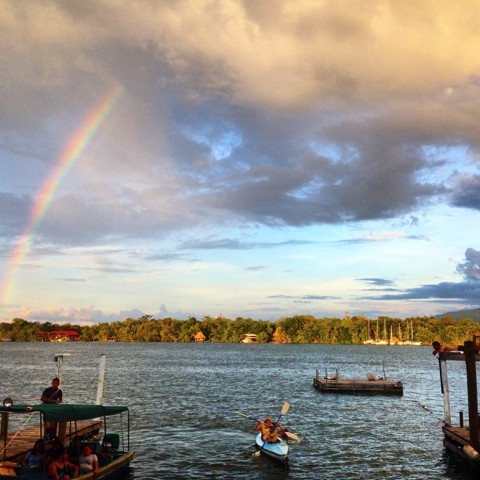 The hotel itself was more like a treehouse. We shared an 8 bed floating dorm which was split across two levels, made of wood and mosquito nets. It is probably the most unique place I have ever stayed. Other than being slightly exposed to the elements and the local wildlife, my only other worry was the dark walk from the bar to the rooms along a long floating platform!
The area is incredibly picturesque and the next day we took in more of the sights on a boat trip to the Caribbean town of Livingston. We stopped by a beautiful floating garden of lily pads and some rather disappointing murky hot springs! Livingston is on the Caribbean but the beach was dirty, and water dark – not like the crystal waters I've grown fond of in Mexico!
The town has two local delicacies – a fish soup with a whole crab draped over the edge of the bowl, and 'giffitea' – a rum-based concoction with herbs and spices. I've never tasted anything like it – and I never want to again! It came in a shot glass but believe me, there's no way you could shot this! It's the strongest drink I have ever tasted and had a revolting bitter woody after taste. It's known for its hallucinogenic qualities and I could see why – I felt very spaced out within a few minutes. Even with several helpers, we couldn't finish the glass!
Back at Tortugal it was time for a refreshing dip in the river followed by a excellent full body massage for 200 Quetzales (£16). I could get used to this!
Next stop… Antigua and Lake Atitlán.