I'm back from an incredible USA group tour! From camping, to the activities on offer, and the group dynamic, find out all about my experience in my Trek America review.
As I edged towards seat 31A on my Air Norwegian flight from San Francisco to London I felt pretty sad. I hadn't set off yet but I knew this was the onset of post-travel blues. This one was going to be A LOT harder to get over than most.
Rewind two weeks and I was waiting anxiously at the airport in London not knowing who I'd be spending the next few weeks with. We met at the gate, introduced ourselves, giggled nervously, compared what we'd packed and prepared for the 10 hour flight. Final destination? California. Reason for travel? Trek America's big campaign #iTrekHere. Along with 7 other specially selected bloggers and vloggers, I would be road tripping from LA to San Fran. So who else was coming? Amy, Maddie and Josie from the world of fashion and beauty, Laura who has a comedy YouTube channel, travel blogger Scott, and superstar YouTuber Helen and fiancé Matt. We would be sharing rooms, tents, stories and creating some unforgettable memories.
Check out the video, then read more of my Trek America review below.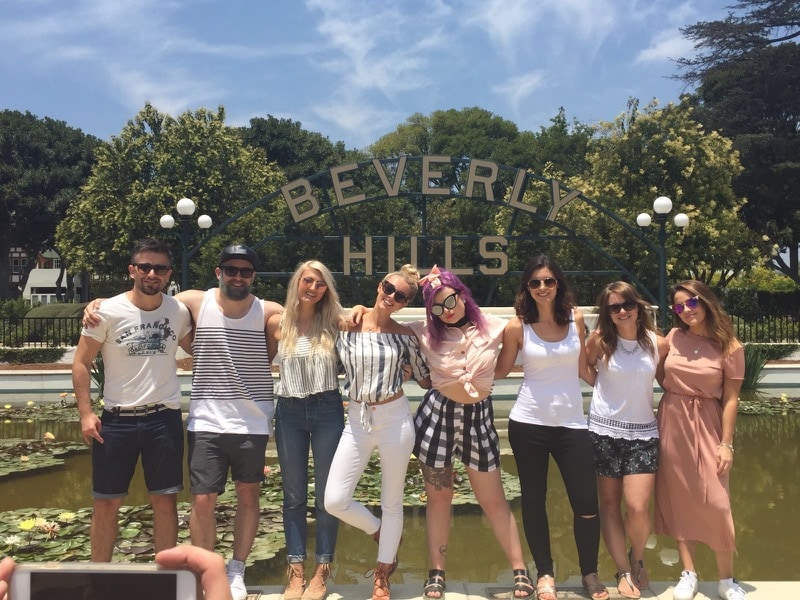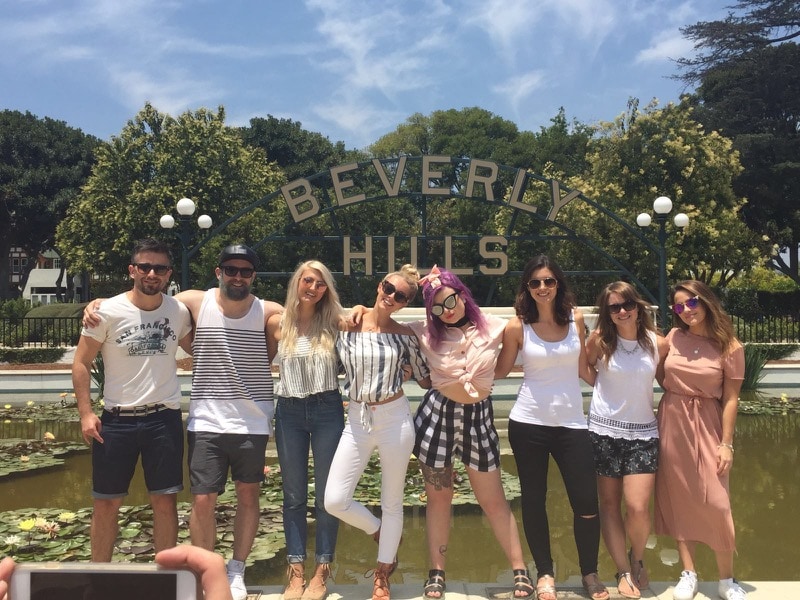 I'm a big fan of both solo travel and group travel. Last month I wrote about where my wanderlust began – funnily enough during a trip with Trek America to Mexico 5 years ago . It inspired me to see more of the world, and now here I was 5 years later being invited to explore somewhere I'd always wanted to visit. California Callin's route would take us from the glitz and glam of LA, to the beautiful beach town of Santa Barbara, the waterfalls of Big Sur, the incredible rugged landscapes of Yosemite National Park, and end in buzzing San Francisco.
Ready for a few highlights? It's going to be hard to pick but here goes…!
L.A
Oh the bright lights of LA! A sprawling city with pockets of landmarks made famous in films. Our tour guide for the week Darin, took us to the key spots and started to adjust to a tour dominated by social media, photos and vlogs. We joked that he'd be a YouTube superstar by the end of the week, and sure enough it wasn't long before he was vlogging to camera!
Kicking off at Venice Beach, we checked out skate parks, surfer dudes and channelled our inner Arnies on Muscle Beach. While feebly hitting a punchball, I attracted a local personal trainer who wanted to give me some tips. "No not like that, punch it like you mean it. Does that feel good? I want you to shout IT FEELS GOOD." My little arms flailed as I shouted "it feels good!" not wanting to deal with the consequences if I didn't!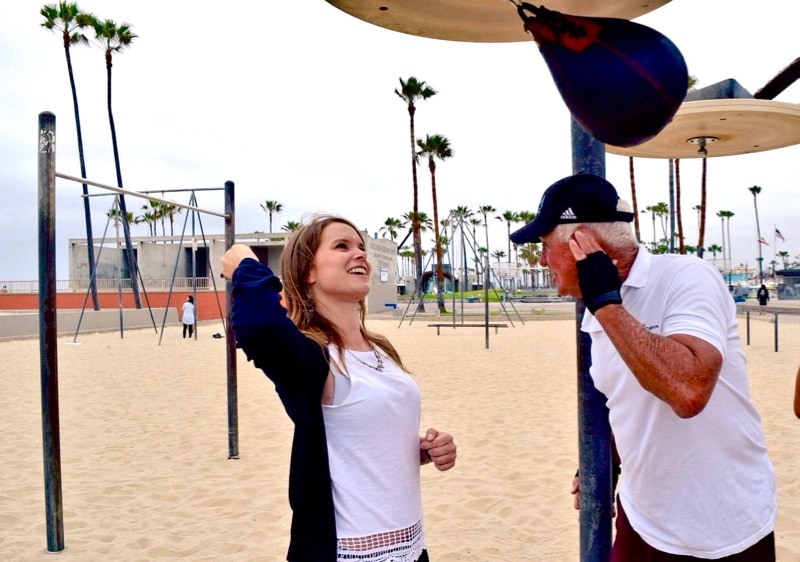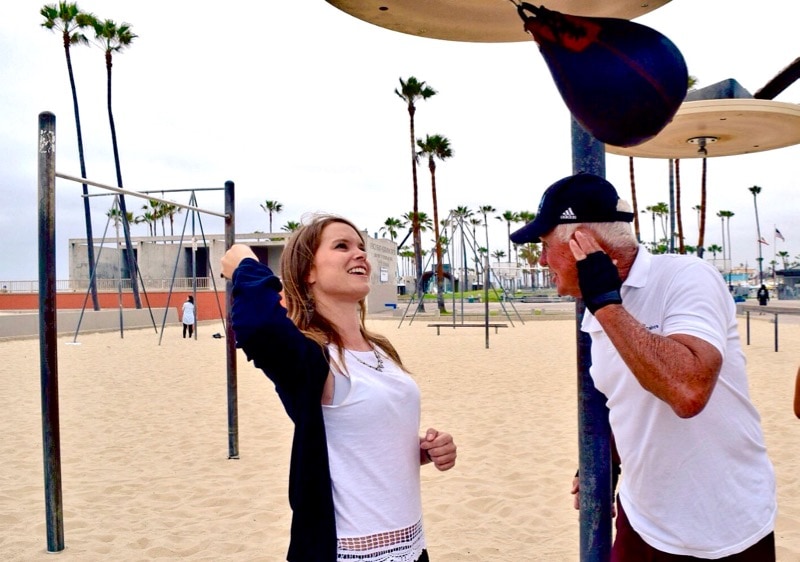 After snapping photos of cool street art it was time to head to the glitzy side of the city. Beverley Hills with its iconic sign and Rodeo Drive with its designer stores, and memories of Pretty Woman. It was every bit as glam as I'd hoped. Hey, we even went in the Wilshire Hotel – yes the Pretty Woman hotel! Fashionistas Maddie and Josie were in their element, looking every bit the LA stars as they shopped in Chanel.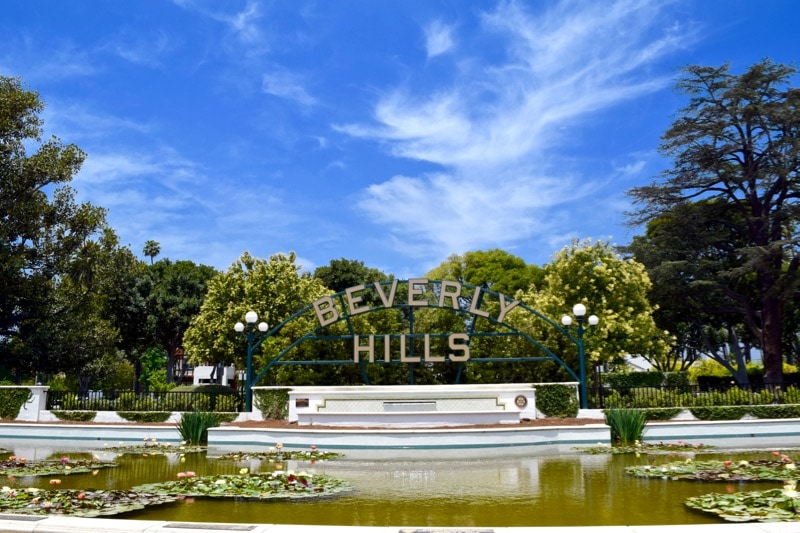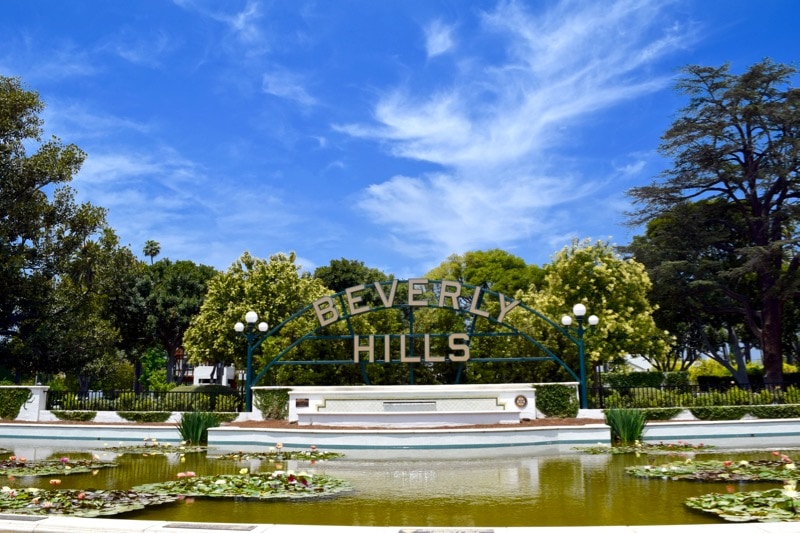 After a pit stop at Panera for deli sandwiches and healthy salads, it was time for #iTrekHere to hit Hollywood. When I first set eyes on the Hollywood sign, adrenaline pumped! So iconic, it was something I'd seen in countless films and TV shows and now here I was, right beneath it. Although the LA sun was beating down, it wasn't a challenging walk, and along with the sign, there were incredible views of the whole city. It sprawled like some kind of toytown.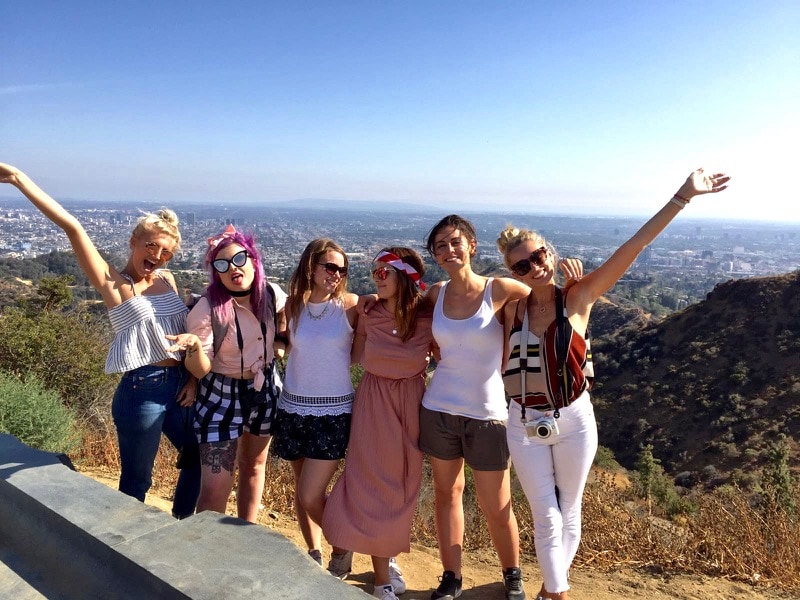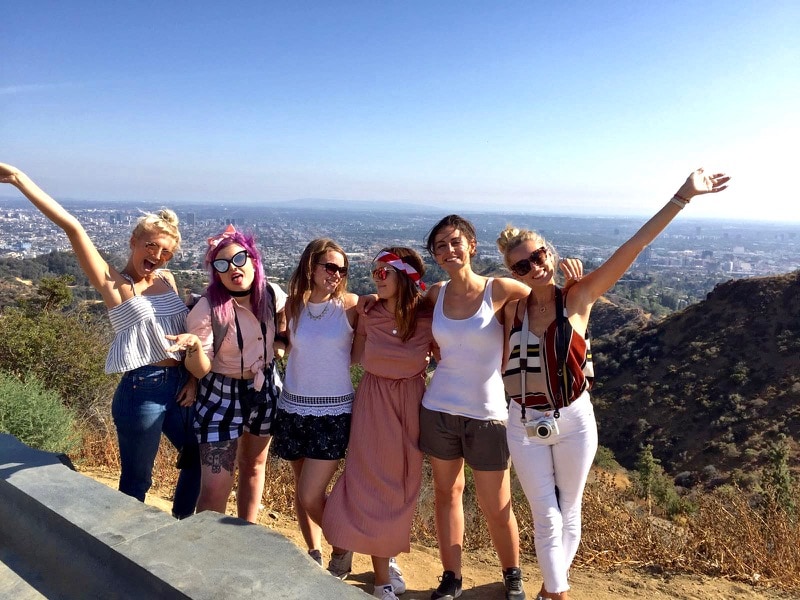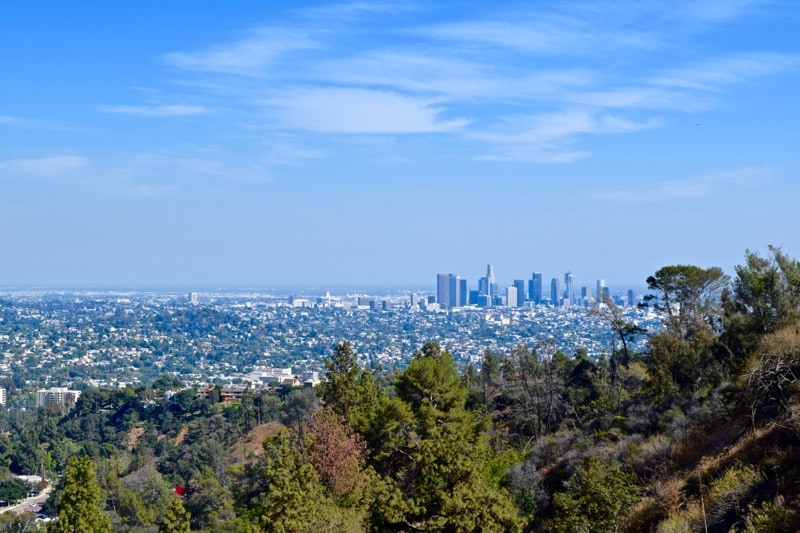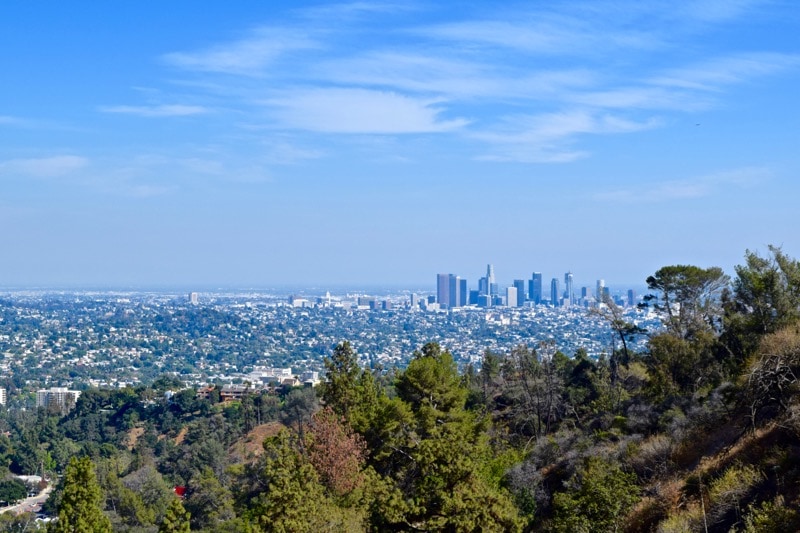 We finished our whirlwind tour of LA by checking out some local drinking spots. The Sips of Old Hollywood tour run by Urban Adventures took us down the Walk of Fame, showed us where Marilyn used to sip cocktails, Walt Disney dreamed up his magical tales, and to a site of a few ghostly goings on. Don't worry, this was very much a hands on tour and as I sipped on my Moscow mule in Boardners, I felt every bit the Hollywood superstar.
After a late night stop at Hollywood's most famous hot dog store Pinks, we headed back to the hotel to crash out. It had been a long day ticking off the LA bucket list, but we'd done it!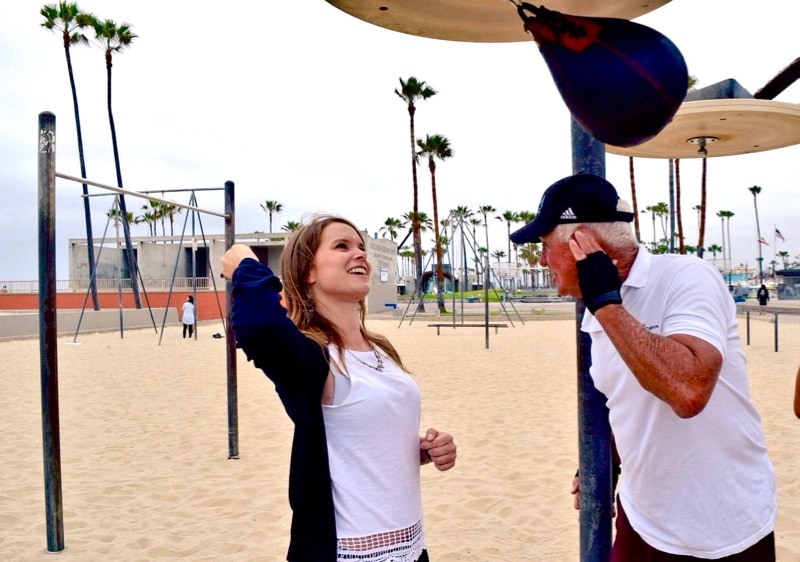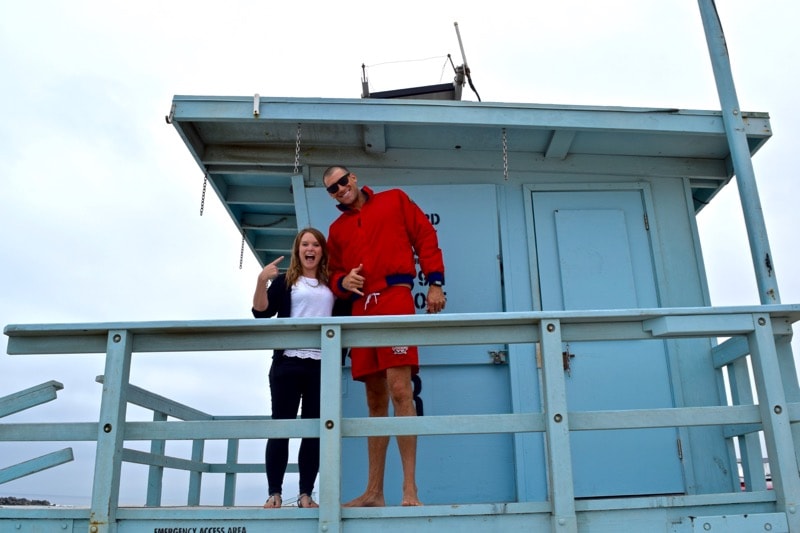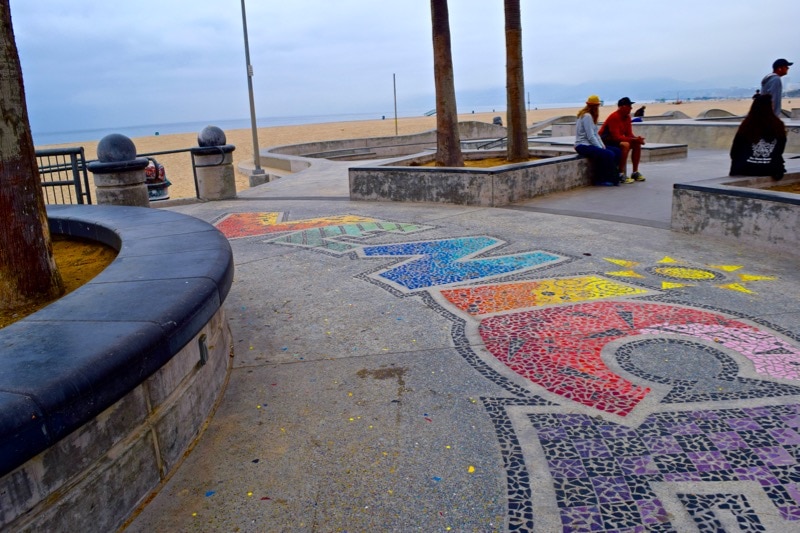 Santa Barbara
Our introduction to the cool, upmarket beach town of Santa Barbara started with a hippie named One Feather. He talked about peace and love as he showed us his intricately decorated van. A true eccentric, it was hard not to be fascinated by him. Santa Barbara is known for its beach, pier and State Street (the main shopping boulevard). While some of the group headed out stand up paddle boarding, the rest of us went in search of frozen yoghurt. Mooching around the cute shops, cafes, and exploring a pop up farmers market felt like the perfect contrast to our hectic first day in LA.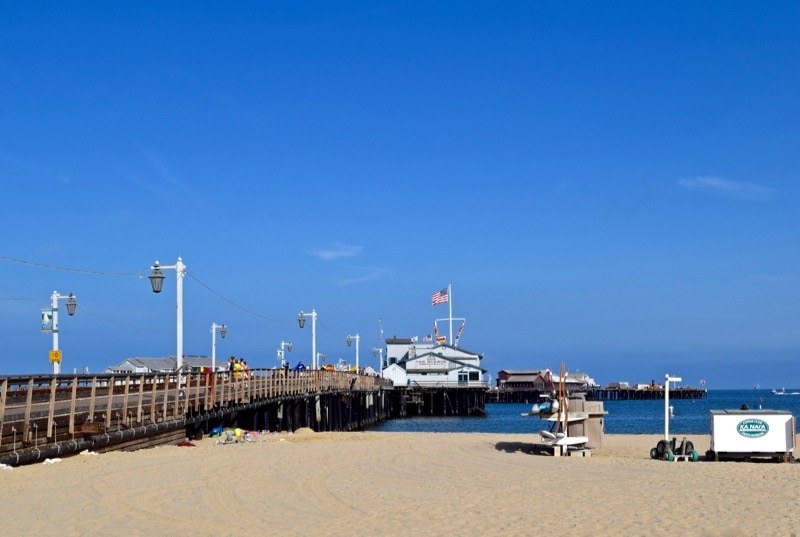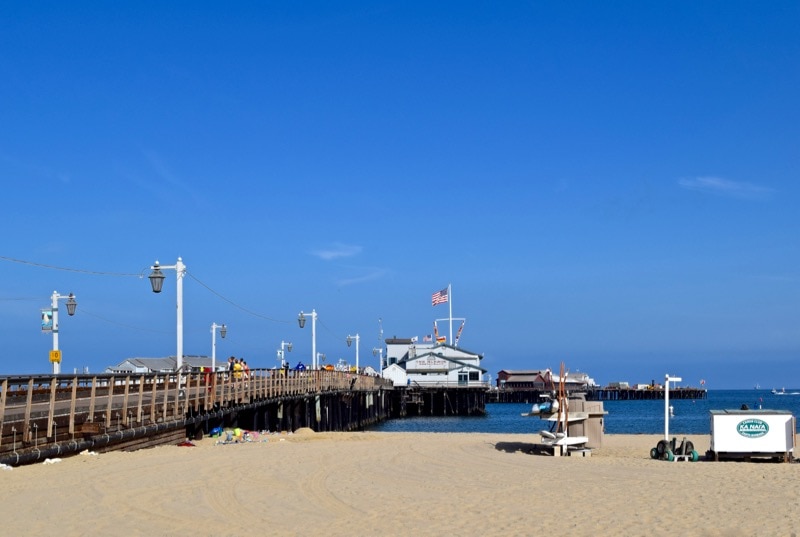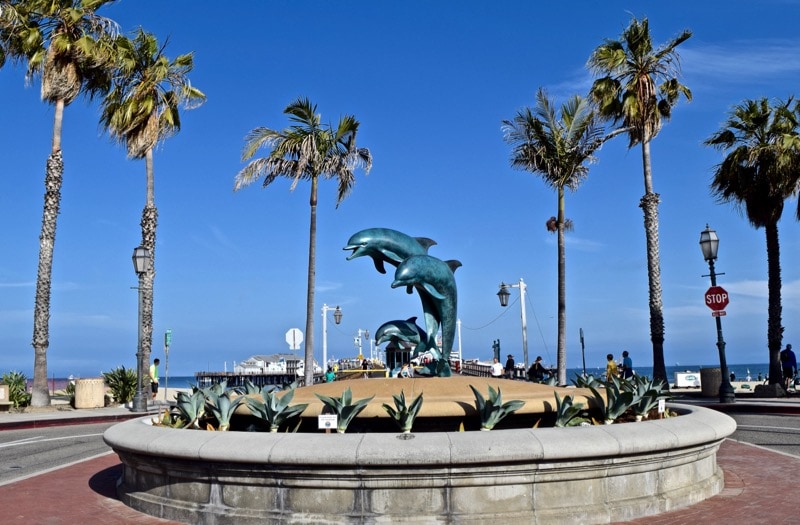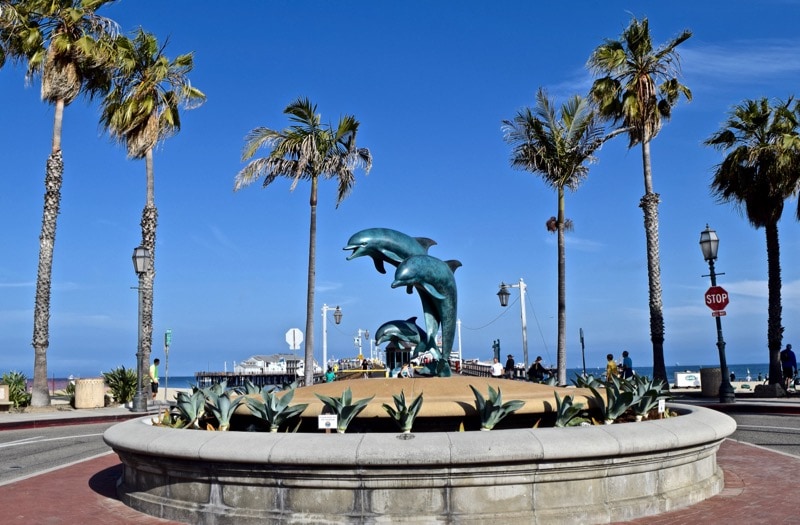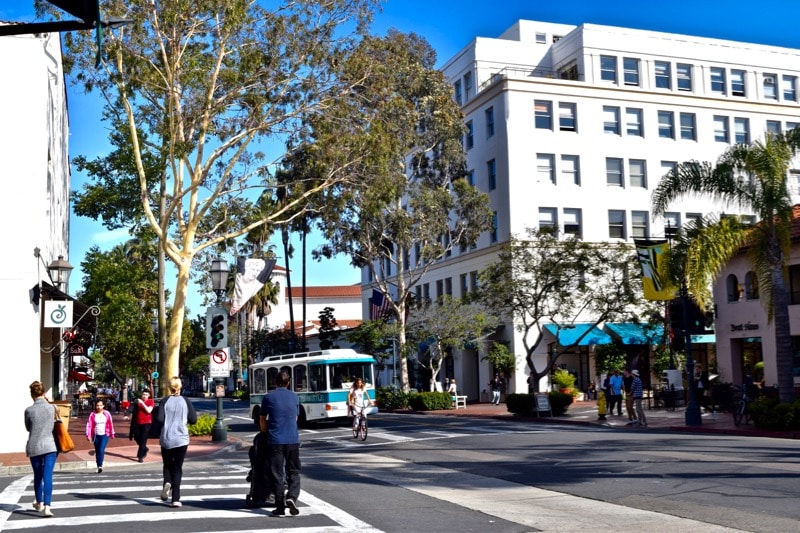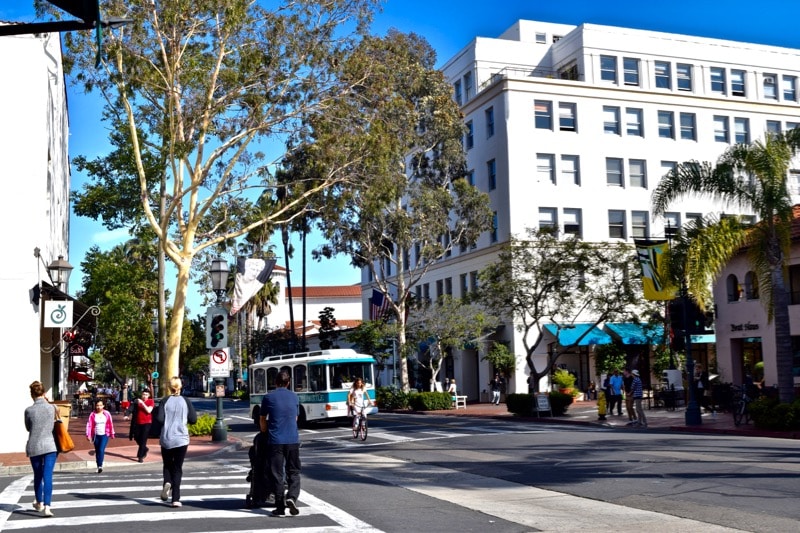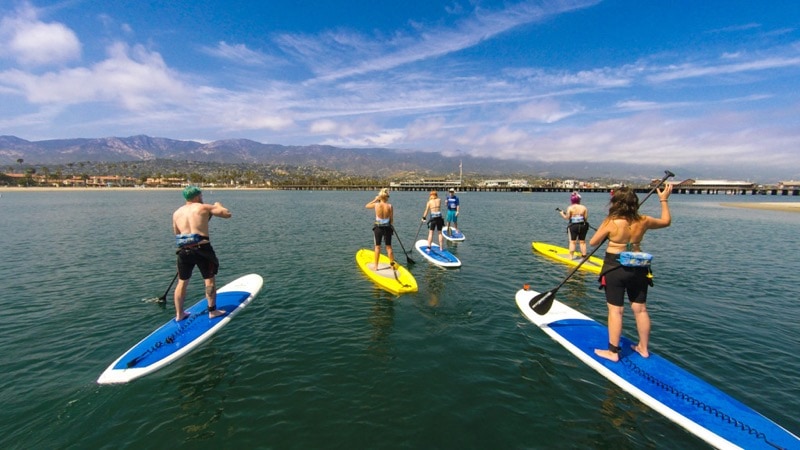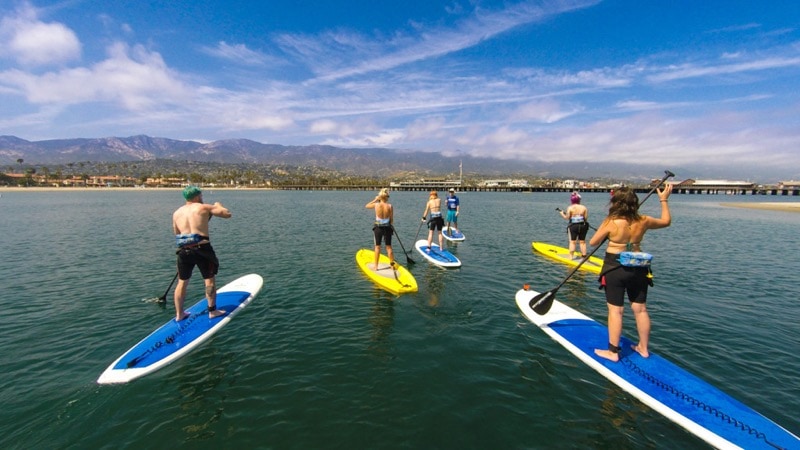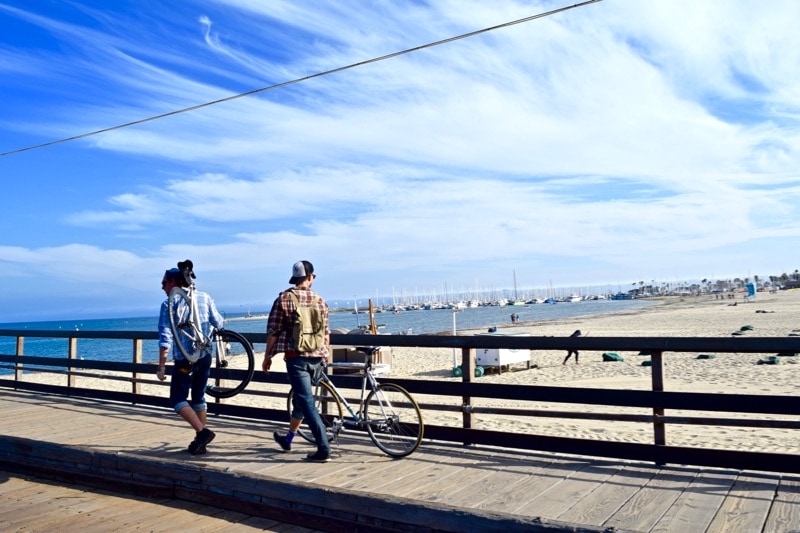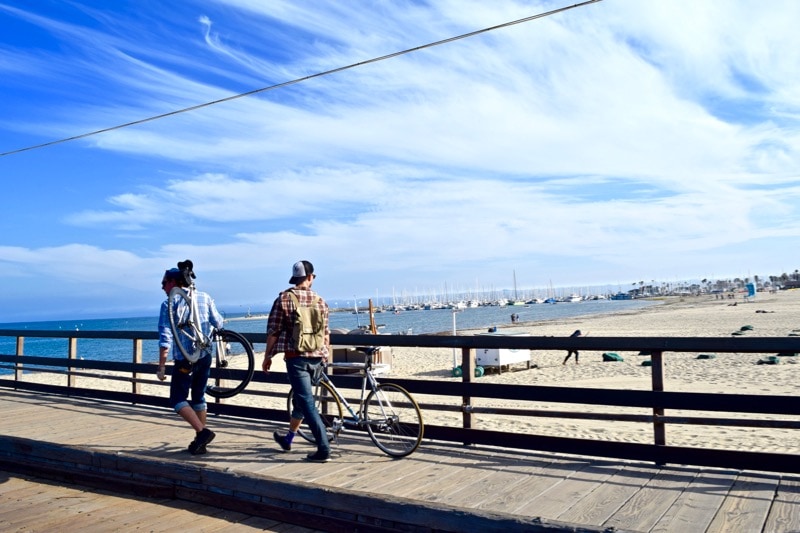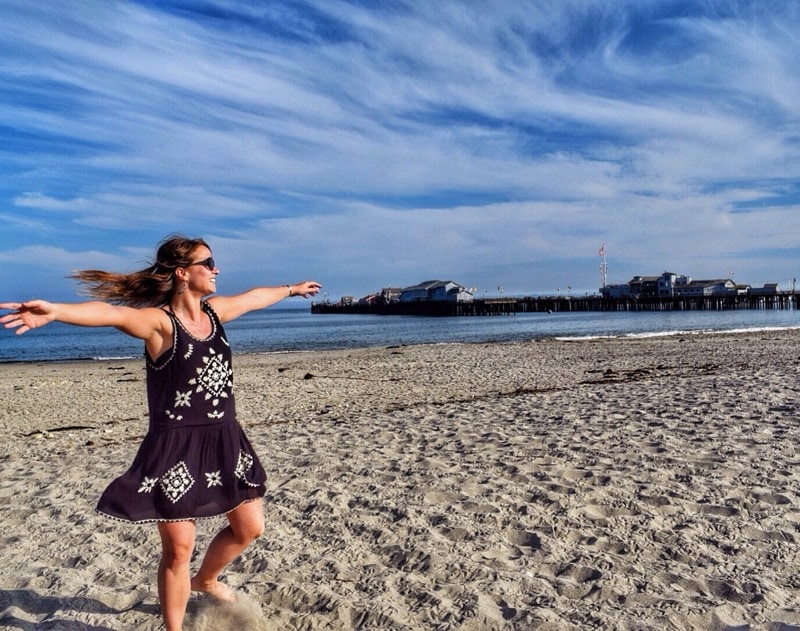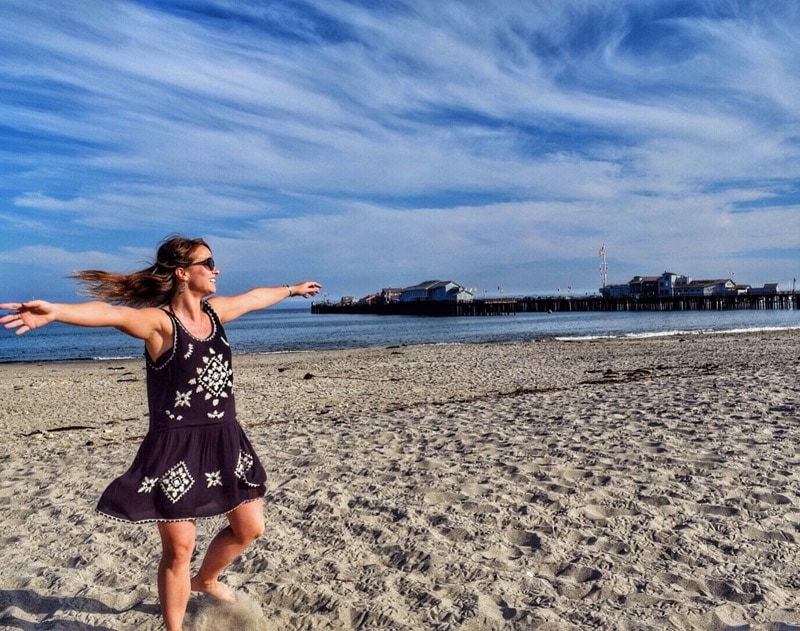 That night we stayed in a campsite. Oh, and this is where my camping virginity would be taken!
Only a few of us had never put tents up before so we were quickly selected for Darin's demonstration. Poles, nails, ground sheets, rain covers… It was all jargon to me and I had never really understood why anyone would choose to camp! But as we gathered around the stove to cook a pasta dinner, enjoyed a few drinks and chatted away, I started to see the appeal. As I bedded down for the night with my new tent buddies Amy and Laura, we felt closer than ever!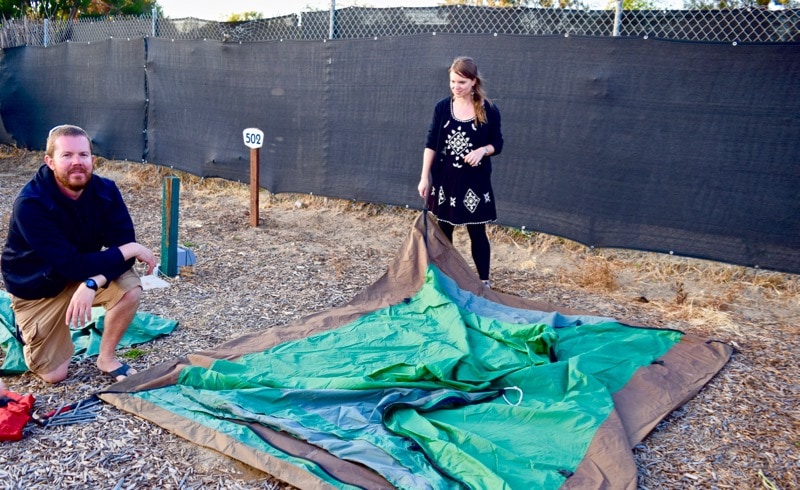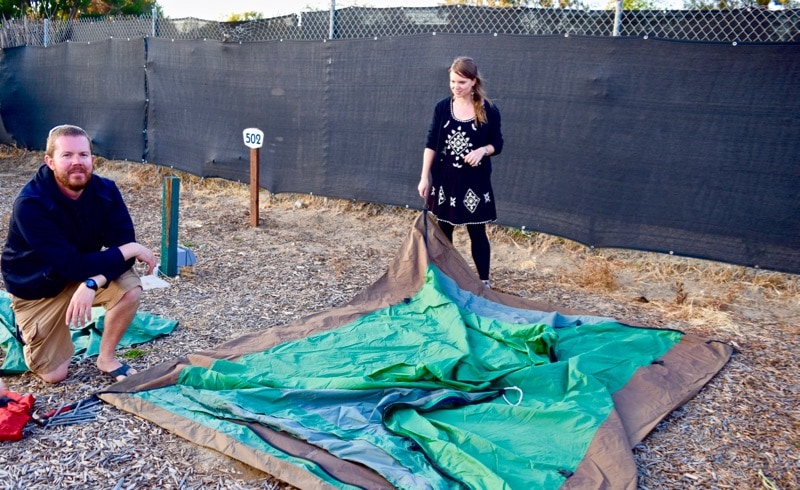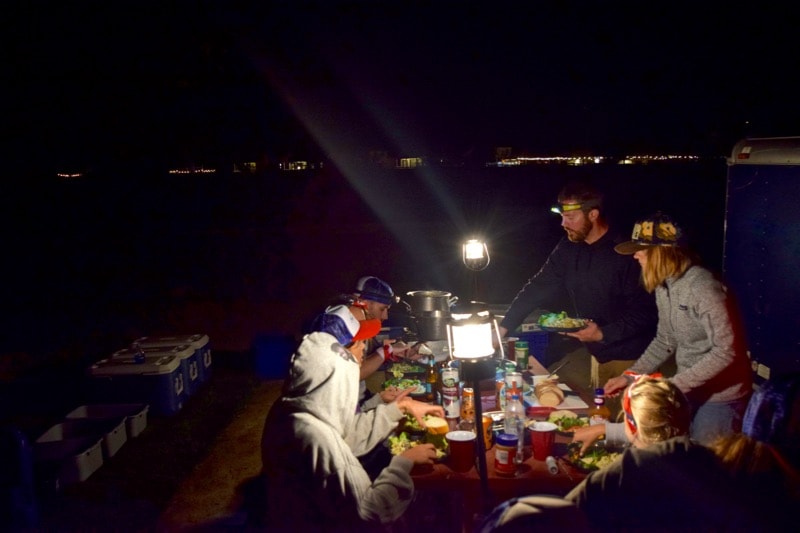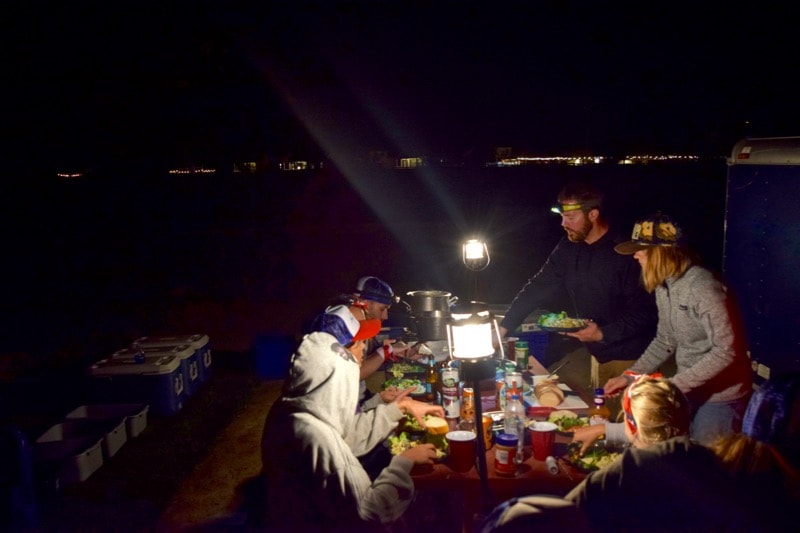 Big Sur
Up and out early, Darin had described the day as a 'driving day' – i.e. stock up on snacks and pick someone with good music taste to manage the playlist. Oreos in hand, Kings of Leon blasting out we drove the Pacific Coast Highway. It turned out this wasn't a mere driving day, it was accompanied by some of the most spectacular road trip scenery you'll ever see! A Big Sur road trip isn't just any old road trip! High cliffs overlooking the Pacific, suspension bridges, waterfalls and more. We continuously reached for our cameras, leaning over one another to get the killer shots.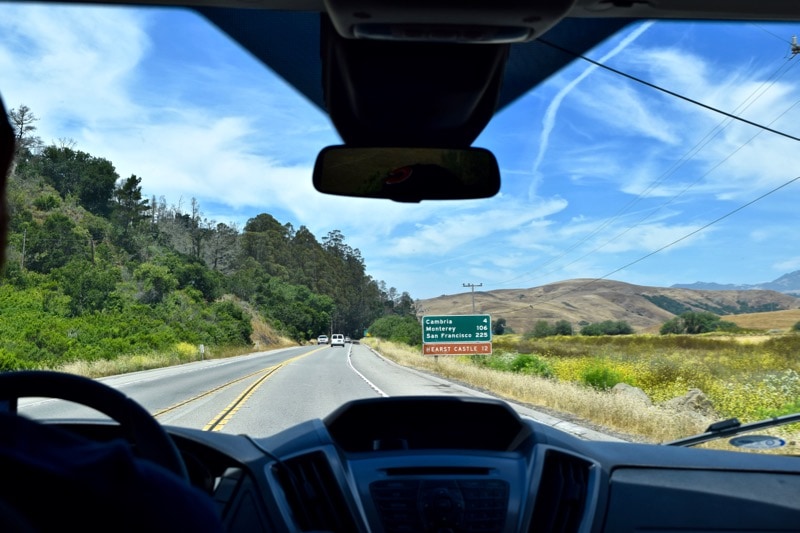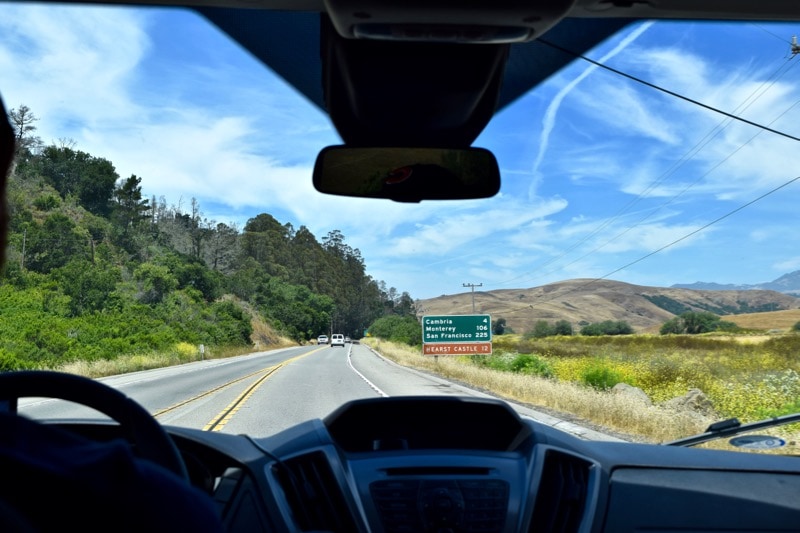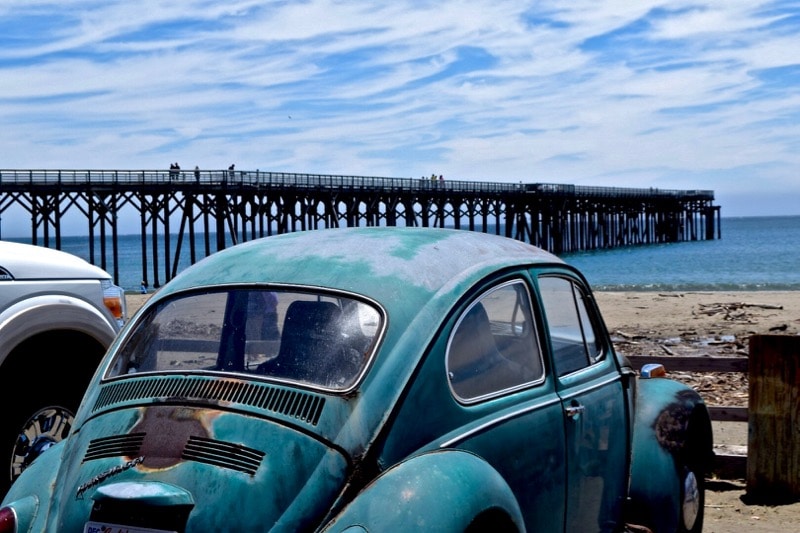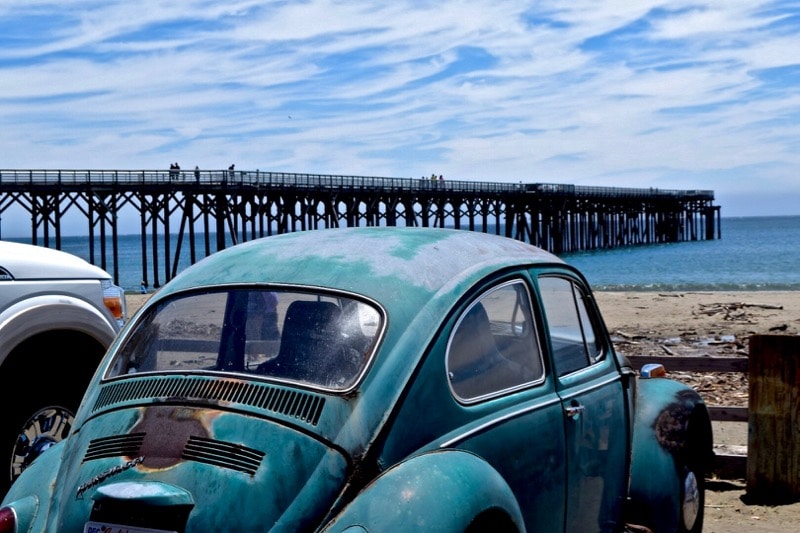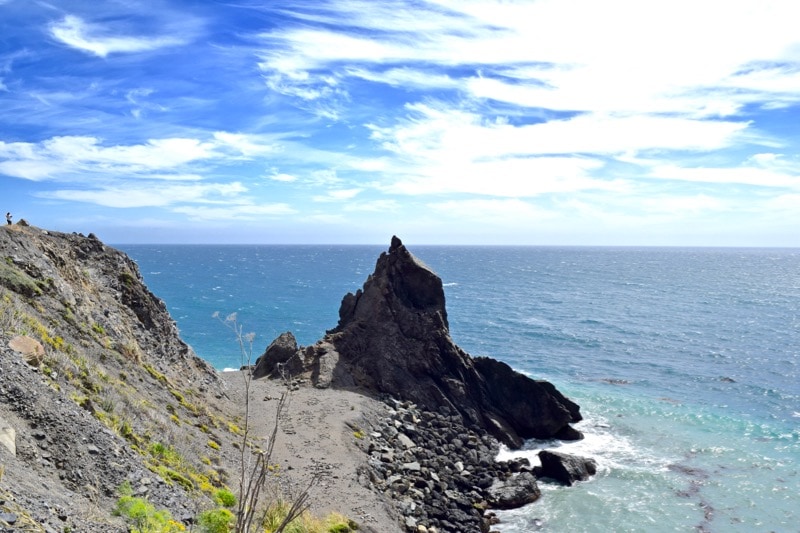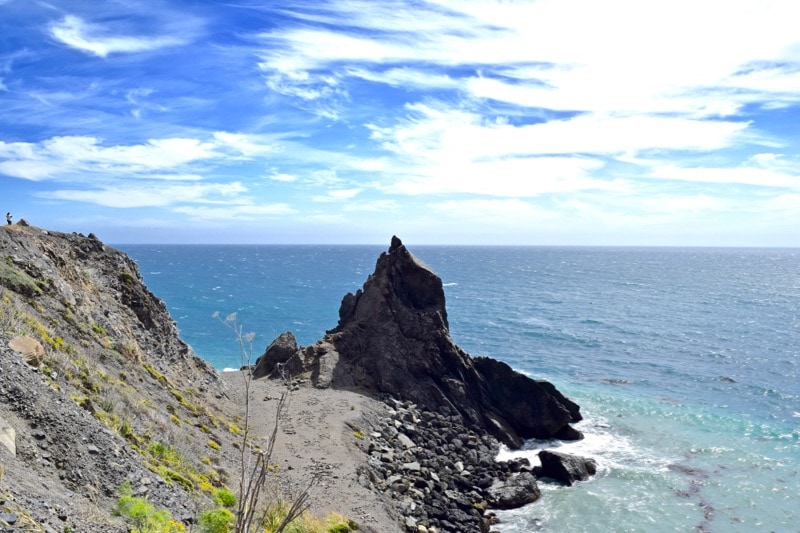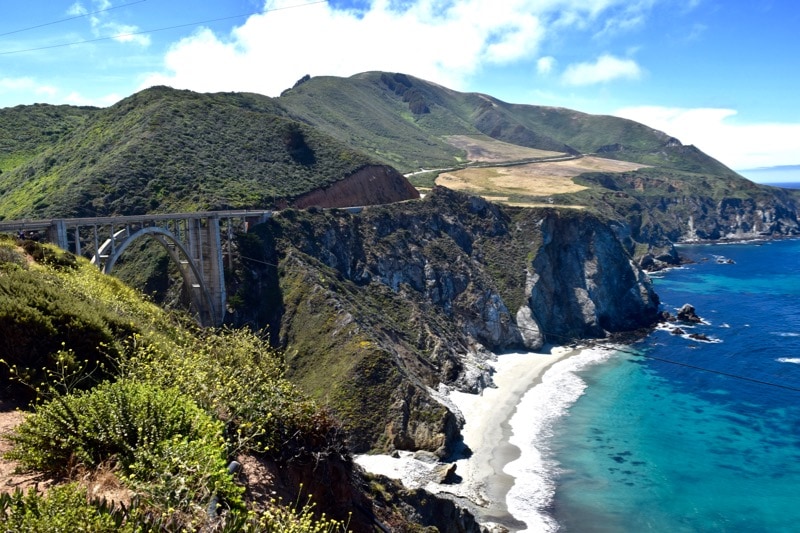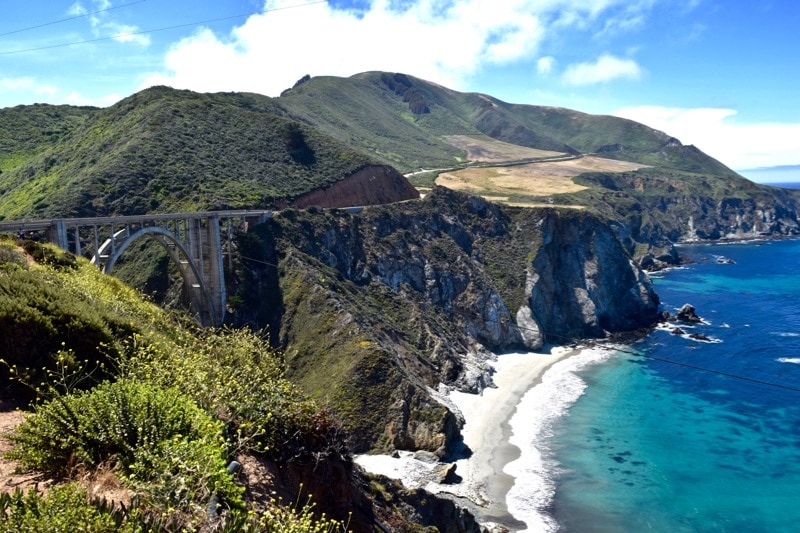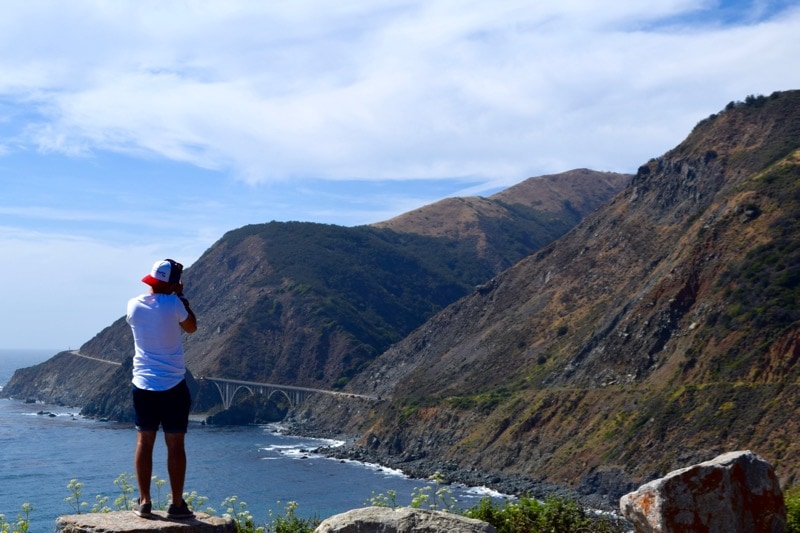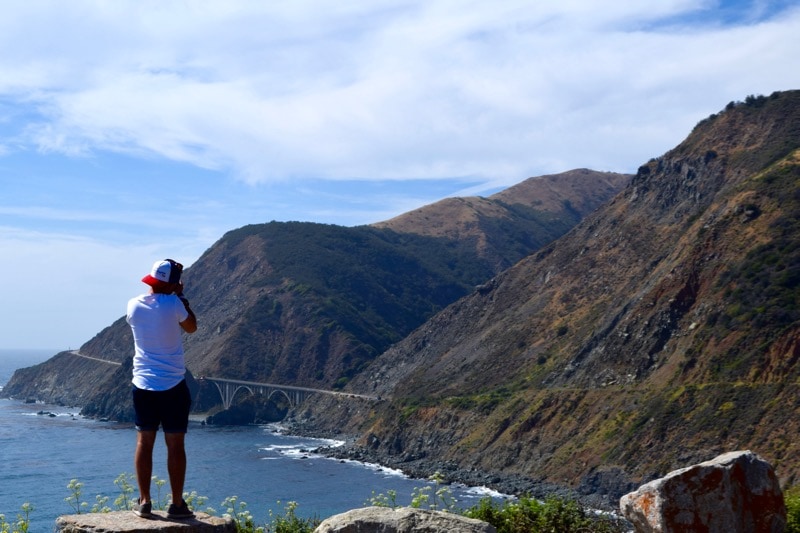 We stopped several times at beautiful viewpoints including Hearst Bay for lunch and Piedras Blancas Beach to see the elephant seals. I'd never seen so many seals – they looked like an expanse of giant rocks on the beach. A few moments later we spotted the distant spouts of whales and dolphins swimming close to the shore. So much for it just being a driving day!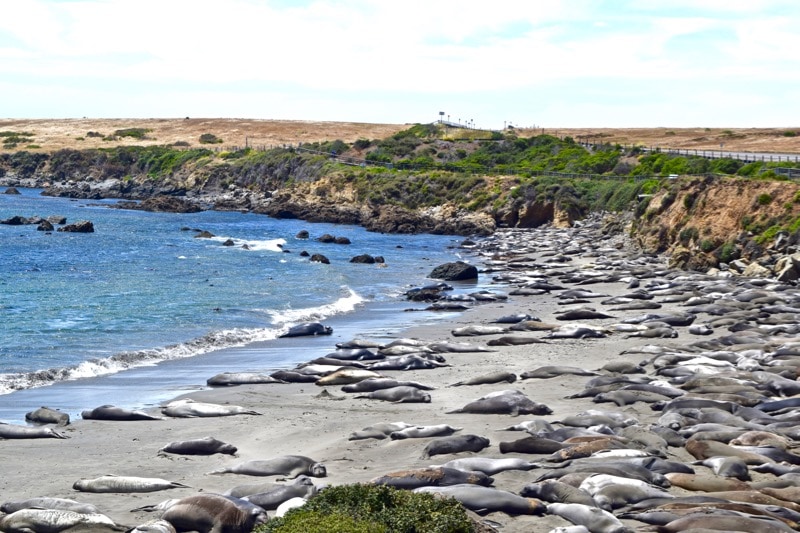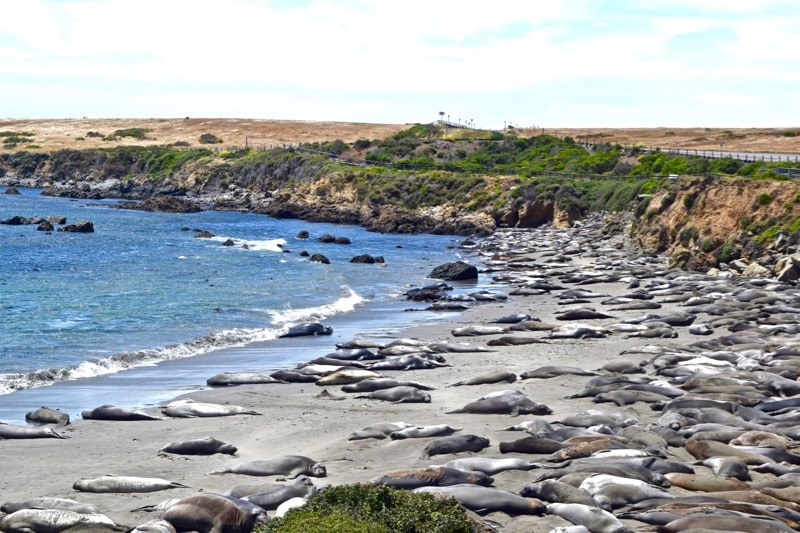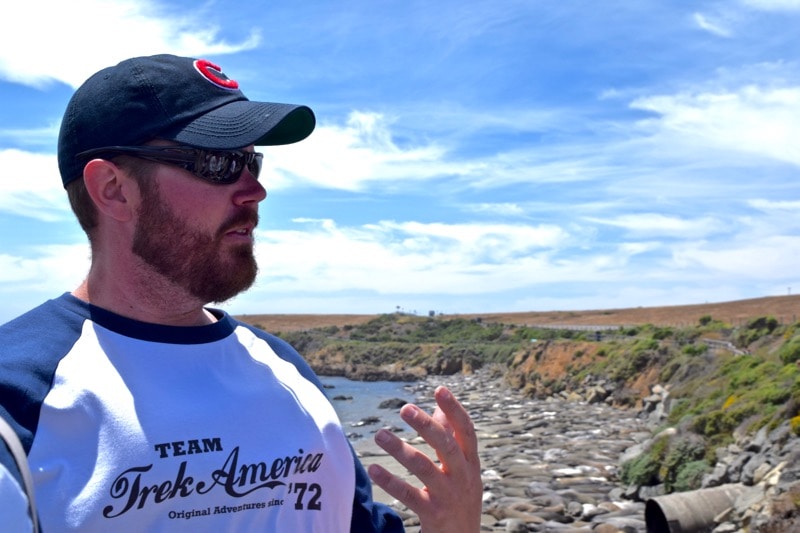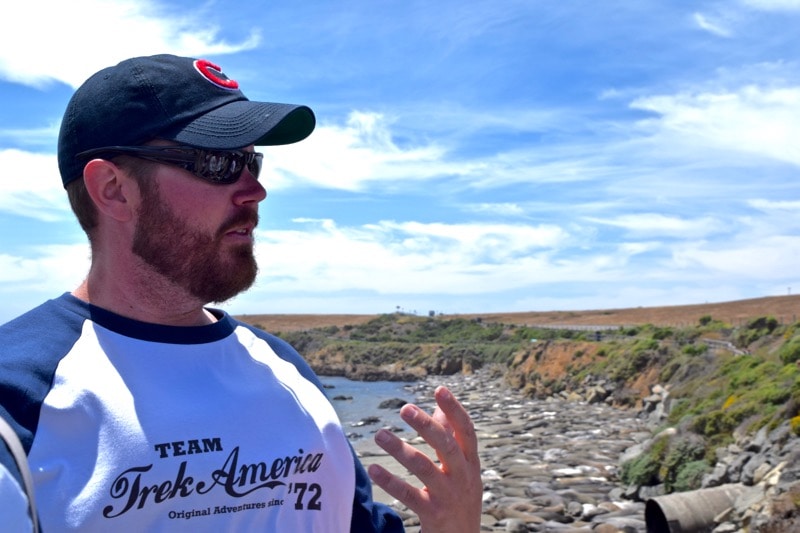 The final stop before the campsite was at McWay Falls, a picturesque 80 ft waterfall which crashes down onto the beach. When you Google 'Big Sur' – this is what comes up, and it's one place that looks just as good in reality as the photos online!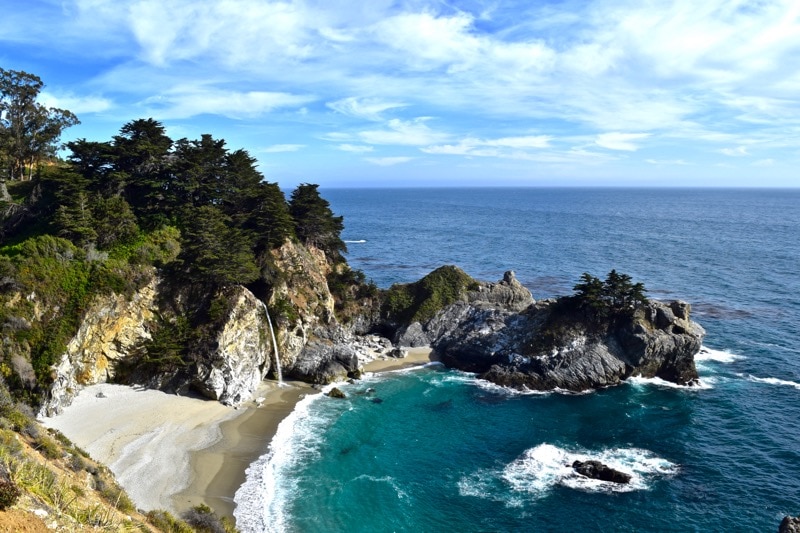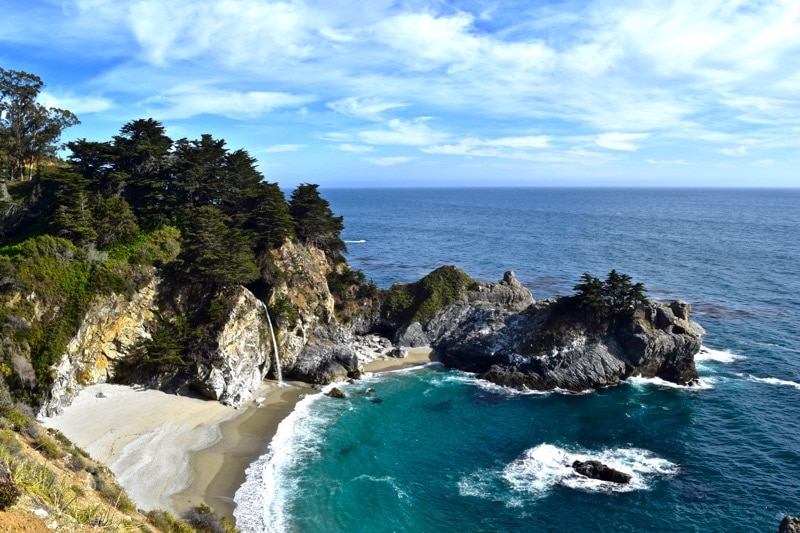 Feeling like camping pros we put up our tents, enjoyed a delicious fajita dinner, and toasted marshmallows for smores on the campfire.
The next morning, we trekked to Pfeiffer Falls, a hike of around 3 miles through a beautiful forest of redwood trees. The sun beamed down creating beautiful sunny patches in the woods – even more spectacular once the waterfall came into view.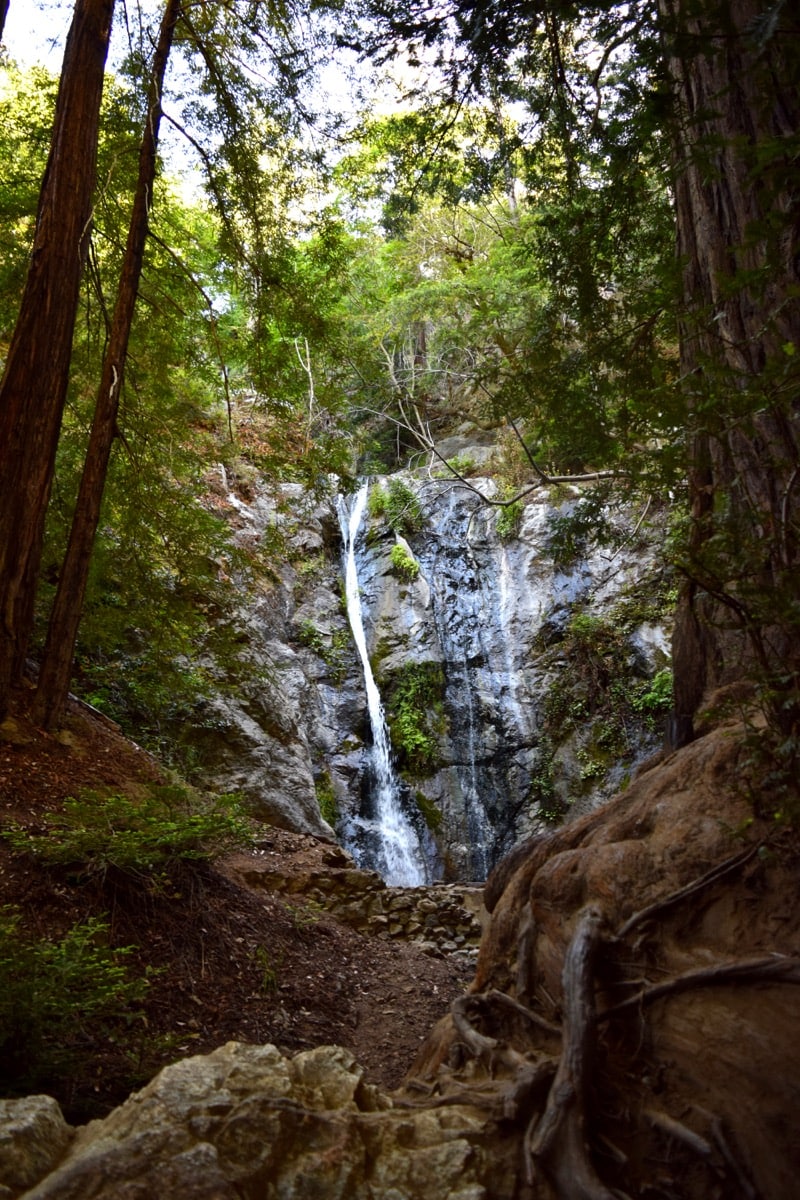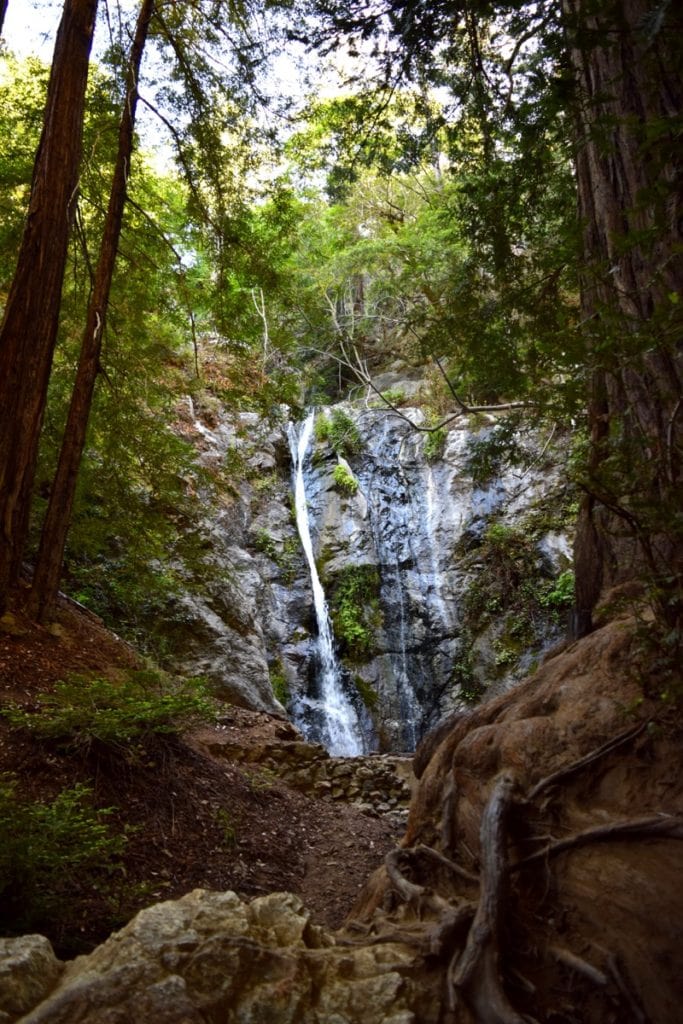 Yosemite
Magical scenery, jutting rocks, waterfalls, forests and potential bear sightings made this the part of the trip that appealed to me most.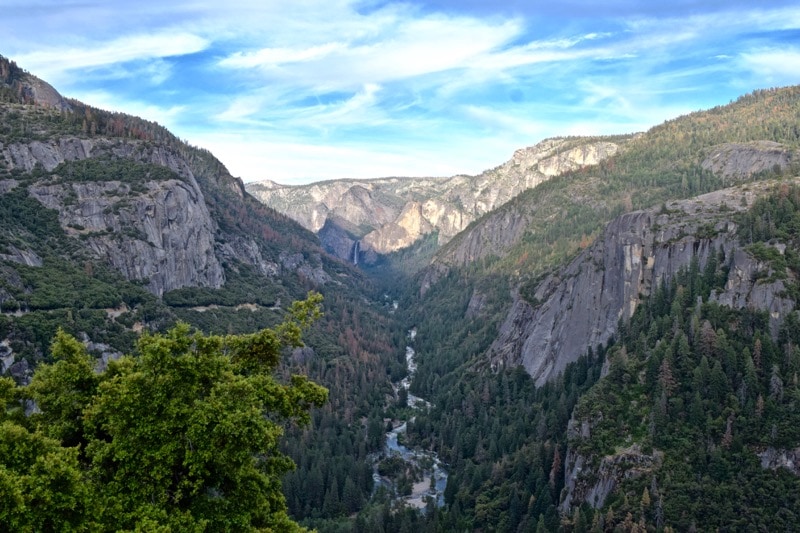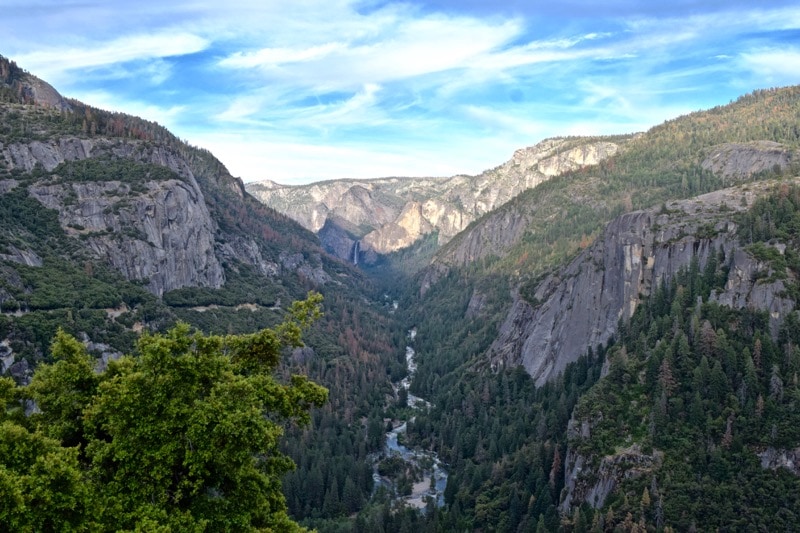 It turned out to be every bit as magical as I'd imagined, if not more so. The drive into the park was breathtaking with huge mountains, pine trees, beautiful canyons, and a river complete with ferocious looking rapids. The landscapes were vast, making us feel very small indeed (even more than I usually do!) Tour guide Darin pointed out rock climbers on El Capitan (the most famous rock feature) – but they were barely visible to the human eye. Talk about feeling small!
We couldn't wait to check out the giant sequoia trees in Tuolumne Grove. Over 3000 years old, the enormous trees again made us feel extremely small. Flecks of golden sun seeped majestically through the trees as we clambered in and out of cavernous old tree trunks.
While in Yosemite, I chose to follow the Mist Trail – a medium difficulty hike which took us up to see Nevada and Vernal Falls. While I'd say I'm reasonably fit, it was still a challenging hike, mostly due its steepness. The hike paid off when I saw the incredible panoramic views.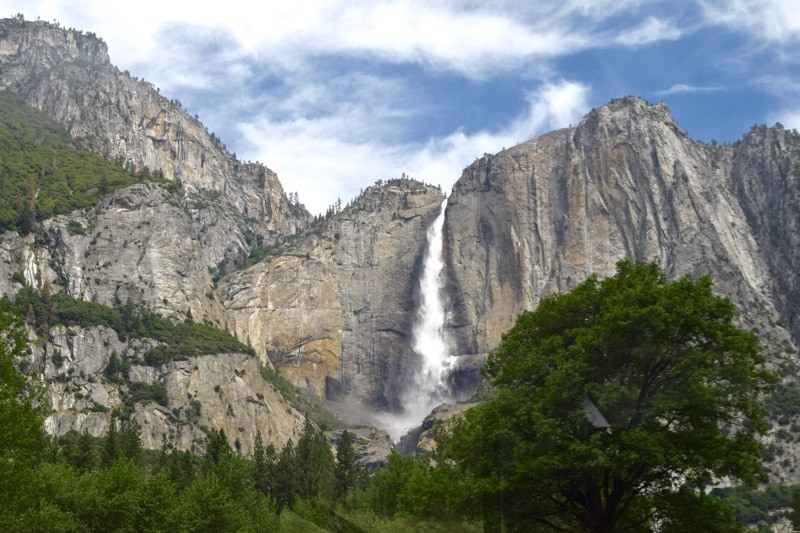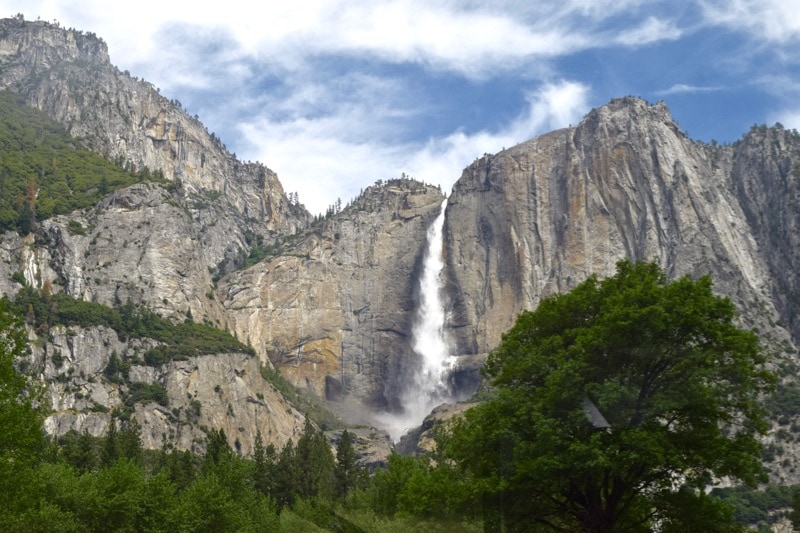 As we stopped for gas on the way back to the campsite, a wonderful surprise awaited us. Greg from Travizeo (our videographer who spent the week capturing our journey on #iTrekHere) ran to the van, grabbed his camera and sprinted across the parking lot. Unsure of what he'd seen, a handful of us did the same. A bear! A big black bear roaming free in the forest, crossing the road and going about his business. It was magnificent, beautiful and elegant. I couldn't believe we'd seen a bear in the wild!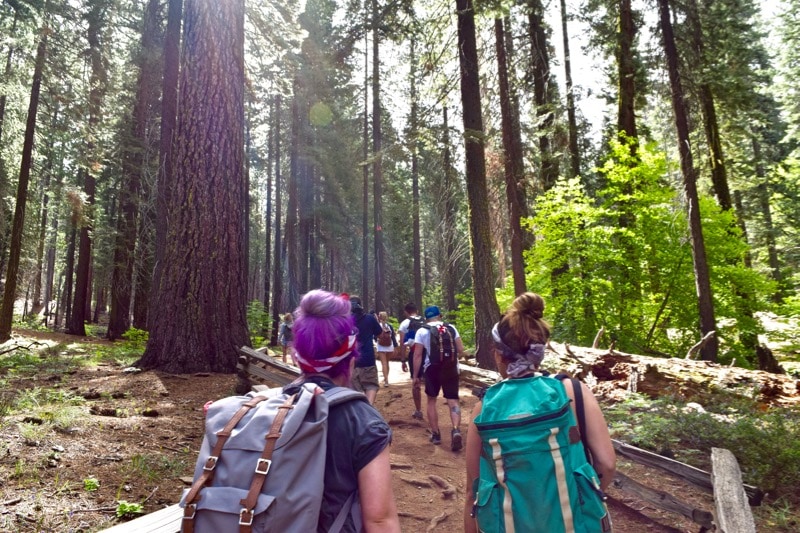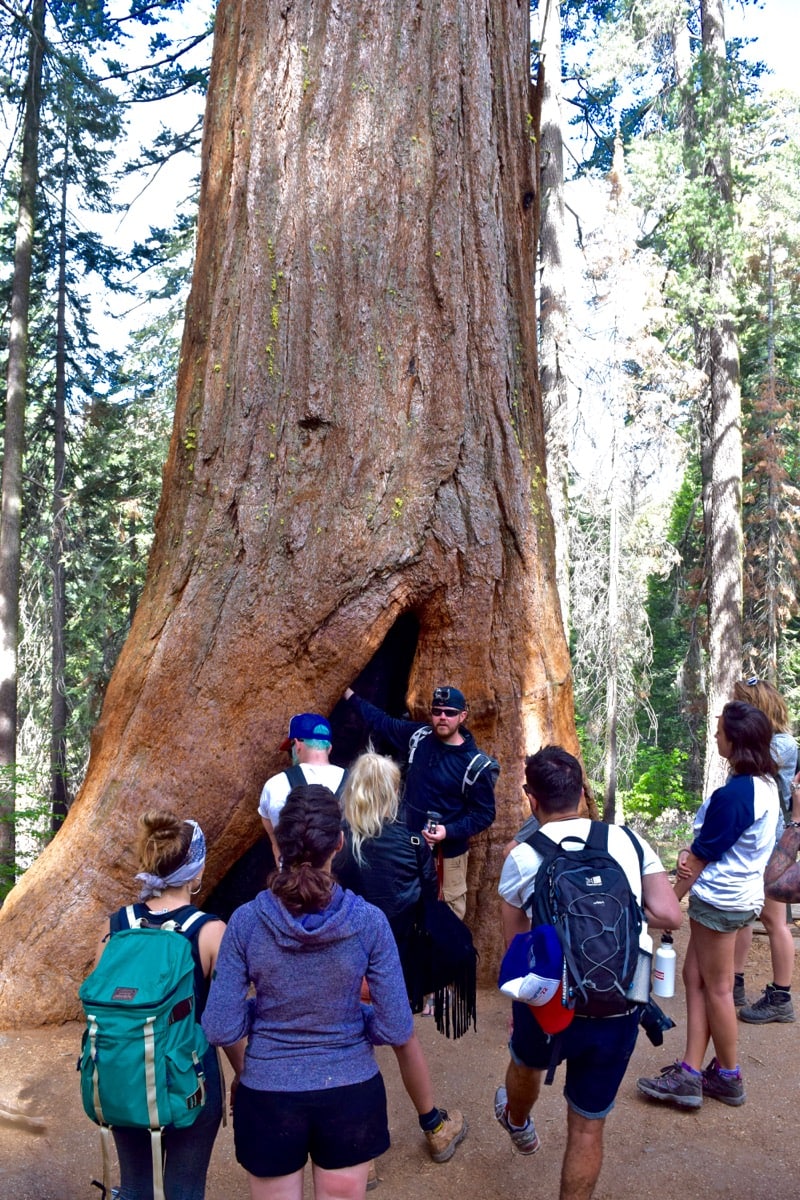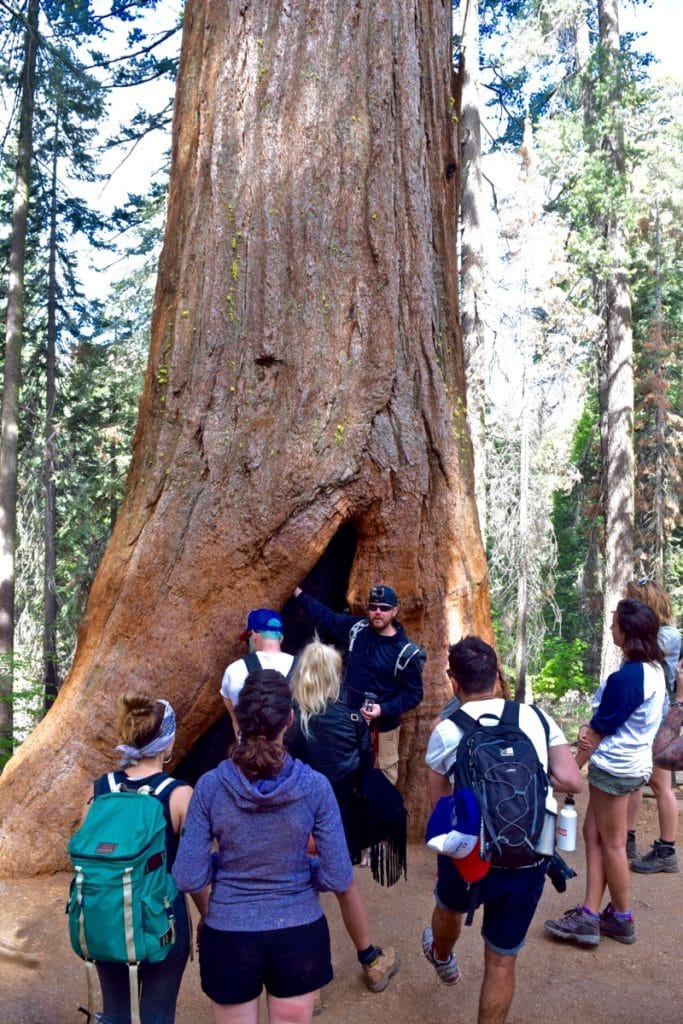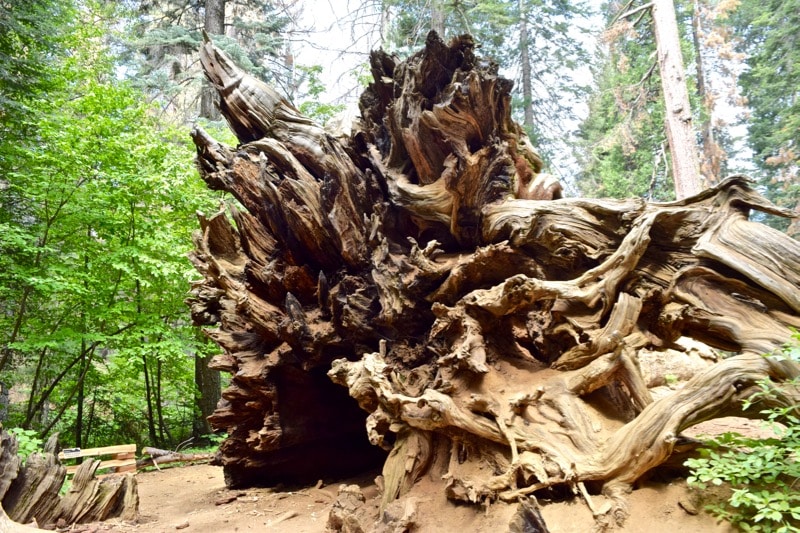 San Francisco
Surviving four nights of camping, virtually no internet and a few shower experiences I'd rather forget, we made our way to our final stop San Francisco. It was the city everyone raved about. And soon enough – I'd be raving about it too!
Over the next 48 hours we would check out several cool neighbourhoods, sail a catamaran under the Golden Gate Bridge, escape from Alcatraz, and party until dawn. It was the perfect end to an incredible week.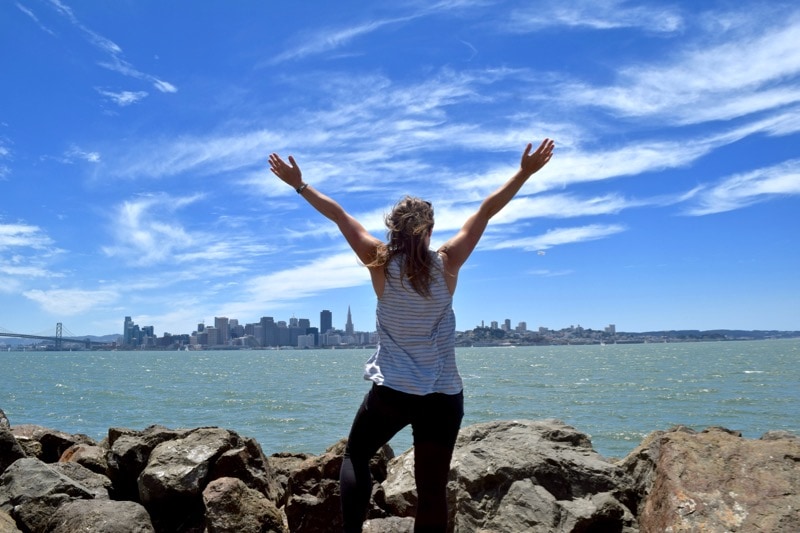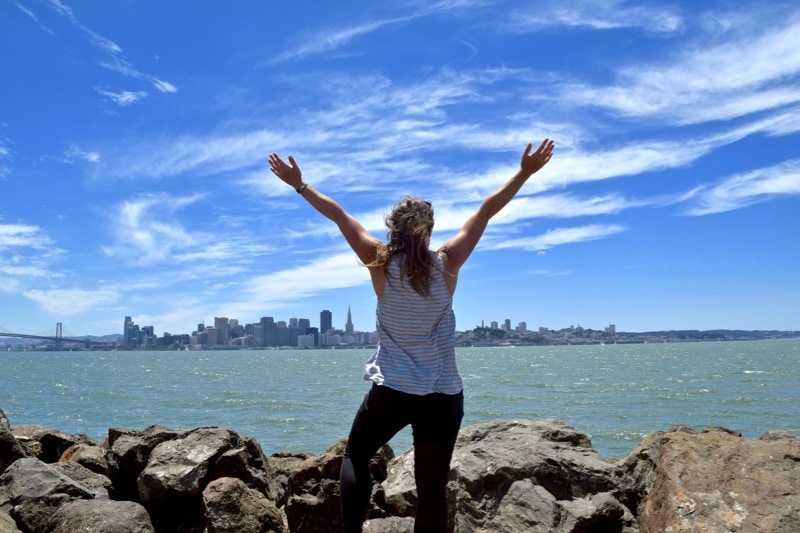 First on our hit list – the Mission District a.k.a where the hipsters hang out. Covered in eye-catching street art, it was home to a handful of trendy boutiques, super cool restaurants and a tonne of taco joints. It was a cool place to kick off our time in SF.
Next it was off to Haight–Ashbury – famous for being the home of the summer of love in the 60s. Sure enough, it had retained its hippie vibe with tie-die stores, small boutiques, and a certain 'scent' in the air!
Tourist areas Fisherman's Wharf and Pier 39 were brightly lit and filled with alluring gift shops, scents of cookies and big name chains. Unexpectedly, it was also home to a lot of sealions – spotted as we disembarked our catamaran. So cute! I also LOVED visiting Lombard Street – also known as the most crooked street in the world.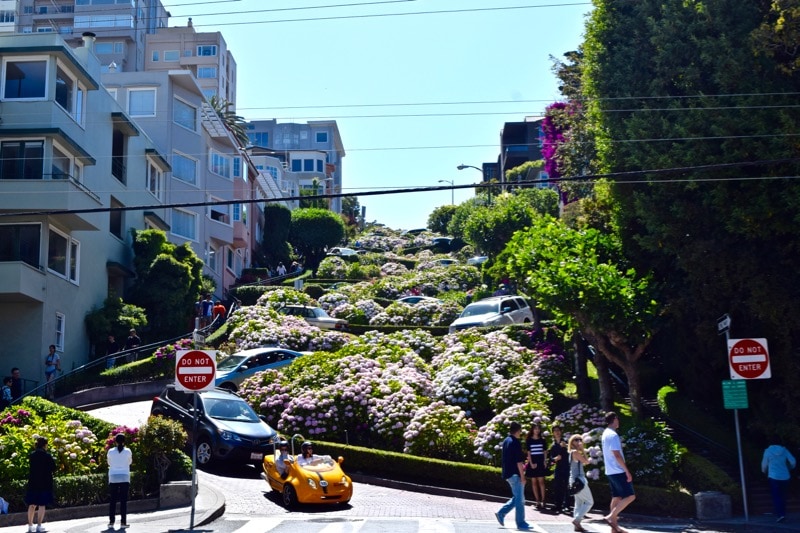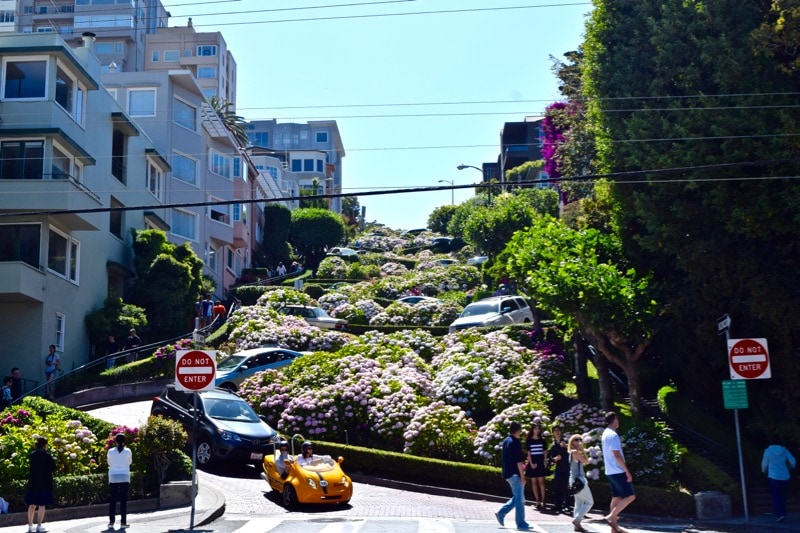 San Francisco is home to the biggest Chinatown outside of China, and I absolutely loved exploring the weird supermarkets and kitsch stores… even more so because of my love of pandas!
While spending the morning doing an audio tour of a former prison might not sound like a reason to get out of bed, our trip to Alcatraz was a real highlight. The tour offered a fascinating insight into the various attempted escapes and the big name criminals who used to be imprisoned there. It was eerie at times, but really struck a chord.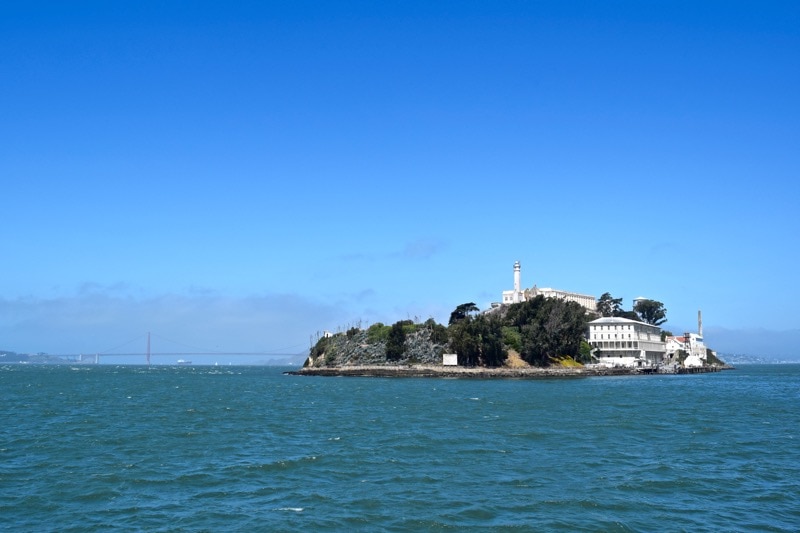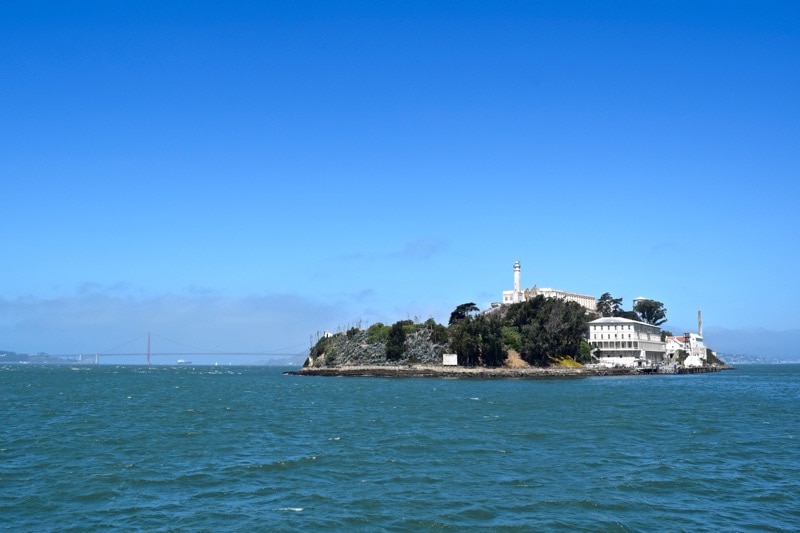 I can't believe how much we crammed into our 9-day tour through California. It was the perfect taster of what the state has to offer, and somewhere I can't wait to explore more of.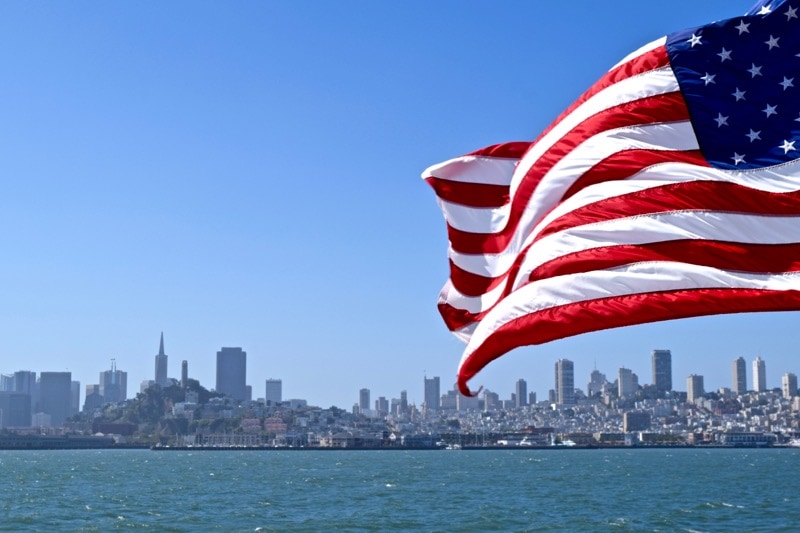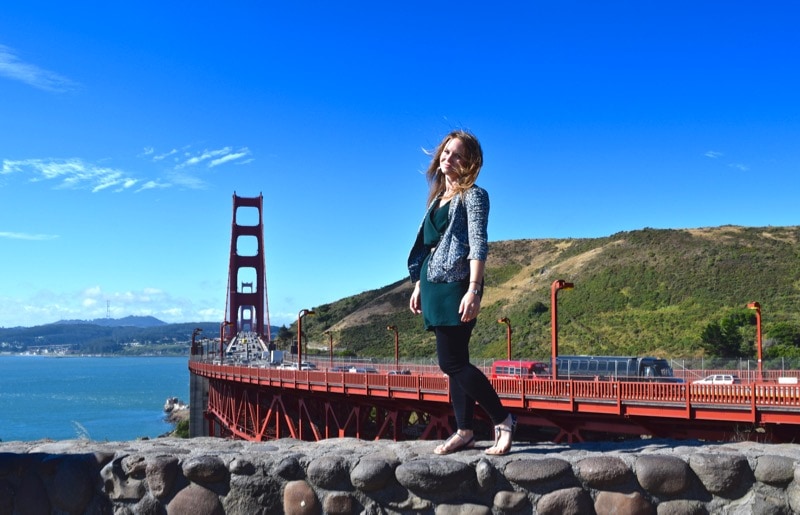 Along with special memories of the places we visited, I left with a great bunch of new friends. Since returning our group Whatsapp has continued to buzz with in jokes, funny photos and videos from the trip. We arrived as individuals but we definitely left as friends, something I really thank Trek America for. Once again, they delivered… here's to the next #iTrekHere!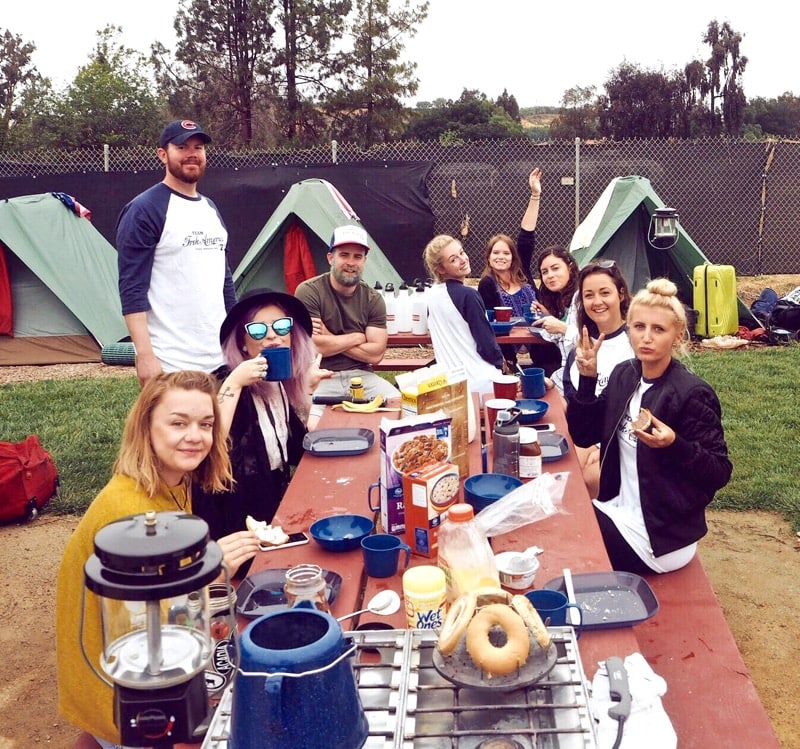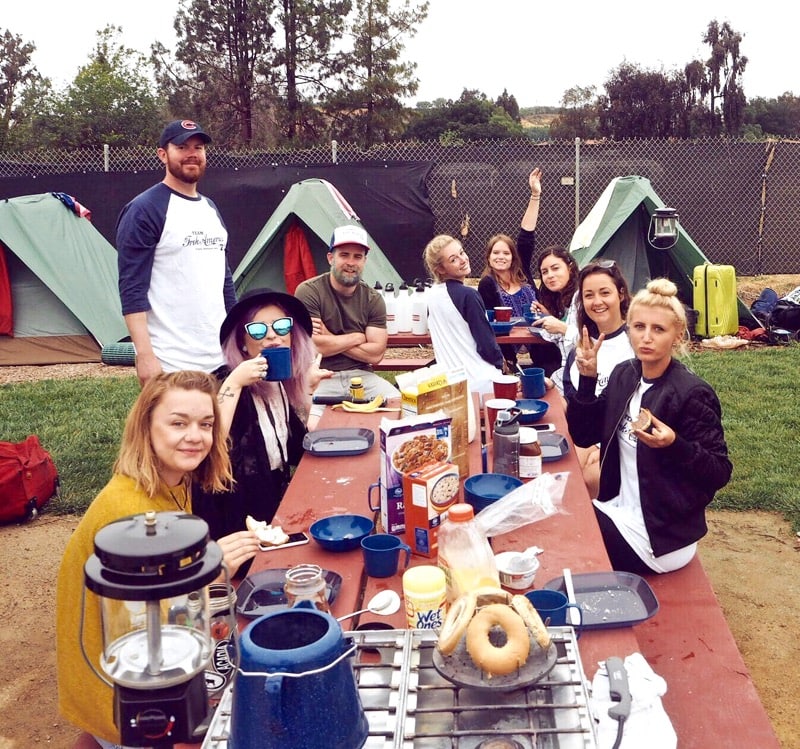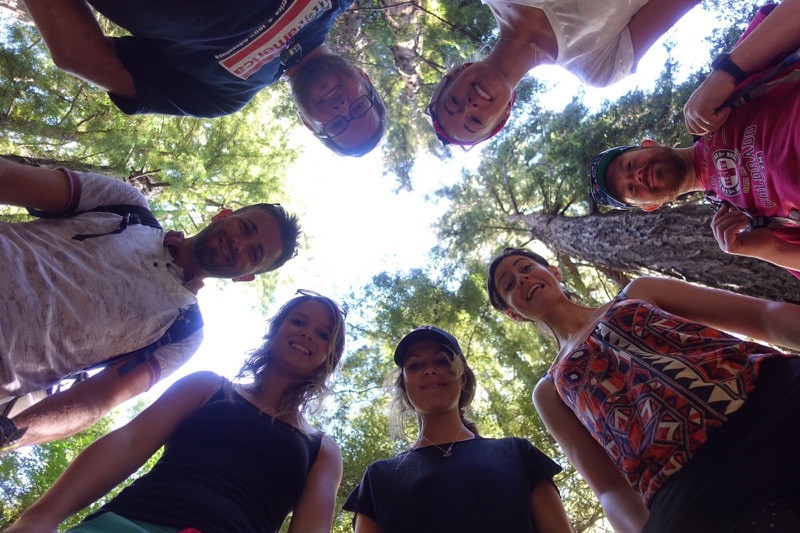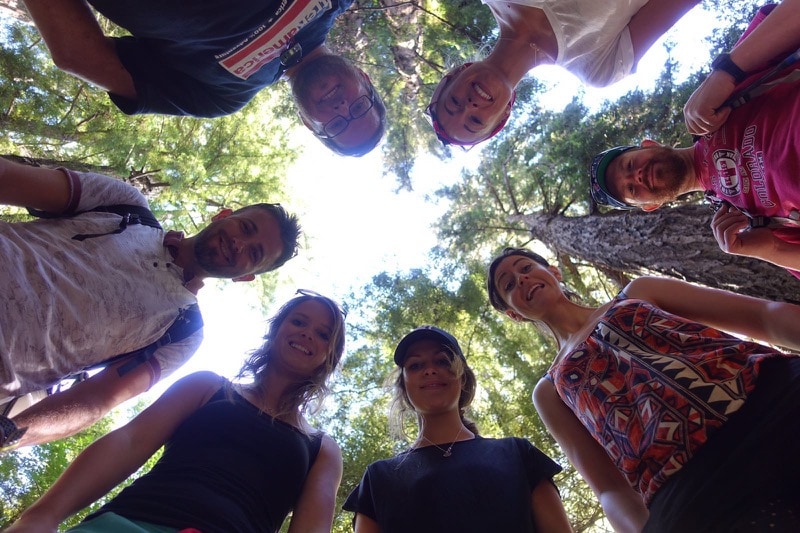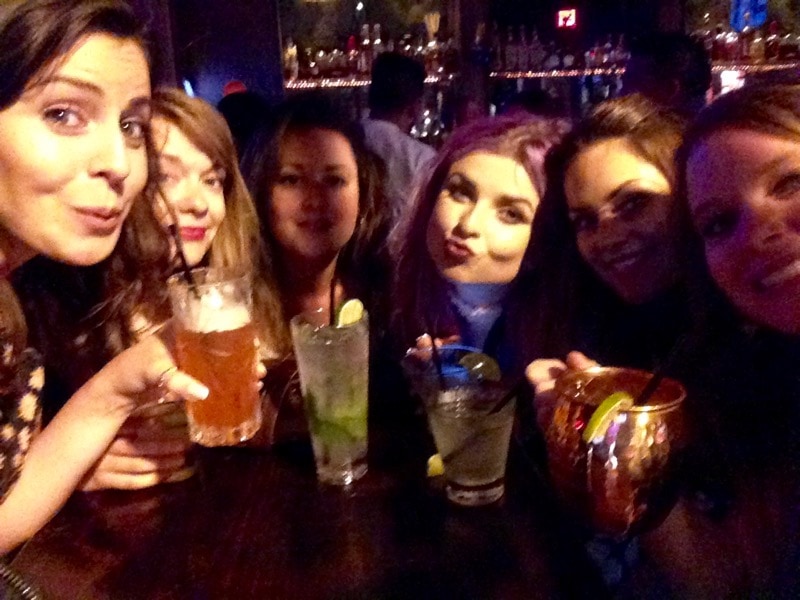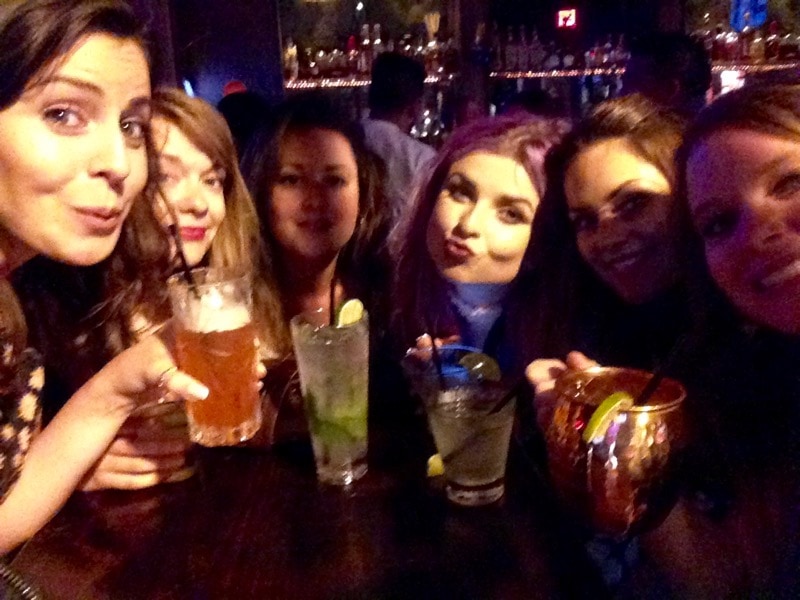 I hope you've enjoyed reading my Trek America review, and it comes in handy if you're considering booking a group tour with the company. Any questions, let me know below!
Thanks to the team at Trek America and Visit California for inviting me to be part of #iTrekHere. Find out more about Trek America and the California Callin' tour. As always, opinions are my own!
Enjoyed this post? Why not pin it?