Stand out from the crowds with one of these fun, colourful suitcases, after all having stylish luggage is all part of the fun of travelling! 
Hello colourful suitcases! Growing up my family had a collection of beige, black and navy suitcases. Luggage was purely practical – just to carry our worldly belongings from place to place.
These days suitcases are SO much more than that. They're designed to make our lives easier. We've gone from two to four-wheeled cases, which has made our luggage so much easier to transport from home, to plane, to hotel.
When researching this post I found very few soft cases. Most big luggage brands are choosing to design hard cases, which offer a great deal more protection to the contents. Another game changer has been the creation of incredibly lightweight suitcases – luggage sets that you don't have to lug!
This post contains affiliate links whereby I may earn a small commission at no extra cost to you.
But one of my favourite things about suitcases these days is how colourful, creative and stylish they've become. They're an extension of our outfits. There are colourful suitcases in every colour of the rainbow… they're matte, they're metallic, they've got designs on and more! Oh and there's no chance of getting your case mixed up at the airport when it's as bright as some of the ones in my shopping guide.
So, to save you time, I've popped together a guide to my favourite colourful suitcases around. Whether you're looking for a cute carry on case or a large suitcase suitable for a two-week holiday, there's something for everyone.
---
A Shopping Guide To The Most Colourful Suitcases And Luggage
American Tourister is my go-to brand for colourful suitcases. They bring out new ranges a few times a year and Bon Air is one of the most fun yet. This range of four wheeled cases is practical, stylish and nice and lightweight too. It's made of Polypropylene and has a TSA lock, lots of pockets and feels durable.
Suitcase Size: This case comes in a small, medium and large – perfect for any travels you have planned!
Colour: So many you'll have trouble choosing your favourite, from emerald green and solar yellow and lilac to fresh pink.
Check Bon Air prices and availability now
If you're looking for a cheap option in a bright colour, forget looking at Primark suitcases, take a look at Tripp's luggage. A medium case will only set you back £42 at the moment (hello suitcase sale!) and considering these cases are lightweight, four-wheeled and have a stylish appearance, I'd say you're onto a winner!

Size: This case comes in a small, medium and large – perfect for any travels you have planned!
Colour options: Turquoise and pink
Check prices and availability now
Antler is my favourite brand for sophisticated suitcases. The Antler Sonar suitcase has a light polycarbonate shell, TSA lock and easy glide wheels. I love the colour – a shiny pale blue that looks super smart and stands out from the crowds
Size: This case comes in a three sizes – small, medium or large
Colour: Light blue or charcoal
Check Antler Sonar prices and availability now
I'm the proud owner of one of American Tourister's Soundbox suitcases and I love it. It's another super lightweight case, has four wheels and feels roomier than other cases of similar size. I went for the 'summer blue' – a fun and vibrant colour which I can spot for miles when it's on the luggage belt at the airport! The range comes in tonnes of colours, from yellow to purple and green to pink, so you're bound to find one that sings to you!
Suitcase Size: This case comes in a small, medium and large – perfect for any travels you have planned!
Colour: This case comes in so many colours, including pink, orange, turquoise, blue, yellow and more!
Check American Tourister Soundbox prices and availability now
What a stunner! Orfeo by Samsonite is made from Makrolon polycarbonate and has a smooth scratch-resistant texture. Another great four-wheeler, this high quality case comes in three vibrant colours along with black. It's the most expensive case on the list, at just under £200, but lets just say that quality comes at a premium!
Size: Small / Large / XL
Colour: Black, green, blue and a cute sky silver
Check Samsonite Orfeo prices and availability now
A few years ago the world went mad for rose gold. We wanted rose gold phone cases, cars, jewellery and more. That's obviously been noticed by luggage makers who have launched ranges of rose gold suitcases. Consider this bandwagon well and truly jumped on! The Antler Juno case comes in three sizes as well as lots of gorgeous metallic colour options, and has the quality you expect from a brand like Antler.
Size: Small, Medium and Large, plus you can also buy a set of three.
Colour: Metallic colours including a rose gold suitcase
Check prices and availability now
Fancy a girly suitcase? This one by Aerolite is cute and feminine, with its pink colour and rose design. It's approved as cabin baggage, so will make the perfect accessory for a long weekend away.
Size: Small – perfect for cabin luggage (55 x 35 x 20cm)
Colour: Cute pastel pink luggage with rose design
Check prices and availability now
As mentioned, I'd recommend Antler if you're looking for long lasting, high quality luggage. Antler's Prism is a smart hard suitcase made from a high shine Makralon Polycarbonate. The big reason for including it is for its beautiful colour – this vivid shade of purple.
Size: Cabin, medium, large
Colour: Red, grey, purple
Check Antler Prism prices and availability now
I love the colour and style of this Aerolite cabin suitcase, with its peppermint green exterior, and silver handles. It's got some of the best reviews of any of the cheaper suitcases on this list too.
Size: Small – perfect for carry on luggage (55 x 35 x 20 cm)
Colour: Peppermint green with metallic handles
Check prices and availability now
Well, this is never going to get mixed up on the luggage belt at the airport is it? This super fun retro Disney themed suitcase is one of the most playful designs I've found, featuring Minnie Mouse, flamingos and palm trees. It's available in three sizes, including a large, so it's be a great suitcase for a family holiday.
Size: Small, medium and large
Colour: Multi-coloured
Check prices and availability now
Antler – Atom Suitcase
One of my favourites on the list! I've had my Antler suitcase for a year now, and it's been to so many places with me, yet it isn't showing its age at all! While I have the silver version, I really love this shiny blue version too. It's one of the lightest suitcases around, at just 2.4kg and comes with a 10-year warranty.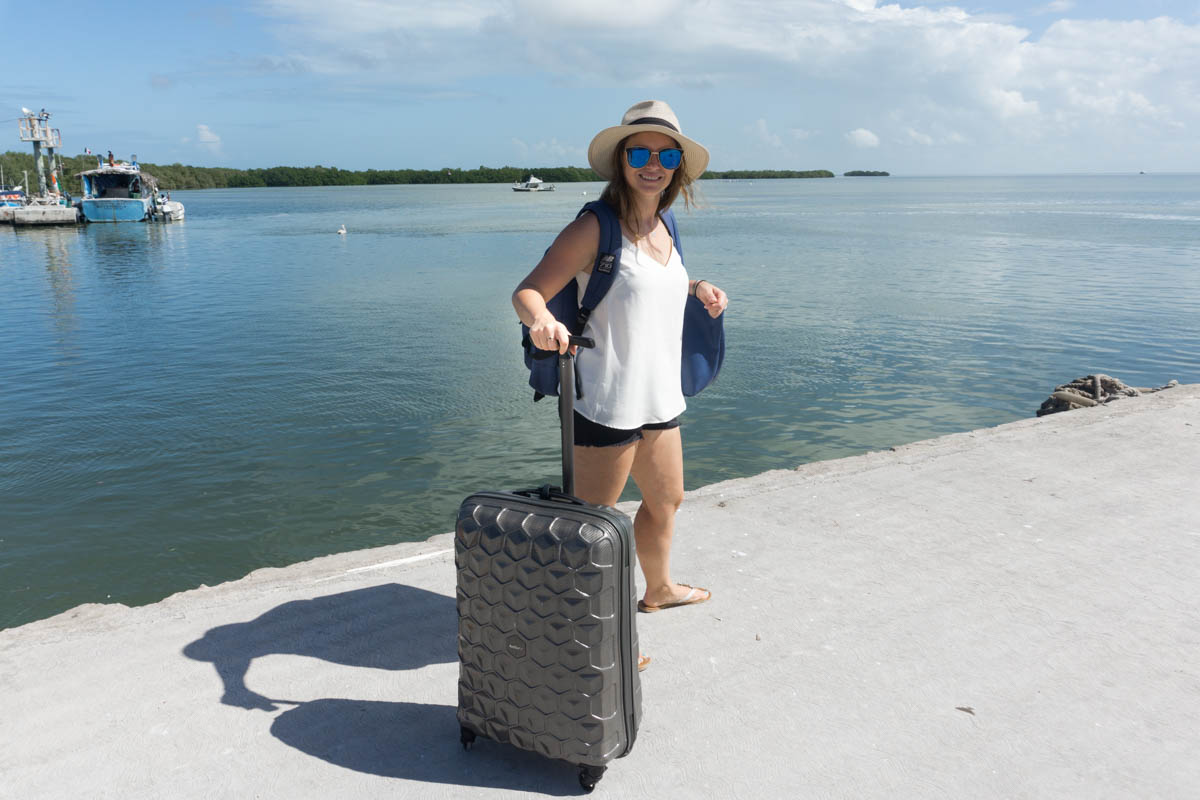 Size: Small (cabin luggage), medium and large suitcases available
Colour: Shiny dark blue and charcoal/silver that I have (and love!!)
Check prices and availability for Antler cases now
I've had Revelation cases in the past, and found them to be really durable. The Revelation Kyoto suitcases are really smart, with 360 degree rotating wheels and a lightweight outer shell. They come in a range of sizes, and I've spotted options in bright yellow, blue, red and grey.

Size: Several options
Colour: It's all about the bright colours, these come in bright red, blue and yellow, as well as a classy grey/charcoal.
Check prices and availability now
How much fun is the design of this suitcase? This luggage has a colourful hot air balloon motif, is lightweight and has a durable hard case. It's also a really cheap suitcase considering this is one of the largest on the list!
Size: Extra Large (76 x 51 x 29cm)
Colour: Multicoloured suitcase
Check prices and availability now
Found this post helpful? Pin it for later…