From exploring the city's history, to great shopping and restaurants, this travel guide will help you plan your day trip to Oxford.
There are lots of great cities to explore in the UK, but one of my favourite is Oxford. I grew up around 40-minutes away so it's a city I'm familiar with. The architecture of the city is simply amazing, with historic college buildings, churches and old shops giving so much character.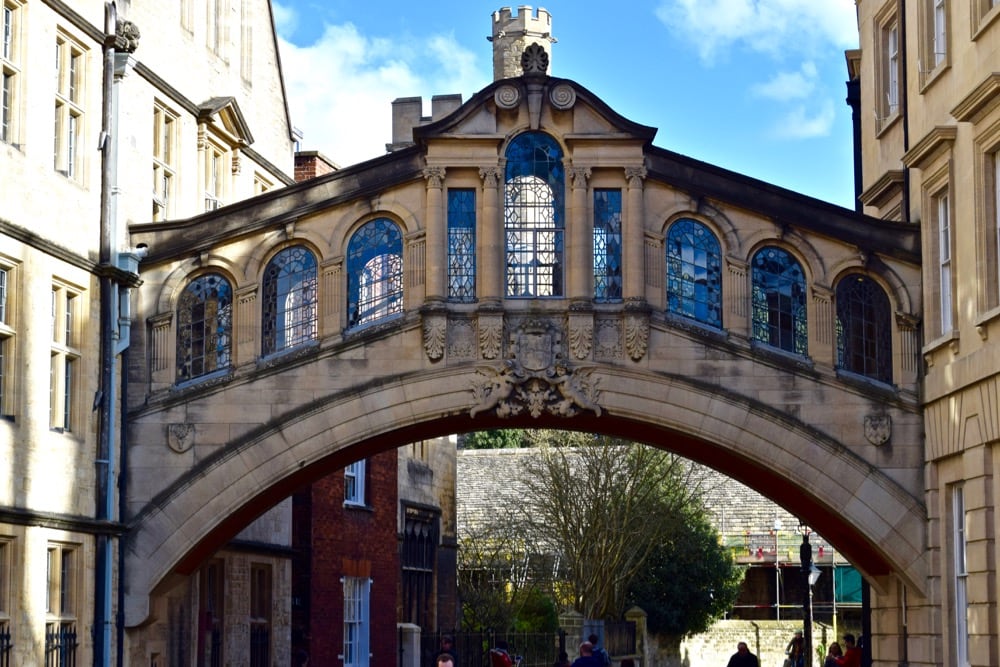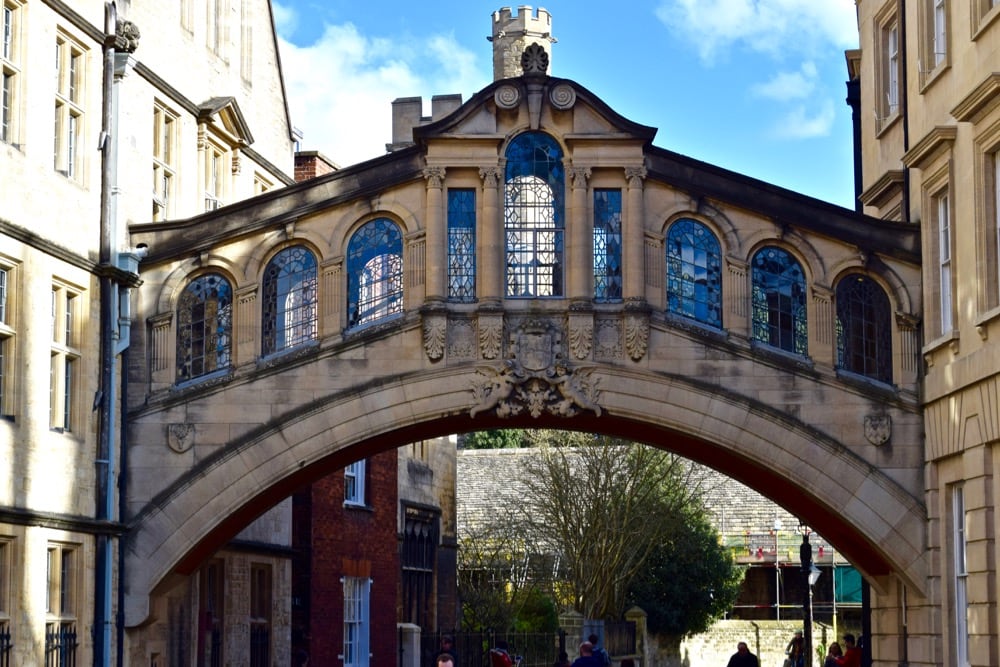 It's a very walkable city and the roads can get busy. If you're visiting I'd recommend taking public transport if possible. My trip was in collaboration with Omio, a travel booking site which allows you to book planes, trains and buses all through one platform. Most of the tickets are e-tickets, so you don't have to worry about printing in advance, and it's super simple to use.
I booked a National Express coach and had an easy journey from High Wycombe to Oxford, enjoying beautiful views of historic West Wycombe and the impressive Buckinghamshire and Oxfordshire countryside.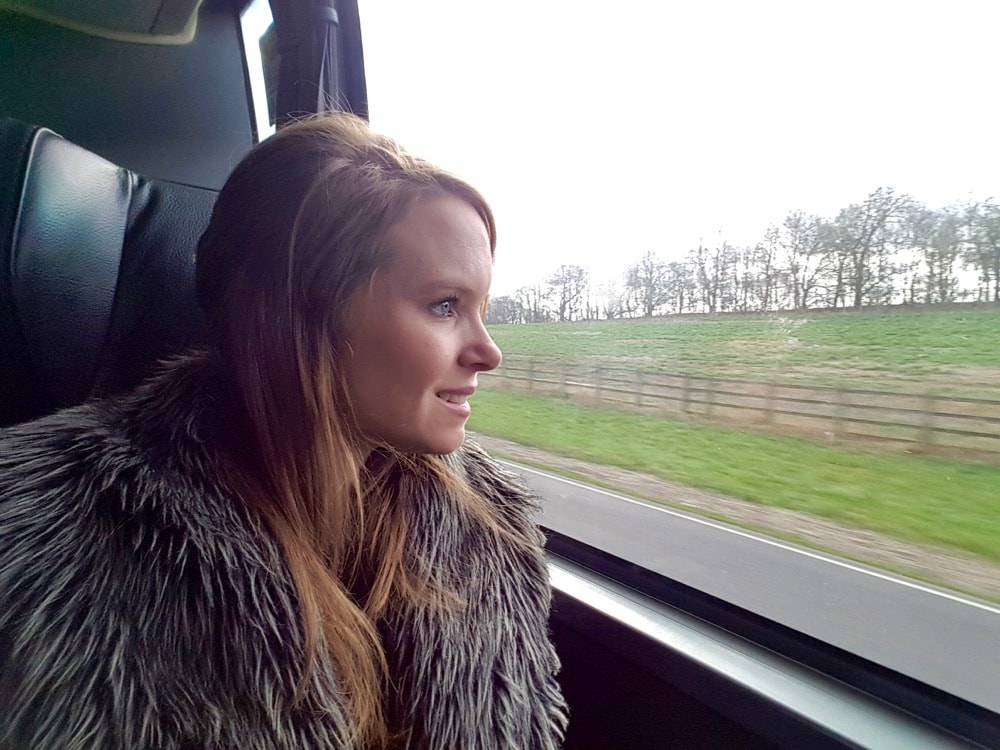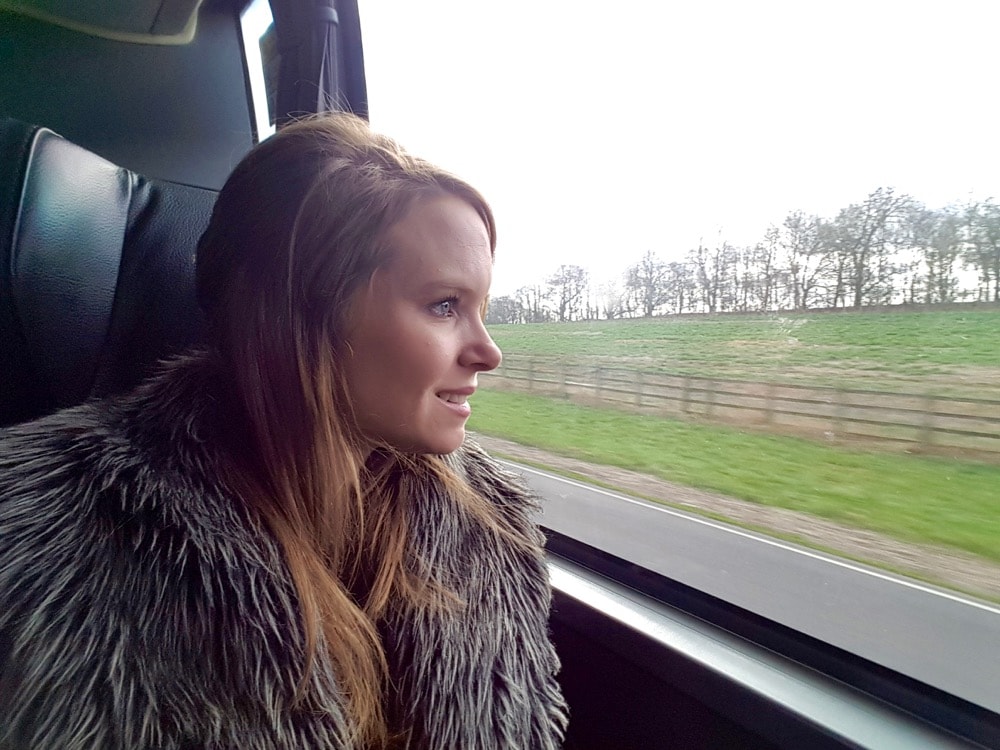 Rather than continue to Oxford's bus terminal at Gloucester Green I decided to disembark on the High Street where some of the historic college buildings had already caught my eye. If, like me, you're visiting Oxford for a day, you'll be keen to pack in as much as possible.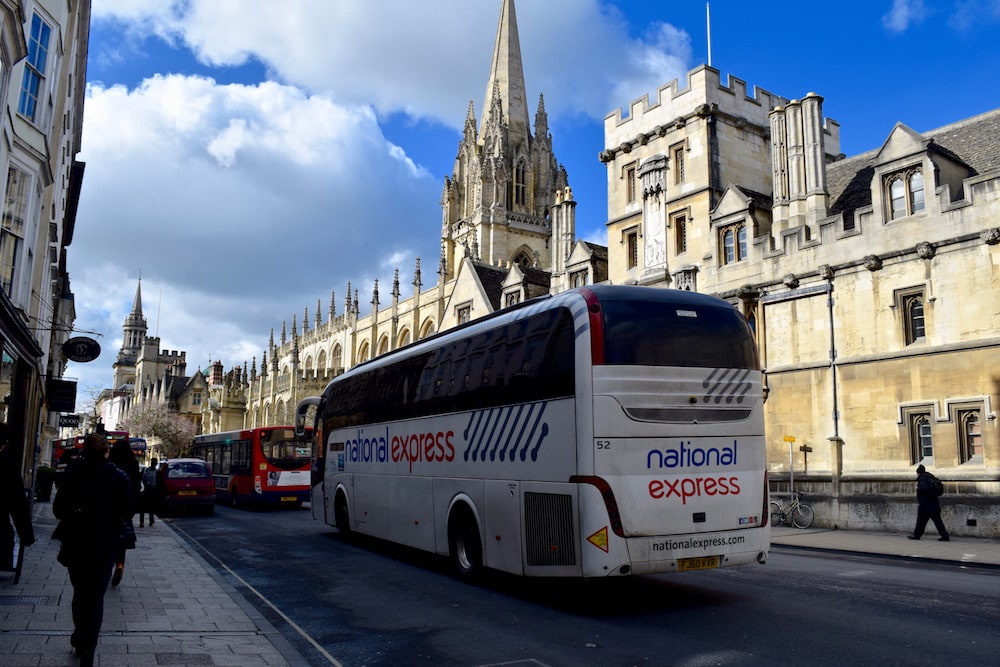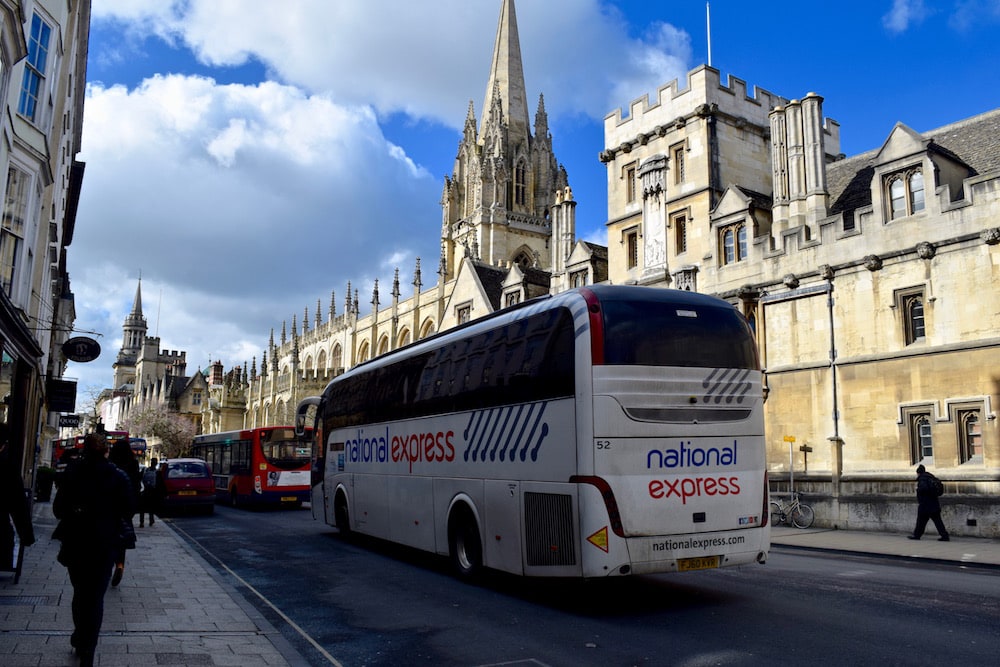 So with only 24 hours in Oxford, and lots of sightseeing to pack in, what activities would I recommend?
---
Explore The University Of Oxford And The City's Architecture
38 colleges make up the historic University of Oxford – the oldest university in the English-speaking world. It's incredible when you think that teaching started in the 11th and 12th centuries! The centre of the city is saturated with stunning architecture, and you really do feel like you've stepped back in time as you wander the streets past Baliol College, Jesus, Brasenose and more. I love how you don't need to plan your sightseeing in Oxford… you can just wander the streets and see what you discover!
For me, the most beautiful part was walking through Radcliffe Square, home to the impressive circular Radcliffe Camera. I also loved passing the Bridge of Sighs and the 17th Century Sheldonian Theatre, designed by Sir Christopher Wren – a former student at the university.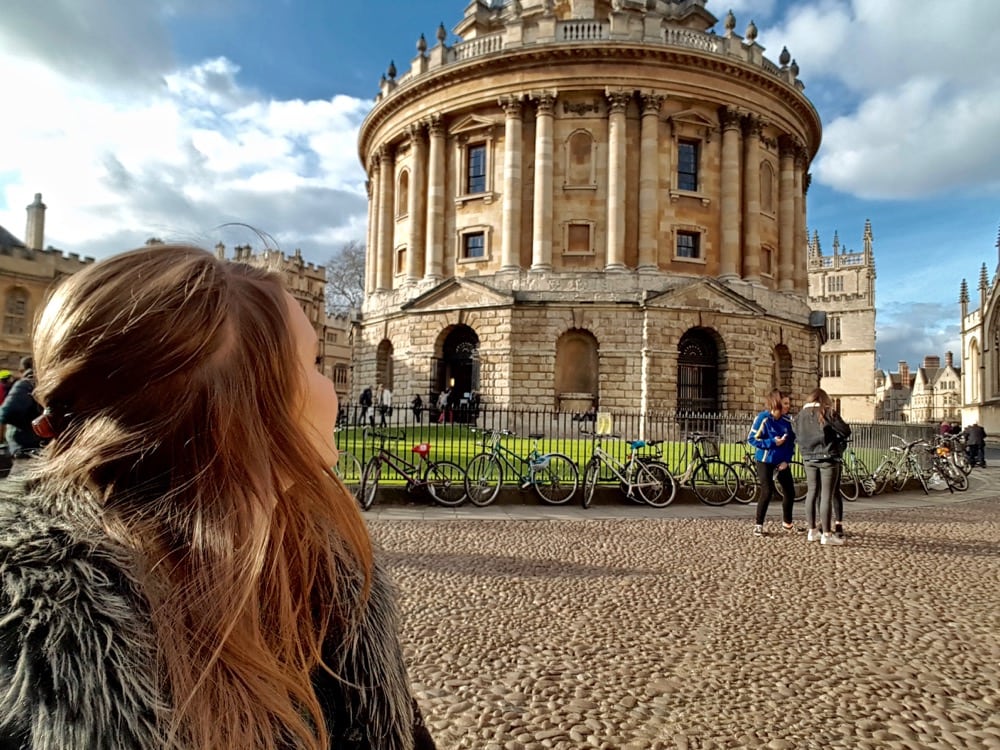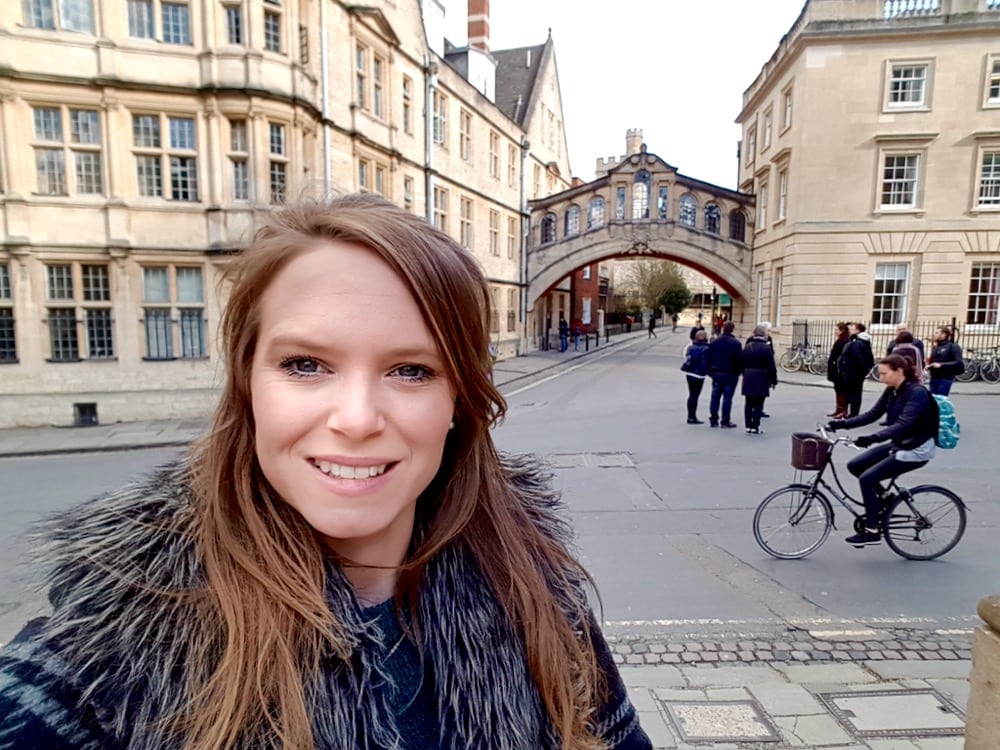 While I didn't explore inside any of the universities on this visit, many are open to the public. For a small fee (between £2 and £7) you can wander the grounds and explore some of the most ancient colleges and beautiful chapels.
If you're looking for the top things to do in Oxford, I'd highly recommend walking down to Christ Church – often named as one Oxford's most beautiful colleges and famed for its impressive cathedral.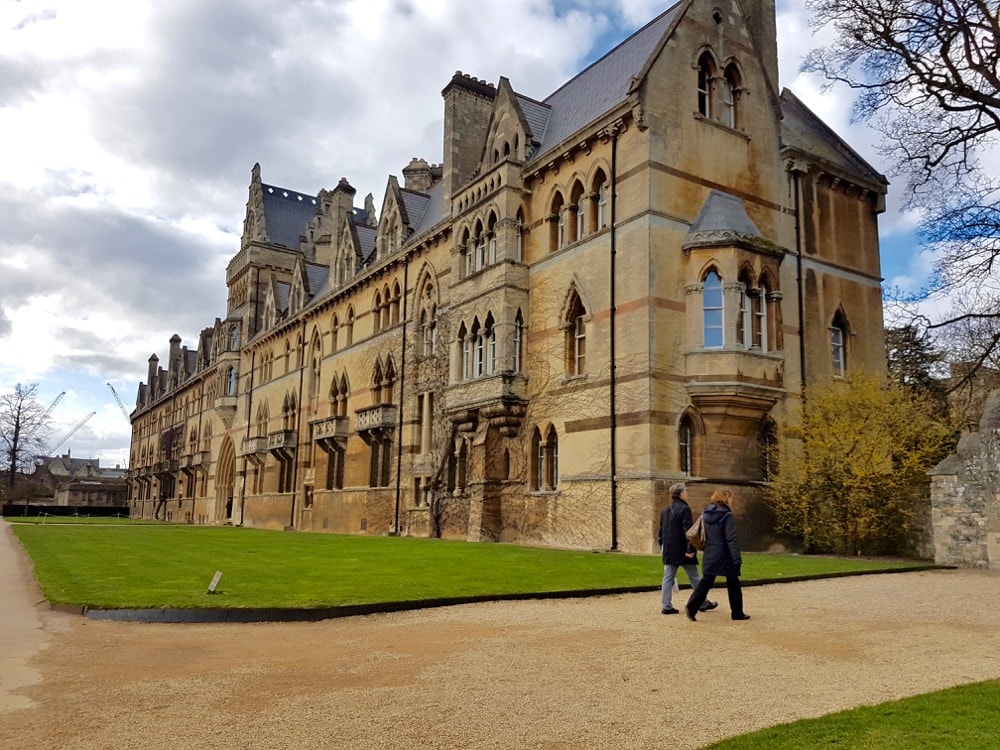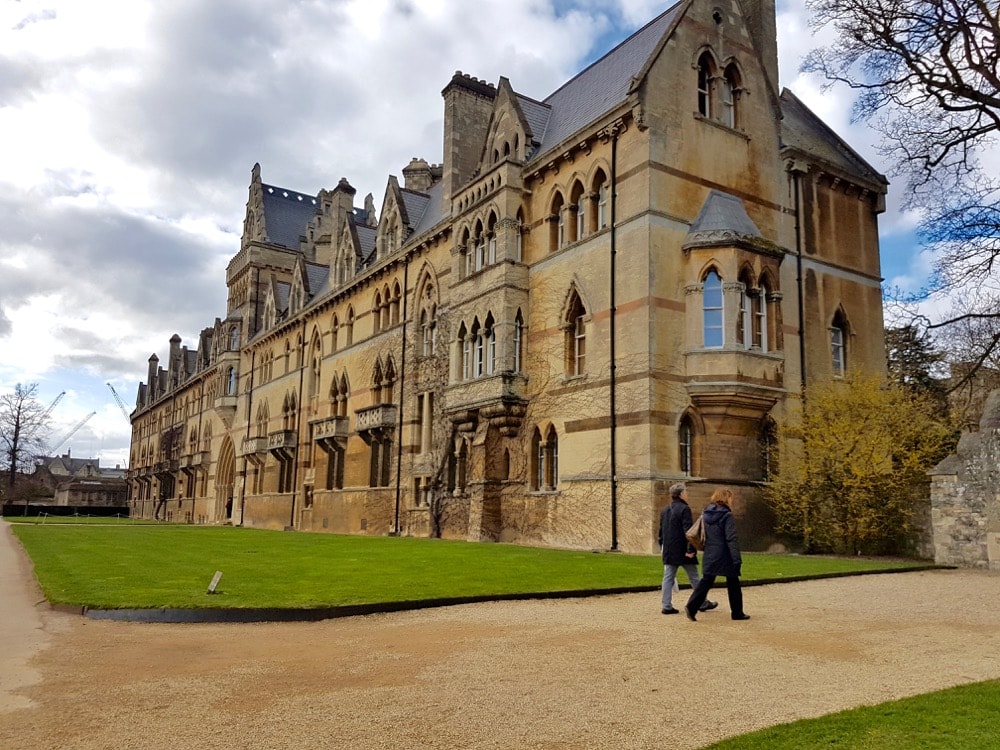 Go On Your Very Own Adventure In Wonderland
Lewis Caroll (known as Charles Dodgson) studied maths at Christ Church, Oxford, and it's in this city that Alice's adventures in wonderland began. There are plenty of spots in the city that bring the magic to life.
On St. Aldates is Alice's Shop – the very shop where Alice Liddell (Lewis Caroll's muse) loved to buy her sweets. Inside the store today you'll find hundreds of items of memorabilia, from Mad Hatter tea party crockery, to artwork, and even Alice fancy dress outfits! Don't miss the White Rabbit staring anxiously at his pocket-watch at the door!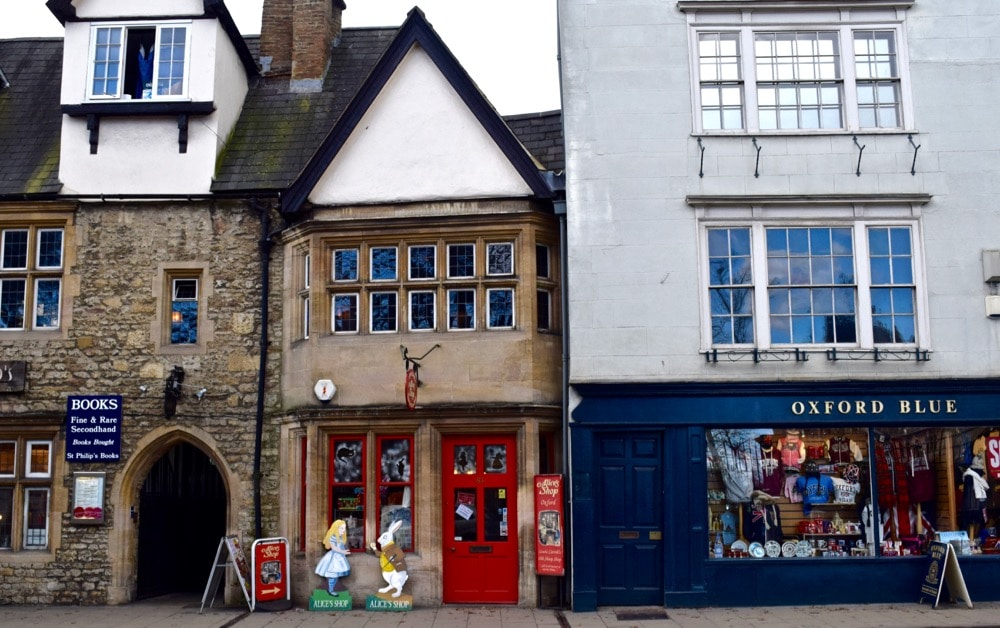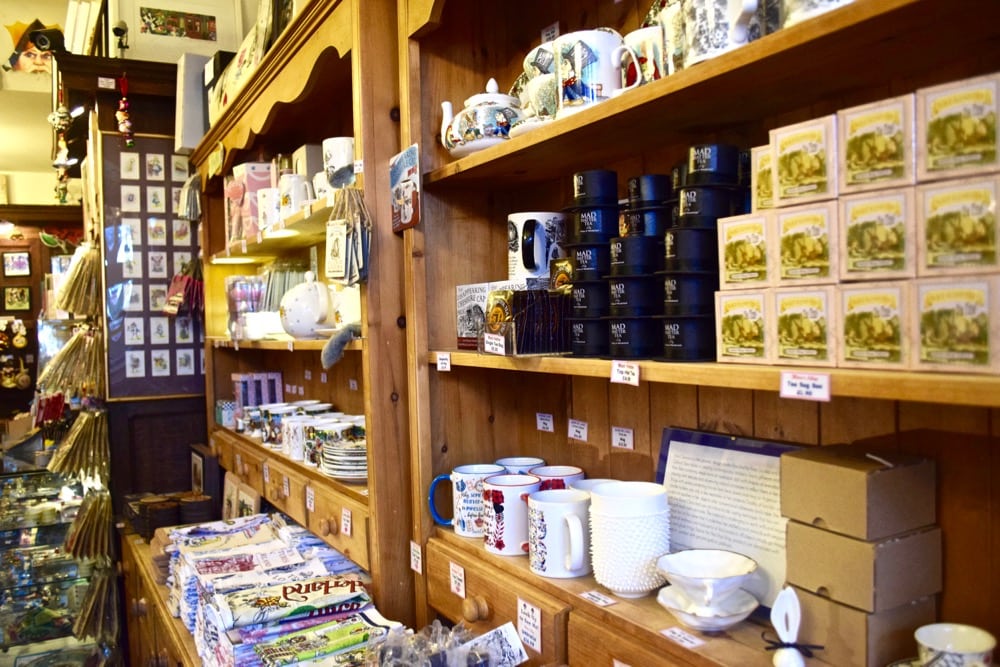 Stepping inside Christ Church may be a must for Harry Potter fans… but once inside its majestic Great Hall there's also a famous stained glass window to Alice.
And just a stone's throw away is Cafe Loco – a themed café with Alice in Wonderland artworks on the walls and a Mad Hatter Tea Party menu!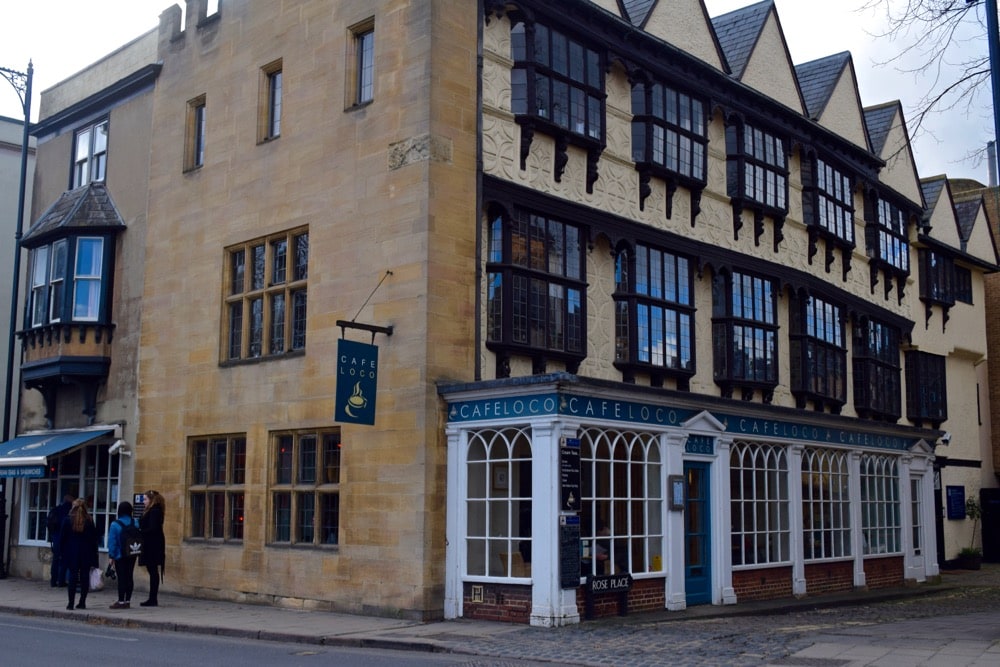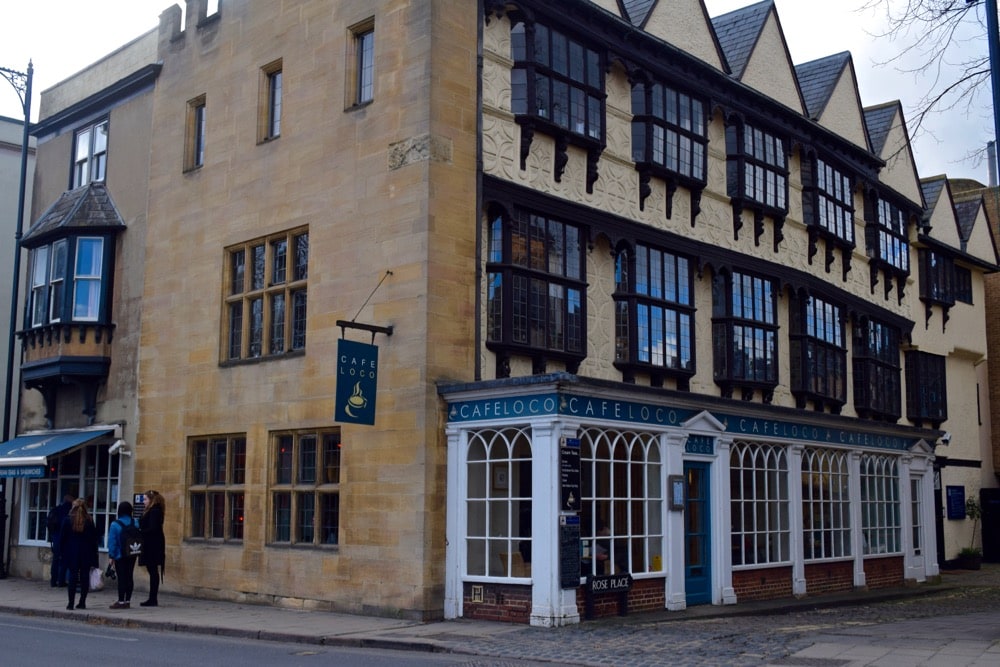 Climb The Tower At St Mary The Virgin
One of the top Oxford tourist attractions also offers the BEST views of the city!
Climb the church tower of St Mary The Virgin and you'll be rewarded with views of the beautiful colleges, church spires and greens that make up Oxford city centre. It only costs £4, so is perfect if you're on a budget.
The 62m tower dates from the 13th century and while the stairs up are narrow and steep, it's definitely worth the effort! It'll help you get your bearings of where the key sights are located, and help you plan what else to do on your London to Oxford day trip.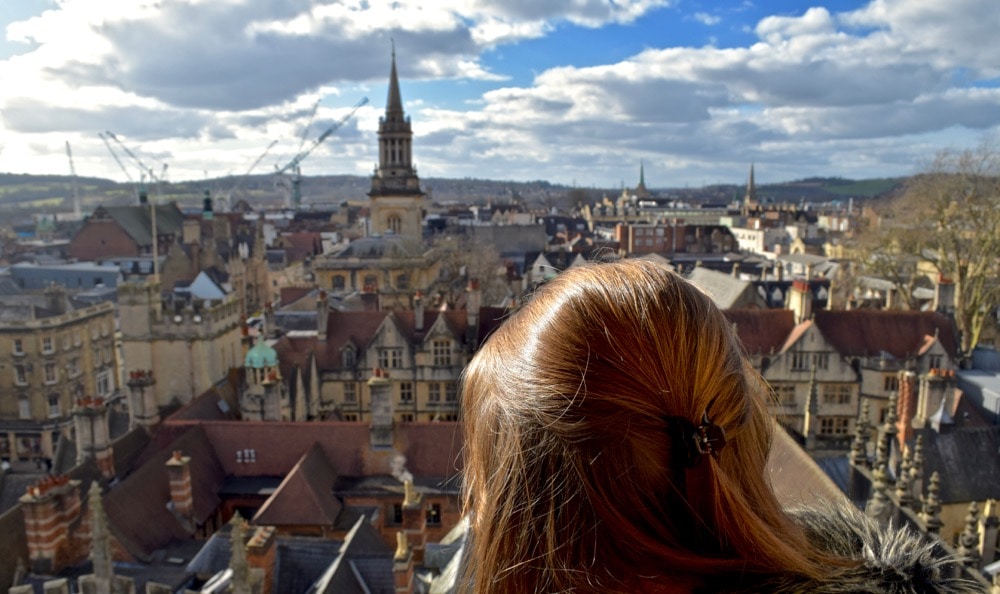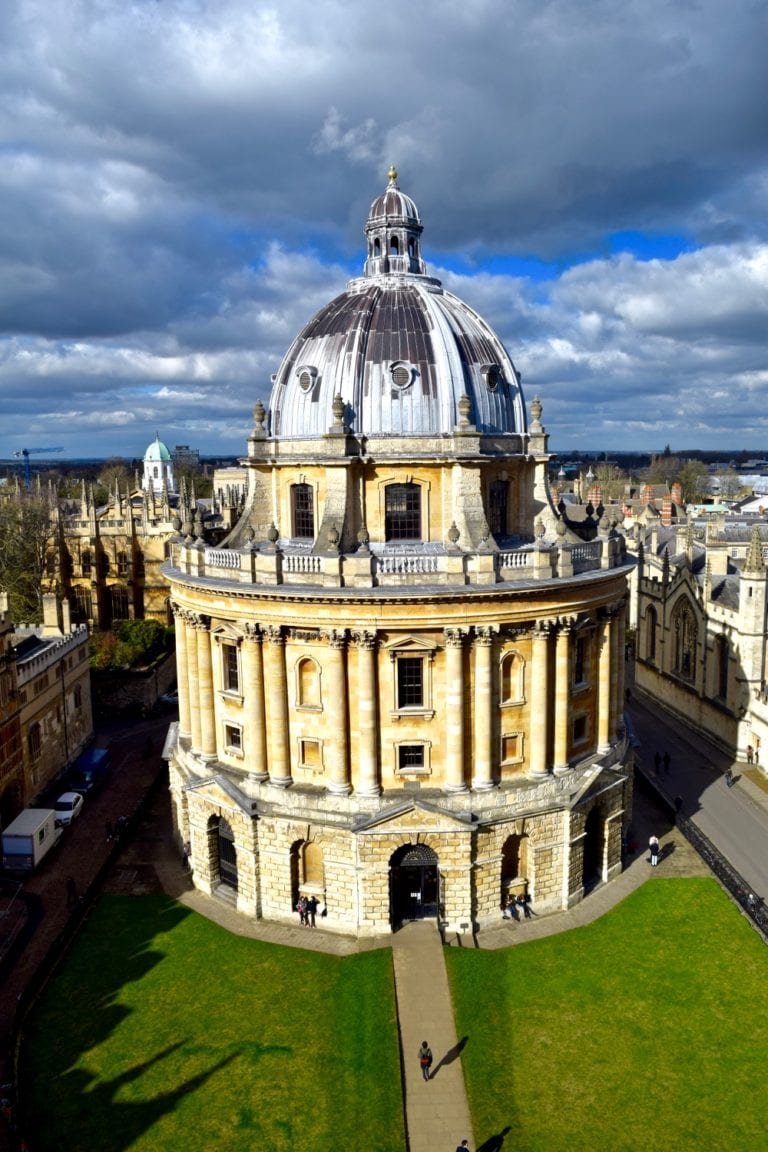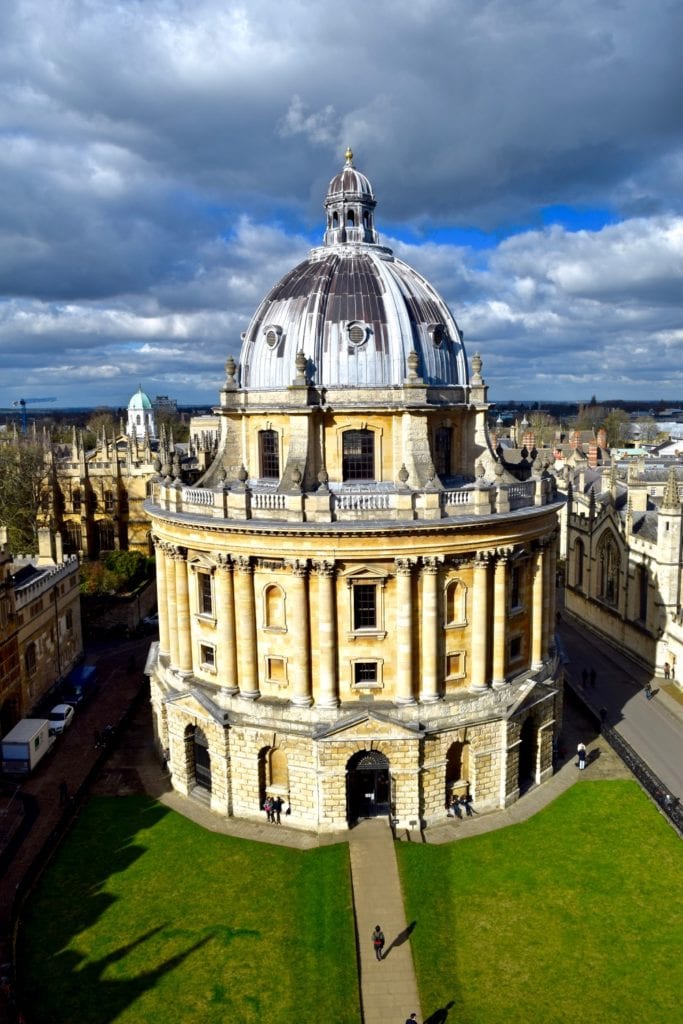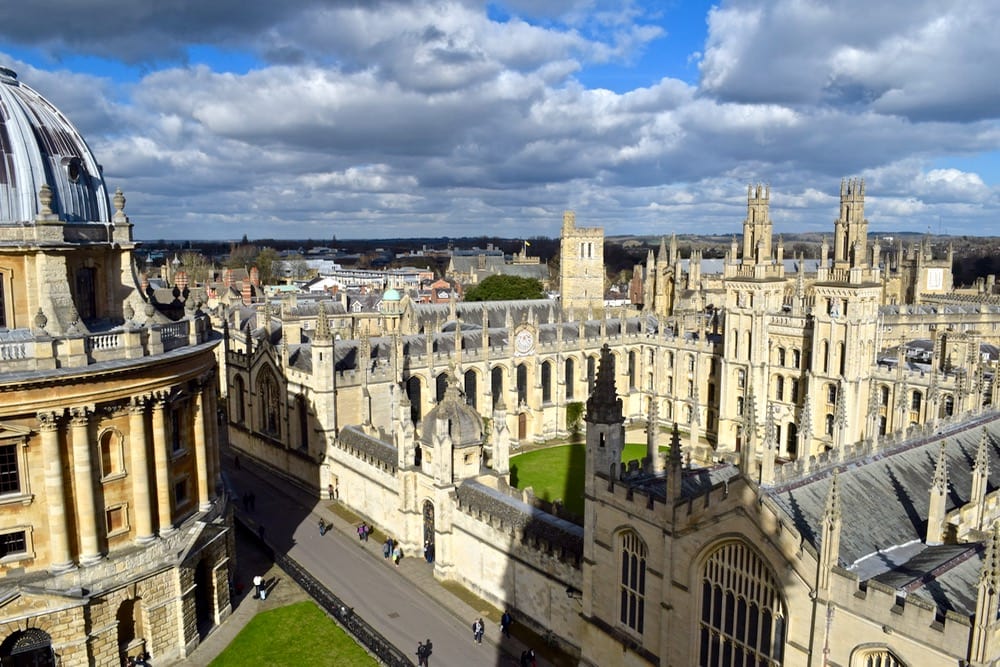 Take A Break At England's Oldest Cafe
An Oxford institution, The Grand Café sits on the site of the oldest coffee house in England according to Samuel Pepys' Diary of 1650.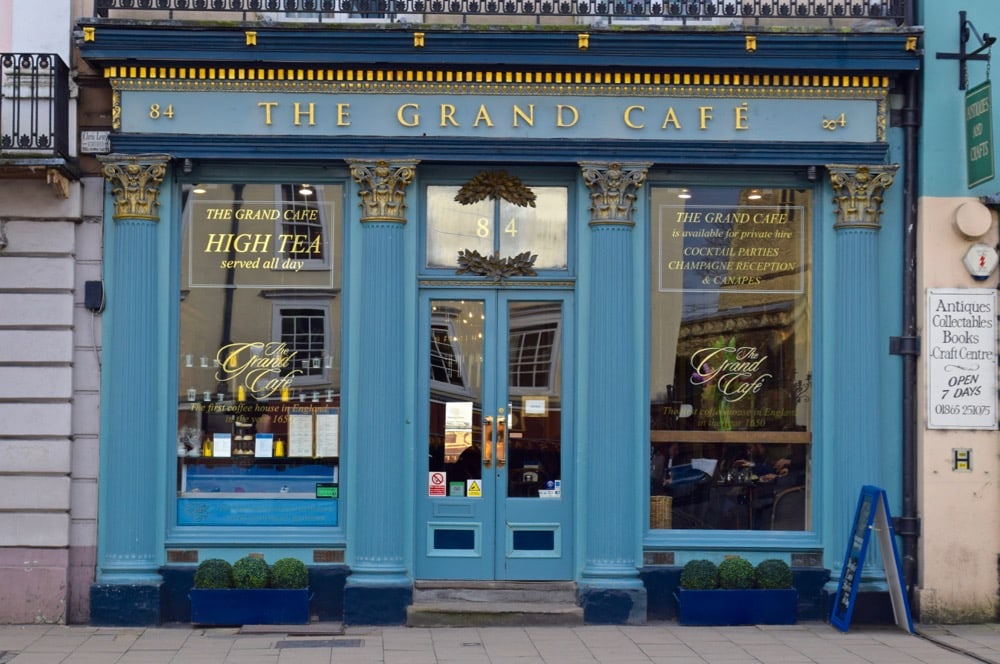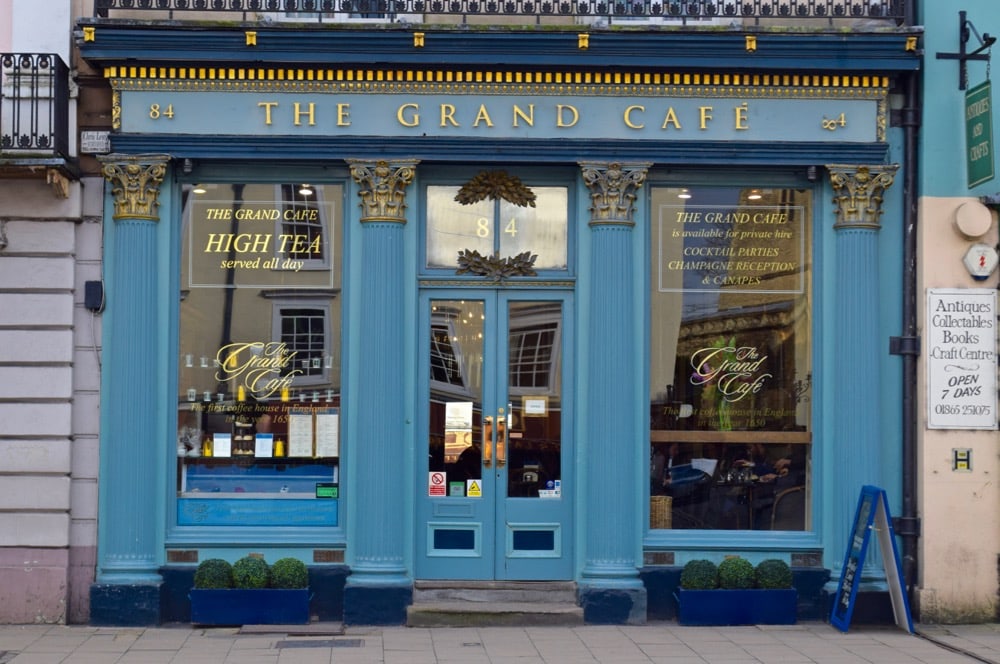 The luxurious room with sweeping bar and huge mirror is a lovely place to enjoy a break from sightseeing.
I tucked into a delicious chocolate brownie, which was warm, indulgent and gooey in the middle!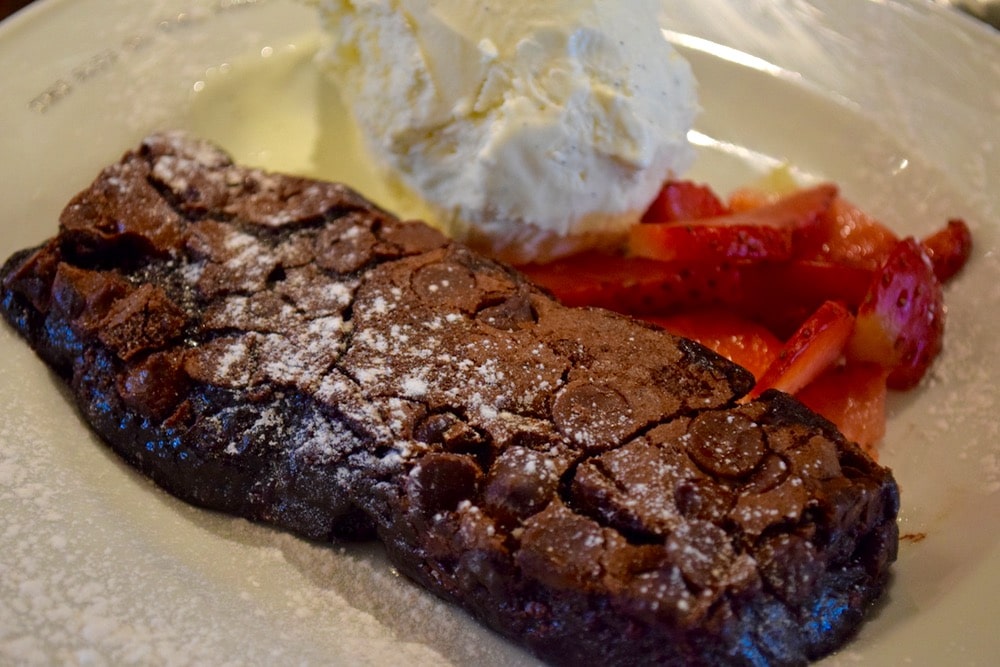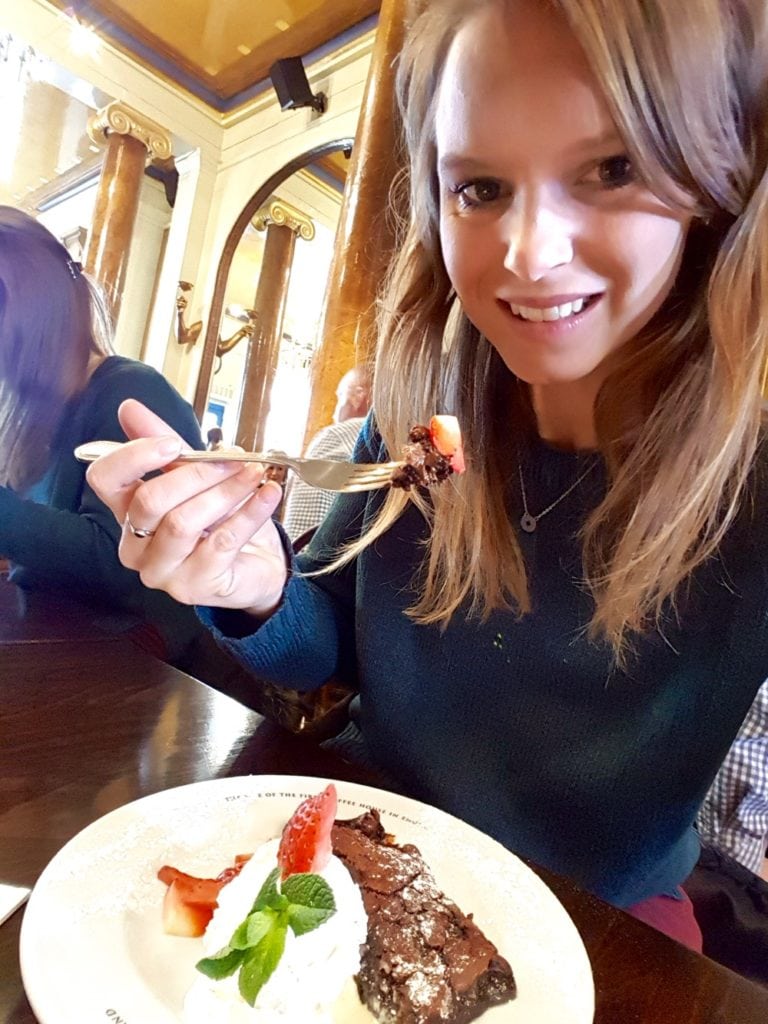 Shop At Oxford Covered Market
A maze of over 40 boutiques and foodie spots, Oxford Covered Market is a wonderful place to meander around. Dating back to the 1770s, it's worth a visit for the architecture alone.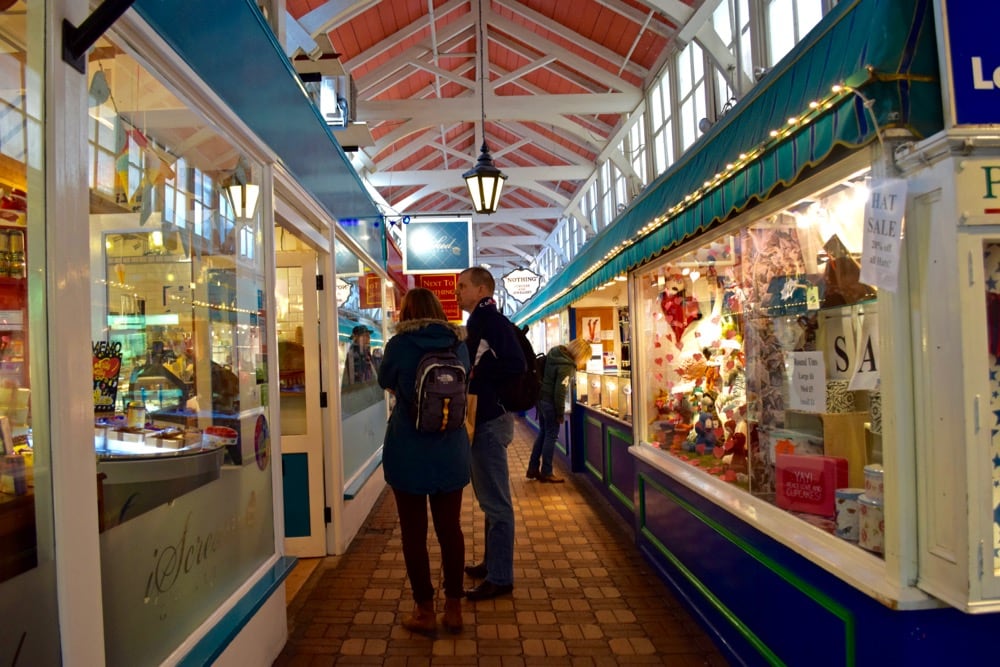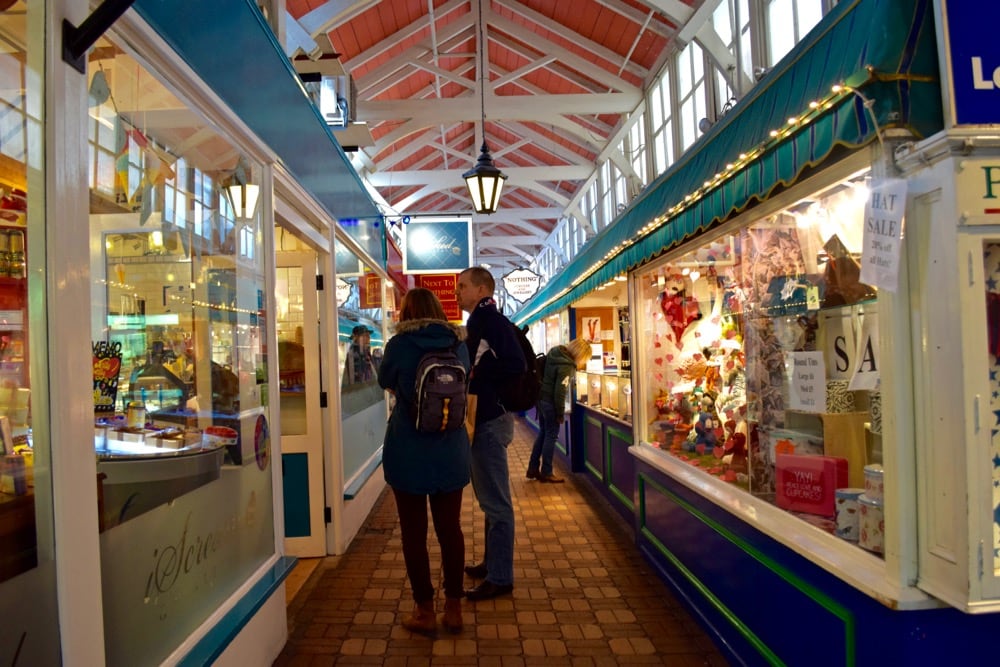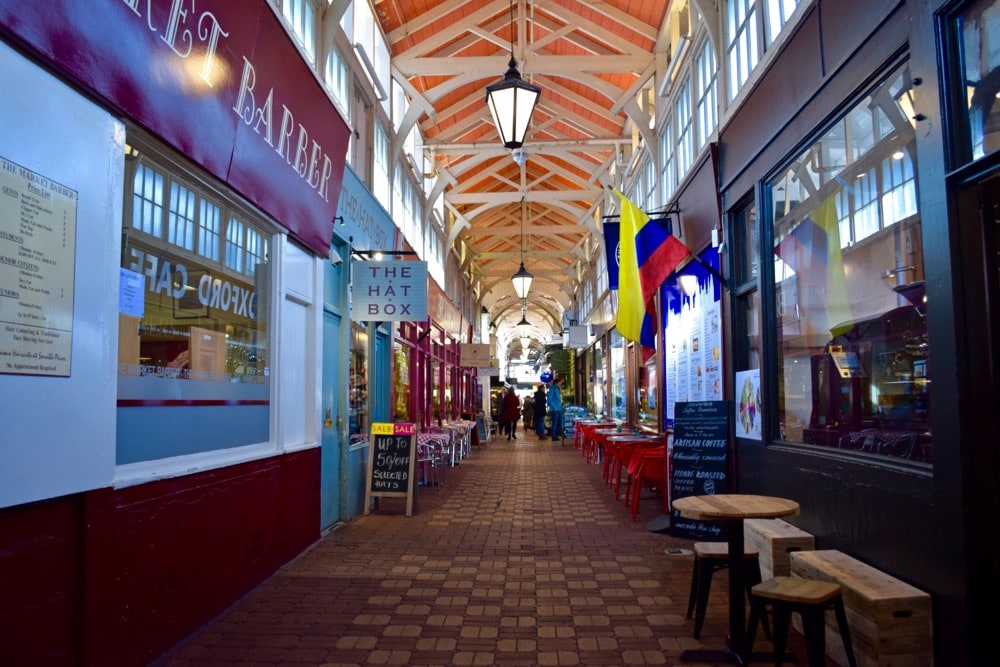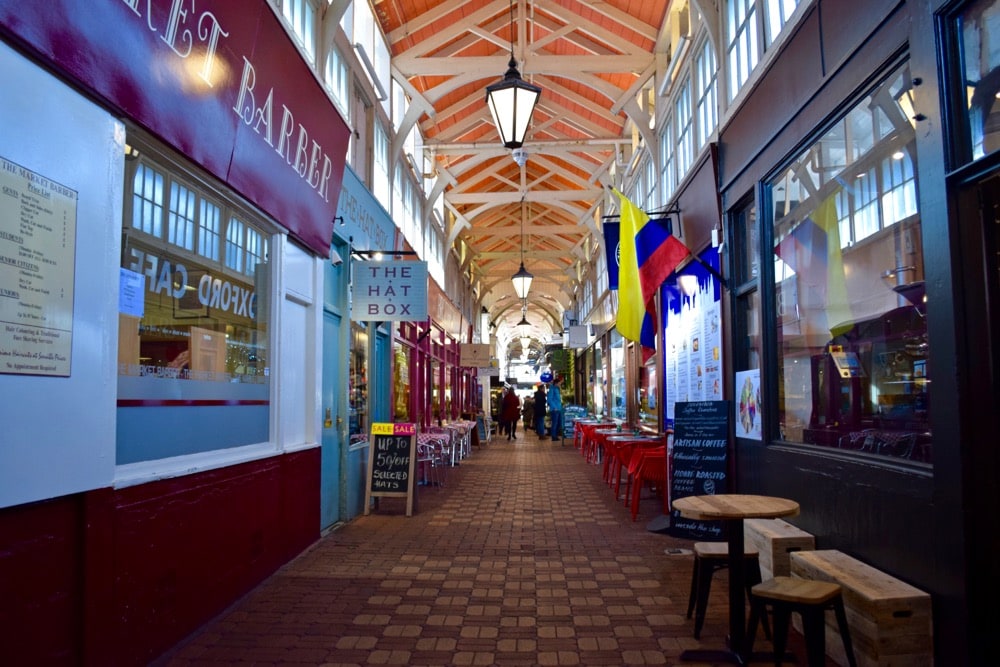 On your Oxford trip, be sure to check out The Oxford Cheese Shop (which sells lots of great locally made cheeses), The Cake Shop (where you can watch the experts creating incredible cakes right in the window) and cute boutique Fresh Clothing.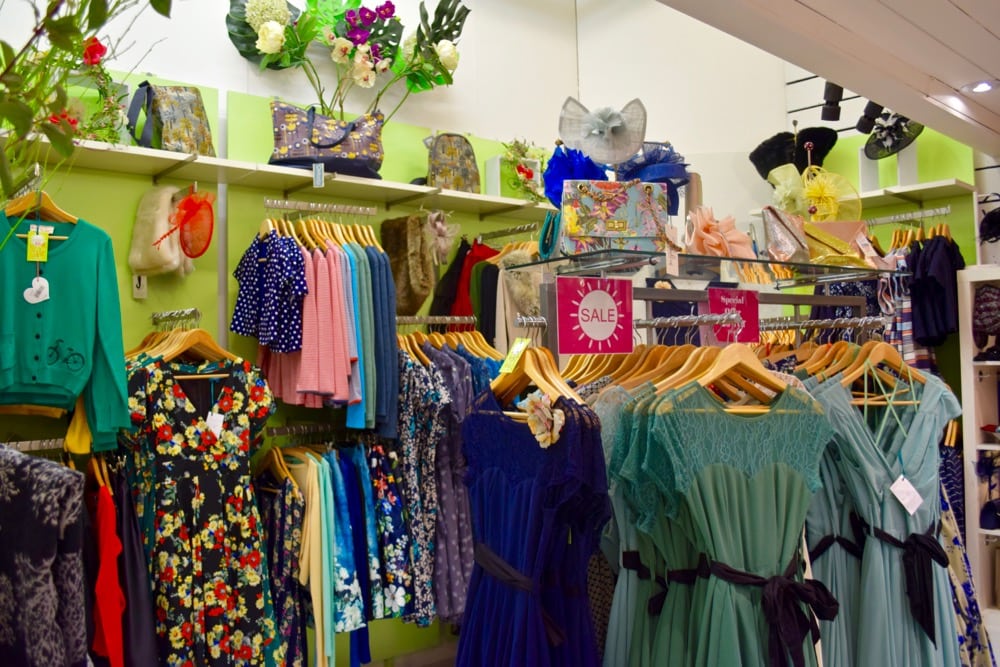 Challenge Your Friends At Thirsty Meeples Board Games Café
What an amazing place to visit on your Oxford day tour! Thirsty Meeples is home to a treasure trove of over 2000 board games. When I visited almost every table was taken, with people enjoying a good game, a drink and a chat. In a time where everyone seems to be glued to phones and laptops, it was really refreshing!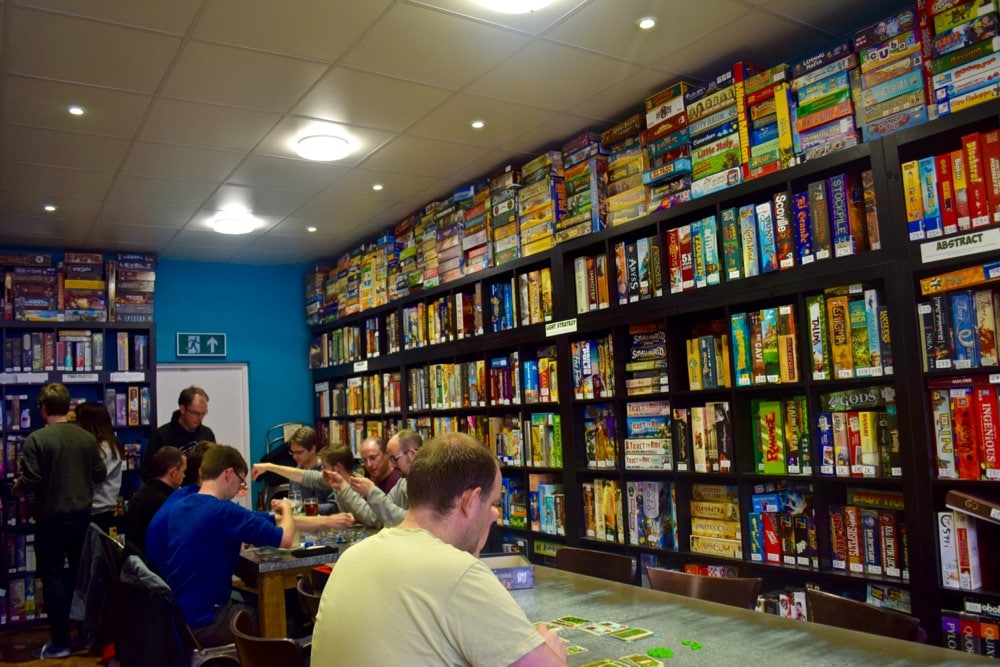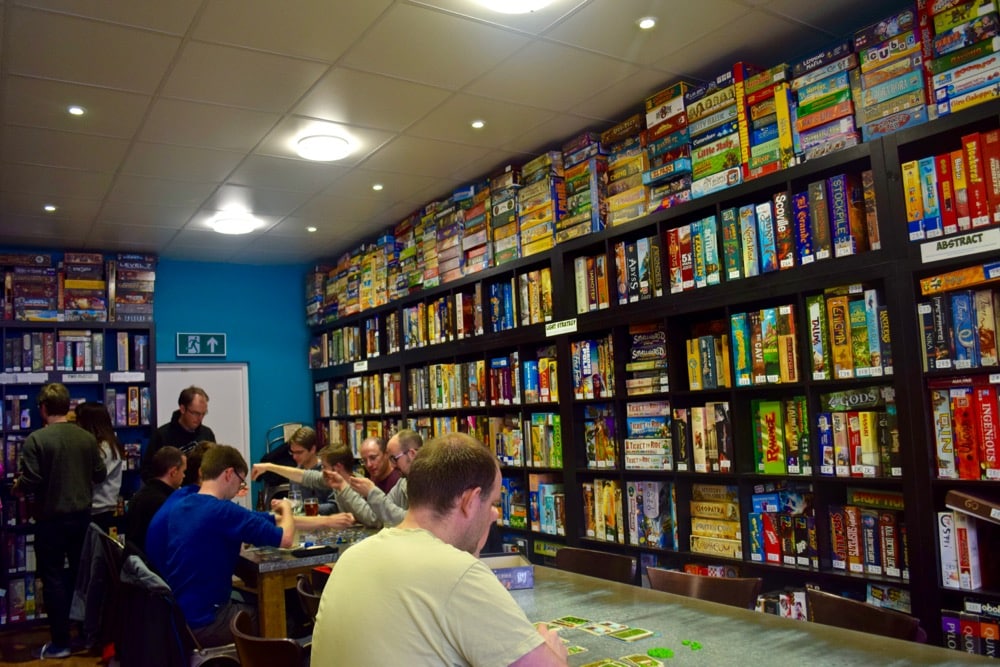 Don't expect to turn up and play monopoly or scrabble – there are so many games you've never heard of, you should definitely try something new.
They charge a small fee per person for use of the table and game for three hours (£5 for adults / £3.50 for children) and while there you can choose from a menu of snacks, sandwiches, coffee, craft beer or cocktails (depending on how much you want to concentrate!)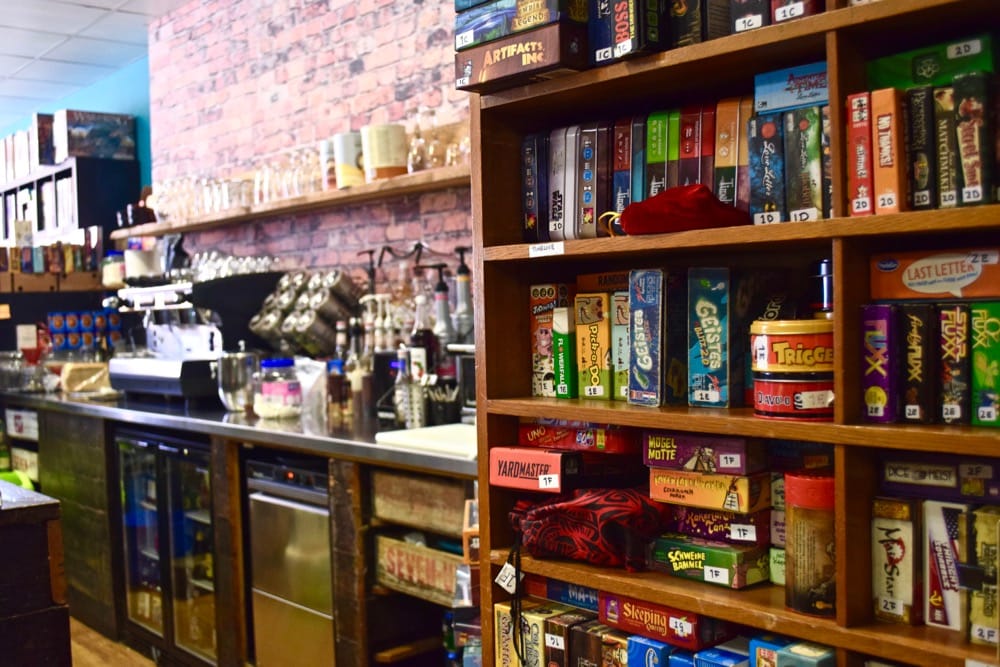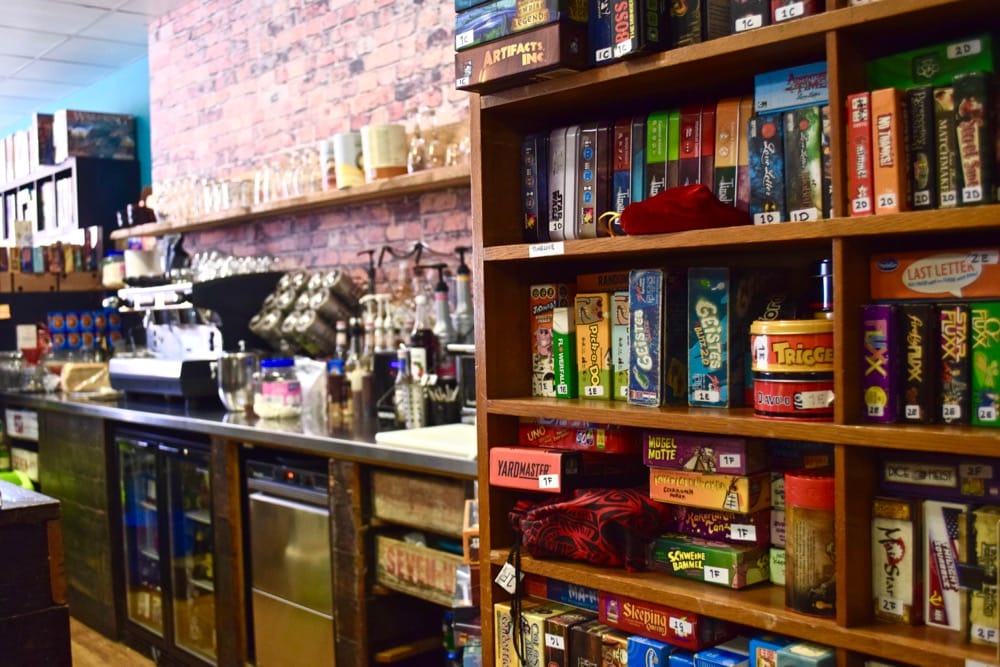 Enjoy Oxford's Quirky Shopping Scene
Queen Street and the High Street are home to chain stores including Marks and Spencer, French Connection, Primark and Topshop. But why go all the way to Oxford for a standard shopping experience?
If you're visiting oxford for the day and fancy a rummage, check out Unicorn vintage store on Ship Street. Jam-packed with items, it was tricky to even open the door! Once inside wade through mountains of fur coats, retro dresses and costume jewellery – you might find a real gem!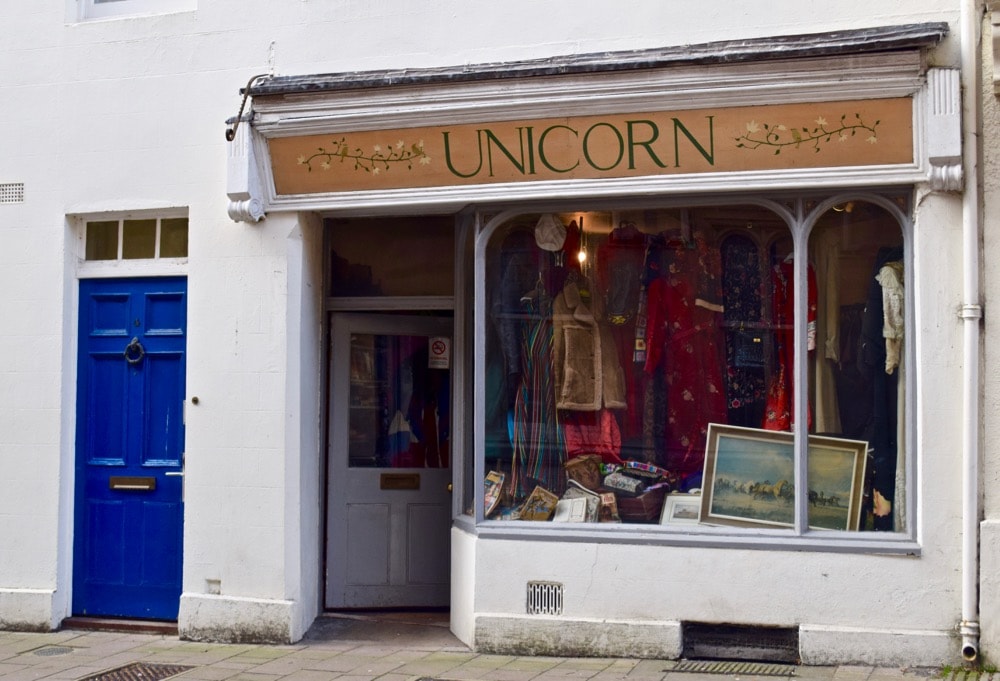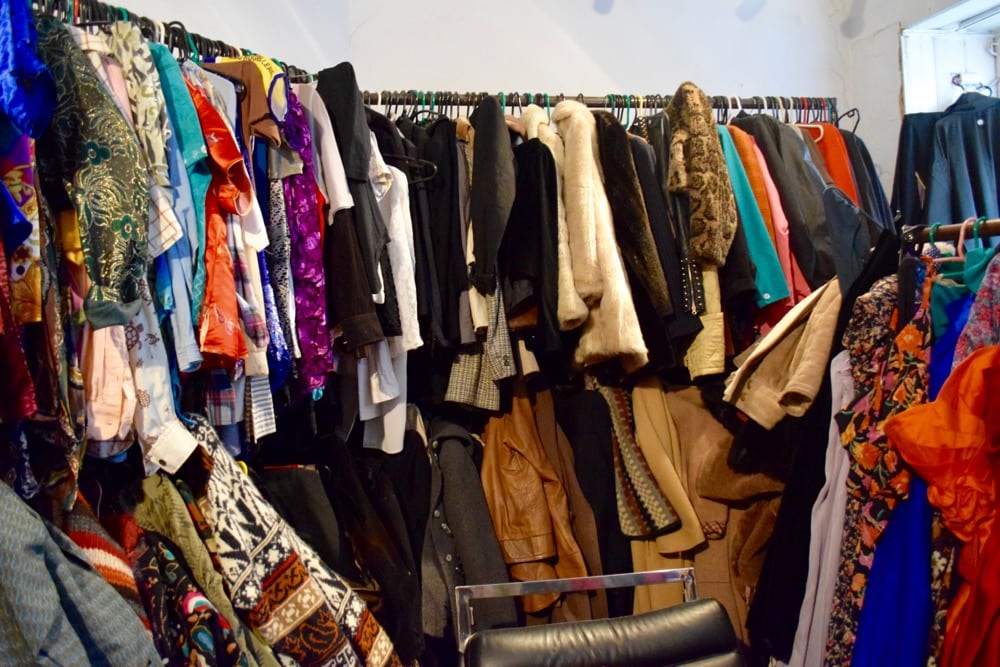 For something more up to date, head to Fresh Clothing in Oxford Covered Market. I loved the bright coloured dresses and quirky shoes. There were also some lovely floral accessories!
Babylon, a gift and homeware store on the High Street also caught my eye with its fun window displays featuring flamingos and colourful cushions.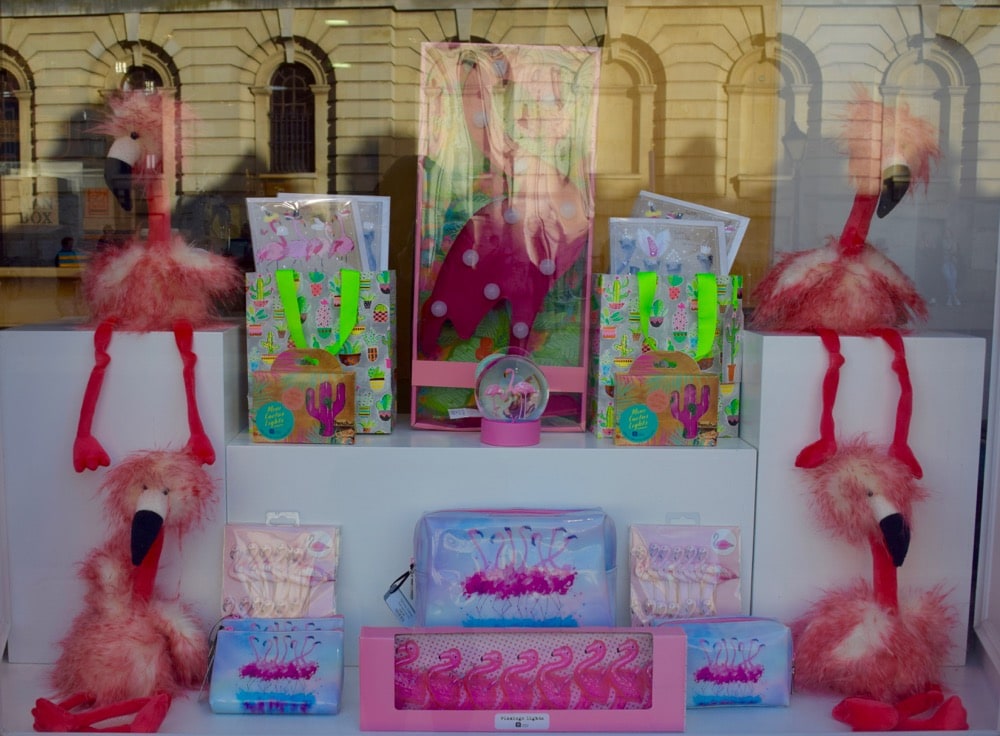 While I didn't have the chance to go in (yes I was racing to the bus station!) I snapped a quick photo of Arcadia – an eye-catching shop selling second-hand books and vintage items. It looked perfect for gifts so I'll be sure to squeeze a visit in next time I'm enjoying a day trip to Oxford.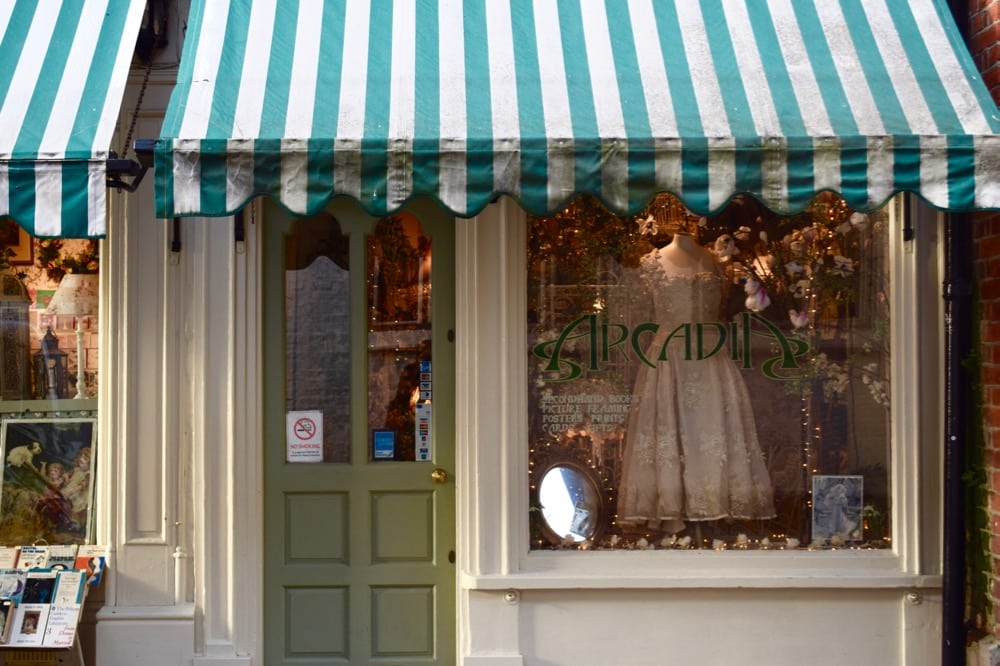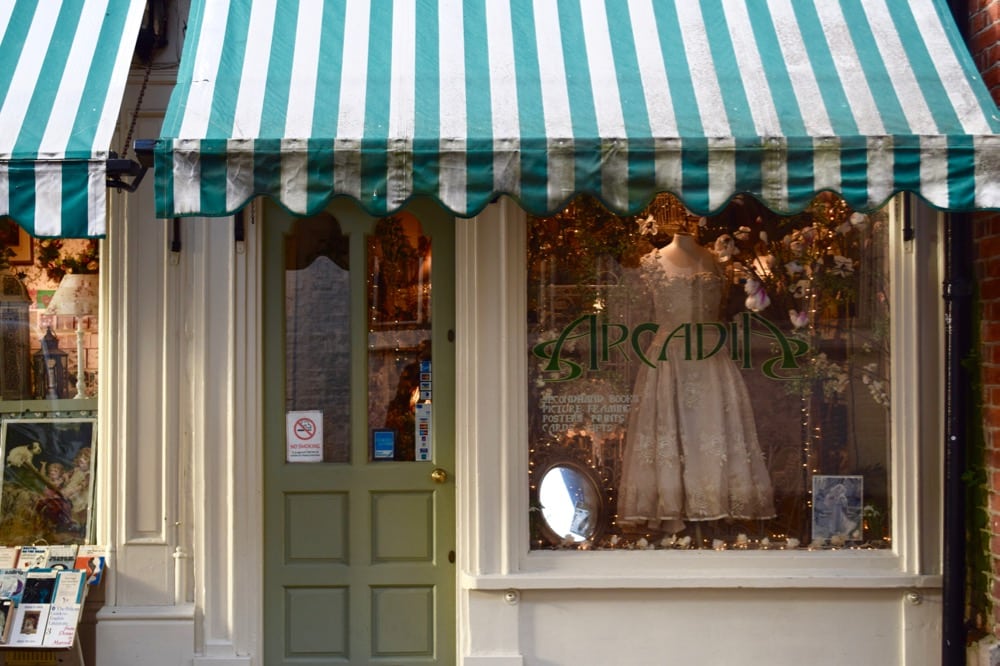 Venture Into Oxford Castle Quarter
Just before catching my National Express coach home, I walked to Oxford Castle Quarter. With 1000 years of history, it's worth checking out the beautiful exterior and 11th-century Motte and Bailey Castle, even if you don't fancy venturing inside.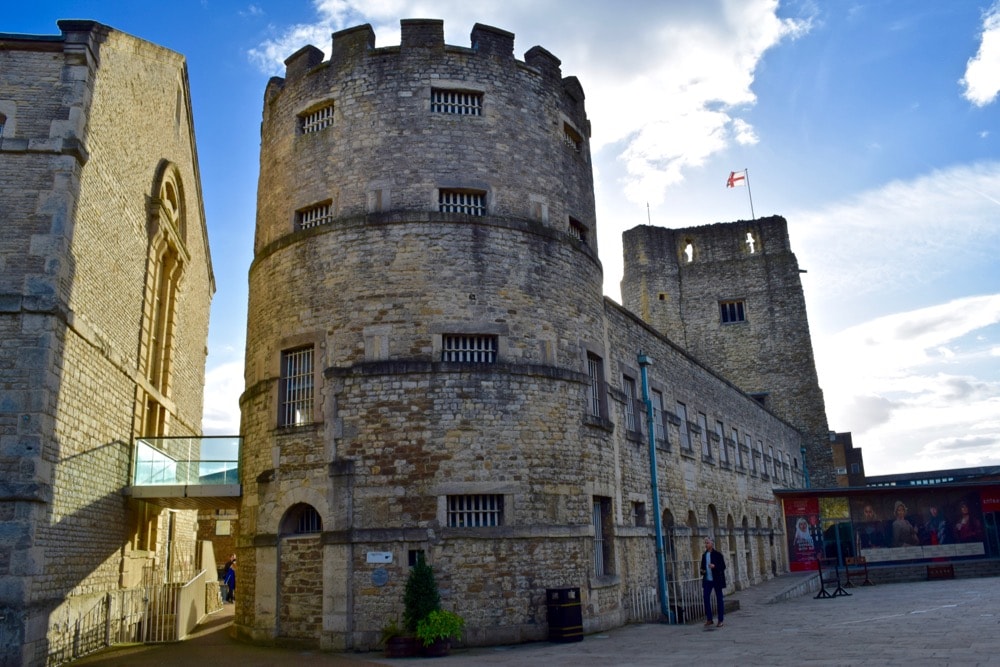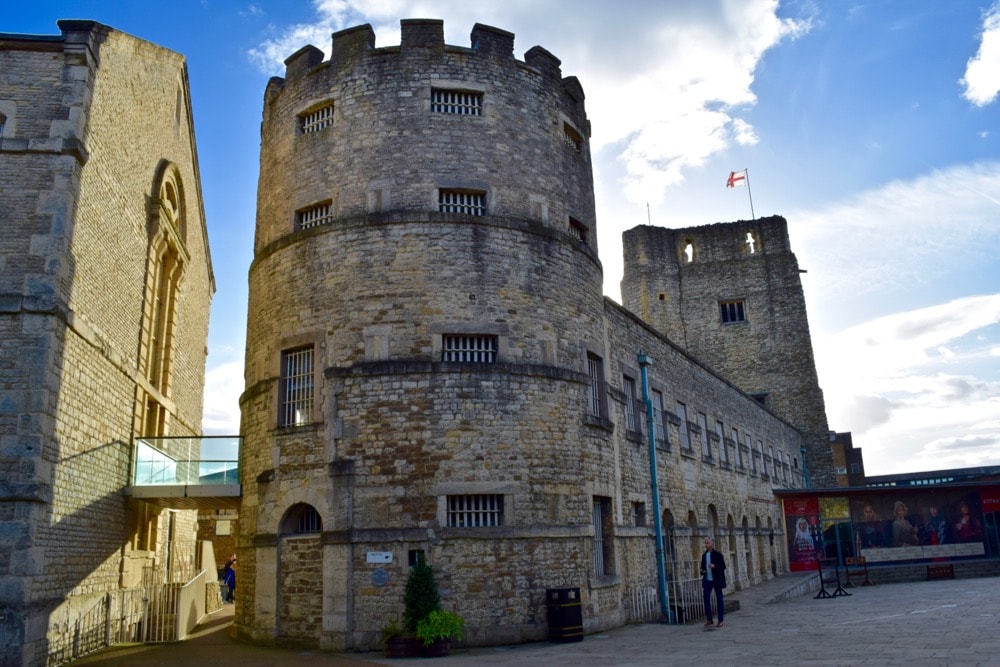 The area is also home to a Pizza Express, Prezzo, a coffee shop and even a Malmaison Hotel – with the rooms located in a converted Victorian prison! In the past people were dying to leave that building… and now people are paying to stay there…!
Is Oxford worth visiting?
100% – I love the city and I think this day trip to Oxford from London is one of my favourite day trips you can take from the capital.
People sometimes ask me how long they should spend in Oxford, and while there's plenty to keep you busy for several days (including some lovely things to do in Oxford at night which I haven't mentioned in this post), I think a one day trip to Oxford from London gives an amazing flavour of the city, before you start planning return visits to go into more detail.
Book your day trip to Oxford with National Express via Omio now and find out more about what there is to do in the city at experienceoxfordshire.org.
Enjoyed this post about amazing things to see in Oxford? Pin it for later…