If you're visiting San Pedro De Atacama, a visit to El Tatio Geysers is a must. Find out about tours of El Tatio, plus what to pack to make the most of your day out.
As I set my alarm for 4am, and rolled over in Hostel Desert, our cute little base in San Pedro de Atacama, I felt excited for the next day's events. Since being a travel blogger my adventures have taken me all over the planet. I've visited Costa Rican waterfalls, Guatemalan volcanoes, Mayan ruins, medieval Croatian cities and been swimming in several oceans, lakes and rivers. Up until now though, I'd never seen a geyser. In fact, I didn't really know what a geyser was.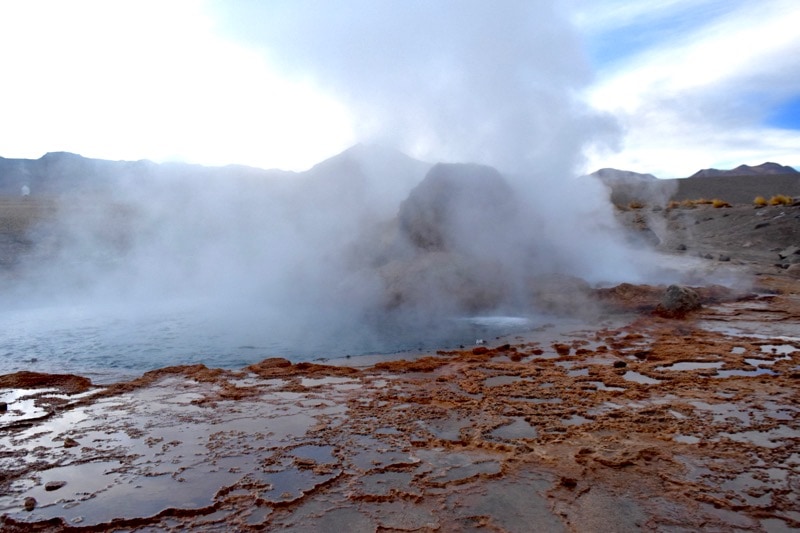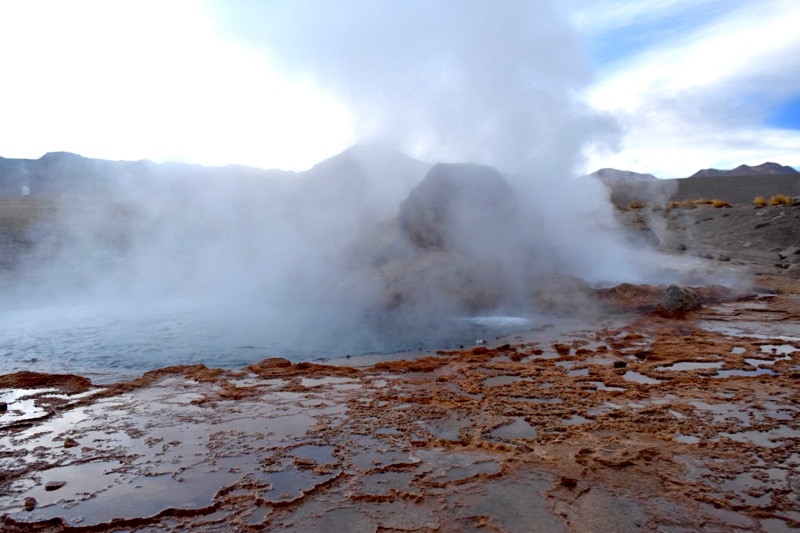 At an altitude of 4320m, 90km north of San Pedro de Atacama in Chile (metres from the Bolivian border) is El Tatio. It's the world's third largest geyser field, and home to 80 active geysers. It's aptly named too – El Tatio (geiser del tatio) is a native American word for 'oven', and in an ancient lost language means 'old man who cries'.
What Is A Geyser?
Well, as I looked out at sunrise, I'd describe it as an eerie area of land filled with bubbling pockets of water and steaming gases. Geysers occur when cold underground rivers hit hot rocks, heating and projecting the water up to the surface. As we were in a volcanic region in the Andes Mountains, it was hardly surprising to find them here.
But let's go back to the beginning. It was 4am, I was deep in the heart of the Atacama Desert with just constellations for illumination. I was wearing as many layers as I could for warmth. We were heading to high altitude for sunrise… and from what I'd heard, it was going to be seriously cold!
Booking A Tour To Visit El Tatio Geysers At Sunrise
We chose to book our tour to El Tatio with Viator – a popular tour operator. Once on board a minibus, friendly tour guide Veronica introduced herself, then suggested we catch a few zzzs as the journey would take around an hour and a half.
Never a good napper (and full of beans at 4.30am – much to my other half's annoyance!) I attempted to take in the landscape. Yes it was pitch black, but occasionally there was an ominous silhouette of a volcano, or a new view of the spectacularly starry night sky.
Driving To El Tatio Geysers At Sunrise
I'm not going to lie, as someone who suffers with travel sickness, this journey was a tough one! The roads were incredibly bumpy and full of bends, leaving me very jealous of the dozing passengers around me. As we neared the entrance to the geyser site, the sun started to rise casting beautiful glimmers of light over the mountains. This was the start of an extremely magical day.
At the main entrance it became apparent we weren't the only ones visiting El Tatio! Coach loads of tourists from across the globe stretched their legs, donned thick coats and joined a queue for the toilets that seemed to go on for infinity. While we weren't in the main geyser field yet, there were already a few patches of steam rising from the ground – a spectacular sight against the yellowy tufts of grass, rugged grey mountains and a pale morning sky.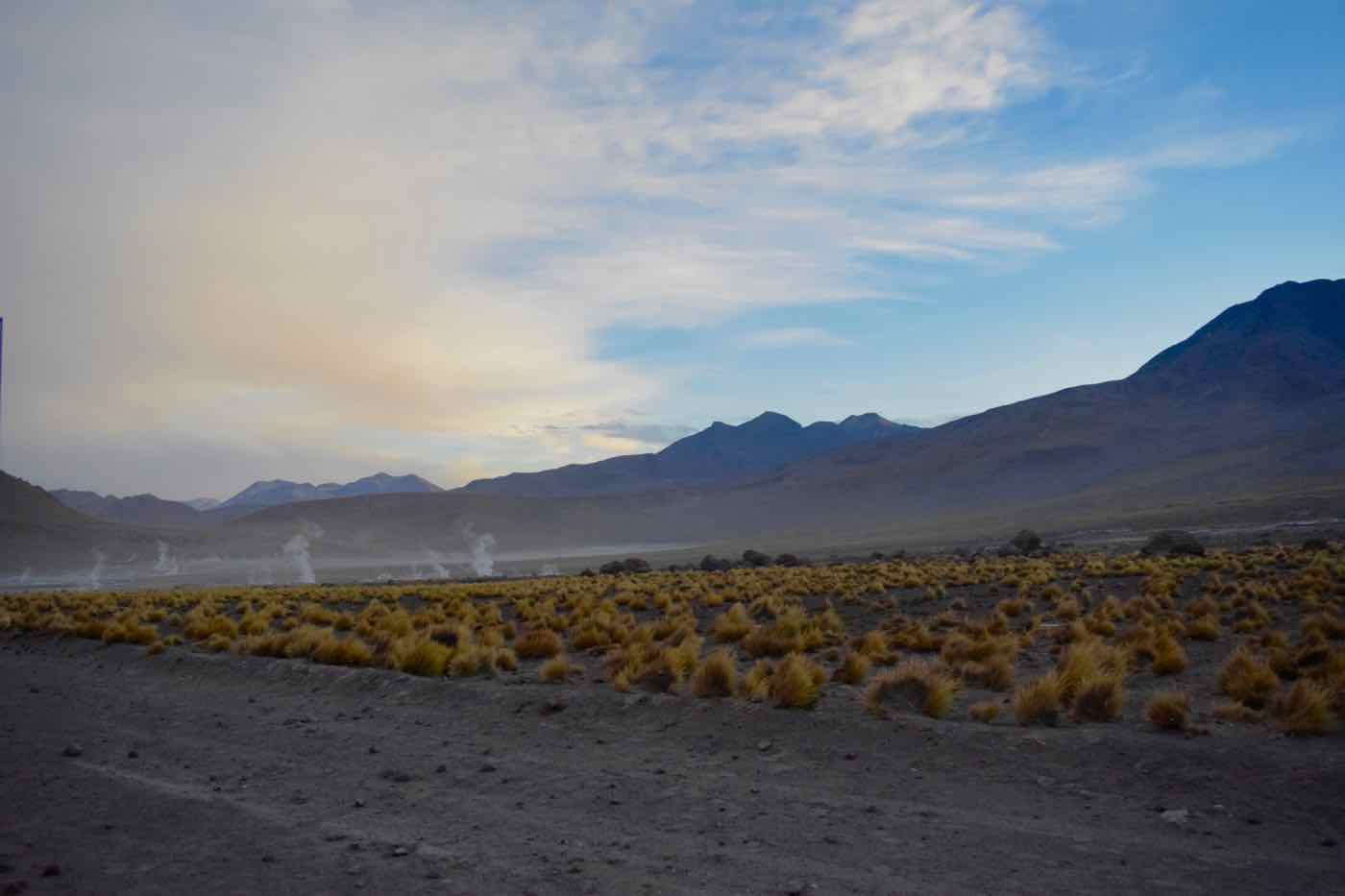 How Much Does It Cost To Visit El Tatio Geysers At Sunrise
Along with the tour fee of 25,000 Chilean Pesos (around £25) there was an individual fee of 5,000 Chilean Pesos (£5) per person to enter the site. Once paid up, it was onto the bus to drive to the first spot.
Guide Veronica told us that while there are over 500 geo-thermals, only 80 are active geysers (where the water actually emerges). We were advised to stick to paths, and warned not to get too close to the geysers. Over the years, some tourists had learned the hard way, too busy taking selfies to notice the scalding hot water.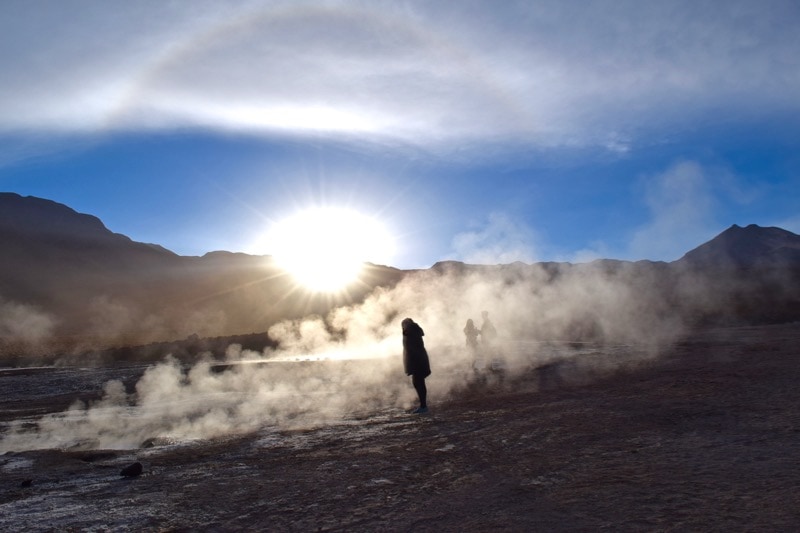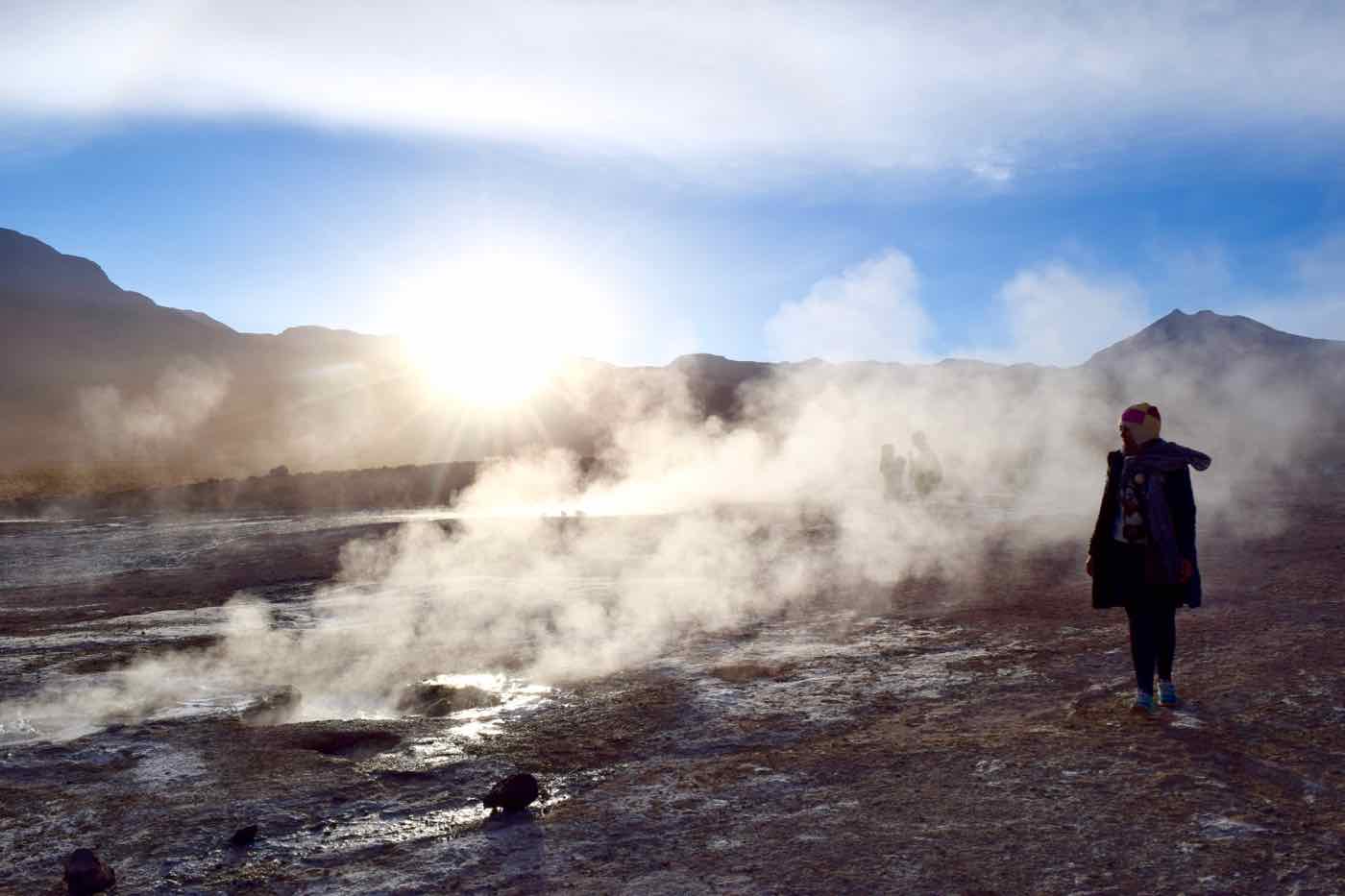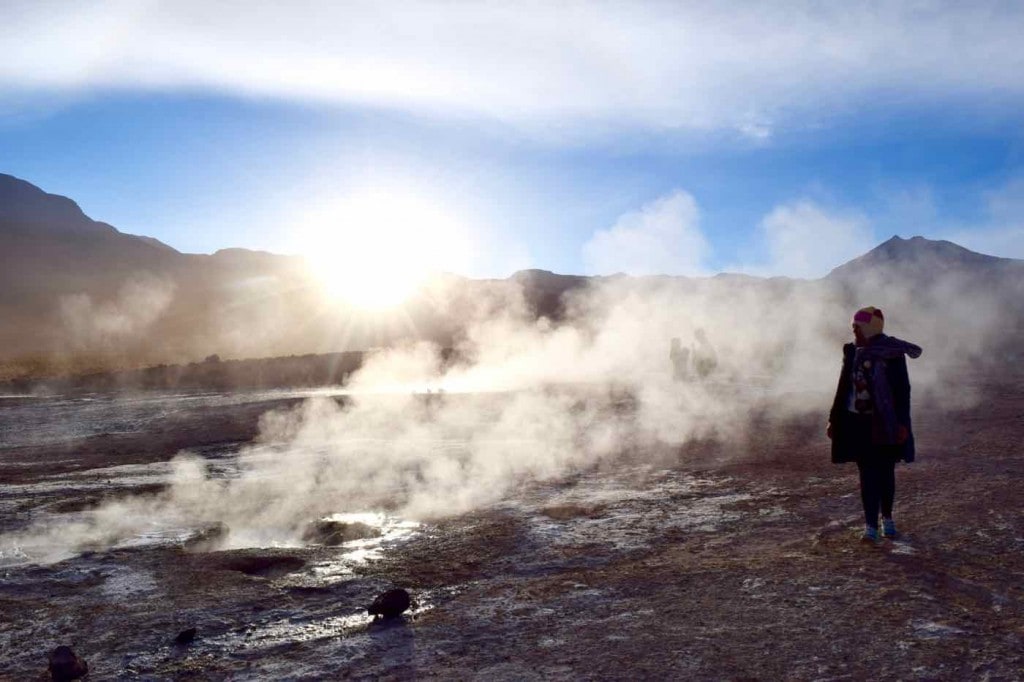 Magical Views Of El Tatio Geysers At Sunrise
With the sun rising fast, it was time to take advantage of the magical light and snap some photos. People became eerie shadows shrouded in steam, like a scene from a nightclub with too much dry ice!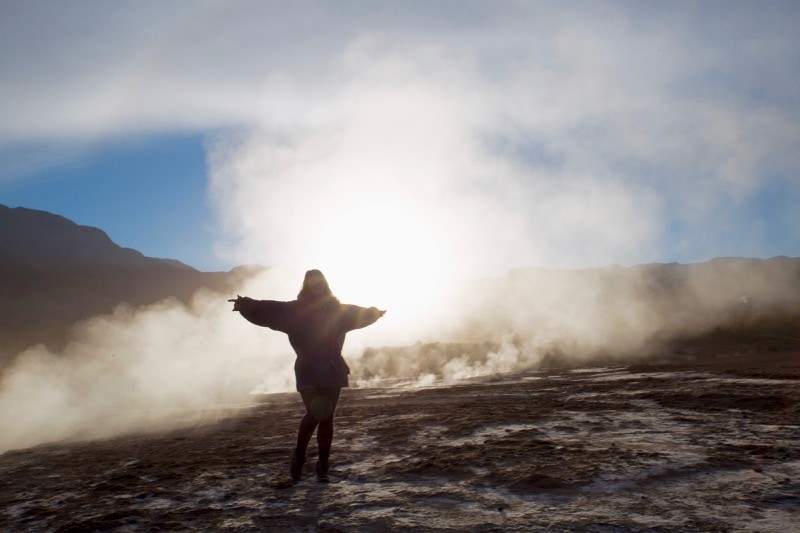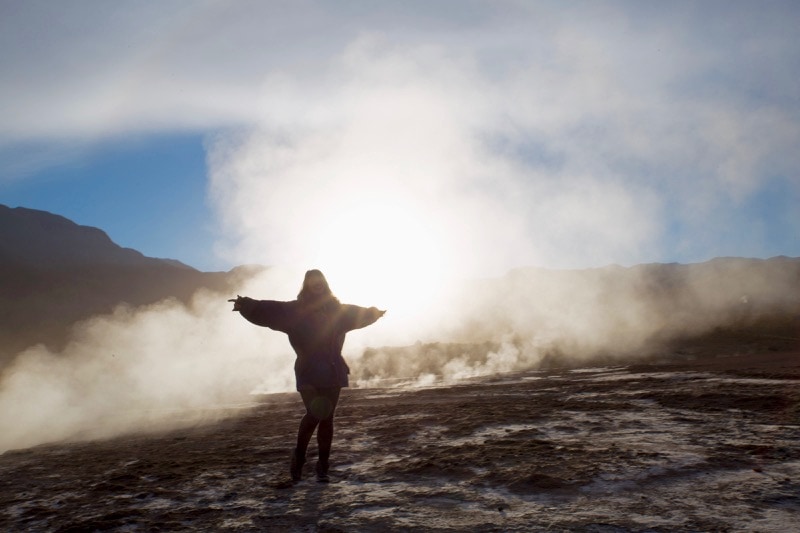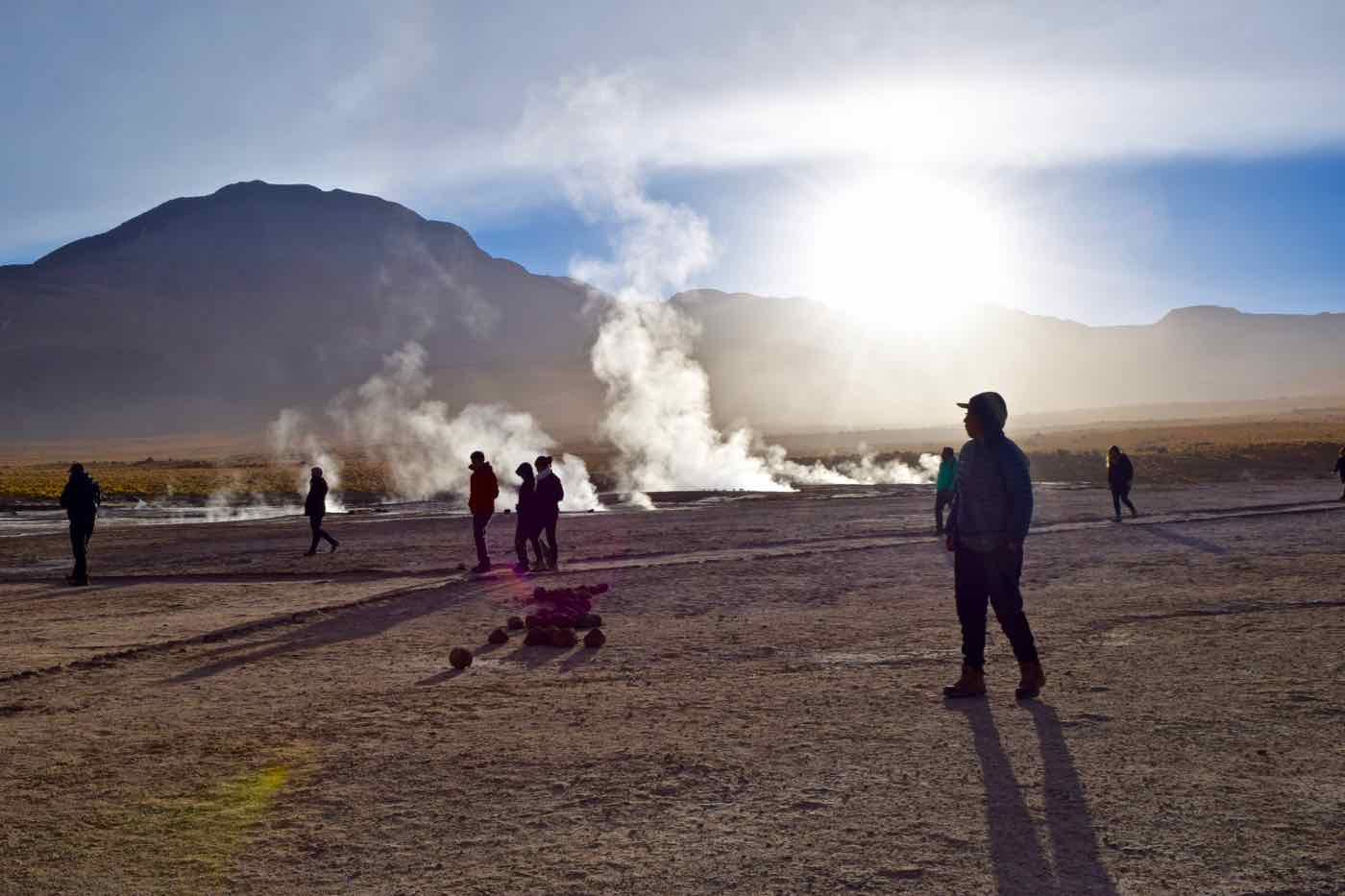 Tours visit at dawn as the contrast between the sub zero temperatures and the boiling hot water forces the pillars of steam higher into the air. While some geysers steamed, others gurgled and bubbled like the sound of a Jacuzzi.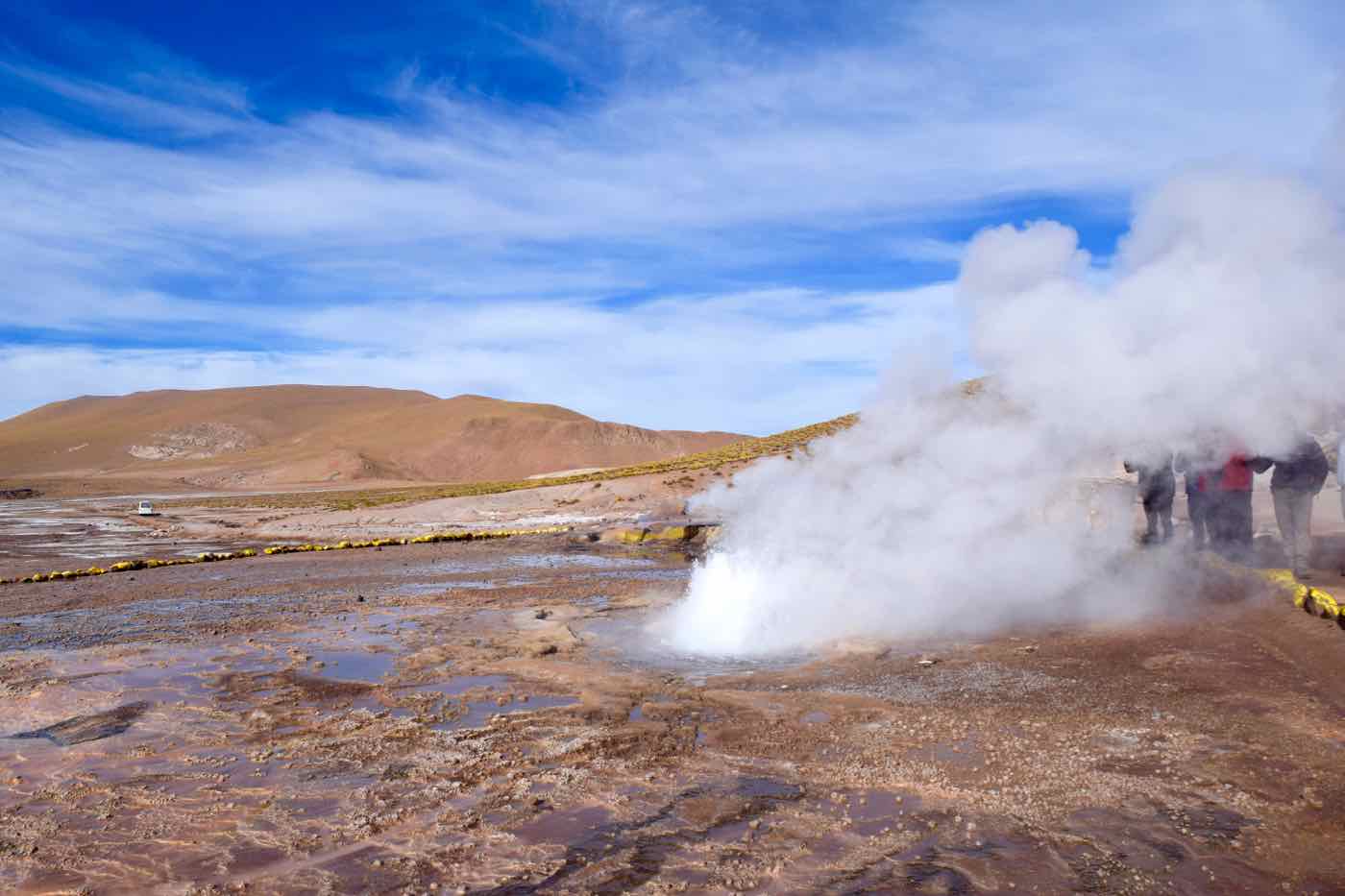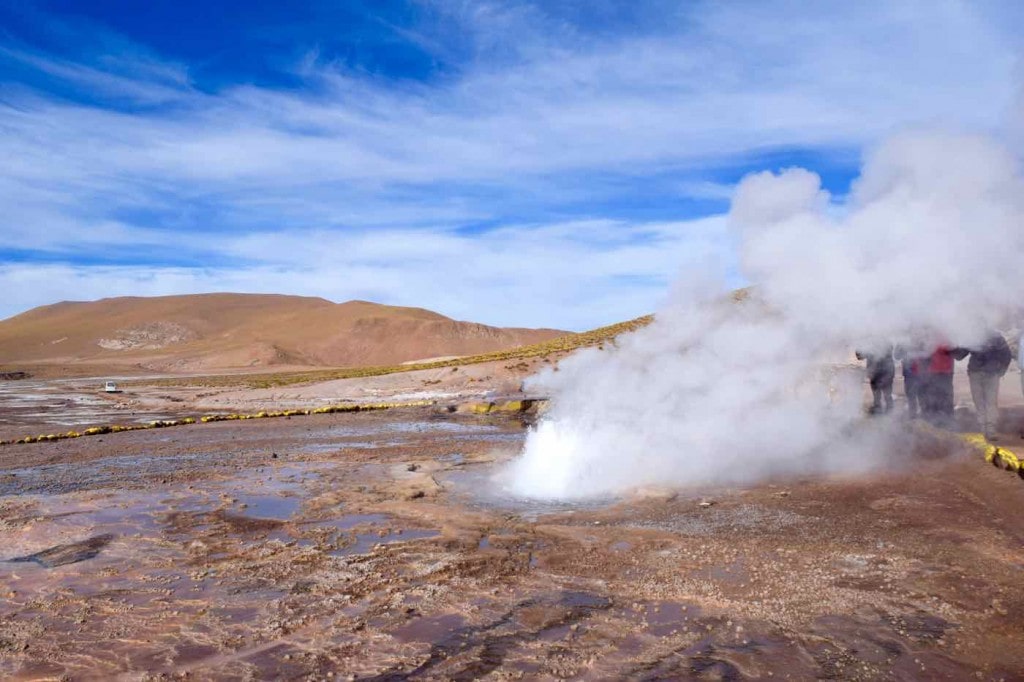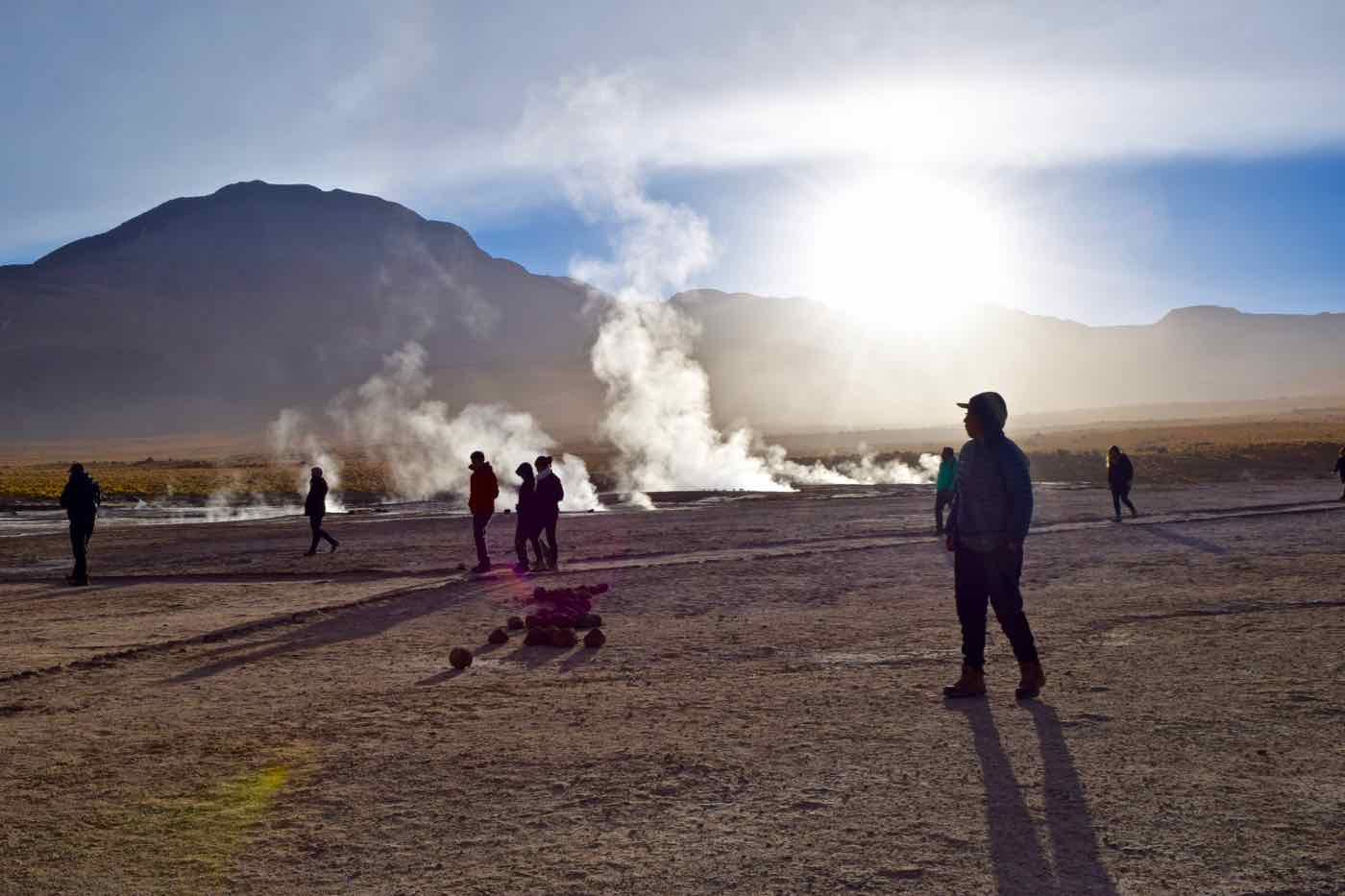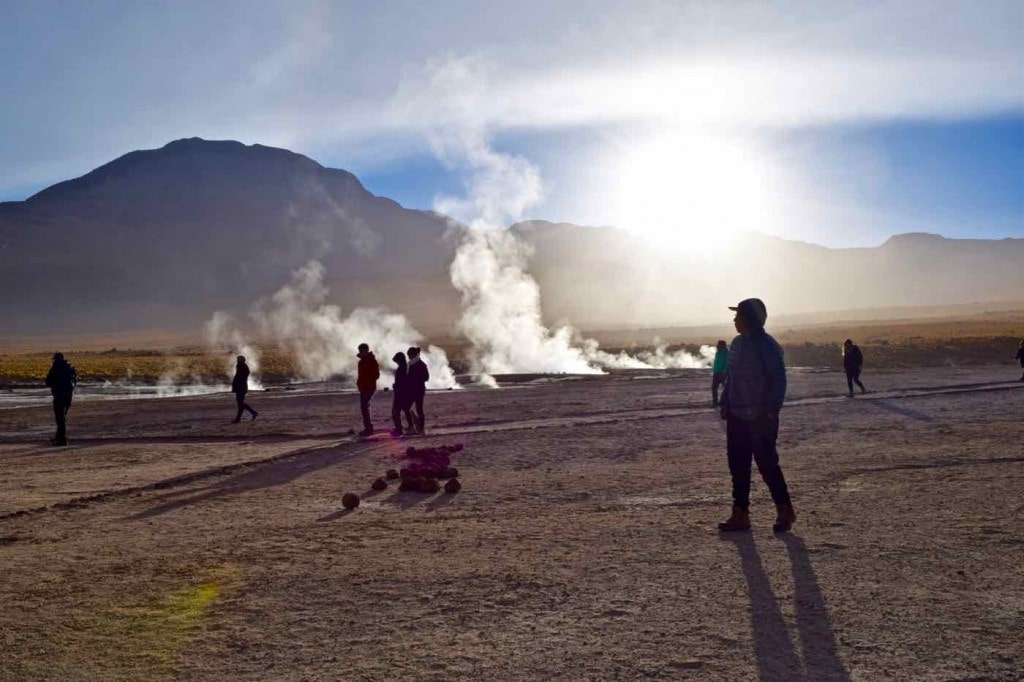 The 'Great Geyser' is the largest on the site. It has continued to grow over the years as the boiling water has gradually eroded the surrounding ground. Some bubbled consistently, but a few were more dramatic. Veronica pointed out which, and we waited silently until a huge spurt of water erupted high into the sky. Whoosh!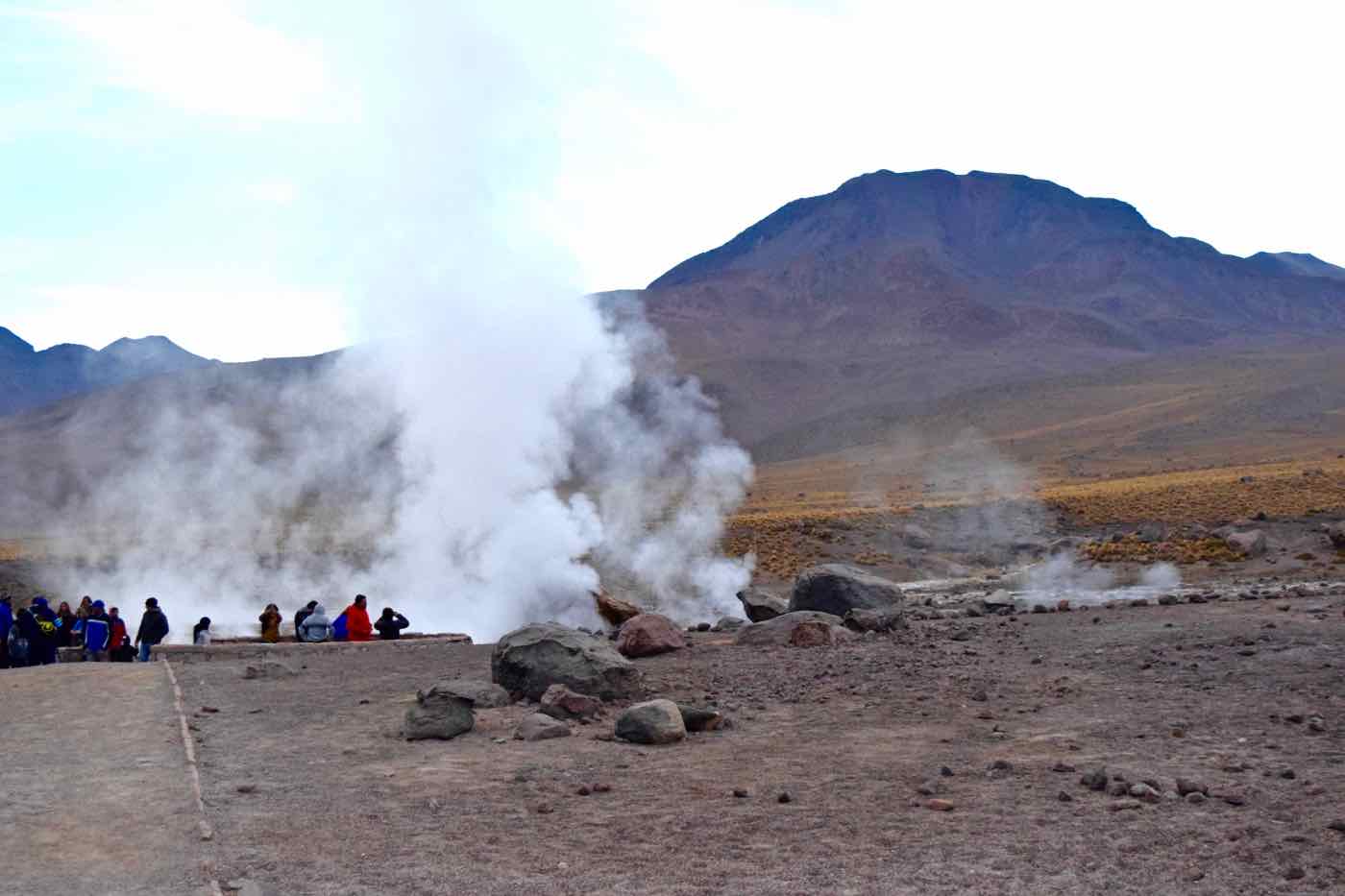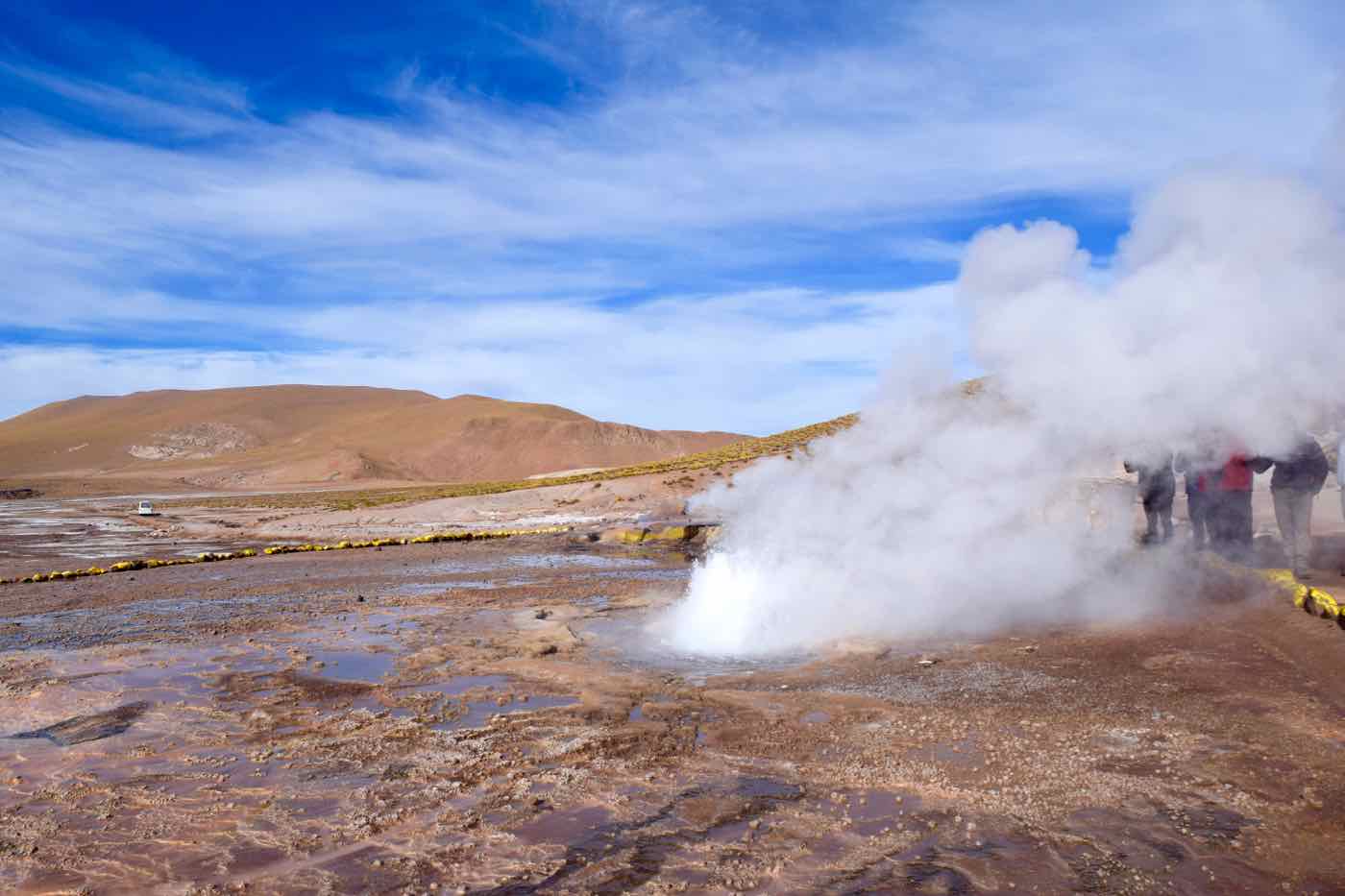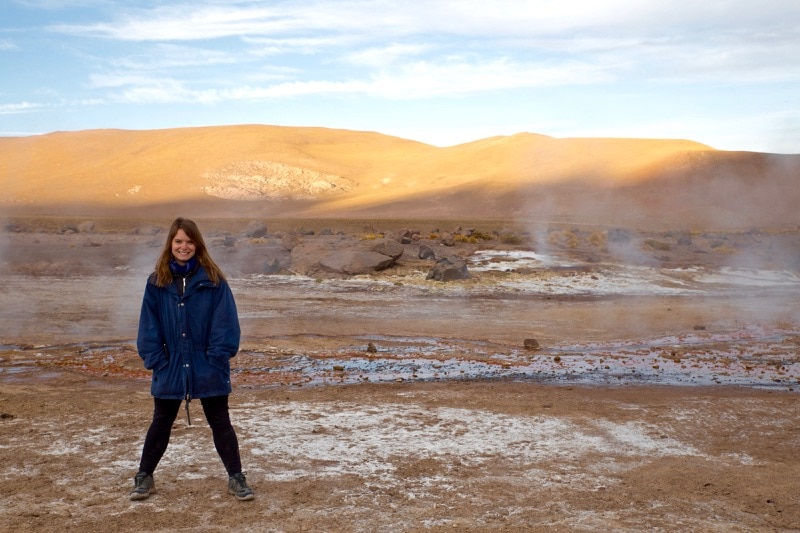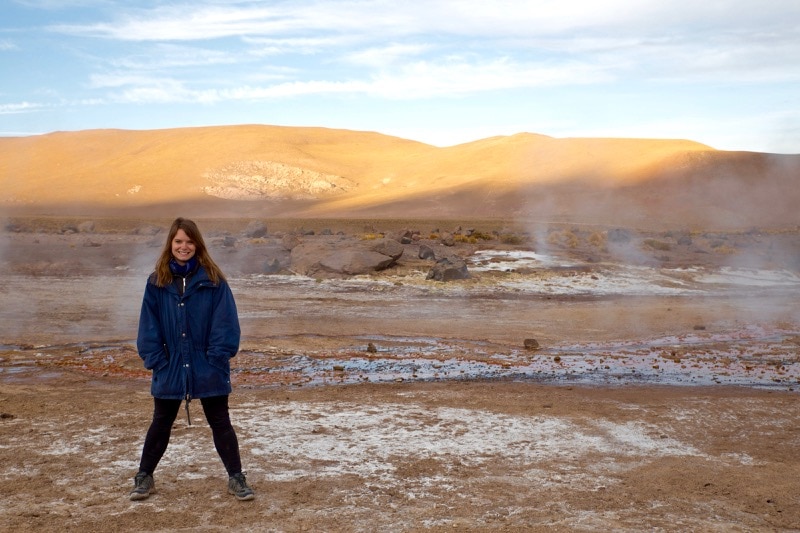 I was concerned by the hoards of tourists at the entrance, but once inside the geyser site, groups chose different routes, meaning that no areas were too crowded.
Visiting The Hot Springs At El Tatio Geysers
It's not just the geysers that provide the entertainment here… there are hot springs too. Outside temperatures had started to heat up with the sunshine, but I was by no means warm yet! I bravely stripped to my bikini and hopped into the naturally hot pool. Heated by the volcanic rocks, it was a lovely experience, and the perfect way to finally get toasty after a rather chilly morning.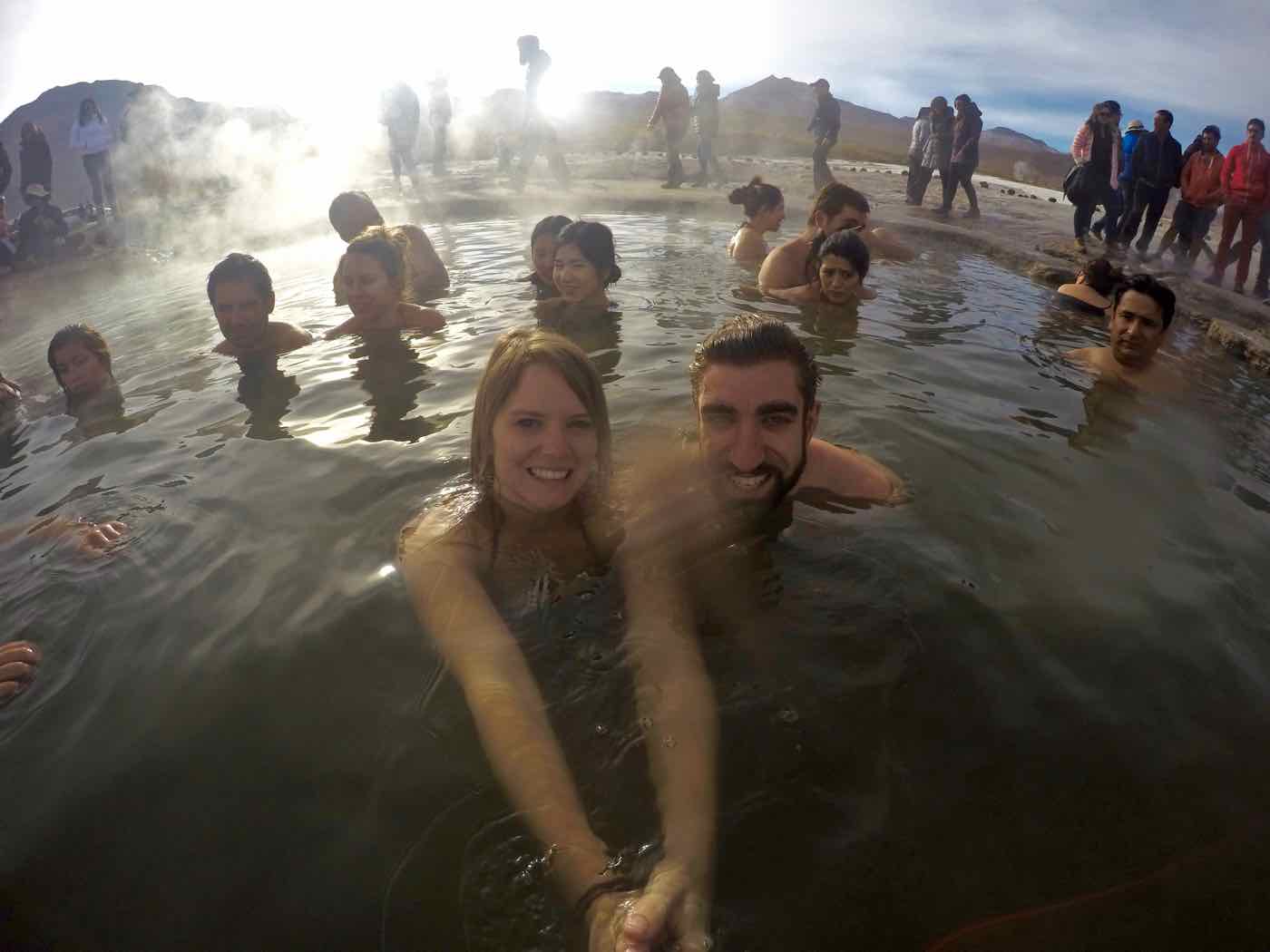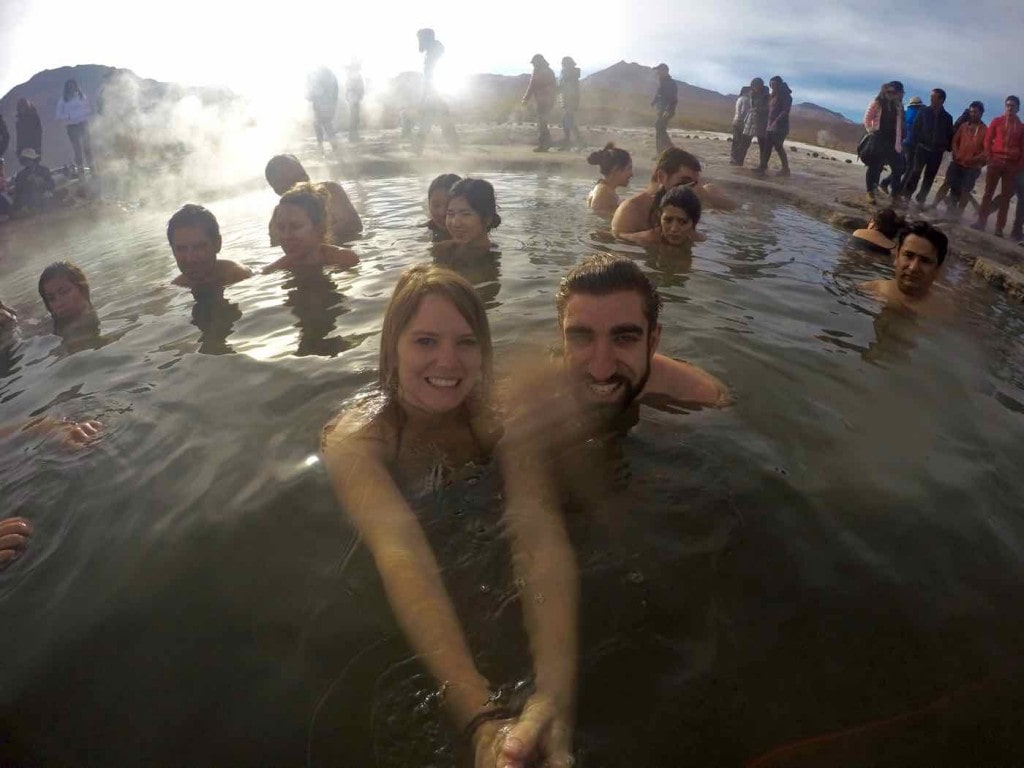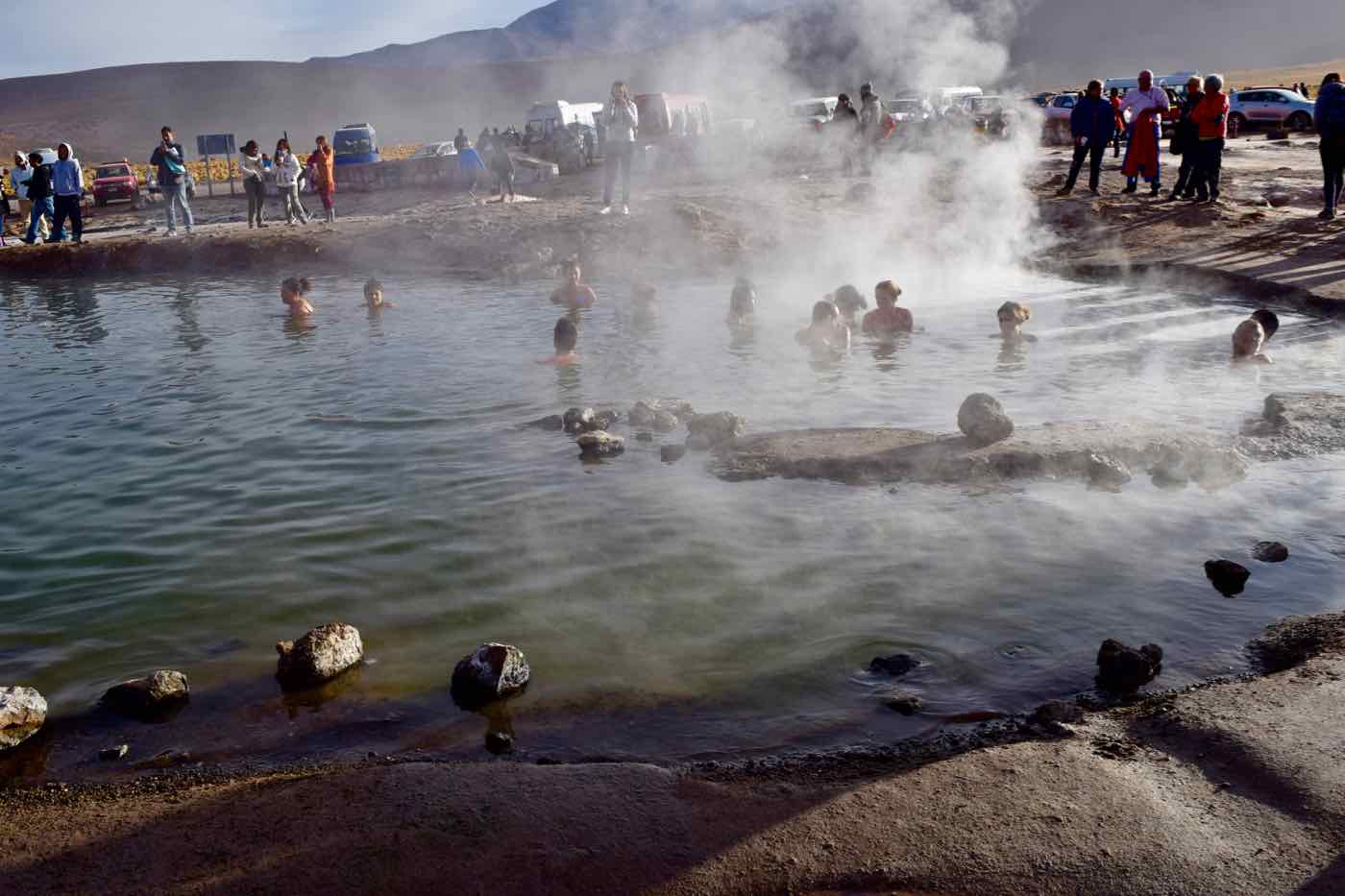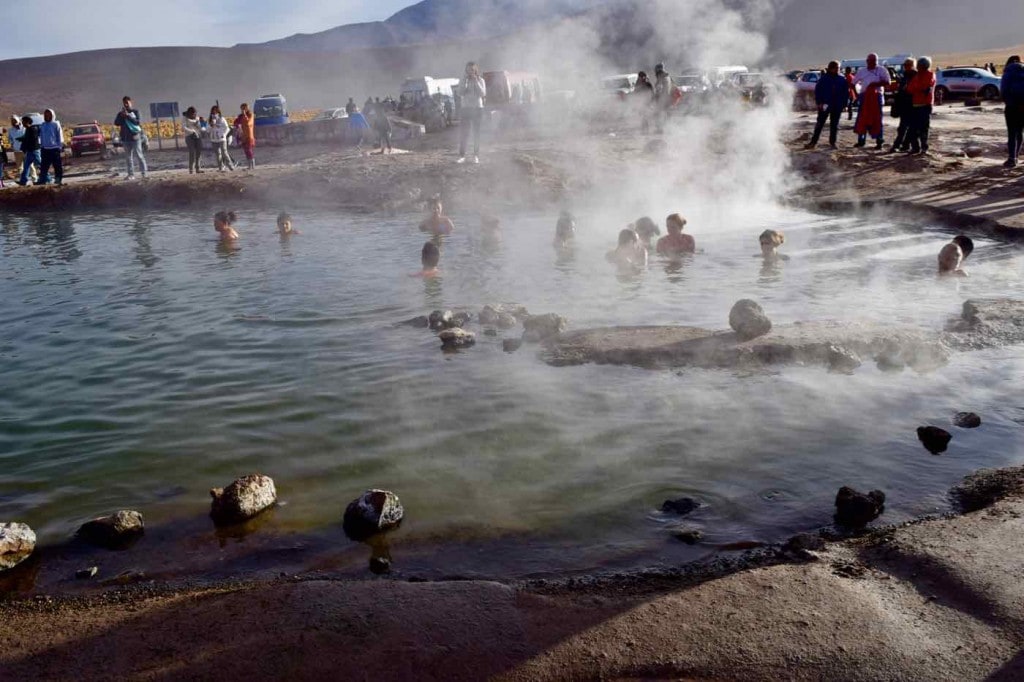 We'd certainly worked up an appetite, and from looking around it seemed our tour company provided the best breakfast of all the tours! We tucked into bread, cheese, freshly-cooked scrambled egg, hot coffee and plenty more… including my favourite South American breakfast spread – dulce de leche (caramel)!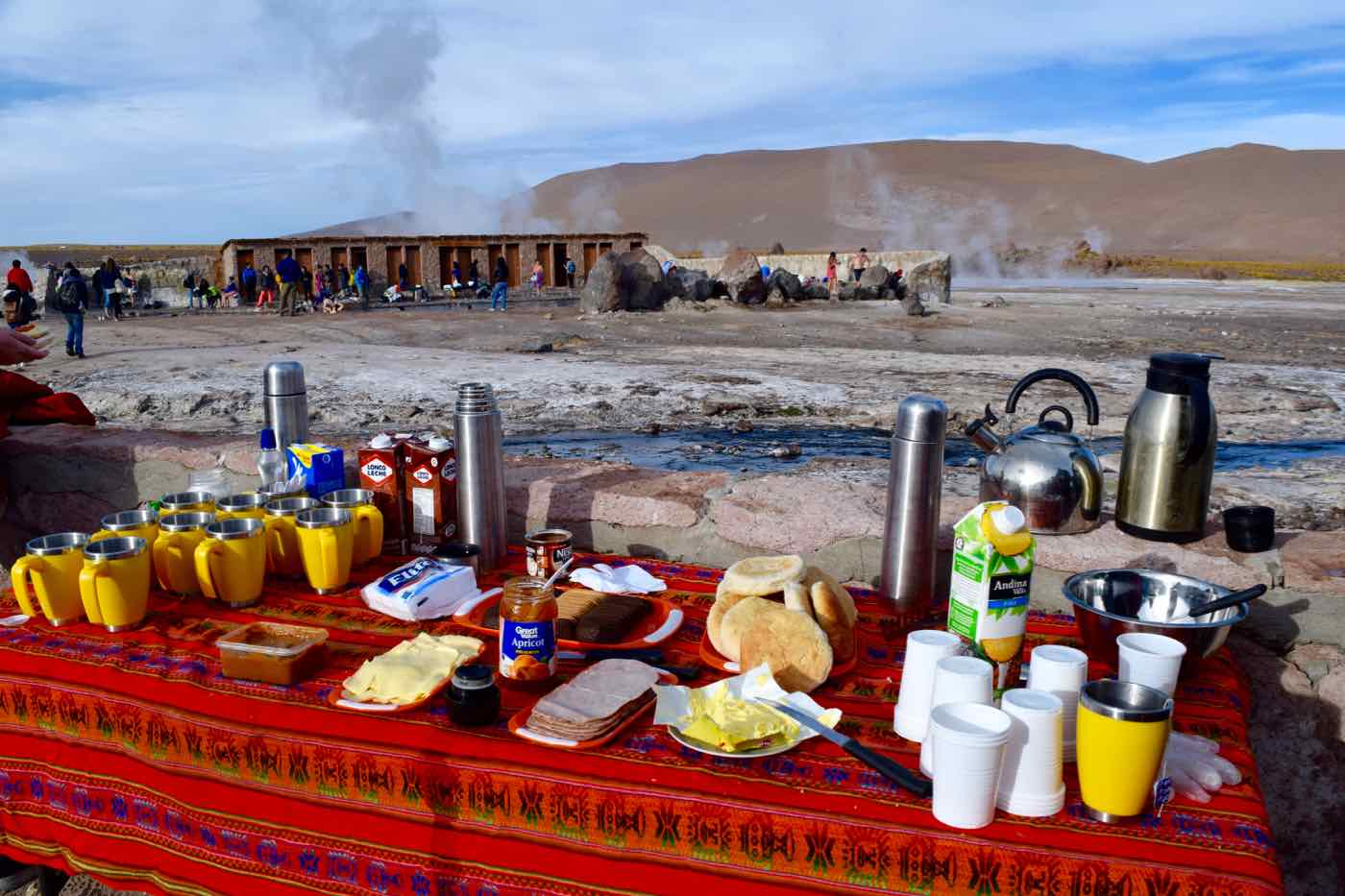 We checked out a few more geysers before hopping on the minibus to start the journey back to San Pedro De Atacama. Little did we know, there would be several visual treats along the route. Volcanoes, mountains, colourful scrubland, mineral basins, lagoons and wildlife lined the road. There were even flamingos!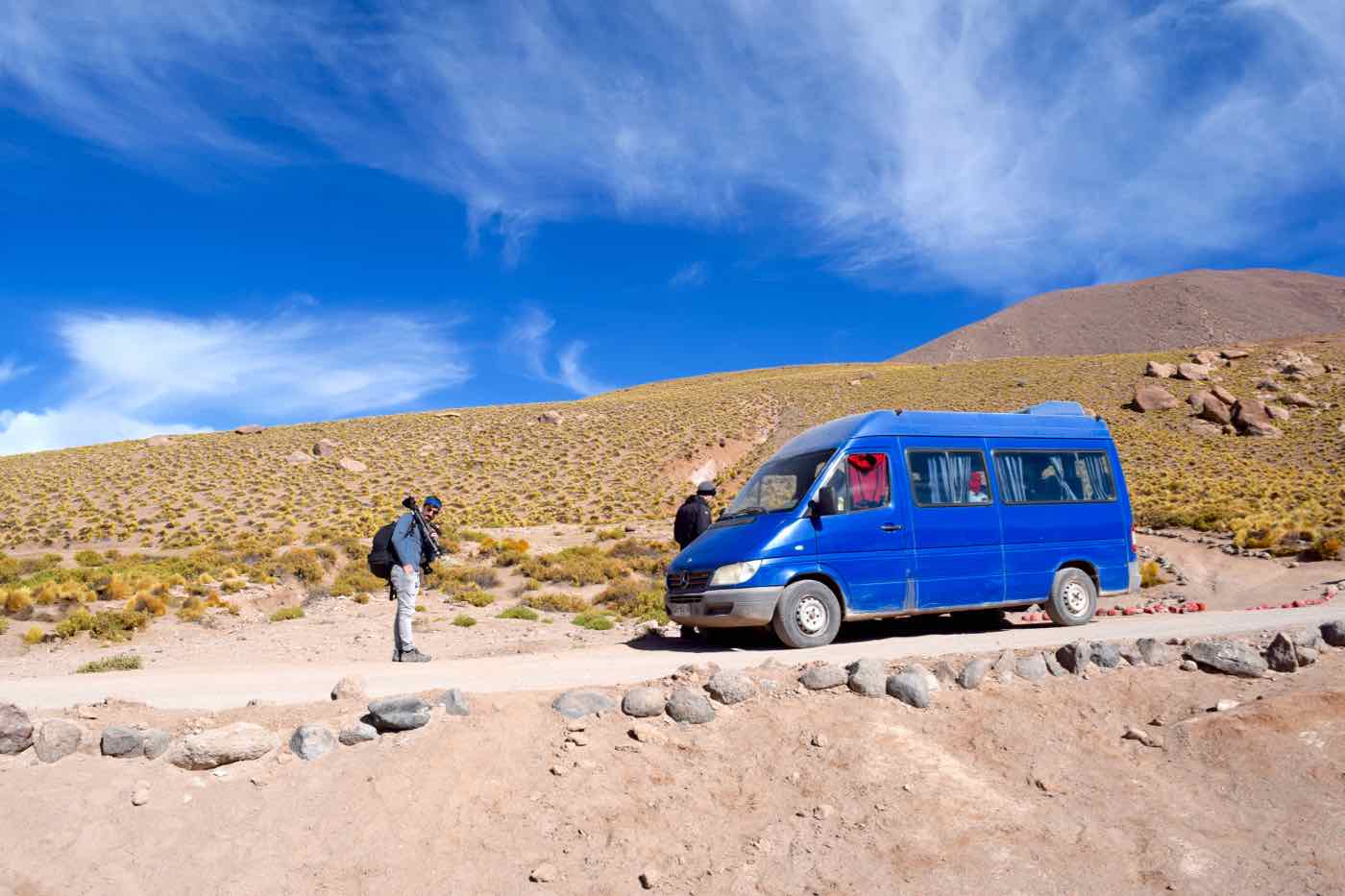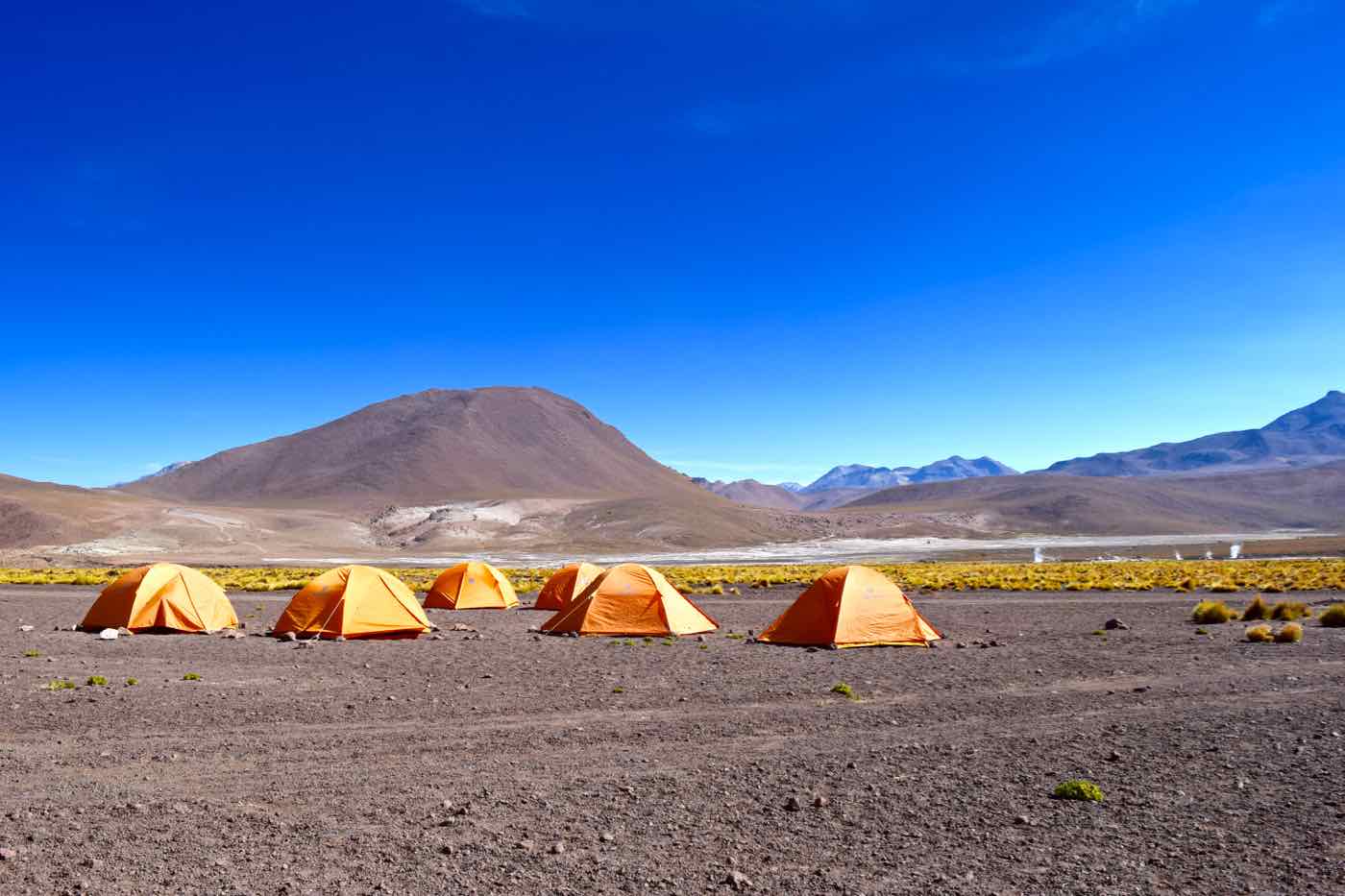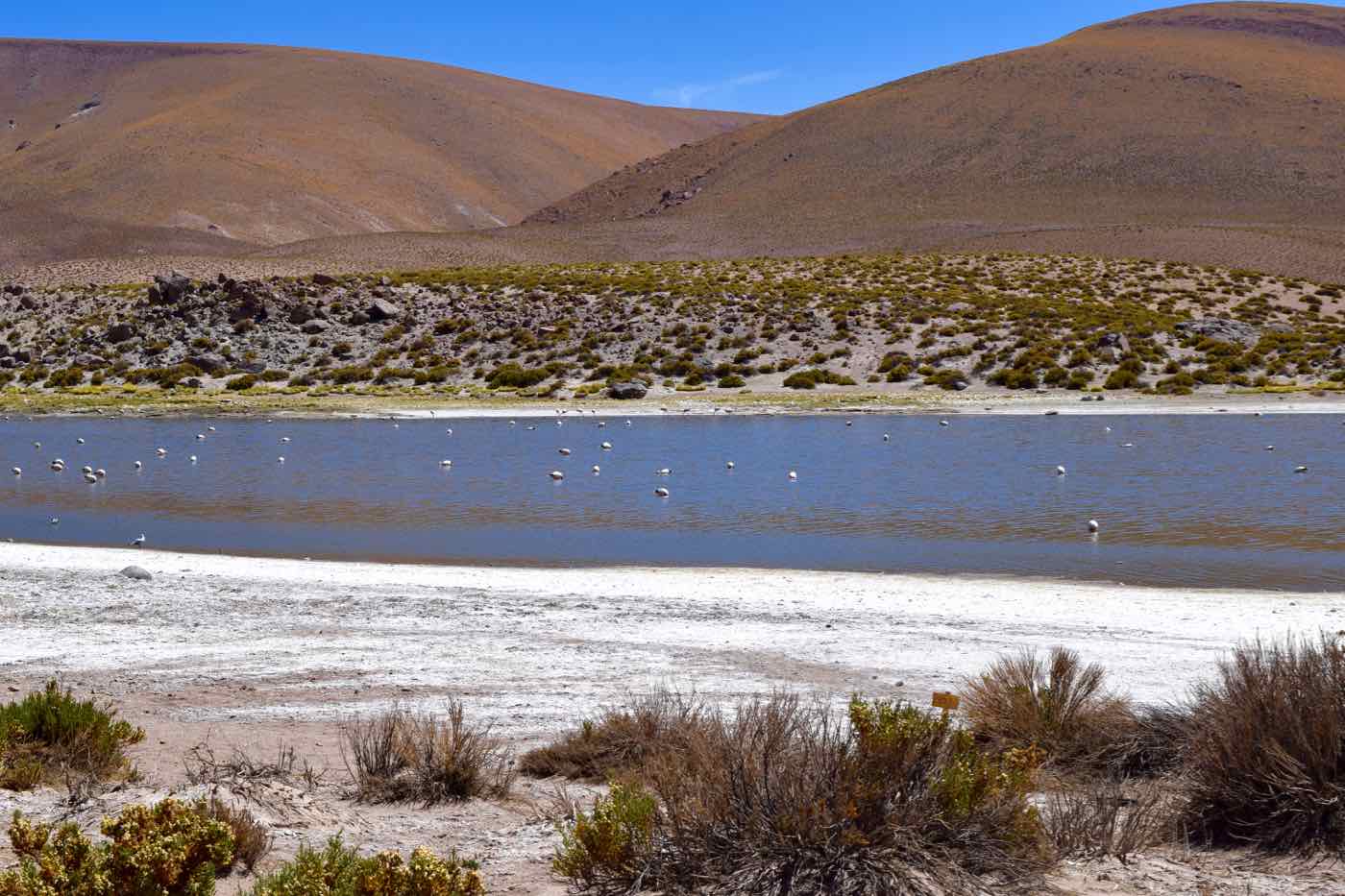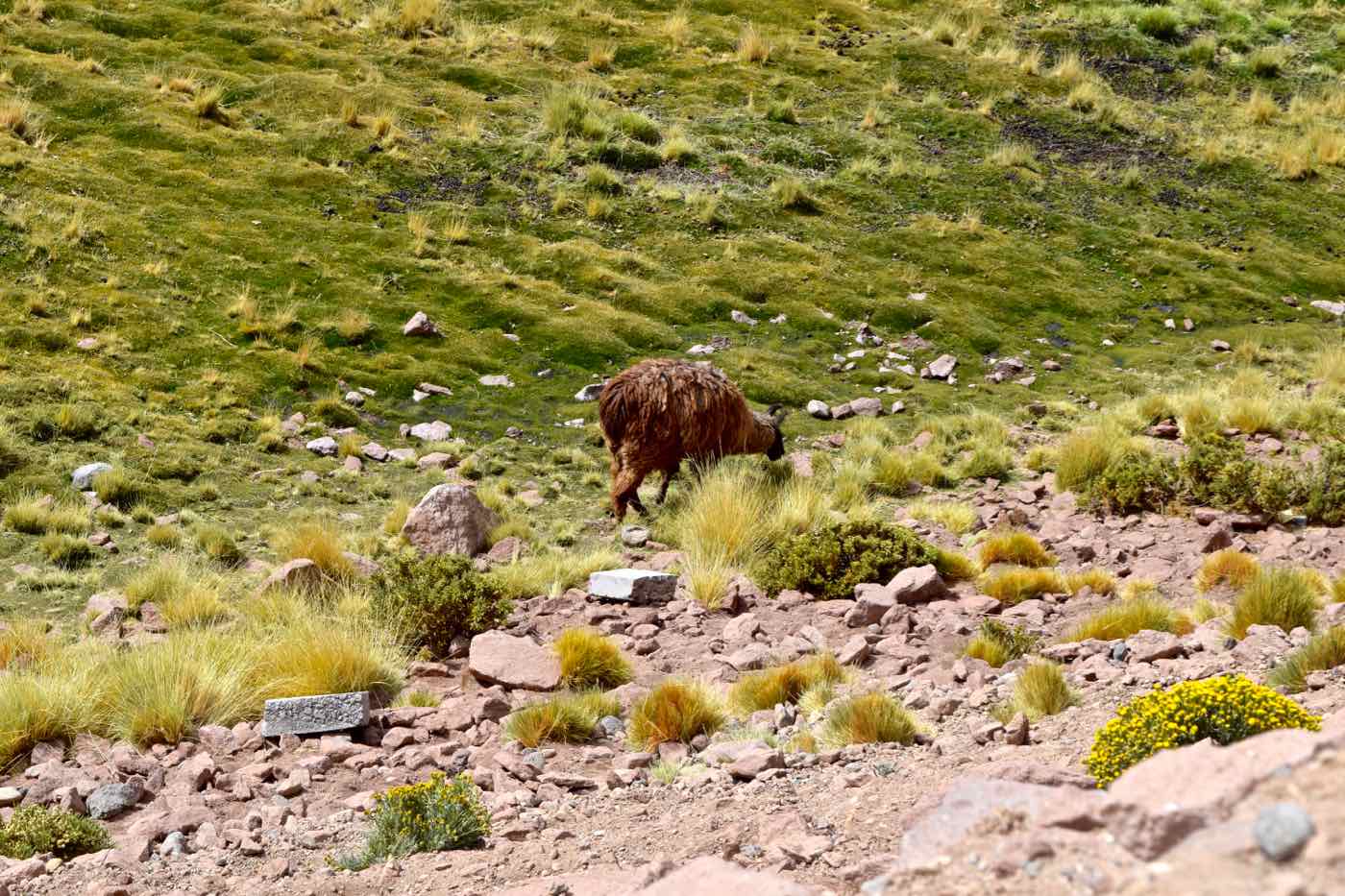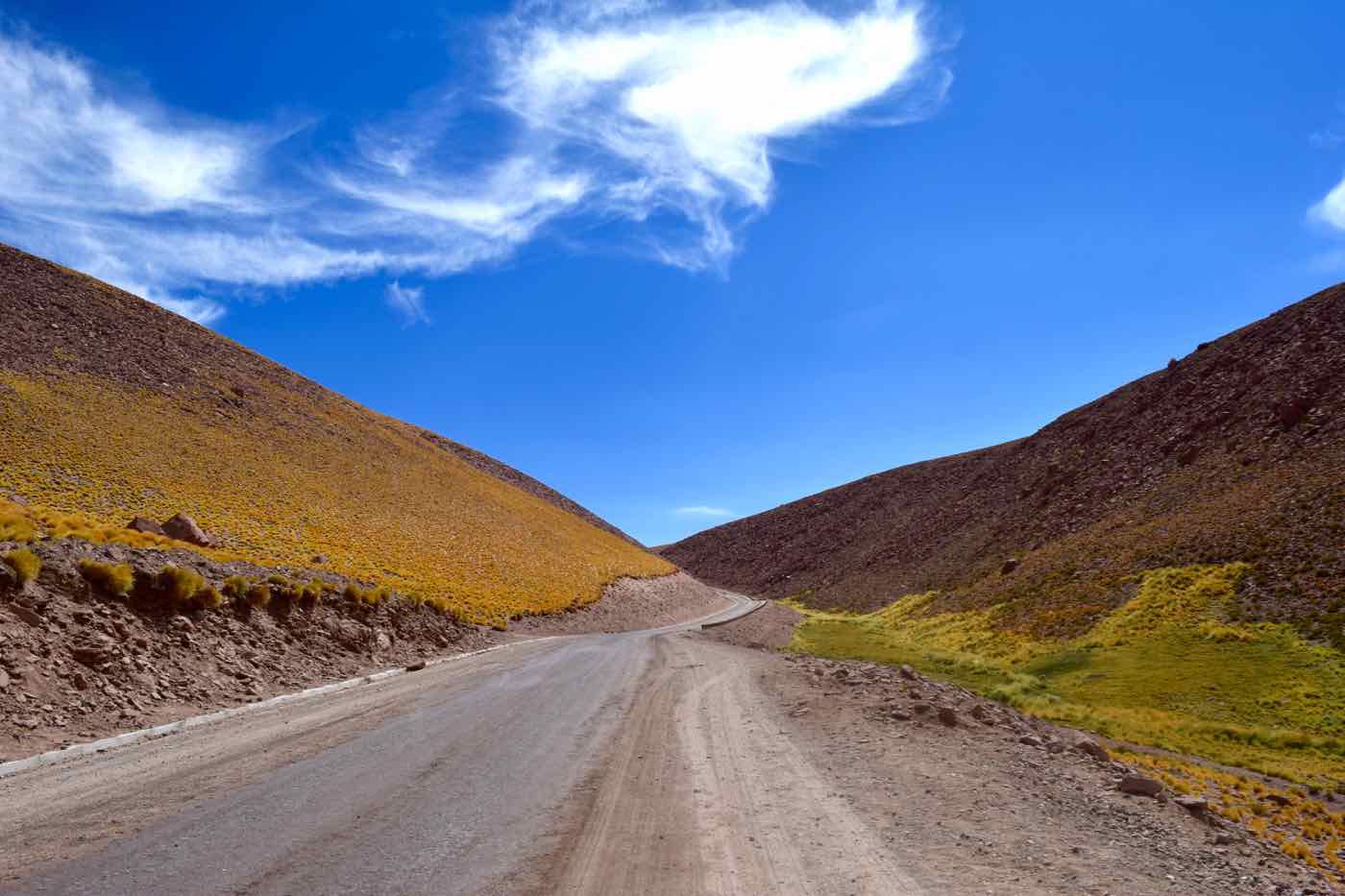 Visiting The Lagoons Near El Tatio Geysers
My favourite view was the mirror-reflection lagoon, surrounded by yellow grass with a backdrop of mountains and volcanoes, and a collection of vicunas grazing (similar to llamas). It was one of those 'wow' moments, I felt so lucky to be standing there!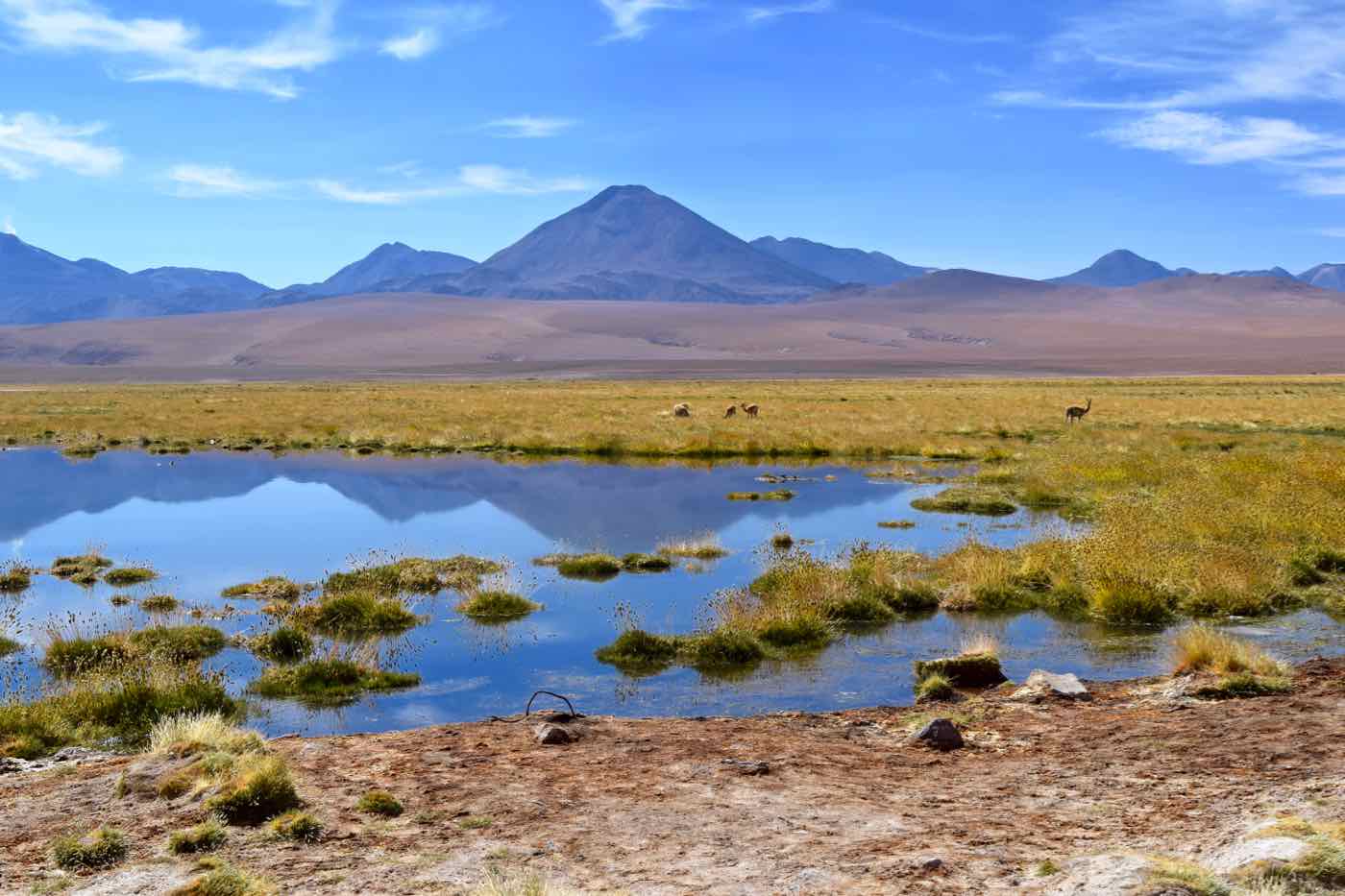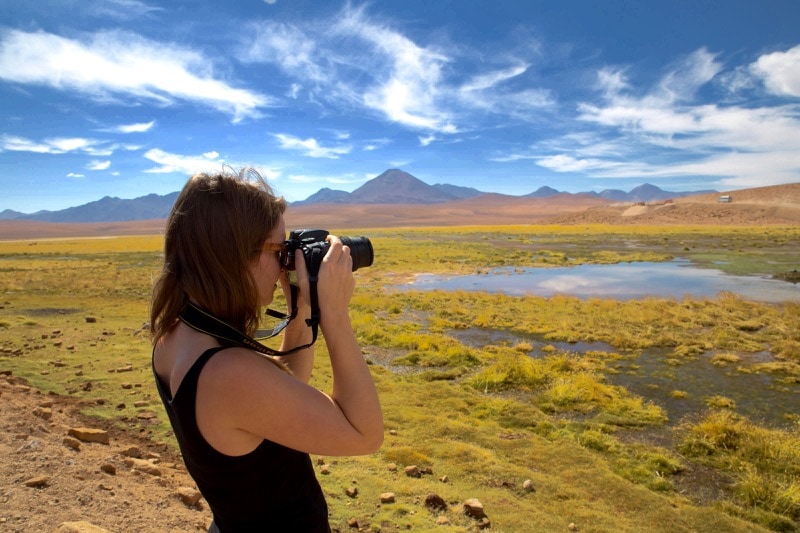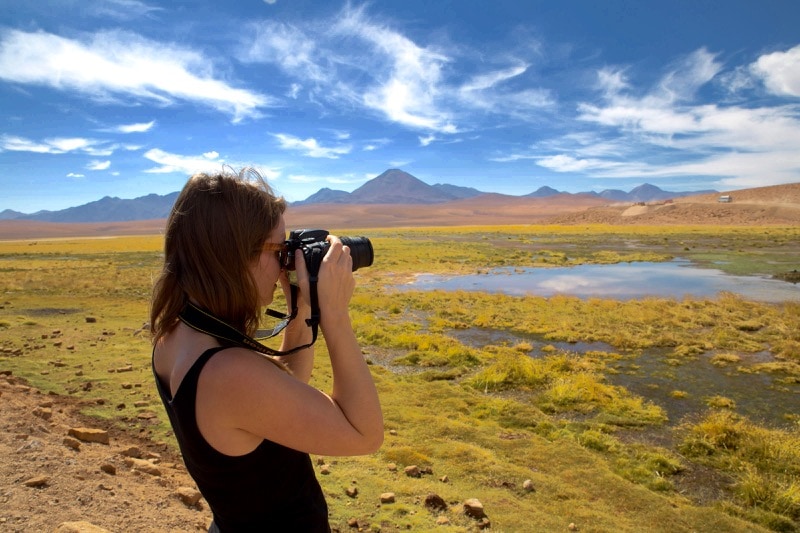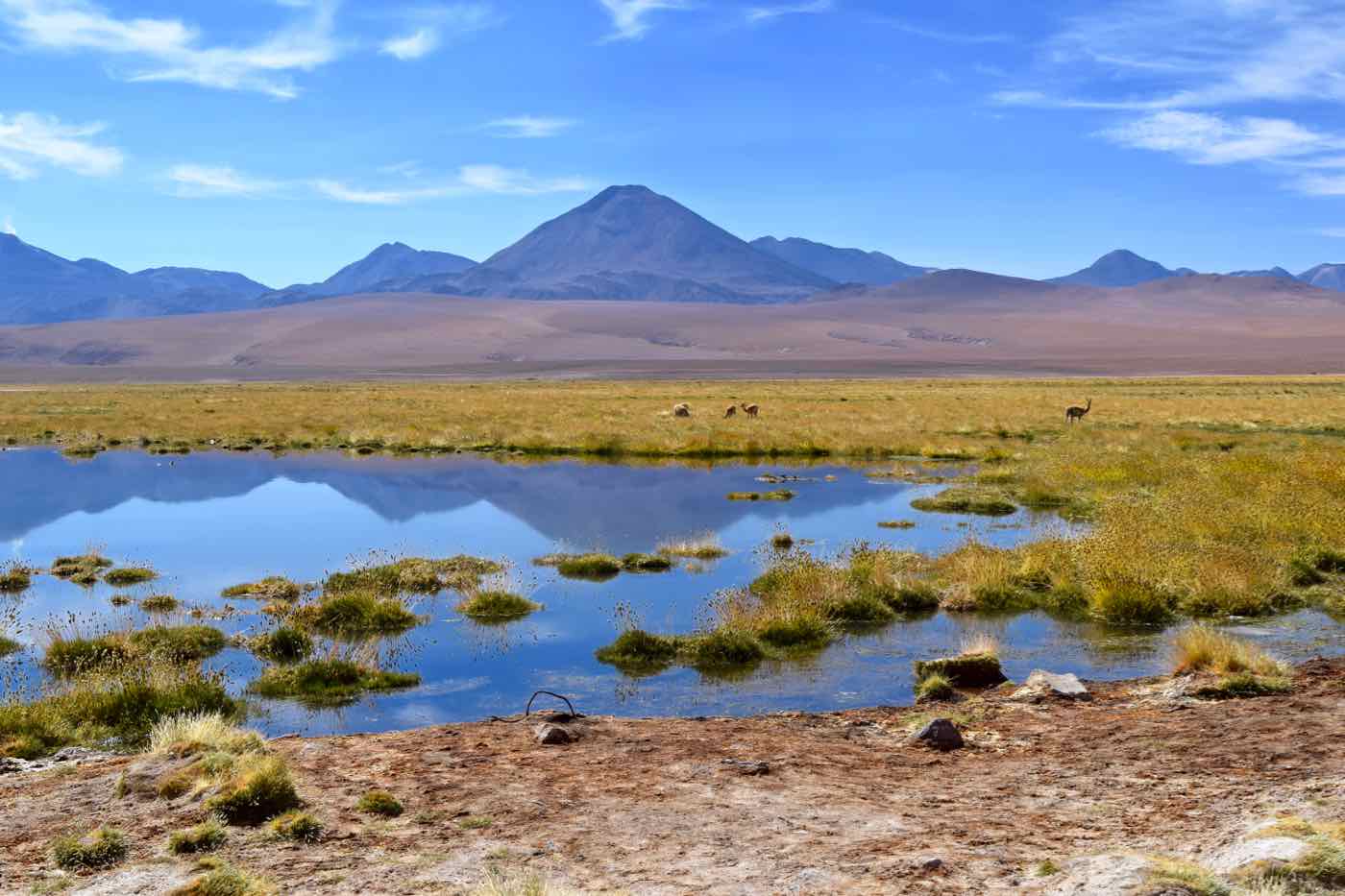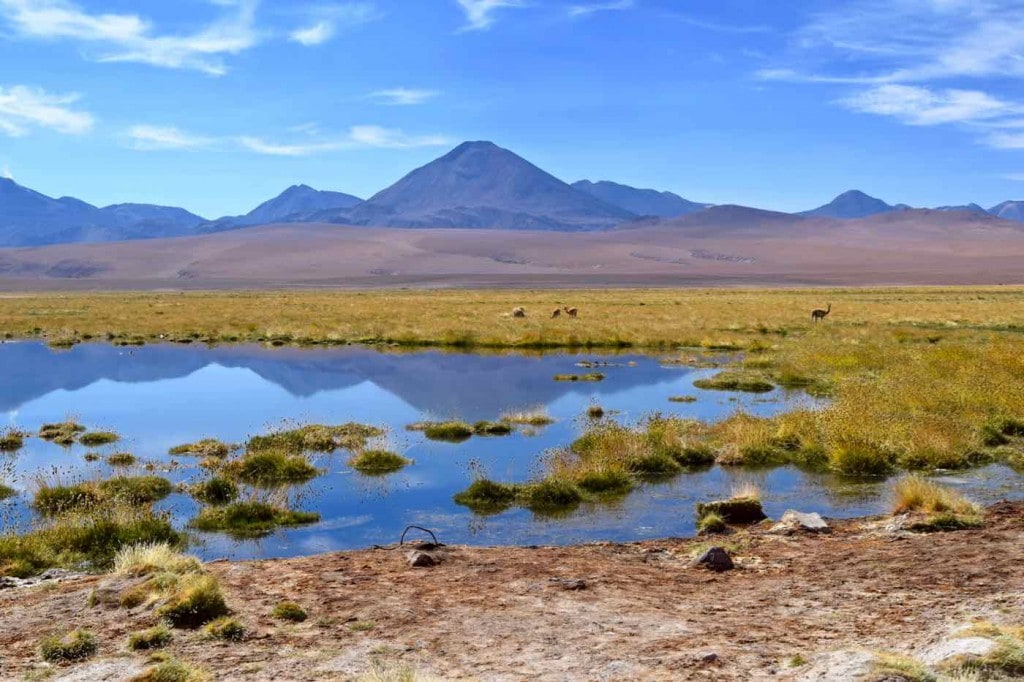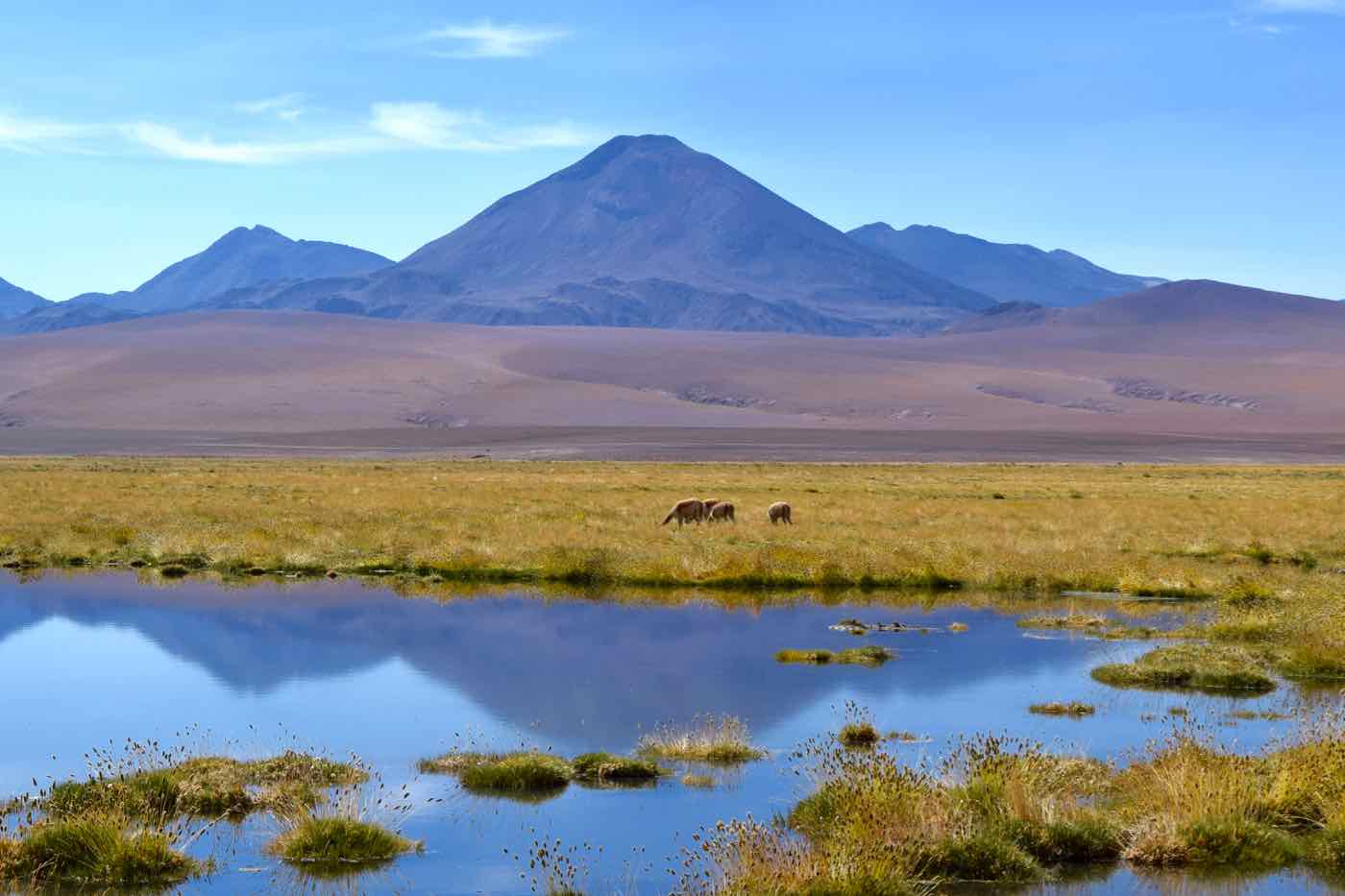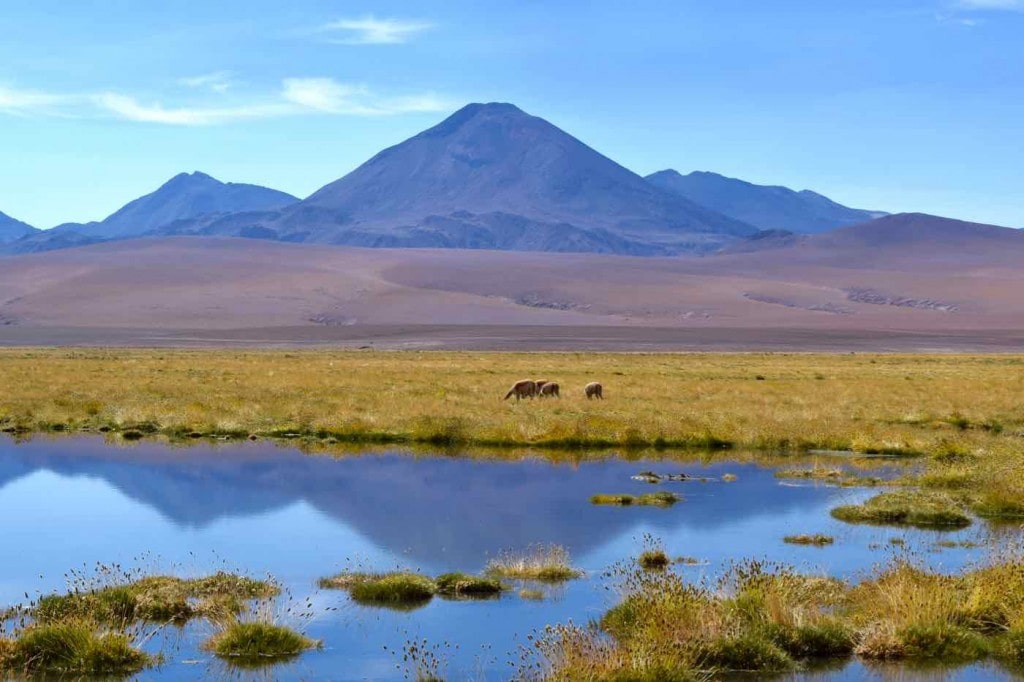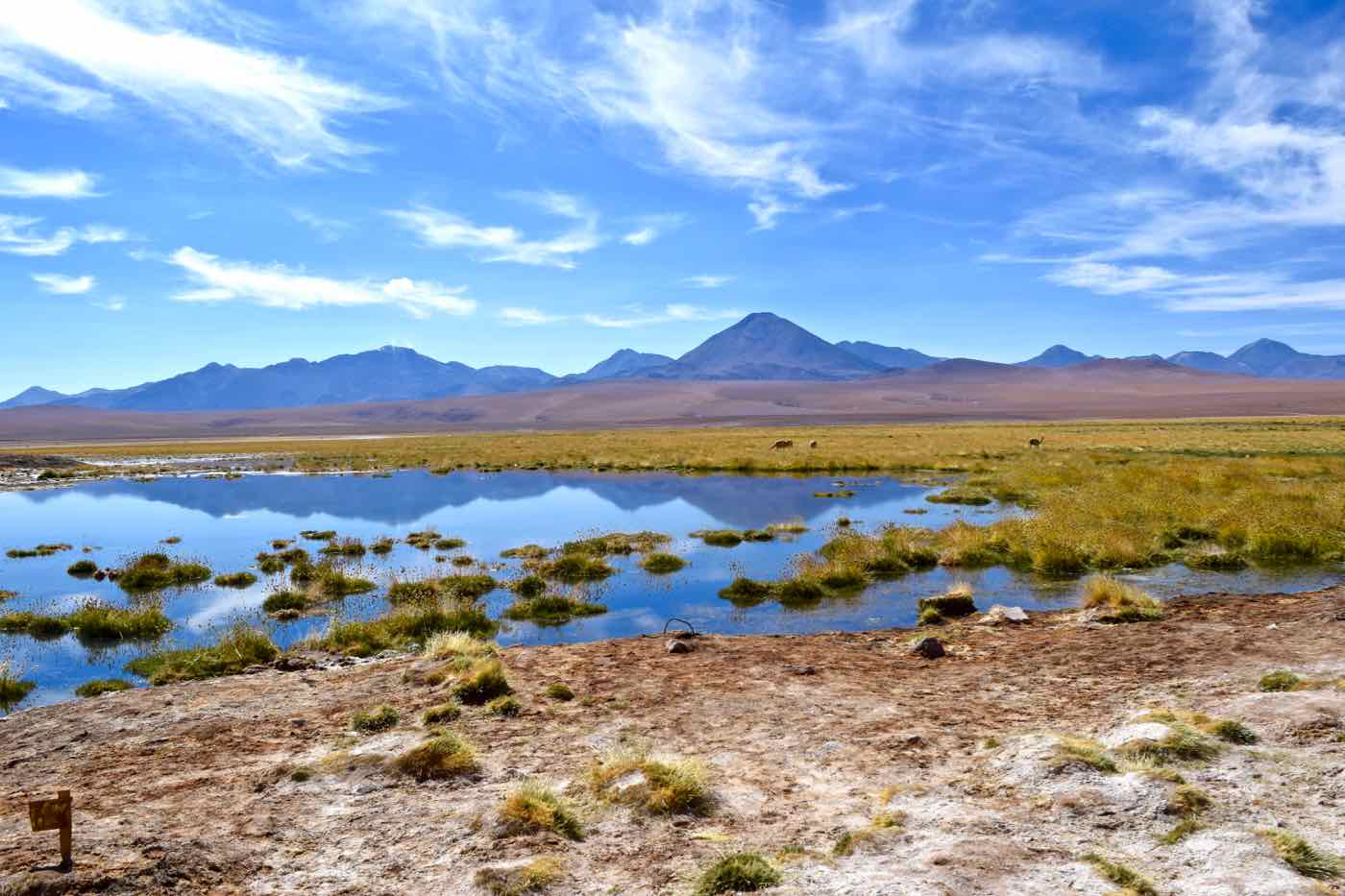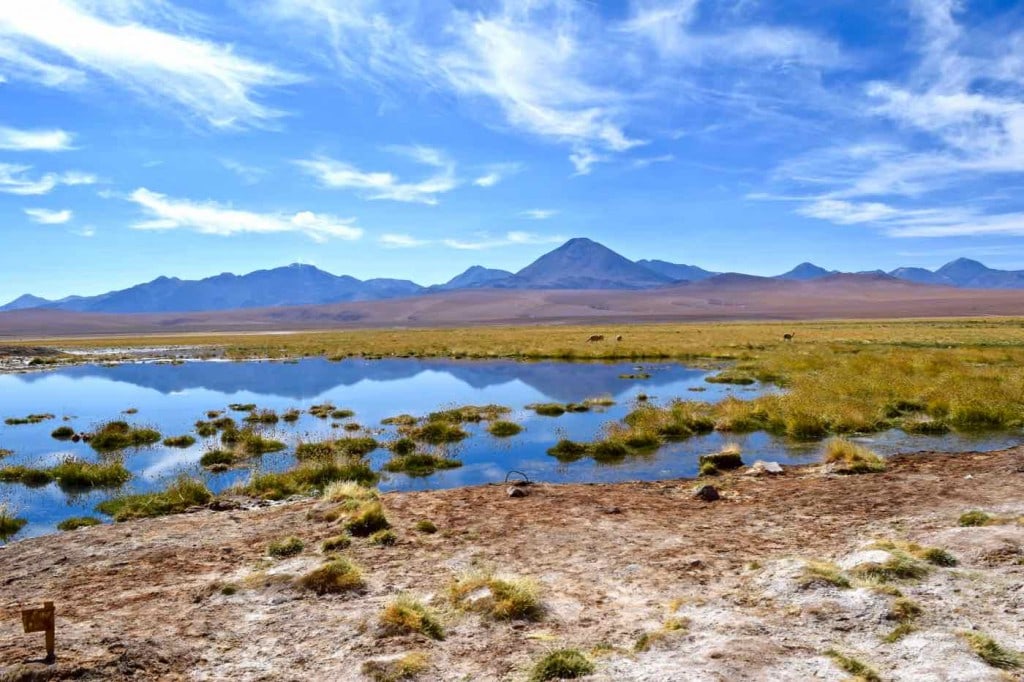 Visiting Machuca After El Tatio Geysers
Our final stop was in Machuca – a small village home to one large family, 20 houses, and a cute little church. The family's main income is from the daily influx of tourists who purchase food and drink – notably the llama kebabs that smelled delicious as they sizzled! The small bungalows made from clay bricks and grass thatch were adorable, and it was a fascinating insight into a simple and traditional way of life.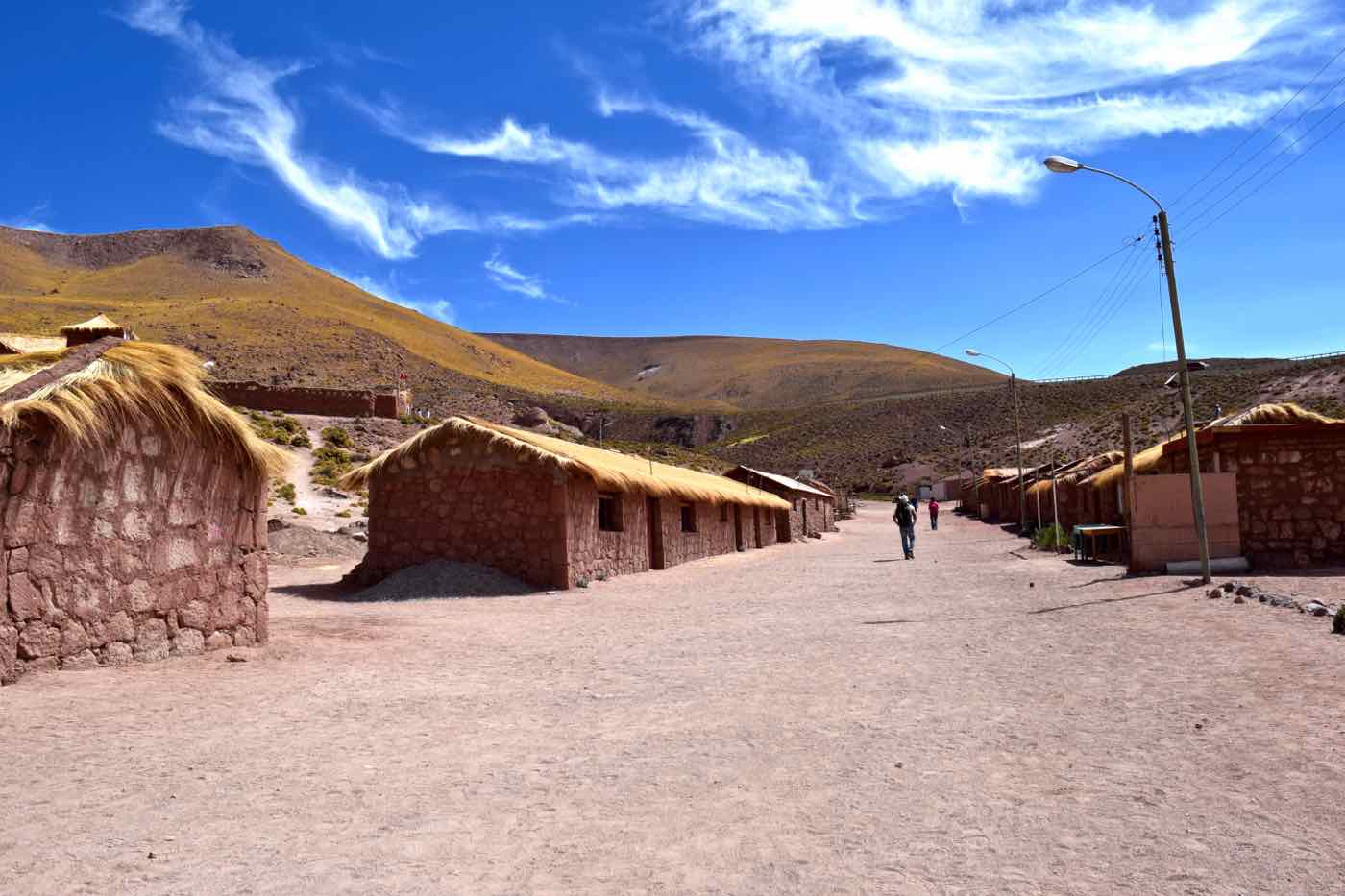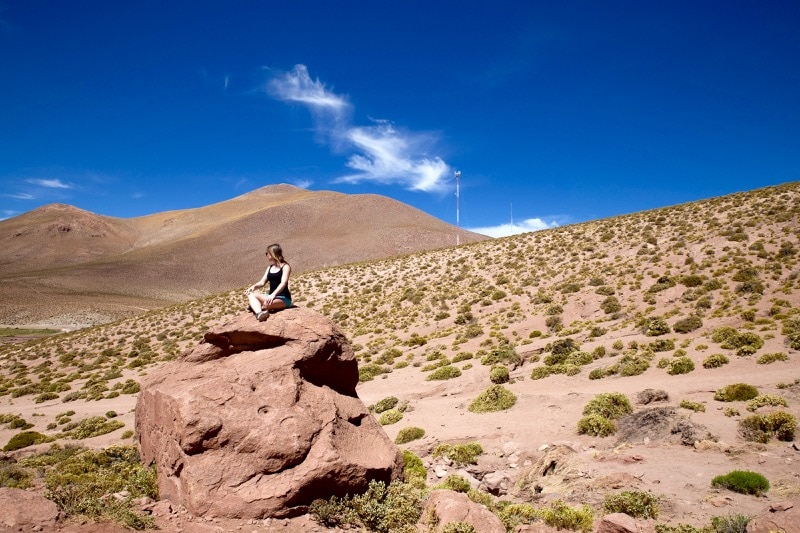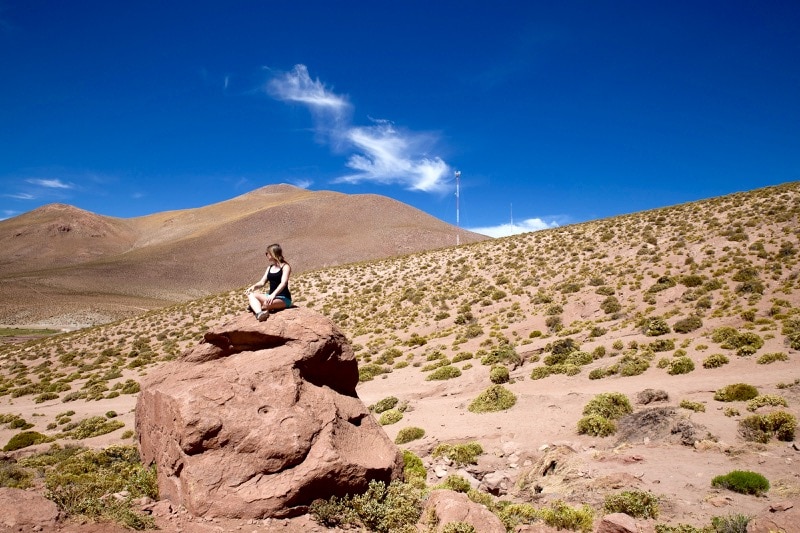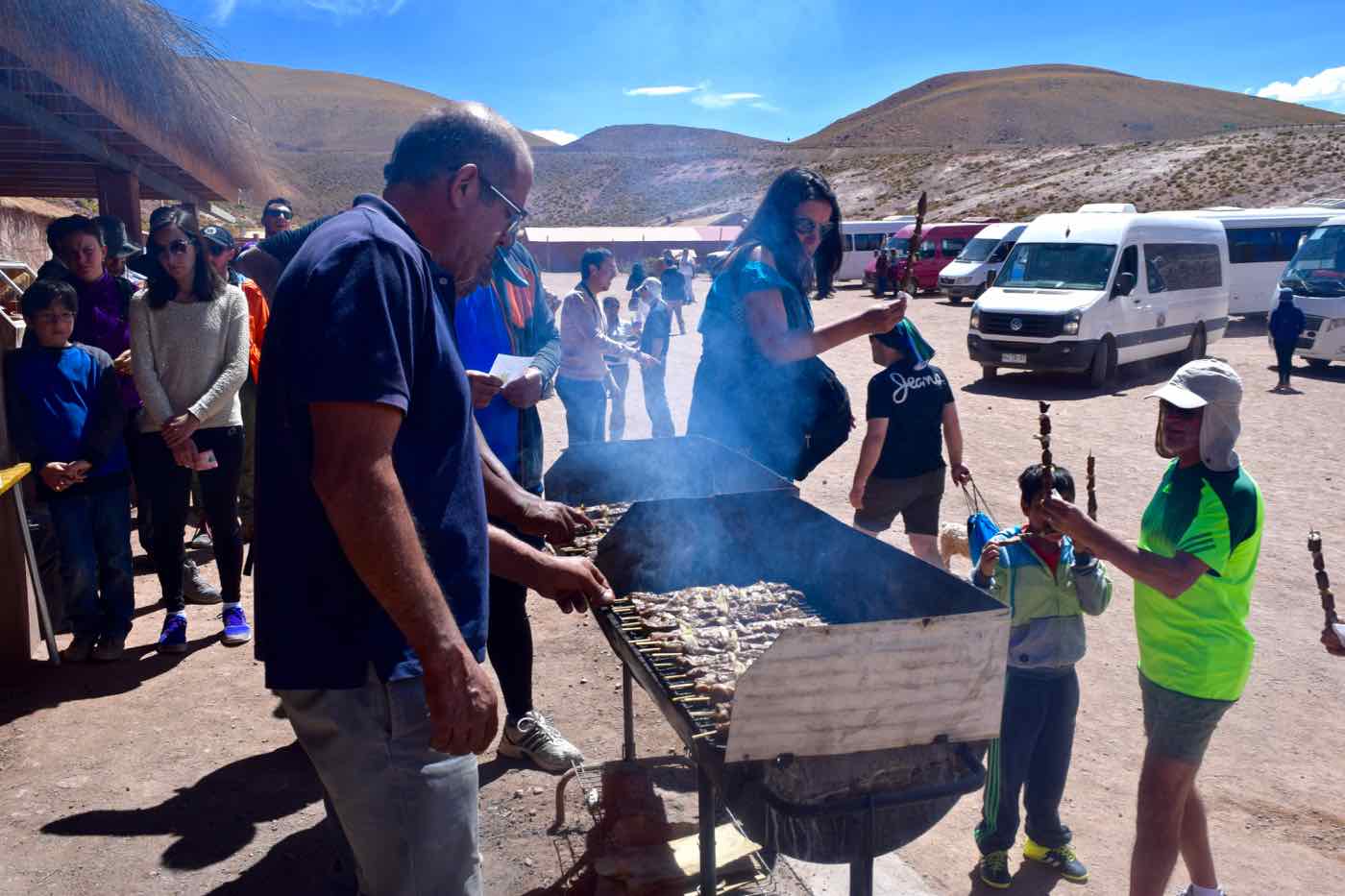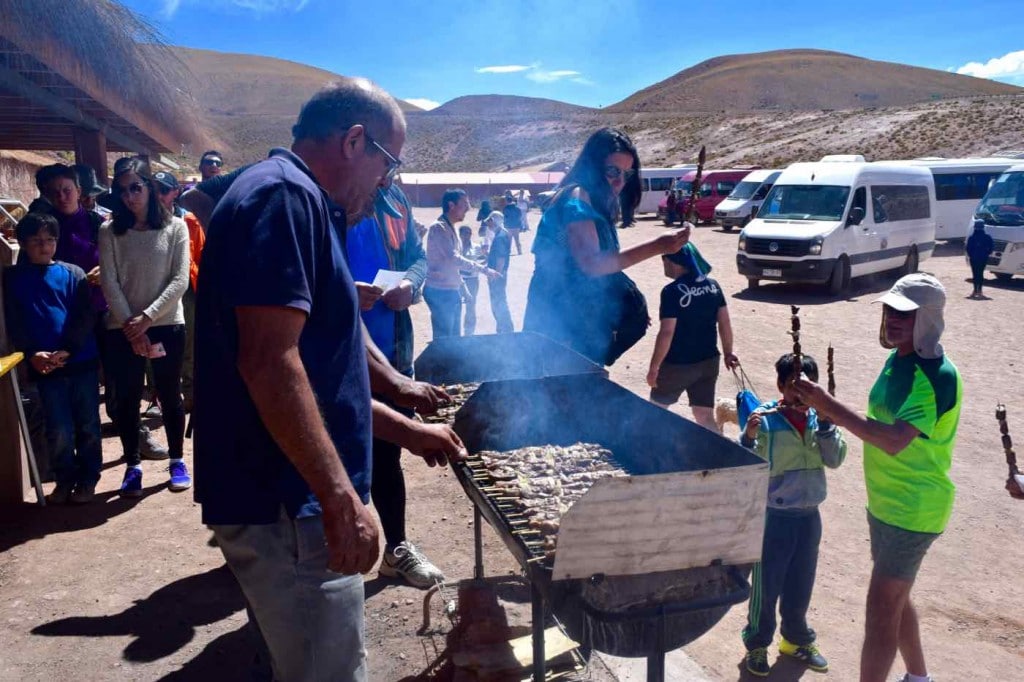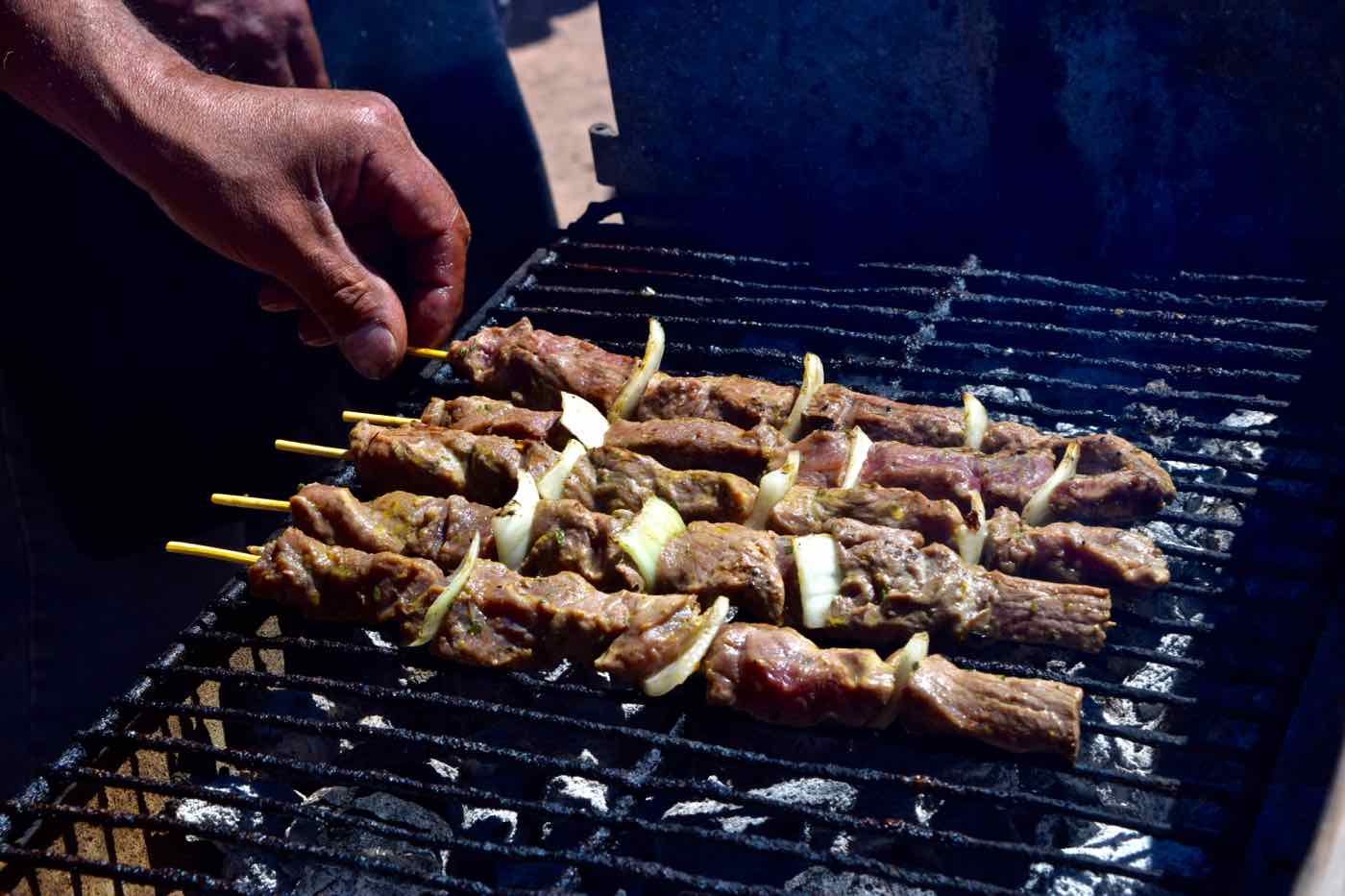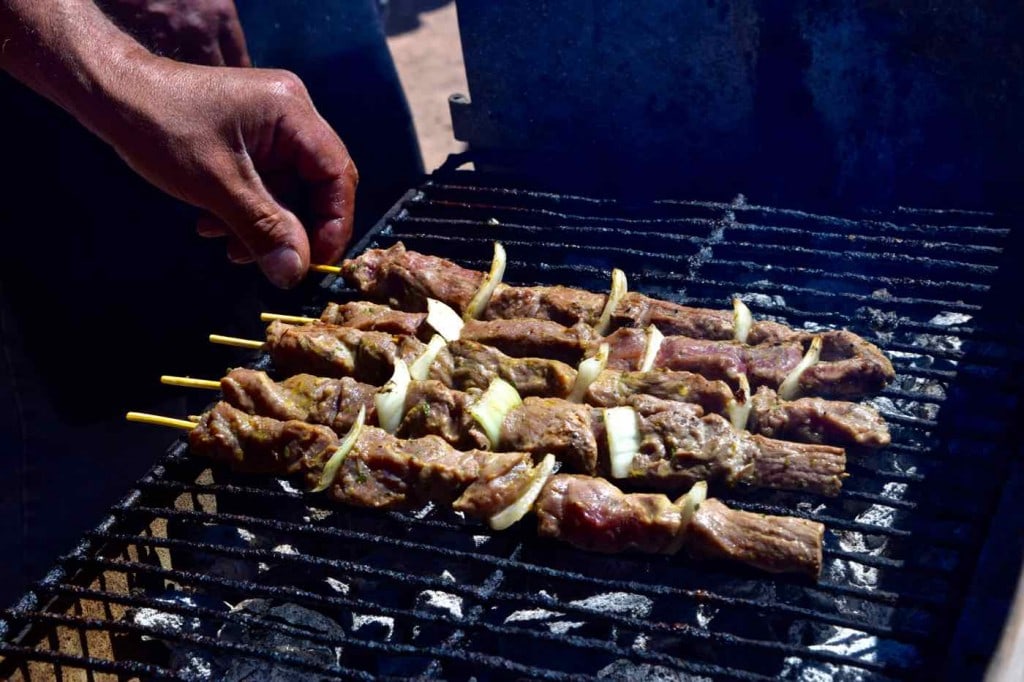 What a magical start to the day… a day that was to become even more magical as it went on, with an afternoon exploring El Valle De La Luna – The Valley of the Moon.
---
6

Top Tips For Your Visit To

El Tatio Geysers, Chile
1. Layer up. Visiting Chile in 'summer' meant I didn't pack any particularly warm clothes – something I really regretted on this tour. Thankfully our tour company were kind enough to loan me a big coat! I'd recommend wearing thermals, a big coat, scarf, gloves and also bring a hat. Make sure you can remove layers easily as it gets really warm once the sun rises.
2. Pack your swimming things. I really enjoyed my dip in the hot springs, so be sure to pack a bikini or trunks and a lightweight towel.
3. Prepare for altitude. At 4320m, El Tatio is at high altitude, and some may struggle. Most tour companies advise guests to go easy on alcohol the night before and eat a light dinner.
4. Get an early night. You'll need all your energy for the early start!
5. Pack a snack and lots of water. You're up for quite a few hours before breakfast is served. Many hotels and hostels in the region will be happy to prepare a take away breakfast if you're leaving early.
6. Make space for lots of photos. It's a photographer's playground, so be sure to have lots of space on your devices so you're ready to get snap happy!
---
If you haven't looked already, I'd recommend reading my guide to taking a tour of El Valle De La Luna too.
Enjoyed this post? Pin it…