Time to share my Europa Park review, and reveal what I really thought of my experience at one of Europe's top theme parks.
I'm fairly sure I landed in Germany earlier today, yet in the last hour or so I've hopped from Spain, to Iceland, to Russia, to Greece. I haven't boarded another flight, but I have been spun around on some of Europe's biggest rollercoasters.
Europa Park, around 45 minutes from Baden Baden Airport, is Europe's second most popular theme park resort (after Disneyland Paris). Over 5 million people visit each year, desperate to try out the latest rides, enjoy the parades and let off some steam. With budget airline Ryanair flying from Stansted to the region, and park entry around two-thirds of the price of Disney (42 Euros rather than 62 for adults), it's a theme park perfect for those on a budget.
Over the course of three days I went on all biggest rides, sampled the food and drink, experienced some of the entertainment, and stayed on site at the Hotel Bell Rock. As I was visiting during the summer season, I even managed to find time for a few hours of pool time! Here's what I thought of my time there.
A Review of Europa-Park, Germany
Where Is Europa-Park, Germany?
Europa-Park is located in Germany, but close to the borders with France and Switzerland, making it very easy to reach. If you're visiting from Strasbourg, Rust, Basel, Stuttgart and Freiburg, then the trip is relatively easy.
If you're travelling by car, the park is just off the A5.
If you're looking at public transport, the best route is to catch the train to Ringsheim, which is 4km from Europa-Park. From there you can take the 7231 bus to the park entrance.
The nearest airport is Baden Baden Airport (just 45 minutes away).
Europa Park, Germany – What's The Concept?
Europa-Park is spit into 15 areas, each representing a different country. The attention to detail is incredible… from the Scandinavian area with fresh fish, fjords and a Norwegian Church (where you can get married), to Italy with a miniature St Mark's Square and pizzeria. Not to mention Spain with a large arena and Holland with picturesque canals. England comes complete with a large scale Globe Theatre, London taxi and bus rides, and of course, a traditional English pub.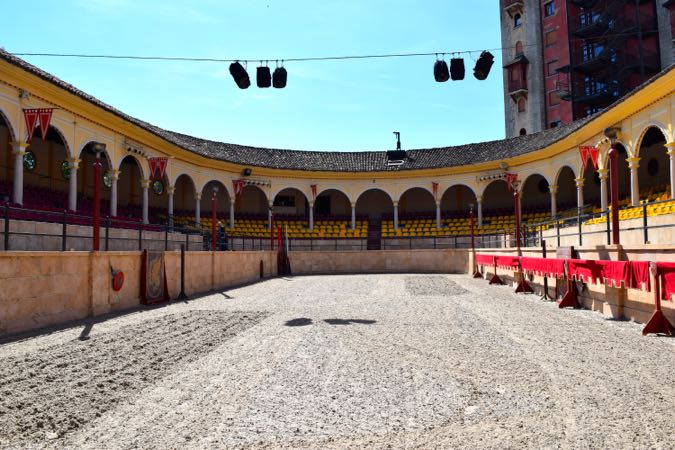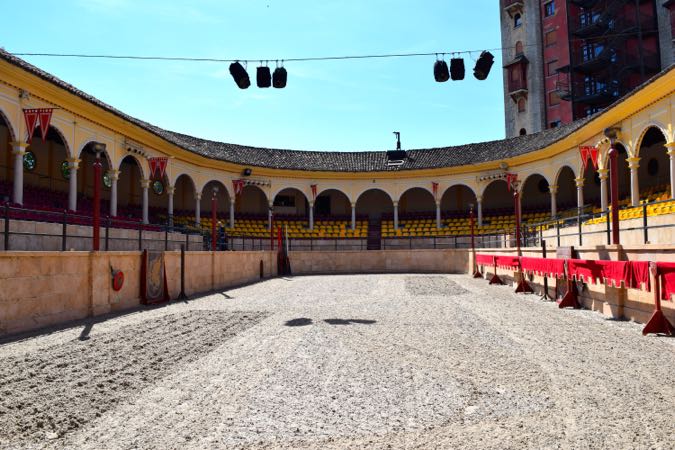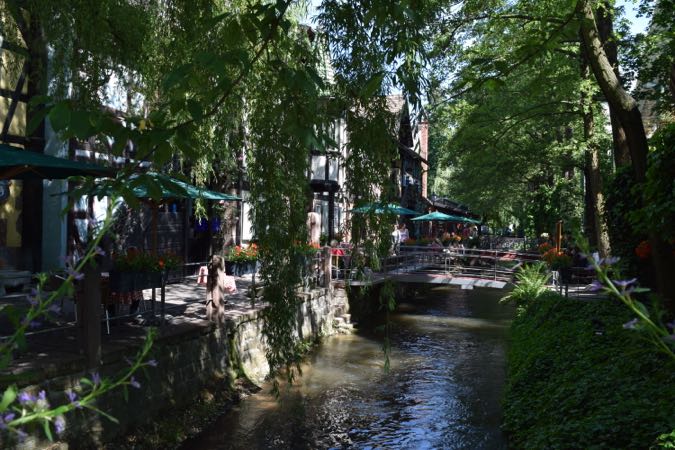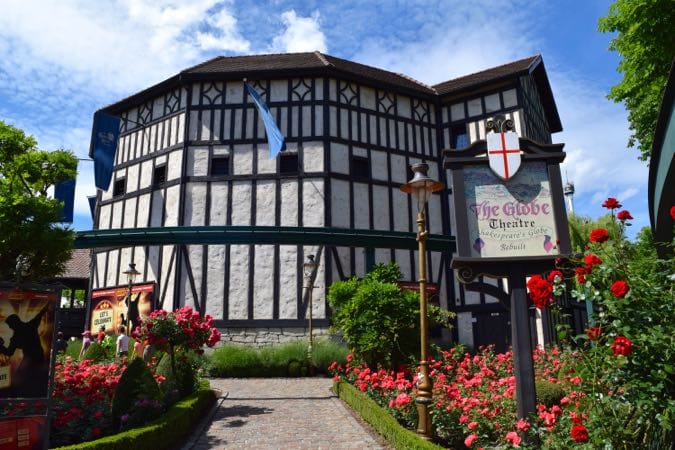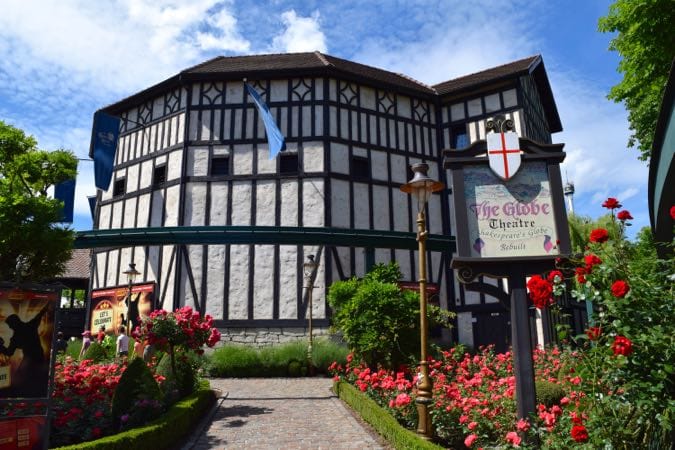 Tell Me More About Europa-Park, Germany
The park caters to the mass market. Children's World is home to merry-go-rounds, small slides and kids boat rides, all perfect for the park's youngest visitors. One of the newest attractions is the Arthur themed area. I particularly enjoyed the relaxed ride through magical scenes from the films – featuring giant ladybirds, wasps, poppies and an incredible neon alley!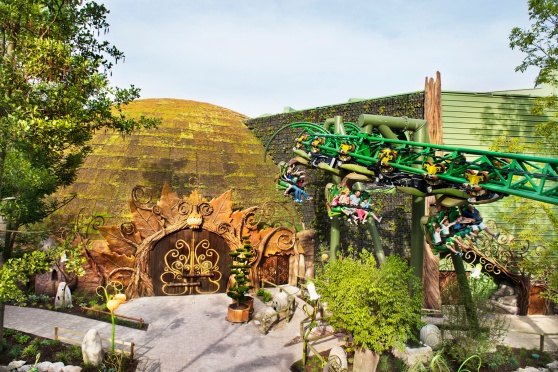 The film showing in the Magic Cinema 4D, while not in English, was still enjoyable, and provided a nice break from the scorching sun. The 360 degree Dome of Dreams was a great after lunch activity. Just crash out on a giant cushion and immerse yourself in the eight-minute film projected onto the dome, which showcases the sights and sounds of Europe.
Then there are the rides for the adrenaline junkies. Wodan is a speedy wooden rollercoaster, which although only built three years ago, gives the feeling of an old coaster like Blackpool's 1923 construction – The Big Dipper.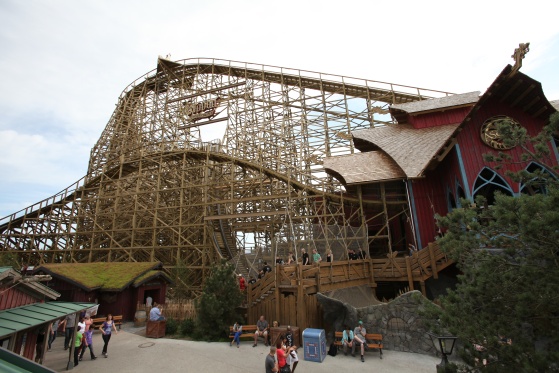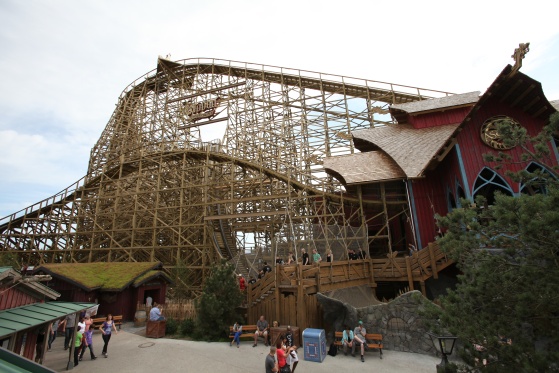 Blue Fire is a launch rollercoaster with several loops and top speeds around 100km/h. It features inbuilt camera technology filming you as you fly through the air.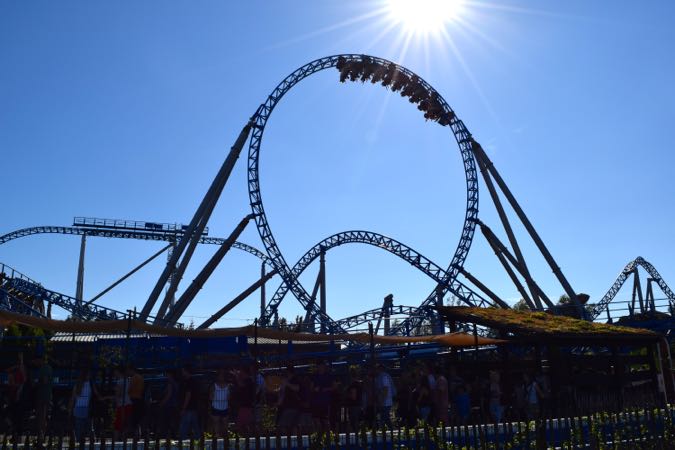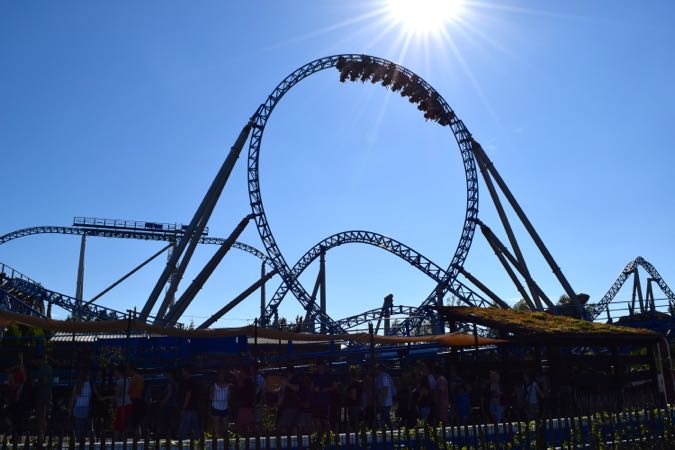 And then there's Silver Star. The park's biggest rollercoaster has top speeds of 127 km/h, vertigo-inducing heights of 73m and a G Force of 4. Oh and it's so good I went on it twice.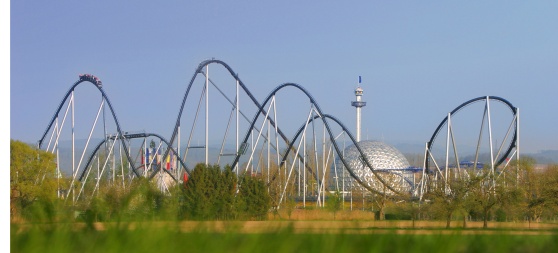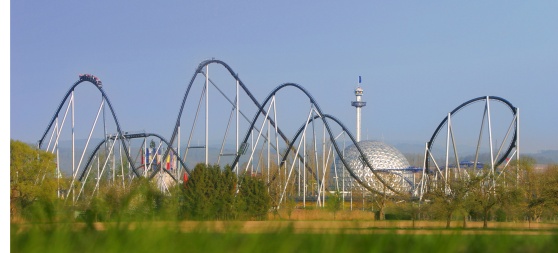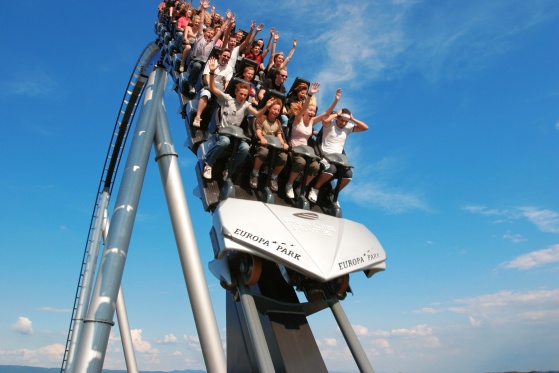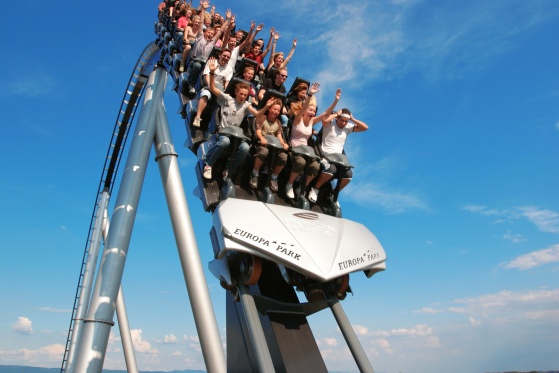 Europa-Park Entertainment
In addition to the rides, there are several types of entertainment on offer – from Flamenco to high diving to my personal highlight – the spectacular ice show. Gymnasts, dancers and ex-professional skaters perform three times a day in the Greek-themed ice show. The highlight was an impressive strength routine performed by two gymnasts.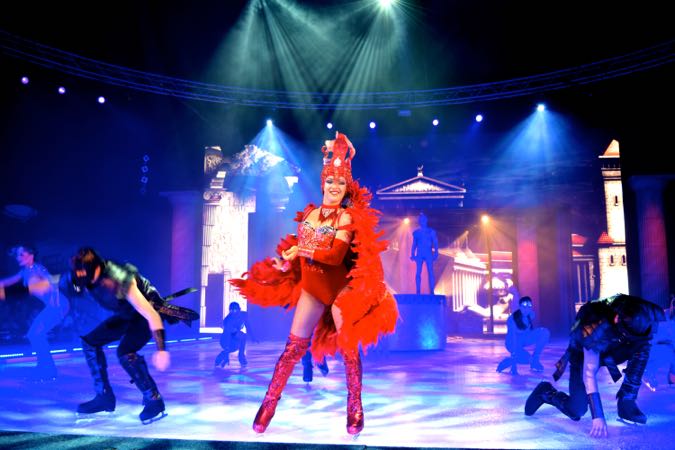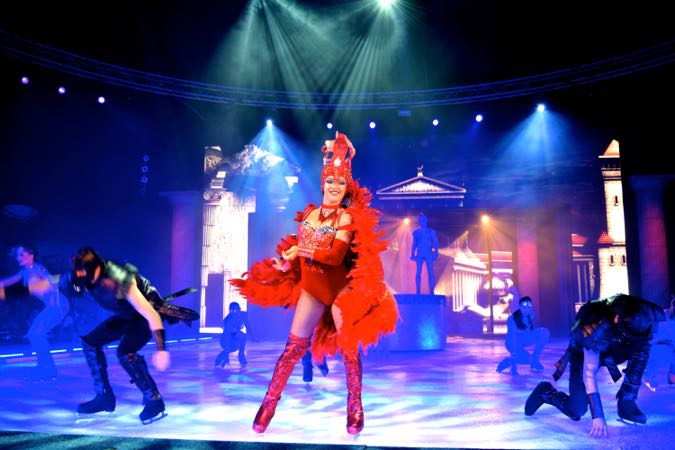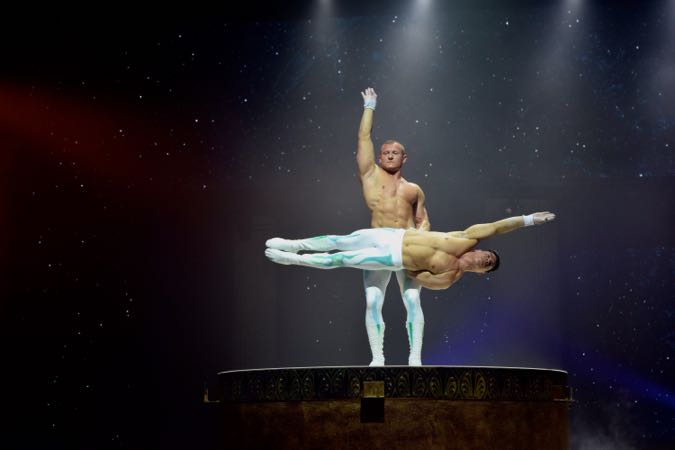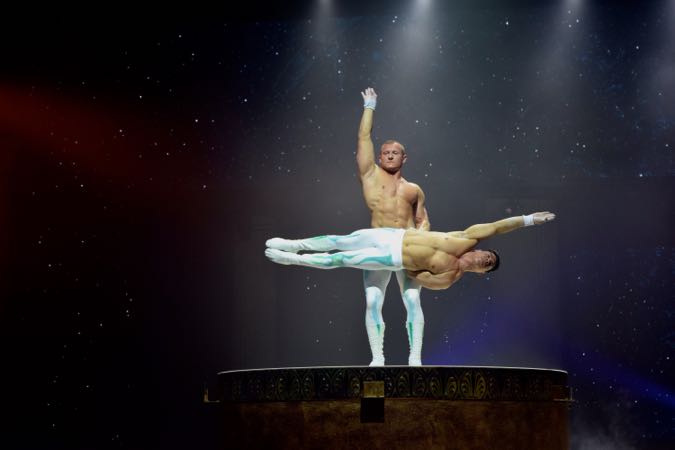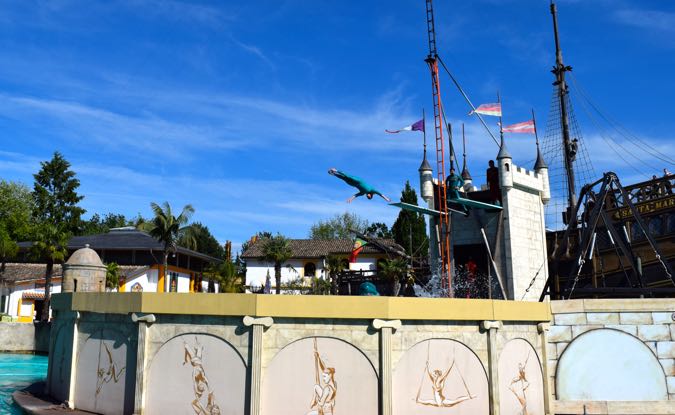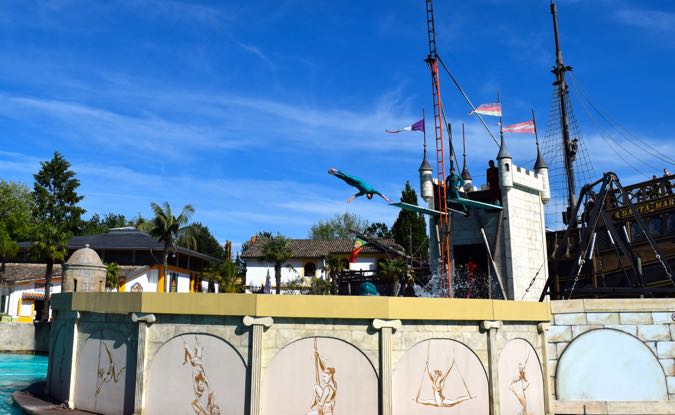 Europa-Park Gardens
There is another, rather unexpected aspect to the park – the beauty. Extensive manicured gardens (including a large rose garden) cover one area, a huge lake dominates the central section, and you're never more than a few metres from picturesque fountains or beautiful trees (after all you are in the heart of the Black Forest!) With a team of 70 gardeners servicing the park, you're unlikely to see a single branch out of place.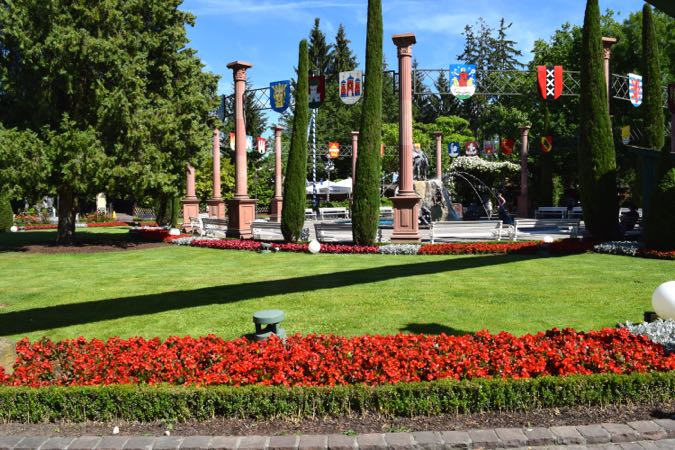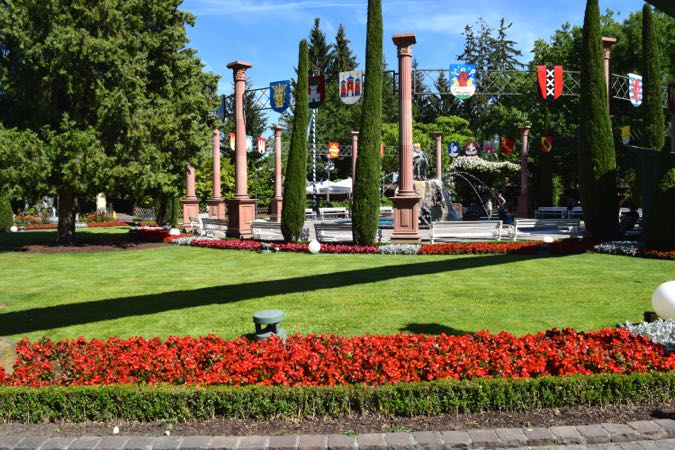 Europa-Park Water Rides
Perhaps naïve, I wasn't aware of Germany's high temperatures. During my visit in June, it was around 30 degrees during the day. The best way to cool down – water rides, and at Europa Park there are plenty. Poseidon Water Coaster meanders around the Greek area, Atlantica Super Splash creates a refreshing spray in Portugal and the Fjord Rafting guarantees a good soaking in Scandinavia… or at least it did in the seat I picked!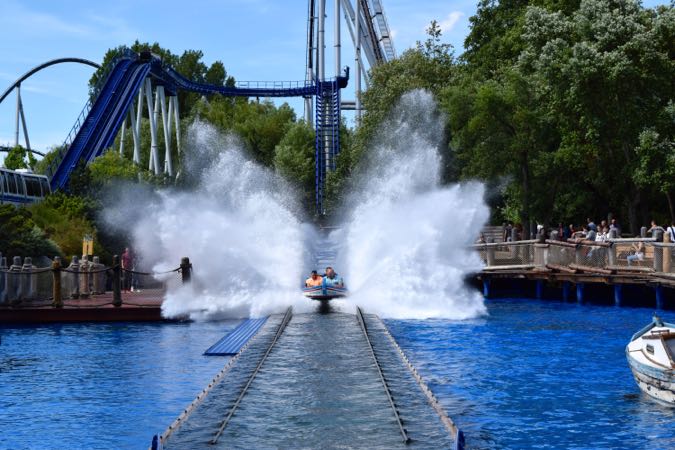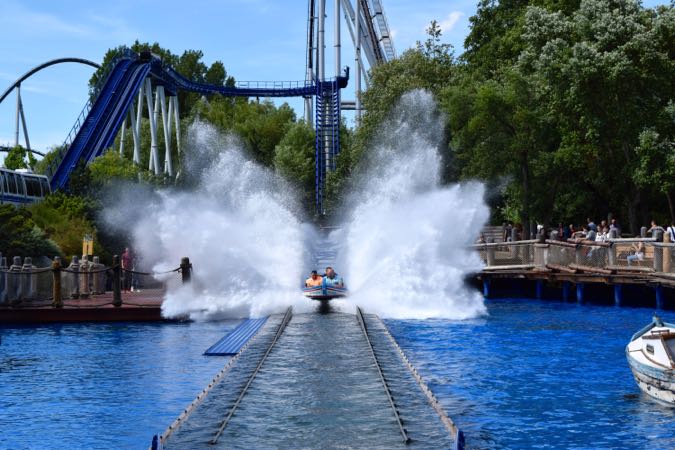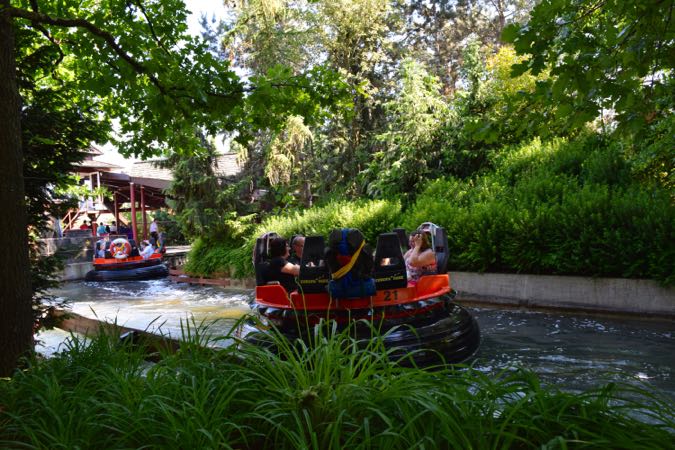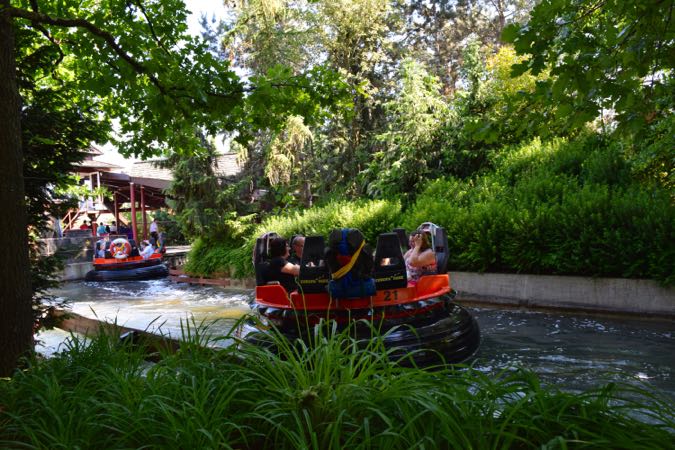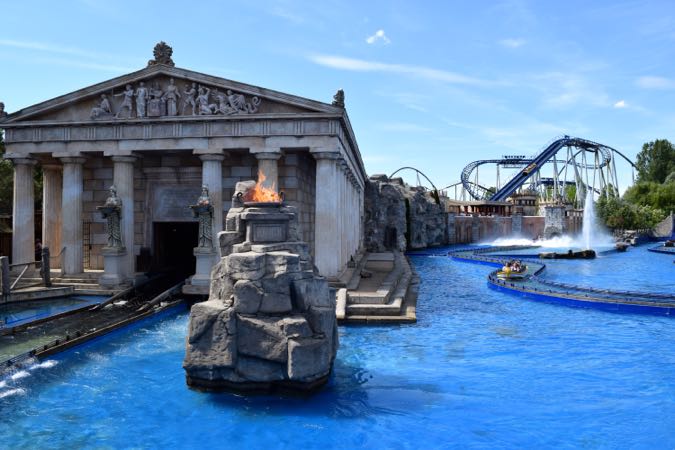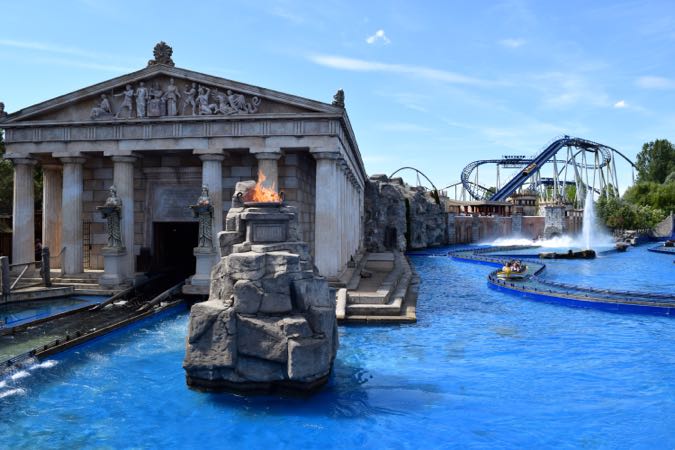 Europa-Park VR Technology
During my visit, I was offered the chance to test out the next generation in rollercoaster technology. While not available to the public yet, Europa Park is trialling the use of virtual reality headsets worn on rollercoasters. I put it to the test on Enzian – one of the smaller mine trains. Wearing the headset gave the thrill and feeling of being on a real coaster as opposed to a simulator, but with a more creative landscape to travel through. This virtual reality animation featured the park's mascot Euromaus and his elephant friend escaping on a train, with parts of the track missing… Cue – flying through the air, crashing through rocks, and facing a dragon!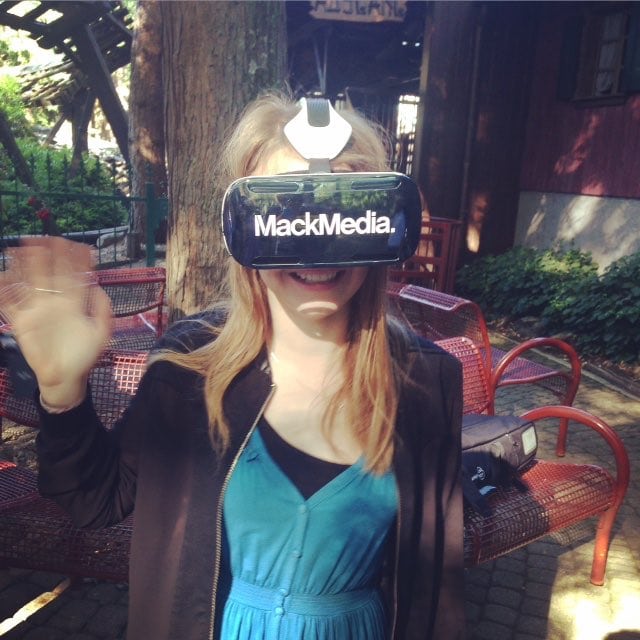 My verdict – it really works! It's a great buzz, something new for an adrenaline veteran like me, and for anyone familiar with the original ride, it takes it to a new level. I look forward to being it rolled out internationally.
Europa-Park – Restaurants, Cafes, Fast Food and More
I had come to the conclusion that theme parks go hand in hand with low quality fast food. Time for another pleasant surprise. With 53 eateries across the park including Castle Balthasar (local cuisine served in the grounds of the 500 year old castle), Food Loop (where your meal is delivered on a mini rollercoaster track) and Don Quichotte (Spanish cuisine including tapas and skewers freshly grilled on the lava stone), there is plenty to keep a gourmet food lover like me happy.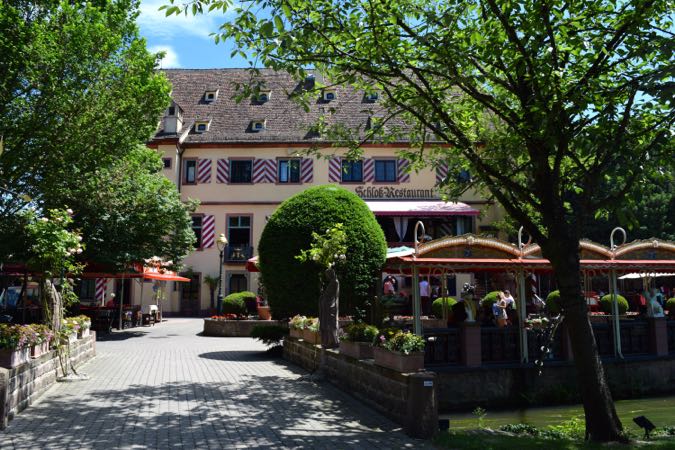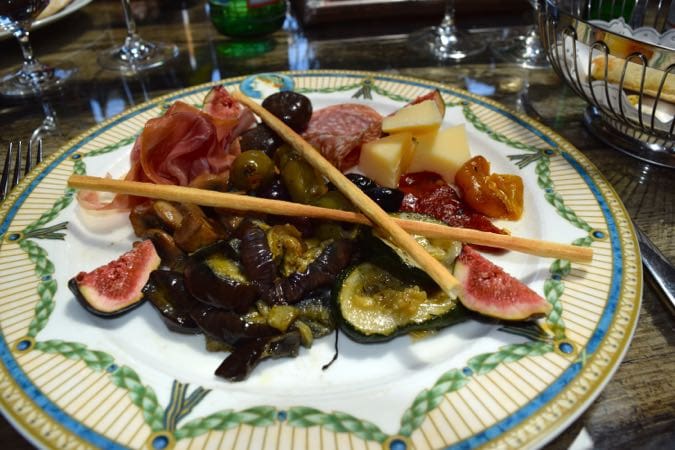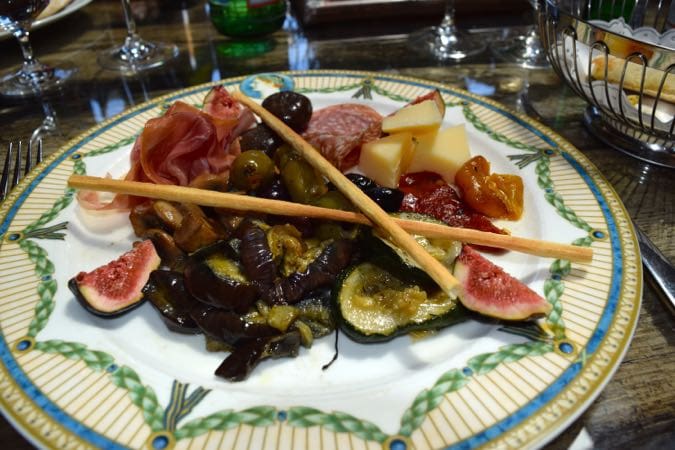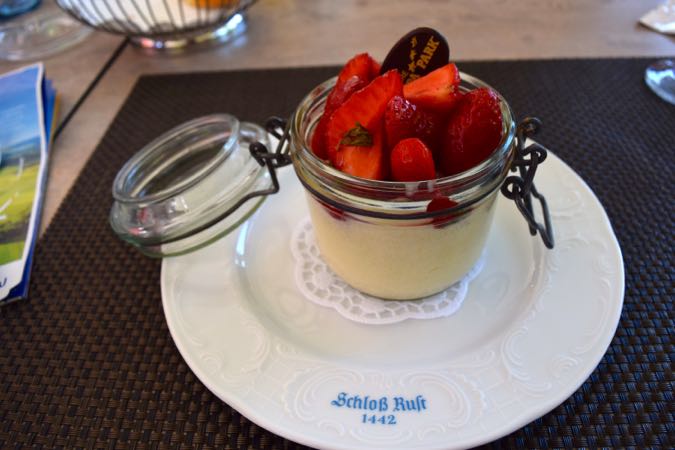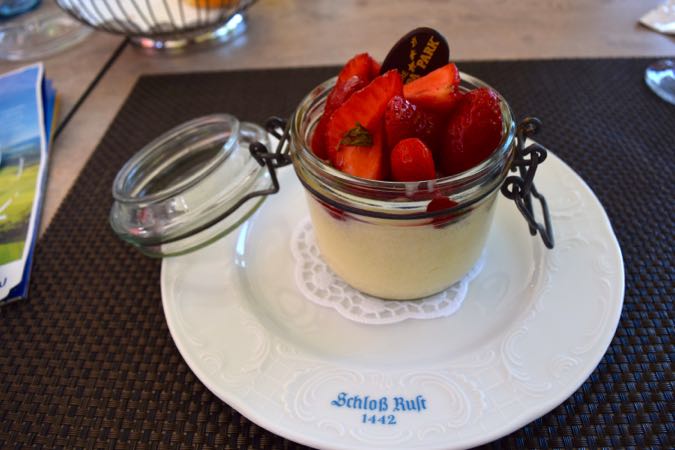 Europa-Park – The Hotels
In order to experience everything the park has to offer, I would suggest a two-day visit, with a stay at one of the on-site accommodation options. They cater to all requirements and budgets, from luxury hotels with pools and restaurants, to camping areas, tepees and log cabins. I enjoyed my stay at Hotel Bell Rock. My room was large (with an amazing bunk bed in the shape of boats – perfect for kids!) and the food at the hotel was excellent. It was also lovely to spend time by the pool there.
Europa Park has just opened a huge new resort. 4-star hotel 'KRØNASÅR – THE MUSEUM-HOTEL' has over 300 rooms and suites, along with several places to eat, including fine dining restaurant Tre Krønen. I'm keen to stay here next time and see what it's like!
Europa-Park Review
Unlike many theme parks where I've felt everything was commercially focused, there was a warmth to Europa Park, which I think stems from the fact it is a family business. The Mack family have worked in production since 1780 – when Paul Mack started building carriages and mobile stages for circuses. In 1975, the family opened the park, and while 40 years on there is a new generation running it, you can see they are proud of this heritage.
It's always disappointing when I remember I'm an adult. It's rare I feel entirely carefree. At the back of my mind are boring matters of tax returns and dentist appointments. During my three days at Europa Park I felt totally away from the daily grind… perhaps it was the weather, but I think it was the quality of my experience in the park!
To find out more about Europa Park, click here.