I delve into the world of beignets, po' boys, gumbo, mufulettas and crawfish and tell you about all the amazing foods to try in New Orleans – one of the food capitals of the world!
Last month I jetted off to New Orleans, Louisiana for a week of unforgettable food experiences. I was there to shoot a video for Lonely Planet and Three, all about the city's food scene. I've always found the best way to get to know a place is by delving into the cuisine – it's totally intertwined with the history and culture of a place.
It would be hard to find somewhere that this is truer of than New Orleans… or N'awlins as the locals pronounced it. It's a multi-cultural melting pot with French, Southern, Cajun, Creole, Caribbean, African, and Spanish influences creating a wonderfully diverse menu. Plus, it's in a great location for seafood and shellfish.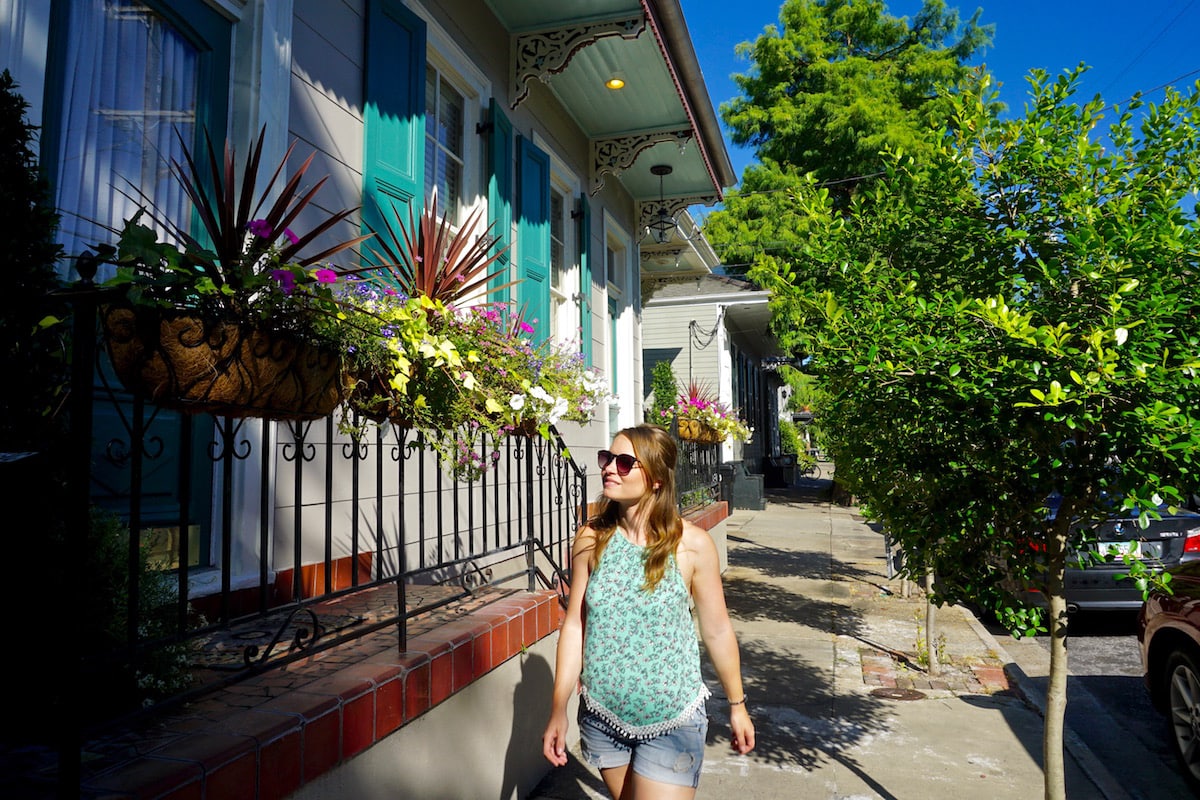 Although the primary purpose for my visit was to munch my way around the region, I had plenty of other reasons to be excited. New Orleans was somewhere I'd grown up dreaming of visiting. I adore music and was desperate to visit some of the famous jazz clubs. I'd seen endless pictures of the colourful streets and beautiful architecture, plus heard all about the legendary nightlife along Bourbon Street!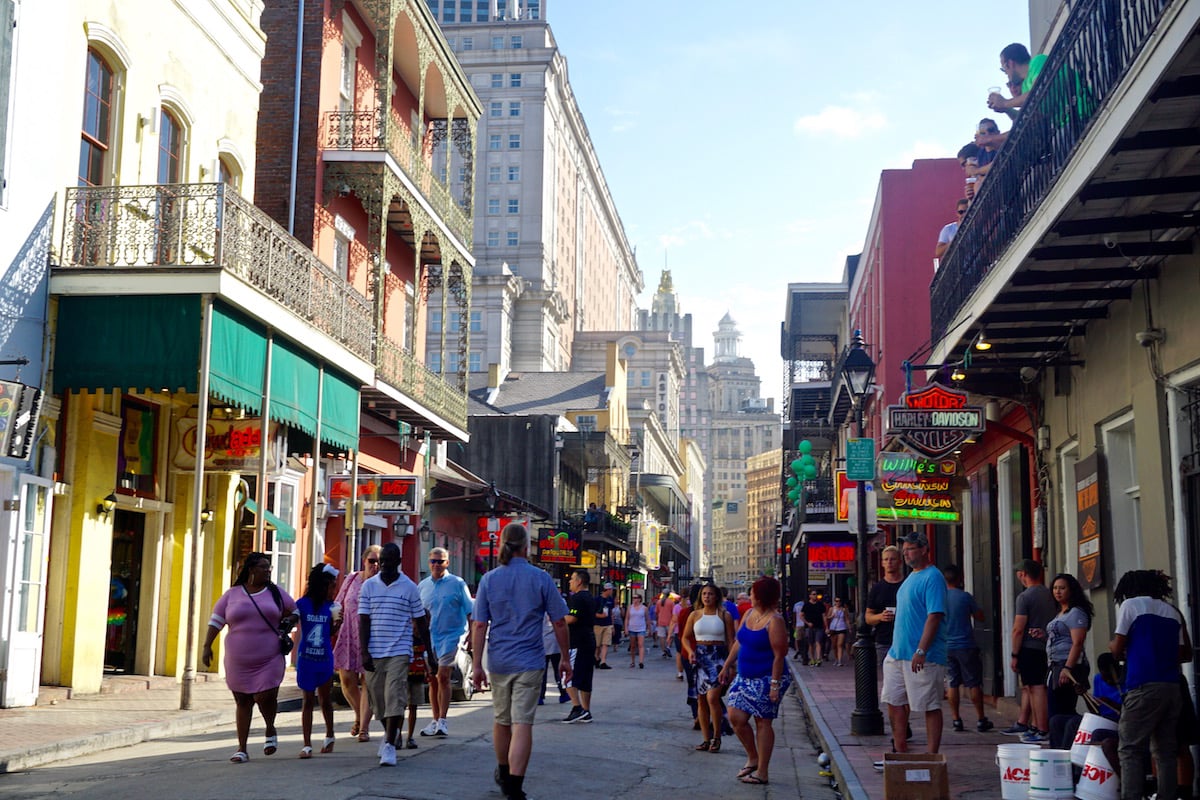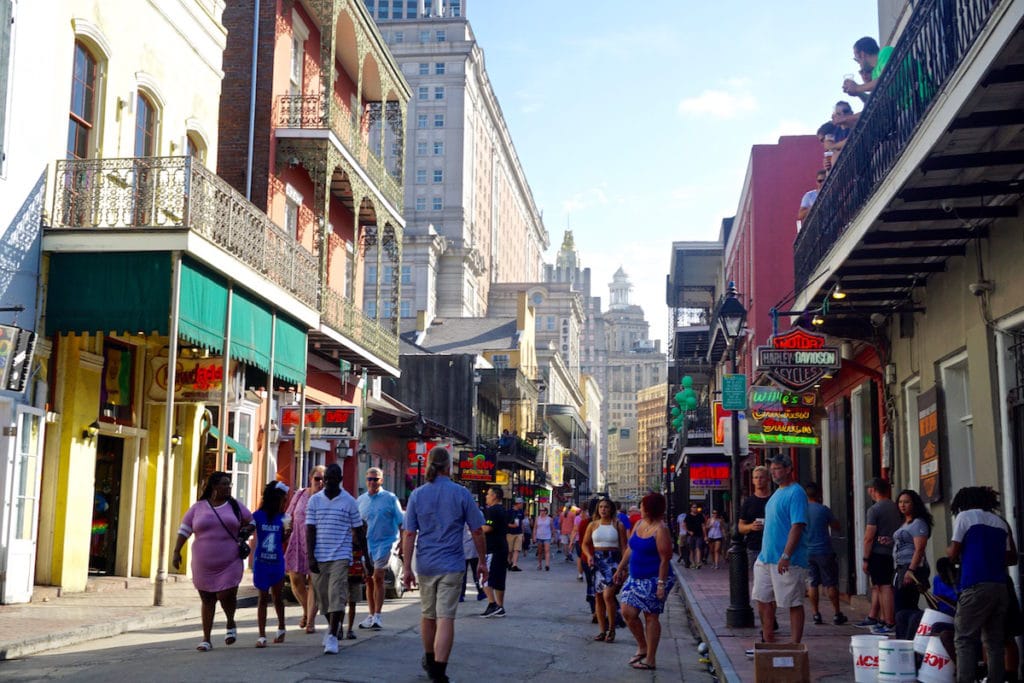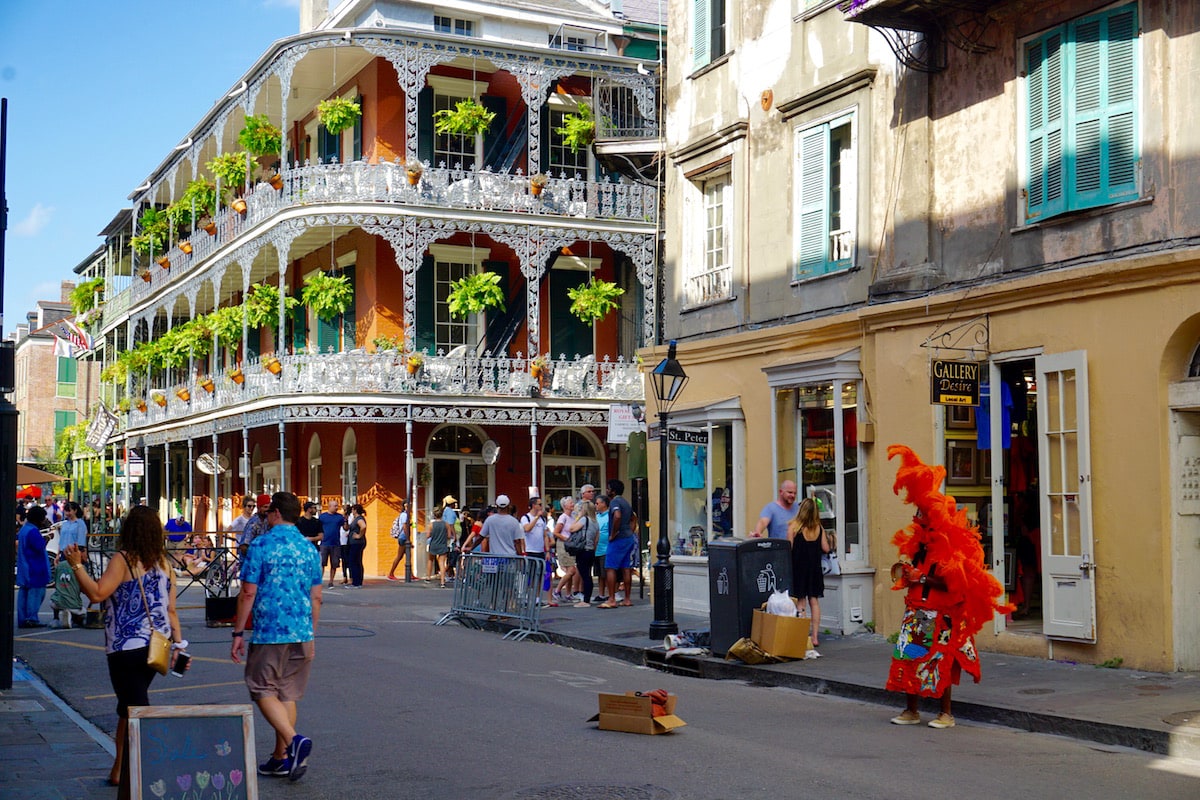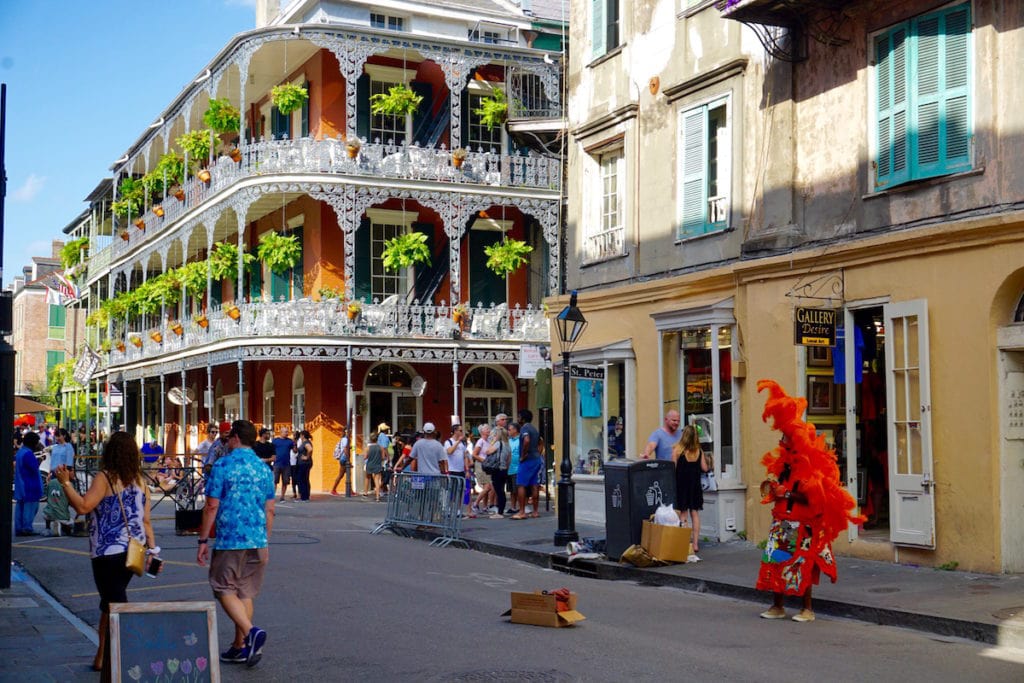 My New Orleans bucket list was long! I wanted to hop on a steamboat on the Mississippi, see some amazing jazz musicians, walk the pretty streets, ride the streetcar, explore the French Market, party on Bourbon Street, eat beignets, crawfish and gumbo and plenty more. All in all, I was ready for my New Orleans love affair to begin!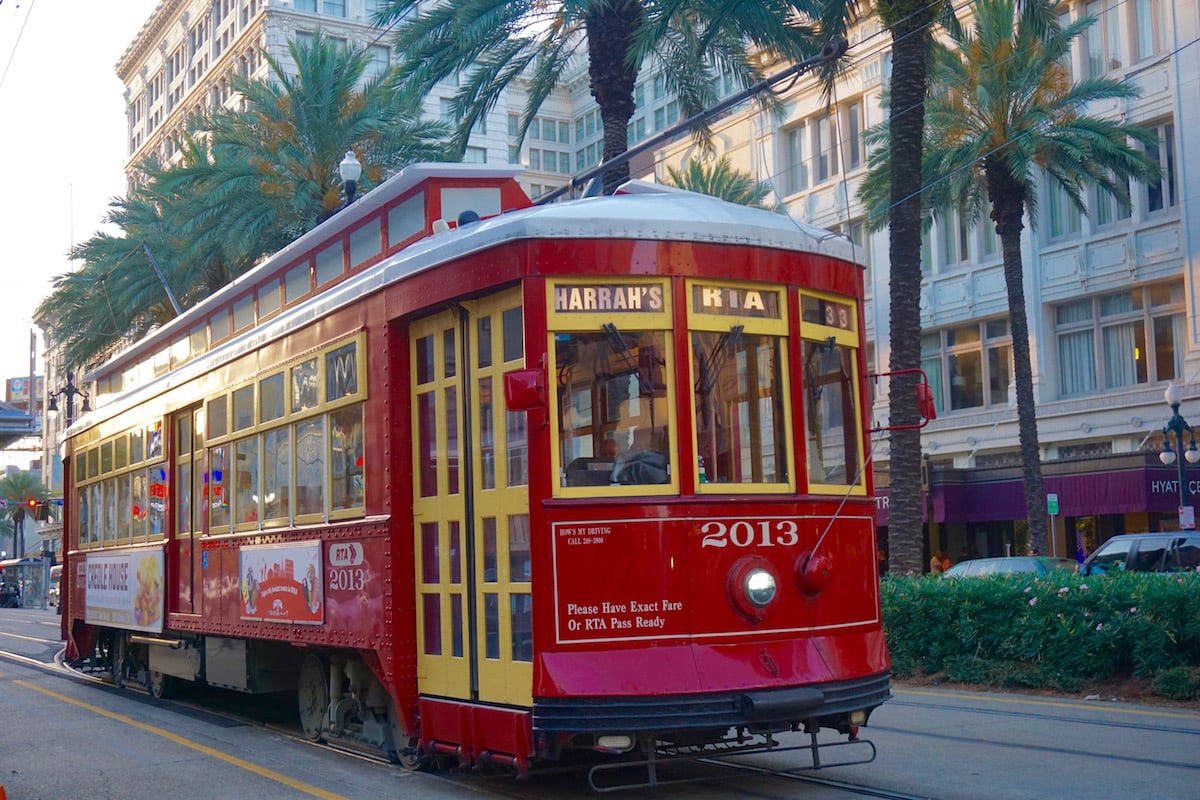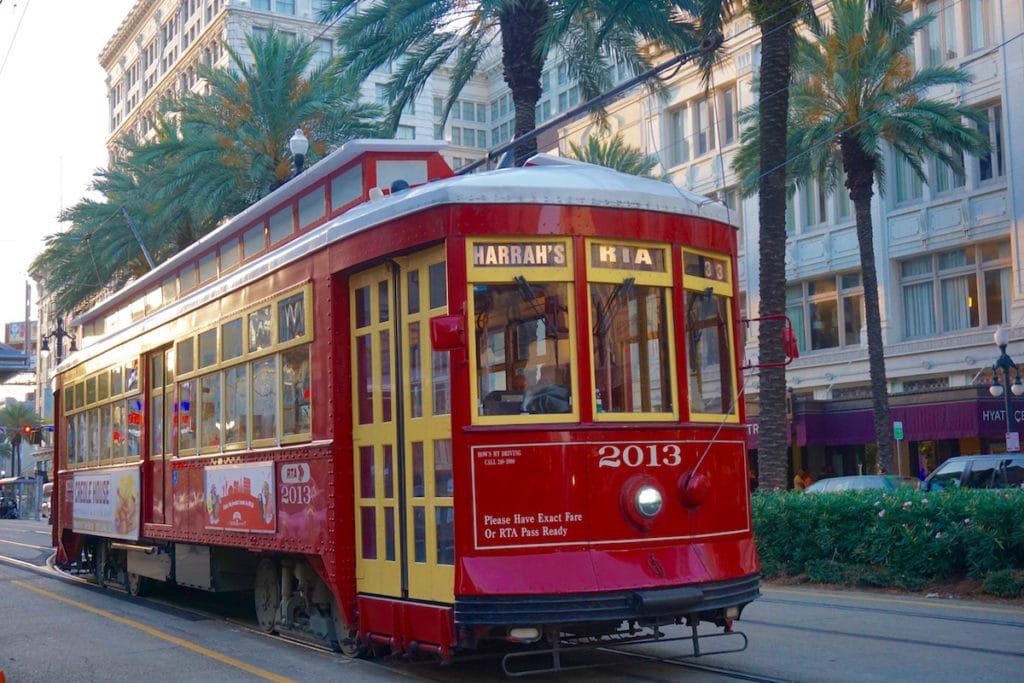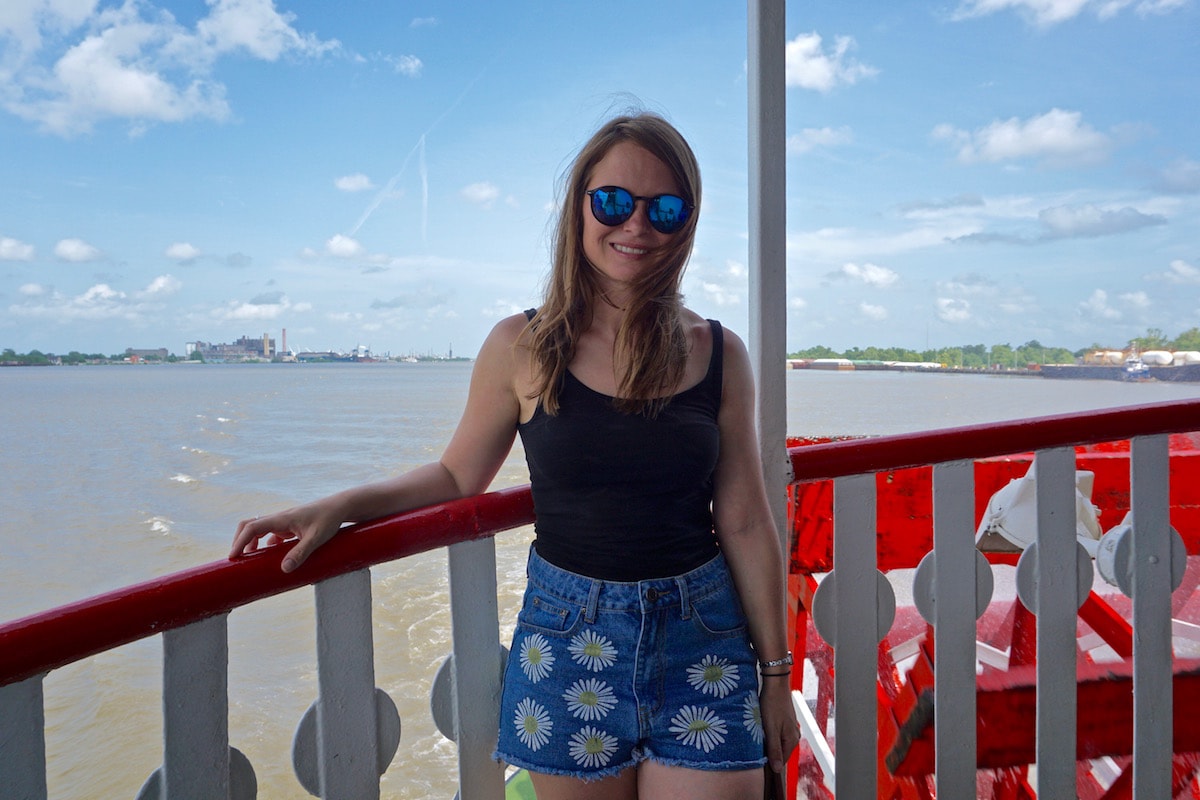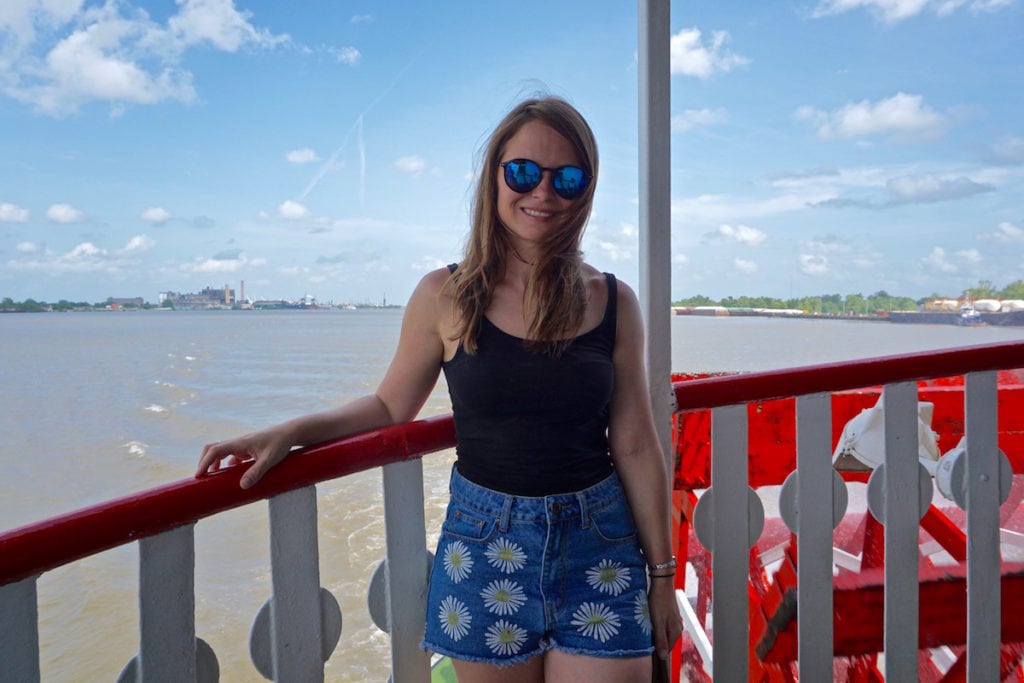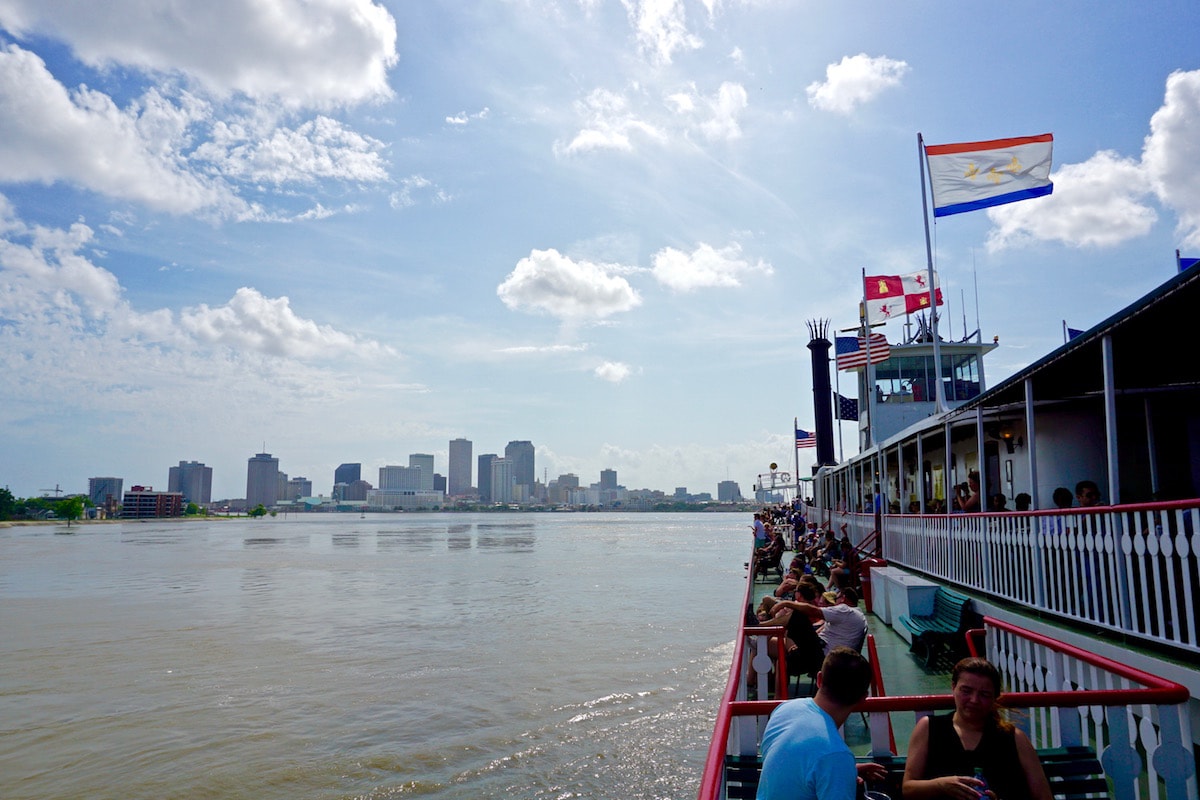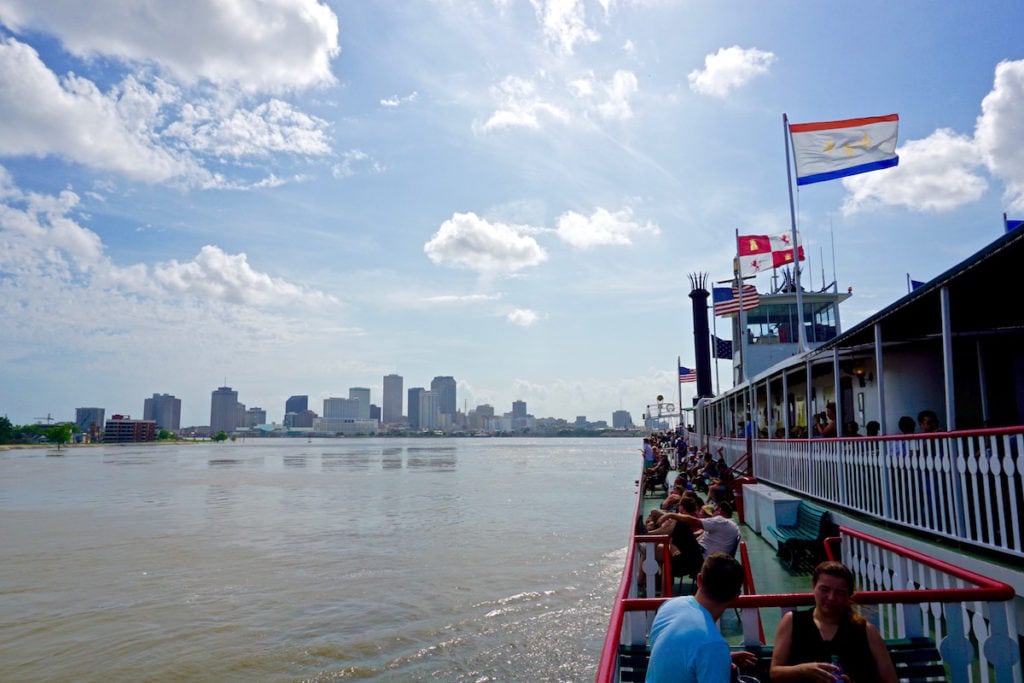 Check out what it was like to explore the incredible food scene in this video produced in collaboration with Lonely Planet and Three. Don't forget to put it on full screen! Then scroll down to read about my foodie highlights from my time there.
If you're planning to visit New Orleans, here are all the foods you have to try, and a few of my favourite restaurants and cafes in the city. But first, just a few words on what to expect. From the neon of Bourbon Street, to the wonderful mix of cultures, and the jazz heartbeat you hear on every corner, New Orleans is big, bold, fun and vibrant.
Exactly the same can be said about the food. Portions are on the large side, meals are flavourful, spicy, colourful and represents the mix of cultures. I loved it, and I think you will too…
READ MORE: The Ultimate New Orleans Itinerary
Foods To Try In New Orleans – Beignets
Beignets are a type of fried dough, a little like a donut. French in origin, they're usually made from choux pastry and served warm. You'll find the best best beignets in New Orleans at Café Du Monde… and it just so happens to be open 24/7, so you could pop down for a beignet at 3am if you fancied!
Established in 1862, it's somewhere everyone should visit, and once you try the beignets topped with mountains of powdered sugar, you'll see why this us one of the most famous foodie spots in the city. Just don't blame me if you end up with a sugar all over your face after one bite – it's worth it to try this quintessential New Orleans food!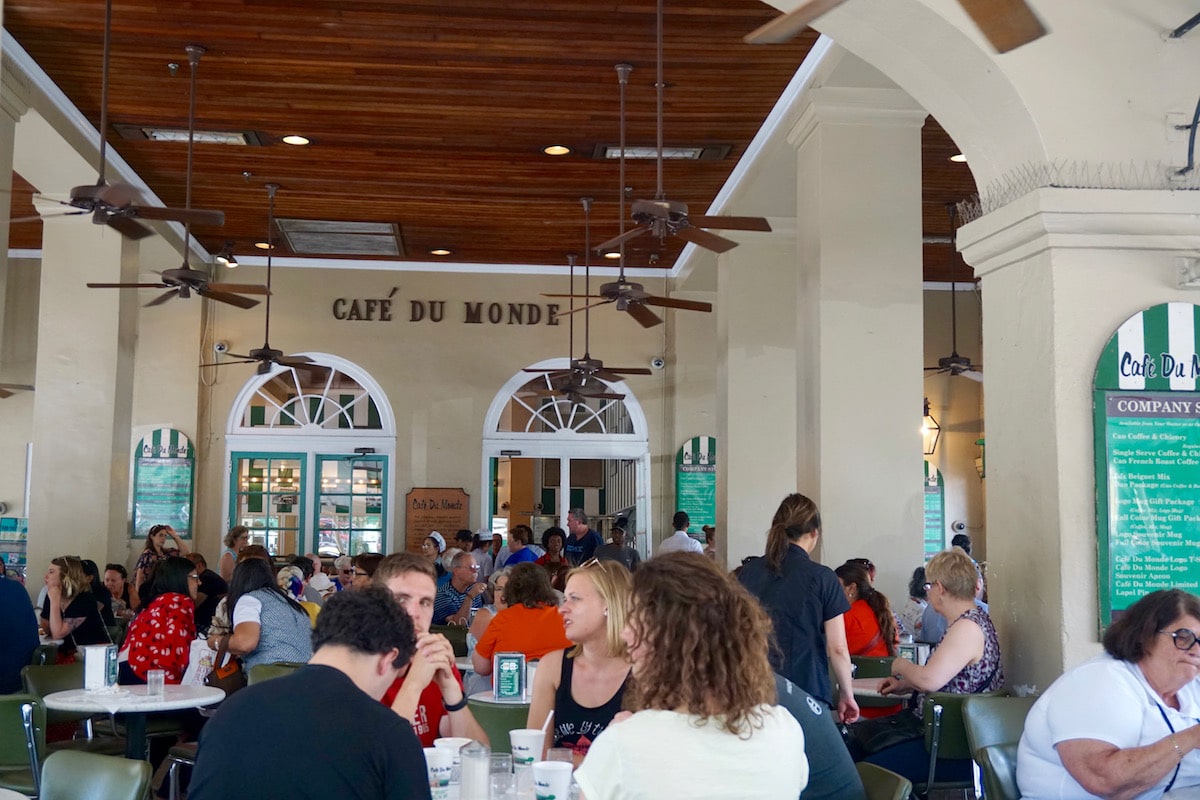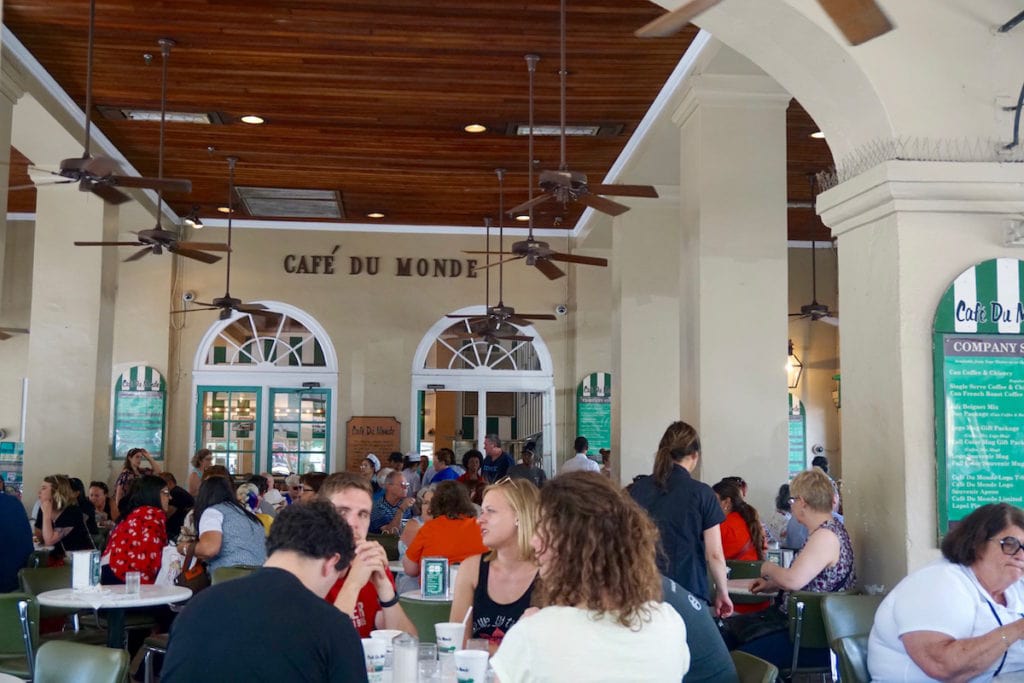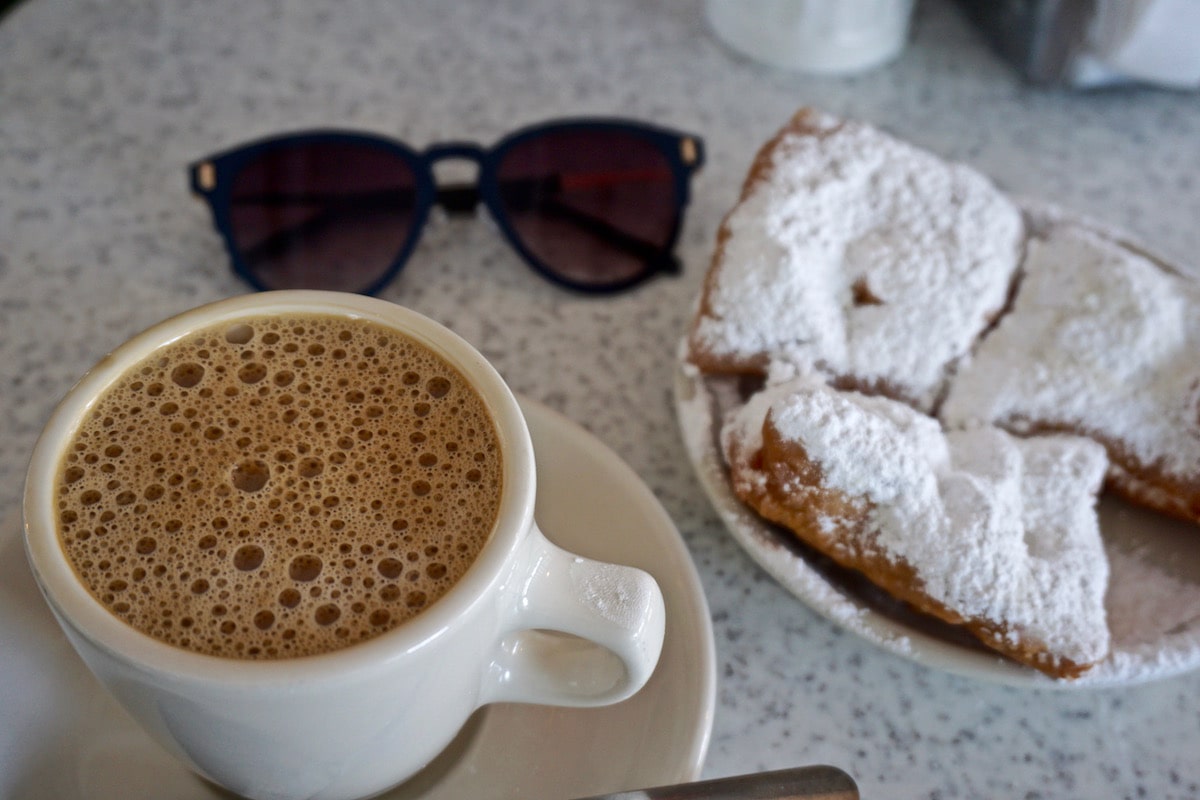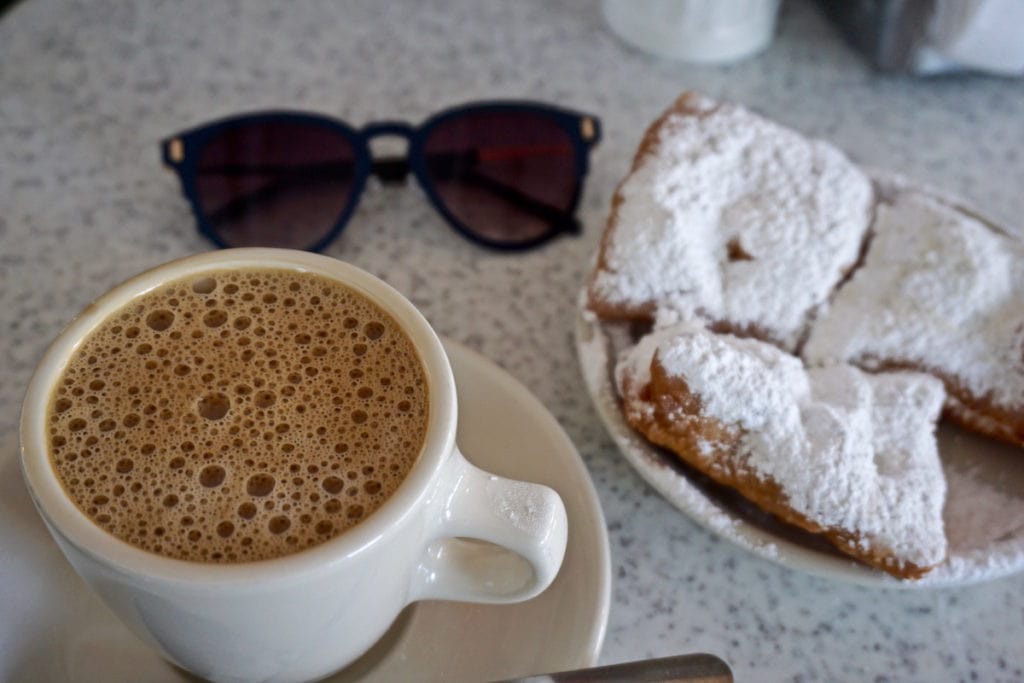 Foods To Try In New Orleans – Crawfish
As you'll see from the video, the crawfish culture is a huge part of this region's heart and soul. During my trip I was lucky enough to visit Bayou Pigeon – an area of swampland where they catch crawfish! It was a picturesque, isolated town with a handful of houses, and beautiful swamps (yes really!) It was amazing to meet the locals and understand more about what this industry means to them.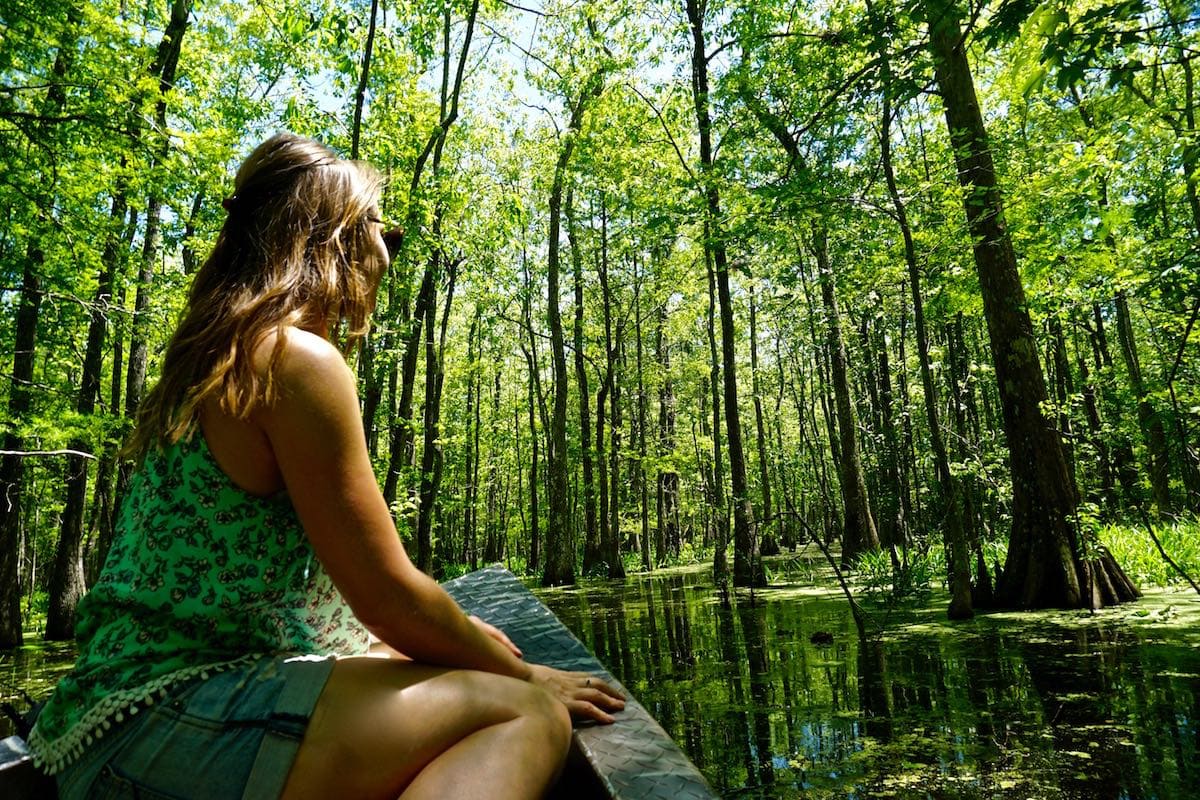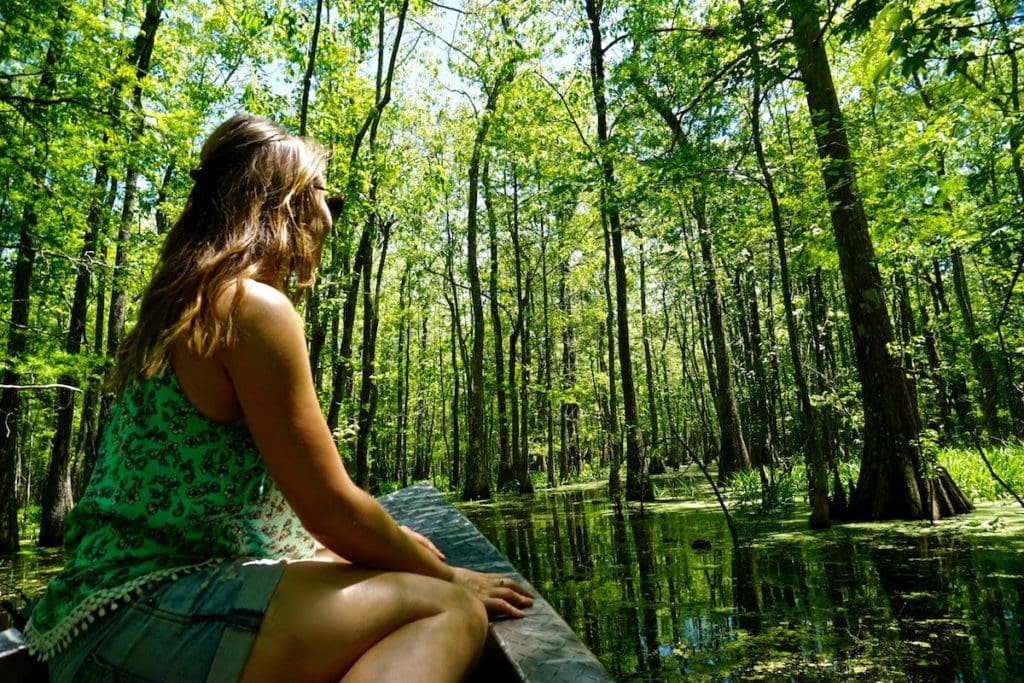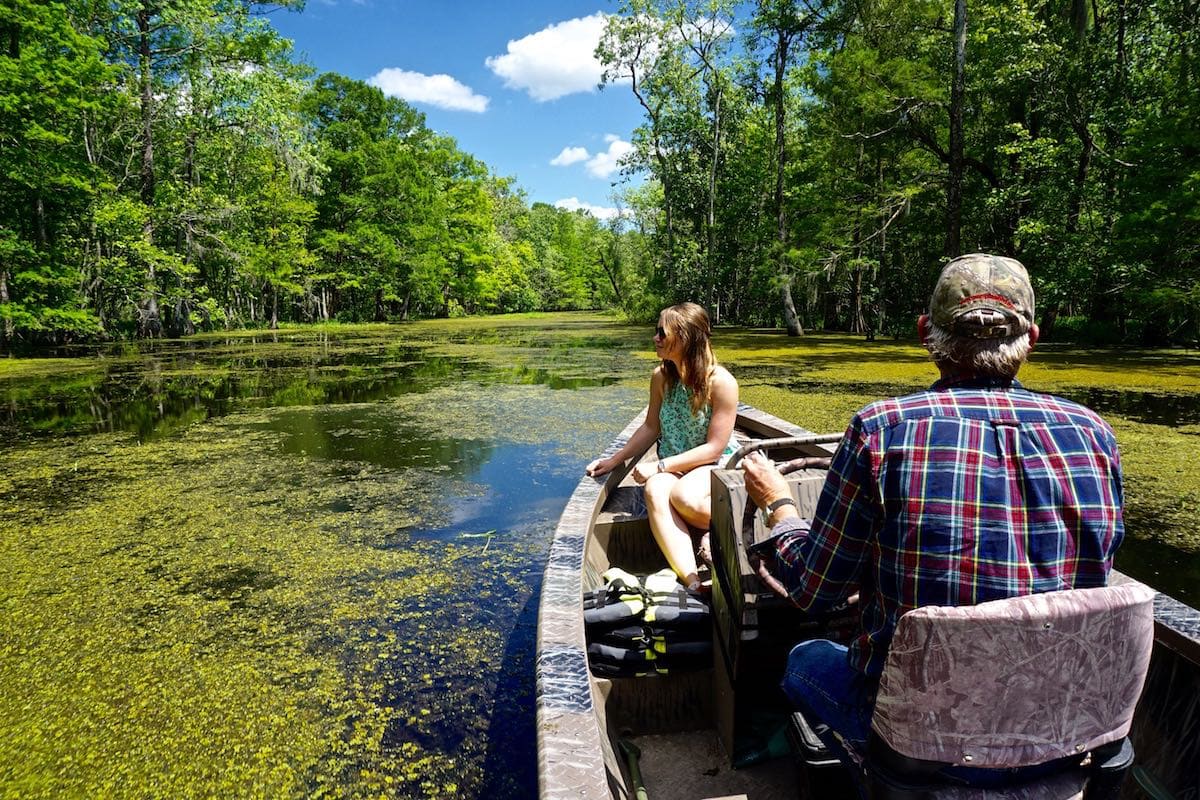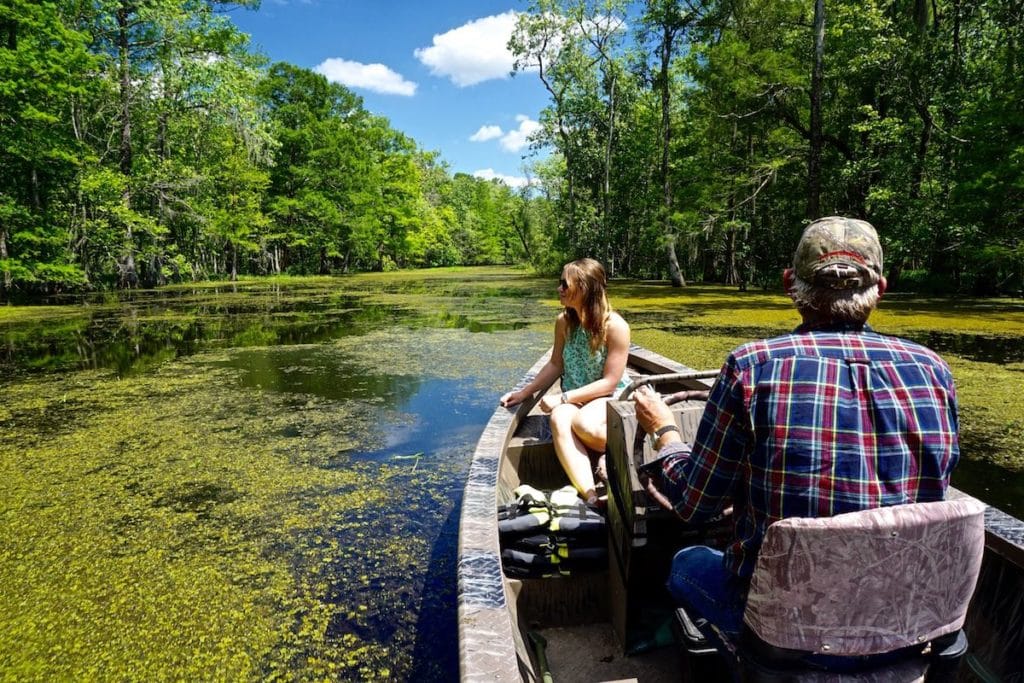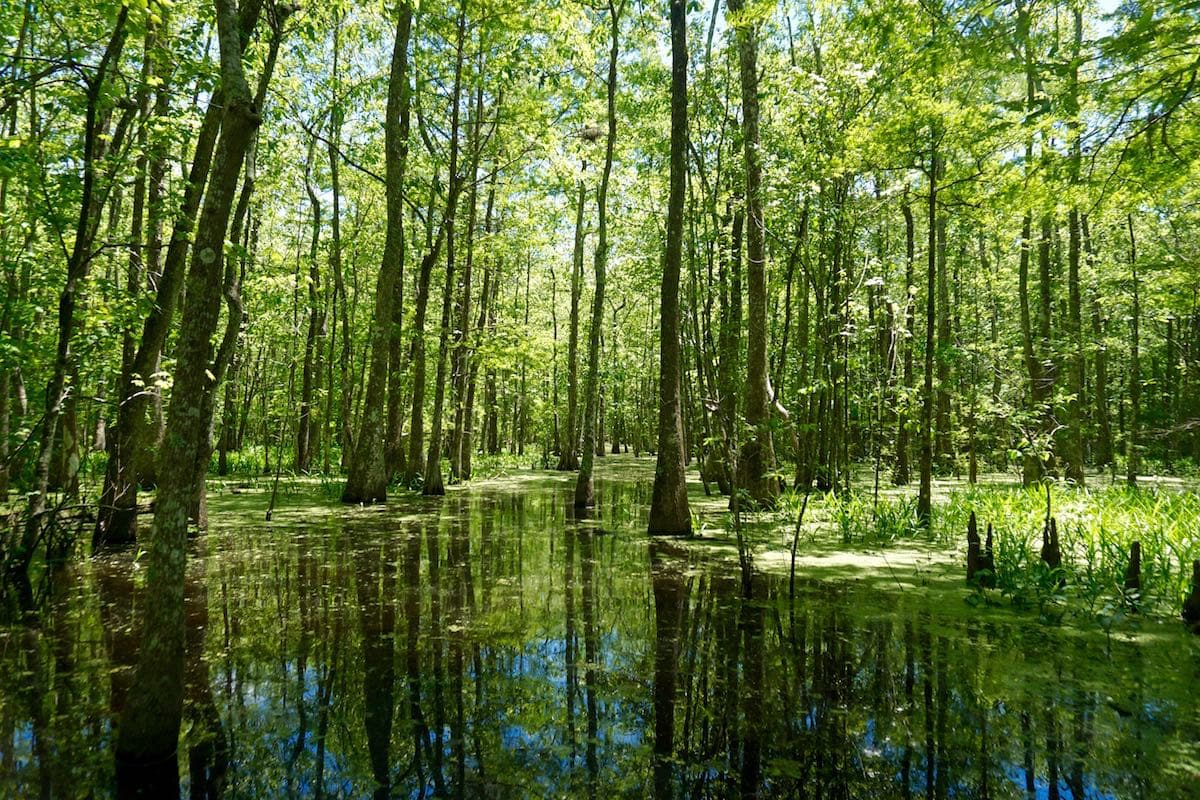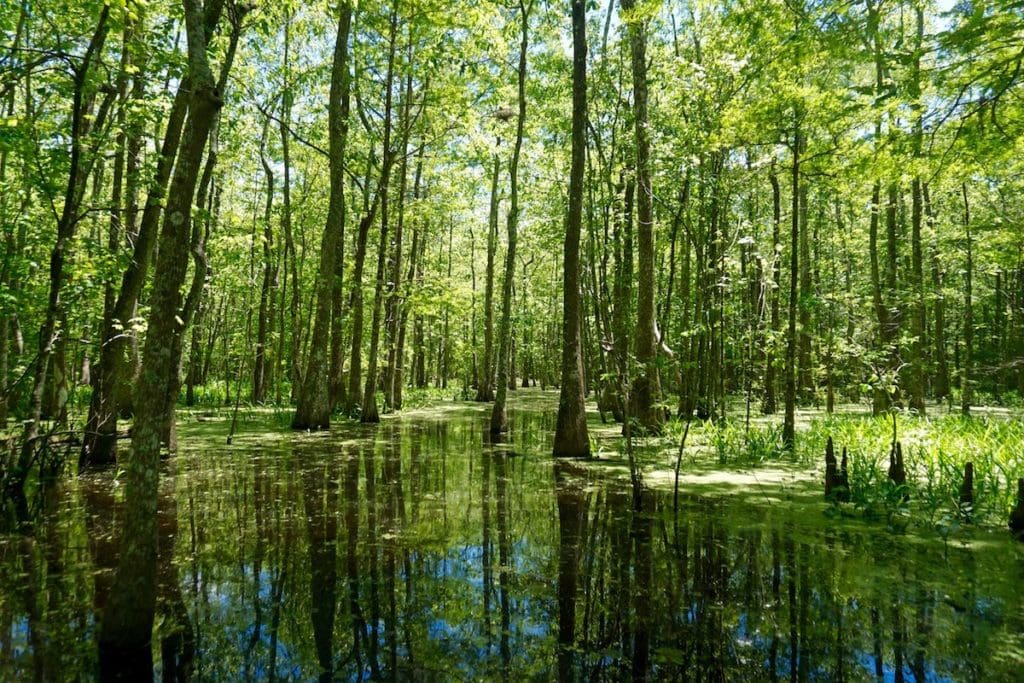 That sense of importance was reinforced when I joined the locals at R Bar's famous Crawfish Boil – a party that happens every Friday during the season, where the chef offers huge trays of free food to guests. It was the food that brought them all together, and in turn created an incredible feeling of community.
In terms of flavour, the crawfish was boiled with lots of delicious spices, potatoes, corn, and vegetables. It had a fiery taste from the chilli, and I guess, perfectly represented the determination and ambition of the people who call this city home. Crawfish is definitely one of the city's staples, so definitely add it to your list of foods to try in New Orleans!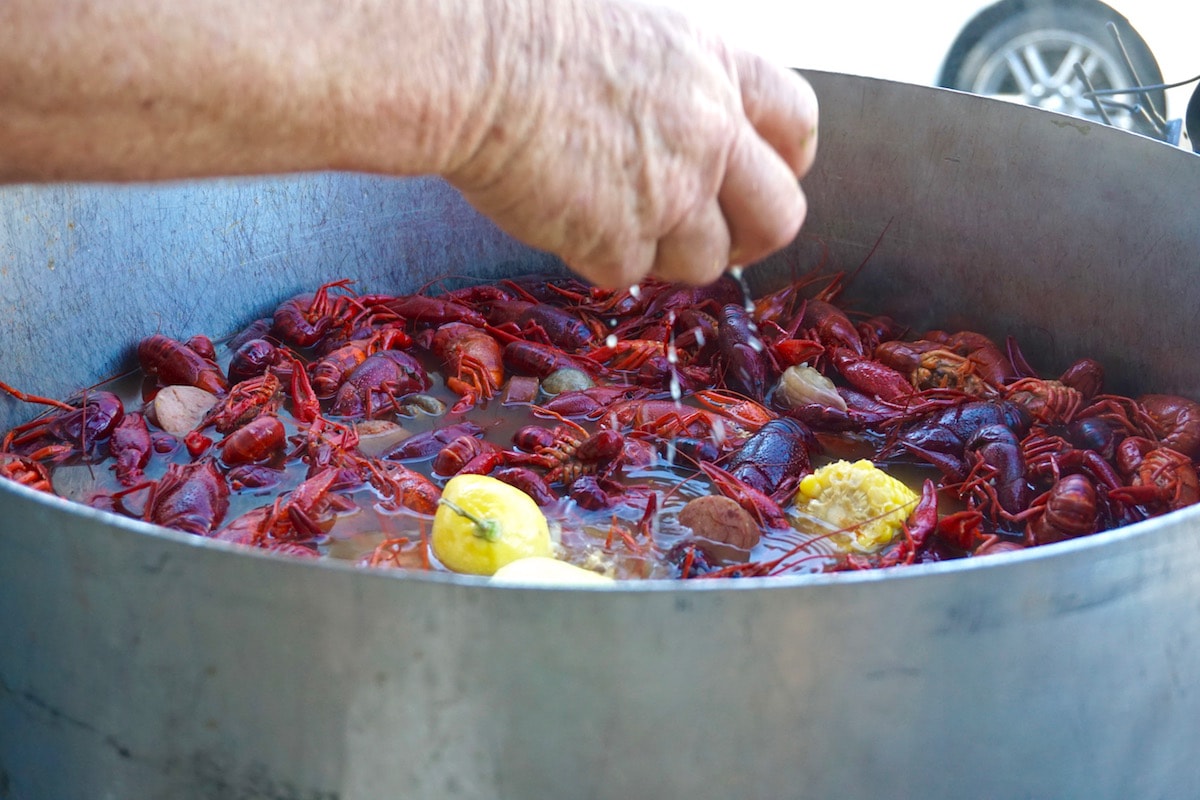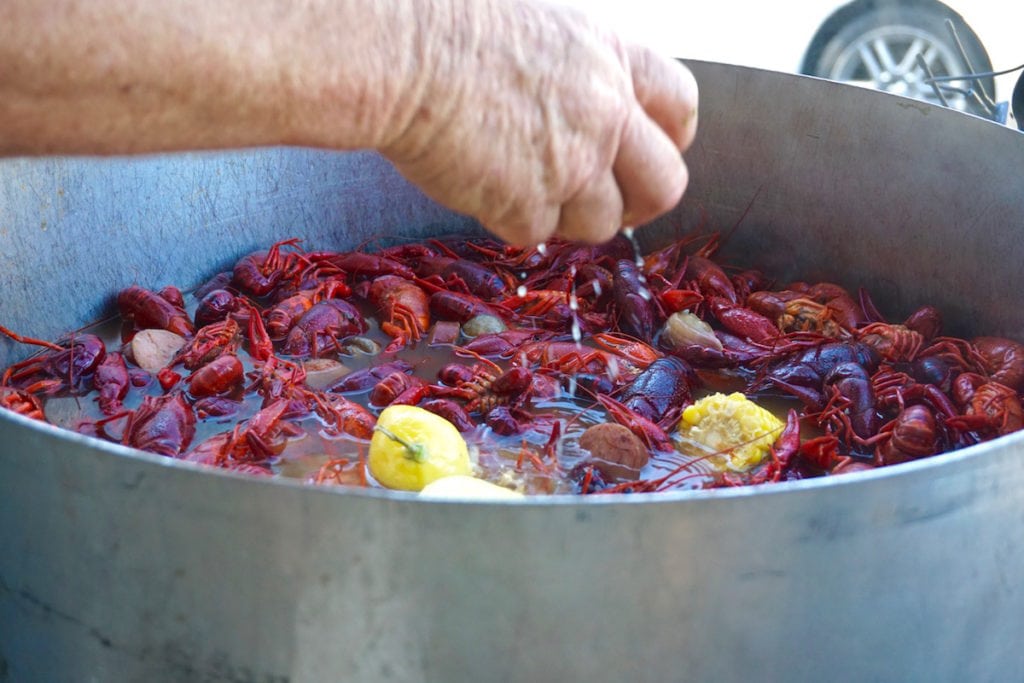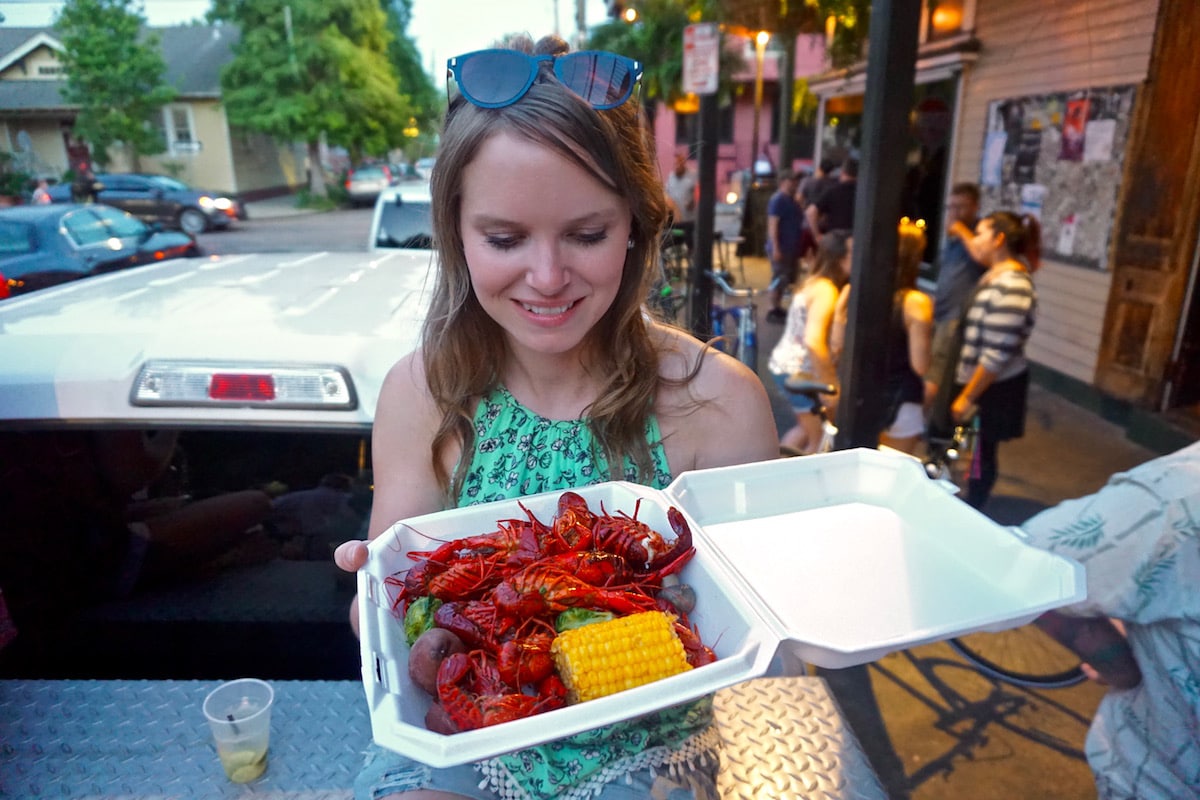 Foods To Try In New Orleans – Po' Boys
I had no idea what a po' boy was before I arrived, but everyone told me that I just had to try it! A chunky sandwich made with a New Orleans crusty baguette, it's stuffed with a generous helping of meat, fried shrimp or fish, plus salad, tomatoes, pickles and mayo.
The name? Well apparently it comes from a the 1929 streetcar conductor strike when owners of a coffee stand in the French Market gave out free sandwiches to workers. When people turned up, they used to say 'here comes another poor boy'. I tried a fried shrimp version at Pierre Masperos, but pretty much every restaurant had them on the menu! For some of the top places to dive in to this giant sandwich, check out the 20 Essential New Orleans Po' Boys.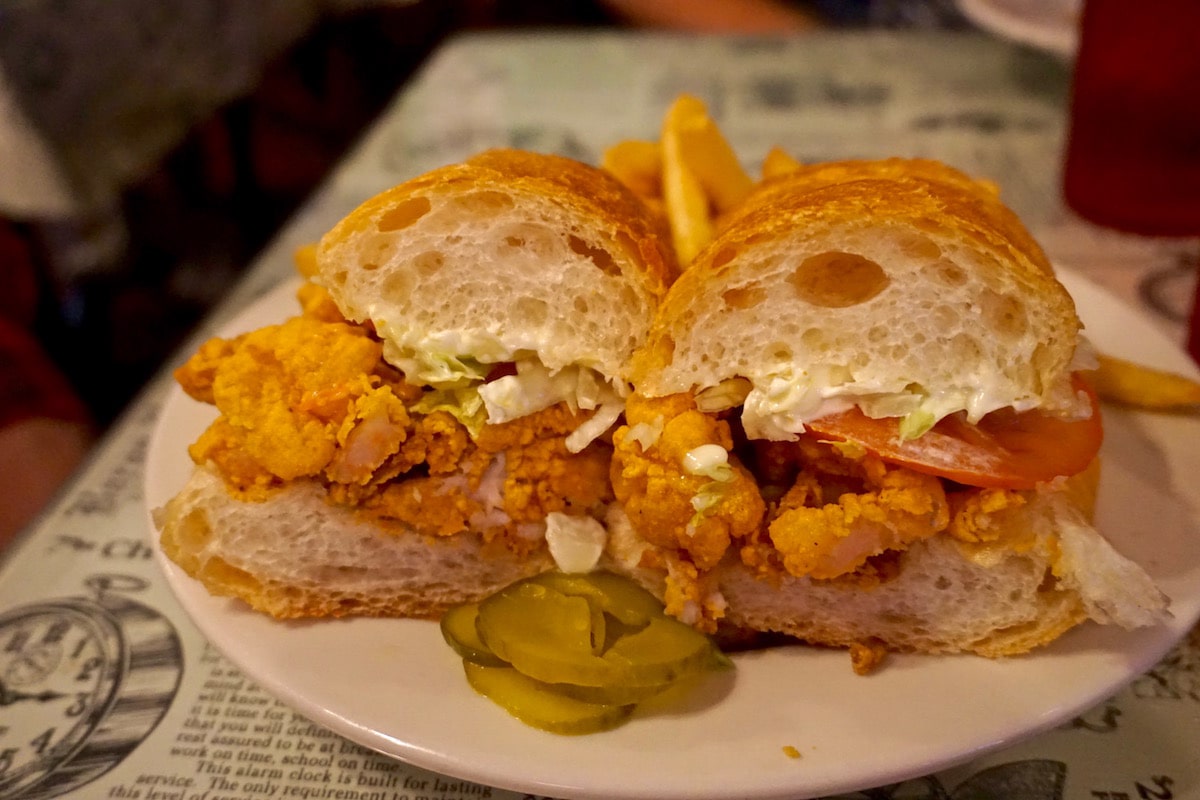 Foods To Try In New Orleans – Mufuletta Sandwich
So we've learned that sandwiches are a big deal in this city, and the mufuletta is another one you just have to try! The Italian sandwich was popular among Italian immigrants in New Orleans, and is made on a large round bread of the same name. The bread is crispy on the outside and soft in the middle.
They're usually filled with meats and cheeses – traditionally layers of mortadella, salami, mozzarella, ham and provolone. The key flavour though is the herby Italian olive salad that sits on top flavouring the rest. It's another chunky sandwich, and if you want to try it for yourself, I'd recommend a visit to Central Grocery and Deli (where it was invented) or historic restaurant Napoleon House.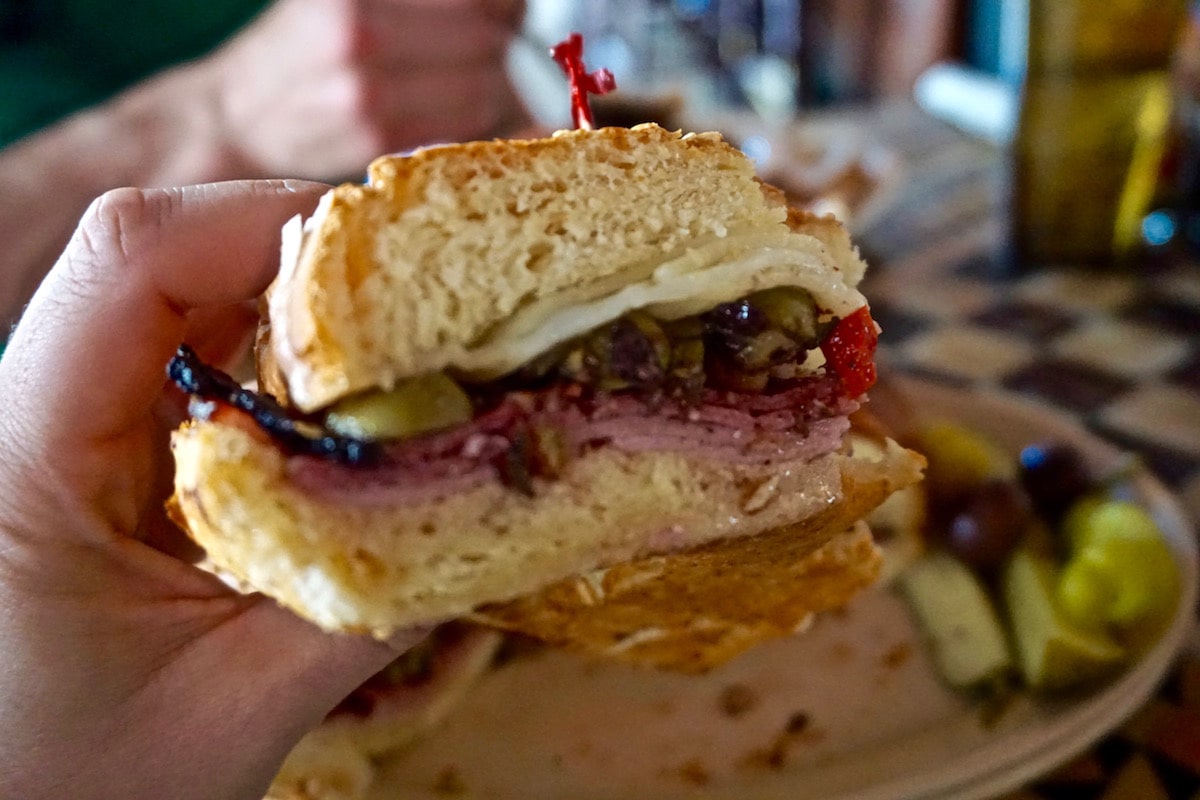 Foods To Try In New Orleans – Shrimp and Grits
Shrimp and grits is a real staple of food in the Deep South, so it's definitely one of the foods you HAVE to try in New Orleans. I first tried grits in the Caribbean and would say it's a cross between porridge and risotto. Usually flavoured with stock or cheese, it has a creamy texture and makes a great meal for breakfast, lunch or dinner.
Most commonly, you'll find it topped with shrimp and sweetcorn. I had a particularly good one at Café Amelie – a stunning restaurant in New Orleans with outdoor seating around a pretty fountain.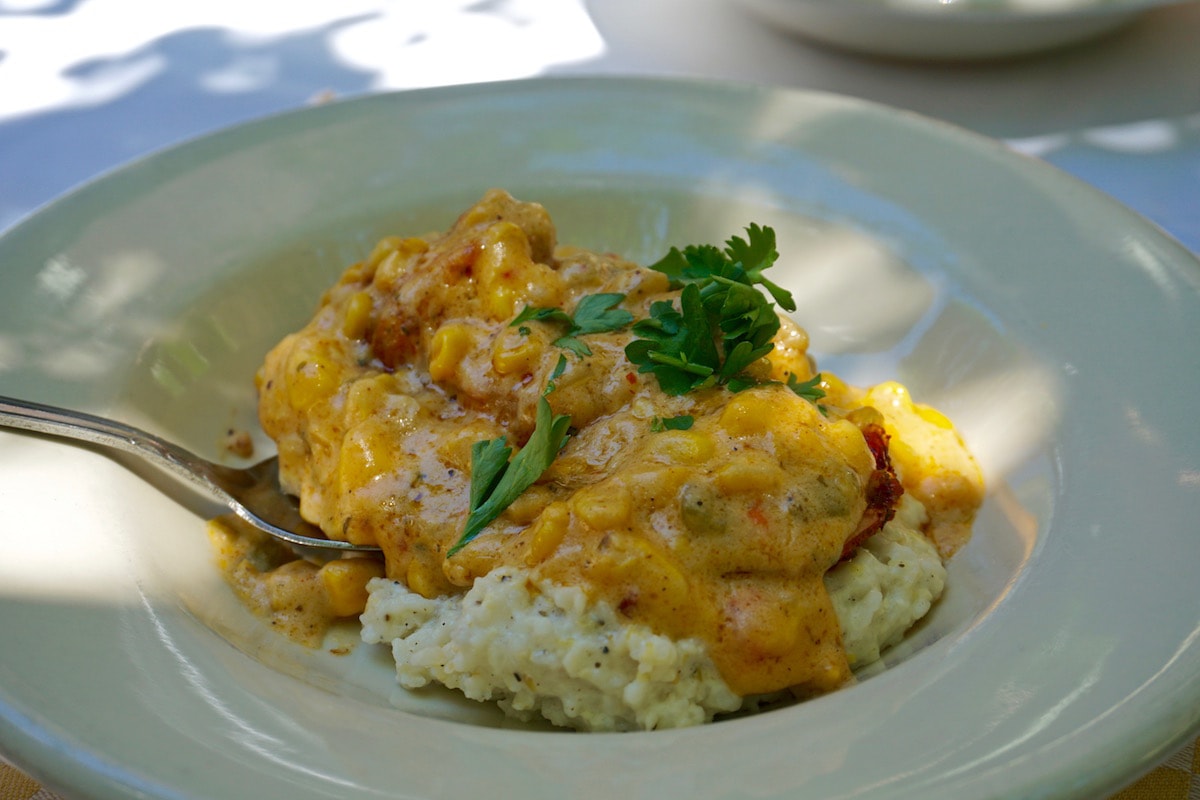 Foods To Try In New Orleans – Gumbo
Gumbo is a flavoursome soupy stew originating in Southern Louisiana during the 18th century. Usually it contains sausage, vegetables and rice, and is sometimes topped with shrimp.
Where to get the best gumbo in New Orleans? I loved the one I tried at Café Amelie along with the bowl I had on my last night at Evangeline. The only thing I wasn't sure about was having a bowl of hot soup when it was 30 degrees outside!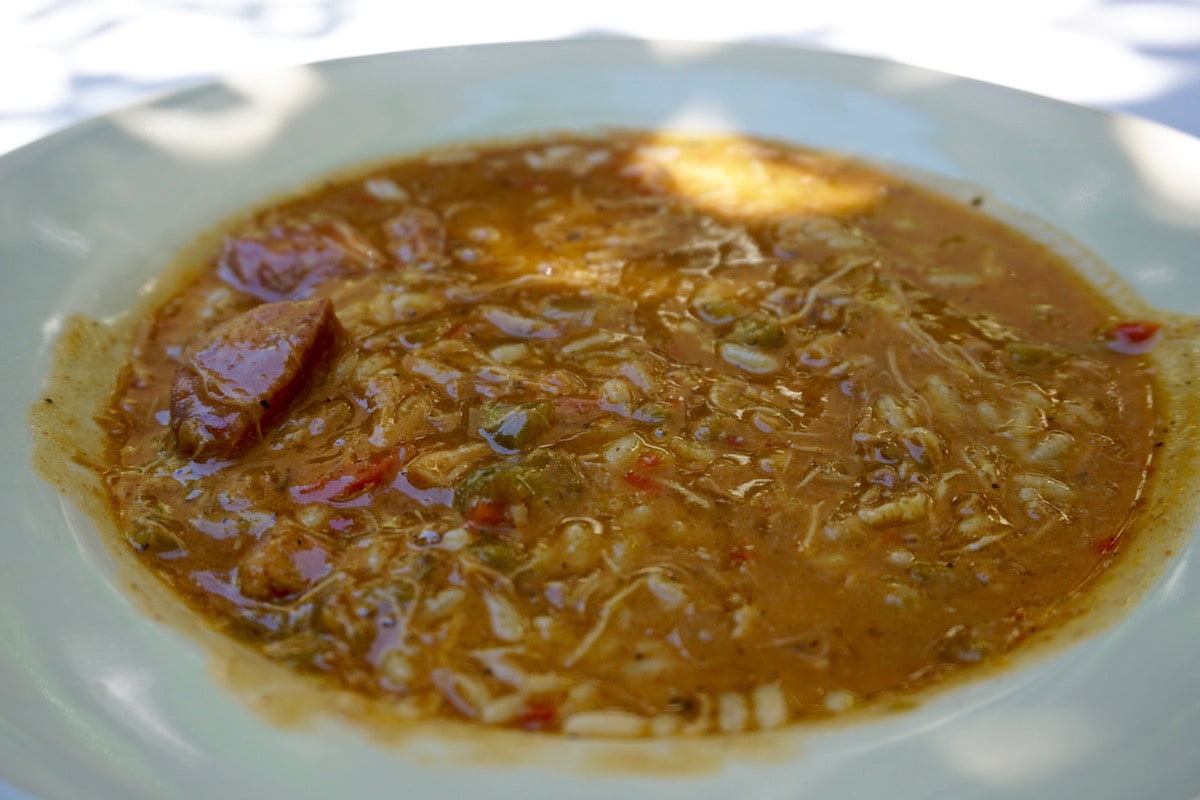 Foods To Try In New Orleans – Jambalaya
Not dissimilar to gumbo, and bearing a strong resemblance to paella, it's easy to see jambalaya's origins from the early Spanish settlement in the region, although it also has African and French influences too. Just another reason New Orleans's food scene is so intriguing!
It's basically a big rice dish of chicken, sausage, celery, peppers, onions and other vegetables with a tomato base. Often it'll be topped with shrimp. It's packs a punch and is a perfect hearty meal when you're really hungry! Best places to try it? Head to K Paul's Louisiana Kitchen or Mother's.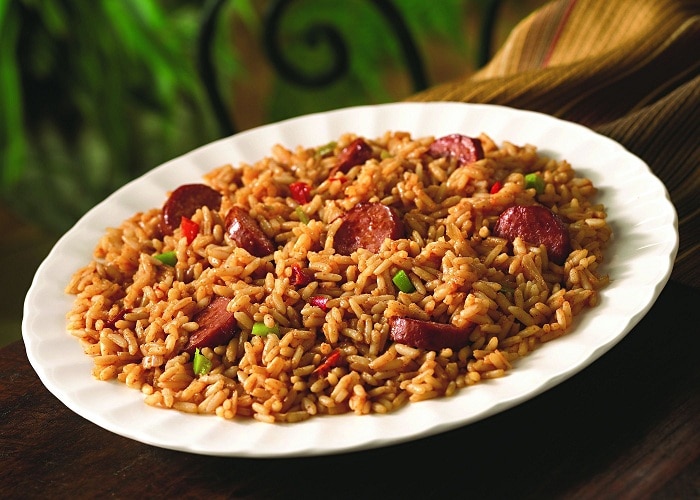 Foods To Try In New Orleans – Vietnamese Food
I wasn't sure whether to include this, as traditionally most would consider New Orleans cuisine to be about gumbo, jambalaya and po' boys. But there's a growing Vietnamese population that started coming over in the 70s, and as a result, there are some amazing restaurants across the city. You'll even find that locals refer to the Vietnamese sandwich banh mi as a Vietnamese po-boy!
I loved 9 Roses Café, which compared to many of the busy creole/Cajun restaurants in the French Quarter, was calm, casual and filled with locals. I tucked into a vermicelli bowl with chicken, fresh veg, pickles, roasted onions and fresh herbs. It was one of the tastiest bowls of food I had in the city, so don't just stick to the classics! You can find out more about the Vietnamese food scene here In Search of New Orleans' Vietnamese Soul.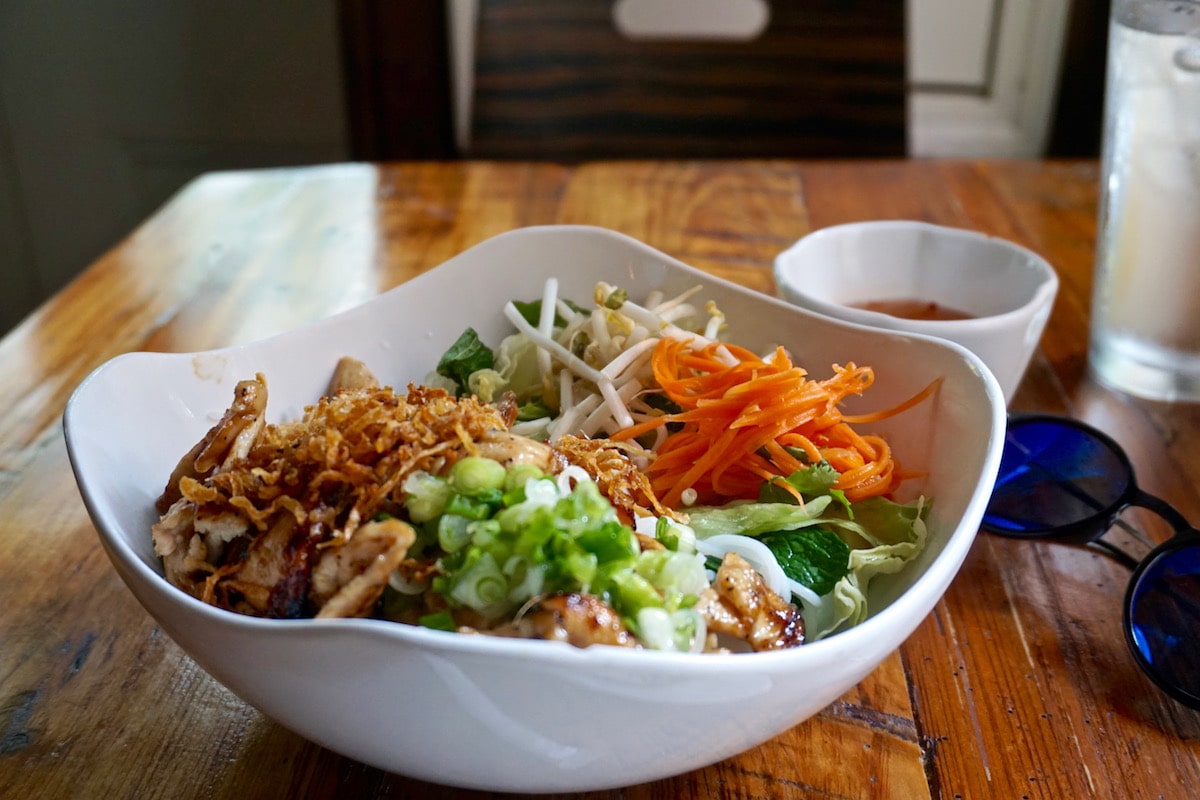 Drinks To Try In New Orleans – Coffee
I did a bit of research about places to go for coffee in the French Quarter and there were several top recommendations. I took a trip away from the Mississippi towards the highway for a pit stop at Arrow Café. I loved the quirky interior, mugs with naughty phrases on and the casual vibe. Plus – great coffee!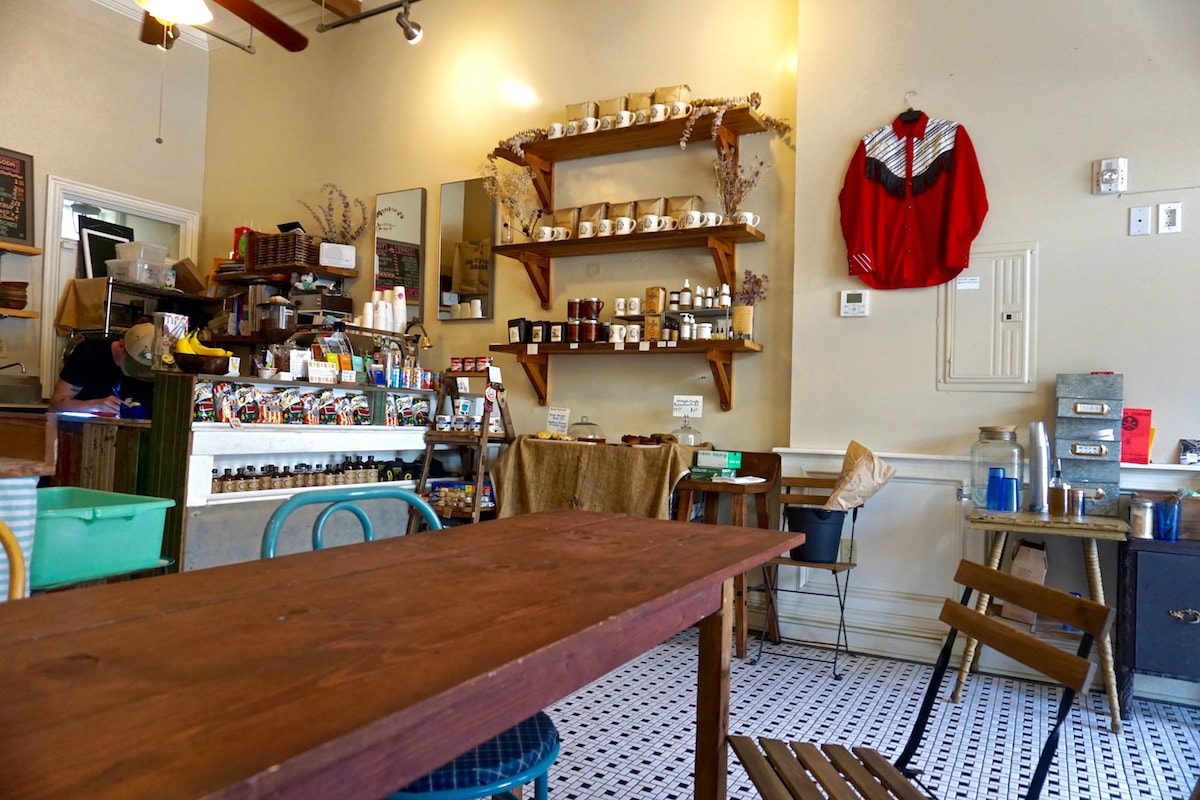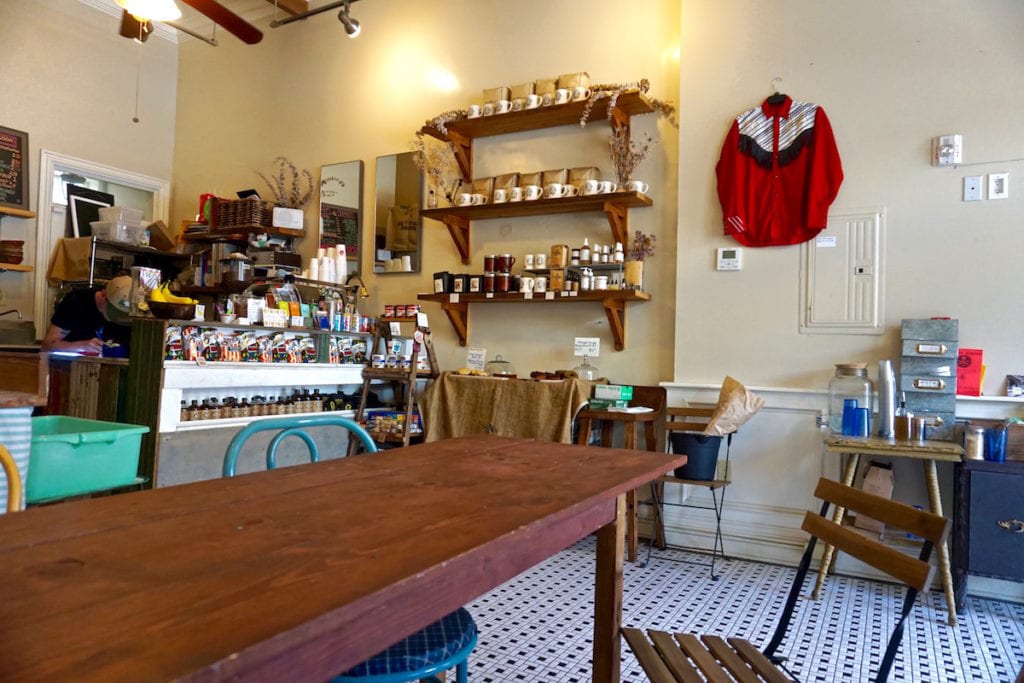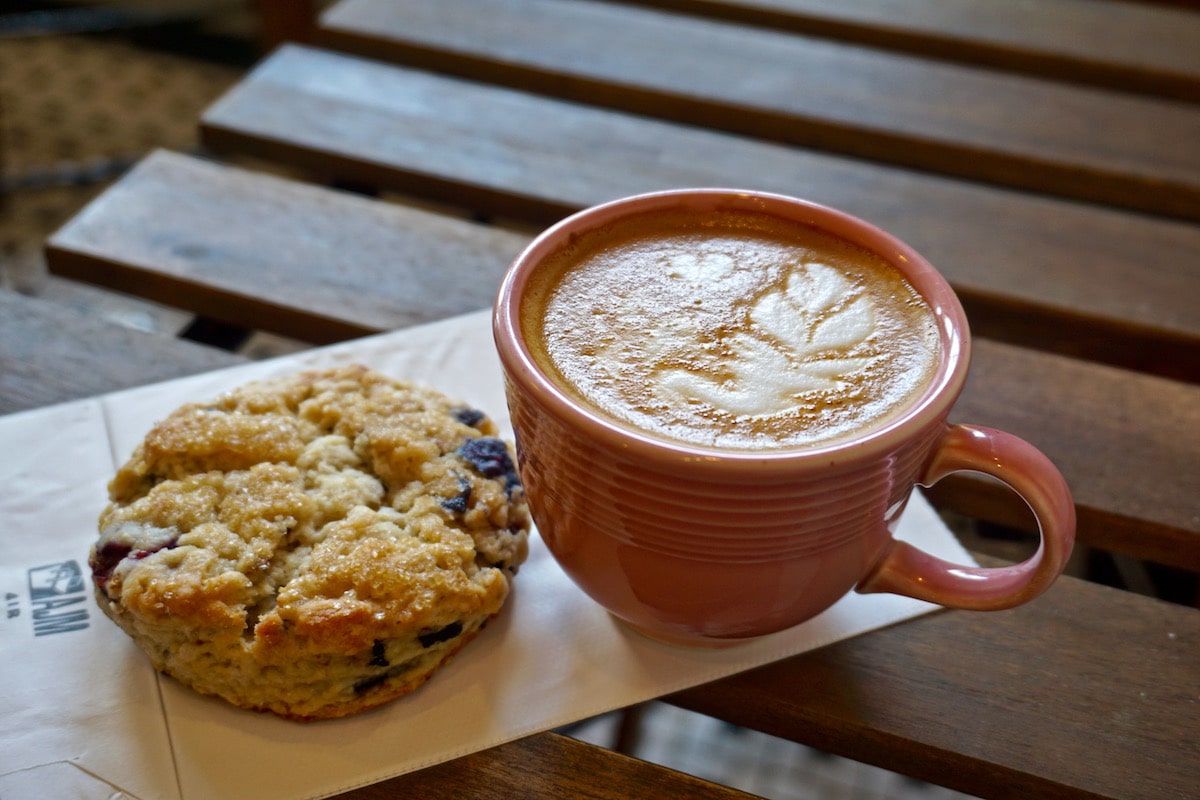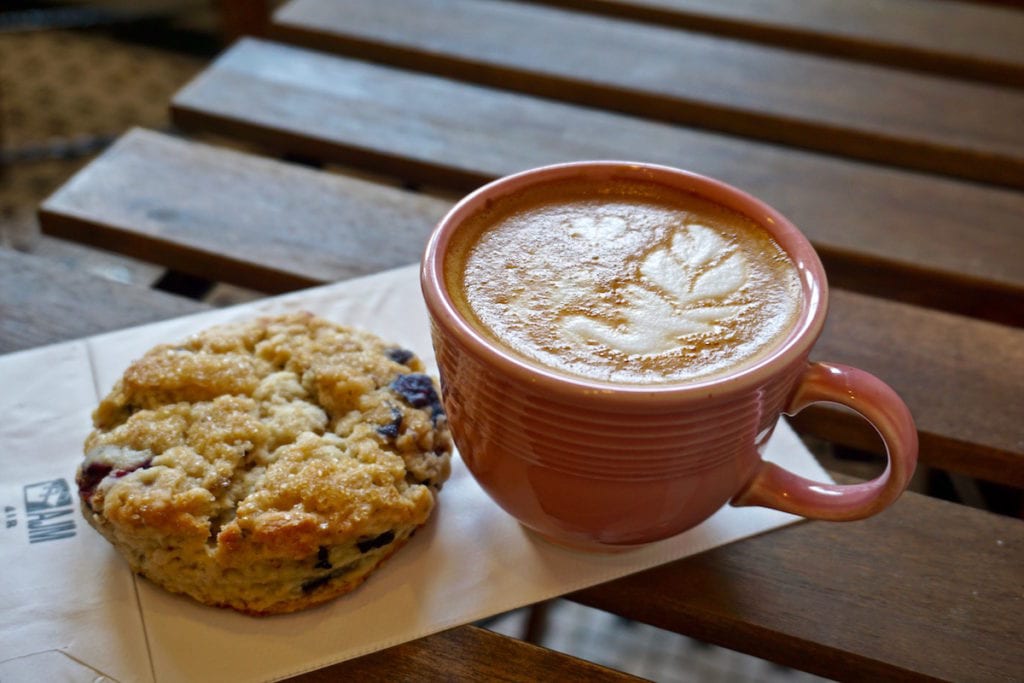 Drinks To Try In New Orleans – Cocktails
The city's most famous drinks are the sazerac and hurricane. Hurricanes are a sweet rum drink with fruit juice and syrup, not dissimilar to a Caribbean rum punch. The birthplace was Pat O'Brien's but I had a great one at Pierre Masperos on my first night.
Meanwhile, the sazerac may well be America's oldest cocktail! Containing cognac and bitters (or sometimes whiskey) it's very strong and definitely a sipper! My favourite spot for cocktails in the city was the Carousel Bar at Hotel Monteleone. Yes – just like a fairground carousel, it rotates!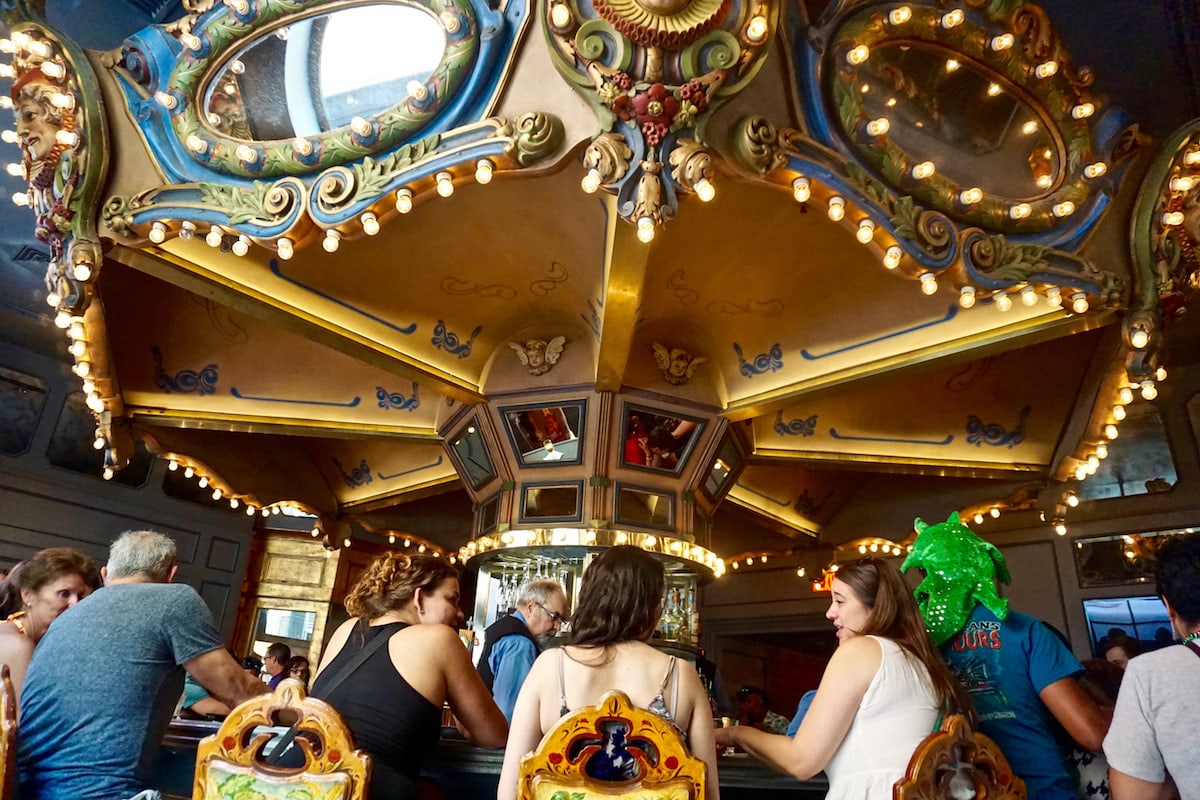 Have you been to New Orleans? What was your favourite meal? Any other quintessential foods to try in New Orleans? I'd love to hear in the comments below!
If you want some help planning your trip, don't forget to check out my New Orleans itinerary.
My trip to New Orleans was part of a campaign with Lonely Planet and Three but as always, opinions are my own.
Enjoyed this post? Pin it for later…