From tasty breads and delicious tagine, to sweet treats, this is the best cooking class in Marrakech.
After a week exploring the Atlas Mountains, Moroccan seaside towns and the Sahara Desert, it was time to head back to Marrakech for a few days of culture and relaxation. I checked into one of the city's top hotels – Es Saadi Gardens and Resort, but I was craving something…

As you know, I'm a total foodie, but sadly had been left a little underwhelmed by the cuisine on my Moroccan adventures so far. A few tasty skewers, followed by plenty of overcooked, bland tagines and inauthentic meals (chips anyone?!) So what better way to get to grips with the foodie scene in Marrakech, than get in the kitchen myself? I booked onto La Maison Arabe's Moroccan Cooking Class and spent four hours cooking up a storm!
Check out the video of the class here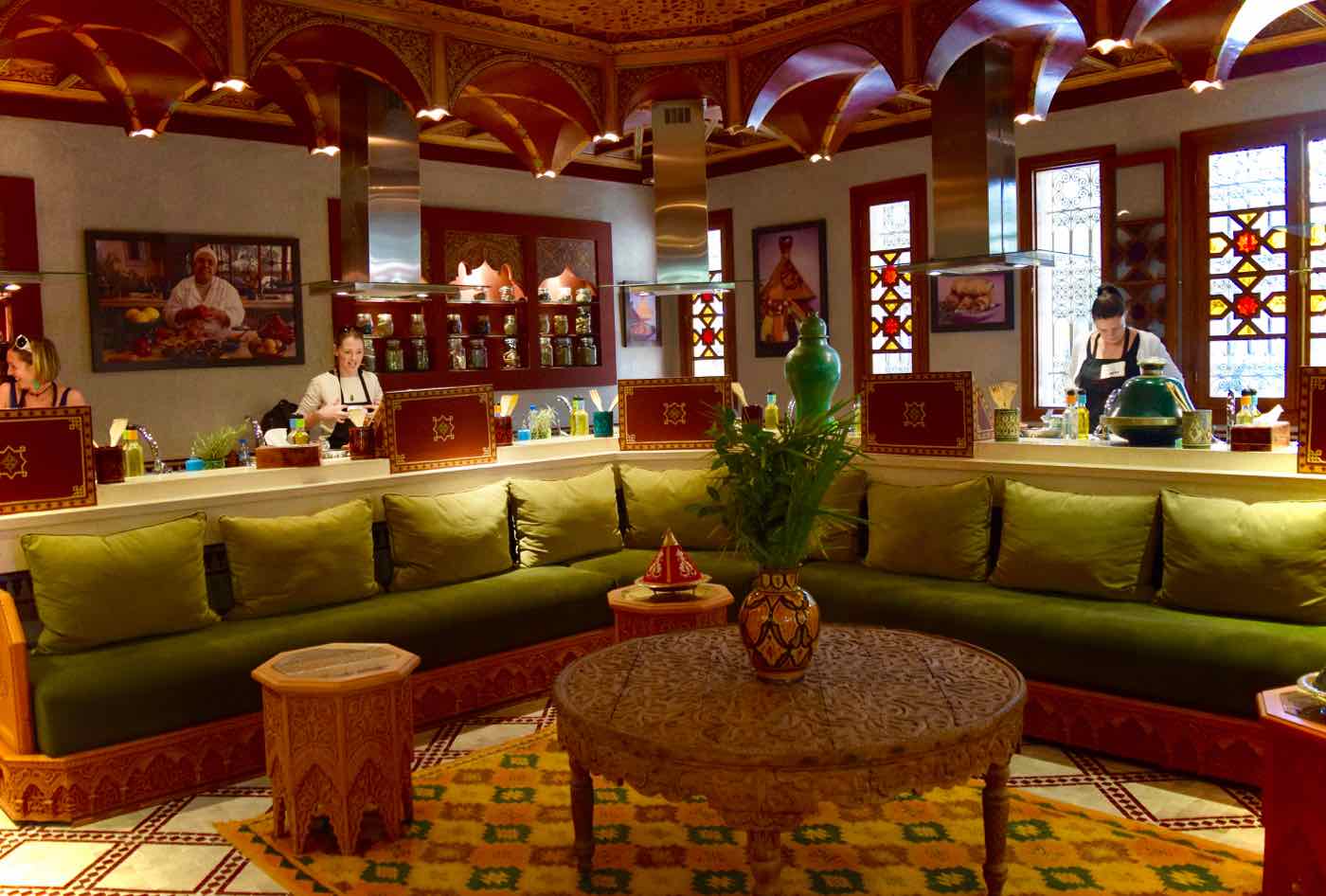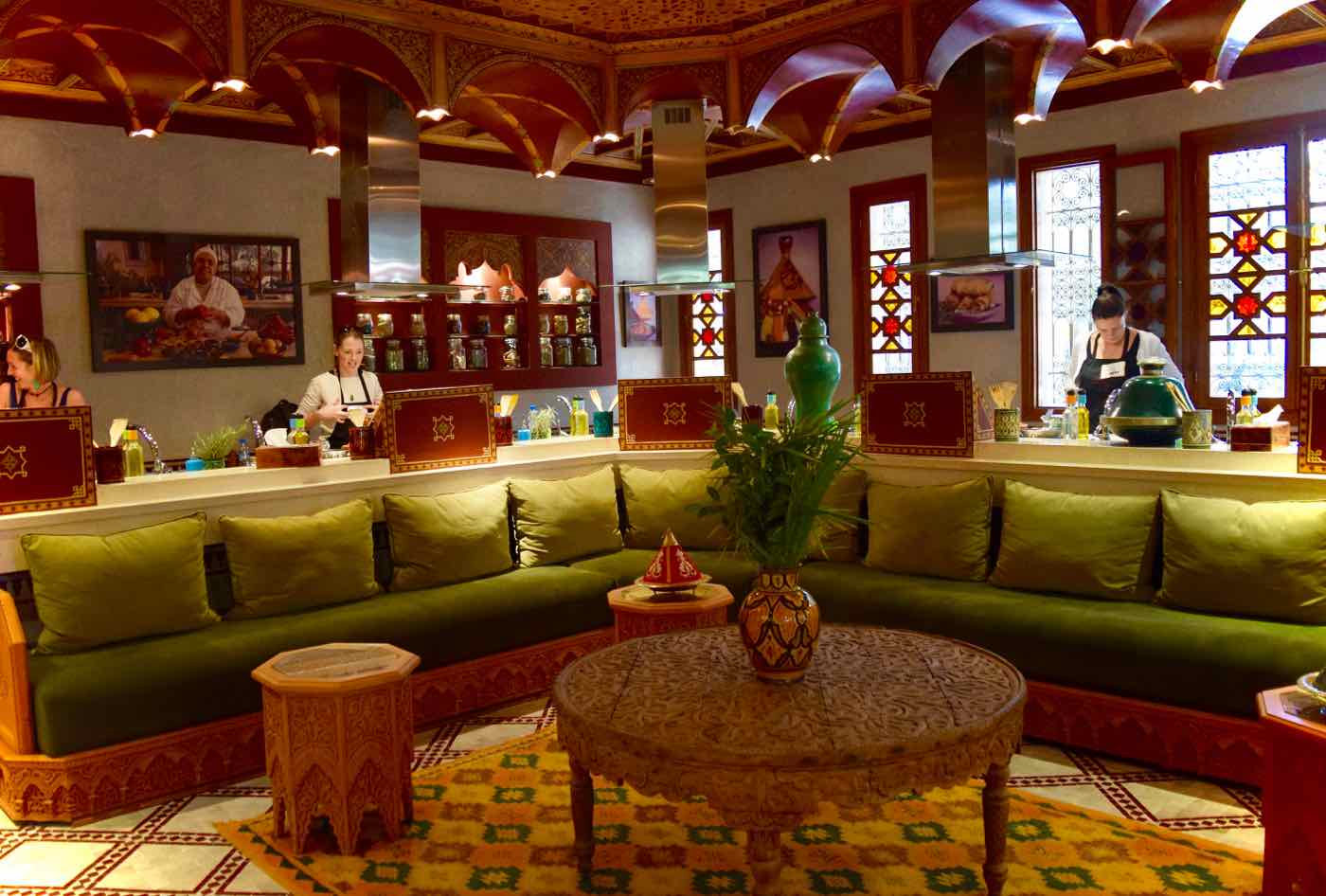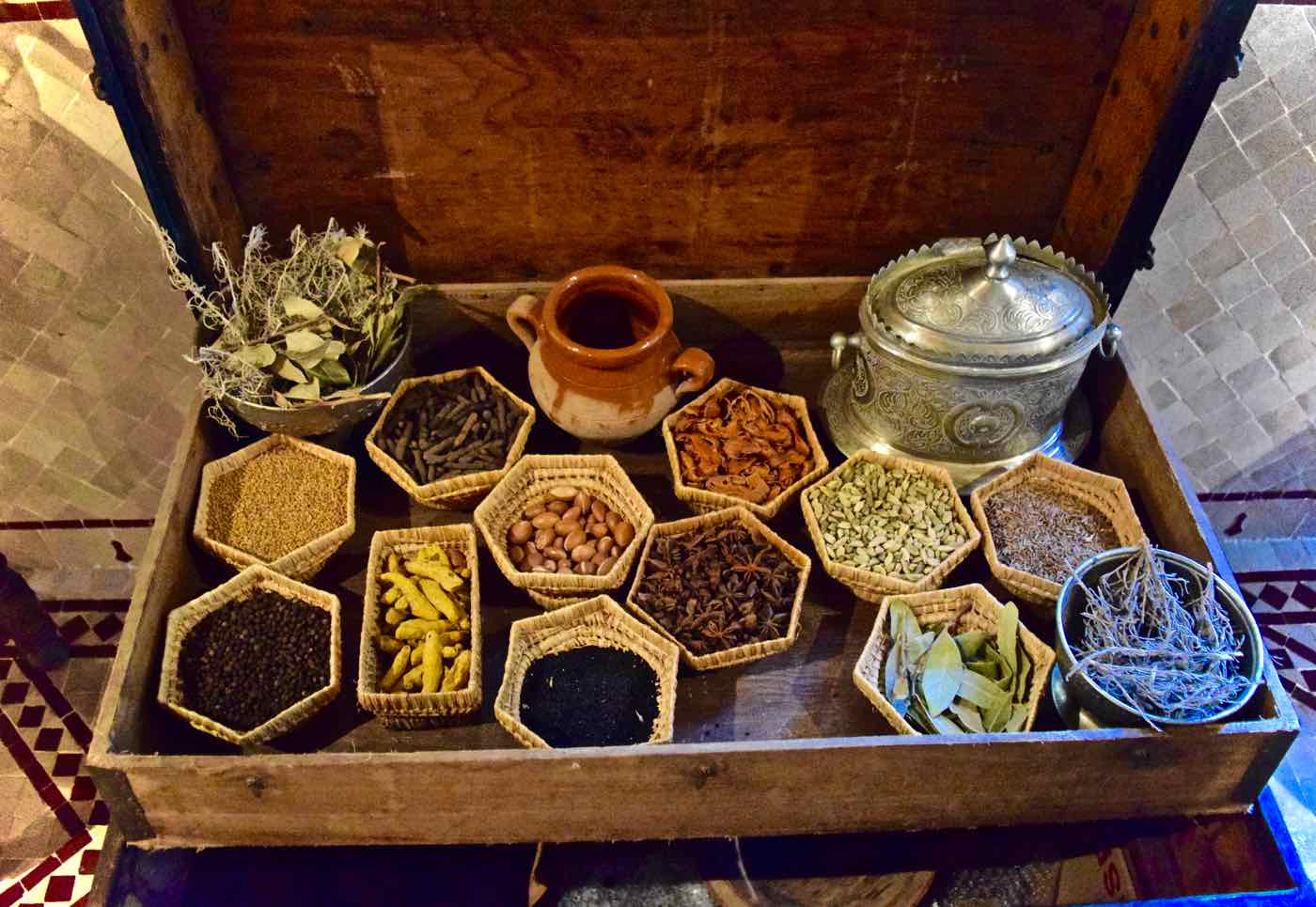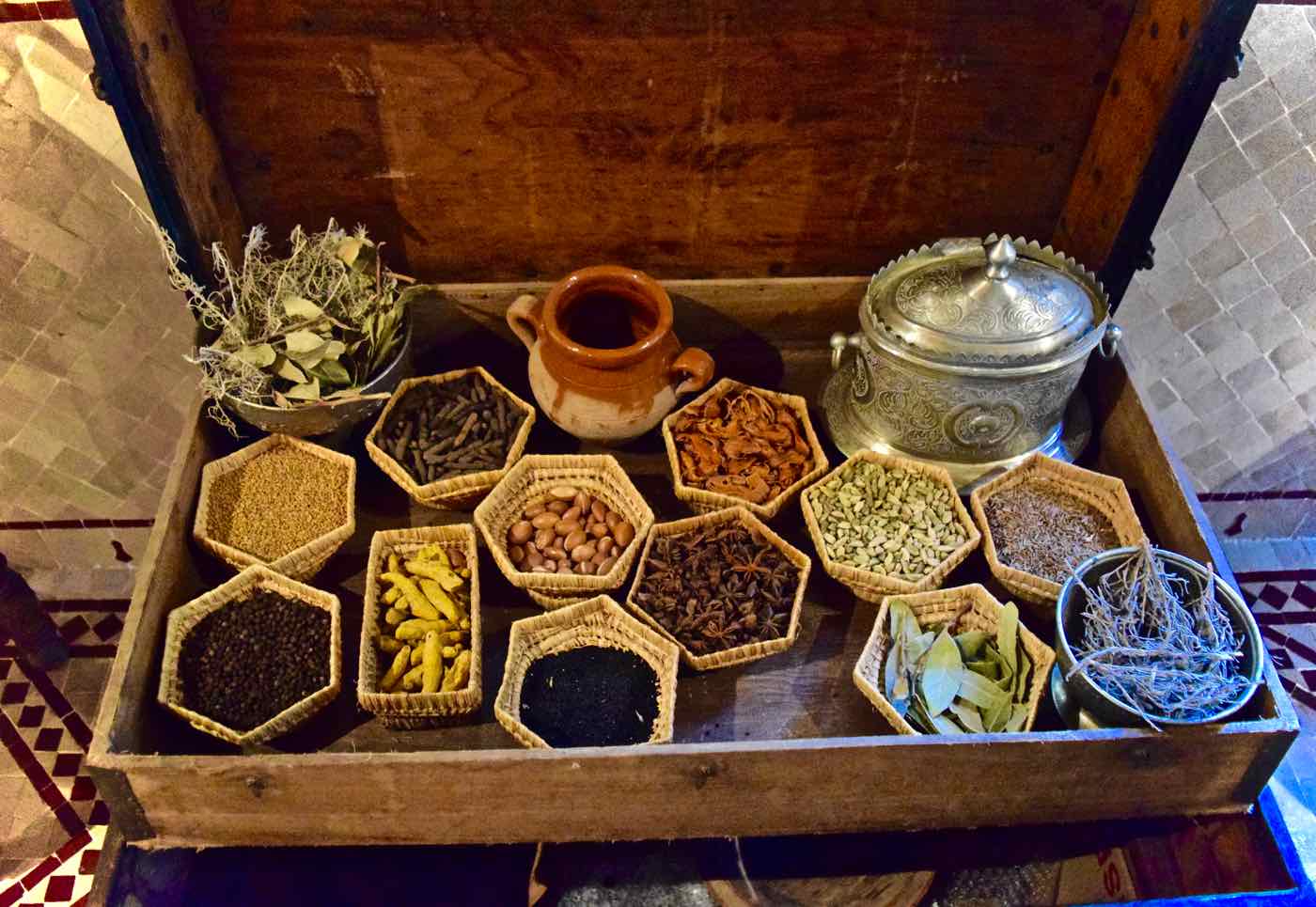 I waited in a tiled courtyard at La Maison Arabe's stylish riad in the heart of the city where I indulged in some morning pastries and mint tea. Rather than taking place there, a group of around ten of us were whisked off to the hotel's private gardens just outside the city. What a stunning environment to cook in… with chillis, courgettes, herbs and more all growing freely, it was easy to feel inspired!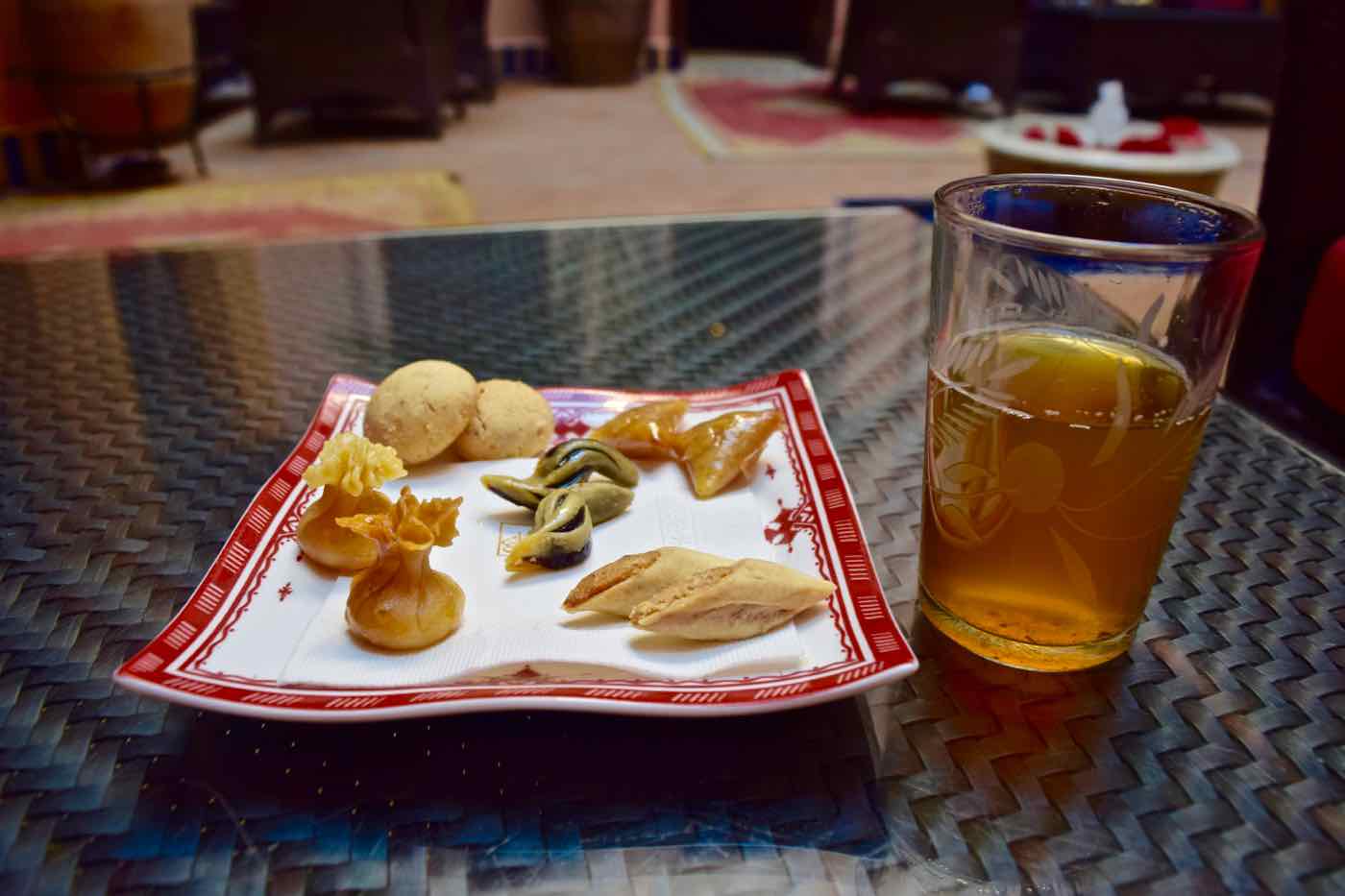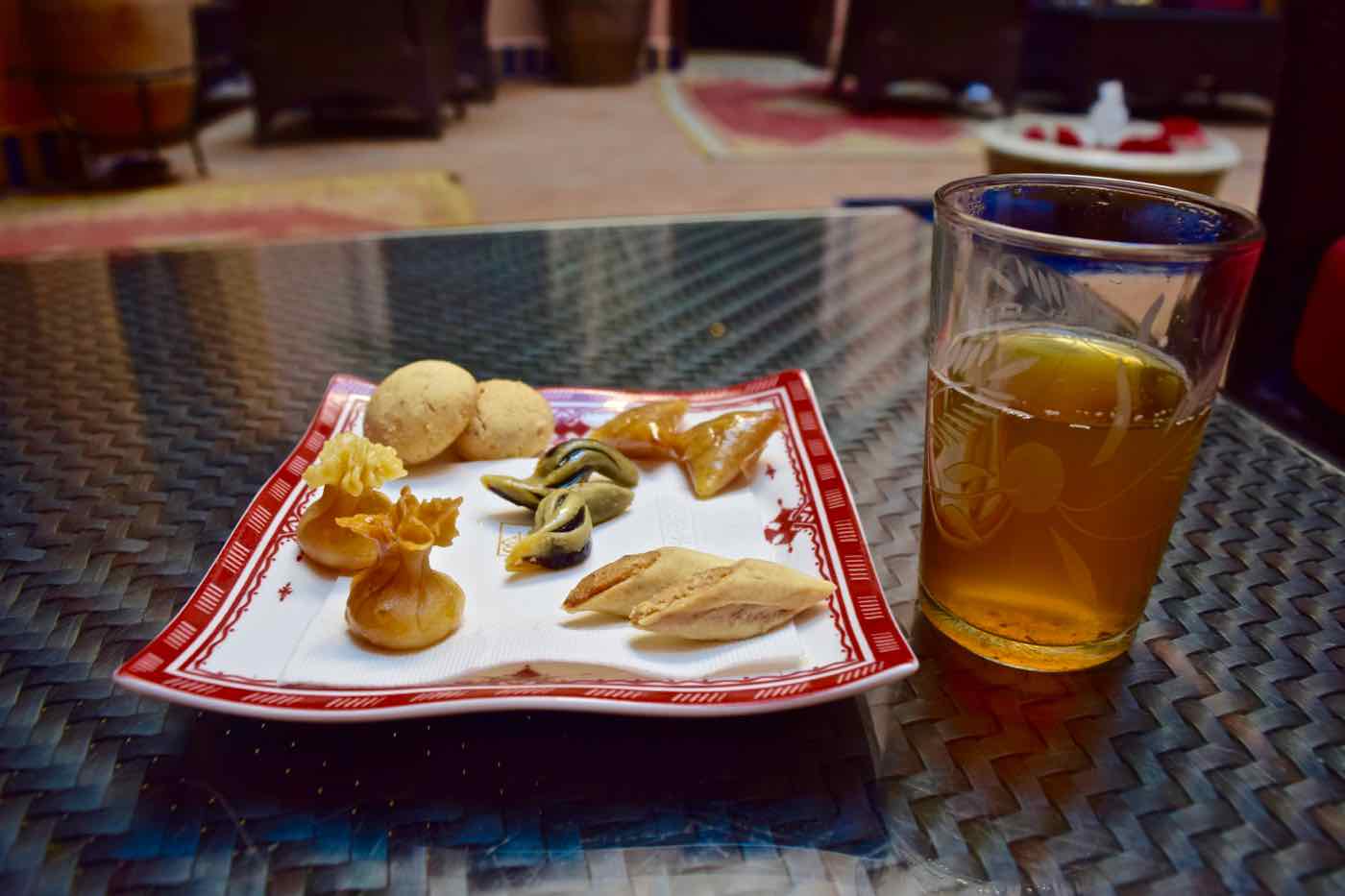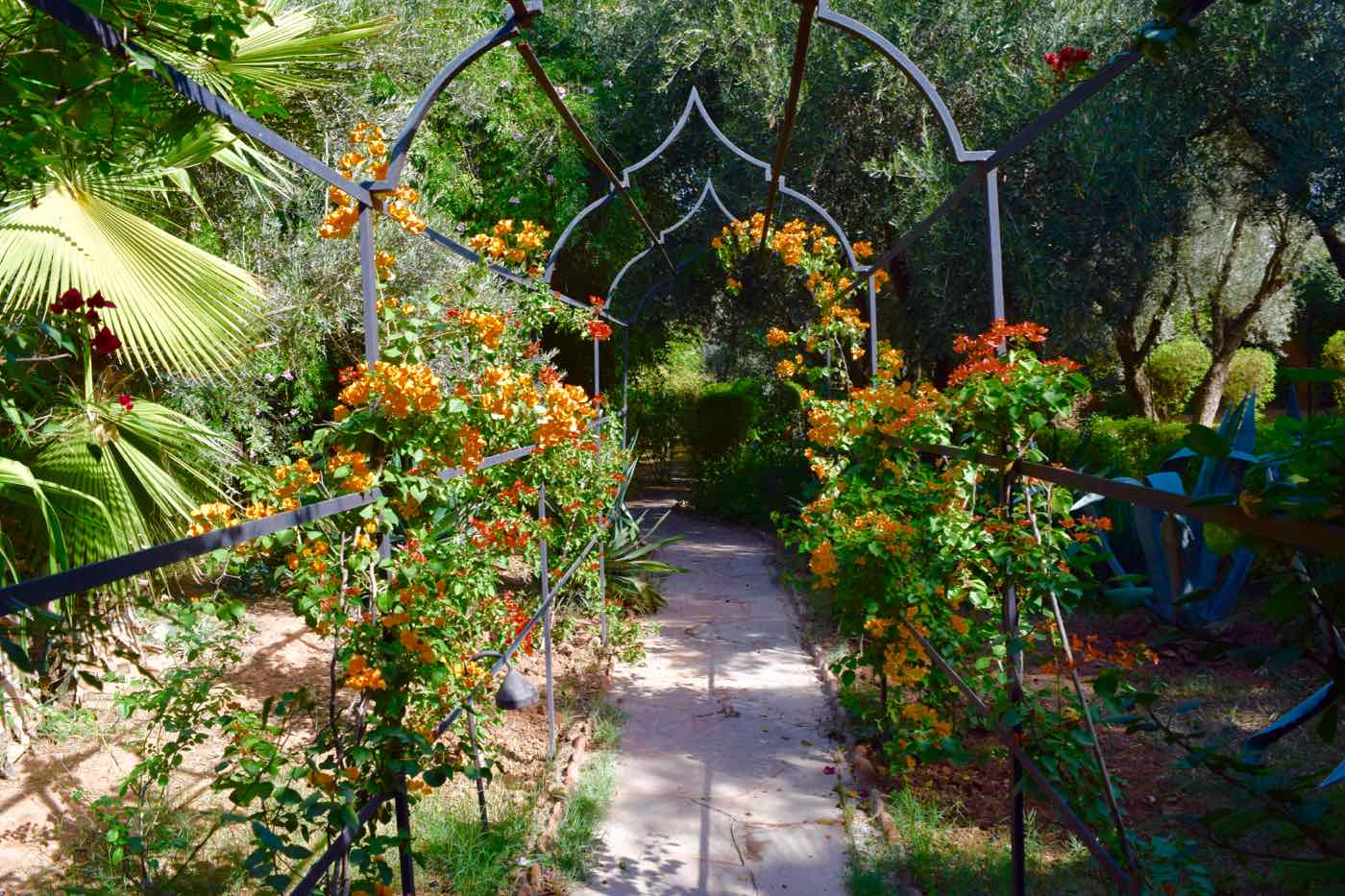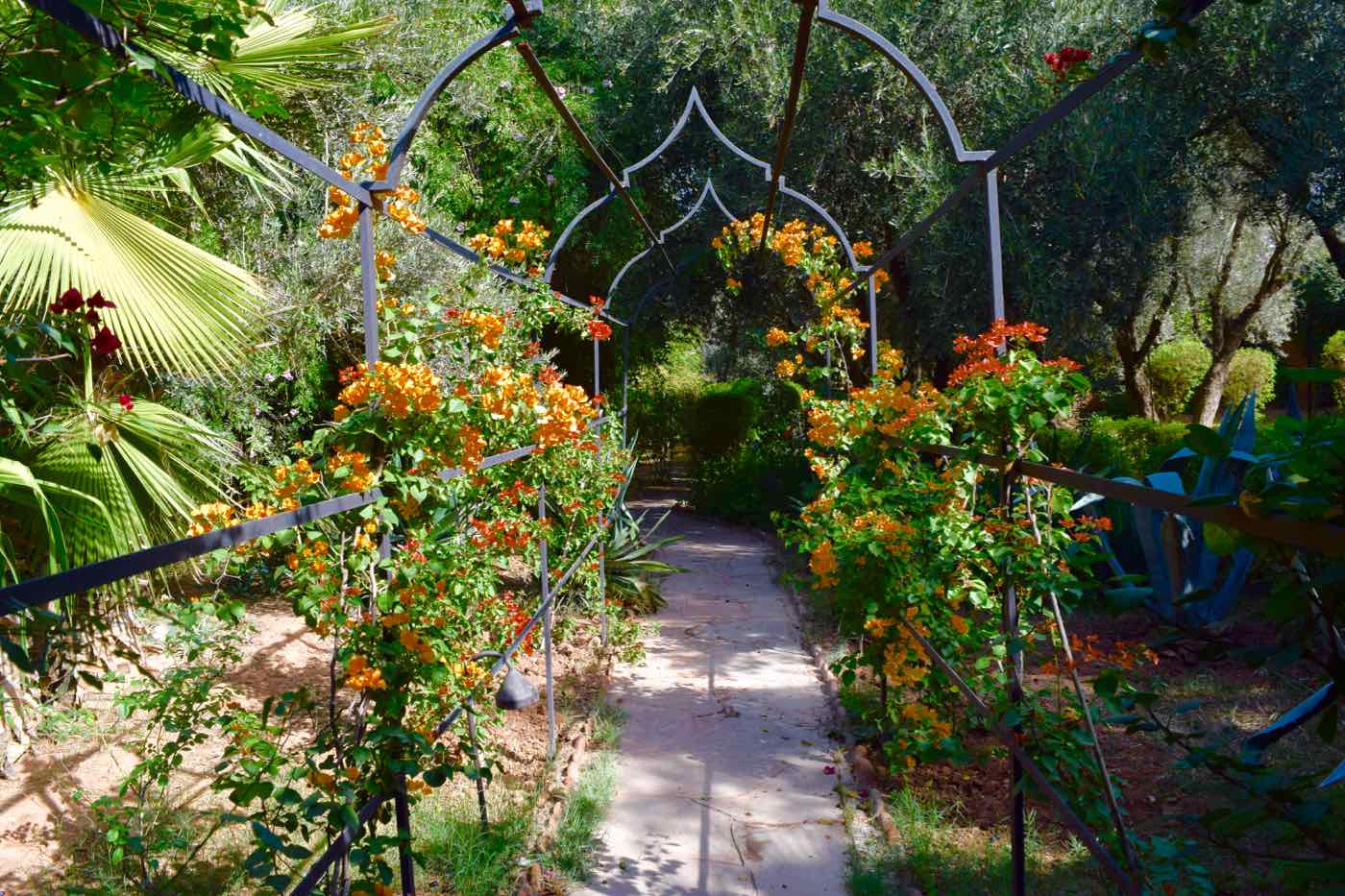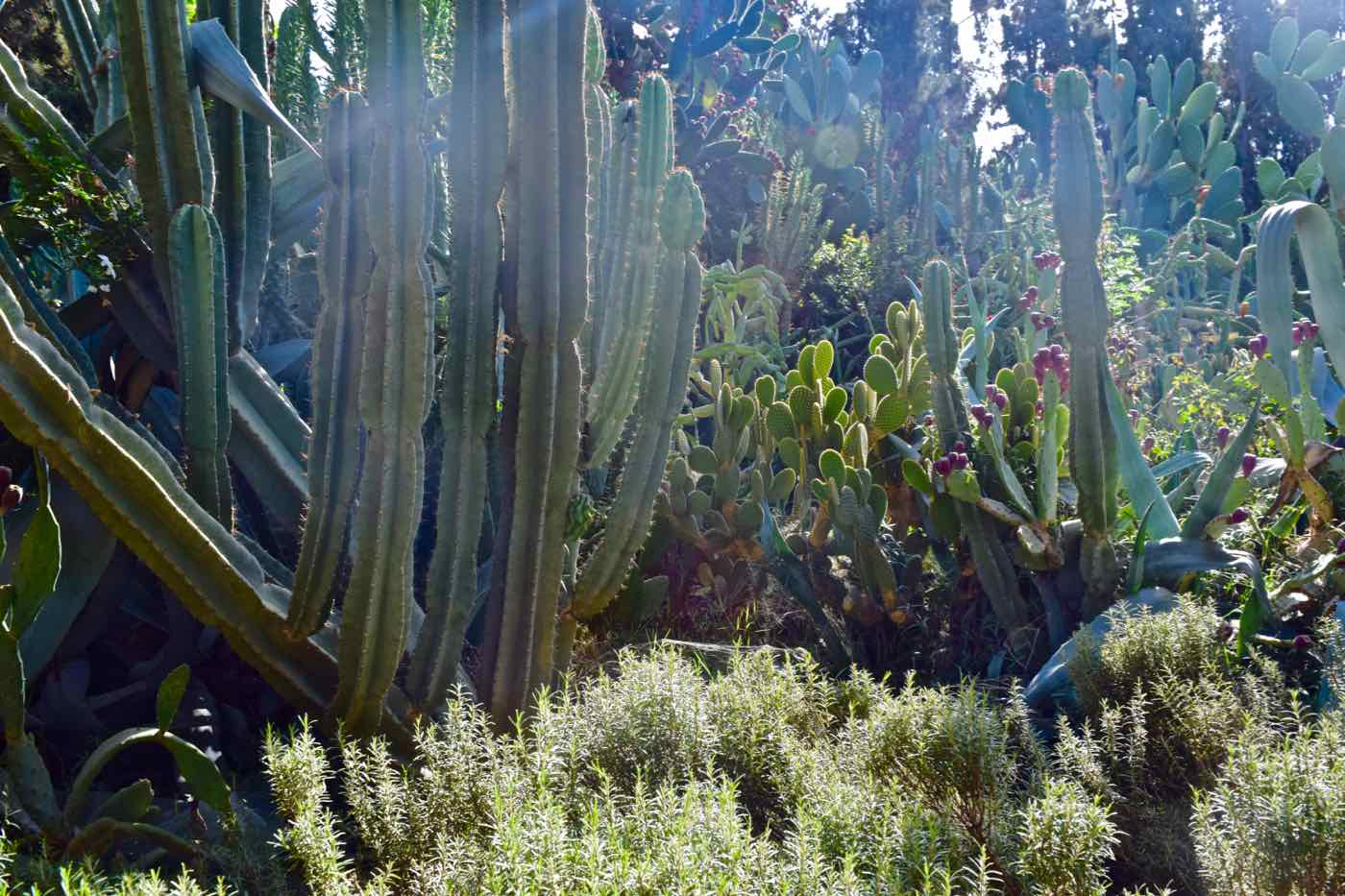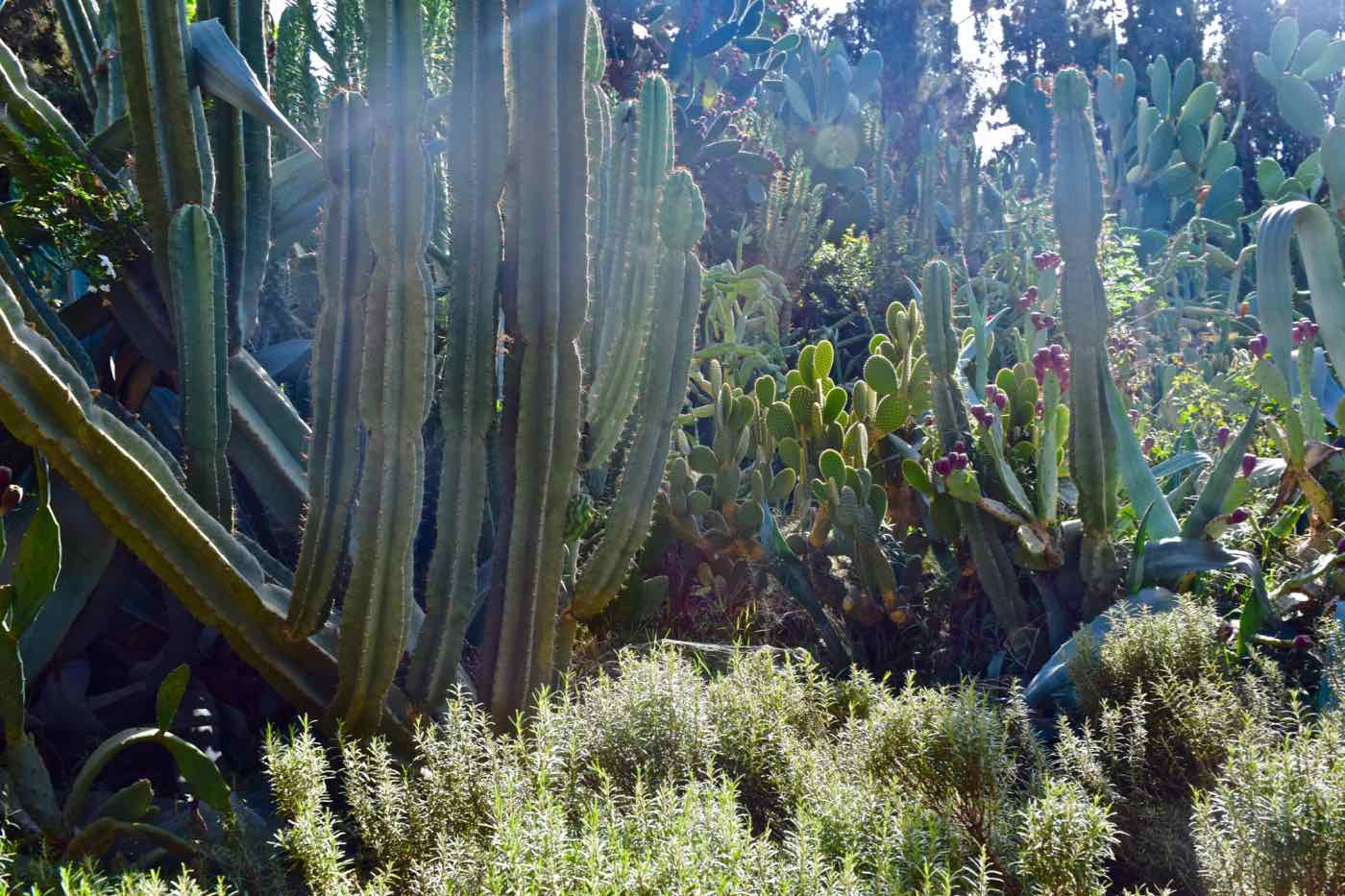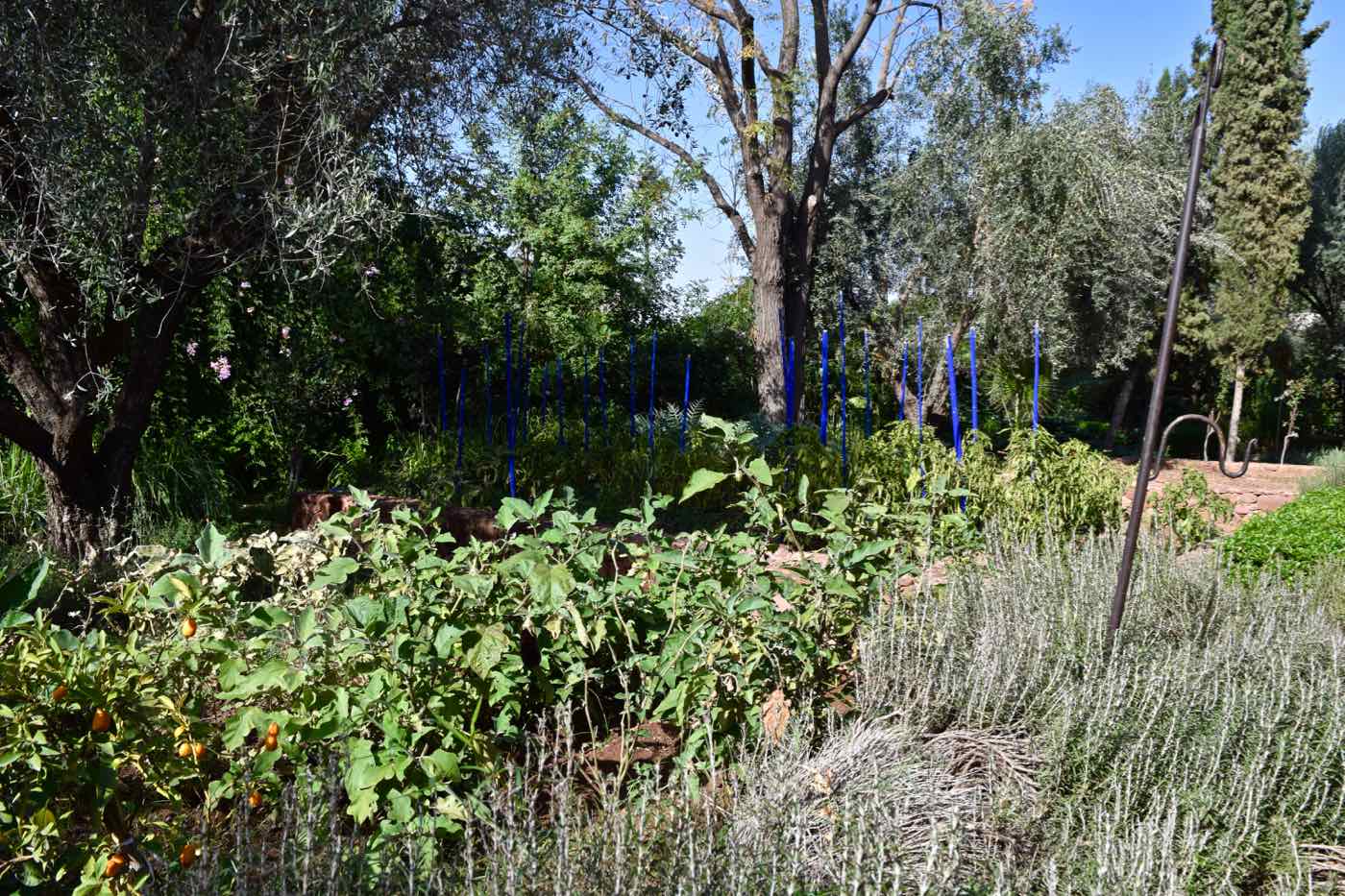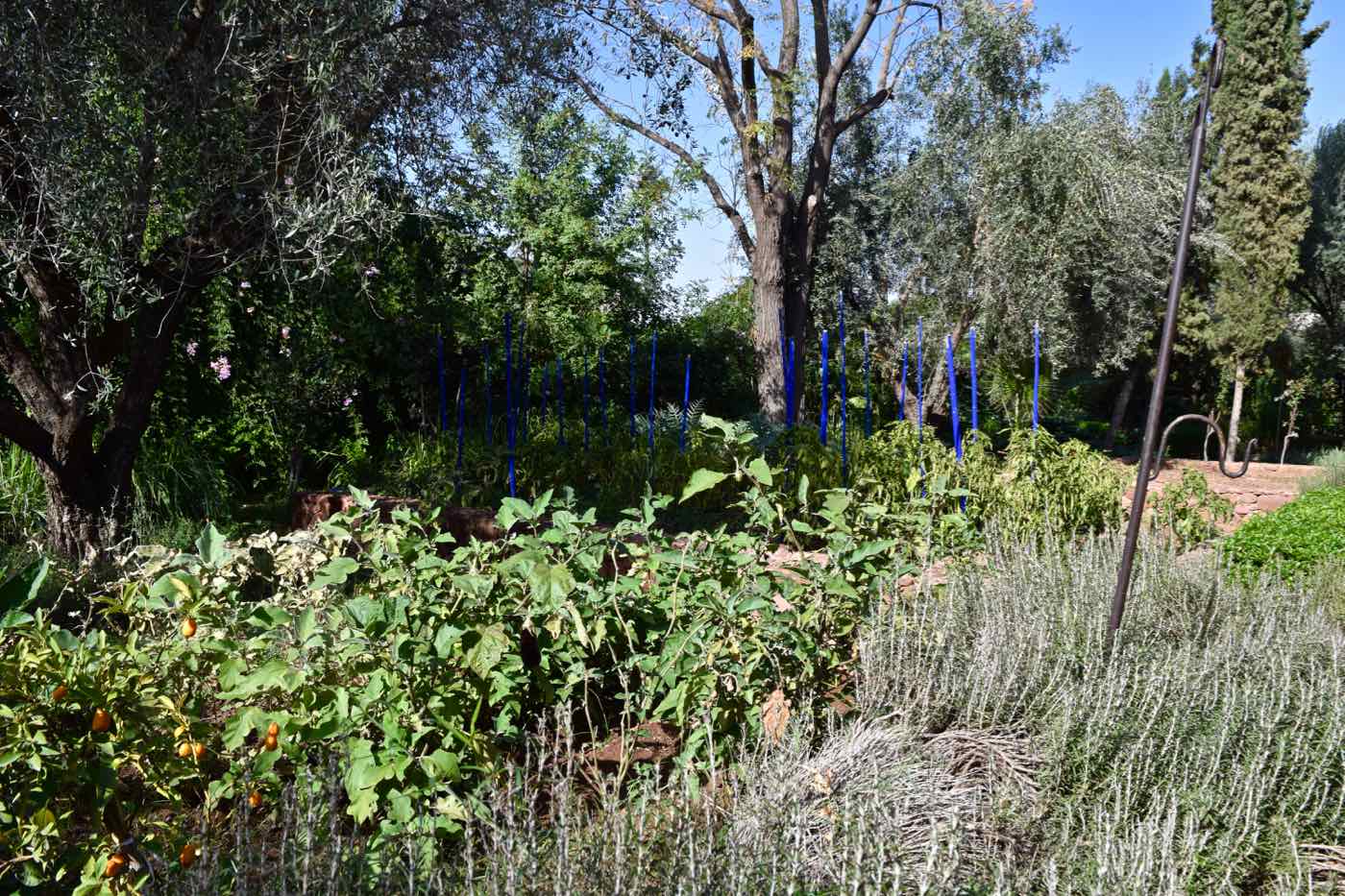 The day was led by Mohammed who started the session in a relaxed manner with a chat around the table about Moroccan cookery. We covered everything from basic ingredients and traditional spice combinations, to which dishes are served on special occasions. The key to Moroccan cooking he said? Marinading and slow cooking.
On today's menu: a green pepper and tomato salad (taktuka salad), an aubergine salad (zalouk salad), tafernout bread and a chicken tagine with preserved lemon and olives. Then for dessert we would be making a filo and custard dish (milk pastille) and biscuits with jam (sablé).
Next, we were guided to a covered alcove in the garden where traditional bread was being baked in an outdoor oven. We sipped on delicious lemon, geranium leaf and verbena teas and watched as it was poured from great height (as per the Moroccan tradition). The tafernout bread was patted out into rounds, and then baked in the oven for around 8 minutes. It was delicious – like a focaccia/nan hybrid.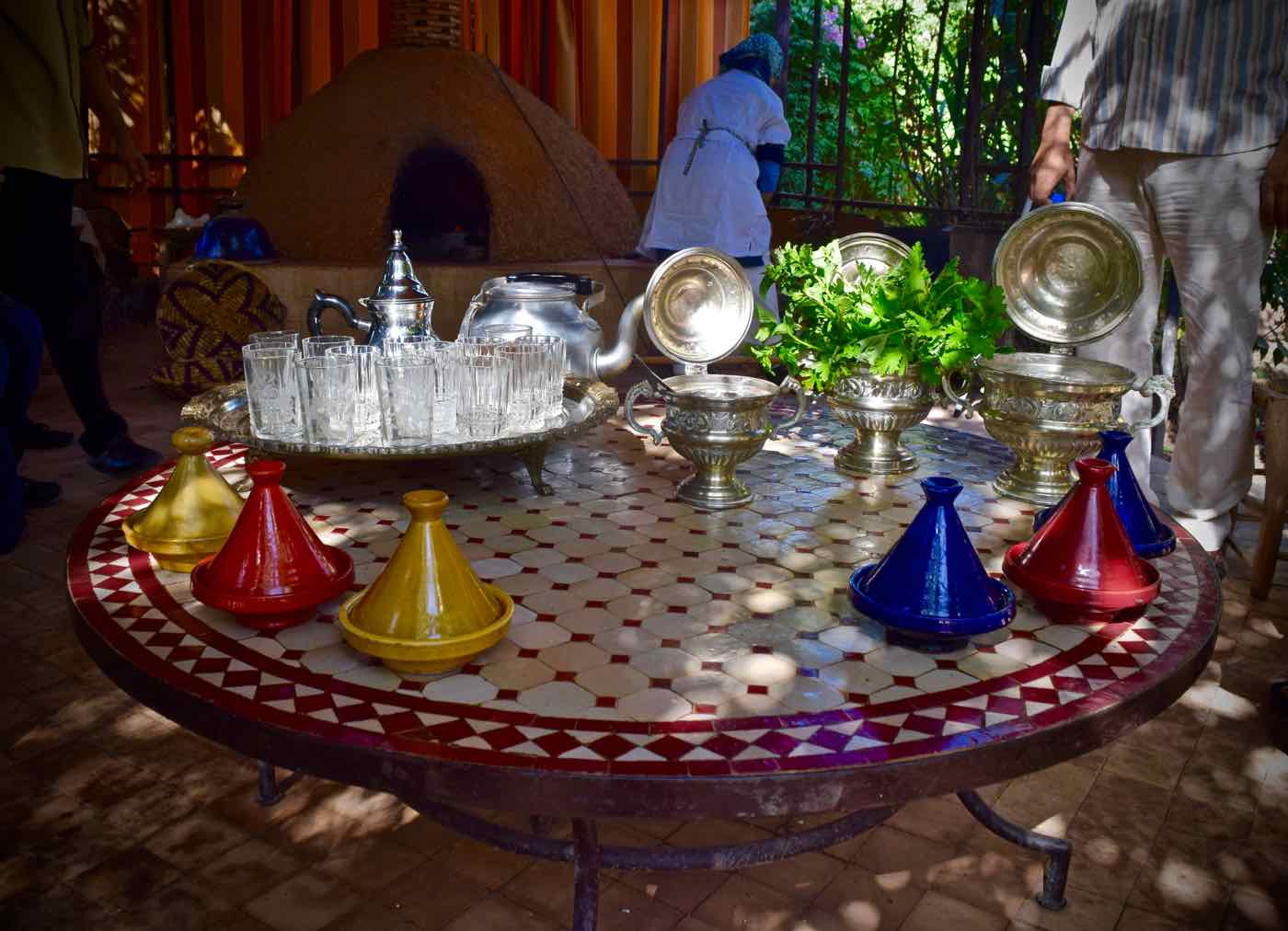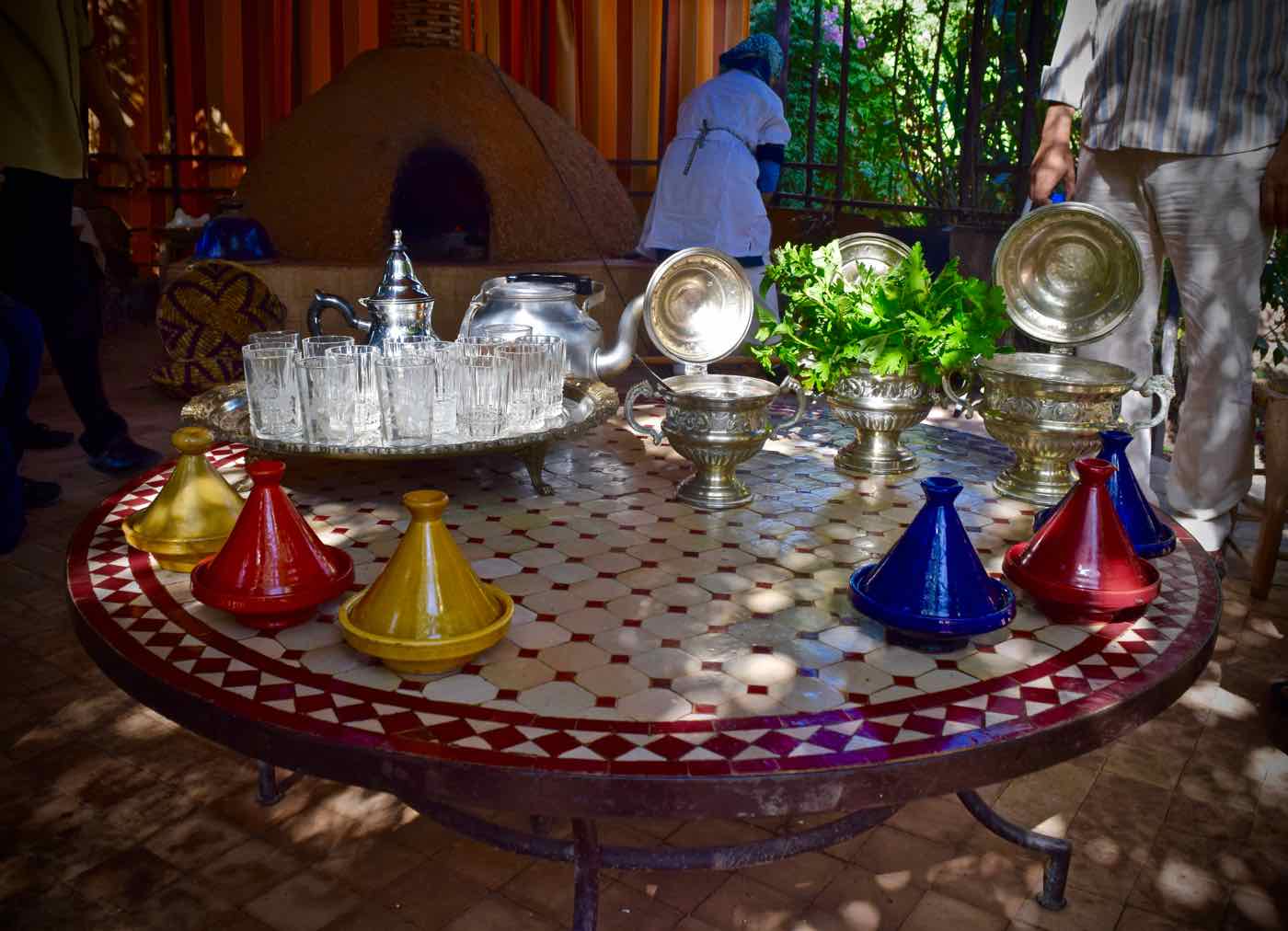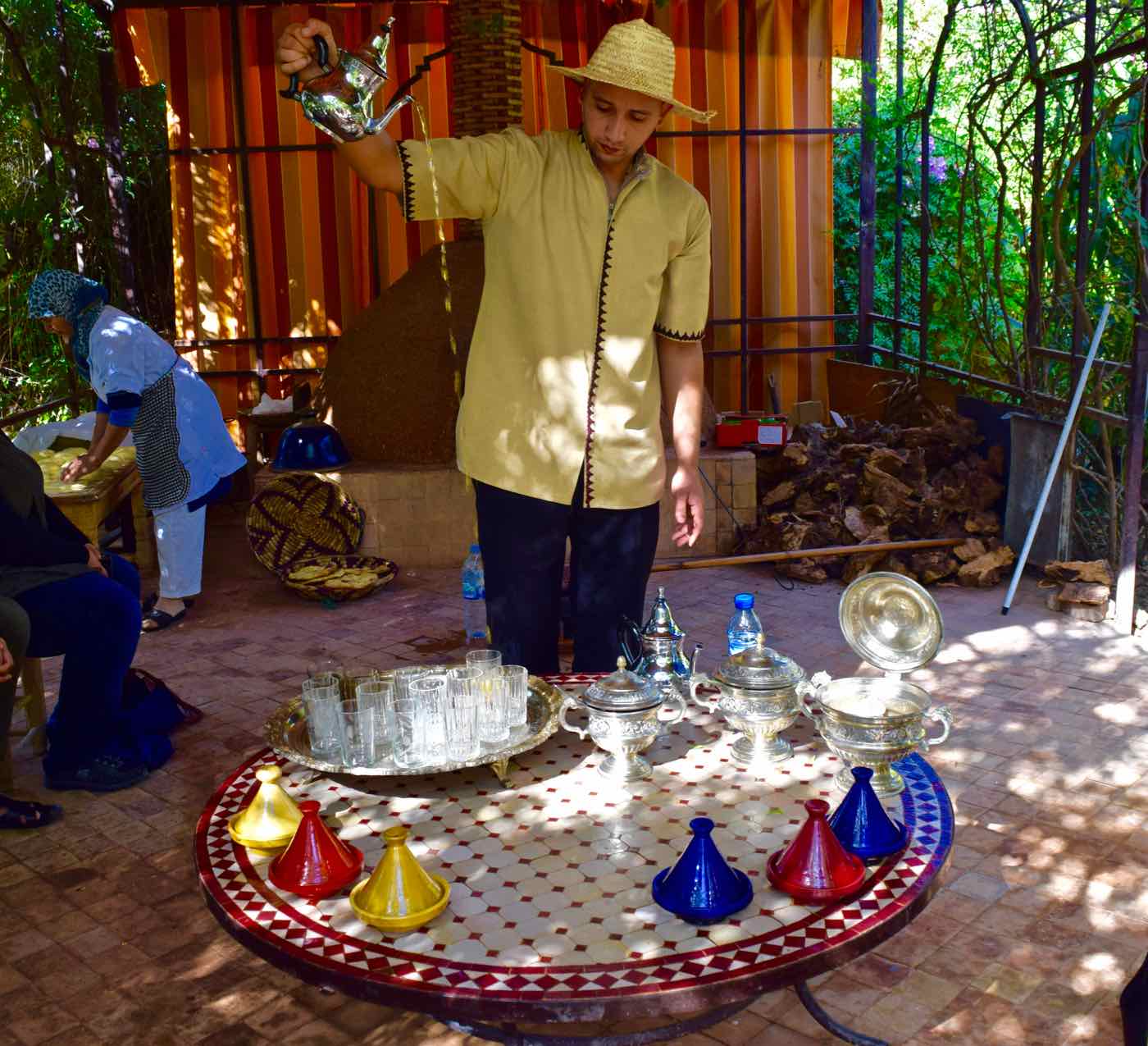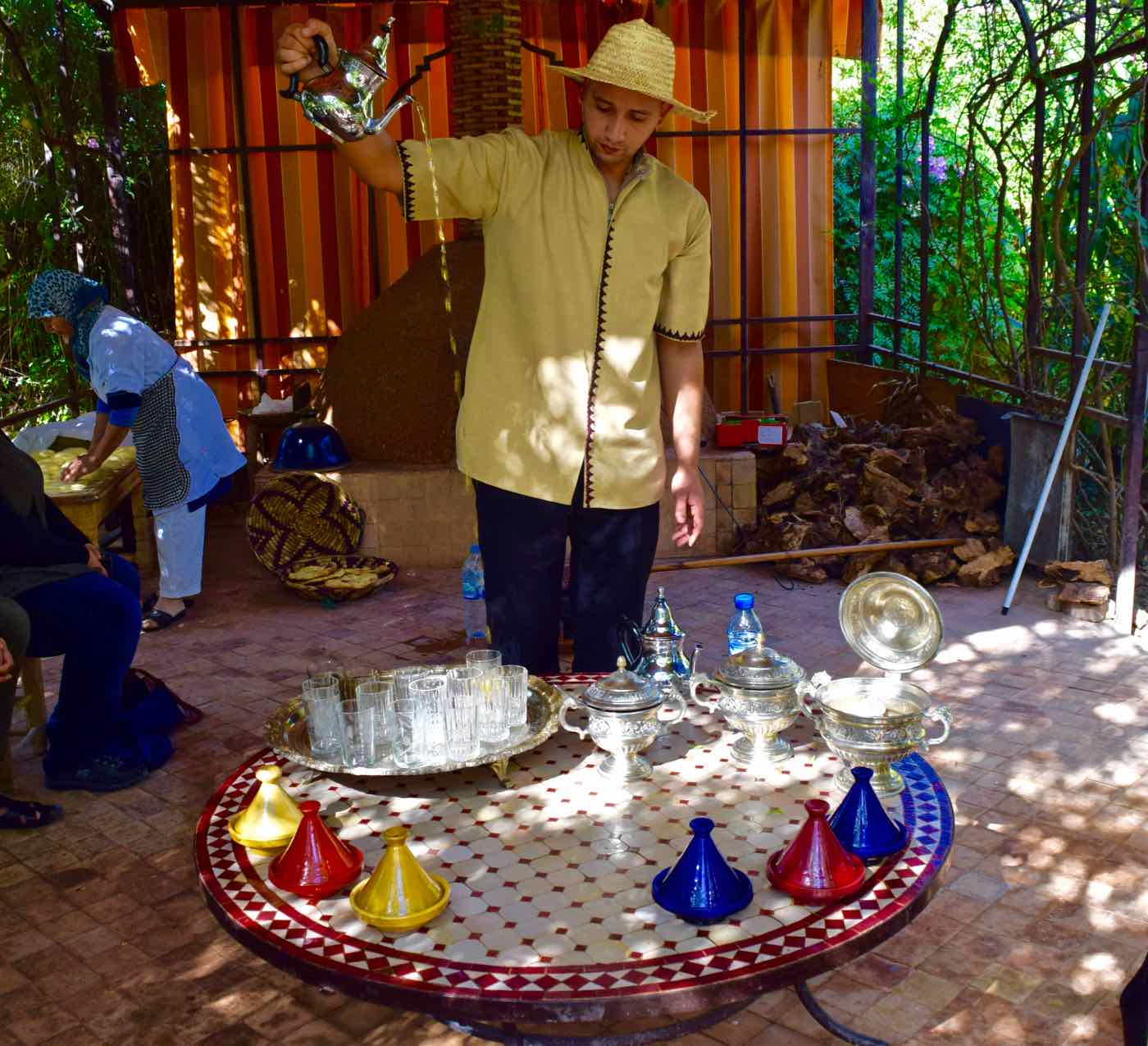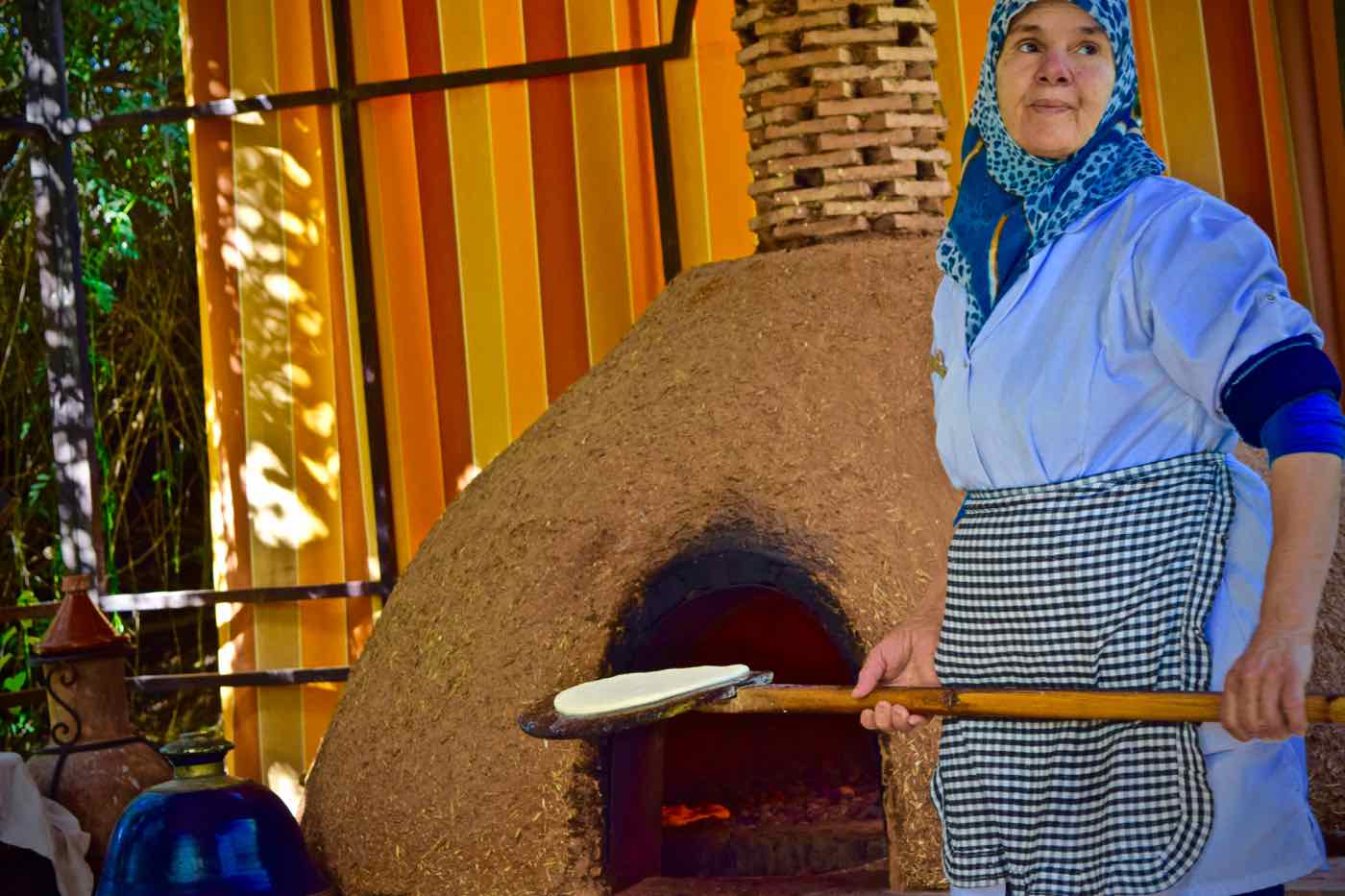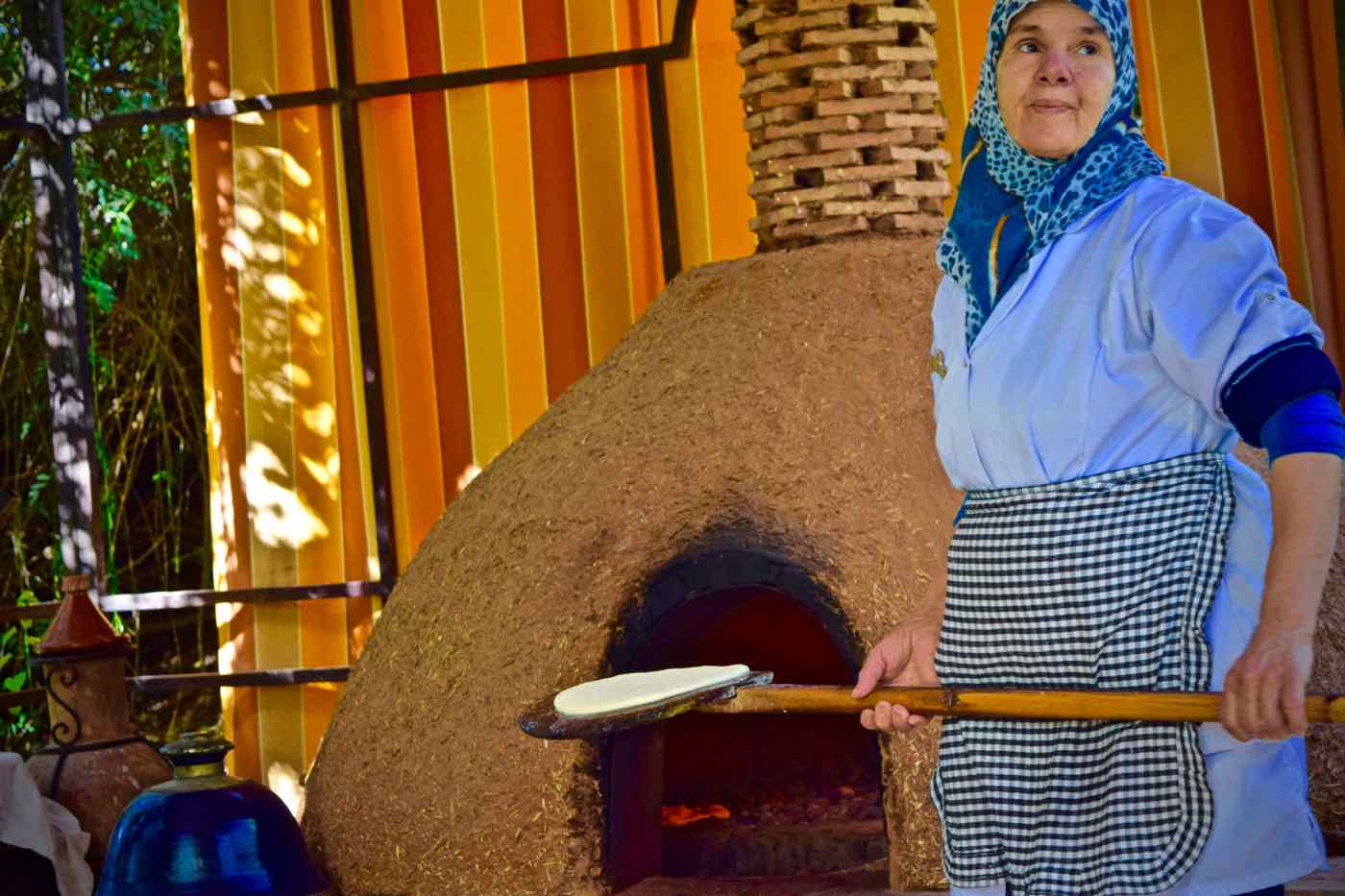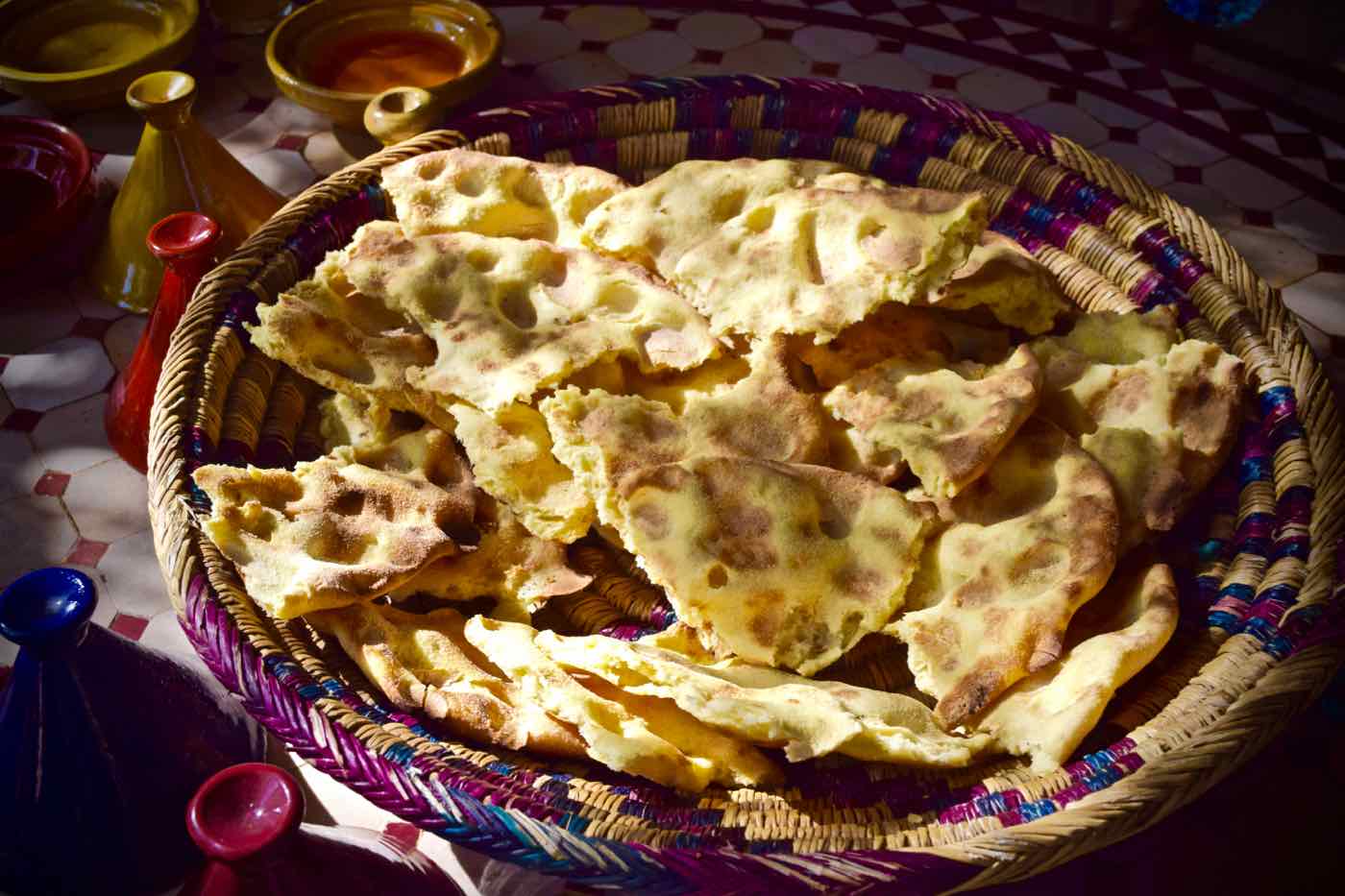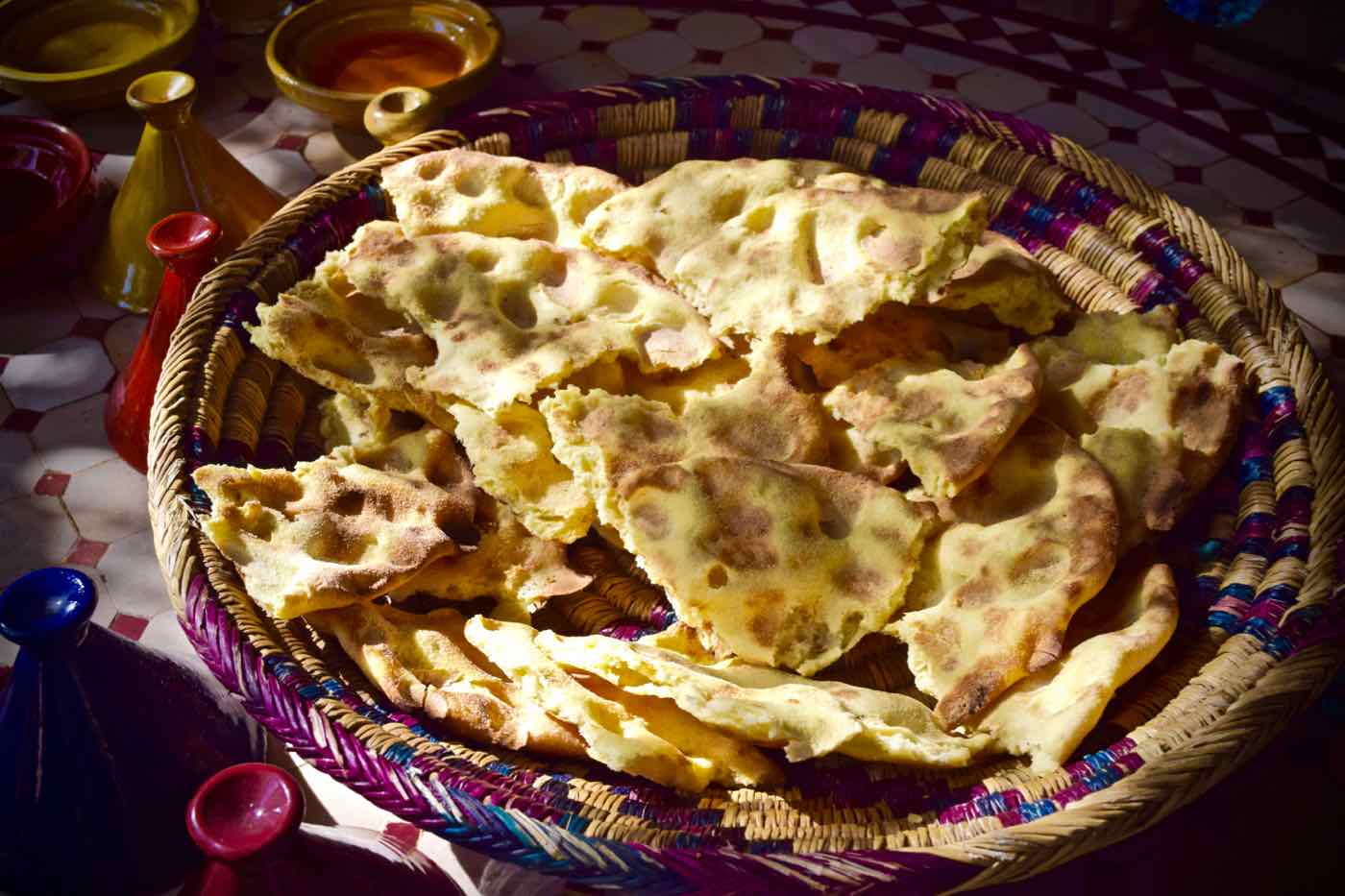 Feeling revived and ready to get in the kitchen, we headed indoors, donned some smart aprons, got acquainted with our new kitchen partners, and several bowls of ingredients.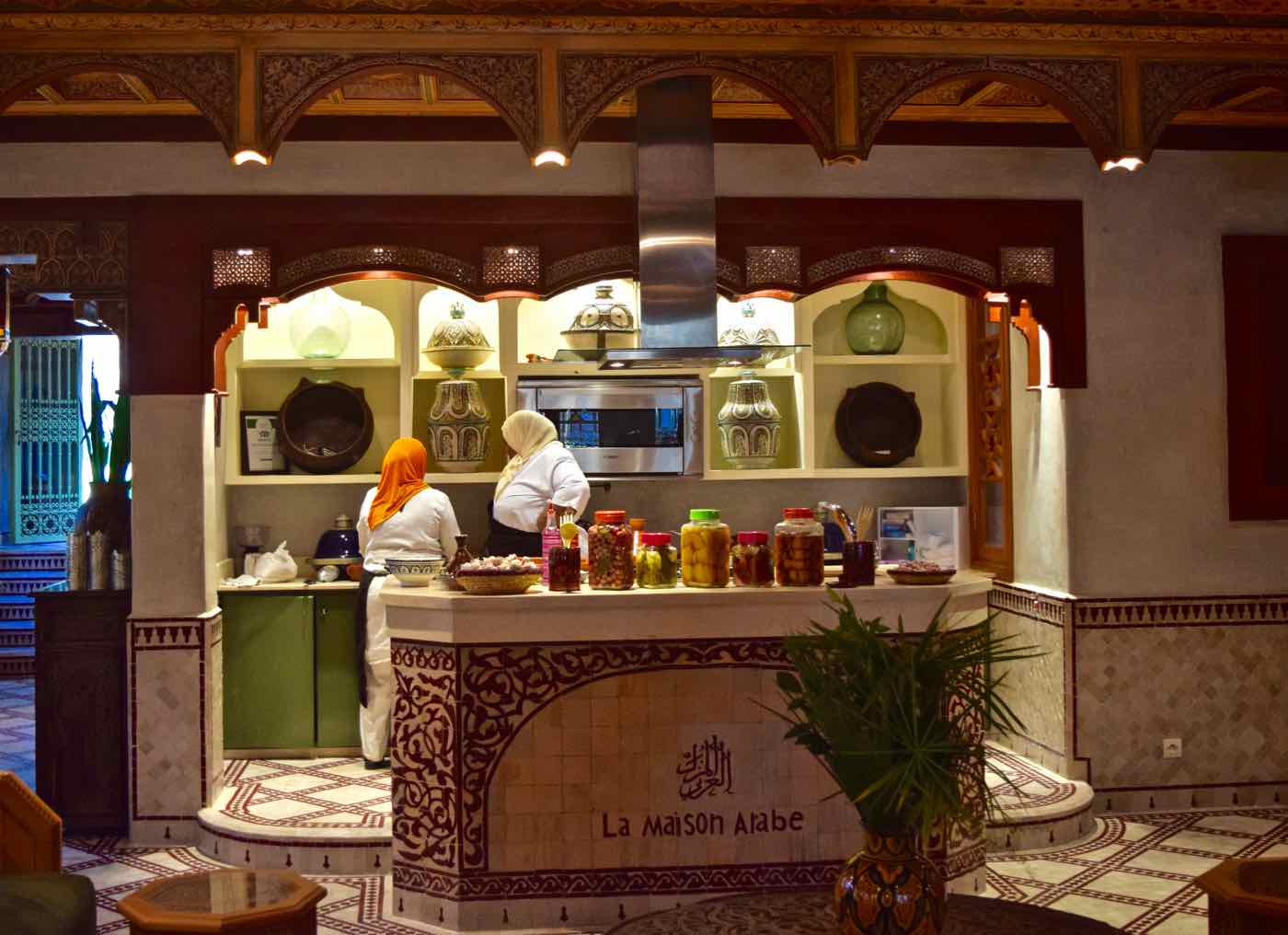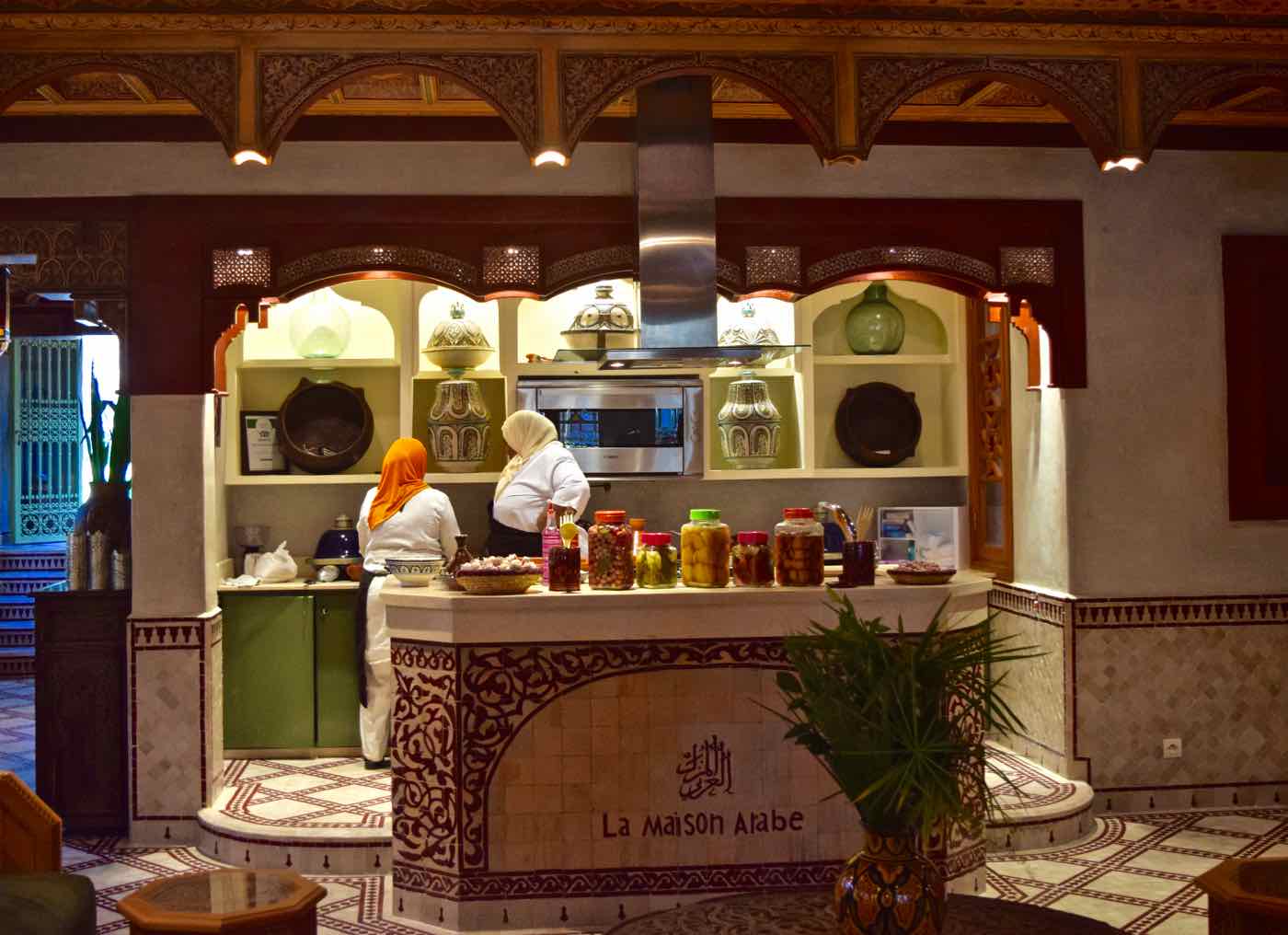 Alongside Mohammed were two female cooks who helped with the demonstrations. One was always at the front in the show kitchen, which was also live streamed to the screens in front of each workstation. It really was state of the art!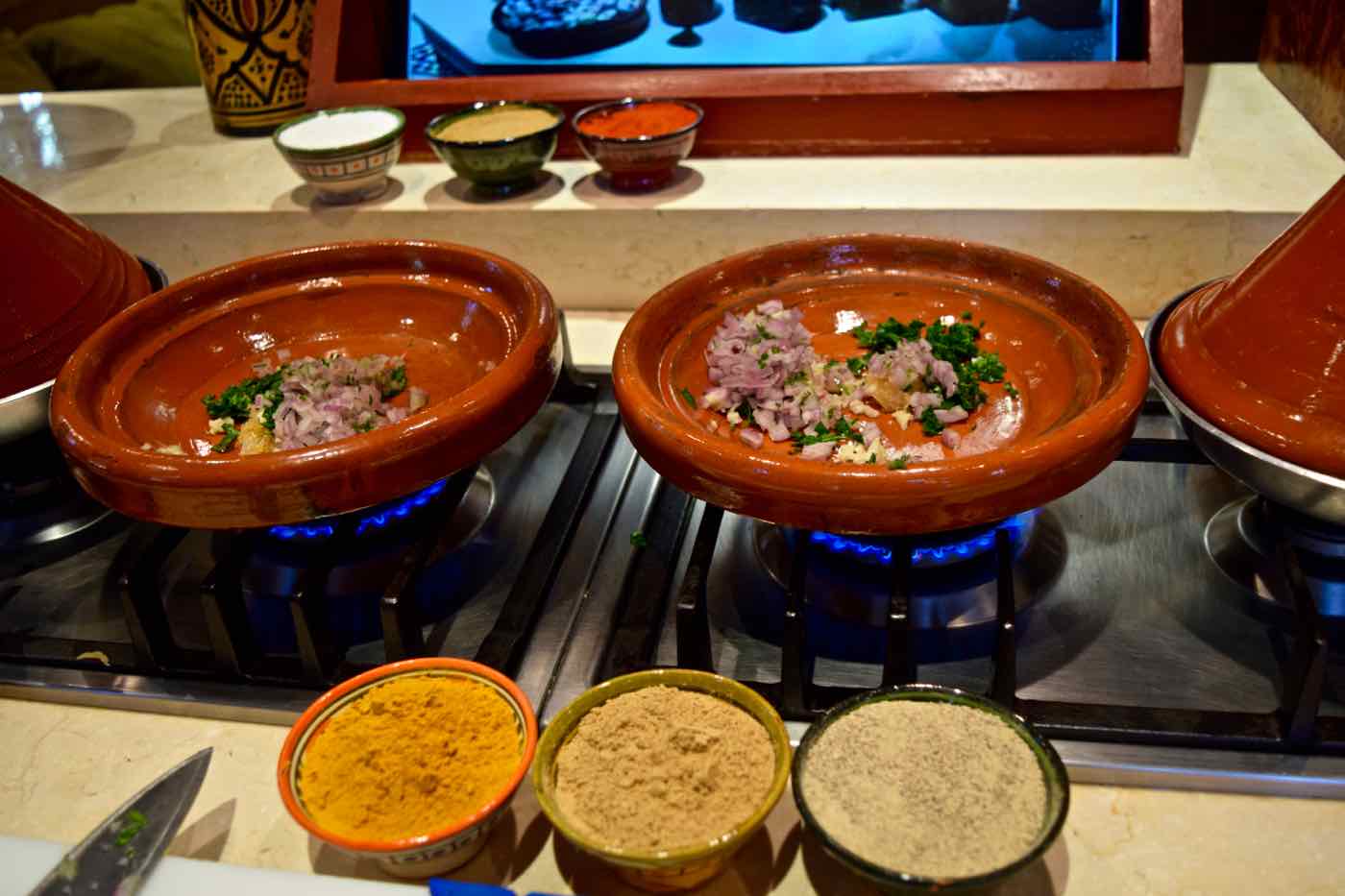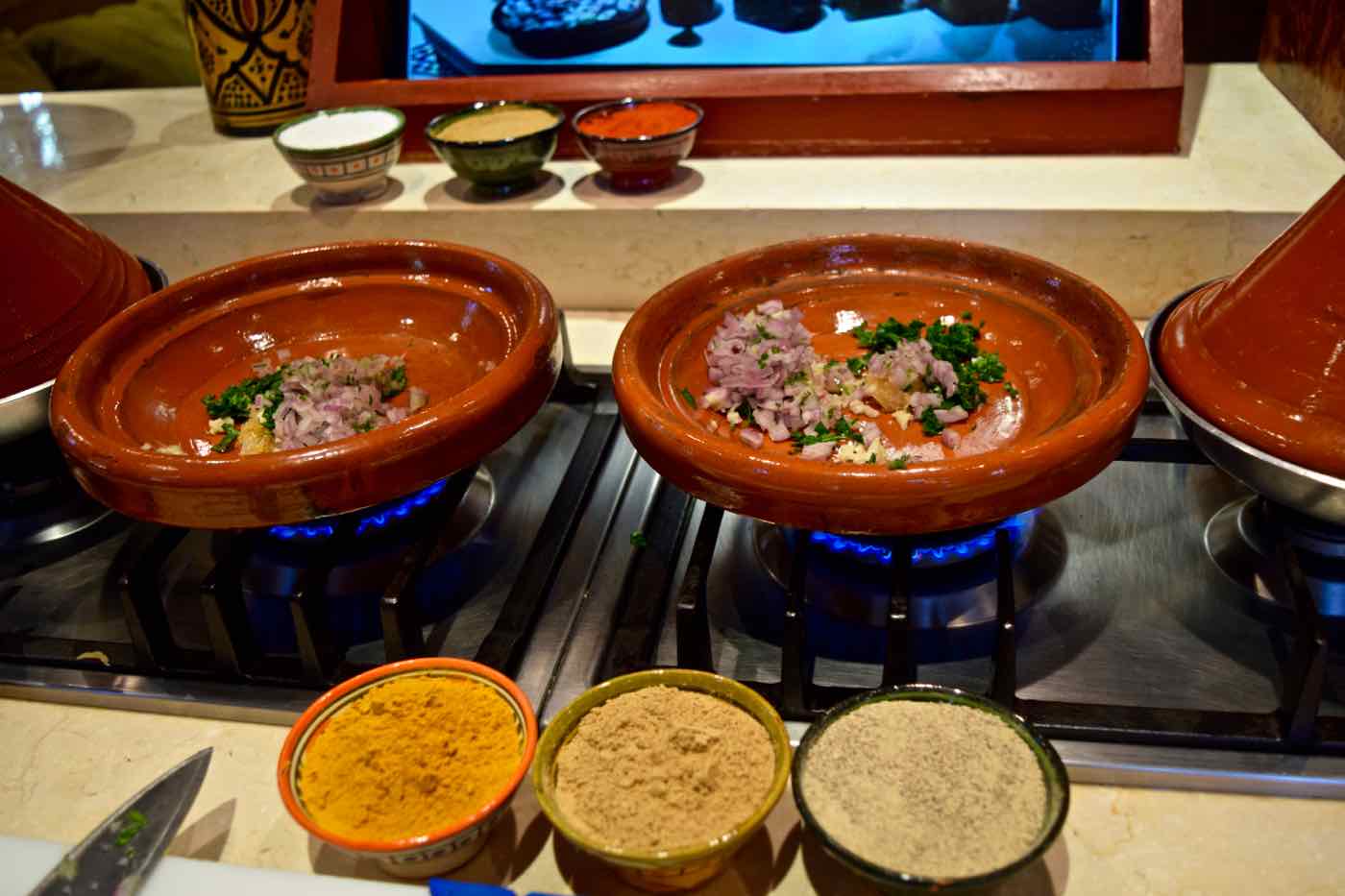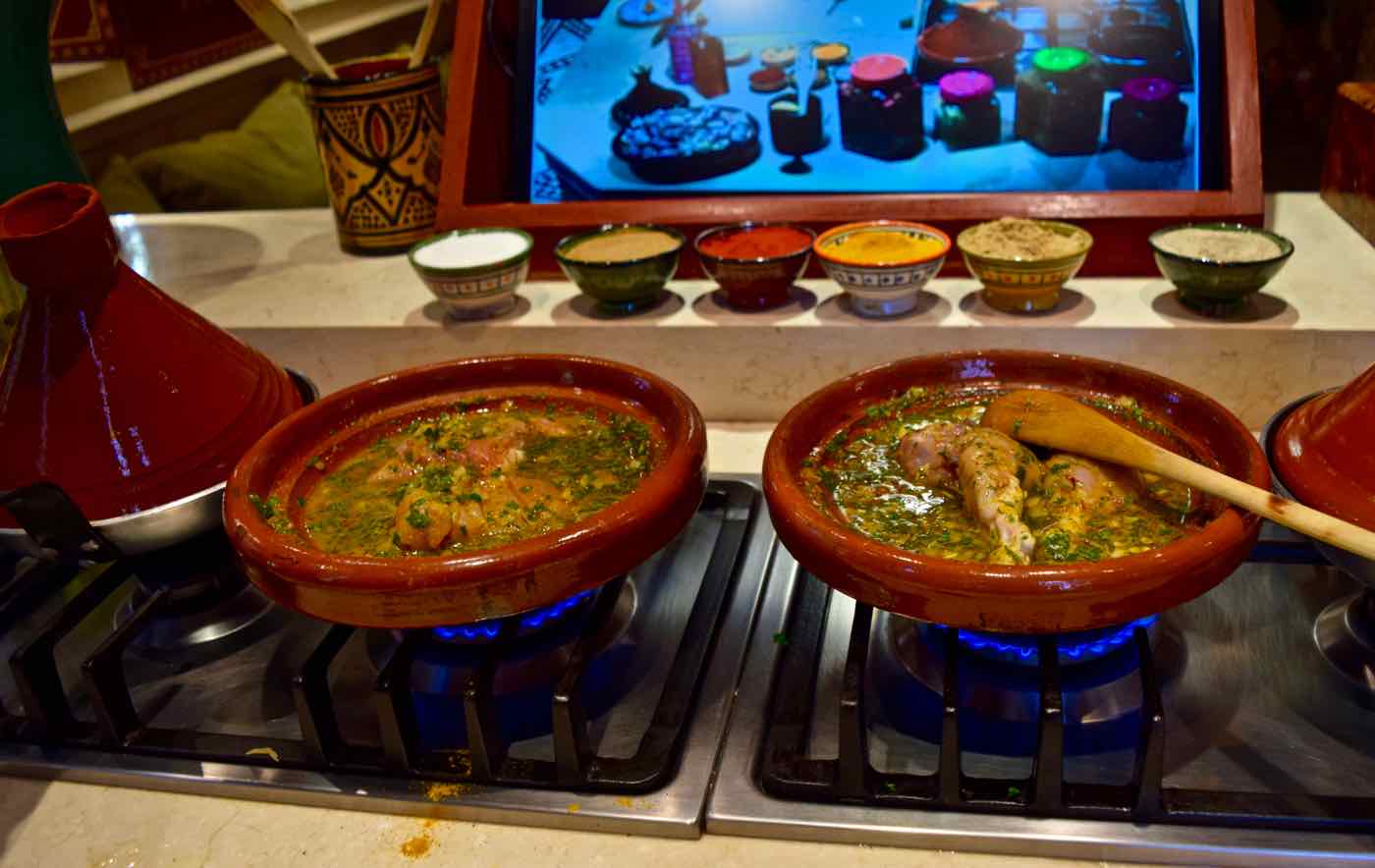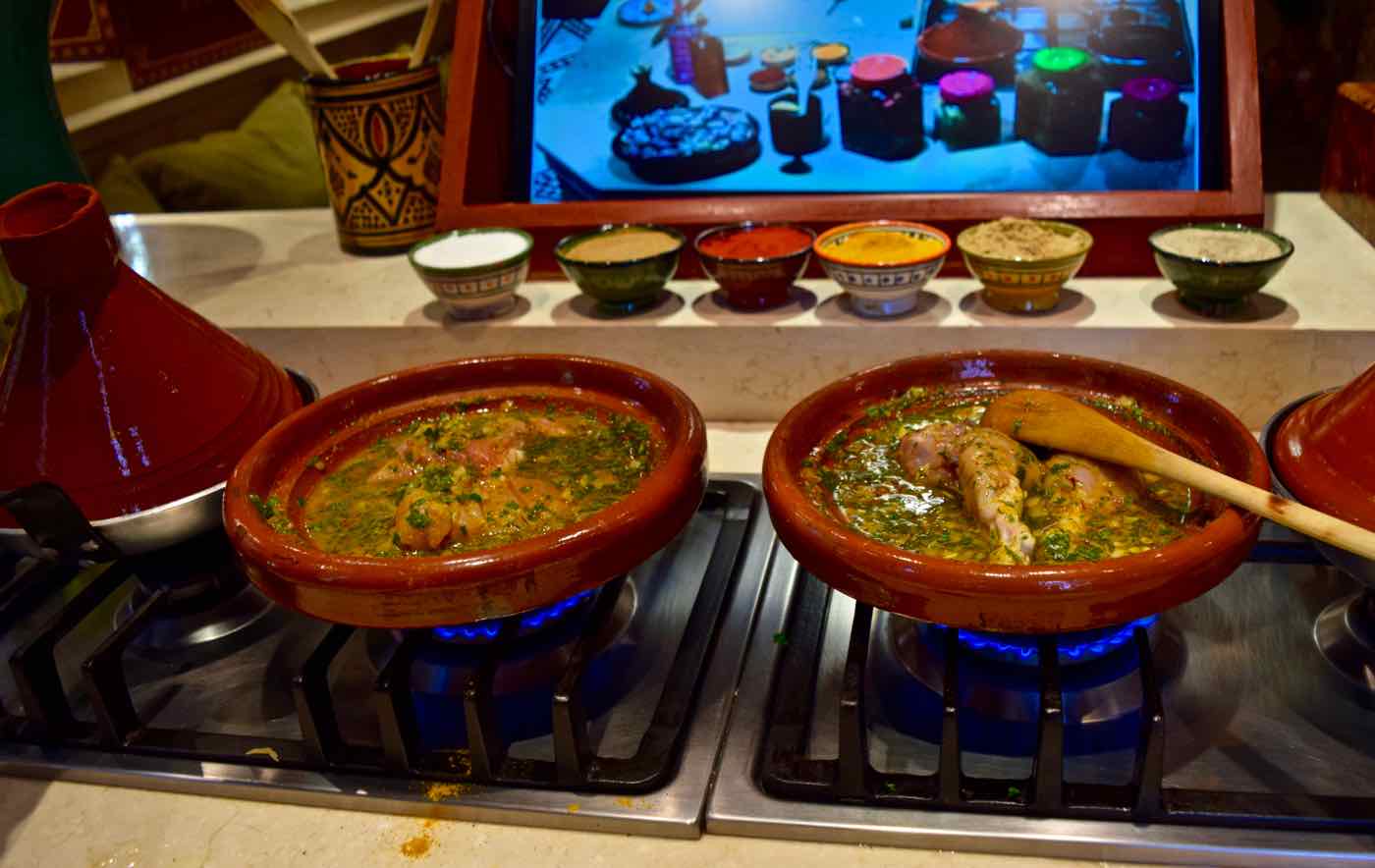 Over the next hour we chopped, stirred, cooked, baked, and tasted. Mmm! It was a lot of fun – everyone was chatting and there was a real buzz in the room. While we didn't have a huge amount of time, the chicken cooked relatively slowly in the tagine. The steam travelled up and down to create a succulent, tasty dish with a rich reduced sauce.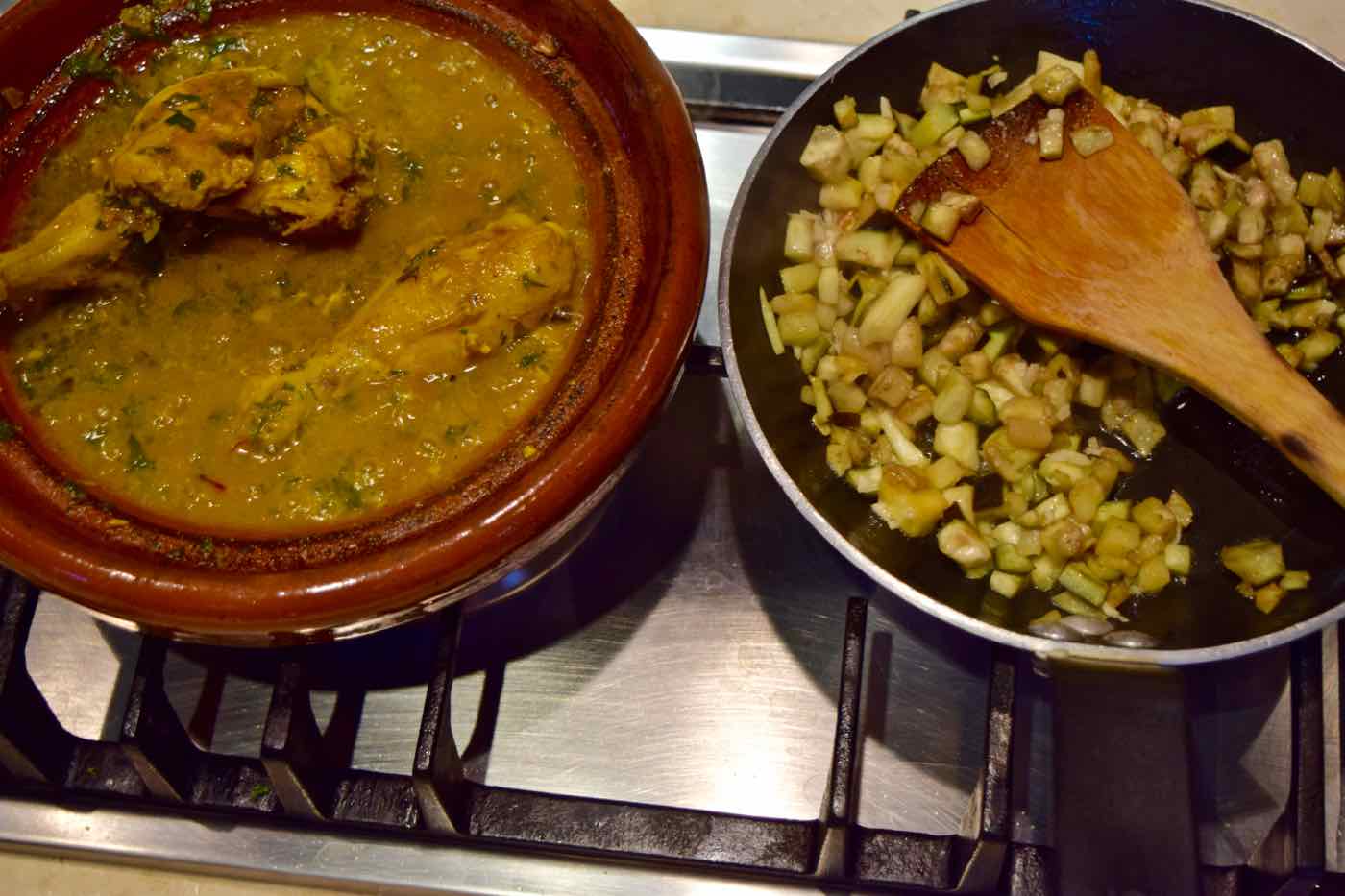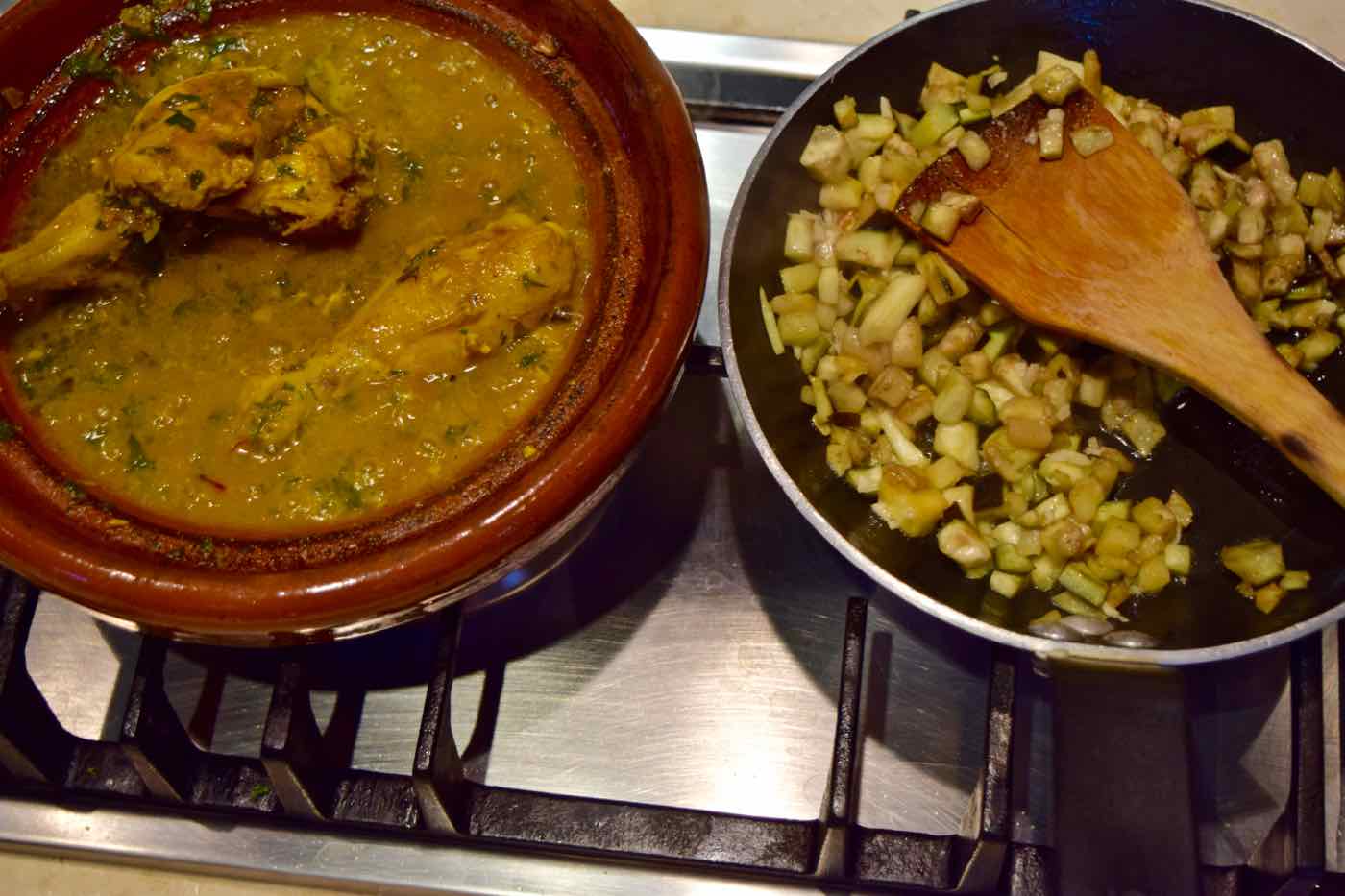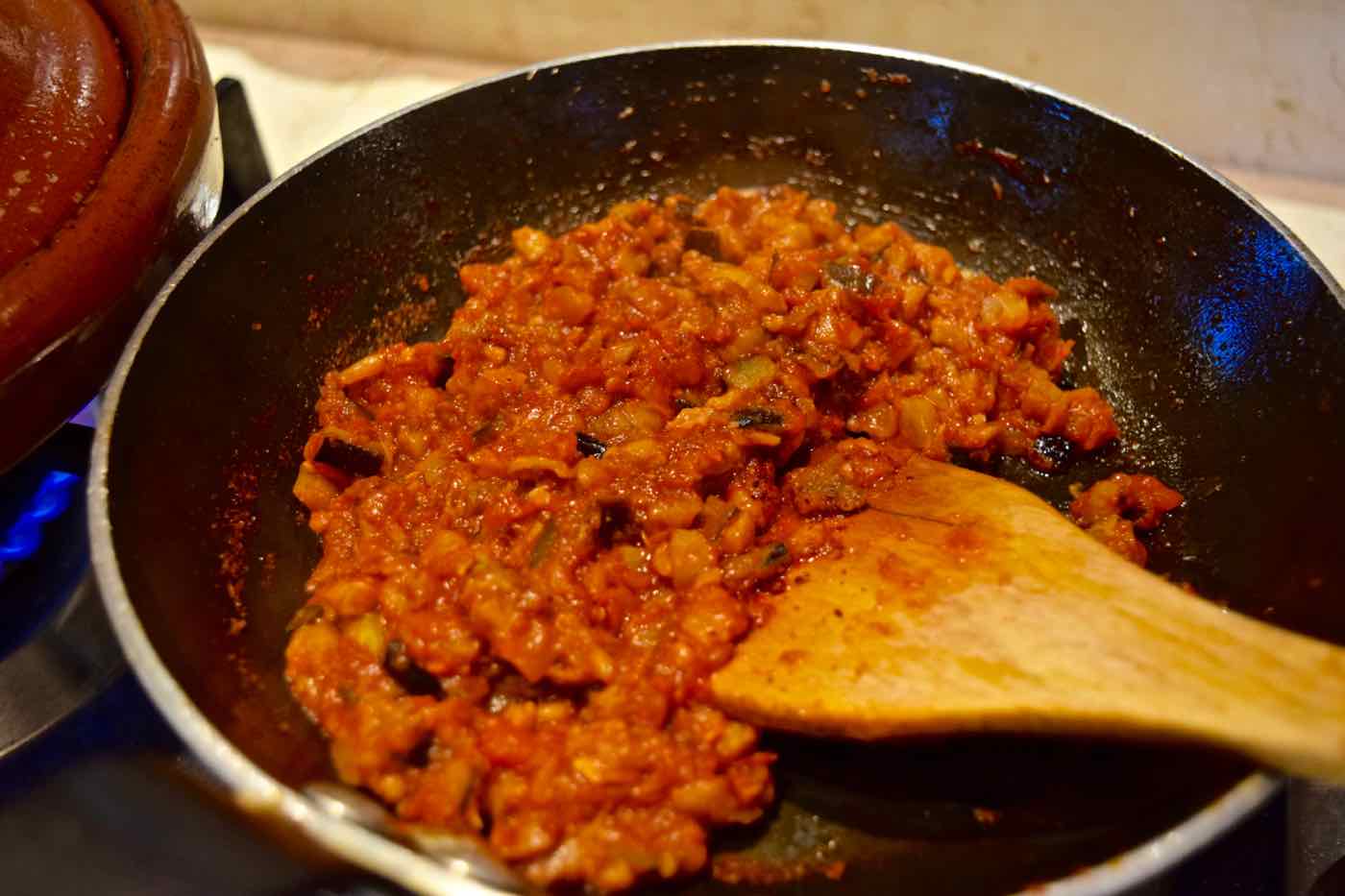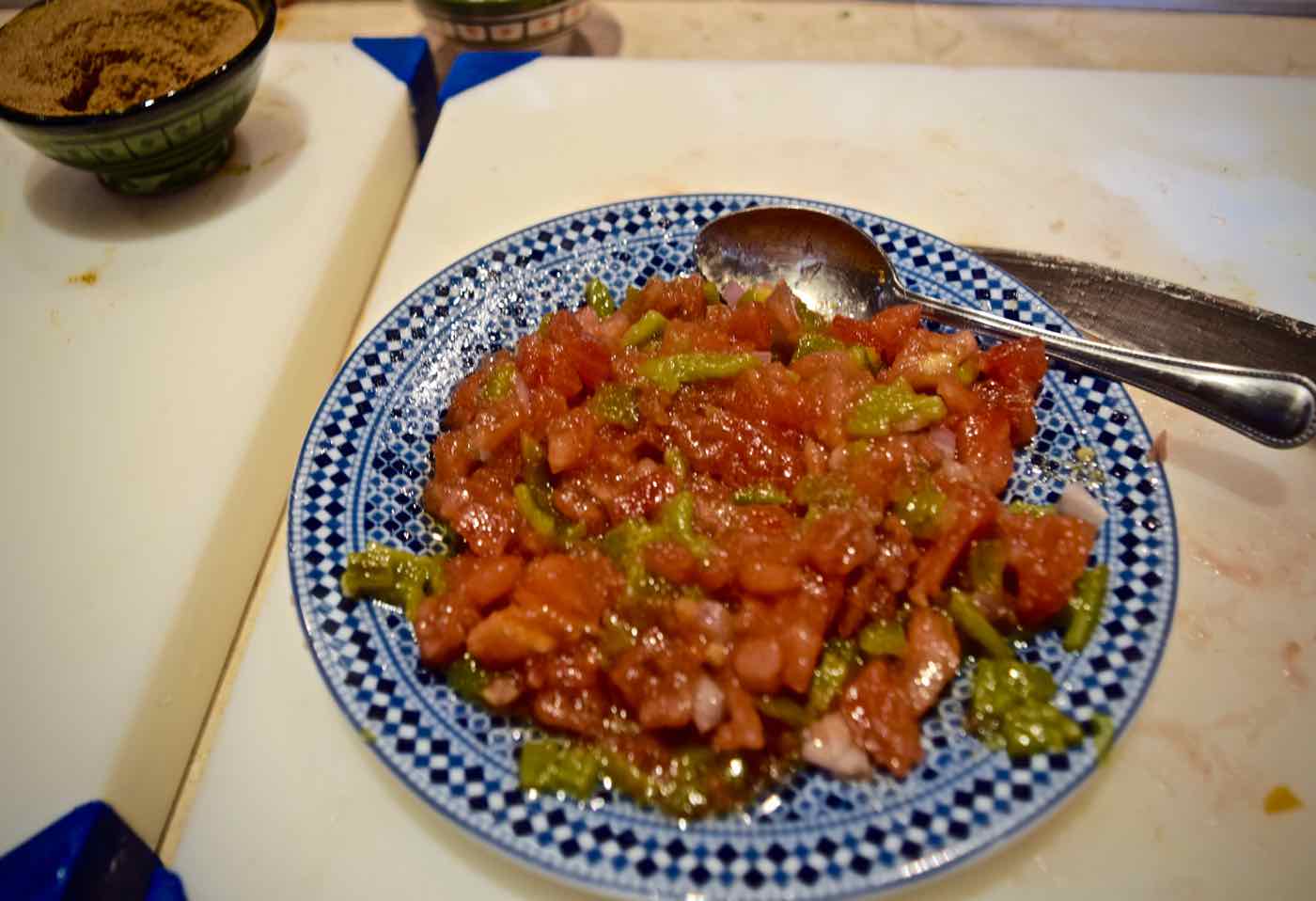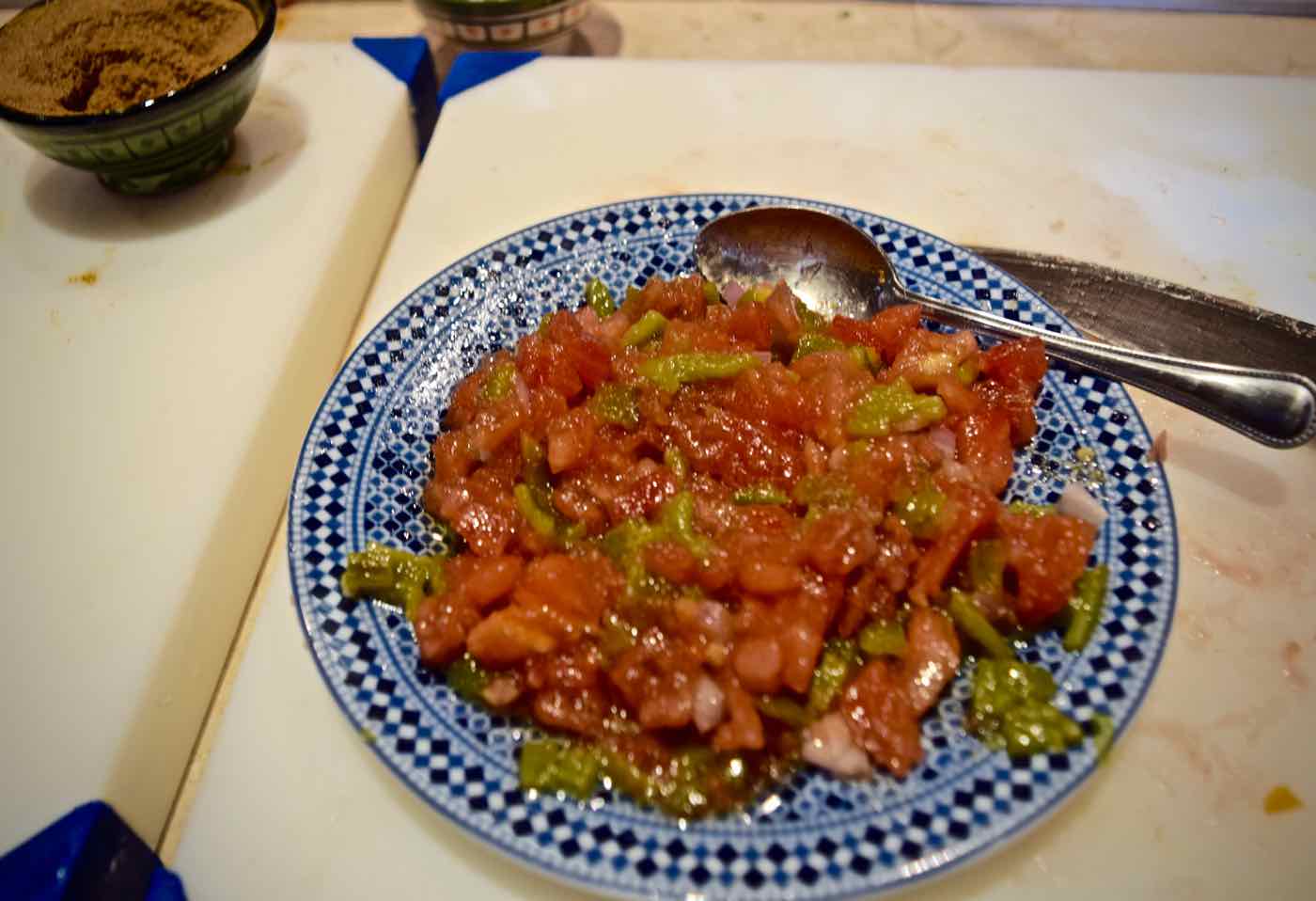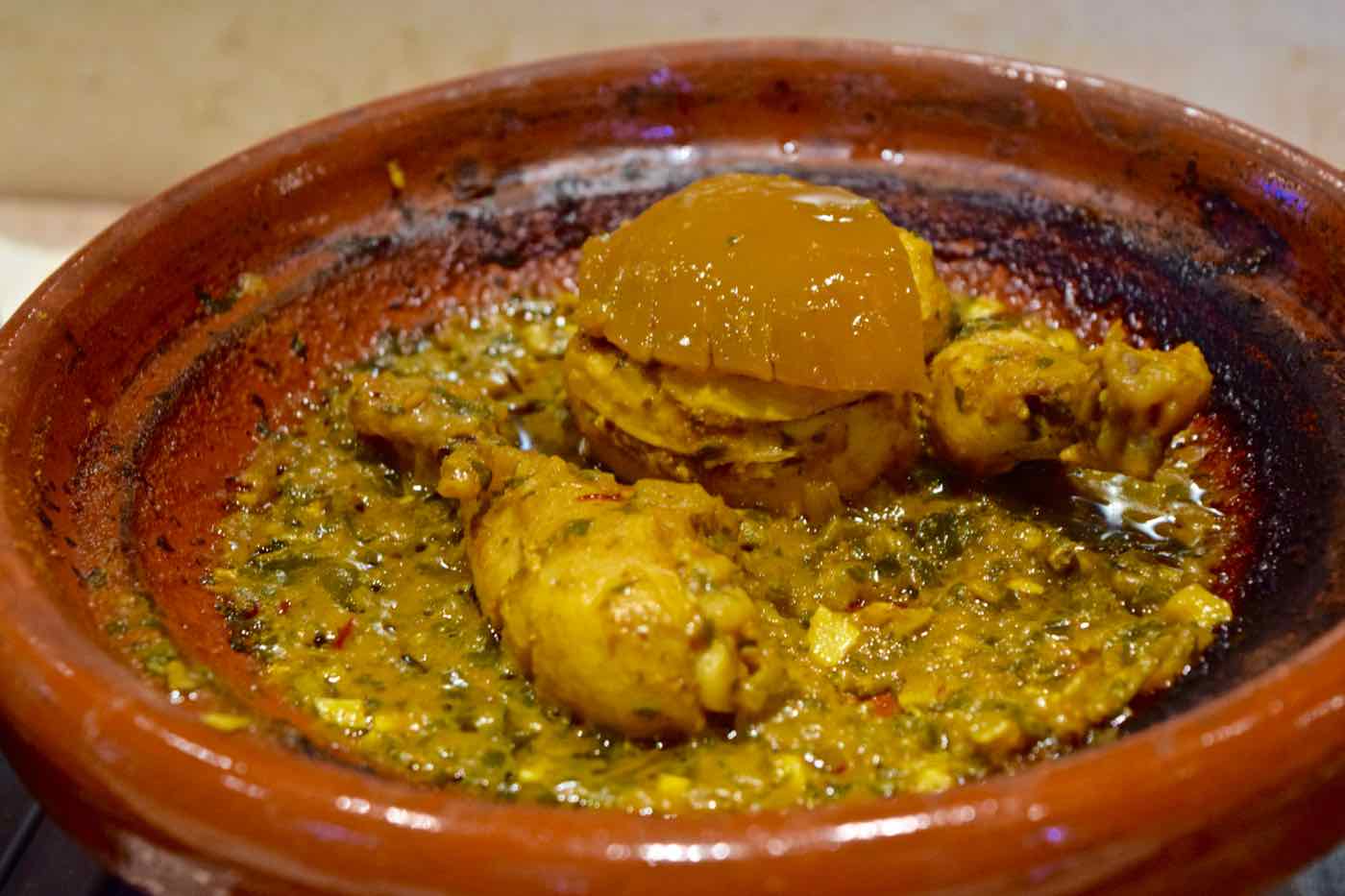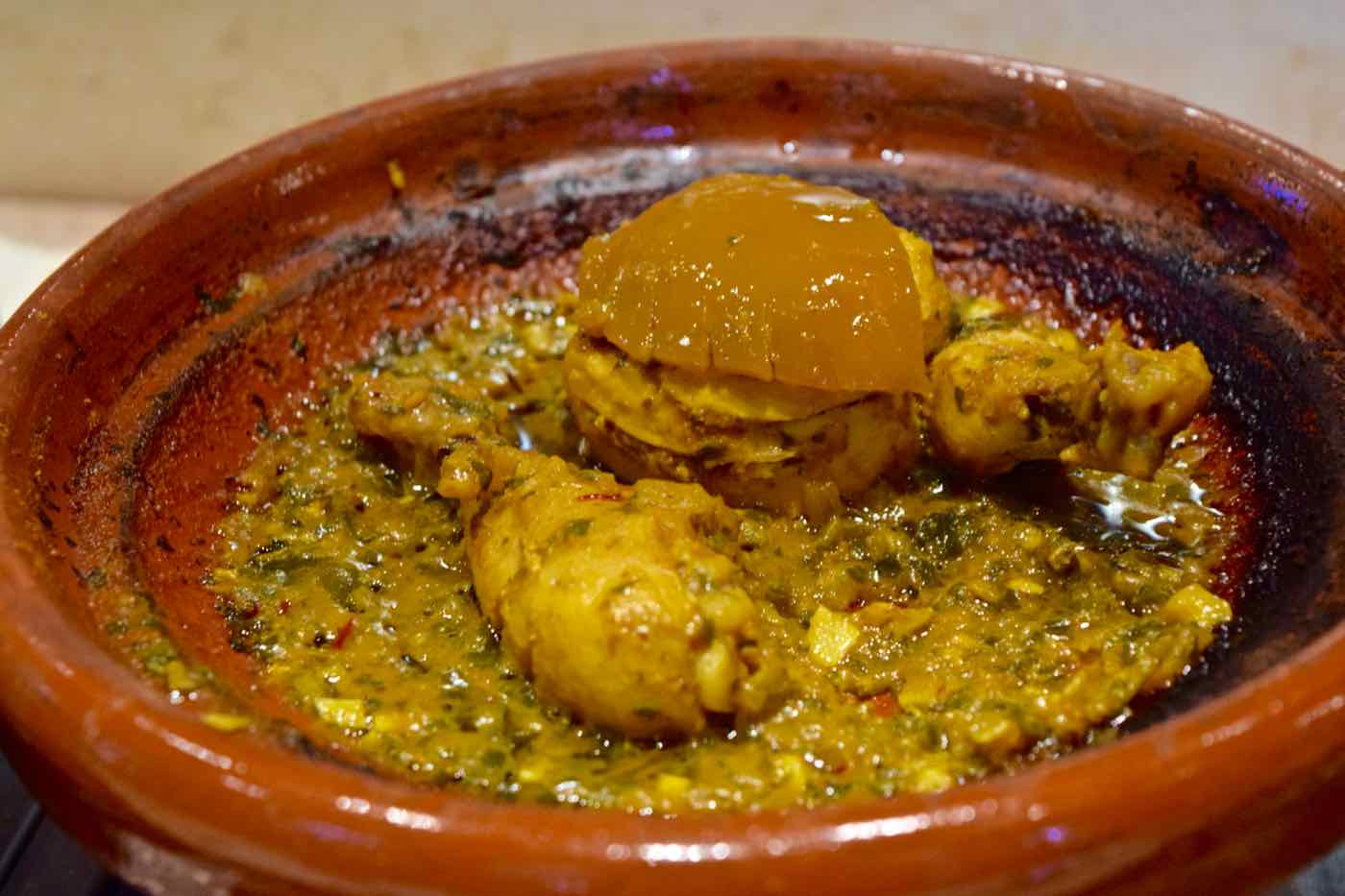 We gathered around the show kitchen to see how the sablé biscuits were made and had a chance to decorate a few with jam.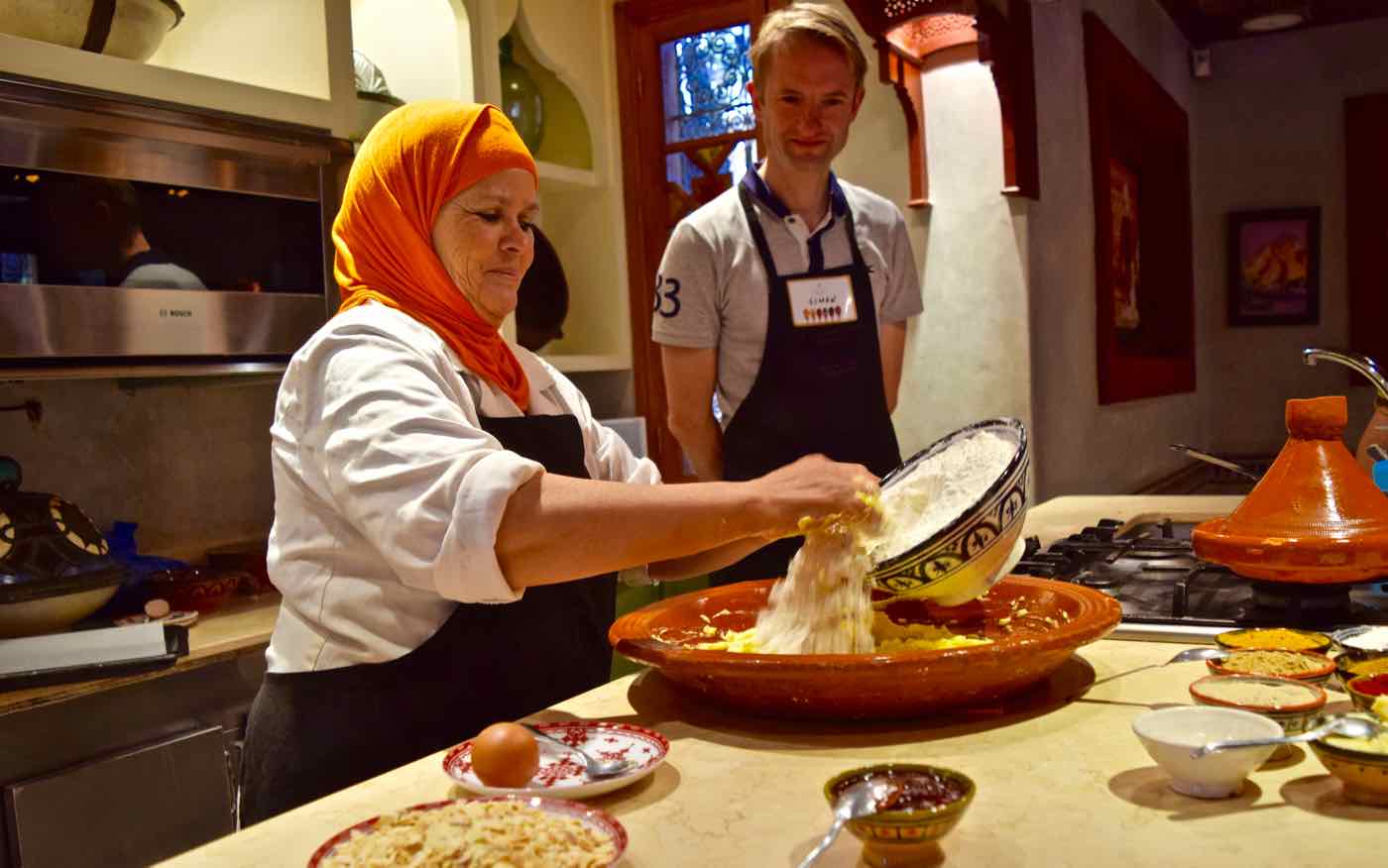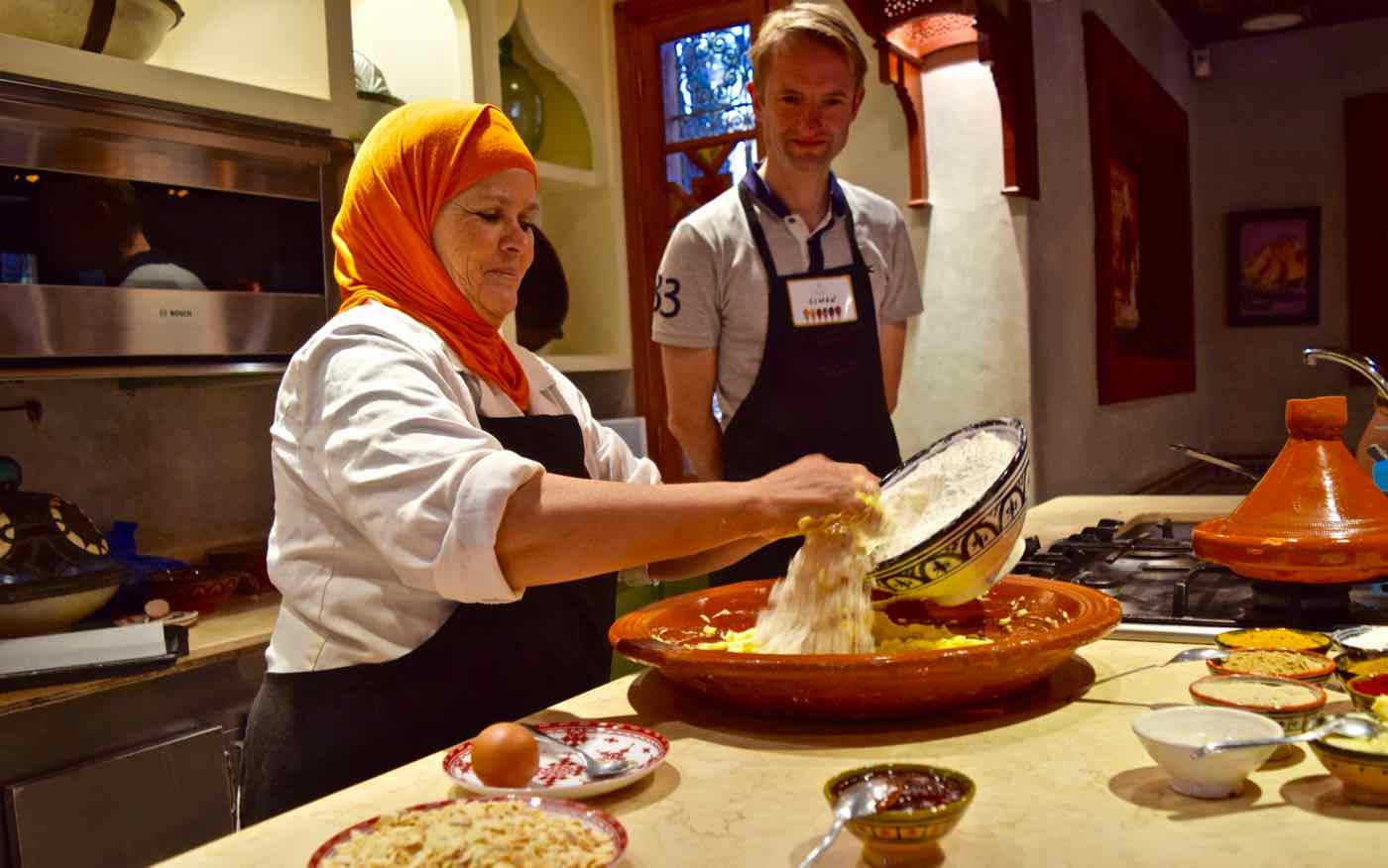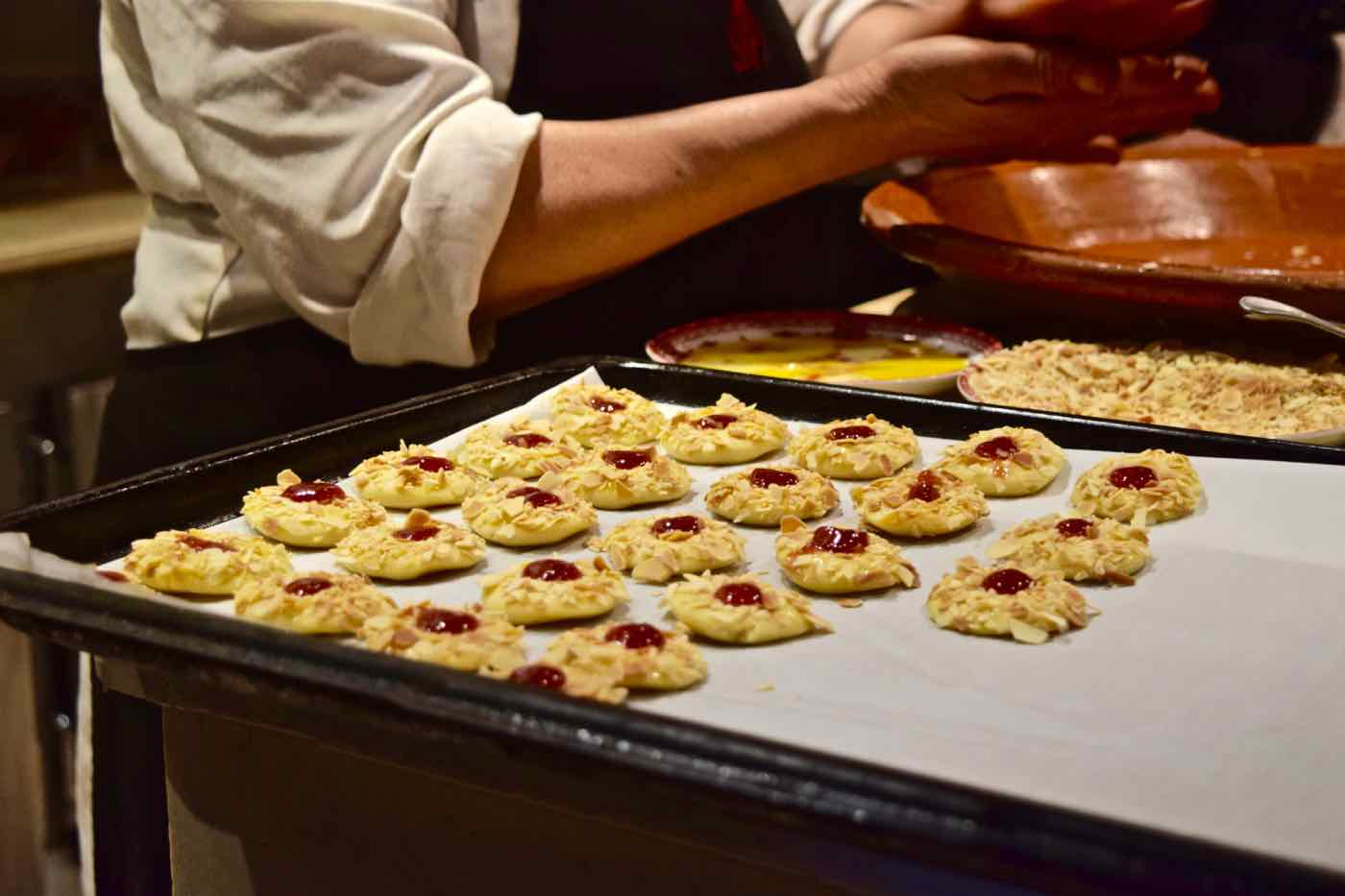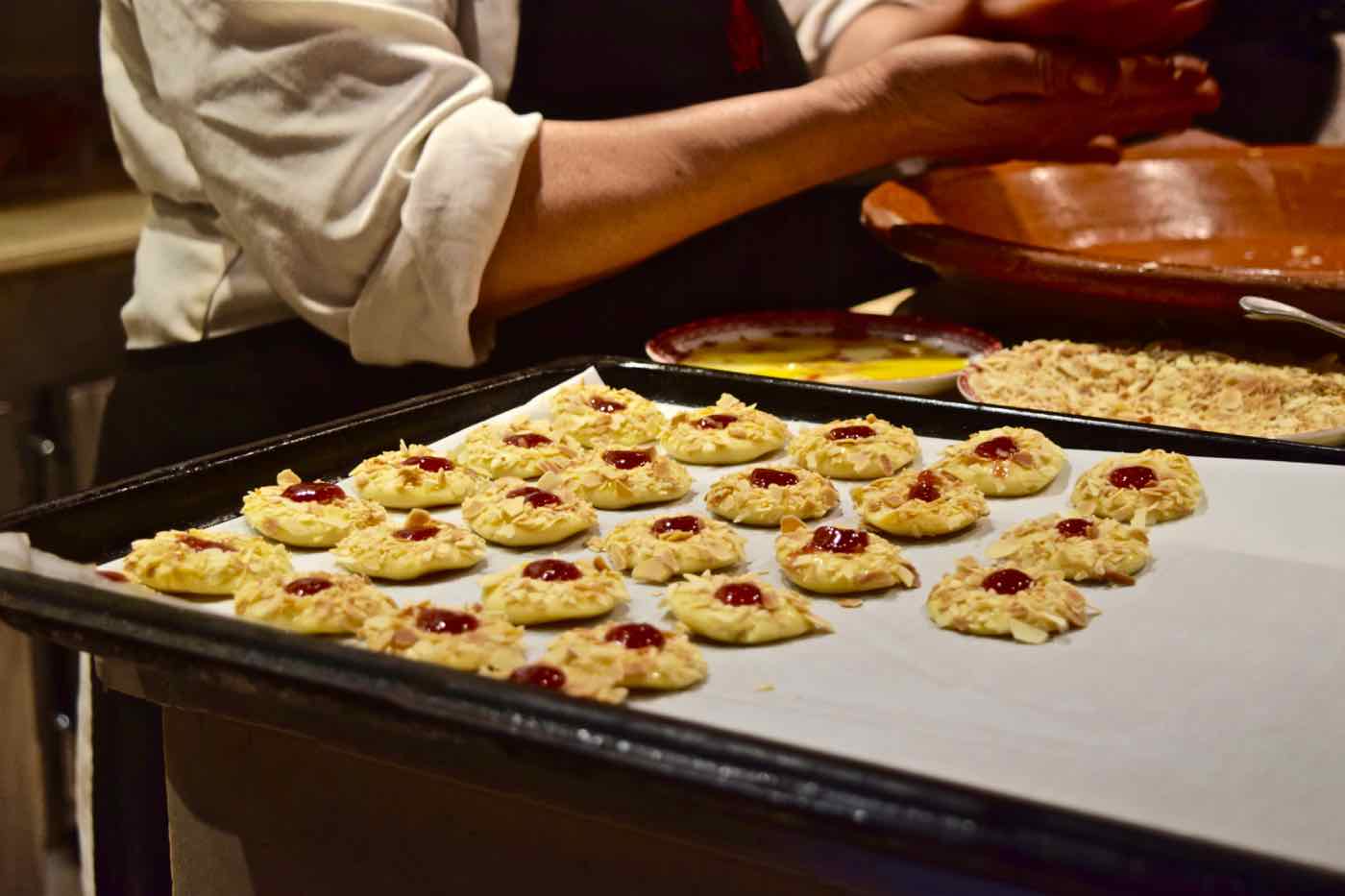 The smells from the cooking were delicious – mainly from the cumin, saffron, garlic and onion combination. I couldn't wait to eat! Once all the dishes were complete, we took seats around the table outside and prepared to taste the products of our hard work…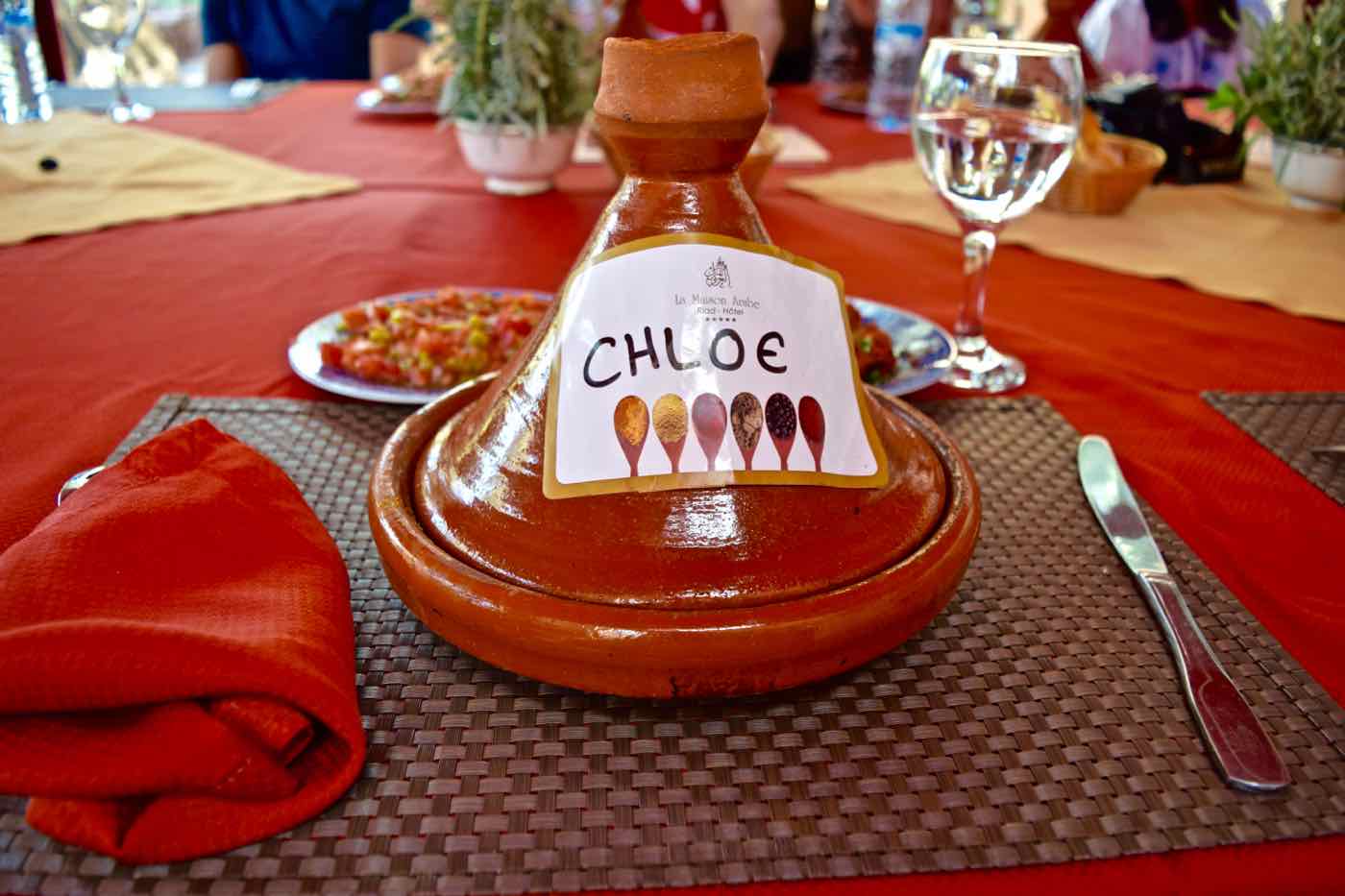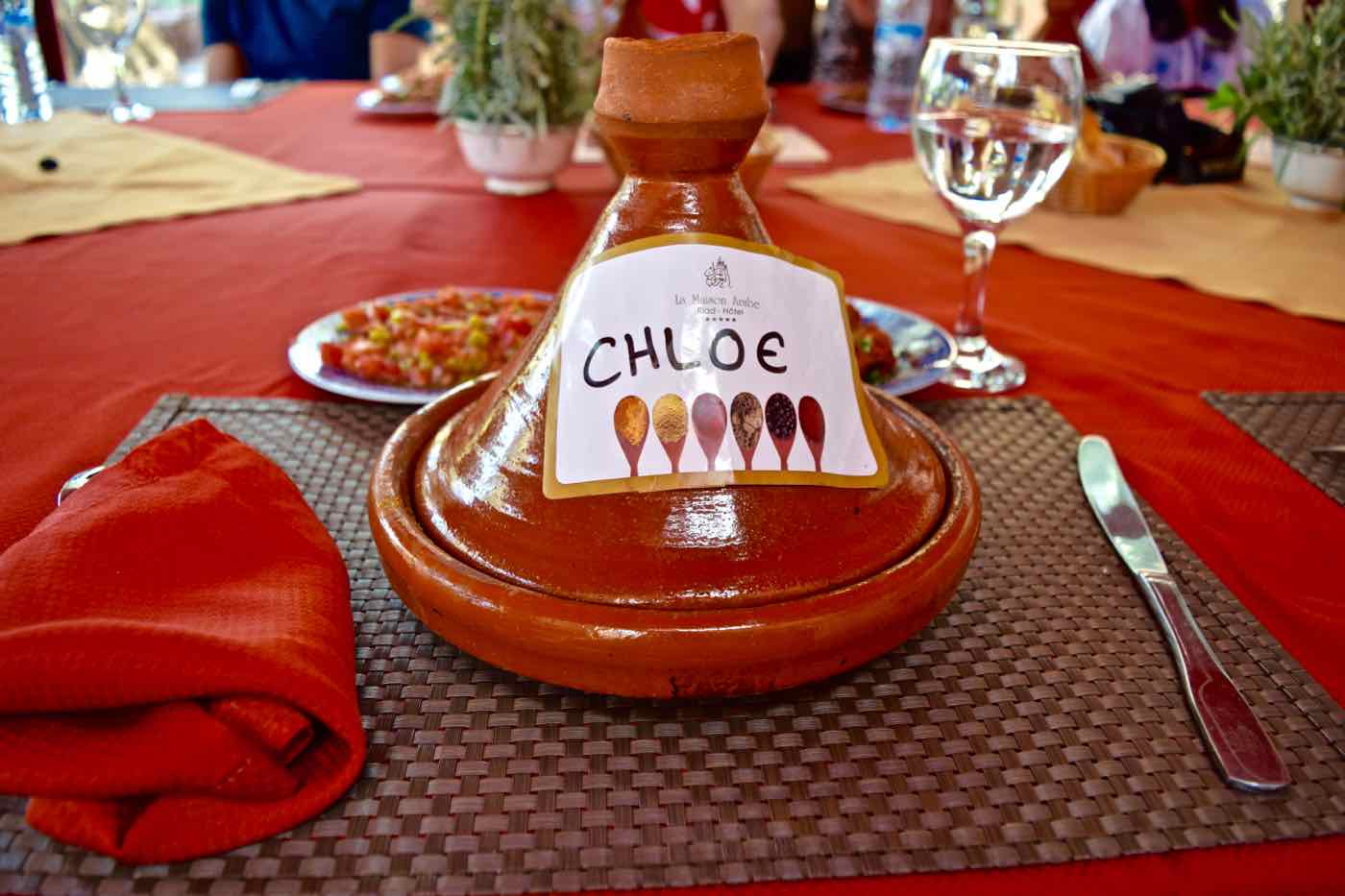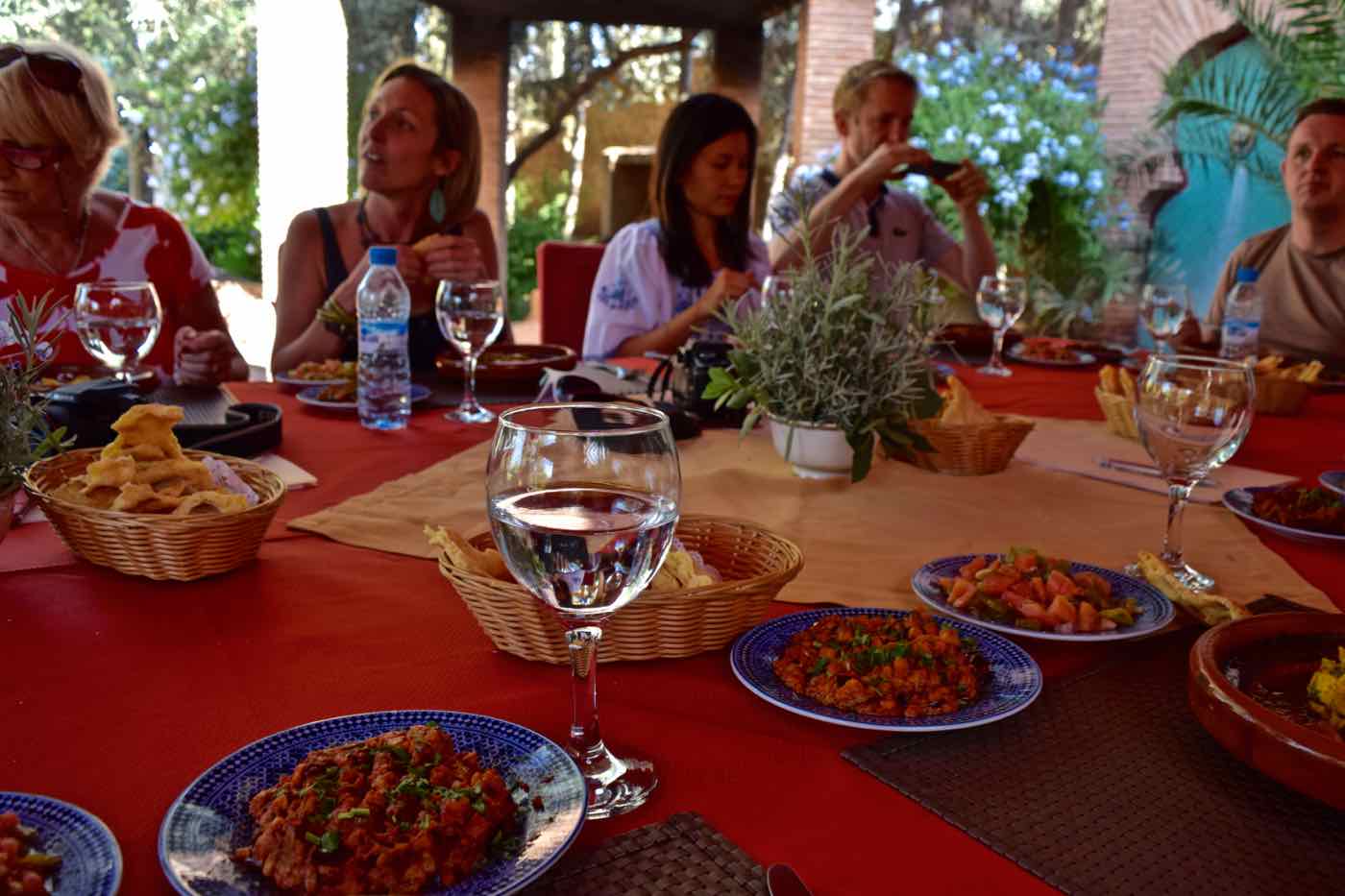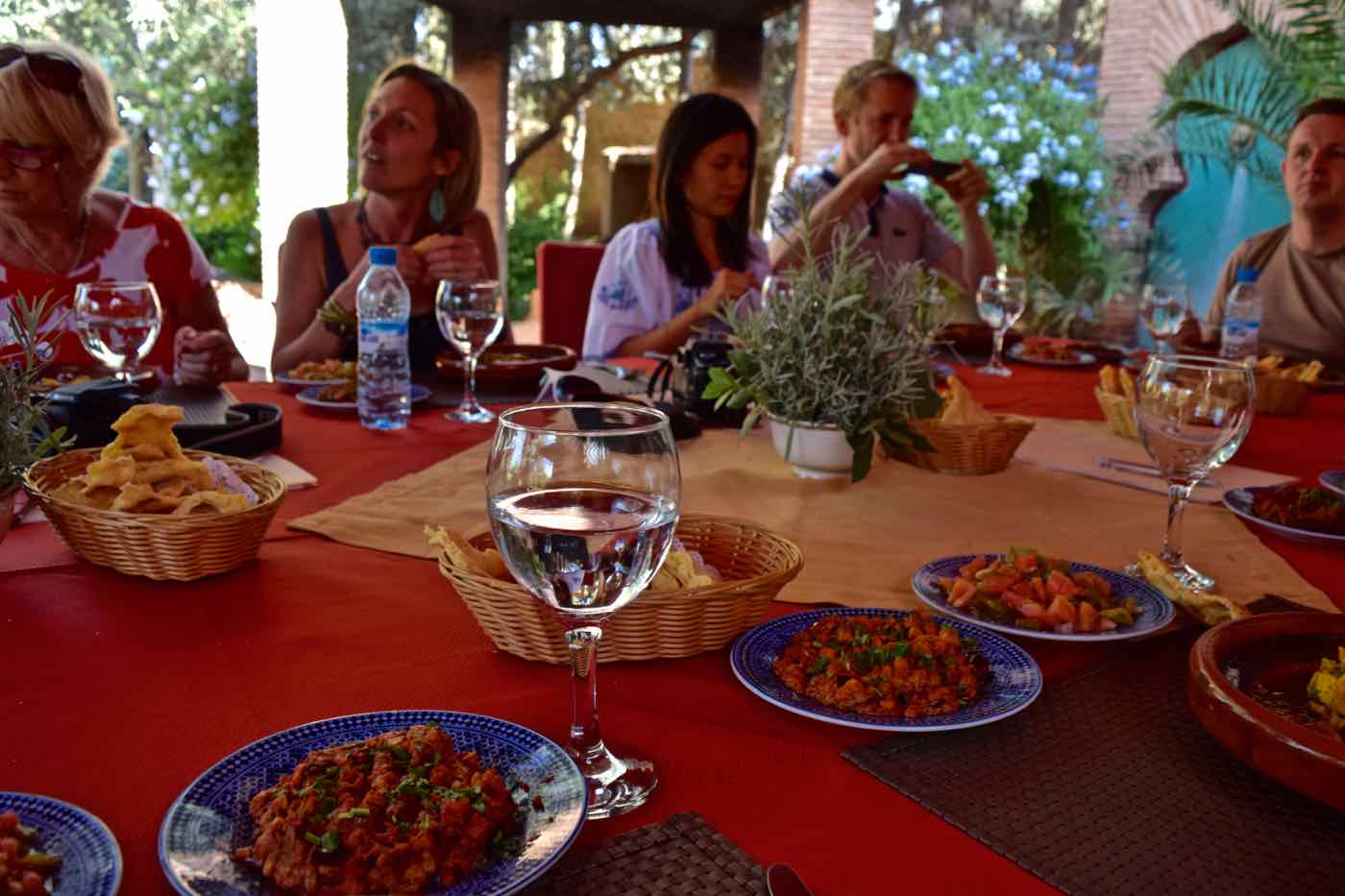 The zalouk salad was absolutely delicious – packed with cumin, ginger, tomato and soft aubergine. Definitely a dish I'll be making at home. The green pepper and tomato salad packed a punch, and complemented the chicken tagine well. And as for the tagine – finally, I'd found one that wasn't bland or overcooked! It was absolutely yummy and I finished every bit (I even cleaned the dish with my bread!) The filo dessert was light and delicate – the perfect end to a delicious meal.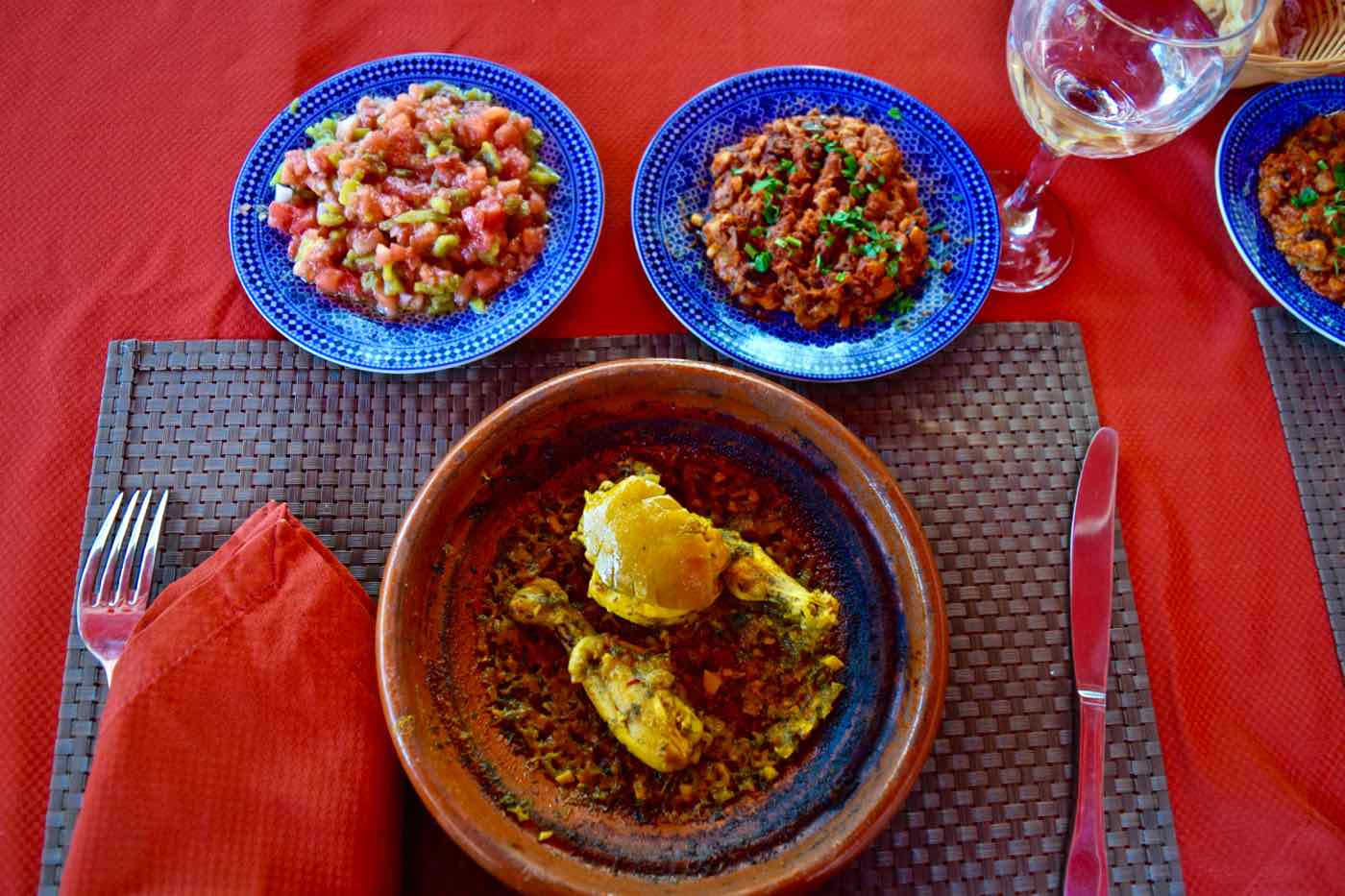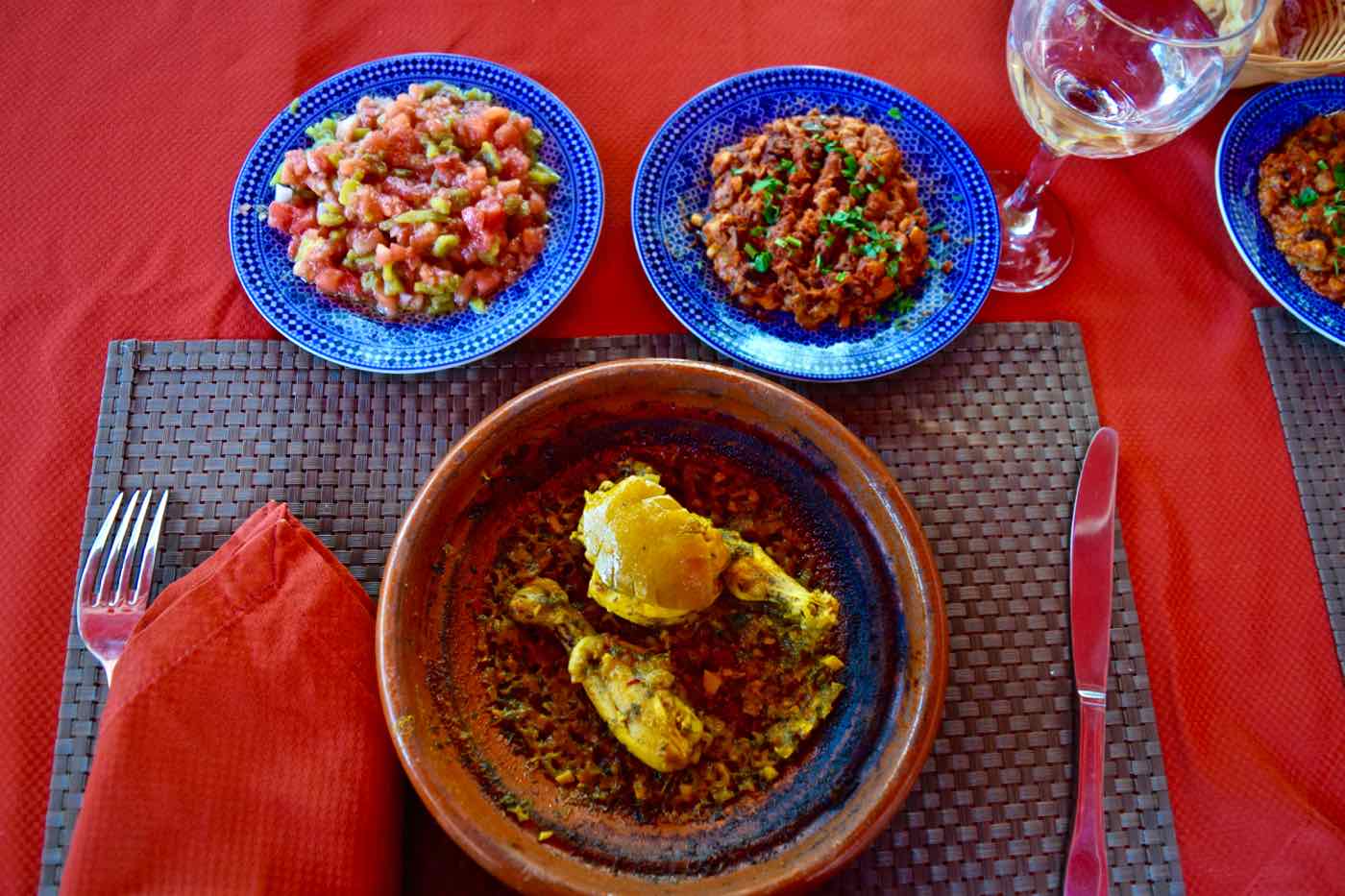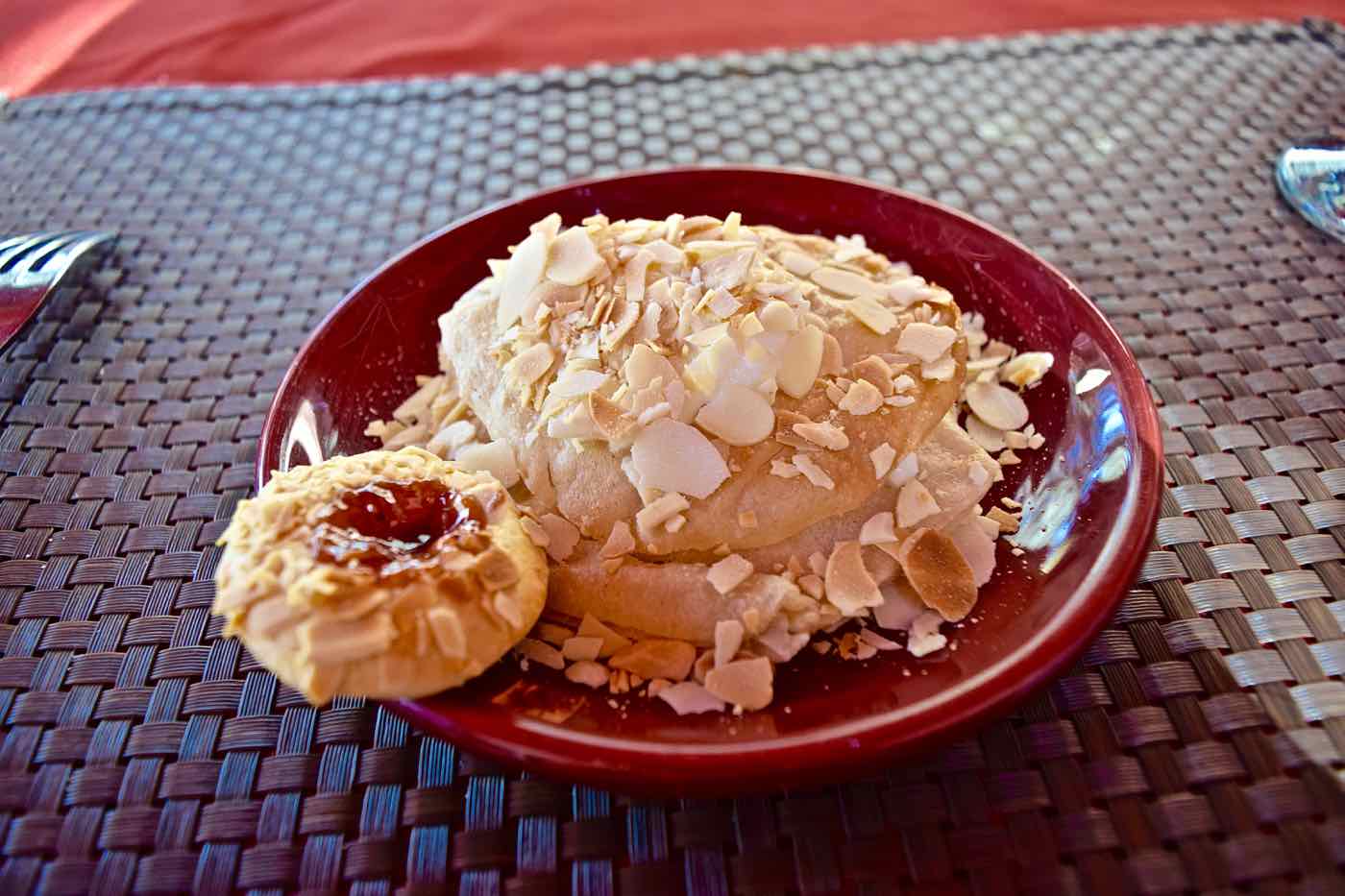 As we left the picturesque haven of calm just outside Marrakech, we were presented with our very own tagines to take home. I couldn't wait to show off my new skills… and best of all, I knew that if I wanted a tasty, rich, flavoursome tagine – my best bet might be to cook it myself!
The cooking class I took part in cost 600 DHM per person (approx. £40) which I thought was excellent value.
You can find out more about La Maison Arabe here, and check out the cooking class I did right here.