From charming farmhouses to modern accommodation with chic pools and top restaurants, these are the best luxury and boutique hotels in Gozo.
Are you planning a trip to Malta?  It's a great destination for historical sightseeing, diving and water-sports or simply relaxing in the sun. But did you know the country isn't just one island but is an archipelago of islands? 
While most people base themselves on the main island (also named Malta), I'd recommend looking further afield and planning trips to the islands of Gozo or Comino.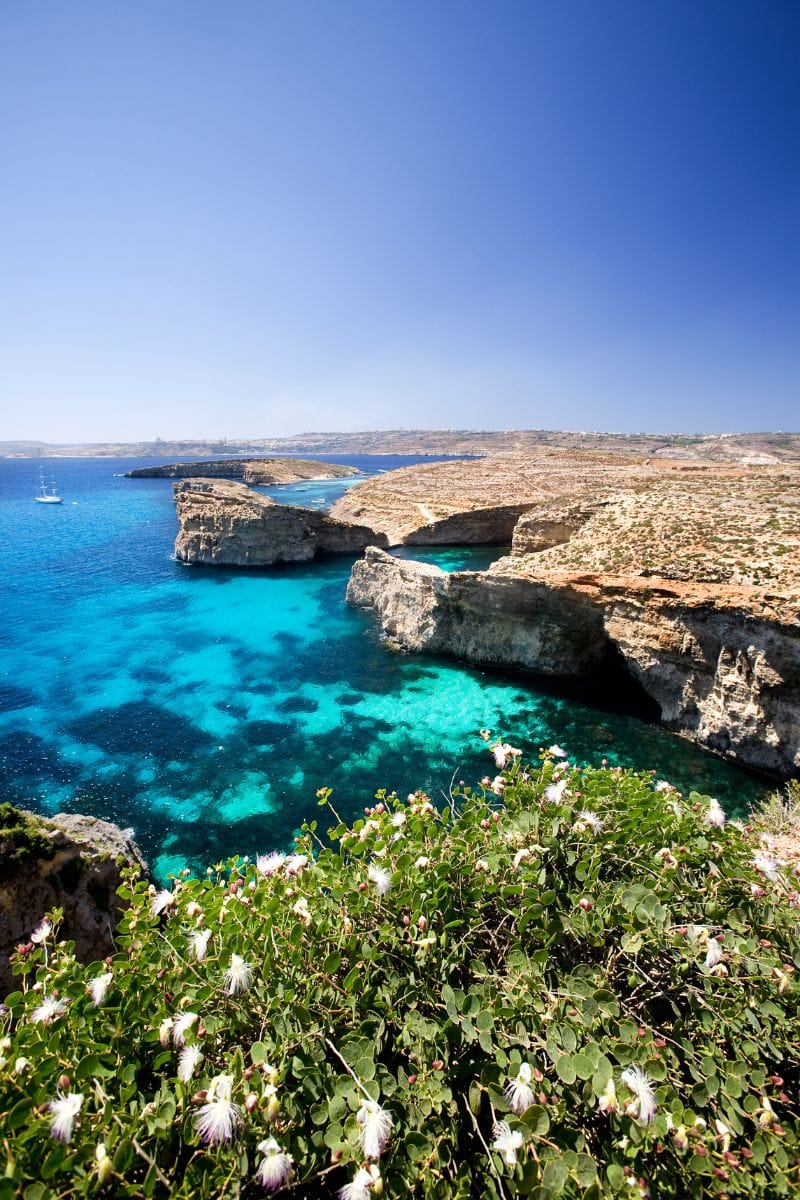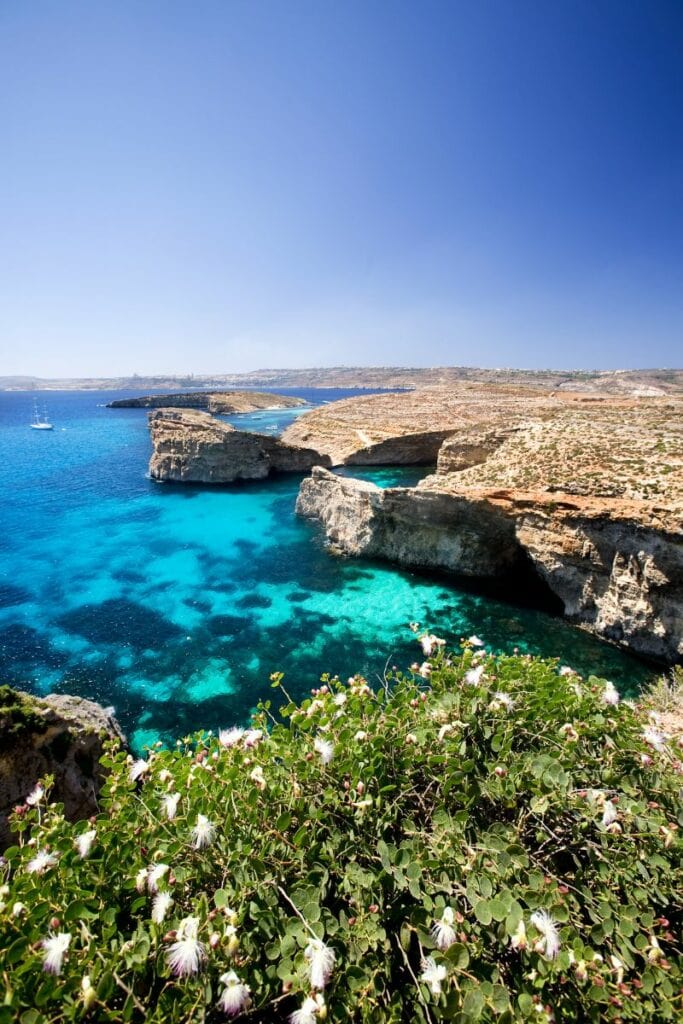 You'll quickly discover that Malta's little sisters offer far too much to squeeze into a day trip. I'd recommend you pair your trip to Malta's main island with accommodation in Gozo for at least two nights of your holiday.
From Malta International Airport you can reach the island of Gozo in around two hours. You'll instantly see Gozo is a lot calmer than Malta. It's also much smaller. You really are only ever a ten-minute ride from the beach!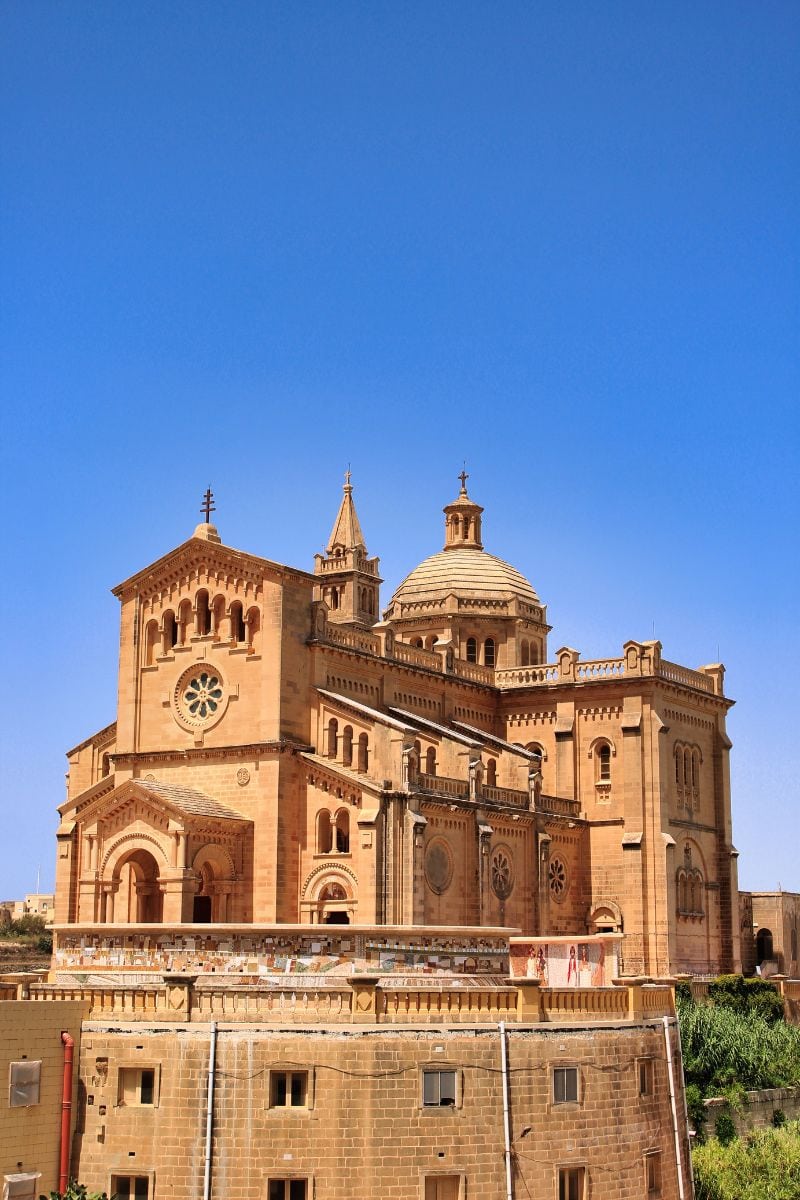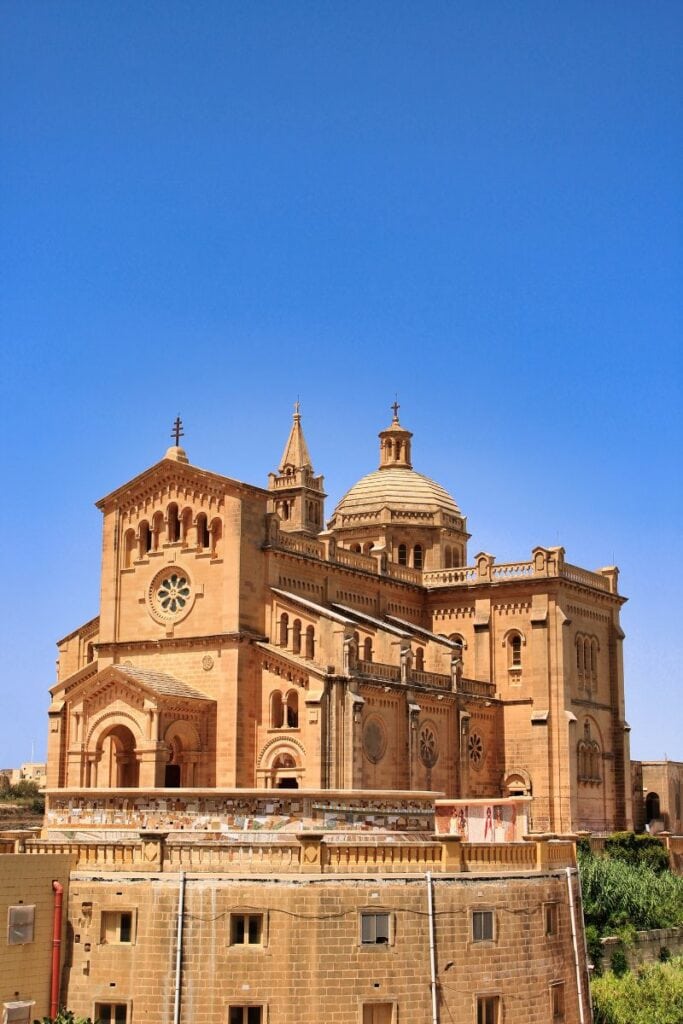 So, the big question is where to stay in Gozo? To be honest, a lot of the holiday accommodation on the island's coast consists of uninspiring blocks of small holiday apartments. If you're looking for higher-end and boutique hotels in Gozo, you'll find those situated in charming inland villages. Don't worry, the public transport service in Gozo is great! Wherever you decide to stay in Gozo, you'll find it easy to travel around the island.
Ready to take a look at the best luxury and boutique accommodation options? Here are my favourites!
Oh, and if you're excited for the food scene too (which you definitely should be!) don't miss my guide to the 15 best restaurants in Gozo.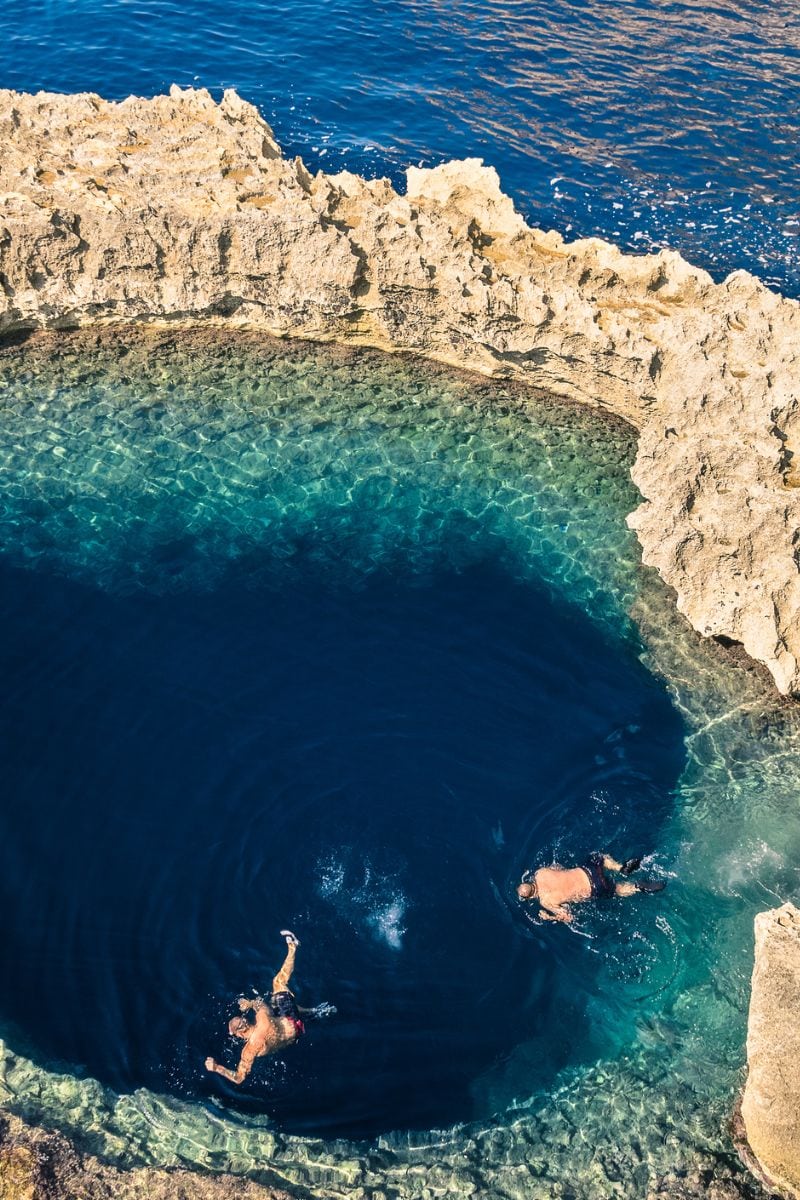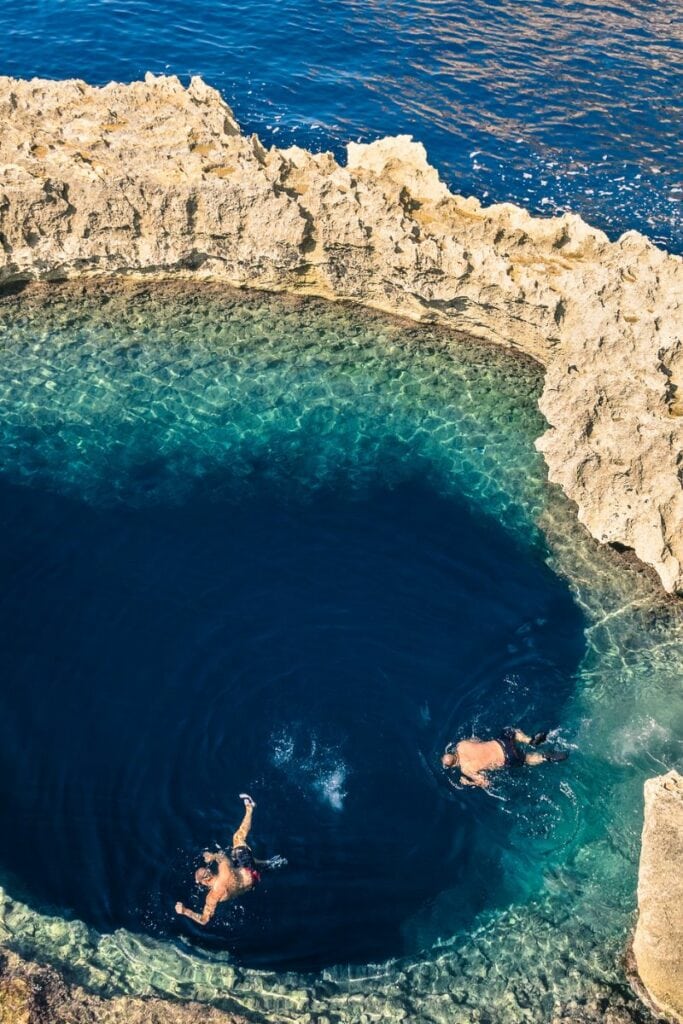 ---
15 Best Luxury and Boutique Hotels in Gozo, Malta
Let's start with the best of the large luxury hotels in Gozo, The Kempinski. This big hotel is in the quiet village of San Lawrenz in the west of the island. It has everything onsite that you'd want for a luxury stay, making it one of the best hotels in Gozo for a honeymoon or anniversary.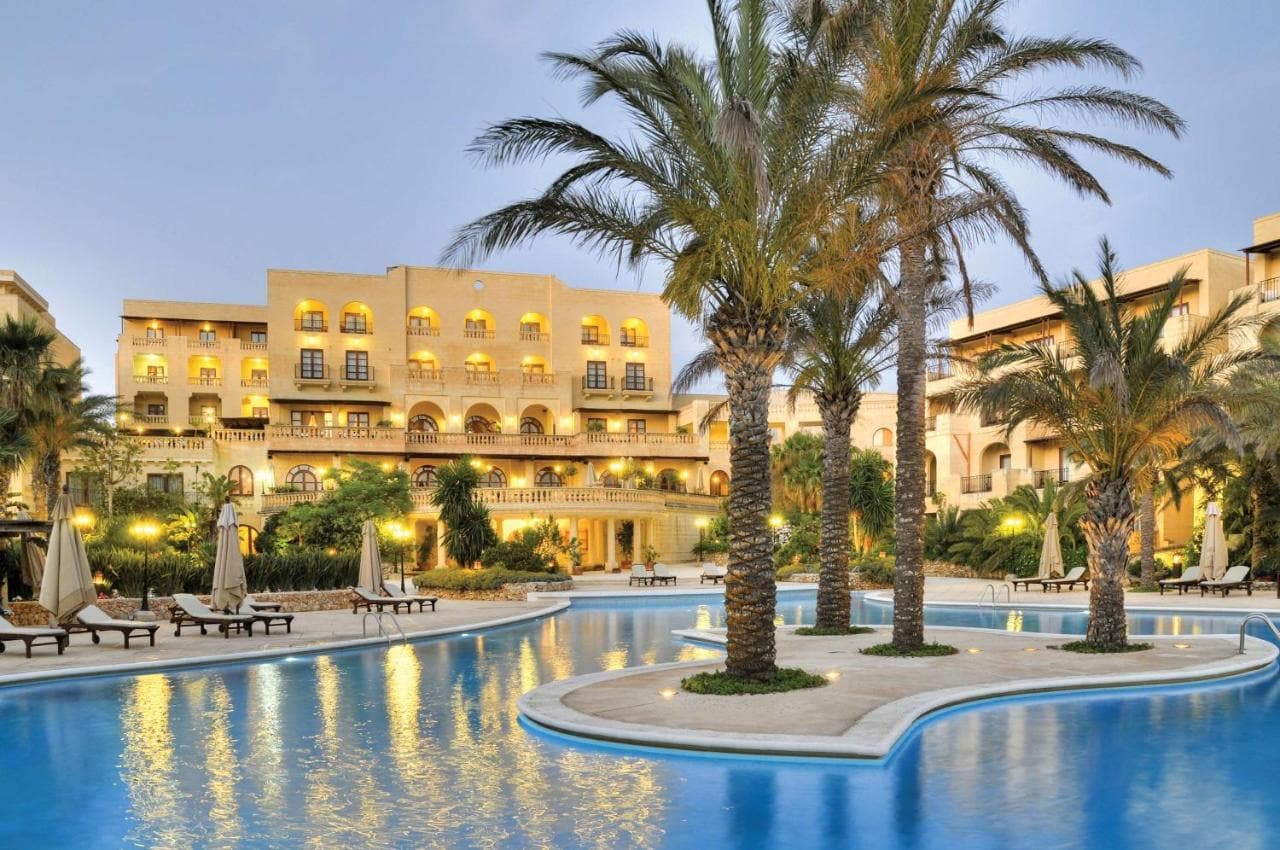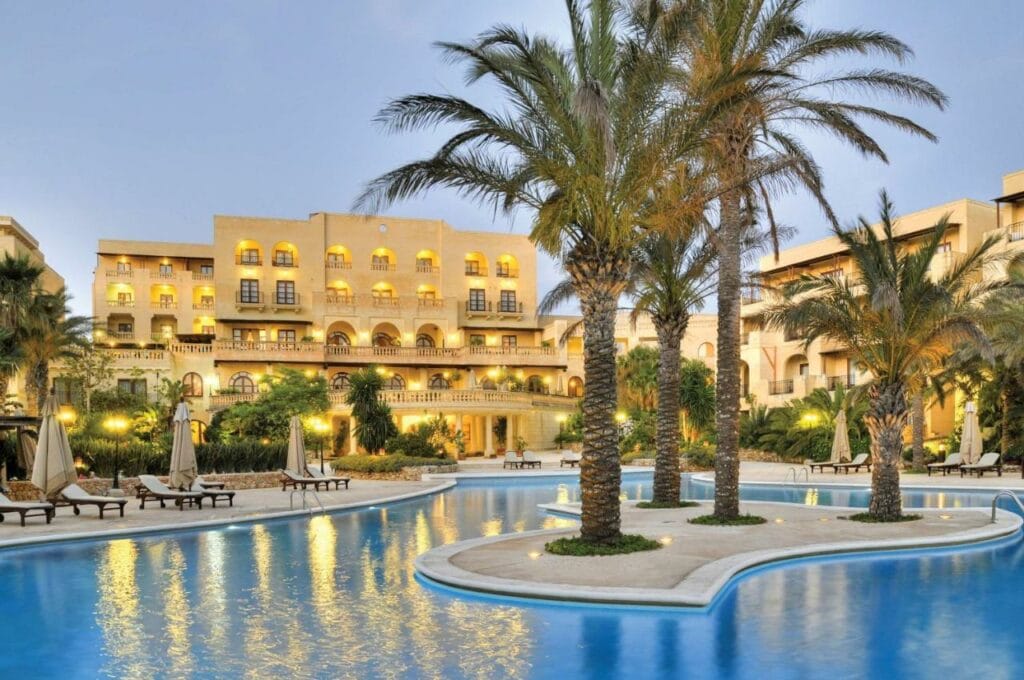 The Kempinski's year-round facilities include two restaurants, a lounge bar, tennis courts, two indoor heated pools, a hot tub, a steam bath and a marble hammam. If you need more pampering there's also a huge menu of massage and Ayurvedic health and beauty treatments,
Travelling in summer? Lucky you! You'll get to enjoy the two enormous landscaped outdoor pools. Laze on a sun lounger and sip on a cocktail between dips. Bliss!
Do you prefer smaller hotels? Then Gozo hotels like DGolden Valley Boutique Hotel might suit you.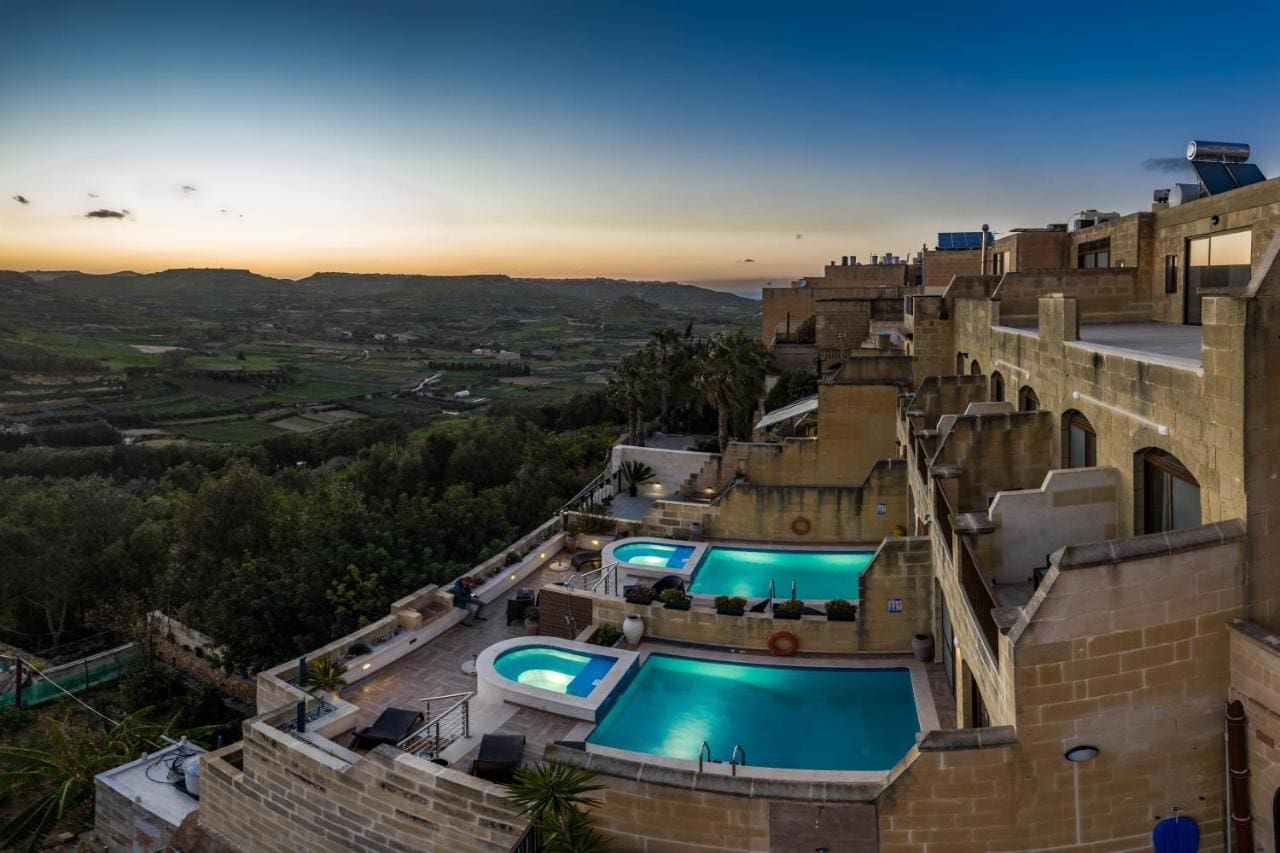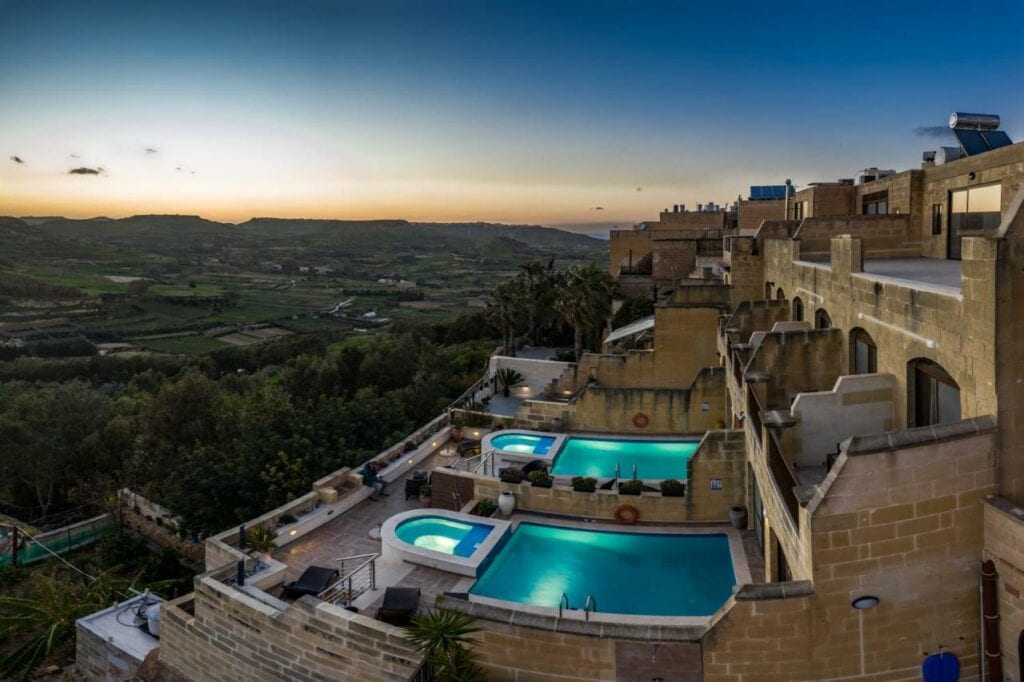 On the outskirts of the village Xaghra, this is more of in the style of a luxury bed and breakfast. It has ten en-suite rooms including some with a jacuzzi bath. Guests have shared access to some bright indoor areas, three small outdoor pools and two spas.
Breakfast is provided. For dinner, take a walk to Xaghra's main square, where you'll find a great selection of restaurants, with views of the pretty parish church.
Do you want great views without the effort of leaving your terrace or swimming pool? The next two luxury hotels in Gozo share the same great view as they are next door to each other.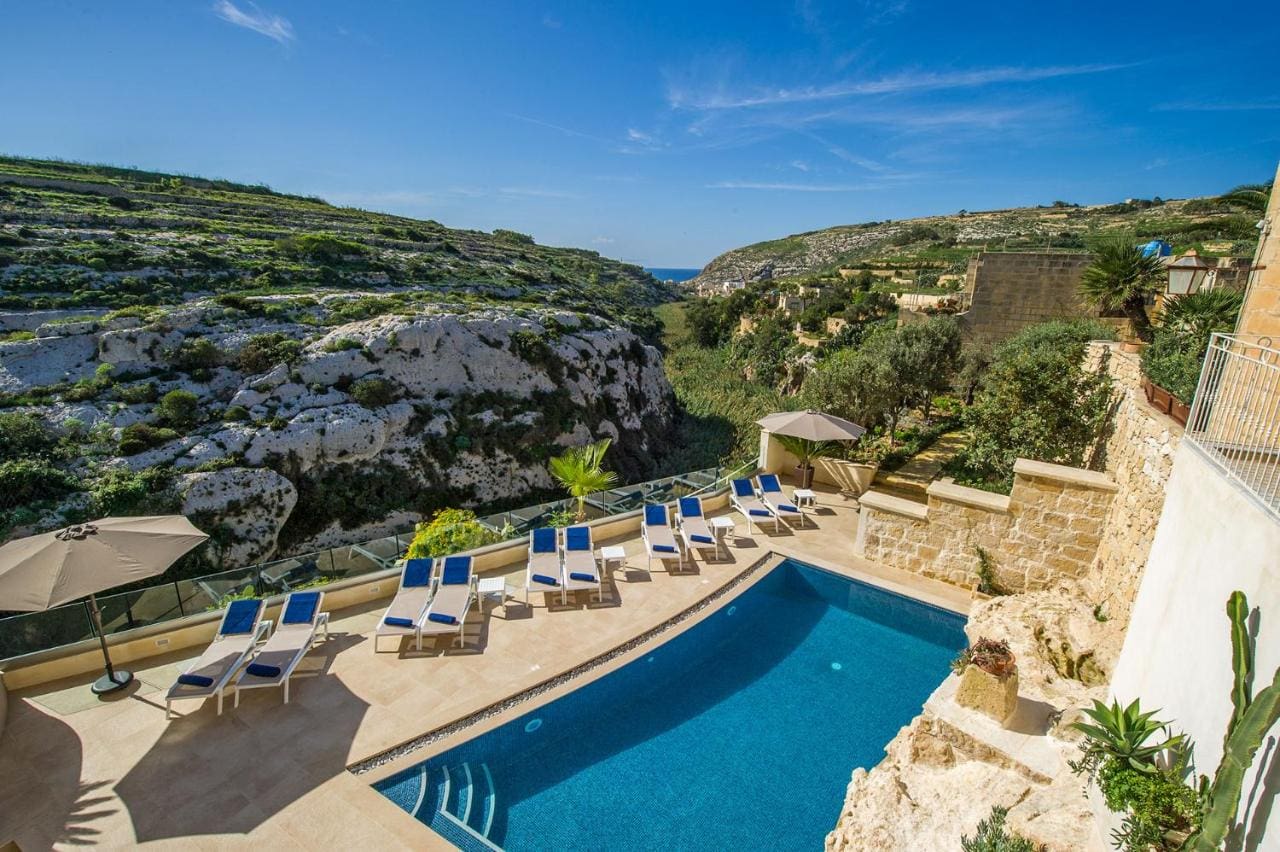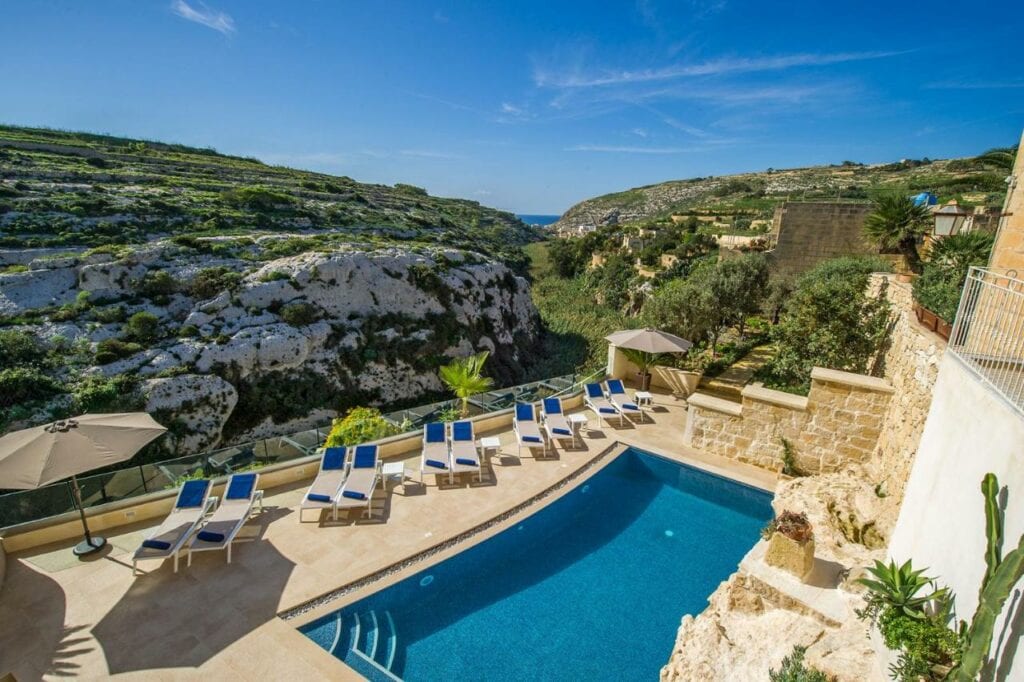 Viewpoint Boutique Hotel is a 300-year-old stone house which has been converted into an eight bedroomed boutique hotel. The bedrooms are huge, and one has disability access (a rarity in old properties).
Are you looking to add a romantic touch to your stay? Then choose a room with a terrace or balcony facing the pool area! These also overlook a picturesque rural valley that runs from Victoria to meet the sea at Xlendi Bay, a ten-minute walk away.
A stay at Viewpoint Boutique Living includes a great breakfast, and the chance to chat with the staff who are happy to help you plan the rest of your time on the island.
Sharing the same valley and distant sea views is Cesca Boutique Hotel. The bedrooms here are a fraction smaller, but the superior rooms come with a private balcony and hot tub!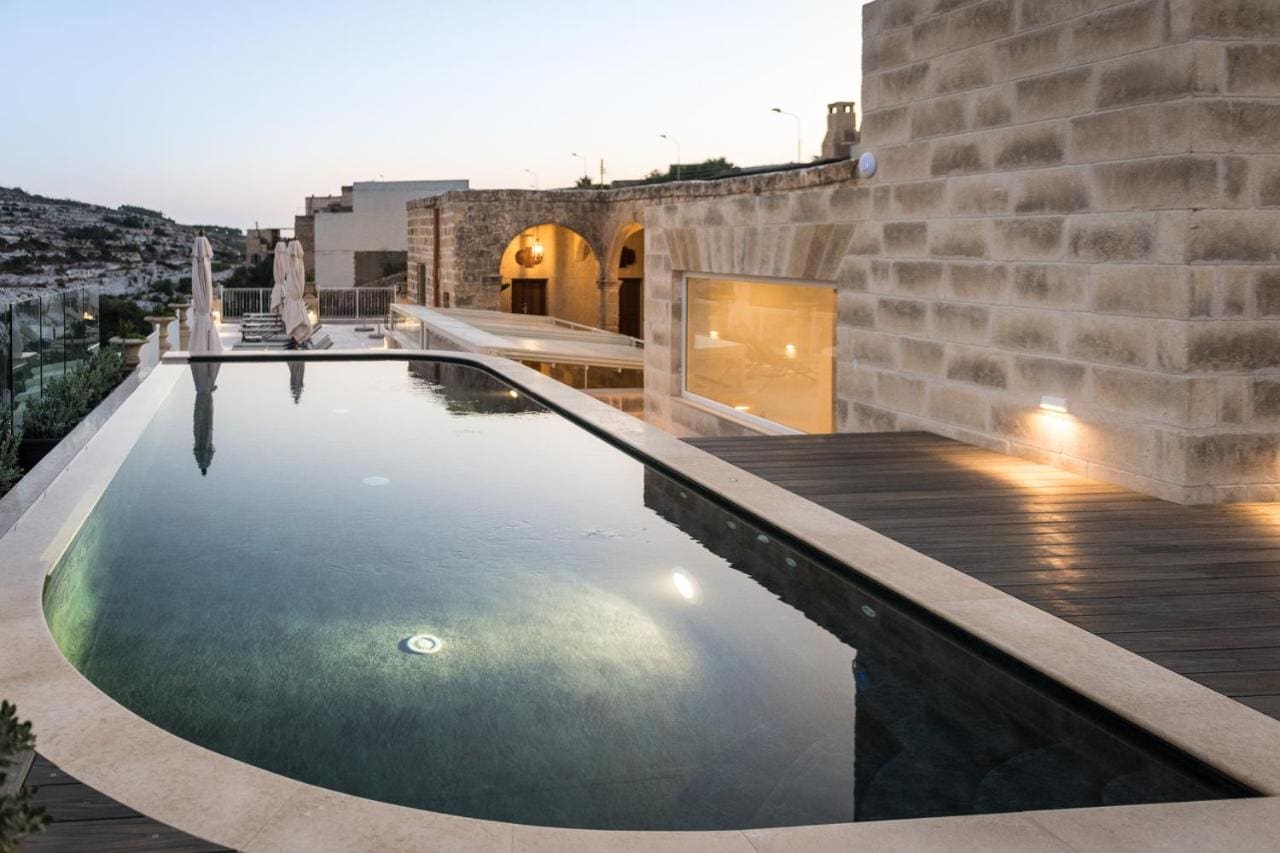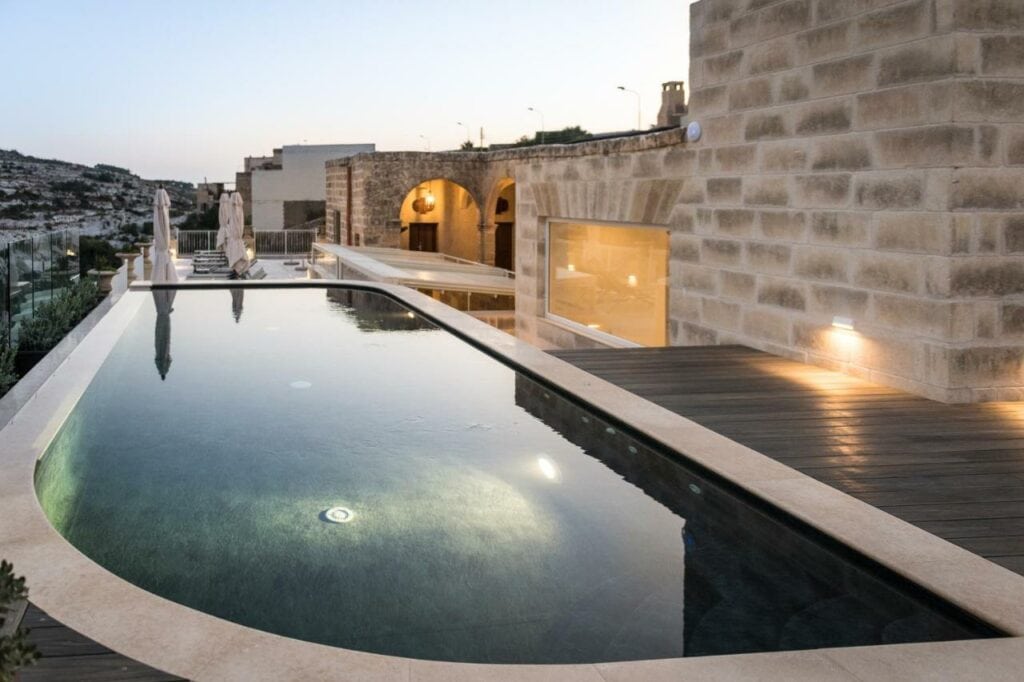 Cesca's communal areas are wonderful. You'll find an atmospheric lounge in the arched stone room of the old farmhouse, and a huge new breakfast room with vast windows that frame the incredible valley view.
The breakfast room also operates as a fine dining restaurant, La Vallee, which is open to the wider public for dinner.
Are you a foodie? Then another of my favourite boutique hotels to consider is Il Logga Boutique Hotel on the edge of Xaghra village. The restaurant here is well-known in Gozo for its excellent food!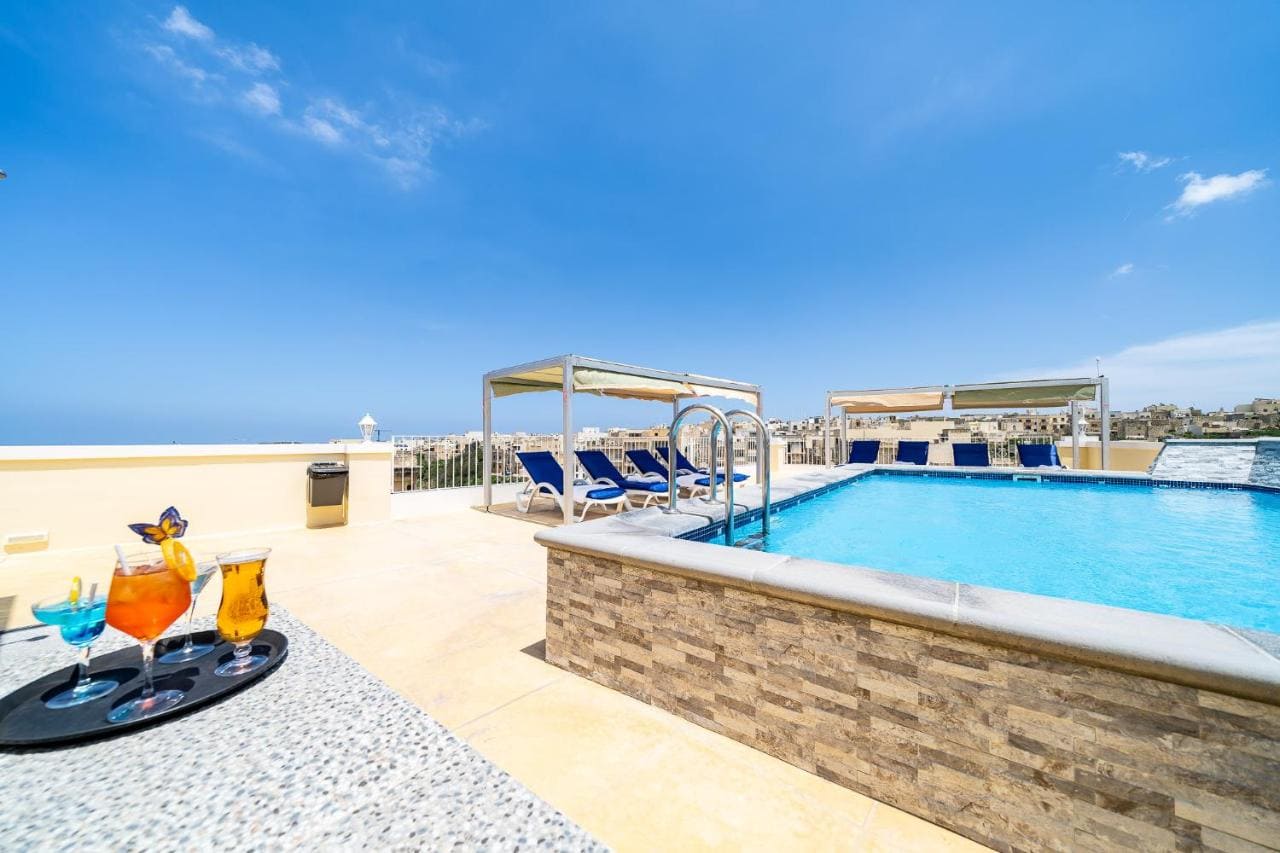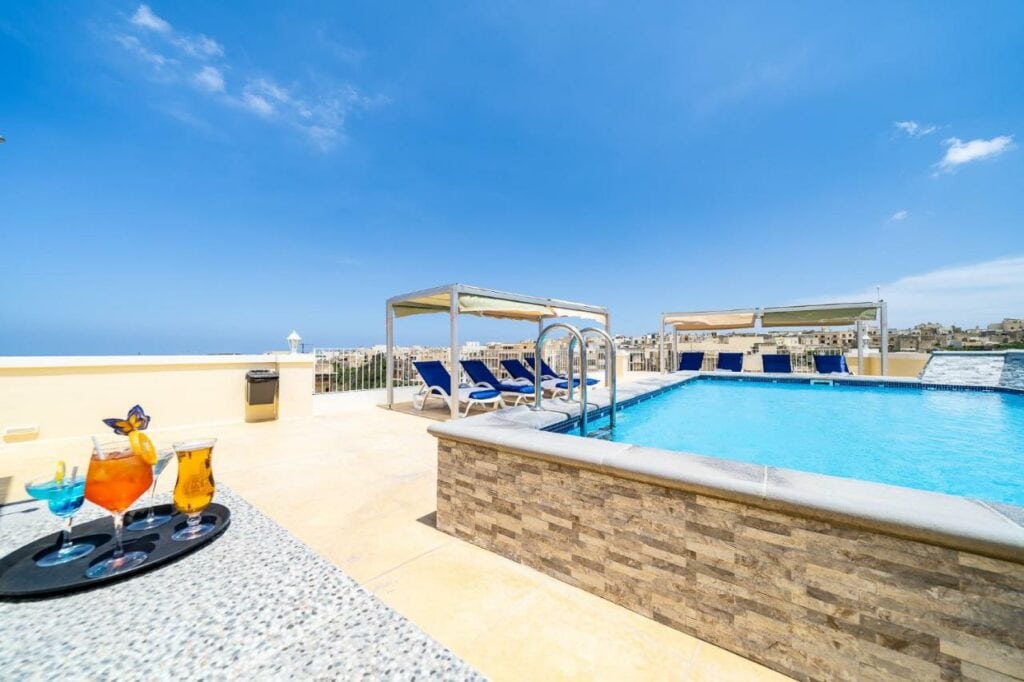 A stay here is great value and includes an enormous breakfast and access to the rooftop swimming pool and sun loungers.
On a side street just 50m away from Marsalforn Bay, Murella Living is the closest boutique hotel to the sea!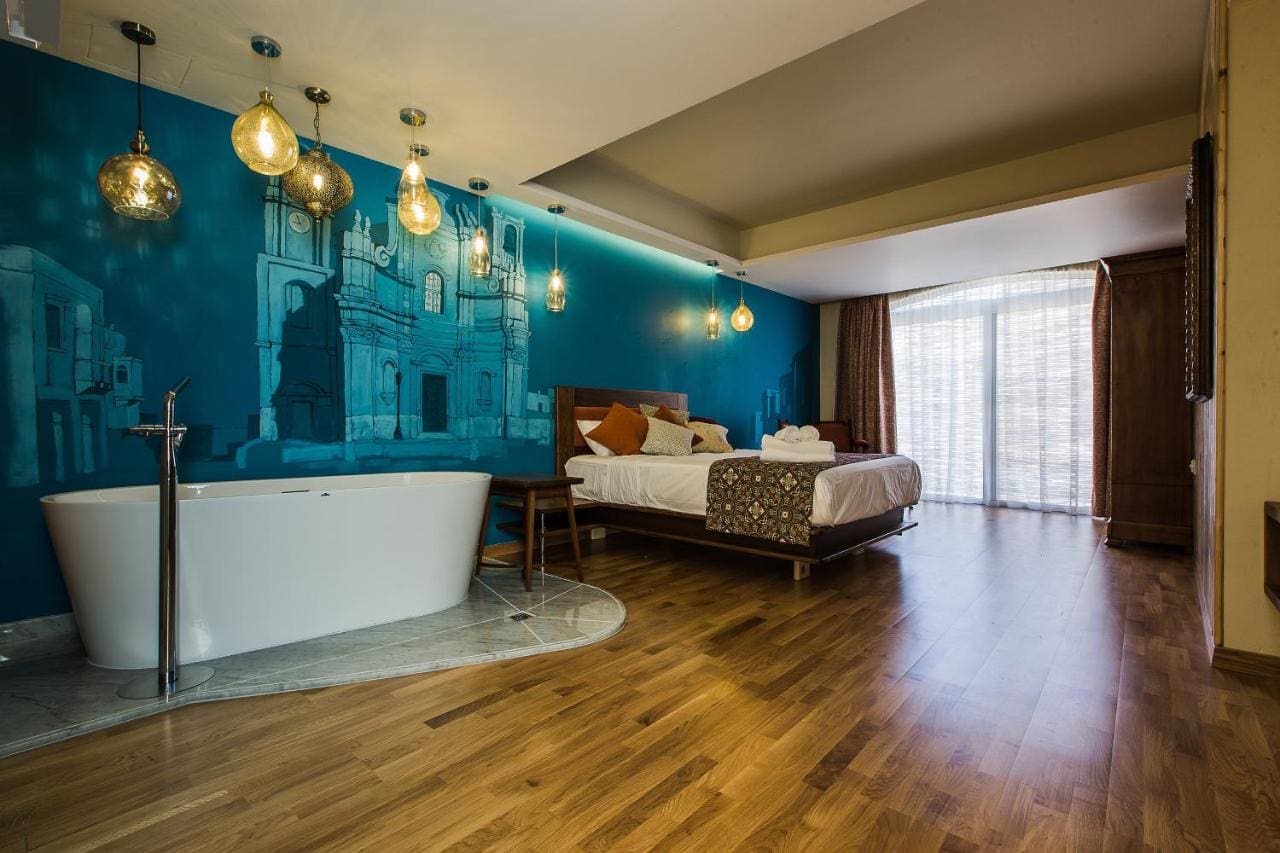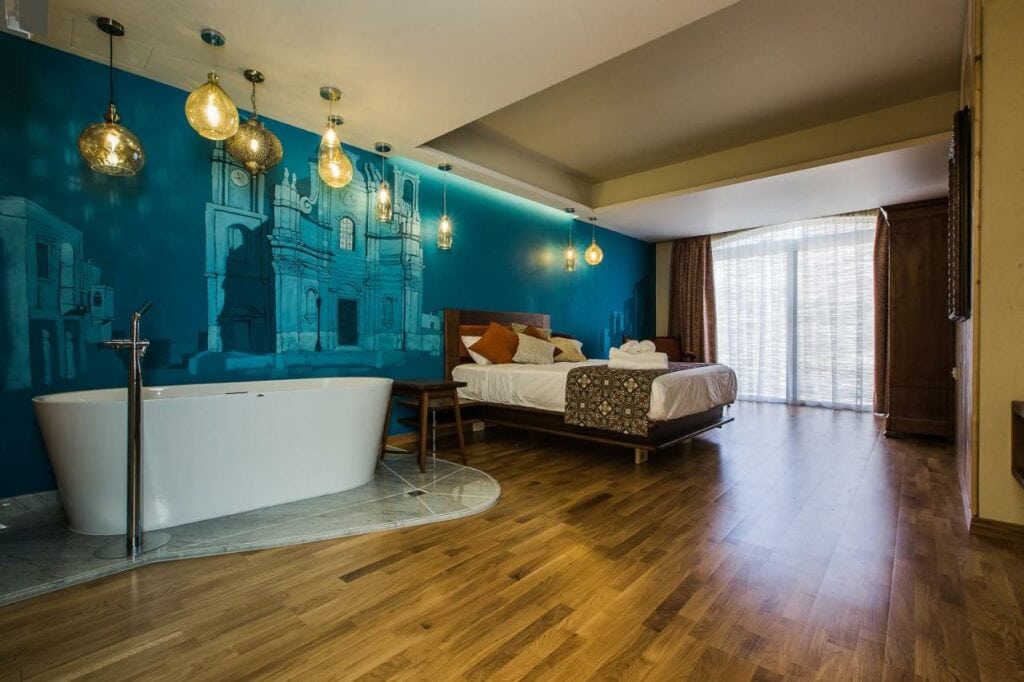 It doesn't have a pool, restaurant or view, but Murella Living has large rooms which are really stylish for this budget. It's also right by some of the island's best bars, restaurants and swimming spots. This is where to stay in Gozo if you'd like a dip in the Med before breakfast!
Murella has some family rooms. Act fast if you're looking at booking those for peak season as they are understandably very popular!
How about basing yourself in the island's capital, Victoria? At the top of the hill, you'll find the island's imposing fifteenth-century 'Citadella'. Meanwhile, at the base, is a charming old town of narrow streets and café filled piazzas. No surprise then that many of the boutique hotels in Gozo are located here!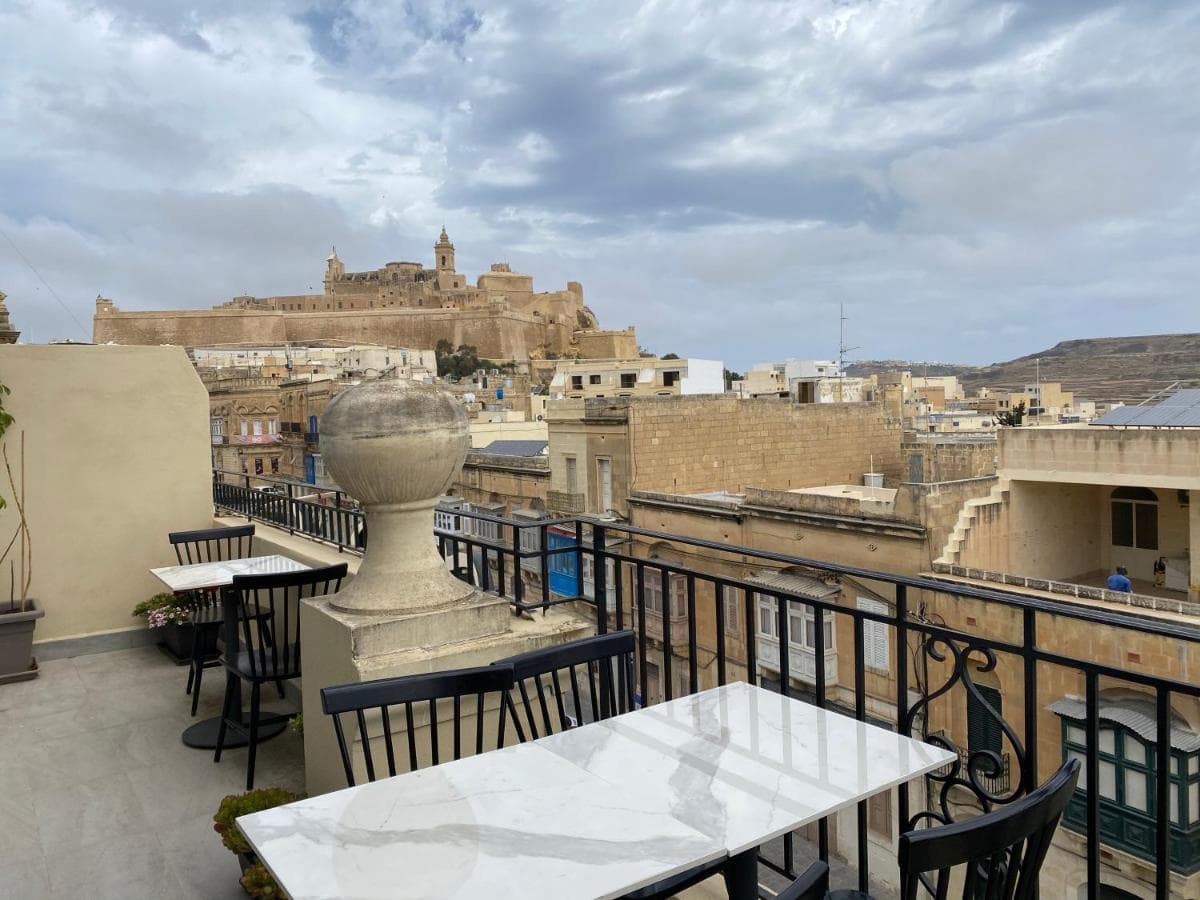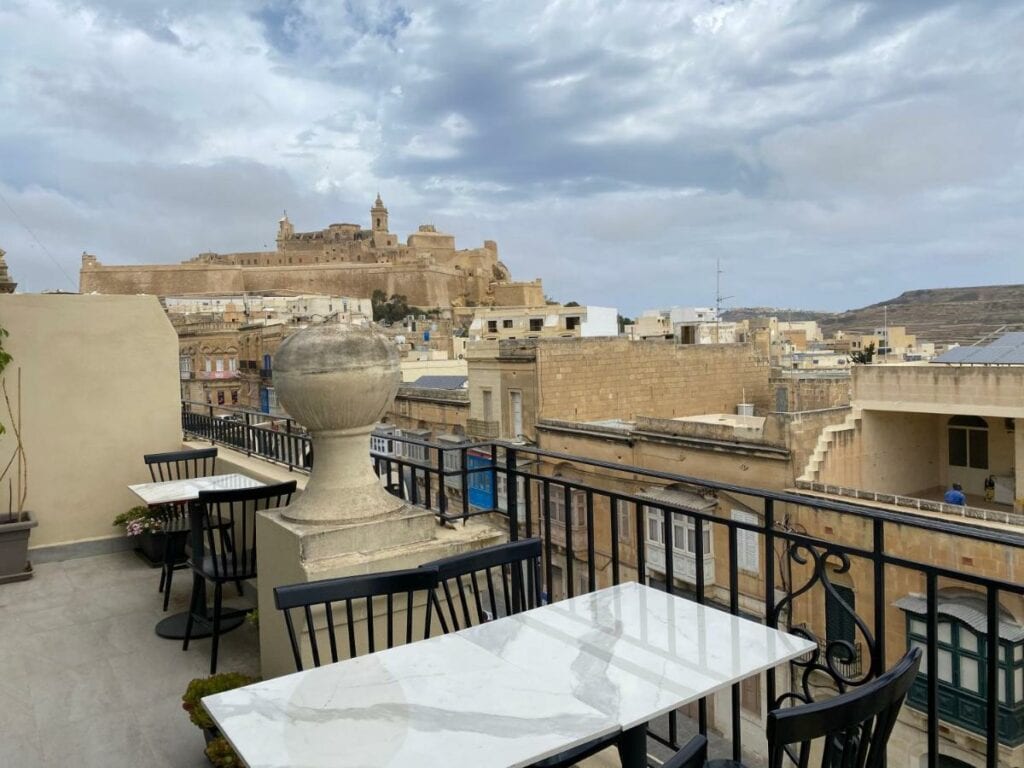 The Duke Boutique Hotel is just a three-minute walk from the main bus station. From there, regular buses run to the Malta Gozo ferry, and all other locations on the island.
The accommodation is situated above 'The Duke' shopping centre, and next to Victoria's park, Villa Rundle Gardens. Look out for the Junior Suite, which has park views, and a 4-seater hot tub on its private terrace.
This lovely Gozo boutique stay is a great choice if you're looking for something that feels more authentically 'Maltese'. It's in an old townhouse, and care has been taken to retain many of the original features and even some local antique furniture.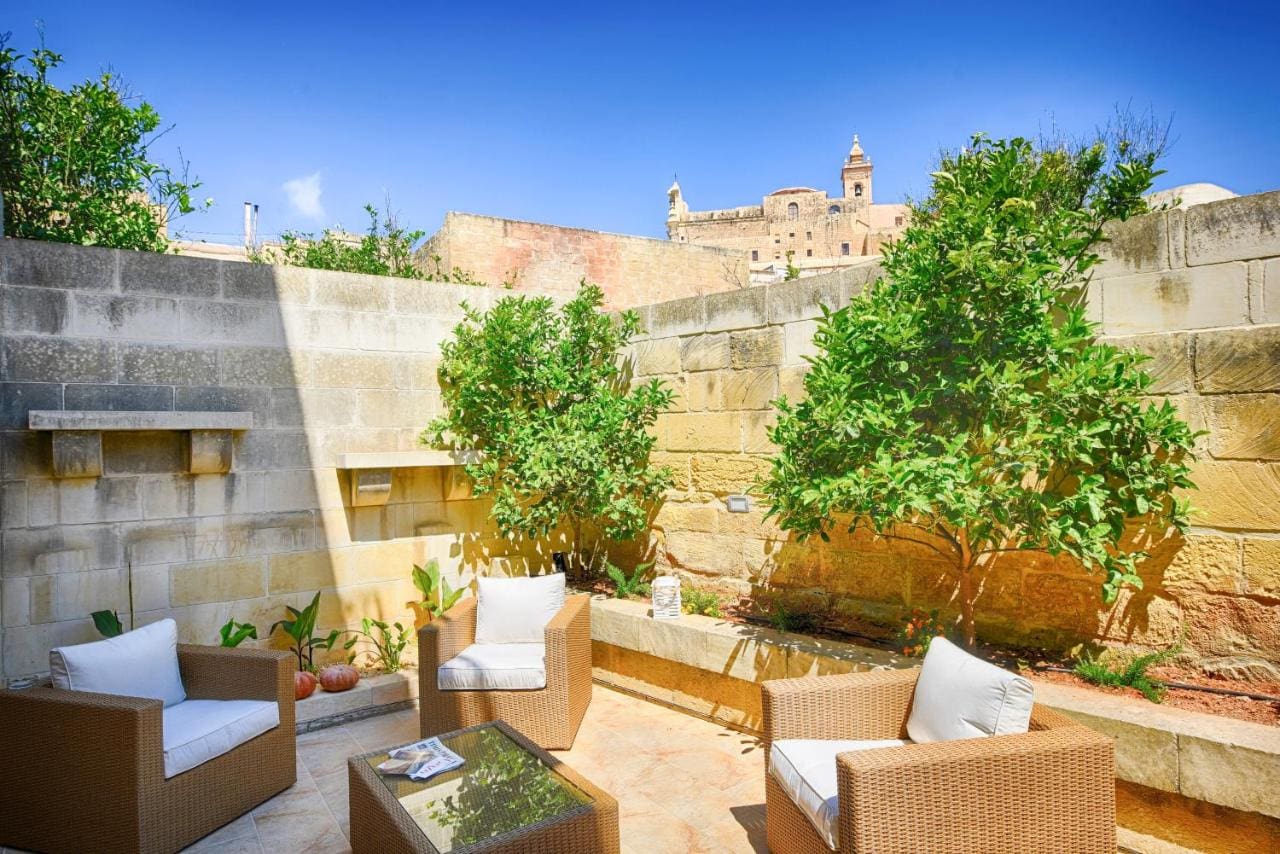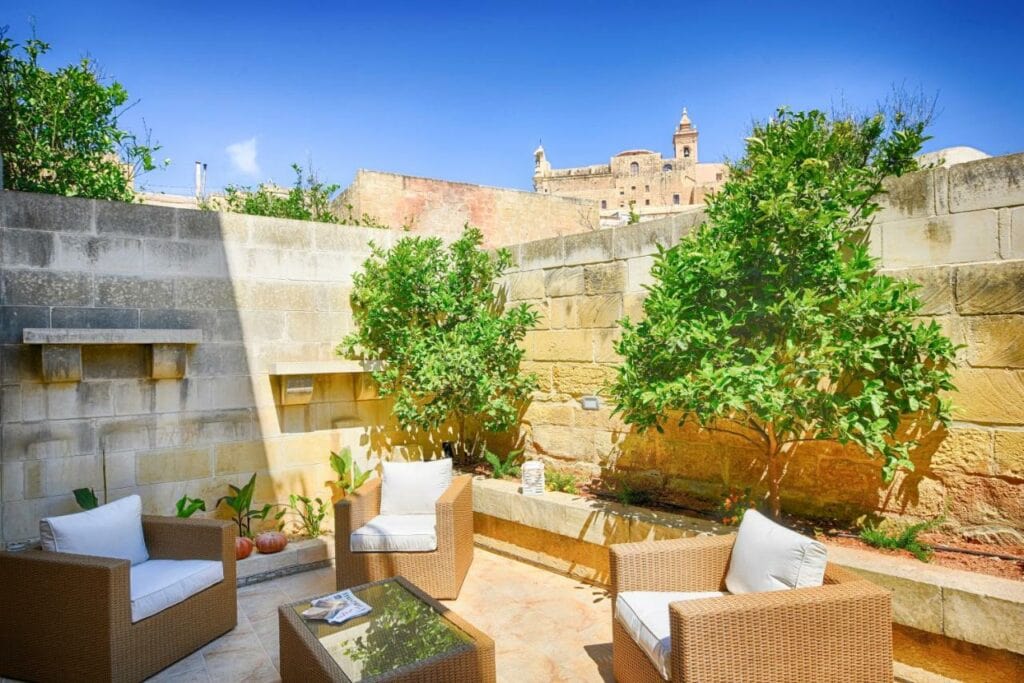 Casa Gemelli is on Victoria's main street, just one minute from the main square. It's run by the third generation of a local family of hoteliers. Their long experience is paying off, as guests claim it's the friendliest hotel Gozo has to offer!
Where to stay in Gozo if you'd like a great view of the Citadel from your breakfast terrace? Proicario! This tastefully converted old house with large rooms and ultra-comfortable beds couldn't be more central. It's right on the main square, and at the foot of the hill to the Citadel.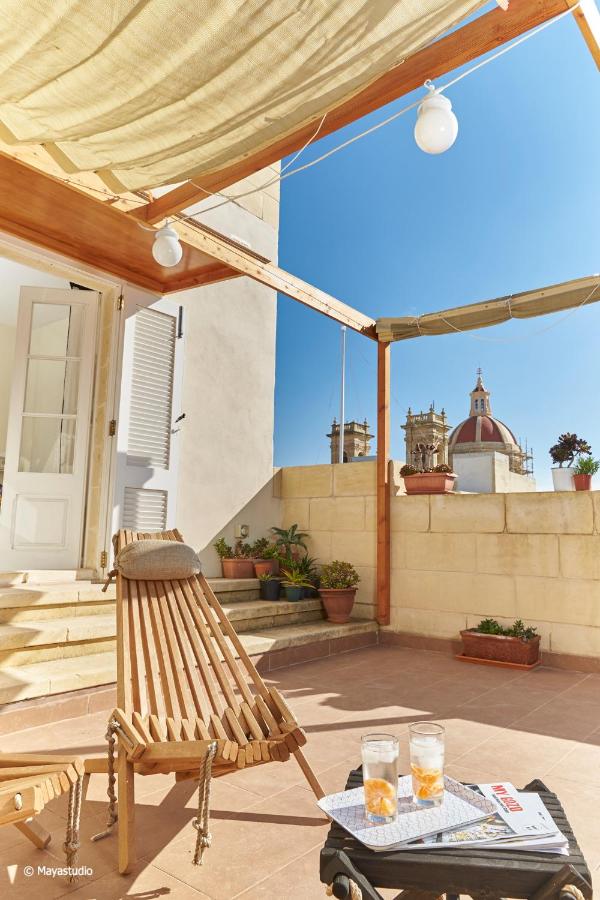 Provicario is ideal for a couple's stay. From here it's easy to take a romantic walk to the Citadel at night when it's deserted or to join the locals in San Gorg Square for an evening glass of wine. It's all on your doorstep!
Are you trying to decide between rural and sea views for your luxury stay in Gozo? If you head to the village of Qala in the south east of Gozo, you can have both!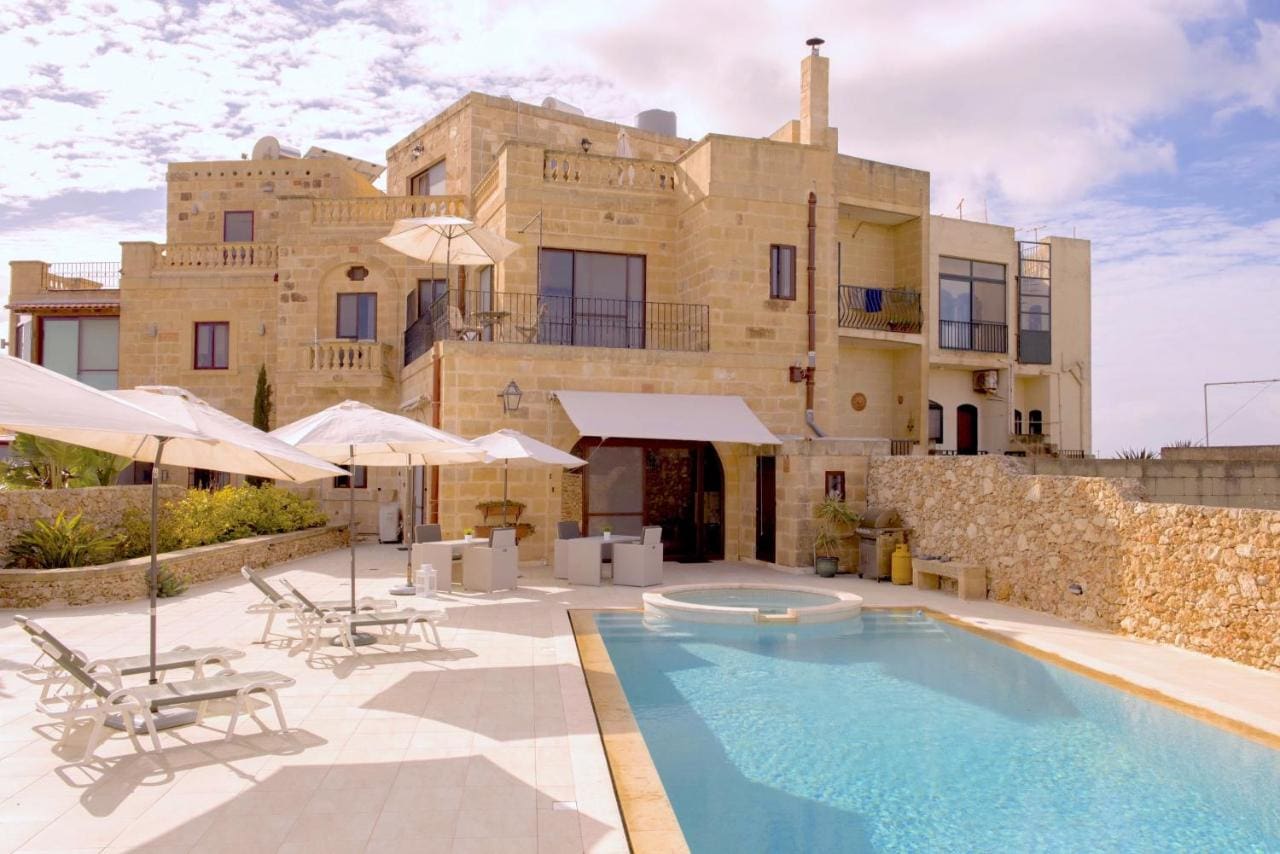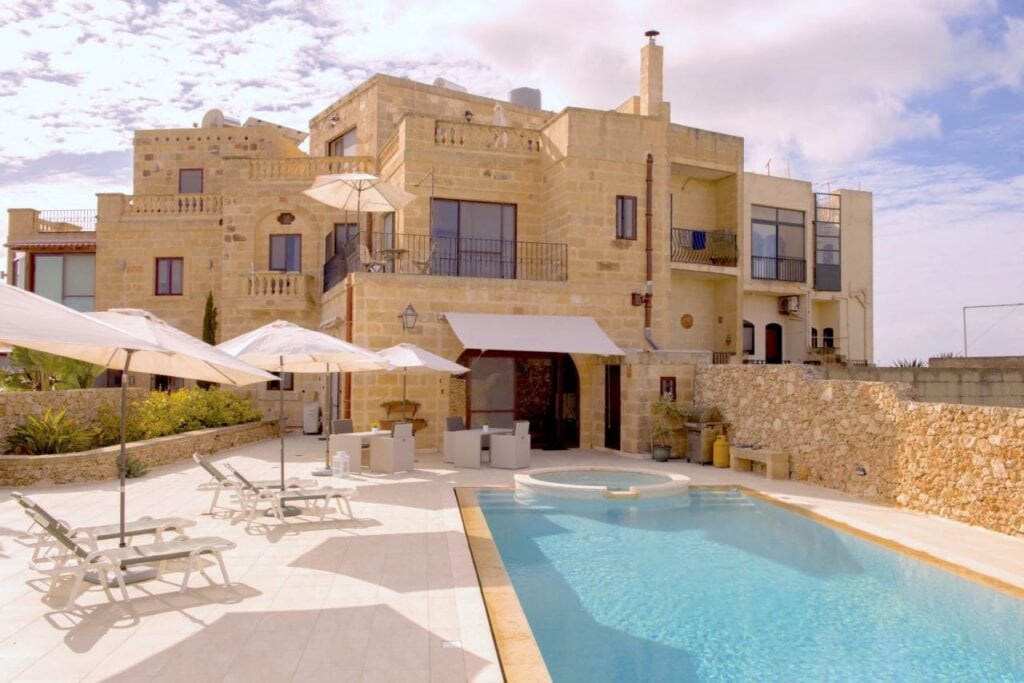 Gozo Ferrieha B&B has just four guestrooms. This guesthouse offers a great breakfast, a fantastic outside pool area, and can even organise private boat tours for their guests. However, it's the far-reaching views across Gozo's countryside and the famous Blue Lagoon that dominate their rave reviews!
The best views of the lagoon are from the private terraces of their two deluxe rooms. Pour yourself a glass of local wine, and soak in that view!
Another option if you'd like to experience a traditional character property, is a stay at the little Botanic Bed and Breakfast in the village of Xaghra. You'll love the old honey-coloured stone walls and traditional floor tiles.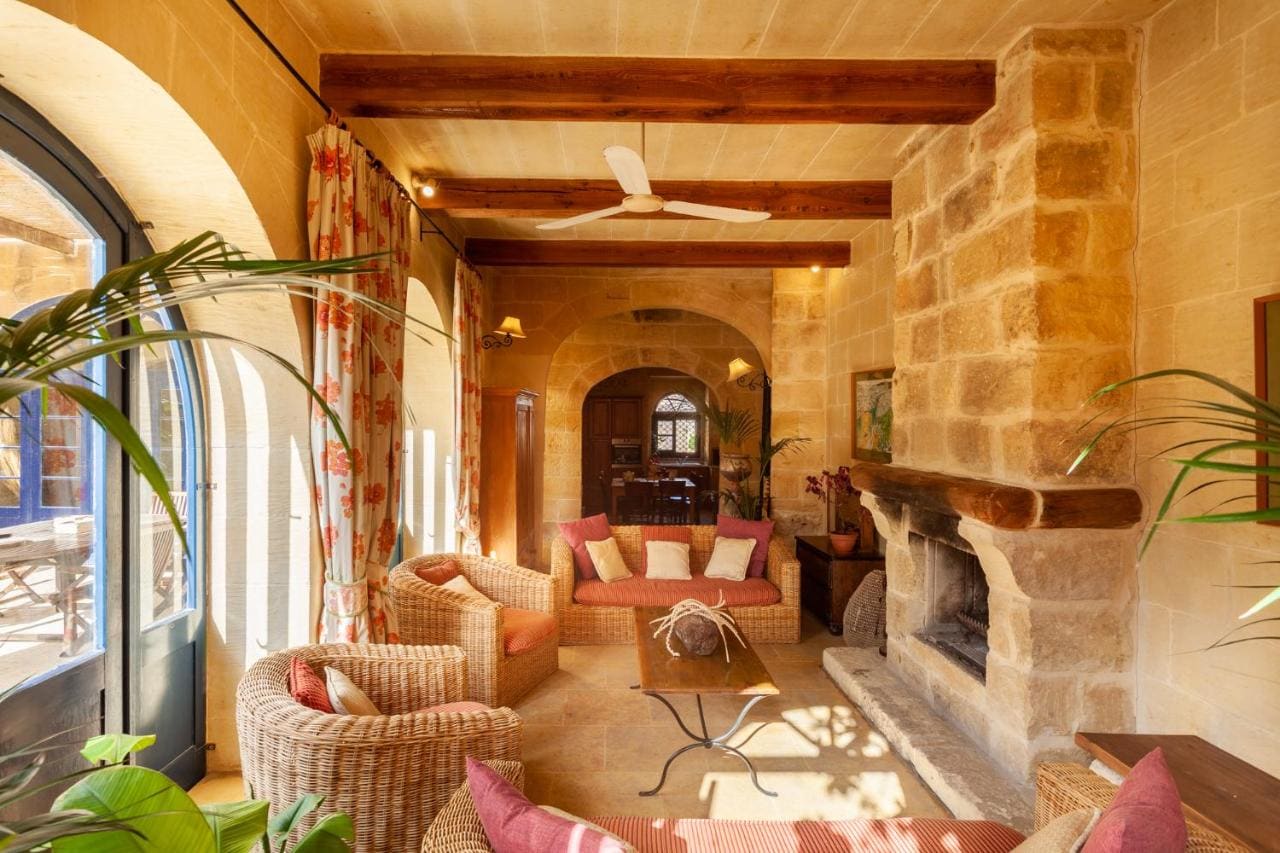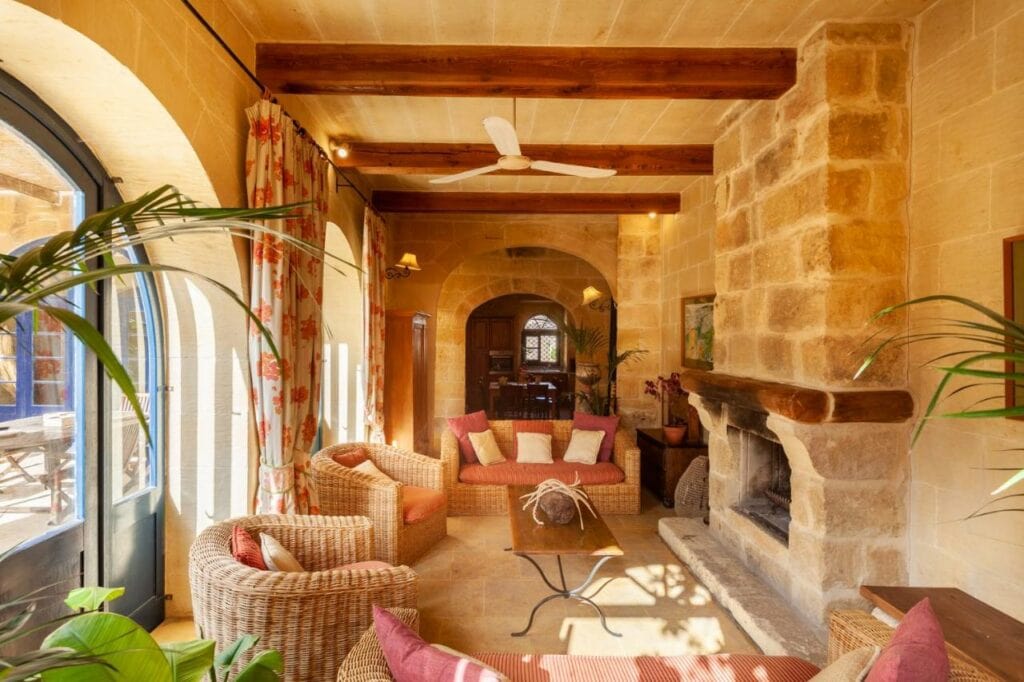 The pool area surrounded by rubble walls, plants and flowers is perfect for a relaxing break.
---
Farmhouse Rentals in Gozo
Don't want to share your pool? No problem! Whole house 'Gozo Farmhouse' rentals are popular across the island. They combine self-catering with traditional architecture and luxury features like a pool, hot tub or garden.
Farmhouse rentals are ideal if you're travelling as a family or a larger group. The 'per head' rate makes it a more cost-effective way of visiting too.
I've picked out two Gozo farmhouse rental options with plenty of character, guaranteed to make your stay extra special.
Moledini in the Birbuba area on the edge of Gharb oozes local charm! Old property with honey-coloured stone? Tick. Maltese cross details? Tick. Knights of St John decorations? Tick!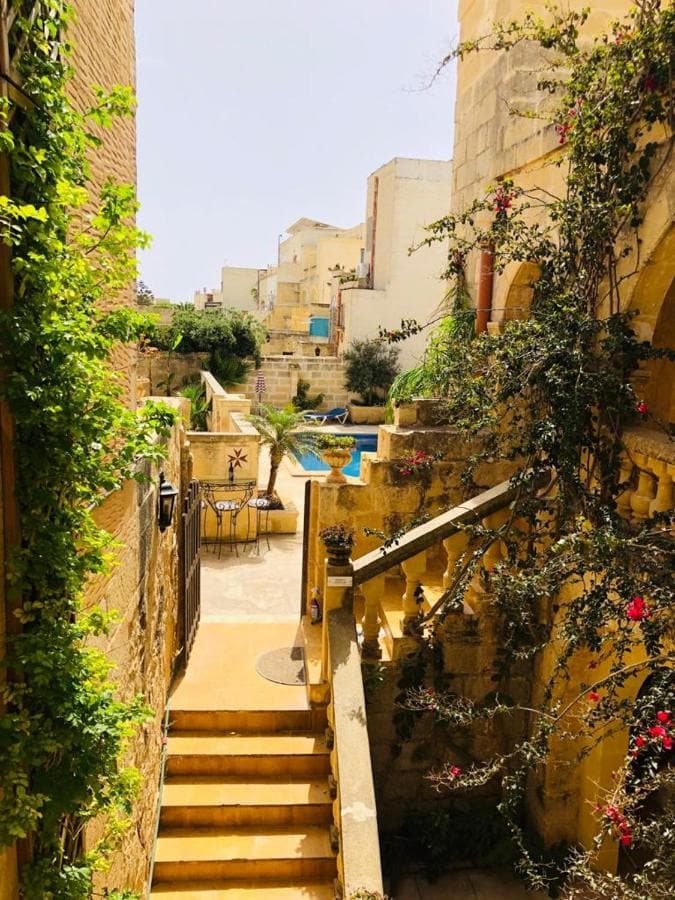 This spacious four-bedroomed house can sleep up to ten. It has a good-sized swimming pool and two BBQ areas so you can make the most of outside dining.
These five-bedroomed villas with wonderful country views are in the quiet village of Ghasri in the west of Gozo. They sleep up to 12 people and have everything you need for a self-catering holiday.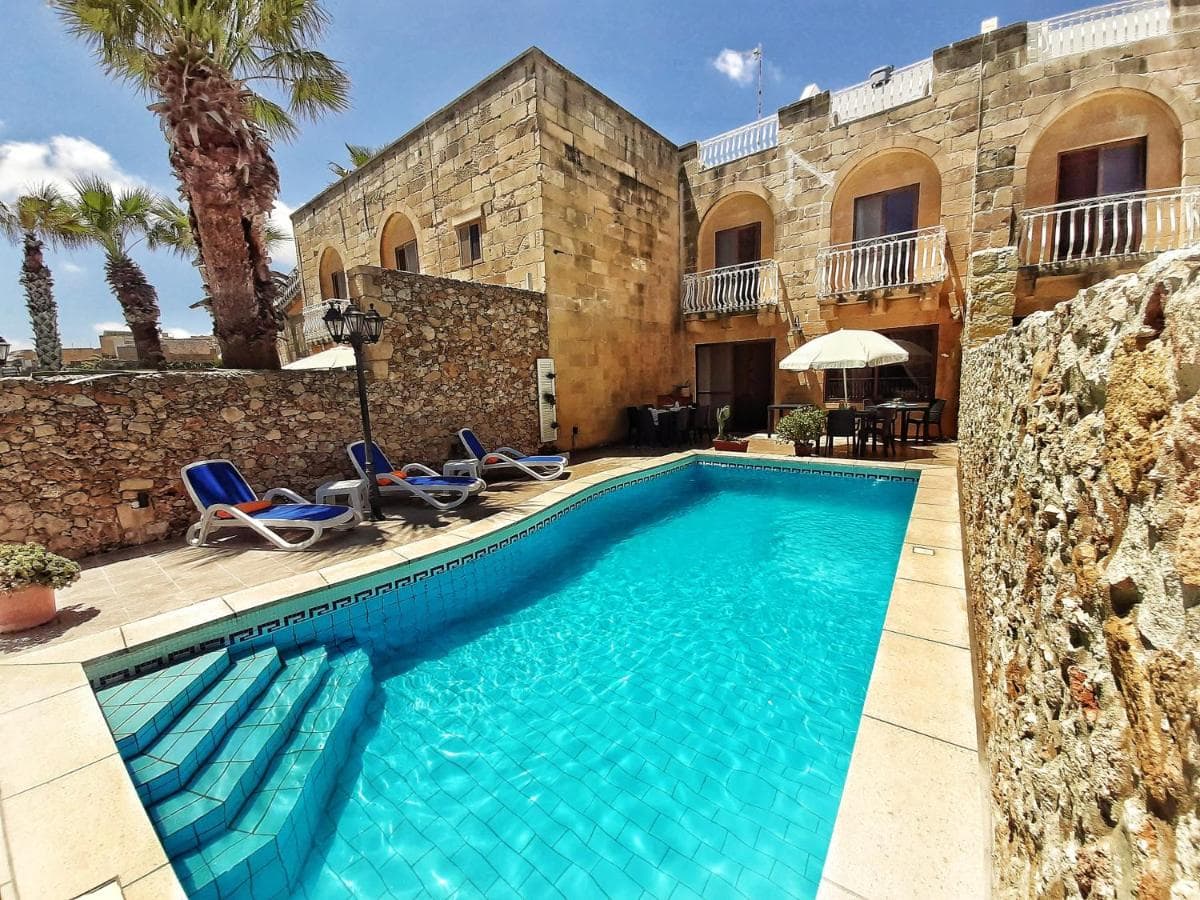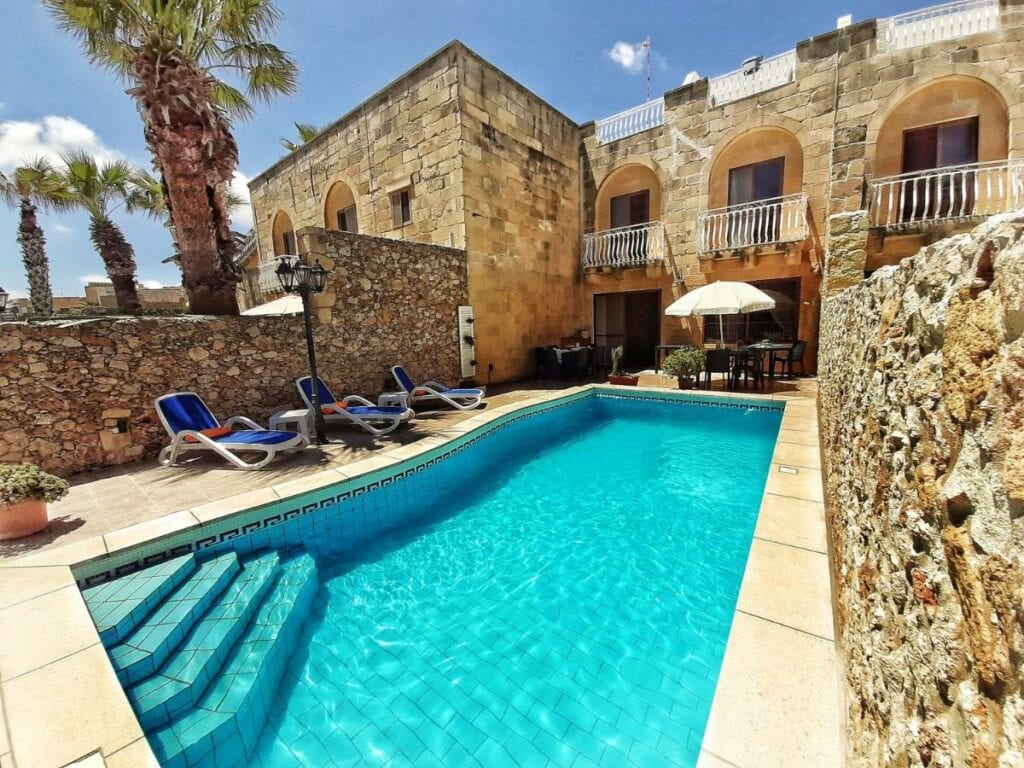 Each villa has its own private pool. Whilst that keeps the kids busy, adults will enjoy catching up with a glass of wine under the shade of the olive or palm trees!
Popular Local Gozo Hotels
The last two boutique hotels in Gozo are popular with Maltese who visit for the weekend. You should find better availability for midweek dates.
Quaint Boutique Hotels is a local brand with three small hotels in three different village centres: Sannat, Nadur and Xewkija. Although they are converted from historic houses, the rooms inside are clean and modern in style.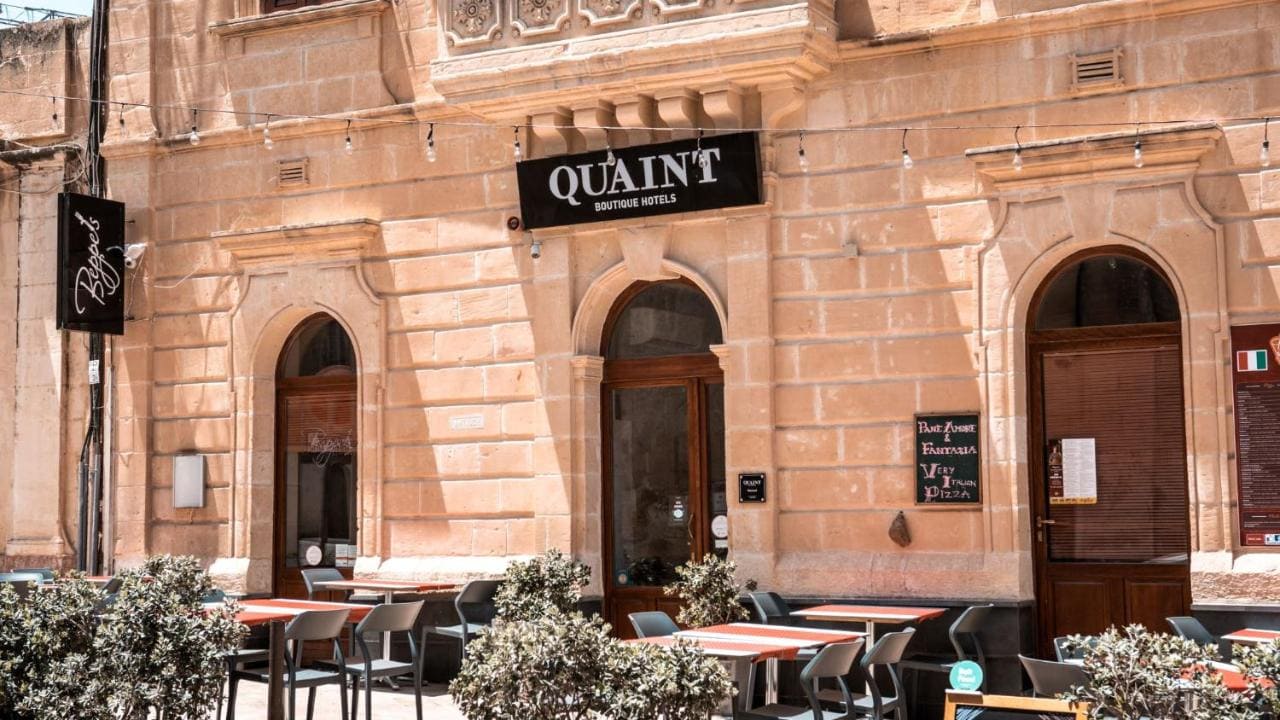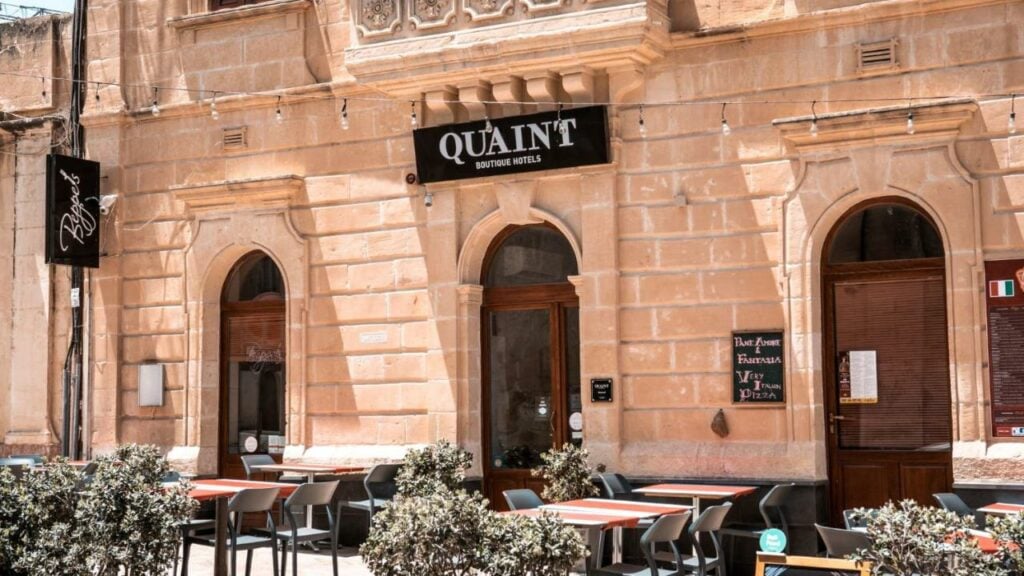 All three hotels are in or very close to the main village squares, and attached to a good restaurant. Look out for the rooms with terraces for the best views.
This is a newly built small hotel on the edge of the tiny village of Santa Lucia.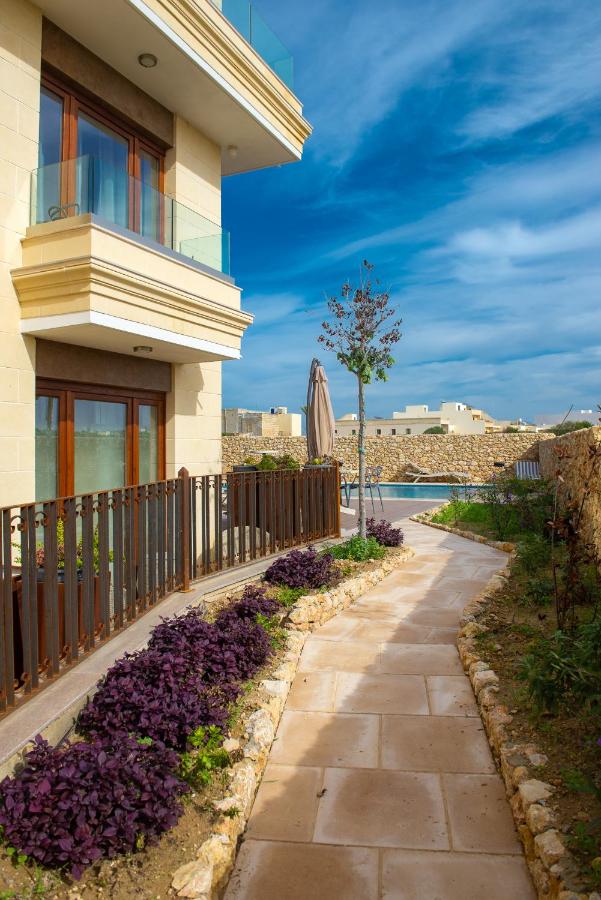 The peaceful location, easy parking and modern international styling here are a hit with domestic visitors escaping the Maltese main island for the weekend.
---
I hope my guide helps you choose the perfect hotel in Gozo for your trip. Have an amazing time – it's a stunning destination for a holiday!
Oh, and if you're excited for the food scene too (which you definitely should be!) don't miss my guide to the 15 best restaurants in Gozo.