Considering booking a Helsinki food tour? Find out what to expect, the kind of foods you'll sample and more about why it's a great way to see the city.

I've said it time and time again on this blog, but my favourite way to get to know a new place? Straight through my stomach! So what better way to understand what makes Helsinki tick than on whistle-stop tour of some culinary hotspots on Heather's Helsinki Fork In Hand food tour?
We met our Helsinki food tour guide Heather under the Stockmann clock in the centre of the city. Heather's not a native. Originally from Tasmania, Australia, she's lived in Helsinki for 15 years. In some ways seeing the city through the eyes of someone who had moved there gave us a better understanding of its quirks. Rather than growing up with them, she's experienced them as a newbie – making them easier to identify.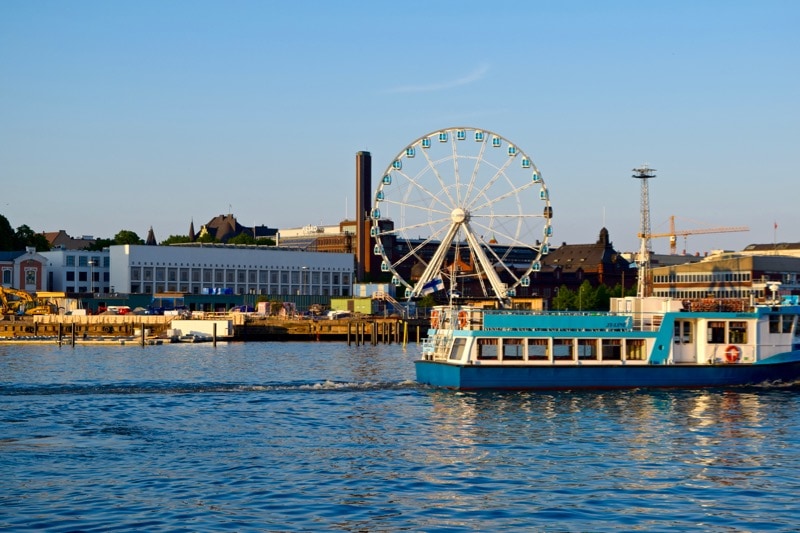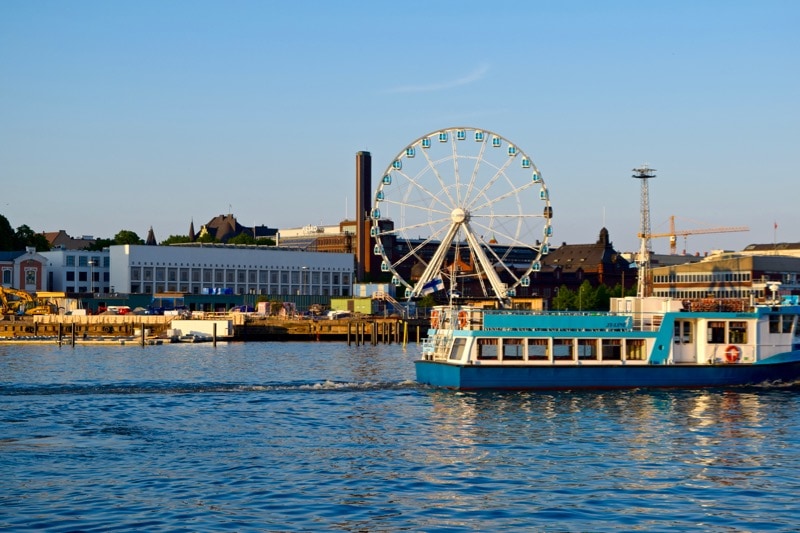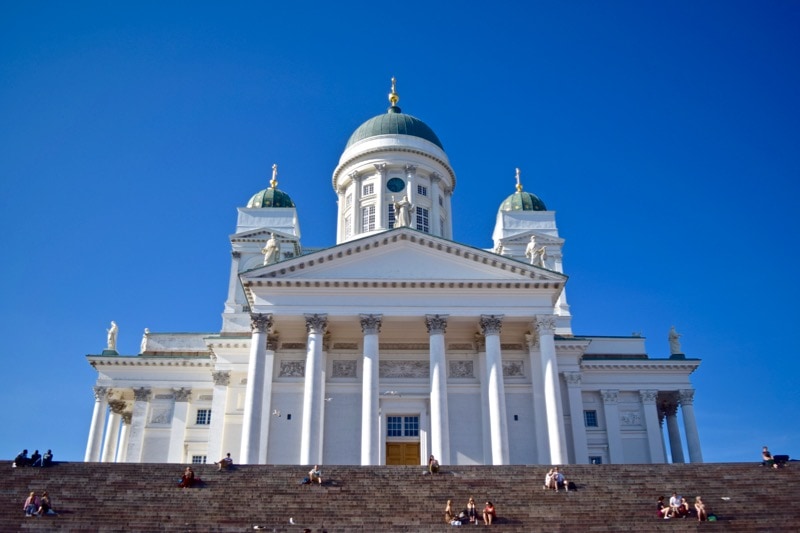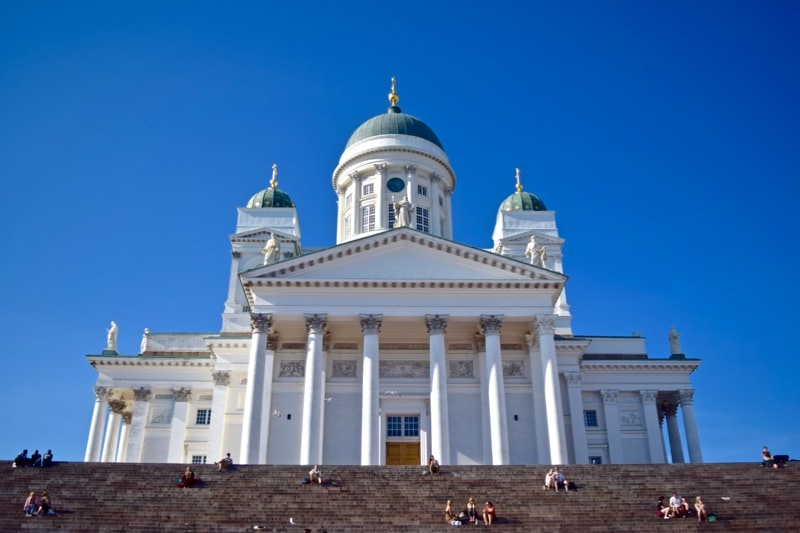 Incase you wondered, the Stockmann clock is THE meeting place in Helsinki. A historic store, Heather recounted stories of the days when the lifts had 'lift ladies' who pressed the buttons! So, why start here? It's the premier food store in the city – I'd compare it to the food halls in Selfridges or Harrods in London. It's upmarket, but also stocks a lot of the basics of Finnish cuisine – from rye bread and cinnamon rolls, to locally produced salamis. It was a great starting point for our education in Finnish cuisine, and after checking out the different reindeer products in the fridge, it was time for our first tasting.
The fish counter is a highlight in Stockmann. There was plenty of fresh salmon, crayfish and caviar along with concoctions ready to spread on rye bread. We got stuck into a few variations of salmon and crayfish – one charred, one in mousse form and all with plenty of lime and dill. It was a great first tasting!
As we wandered through the streets, we nattered with Heather all about her move to Helsinki and listened to a few stories about the historic buildings we passed. It was wonderfully informal – no question was too stupid, and she was full of passion and enthusiasm for the city that had adopted her!
Next, we headed to Kuppi And Muffini, a small café with wooden tables and sunshine beaming through the windows. Along with tasty looking muffins and cupcakes, their speciality was porridge. On the day we turned up it was Heather's favourite on offer: oat porridge cooked in oat milk. I've always found porridge rather heavy and gloopy… toast and marmite is my brekky of choice, but I was willing to give this a go! The great thing about the porridge here, is it's not just a bowl of porridge. On the counter there's a huge selection of toppings – everything from tangy berry coulis to honey to almonds and even chilli flakes! It's fun, creative and, actually, dare I say it, with my selection of berry coulis, seeds and granola, It was pretty tasty! Perhaps I do like porridge after all?!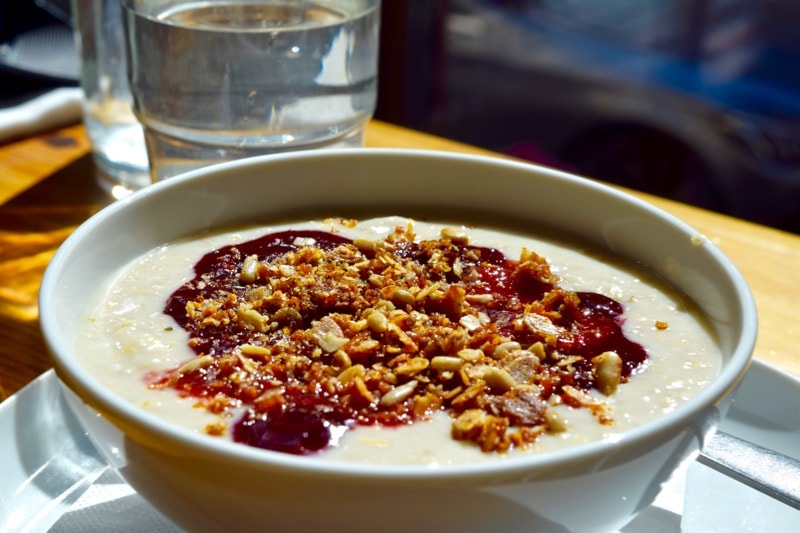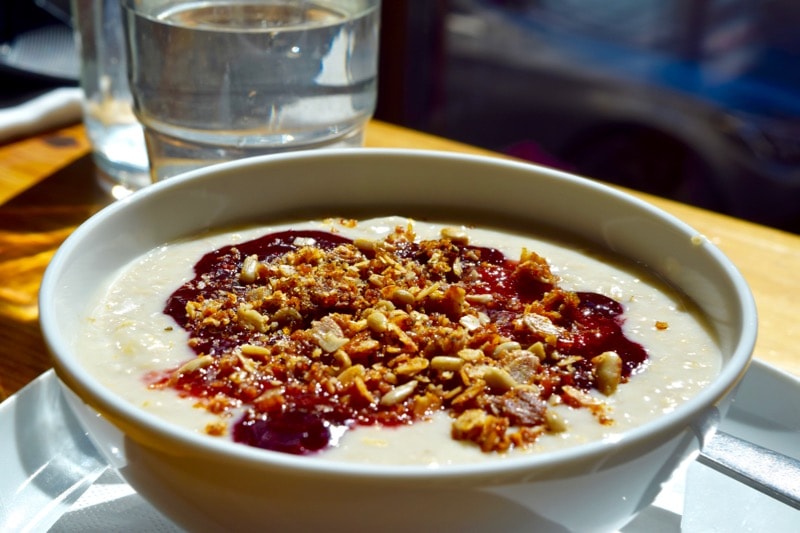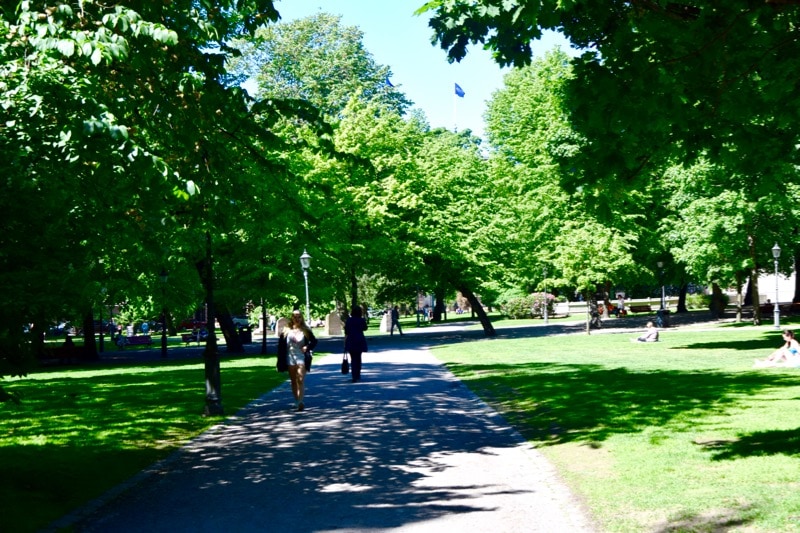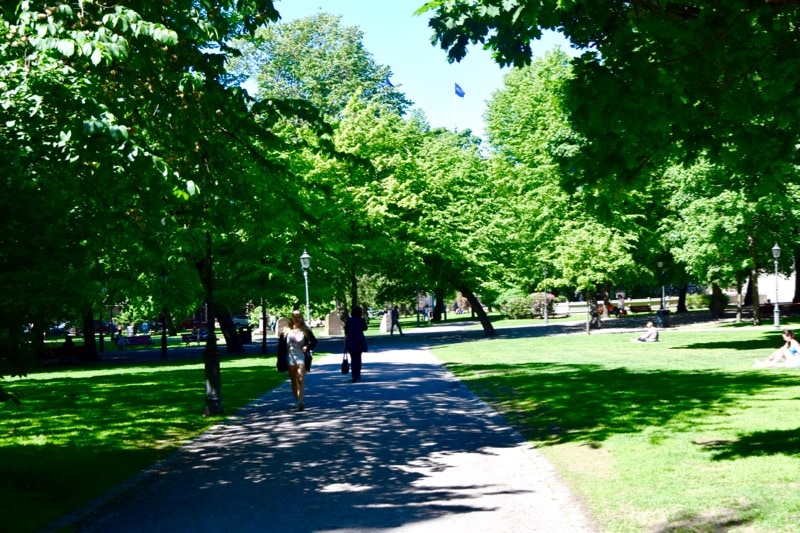 Last year I remember reading about Restaurant Day in an inflight magazine. It's a special day where anyone in Helsinki can open a pop-up restaurant. Since its launch in 2011, it's expanded to take place 4 times a year. Hundreds of people take part and there have been some huge success stories, with Powau Juice and several restaurants launching as a result of their popularity on the big day.
My favourite story was that the government tried to shut the idea down (health and safety etc!) but failed. Everyone wanted to keep it and they were left powerless. It was great to hear Heather's take on it first hand! I wished I'd been in the city for it… but it turns out, it's now expanding to be an incentive people can run any day of the year.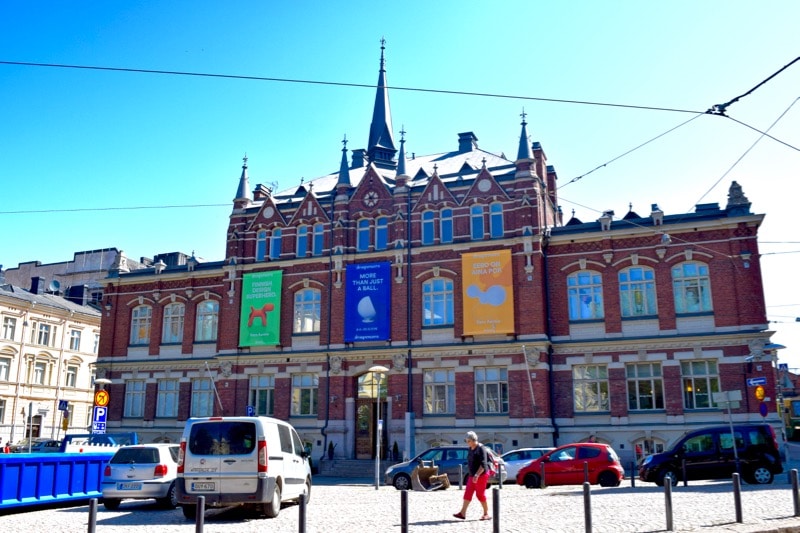 And with that it was on to Kaartin Kotikauppa – a store claiming to sell 'everything you need to survive in Helsinki'! It didn't look like a foodie mecca, but hey, what's this? They have one of the biggest fridges in Helsinki! The shelves of the fridge were packed full of bottles of craft beers and ciders. While there is a government monopoly on alcohol (you can only purchase it from special stores) small stores like this one are allowed to sell alcohol under 4.7%. It means stores like this are well and truly on the map!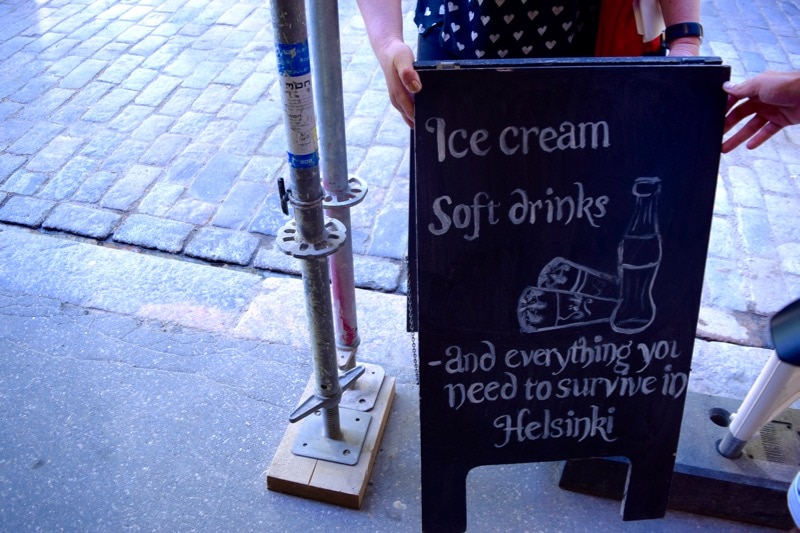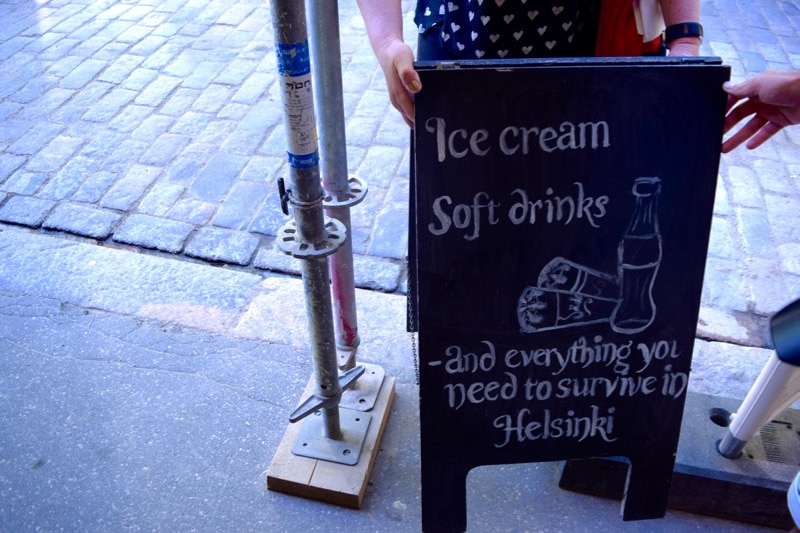 We enjoyed a small glass of sweet but tart apple cider, accompanied by a traditional lingonberry and rye biscuit. As it was graduation time in the city, we also sampled some delicious chocolate biscuits with a crunchy meringue top – which resembled the white caps worn for graduation.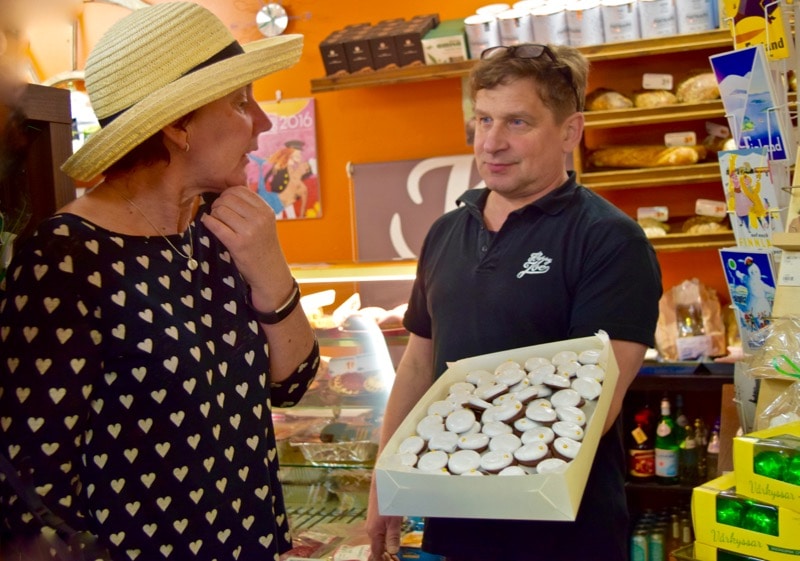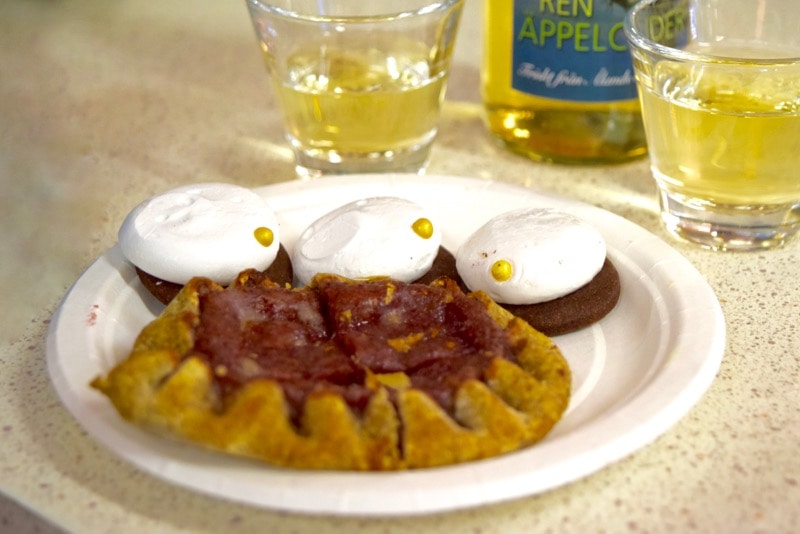 Alko – the booze store! No introduction to Finnish food and drink would be complete without a stop there. As mentioned, the government monopoly on alcohol means Finns are only able to purchase wine and hard liquors from this store. That means serious planning – no longer can you nip out for a bottle of gin late on the way to a late night party. The stores are only open regular hours, so you need to stock up in advance. The good thing is that Alko stores are really well organised, staff have lots of great tips, and there's even a super-modern computer system that recommends wine based on what you're cooking. What really caught my eye were the brightly coloured flavoured Lapponia liqueurs. After munching on sea buckthorn at dinner a few days before, I would have loved to try the sea buckthorn or cloudberry liqueur. Heather said they were great on ice cream!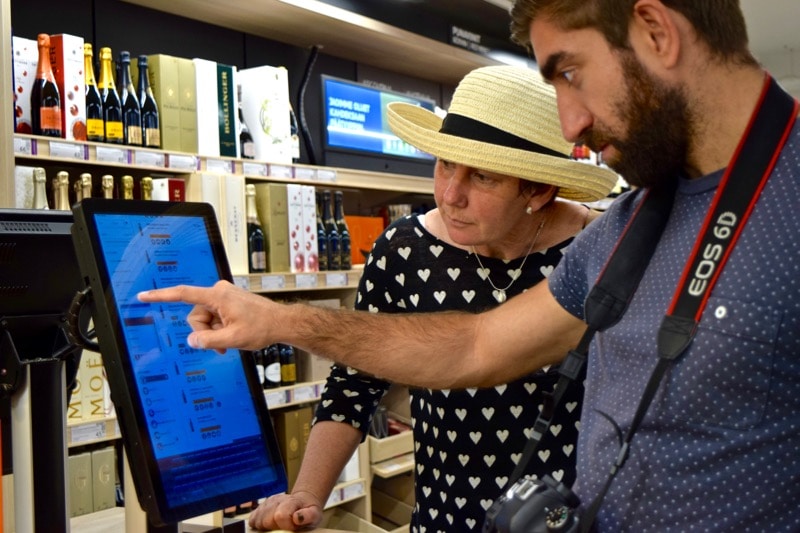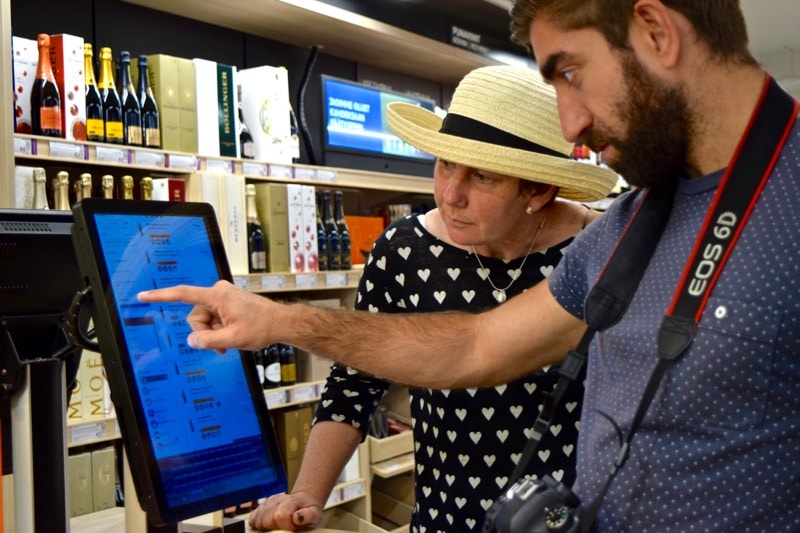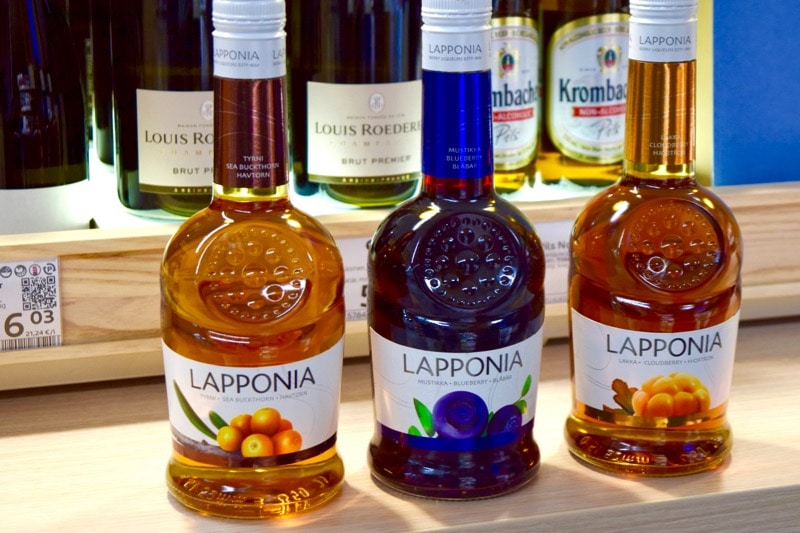 Booze continued to be the theme with our next stop being at Bryggeri Helsinki – a brewery in the heart of the city. We met German brewer Mattias who was hard at work. Not a beer drinker, I only sampled the rose beer – a wine-infused brew which everyone thought I would like. Sadly, it still tasted of beer (!!!) so I've not been converted yet! Everyone else enjoyed the selection of Pils, Weizen, Summer Ale and IPA but I was more excited by the accompaniment – an enormous sausage with potato salad and mustard. Mmmm that was tasty.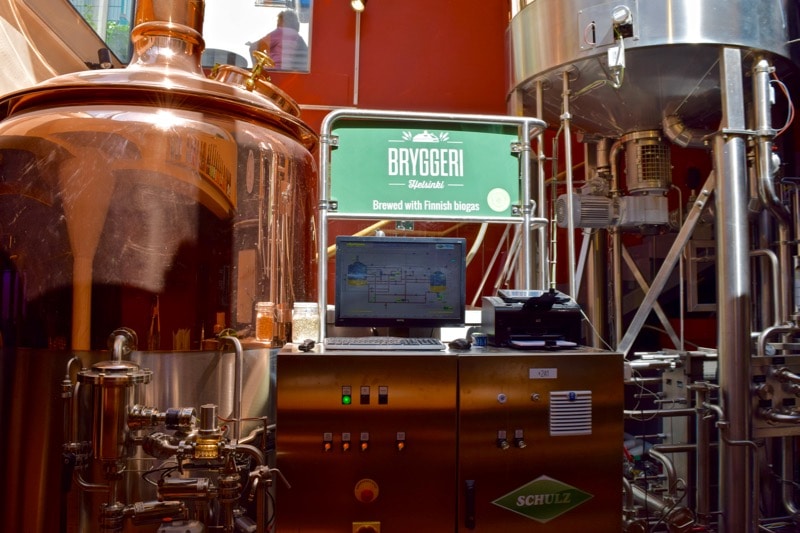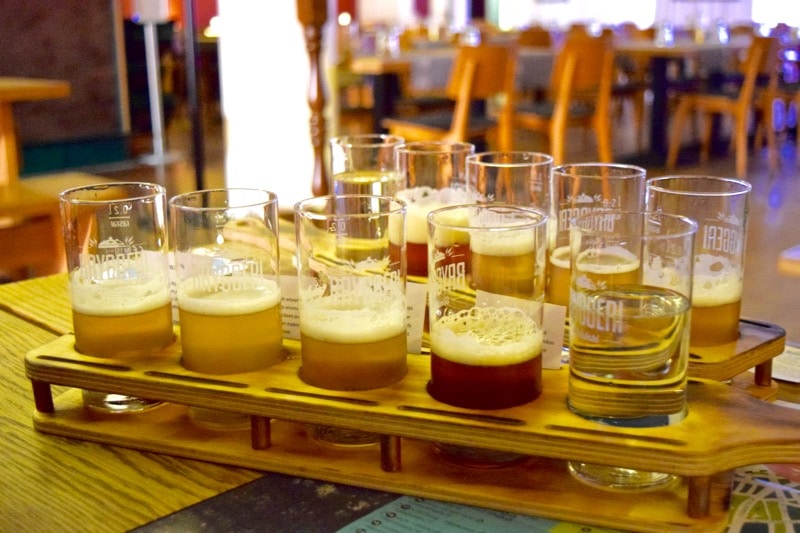 You can't visit Helsinki without visiting the Old Market Hall down by the water. I visited last summer and loved it. We sampled a yummy plate of cheese including bread cheese! It was squeaky – almost like a halloumi, served with caraway crackers and sweet cloudberry jam. A winning combo. Heather pointed out a few of her favourite eateries including the soup kitchen which she claims serves one of the best value lunches in the city at under 10 EUR.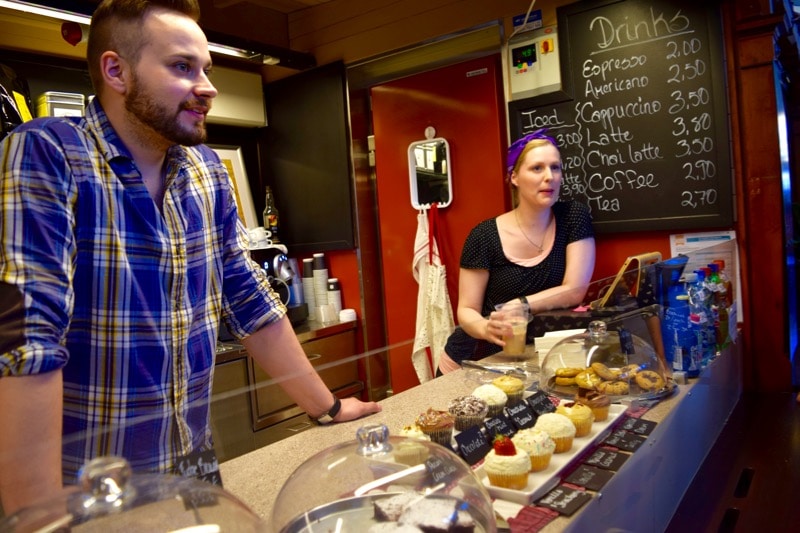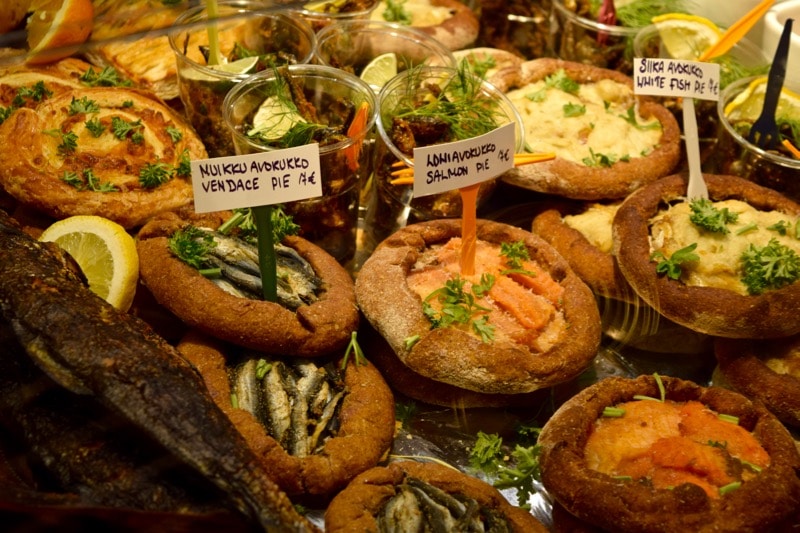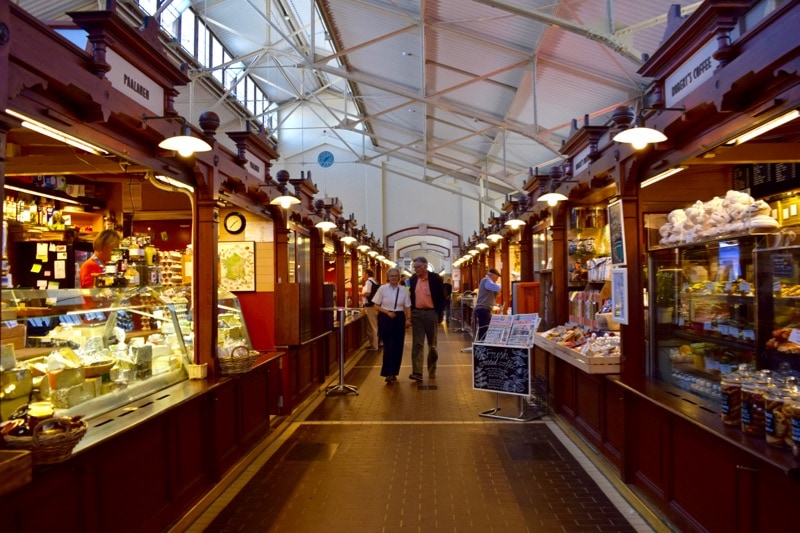 We stopped for a chat with Elizabeth from Illinois who runs a cute cupcake stall. She simply LOVES to bake. All her cakes are family recipes including a best seller – the peanut butter and jelly cupcake.
Enjoying a bit of June sunshine, we left the market hall and headed for coffee and cake at one of the oldest foodie landmarks in the city – Fazer. Dating back to 1881, the Karl Fazer brand is the Cadbury of Finland. Iconic packaging (the blue is copyright as 'Fazer Blue') and a million flavours to choose from, it's an easy brand to love! I enjoyed hearing how Karl's wife used to work on the brand too, coming up with iconic window displays – the Easter ones drawing the biggest crowds!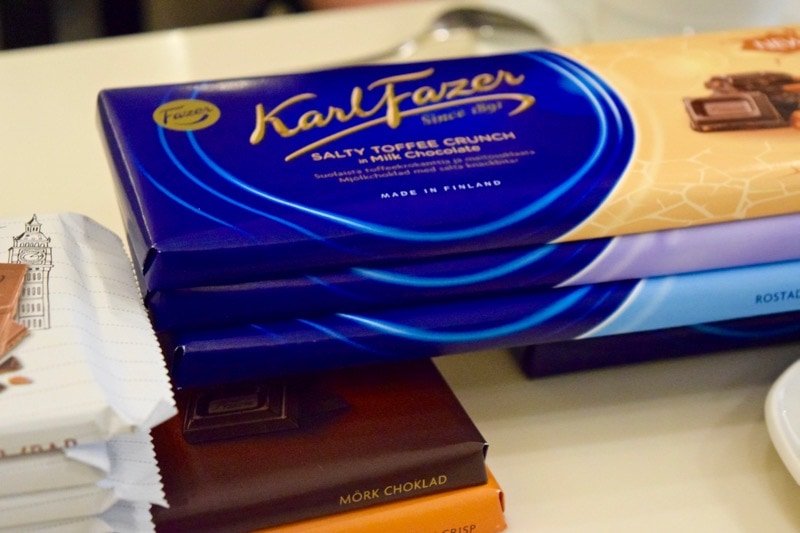 We got stuck into a 125th anniversary special – a cake with a chocolate base, blackcurrant mousse and a mirror chocolate glaze. We also sampled a 'Budapest' – a cake with walnuts, banana, meringue and lashings of cream! Delicious and beautifully presented, the desserts were a lovely way to round off an indulgent food tour of Helsinki. Needless to say, there wasn't a millimetre of space left in our stomachs!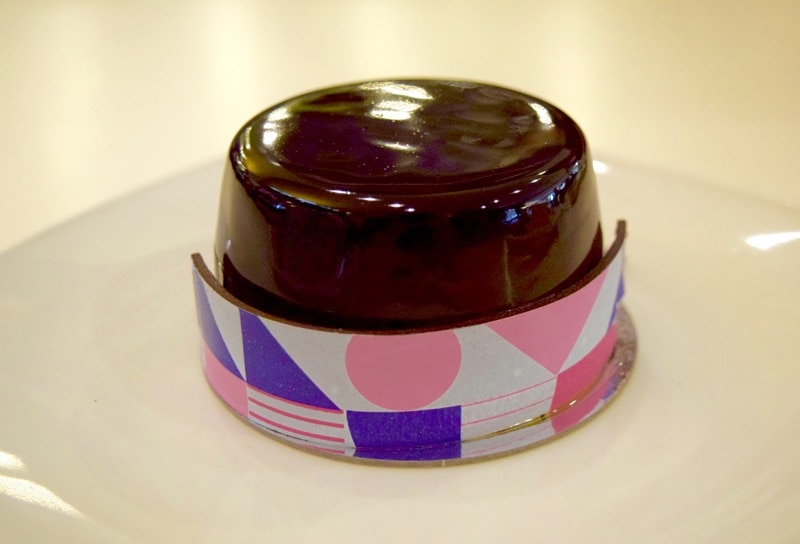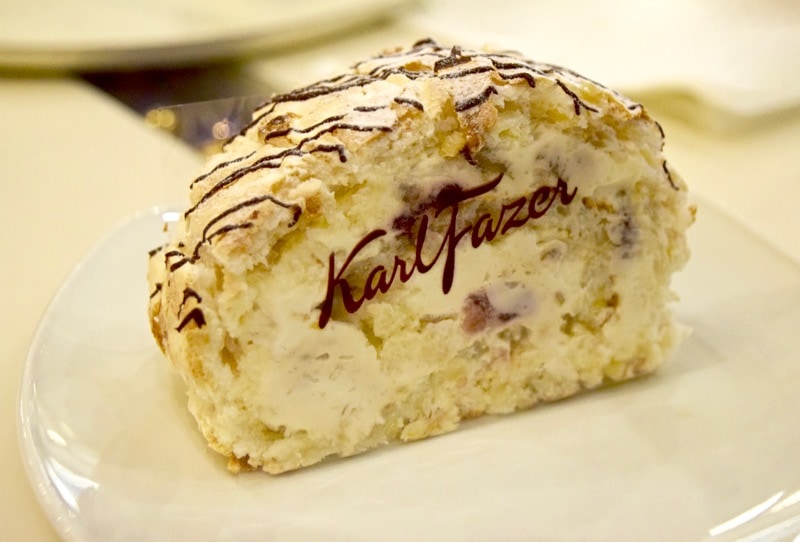 I loved Heather's passion for Helsinki. Usually I'd say there's nothing better than hanging out with a born and bred local, but on this occasion, Heather's years of adjusting to the Finnish ways brought even more to our Helsinki food tour.
Enjoyed reading about Finnish foods? Find out more about traditional Finnish food.
Thanks to Heather for hosting us on her Helsinki food tour. You can find out about all the different tours she runs in Helsinki here.
Enjoyed this post? Why not pin it…