From aromatic fish dishes and spicy curries, to sweet cocktails and upmarket décor, my restaurant review of Kanishka by Atul Kochhar shares what it's really like to dine at one of London's best Indian fine dining restaurants.
When it comes to choosing a cuisine for dinner, there's one I think the majority of us will agree on: Indian. My partner and I adore cooking curries at home, but we also love visiting Indian restaurants too. While every high street in the UK has an Indian takeaway or two, there are only a handful of restaurants taking on the Indian fine dining market.
One of the main chefs behind this movement is Indian-born, British-based chef Atul Kochhar. He was one of the first Indian chefs to be awarded a Michelin star, and has gone on to achieve amazing things.
I've dined at Benares, his Michelin-starred restaurant in London a couple of times. Then, more recently, I visited Hawkyns in Amersham and enjoyed the Indian tasting menu. Both of these restaurant experiences have been excellent, so I was excited to see what Kanishka would offer!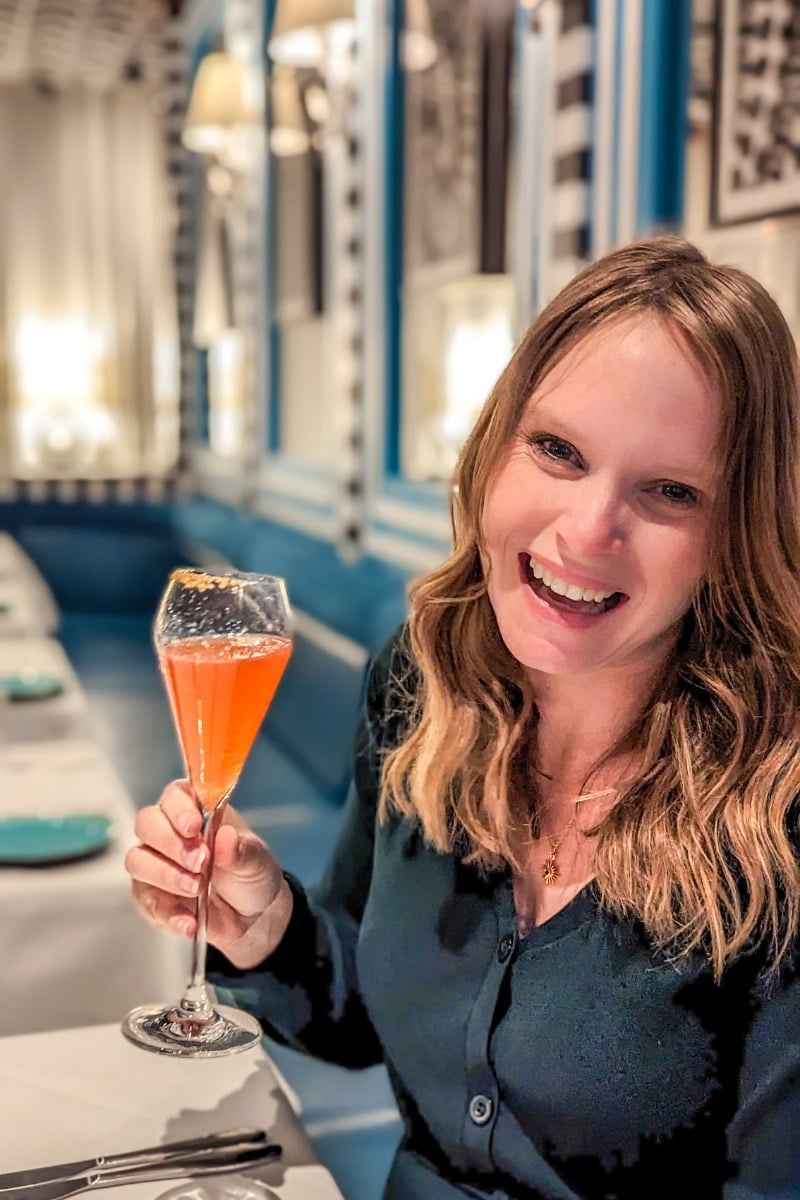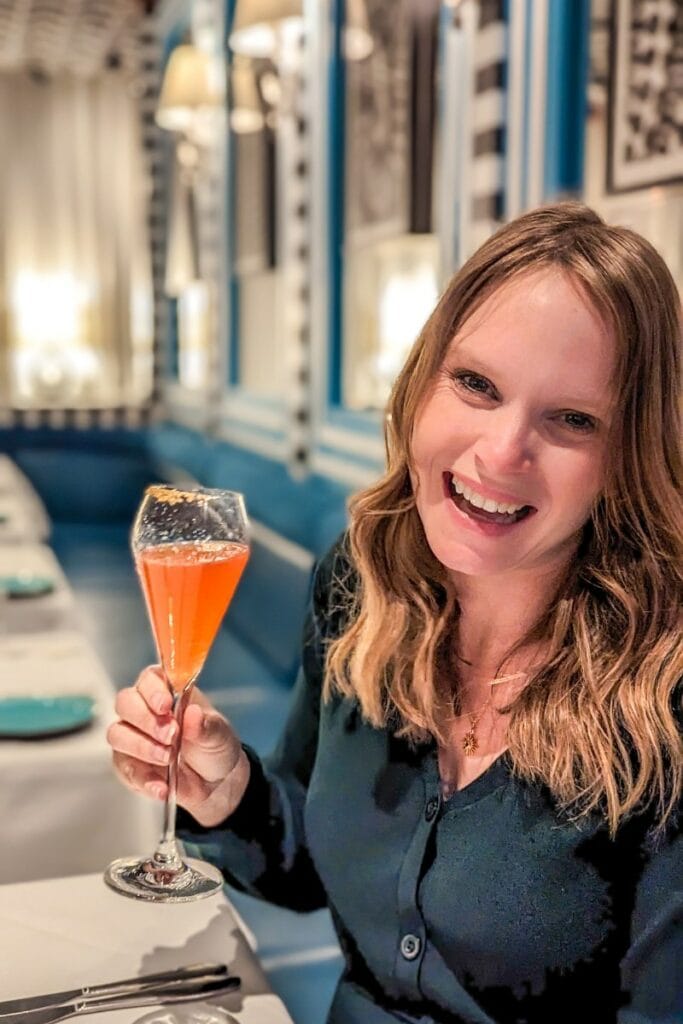 But with so many amazing Indian restaurants in London, what makes Kanishka special? This restaurant has a pan-Indian menu and prides itself on celebrating the country's regional cuisines and dishes. India is a vast nation with a huge number of specialities and cooking styles. From the spice and tang of Rajasthani dishes, to the milder, creamier flavours found in Goa, it's almost doing the cuisine a disservice to just lump it all under one umbrella term of 'Indian'!
Kanishka's aim is to raise awareness for some of these lesser-known dishes, presenting them in gourmet and contemporary ways. In my restaurant review of Kanishka I'll run through my thoughts on the dining experience, set menu, drinks and ambience.
I'll also let you know my favourite dishes and what I thought of the overall meal. So, if you're looking for Soho restaurants and want to know what I'd recommend ordering at this stylish eatery, I hope my Kanishka review comes in handy!
---
Kanishka Restaurant Review: Modern Indian Cuisine In London
Kanishka Restaurant: Location
This restaurant is located on Maddox Street, a side street located moments from the buzz of Soho, Mayfair, Oxford Circus and Piccadilly Circus. Whether you're in the area for sightseeing, shopping or simply looking for a lovely restaurant for a special meal, Kanishka is in an ideal location.
Kanishka Restaurant: Set Dinner Menu
I booked via OpenTable, which is a great booking platform for discovering top London restaurants. When you live in London, it can be easy to go to the same places time and time again. I often use OpenTable to search for restaurants I hadn't considered before. There are also lots of great deals and experiences, including set menus or complimentary cocktails, so it's worth checking out!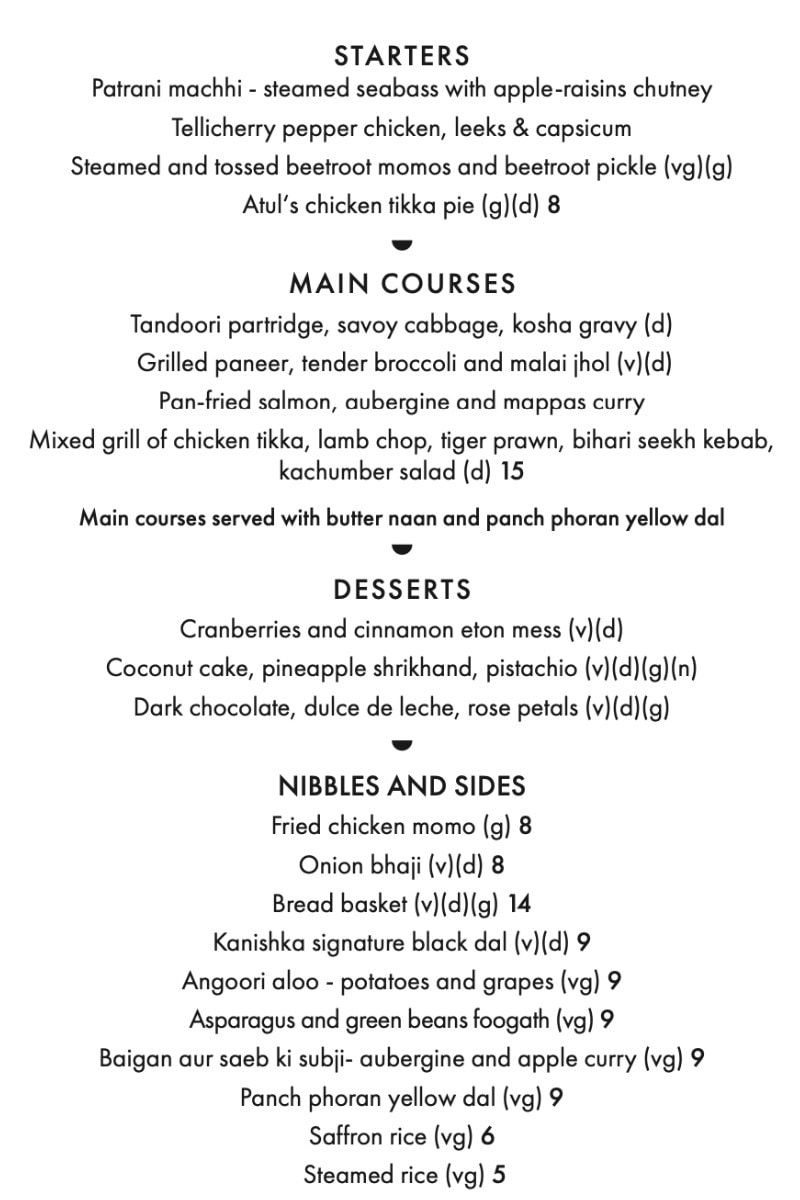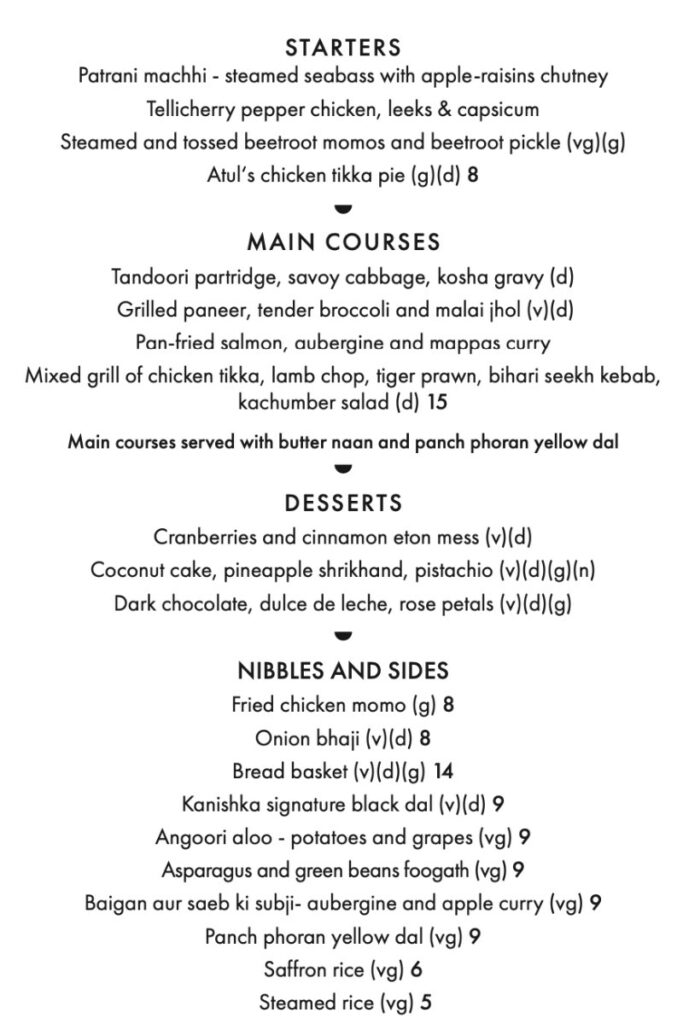 We opted for the three-course dinner menu. If you book via OpenTable, this also includes a complimentary cocktail or mocktail – another perk! When we visited this cost £45 for two-courses or £49 for three-courses. It's worth noting that this deal is only available for tables booked between 5-6.30pm, but there are some other great deals available at other times of day.
The a la carte menu at Kanishka is on the pricey side (the cheapest starter is £21) so an offer like this is a great way to dine at one of London's top restaurants if you're on a bit of a budget.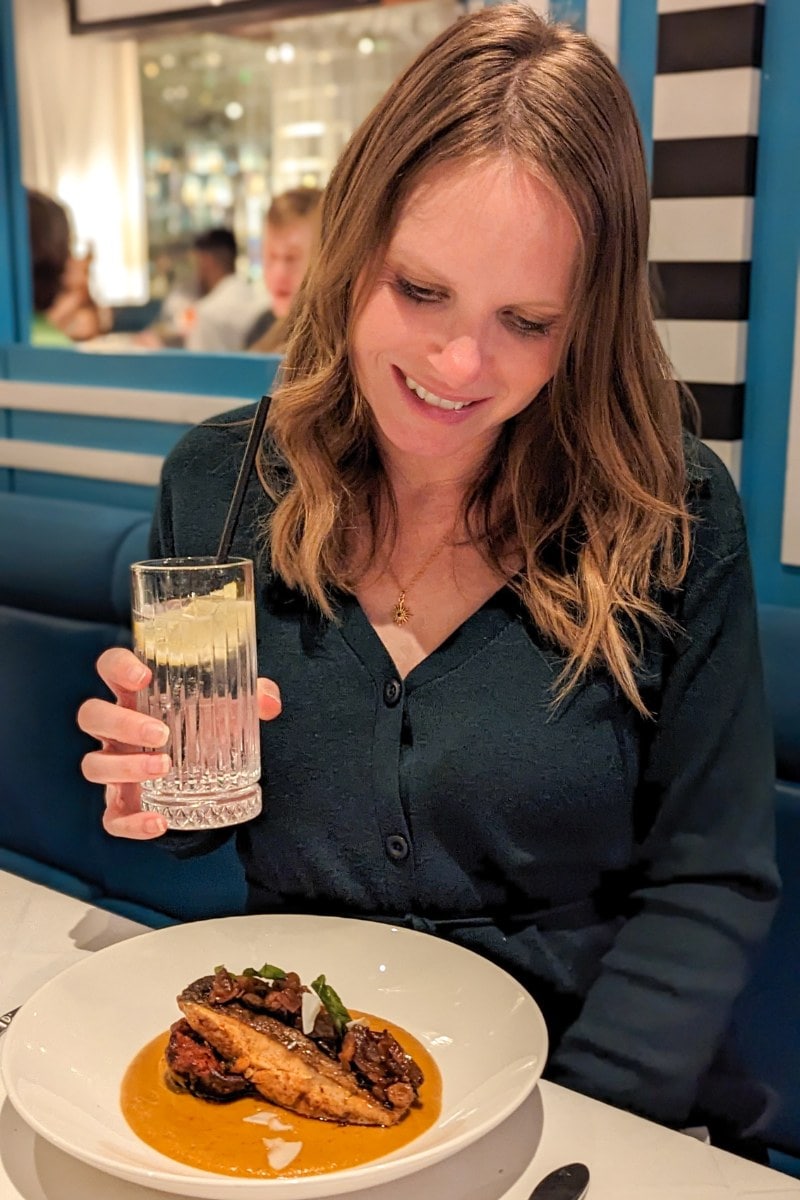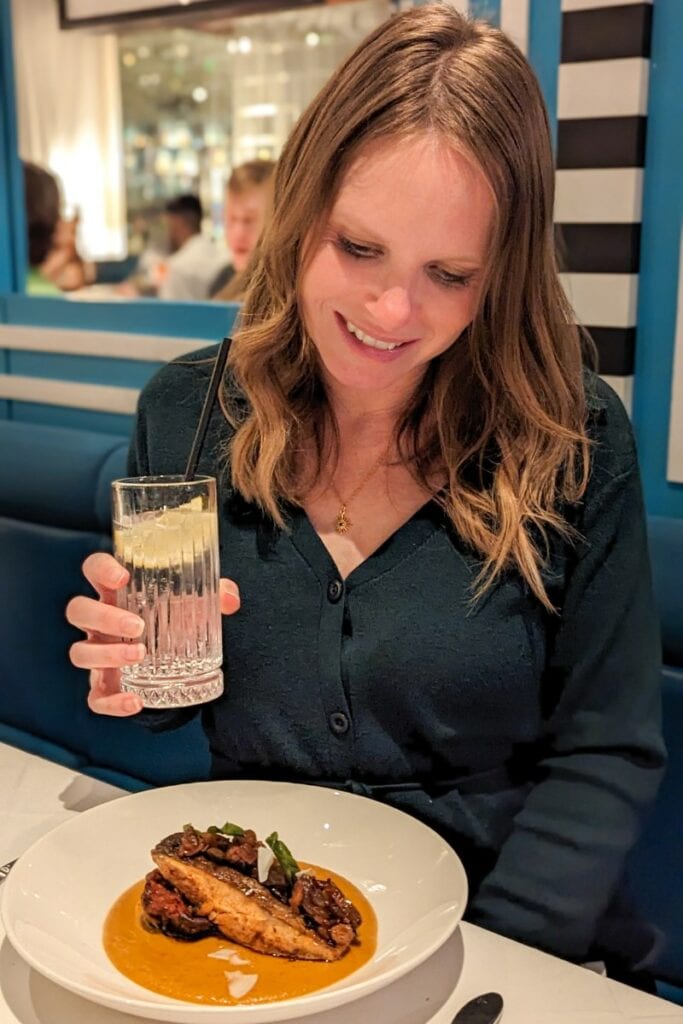 Starters at Kanishka Restaurant
Before our starters arrived, the waiter delivered a beautiful little amuse bouche. I love fine dining experiences for extras like this! It was a light and fluffy cube of spiced chickpea cake. This was resting on a bed of zingy tamarind and green chutney. Just from this first delicious mouthful, I could see were in for a treat!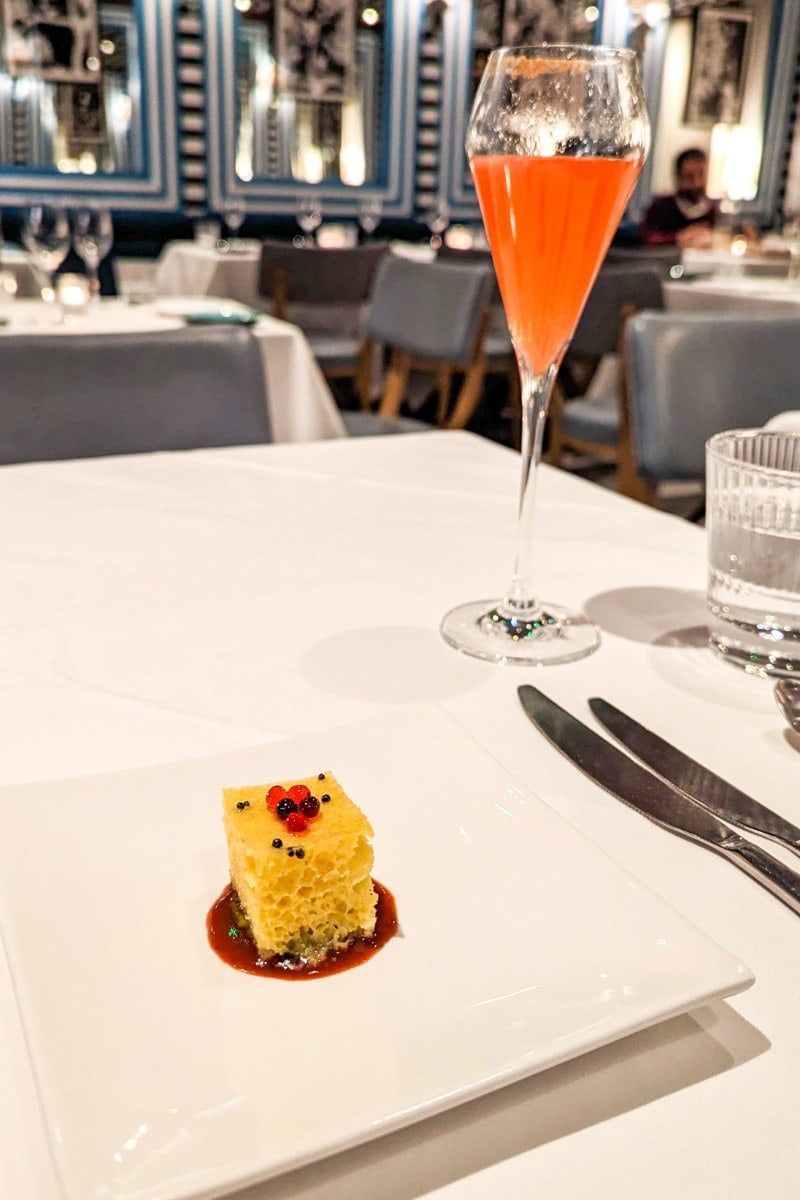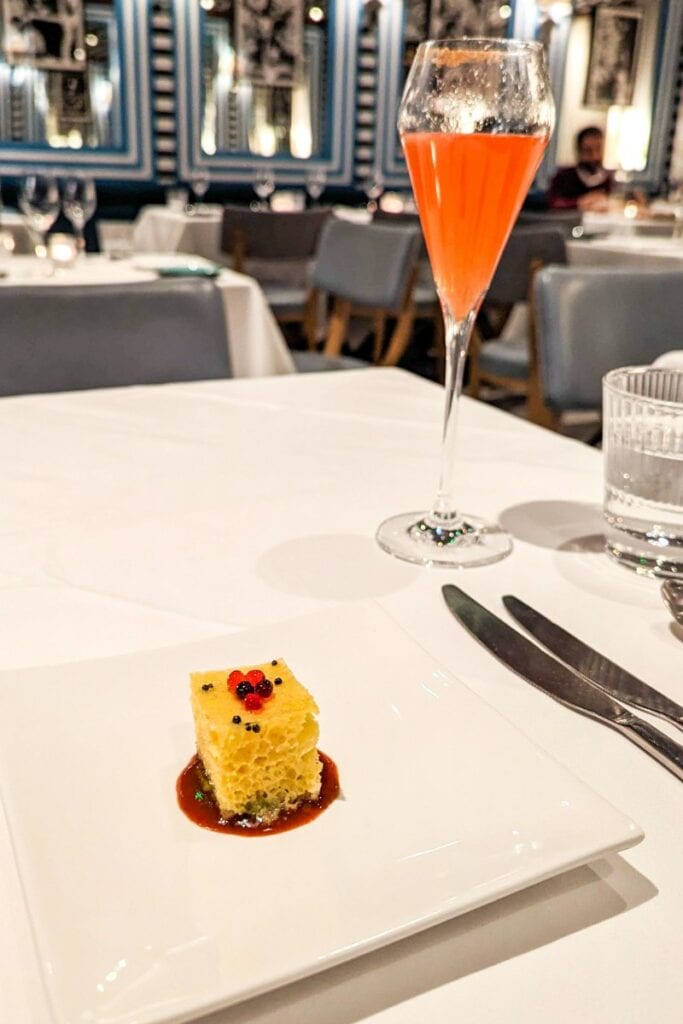 There were four choices of starter. I couldn't resist the 'patrani machhi' – a steamed sea bass fillet which was topped with a vibrant green paste made from spices and herbs, and accompanied by a coconut chutney. The presentation was simple and elegant, tucked inside a banana leaf and topped with flowers. As mentioned, this restaurant is shining a light on regional delicacies, and this one hails from the Gujarat region of India.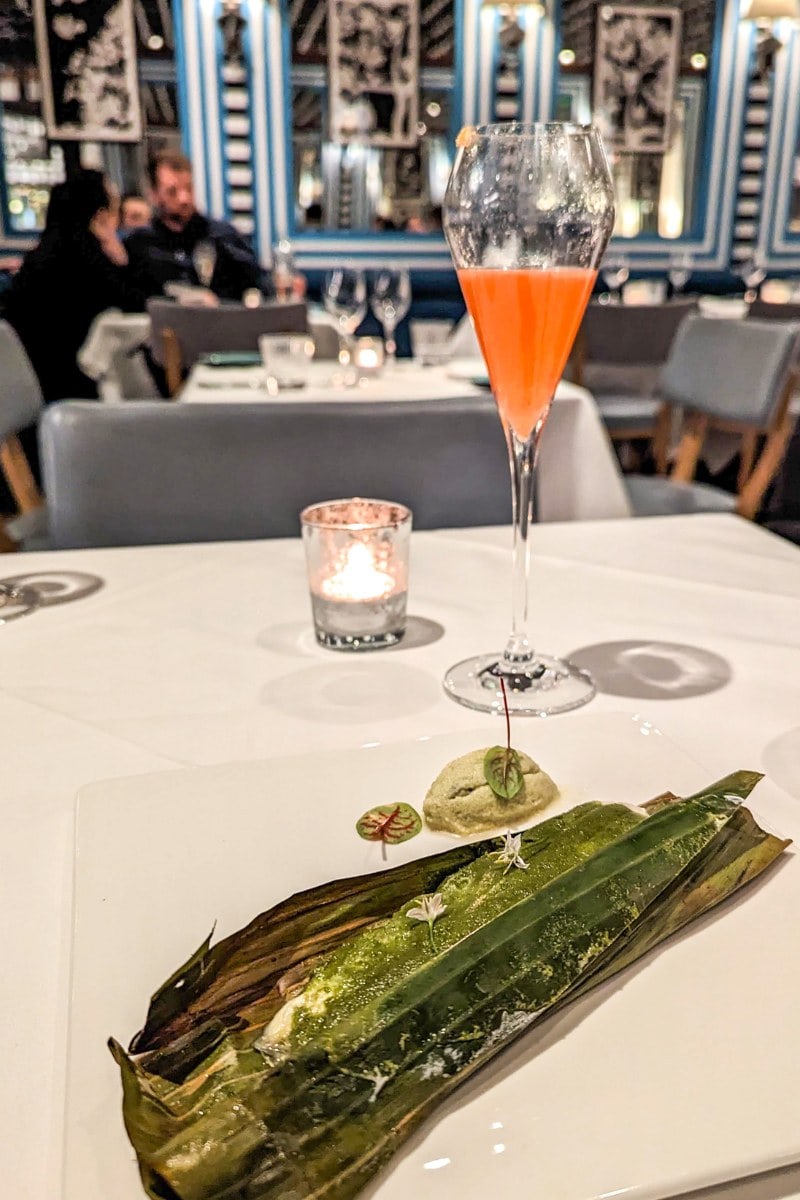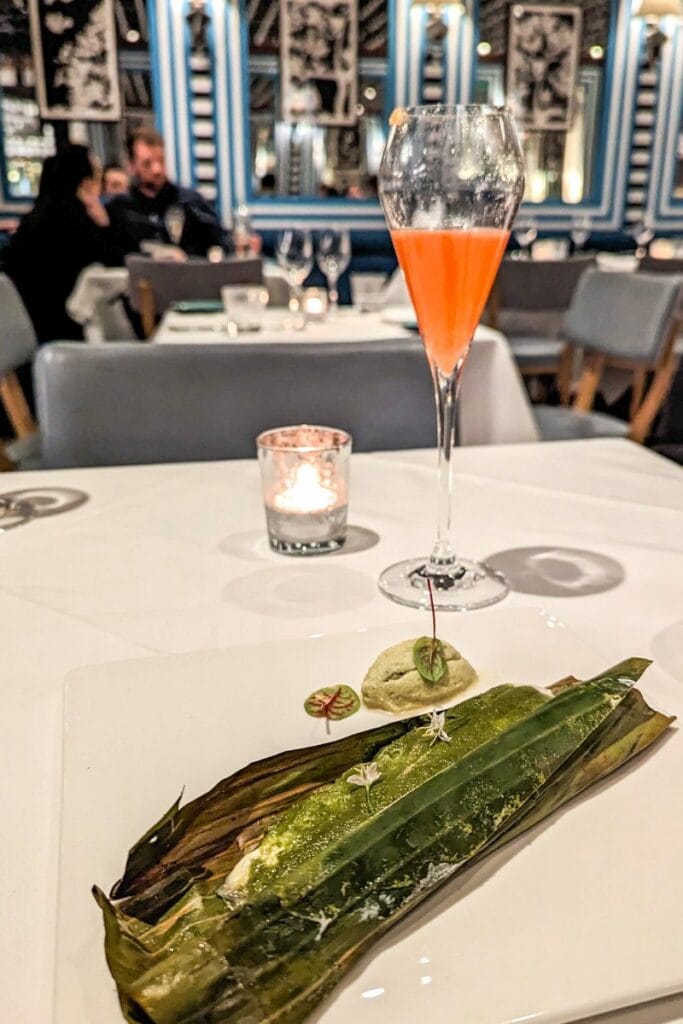 It was delicious! The fish was delicate with a punchy topping of spices and herbs including coriander, mint, chilli and cumin. It was a generous portion too!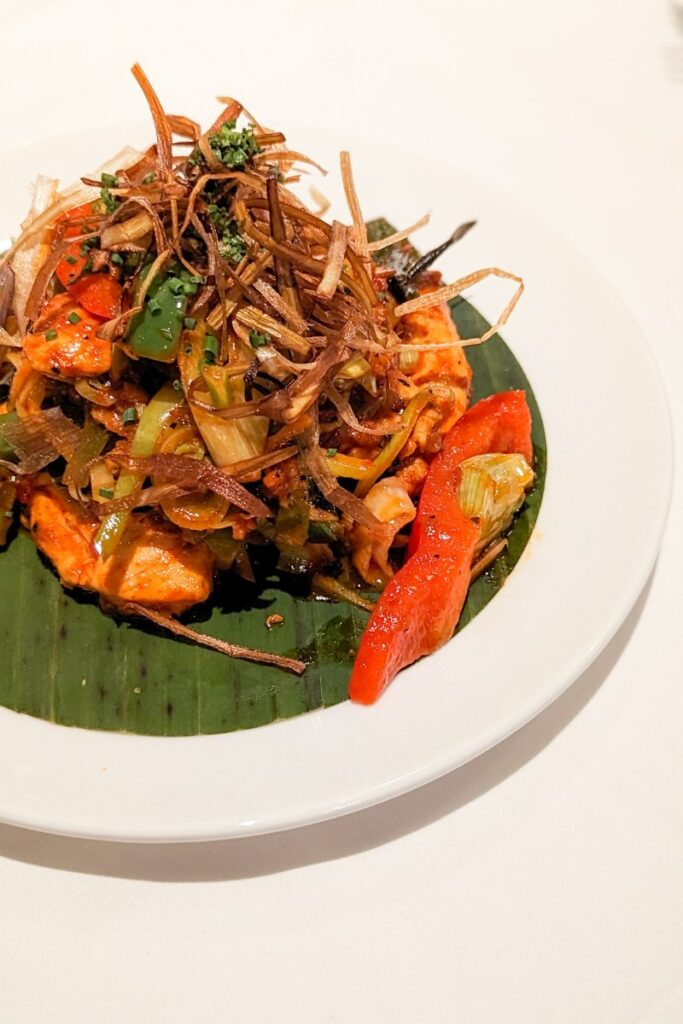 My partner was torn between the beetroot momos and the Tellicherry pepper chicken, but opted for the chicken dish in the end. This dish hails from Kerala in the south of India and uses the famous peppercorns found on the Malabar coast.
The dish was like a fiery stir fry with a sweet and sour tang and a mix of green and red peppers and crispy leeks. I enjoyed how different the two starters were from one another. I could already see how varied the regional cuisines were!
Main Courses at Kanishka Restaurant
For our main courses I ordered the pan-fried salmon, which was topped with a raisin chutney, and accompanied by a chunk of spiced aubergine and surrounded by rich curry sauce. This was my favourite dish of the entire meal.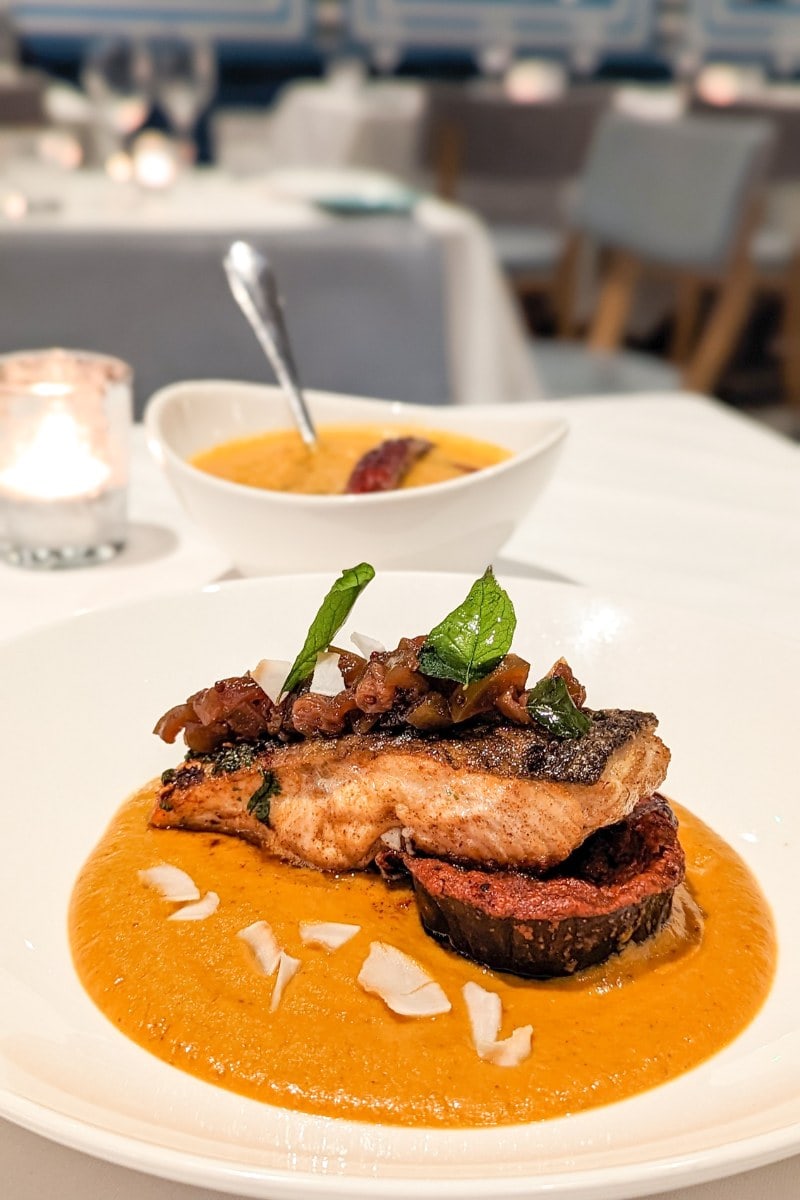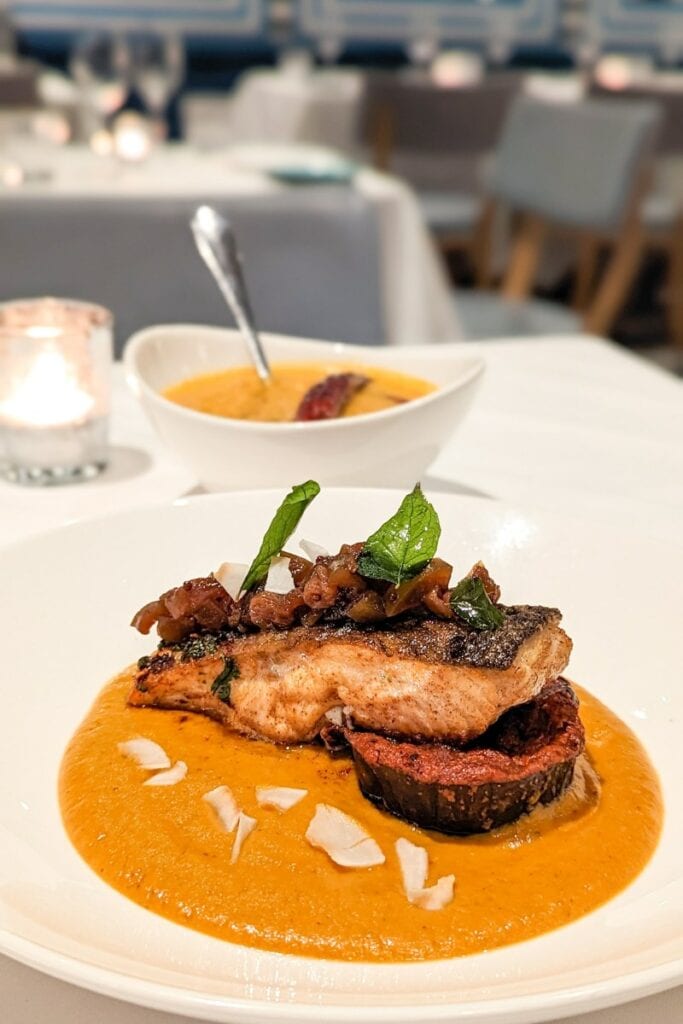 The salmon was cooked to perfection, flaking away but with a gorgeous crispy skin. The aubergine had an intense spicy, pickled flavour, while the chutney added a lovely bit of a sweetness to the dish. As for the sauce, I was mopping it up with naan bread until there wasn't a drop left! It had a great balance of tomato, spice, coconut and creaminess. It was silky smooth too – a real winner of a dish!
My partner ordered the tandoori partridge which was also cooked delicately, and came served with savoy cabbage, heritage carrots and a kosha gravy. This is a type of Bengali spiced sauce, rich in onions, ginger, garlic, chilli, mustard seeds and cardamom. This was another lovely dish. As with the salmon, it looked quite simple on the plate, yet was filled with complex flavours.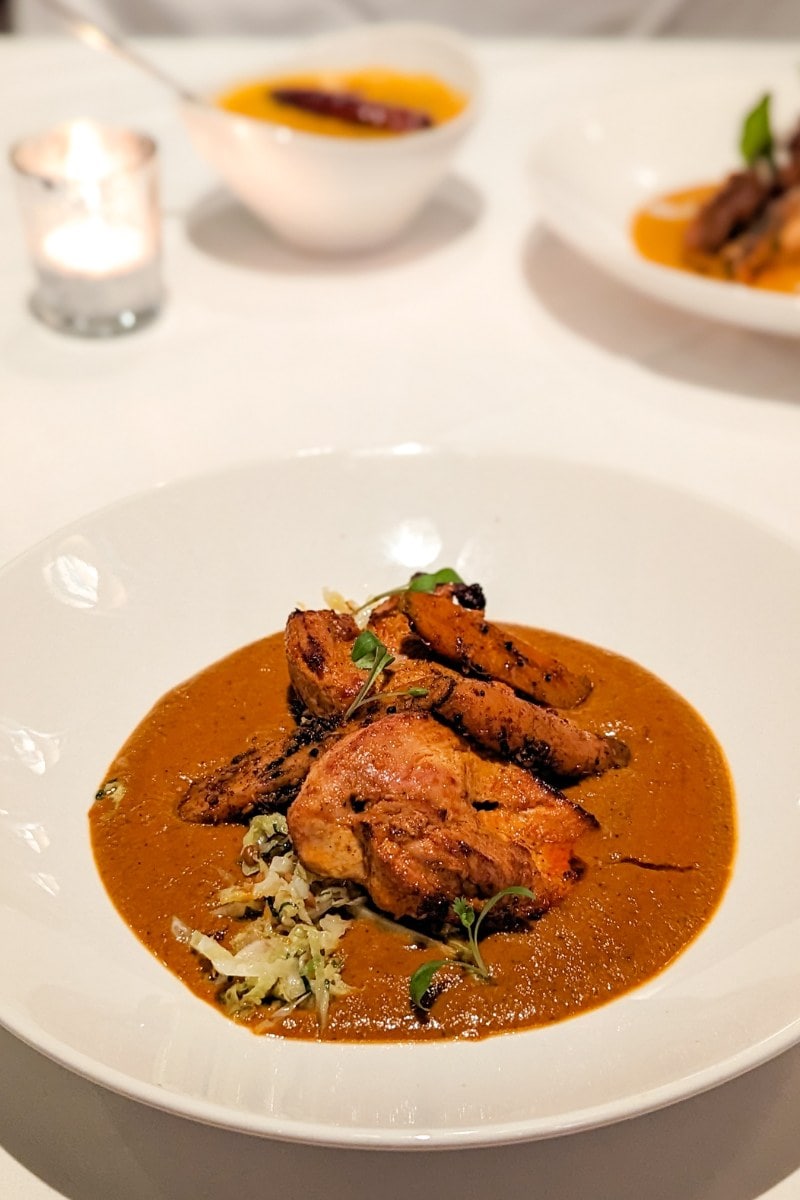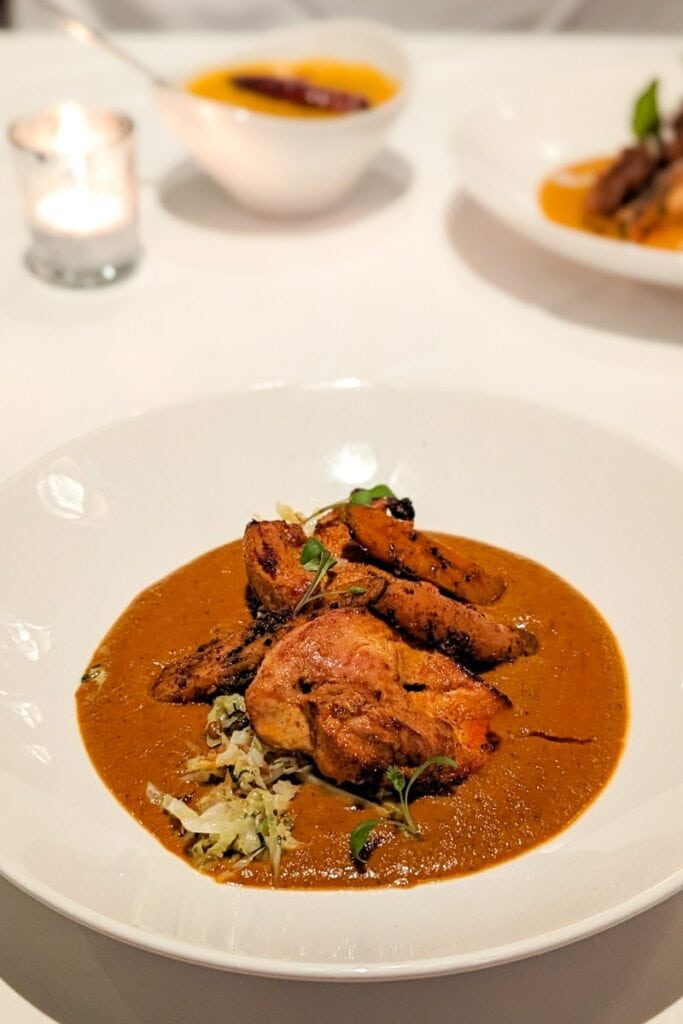 Something that's great about this menu is that the main courses are served with butter naan and yellow dal. The main courses were very filling, but it was still lovely to have these extras. Also, the bread was ideal for mopping up both of the delicious curry sauces!
There were also several sides you could order (at a supplementary cost) but to be honest, the set menu is very filling and you won't 'need' them in order to be satisfied.
Desserts at Kanishka Restaurant
To be honest, we were very full by this point, so we had a little breather before ordering dessert. It was nice that the staff didn't rush us! Sometimes when you're on the earlier sitting in a restaurant you feel like they're trying to get you in and out quite fast.
Thankfully, after a little break we decided we could squeeze in a few extra morsels! All for the review of course! I ordered the dark chocolate tart, which was encased in pastry and smothered with a silky dulce de leche sauce. It was topped with little biscuit balls encased in chocolate and a scattering of rose petals. While I found the pastry a little thick, the filling was smooth, rich and delicious!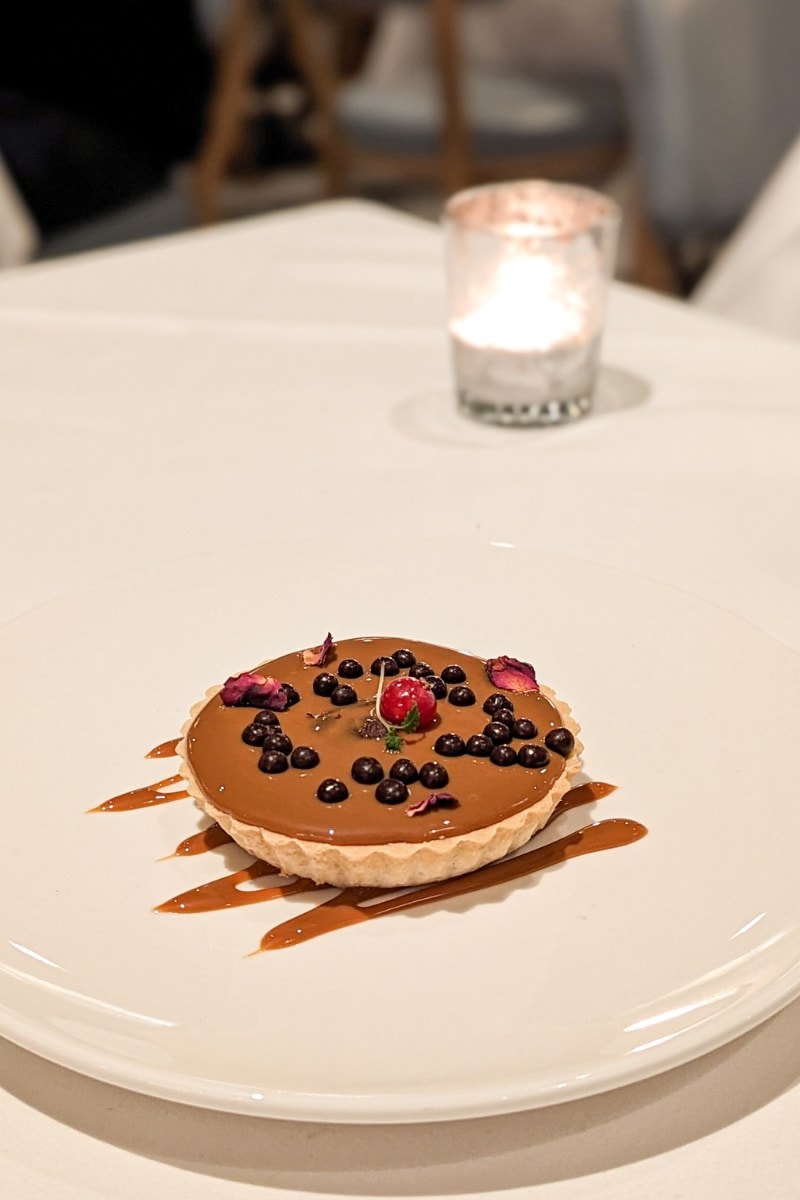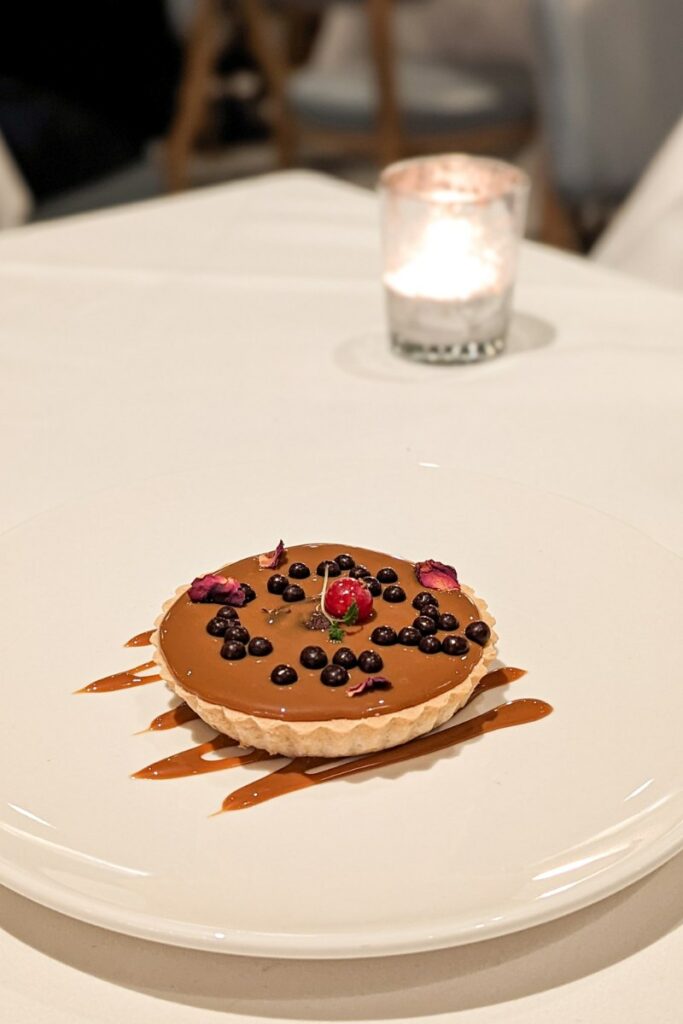 My partner ordered the coconut cake, which was smothered with pineapple shrikhand (similar to a smooth curd) and dotted with shaved pistachios. I'm not a huge coconut lover, but he was scraping the plate clean, so I'd take that as a positive review!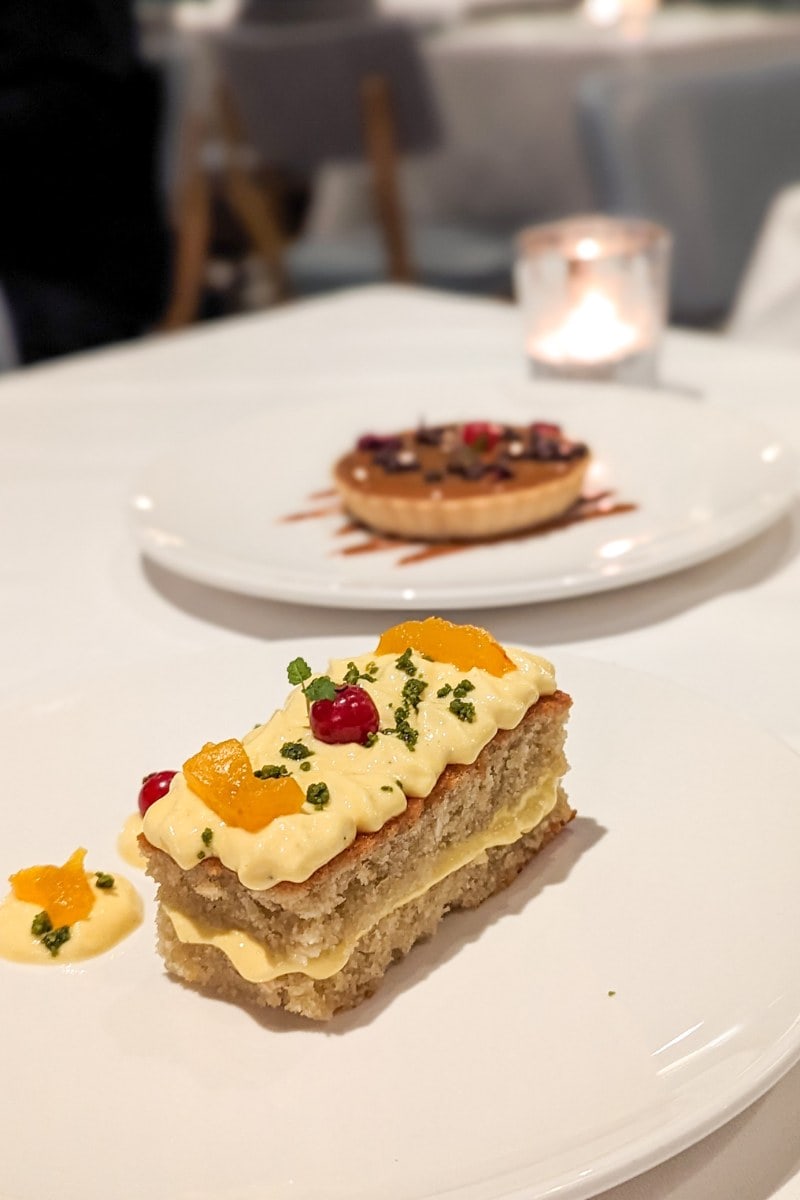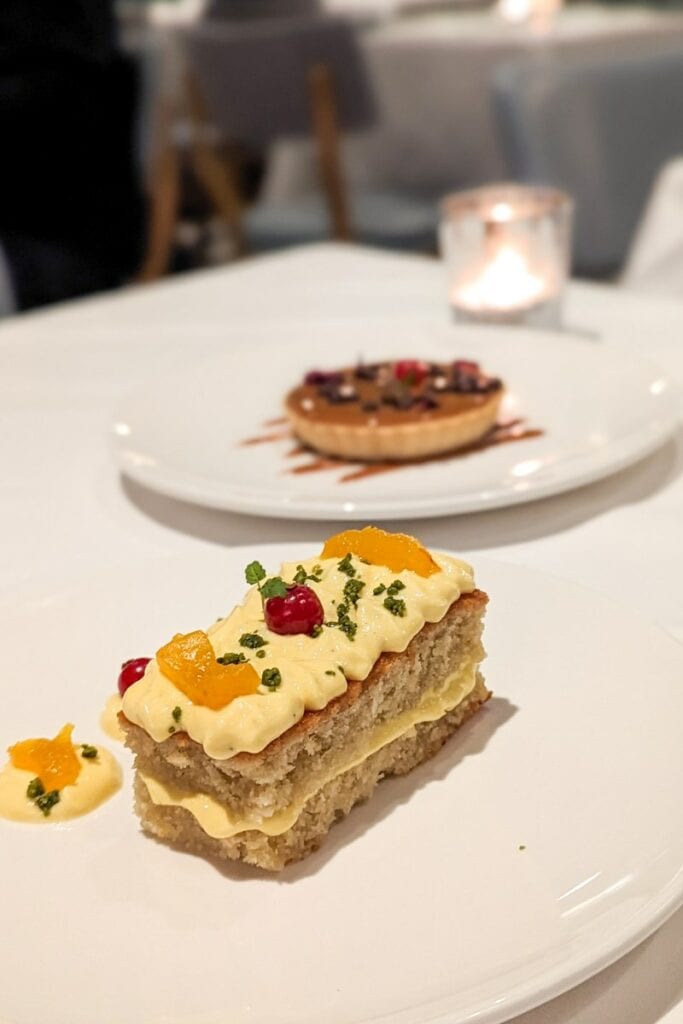 Drinks at Kanishka Restaurant
As mentioned, our special set menu booked via OpenTable included a complimentary cocktail or mocktail. My partner had the cocktail which was an elderflower bellini, while I had the mocktail which was a strawberry spritz. This was a really nice way to start the meal and felt very celebratory.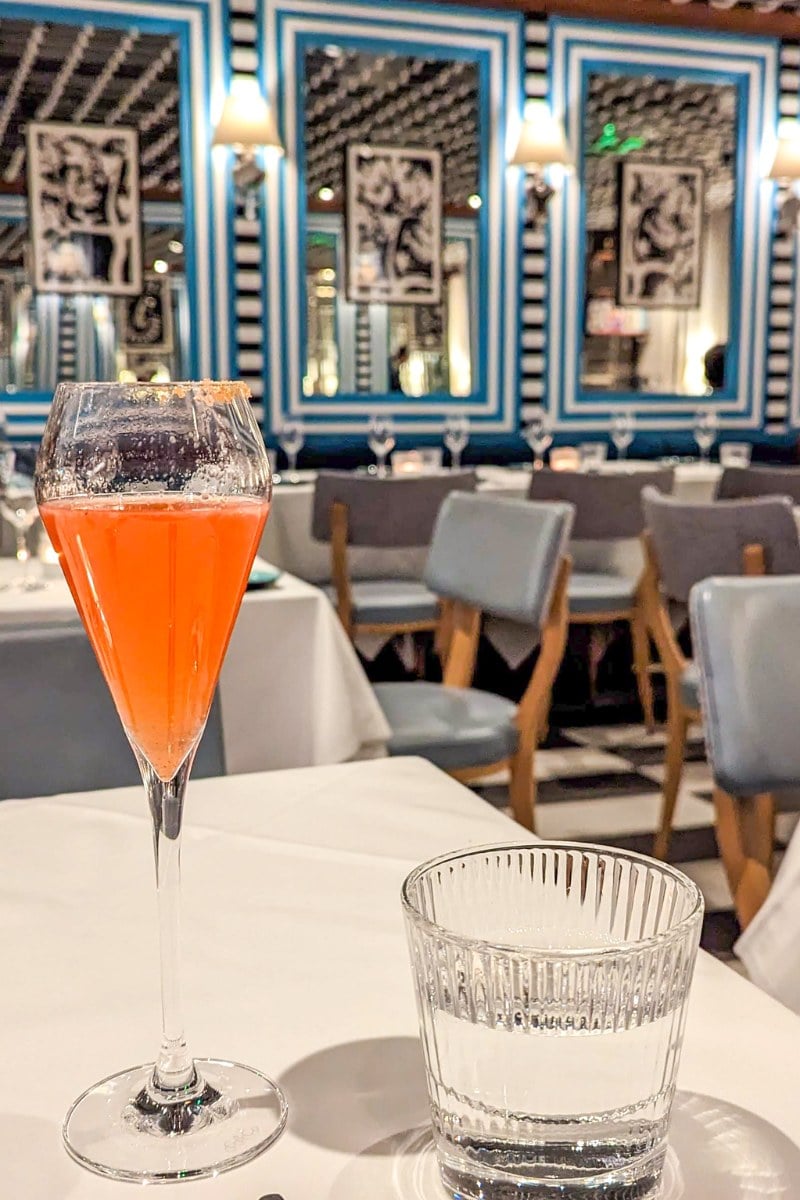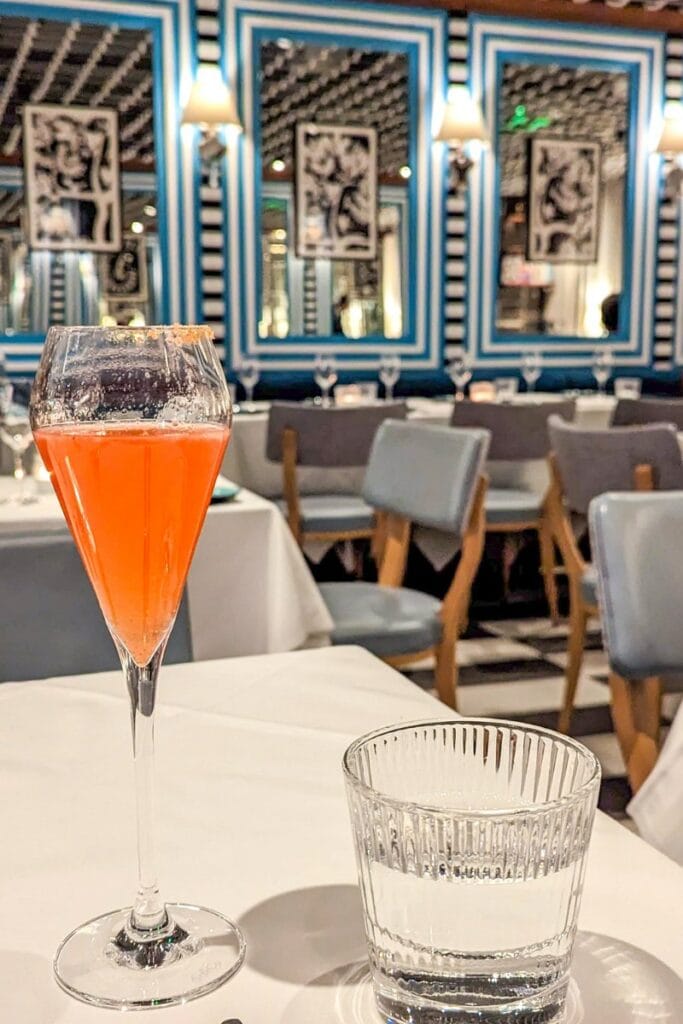 There's a broad range of cocktails, wines and spirits on offer at Kanishka. The cocktail menu was particularly fun, with some Indian spices and infusions running through some of the drinks. This restaurant also feels like somewhere that caters really well to those who don't drink, with several mocktails, lassis and exotic juices on the menu.
The restaurant and bar areas at Kanishka Restaurant
I enjoyed sitting at our corner table in Kanishka, looking out at the restaurant space. There's a vivid blue colour on the walls and leather banquette seating, combined with striking black and white stripes and a lot of mirrors. It's quite bold, but you almost need that vibrancy to complement the strong flavours of the dishes!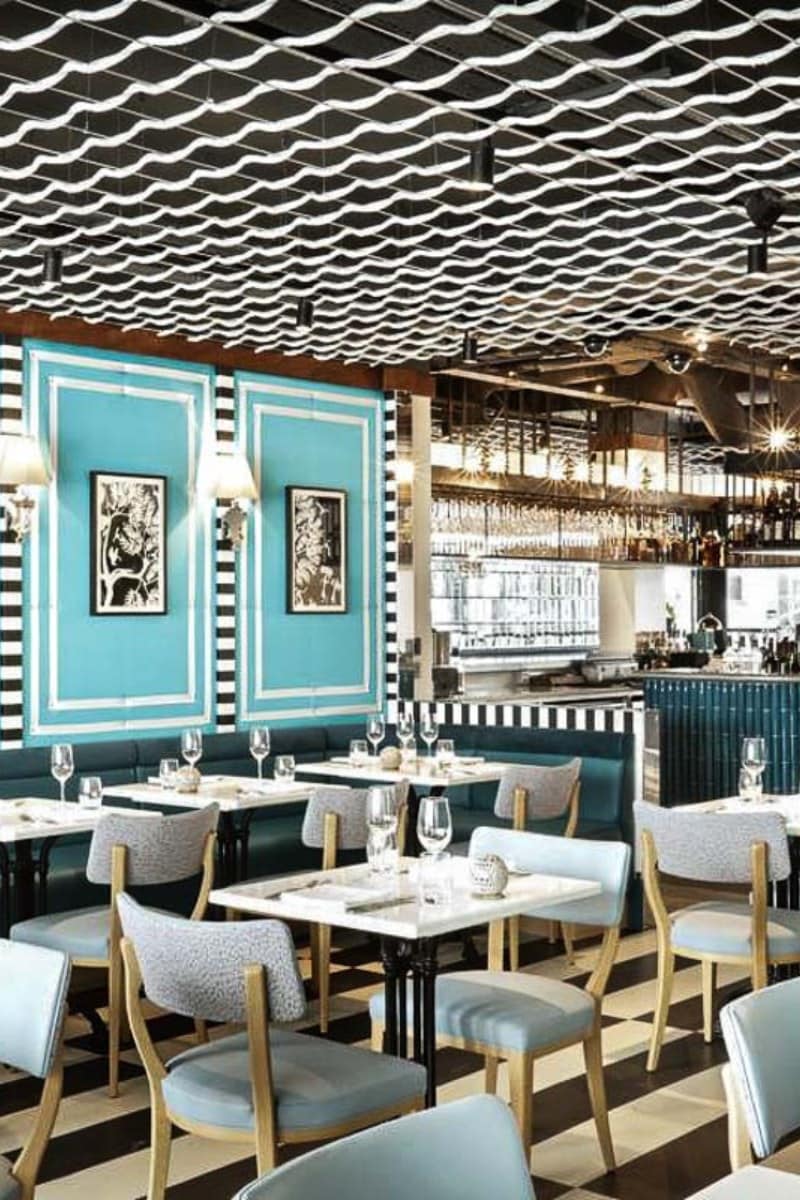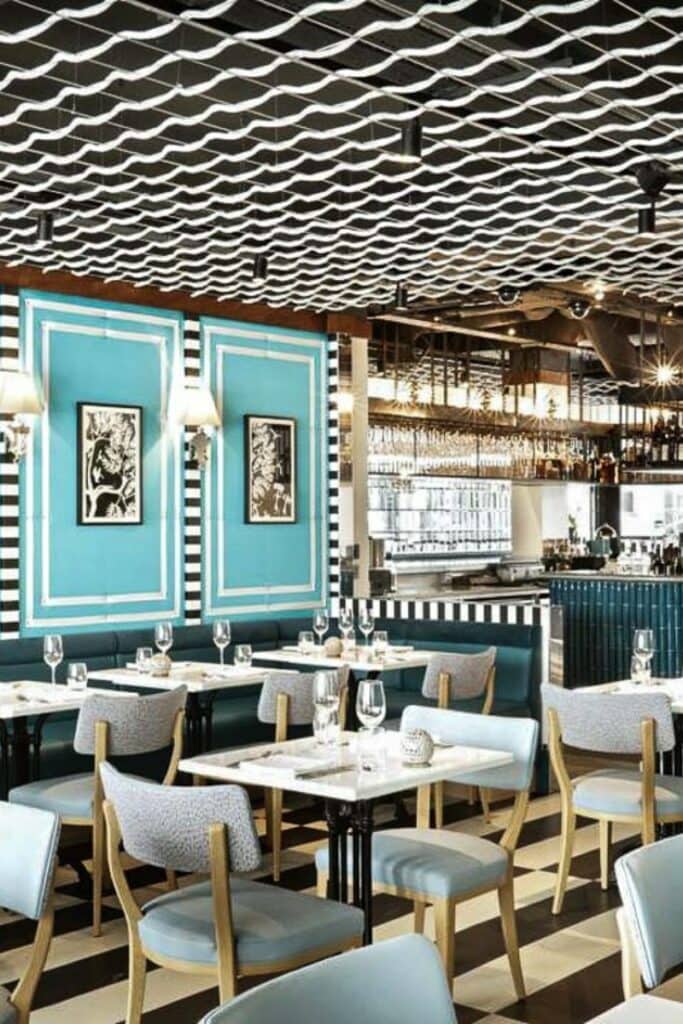 There's a bar area when you first enter too, and many people chose to arrive early to have a pre-dinner cocktail before being seated. Overall, I found the space to be very welcoming, and by having most of the tables around the edge of the room, it felt like there was a lovely warmth to the dining area.
Overall thoughts on dinner at Kanishka by Atul Kochhar
If you're ready to upgrade from your standard curry house, I'd definitely recommend visiting Kanishka. It's an ideal restaurant for a special occasion such as a birthday, anniversary or date night.
It was also a wonderful introduction to the flavours from different regions of India. If I've convinced you to visit, I'd definitely recommend booking via OpenTable, so you can take advantage of one of the set menus, offers or complimentary extras!
---
I hope you've enjoyed reading my review of Kanishka by Atul Kochhar. As always, all opinions are my own. If you're looking for other great places to eat in London, take a look at these restaurants in Soho.
Kanishka by Atul Kochhar is located at 17-19 Maddox St, London, W1S 2QH.