From super-duper freakshakes and croissant-donut hybrids, to bubblewaffles and ice cream filled macaroons, these are the best London desserts.
I remember when going out for a mid-afternoon sweet treat was about choosing between a red velvet or a chocolate cupcake. These days it's a whole other story.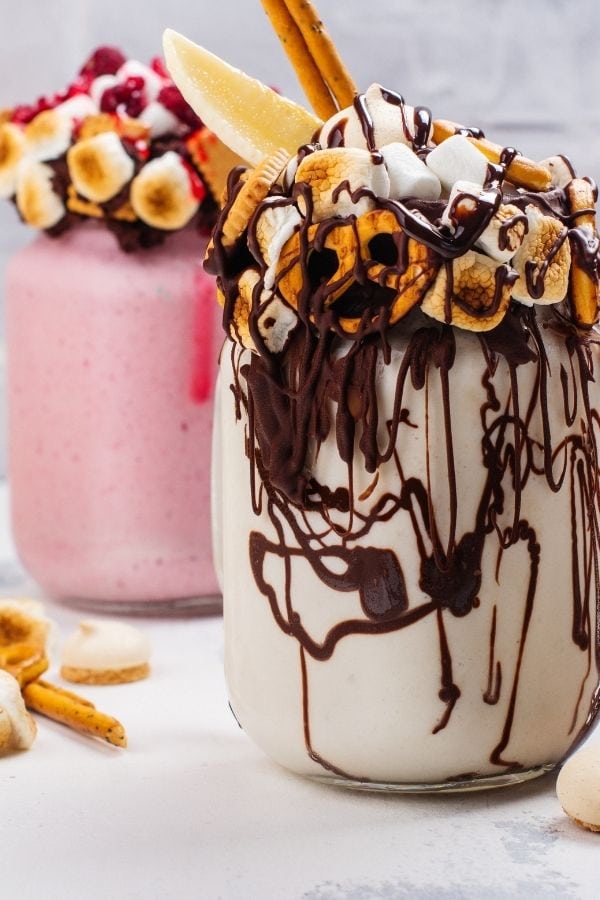 Desserts have been supersized, with enough calories to fuel a family for a month. Freakshakes have taken the milkshake scene to new heights, literally. They're piled high with everything from ice cream and cookies to jelly babies and donuts!
Beware… it seems no dessert is safe from cross-breeding.
Croissants mixed with donuts become cronuts, there are macaroon ice cream sandwiches, and now biskies – a cookie, biscuit, cake combo! It seems every other week there's a new dessert place in London, causing chaos as queues snake around the block.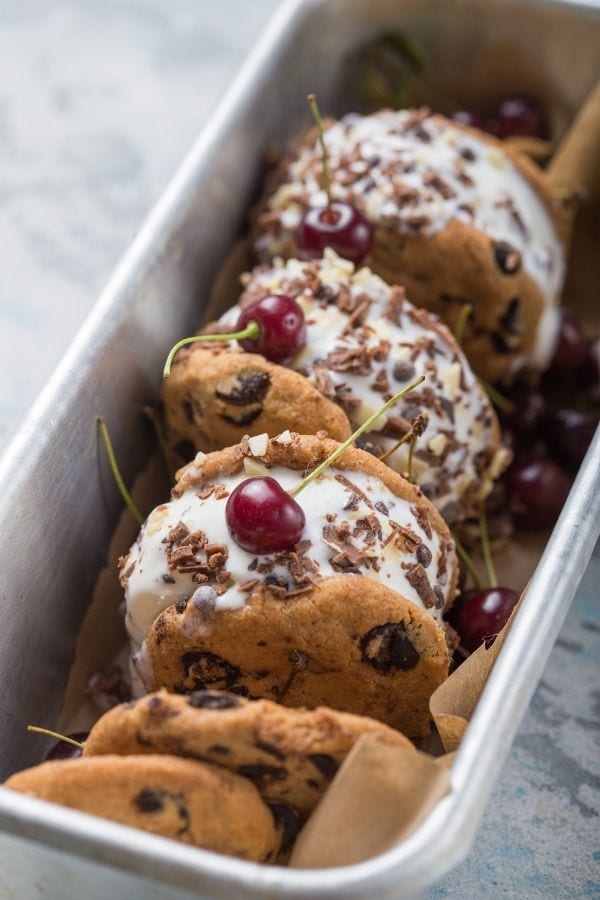 Out of every city in the UK, London still reigns supreme with plenty of places to sample the latest dessert trends. You might recognise some of the most famous London desserts from scrolling through Instagram. My feed seems to be filled with Influencers posing with enormous ice creams, delicate macaroons or fluffy marshmallows!
Time to share a few of the best treats in London, from dessert cafes and pudding stops, to take aways to grab that sugar fix on the go… ready? Let's go!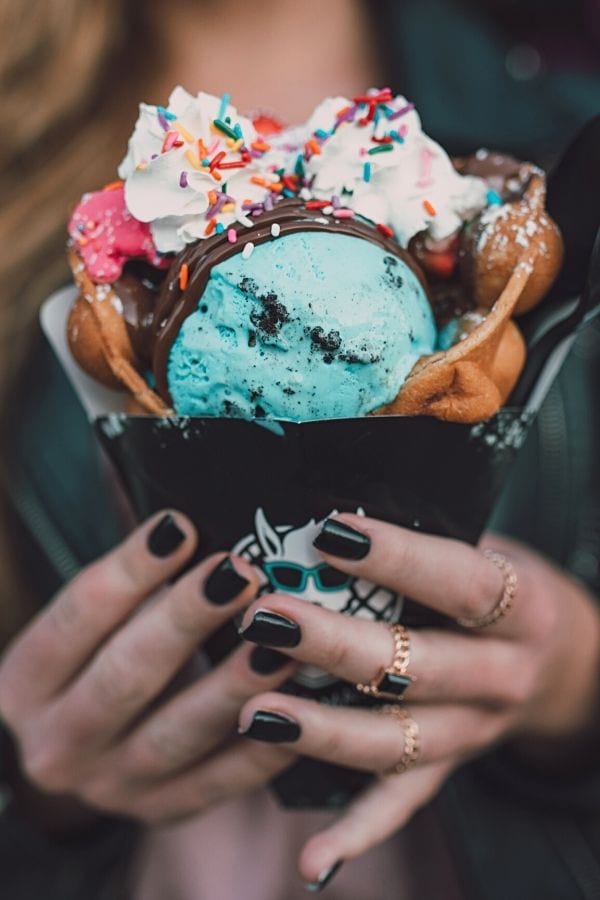 ---
Best places for dessert in London
If you're looking for cool dessert places in London, this is a great option. Milk Train Cafe's soft serve ice cream comes on its very own cloud of candy floss! Pick your flavour then add your toppings before being presented with an enormous sugar fix.
Flavours include vanilla, black sesame, custard tart, matcha and salted caramel and toppings range from popcorn and Oreos to strawberry chips, all covered in a tasty sauce of your choice.
Once you try it, you'll see why Milk Train's slogan is "ice cream makes you happy".
READ MORE: Best Food Markets In London
Dum Dums (Shoreditch, Croydon and Harrods)
The croissant/doughnut hybrid at Dum Dums have been selling like hot cakes… I mean cronuts! Right now they're one of the most popular desserts in London.
So what makes them special? Firstly, they're baked, not fried. Secondly, flavours include crême brûlée, cinnamon, salted caramel and strawberry cream! YUM.
The Zebra has been the top seller for a reason, with layers of croissant and chocolate croissant dough, filled with chocolate buttercream and topped with chocolate ganache! While you can visit a Dum Dums Donutterie (yes, that's the name for a donut shop apparently!) in person, there are now delivery options across London too. You really can get your donut fix whenever you need!
It's hard to avoid the freakshake revolution, with Instagram going wild for glasses filled with rich chocolate milk and ice cream, then piled high with donuts, cookies and more.
Miki's Paradise is one of the best places for desserts in North London, offering some of the most photogenic freakshakes around. While I wouldn't advise regular consumption, an occasional freakshake topped with ice cream, oreo brownie, pretzels and chocolate sauce can't do too much harm, right?!
The UK's first cookie dough provider has been a big hit! After their pop up in Old Street had people queueing around the block, their tasty tubs of cookie dough are now stocked in several places.
So how does it work? Well, first you choose your flavour of raw cookie dough (don't worry – no eggs in this mixture), which include double chocolate, white chocolate chips, biscoff and nutella. Then pick some toppings, and indulge.
To make things super easy, they even deliver, so you can enjoy some delicious raw cookie dough while lazing on the sofa at home!
Bubblewrap (Soho and Covent Garden)
Did you know these fun egg waffles were invented in Hong Kong as a way of using up un-sellable broken eggs? Today, they're one of the best London desserts you can wrap your lips around.
When Bubblewrap launched in Soho, they caused queues around Wardour Street. Now, they have two branches – one in Soho and the other in Covent Garden Market.
These delightful desserts are full of fun. After choosing between an original, chocolate or matcha base, it's time to pick your fillings. They have everything from fresh fruit to nuts, Oreos, cheesecake and ice cream. Finally, it's topping time with drizzles of Nutella, salted caramel and peanut butter on the menu. You can create your own Bubblewrap or pick from a menu of pre-planned options. Then, all that's left is to Instagram your tasty treats and make all of your friends jealous!

Ready for the most incredible ice cream sandwich you ever laid eyes on? It's time to visit Yolkin in Soho. The macaron ice cream sandwich was invented after Yolkin owner Sammie was fed up of throwing away the yolks when she made macarons.
She found an ice cream recipe that utilised egg yolks and decided it was a winning combo. Like many dessert restaurants in London, this one started as a pop up shop, but now has a home on Rupert Street. Flavours on offer include melon, HK milk tea, salted caramel and lemon meringue.
This limited edition mermaid caught my eye though. It's made from sea salt caramel ice cream and is then topped with a handmade white chocolate mermaid tail!
I remember my first Chin Chin ice cream years ago back in Camden Market. At that point the brand was pretty new and out there, making ice cream sundaes using liquid nitrogen. It was theatrical and fun, but also really sweet and delicious.
Since then, the flavours have become more inventive and the menu even more theatrical! Get your taste buds ready for flavours including of tonka bean, burnt butter caramel, mango lassi and coconut and rose jam.
But rather than a standard ice cream, how about a brownie ice cream sandwich or a brûlèed ice cream pie? Oh and if you haven't tried it before, you simply have to order a hot chocolate on the side. Chin Chin Labs add a layer of meringue on top, toasted to perfection of course! It's like Willy Wonka set up shop right here in London Town!
The menu at this Soho dessert stop features a lot of the delicious treats mentioned on this blog, but most famous are their biskies – a biscuit/cookie/cake hybrid filled with tasty buttercream, jams and caramels.
Flavours include passion fruit and salted caramel, apple crumble, chocolate lava and miso caramel.
If you're feeling extra naughty, order one of their indulgent freakshakes to go with it. The cafe area is really cute and a lovely place to eat in. It's got all the Insta-backgrounds you and your friends could desire. Just add in one of the most Instagrammable desserts in London, and your likes will skyrocket!
Maitre Choux (Soho, Chelsea, South Kensington and Canary Wharf)
I've often found myself gazing longingly at the rows of perfect eclairs lined up in the window of Maitre Choux on Old Compton Street. They're like mini works of art. Maitre Choux is the first and only choux pastry specialist patisserie in the world, and is headed up by chefs who worked at 3 Michelin Star restaurants,
Eclairs are the speciality, but you'll find a range of other pastries and sweet treats too. Don't expect a standard choux eclair with cream inside and a drizzle of chocolate on top though. Choose from flavours including Persian pistachio, blackcurrant cheesecake, salted caramel and Tahitian vanilla.
The gourmet donut craze is still going strong in London. We can't get enough of the delicious deep fried batter with gooey middles, covered in indulgent icing. One of the most popular in town is Crosstown. You'll see kiosks at stations, stores in shopping centres and even donut vans parked up in key spots around the city.
From out and out sugar hits to tangy, zingy fruity flavours, there's a donut for everyone! The creme brulee is popular, with a sugar case to crack. There's a lime and coconut donut that will have you dreaming of the Caribbean. There's even a peanut butter and blackberry jam combo, ideal for any American pals out there looking for a donut fix!
Hands up if you love freshley-baked oozy, gooey, chocolatey cookies? They're one of my favourite things in the world too. The smell, the taste, the texture. Oh, I'm getting hungry just thinking about them!
Creme is the London king of cookies. They're chunky, baked to perfection, leaving a crunchy exterior and a gorgeous melty cookie-dough centre as you break them in half. There are 4 flavours to choose from – milk chocolate, double chocolate, miso and white chocolate and banana and dark chocolate.
Creme has one shop in Soho, where you can buy cookies, coffee and soft serve. If you get desperate though, you can also order online and have them delivered to your house. In fact, they make great gifts (hint hint to any friends reading…).
The incredible desserts at Patisserie Mille take a typical layer cake to new heights. In fact, let me correct myself as they aren't really cakes, they're crepes. Layers and layers of thin, delicious crepes brushed with French pastry cream.
One of London's most Instagrammable desserts right now is the gâteau mille crêpes (translates as 'thousand crepe cake'), which is available in individual portions or as a larger cake for a special occasion. Flavours range from matcha to mango and even a rum doused cake for when you want something extra fun! Once you cut through it you'll be amazed by the technical skill of the bakers, seeing the numerous layers of perfect pancake layers.
If you're looking for dessert restaurants in London, don't miss Patisserie Mille. It's a seriously special place!
If you're partial to a tasty cone or cup filled with smooth soft serve ice cream, this is the London dessert trend for you. As well as weekly flavours, there are all the standards you'd expect on the menu here.
I'd recommend picking one of the sundae cups, which include a mix of their tasty soft serve with a range of toppings and sauces. Oh Snap would be my top pick, which comes with vanilla soft serve topped with salted caramel sauce, gingerbread crumbs and salted caramel bits.
---
Which of these cute dessert places in London are you dying to try? Let me know in the comments below!
Enjoyed this post about the top desserts in London? Pin it for later…