From Borough and Brixton to Camden and Hampstead, there are food markets selling delicious street food ALL over London!
Time for a blog filled with foodie joy! Food markets are one of my favourite things on the planet. I try to visit them in every destination I visit. From bustling Barcelona, to small towns in Guatemala and the buzzing night markets of Indonesia – they're all different but give you a truly local vibe.
London's food market scene has been growing and growing. We don't want to buy fresh produce to take home, we want creative cuisine from around the world… and on a budget.
We are so lucky to have food from pretty much every corner of the planet available too. These days it's no surprise to see Chinese baos next to authentic Mexican tacos and Indian rotis. Infact, it's pretty rare to see a standard hot dog or burger!
So, with the street food revolution in full swing, it's time for a quick tour of London's top street food markets. A trip to any of these makes a great day out in London. I'll be sure to update as and when new places pop up too!
Over 100 stalls sit under Borough Market's open roofed structure just south of the river. Along with great produce – cheese, bread, cider, fresh fish and meat, your nose will be guided by delicious smells of venison burgers, Lebanese falafel, goat stew, Indian vegetarian street food and some of the most delicious scotch eggs around!
Opening Times: Borough Market's main market is open Wednesday – Saturday although there are some stalls there on Monday and Tuesday.
Address: Borough High Street, Borough, London, SE1 9DE.
Nearest Tube: London Bridge
One of my favourite discoveries from the last year, Maltby Street is compact, away from the main tourist areas, and has more of a local vibe! There are cute restaurants and bars on each side of the street, then a whole range of stalls down the middle. There's tonnes on offer, with Korean fried chicken, Canadian poutine, oozing cheese toasties, tasty gyozas and gourmet brownies oozing with salted caramel to name a few.
Opening Times: Saturday and Sunday only.
Address: 41 Maltby Street, Ropewalk, Southwark, SE1 3PA.
Nearest Tube: London Bridge
Hampstead Market showcases the very best in fresh produce and delicious foodie treats. From huge barrels of olives and gooey burrata cheese, to fresh ravioli, gigantic savoury tarts, waffles and some of London's best macaroons, whatever you're in the mood for, there'll be something waiting for you!
Opening Times: Saturdays only from 10am – 3pm.
Address: Hampstead Parochial School, Holly Bush Vale, NW3 6TX.
Nearest Tube: Hampstead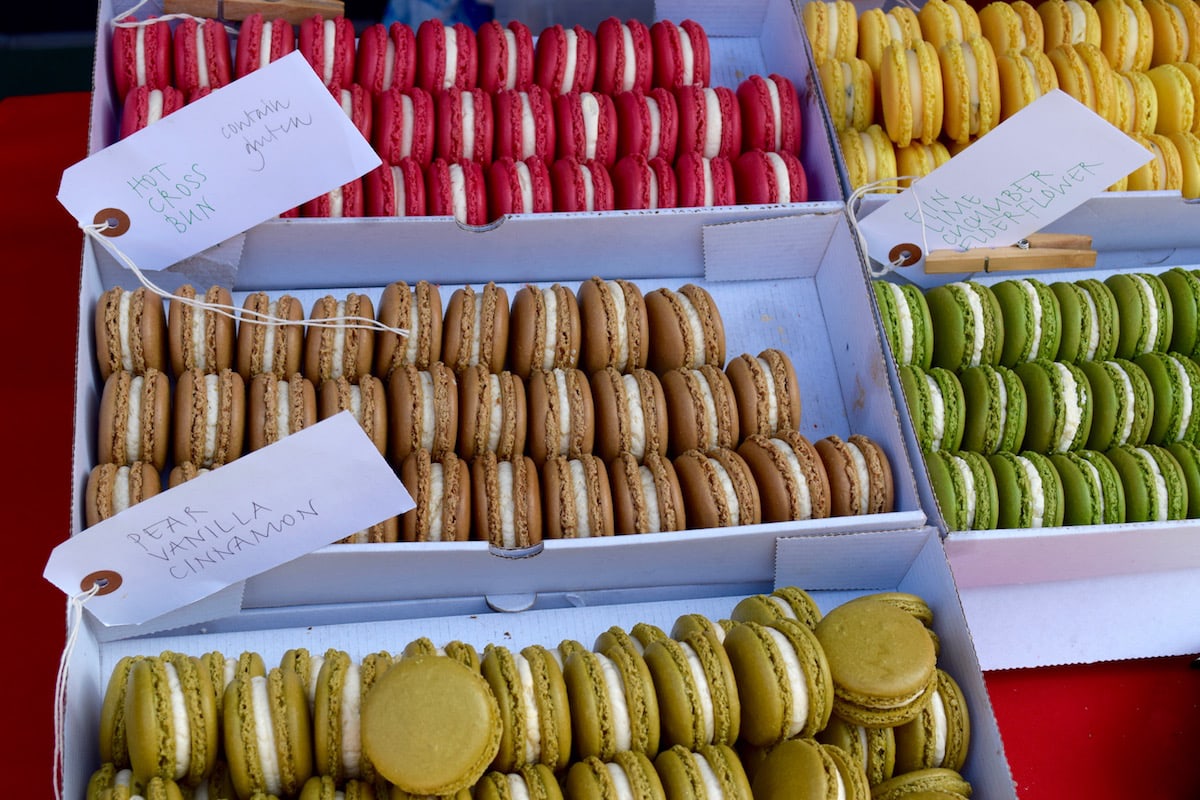 This part of Hackney has quite a mix on offer, including cute shops, galleries, vintage stores and of course a top farmer's market! The main market day is Saturday, when you'll find the likes of Fin and Flounder (who serve lobster brioche creations), top burger stall Black Bear Burger, and Nonnas Gelato (where anything is possible when it comes to ice cream!)
Opening Times: Saturdays only, from 9am – 5pm.
Address: 38-44 Broadway Market, London, E8 4QJ.
Nearest Tube: London Fields or Cambridge Heath overground or a bit of a walk from Bethnal Green.
Startisans Covent Garden Indoor Market
I found this place by chance one lunchtime, and was over the moon! Away from the touristy Covent Garden market, this one is run by Startisans – a company that puts together individuals who specialise in artisan foods. The food options are plentiful, and once inside it's hard to resist the curries on offer. They smell so damn good! The quiches and tarts were also fab, but you can expect different people hosting stalls throughout the week, so it's worth going back on different days.
Opening Times: Monday – Friday from 11am – 3pm.
Address: 77 Shelton Street, London, WCH 9JQ.
Nearest Tube: Covent Garden
Street food gurus KERB took over Camden's food market a while back and totally transformed it! It's bigger, has more variety, and a much higher standard of food on offer. Along with all the standard street food meals (curries, wraps, sushi and more) you'll find the latest food fads including halloumi fries, mac n cheese with toppings you've only dreamed of, and super-indulgent freakshakes. It's a lot of fun, but be prepared for a scrum at weekends and during the summer holidays!
Opening Times: Every day from 11am – 6/7pm.
Address: KERB Camden Market, West Yard, Camden Lock Place, London, NW1 8AF.
Nearest Tube: Camden Town
A little different from some of the options, at this market it's less about street food, and more about stopping at a cute independent eatery for a bite. There are plenty of great places including Senzala which serves Brazilian crepes, Lab G with its creative take on ice cream (I tried avocado sorbet last time – yummy!) and my fave Mama Lan, which serves delicious bowls of noodles and tasty dumplings.
Opening Times: Every day
Address: Brixton Village, 10-11 Coldharbour Lane, London SW9 8LB.
Nearest Tube: Brixton
I love Pop! Made from shipping containers, this little patch of Brixton is cool, quirky and packed with yummy food! There are a few boutiques within the area, but generally the focus is on food and drink, with a party vibe in the evenings and at weekends. Food options include Baba G's bhangra burgers (legendary!) Mexican street food at Maria Sabina and amazing Jamaican food at Mama's Jerk.
Opening Times: Every day
Address: 49 Brixton Station Road, Brixton, London SW9 8PQ.
Nearest Tube: Brixton
A short walk from Liverpool Street station, you'll find the Old Truman Brewery on Brick Lane. While it's fun taking a look at the fashion, jewellery and gifts that fill half of the space, the smells will draw you over to see the street food on offer! From Tibetan dumplings, to Korean skewers and Brazillian hot dogs, you really can eat your way around the world! Save space for some tasty cakes courtesy of Nina's Bakes or Just Baked By Jo. You won't regret it!
Opening Times: Sundays only, from 10am – 5pm.
Address: 91 Brick Ln, London E1 6QR.
Nearest Tube: Liverpool Street
The gurus behind Street Feast have a great space in the heart of Shoreditch. Set across two floors, it's neon-lit, colourful and super cool (well duh, this is Shoreditch). Stalls to look our for include Yumplings (steamed dumplings covered in sauce), Yum Bun (steamed baos) Prawnography (grilled lobster and prawns) and wine bar Winerama!
Opening Times: Thursday – Sunday from midday.
Address: 19 Great Eastern St, London EC2A 3EJ.
Nearest Tube: Old Street, Liverpool Street or Shoreditch High Street (overground)
One of the few food markets right in the heart of Central London, this one has history too, dating back to 1778! It's always busy at lunchtime, with office workers nipping out for a quick bite to eat. Popular choices include Freebird Burritos, Greek2Go's souvlaki, Malaysian curries from Pit Stop UK and the healthy-but-tasty options at Savage Salads.
Opening Times: Monday – Saturday from 8am – 6pm
Address: Berwick Street, London. W1F 0PH.
Nearest Tube: Piccadilly Circus or Leicester Square
There's never been a huge reason to leave comfortable Central London and venture all the way out to Colindale… until now! I'm including this one in totally blind as I haven't had the pleasure of checking it out yet. Seating 450, it's a vast place and has over 30 stands serving food from around South-East Asia. If you're looking for an Asian food fix, you'll find Chinese duck, dumplings, ramen, dim sum and more.
Opening Times: Every day from 11.30am – 9.30pm.
Address: 399 Edgware Rd, London NW9 0FH.
Nearest Tube: Colindale
In amongst cute greetings cards, clothes and more, there's plenty of food on offer at Greenwich Market. Be prepared to queue for the yam chips at Ngozi Kitchen, enjoy a crispy ramen burger at Pimp My Ramen, and finish up with some Brazilian Churros. After a pitstop there, you'll have the energy to race up to the Observatory.
Opening Times: Every day
Address: Greenwich Market, London, SE10 9HZ.
Nearest Tube: Greenwich
Which is your fave food market in London? Let me know in the comments below! Somewhere I've missed? Let me know that too, so I can head there ASAP!
Enjoyed this post? Pin it now…