Find out how to have an amazing weekend in the New Forest, including encounters with ponies, delicious seasonal dishes and country chic accommodation.
Spring – is that you? Have all the beasts from the east gone now? I hope so! Well… just a few days ago the weather did something rather unexpected. I'd been chatting to the lovely team at Visit England for a while about my 'spring' micro-adventure, and finally settled on mid-March. But then, just 24 hours before setting off for the New Forest, another beast from the east arrived, chucking a blanket of white over the region.
I say unexpected. I mean, we've been getting used to this level of cold, and thankfully after my time in Canada, I finally own clothing suitable for freezing temperatures!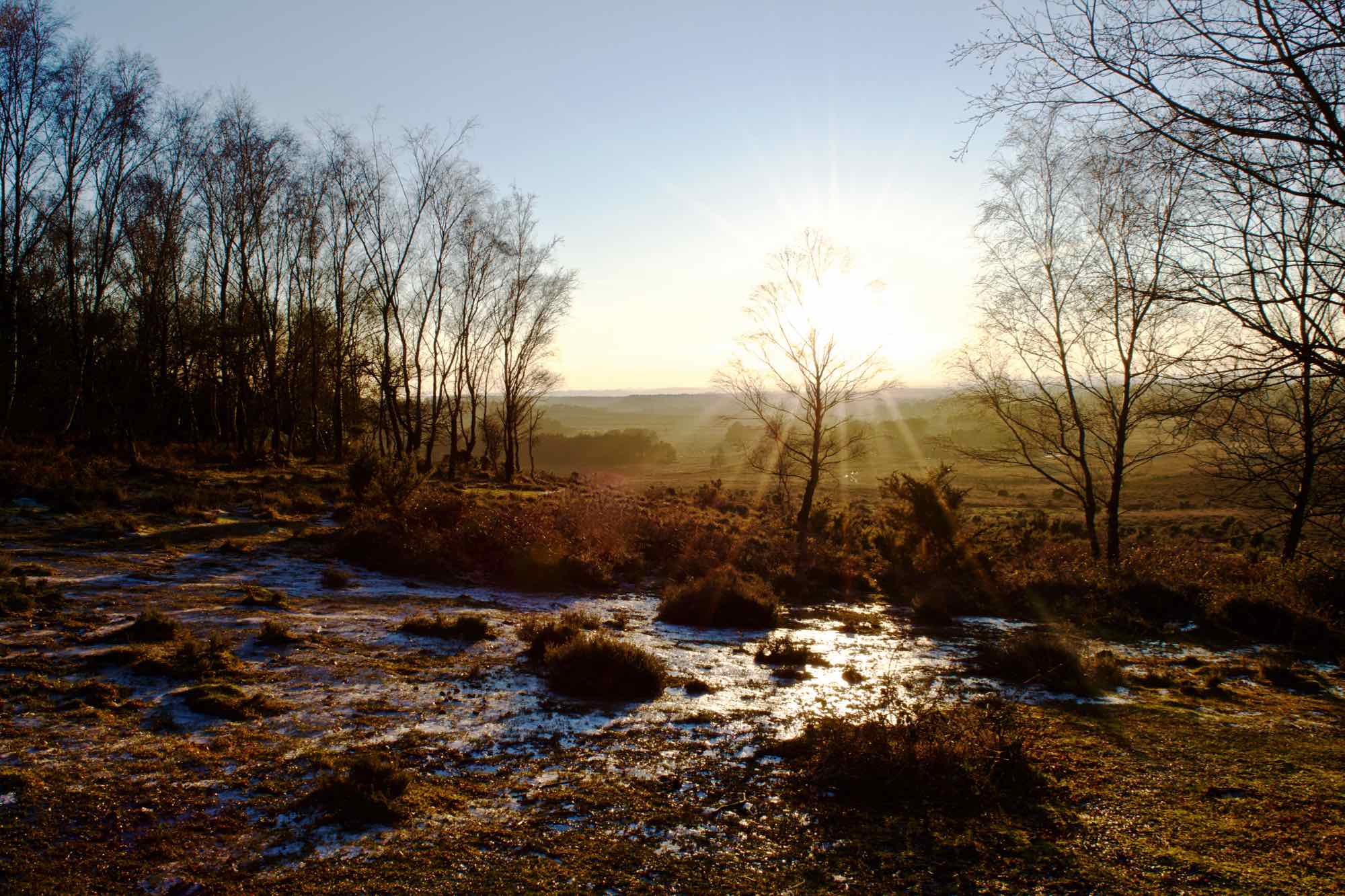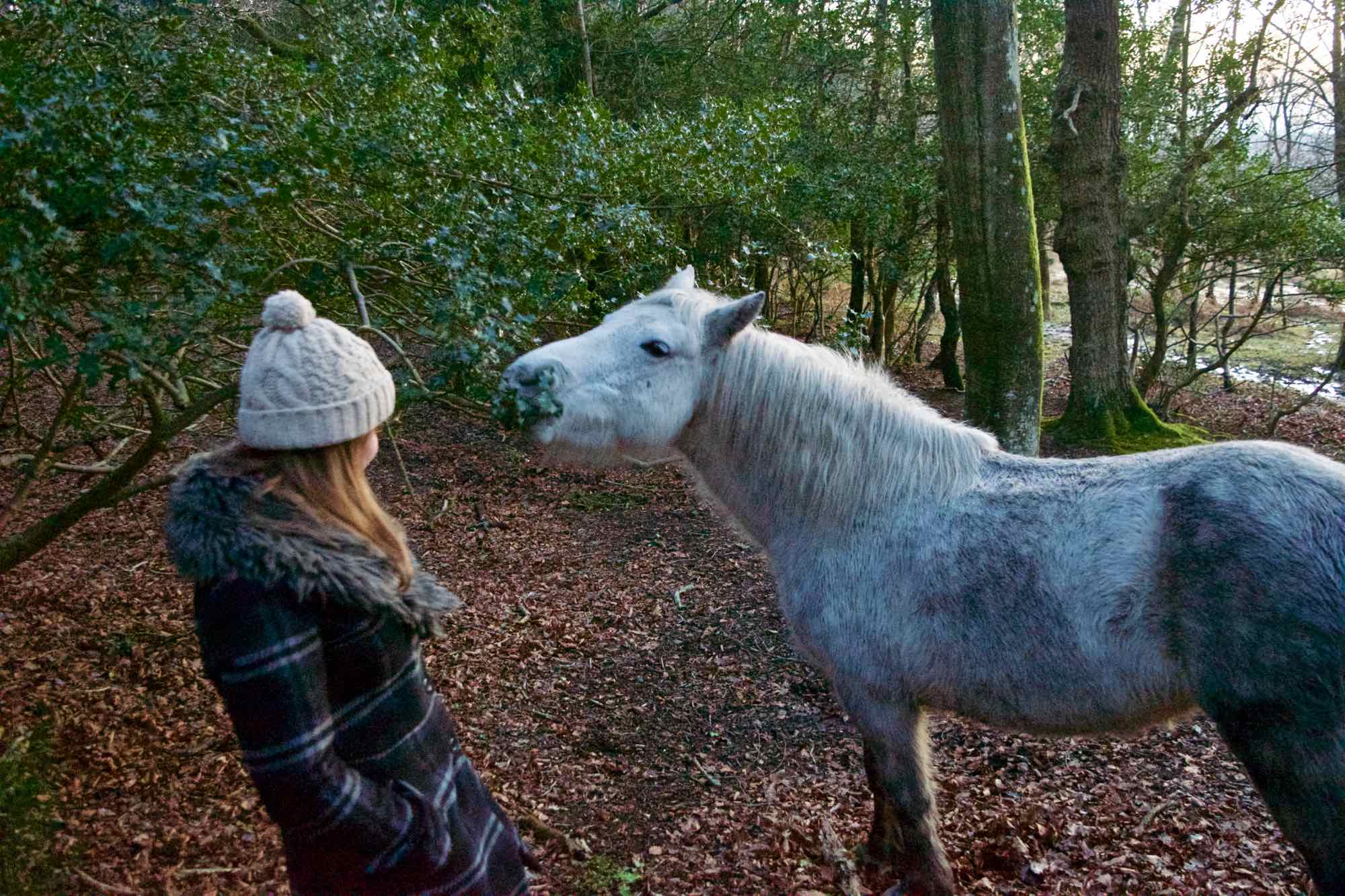 So braving the bleak weather, I hopped on a train at Waterloo and headed to Brockenhurst to meet one of my fave blogger pals Emily Luxton. The New Forest is really accessible from London, with the journey taking an hour and a half by London. Once there, a car is advisable for really exploring, but you could easily hop in a cab to your accommodation and base yourself there for your mini-break (as we did!)
Over the next 36-hours we explored the beautiful outdoors, checking out some of the wildlife, learning about foraging and sampling delicious local cuisine. If you fancy following in our footsteps and heading off on your own New Forest micro-adventure, here are my highlights!
The Pig's reputation preceded it. Countless friends had visited and raved about their stays, so I was really excited to experience it first hand! It describes itself as a 'restaurant with rooms', but while the focus is certainly on the food (more on that coming up) the hotel elements are beautifully done too. All in all, I'd describe it as the country home we all dream we'll own one day!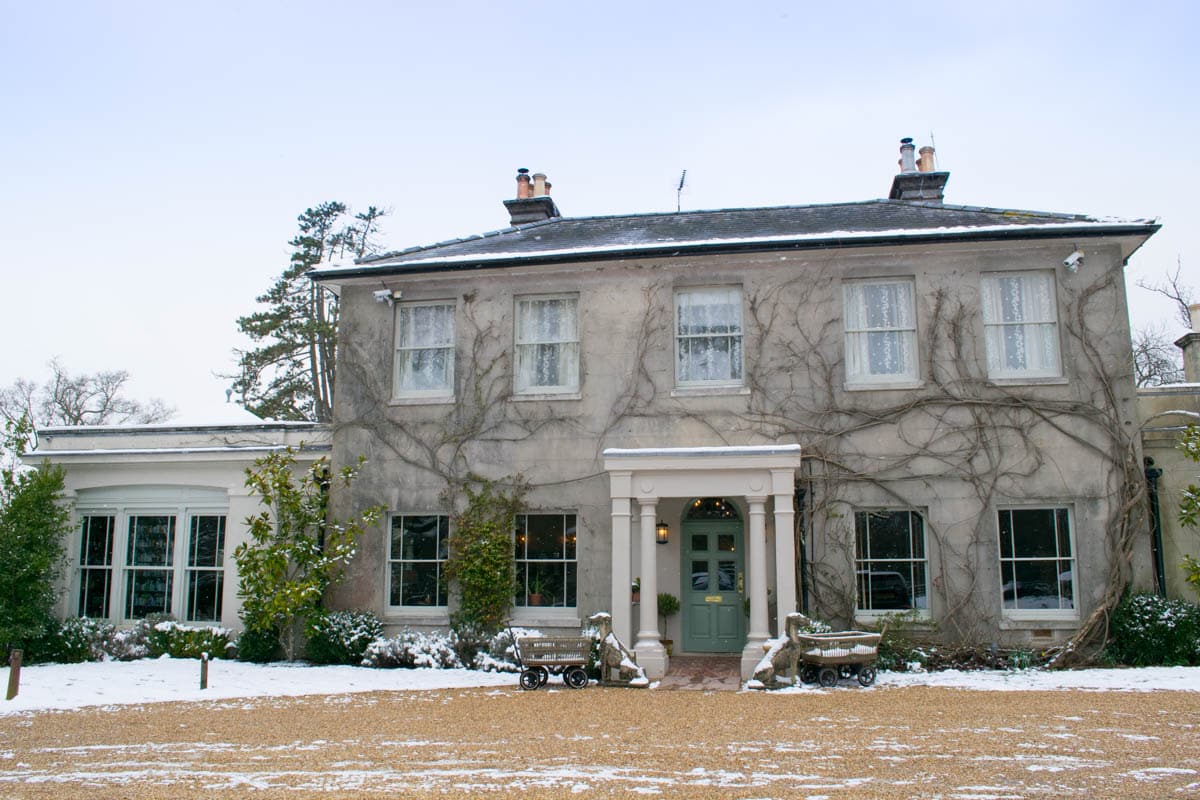 The main hotel building has several lounges to relax in, whether that's with a coffee and a slice of cake, or a glass of wine. There's also a beautiful bar with plenty of homemade concoctions (thyme infused vodka anyone?!) and the light and airy restaurant filled with plants, which makes you feel like you're wandering into a greenhouse.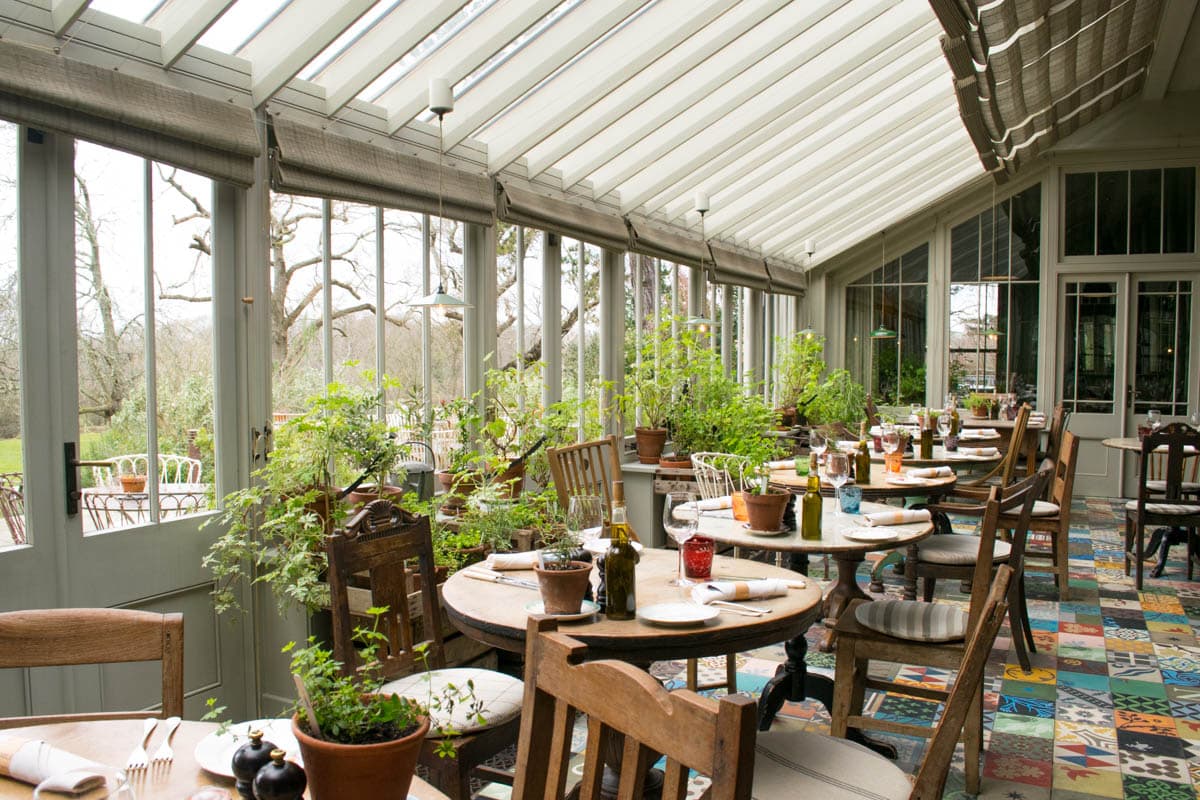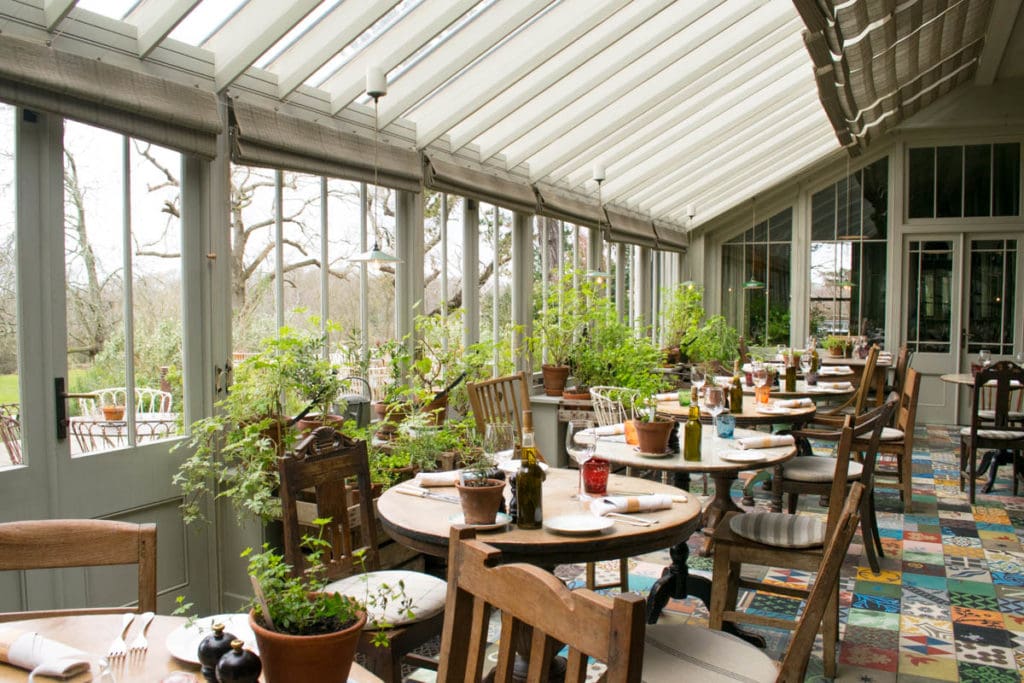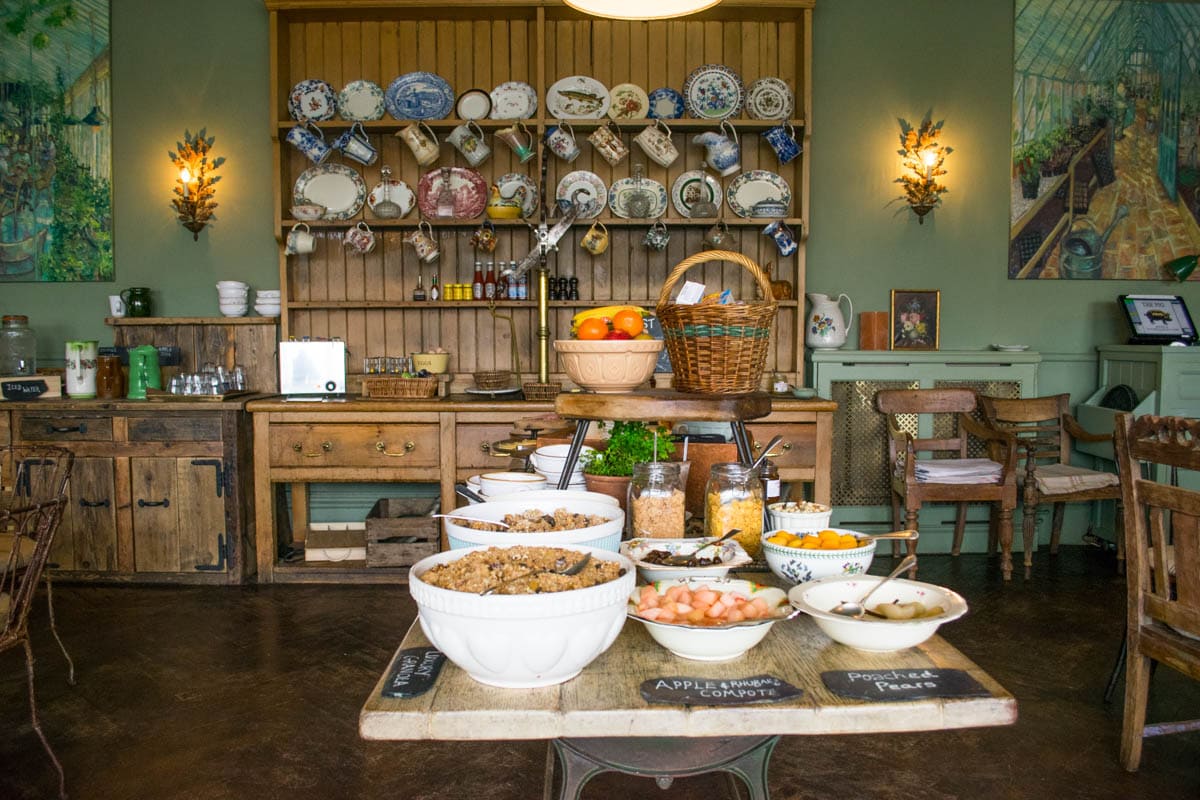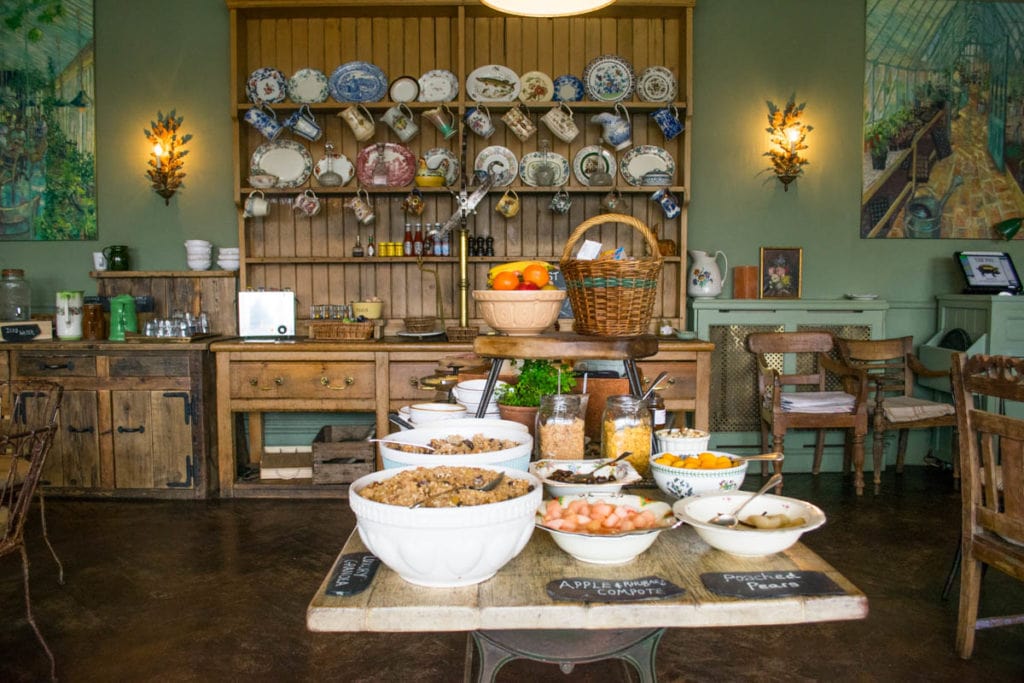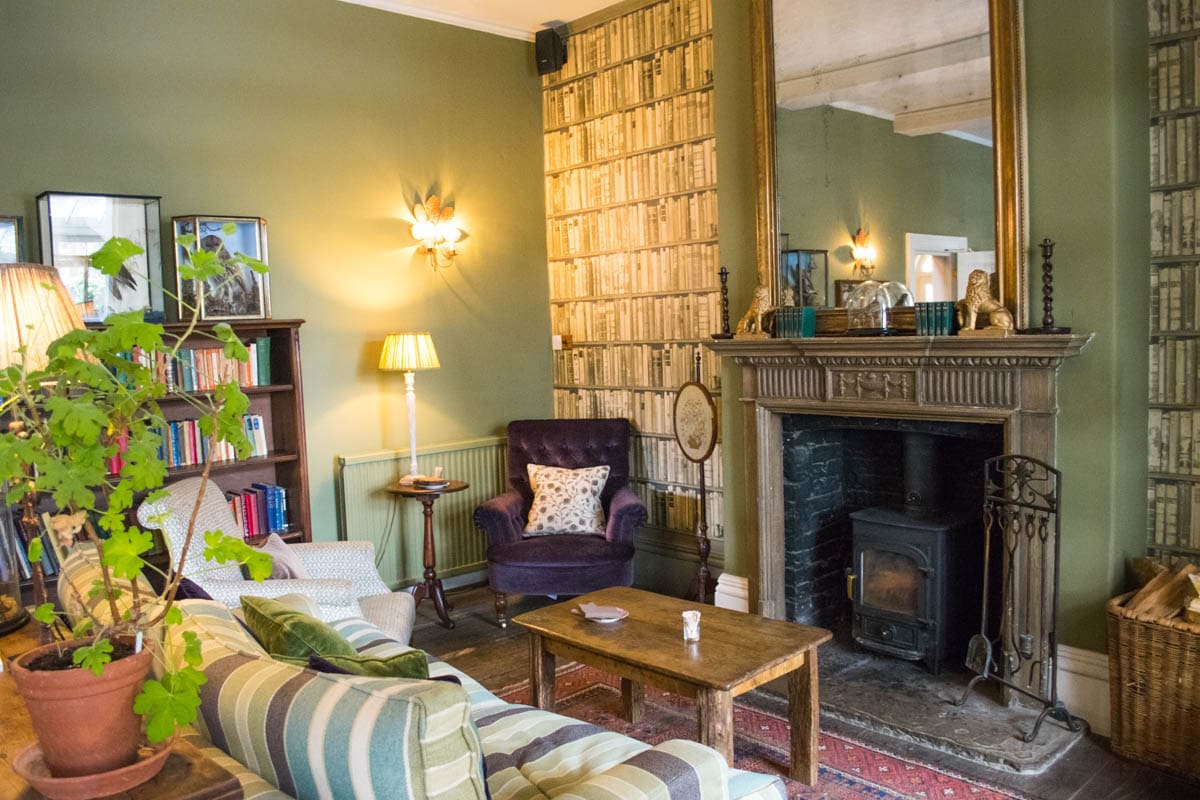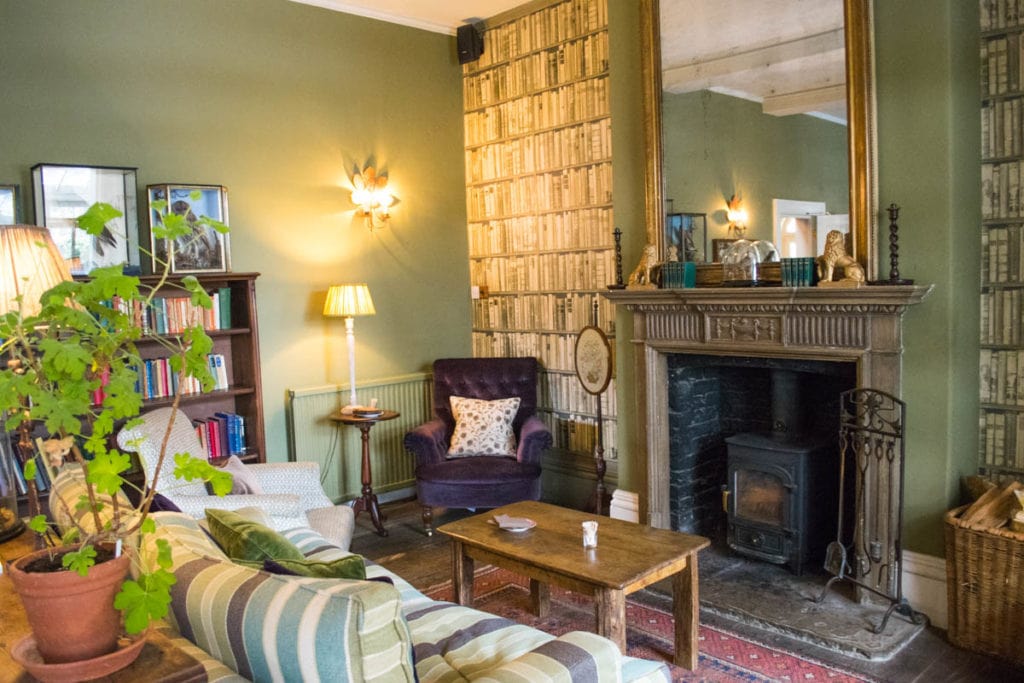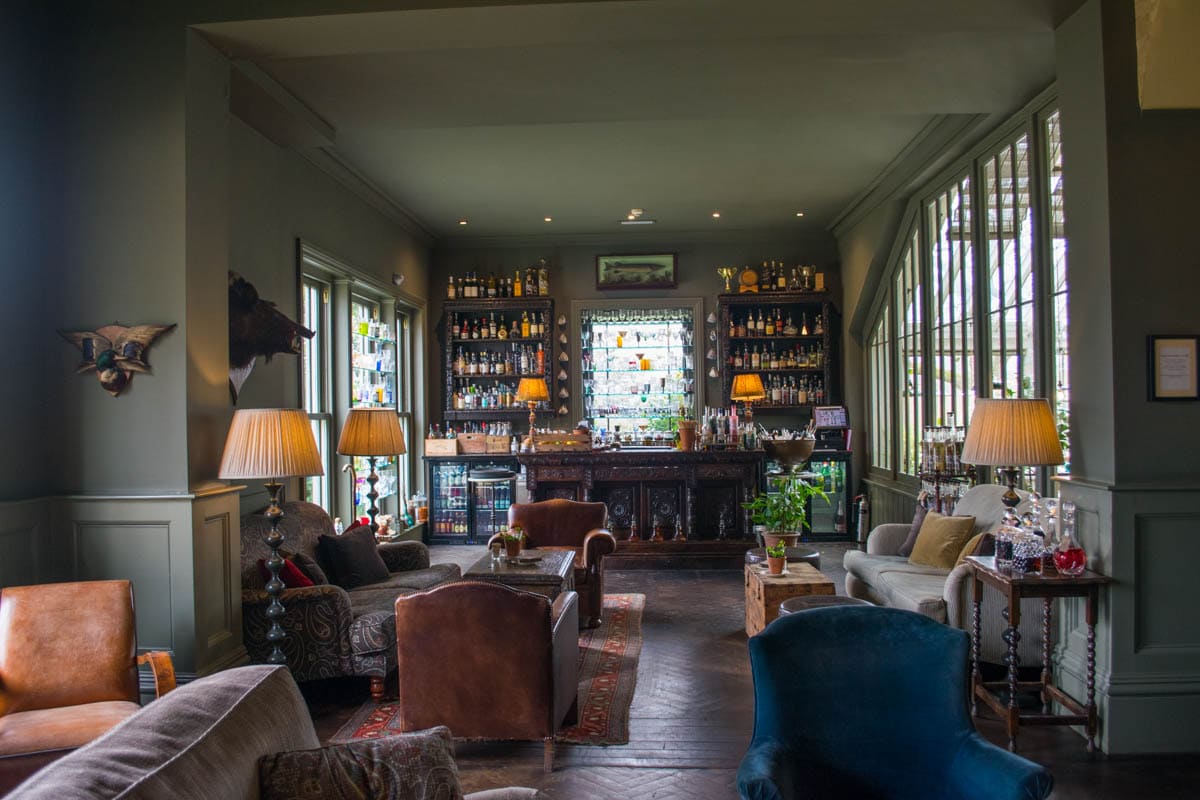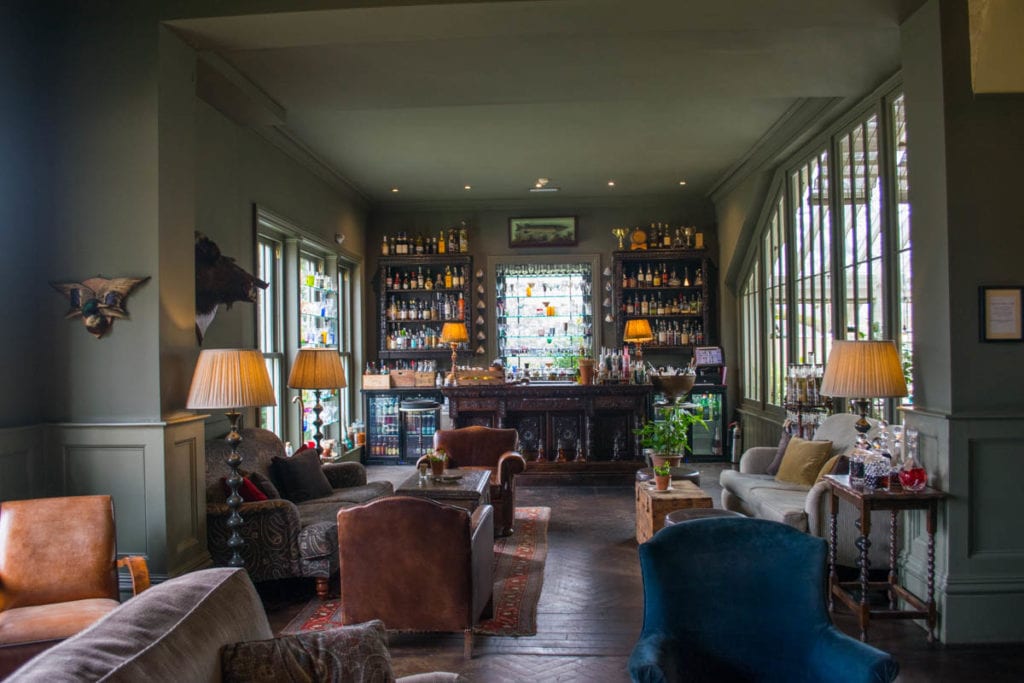 We checked into one of the lodges towards the bottom of the drive. I loved the décor and furnishings, with a rustic wooden table, retro Smeg fridge, log fire, and comfy beds. It felt like a 'home from home' with fresh eggs on the sideboard and a tasty looking loaf of bread just waiting to be sliced. 'I could happily live here…' I said to myself!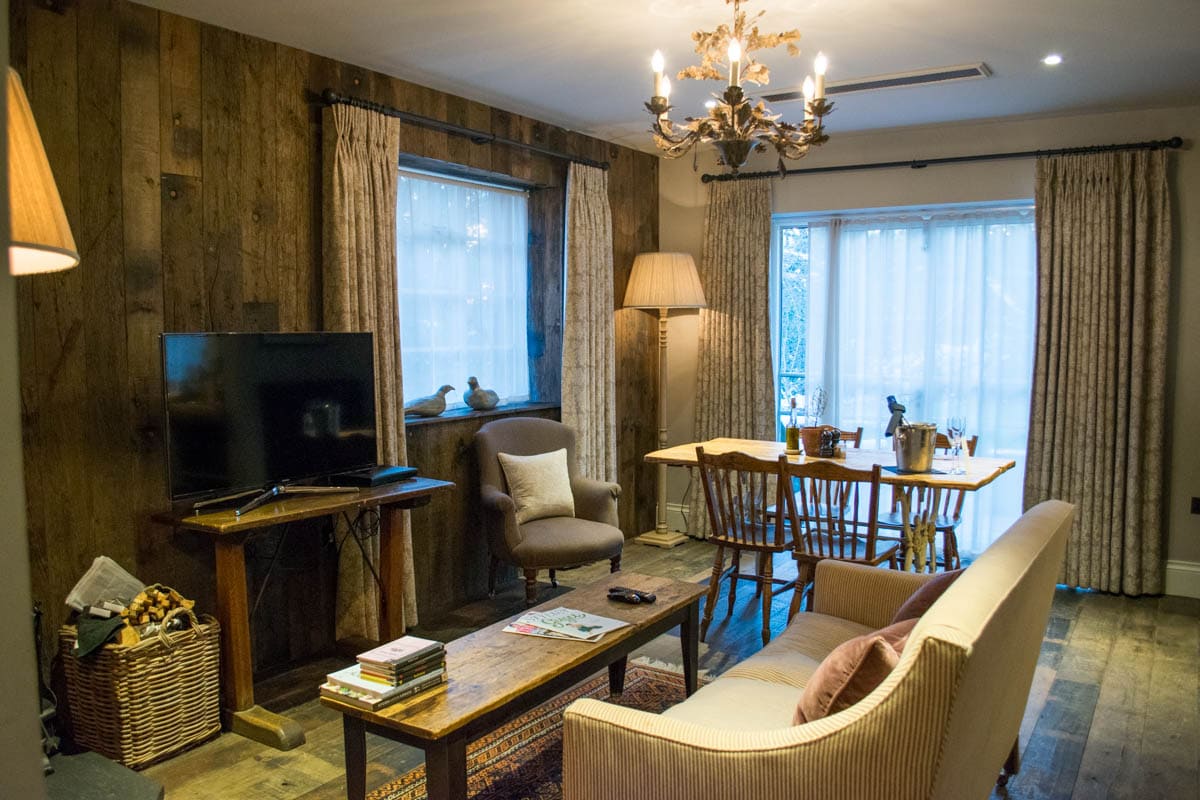 The Pig's focus on food extends to its grounds too. There's the kitchen garden (open to guests to explore), where we saw beetroot, garlic, kale and plenty of herbs all growing.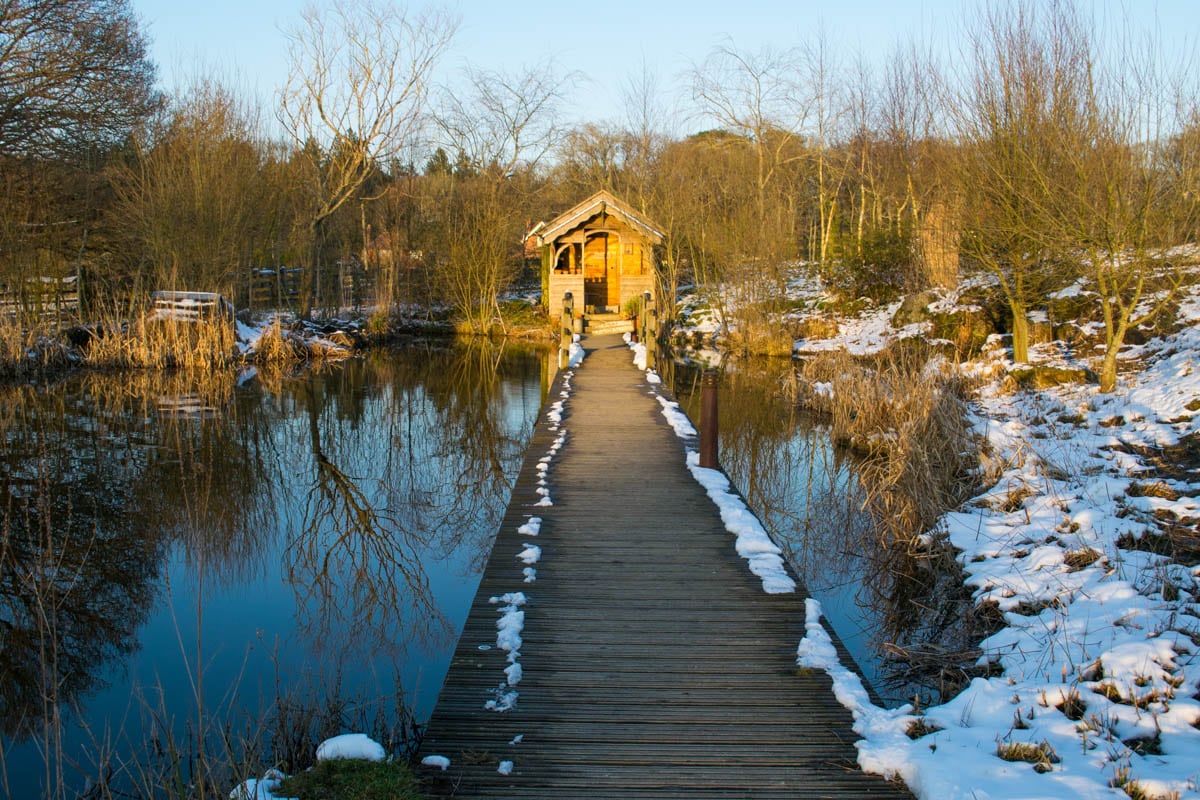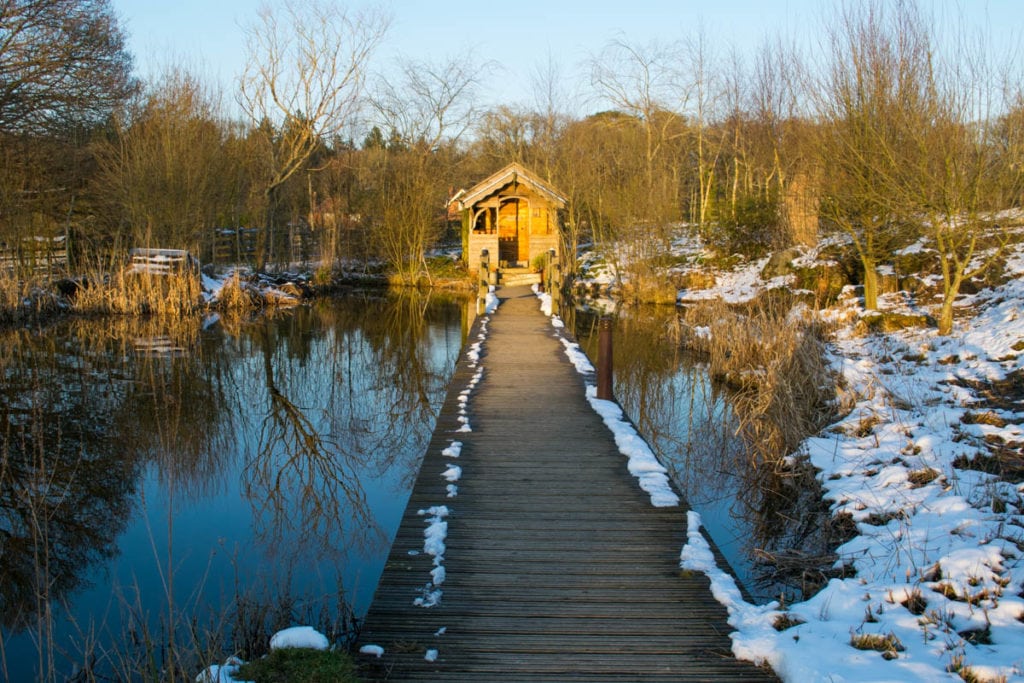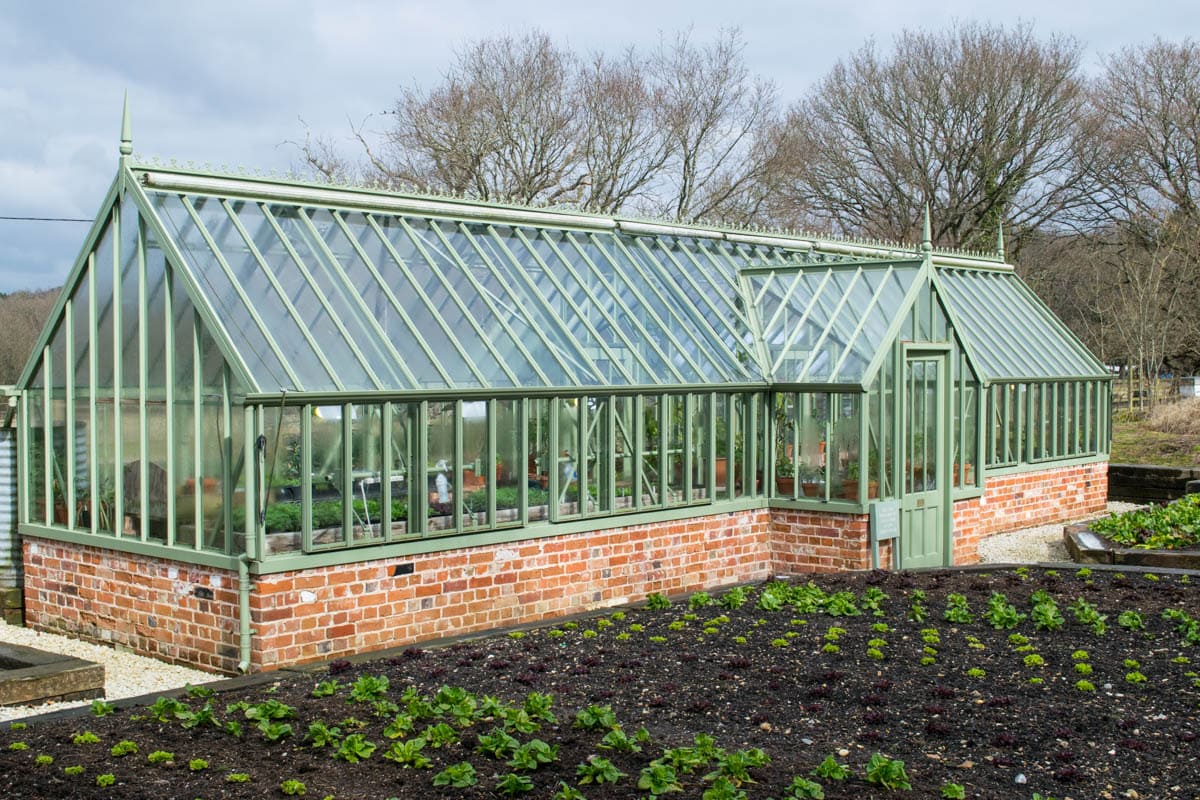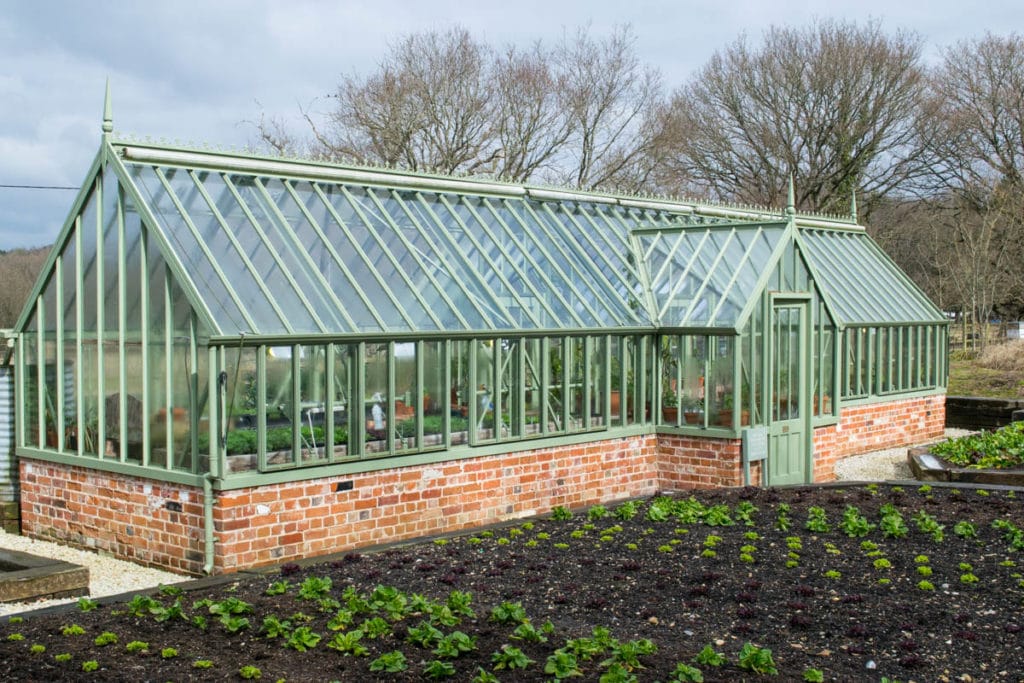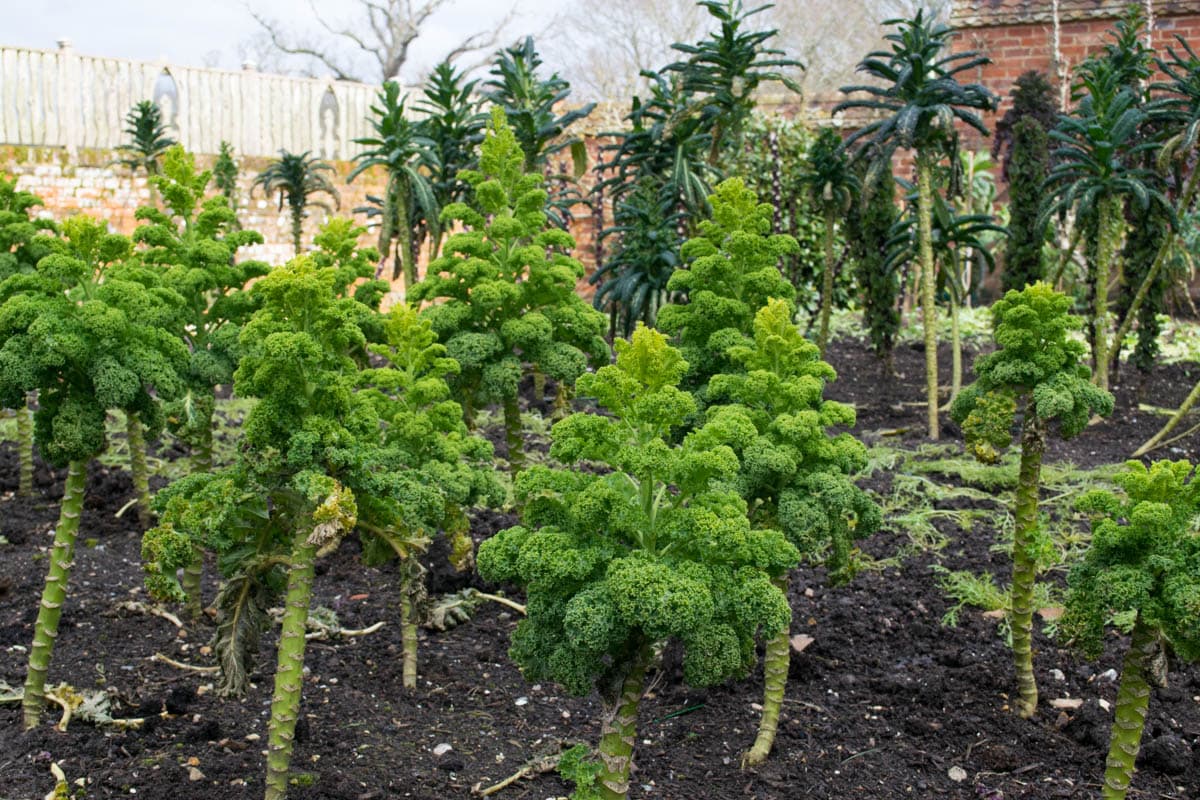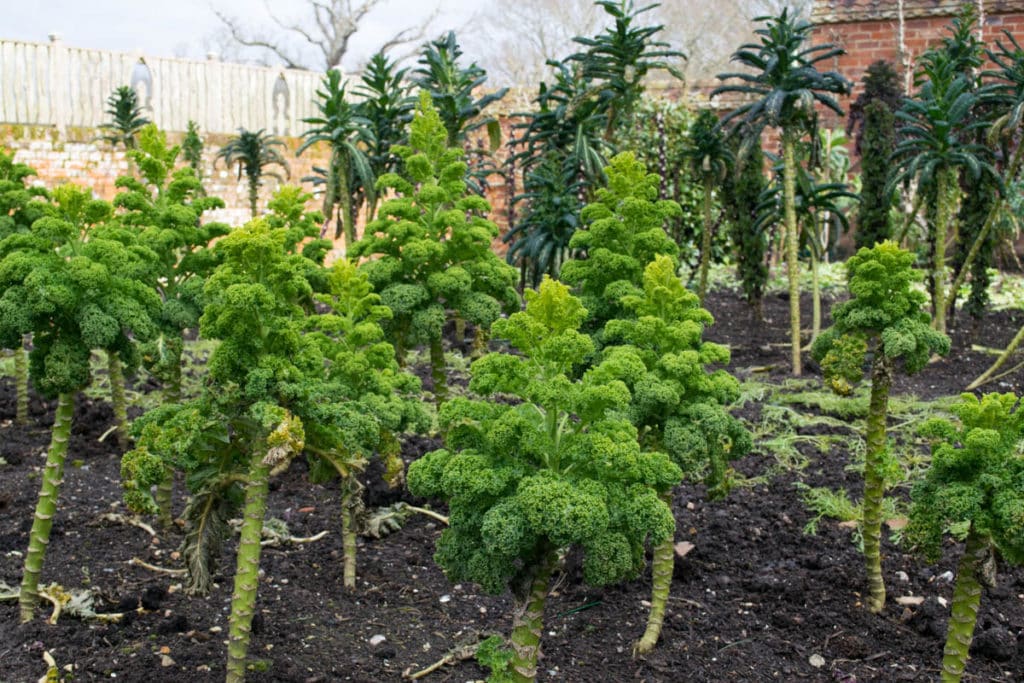 The dinner menu was captioned the '25 mile menu'. Yes, that's the furthest any item has had to travel, and many ingredients came from right on the doorstep.
After cocktails in the bar area, we enjoyed sampling smoked salmon (smoked in The Pig's own smokehouse) and the 0 mile oyster mushroom risotto (yes they're pretty local!)
For my main course I ordered the braised mutton with minted broad beans. I have to say, all the food we ate was utterly delicious and it was so refreshing to dine somewhere with such a passion for local ingredients. The New Forest is a giant larder, and I loved that they really made use of it.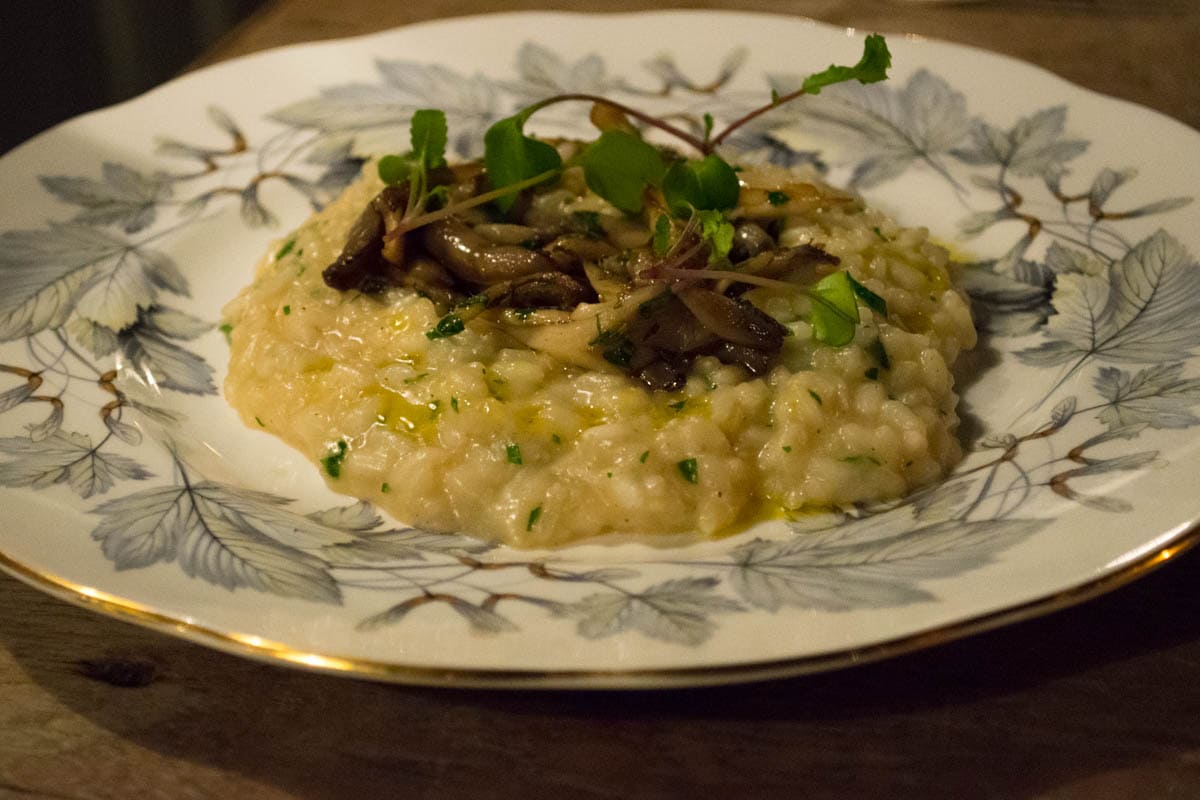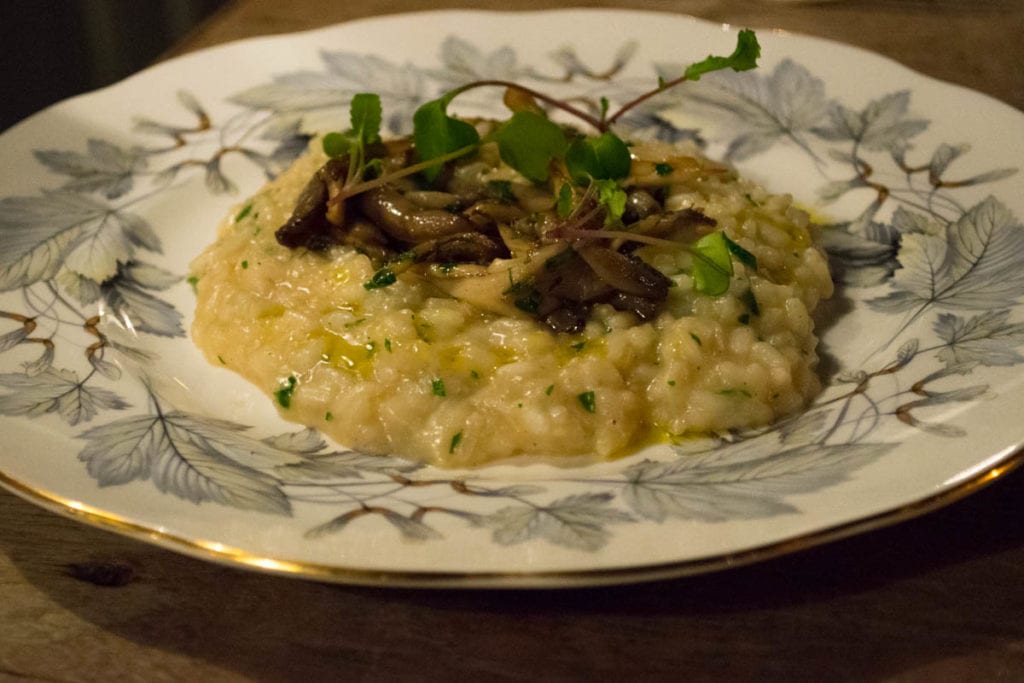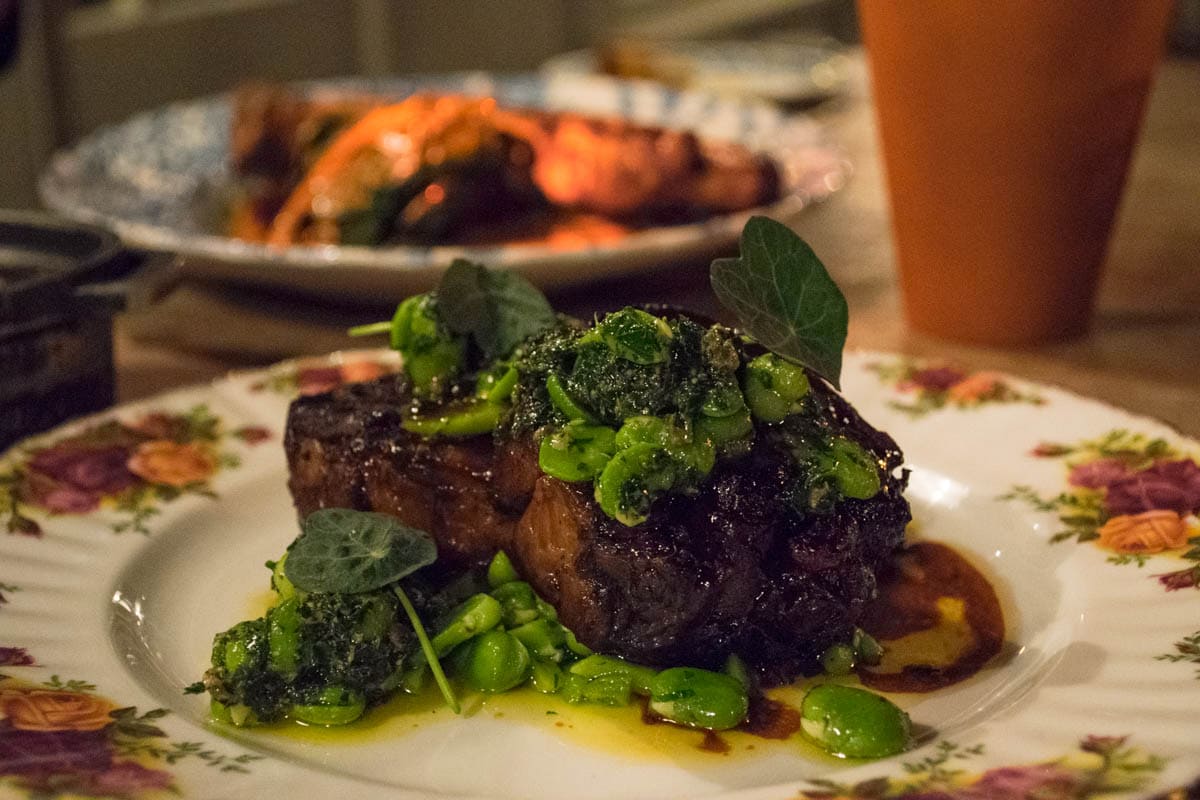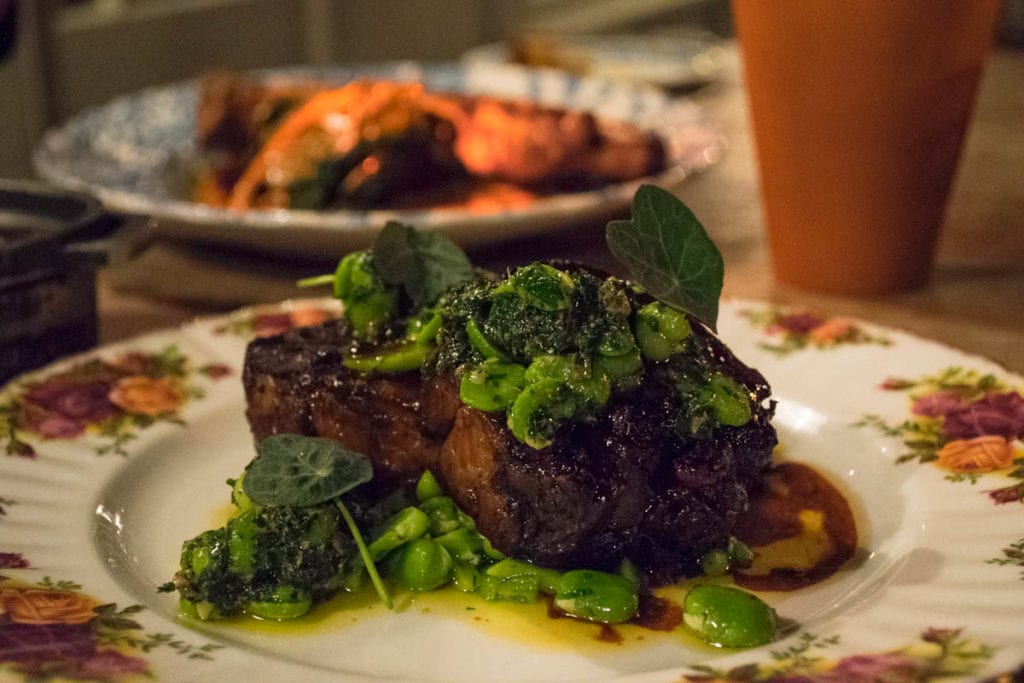 Another beautiful hotel in the area, Lime Wood has all the 5* amenities you'd expect, including a stunning spa, smart restaurant and elegant bar area. We enjoyed a quick hot chocolate and a tour before setting off on our next adventure. It's somewhere I'd love to return to for a relaxing break, perhaps checking into their stunning Lake House. I also spotted they have their own cookery school, so that sounds like another reason to head back for another weekend in the New Forest!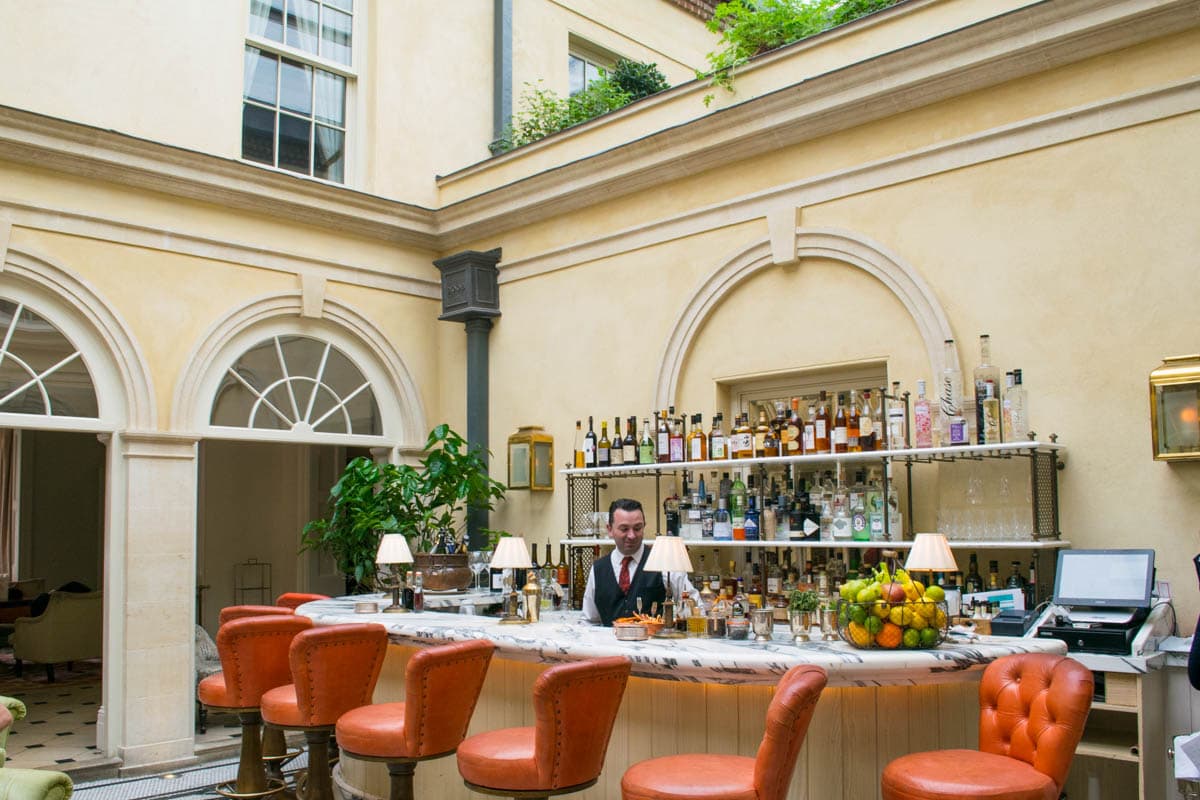 Palace House in Beaulieu looks like it should be home to a fairy tale princess! The stately home was originally built in the 13th century and was once the gatehouse of the medieval Beaulieu Abbey. It's been extended over the years (most notably in the Victorian era) and has been in the Montagu family since 1538.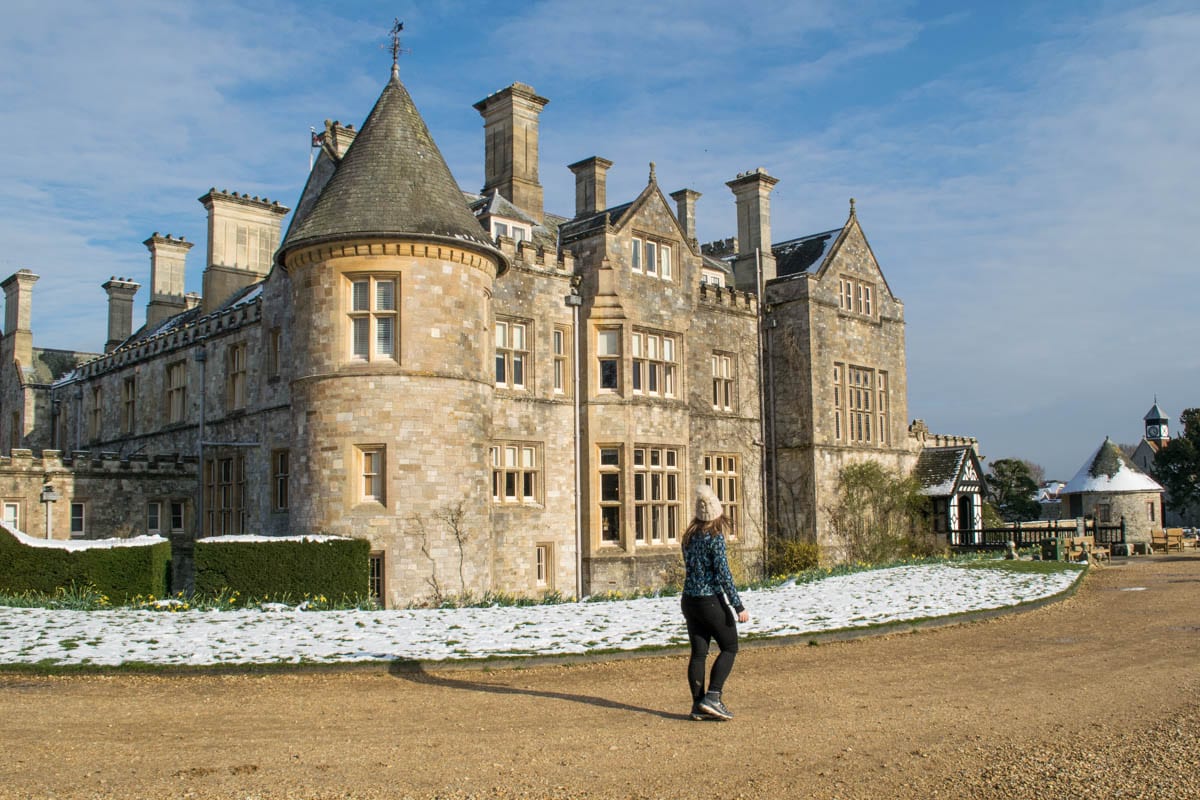 We really enjoyed exploring the banqueting room, seeing some of the old musical instruments and the artworks on the walls. It's a place filled with family treasures! For me, a lot of the beauty was outside, and I couldn't resist snapping a lot of photos of the building in the snow, with sprouts of spring daffodils starting to appear.
Included in your ticket price is access to the National Motor Museum, the Monorail, Beaulieu Abbey and a few more attractions, so you could spend a whole afternoon there.
Moments from Beaulieu's stunning pond is Monty's Inn – another spot in the New Forest which shares The Pig's passion for locally-sourced ingredients. Along with growing their own fruit and vegetables in their kitchen garden, they name a lot of their suppliers. Their beef comes from Alderstone Farm near Romsey, pork from Pondhead farm in Lyndhurst, local gin from Lymington and apples from an orchard in Pennington.
I feasted on a tasty local lamb dish with a lamb croquette, sautéed potatoes and kale. It was rich in flavour and a lovely warming plate of food after a chilly morning exploring the countryside!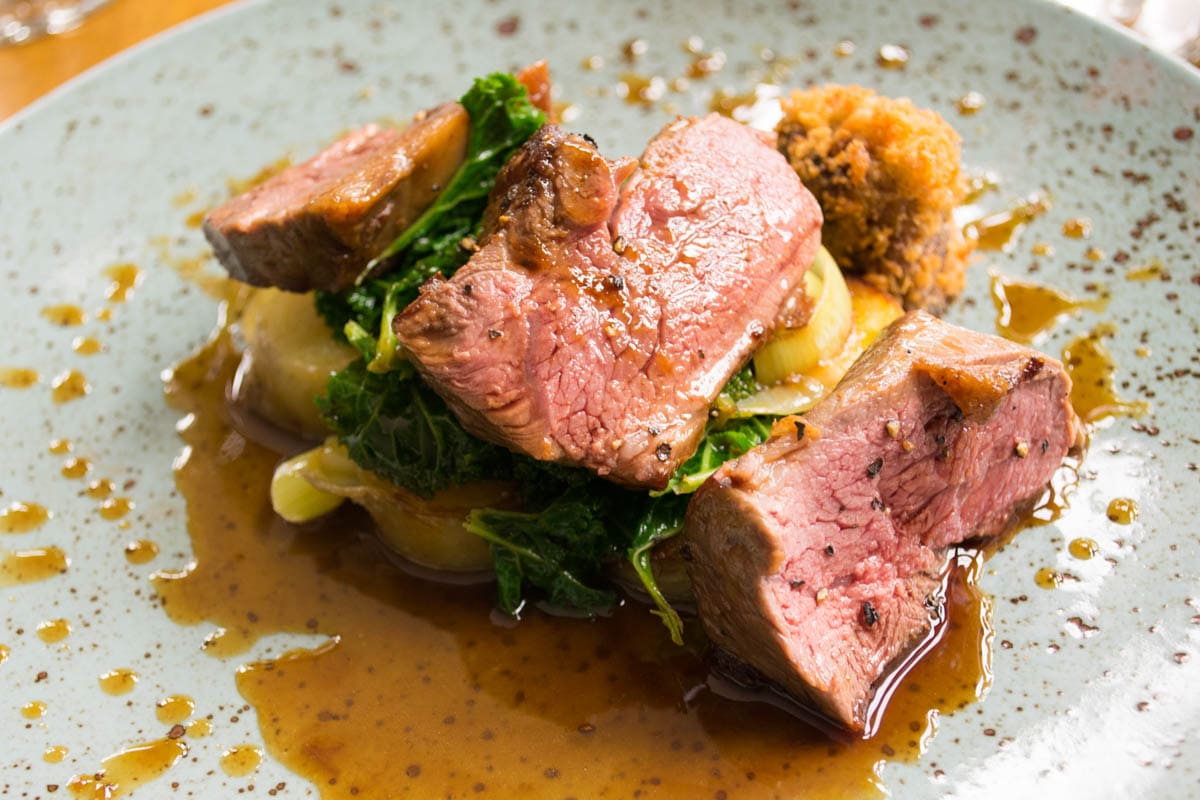 Foraging With The Wild Cook In The New Forest
We spent a few hours on a guided walk and safari with professional forager Garry Eveleigh. Obviously, this was challenging as there was snow covering the mushrooms he'd been intending to show us! However it didn't deter us. "If you want to pick mushrooms, you've got to think like a mushroom," Garry said. After a few giggles, we started to learn that different mushrooms like to live in different spots, – winter chanterelles in the pine trees, porcini on oak and oyster mushrooms on fallen beech trees.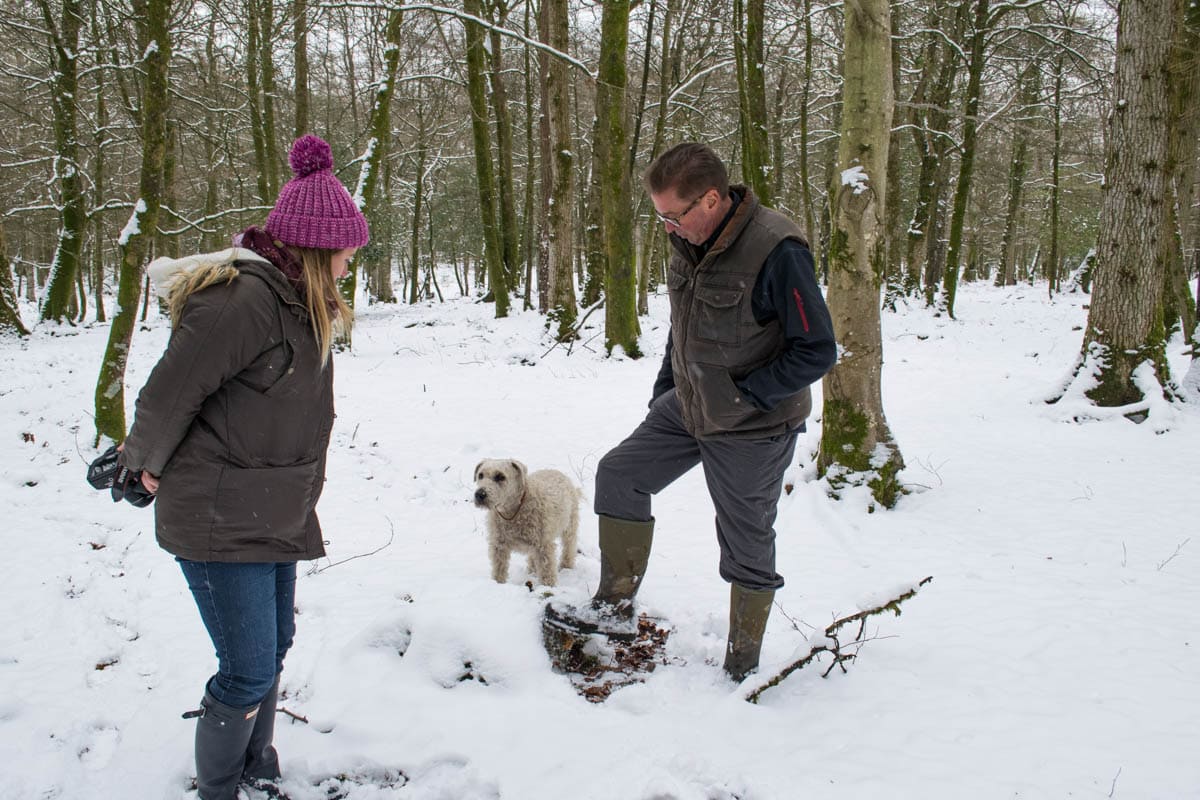 Garry forages in the forests and returns to The Pig and Lime Wood with baskets filled with delights. It requires a lot of knowledge, as along with the delicious varieties mentioned, there are plenty of poisonous varieties that can kill in a few hours.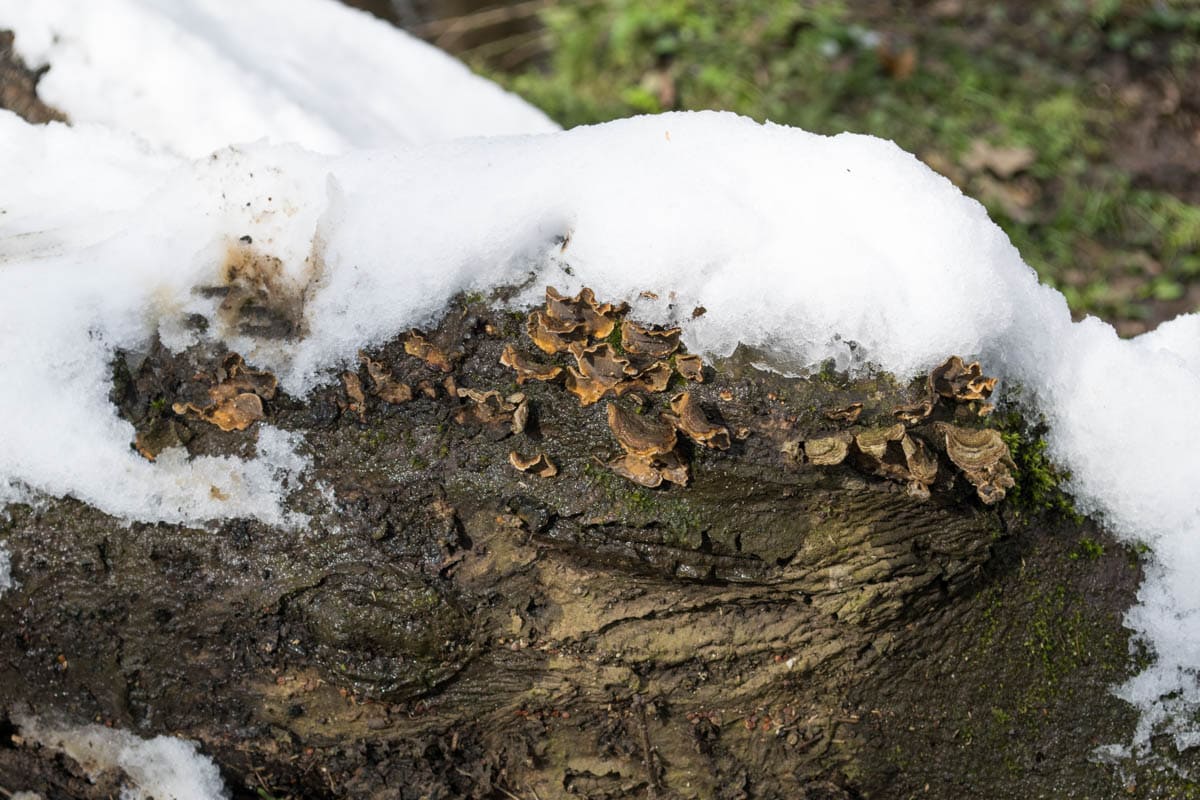 He was full of passion, lived and breathed the New Forest, and was the a fab person to intro us to new parts of the English countryside! I absolutely loved his stories – plenty that I couldn't even start to share on here, but that I'm sure he'll be happy to recount if you pay him a visit! He was keen to show us the wildlife too…
Wild Ponies And More In The New Forest
There are so many things to do in the New Forest, and many involve wildlife! The New Forest is famous for the wild ponies that roam the forests and heaths. It feels like a charmed place, with these majestic creatures grazing peacefully around the region.
You don't need to head somewhere specific, they're all over the place – even right by the roads, so pay close attention if you're driving! I'd always thought they were totally wild, but while they're free to roam the region, they are in fact owned by New Forest Commoners – you can find out more about that here.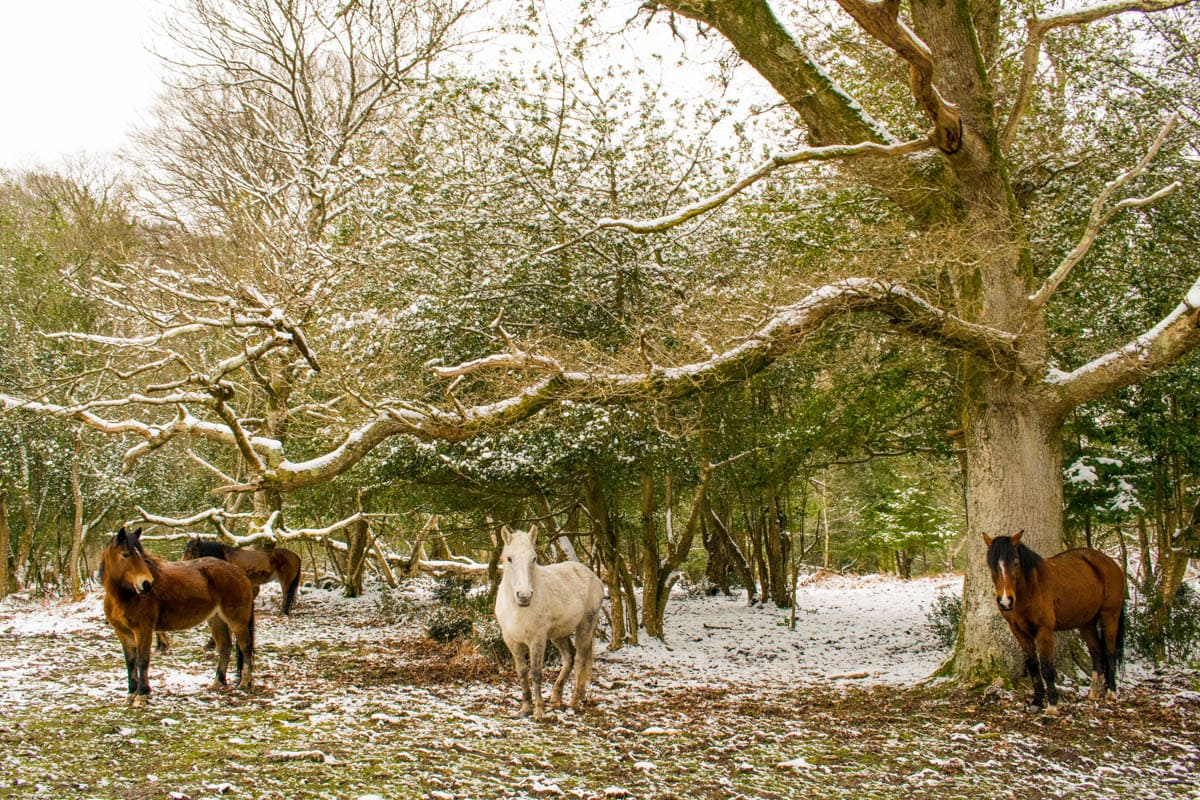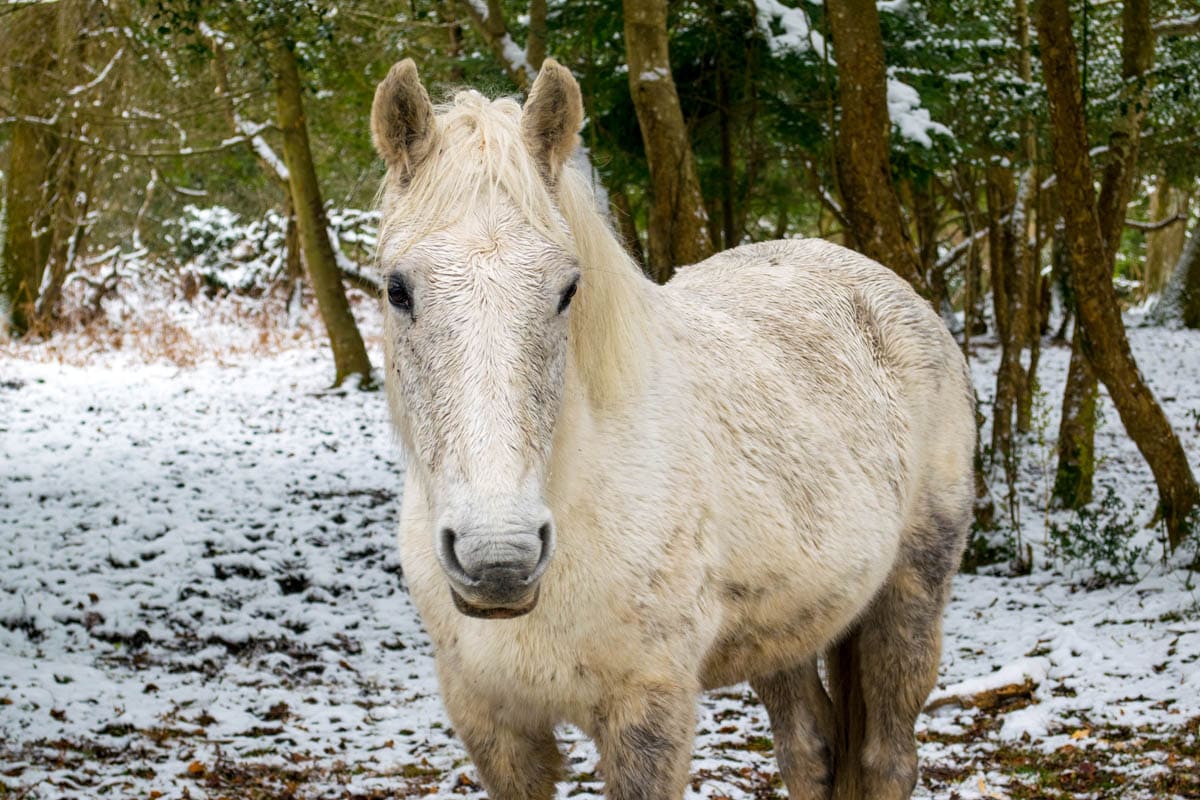 It's a rich area for other wildlife too. We saw some friendly donkeys by the side of the road who sidled right up to the car and poked their heads in!
There are also plenty of deer, sheep, cattle and beautiful birds including birds of prey. It's unique to be able to get this close to so much nature in one area, so if you're an animal lover, I think you'd absolutely love it here. It was definitely a highlight of our weekend in the New Forest.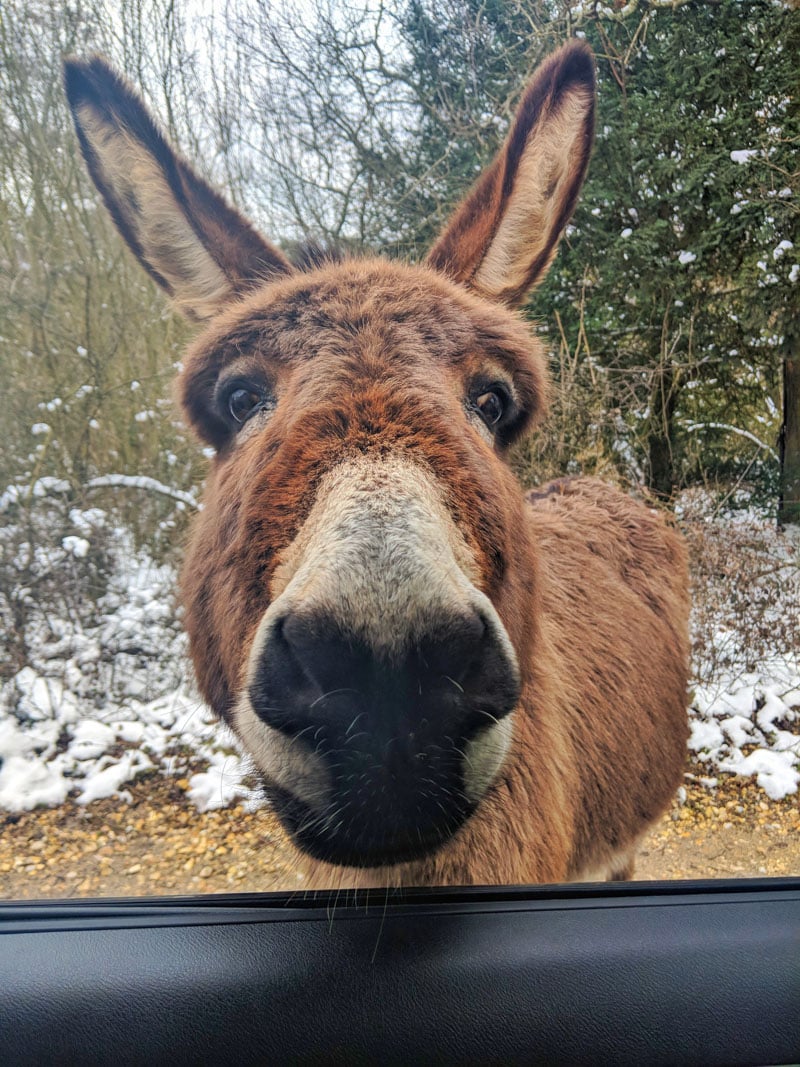 Country Walks And Cycle Rides In The New Forest
There are over 140 miles of paths and trails perfect for walkers of any level. Around The Pig, they have two recommended loops (each around two hours) which take you through the forests. They even provide wellies, as it tends to get muddy! The New Forest website has lots of recommended routes covering woodland areas, beautiful heathland, pretty villages and even the coast. They also offer plenty of info on cycle routes too, and if you don't have your own bike, you can rent them from hotels and shops in the region. A few days of country walks and pub lunches and you'll feel refreshed and ready for work again!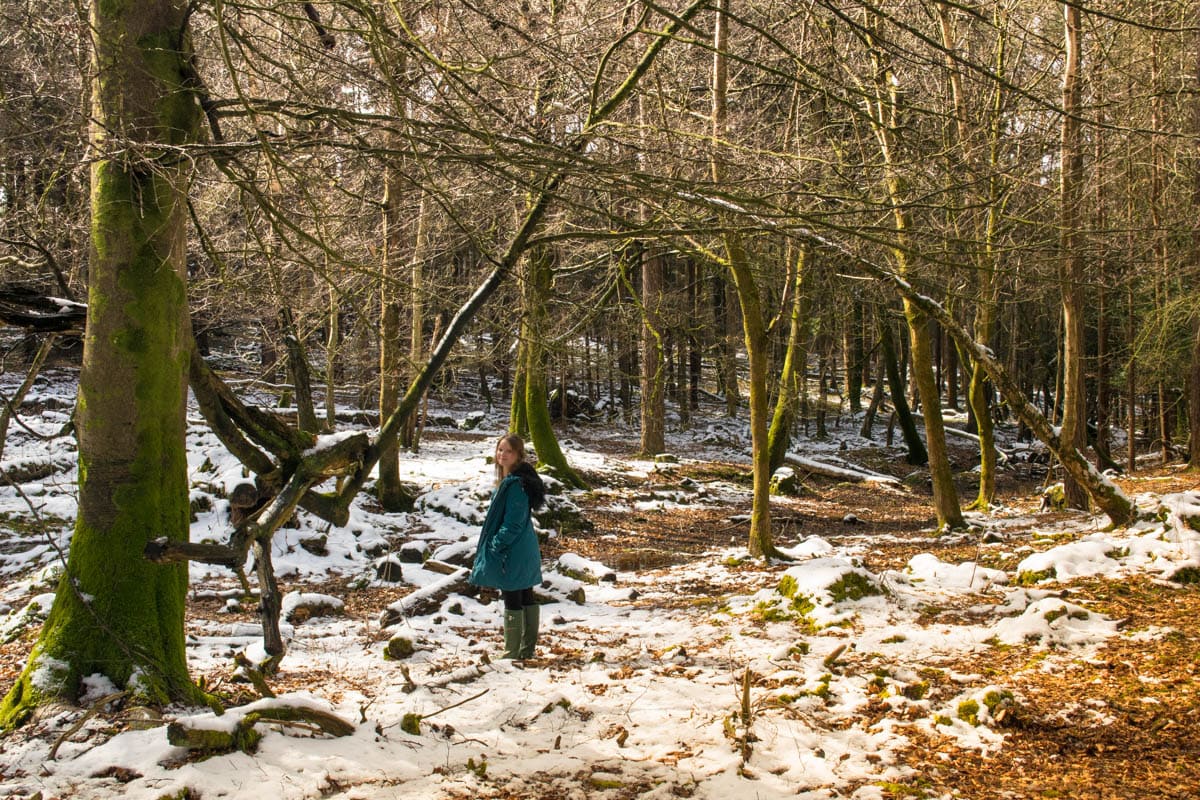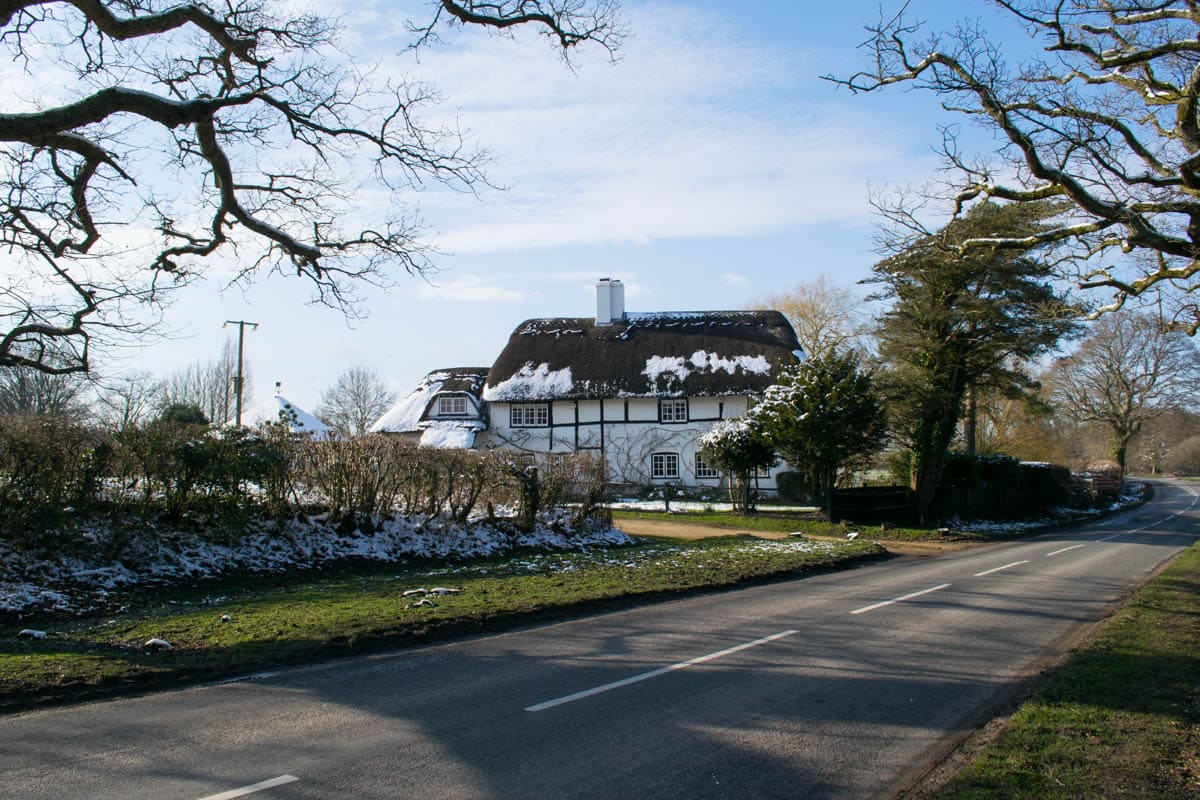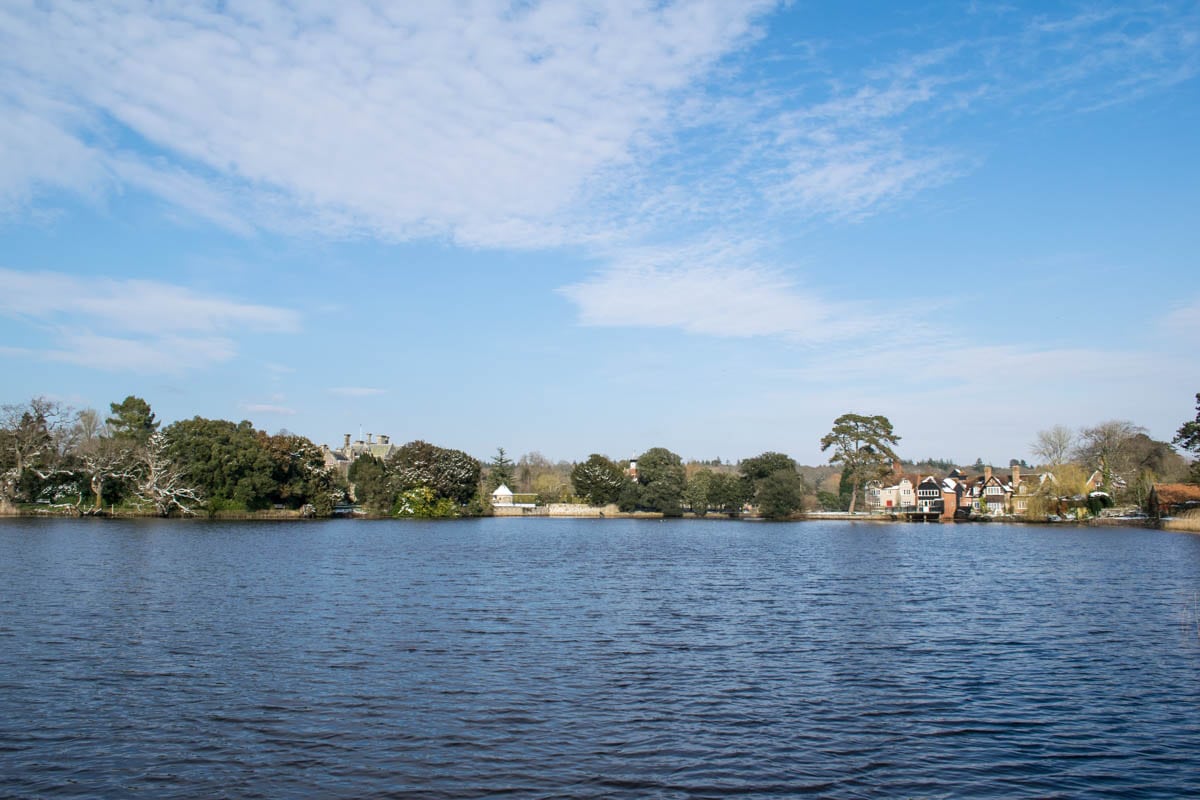 ---
When Is The Best Time To Visit The New Forest?
England is a country obsessed with weather. Don't know what to say? Comment on the weather! We talk about it a lot, but contrary to what you may have heard, we don't have awful weather in England. It's just a little unpredictable and varies from region to region.
You can expect average lows of around 5 °C in London in January / February, and highs around 25°C in July / August.
If you're wondering when is the best time to visit England, I'd suggest planning a trip in May or June. The weather tends to be warm and sunny, rain is at a minimum and it's out of peak season, so you shouldn't be battling any big crowds either. The longest day is around 20th June every year, so it's a time you can enjoy maximum daylight hours exploring!
I've never been a fan of November in England. It's the wettest month of the year, and while December can be pretty cold, there's a Christmas magic around the country which always puts a smile on my face! This trip took place in March and was absolutely gorgeous, mainly because of the dusting of snow all around!
---
Last time I visited The New Forest I stayed at Burley Manor. You can have a little read of my review here.
A big thanks to Visit England and The New Forest for organising my weekend in the New Forest as part of my time as a Visit England Ambassador! Click here if you're looking for more inspiration within our amazing country. As always, all opinions are my own.
Enjoyed this post? Pin it for later…