From beaches and restaurants to the incredible local wildlife, find out the top things to do in Puerto Viejo, Costa Rica.
How To Get To Puerto Viejo
From San Jose, Costa Rica's slightly underwhelming capital, we travelled by public bus down to Puerto Viejo – a small town on the Caribbean coast with a relaxed attitude and Rastafarian influences.
Hotel Jacaranda was one of the most beautifully designed places I have stayed in. Murals of ceramic tiles adorned the floors and walls. Beautiful gardens filled the central courtyard with exotic, colourful flowers and small lizards clambering up and down. Rooms were basic but functional and had a real unique style.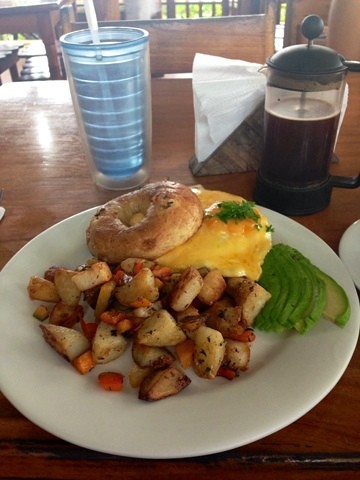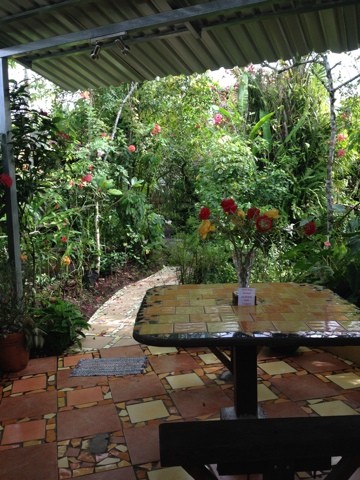 Want to read more about Costa Rica? Check out my latest guide to spending Two Weeks In Costa Rica.
What Is Puerto Viejo Like?
Puerto Viejo (meaning old port) has everything you need for a beach town. Cafés, market stalls, plenty of restaurants, a few bars serving well-made cocktails and some small boutiques and souvenir shops.
Bread And Chocolate was an amazing spot for a casual coffee and cake, or a full blown breakfast. The fried egg and cheese bagel with fresh avocado and sautéed potatoes was to die for! The coffee was excellent too. Also delicious was the sushi at Chili Rojo. This is a town you definitely won't go hungry in!
Puerto Viejo – The Beaches
Cocles Beach was a twenty minute walk away, or ten minutes if you decide to go for a run in the torrential rain as I did! It's popular with surfers and had some amazing big waves, perfect for tricks.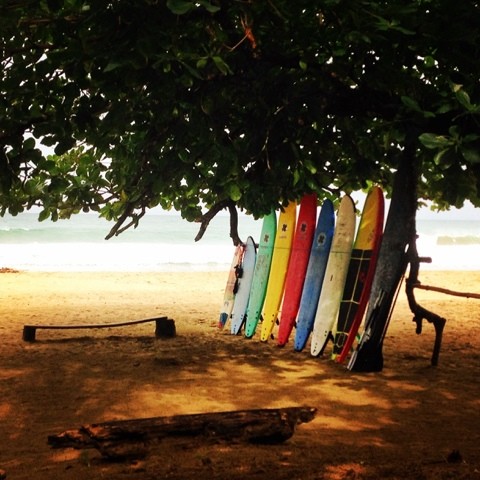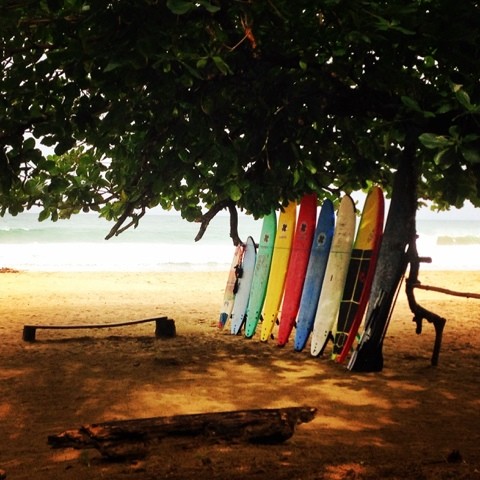 Puerto Viejo – The Wildlife
As well as beaches, the area is famous for its wildlife. While there we visited Cahuita Park – a park with rainforest right along the beach. While there we saw an abundance of wildlife – toucans, sloths, Jesus Christ lizards, iguanas, snakes, giant crickets, leaf cutter ants and more. It was amazing to see the animals hard at work in their natural habitats.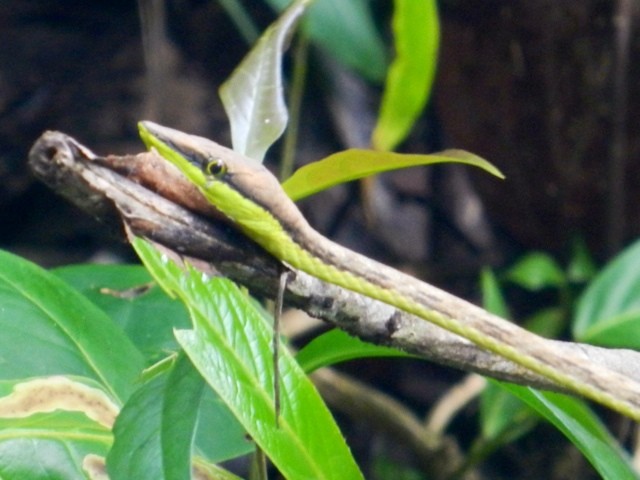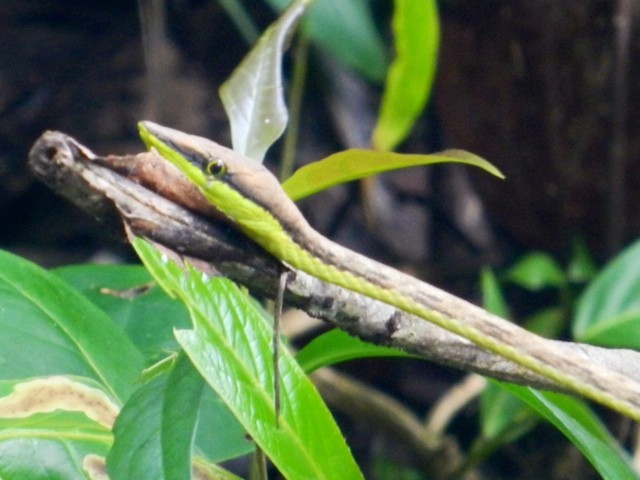 After, we visited Jaguar Rescue Centre – a refuge for sick, unwanted or underdeveloped wild animals. It was set up by a couple of biomedical scientists from Europe who moved to Costa Rica for a change of pace. Little did they know, as soon as they moved to the area, locals heard they could help animals and turned up on the doorstep with sick monkeys, owls with broken wings, and blind crocodiles! Gradually they decided to set up the rescue centre officially and it's been expanding ever since. All staff work there on a voluntary basis – looking after the animals and giving informative tours. Our tour guide was Dutch, in her early twenties and had been volunteering for around two years and absolutely loved it!
As part of the tour we had the opportunity to sit in the monkey enclosure while spider and squirrel monkeys played around – swinging and jumping from place to place. They used my head and knees as springboards and surprised me wrapping tails around my arms! They were very inquisitive and it was amazing to have them so close! A large sloth hung from a tree, while a baby fed and climbed around very slowly. A girl sat on the floor of an enclosure stroking and playing with a baby ocelot (wild cat similar to a leaopard). It was small, and kitten like, but in a few weeks it would no longer be safe for this level of human contact. A one-eyed owl perched on a branch, unable to be let out as it wouldn't be able to hunt for prey, and would be in danger from predators.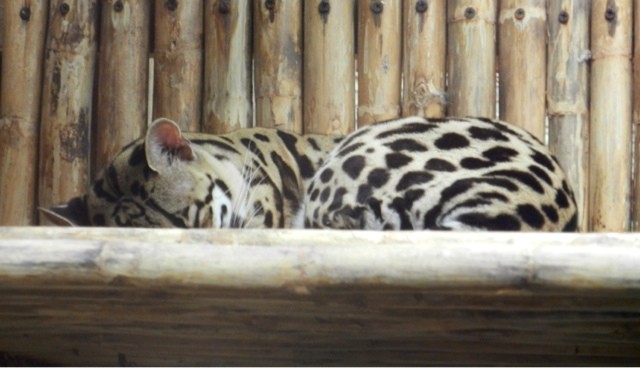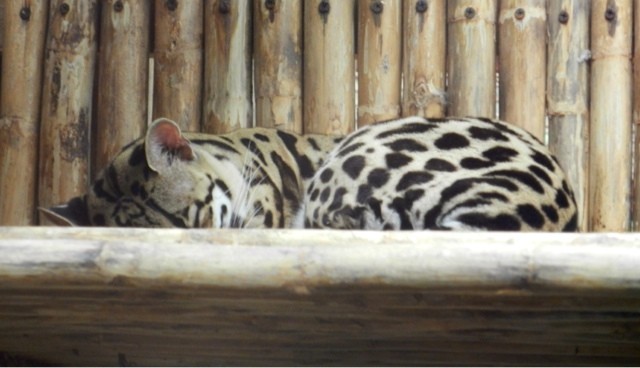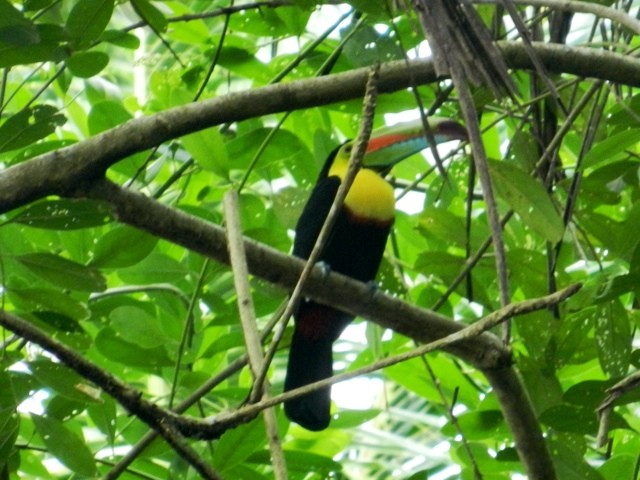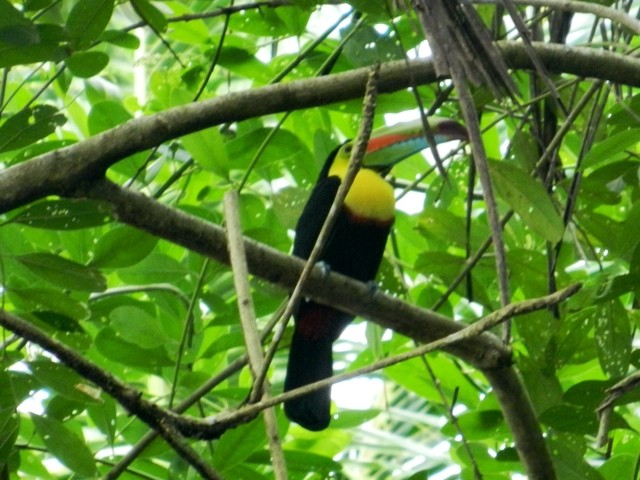 The attitude at this rescue centre is what makes it really special. The emphasis is on getting the animals ready for release if possible. Monkeys are taken to the rainforest regularly to experience jungle life, and then brought back to the safety and comfort of the rescue centre. However, if they want to stay, and settle into the jungle environment then they are not forced to return. Around 70% of animals taken in are successfully released back int the wild, but sadly some are too badly injured that it's not possible.
We also saw a large collection of snakes, a tree frog, alligators, an anteater, vultures, toucans and more baby wildcats. I left with a head full of knowledge, and in awe of the amazing work they do.
Want to read more about Costa Rica? Check out my latest guide to spending Two Weeks In Costa Rica.