From riding the world's longest zipline, to relaxing at a beautiful resort, find out more about visiting Ras Al Khaimah, UAE.
Since writing my quick guide to the UAE, I was excited to share a little more info on one place in particular – Ras Al Khaimah.
But where is Ras Al Khaimah, I hear you ask?
Ras Al Khaimah is one of seven emirates that make up the United Arab Emirates. Everyone knows Abu Dhabi and Dubai, but the other five are a lot less visited. And you know what – this is GREAT news for anyone planning a trip!
My advice, visit before they're as well known as the other two. Have a play with the map and you'll spot Dubai a little way south of RAK. It actually only takes around an hour to drive from Dubai to RAK.
While I find Dubai fascinating, and I loved Abu Dhabi's cultural elements, Ras Al Khaimah really struck a chord. Meaning the 'top of the tent', RAK is the fourth largest emirate and is known for its contrasting landscapes of epic mountains, beautiful beaches and desert dunes.
We enjoyed a really great mix of food, relaxation and adrenaline during our few days there. If I was to recommend a route, it'd be to fly into Abu Dhabi and spend a few days exploring The Louvre, the Grand Mosque and the theme parks, then head to Ras Al Khaimah for two days to enjoy my suggestions below, then finish with a few days exploring Dubai. You get a bit of everything that way!
For me, there are two sides to RAK… resorts and relaxation AND landscapes and adrenaline.
Scroll down to find out all about Ras Al Khaimah, but first, check out the video of our time in the UAE with Rotana.
---
Ras Al Khaimah, UAE: Resorts and Relaxation
Ras Al Khaimah is home to several resorts. You'll find all the major brands, and we stayed at the incredible 5-star The Cove Rotana Resort. I'd seen photos before visiting, and had a feeling this hotel would be a highlight of our week in the UAE!
For starters, the location is just stunning. The Cove has a 600m pristine sandy beach on the Arabian Gulf, plus a small lagoon, which had a mirror-like quality, reflecting the shapes of the villas.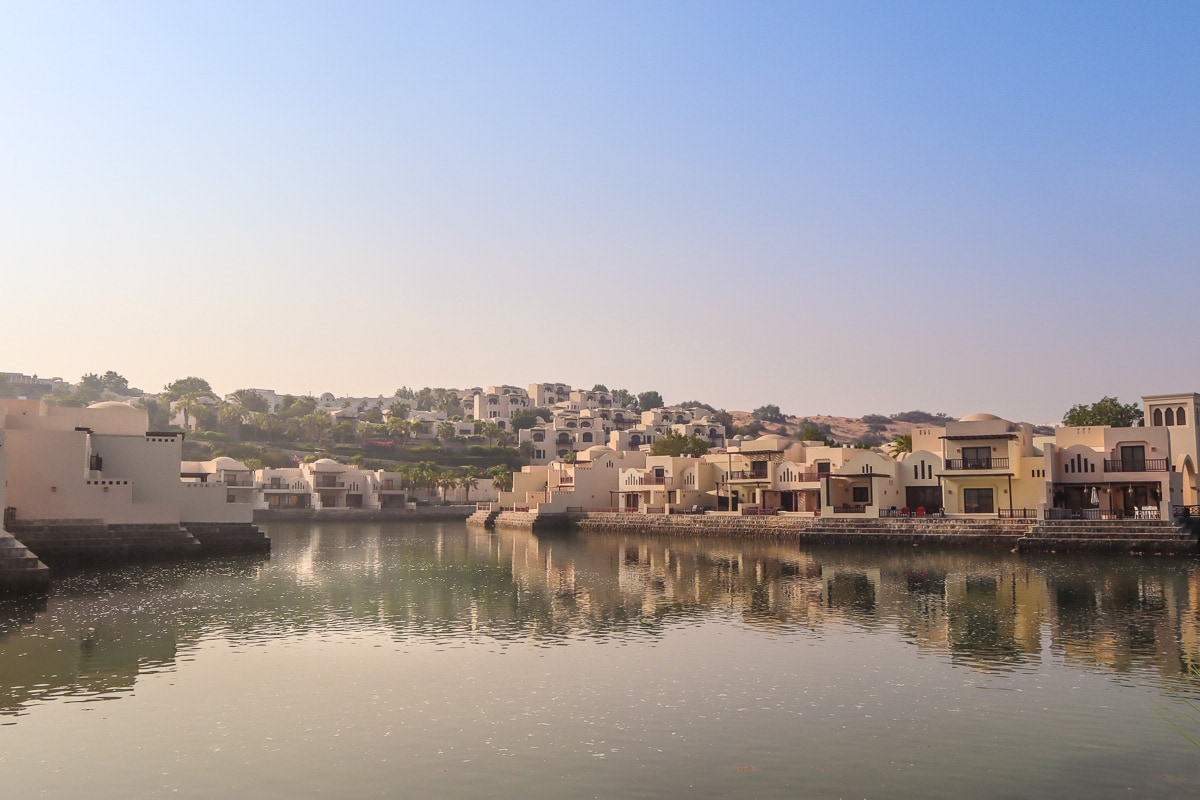 The luxury hotel is Arabic in design, with several square villas with arches and domes scattered across the hill, leading down towards the beach. Our villa had its own private swimming pool, kitchen and huge bedroom.
I loved the two infinity pools – in fact the moment I saw the swimming pool by reception, I knew we were going to have an amazing few days there!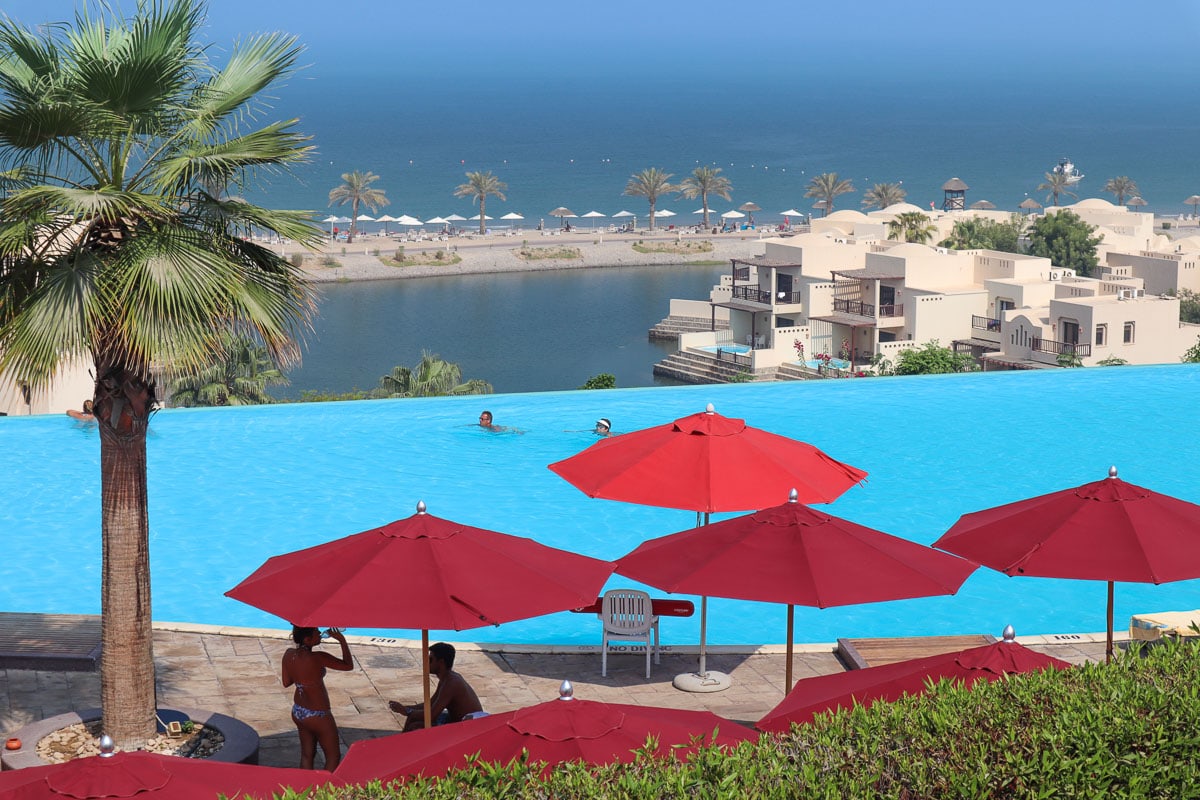 It's a fairly large resort, so there are plenty of places to eat and drink. Our highlight was Basilico, The Cove's Mediterranean restaurant, where we enjoyed oysters, juicy lamb, duck, all washed down with some top wines. We were also very impressed by the main buffet, which served everything from fresh fish, to curry, salads, sushi and indulgent desserts.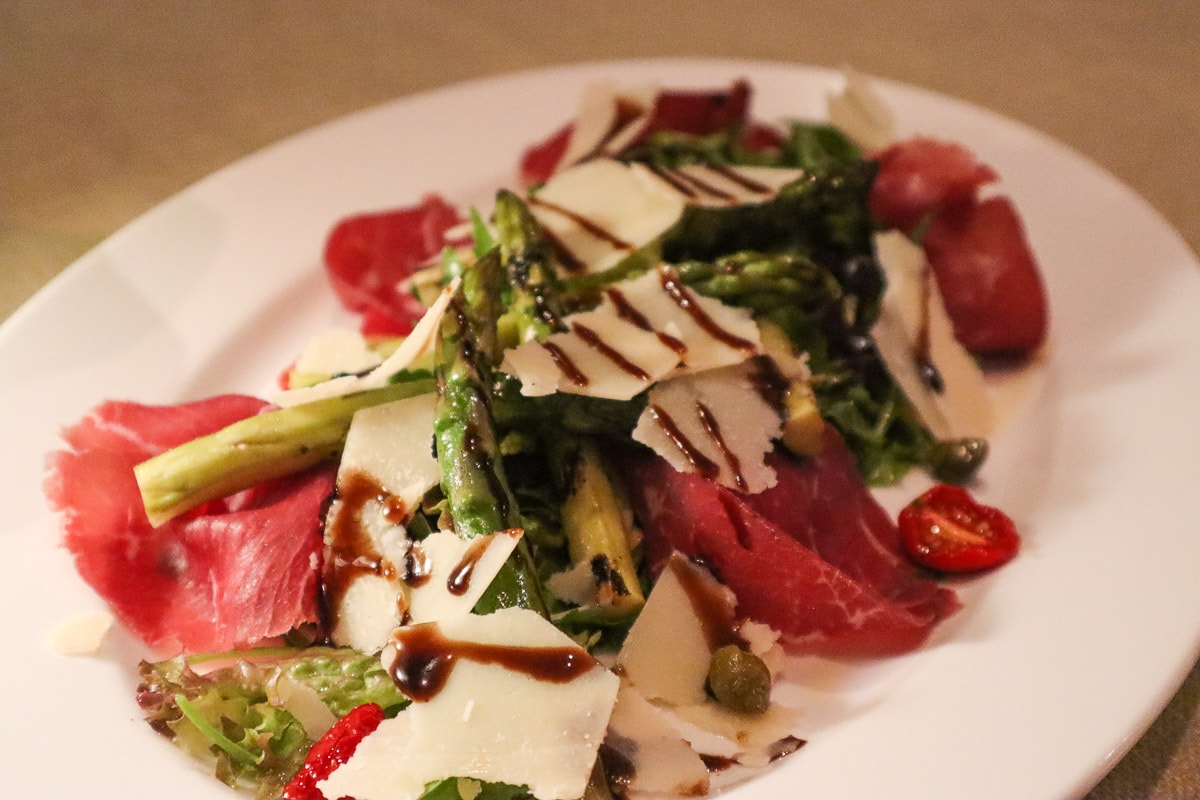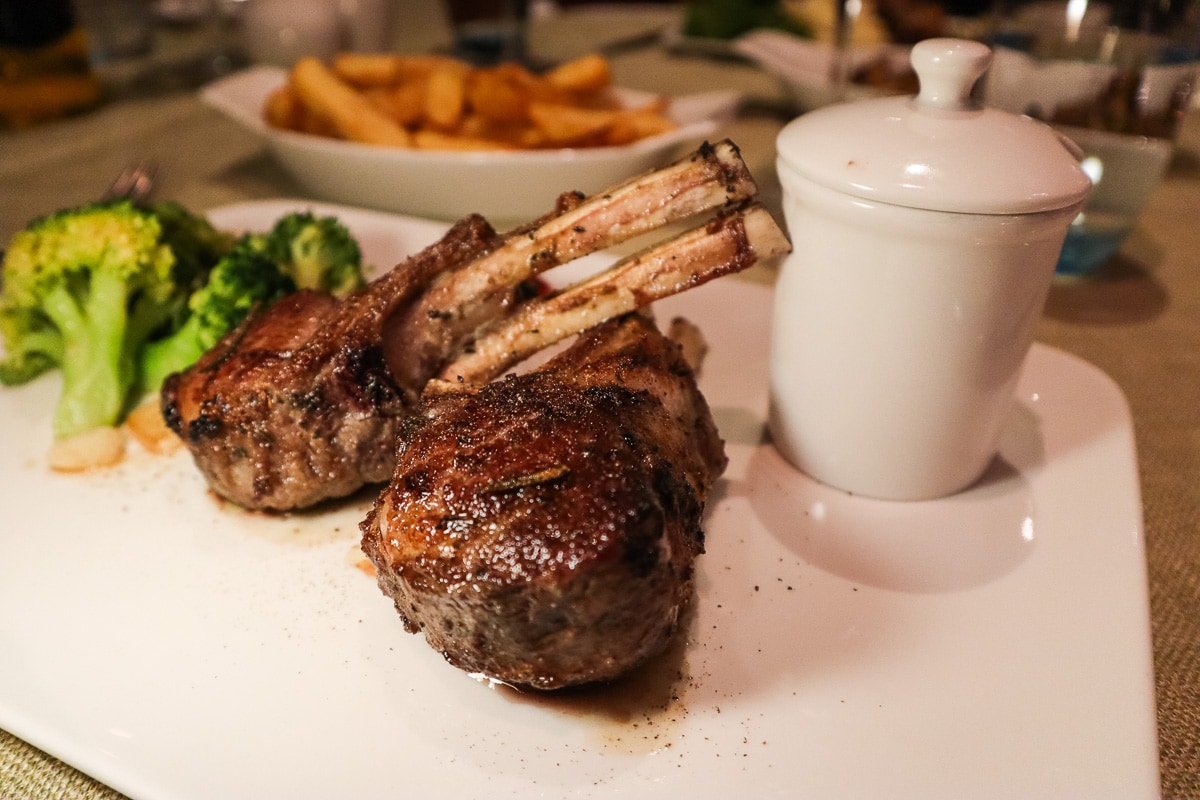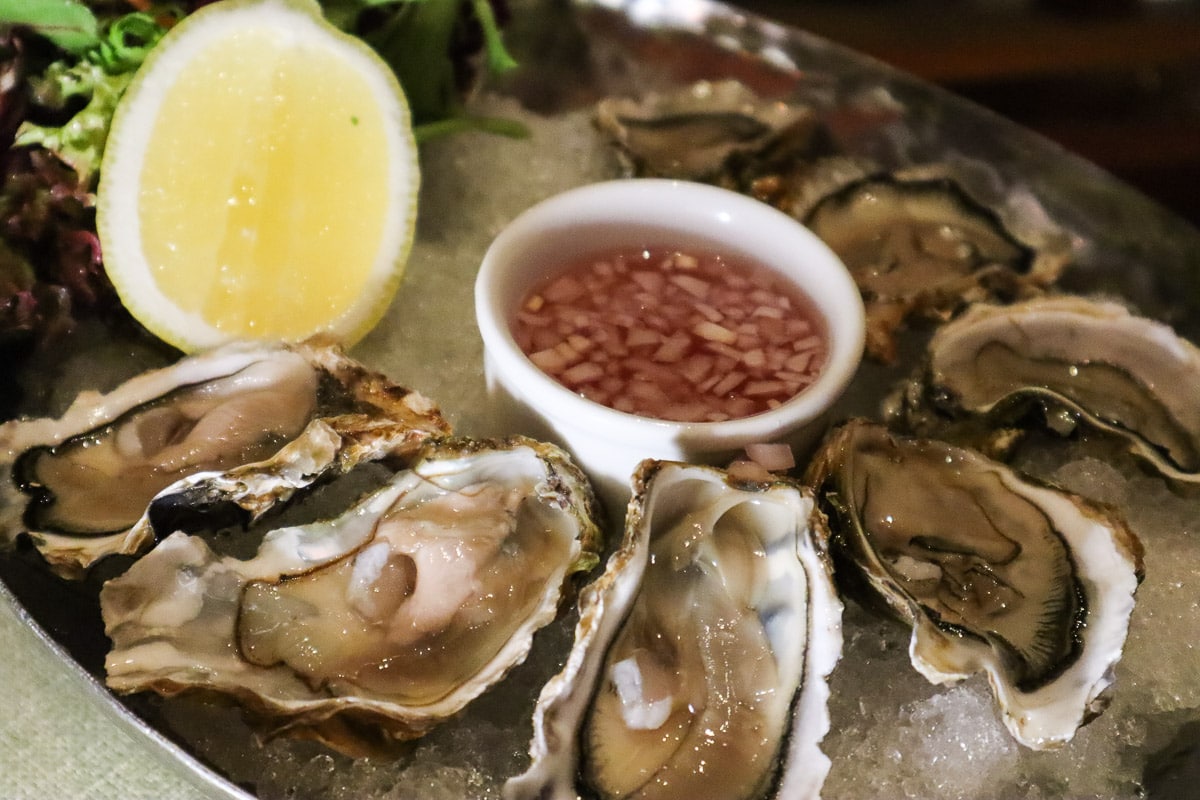 There's also Breakers Beach Bar right on the sands overlooking the ocean (perfect for sunset) and Breeze Lounge, a great spot for a nightcap and a shisha.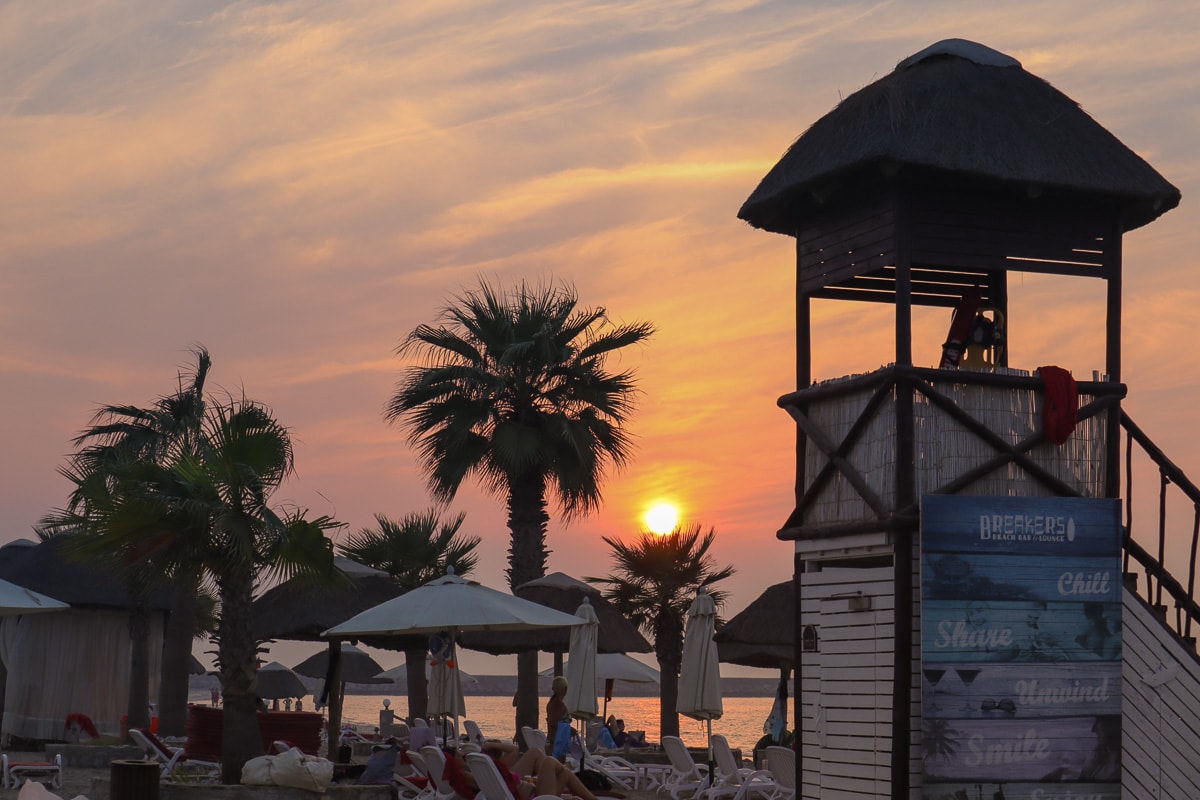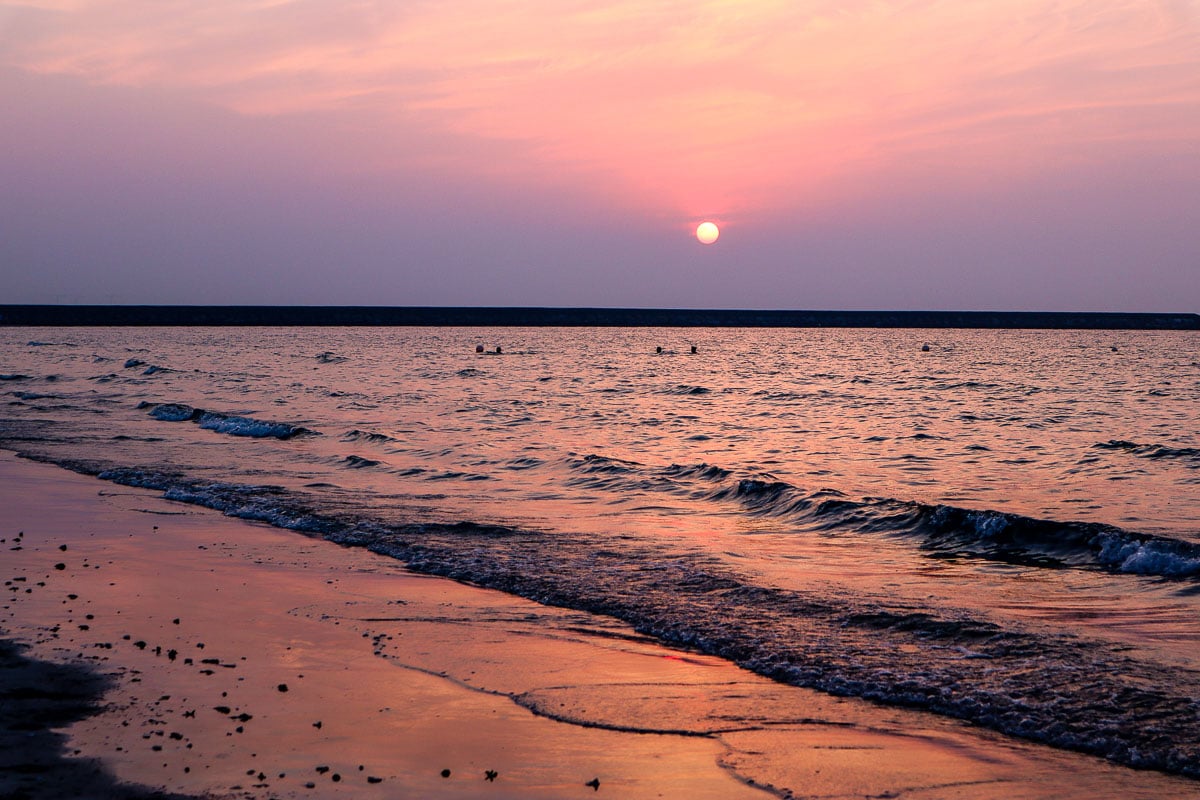 One morning we decided to hire a jet ski from the water sports area at the far end of the beach. It was an adrenaline-filled 15 minutes as we looped around, picked up some speed and checked out the views of the resort from the ocean. However, this was just the start of our RAK adrenaline experience!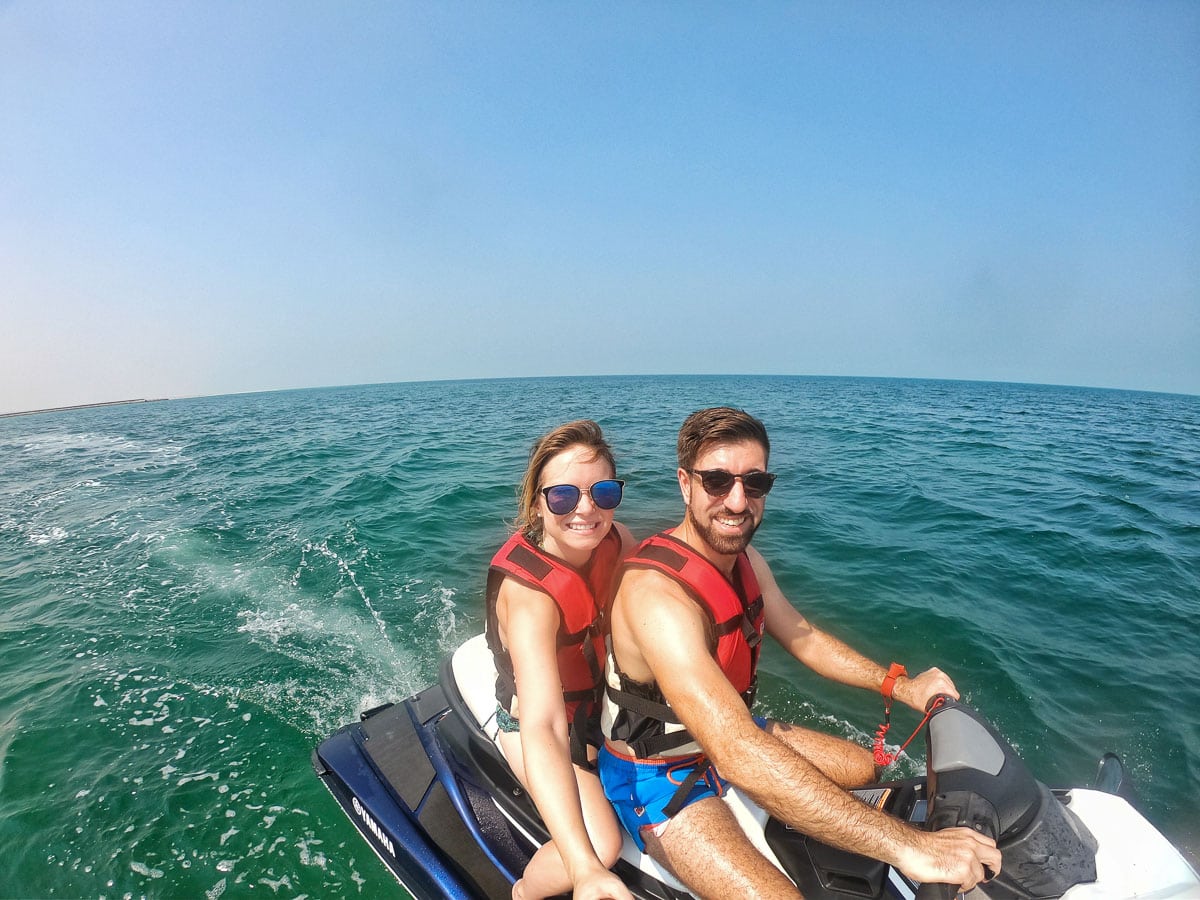 Ras Al Khaimah: Landscapes and Adrenaline
While the jet ski experience got my heart racing, that was nothing compared to what was to come! On our second day at The Cove, we hopped in a car and drove to the Jebel Jais Mountains.
The drive itself is stunning along rocky mountain roads, with twists and turns taking us higher and higher. With a dusty desert climate, the stark scenery made me feel like we'd landed on Mars.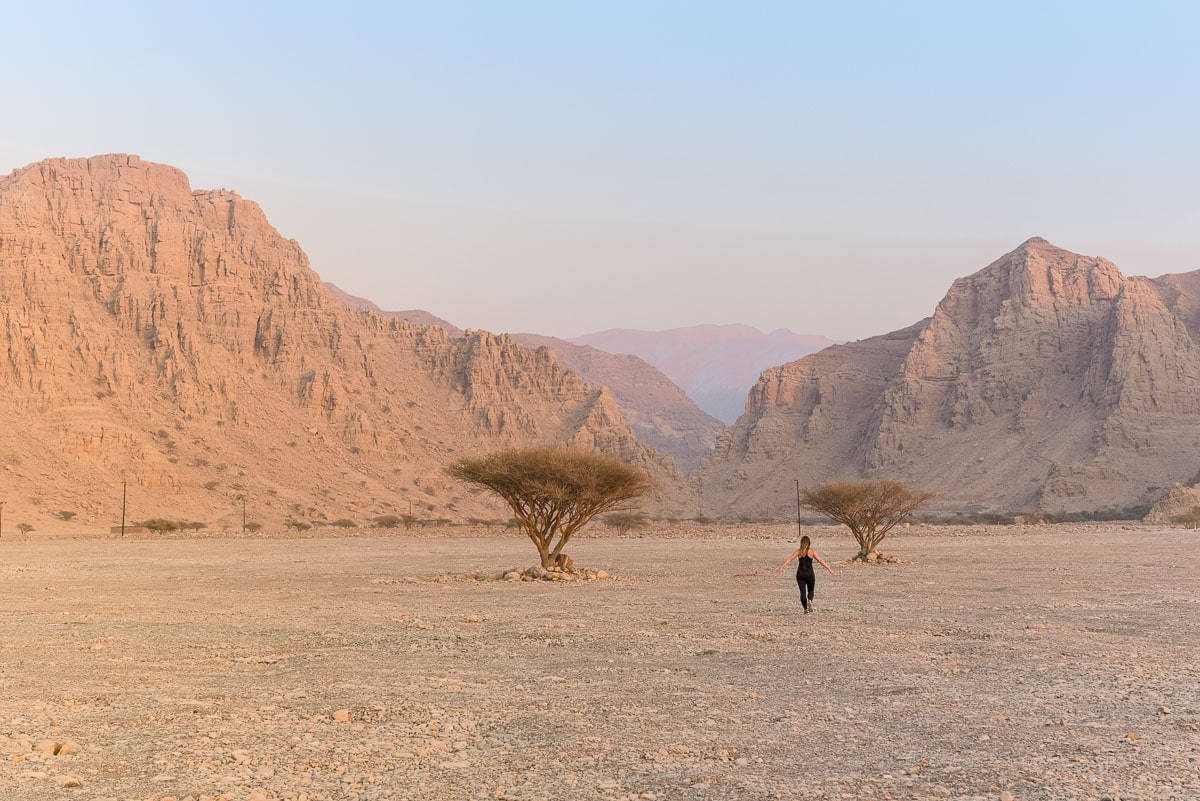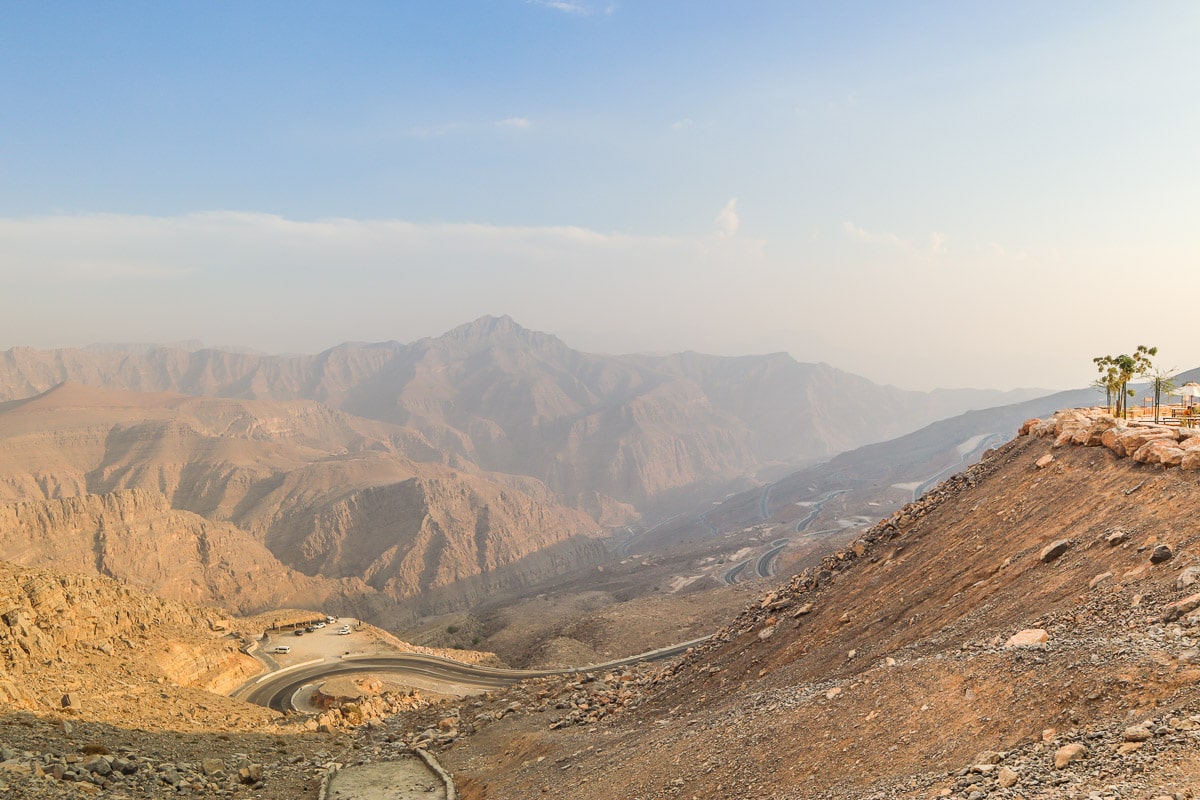 While it was a scenic place to explore, we had one main reason for our journey. To ride the world's longest zipline – Toroverde.
The longest zipline in the world is 2.8km long. To put that in perspective, it's three times as long as the Burj Khalifa in Dubai a.k.a the world's tallest building. As you shoot along the line, you'll reach speeds of up to 160 kph.
It only opened in February 2018, but already thousands have taken flights over the Jebel Jais Mountains. It's certainly not for the faint hearted, but after a relaxing time at The Cove, I felt ready to pick up the pace.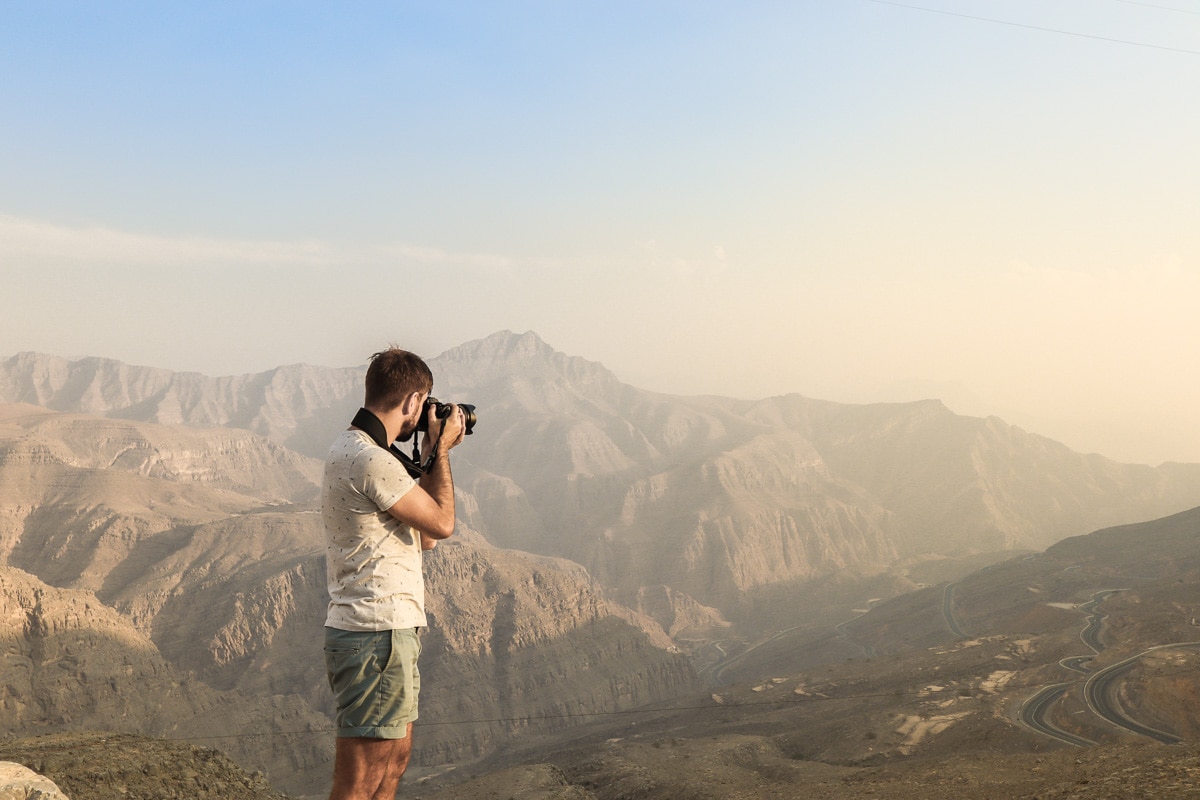 We checked in for our 'flight' and were driven to the main office where we had a safety briefing and were kitted out with harnesses, helmets and backpacks. There were options to rent GoPros or attach your own to your helmet.
Watch the video now, then scroll down to find out more about the experience.
Then it was up to the top of the mountain. What a view! I started to get butterflies at this point, especially when I saw people being launched along the zip wire, screaming for their lives!
After being kitted out with more safety equipment, it was our turn to take to the podium. There are two zip lines next to each other, so you can race with a friend and experience the thrill together. They add weights to your equipment to ensure you reach a decent speed, and more importantly, reach the other end of the wire to disembark.
Reality hit as I was suspended there in a mock-superman pose, waiting for the countdown. This was scarier than I realised! With a 3, 2 1, off we went, zooming through the air so fast that my cheeks filled with air and dried my entire mouth out in one second.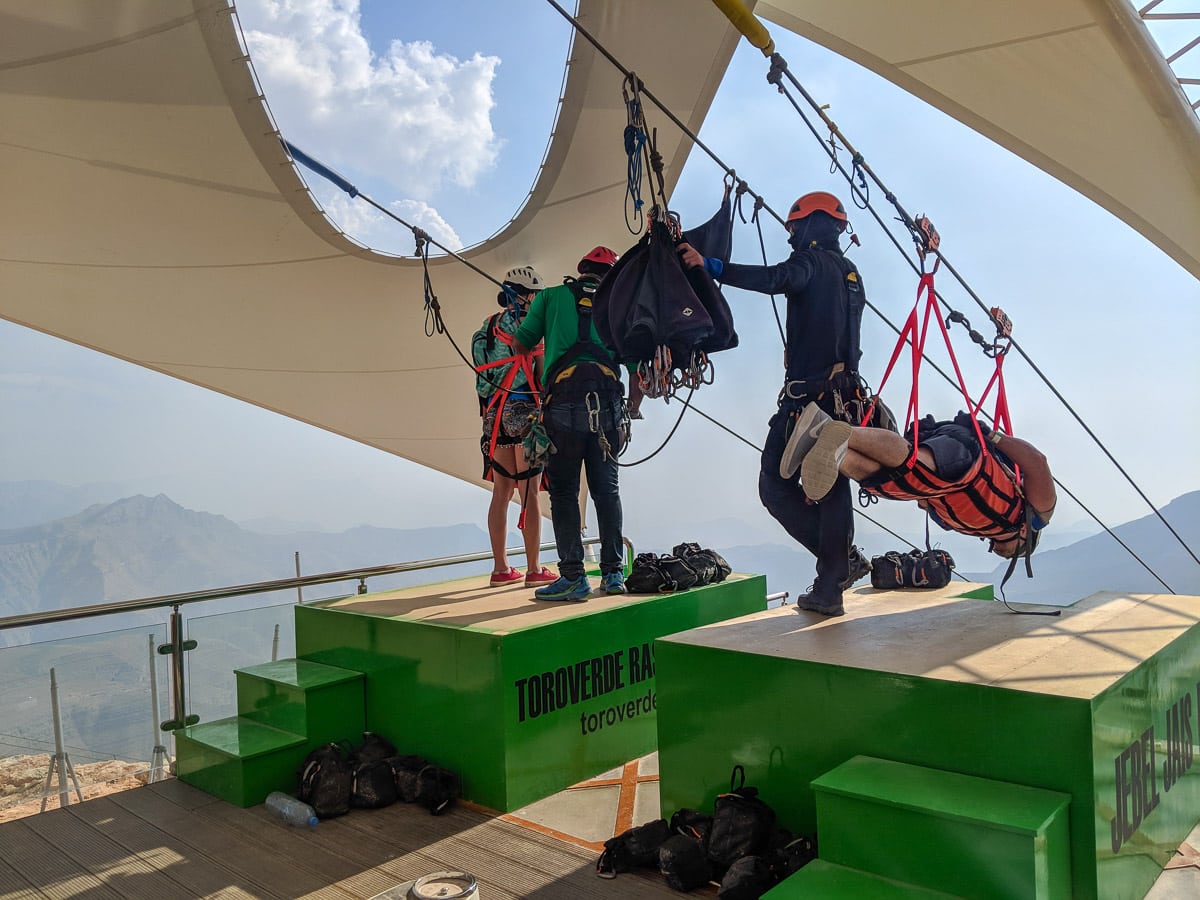 But WOW! What a rush. It was incredible, I loved it. And oh how I screamed! It was liberating and exciting, and the views were epic as we flew over the mountains and those wiggly mountain roads.
2.8km later, I was safely on platform number 2, where we prepared for a second zipline. This time it was a shorter ride, in a seated position. Another dose of adrenaline to see us on our way!
Check prices and availability for the world's longest zipline.
You can see how my time in RAK was a time of contrasts. Of pure bliss and crazy adrenaline. I hope you have the chance to combine the two like I did – you won't regret it!
---
If you're looking to visit The UAE but are unsure of what to pack, I'd recommend reading my UAE packing guide. It's full of helpful suggestions for clothing, footwear and other items that might come in handy!
A big thanks to Rotana Hotels for sponsoring our trip to the UAE. As always all opinions are my own.
Enjoyed this post? Pin it for later…